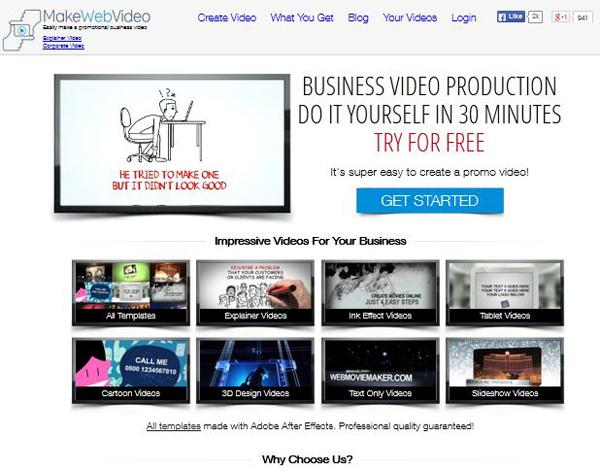 MakeWebVideo – Produce Your Professional Business Explainer Video in 1 Hour
It is a well-known fact that the attention span of users on the web is even shorter than that of real-life. On the web you only have a couple of seconds to make an impression and grab the site visitor's attention before they move away. In such an environment – the use of a professionally produced video is most certainly a great way to promote anything – from a product to a service to a brand. And in an era predominantly characterised by self-publishing, the idea of a simple yet powerful software that can enable the less tech-savvy among us to produce their own video is an enticing proposition.

This is where MakeWebVideo comes in. This web-based tool is marketed as one which enables any user to produce their own professional HD quality business video in just 1 hour, all at a fraction of what it would cost to have it done by a professional videographer.
Creating a Professional Explainer Video Using MakeWebVideo
True to the site's promise, creating an animated explainer video using MakeWebVideo involves 3 straighforward steps:
Step 1 – Choose Your Template: After clicking the 'Get Started' button, select 1 video template which you feel would be ideal for your objecives.
[IMG showing templates]
Step 2 – Customize It: according to your needs. MakeWebVideo offers several customizations including the ability to change the graphics, music and text of the template that you have chosen.
Step 3 – Download Your Video: Although you would need to register with the site or use Google account to log in, the video that you have created is absolutely free to use. The only drawback is that it is of a lower quality and contains a watermark. Yet you would still be able to download and share it. To obtain the HD quality video, you would need to pay for it.
Key Features of MakeWebVideo
Easy & Fast – You can produce your own professional videos even if you are a novice and possess no graphic design or video editing skills
Affordable – The price for professional HD videos start from just $29. In addition to this, you can preview, download and embed the low quality version of the video for free. In this way you can easily test your video and only proceed to purchase the high-res version when you are convinced.
Hosting Included – All videos are hosted by MakeWebVideo on a fast and reliable server at no additional cost.
Wide Array of Customizable Templates – Templates are continuously being added so as to cater for the diverse user needs. These are categorized into sections such as 'Explainer Videos', 'Ink Effect Videos', 'Tablet Videos', 'Cartoon Videos' and much more. Additionally there are also the newest templates and popular templates too.
Video is Compatible with Multiple Platforms – MakeWebVideo offers support for HTML5 video formats. Videos can be downloaded as MP4 and WEBM in 1920 x 1080, 960 x 540, 640 x 360, 480 x 270 resolutions. You can thus easily upload them to YouTube, Facebook and your own website.
Full HD Videos – You can create 1920 x 1080 full HD resolution videos in just 30 minutes.
100% Money Back Guarantee – If you are not happy with the video, the good folks at MakeWebVideo will refund you in full or else give you a chance to make another video.