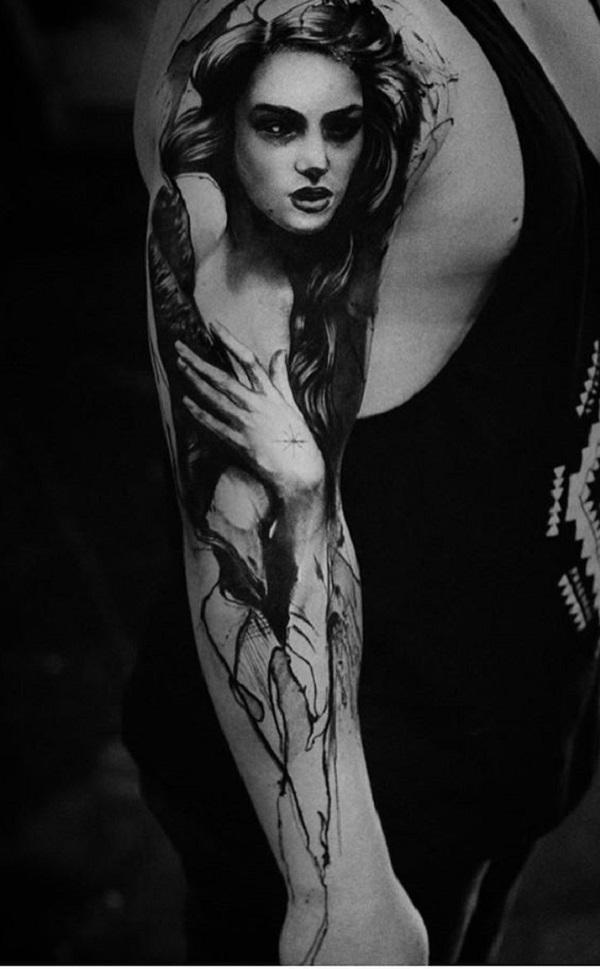 Portrait full sleeve tattoo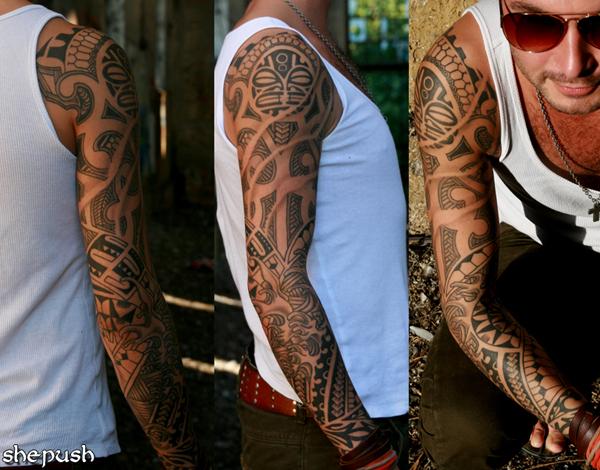 Maori tattoo
Maori tattoo originated from indigenous Maori people in New Zealand. But now it's popular choice for men all over the world. This tribal inspired design is overwhelmed with Maori elements such as Tiki, spiral patterns and matau.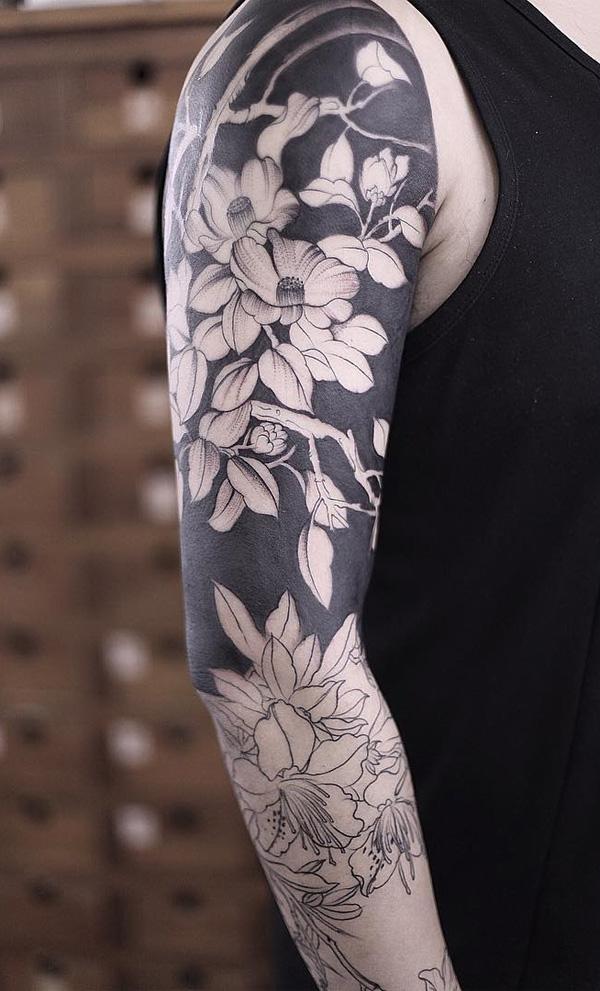 Blank and white hibiscus sleeve tattoo
Hibiscus is one of favorite choices for women's tattoo ideas. Hibiscus tattoos normally come in a variety of colors. But this one rendered in pure black and white outlines.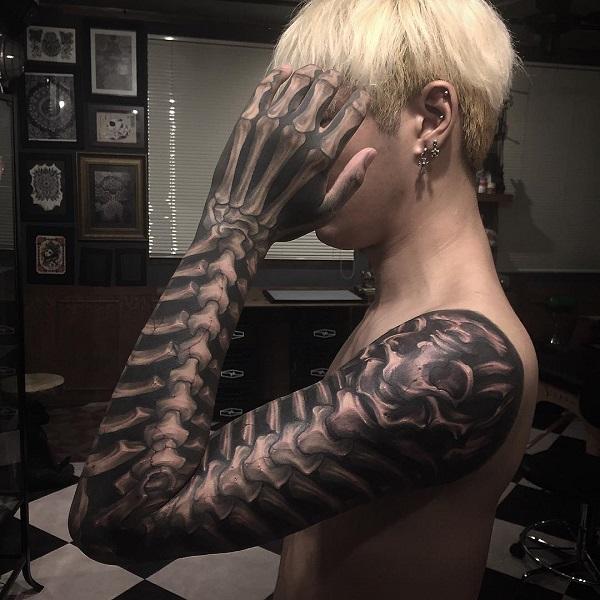 Arm Spine
Isn't horrible to be able to view the bones in human body transparently? The black themed tattoo does more, which lets you see the vertebral in the arm. Of course, it's exaggerating representation of Gothic style.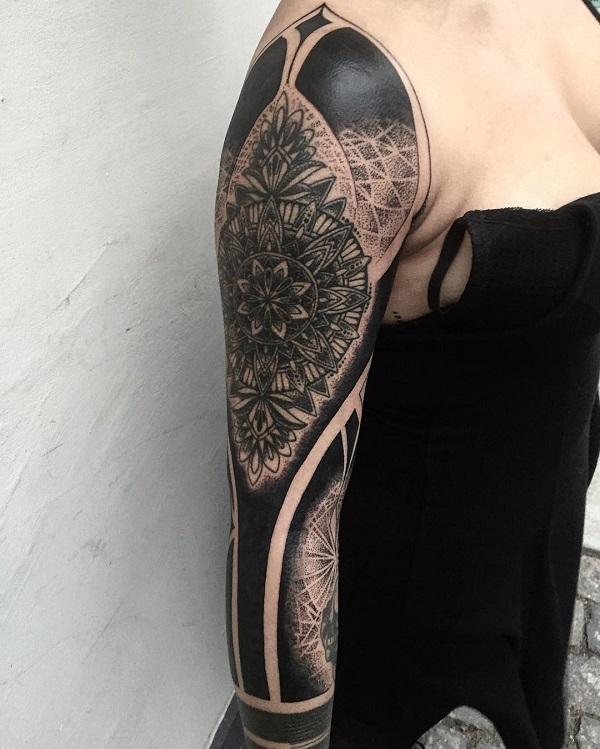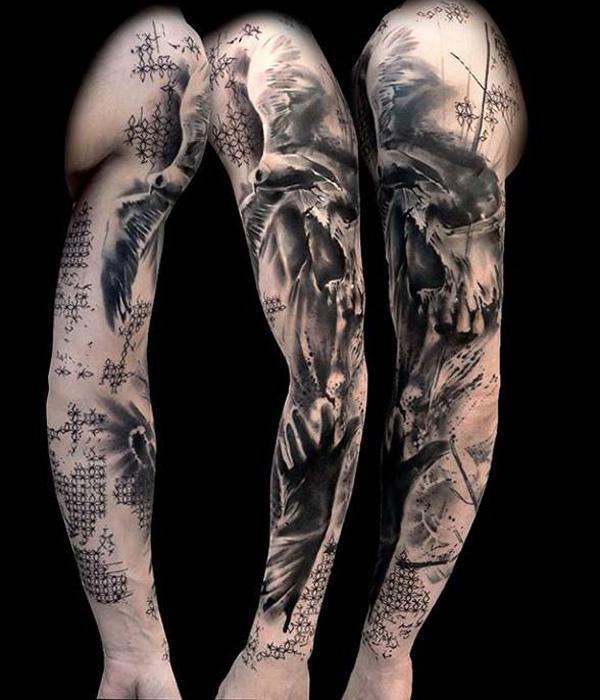 Bird and hand
The full Sleeve Tattoo is portrayed as fantasy adventure in a dark world. The lonely hand is seeking help from a flying bird.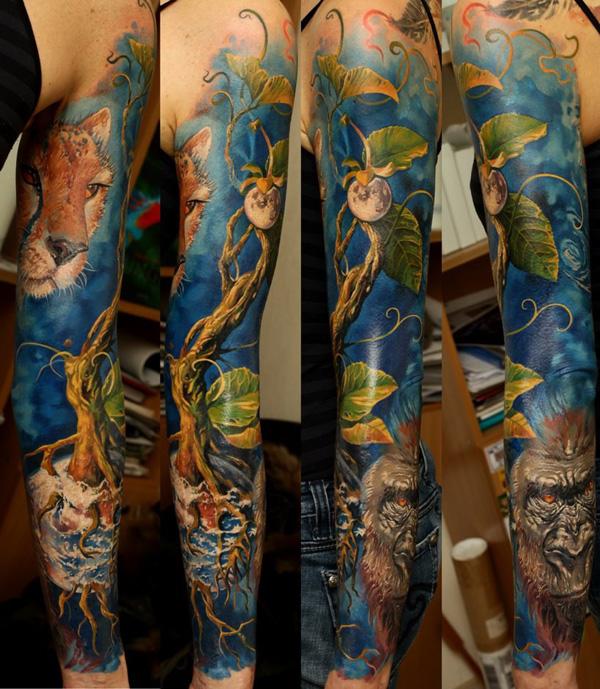 Vintage fantasy
A natural inspire sleeve tattoo features aquatic plants and animals, lion and guerrilla. On the background, the blue color makes the one look cool and unique.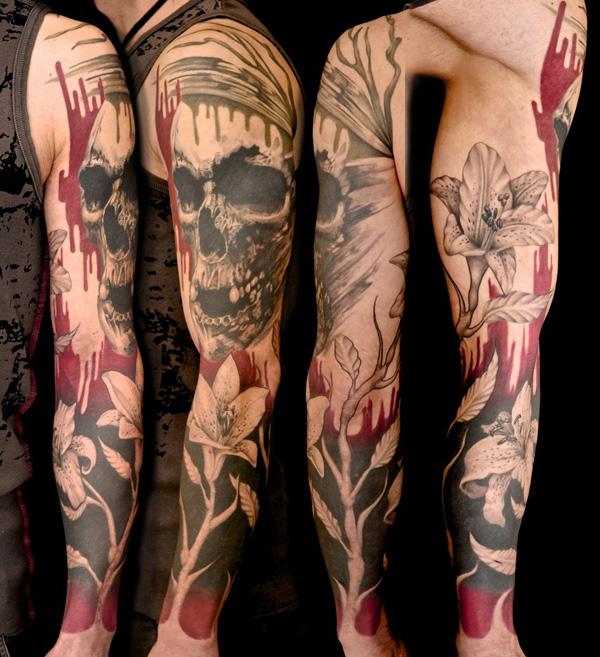 Skull and lily full sleeve tattoo
Lily is the symbol of compassion in Buddhism. On the other hand, skull represents vessel of the soul, or wisdom. So the meaningful full sleeve tattoo is nice choice to express their faith.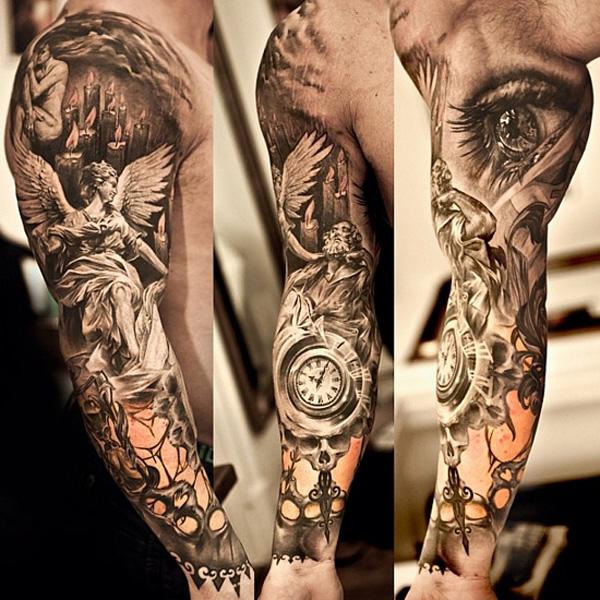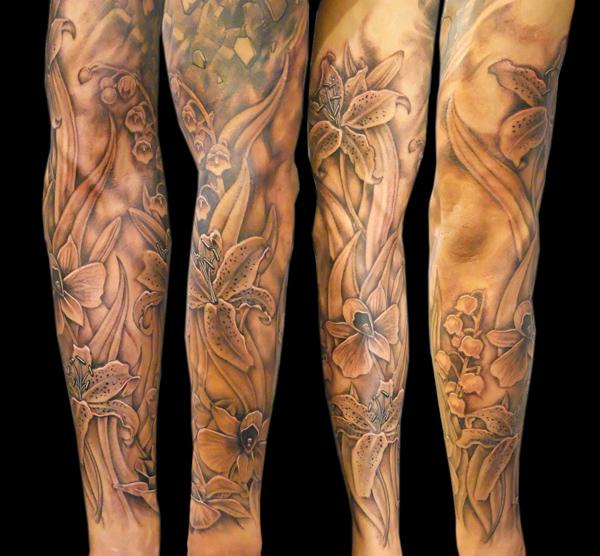 Lily Flower
Despite the flower theme, this tattoo looks unique for its burnt yellow color.
The whole circumference of the arms is inked with lily flowers, their leaves and shades.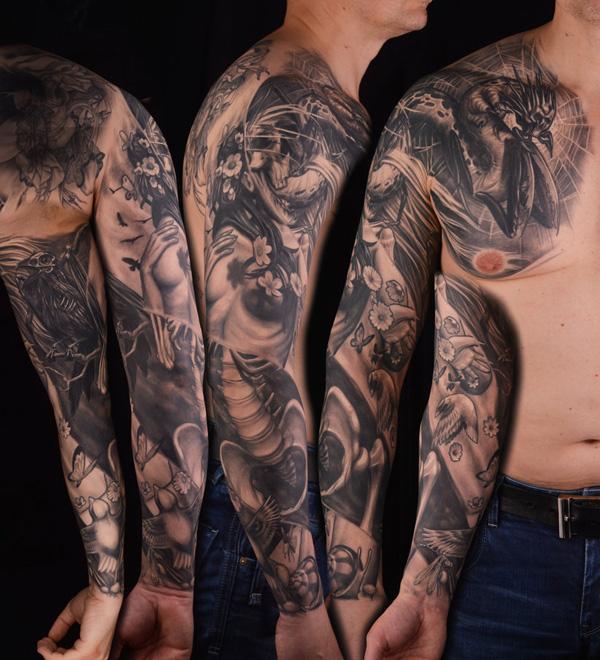 Life and Death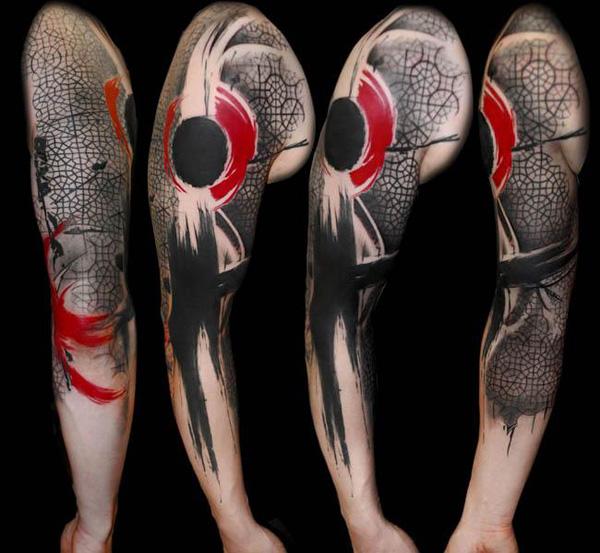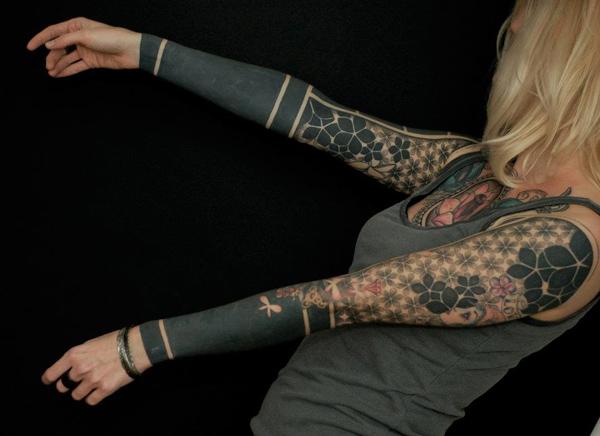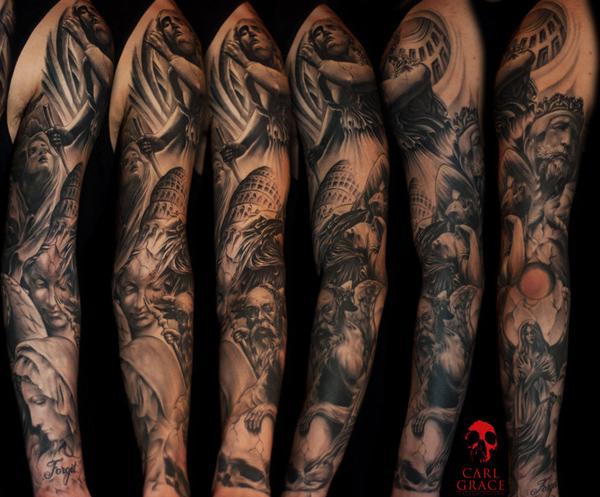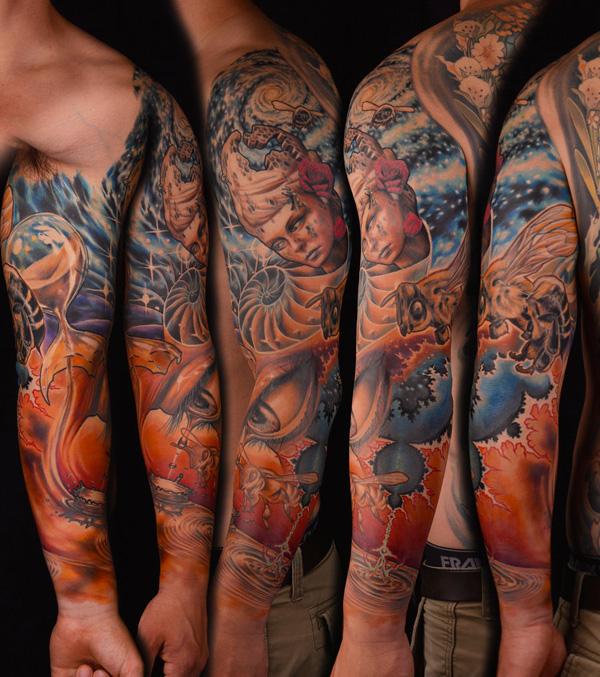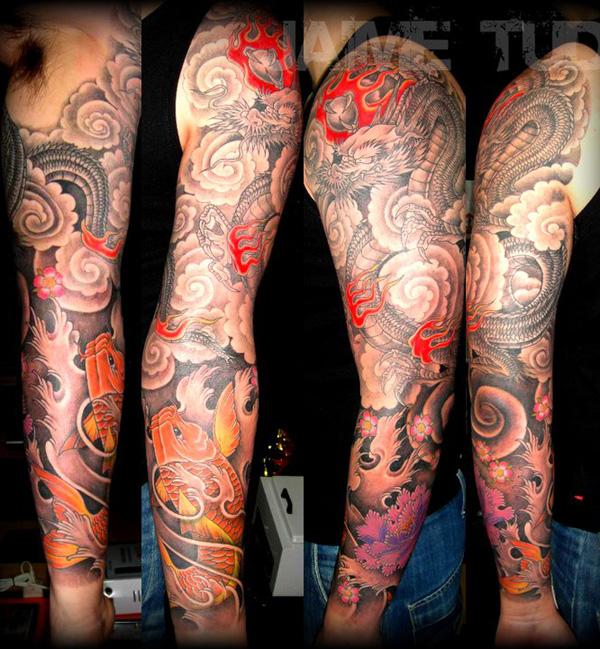 Dragon, Koi and Peony Flower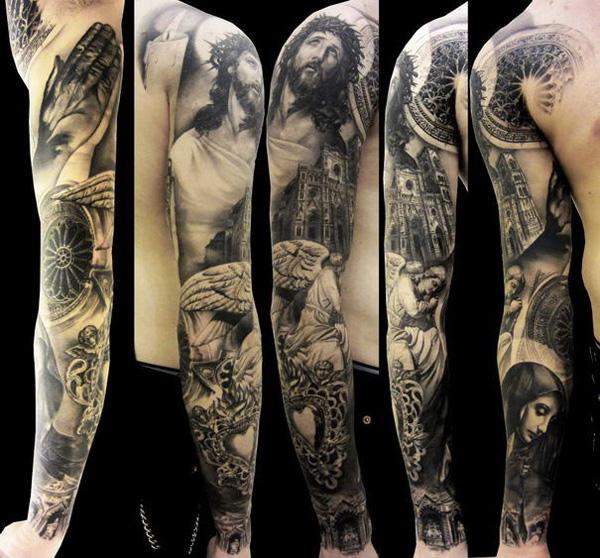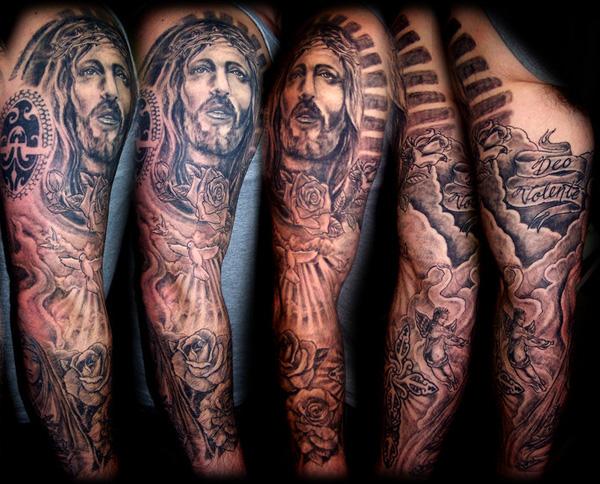 Jesus Christ
Christians and non-Christians agree character traits of Jesus Christ, compassionate, prayerful and humble. Therefore, the religious subject tattoo is popular by people who'd like to express their faith. This tattoo features depiction of Jesus' portrait with shining halo. Further, the roses, angel and dove underneath serve to enhance the subject.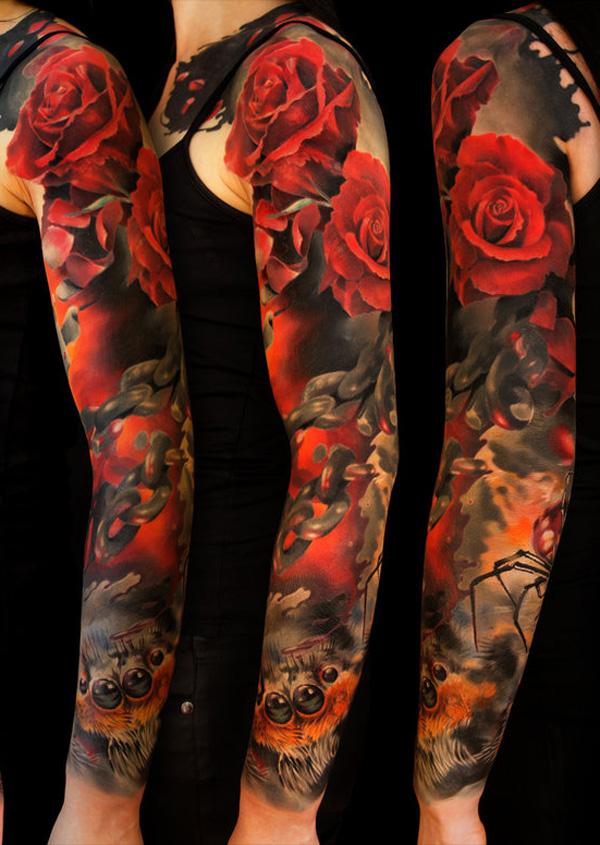 Bloody red roses
This tattoo looks like a glow of fire lighting over the arm with nonflammable chains and standing roses, which represents firm character.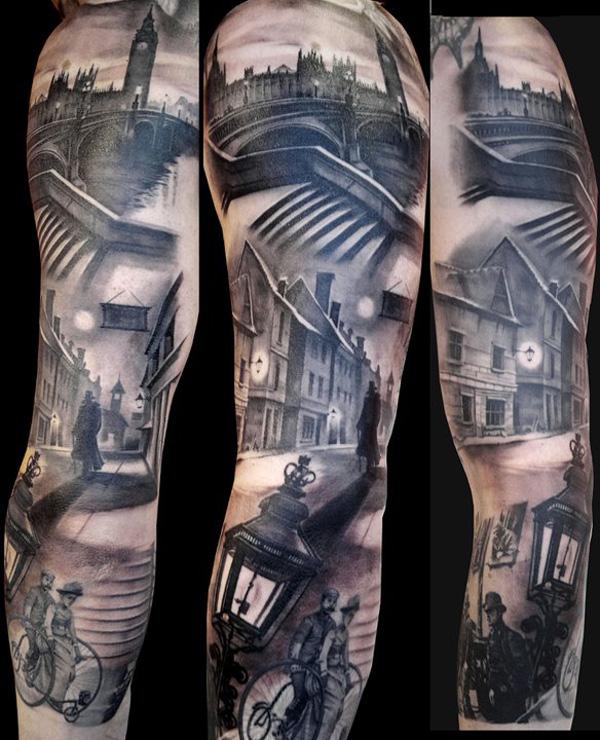 Vintage city view
The black and white tattoo takes us back to the city of 19th century. On the top is a picture of cityscape, and then followed by the bridge and street view at night. The cab underneath is the most evocative of days that time.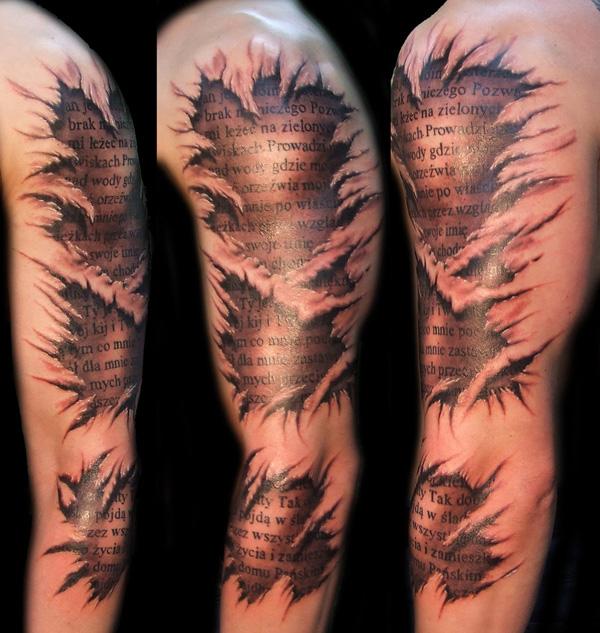 Bible verse sleeve tattoo
Religious tattoos are always choices to express one's faith. For example, this tattoo creates illusion that the Bible verses were carved in the flesh of the arm with shades and veins of wounds conspicuous and realistic.