Wassily Kandinsky was a Russian painter and art theorist and one of the most important figures in the development of modern art. He was the one who freed painting from restraints of representation and thus set the foundation for the evolution of abstraction. His impact on the art world was immense and it altered the way painting is perceived for good. His work was founded on solid philosophical grounds, as it persistently progressed into a synthetic painterly vision.
He was perhaps a thinker before he was a painter, as he recognized the only direction in which the saturated figuration could move and pursued it relentlessly, setting an example for other avant-garde creatives to follow. The essence of Kandinsky's abstraction is the search for a universal synthesis of music and painting, regarded as parallels to philosophy and science.
Wassily Kandinsky was born in Moscow in 1866. From an early childhood he was amazed by the chromatic richness of nature and he was constantly interested in the arts. He studied economics and law, but in the end he gave up a promising career in social sciences in order to follow a more creative path.
The final push toward the artistic life was given to the young painter when he saw an exhibition of Claude Monet, which inspired him to dedicate himself to visual research. When he first enrolled in the Munich art school, Kandinsky was already 30 years old. He wasn't even accepted at first, but he continued studying alone.
He spent two years in art school, after which came the period of travel. The artist visited Netherlands, France, Italy and Tunisia. During this period, he created paintings heavily influenced by post-impressionism, evoking his childhood in Russia in imaginative landscapes of idealistic importance to the artist. He settled in a town of Murnau, close to Munich and continued his explorations of landscapes vitalizing them with forceful lines and daring, fierce color.
Kandinsky pondered on music, attempting to transfer its purely abstract traits into other forms of art. A group of artists of like mind was formed in 1911 in Munich, led by Kandinsky. Their name was "The Blue Rider" – "Der Blaue Reiter" and German expressionists such as August Macke and Franz Marc belonged to the assembly among others. The group published an almanac with their views on modern art and held only two exhibitions, after it was interrupted by the beginning of World War I in 1914.
The novel use of basic pictorial elements marked a beginning of the dramatic period in Kandinsky's oeuvre and suggested the emergence of abstract art. He conceived a new style today known as lyrical abstraction, imitating the flow and the depth of musical piece with paint and drawing. At the same time, the painted occupied himself with deep contemplation on the subject and he wrote and published a seminal study "On the Spiritual in Art" in 1912.
Kandinsky was forced to return to Russia in 1914, but he never ceased experimenting. He even participated in restructuring of Russian art institutions after the Revolution. However, the true significance of his innovative genius became visible only after he went back to Germany and joined the teaching corpus of the Bauhaus in 1923, where he became friends with another vanguard creative, Paul Klee.
His once purely lyrical abstraction shifted in the direction of more structured, scientific composition. Kandinsky worked on a new visual formula, made of lines and dots and combined geometric figures presenting his latest research of the visual and the intellectual.
After a decade of prolific work, Bauhaus was shut down by the Nazi authorities in 1933 and Kandinsky was compelled to flee to France, where he spent the remainder of his life.
The final eleven years the Russian genius dedicated to continual pursuit for The Great Synthesis of his abstract ideas and visual findings, still just as driven by the vital powers of life. He returned to intense color and lyric, painting with a steady hand, confirming once again his original views on the true nature of painting. The great artist accepted French citizenship and created some of the most famous works of art in his new homeland. He died in 1944 in the town of Neuilly at the age of 77.
The works of Wassily Kandinsky, along with pieces by his peers Marc Chagall, Paul Klee, Franz Marc and Piet Mondrian were proclaimed as degenerate by the new Nazi authorities in 1937, and two years later over one thousand paintings and thousands of sketches and works on paper were burned publicly in the atrium of fire station in Berlin. Still, the overwhelming strength and momentous effect the artwork of Wassily Kandinsky had and still has on art prevailed all the hardships of history and emerged a winner on the scene of the history of art.
List of Paintings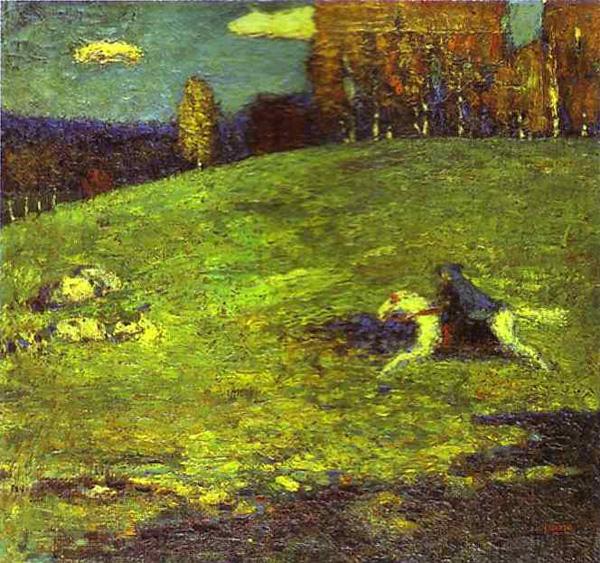 1. The Blue Rider, 1903
This painting served as the inspiration for the name behind one of the most influential group in the history of modern art – Der Blaue Reiter. The painting is on the verge of abstraction, although an early piece.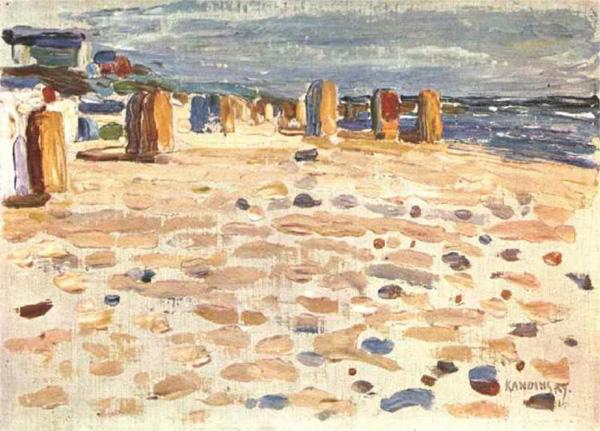 2. Beach Baskets in Holland, 1904
A landscape from his trip to Netherlands. The scene suggests influences of impressionism.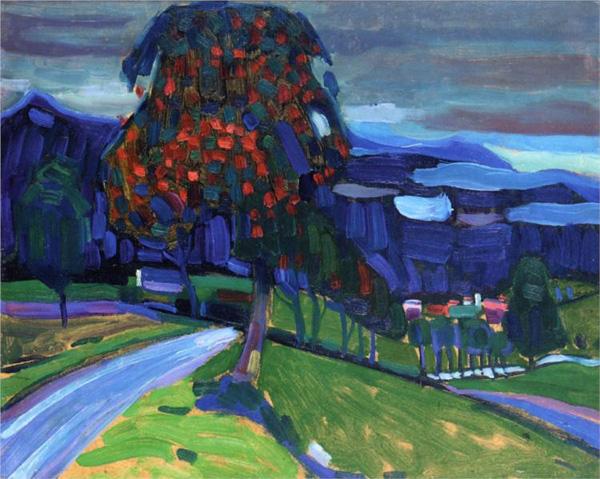 3. Autumn in Murnau, 1908
An expresionistic landscape, which already marked the slow transition into abstraction.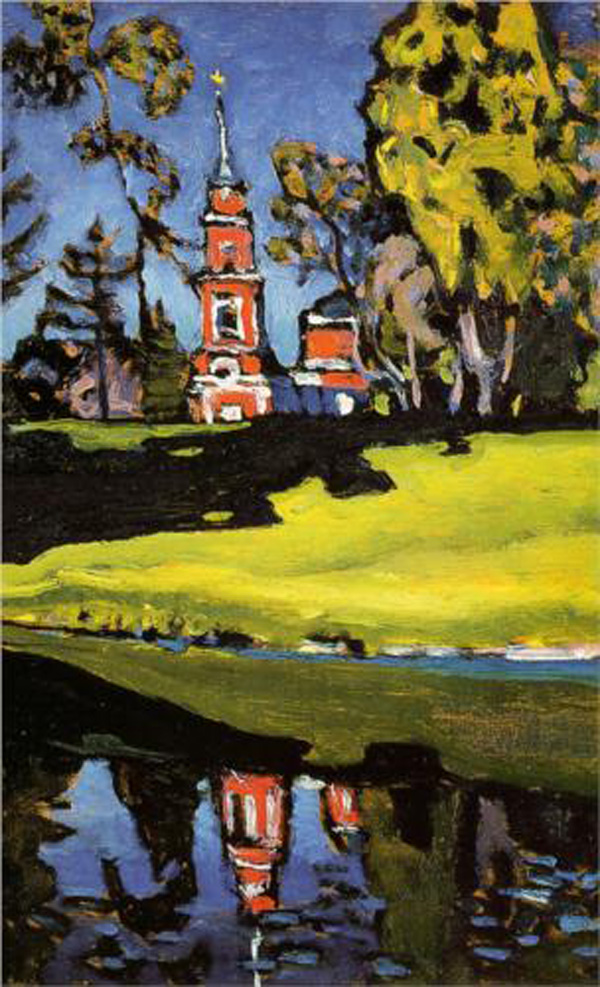 4. Okhtyrka. Red Church, 1908
An imaginative Russian landscape, an evocation of the homesick artist.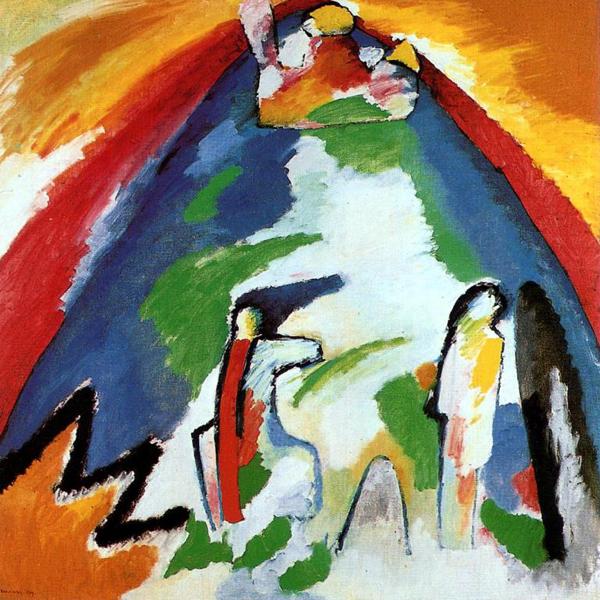 5. A Mountain, 1909
Almost completely abstract landscape with slight contour suggestions of a hill and human figures.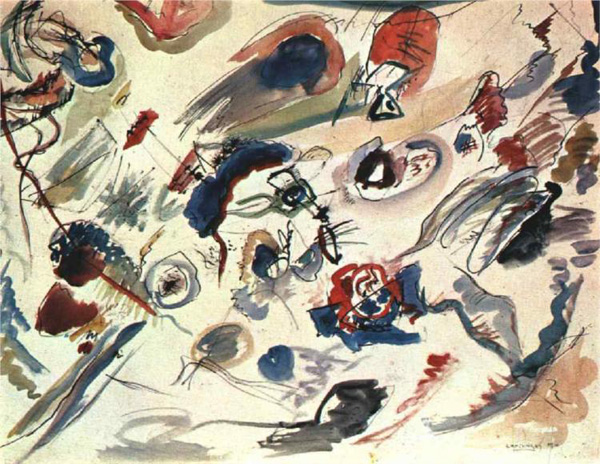 6. First Abstract Watercolor, 1910
This work is historically important as the first purely abstract watercolor Kandinsky ever executed.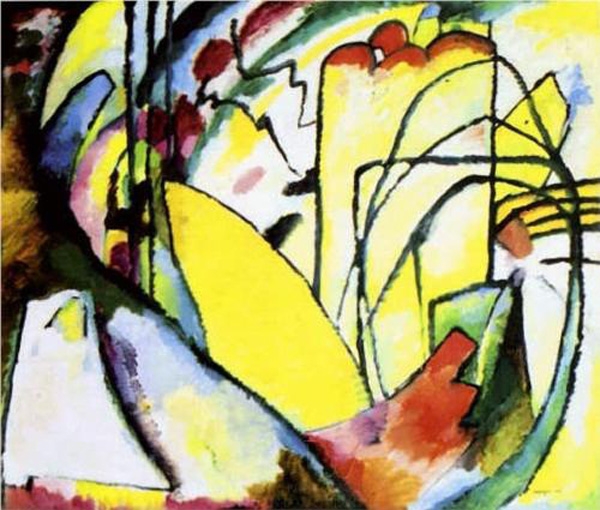 7. Improvisation 10, 1910
Improvisation in drawing and color, suggesting, but never fully delivering any concrete imagery. An early abstract work.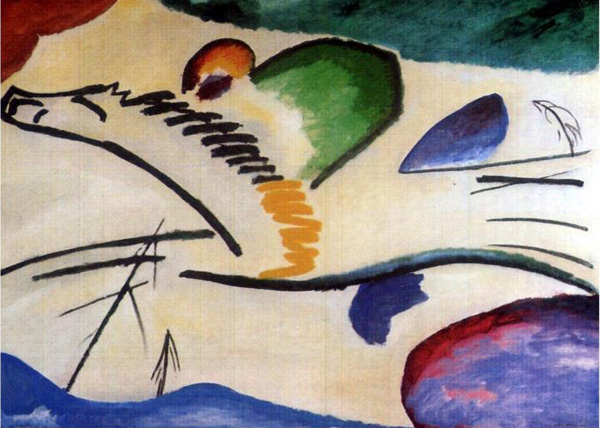 8. Lyrical, 1911
As he often based his painting on musical ideas, the lyrical nature of his strokes came naturally. This is one pure pictorial poem.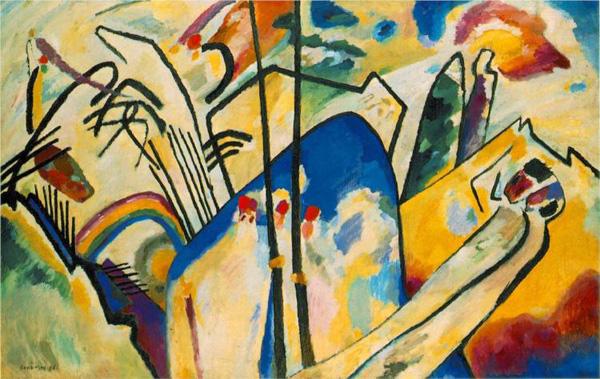 9. Composition IV, 1911
An anecdote says that Kandinsky only thought he had finished the painting once his assistant accidentally turned it to its side – the change of perspective changed the overall impression of the piece and made it perfect.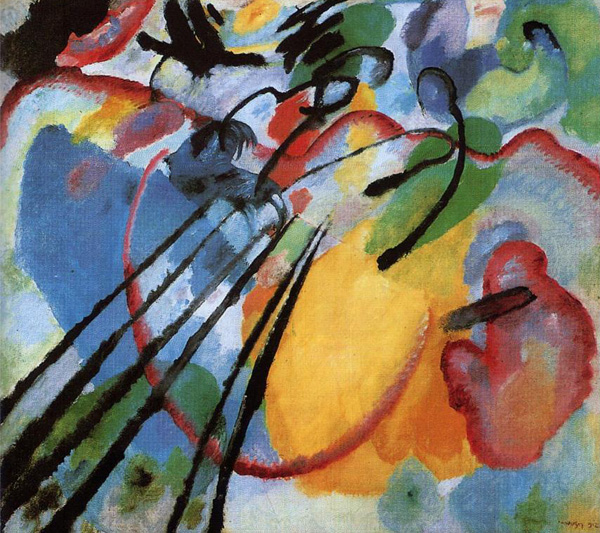 10. Improvisation 26 (Rowing), 1912
An improvisation on music. Kandinsky often titled his works as musical pieces, calling them improvisations and compositions.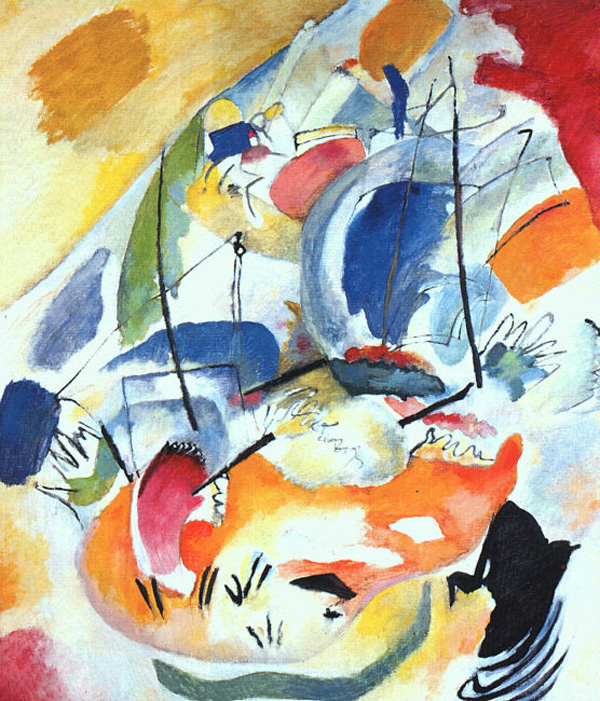 11. Improvisation 31 (Sea Battle), 1913
Typical example of lyrical abstraction, strong in color and emotional content.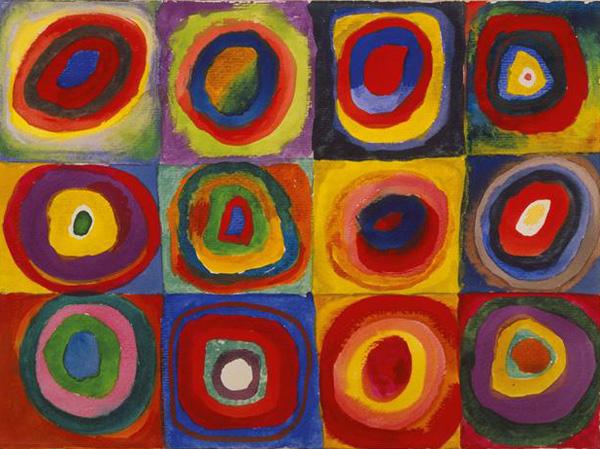 12. Color Study: Squares with Concentric Circles, 1913
Already deep in the field of abstraction, Kandinsky explored the values and relationships between colors. This is a chromatic and geometric study.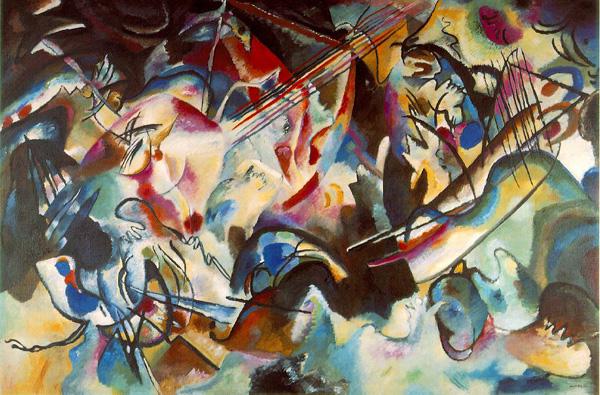 13. Composition VI, 1913
After experiencing a block due to extensive preparation for this painting, Kandinsky finished it in three days repeating the core inspirational word "uberflut", flood in German, like a mantra during painting. The musicality of this word told the artist how he should complete the work.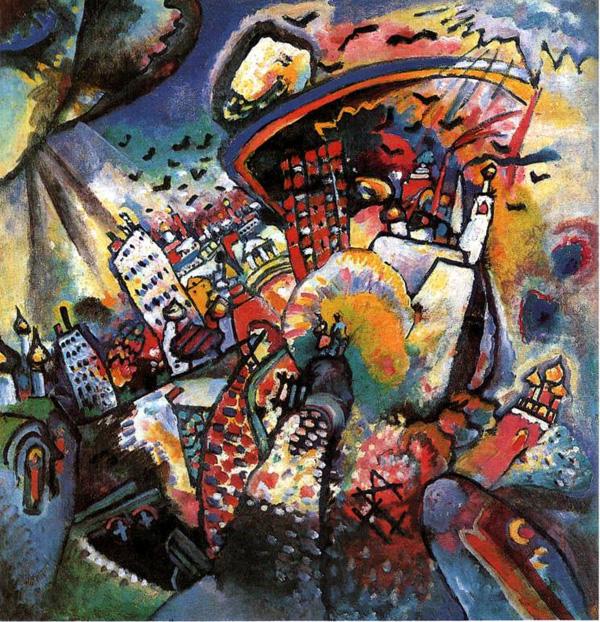 14. Moscow, 1916
During his residence in Moscow over the war years, Kandinsky was stricken by the turmoil of the great city. This is more of a portrait of the city than a landscape, capturing all of its might and turbulence.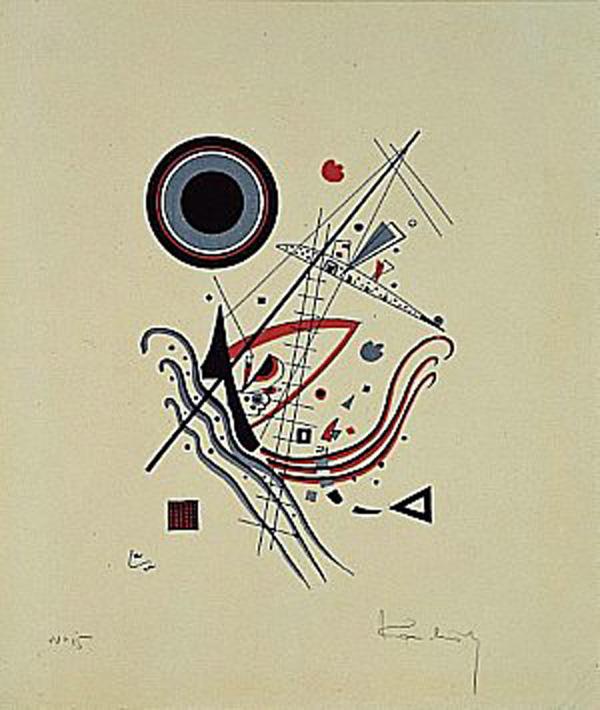 15. Blue, 1922
Another study of color, with very reduced geometric forms.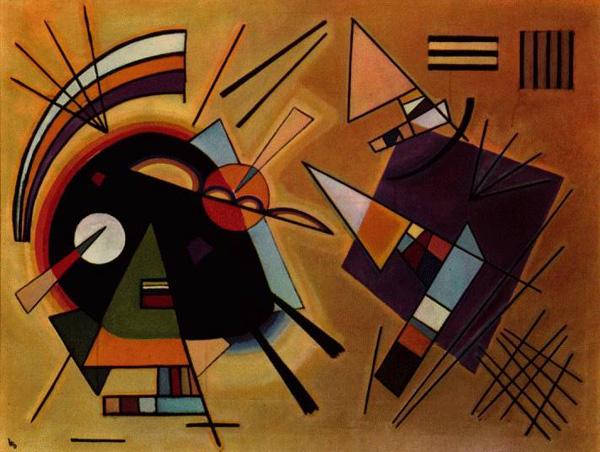 16. Black and Violet, 1923
One of the paintings made upon his return to Germany. Still rich in color, the composition has taken a distinctively sharp and geometric turn, pushing away the freehand lyrical brushstrokes.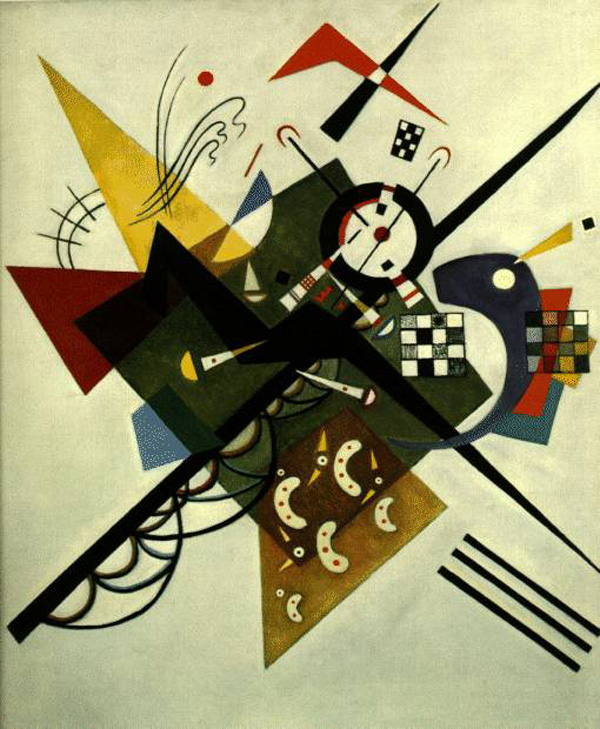 17. On White II, 1923
The visual representation on contemplation on two basic nuances – black and white. The two opposites create a strong contrast, keeping the tension of the painting, which emulates the struggle between life and death.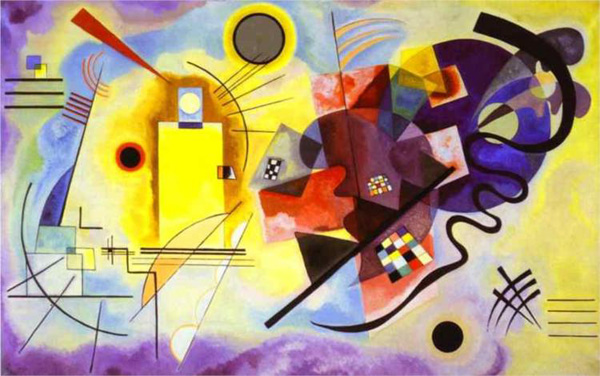 18. Yellow, Red, Blue, 1925
As suggested by the title, this is primarily the study of potential of basic colors, which adorn the compositional geometry.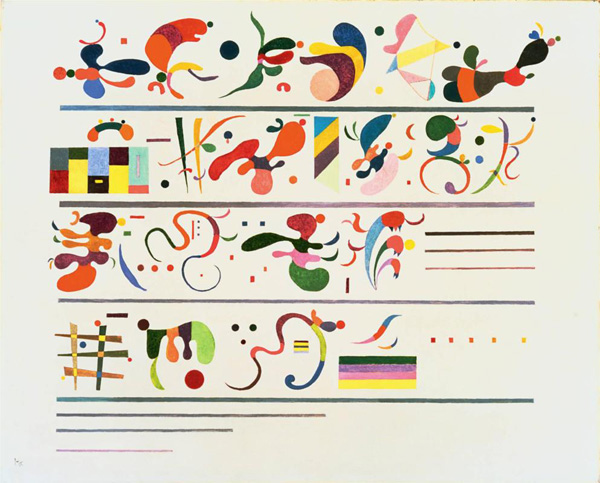 19. Succession, 1935
This is almost a musical piece, marking the late period in Kandinsky's art. His fields became closed, fluid and definite in shape, while compositions featured scattered elements. He was returning to his abstract roots.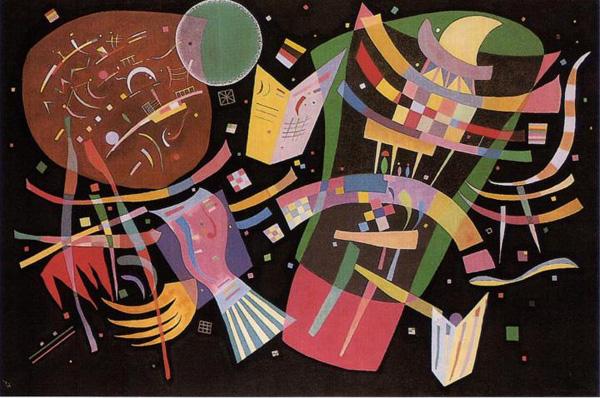 20. Composition X, 1939
Often relating pictorial to musical compositions, this work is directly influenced by music. The visual elements are proportional to the musical elements of a perfect symphony. Kandinsky believed this to be the secret of pure painting.