An arm covered tattoo is called sleeve tattoo because it looks like shirt sleeve. A full sleeve tattoo is usually intricate from shoulder to wrist. Unlike small tattoos on the part of the arm, the whole arm is the canvas for the tattoo.
After someone had the first discreet tattoo, it's likely to get more and more over years, either for the need for uniqueness or simply for aesthetic preference. But one thing is for sure. Due diligence exercise is needed in research in order to avoid tattoo cover up or removal.
Tattoo pain on arm sleeve
The arm is one of the most popular placement for tattoo lover. It has three major sections, the bones, muscles, nerves. If the part has more muscles, it's less painful to get tattoo. If the part is close to bones or has many nerve endings, you need to check your tattoo pain chart.
The arm is divided into the following parts.
Upper arm
Elbow
Forearm
Wrist
Hand
As the elbow and wrist has thinner skin, it's more likely to feel sharp pain when tattoo needle pierces the skin in these places.
Sleeve tattoo styles
Speaking tattoo seems like a discipline in itself if you are new to the tattoo world. But it may not be totally strange to you if you have interest in other art forms. While each artist may have particular style, most of tattoo styles seem resemblance to the artistic styles appearing in other traditional media. When exploring sleeve tattoos, the following styles catch our attention.
Full Sleeve Tattoo Ideas Collection
Fortunately, there are a lot of great ones we can take reference. In this post, I carefully collected a list of 100+ awesome full sleeve tattoos for your reference. Hope you can find inspiration on your full sleeve tattoo ideas. Be sure check out the link to view more portfolio of the tattoo artists. Remember it's the same important to appoint an best tattoo artist for you tattoo execution.
Dotwok – full sleeve tribal Titan tattoo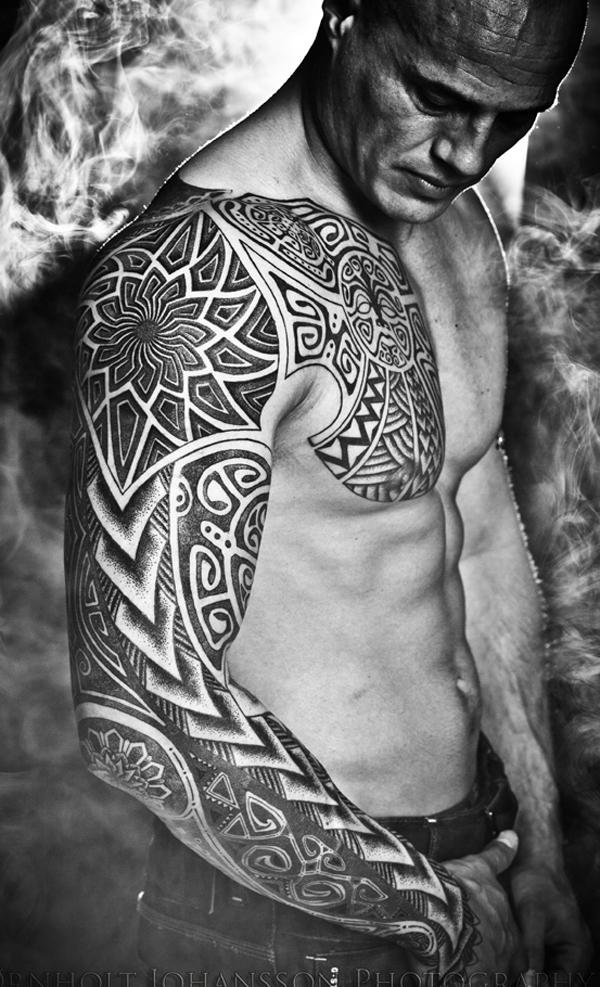 Polynesian inspired tribal tattoos usually feature stylized geometrical shapes or symbols, reflecting deepest culture appreciation. For example, in this masculine tattoo, the row of spearheads represents warrior and lizards symbols signifies power, good luck and access the invisible world. Furthermore, placement plays important role in the traditional tattoos. For example, shoulders and upper arms are associated to strength and bravery.
Whimsical illustration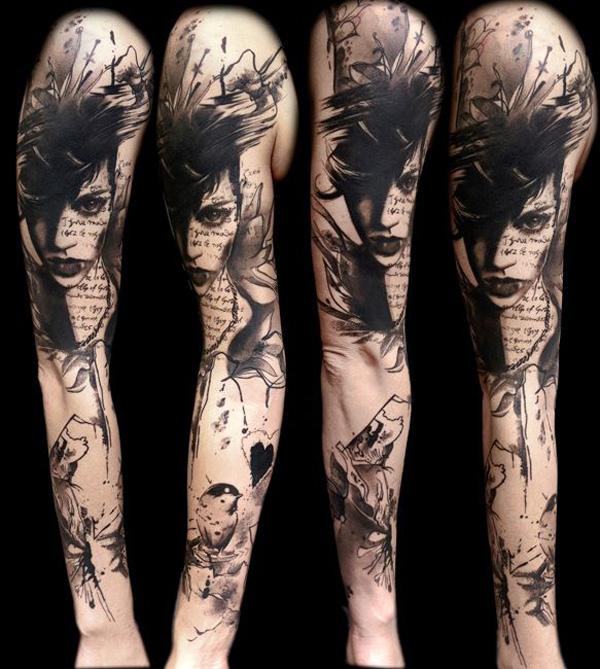 This awesome tattoo is a whimsical illustration inked on the canvas of 360 degree of full sleeve with a fashionable female portrait, flying birds, heart symbol splashed with black ink and decorative cursive script.
Owl, oil Lamp,fall leaf and wolf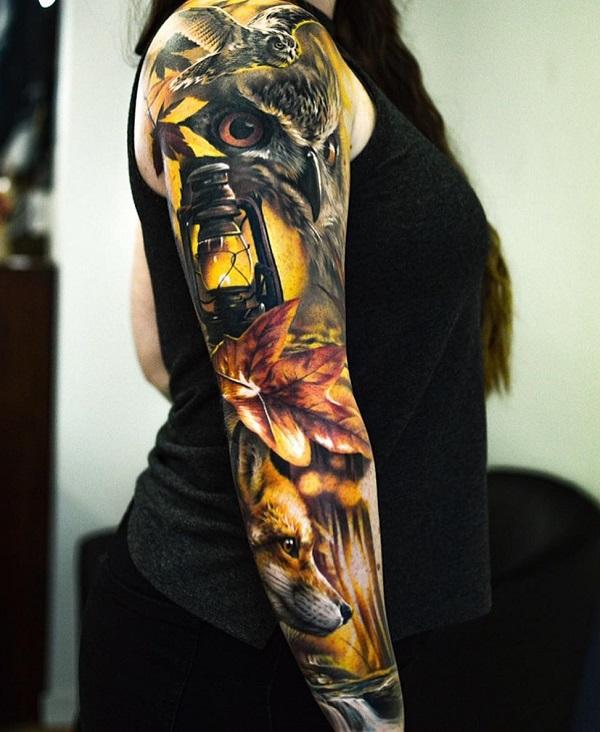 An intricate brilliant design combines alerting elements of flying birds, a owl, an oil lamp, a fall leaf and a wolf, which transmits vigilance attitude toward life. On the other hand, the elements are rendered in realistic style and the theme is amazing.
Realistic full arm tattoo A blindfolded man is remembering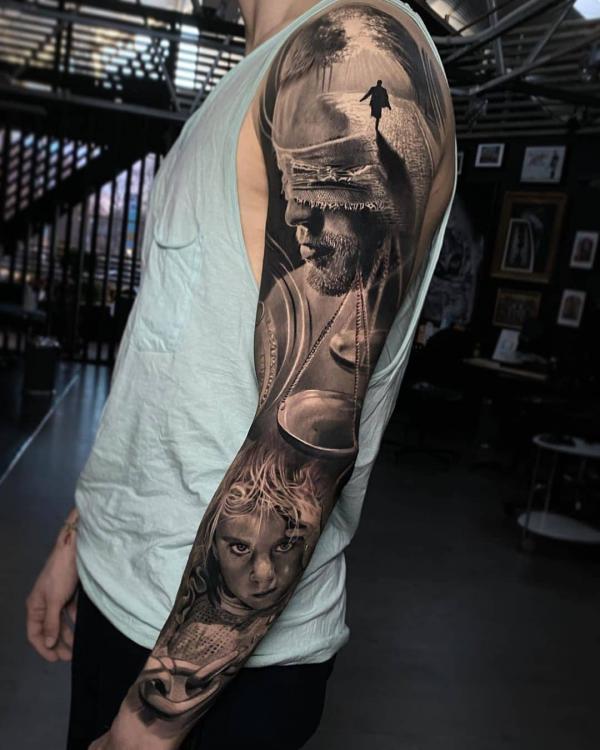 Full sleeve sculpture tattoo of Alexander the great with Angel Wings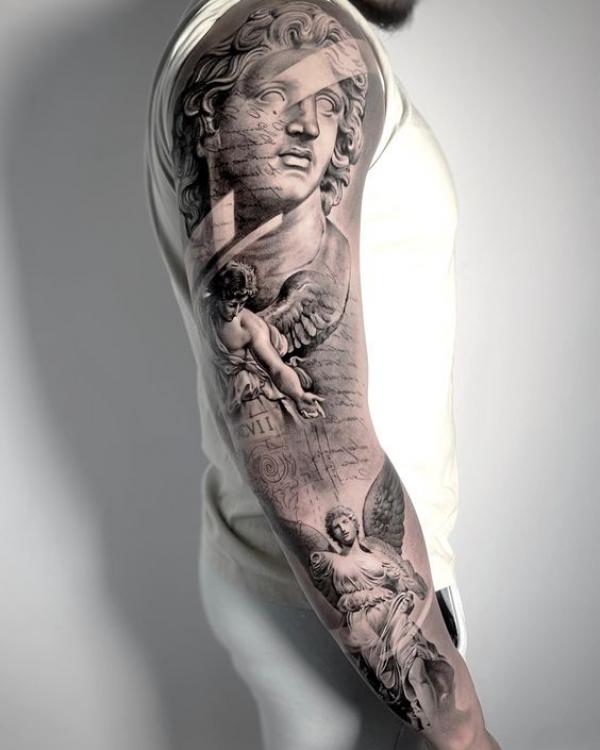 The black and gray shading creates an incredible level of detail, making it look almost lifelike. This tattoo symbolizes strength, courage, and power – all traits that were embodied by Alexander the Great in his lifetime. It's a powerful reminder to stay true to oneself and never give up on one's dreams no matter how difficult they may seem at times.
Monochrome flowers on black canvas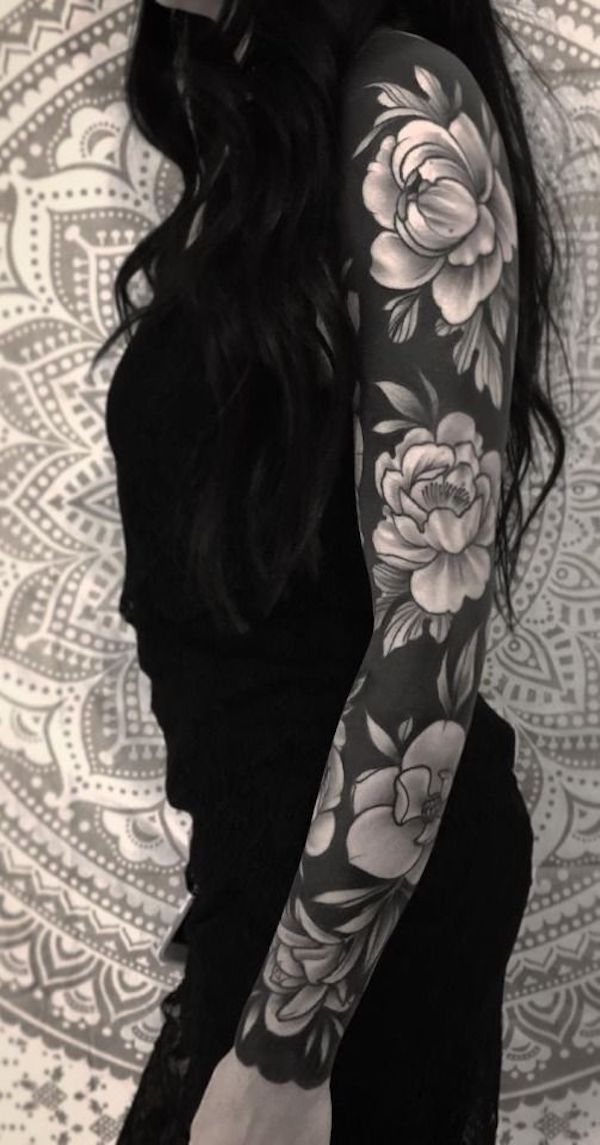 World of Warcraft character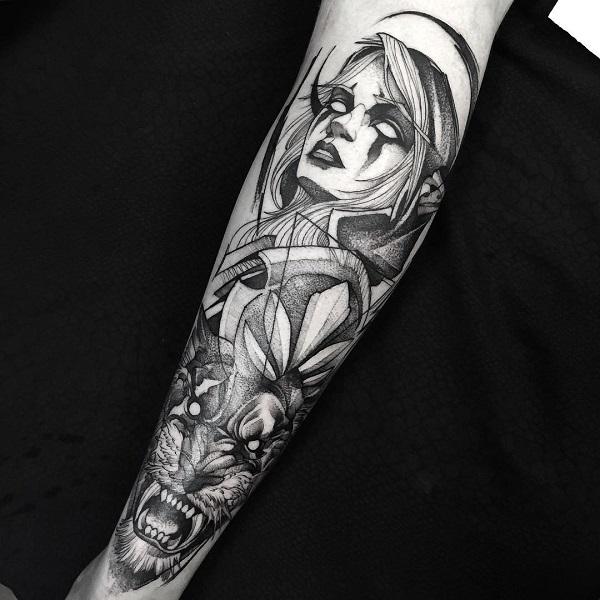 Video game character has always been inspiration for tattoo ideas. For example, World of Warcraft has become popular and one of sources for sleeve tattoo idea. People love to play the online game because of heroes, joy and frustration brought by the game.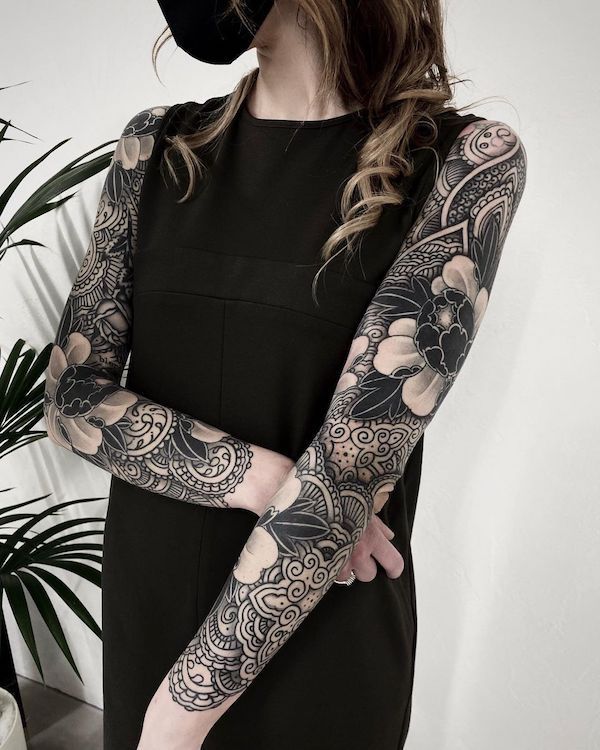 Stylish woman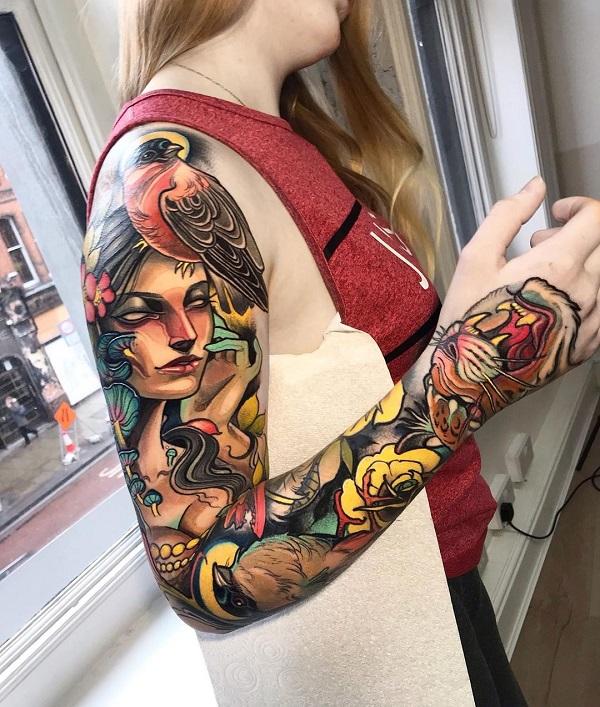 I have never been so impressed by the traditional tattoo like this one. The beauty of the stylish woman is not only rendered by the elements like standing bird, flora and tiger face, but also enhanced accent of color and seamless combination of the elements.
Flower full sleeve tattoo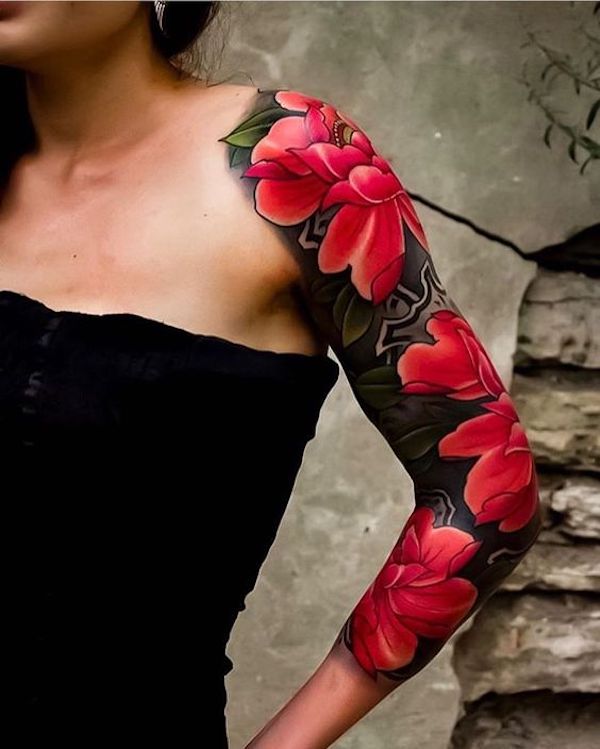 Lion, rose and bird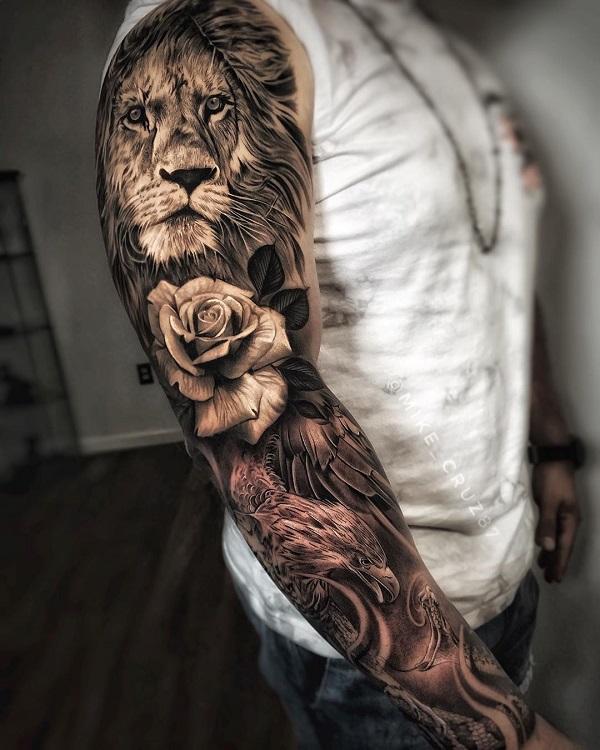 The lion is considered the king of the jungle that's why it' a quite masculine metaphor to express the meaning of power and strength. Rose, on the other hand, is the representation of love, which means even the strongest man conceals love in his deep heart.
Free dance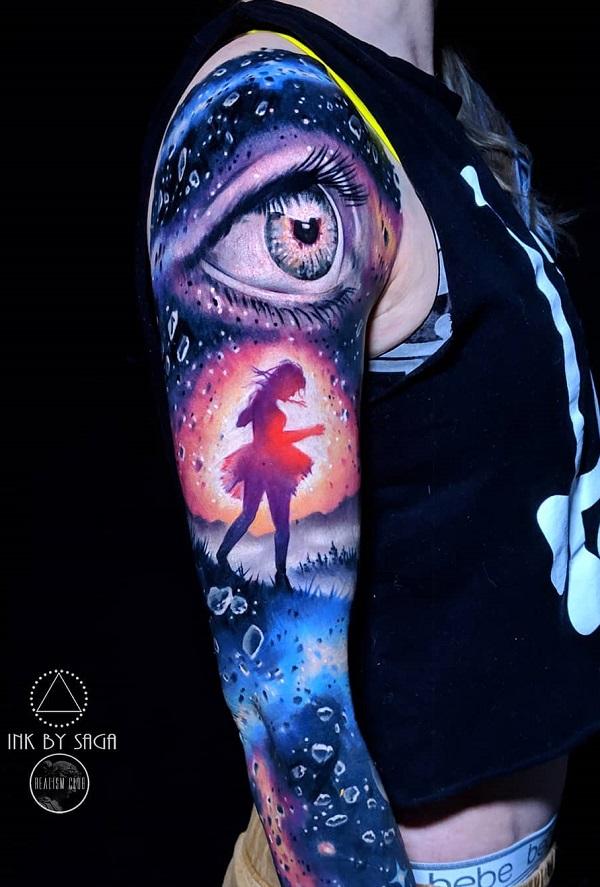 Life is beautiful and colorful, which is especially true in amine and fantasy world. The tattoo turns the arm into a fantasy world full of UV light with focus on the dancing girl under the spotlight of a fire ball. On the top, a staring eye adds mystery to the look.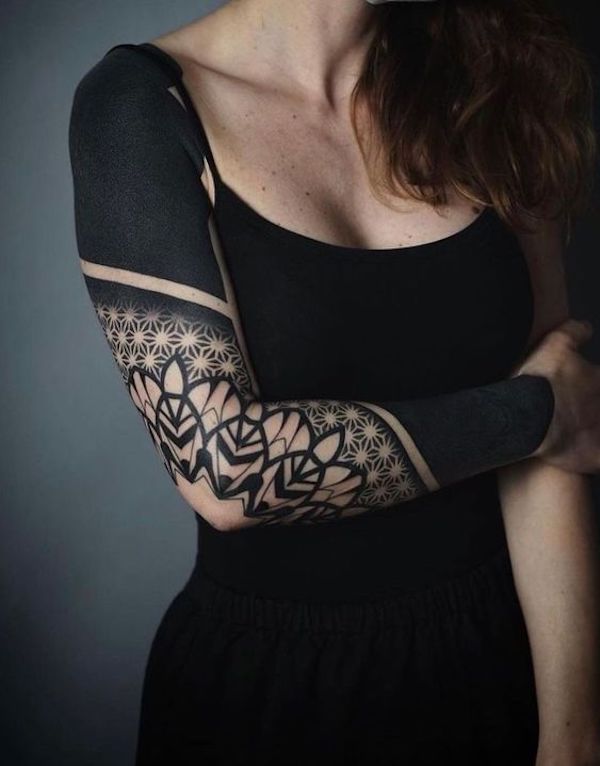 Wonder girl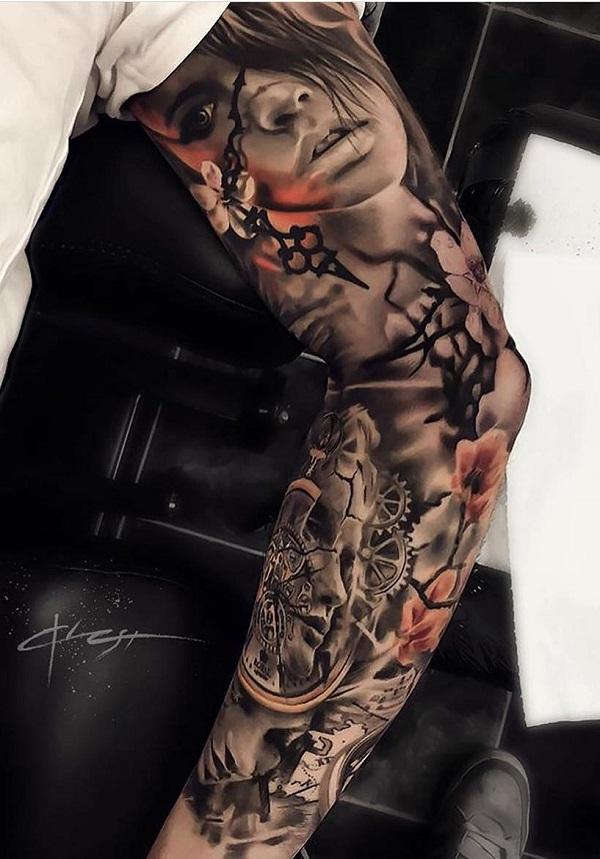 The incredibly realistic tattoo highlights a pondering girl done in shades of black and white. Moreover, the clock hands in front of her face as well as the clock in retro steampunk style accent the mood of the picture.
Kiku flower sleeve tattoo in Japanese style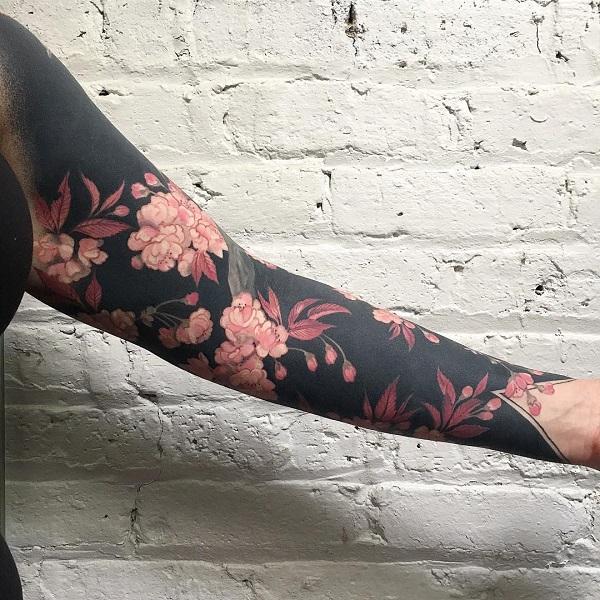 The black themed tattoo turns the woman's arm to sleeve of tight shirt with Chrysanthemum flower decorating pattern, which is evident by the triangle cuff at the end of the tattoo.
Queen of myth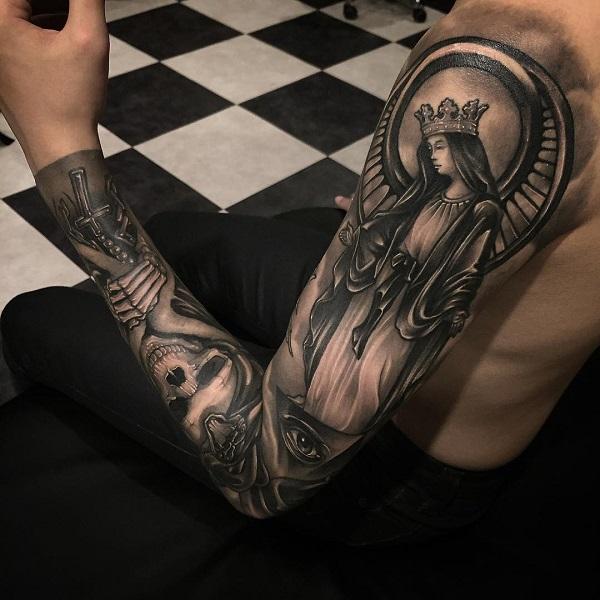 Many of tattoos are based on legends or mysterious stories. For example, this tattoo features a woman with a crown and halo in abstract depiction. The great details of cross, shark mouth and triangle eye add eery feeling.
Mixed flowers full sleeve tattoo for women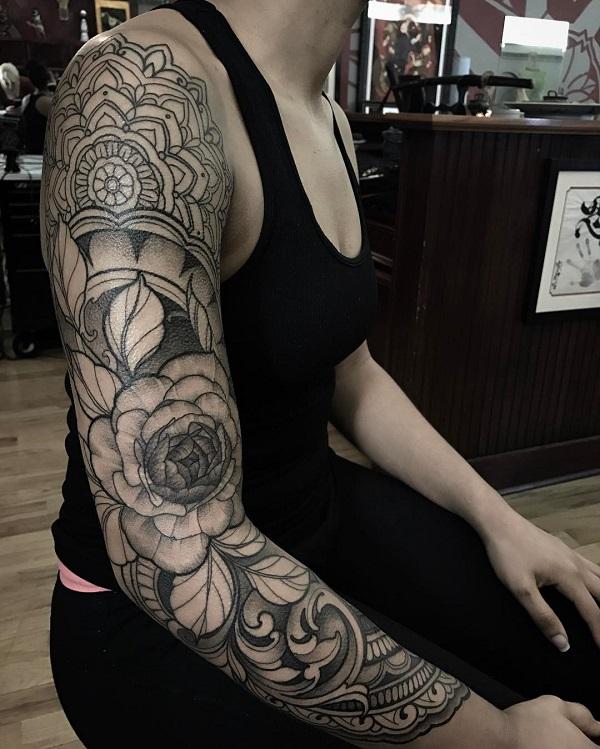 The flower inspired sleeve tattoo features concentric mandala on both ends. In middle, a rose flower is centered at the place of elbow.
Japanese style inspired tattoo with snake and exaggerated kiku flower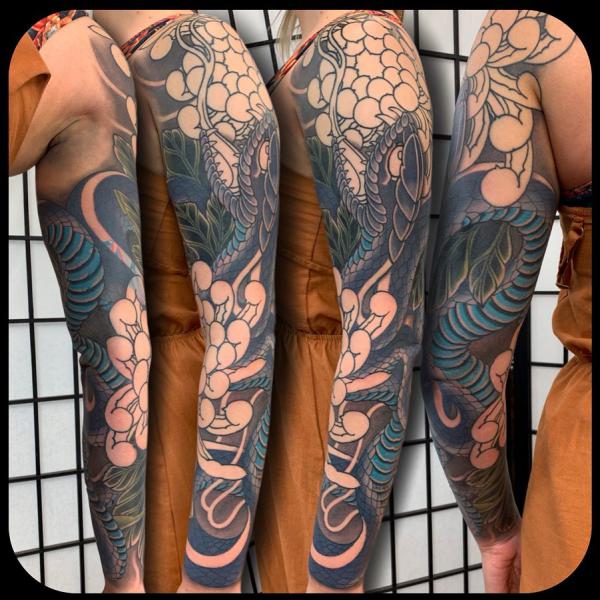 Mixed flowers full sleeve tattoo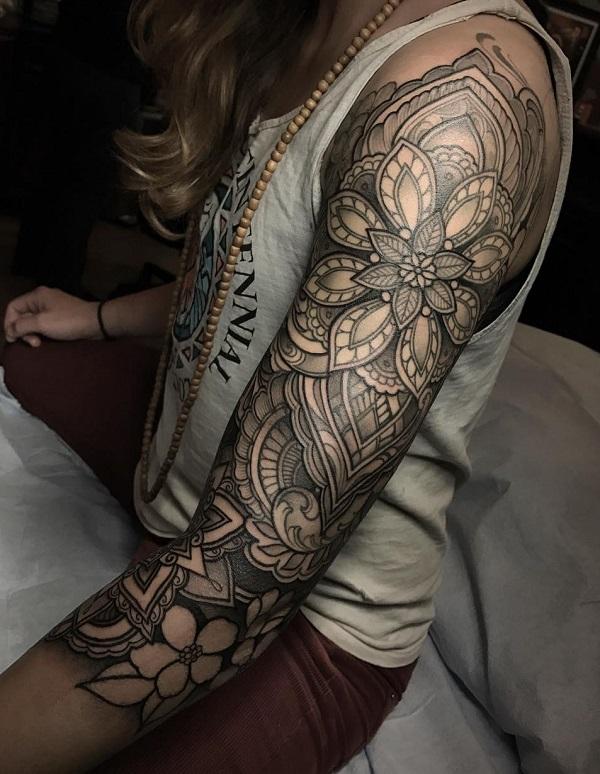 Matching sleeve tattoos in cubist style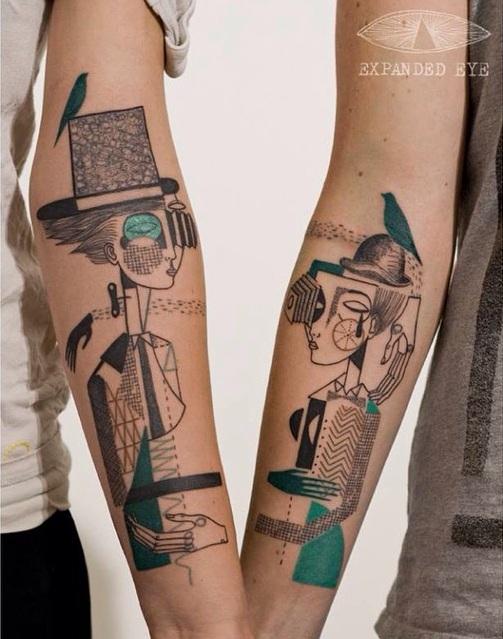 Cubist tattoo is inspired by Cubism, the art style features the stylization and distortion of geometric objects or figurative characters, etc. Cubist style inspires observations from different view.
Optical illusion geometric tattoo tattoo on arm for men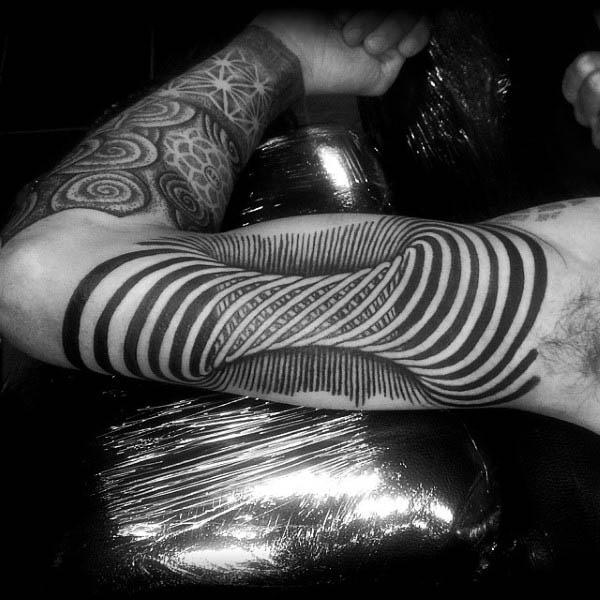 Geometric elements are often used by artist to create optical illusions in their abstract artwork. This tattoo employs geometric shapes and patterns across shoulder and full sleeve. It appears stunning and astonishing.
Tribal mandala – Geometric symmetry full sleeve tattoo for men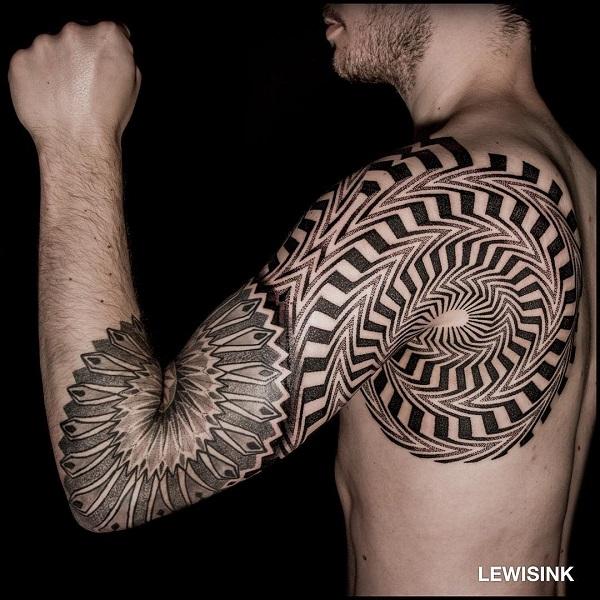 Warrior vs philosopher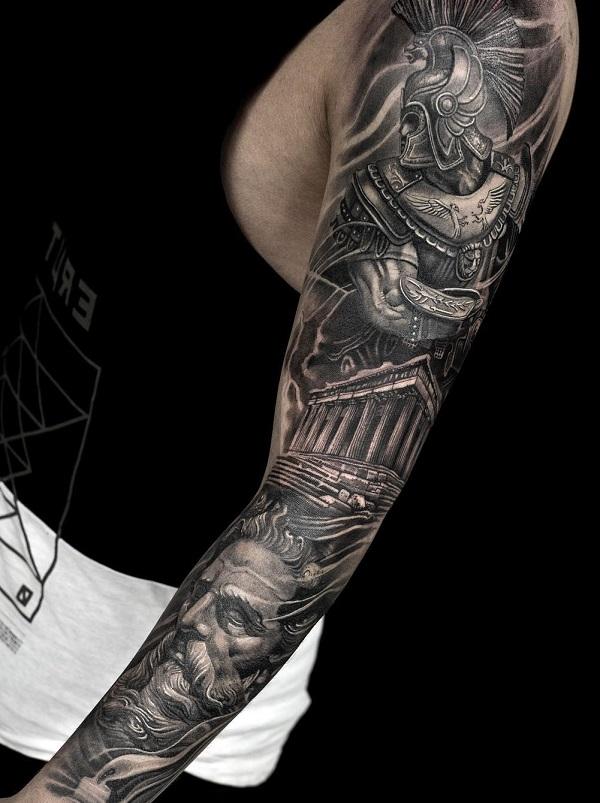 The black and white themed tattoo takes you to distant Greek civilization. On the top is a fully armored soldier and on the bottom is a meditative wise man. There is always debate who is the best dominant to govern the country.
Japanese pavilion arm tattoo
If you are a fan of Japanese culture, you wouldn't miss the attraction of traditional Japanese archetechure. This tattoo is impressive in that it reproduces the beautiful scenary of Japanese pavilion and garden art on the canvas of arm. It also reveals how the shade of black add hues and accent of the mood.
chrysanthemum themed full sleeve tattoo for men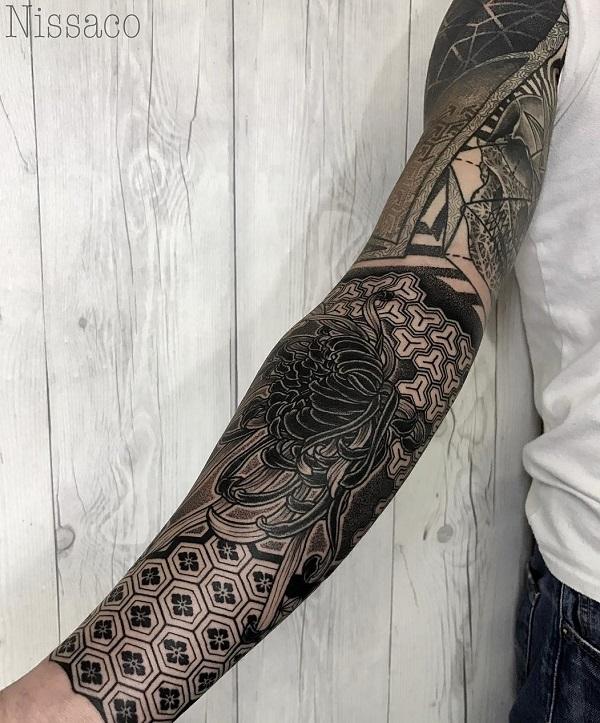 Skull with eye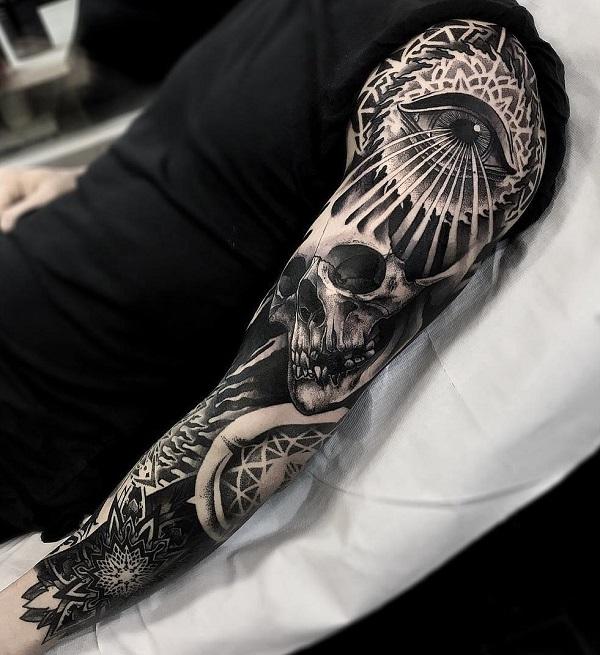 Sugar skull wearing a helmet tattoo on arm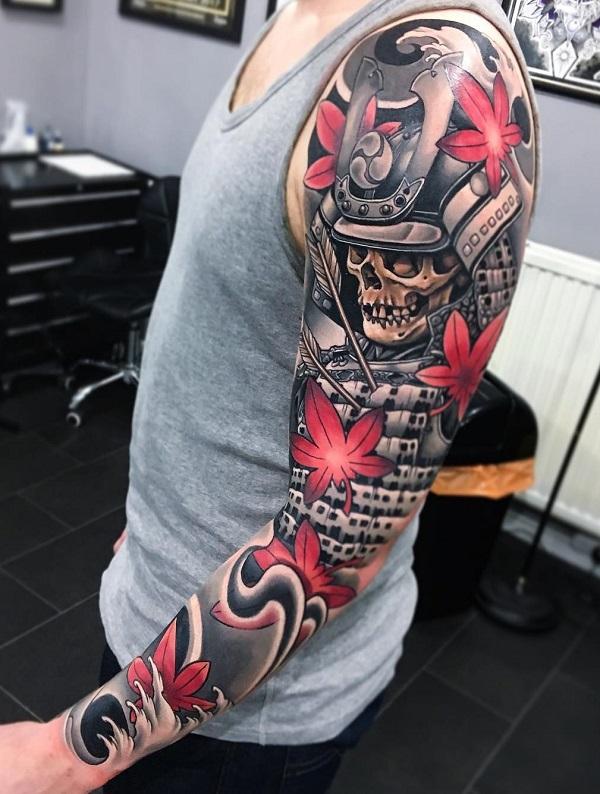 Dove and skull sleeve tattoo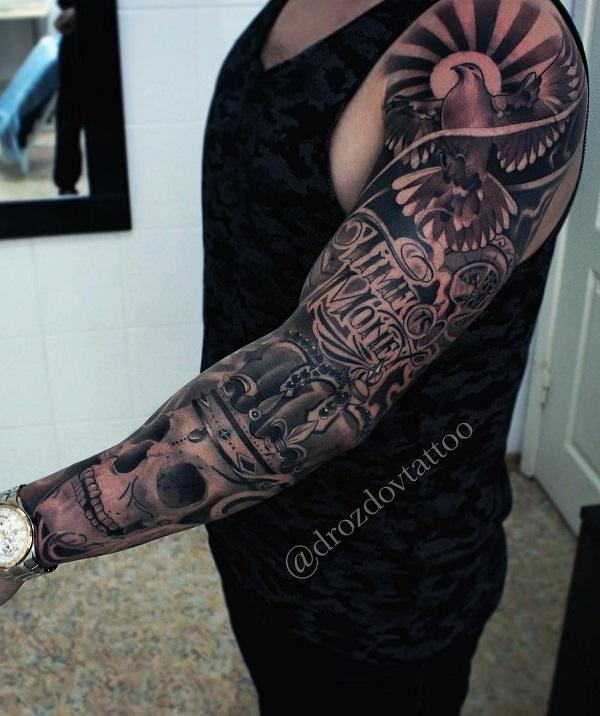 Buddha tattoo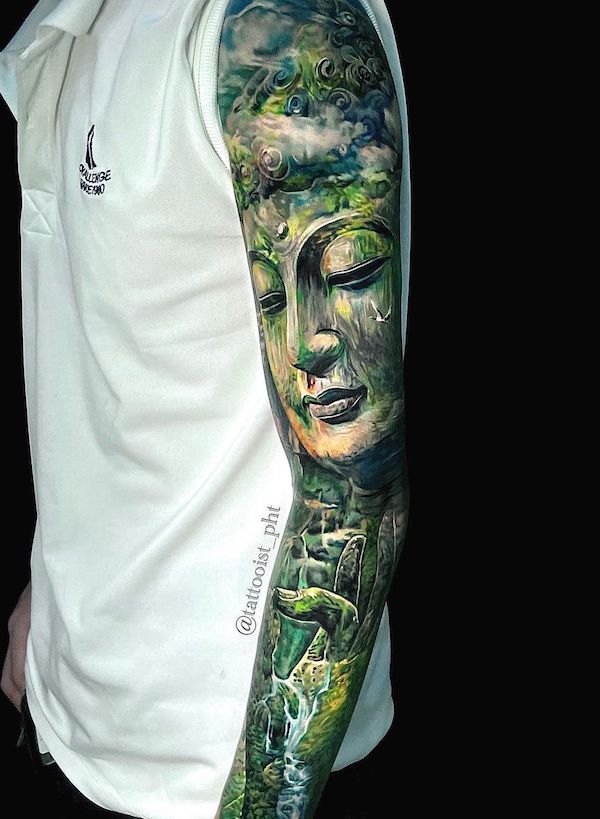 Blackwork full sleeve tattoo with mandala and geometric shapes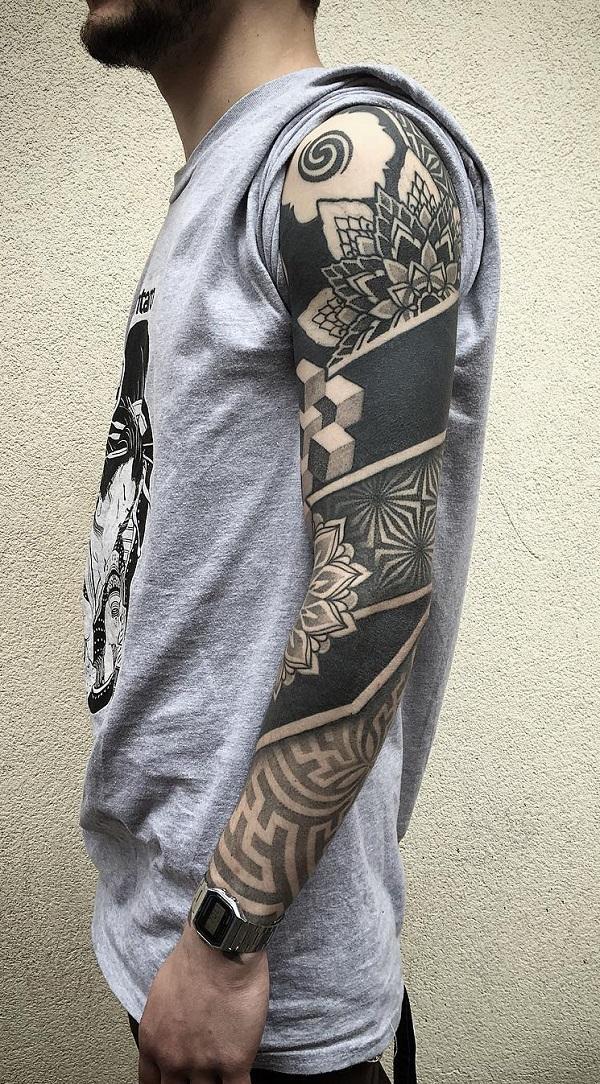 Vintage fantasy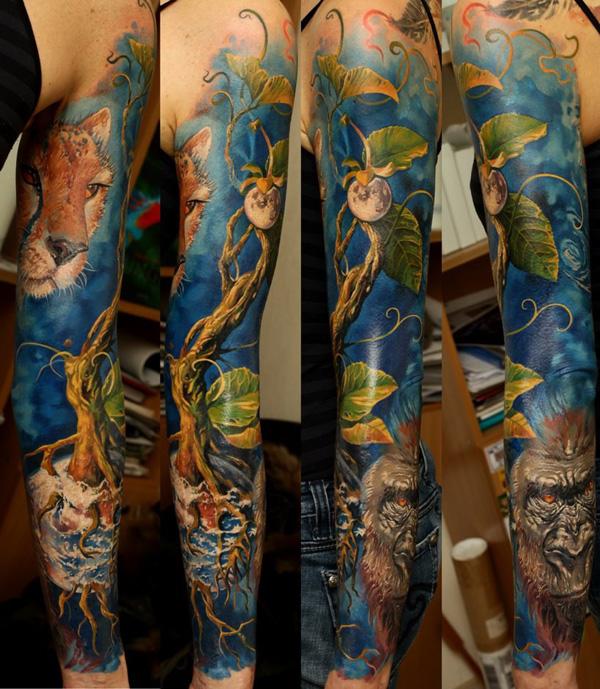 A natural inspire sleeve tattoo features aquatic plants and animals, lion and guerrilla. On the background, the blue color makes the one look cool and unique.
Incredible full sleeve tatoo in Trash Polka style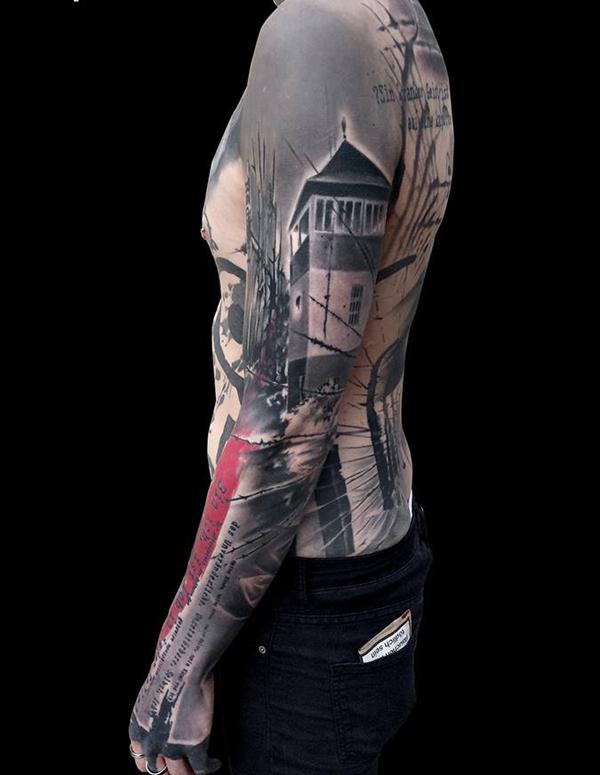 Abstract Trash Polka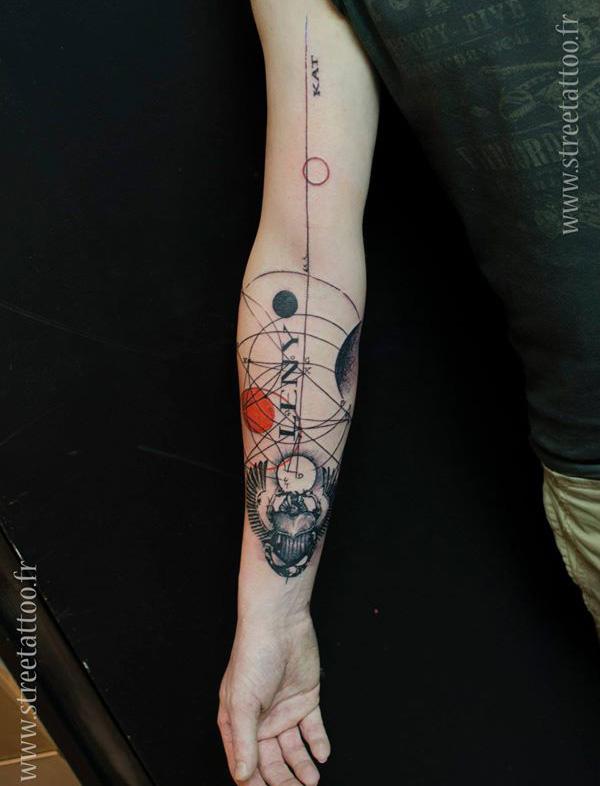 Portrait full sleeve tattoo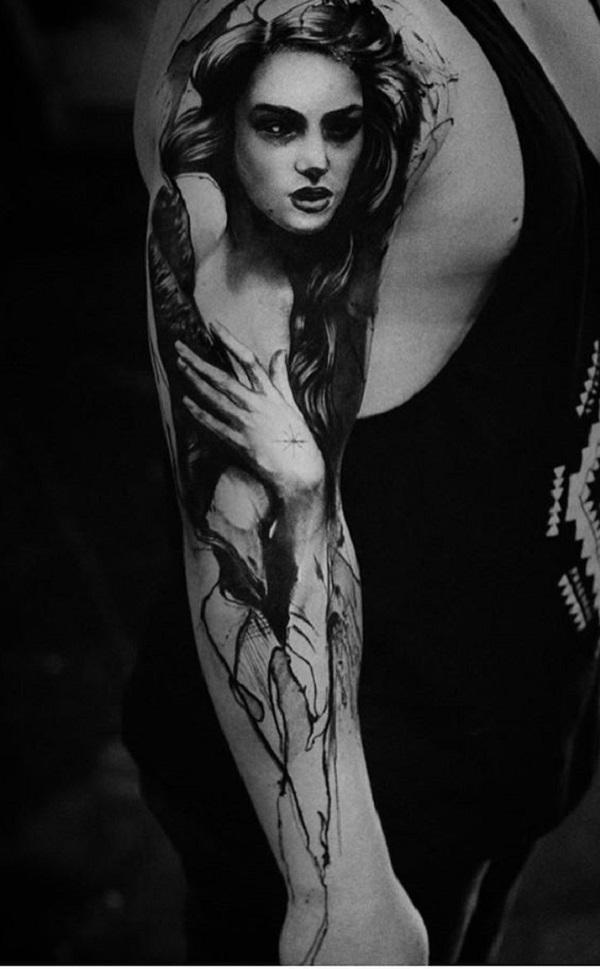 Maori tattoo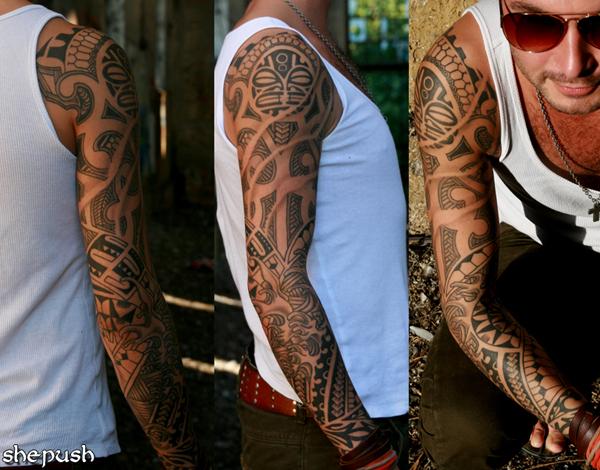 Maori tattoo originated from indigenous Maori people in New Zealand. But now it's popular choice for men all over the world. This tribal inspired design is overwhelmed with Maori elements such as Tiki, spiral patterns and matau.
Blank and white hibiscus sleeve tattoo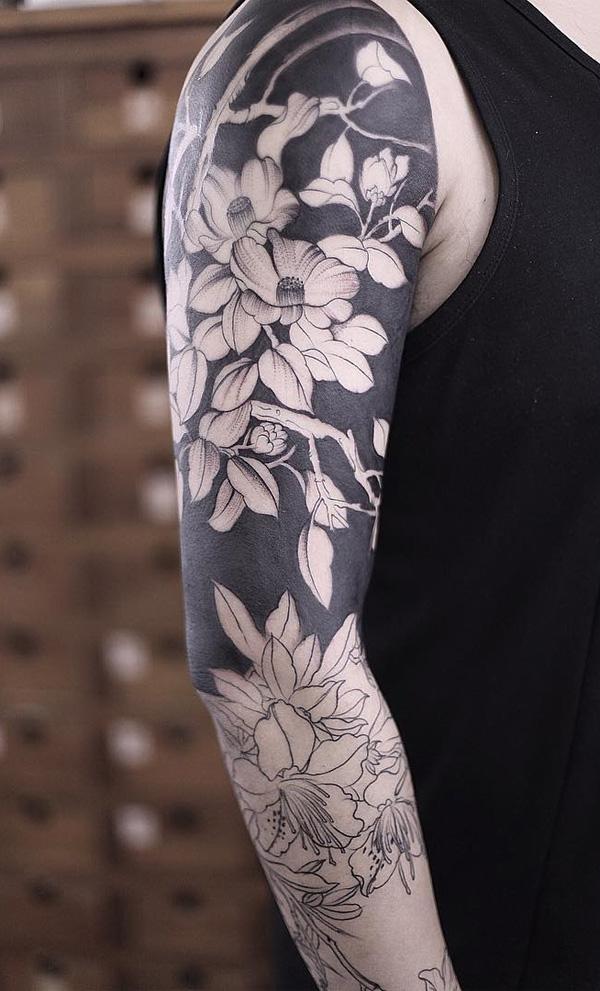 Hibiscus is one of favorite choices for women's tattoo ideas. Hibiscus tattoos normally come in a variety of colors. But this one rendered in pure black and white outlines.
Arm Spine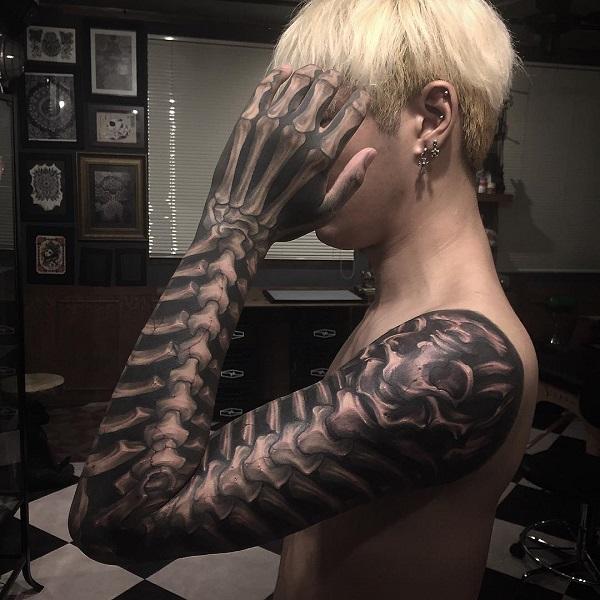 Isn't horrible to be able to view the bones in human body transparently? The black themed tattoo does more, which lets you see the vertebral in the arm. Of course, it's exaggerating representation of Gothic style.
Mandala inspired blackwork tattoo for women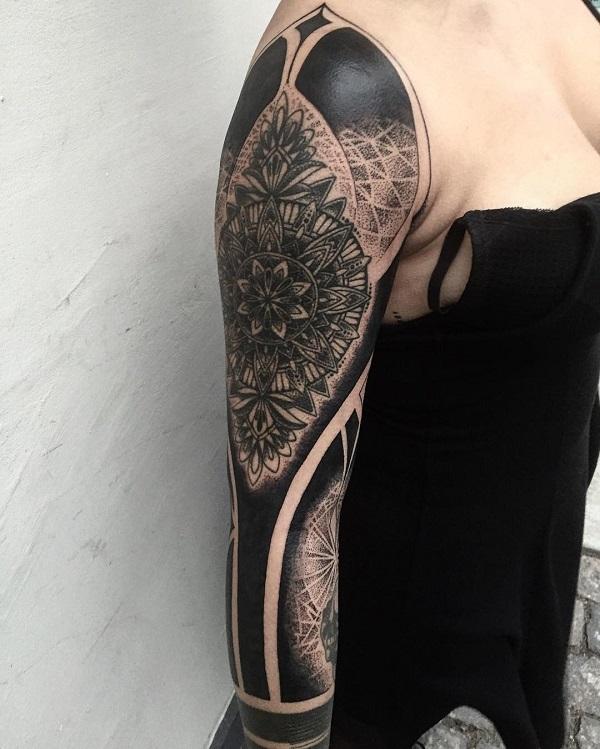 The blackwork tattoo covering full sleeve ususally appears on the arm of men. But it could also be designed for women tattoo by adding elements in feminine style.
Bird and hand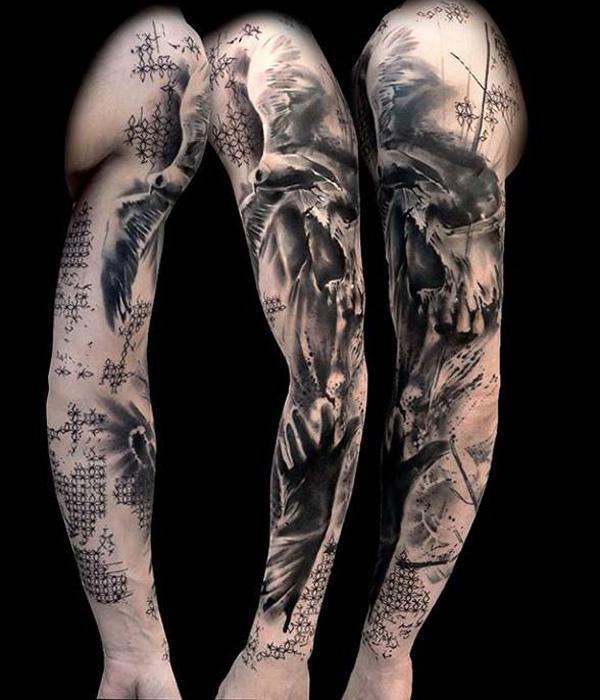 The full Sleeve Tattoo is portrayed as fantasy adventure in a dark world. The lonely hand is seeking help from a flying bird.
Skull and lily full sleeve tattoo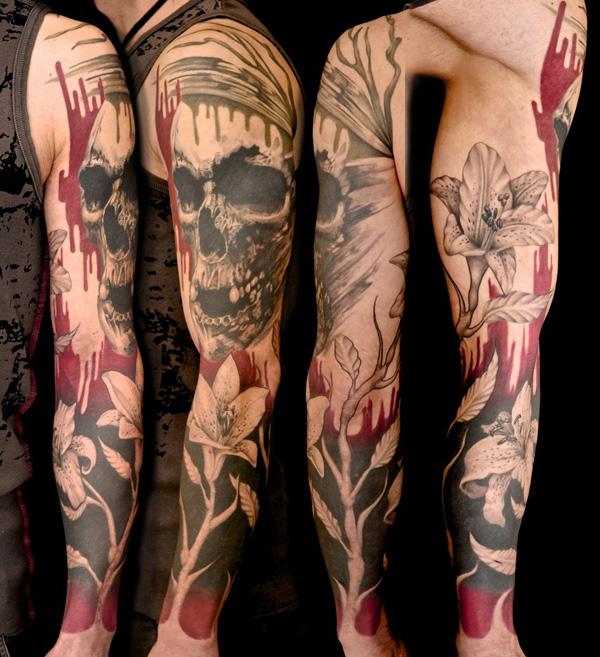 Lily is the symbol of compassion in Buddhism. On the other hand, skull represents vessel of the soul, or wisdom. So the meaningful full sleeve tattoo is nice choice to express their faith.
Intricate full arm ink in 3D style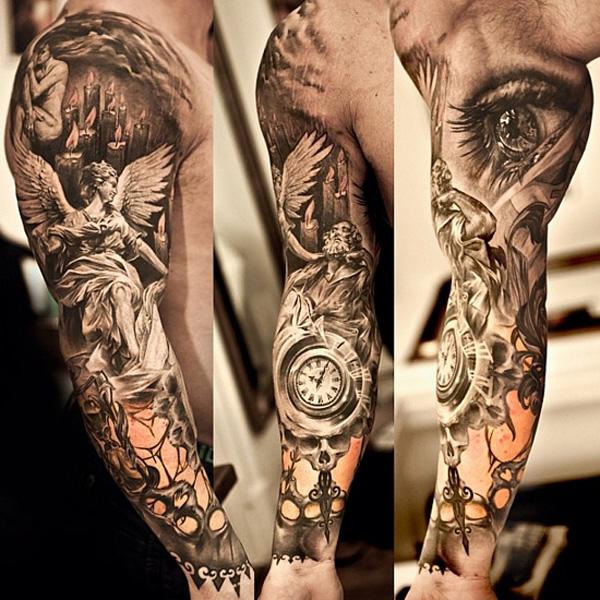 The iconic work draws meaningful symbols in the full circumference of the arm. At the front of the upper arm is a sad man with lighting candles, which is to say there is darkness in life and there are also lights. Whenever there are difficulties or danger, there are angles in life. Viewing the amount of detail, one can imagine how long it took to get the perfect amount of shading to render the realistic 3D style.
Lily Flower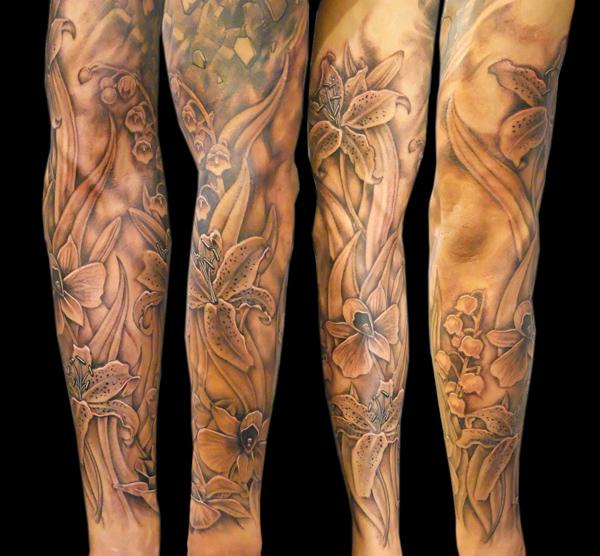 Despite the flower theme, this tattoo looks unique for its burnt yellow color.
The whole circumference of the arms is inked with lily flowers, their leaves and shades.
Life and Death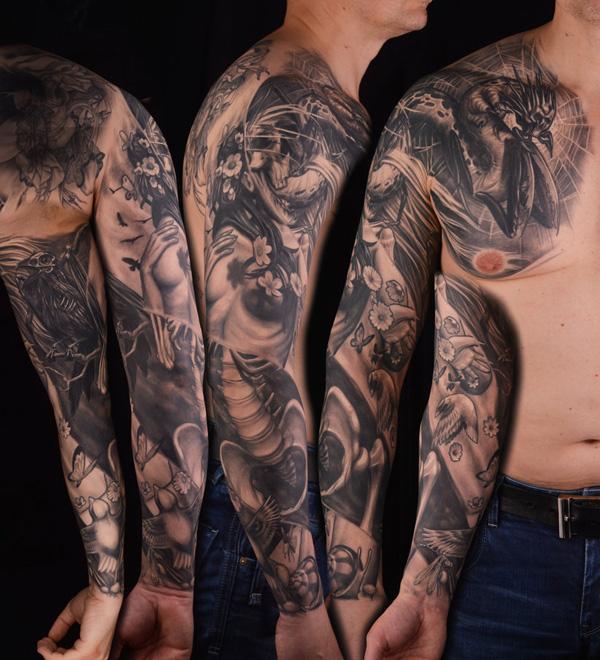 Abstract style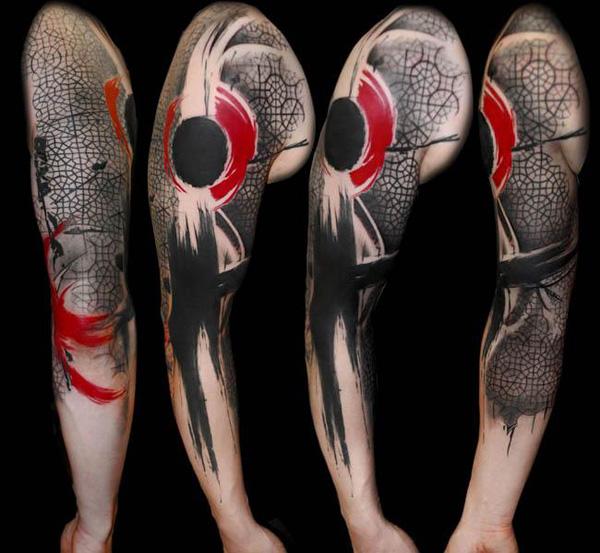 Blackwork with stylish patterns on full arm for females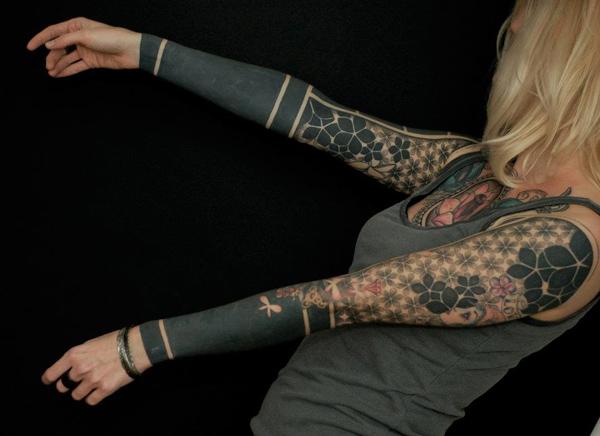 Black and white religious themed tattoo on arm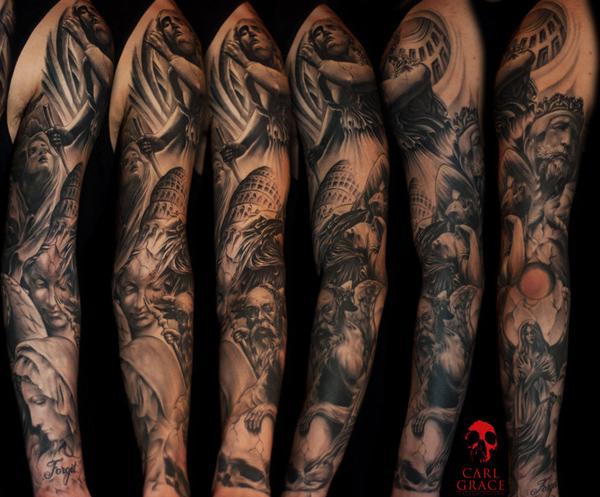 Colorful ink with fictional symbols from water to space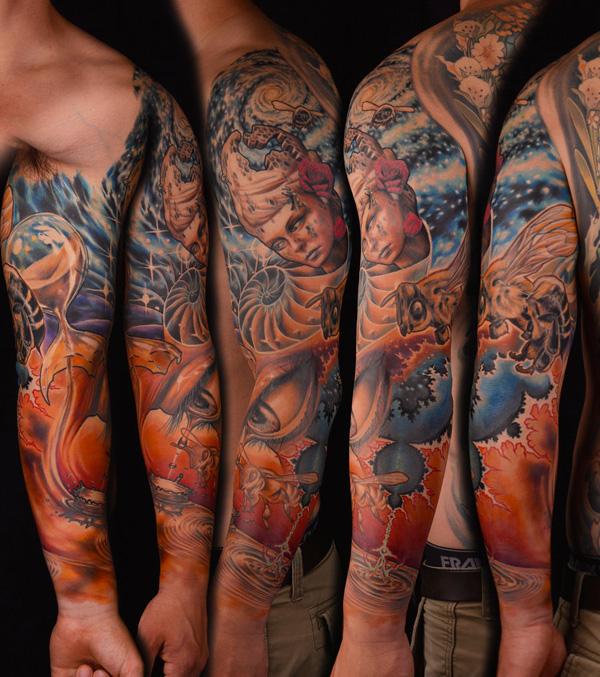 Dragon, Koi and Peony Flower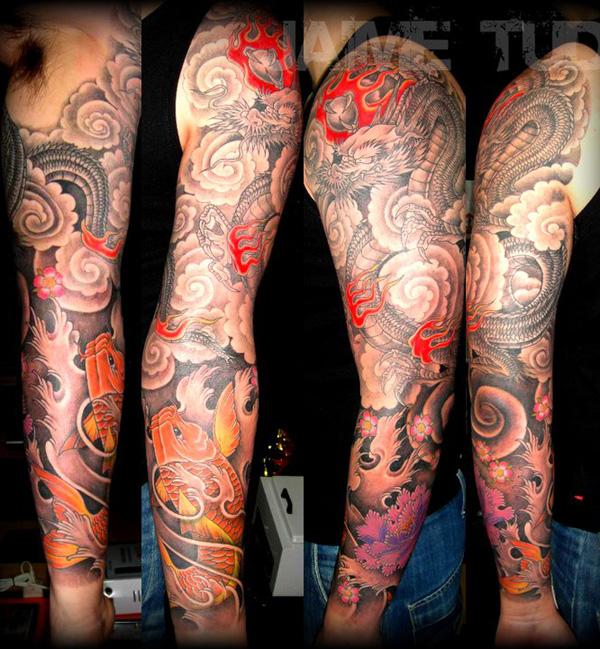 Black and gray tattoo with Jesus Christ and the Virgin Mary on full sleeve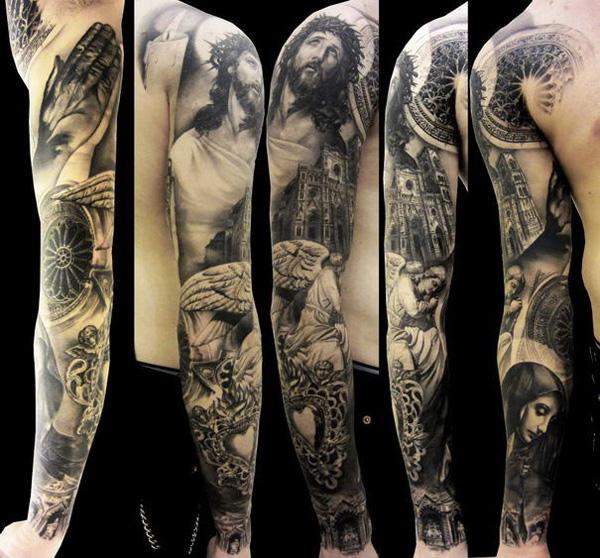 Jesus Christ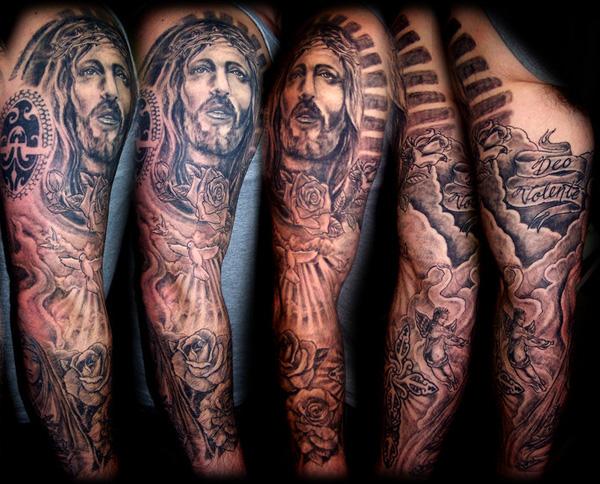 Christians and non-Christians agree character traits of Jesus Christ, compassionate, prayerful and humble. Therefore, the religious subject tattoo is popular by people who'd like to express their faith. This tattoo features depiction of Jesus' portrait with shining halo. Further, the roses, angel and dove underneath serve to enhance the subject.
Bloody red roses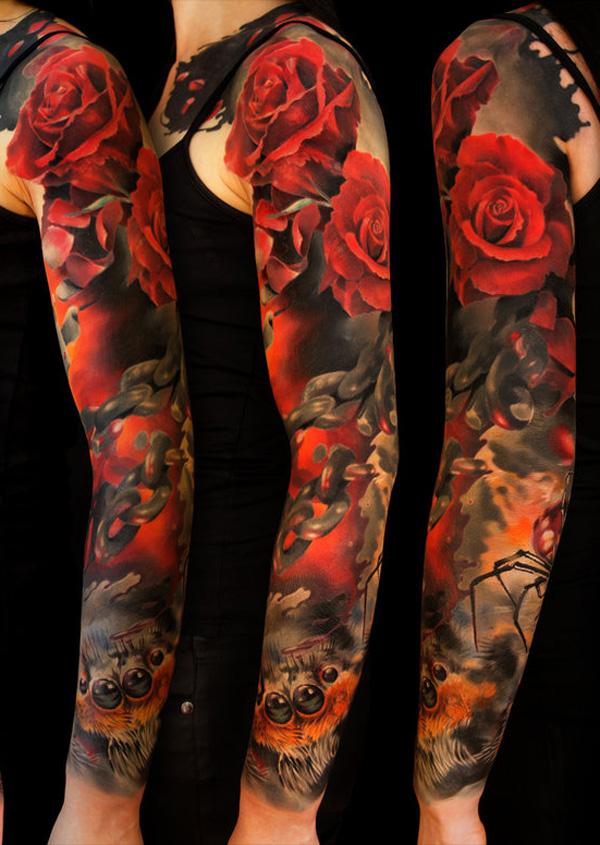 This tattoo looks like a glow of fire lighting over the arm with nonflammable chains and standing roses, which represents firm character.
Vintage city view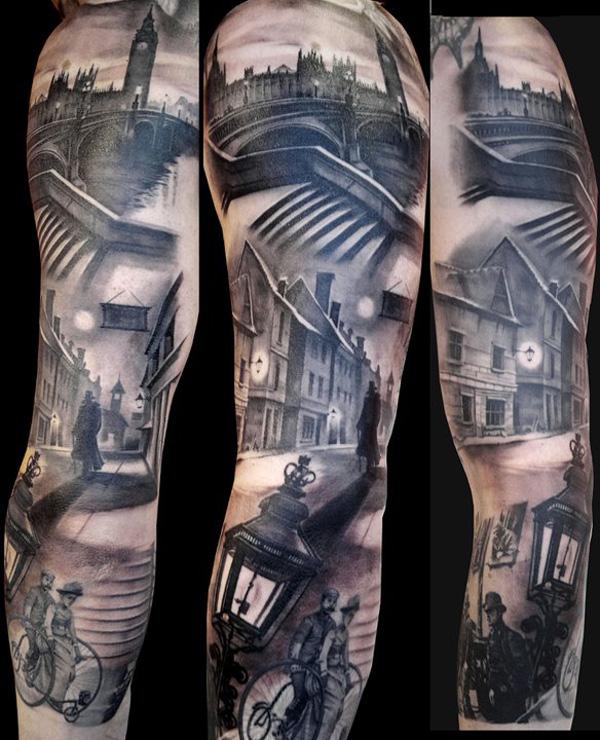 The black and white tattoo takes us back to the city of 19th century. On the top is a picture of cityscape, and then followed by the bridge and street view at night. The cab underneath is the most evocative of days that time.
Bible verse sleeve tattoo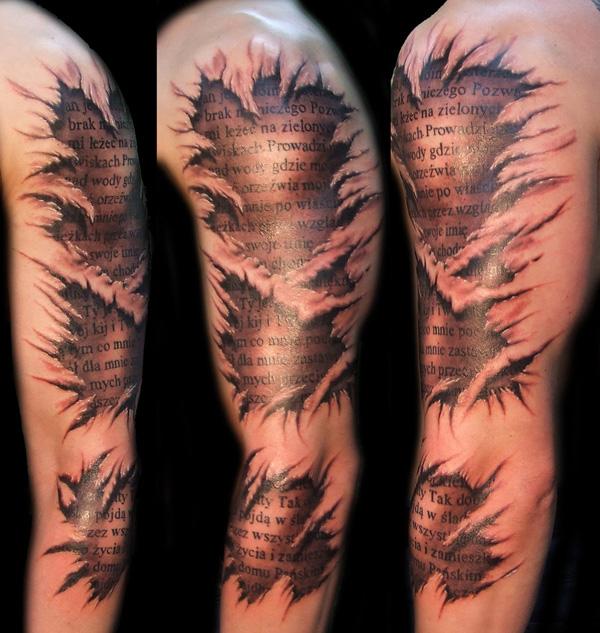 Religious tattoos are always choices to express one's faith. For example, this tattoo creates illusion that the Bible verses were carved in the flesh of the arm with shades and veins of wounds conspicuous and realistic.
Legendary full sleeve tattoo design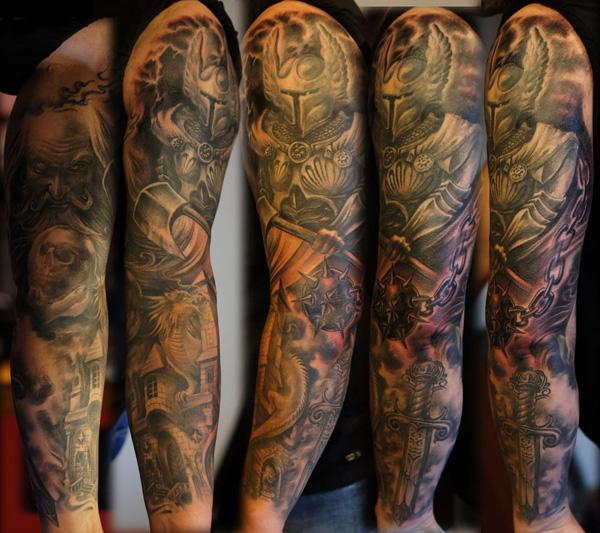 The intricate sleeve tattoo depicts details of imaginary metaphors, such as a mysterious man with full-face helmet, an axe, chains and a sword, which evoke rich imaginations about the story.
Skull vampire full sleeve tattoo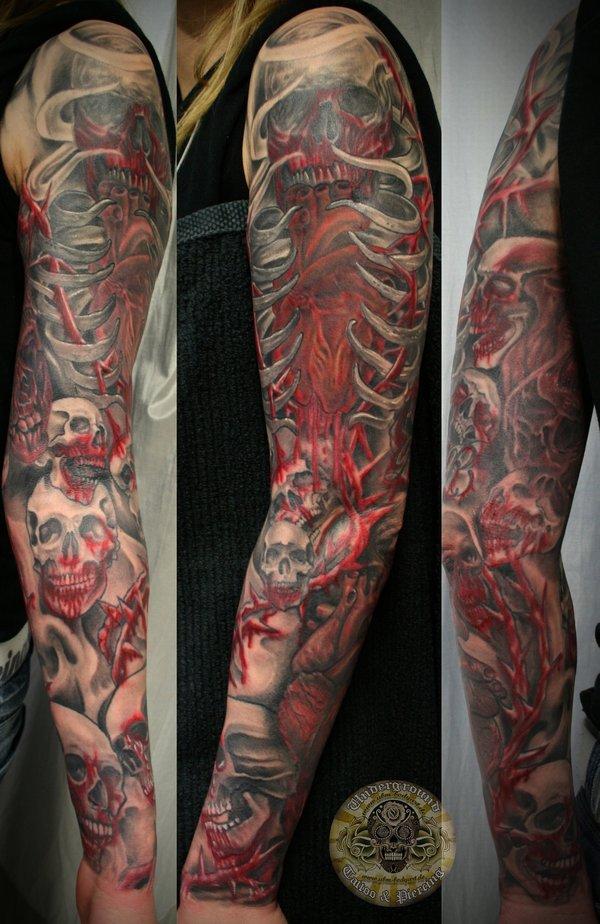 The spooky tattoos are alway sleeve tattoo ideas for men. For example, this full sleeve tattoo features frightful skulls with red blood over the arm.
Freaky wonderland full sleeve tattoo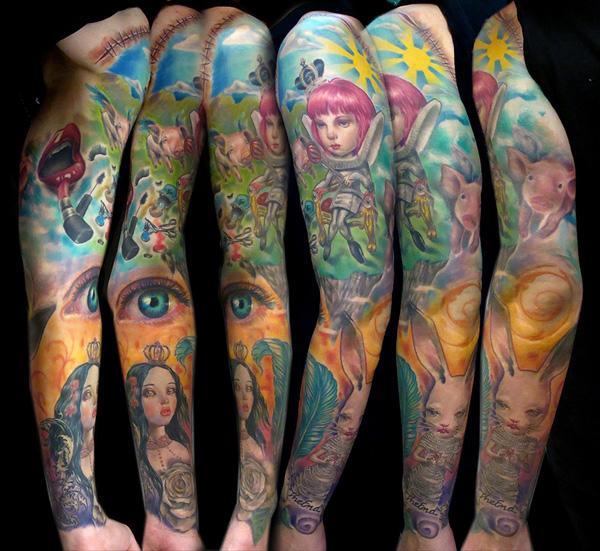 Fight with evils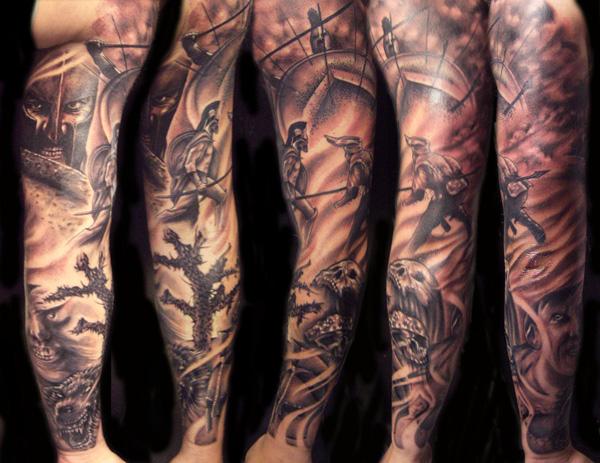 Elyse Arm finished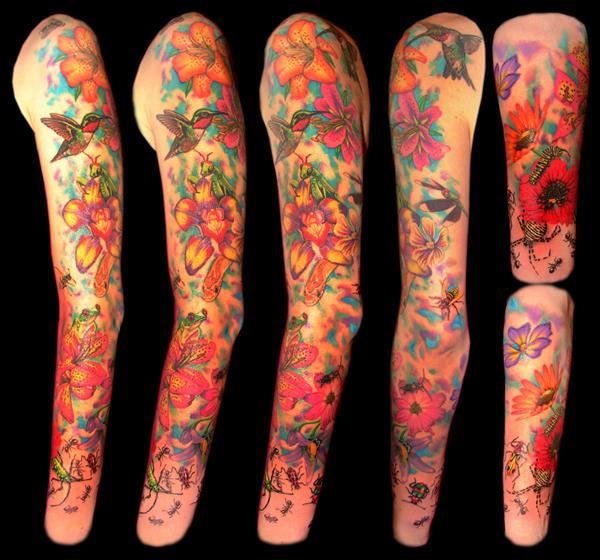 Peaceful Buddha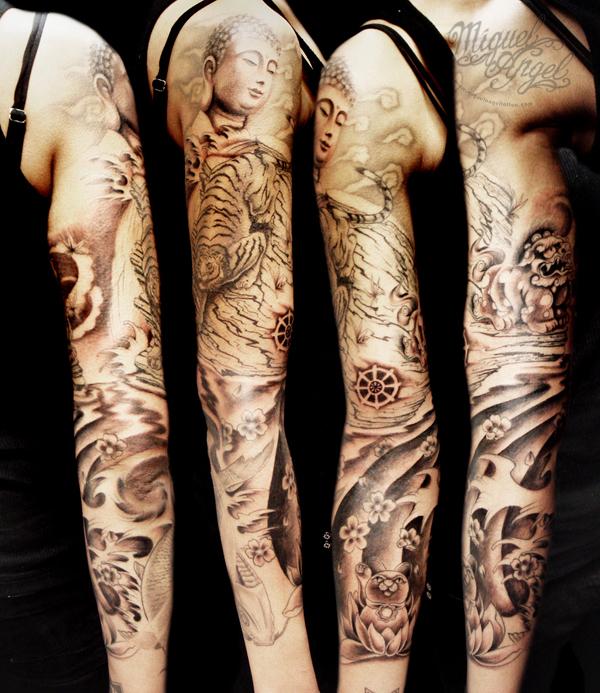 Buddha is always serene and peaceful no matter how much chaos the world becomes.
Woman, clock/compass, book and roses custom tattoo cover up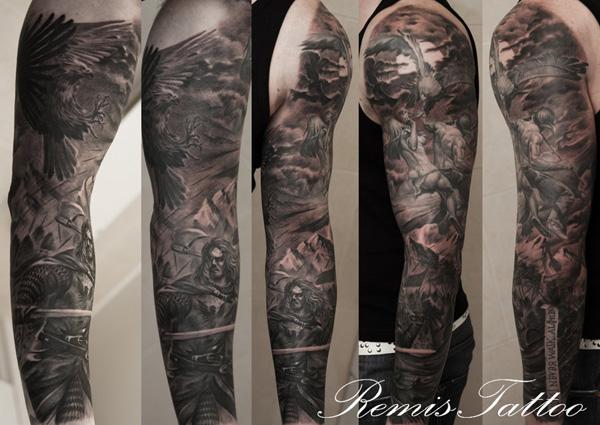 Fall foliage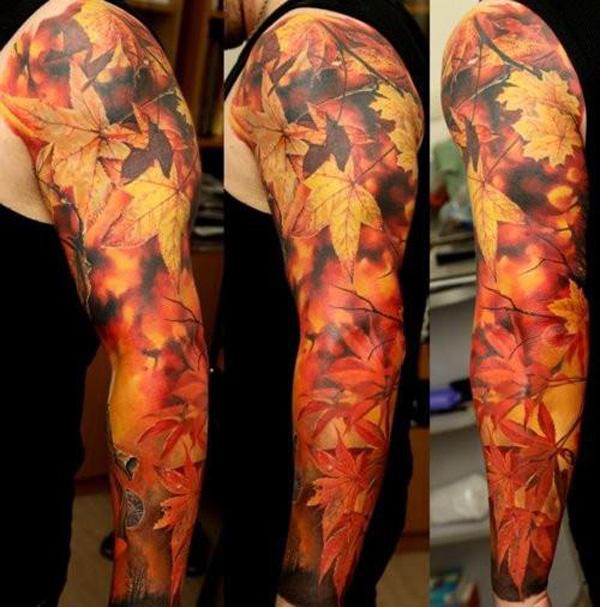 Fantastic fall foliage splatted over the arm. The focus of near leaves is contrast to distant blurry, which creates perfect photographic effect. The deep Autumn leaves tattoo is a sign of transformation, a metaphor for rich experience of life.
War and children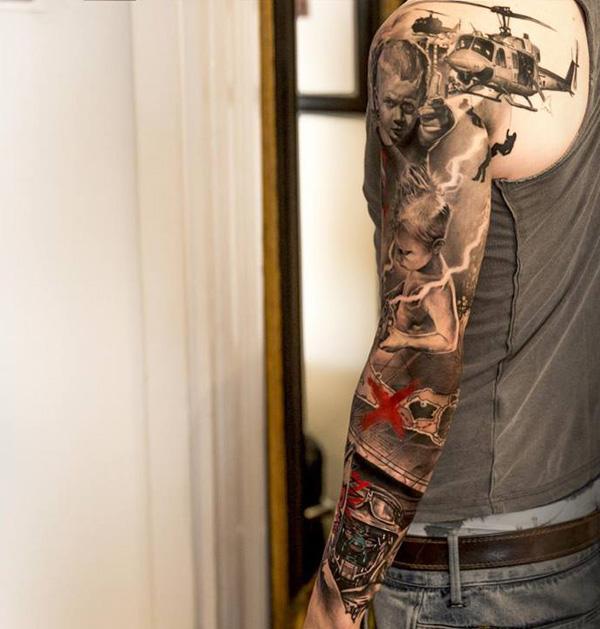 This tattoo depicts a powerful and realistic battle scenes as well as its consequence. On the top, the tattoo makes use of natual area of the back shoulder and draws a helicopter, creating perfect realistic effect. On the arm is highlighed with the children left alone. This is another way to remind people of the danger of the war.
Zombie woman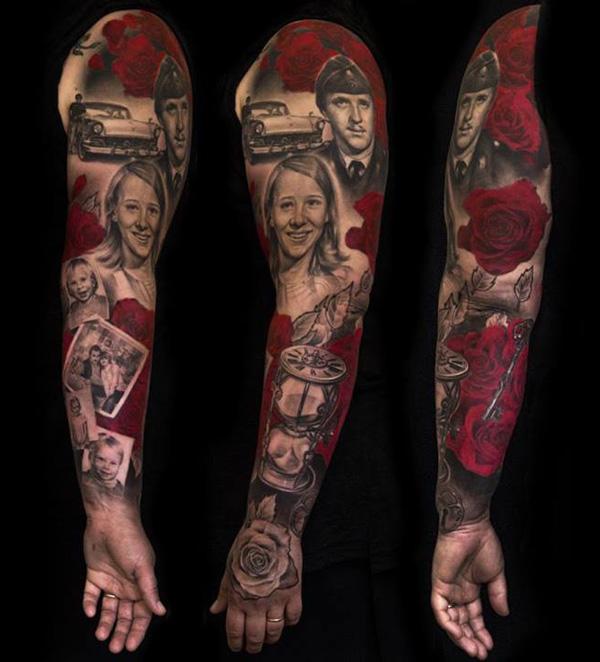 Family sleeve tattoo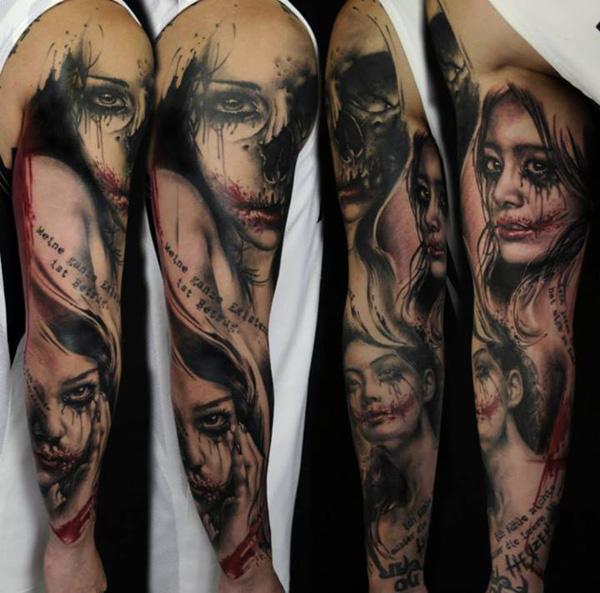 Eminem song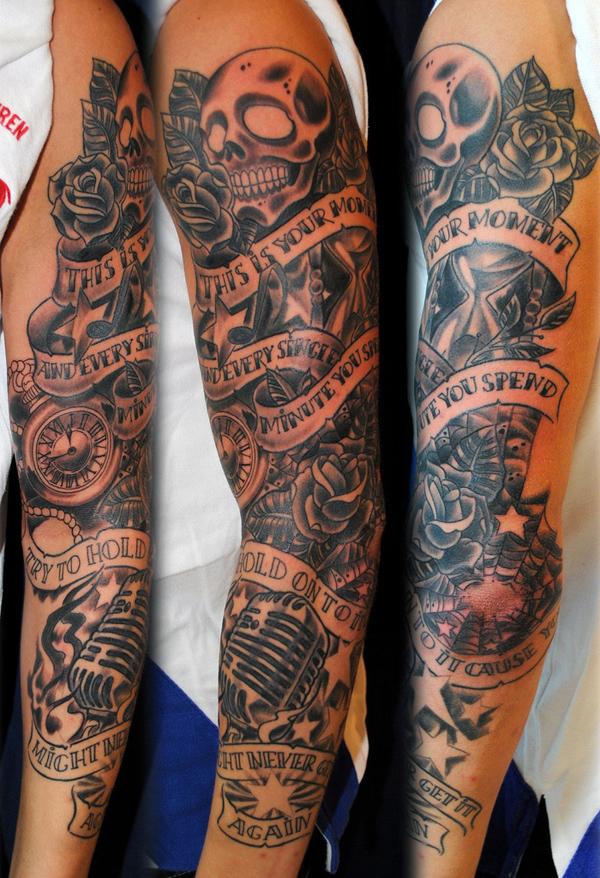 New school tattoo sleeve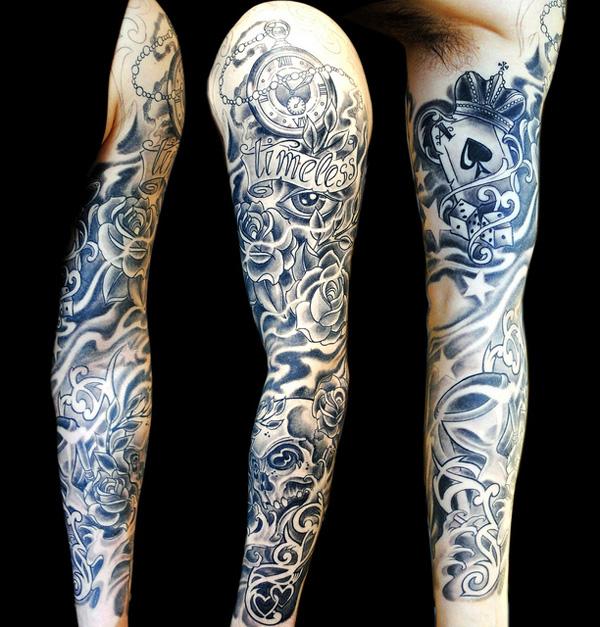 Music drums note micro tat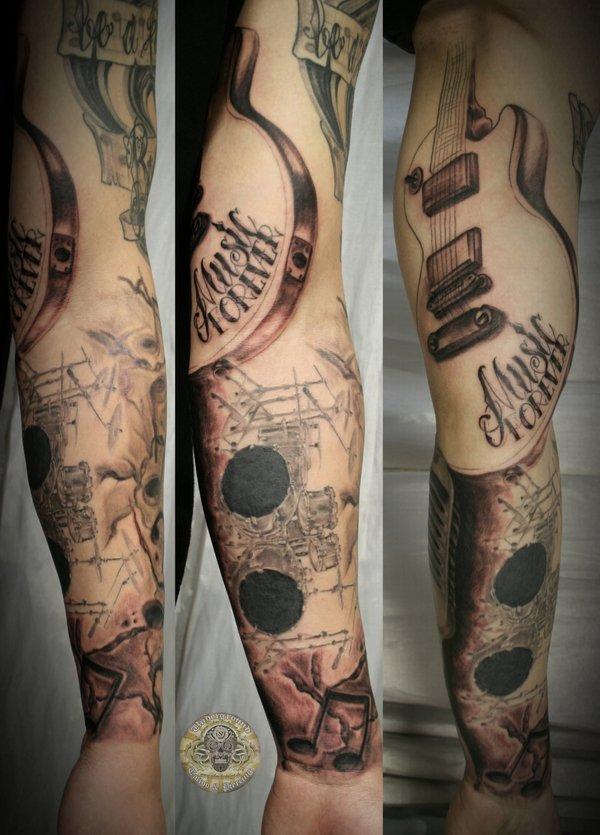 Monster with large paw vs. cherry blossoms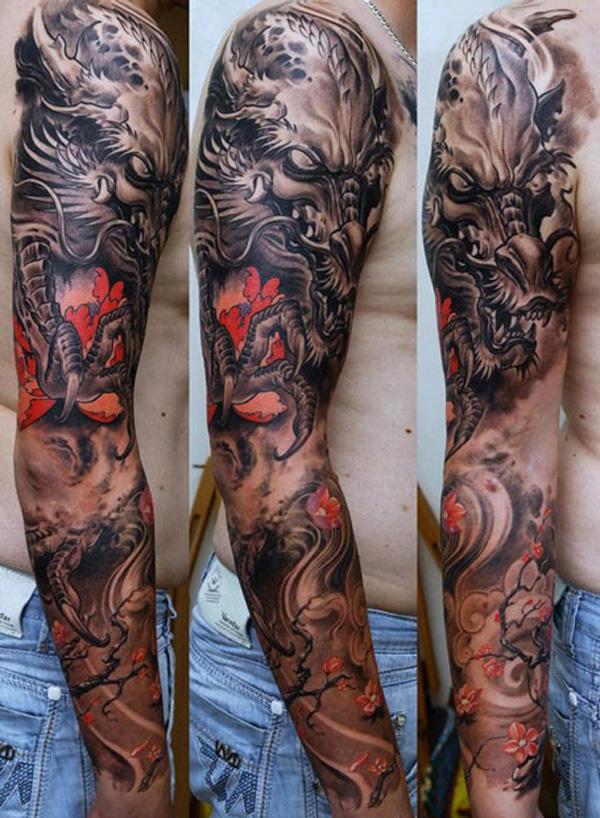 Colored sleeve tattoo with dragon and kio fish for men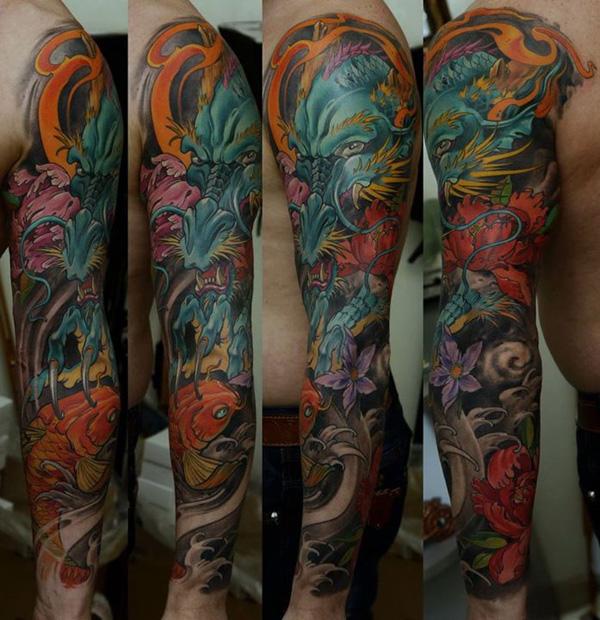 Ocean subject sleeve tattoo with octopus, sea fish and compass in blue theme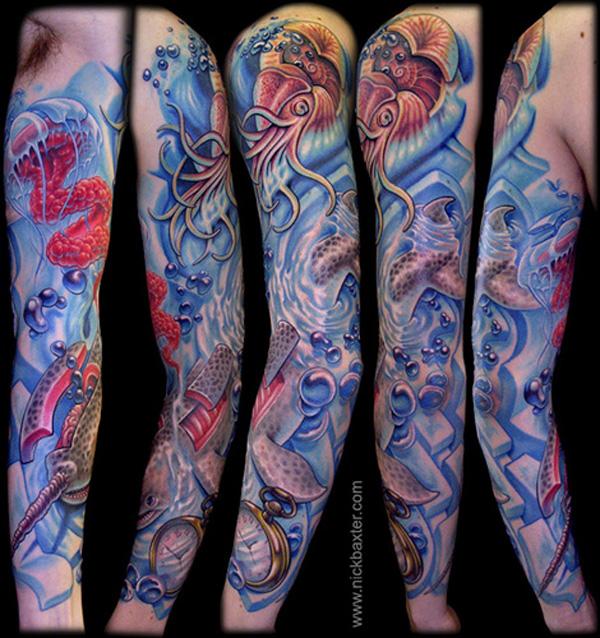 Japanese style tattoo with kio fishes and swirling wave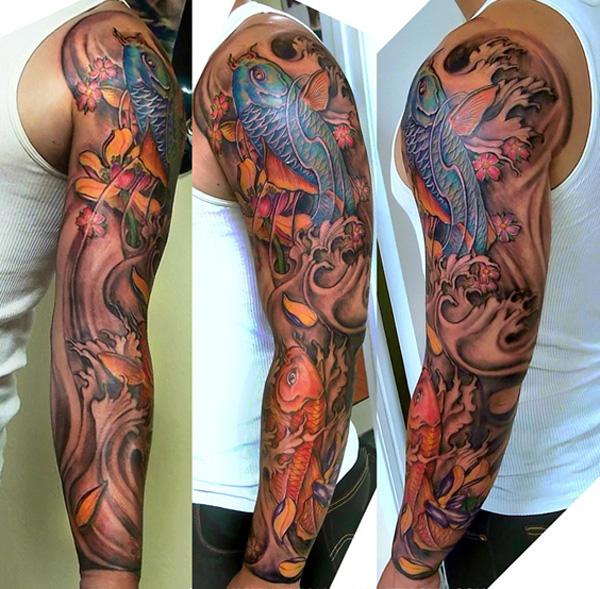 The high quality body art of Neo American tattoo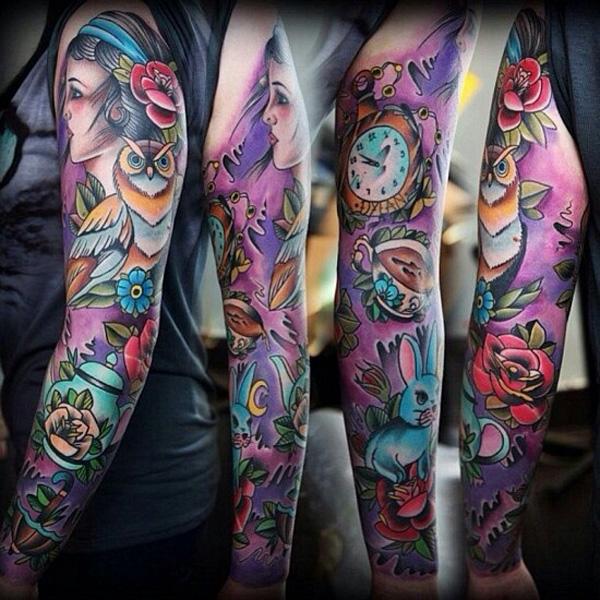 Inverted blue tattoo of underwater world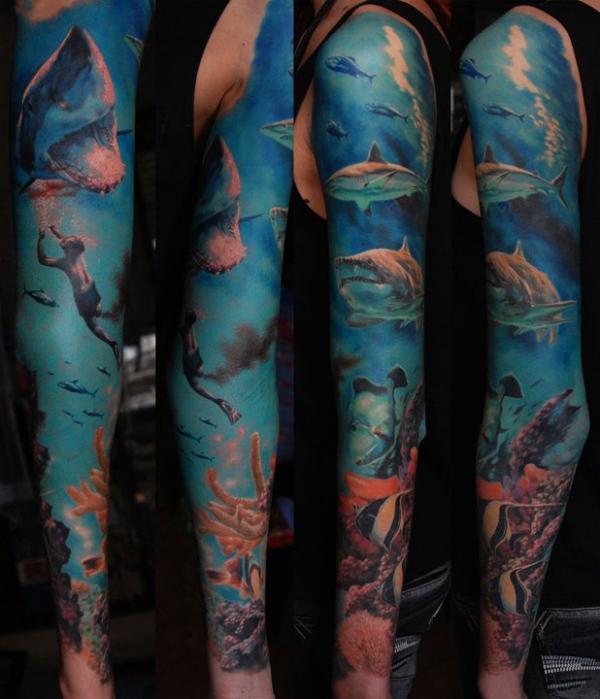 A colored ink with shocking details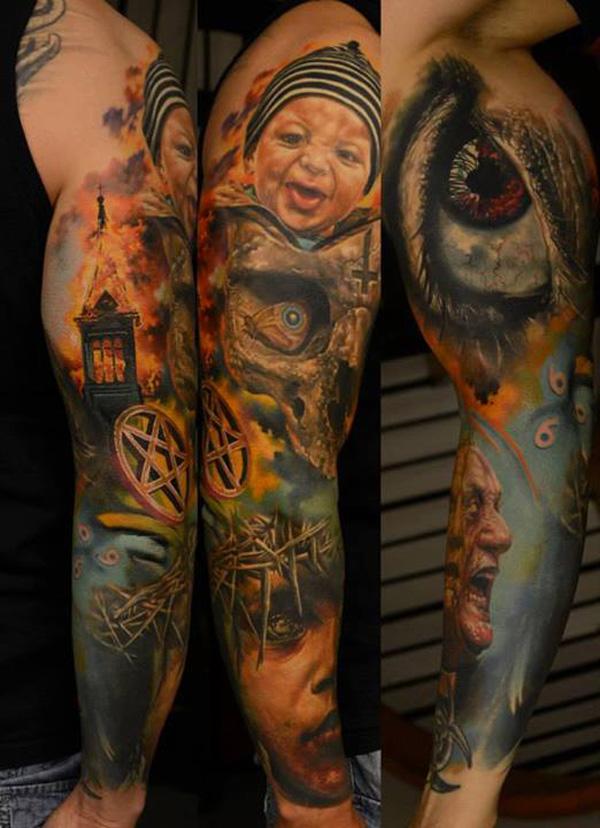 Jazz full sleeve tattoo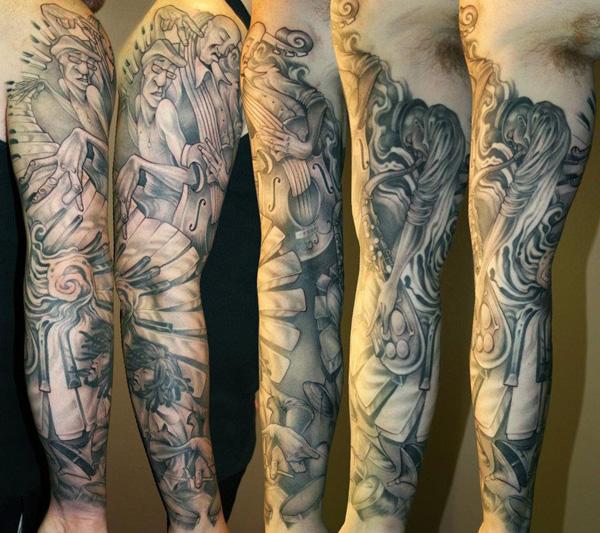 Black and red koi fishes with lotus flowers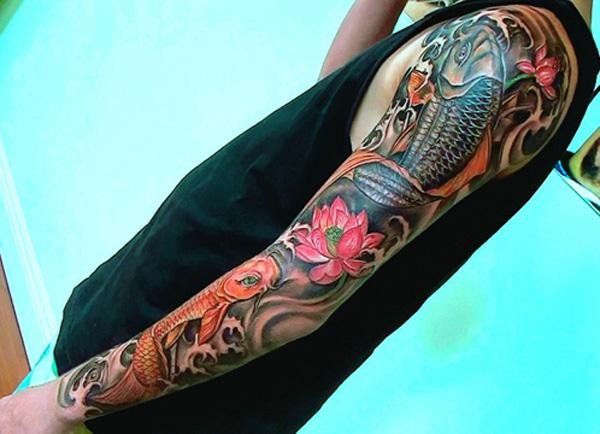 Viper and woman full sleeve tattoo in greyscale for men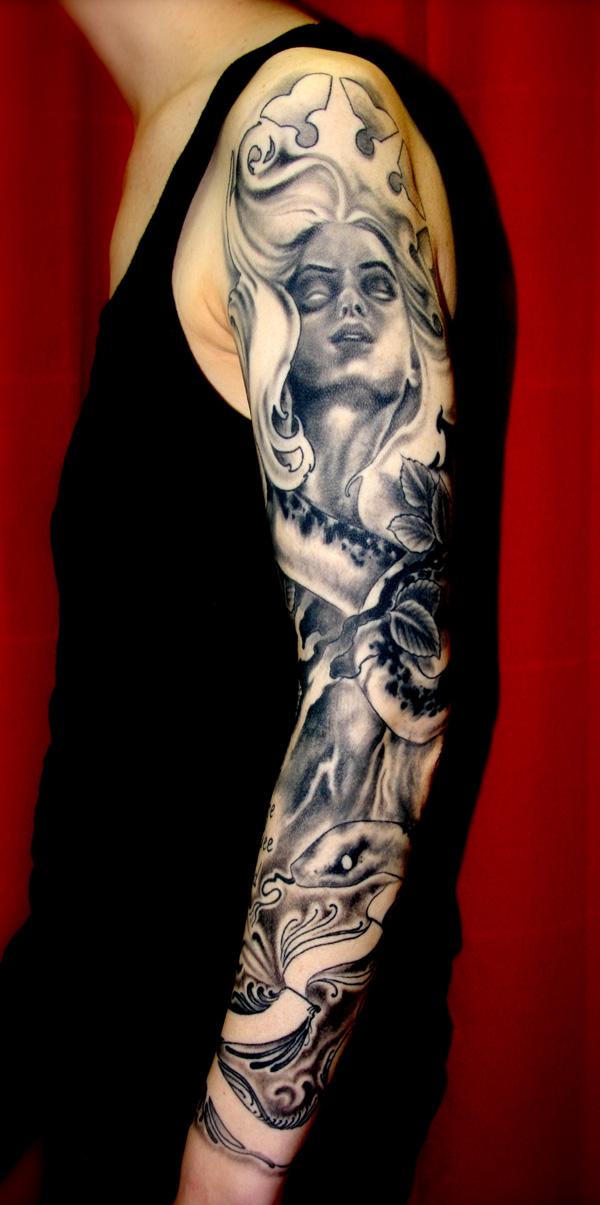 Black and grey tattoo with flowers and multiple symbols in full arm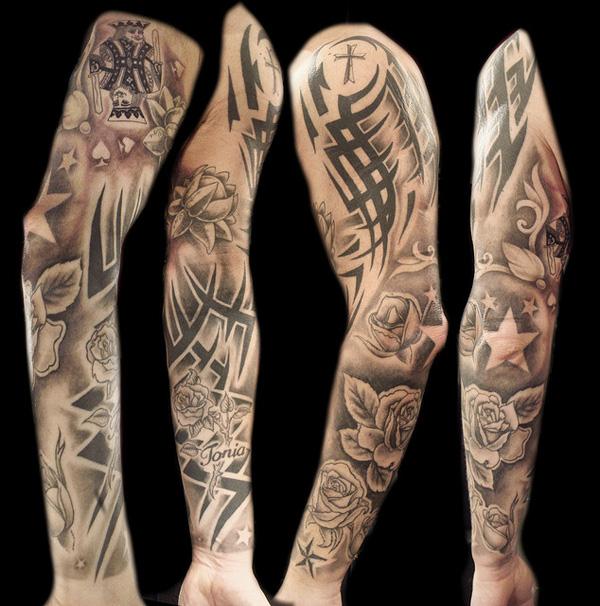 Angel full sleeve tattoo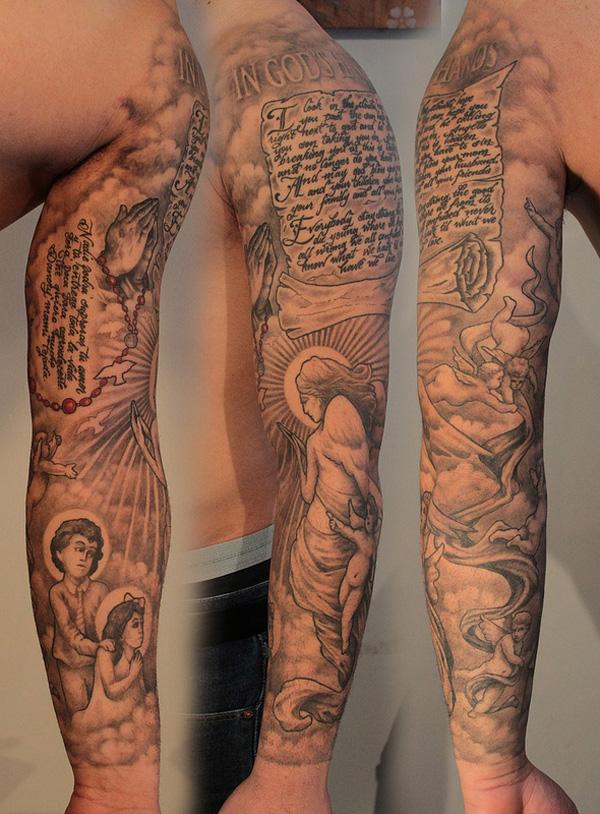 Cruelty sleeve tattoo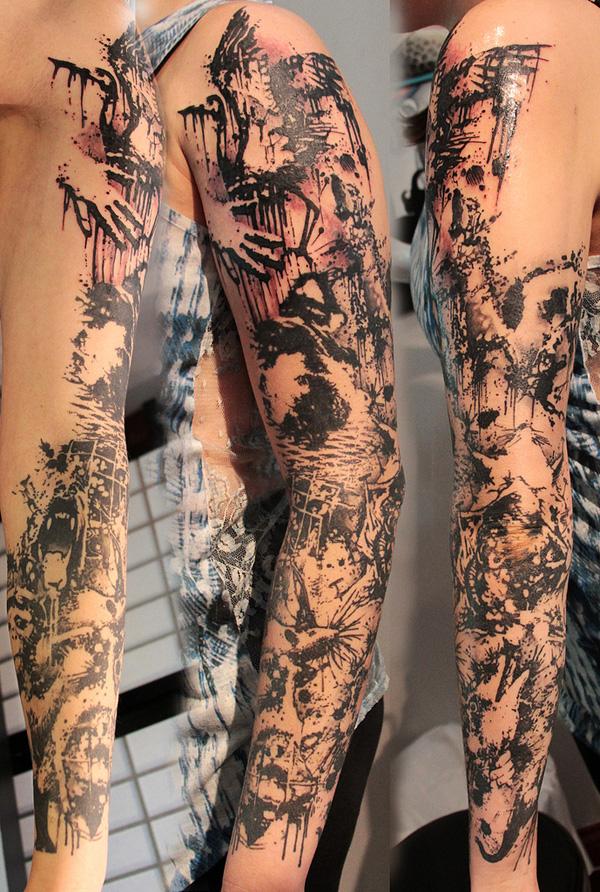 Black and grey tattoo with skull, rose and boat on arm for men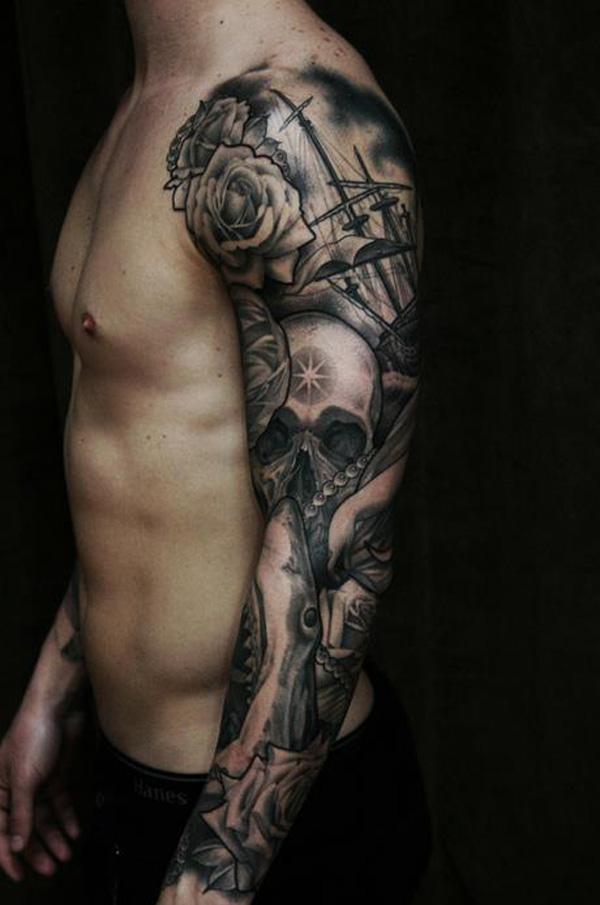 Colorful tattoo delineating a woman with masquerade mask, red flowers and clock on arm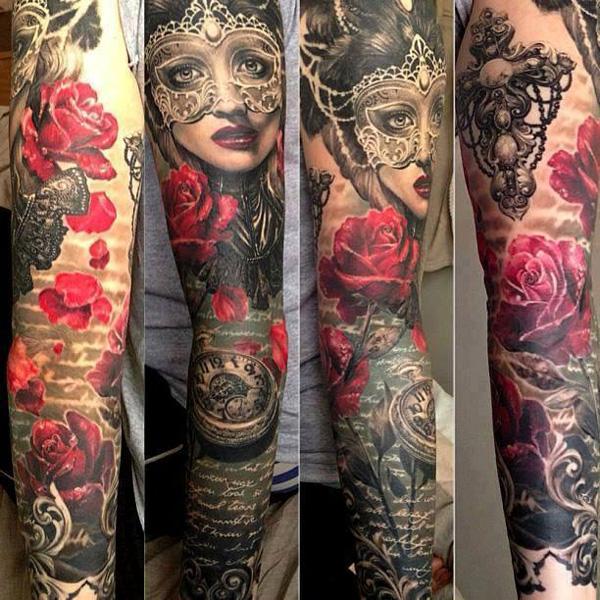 Sleeve ink with bride, skull and spooky faces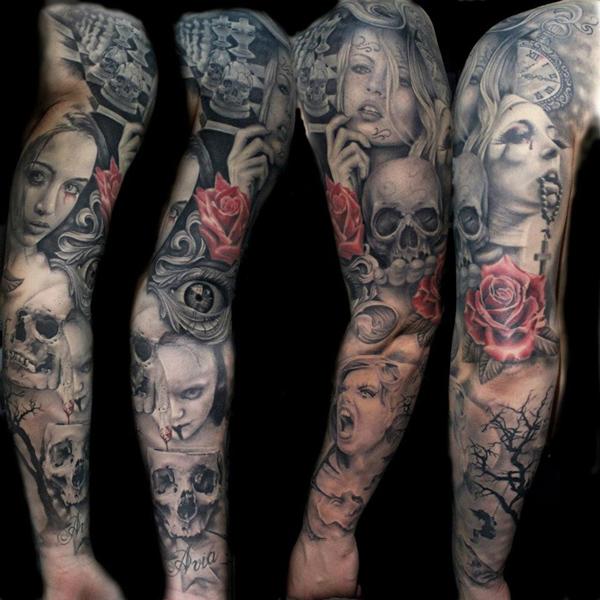 Greywork with Wolf and beautiful woman in realistic style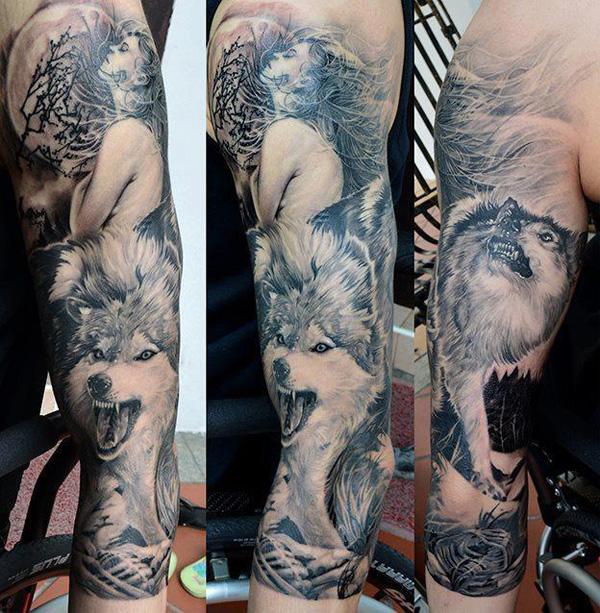 Angle and skeleton tattoo on full sleeve for men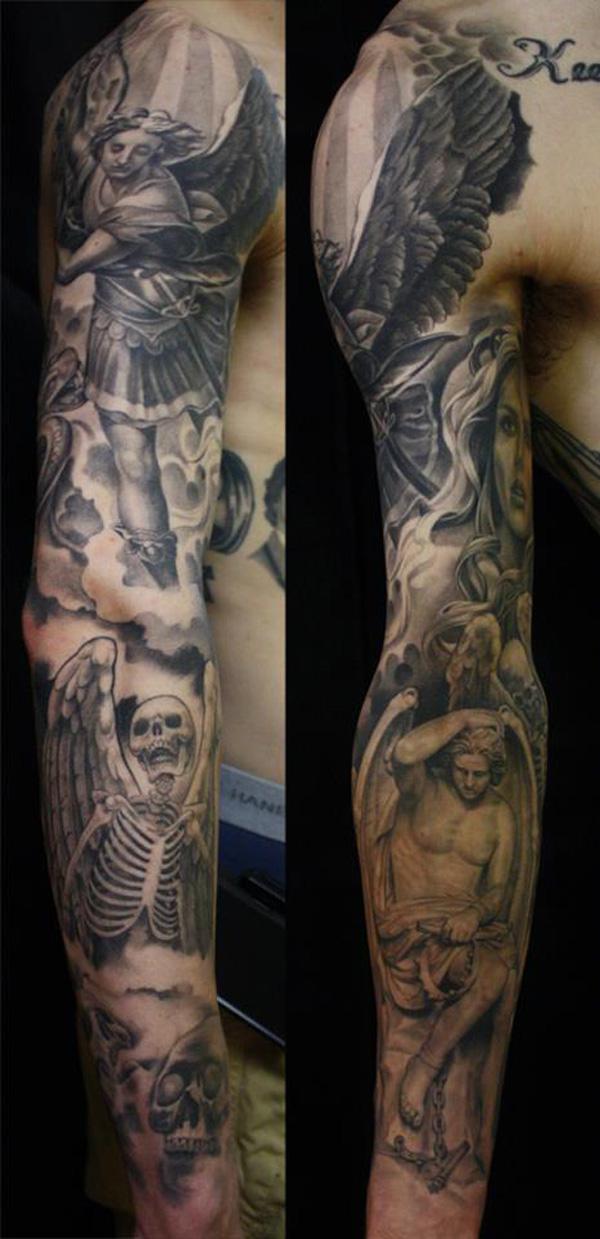 Colored Japanese themed tattoo with kio fish, lotus and wave on full arm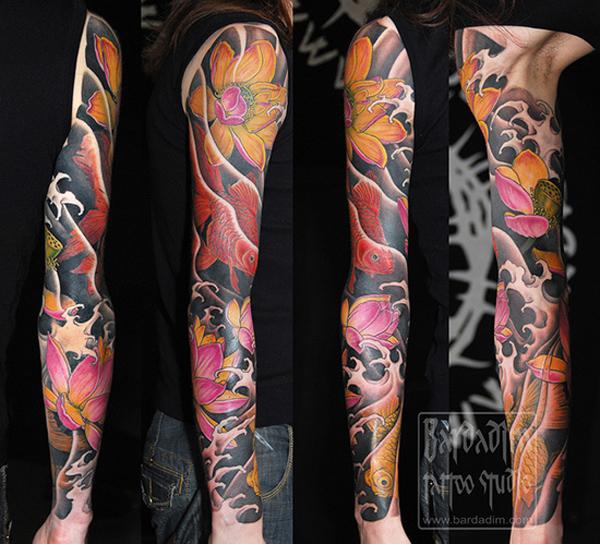 Inverted space and earth tattoo on full arm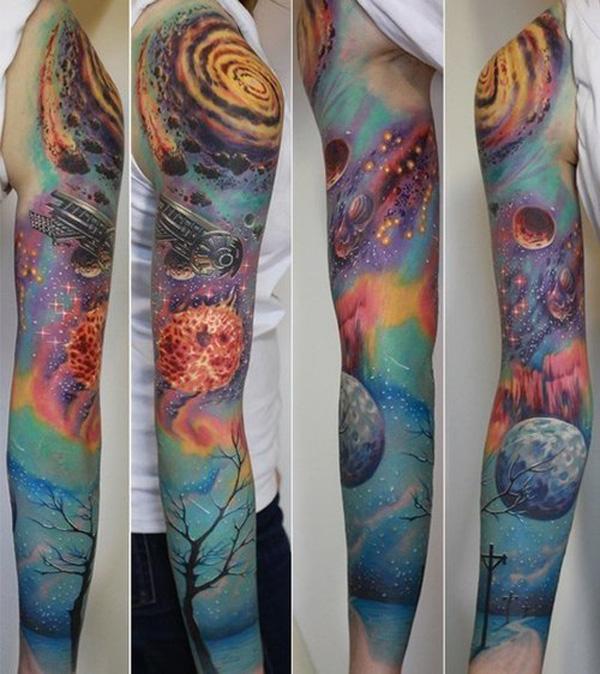 The intriguing combination of colors makes space tattoo design look spectacular. Fast rotating celestial bodies and big explosion remind people of the power of the nature.
King Kong film inspired full sleeve tattoo in grey style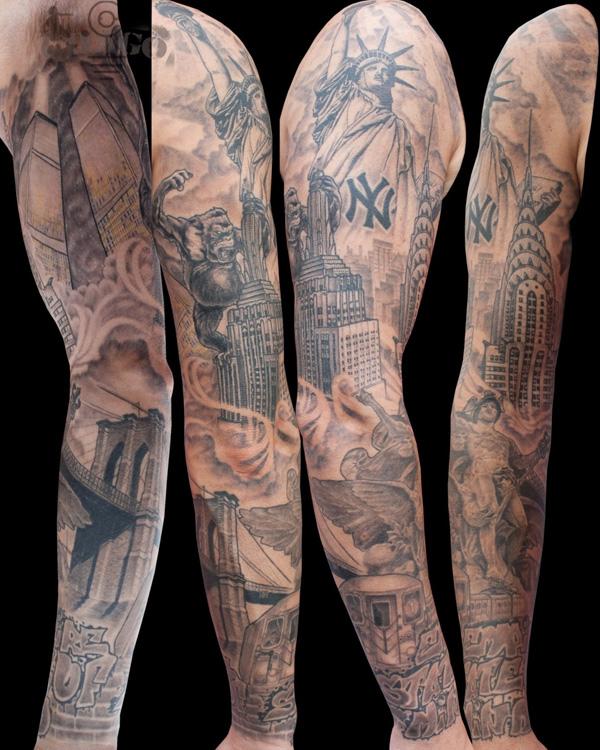 Religious theme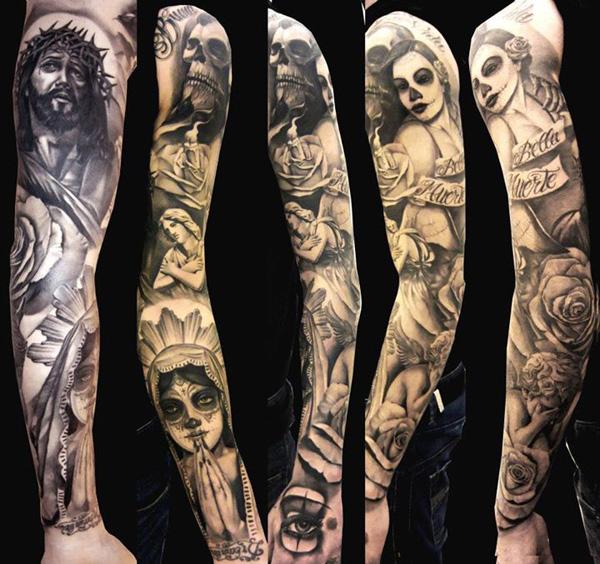 Colorful abstract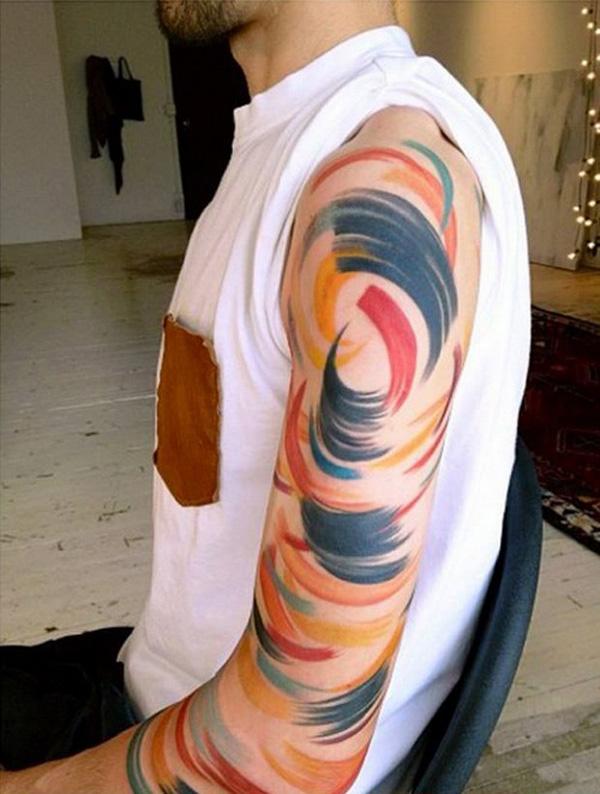 Sometimes there's no need to use any objects for expression but just color and shapes. For example, the full arm tattoo is full colorful swirls without specific references.
Stylized flowers and leaves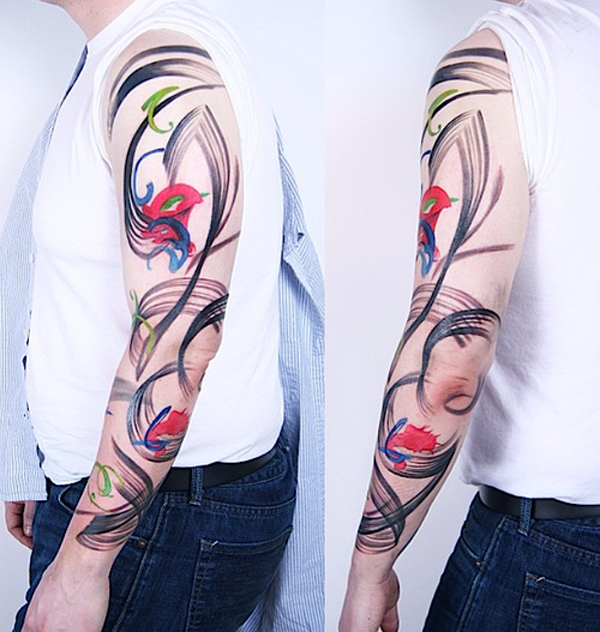 Geometric abstract sleeve tattoo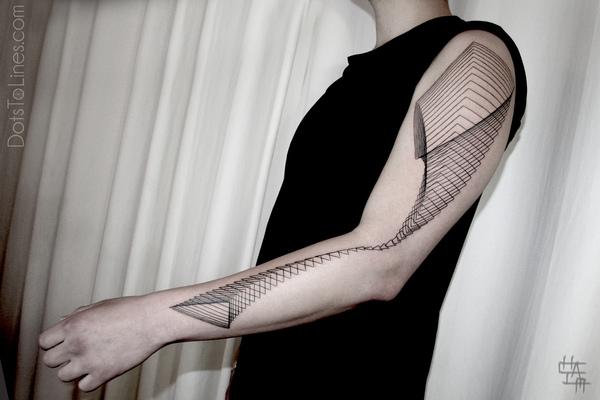 Black and white sleeve tattoo with mandala inspired patterns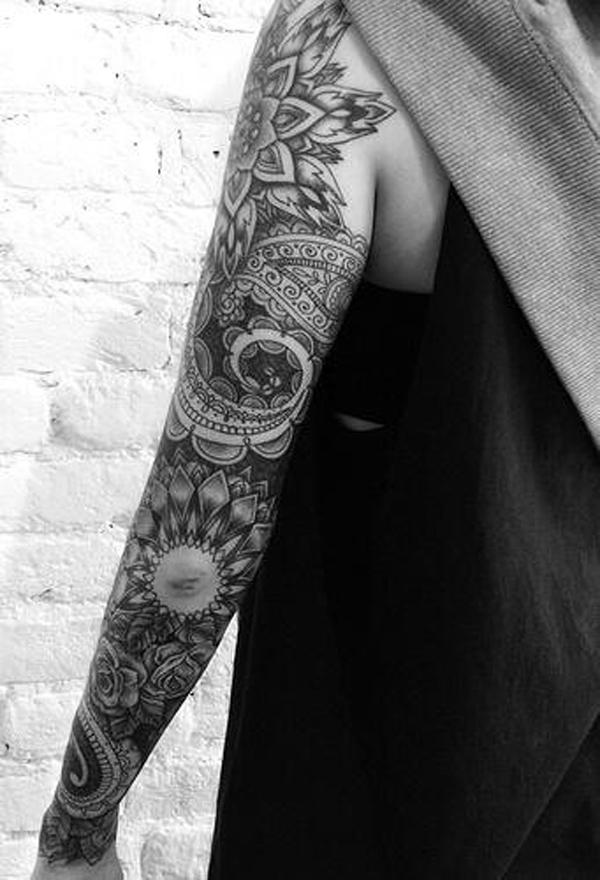 Blackwork matching tattoo on arms for lovers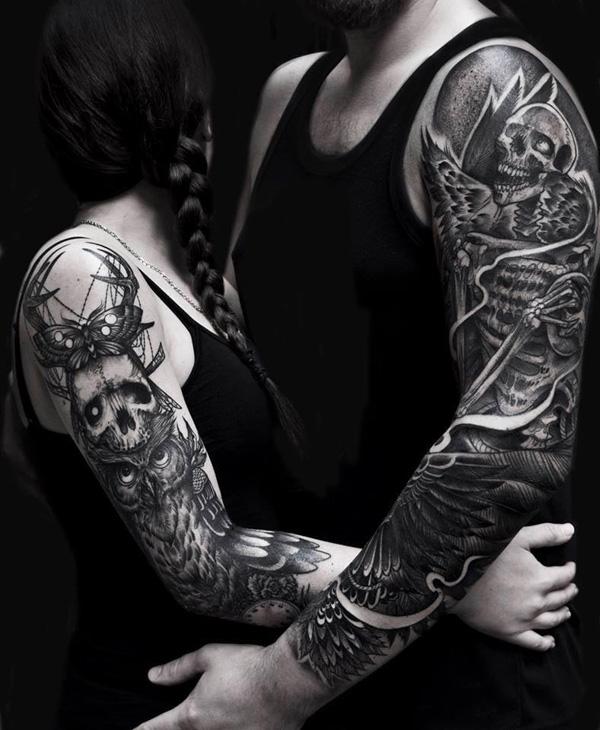 Colored arm ink of film characters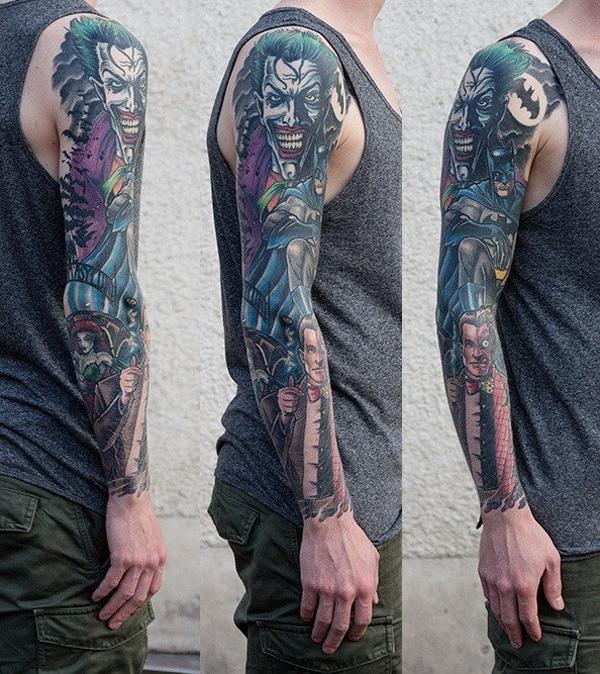 Stylized birds and dancing woman in watercolor style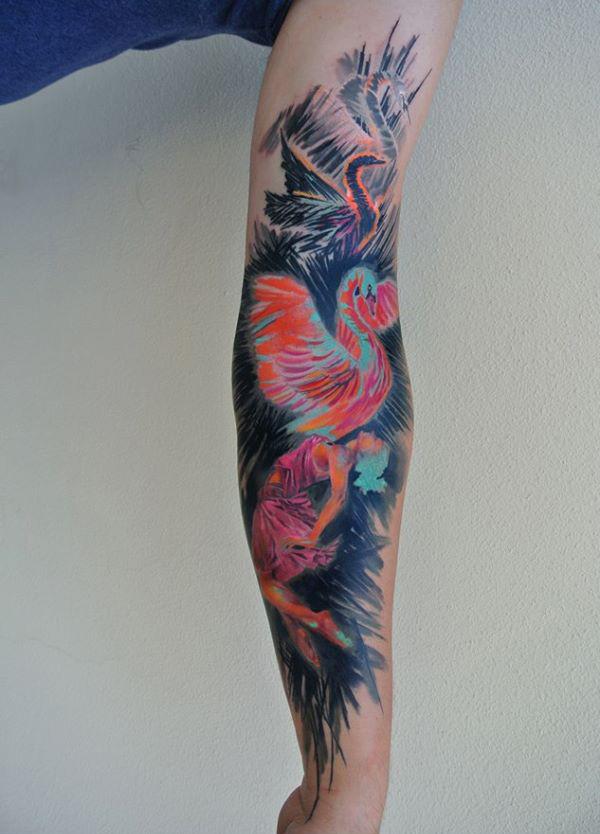 Wave and cloud tattoo in Japanese style on full arm for women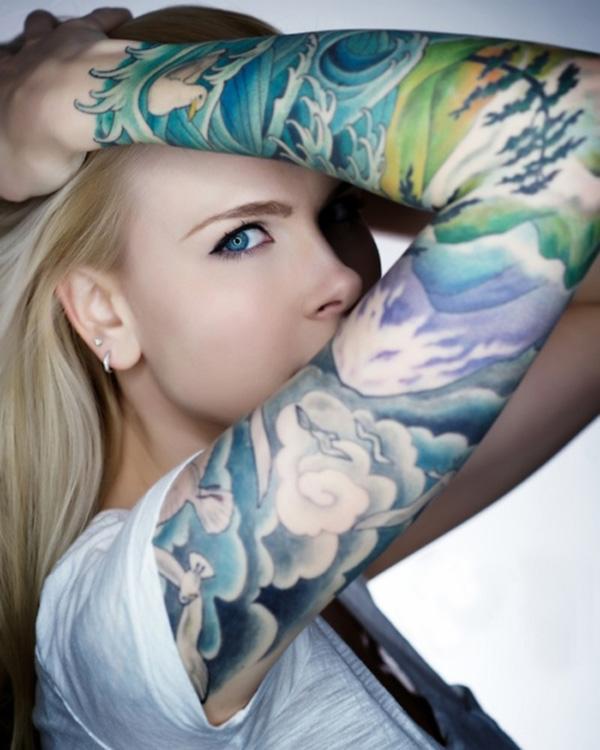 Alice in Wonderland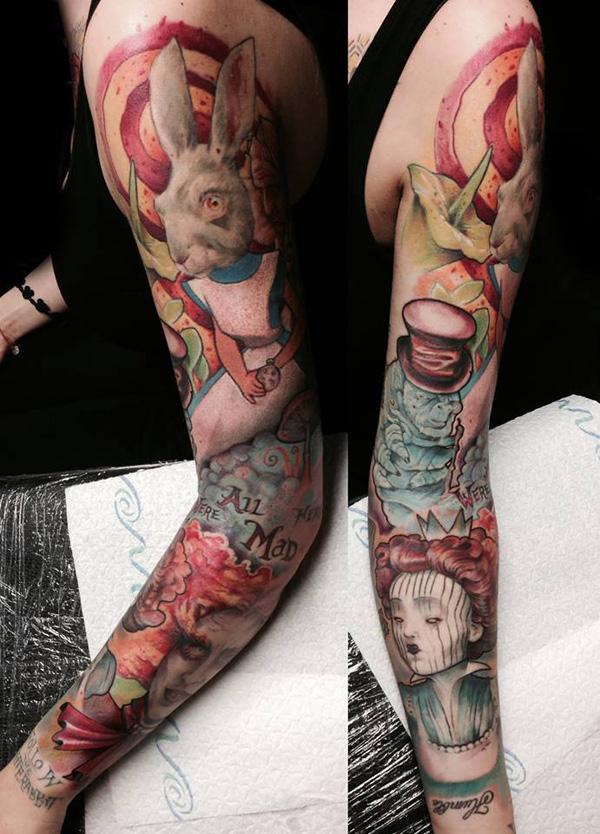 Carton inspired tattoos are loved by people who cherish their days of childhood. But White Rabbit is different here as we can see the words "Here All Mad" on the tattoo.
Vampire wearing feathers with horns in black and grey theme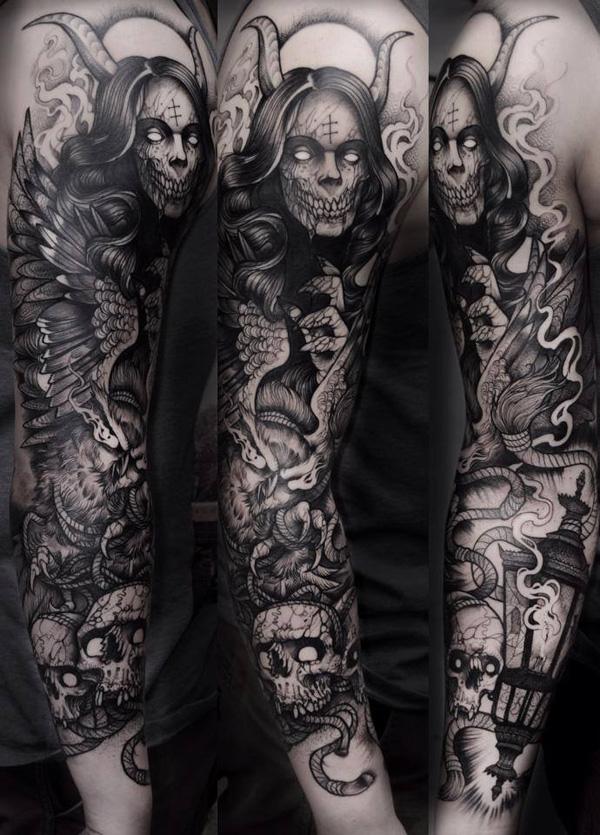 Black and grey tattoo with flowers on full arm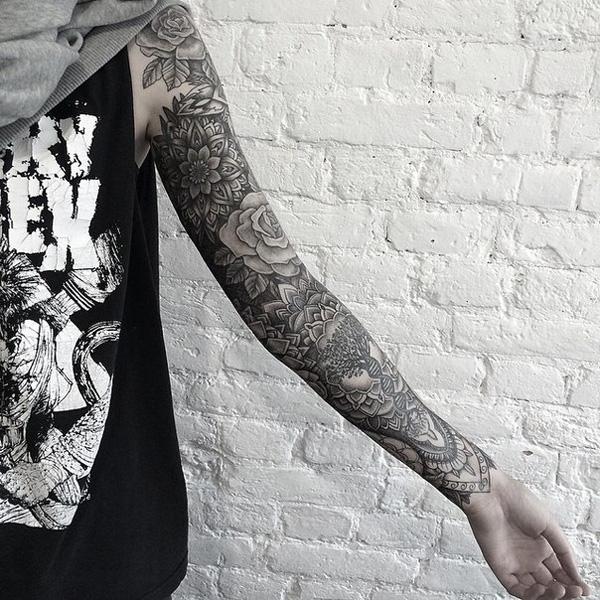 Go with the flow sleeve tattoo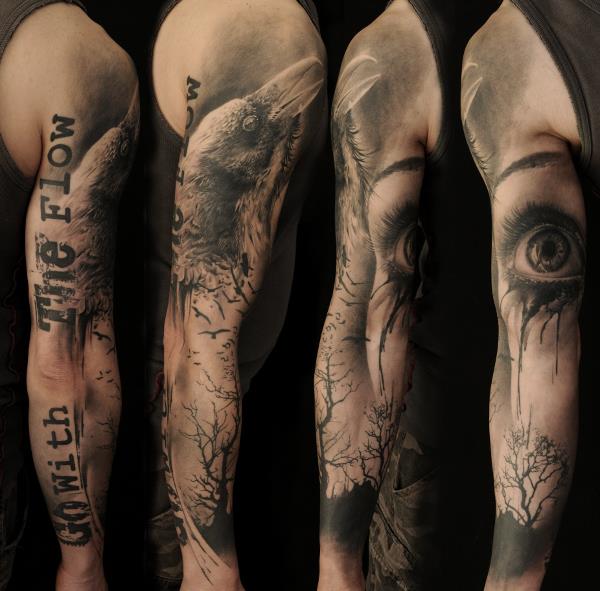 The natural inspired tattoo features nature elements over the arm. On the top, the partial of a bird represents a large flock of birds flying over the jungle. On the back, is a staring eye rendered realistically. What is surprising is that the tattoo does not hide the meaning deep in the metaphors but uses four words explicitly covering the arm. One with this attitude does not attempt to exert pressure to others, but an easygoing man.
Realistic sleeve tattoo with withered branches and red leaves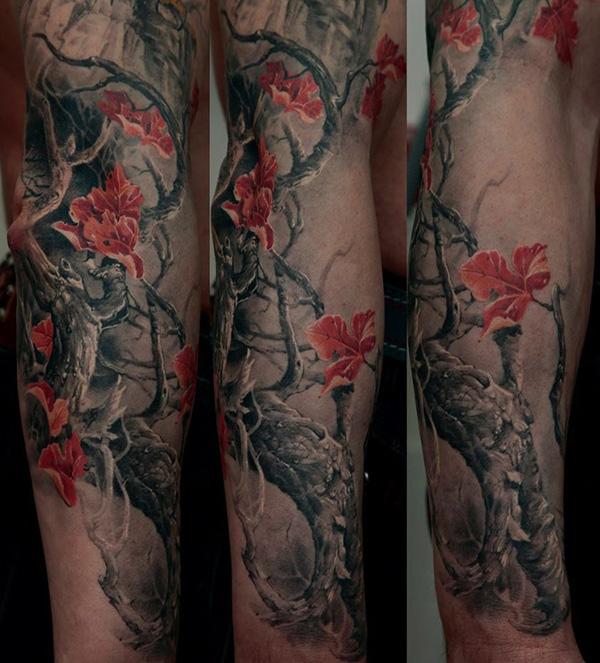 Black and grey sleeve tattoo with cinematic scenes for men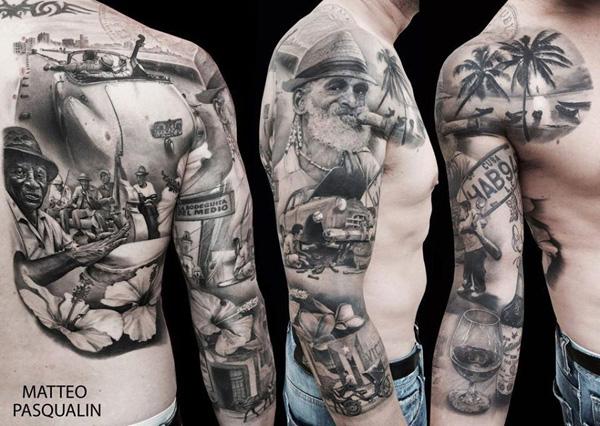 Skull wearing a daisy flower integrates with geometric blocks in greyscale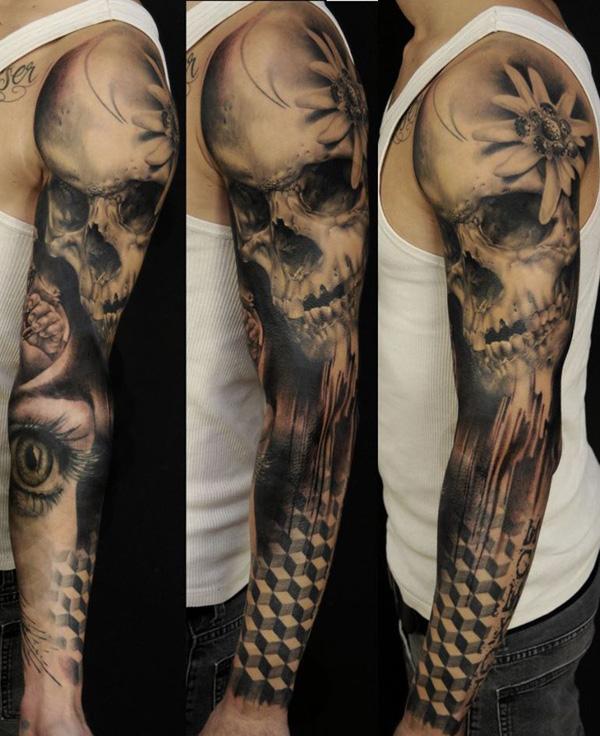 Black and grey sleeve tattoo with mysterious scenes for men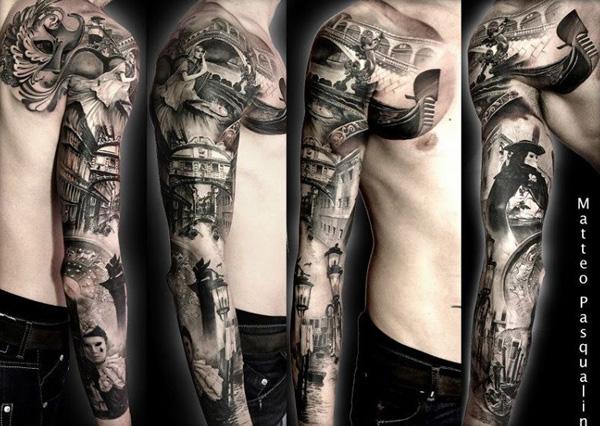 Lion and roses sleeve tattoo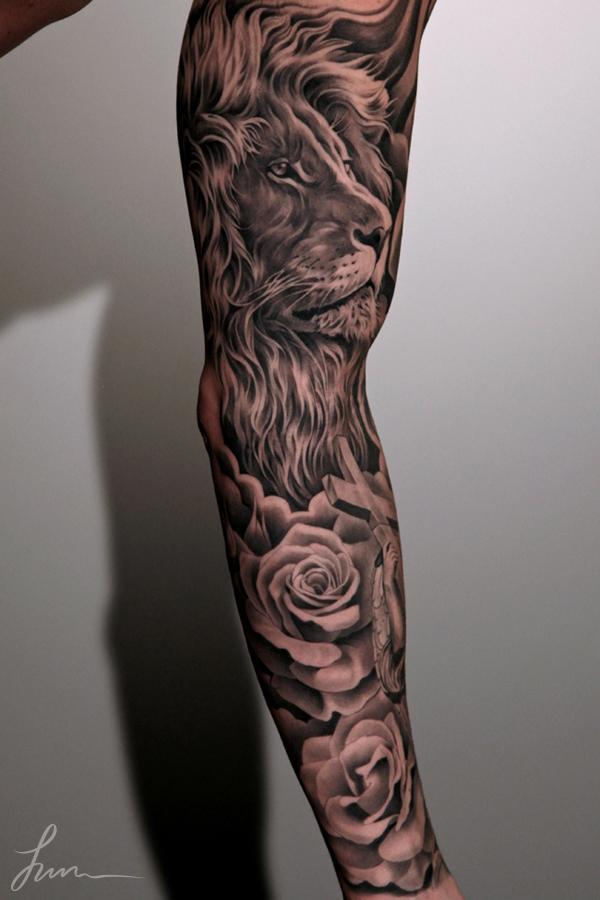 A virile lion face inked on the upper arm was depicted in great details, in which its hair looks messy. From its eyes, the lion looks plunged deep in its contemplation. On the bottom, two pieces of roses and cross unveil the meaning of tattoo.
Impressive Warrior Tattoo placed on full arm for men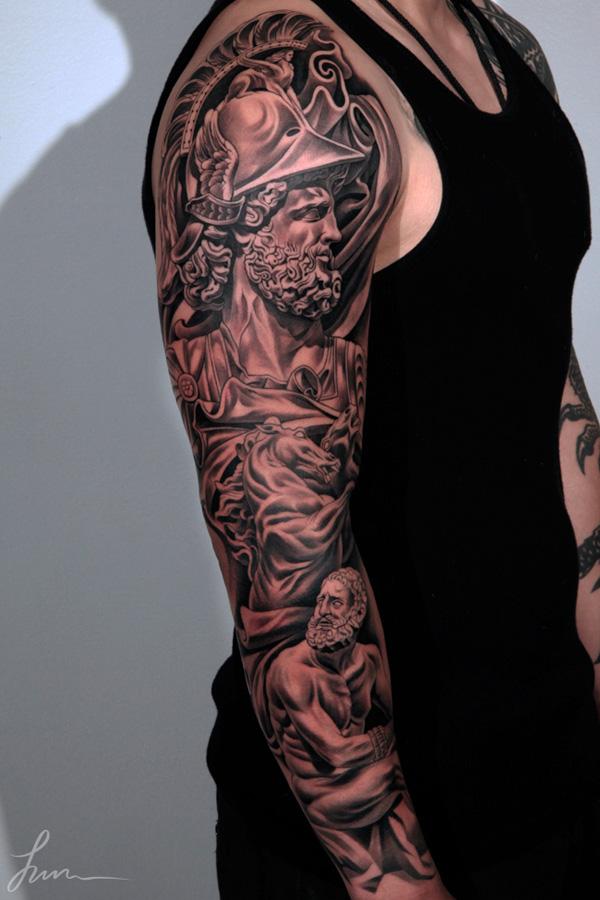 Hummingbird and flower watercolor sleeve tattoo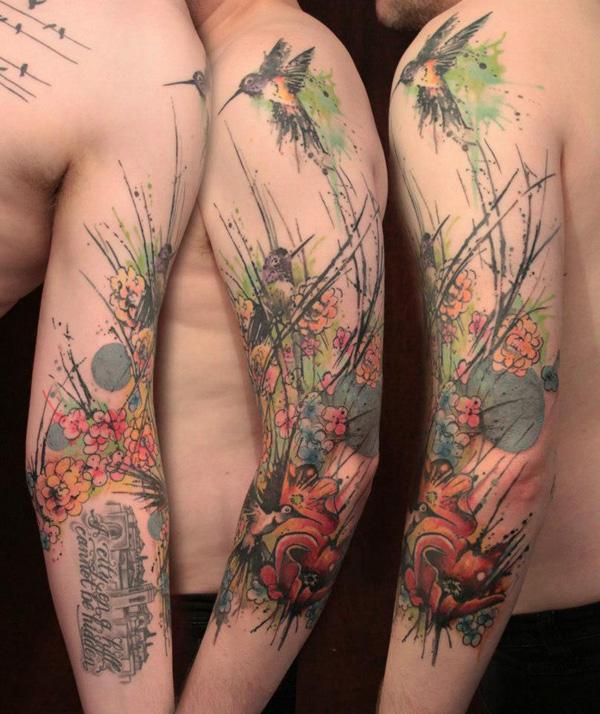 A hummingbird and flower watercolor tattoo is a vibrant blend of color, movement, and life. The fluttering hummingbird, symbolizing enjoyment of life and lightness of being, combined with the delicate beauty of flowers, create an enchanting and lively aesthetic. The watercolor style brings an added touch of softness and fluidity to this design.
Black and white Polynesian tribal full arm tattoo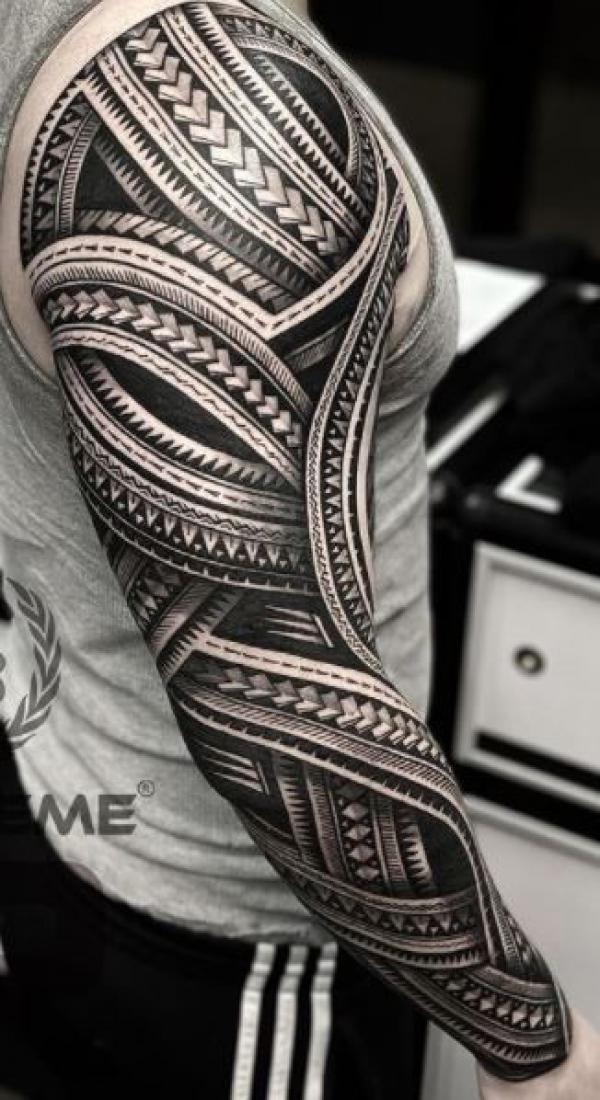 For lovers of bold patterns and cultural symbolism, a black and white Polynesian tribal tattoo is a striking choice. Polynesian tribal tattoos are rich in history and symbolism, with intricate patterns that represent courage, status, and spiritual power. A full arm design in black and white enhances the drama and the mystique of these ancient motifs.
Geometric flower of life and mandala full sleeve tattoo with Yin Yang symbol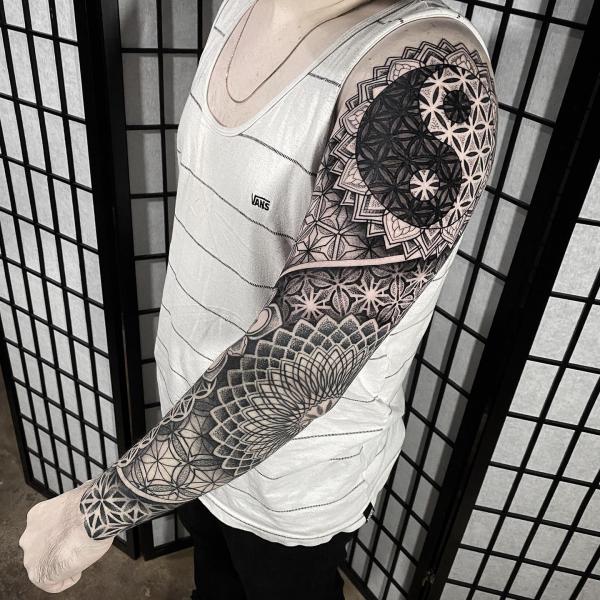 A geometric Flower of Life and mandala tattoo featuring a Yin Yang symbol is a design packed with deep symbolism and balance. The Flower of Life and mandala represent unity and the interconnectedness of life, while the Yin Yang symbol is a reminder of balance and harmony. This tattoo is a visual meditation on life's fundamental principles.
Honeycomb geometric patterns full sleeve tattoo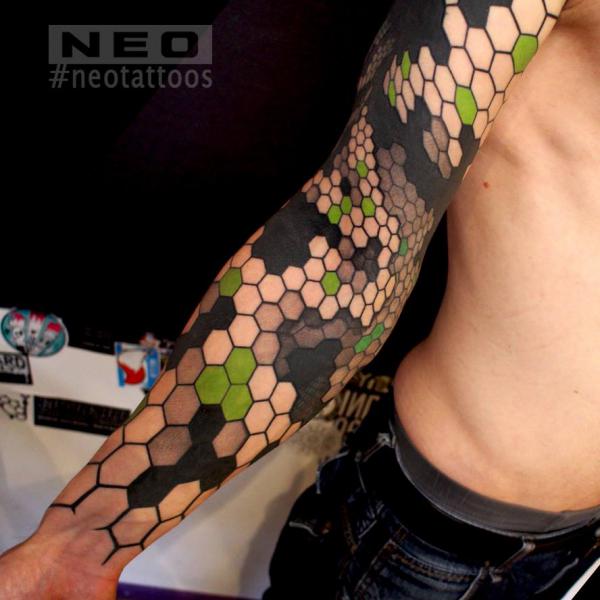 An ink design featuring honeycomb geometric patterns is a unique choice for those who love structure and symmetry. The honeycomb, a marvel of natural engineering, symbolizes unity, cooperation, and the interconnectedness of life. This design creates a visually captivating mosaic of hexagonal cells on the arm.
Japanese style tiger full arm tattoo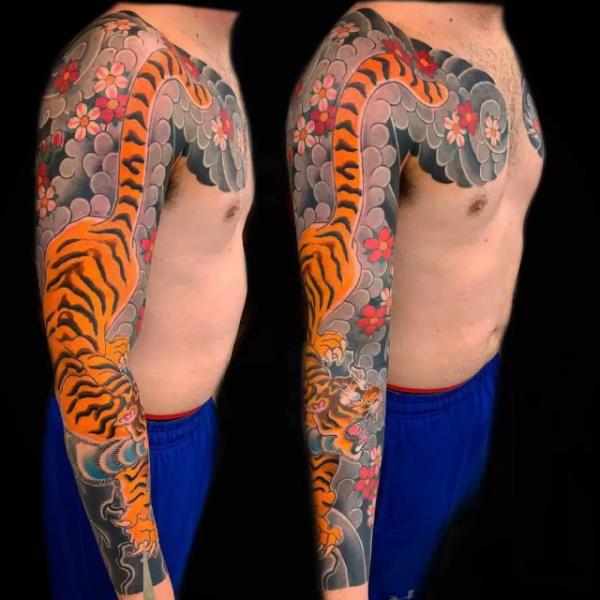 A Japanese style tiger tattoo is a powerful and culturally rich design. The tiger, a symbol of strength, courage, and protection in Japanese culture, is often depicted in a dynamic and dramatic style. The overall design, with its intricate details and bold colors, creates a compelling visual narrative.
Realistic colorful Lilac daisy and bee hedgehog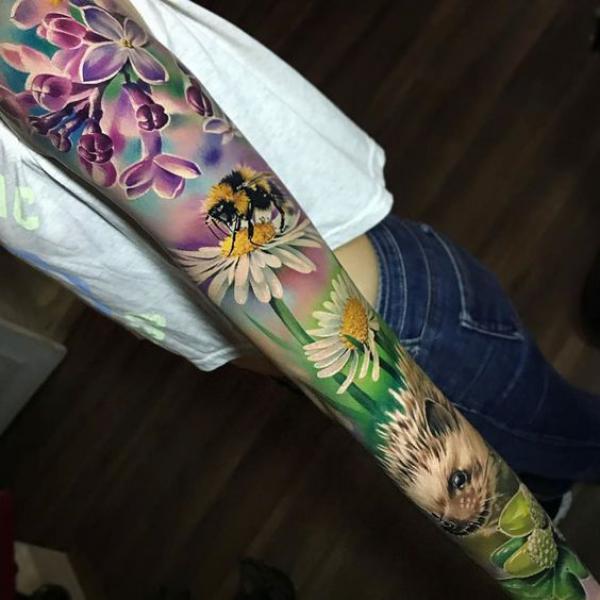 A realistic full sleeve tattoo featuring a colorful lilac, daisy, and bee hedgehog is a design that bursts with life and vibrancy. The lilac and daisy symbolize love and innocence, while the bee hedgehog adds a touch of whimsy. This design is a celebration of nature's beauty and diversity.
Robot cyborg full sleeve tattoo for men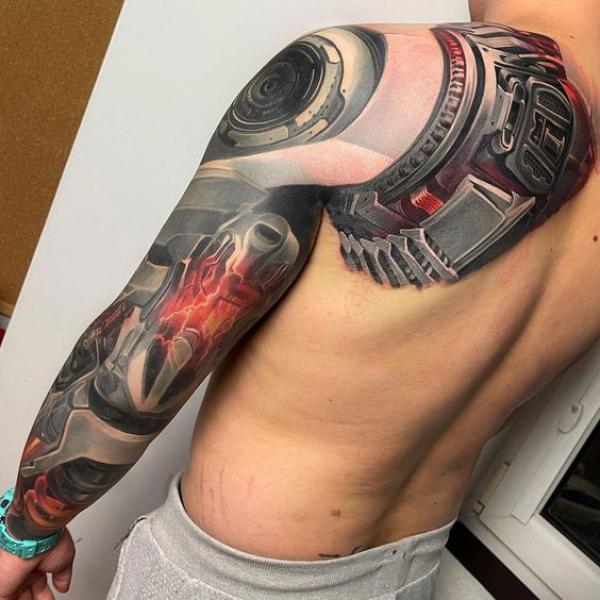 For fans of science fiction and technology, a robot cyborg tattoo sleeve is an exciting choice. This design can feature intricate mechanical details, creating a blend of human and machine on your skin. This tattoo is not only visually striking but also a commentary on the increasingly blurred lines between humanity and technology.
Cerberus and Hades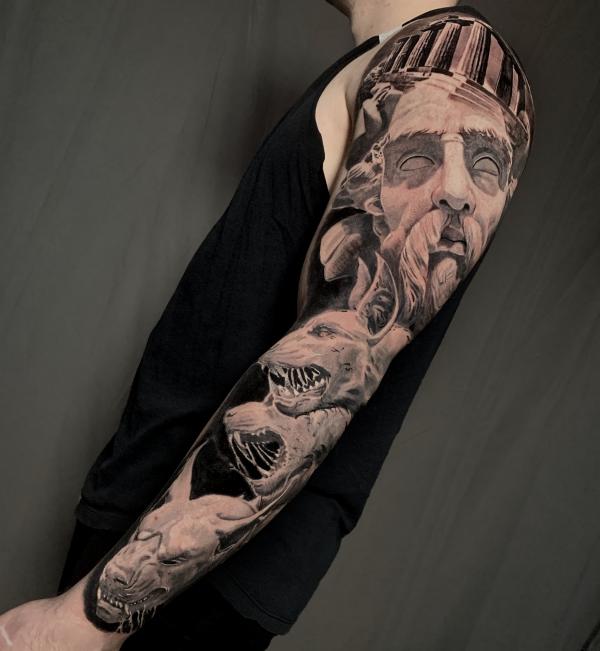 A Cerberus and Hades full sleeve tattoo is a design steeped in mythology and symbolism. Hades, the god of the underworld, and Cerberus, his three-headed dog, are powerful symbols of the afterlife and the unknown. The design is a visual exploration of ancient myths and a reminder of life's mysteries.
Japanese dragon full sleeve tattoo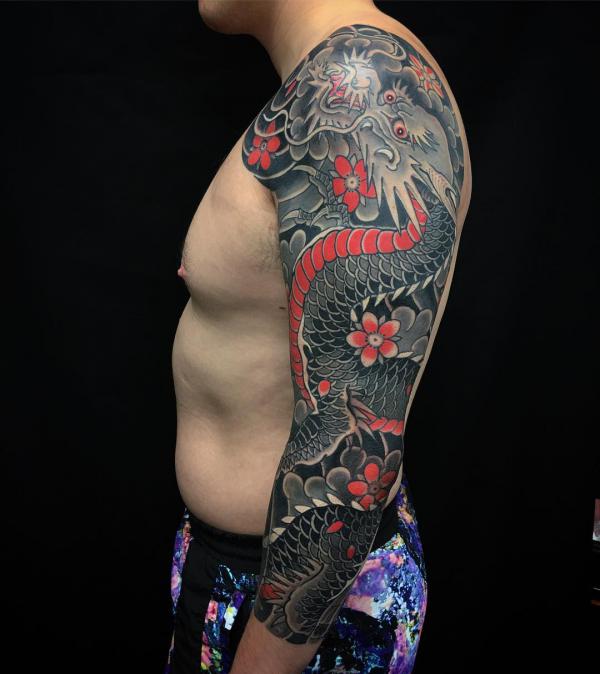 A Japanese dragon tattoo is a design rich in symbolism and cultural heritage. In Japanese culture, dragons are seen as protectors and symbols of strength and wisdom. This tattoo, with its detailed scales and serpentine form, creates a dynamic spectacle on the arm.
Realistic animal full sleeve tattoo Jaguar and crocodile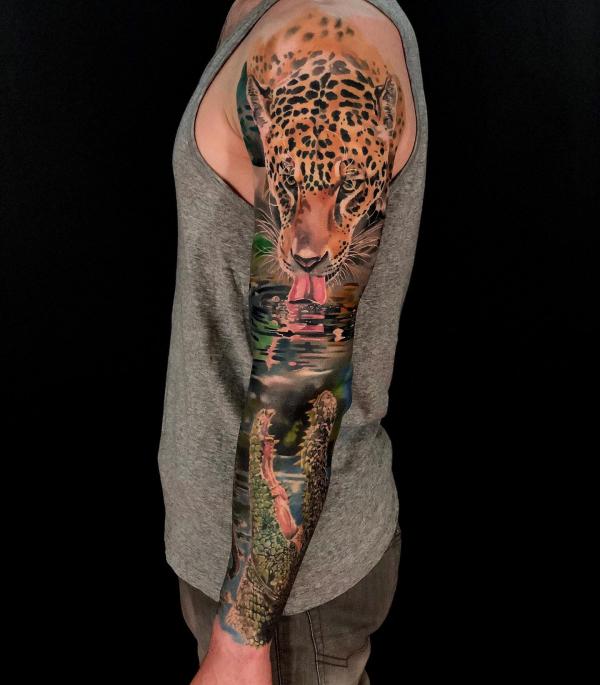 A realistic animal full sleeve tattoo featuring a jaguar and crocodile is a design that exudes power and primal energy. The jaguar, a symbol of power and stealth, and the crocodile, a symbol of survival and adaptability, together create a visual representation of the raw and untamed side of nature.
Hannya and Kiku full sleeve tattoo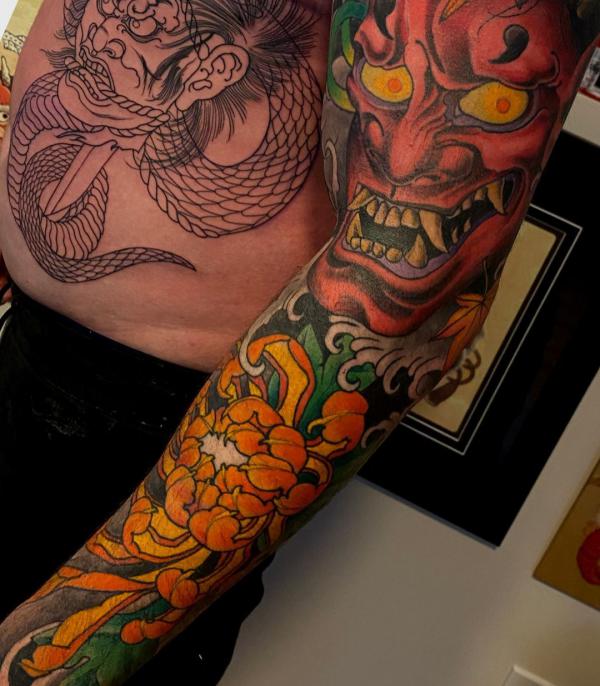 A Hannya and Kiku combination is a design that combines cultural symbolism and natural beauty. The Hannya, a mask used in Japanese Noh theater, represents a woman transformed by jealousy and anger. The Kiku, or chrysanthemum, symbolizes longevity and rejuvenation. Together, they create a unique narrative of transformation and renewal.
Roaring bear and eagle full sleeve tattoo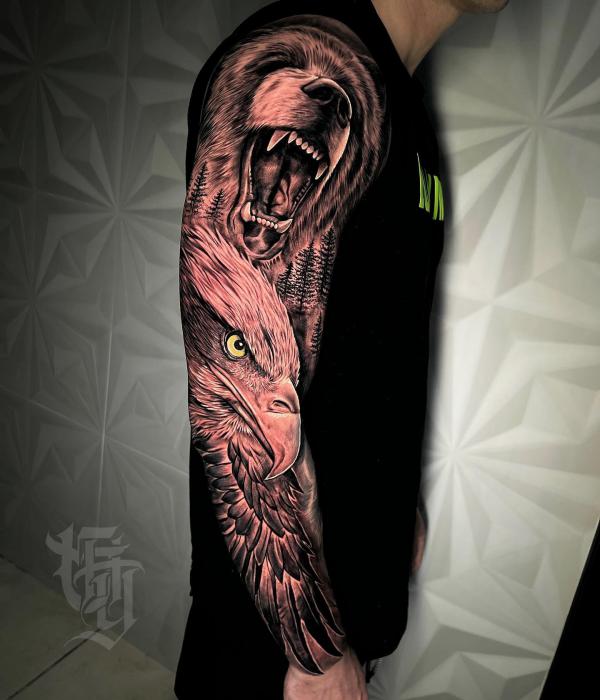 Greek Mythology tattoo Hades kidnapping Persephone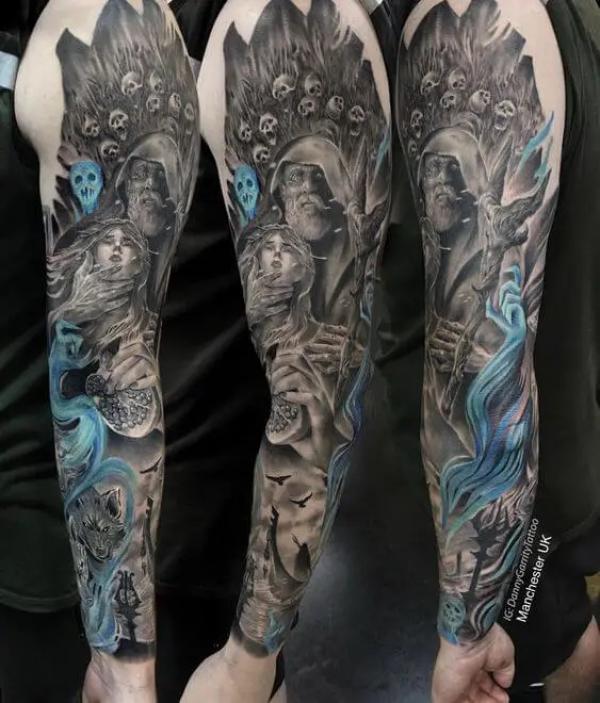 Realistic wolf howling at the moon and stars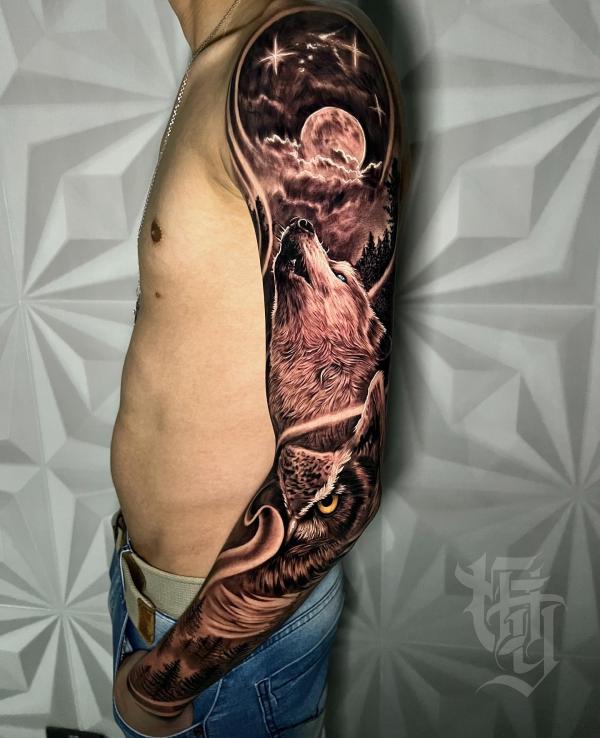 Full sleeve neo traditional koi fish tattoo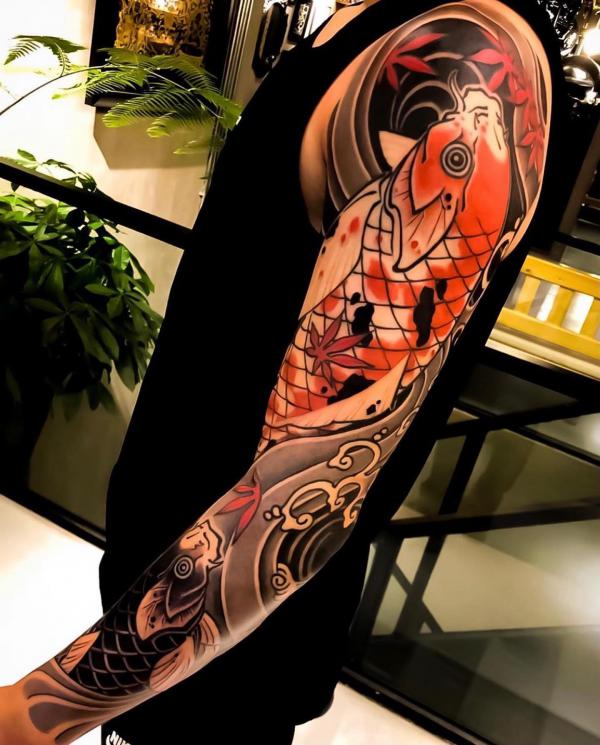 Japanese Oni mask and tiger face full sleeve tattoo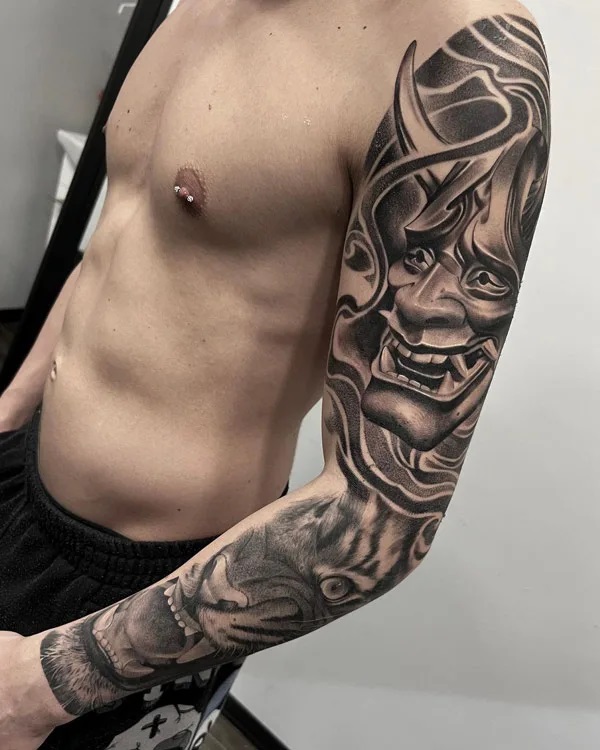 Frog smoking pipe full sleeve tattoo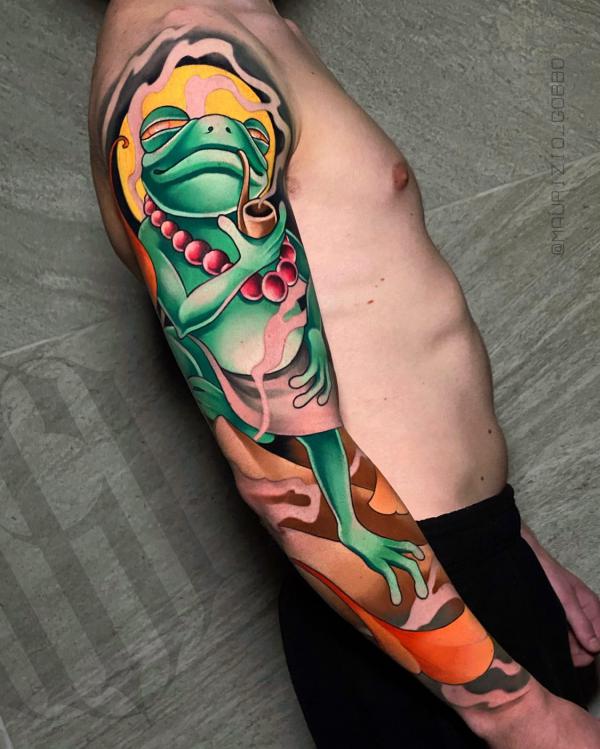 Realistic Zeus and Hera full sleeve tattoo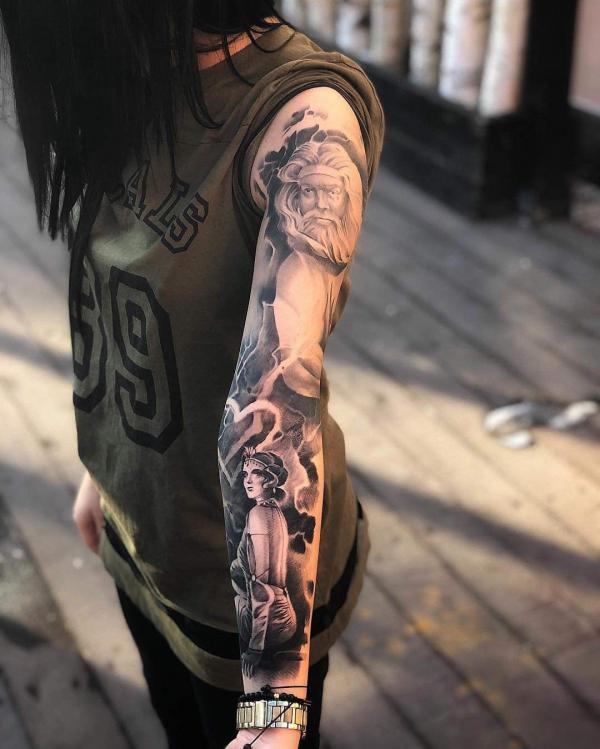 A skull surrounded by rose and butterfly full sleeve tattoo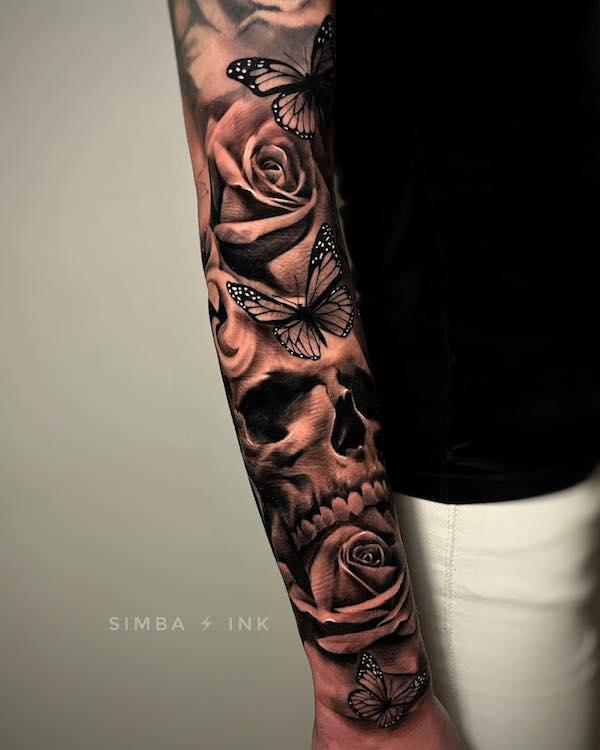 Blue dragon full sleeve tattoo for women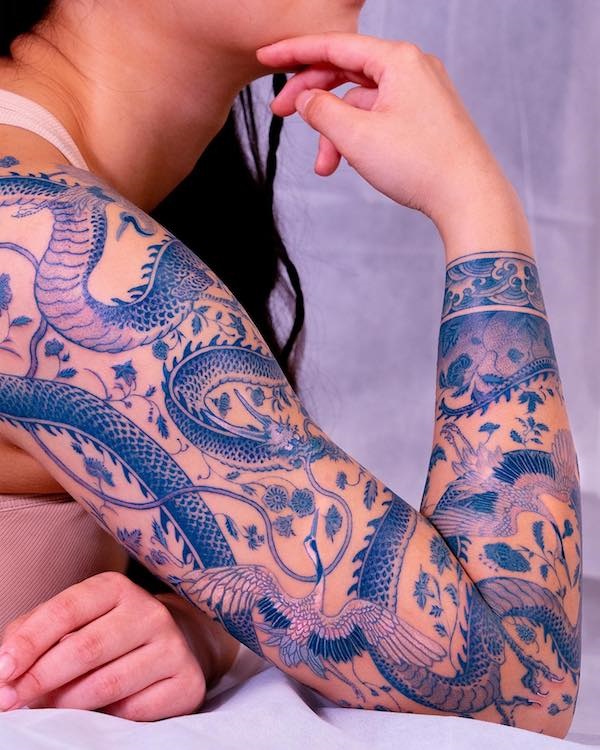 Japanese style chrysanthemum and wave ink design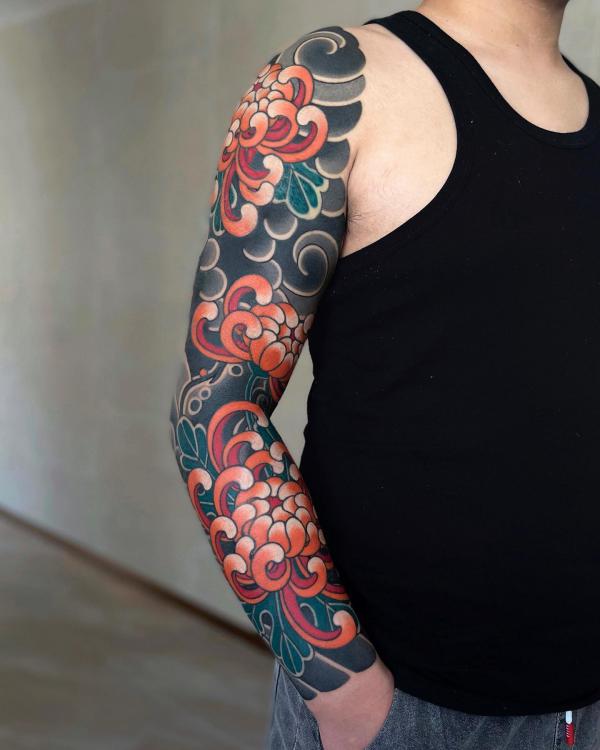 Greek Zeus and Hades full sleeve tattoo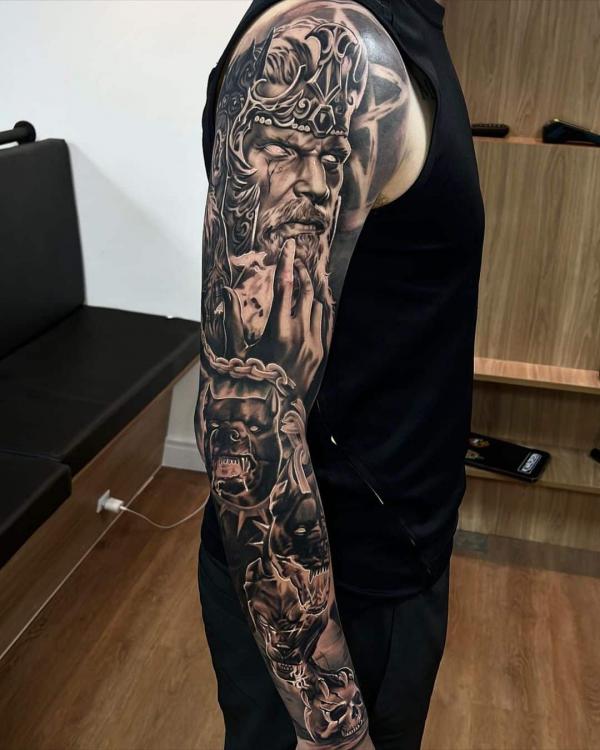 Japanese style koi fish full sleeve tattoo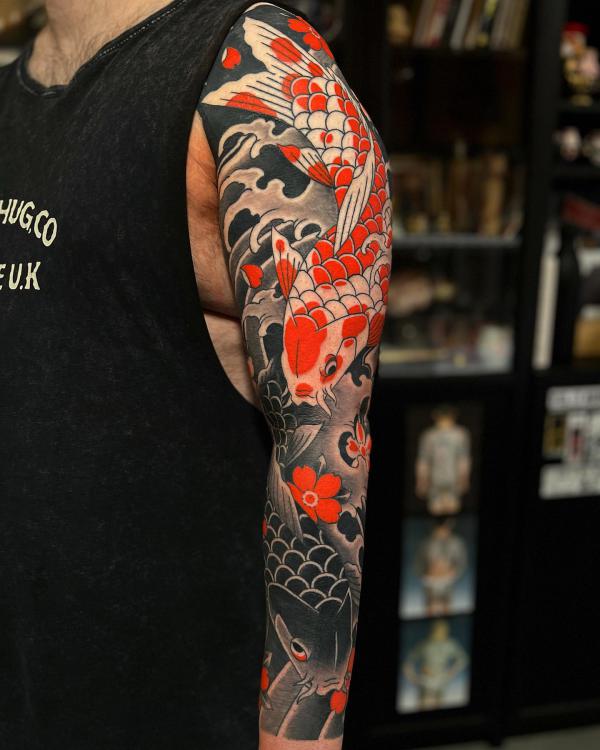 Tribal style dragon full sleeve tattoo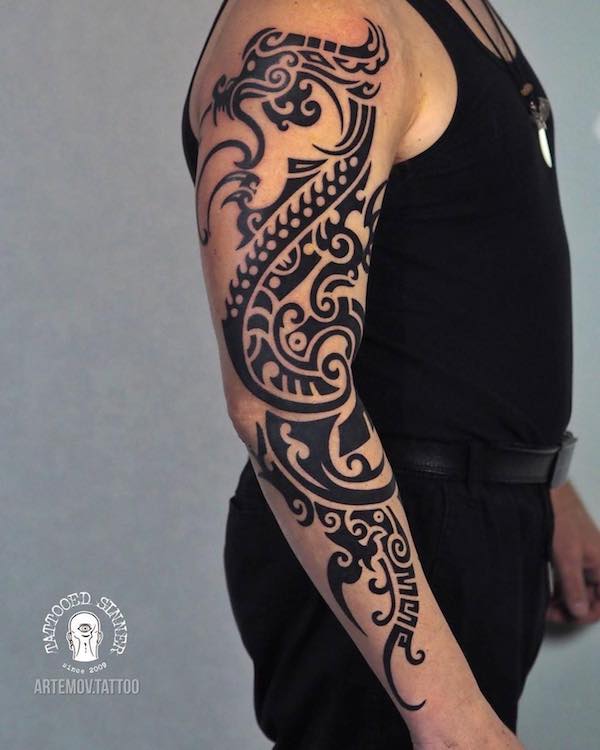 Warrior and tiger eye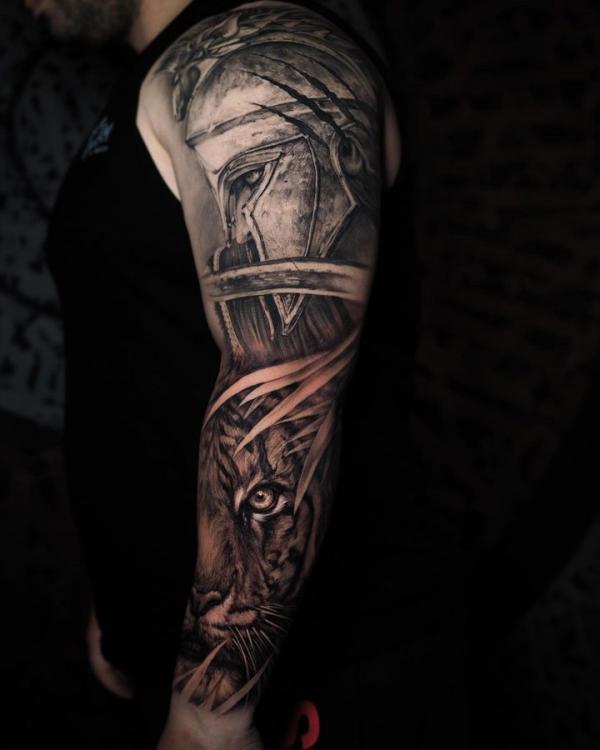 A design featuring a warrior and a tiger's eye blends strength, courage, and wild intensity. The warrior can represent your fighting spirit, while the tiger's eye, with its piercing gaze, symbolizes focus and determination. This design creates a powerful narrative of resilience and unwavering will.
Watercolor orchid tattoo for female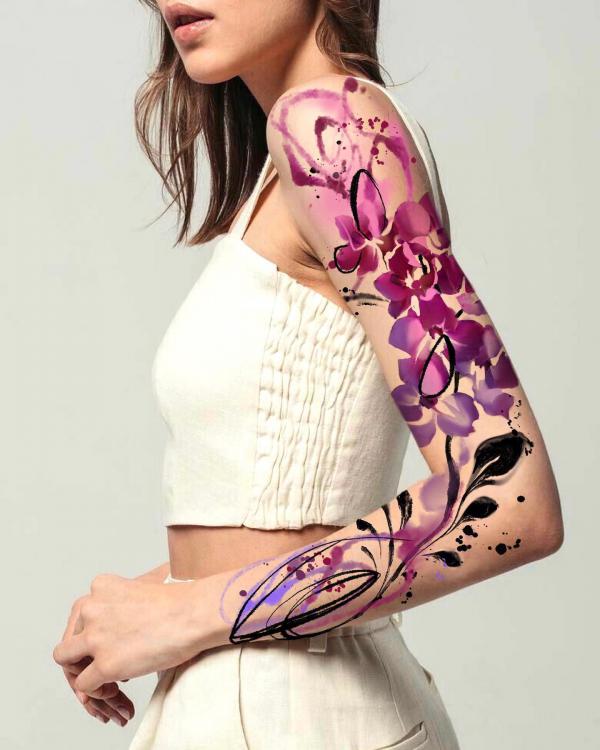 A watercolor orchid tattoo is a beautiful choice for a full sleeve design. The soft, flowing colors of the watercolor style beautifully complement the delicate orchid, creating a design that's both feminine and vibrant. This tattoo can symbolize beauty, strength, and a love for nature.
Yellow tiger adorned with pink cherry blossoms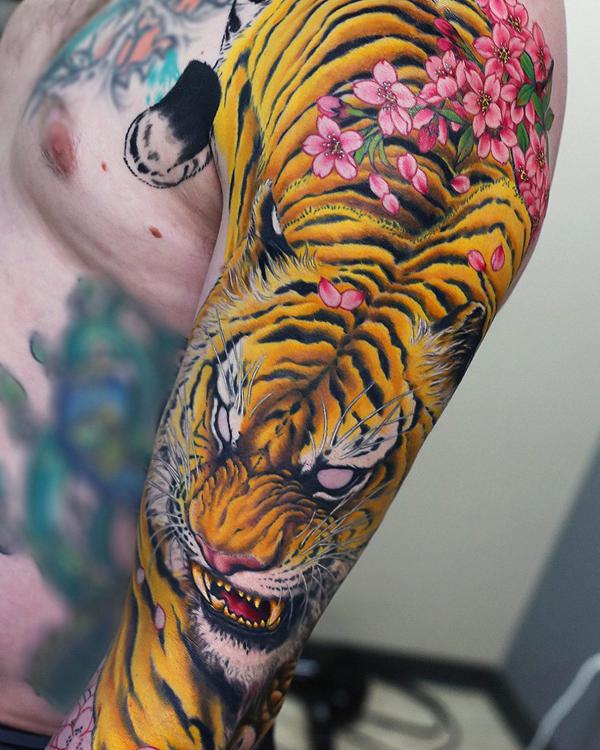 The vibrant yellow of the tiger contrasts beautifully with the soft pink of the cherry blossoms, creating a design that's both bold and delicate. This tattoo can symbolize power, transformation, and the beauty of life.
Realistic mechanics and heart full sleeve tattoo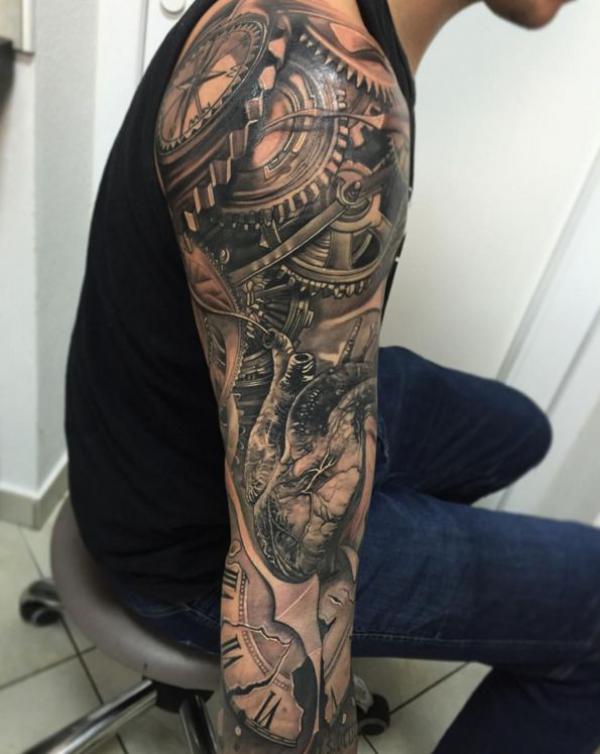 Combine the technical intricacies of mechanics – compass, clock with the organic complexity of a heart. This design can symbolize the intersection of technology and humanity, or the idea that even the most complex machinery can't match the intricacies of the human heart.
Protea flower with leaves full sleeve tattoo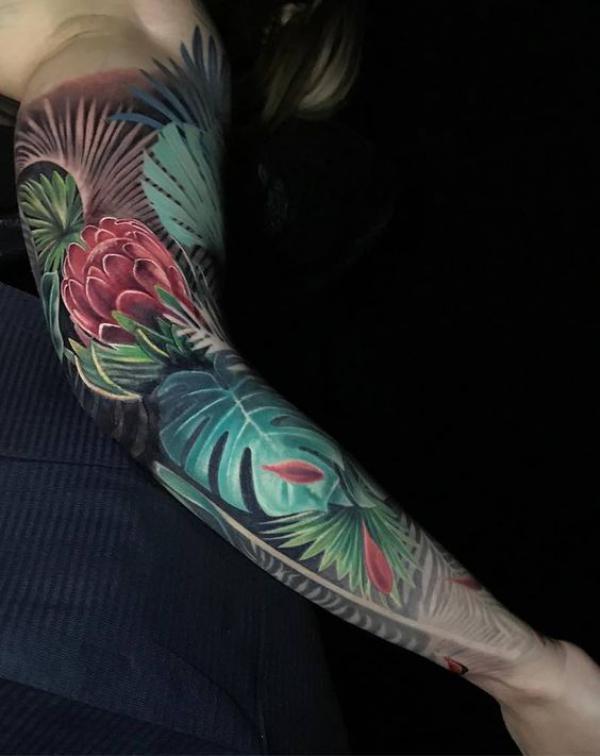 A tattoo featuring a protea flower and leaves is a striking design that's full of detail. The protea, with its distinctive shape and rich colors, stands out against the lush backdrop of leaves. This tattoo can symbolize transformation, courage, and the beauty of nature.
Female warrior and raven full sleeve ink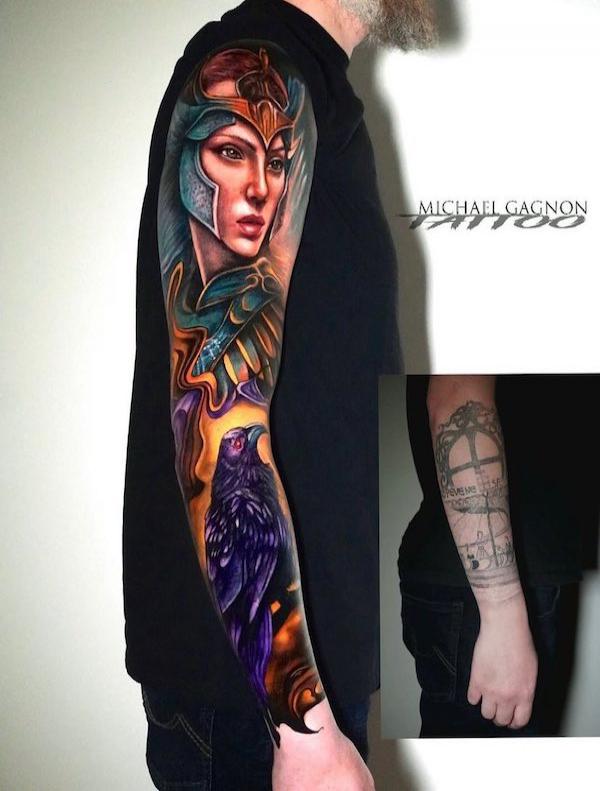 An ink design featuring a female warrior and a raven is a design that's full of symbolism and narrative. The female warrior can represent strength and empowerment, while the raven, a bird associated with mystery and intelligence, adds a layer of intrigue. This design tells a story of resilience and wisdom.
Realistic medusa and skull full sleeve cover up tattoo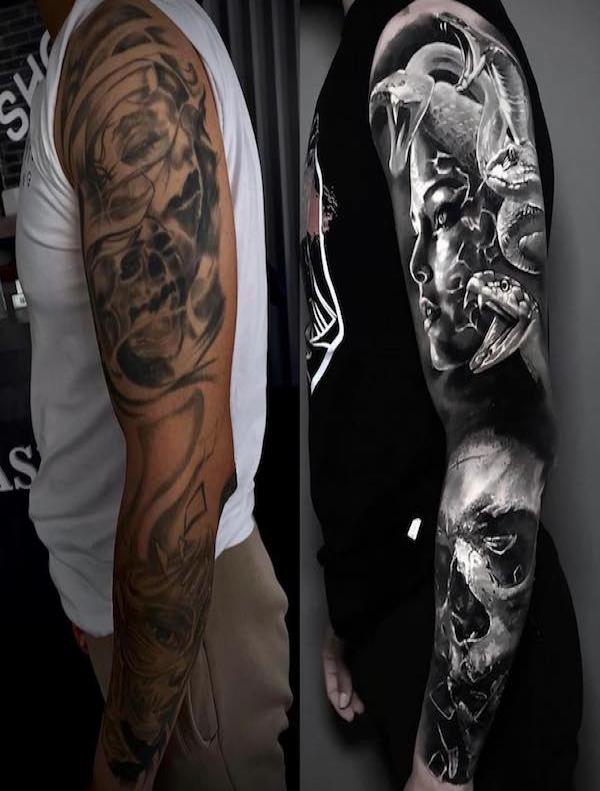 A realistic Medusa and skull cover up tattoo is a design that's both visually stunning and symbolically rich. Medusa, with her snake-filled hair, is a powerful symbol of transformation and protection, while the skull can symbolize mortality and the transient nature of life.
Black and white dragon and cherry blossom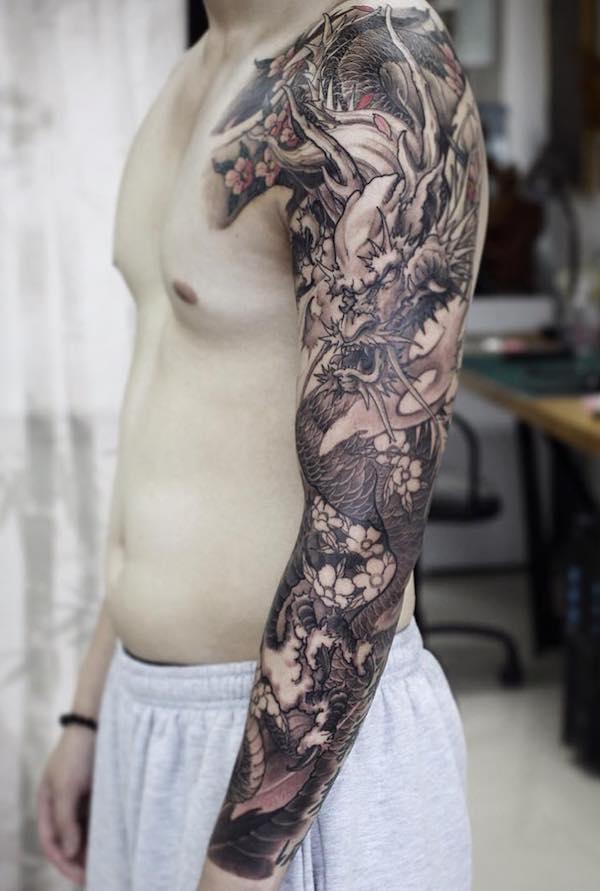 A black and white dragon paired with cherry blossoms creates a beautiful contrast for a full sleeve tattoo. The dragon, a symbol of power and wisdom, is balanced by the delicate beauty of the cherry blossoms, which represent the fleeting nature of life. This design blends strength and softness in a harmonious way.
Traditional Roses and Skull with crossbones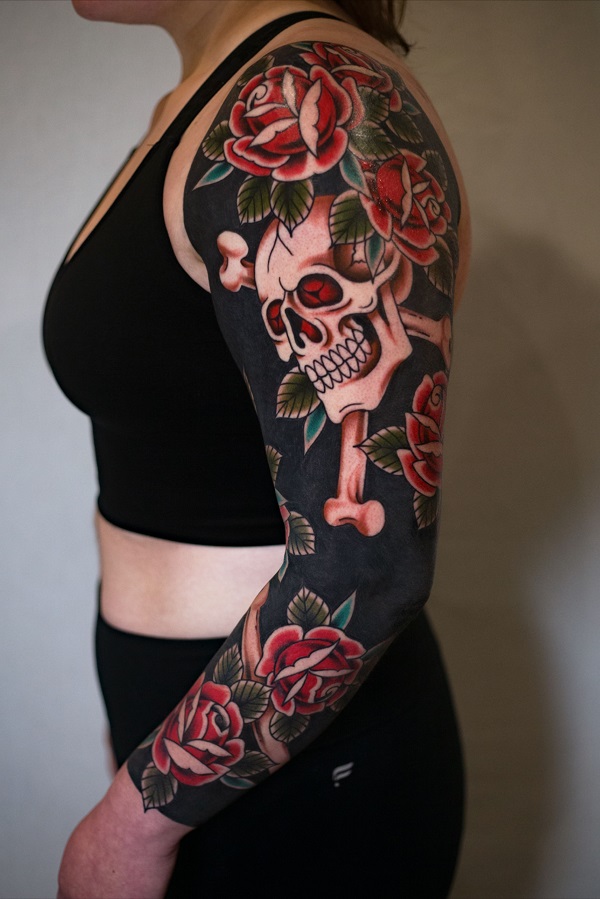 Traditional roses and a skull with crossbones is a classic design with a timeless appeal. The roses can symbolize love and beauty, while the skull and crossbones represent mortality and the rebellious spirit. This tattoo embodies a mix of sweet sentiment and edgy allure.
Tiger head and Hannya mask full sleeve tattoo for men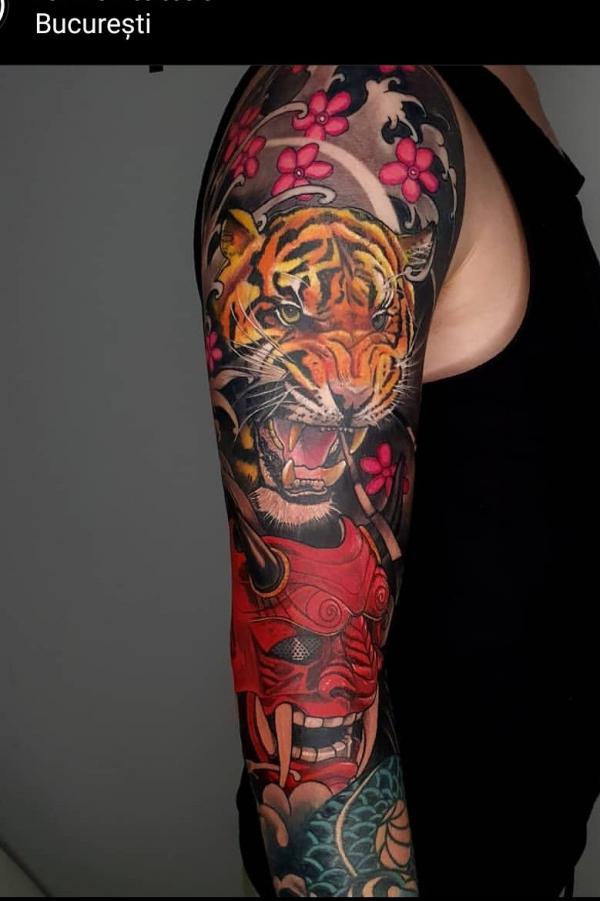 A tiger head and a Hannya mask is a design steeped in Japanese culture. The tiger represents strength and courage, while the Hannya mask, used in traditional Japanese theater, symbolizes a complex range of emotions. This tattoo is a powerful mix of symbolism and cultural heritage.
Blue roses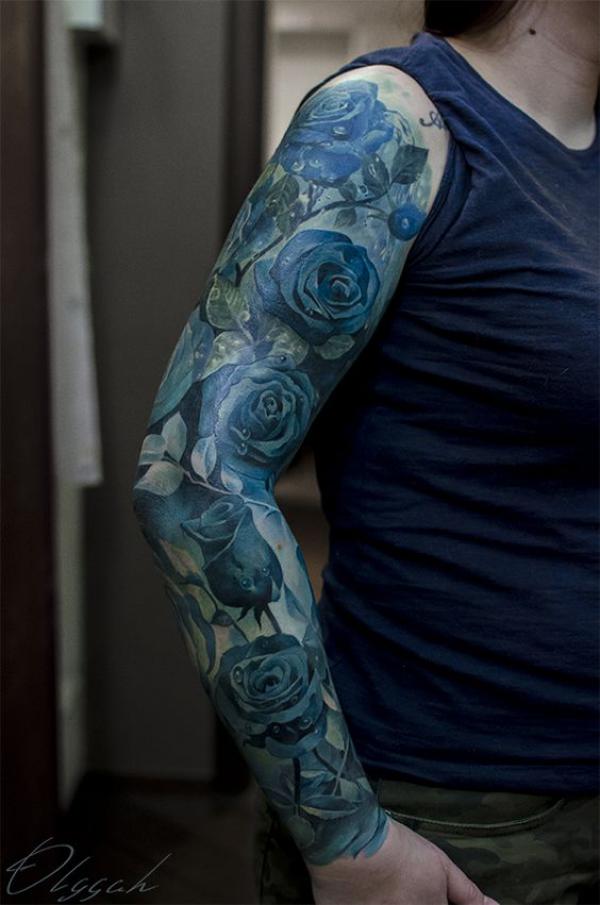 A full sleeve tattoo of blue roses is a beautiful and symbolic design. Blue roses, often associated with the unattainable or the mysterious, create a captivating visual on the arm. This design is a great choice for those who love the beauty and symbolism of roses but want a unique twist.
Celtic knot and helm of awe tattoo for men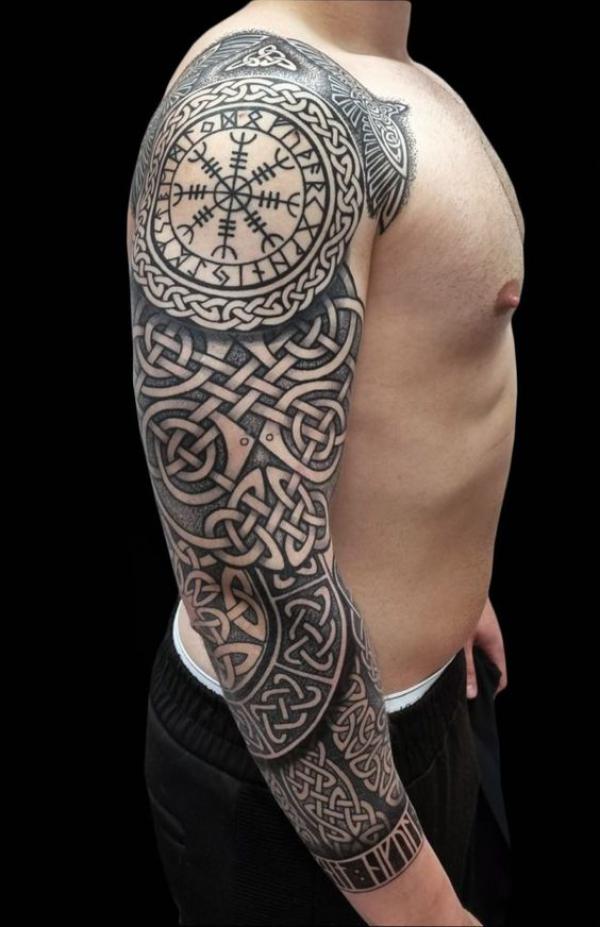 A Celtic knot and the Helm of Awe is a design rich in history and symbolism. The intricate patterns of the Celtic knot represent eternal life and endless love, while the Helm of Awe, a protective symbol in Norse mythology, symbolizes power and protection. This design is a testament to ancient wisdom and symbolism.
Realistic black and grey tree of life and flower tattoo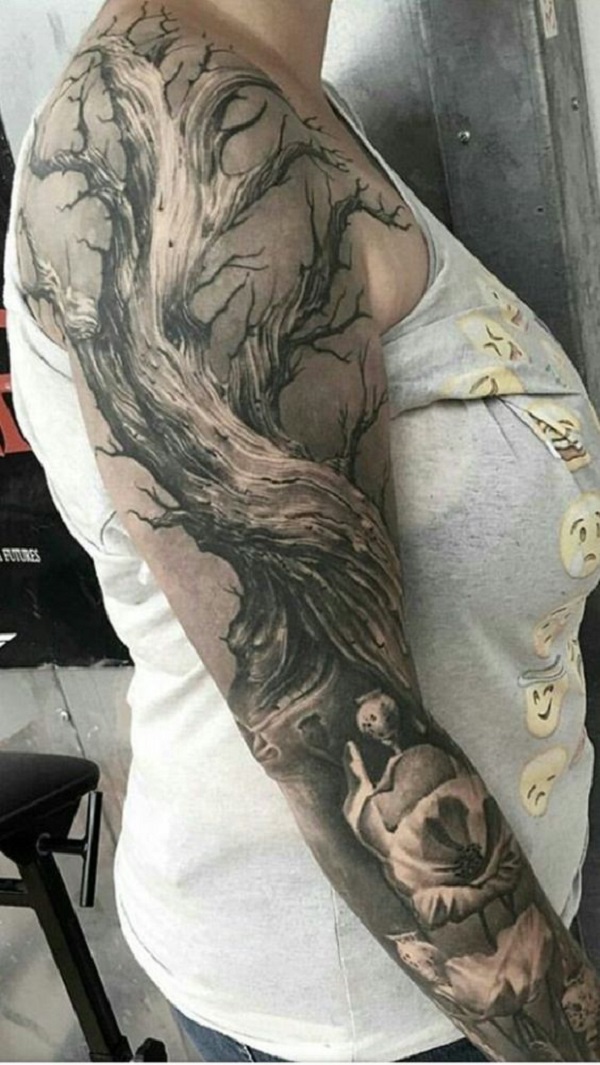 A realistic black and grey ink desogn featuring the Tree of Life and flowers is a beautiful and symbolic choice for a full sleeve design. The Tree of Life symbolizes connection, growth, and the cycle of life, while the flowers can represent beauty and transformation. This design is a visual reminder of our connection to nature and the cycles of life.
Norse full sleeve tattoo