Let your imagination run wild and try this trend. Art is wonderful. When a man is inspired and has imagination he can create beauty from nothing. And so in this case, when you work henna tattoos on the hands and feet as Indian women you will not need jewelry to look sensual. With a little effort and a lot of imagination people do huge things. Relax the mind and hand, let the imagination, divest creativity …
Henna is an Indian plant. It is used as an ornamental plant but and for coloring bodies and hair. Egyptian mummies have been painted with henna, and also it was used in ritual purposes in Arab countries, India, Pakistan … The process of obtaining the color starts from leaves what need to be drought and made in dust.
Drawing parts of the body with henna originated in India and it is used for drawing body since 5000 years. Henna is from long time ago used in cosmetic purposes, and it is believed to have medicinal properties. Painting with henna differs from region to region, and drawings can have different meanings: fertility, health, wisdom … For example, the Arabic tattoos are composed of flowers, while in India tattoos are like lace and flowers drawn up to elbows on her hands and knees her feet. In Africa, people often draw geometric shapes. In India there is a custom that young people are drawn hands and feet with henna. This is done in order to have the newlyweds happiness in marriage. A drawing often know to last up to six hours. At the bride's hand is written the groom's name, and until groom doesn't find his name in all those patterns, wedding night can not begin.
The advantage of this type of tattoo is that it is painless, but I have to say that henna tattoos quickly disappear. This is on the one hand and good because when it disappear you can do a new tattoo even in another part of the body. If you are planning a permanent tattoo that is good because we can see do we really like some tattoo on particular place. Henna tattoos usually last about two weeks, which of course depends on what part of the body is tattoo. If the body part is often in contact with water it is normal that tattoo faster disappears. Natural colors are green and black, and mahogany, blue, brown, obtain chemical substances and naturally, could damage the skin. The red color symbolizes wealth and fertility.
This is one aspect (I'm free to say) of art. Drawing requires a lot of creativity, imagination but also and patience. The easiest way to apply khan is with cornet made of nylon or decorative paper. If you aren't really good drawer you can purchase stencils to help you apply henna on the skin.
For mixture need to draw we will need: Indian henna in the desired color, hot water, lemon juice and a teaspoon of sugar or honey. In a bowl, first put the canoe, the juice of half a lemon, and hot water, the mixture to be mixed in the density of yogurt and then add sugar or honey to khan so that it, when applied to the skin, would not shoot, so we could draw unbroken lines. If it is impossible to draw a continuous line that means that the henna is too thick and we need to add some more hot water. Of course, henna mustn't pour by hand while drawing.
If you like this trend, let your imagination run wild, buy a canoe, and try how will stand it to you. If it wasn't nice people wouldn't do it for thousands of years.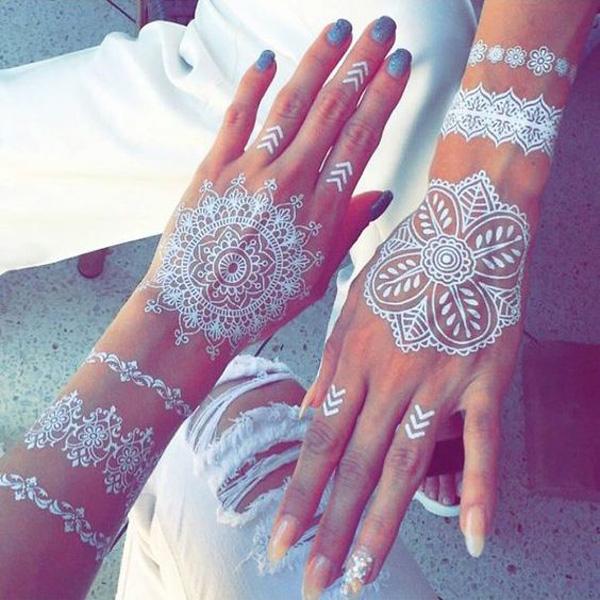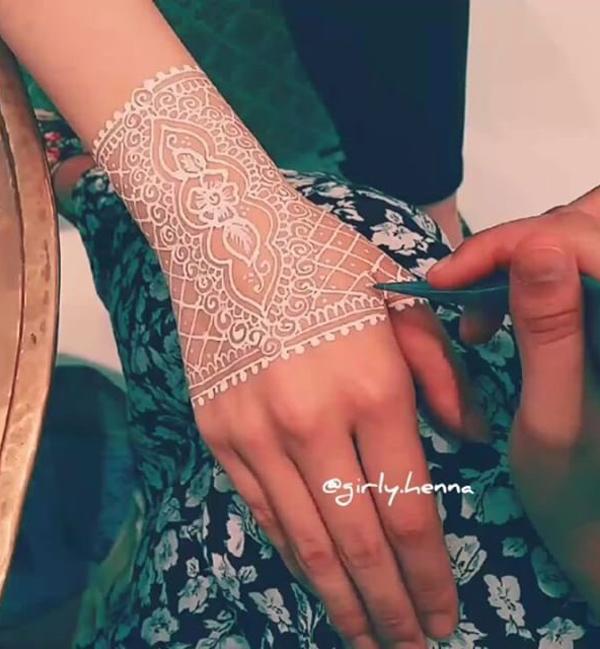 Good drawer will not need a pattern.
Source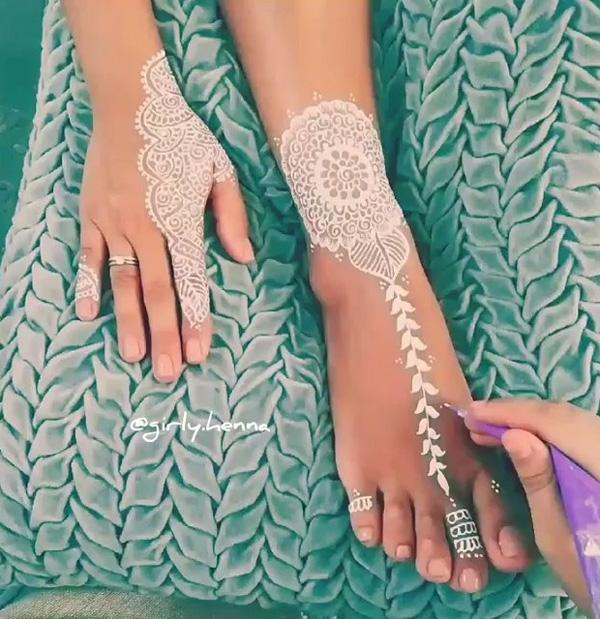 White patterns will especially nice stand on a darker ten.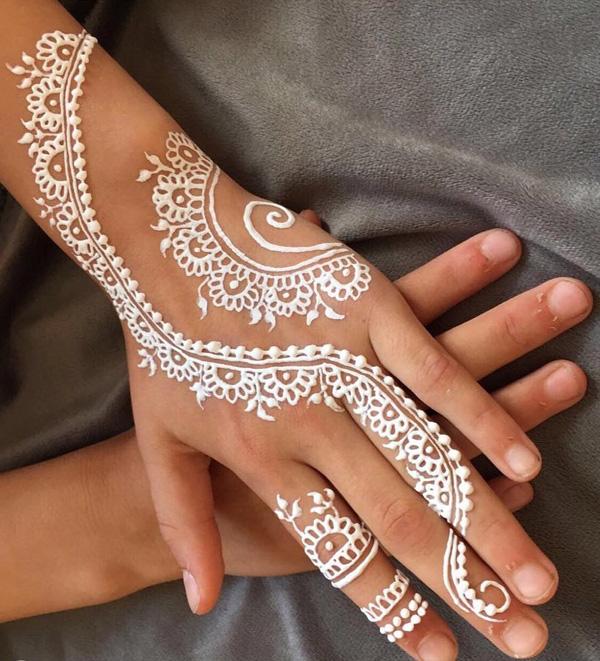 Imagination plays a key role here!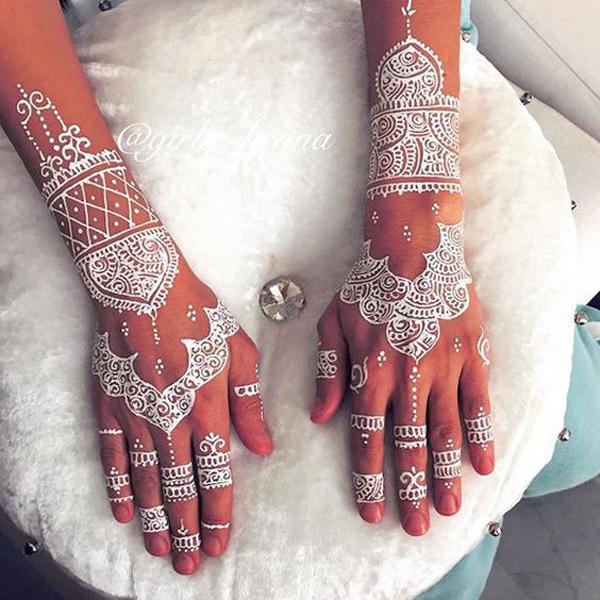 Brides in India almost always decorate like this their hands…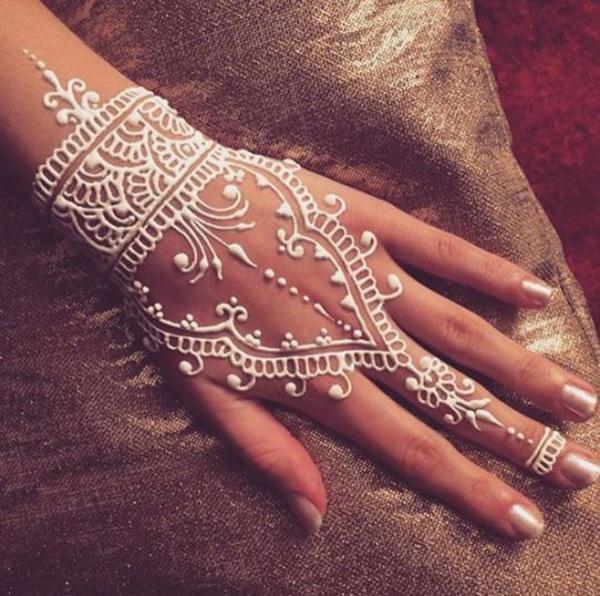 The white color means purity and safety.Think on meaning of colors when choosing a color for your henna.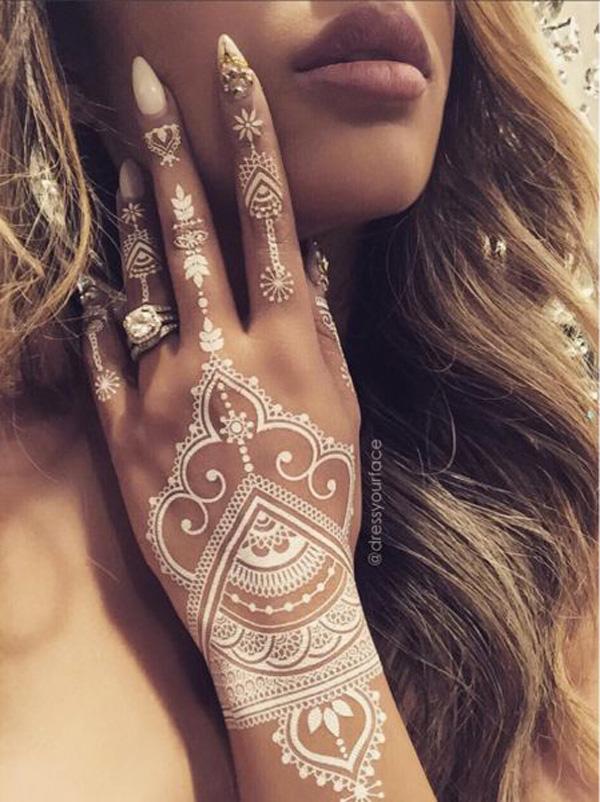 Combined with beautiful nails and rings looks luxuriously.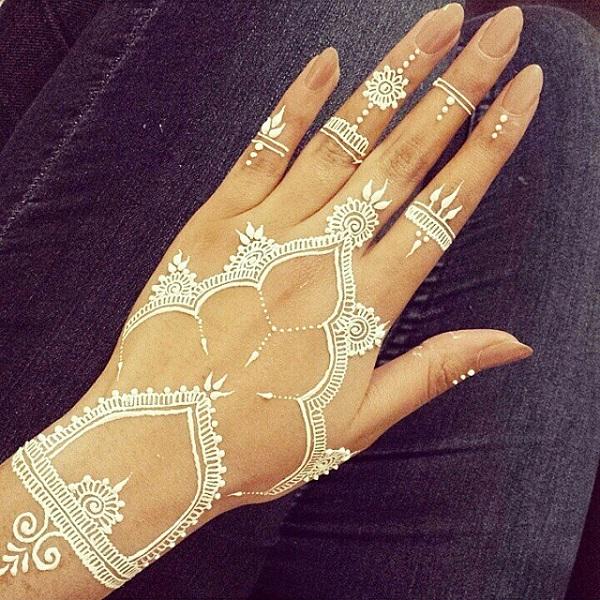 Unfortunately hands are often in contact with water, so might tattoos on the part of the body will shortly endure.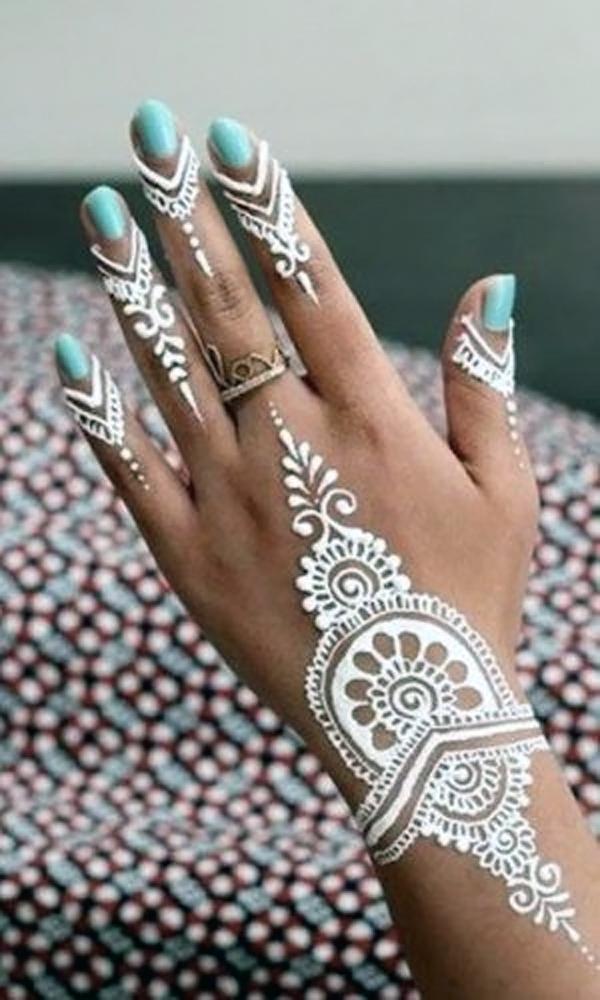 You may choose a draw in white color for your hands and combine it with an interesting color of nail polish.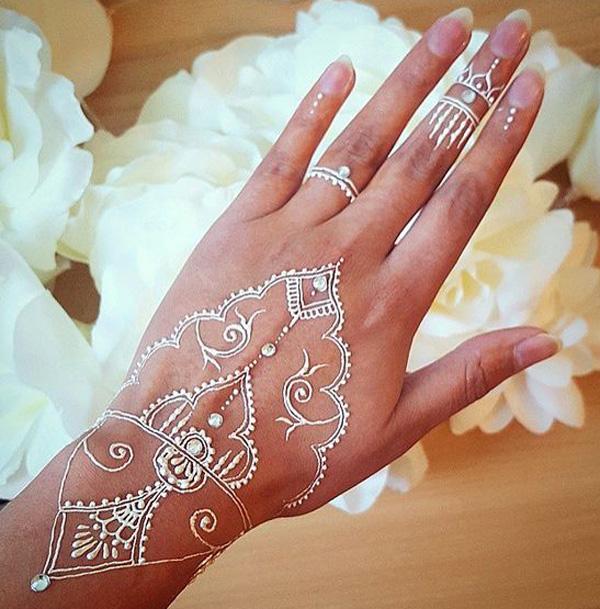 Discreet and sensual…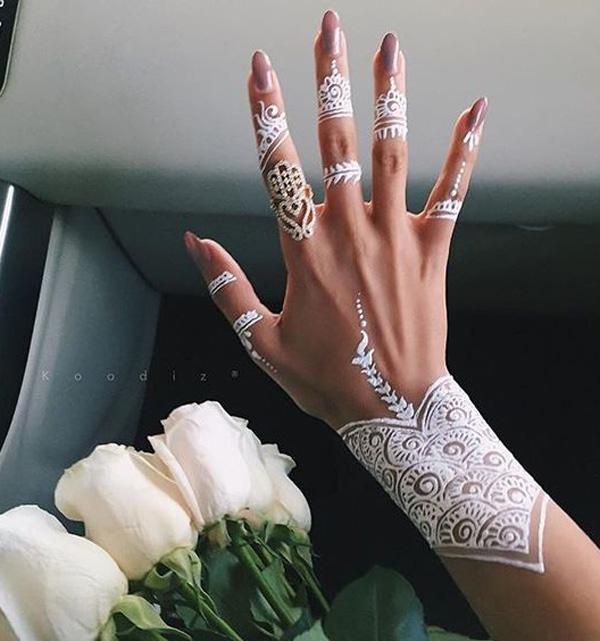 Instead bracelets and rings this month this month you can choose this form of body decoration.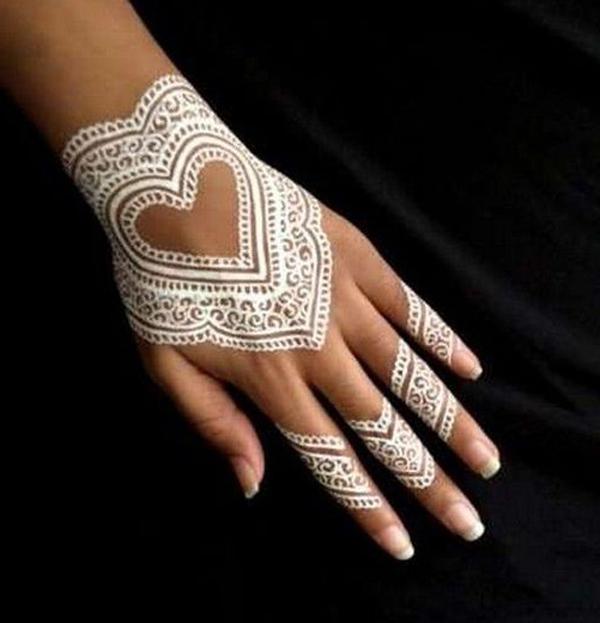 Like crocheted gloves.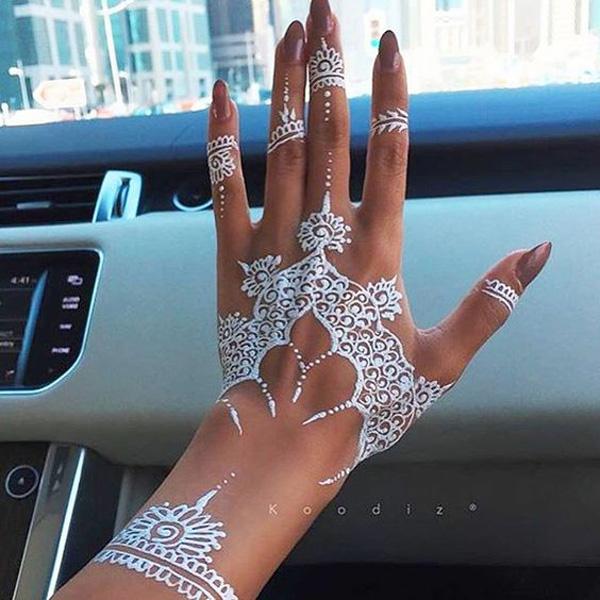 And urban girls are not withstood the trend!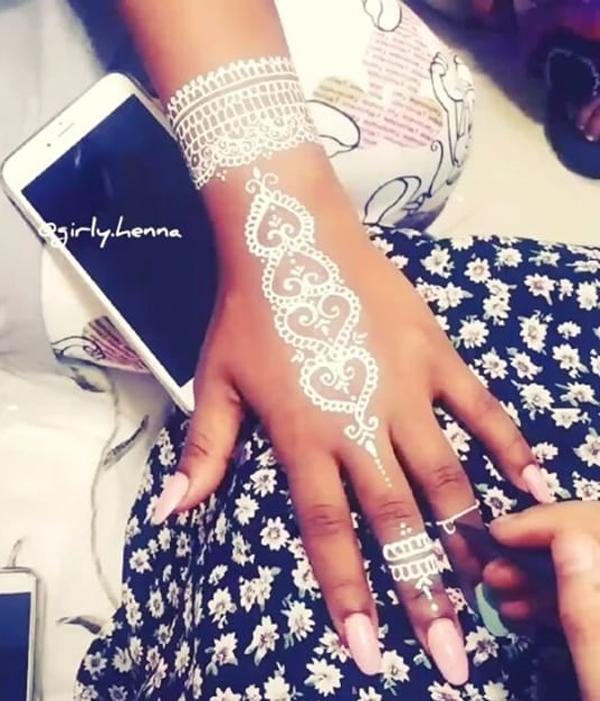 Here's another idea for you …
Source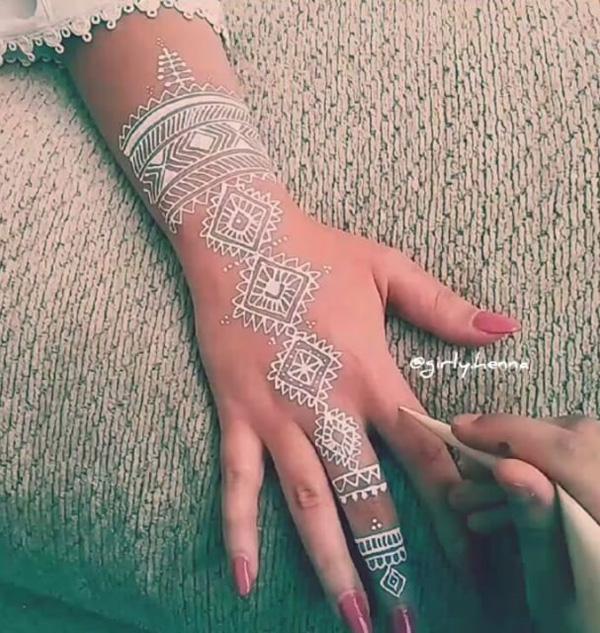 Geometric shapes are a good choice and I have to say that here a very nice contribution to the image gine red long nails.
Source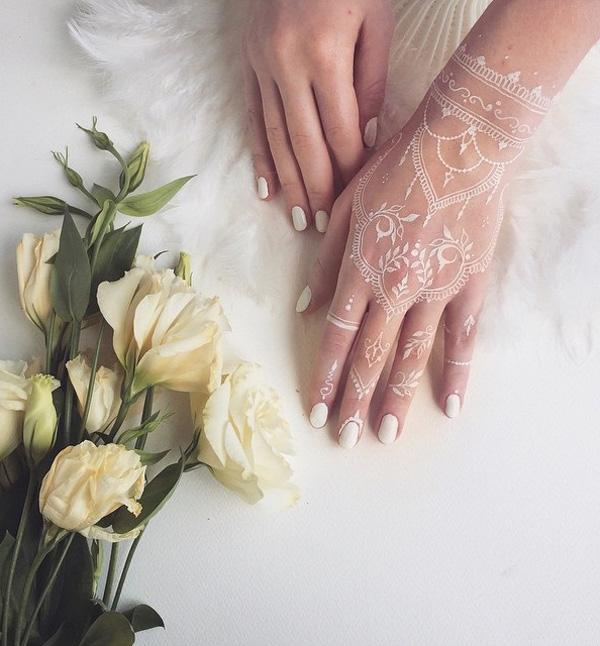 Drawing on the one hand only, is discreet but effective detail.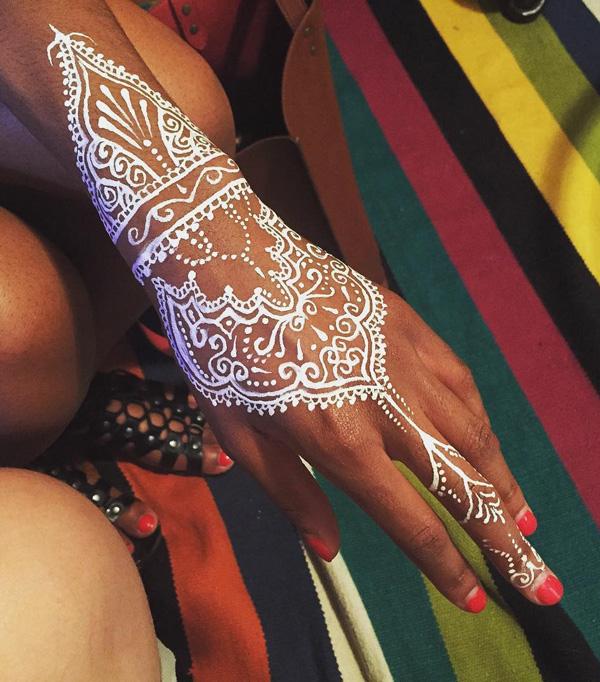 Darker tan and white color are very seductive combination.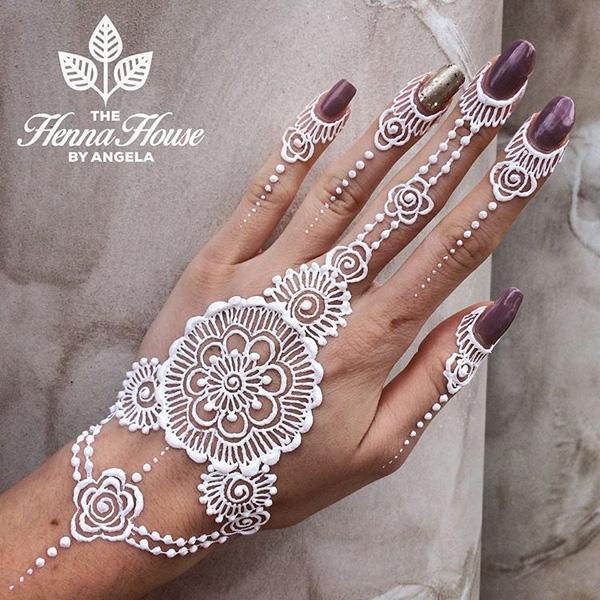 Very modern.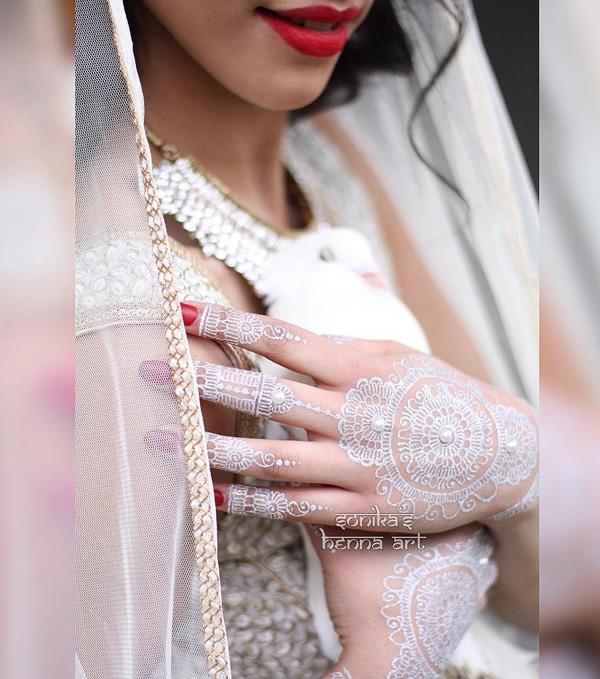 Fine lines of your tattoo make you look more gentle and sensual.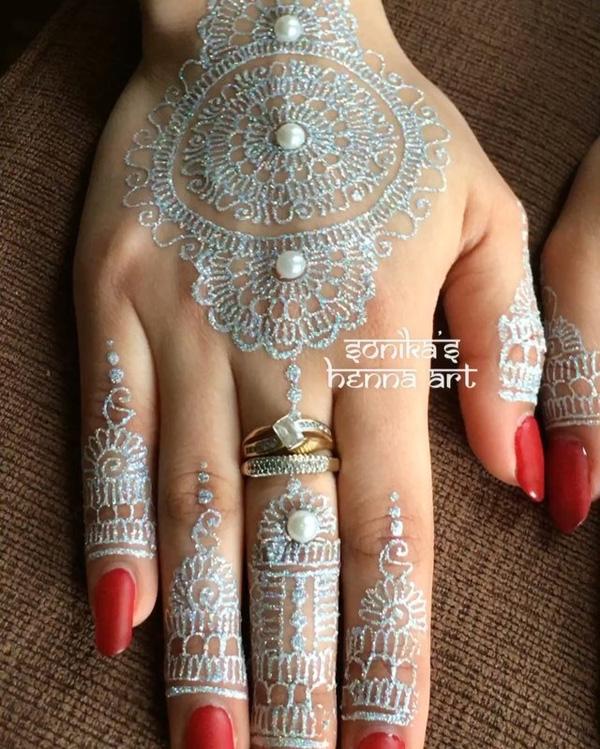 Like lace.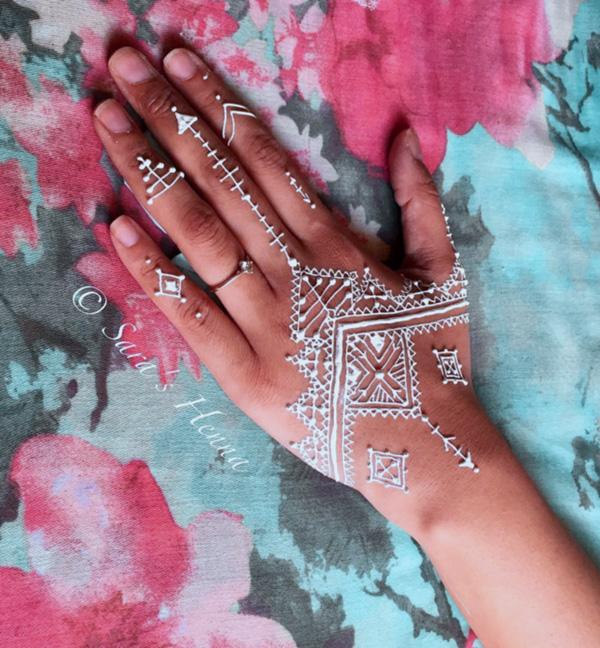 Another idea for a tattoo in the form of geometric shapes.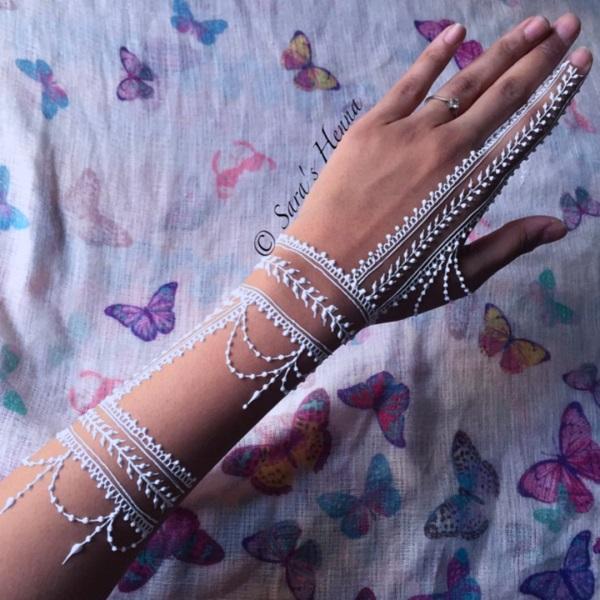 Interesting long tattoo from middle of the arm to the tip of fingers.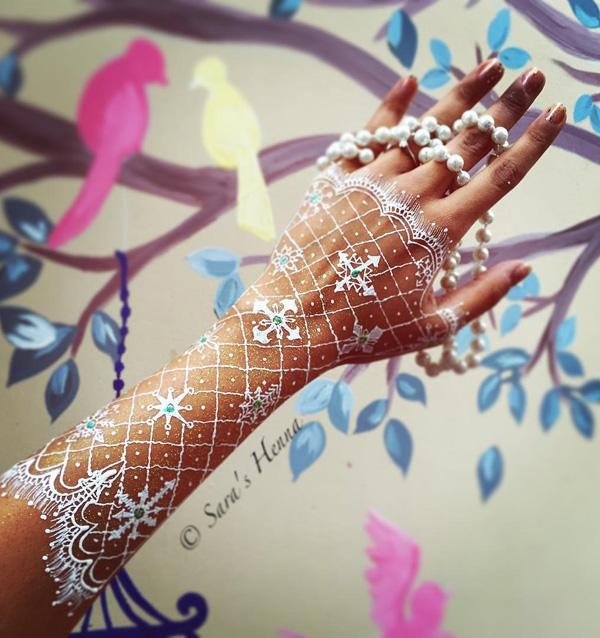 Instead of the real gloves bring this imitation of henna, and you will be great.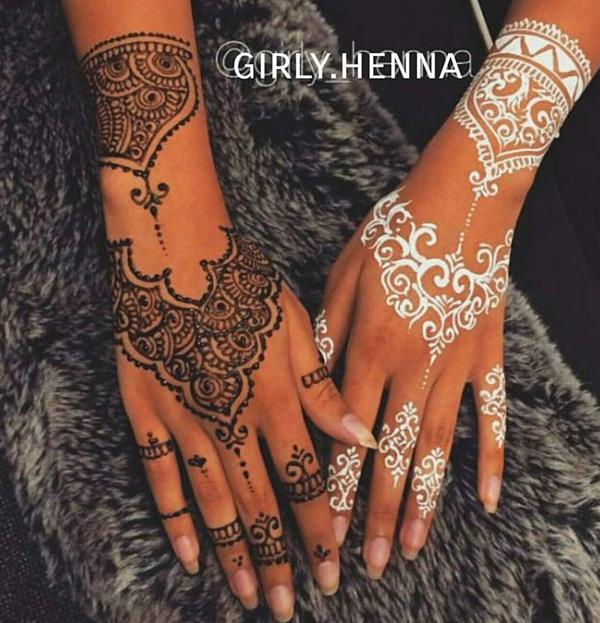 And for the angel and for the woman devil.
Source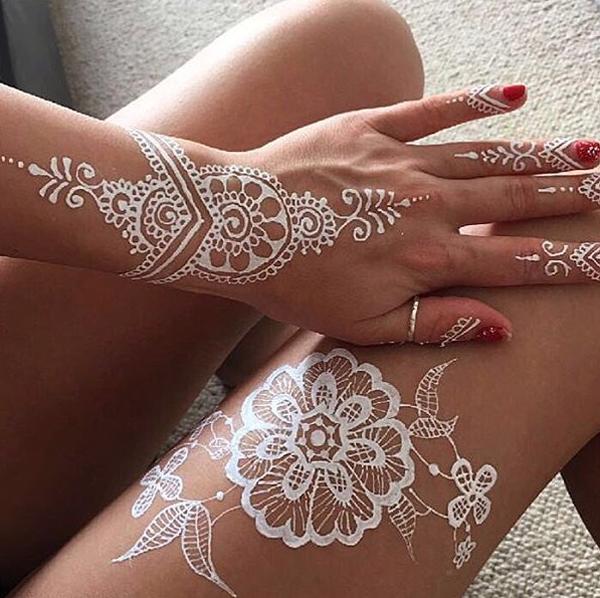 You can do a tattoo on any part of the body, not just on the hands and feet.