Flowers have always been considered symbols of beauty and as such, they always attracted the attention of artists. Since the ancient times, flowers decorated depictions of ancient battles, pharaohs or they have been molded into ornaments for a plethora of objects. Ever since the still life genre gained autonomy in baroque after a long fight through the history of art, flowers have become one of the central and most beloved themes for drawing and painting. As the particularly aestheticized and polished vanitas variation of still life was developing in 17th century and later on, so were the paintings of flowers in vases, on tables in various arrangements.
Modern art brought new, more democratic and respectful outlook to all subjects, and flowers became beloved subject of impressionists and various modernists after. Flowers have been in and out of fashion throughout the 20th century, and today as well, but one thing remains the same – flowers are the basis, the preoccupation, the fascination, the challenge of numerous artists and this will, probably, never change. Let me remind you of Caravaggio's Flower basket, Van Gogh's Sunflowers, or Monet's Water Lilies, to set the mood for the following collection.
Flower drawings presented here will take you on a journey through history of still life, leading to the present interpretations of one of the most beautiful motifs in art.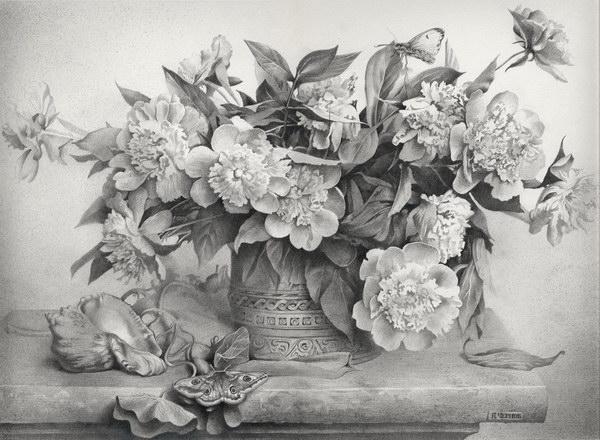 21. Denis Chernov – Still Life with Flowers – Beautiful drawing of an internet artist, dated to 2003.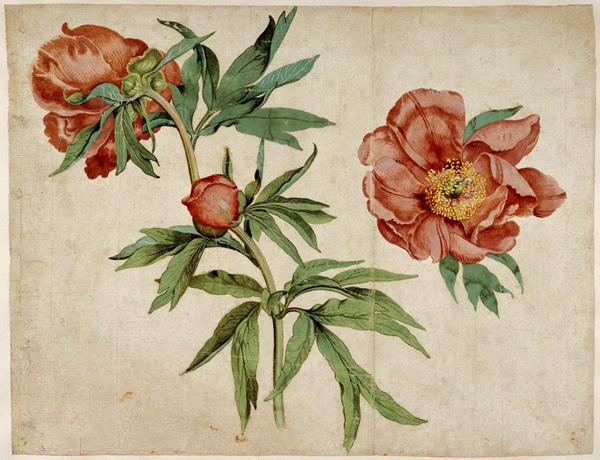 1. Martin Schongauer – Studies of Peonies
Executed around 1472-73. This is one of the German Renaissance drawings, which was often used as a study for larger compositions that included nature.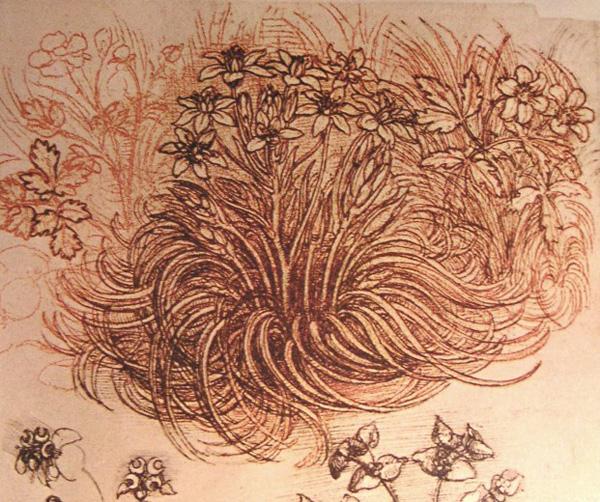 2. Leonardo da Vinci – A Botanical Study
It's widely known Leonardo drew studies of people, nature and still life. This flower drawing study dates to about 1500 AD. It was used as a sketch for his painterly work.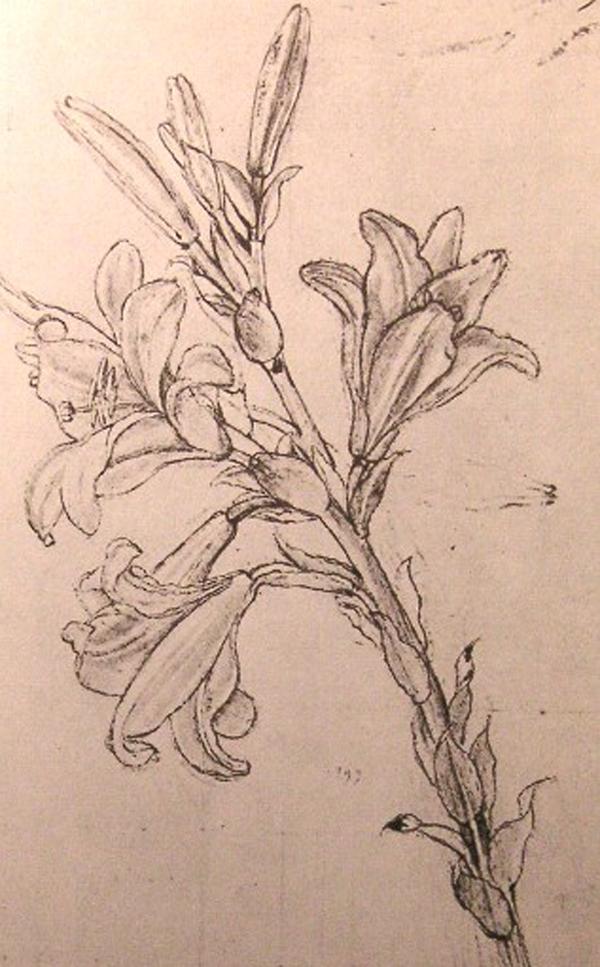 3. Leonardo da Vinci – Drawing of lilies, for an Annunciation
Also a study from about 1500 AD. These lilies were used as a study for Leonardo's Annunciation, since a lily is the central flower in the composition.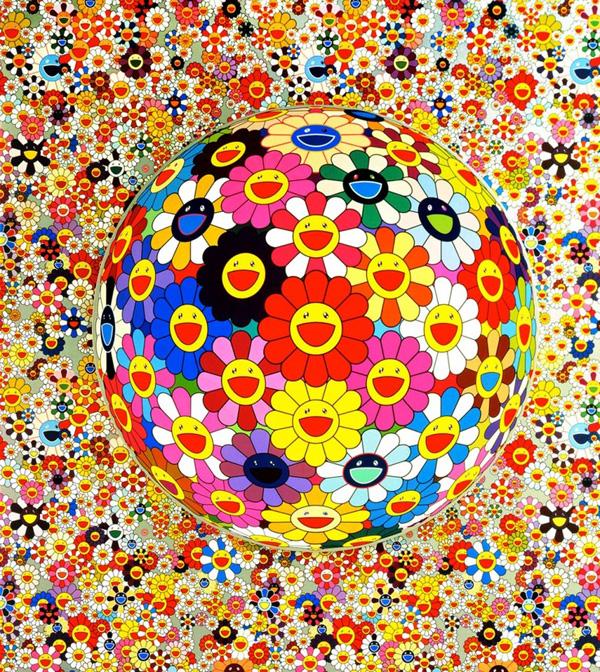 4. Takashi Murakami – Flower Ball
Contemporary urban artist Takashi Murakami presents his floral vision of crazy color and artificial style. This work dates to 2002.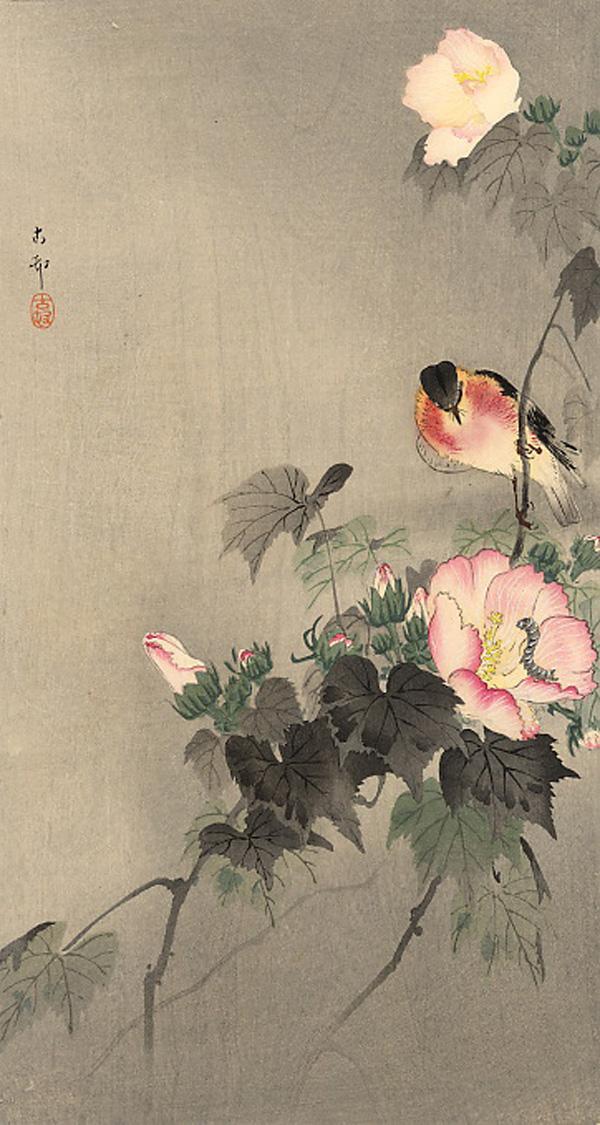 5. Ohara Koson – Stonechat and blossoming flower
The Japanese artist creates in distinctive style of Shin-hanga school. Although this is a print, drawing is the essence of his work.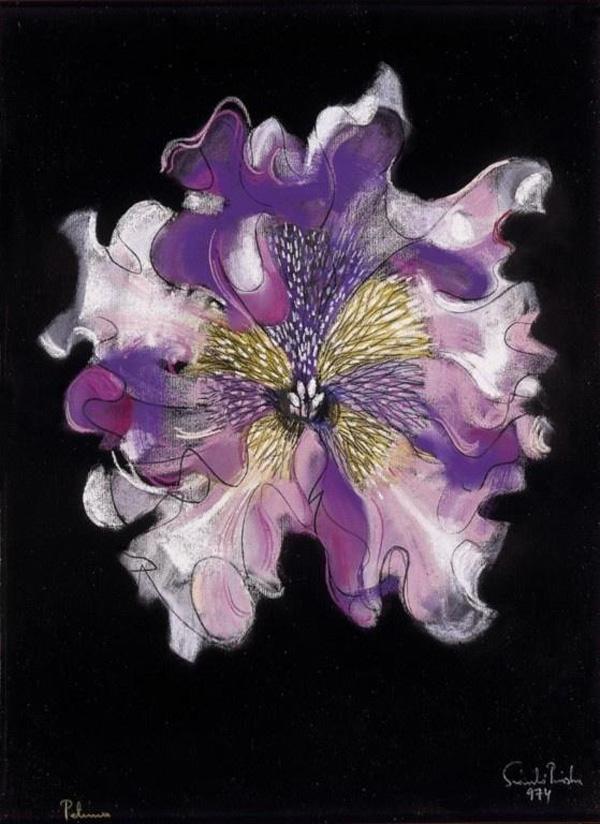 5. Piroska Szanto – Purple Flower
A rendering of a flower by modern artist Piroska Szanto from 1974.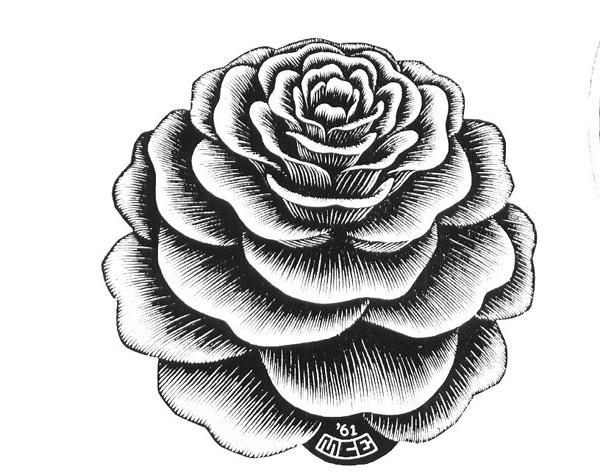 7. M. C. Escher – Flower
The master of illusionistic drawing completed this flower representation around 1961.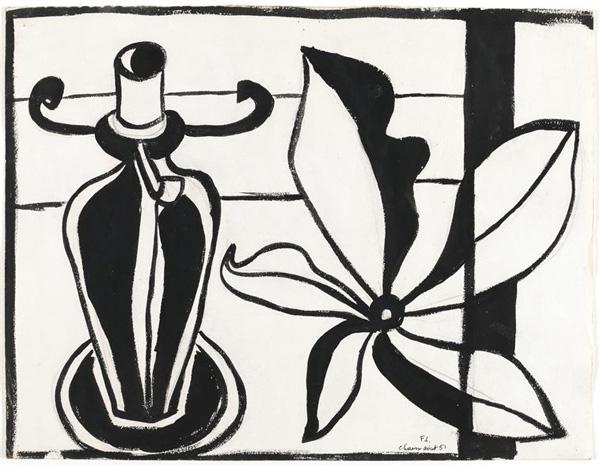 8. Fernand Leger – Flower lamp
One of the great artists of the mid-20th century drew his purist vision of a flower on a lamp. Note the simplicity and clarity of the stroke and composition.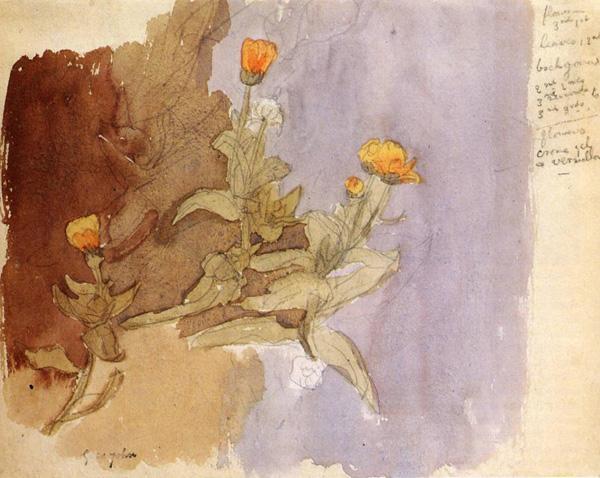 9. Gwen John – Study of Marigolds
A Post-Impressionist study dating back to 1918.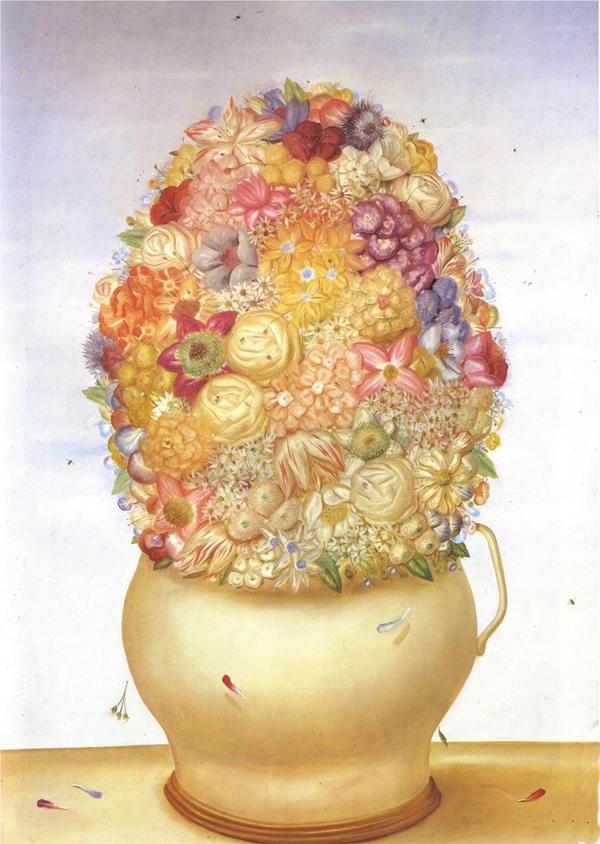 10. Fernando Botero – Flower Pot
Famous colorist painted this work in 1874 pertinent to his Primitive style.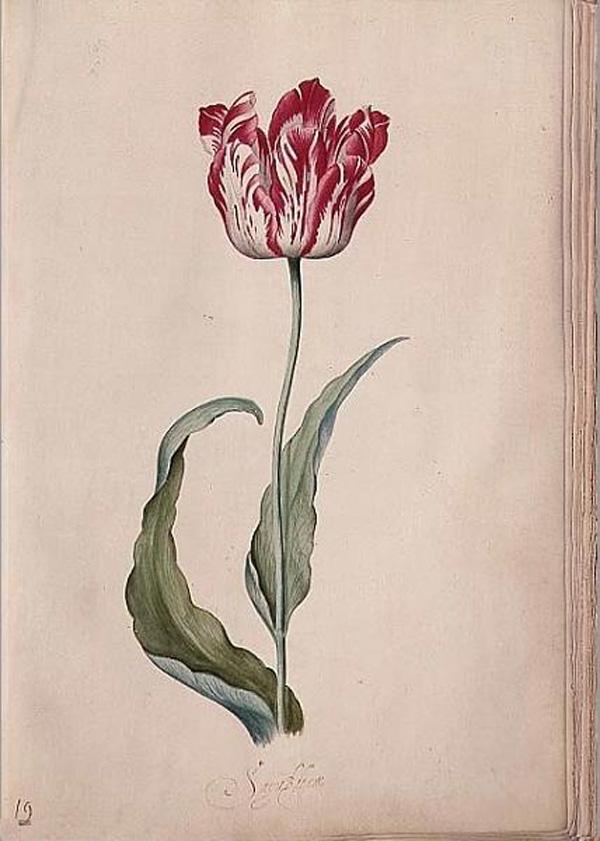 11. Judith Leyster – Tulip
A baroque drawing by a Dutch artist from 17th century. It was probably a study.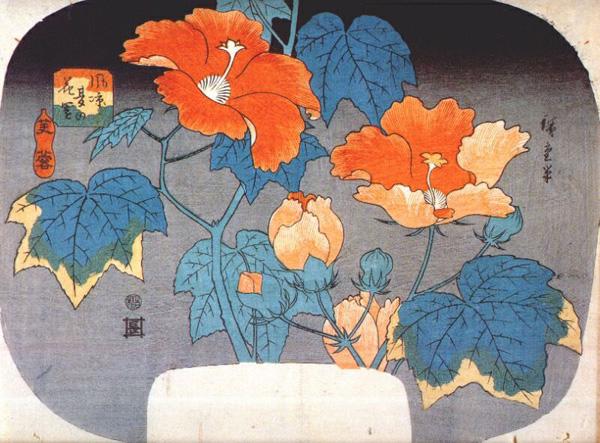 12. Hiroshige – Hibiscus
The great Japanese printmaker conjured up a picture of hibiscus flower, opening a window into the floral section of the Japanese Ukiyo-E school of the 19th century.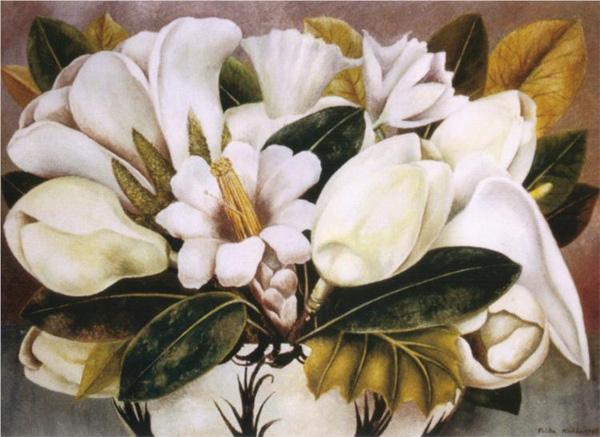 13. Frida Kahlo – Magnolias
The most famous female Mexican modernist, Frida Kahlo depicted a romantic vision of magnolia flower in 1945.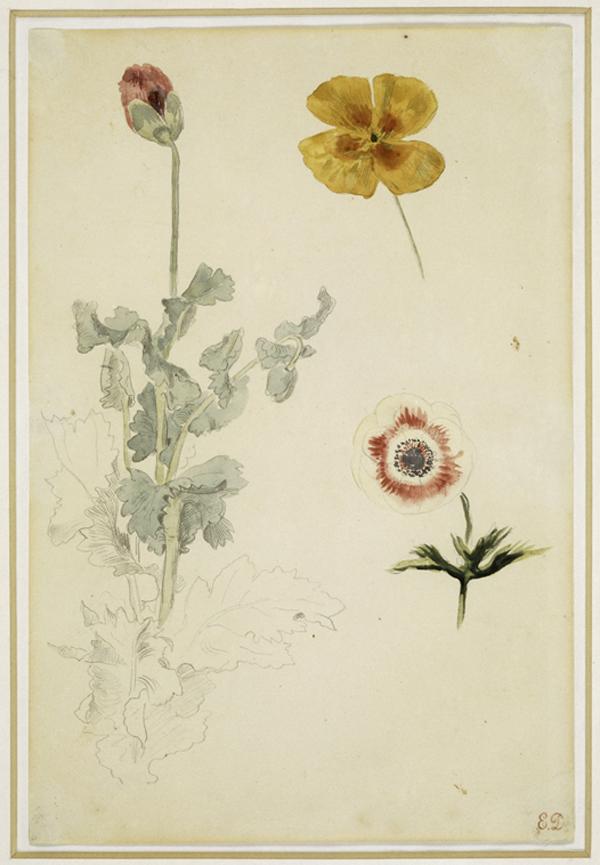 14. Eugene Delacroix – Study of Flowers
The great French Romantic painter did work on studies of flowers.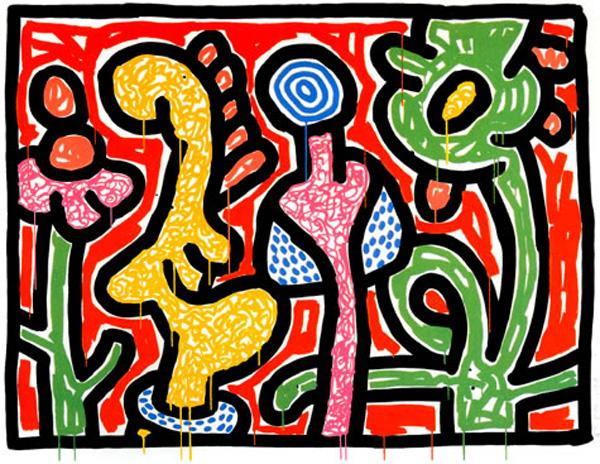 15. Keith Haring – Flowers IV
The legend of the 1980s and one of the pioneers of street art created these stylized flowers in 1990.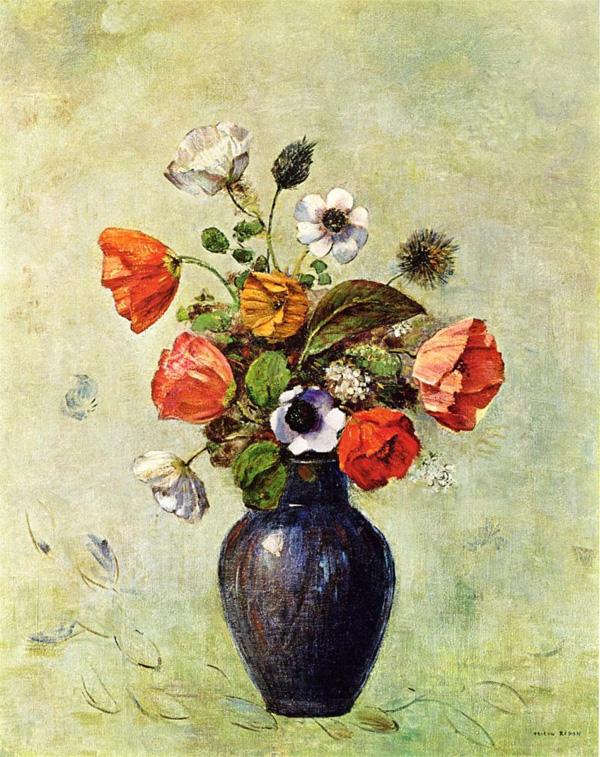 16. Odilon Redon – Anemones and Poppies in a Vase
A realistic representation by a great French symbolist.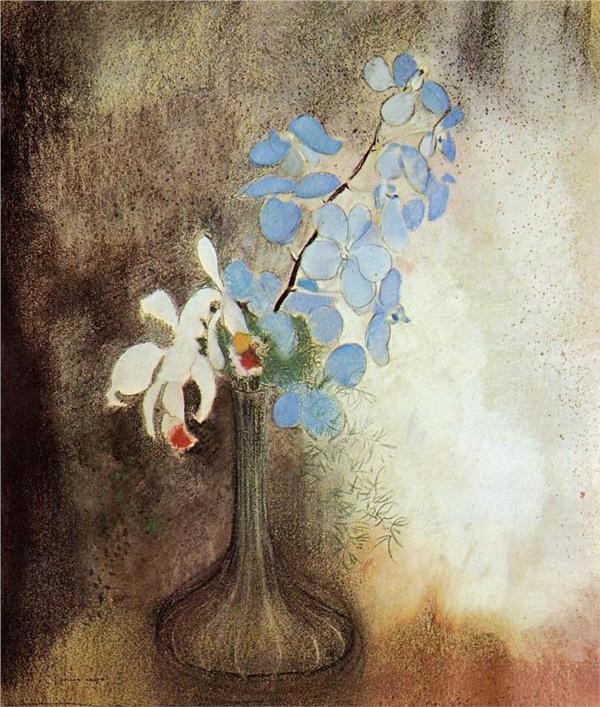 17. Odilon Redon – Orchids
Another floral work by Redon, completed in 1912.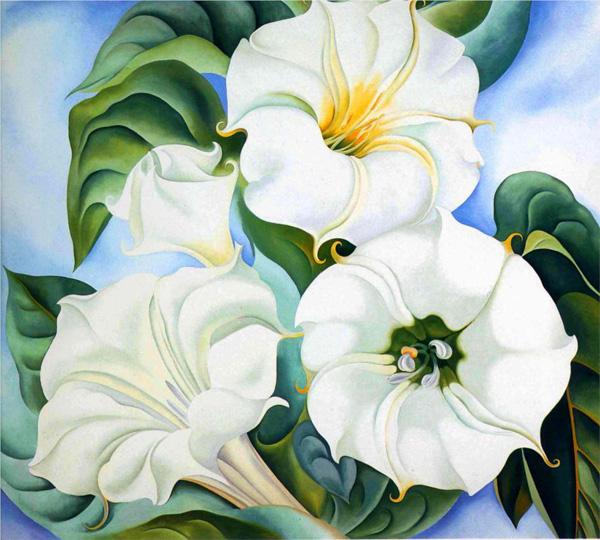 18. Georgia O'Keeffee – Jimson Weed 3
She was one of the greatest American modernists, known for her many paintings of beautiful and very feminine flowers, often with erotic connotations.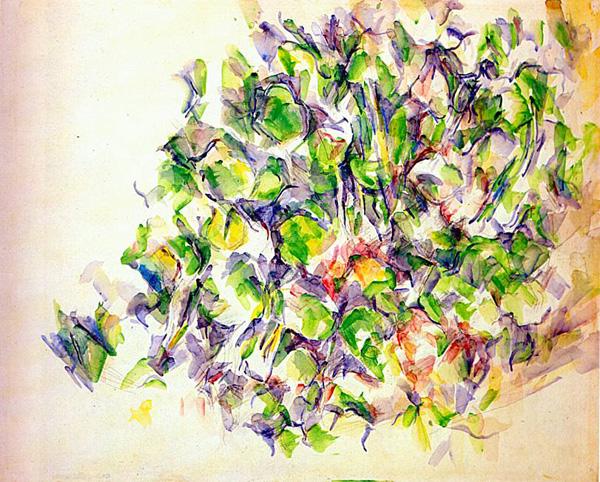 19. Paul Cezanne
This wonderful watercolor study by Cezanne is kept at the Roman Museum MAAM.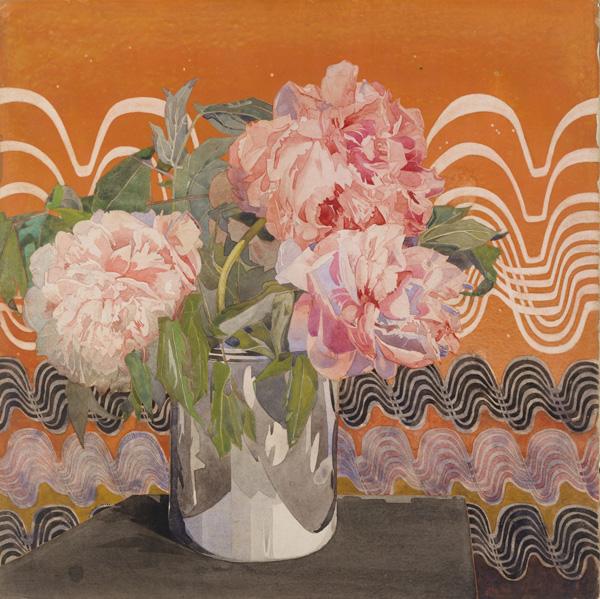 20. Charles Rennie Mackintosh – Peonies
The great designer finished this still life watercolor around 1920. He was less known as a draughtsman, and more famous as a designer, but talented in both fields.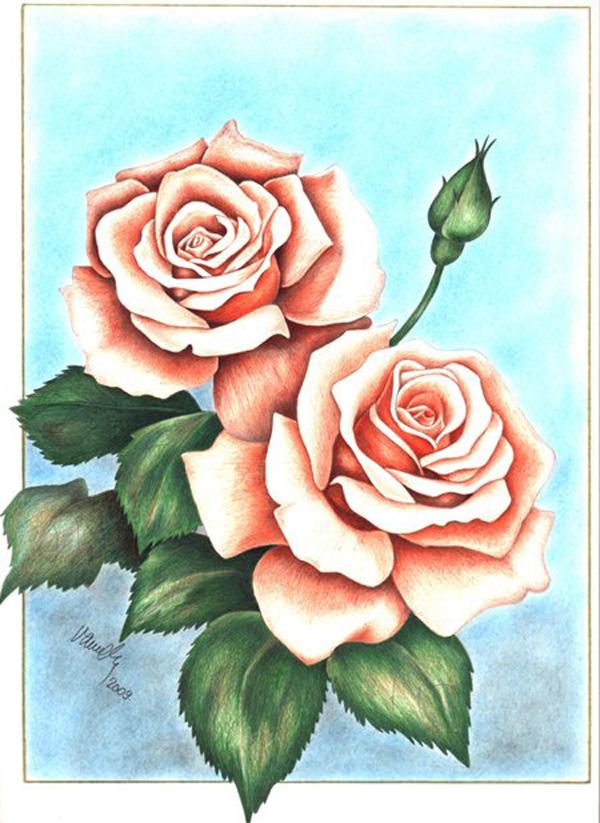 22. Violet Vendor – Roses
Depiction of Roses executed with colored pencils.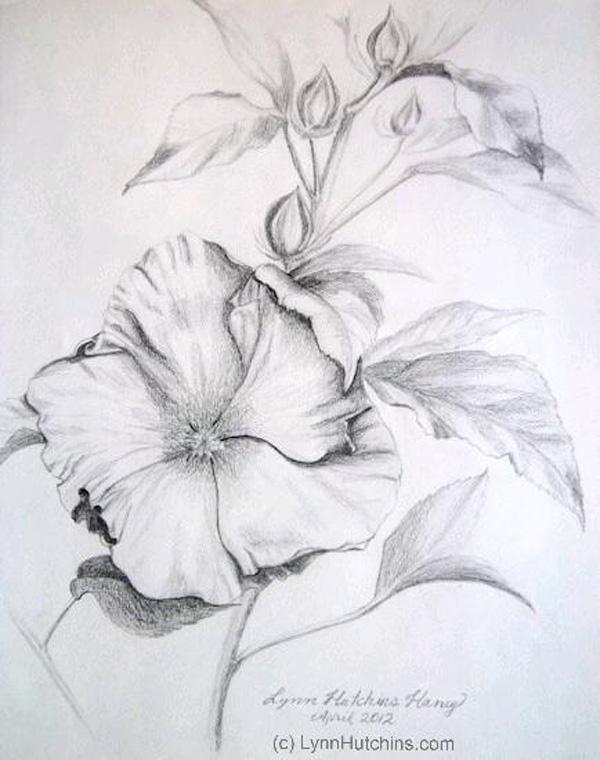 23. Lynn Hutchins – Hibiscus
Graphite drawing of a hibiscus flower is quite detailed and decorative.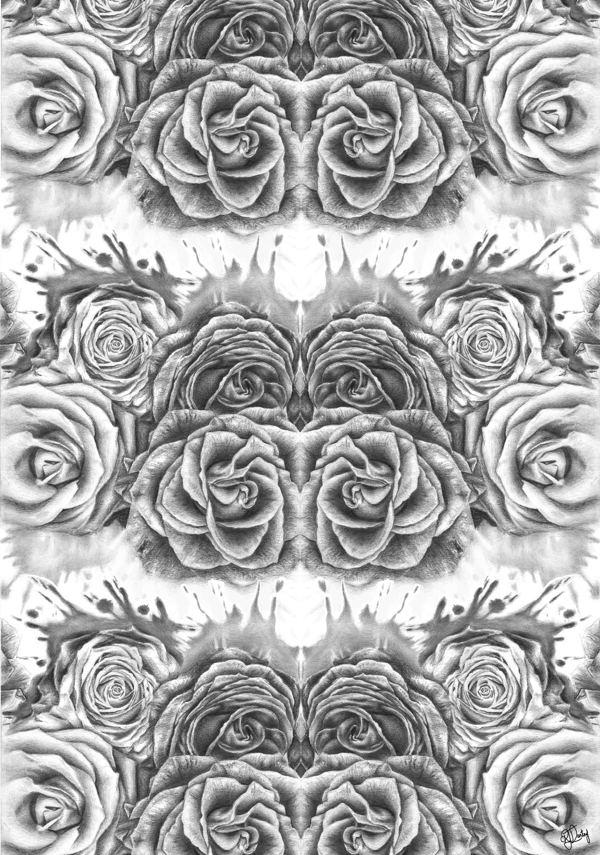 24. Roxanne Jade Dentry – Rose Splash
A curious drawing mixing roses with abstraction, done by South African artist.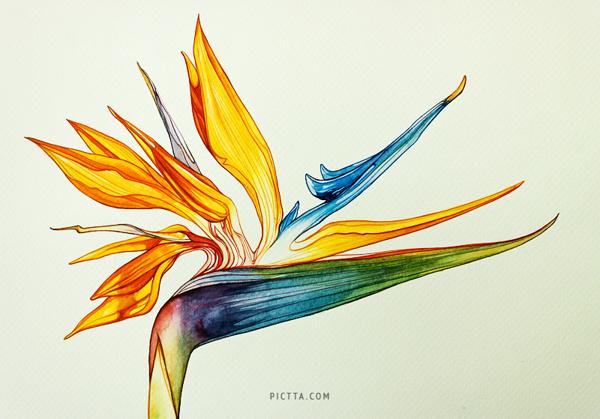 25. Piccta – Strelicium
Stunningly realistic rendering of a complicated flower, executed by artist who represents himself as Piccta.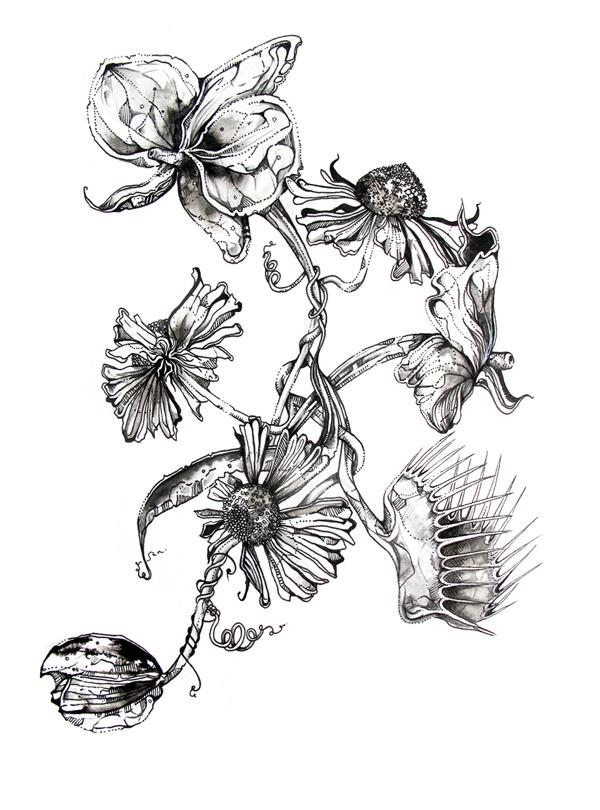 26. Grace Eloise Foster – Flowers
Intricate and a little grim depiction of decaying flower executed by the British artist in pencil and ink.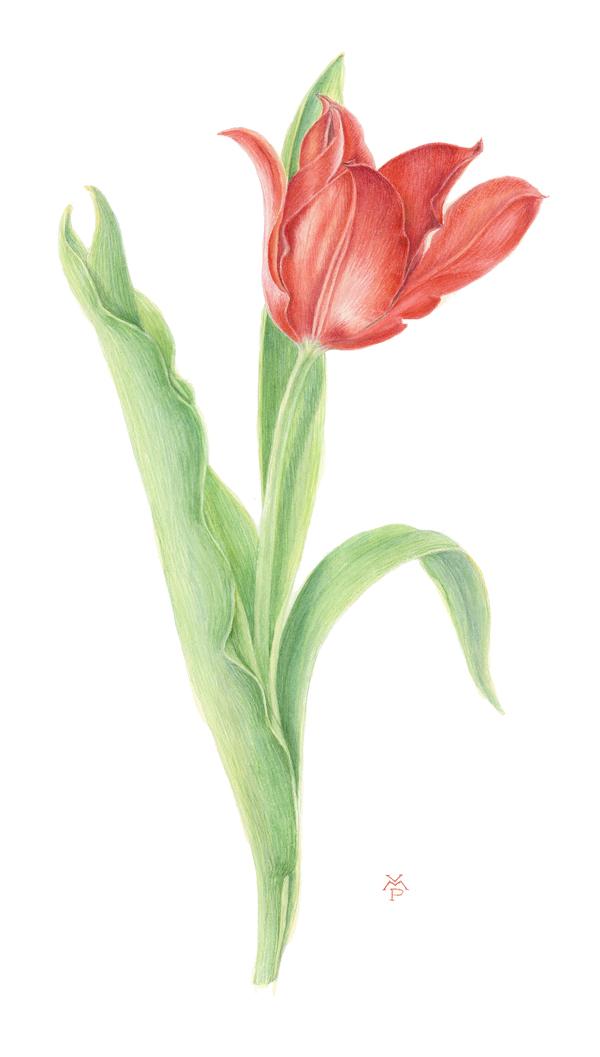 27. Virginia M. Pattisson – Red Tulip
This artist is the professional Botanical illustrator, so her work is amazingly realistic and beautiful, mixing the best of nature and art together.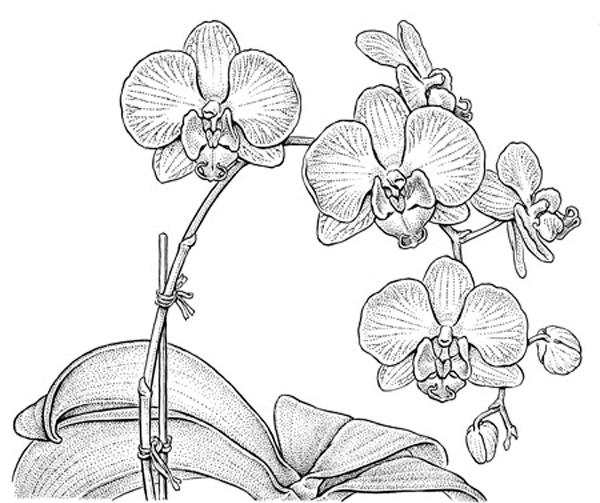 28. Bobbi Angell – Phaleonopsis Orchid
Very graphic illustration of an orchid by another professional Botanical illustrator.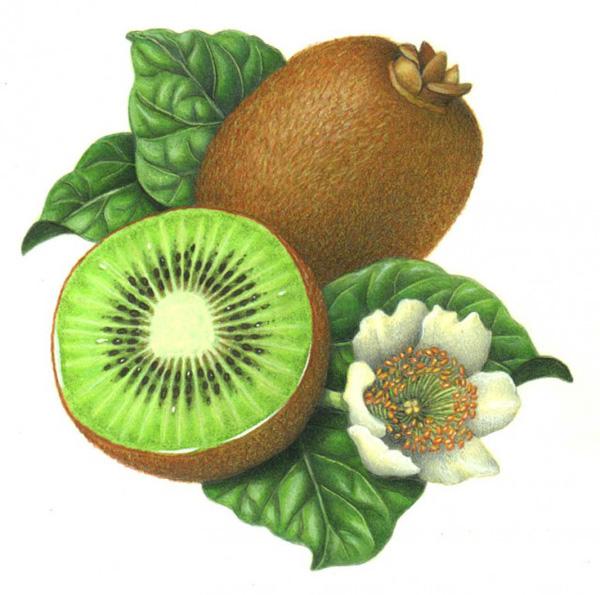 29. Douglas Schneider – Kiwi
Botanical illustration of kiwi fruit and flower, executed in watercolor and colored pencil in 2002 by the professional Botanical artist.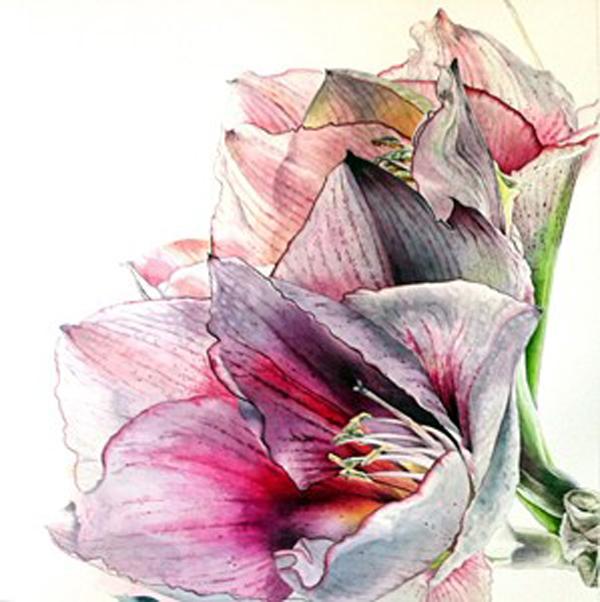 30. Helen Campbell – Amarylis
British Botanical artist Helen Campbell depicts one of the most beautiful flowers found in nature