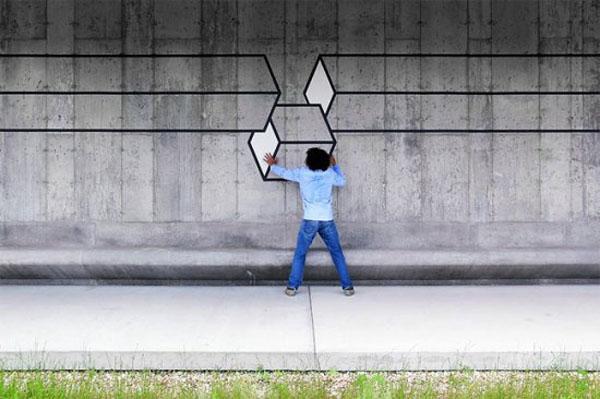 1. Aakash Nihalani
A young conceptual artist from New York, Aakash Nihalani, expresses his twisted vision of the visible world through 3D street art executed by duct tape
Street art is frequently associated with graffiti alone, but the truth is it is probably one of the oldest and most definitely one of the most exact styles of street art. 3D street art derives from so-called street painting, and as its predecessor, its usually executed on streets, sidewalks, or other public pavement areas. 3D murals are also common, but less than pavement pictures. Artists who create 3D street paintings usually use chalk as their principal medium, so on occasion a synonym for the trade – chalk art – is used, while the usual term for the style is anamorphic painting.
The name 3D street art signifies two-dimensional image, which, when observed from a particular angle, conjures up an illusion of a three-dimensional scene or an object. Subjects of this style are vast and various, from single figures, to groups, from simple objects to elaborate landscapes that transform the entire street into a different world. Therefore, the common manner of painting is quite realistic, since the illusion is the key objective of the work.
Although the global debate on street art and graffiti is ongoing, 3D street art is largely beloved by all. It's even often commissioned by companies to promote their products in an engaging way. This may be the case because this type of street painting is entirely ephemeral, rendered by chalk easily removed with water.
3D street art has many shapes and forms, it's executed on both small and very large scale, always entertaining the people and frequently having an enchanting effect.
Modern street art employs this way of painting through traditional chalk art, but in murals, permanent graffiti and a new, fabric technique – graffiti knitting, which takes the meaning of 3D to a completely new level.
Here are 30 images of some of the most captivating and successful 3D street artwork today.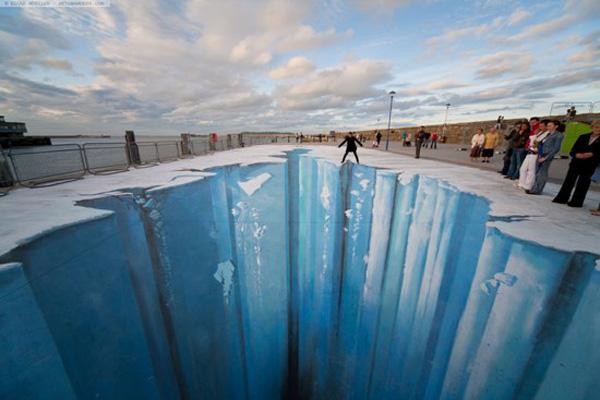 2. Edgar Mueller – The Crevasse
Edgar Mueller is one of the most prolific street painters today. This icy crevasse is one of his most famous works. He is known to transform the whole street into a river, lava river or an abyss.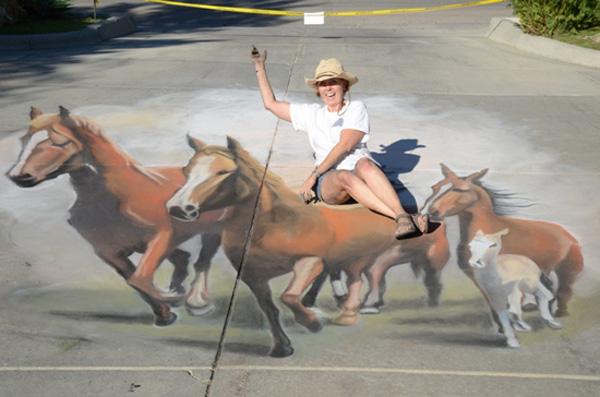 3. Jennifer Chaparro – Horses
After finishing her horses at the Buffalo Street Painting festival, the artist rode away into the sunset on her amazing creation.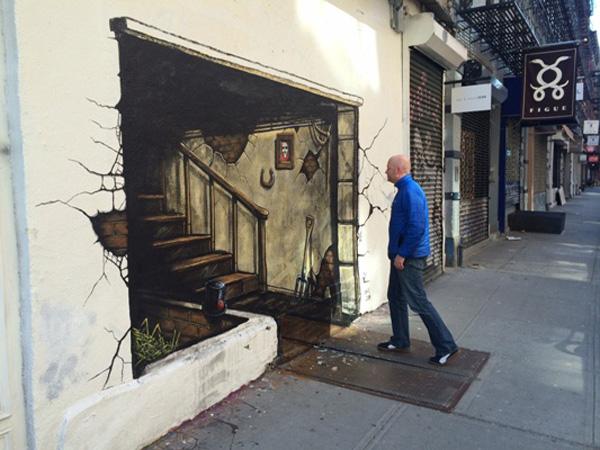 4. Joe and Max
These two 3D street painters travel the world making their incredible pictures, while working with famous clients such as Disney or Google. This wall 3D painting was done for Rag and Bone New York.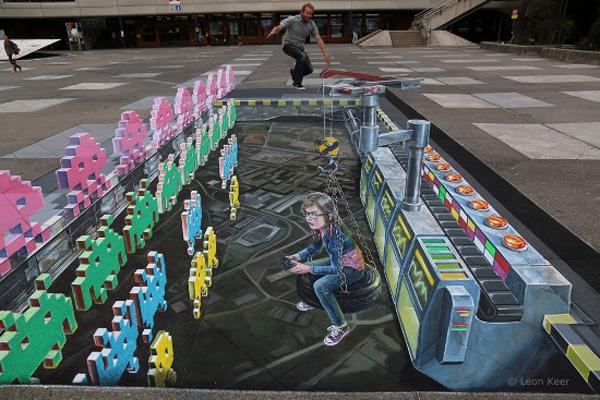 5. Leon Keer
Starting off as a mural painter, Leon Keer transferred to the world of chalk art. His fantastic images are now famous across the world, such as this homage to the vintage video game Space Invaders.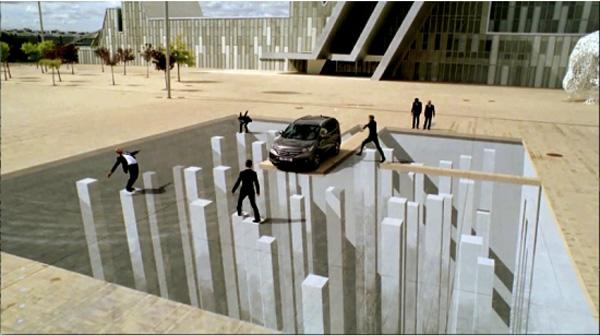 6. Tracy Lee Stum
Tracy Lee Stum specializes in large scale 3D street painting with a distinctive interactive characteristic.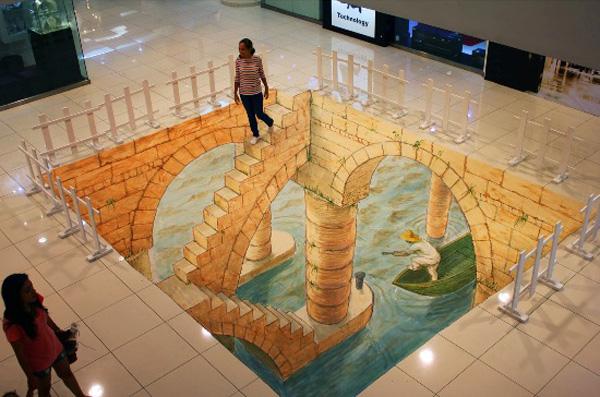 7. Eduardo Relero
This Spanish 3D street artist created amazing indoor and outdoor illusions. This one may be inspired by Escher.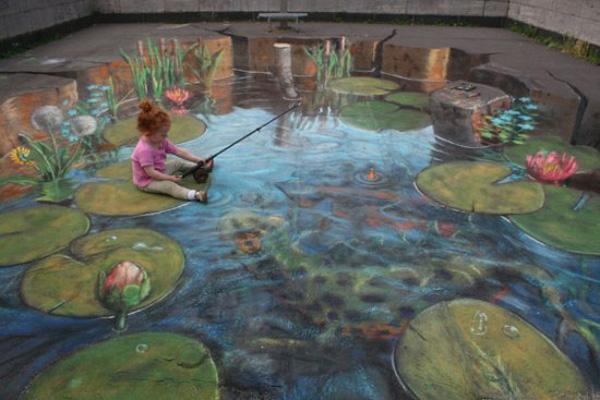 8. Julian Beever
Fantastic illusions by Julian Beever have a particularly painterly style, blurry and soft, which makes them the most supple 3D street art creations of all.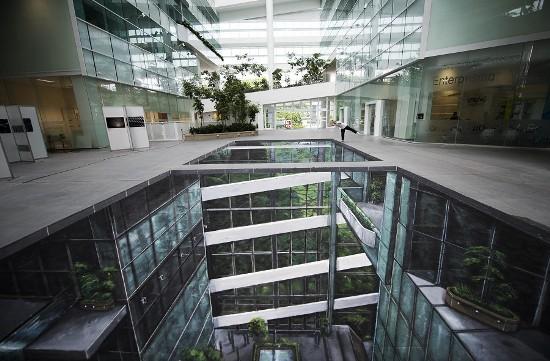 9. Solaris by Joe and Max
Joe and Max work their magic indoors as well. This piece was executed on a floor inside a huge office building.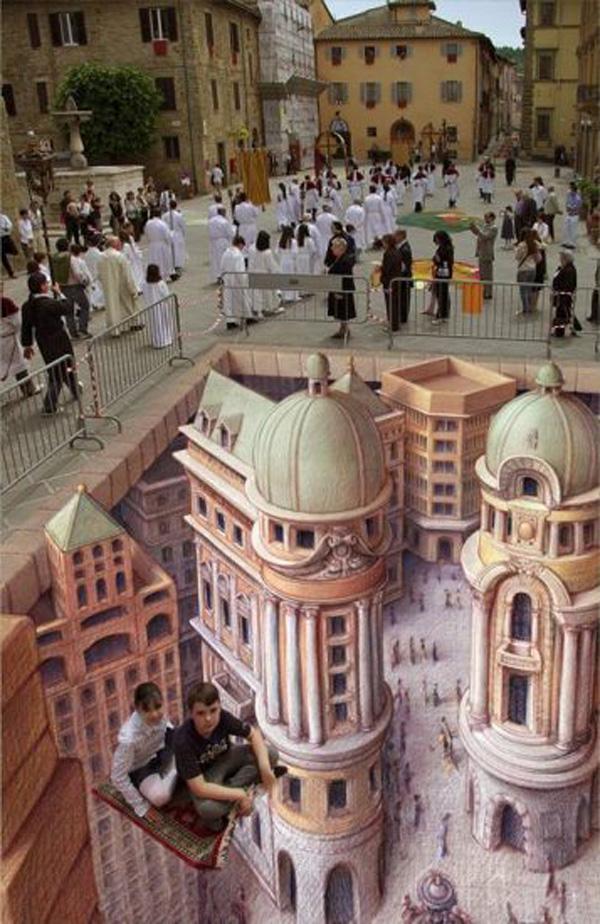 10. Kurt Wenner – The Flying Carpet in Bettona Italy
Kurt Wenner is probably the most masterly street painter of all. His style is greatly inspired by classical arts, and he transfers modern images into it, perfectly connecting the real and the unreal world.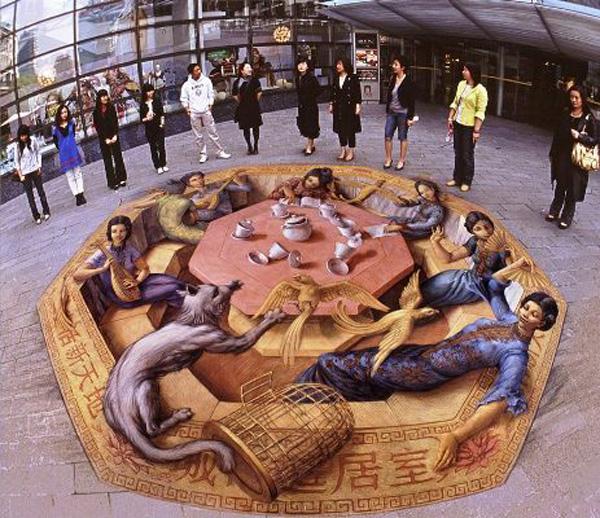 11. Kurt Wenner – The Interrupted Tea Party
This phenomenal tea party was painted in Shanghai in China.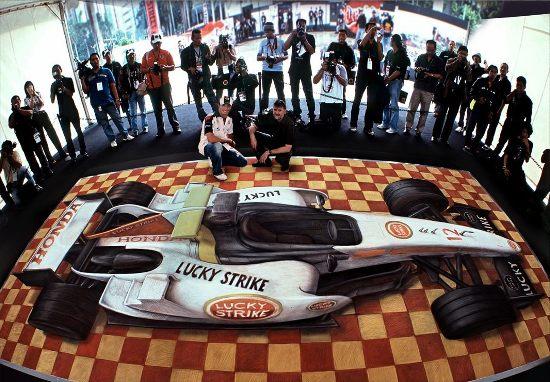 12. Kurt Wenner – Honda Formula
Kurt Wenner also does commissioned pavement pieces. This one was produced for Honda in Jakarta, Indonesia.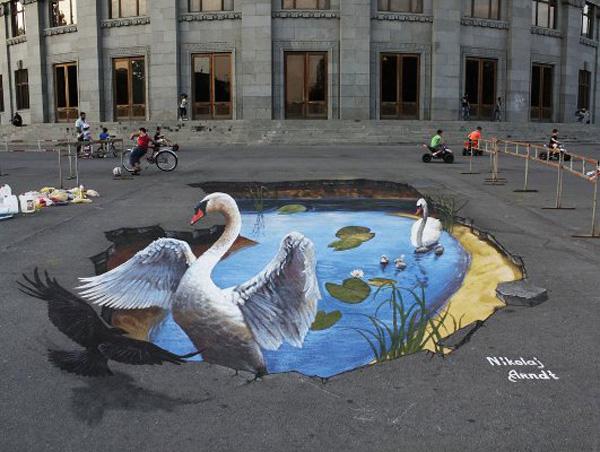 13. Nikolaj Arndt – Swan Lake
A Russian artist, Nikolaj Arndt, depicted his beautiful vision of Tchaikovsky's ballet Swan Lake in the street.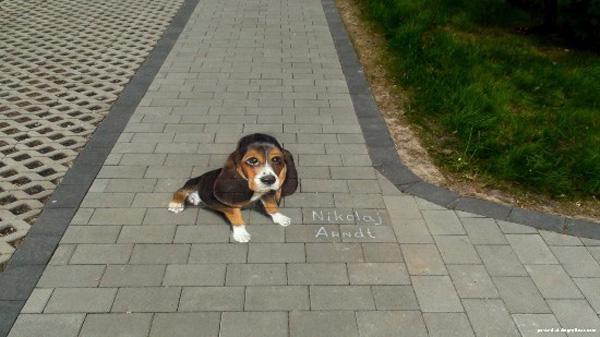 14. Nikolaj Arndt – Baby Beagle
This piece shows how a single puppy done in the right way can have just as amazing effect as the large compositions.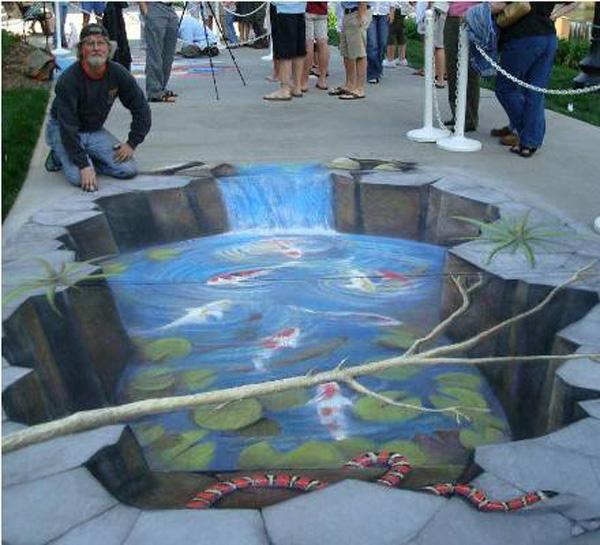 15. Rod Tryon
Rod Tryon has been creating 3D street painting for 25 years, embellishing our environment with stunning imagery.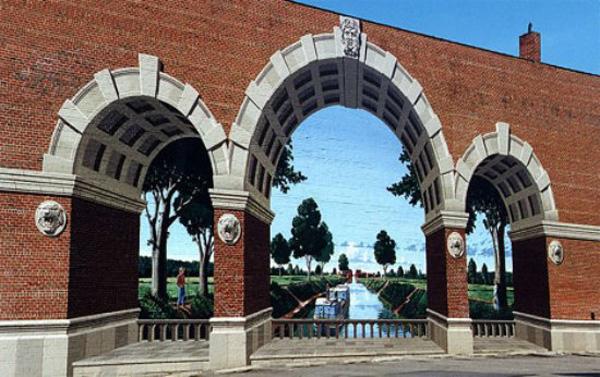 16. Eric Grohe
A designer and illustrator, Eric Grohe, creates fantastic and permanent 3D murals. This is another way of making street art, but it's more durable than chalk.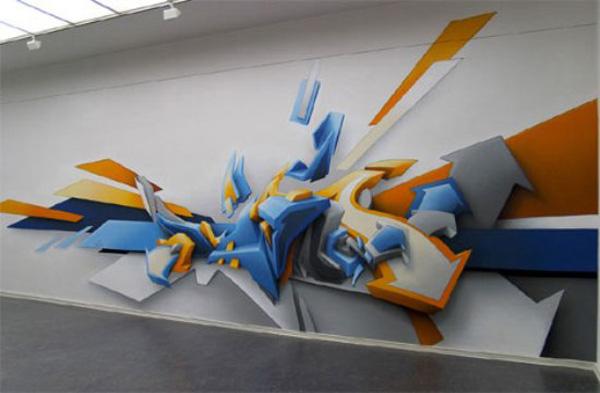 17. Daim
Daim is a German graffiti writer who has been spray painting since 1989. His letter forms are three dimensional, appearing tangible and real.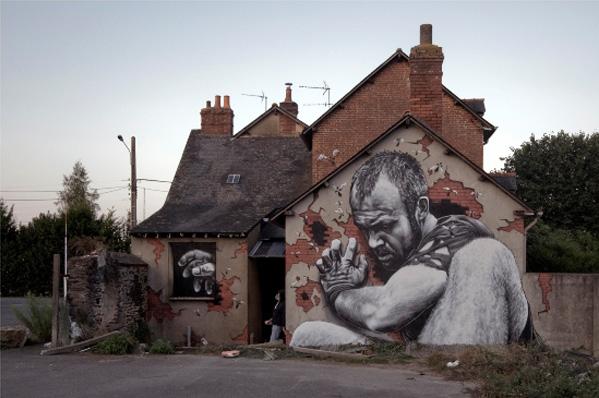 18. MTO in Rennes
MTO is a French street artist who created a series of amazing 3D giants around the town of Rennes, France.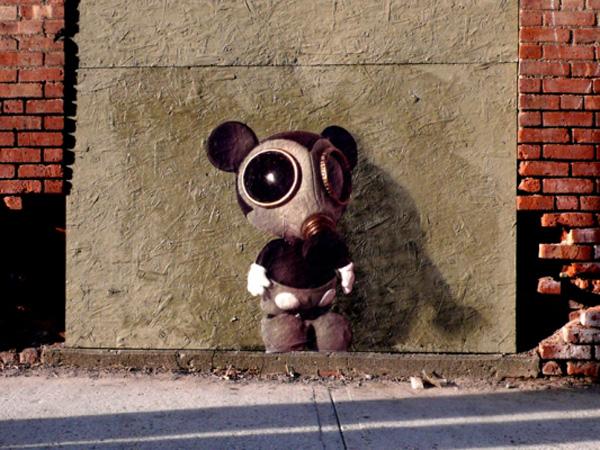 19. Ron English in Brooklyn
One of the street art pioneers and graffiti veterans is famous for his pop art renderings of famous figures, designer toys, but also for his 3D street art work.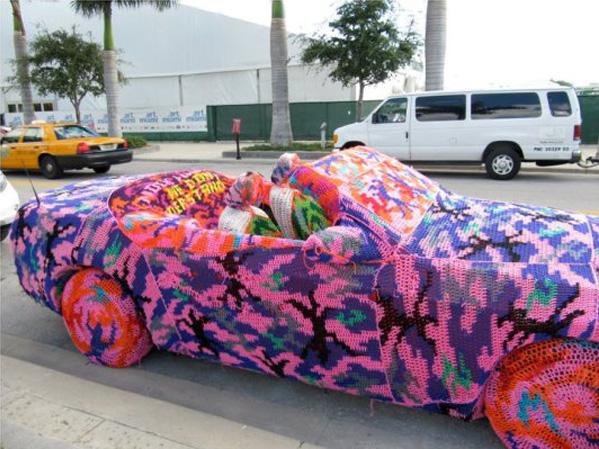 20. Olek – Car in Wall street
Polish born and New York based guerilla knitter has been dressing up streets of New York and the world for some time. Her specialty are monuments, her technique is crochet.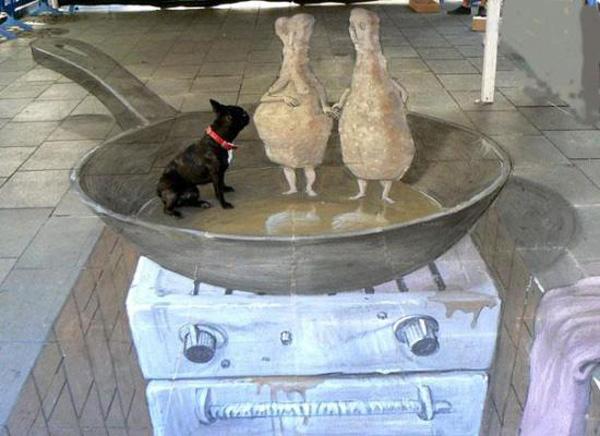 21. Eduardo Relero
The key to remember a great 3D street art is to take a clever photo of it.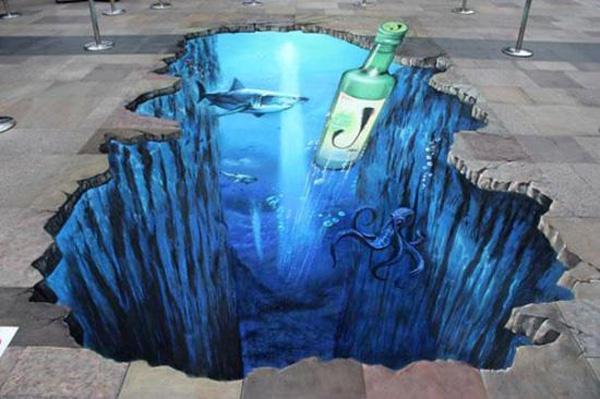 22. Manfred Stader
One of the active 3D street painters is Manfred Stader.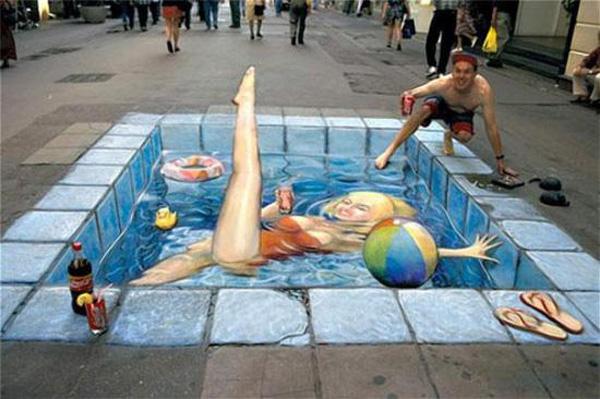 23. Julian Beever
This girl is enjoying her free time in a pool in a picture by Julian Beever.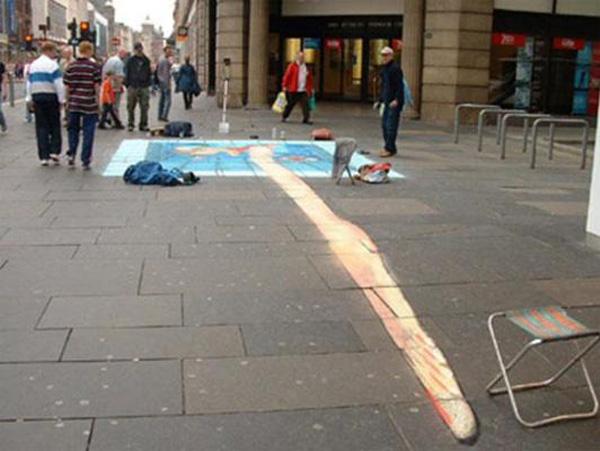 24. Julian Beever
If we look at the work from another angle, no girl or anything can be seen. Her leg is hardly recognizable.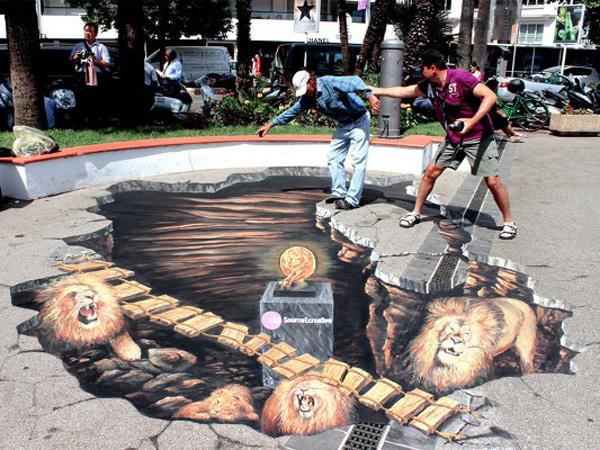 25. Manfred Stader
Being very prolific, Manfred Stader works worldwide. This lion pit is from Cannes Street Painting festival.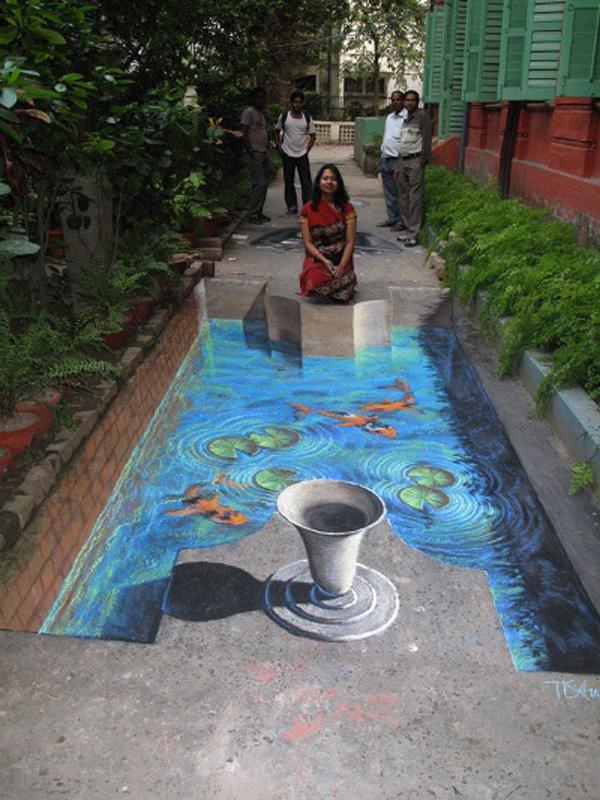 26. Tracy Lee Stum – Garden pond
It may be cheaper to hire an artist to paint a pond in your garden than to actually build it. This looks incredibly realistic.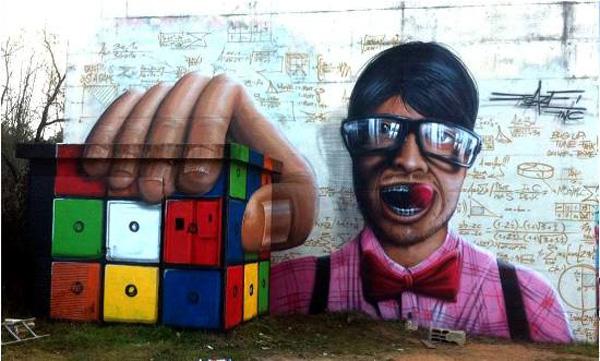 27. Jeaze
A French street artist mixes graffiti with 3D street painting, getting amazing mural solutions which allure and include the observer.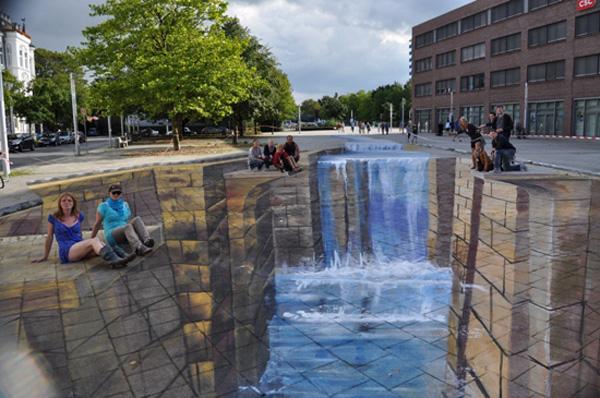 28. Gregor Wosik
A German 3D artist works in the street and around public spaces, vitalizing the dull city environment.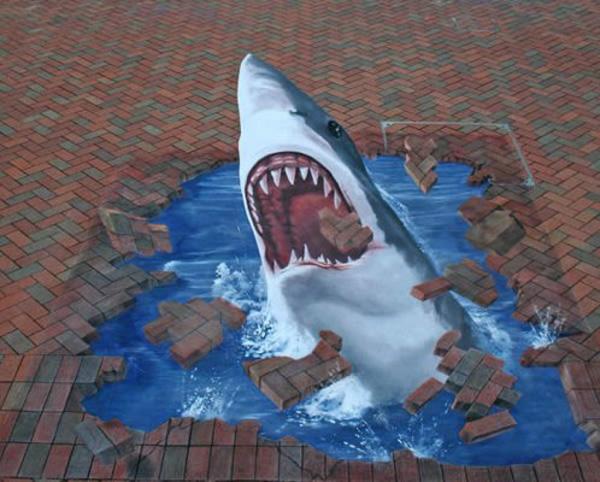 29. Edgar Mueller Shark
Working around the world, some of the images made by Edgar Mueller may be a little frightening, such as this shark painted in Taipei.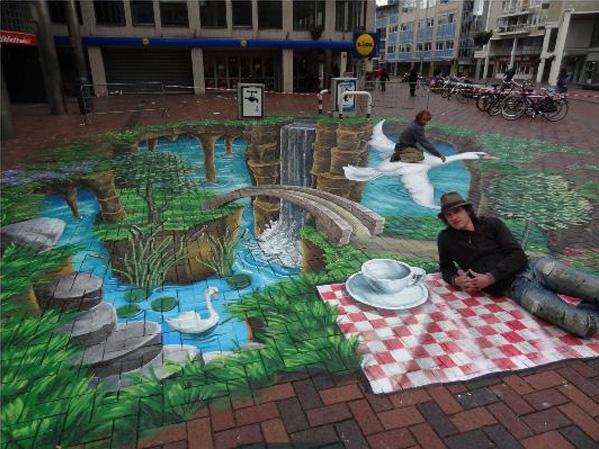 30. Ruben Poncia in Amsterdam
A wonderful picnic spot made by Ruben Poncia in the middle of Dutch capital.