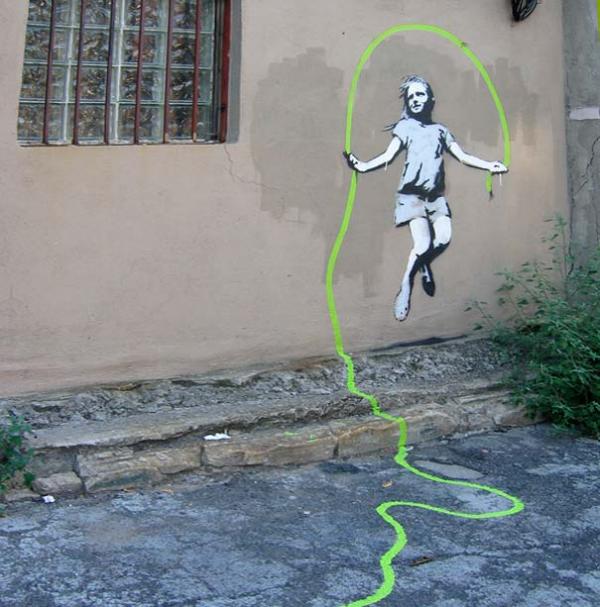 Girl Jumping Rope
A clever play with stencil and spray paint, executed in Brooklyn in 2006.
Banksy is not only a street artist. He is a visual activist, a fighter for human rights, a director. He is an institution, while his true identity remains unknown. His clever visual puns are today the key ingredient of the graffiti art scene, while stirring up a lot of controversy. They stand for the truth, freedom and equality, but they are sold as one of the most coveted commodities on the art market. The discussion on whether Banksy is a vandal or not is still on, but his art has definitely made the pages of art history.
Banksy originally comes from Bristol, the town with one of the most interesting underground culture scenes. He began as a graffiti writer, but soon switched to stencils, because this technique was much quicker and it allowed creative freedom planned in advance. From there, Banksy developed his recognizable style.
Although he is best known for his street art, Banksy does produce pieces on canvas, paper, even sculptures. His urban installations are ephemeral, but they attract as much attention as his other street work. The subjects vary from piece to piece, from town to town, but the core message of Banksy's artwork is always the same – he overtly advocates social awareness and free thinking. Very often, Banksy street art features familiar images, pop icons or artistic masterpieces, all transformed to be in direct relation to meanings of the present.
His work was often destroyed, defaced or painted over, until it started selling at whopping prices. Today, there are even cases of stealing pieces of walls with Banksy street art and selling them at auctions. Banksy's success on the market owes a lot to the numerous gallery exhibitions he had. He exhibited across the world in some of the most prominent contemporary art spaces.
Some of Banksy's most famous works are his campaigns, always created in a particular context and location. His fake 10 pound banknotes with Princess Diana in the place of the Queen are a prized collectible today, but he did much more daring things, such as painting the Israeli West Bank wall with provocative images openly promoting equality. He criticized celebrities, such as Paris Hilton, and payed homage to others, such as John Travolta and Samuel L. Jackson. His Anarchist Rat has been around the world, while his Flower Thrower has been reproduced immensely. His opinion about the art market that loves him is nothing but negative, as his print Idiots, showing a man selling a piece at auction, so vividly portrays.
Working hard on his street art, Banksy produced and shot a movie about the most infamous graffiti artists titled Exit Through the Gift Shop, which got Oscar nomination in 2011.
Since, Banksy never seems to stop. His signature stencils keep appearing. Just last fall, he took over New York with his huge project called Better Out Than In. It's incredible to think public is still unaware of the true identity of this great man, but this is the truth. He is like the Superman of the street art scene, while we, his fans, can only wait to see what he will be doing next. Here Let's recall 30 outstanding pieces of Banksy street art and meanings of them.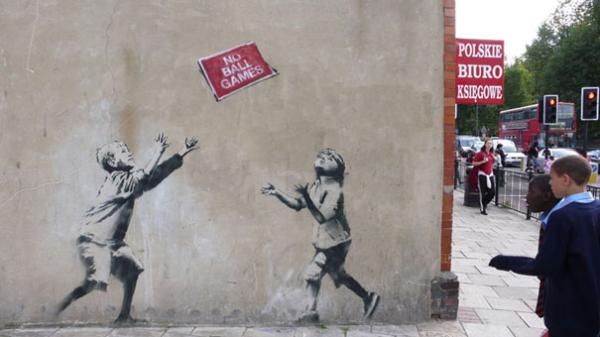 1. No Ball Games
One of the most famous Banksy's street art pieces. It was recently moved from the original spot and sold at an auction in London.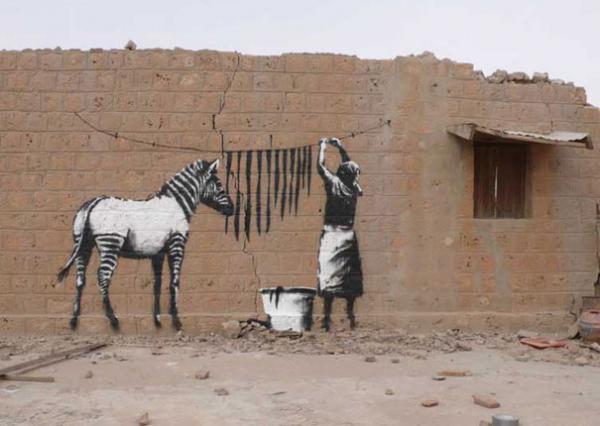 2. Zebra
A tribute to Timbuktu, the capital of Mali, Africa. A woman is hanging zebra stripes to dry painting was later reproduced in canvas, but the original was done in 2008.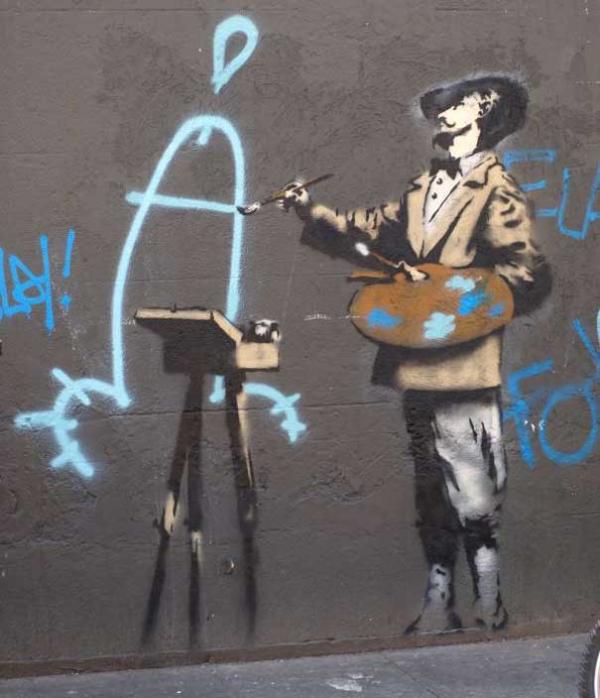 3. Painter
Banksy is overtly mocking fine art and painting.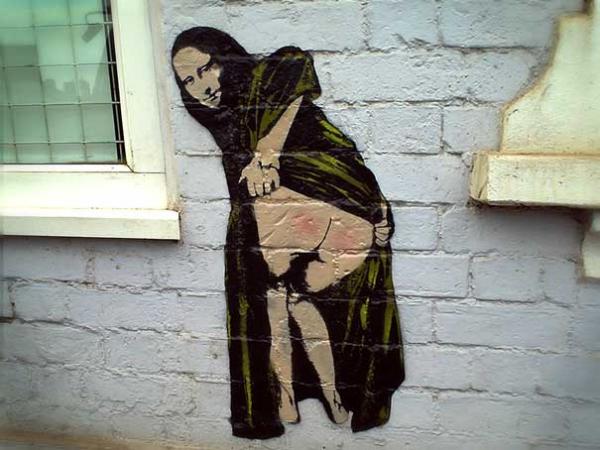 4. Mona Lisa Mooning
One of the most known Banksy images, making fun of us, the art and the reality. Witty, entertaining and intelligent.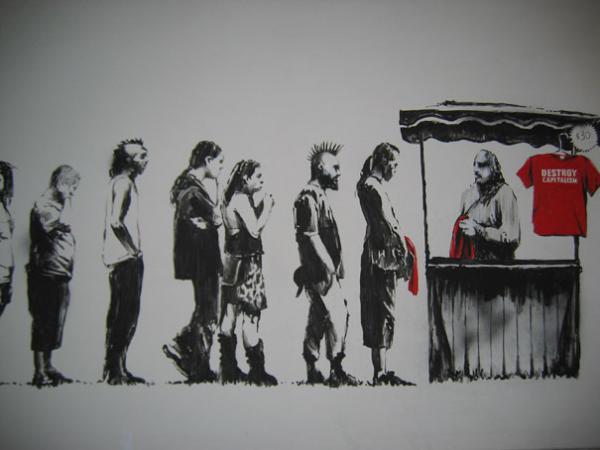 5. Destroy Capitalism
Only one in a range of politically engaged street work by Banksy. Ironically, Wal-Mart ripped off this piece, and was selling it on T-shirts.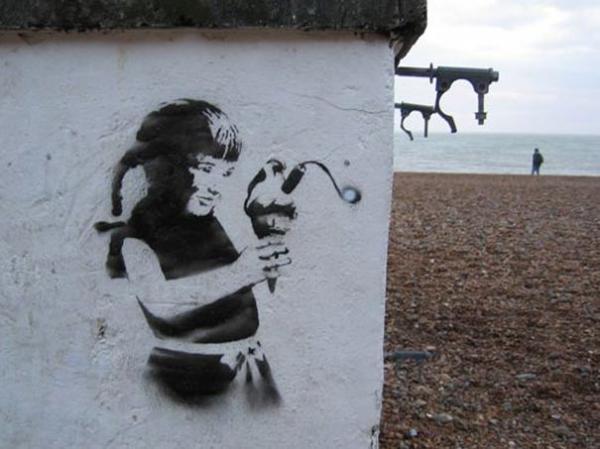 6. Girl Holding Ice Cream Bomb
This piece is playing with the notion of fear and propaganda, portraying an innocent as a weapon.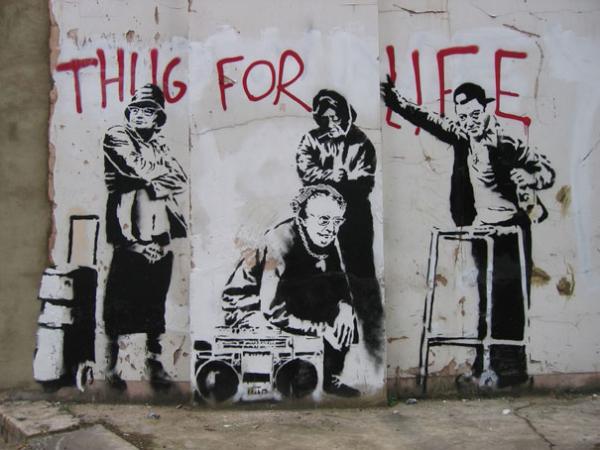 8. Thug For Life
Banksy's homage to the Old Skool, differently put.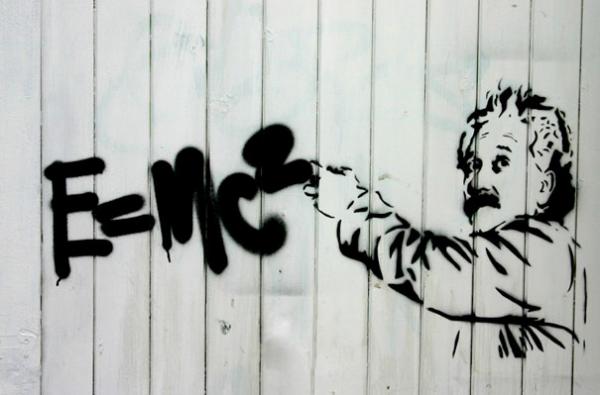 9. Einstein
The street artist's homage to Einstein, who is in a role of a street artist himself in the image.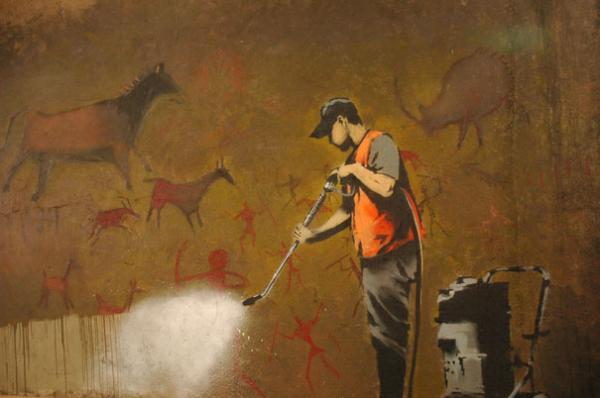 10. Whitewasher
An act for graffiti art! Banksy sees today's graffiti as equal to the prehistoric cave drawings, while both are washed by the brainwashed authorities.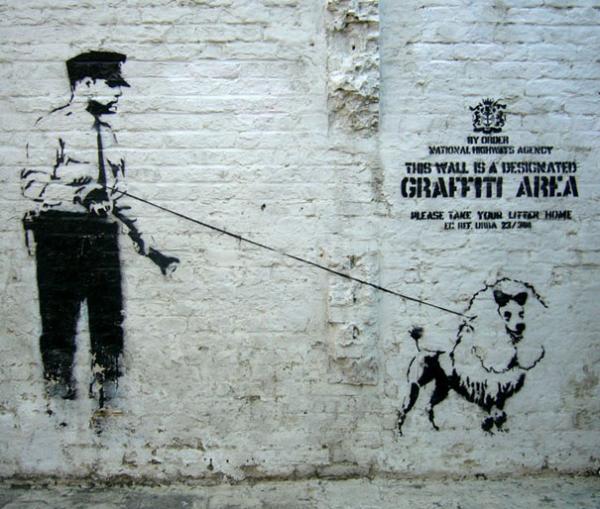 11. Policeman with a Poodle
Tough on the outside, but gentle inside. Or a wuss inside? Depends on perspective.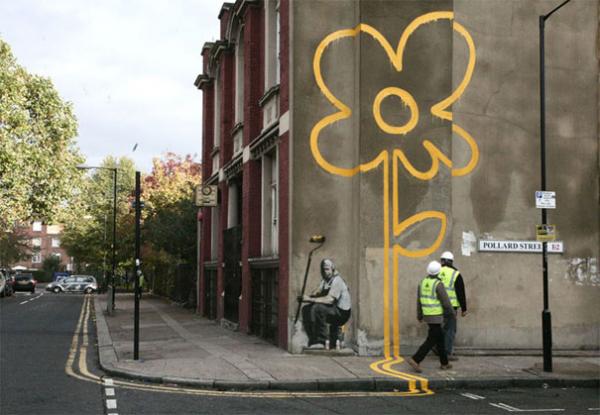 12. Flower
Banksy's yellow flower wants to be on the wall, as do all the graffiti he and his peers produce.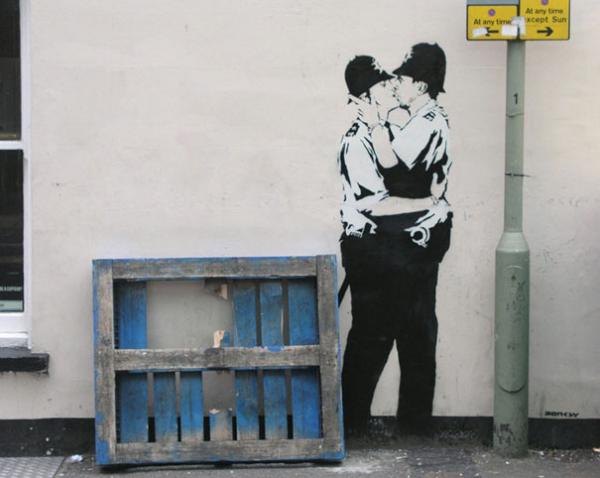 13. Kissing Coppers
Two policemen kissing is an open advocacy for gay rights, another activist action of Banksy.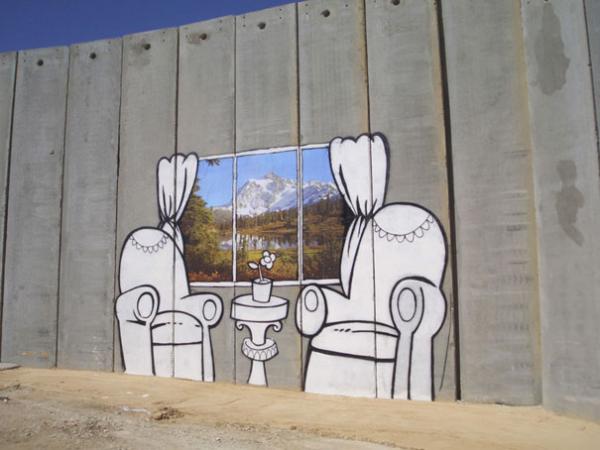 14. West Bank armchairs
Knowing the West Bank barrier keeps to sides at constant war apart, this is Banksy's attempt to let both sides see the beautiful and the good in the other, depicting a wonderful landscape on the "other" side of the wall.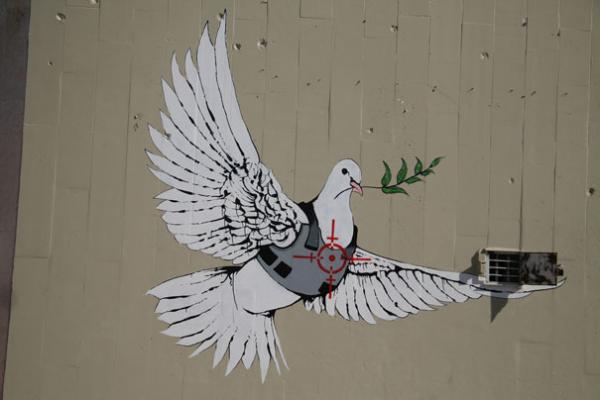 15. Dove with vest
Banksy is trying to protect the little peace left in the world by dressing a peace dove in a protective vest.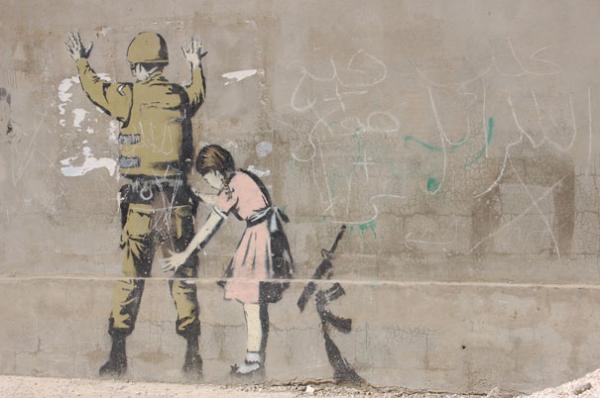 16. Girl Frisking Soldier
The roles have turned, and the little girl wants to know what is this warmonger doing in her town. Rightfully so.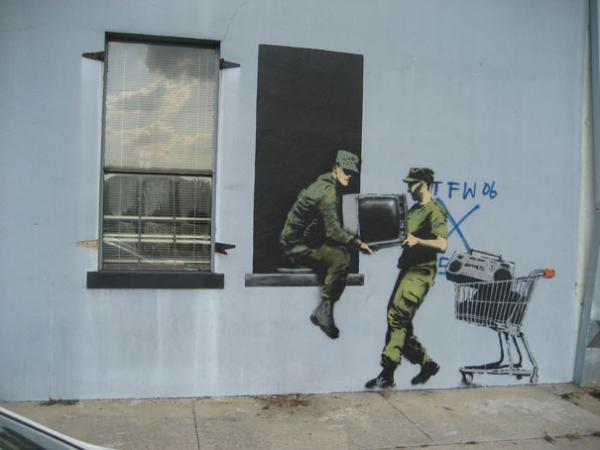 17. Soldiers Stealing TV
In New Orleans, after the disaster, little help was given to the people. Banksy shows the possible criminal behavior of those who should have helped the endangered.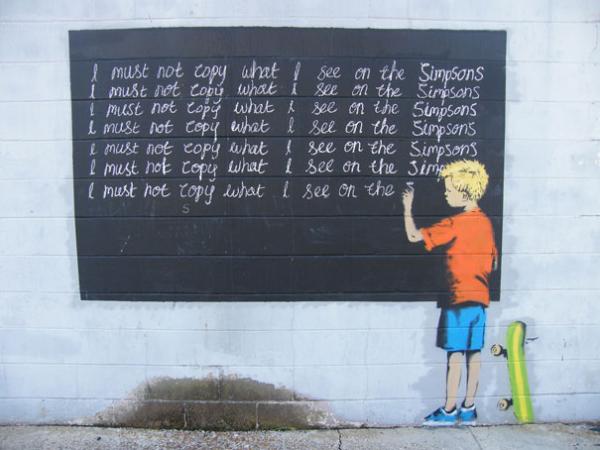 18. Simpsons Homage
Banksy obviously loves Simpsons. The boy dressed as Bart writes a praising sentence on a blackboard.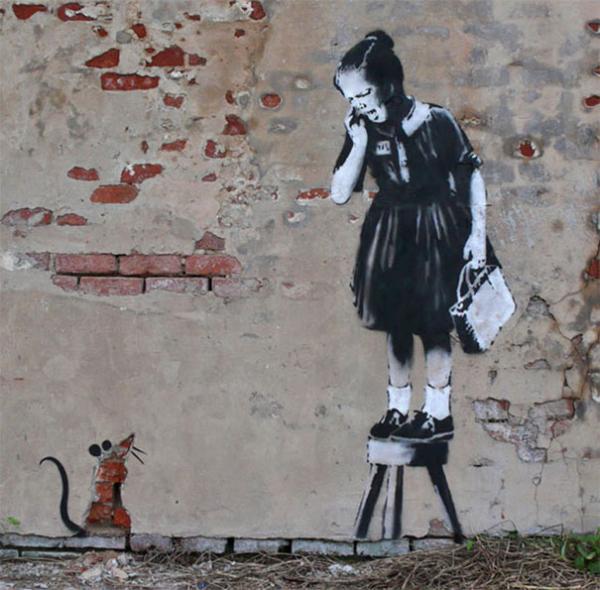 19. Girl Afraid of Rat
Seems common enough, but what if the rat is friendly? Or imaginary?

20. No Loitering
Banksy's graffiti in Bronx. What else are veterans doing?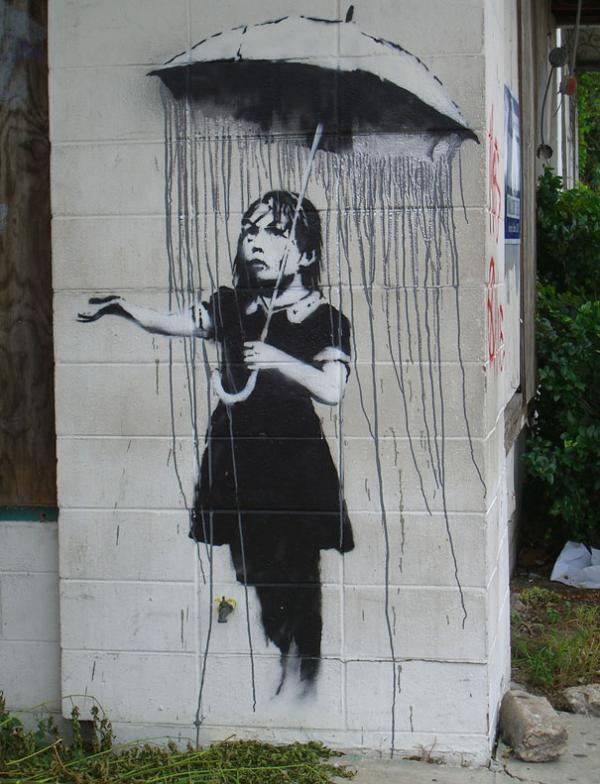 21. Girl With Umbrella
She is shielding herself, but her shield seems to be more damaging than helping. If paralelled with society, it's more of a warning than anything else.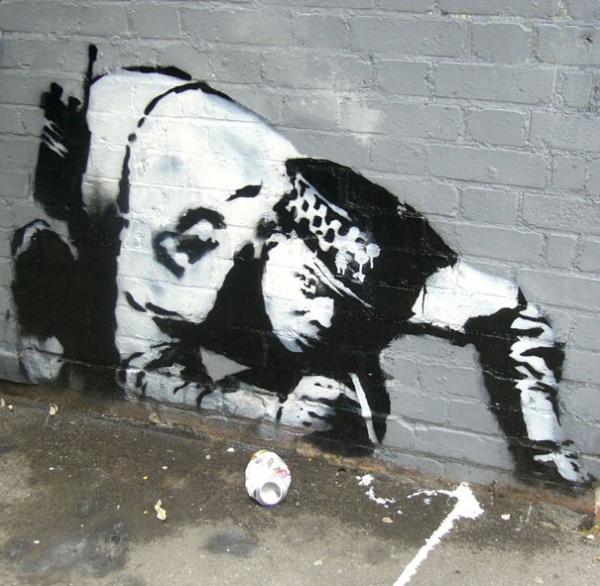 22. Sniffing Cop
What do dirty authorities do? Same as criminals.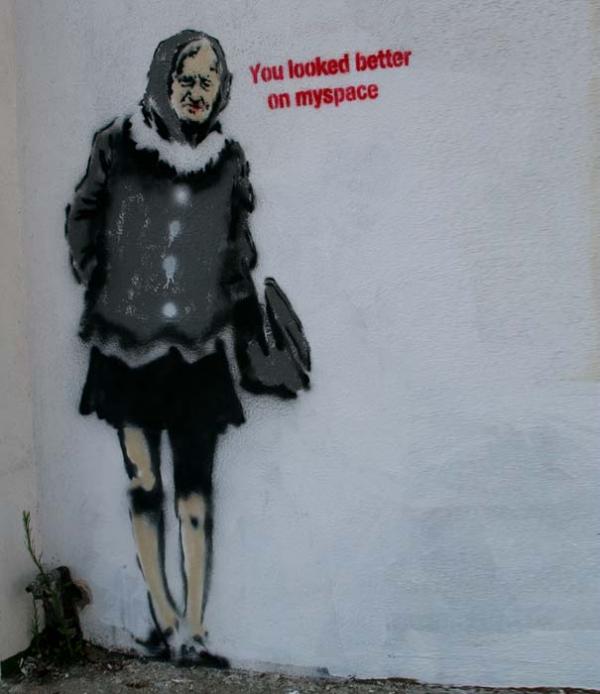 23. You Looked Better on Myspace
Back when Myspace was popular, this made perfect sense. Today more and more people meet through the web, but nobody lies any less about their appearance.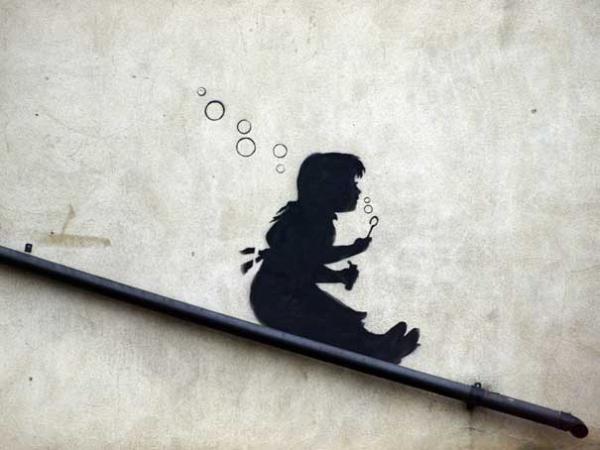 24. Girl blowing Balloons
Just a wonderful example of urban visual intervention.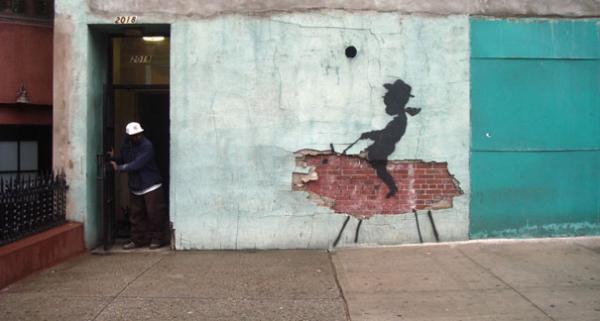 25. Little Cowboy
Creativity has no limits. Banksy proves it over and over again, using the existing wall damages to make something wonderful.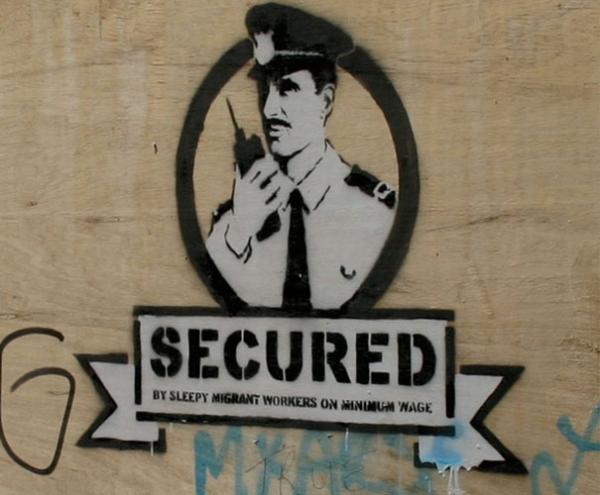 26. Secured (by sleepy migrant workers on minimum wage)
Banksy's critique of both immigration and employment policies.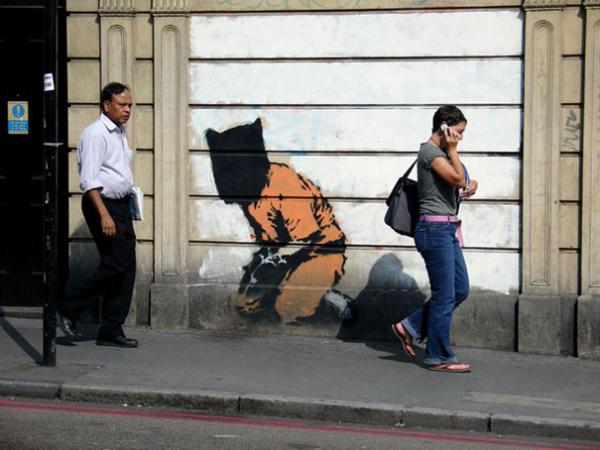 27. Man in Orange
With a bag over his head – drawing attention to the "invisible" problems in western society.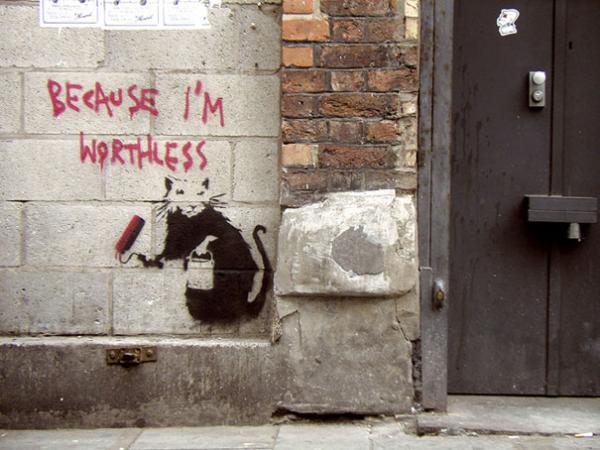 28. Because I'm Worthless
Anarchist Rat is doing graffiti why? Banksy is playing with words and situations, but he is as far from worthless as possible.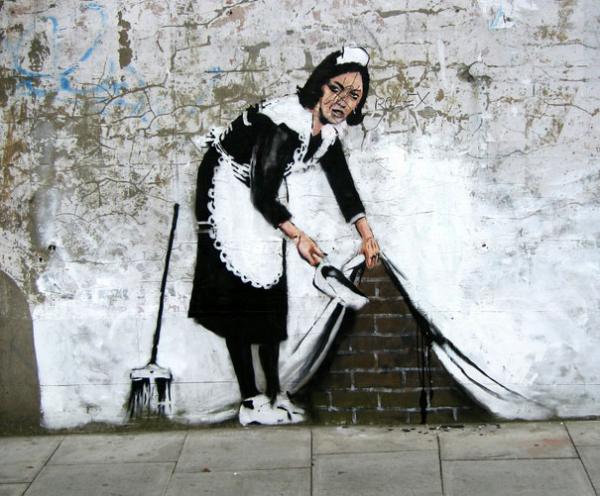 29. Maid
Pushing things under the carpet, revealing the true substance for a moment. The Maid is a parody of governmental services.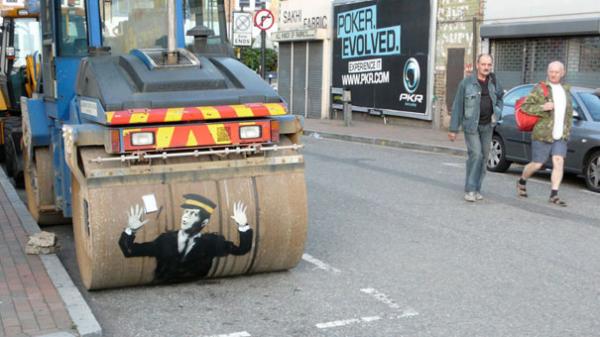 30. Steam roller VS. Traffic Warden
Steam roller won. So can the people.