The living room is the central room of our home where we spend most of our free time. In living room not only do we rest after a hard day at work, but also sit with friends when they come to visit us. A table may be one of the central elements in the living room. There are always creative ideas to make the coffee table more pleasant, convenient and functional so that we could put favorite newspaper, a vase with flowers, coffee or a drink on. In the Ottoman Empire, these tables were very popular and were used in gardens also for drinking tea during rest.
Personally, when I start cleaning the room, I start from the table because when a table is clean and bed is tight room immediately looks settled. It would be good to choose a table with a drawer in which you can dispose keys, mobile phone, remote to release surface of table of unnecessary things. For that also can serve interesting baskets which you can put on the table. Somehow, I've always preferred, probably because I read somewhere that in the light room with lighter furniture put a table in a darker color. Just to break the monotony a bit. However, this is not an order of the arrangement of the living room. The most important thing is that you feel in your room nice and comfortable. That is the best measure that our room is well furnished.
Best table height is the height of siting part of sofas or beds. It is acceptable to be also a lower table than that but not higher because it is not aesthetically beautiful. For me always are popular models of the table for the living room where there are two or three tables of different sizes in package, from the smallest to the highest. This is very convenient if the furniture is huge and you have guests. You will be able to arrange the desks so that they are close to all your friends.
As for the materials from which are made coffee tables, wood and glass dominate. Glass is interesting and modern but its disadvantage is that you will need a several times during the day to clean it. Fingerprints are more noticeable on glass tables. But the glass table can make the room visually larger and highlight your luxurious carpet. On the other hand, the wood gives warmth to the room, and massive creative coffee table adds a touch of luxury to the whole space. If you are prone to spillage drinks, good option for you is table on which the edges are higher than the table plate. These tables are very practical and look like a tray.
There are models of coffee tables that have a rustic appearance, in the form of old suitcases. They look very nice and give a specific charm to any home. Using vintage model of coffee tables will give the room a touch of elegance. Such a table would be a good choice of living room with some simple set for sitting and which generally are simply arranged because it will enrich the area. And a word of advice, if you are parents of small children choose round tables. On that way you'll avoid sharp edges on which your children can be hurt.
After all, before buying, sit down and look well your living room, think about the model and the material that will be best solution for your spaces, and also think about dimensions of the table that will suit you best. Enjoy the gallery!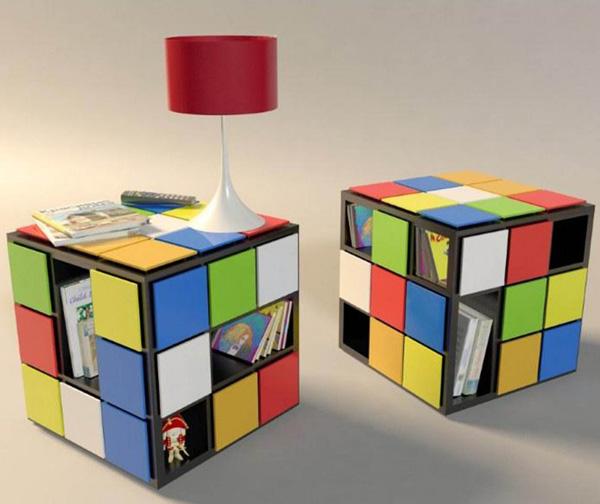 Rubik's Cube is is very interesting to members of different generations. If you are a fan of it here's an idea how it can be a decoration of your home, and not to stand hidden in some drawer.
An interesting table made from different materials. The combination of metal and wood with glass work in the middle of the table is very beautiful, and it can be beautifully blended in both, a modern or rustic interior.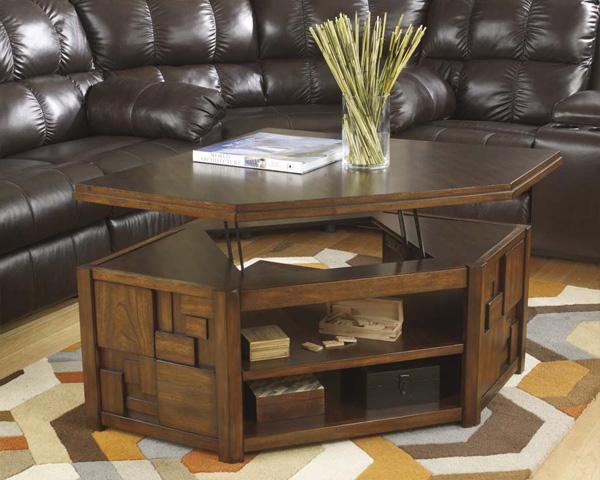 The elegant coffee table that looks very expensive. This form of the table fits perfectly with sofa made of leather. The carpet is in lighter color with a some earthy tones, fits nicely into this elegant, classic and always modern living room.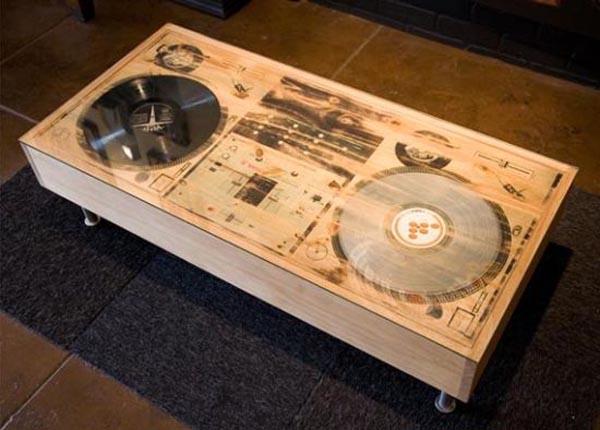 Music lovers here's an idea for decorating your space! Table of wood with metal claws, and music sheets as decoration. Above musical plate goes best glass to make the table easy to maintain.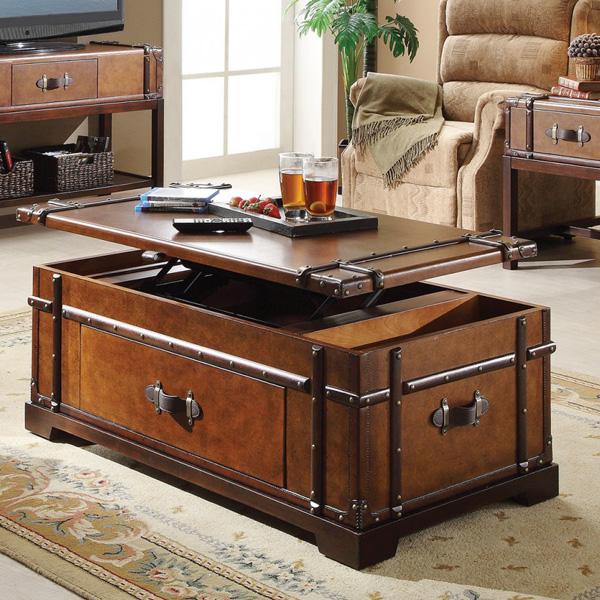 Table like some old crates for important things. Beautifully painted fits perfectly into living room. Plenty of storage space will allow the surface of the table be always clean.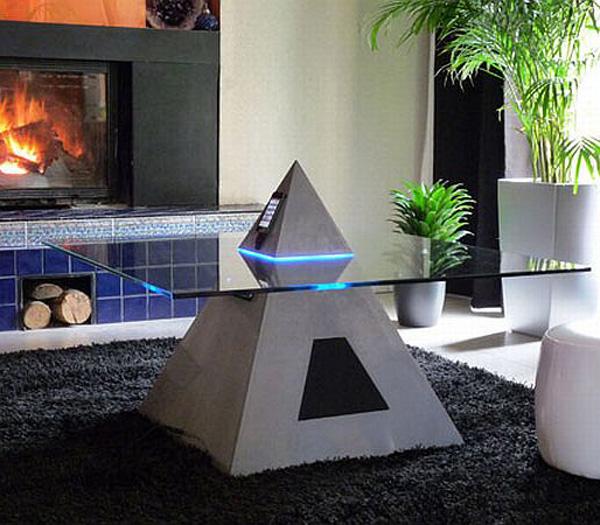 This is a modern table in a modern furnished apartment in minimalist style. Black and white combination is a common choice of those who want to decorate their own space on modern way and in combination with glass and sharp edges they definitely succeed in it.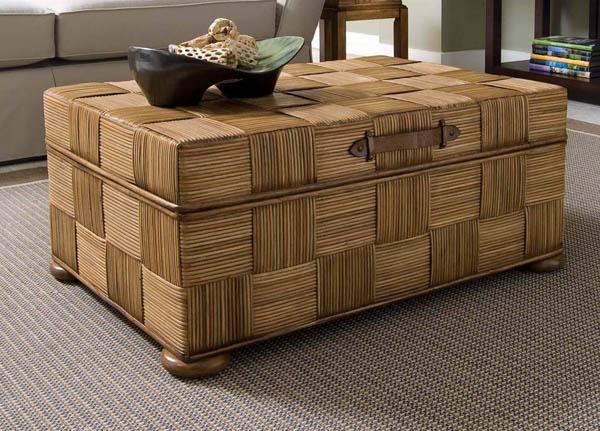 I believe that this table – coffer opens. If it is really so, imagine how much storage space you have available! The room will always look clean without unnecessary things.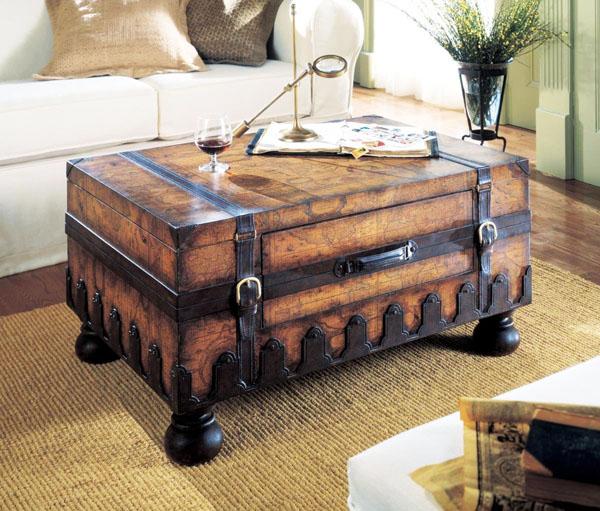 A similar situation as with the previous example of coffee table. With this table, your room will look definitely different than that what we see every day and it will be very original.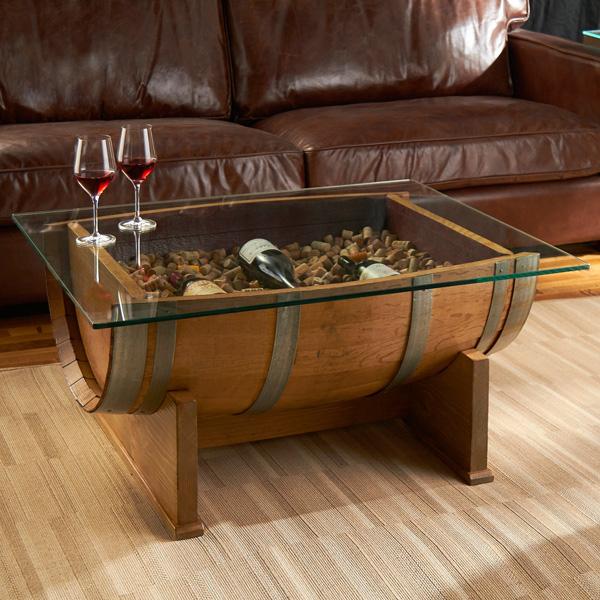 For wine lovers and romantic souls, I recommend this table. It will fit nicely into classic and a little bit rustically decorated homes. In this living room definitely you need to have a fireplace – just in that case delight with your loved one will be fully.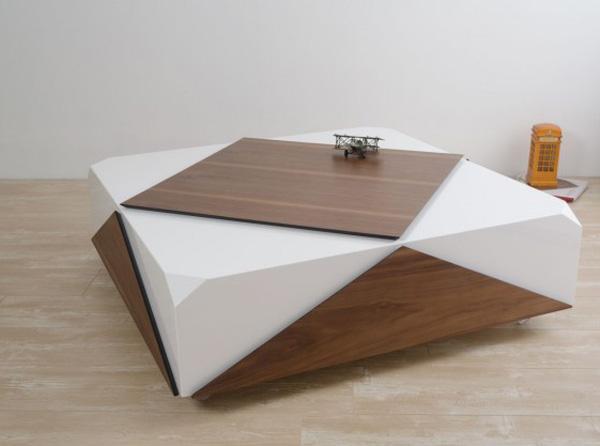 This table will fit perfectly in the new minimalist furnished apartment of a young couple. Straight lines, and white color of table with wooden details look very trendy.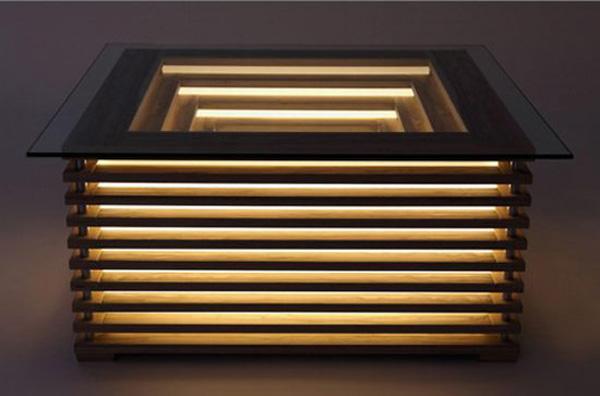 Nice table in modern look. I would fit it into a very modern living room, or on the terrace of a luxury apartment in a high – hundred floors building.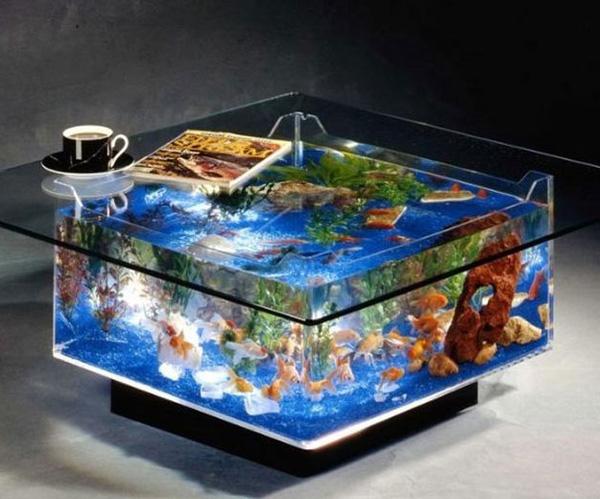 People have always much admired aquariums, because they are a miniature version of the magic underwater world. With a cup of coffee or tea, and look at this beautiful table in the living room while drinking it, rest after hard day at work is guaranteed.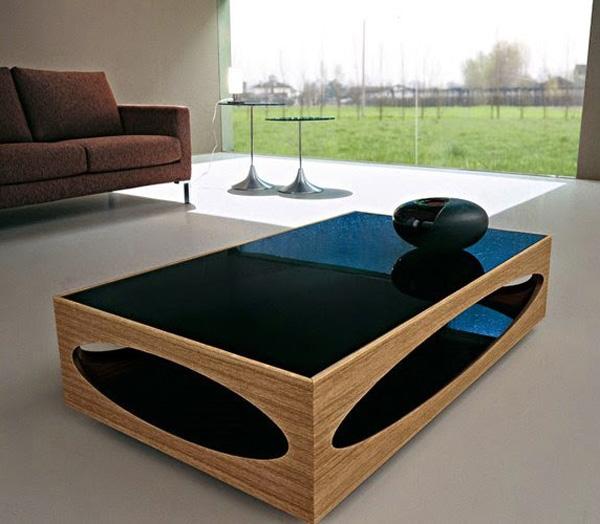 What personally bothers me is that black color. You will need to clean dust from table all the time. Although you cleaned the dust three hours before on this strong natural light it will seem like you have not done it last three days. However, table is very urban and attractive, I really need to admit.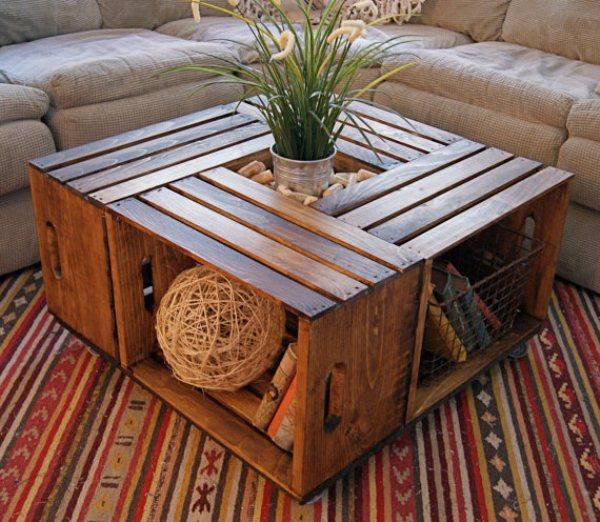 Good " do it yourself" table. Made of wooden boxes which are beautifully processed this table will give you plenty of room on the side for storage different things. Scandinavians would gladly accept this table in their home. Natural materials are evident here. Wood, stone and alive plant in the center in every home will bring a lot of energy for sure.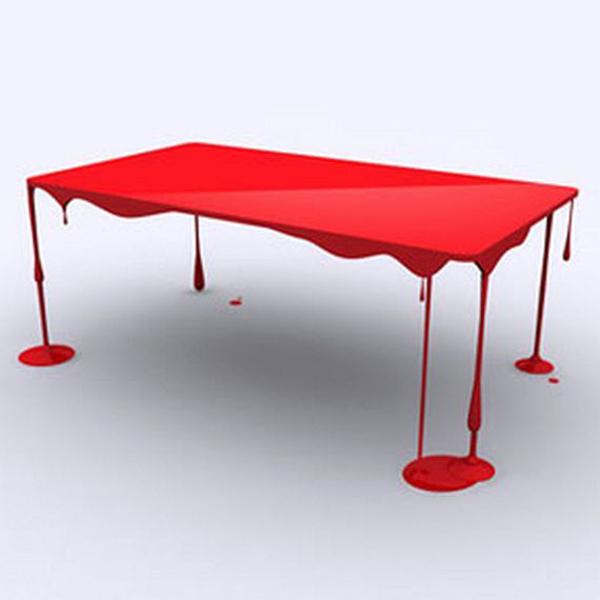 Red is the color of joy so if you choose this table you'll surely enter nice mood into your home.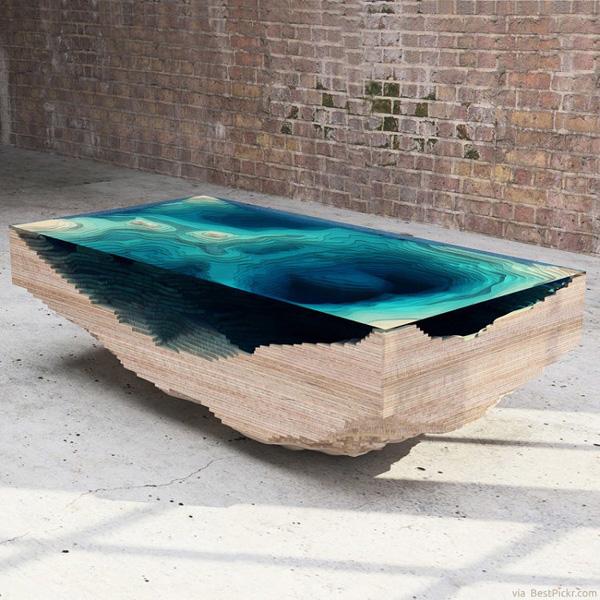 This reminds me on future where artificial intelligence is highly developed. Anyway, a combination of wood and glass is always interesting, and this is certainly a good model of urban coffee table.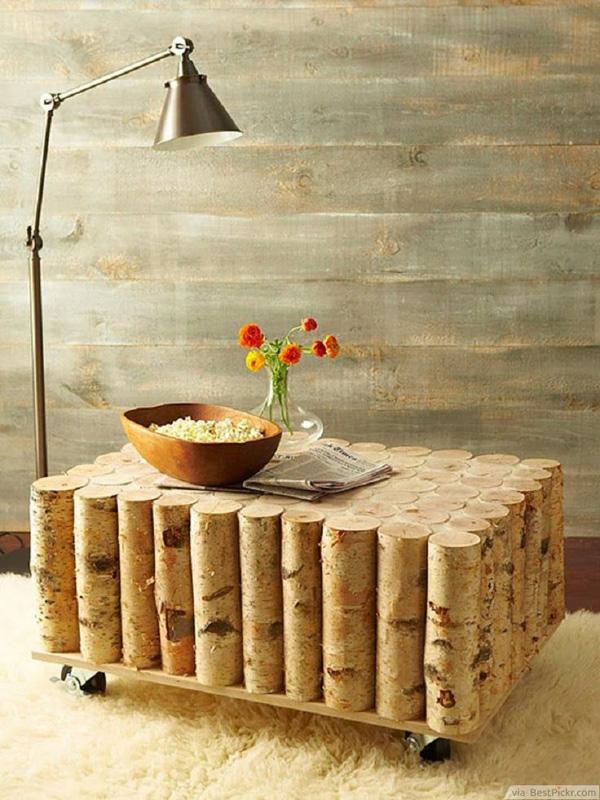 For those who very love nature and like to bring it even in their own home through natural materials here is an idea how to refresh their space. Table made of logs of wood is an excellent solution for them.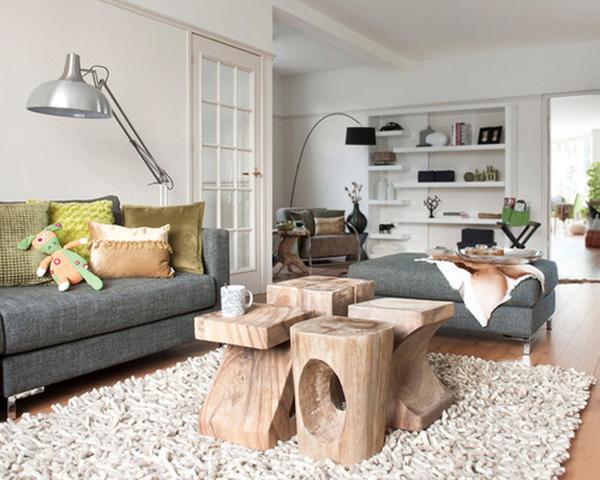 This massive table made of wood in natural color of the wood brought into this room warmth. You and your friends will surely be very comfortable while drinking a cup of coffee …
I really like the wood in such a darker shade. In some way a classic table with a modern note that is obvious.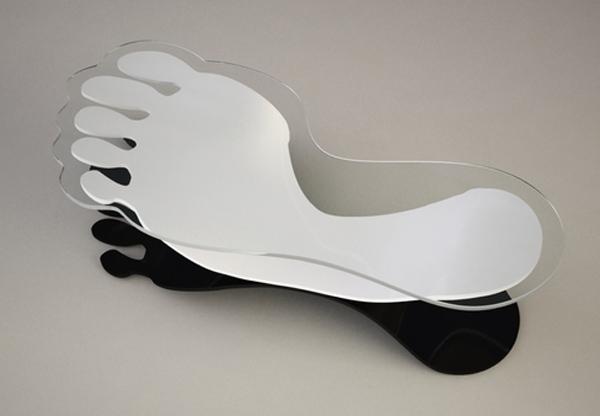 Urban design that certainly can be incorporated into a flat of some-twenty-years-old guy!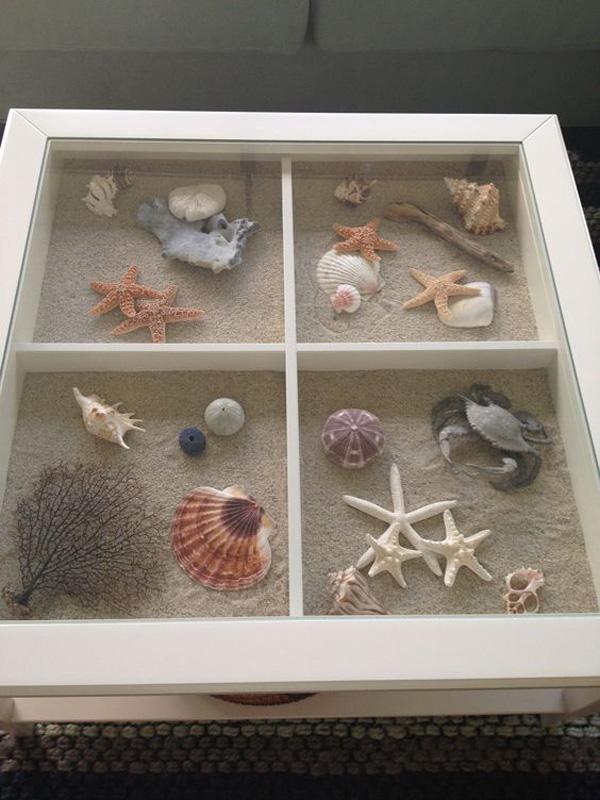 Maybe you came back from the sea and rest is over but sea is still in you. With this coffee table it will surely be in you for a long time. Oh that beautiful feeling of insouciance on the beach…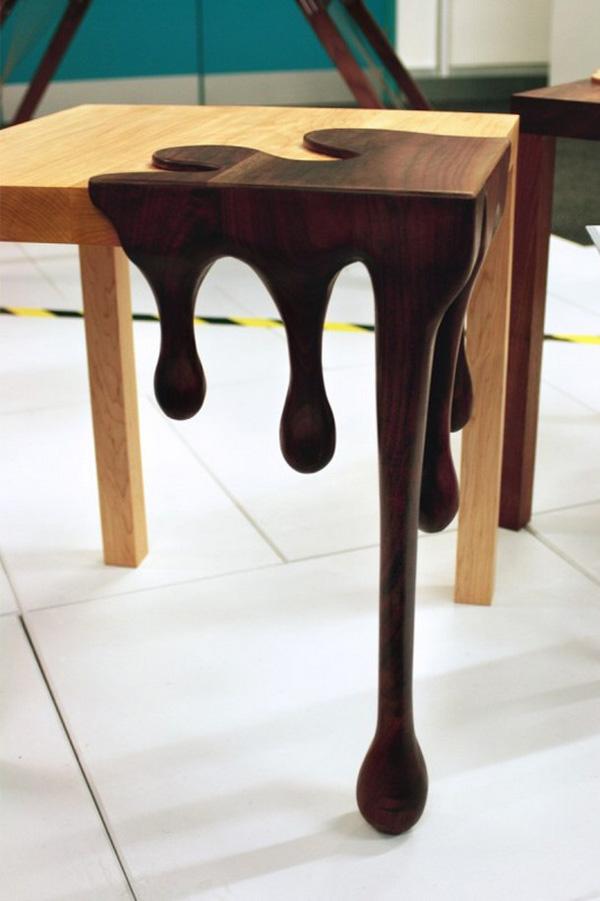 Nicely combined classic and modern version of coffee table, and also lighter and darker color of the wood.
Drinking drinks on the terrace with your best friends will certainly be more beautiful pleasure with such interesting design of the table.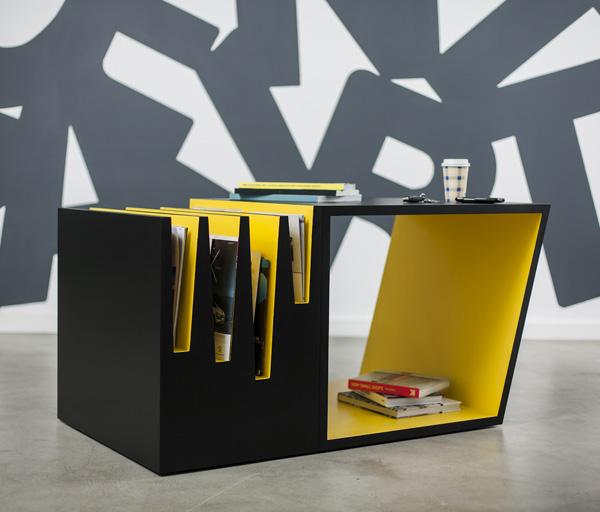 This model is very fashionable, it's not necessarily to be in black and yellow combination, but also in any which you like. Your favorite magazines and books will always be near your hand when you sit down to rest because it has plenty of room for their disposal.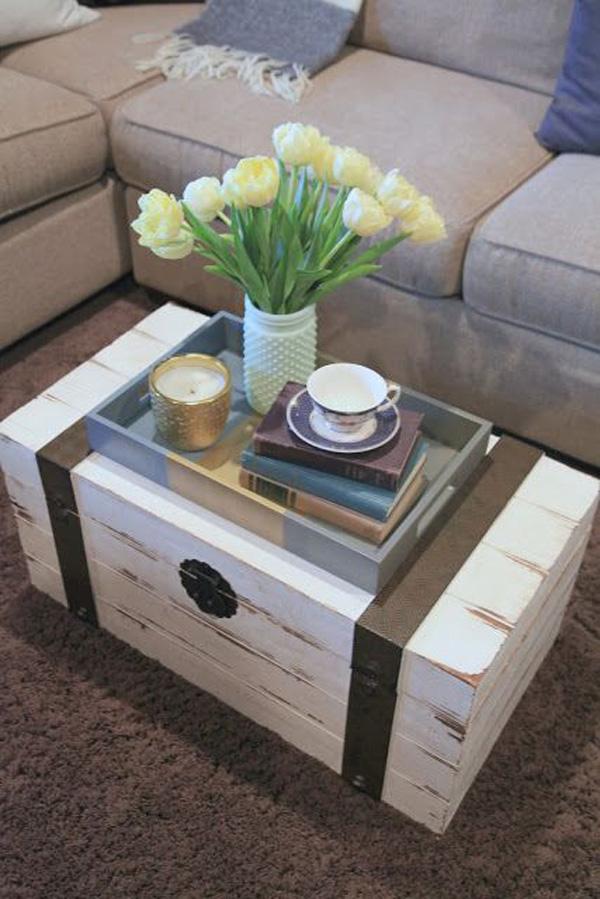 This table – the coffin will certainly always have a clean and tidy surface but also it will give you a lot of hidden space inside for small items that we don't use all the time.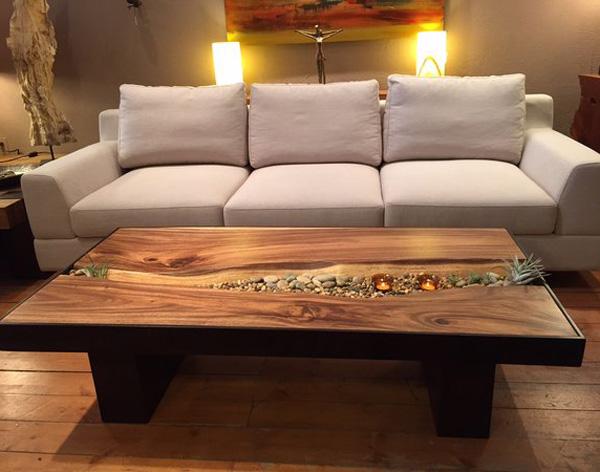 At first sight you can see this is modern apartment for whose warmth and pleasant look is certainly credited this table.

A few nice processed stumps can also be used in this way.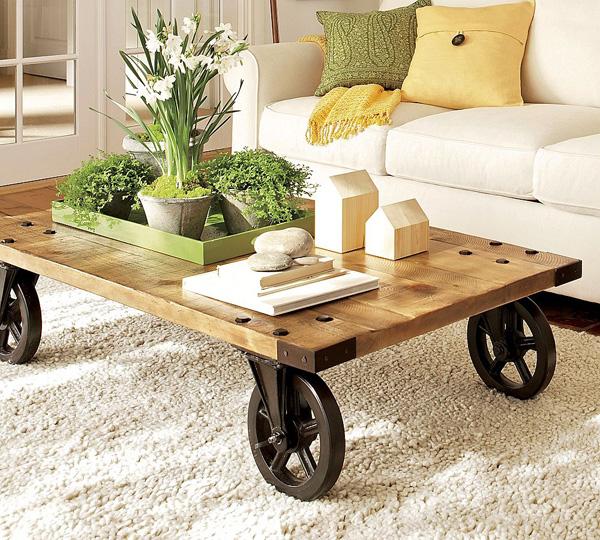 Modern style spicy with rustic table and rustic pots in which are flowers. Very elegant and desirable.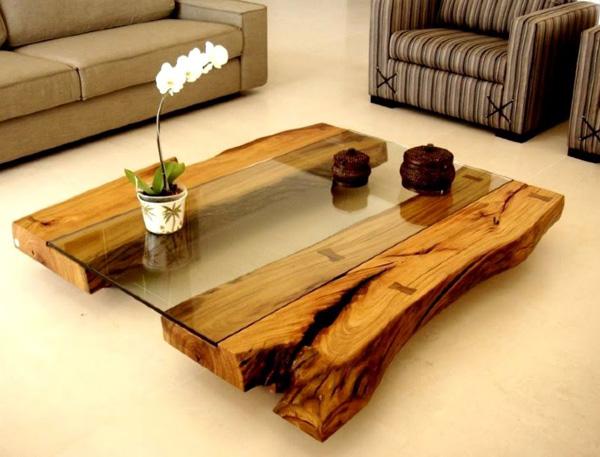 At first sight it looks like very massive table but on the other side glass gives it lightness and modern touch. This table is easily to combine into a modern furnished apartment, the apartment decorated in minimalist style but also in the rustic furnished apartment.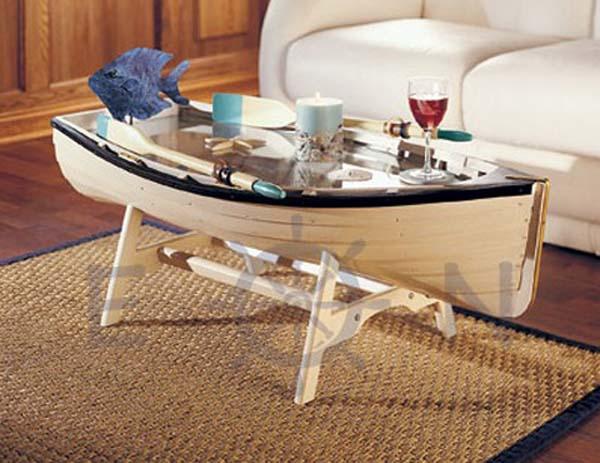 In a nice house on the coast I could easily imagine myself and this table of course! However, if you like boating and the sea is in your heart here's how that two things can live also in your apartment.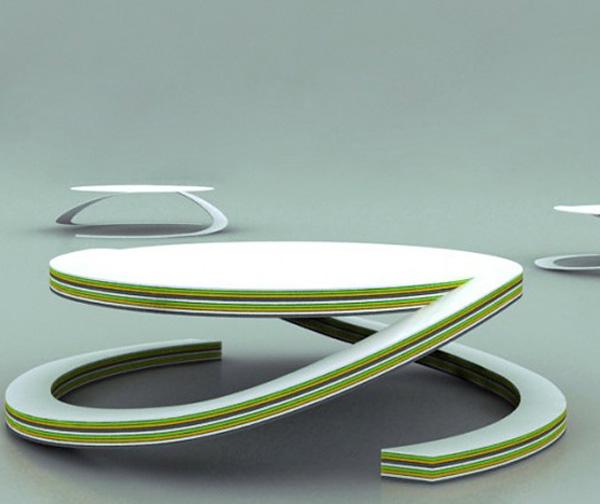 Round tables are an excellent solution if you have young children. Thanks to this tables you will avoid sharp edges on which children can be hurt.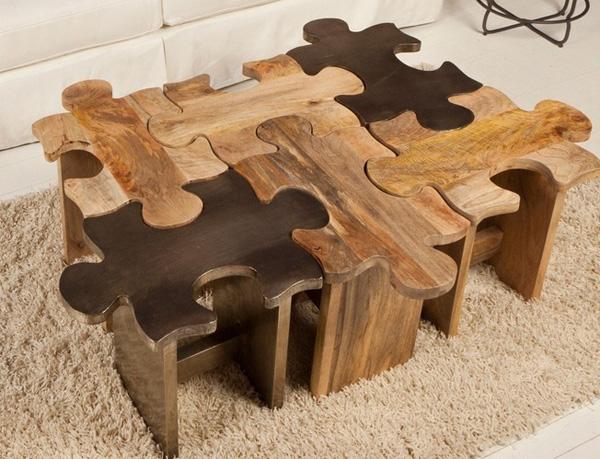 We all played with puzzles when we were children. Select this design to save the spirit of youth longer. Looks more like it is for children room, but wisely combined colors, layout and typefaces look quite good for the living room.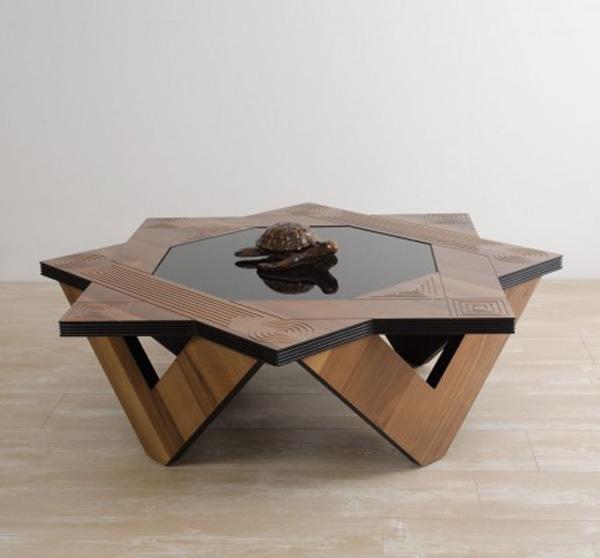 If in your house dominates furniture with straight edges without a lot of details this coffee table will certainly break the monotony and bring freshness in room.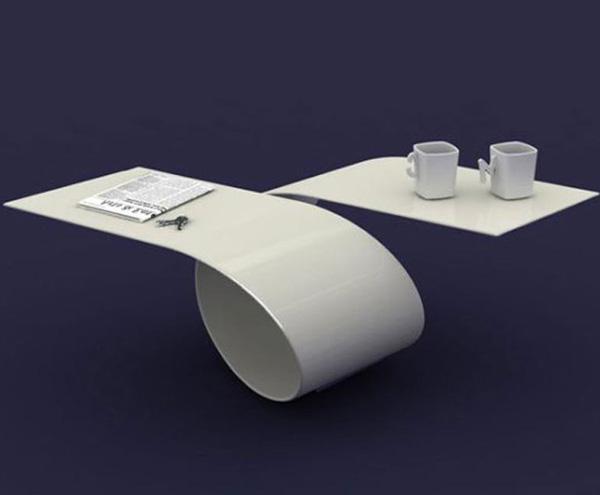 Table and furniture in the living room are the most important furniture. That is why we are trying that those parts be beautiful and original. For this table originality isn't problem at all.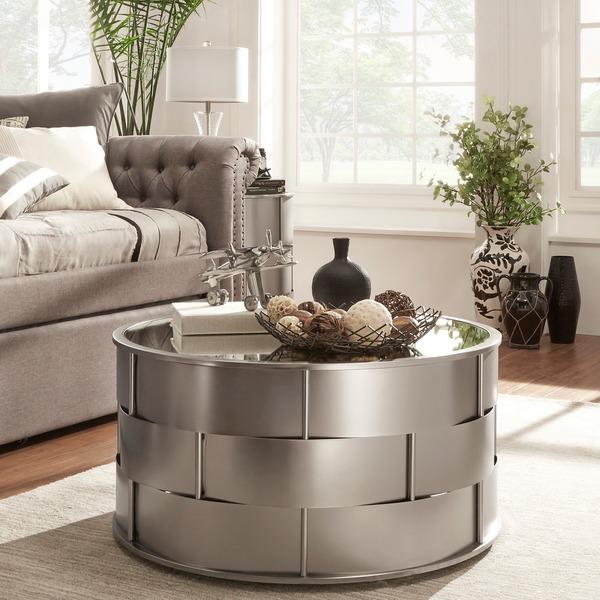 Modern coffee table made of metal and glass. Do not overdo with the details on the table, because it should always be clean. For small items you use every day, select a drawer in some commode.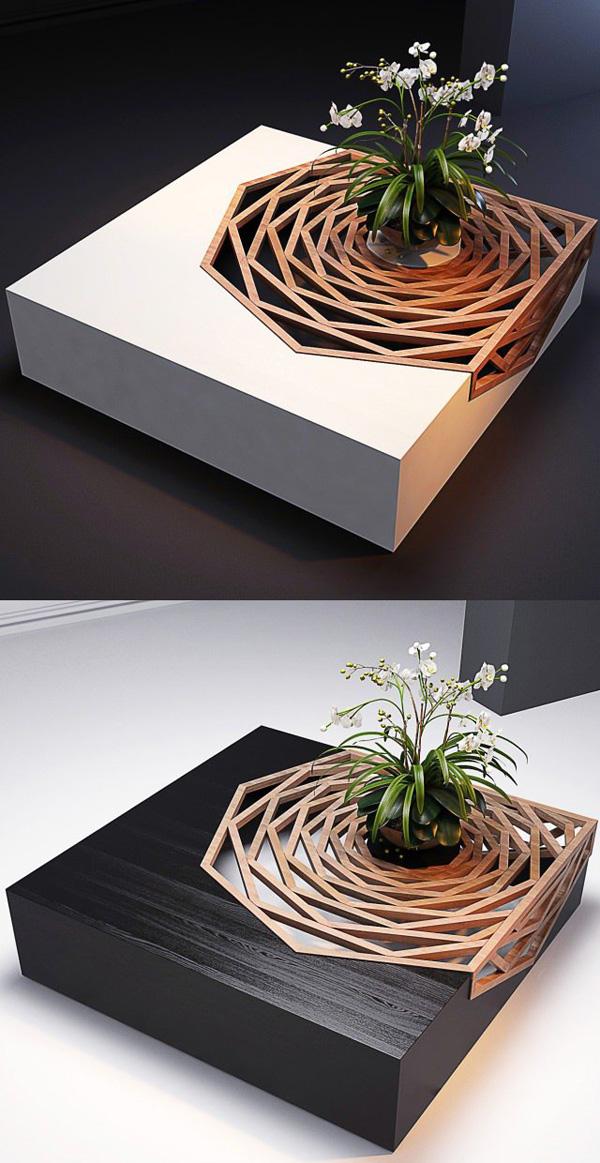 Wisely made contrast between color of the floor and table. If table was in any other darker/lighter color, floor would swallowed it and table would not come to the fore. Think about this when you choose coffee table.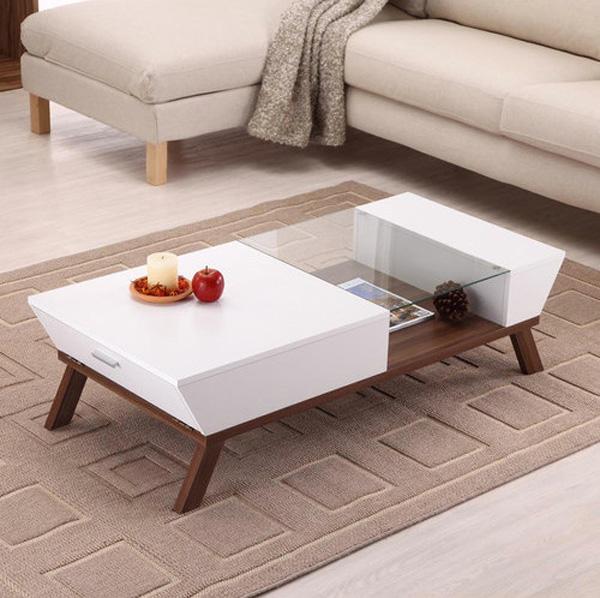 The original layout of the table in brighter tones. On the sides are drawers that gives space for small items. For a note of urban style is charged glass in the middle.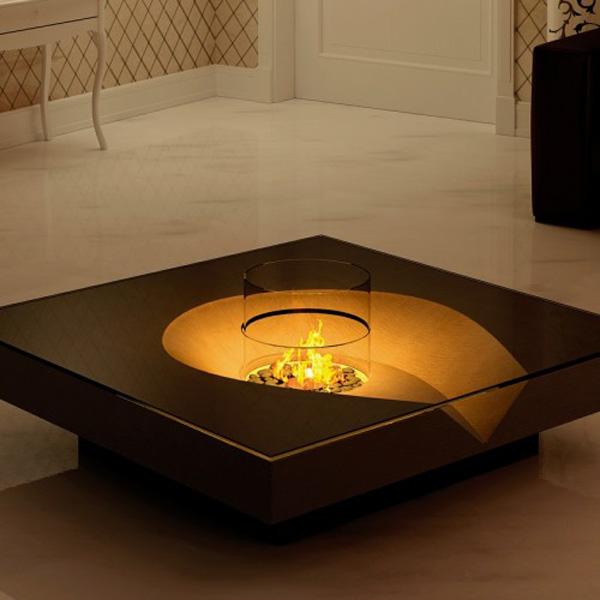 On the table in the living room you need to lower the cup, the book and similar trinkets rather and not raising them. The highest permissible height of the coffee table is height of seat of beds or armchairs.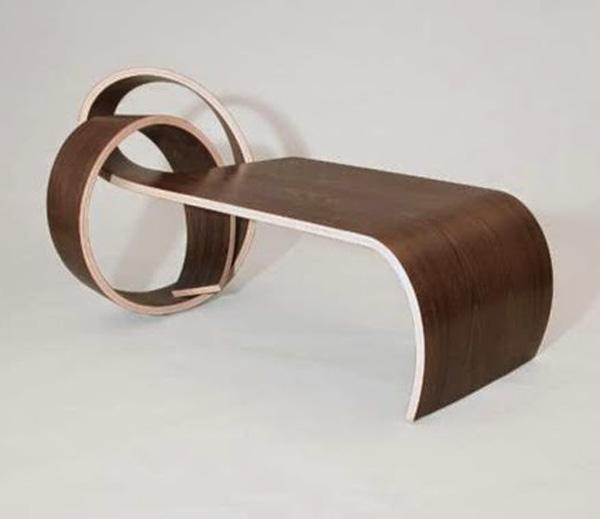 This table except functionality and nicer aesthetics note gives to your room.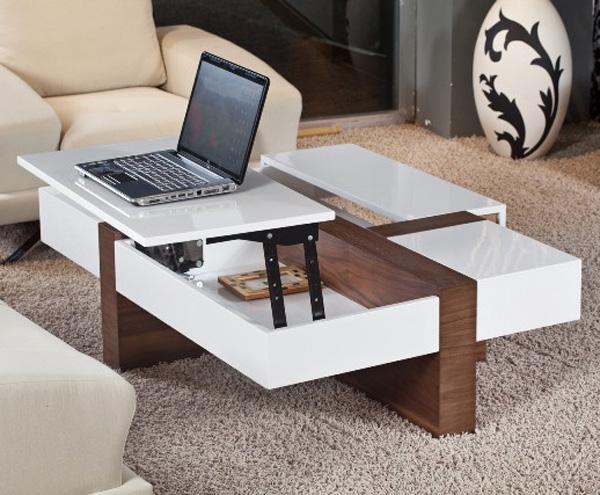 This table is low but it has the mechanism in one part which allows raising that part enough that you can work on the laptop or writing in diary. Very practically what is the most important!
I hope you enjoyed!