Nordic style interior design is characterized by functionality, simplicity, without many details, clean lines by using bright colors and rustic materials. Great attention is paid to natural light. The most famous Scandinavian designers are Hans Wegner, Alvar Aalto and Arne Jacobsen. Their creations are very popular and today.
With Nordic style interior design, floors tend to be in lighter colors and almost always use wooden material. Of course, except in the bathroom. The walls are white, gray, light blue or cream, some other colors and colorful designs possibly are used for pillows or some small details. Also Scandinavians use for the walls and wallpapers in retro style usually on one wall.
When we talk about materials, wood absolutely dominates, and often it's used from floor to ceiling. Although stone is also very used material. Wood needs to be in natural color, or possibly painted in white. Wood gives the room warmth. For this aspect of regulation, clear lines both in the architecture and furniture, are characteristic . And do not use the heavy decorative elements. In this homes we can find very few decorations usually colored candles that give the room warmth. So, for life in the north there's no place for non-functional things.
North is cold, and the fireplace is gaining importance. Fireplace is located in the corner of the room, opposite the fireplace in America where is on the middle of the wall. Fireplace except in the living room we can find in the bedroom.
Scandinavians are very dedicated to nature in their homes. And even the smallest apartments have terraces used for growing flowers, or making a barbecue. On their balconies also dominated white and other similar light colors, with the occasional effective detail in bright color that refreshes the whole space. It can be a table cloth, blanket, pillows. Flowerpots are made of concrete (ypu can make them alone), and very often are placed in woven baskets.
They have some of the most popular green technologies. Great importance they give to natural light, so the windows from floor to ceiling are not rare case. Of course there are and smaller ones which Scandinavians like until there is enough day light in the room.
I need to tell you that in Finland there is about two million saunas. Many homes have their own personal saunas. So here we have a strong reason to decide to edit our home decor in Nordic style. Why does not let that little dose of luxury to us?
If you are weary of the chaos and many unnecessary things in your own home rearrange it in this style. I say with certainty that you will get a lot more space, you won't have unnecessary things. This form of home furnishing is characterized by minimalism. Minimalism means you space is rid of all unnecessary things and leave only functional. So, minimalism is focused on quality, not quantity of things. Minimalism is not just sharp lines, if you add to your functional landscaped home piece or two pieces of furniture curves anywhere you will not make a mistake.
I will show you some pictures to help you understand Nordic interior designs in Scandinavian Style. You alone decide whether you want a bit of Scandinavia to enter into your life!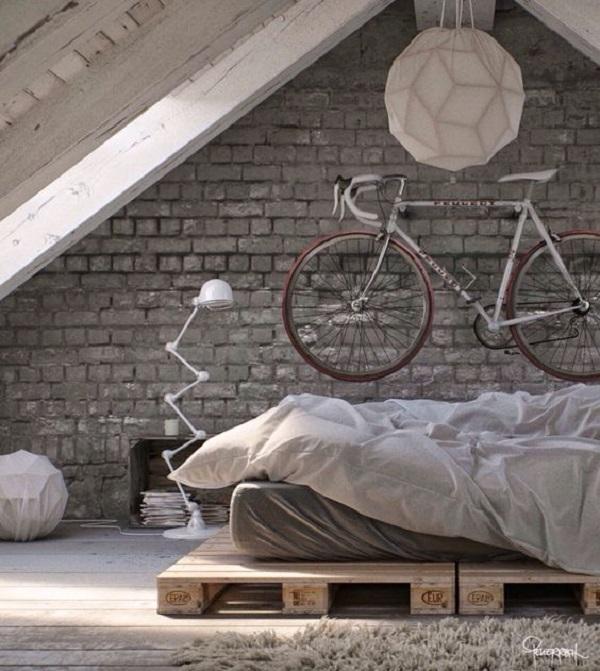 The bright floors and plenty of wood. If you want that your home be in Nordic style this two things are first of what you need to take care.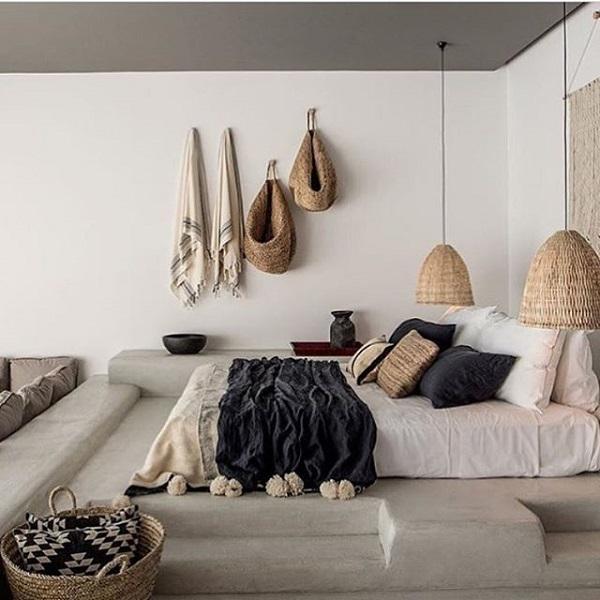 As you can see minimalism dominates, there is not a lot of unnecessary furniture just the basic. There aren't things which take our energy away. Functionality is main command in this design.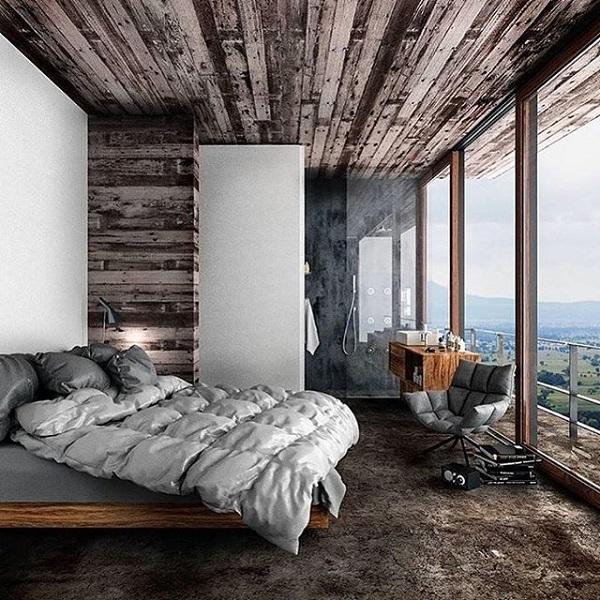 Lots of wood, even on the floor and the ceiling, mainly natural wood color that is only colored with clearcoat. Scandinavians very love nature and want to enjoy it every moment. In this way they can enjoy nature even during very cold winter days.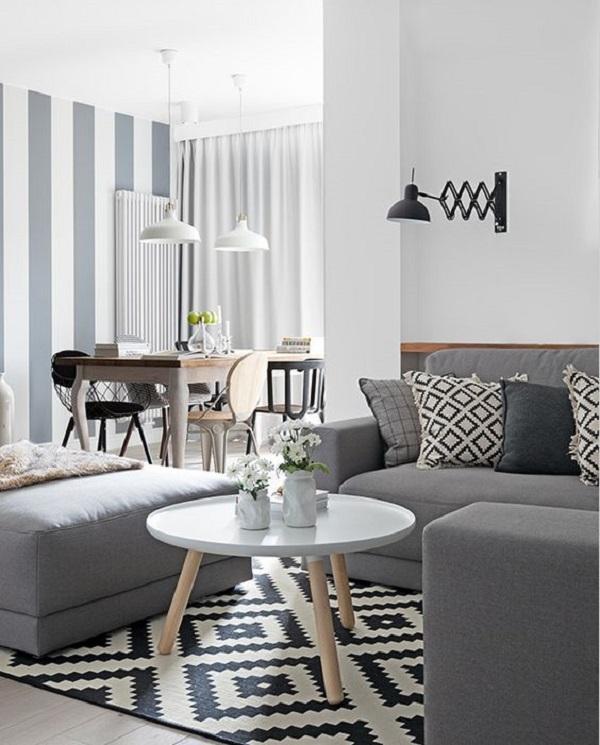 The gray color is very often in housing in Nordic style. Except this color, they use and other neutral colors. Of course, there are always discrete details that complement the entire space.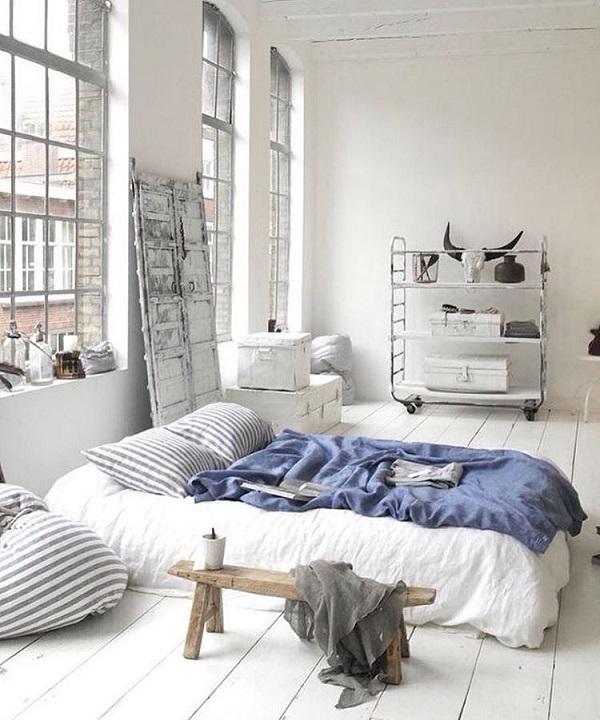 Large windows and plenty of natural light. That is also something very important to Scandinavians. In Scandinavia day knows to last only four hours, and twenty hours is night, so that is the reason why they so much appreciate daylight.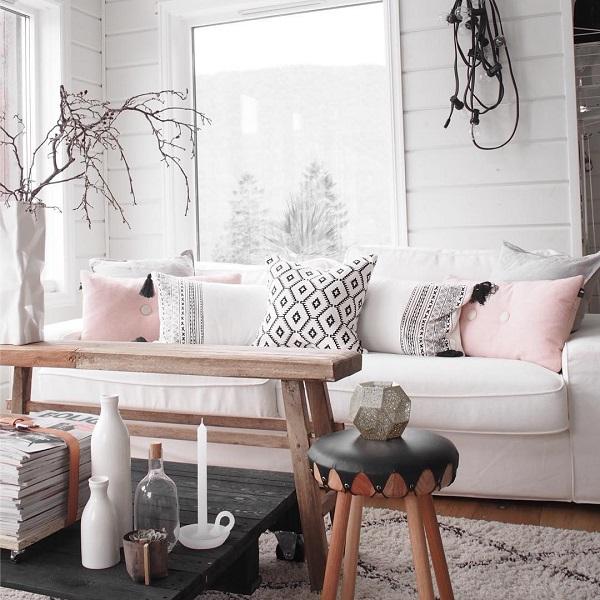 As I said in the text here are a lot of natural materials, primarily wood, leather and very little details except bottles and candle on the table and pillows there aren't other decorations.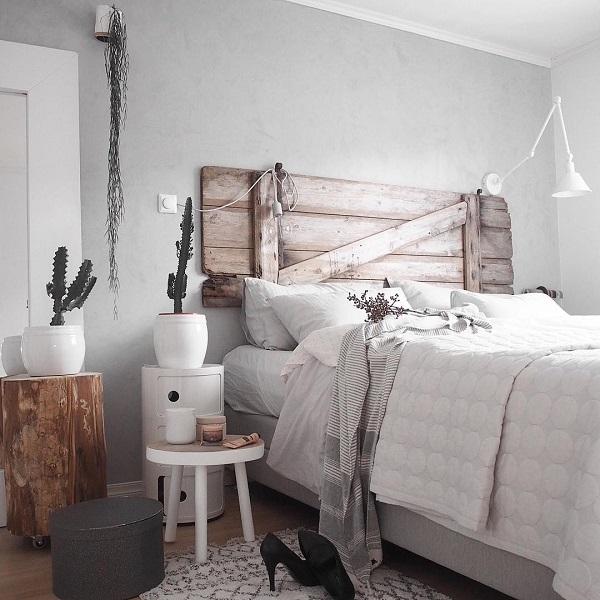 Rustic details are very popular in this style. In recent years, more often people combine different styles in interior design. Rustic details like a piece of furniture from bygone days can give the house warmth, and make it a pleasant place to live.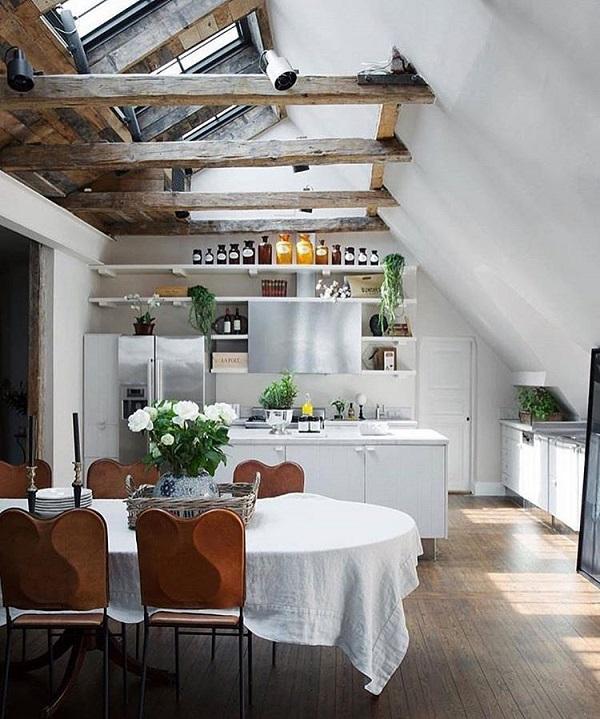 And in the kitchen dominates white. Of course, there are plants that give life to the whole space (except humans of course) and what really respect the Scandinavians.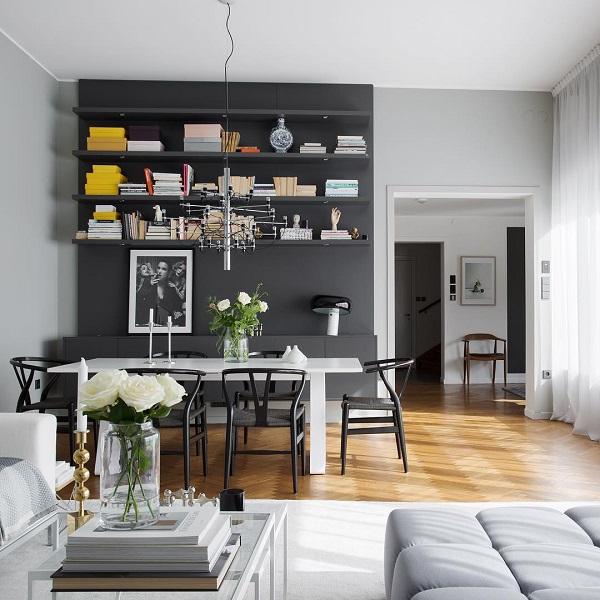 Clean lines, white domination … Yet you must admit that this region does not lack warmth. Parquet in color of wood gives an important seal to all space, but as we have already found that life is consisted of little things and details, we can see that also in this home they play an important role. But you should note there is not much unnecessary ornamentation.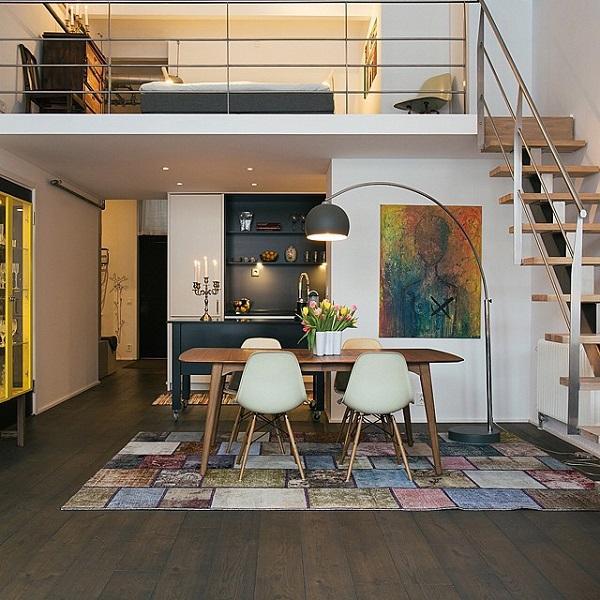 Very functional furnished room in Nordic style interior designs. Carpet from wall to wall almost doesn't exist in Scandinavian homes. This is a very practical, because in maintenance of carpets is not enough suction. Many people, however, only so maintained carpeting although perhaps is necessary and steam cleaning or washing more often. This bad maintaining leads to allergies very often.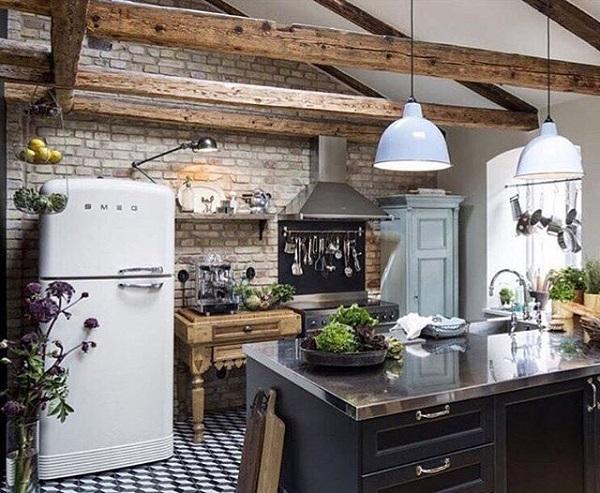 The combination of black and white color is characteristic of the modern interior of homes. Regardless of the black that we have on the floor and kitchen, this room have plenty of light. There are beames on ceiling that give a rustic touch to the whole space.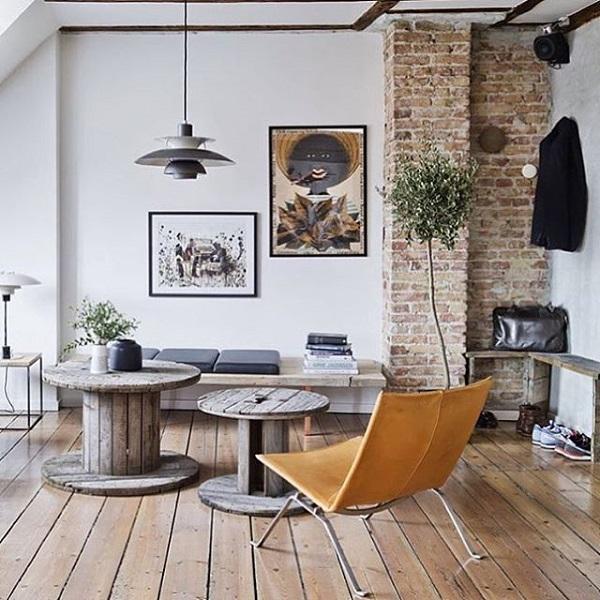 Pictures on the wall complement this minimalisic style. Art gallery enrich our home. Pictures we can put in the living room and bedroom, as well as on the balcony, in the bathroom. While hanging on the balcony or in the bathroom we must take care of the moisture, too much moisture can cause damage to the image, so that in these areas do not put valuable artistic acts. Main rule when setting the picture is that its center is at eye level. It is not good if the image is set too high. Also, when choosing a wall on which the image will be set observe the image size. It is not good that on huge wall you put a little picture.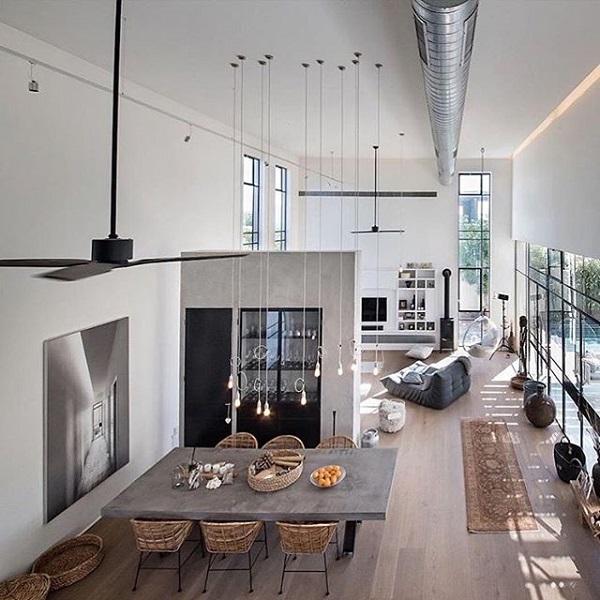 Pendulum lamps instead of huge chandeliers. Huge windows let through plenty of light and allow you to enjoy the view to outside, no redundant carpets and curtains that collect dust. Very practical for the modern employed man, not only from North, but from any part of the world.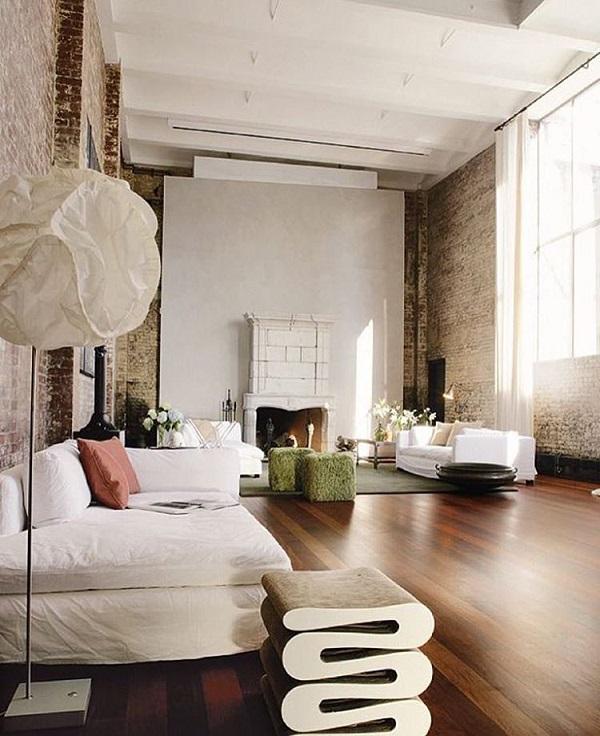 Fireplace is required in the arrangement of home in nordic style. Beautifully harmonized natural colors and natural materials like wood floor and stone wall.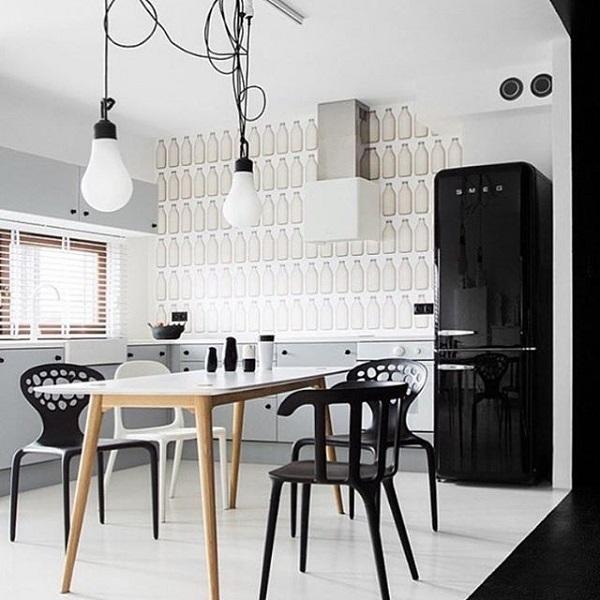 Colorful wallpaper on one of the walls that used to break, sometime monotonous white.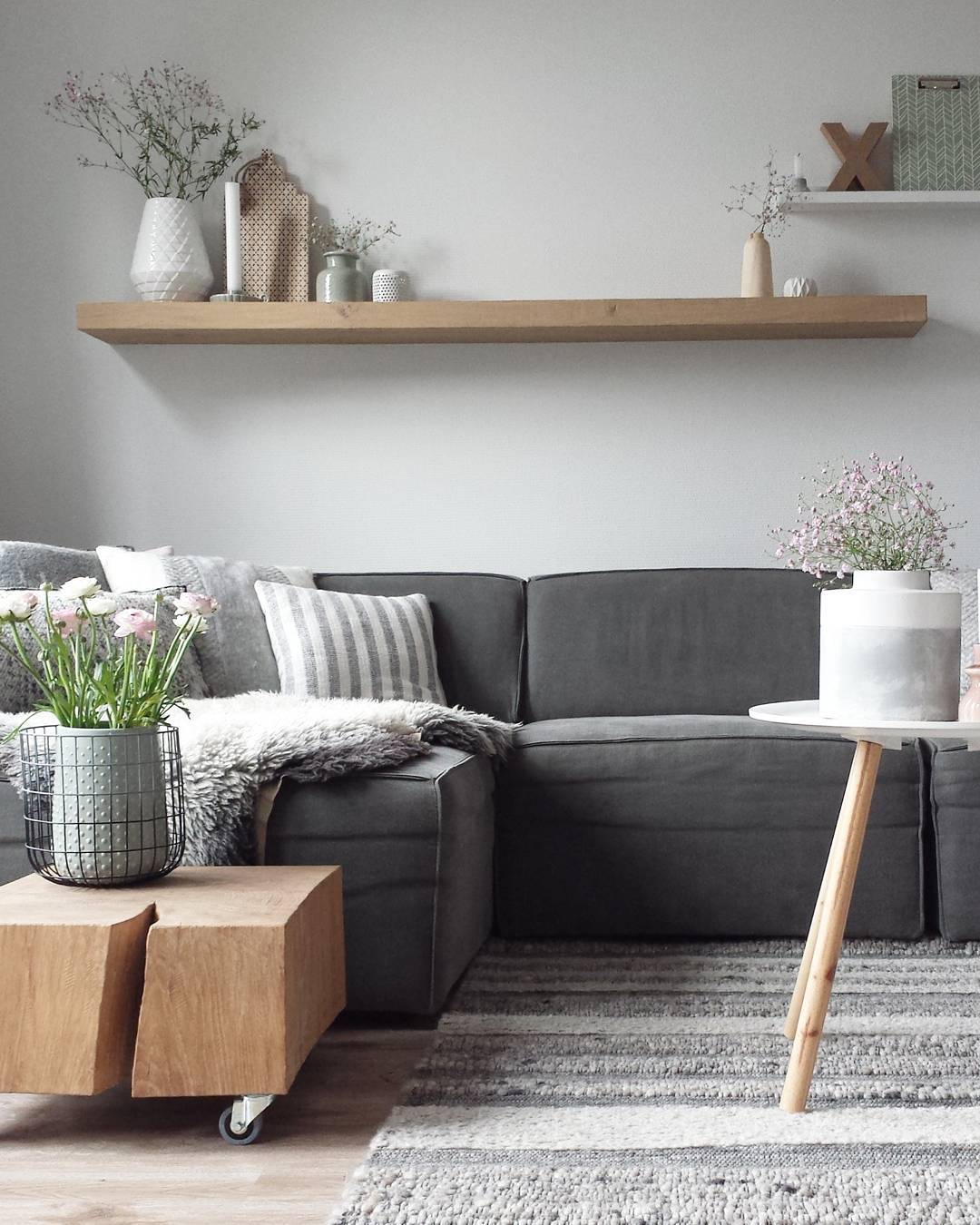 Flowers and a ceramic vase can be a beautiful decoration for your home. Flowers improves your energy and the energy of your space. Artificial flowers emit negative energy so you you try to avoid it.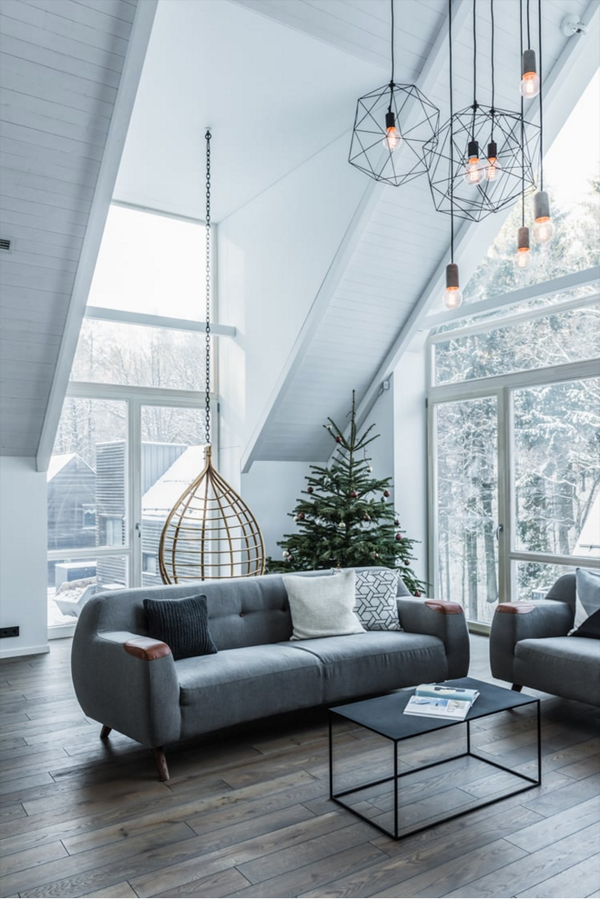 Bulbs in hanging cages as a replacement for the classic chandelier. Natural fir instead of plastic are a wonderful choice for the New Year.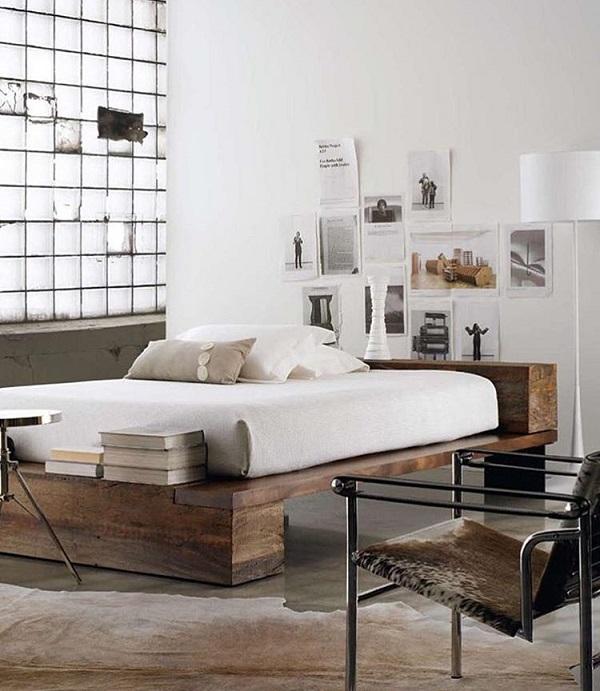 Enough wood that gives warmth to the room. There is a floor mat made of natural fur what as the skin, is often in Scandinavian interior.
The combination of modern style with a slightly rustic work pieces.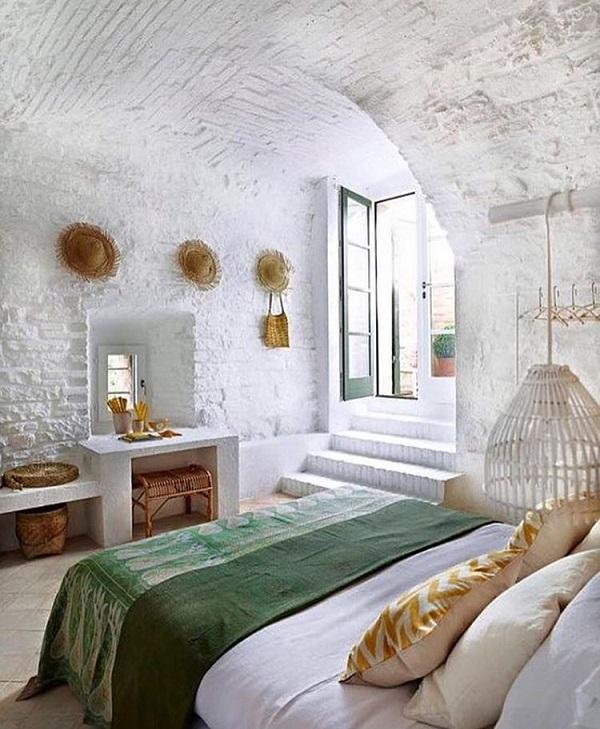 Characteristic arrangement in Nordic style. Lots of light, little ornamentation and detail, white …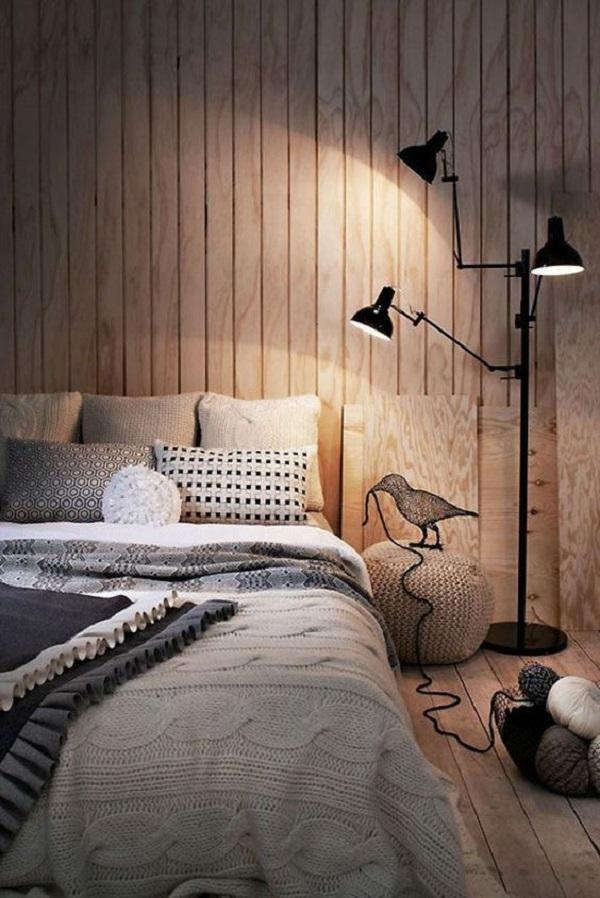 Wood floor, wood on the wall … To me this room exudes warmth, I can not only decide is it because of wood or of these beautiful quilts in earthy shades …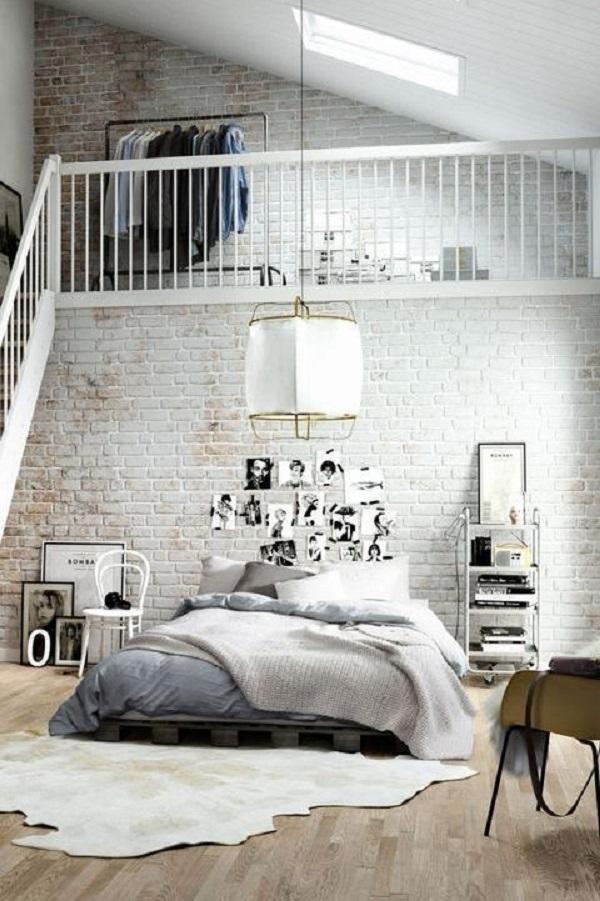 No redundant racks, shelves and cabinets. Pictures give heart to space, and interesting detail for me is clothes whic isn't in closet, it's mounted on a mobile hanger.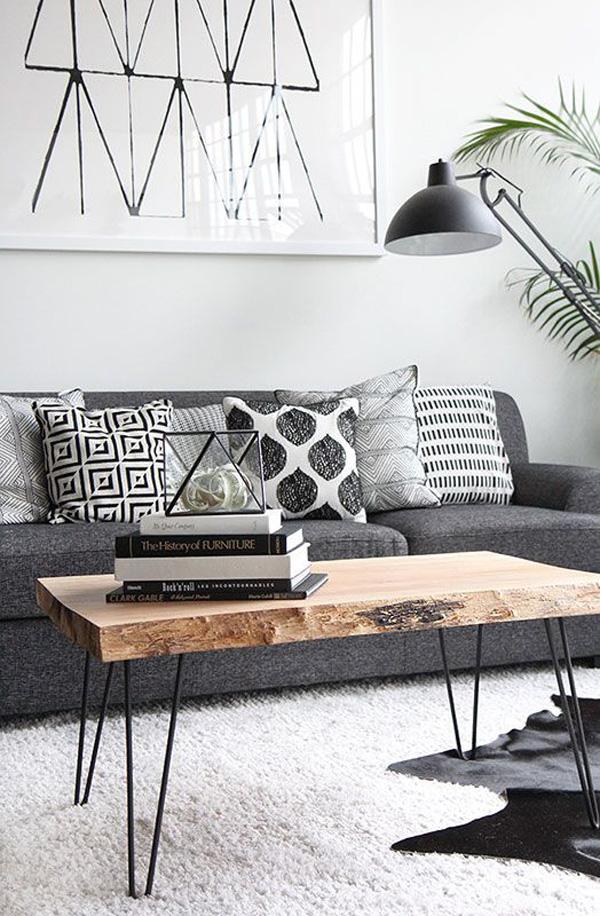 The straight lines on the table, straight lines in the picture, on the table decoration, the pillows … Plant in a corner of the room (we can see only the leaves) enriches this space and helps it does not look cold.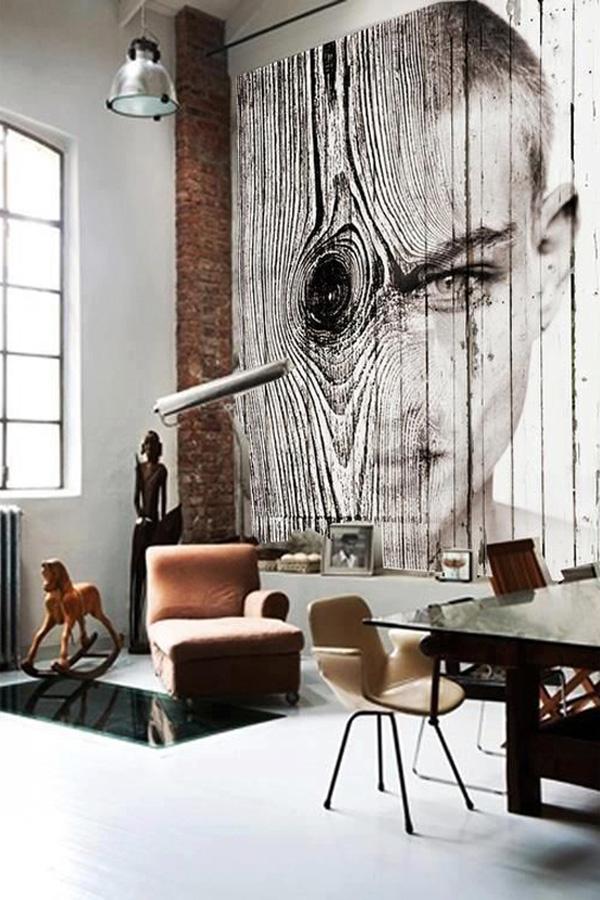 The wood on the wall with interesting print is sufficient detail for this room. This is a beautiful working room for the artistic soul. Figures by the window are effective details that are there to refresh white color which dominates.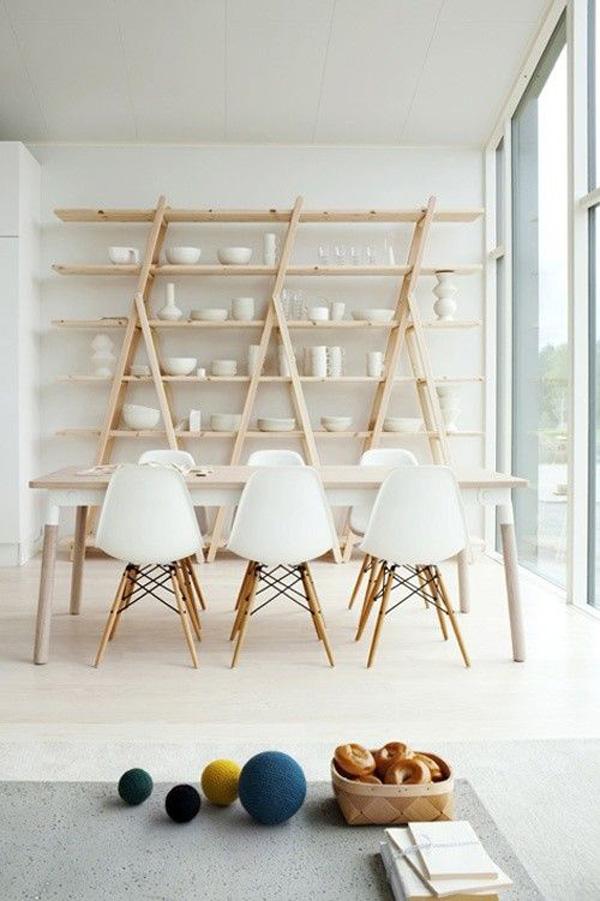 Windows from floor to ceiling, illuminate this room by daylight. Open shelves of wood are very modern and are very beautiful when they are not made only in straight lines but also from untreated wood. It can be very interesting.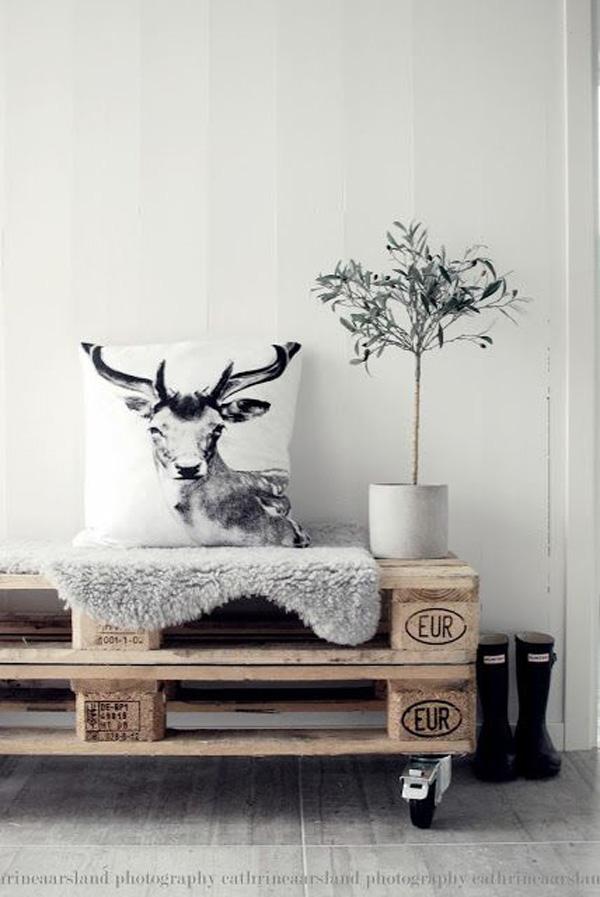 Furniture from pallets is increasingly conquering the world. From the palette, you can make a table, and beautiful furniture for the garden. It is cheap, and with large pillows will be very comfortable, beautiful and modern.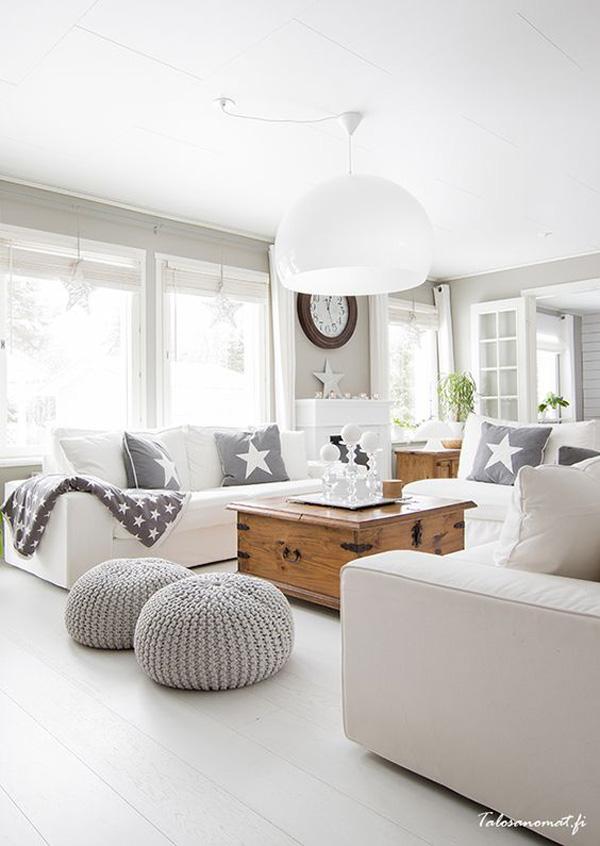 The color white is a neutral color that symbolizes sophistication. Details in color on a white background perfectly come to the fore.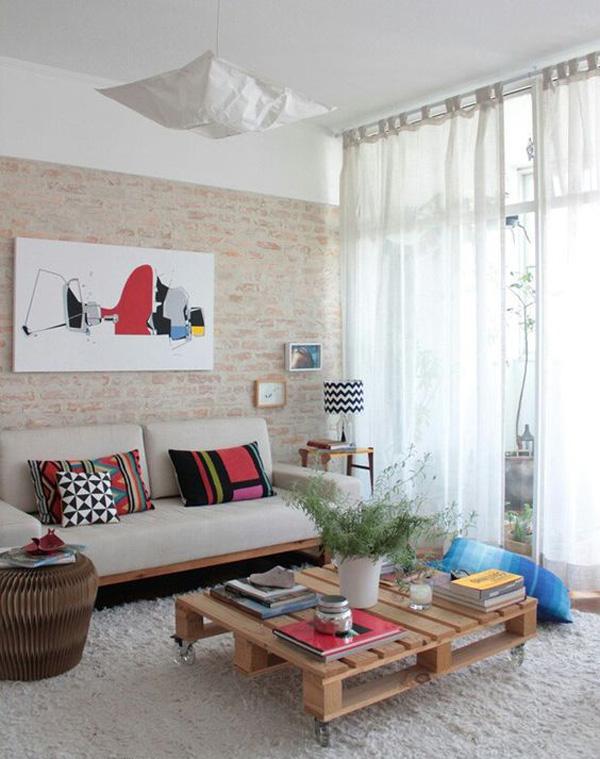 Pillows in color and image wit strong red color are important details for this room. Here you can also see how the palette is used to create a table for the living room.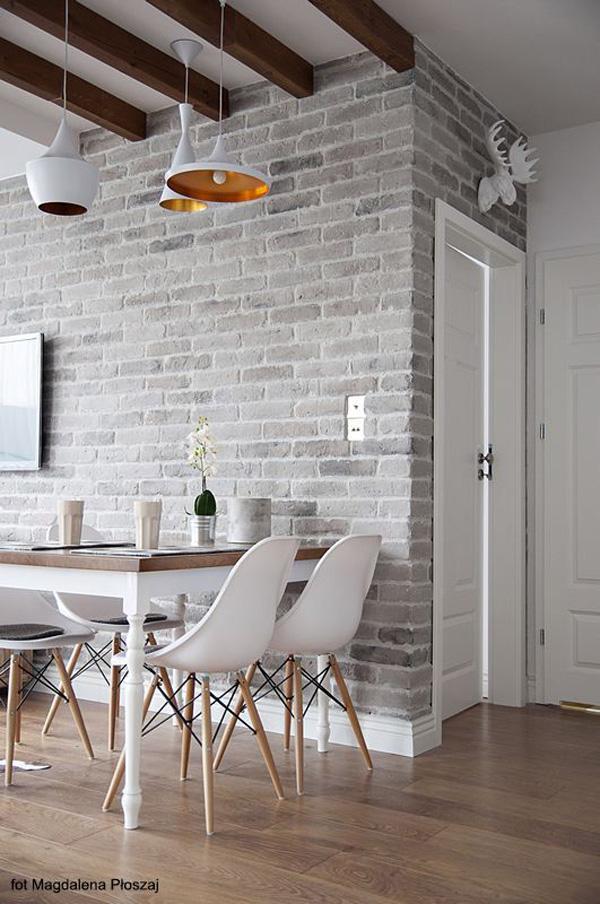 One or two walls of brick, are very common in this arrangement. It looks a bit rustic, but at the same time modern.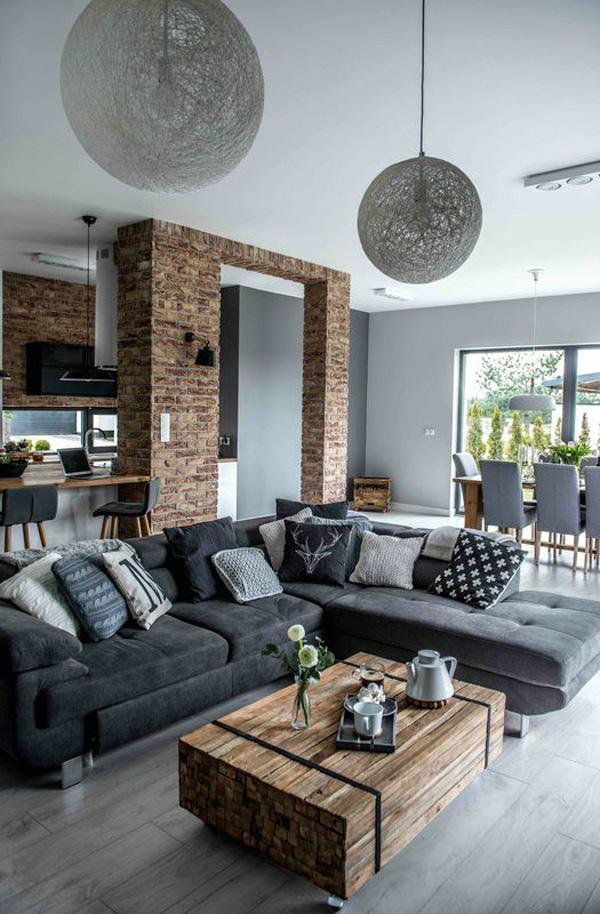 The gray color knows to be very boring and cold. Because of that here is combined with a tree in natural color with a brick wall. This combination helps that staying in this room doesn't become boring.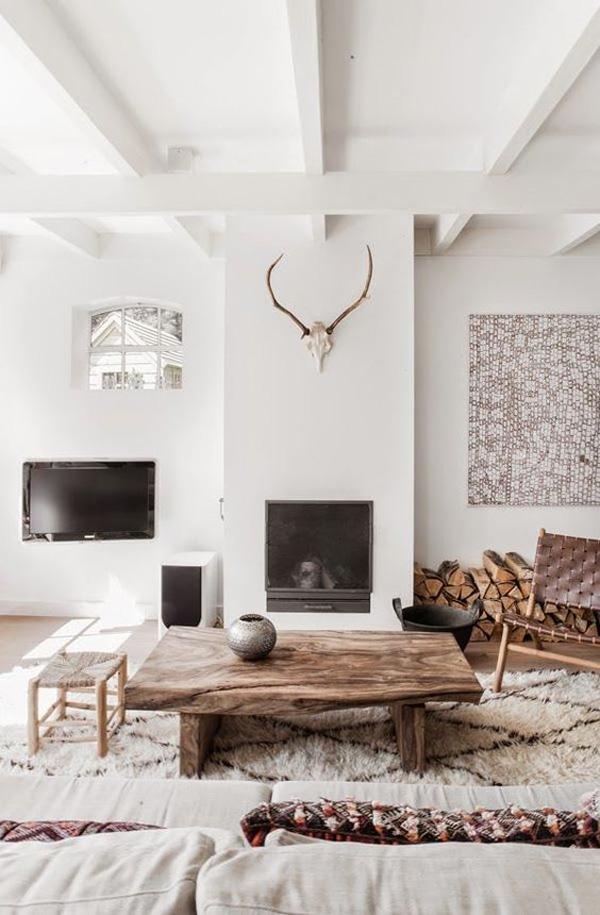 Natural materials give the house warmth and regulate humidity. In the winter months if you have furniture made of wood will feel safe and tucked.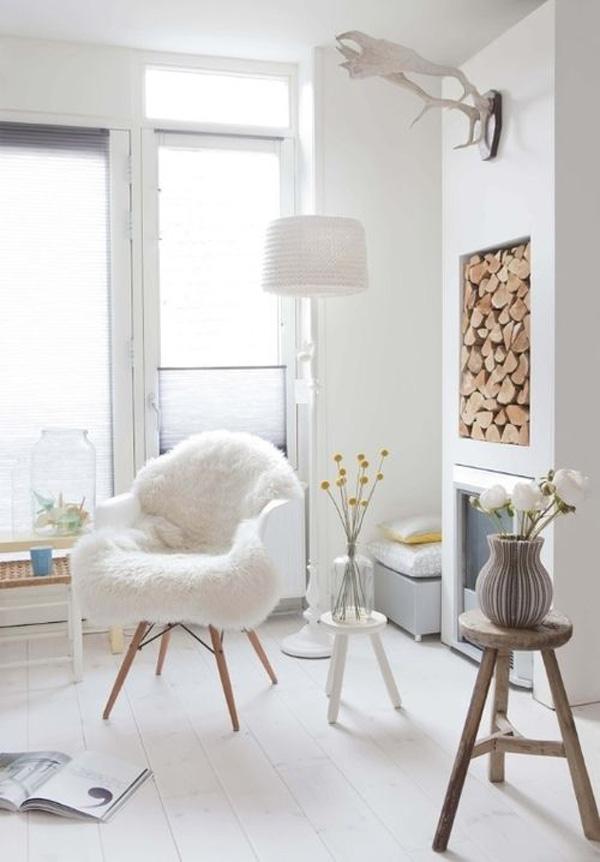 Fireplace in the corner of the room with space for a tree… Instead of the table there are two chairs on three legs that were once used on a daily basis and now look like a little masterpiece.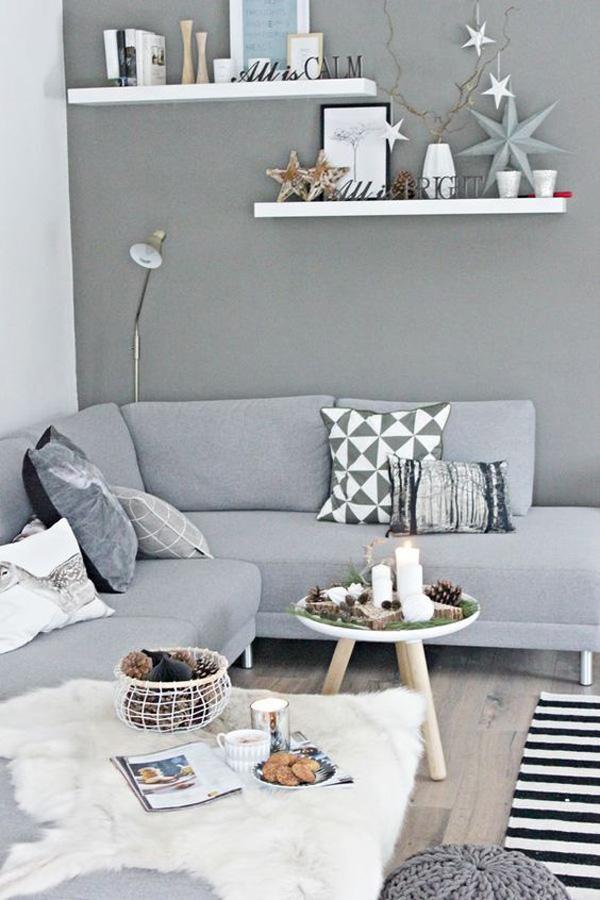 And here cold gray looks warm because of to natural materials in the room – wood and fur. Candels on the table should become inevitable detail in every home.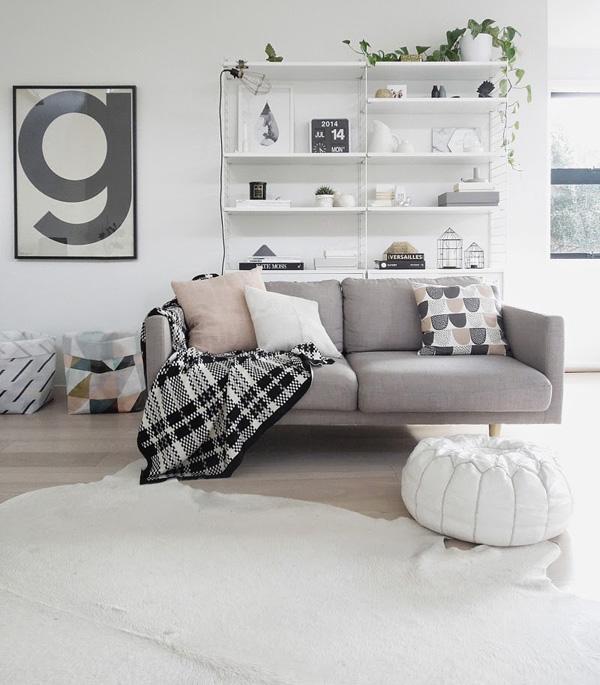 This is a new modern home, and that shows us pictures on the wall, sofa, shelves with straight lines … The room is large with nice daylight, white color is combined with gray. If you wish that your home is free of any unnecessary items, here is idea for decoration.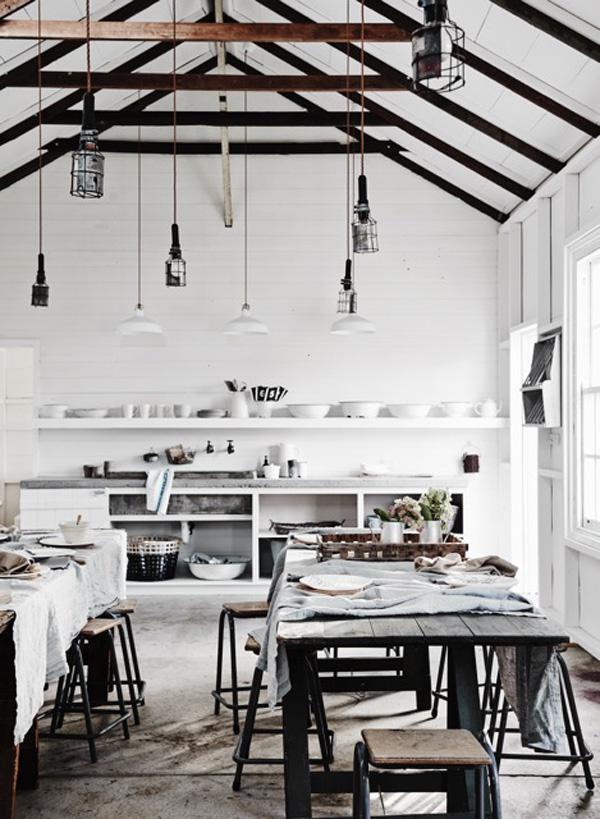 White tones dominate in this picture, the room is illuminated by daylight, the whiteness of the floors and walls is broken by wood tables in a darker shade.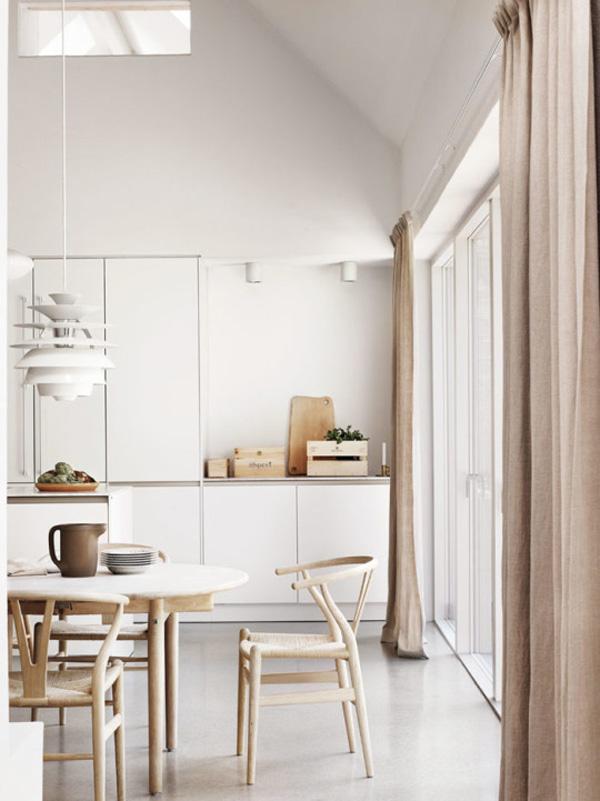 IKEA is one of the most famous producers of furniture in Scandinavian countries. It was founded in 1943 and until now has about 285 stores around the world in 37 different countries.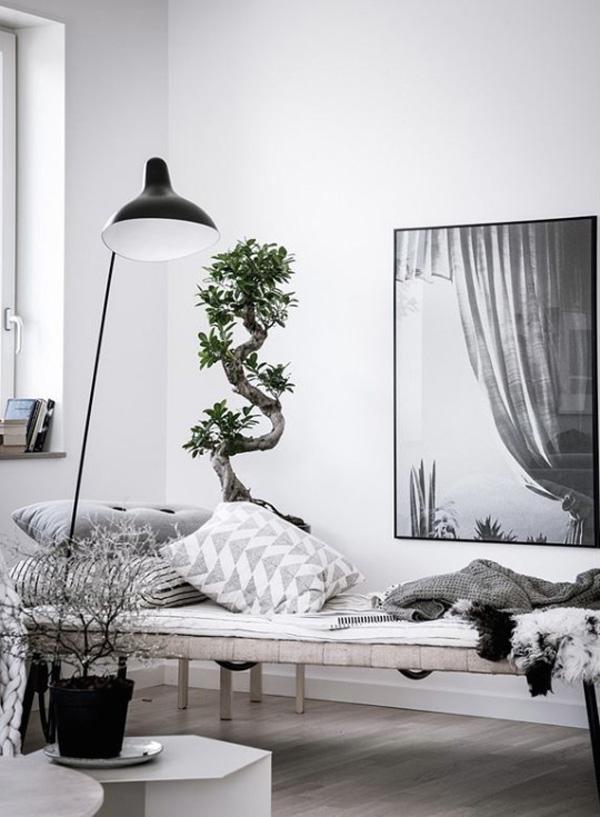 Carpets and rugs are rare, a great attention they give to nature. Because of that, plants are very common in Scandinavian homes.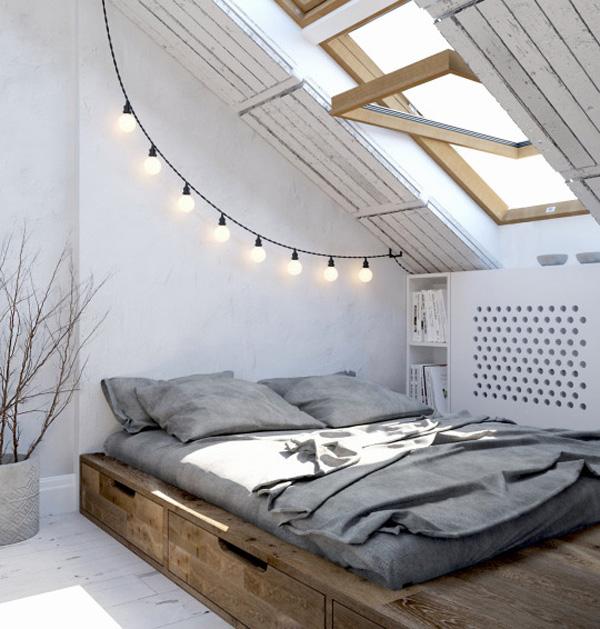 An interesting and very practical lamp that you can easily remove if it disturb you. Roof windows are very popular in the modern world, because it allows the loft to be very well-lit. Scandinavians in isolation apply the most modern methods, and the windows are usually of triple glass.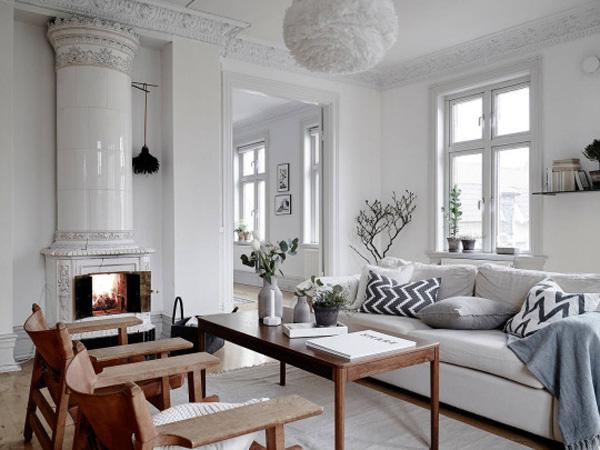 Great popularity of Nordic style interior design contributes to its high quality of furniture. It is very often in their homes you will find the older furniture from quality wood and antiques. The white color is especially good for small apartments because it visuals increases it, and also increases the brightness of the room.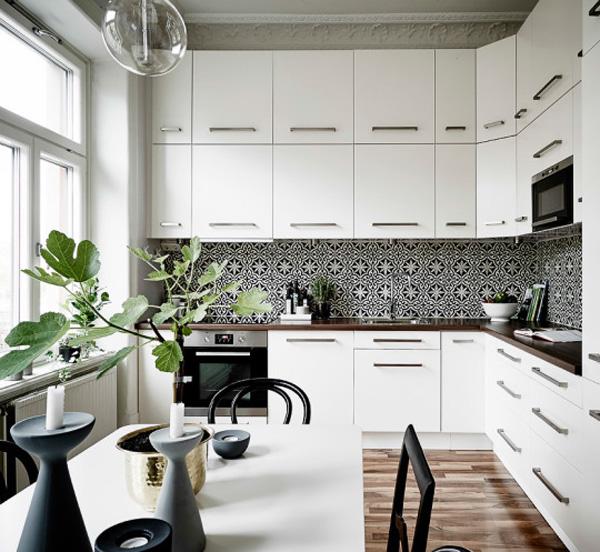 The space of small kitchen can also be utilized wisely. Despite little place for non-functional furniture, the black elements such as stoves, chairs and ceramic vases are perfectly arranged.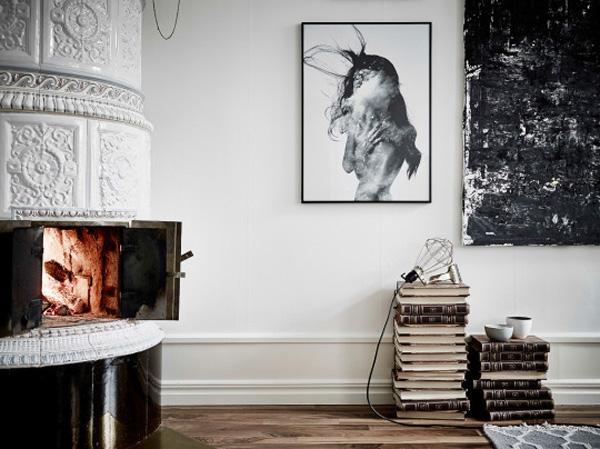 Fireplaces are not only designed for large, luxurious homes, but also small apartments like this Nordic Scandinavian interior designs. Fireplace in the corner of the room, does not take up much space and gives warmth to home.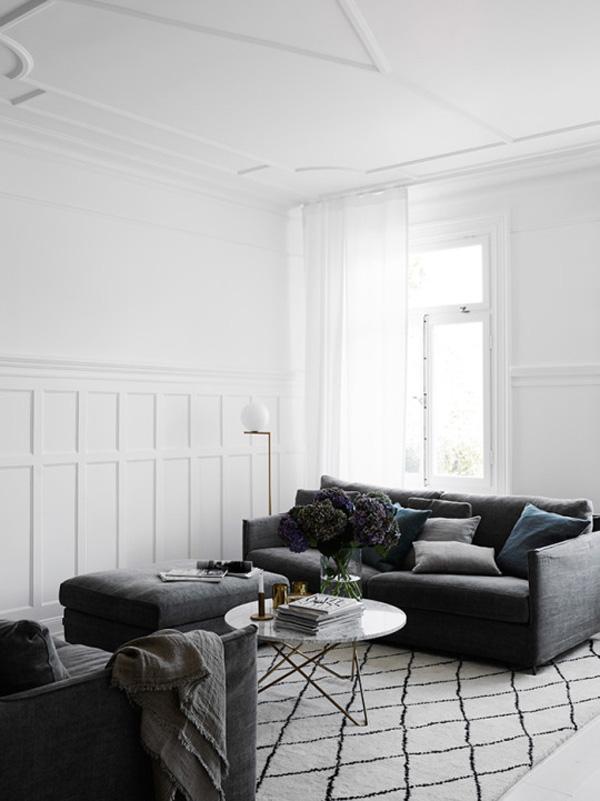 Black and white combination is very common in modern homes of young people. These are two totally opposite colors. Black means the power and white sophistication. Painting full walls in black can be depressing but black pieces of furniture and decorations in black can nice show soft side of out white color.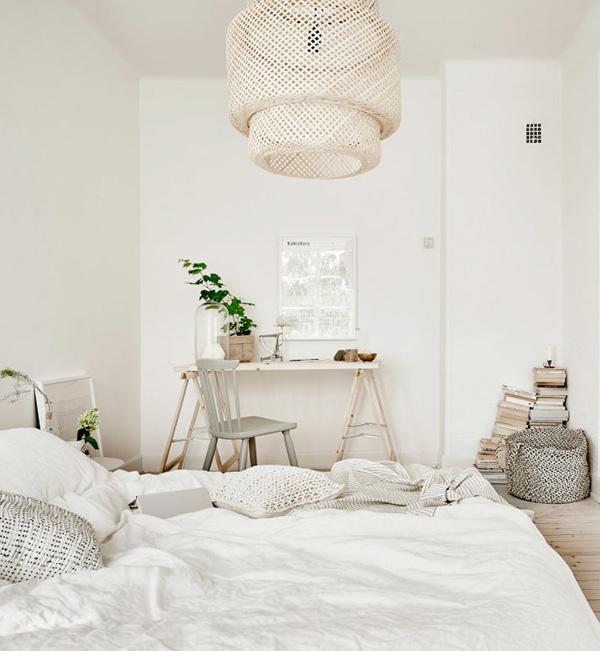 Here again we see minimalism. Bed, table and chair. No huge closet and dresser, no televisions and superfluous shelfs. There was only after a plant that refreshes the entire interior.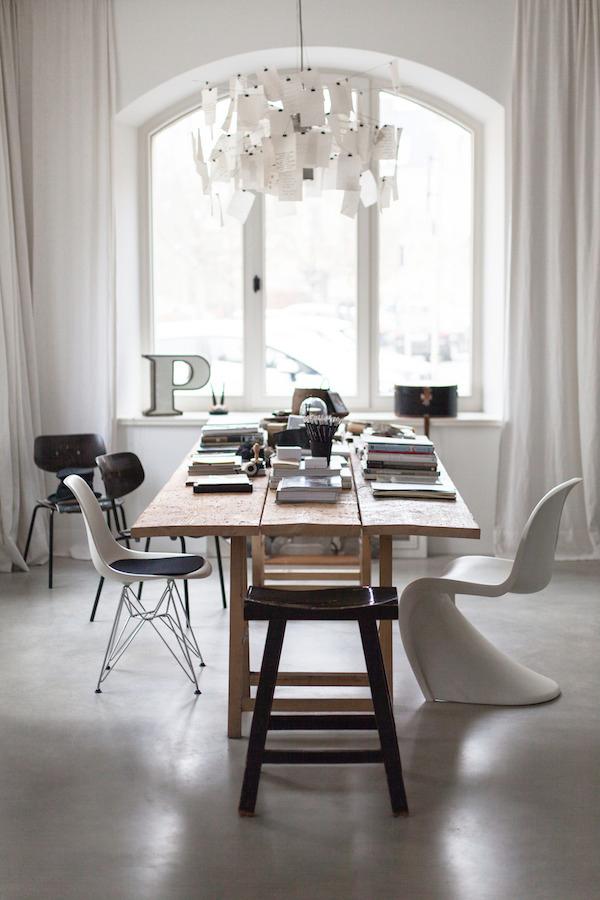 This Nordic room probably seems cold in its interior design, but life in it is normal and not icy. It's even better than many other homes that are overcrowded many unnecessary things that just take up space and collect dust consuming our energy when we are moving them from one place to another. For modern people superfluous things are a burden because they work hard and they do not need that when come home dealing with the ordering of unnecessary things.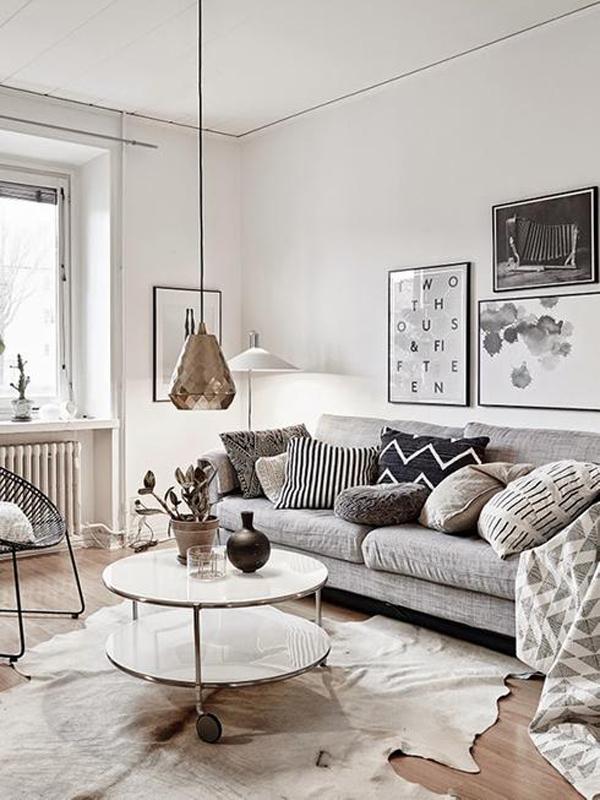 Another living room decorating with excellent lighting. On the sofa is plenty of pillows, which are always a nice detail. Pillows can give an artistic touch to your space. Metallic colors are popular in recent years and agree with minimalist decoration. So here we have a metallic chandelier color. Original detail.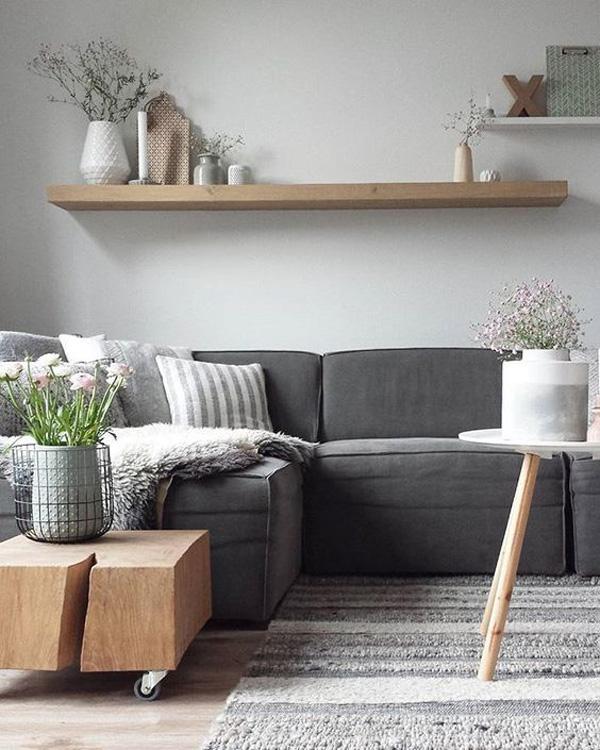 This shows the combination of different shades of cold gray and wood in natural color which gives the room warmth. Plants give life to the room, because of them room breath. No unnecessary things, little but enough for a comfortable and happy life.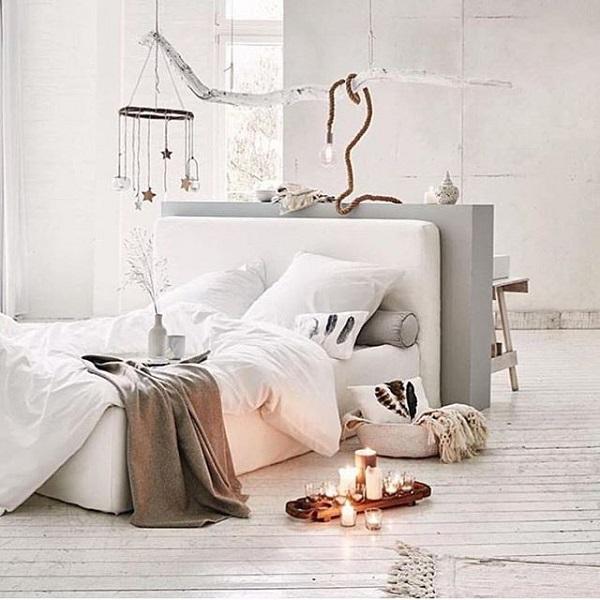 Another interesting lamp with cable like rope. Candles heated space, give it a soul. White dominates and there is no unnecessary furniture.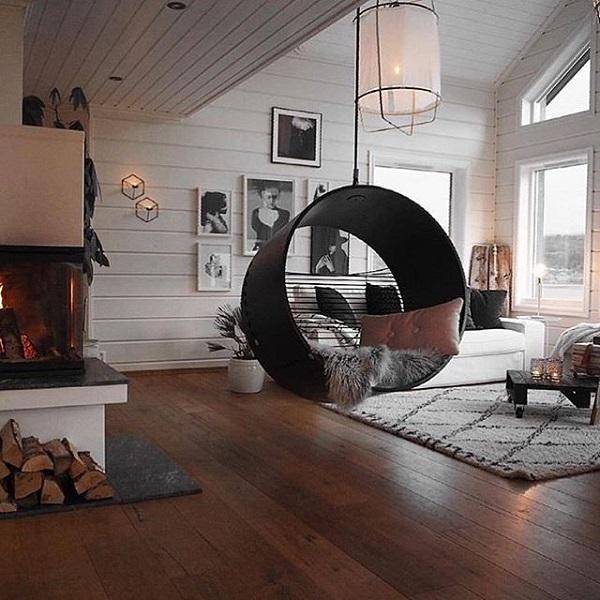 Here we have the wood on the floor, on the walls and ceiling. Floor in color of wood makes the room a great place to live. Pictures take care to kill the monotony of pure white walls and ceiling. And there's the inevitable fireplace that warms the soul and the room.