You can hide everything with makeup and visual change, but you can never do for the eyes. Eyes are the mirror of the deepest parts of our souls. It is possible to see the truth when somebody lies, and sadness behind laugh in one's eyes.
Eye makeup, except foundation is the most important for any make up. Ladies love eye makeup ideas, and there are those that put mascara just because it is sufficient for their taste. For eyes makeup, artists have to work very carefully because every detail is important. What will be the shadows for eyes used depends on the color, the shape (are your eyelids lowered or not), the length of the lashes…
Smokey eye
There are hundreds of different ideas for eye makeup. It is best to choose the one that most suits your mood or facial and physical characteristics. One of the trends that has been popular for several seasons, and who personally and I use a lot is smokey eyes.
Smokey eyes give your eyes sex appeal and seductiveness and, most importantly, you can put makeup on this way absolutely at any part of the day with no chance for any mistakes (with of course the right color of eye shadow). With brown, gray, dark green, black colors witch are very popular you can not go wrong.
This kind of makeup you can achieve if first on the eyelids you apply concealer, then follow the eyeliner to the upper eyelid and pencil in the same color for the lower eyelid. Then follows a white or beige shadow in the inner corners of the eyes (the brightest color), on the middle of the eye darker for example brown, and darker on the outer parts of the eye and above the eyelid.
Don't forget eyebrows! They open up the face and give it a different expression depending of their shape. There are numerous products with which you can draw eyebrows, fill in the blanks and create a beautiful shape. That are the various shadows for eyebrows, eyebrow pencils, gels… Japanese drawing of eyebrows is a technique that has the last two or three years became extremely popular. So if you have a rare, bright and low brows consider this technique performed by professionals in beauty salons.
Care of eye and the skin
The skin around the eyes is very thin, delicate and sensitive. If neglected it is prone to creating wrinkles and aging. Therefore, proper care is very important.
The skin around the eyes has no fatty layer as much as the rest of the face and not so much sebaceous glands. Therefore this road is drier than the rest of the face. For care of this area is not enough just to apply a thick layer of a fatty cream. There are special preparations, creams, gels, and ampoules specially designed for this area of the face.
Cream is best to apply to this area by tapping. On the eyes is useful to put a couple of times a week peel of potatoes, cucumber or strawberry.
Fashionable eye makeup ideas
Our face is the first thing people notice when they meet us. Every woman loves to look young and cared. You do not have to separate large amounts of money for expensive preparations, a good effect can be achieved and with those that are available to us ordinary mortals. Your face deserves care, so give that to face.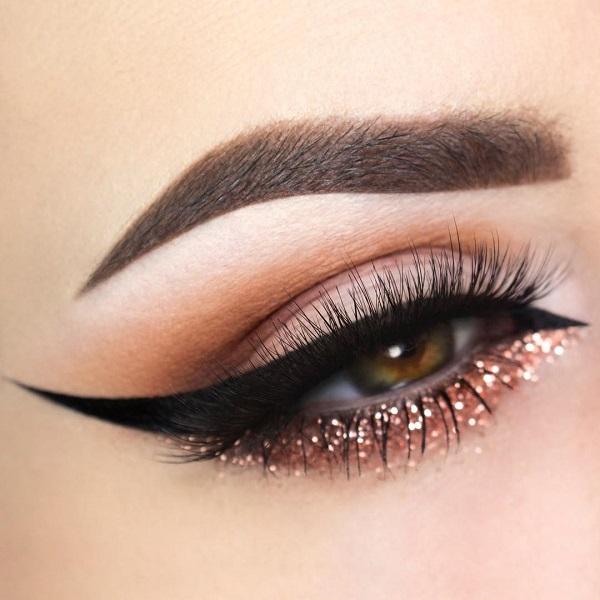 If you put even a little glittery eyeliner on eyes you will get glamorous and more festive look very fast. Sometimes the little thing is enough that someone look good.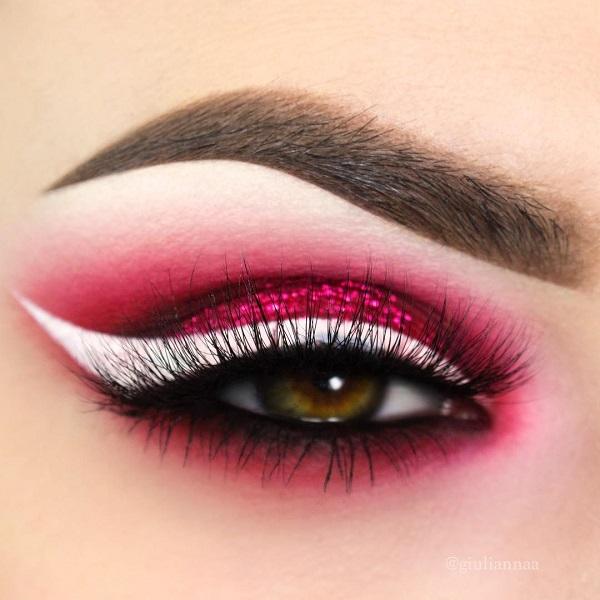 We are all accustomed to the black eyeliner, so when we need to use a different color we good think about it first. However, here are examples of how the white eyeliner with effective eye shadow can look quite nice, and to allow you to shine in all shine.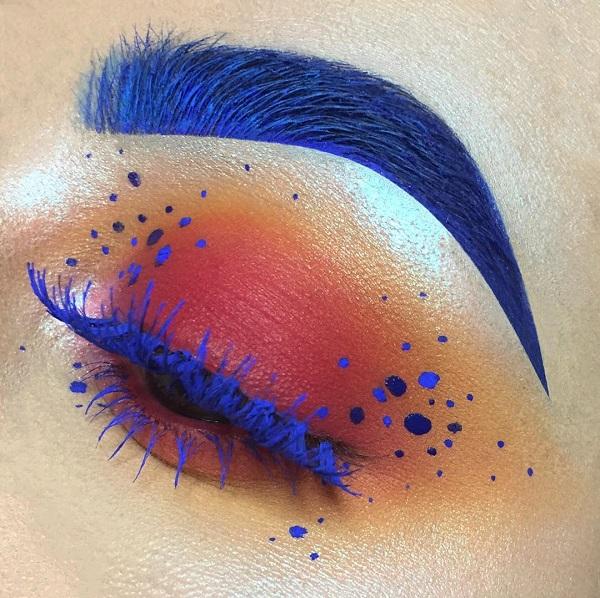 Quite bold makeup for the street. I would've liked it while it carries a model on the runway but on the street I'm not sure. For going out at night in the city it can look good with the right clothes of course.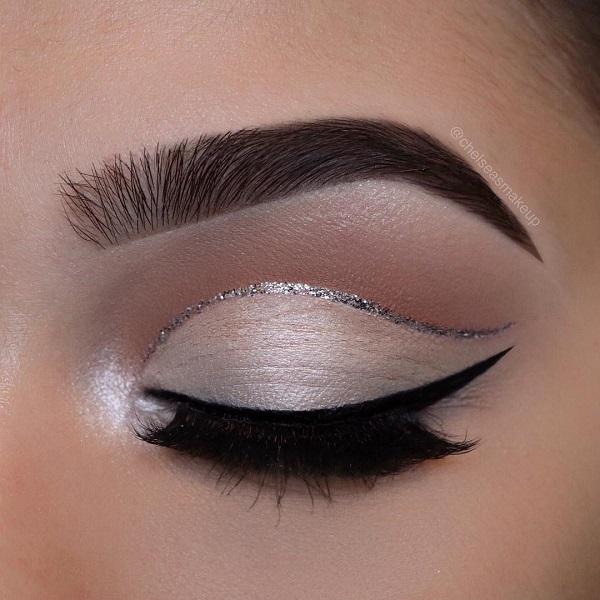 A discreet makeup for eyes can be just as effective as the ideas of strong lines and colors. This lady decided for elegant makeup with two beautifully drawn lines with eyeliner – black and glittery. On the eyelids gentle eye shadow in color of ivory. Mascara on the lashes is, naturally, required.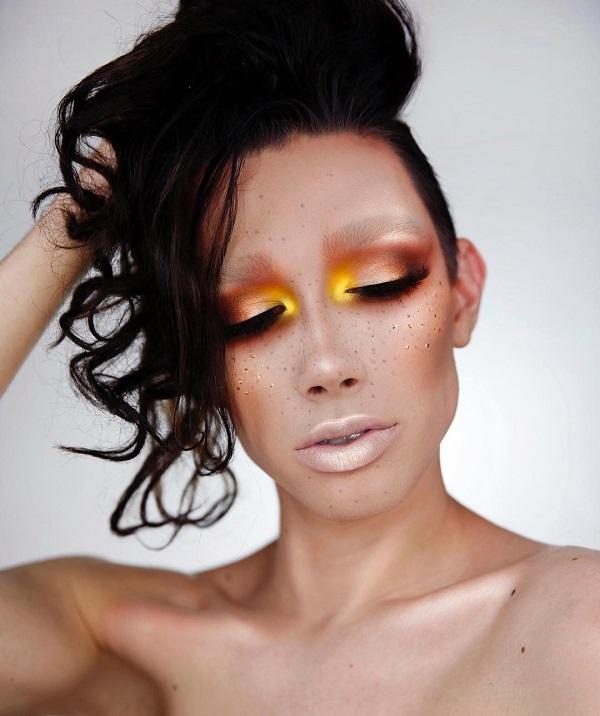 Yellow color is particularly fashionable in the summer months. Many ladies when it comes to makeup avoid this color. In this case, we can see how nice yellow shadow can be combined with a dark complexion and with the right choice of wardrobe to be carried when we go in club, for example.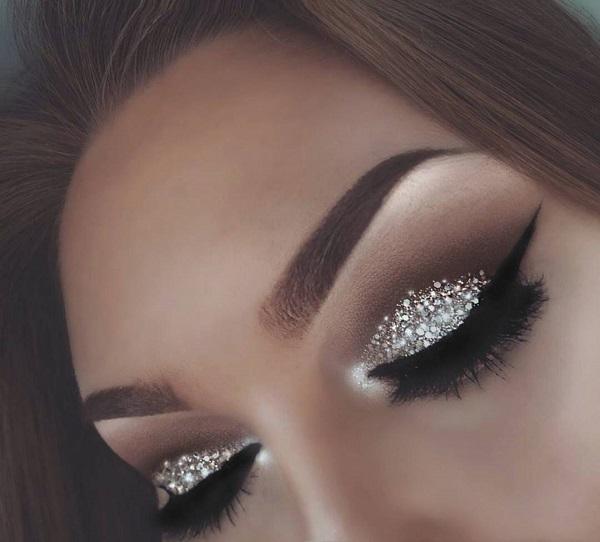 Glitter eye makeup ideas
The shadow in lighter shades, white or light beige always goes next to the eyebrows. In that way eyebrows become more pronounced and the eyes visually bigger.
Source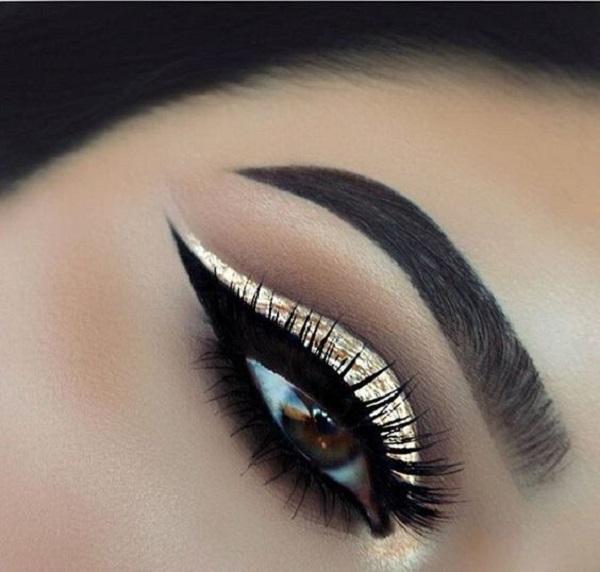 To highlight eyes, apply mascara on upper and lower lashes. Persons with larger eyes can use crayon on the inner side of the eye, while for people with smaller eyes it is not recommended because it will visually make it more smaller.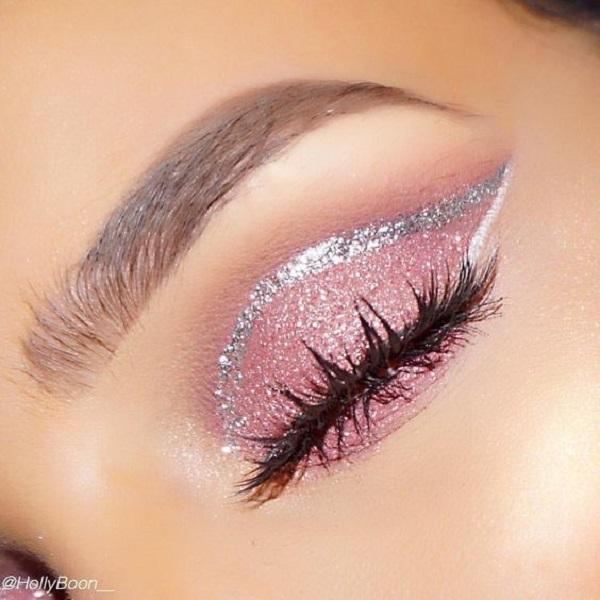 When you put mascara be careful to don't make lumps because it can not be nice and attractive.
On eyelids are mainly placed slightly different shadows. When inserting the shadow from the lightest to the darkest color, keep in mind that you do not have sharp transitions. Colors should baste one in other.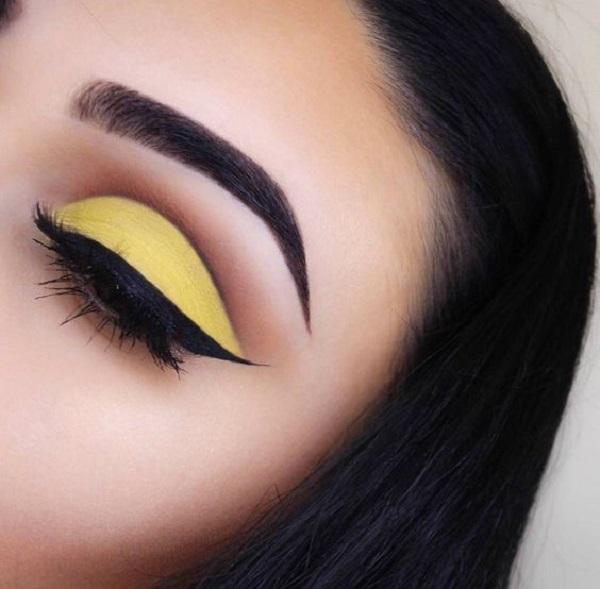 Yellow shadow on brown-haired girls and ladies with brown eyes may easily stand nicely. Select a little stronger shades of yellow so it could nicely and accurately be applied. Black eyeliner is a beautiful contrast to the gentle yellow.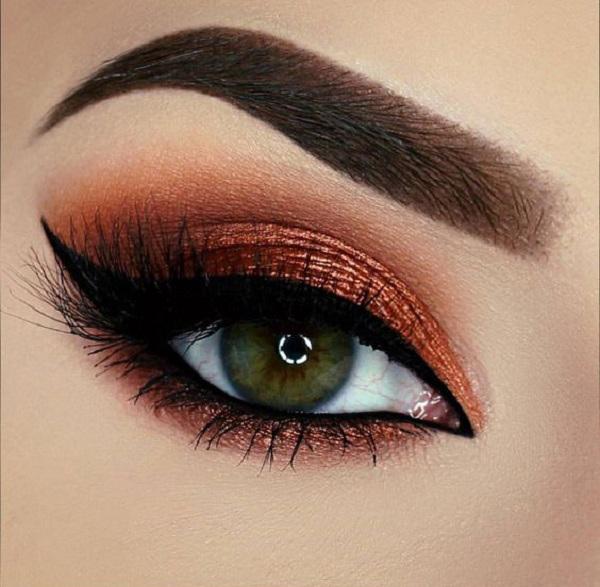 For green eyes, eyeliner is a very good choice because nicely can highlight eyes. Choose shadows in mid-tones, not too strong and not too bright shades.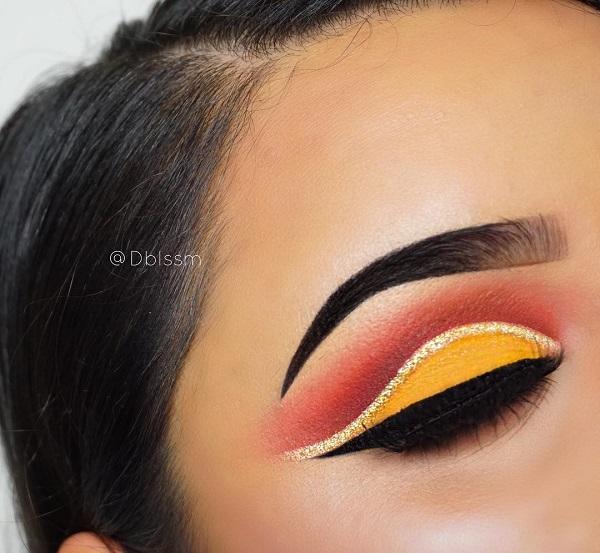 Shadows that are contrary to the natural color of the eyes open eye visually, while metallic tones make your look looks fresh and rested.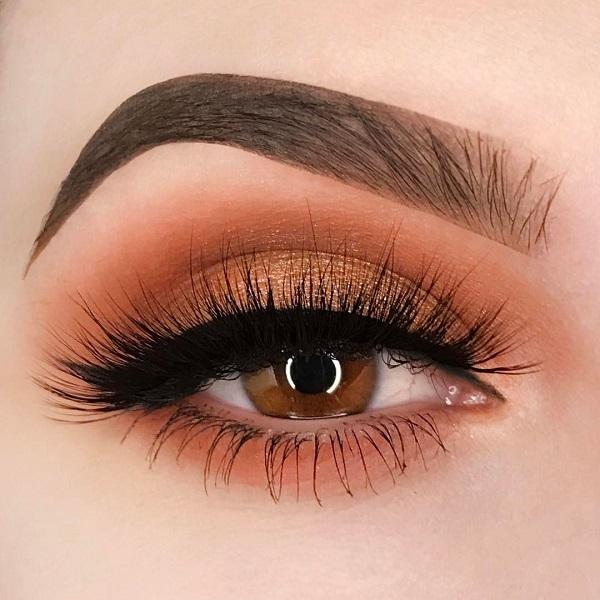 This is a good example of how the shadows with discreet gloss can refresh your look.
Here we see how color flow one into the other should look. No sharp crossings. They blend together and form one beautiful whole.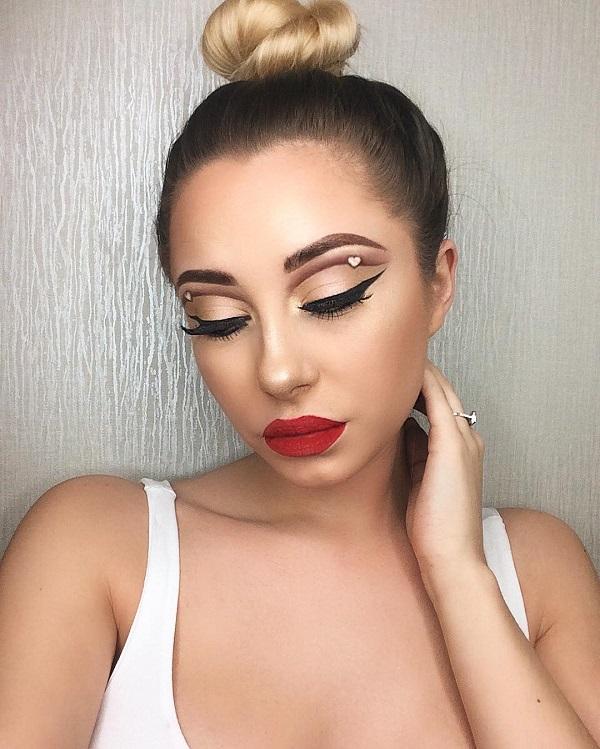 If could from everyone's eyes radiate love world would be a much nicer place to live. Here is an original and interesting detail in the form of heart on the eyelids, which is an excellent match for young girls.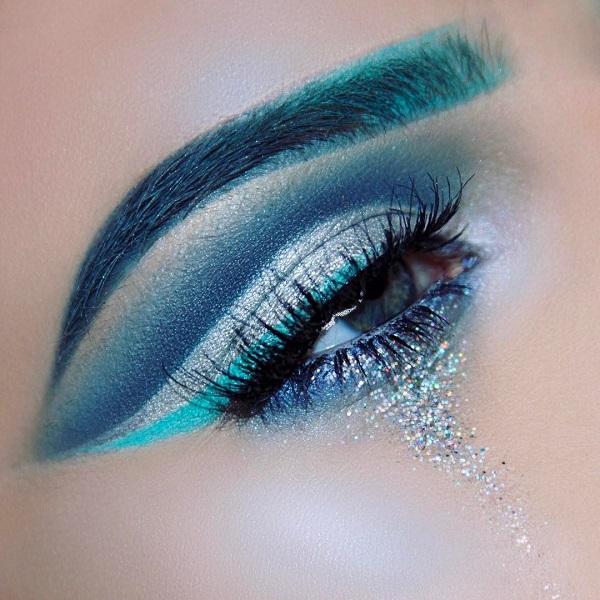 Very bold makeup. Personally I would brought it on some very important fashion event, or when I go to the club.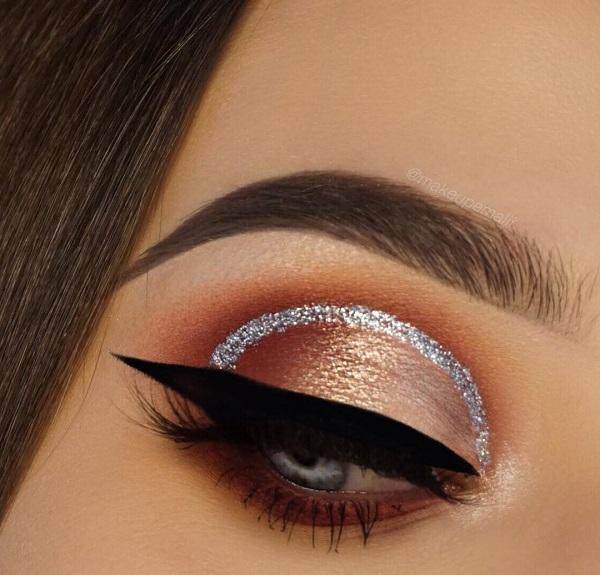 Bright color in the inner corner of the eye refreshes view, the base color is a metallic orange / copper color. Silver line is a good choice for important ceremonies and here's how you can draw it on the upper eyelid above the eye immediately.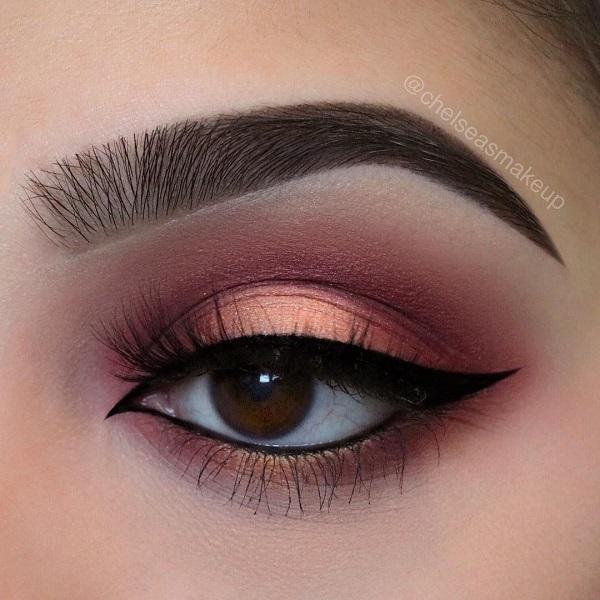 If you have short lashes you can always upgrade them or put artificial when you go to some ceremony.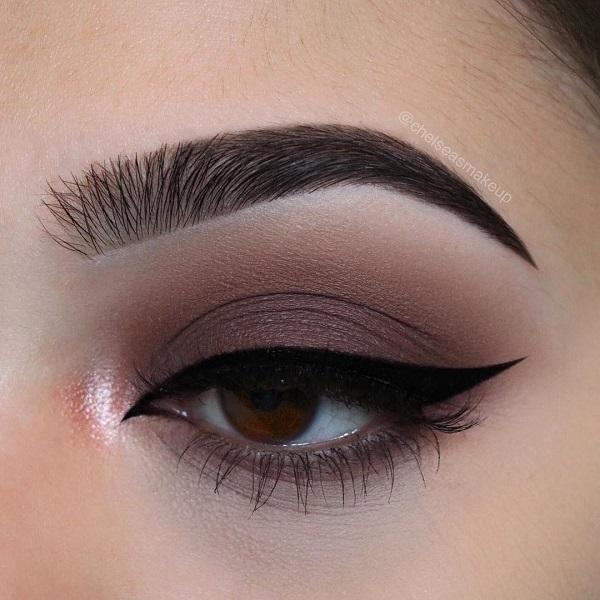 For brown-haired ladies best stands beige, brown, gray and black tones.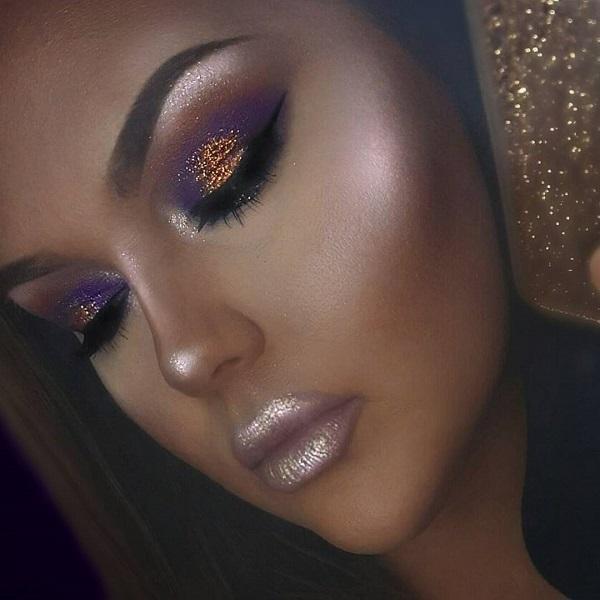 For dark-skinned girls best stands purple and gold tones or shades. Sequins shadows especially come to the fore on ladies with darker skin.
Source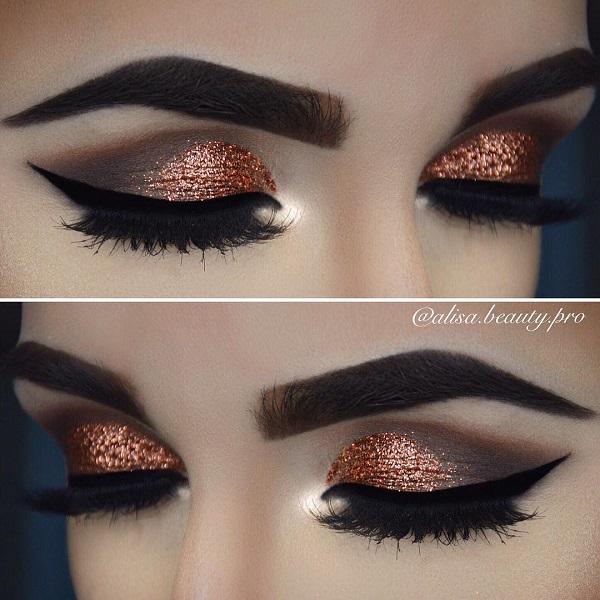 When you makeup eyes don't forget your eyebrows. Frame them with the appropriate colors of shadow or eyebrow pencil. Eyebrows are equally important for an effective view.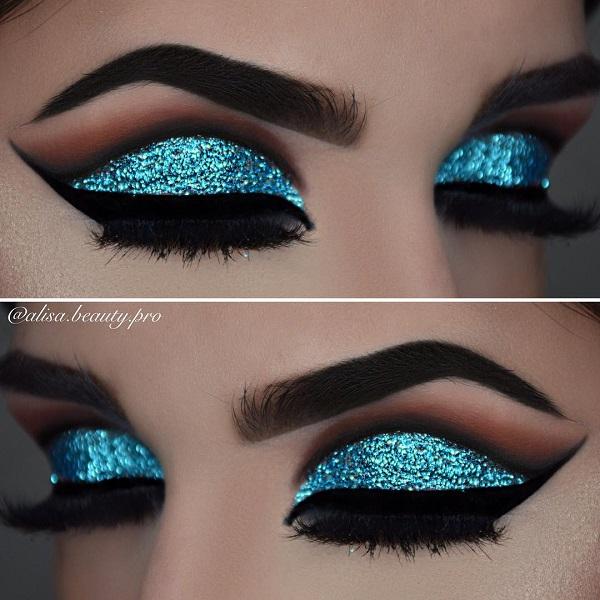 Thin eyebrows may have been in vogue in nineties, now are in vogue full eyebrows with a nice sleek bow. Even if you have bushy eyebrows just a little neglected comb them a little and you will be modern.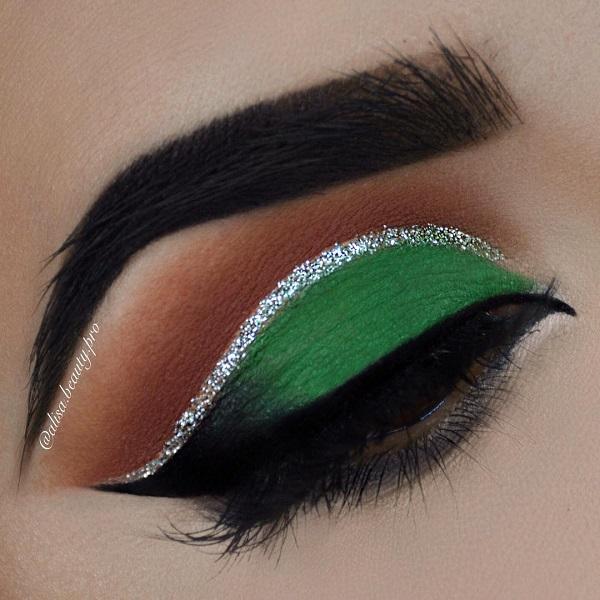 Eye shadow colors are opposite to color of the eyes in the makeup, this idea emphasizes the view so that you do not leave anyone indifferent.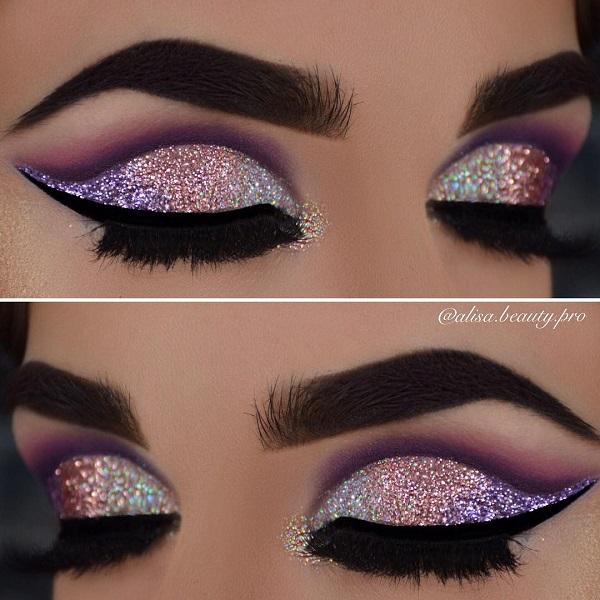 This make-up would fit in with a long dress to land in a similar shades for an outstanding entertainment. Purple color to brown – haired ladies stands perfectly.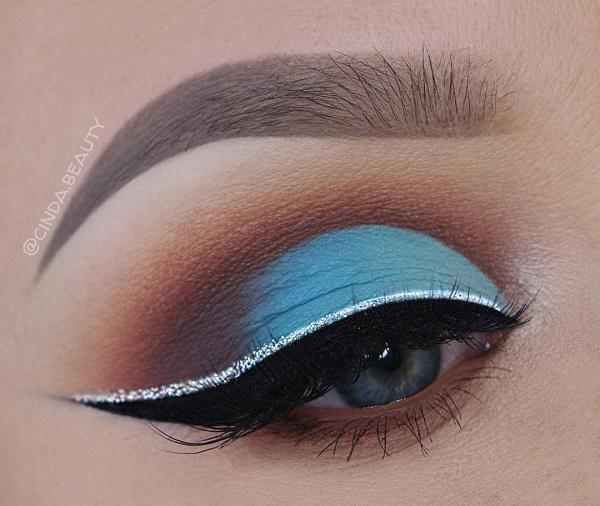 Black eyeliner and eye shadow in brown color around blue helped this makeup. If you have blue eyes, it is not recommend to use shadows in blue tones that are similar to the color of the eyes, because instead to emphasize the eyes it will somehow suppress them.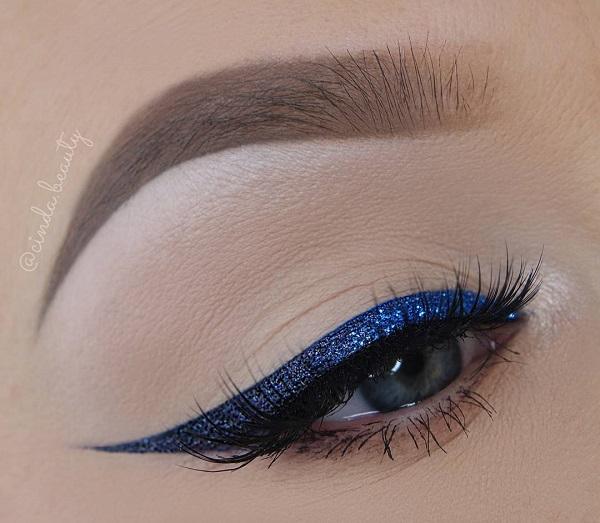 Glittery eye makeup ideas
No shadows on eyes, eyebrows are well formed and revised where necessary with shadow for the eyebrows. Glittery blue eyeliner shines but inconspicuously, so this kind of makeup you can take and during the day.
If you have green eyes dark shadows use exclusively for contouring your eyes.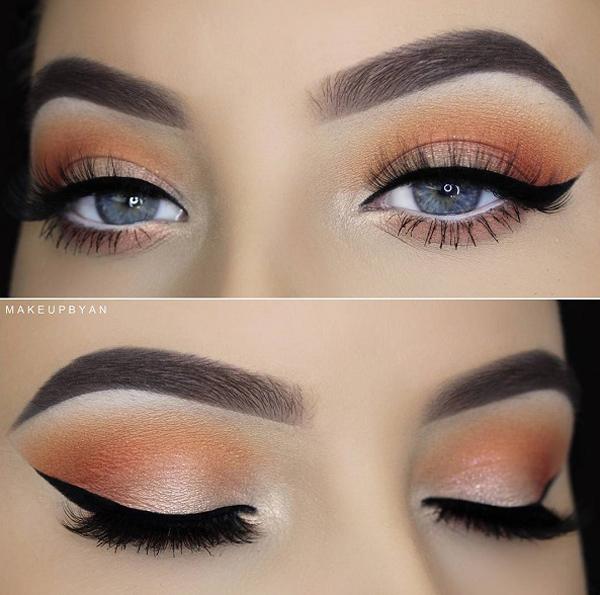 When you chose eye shadow first take in consider your natural eye color, hair color, and hue of the skin. Color of wardrobe is less important, the most important thing is that your skin fits the shadow that you have selected.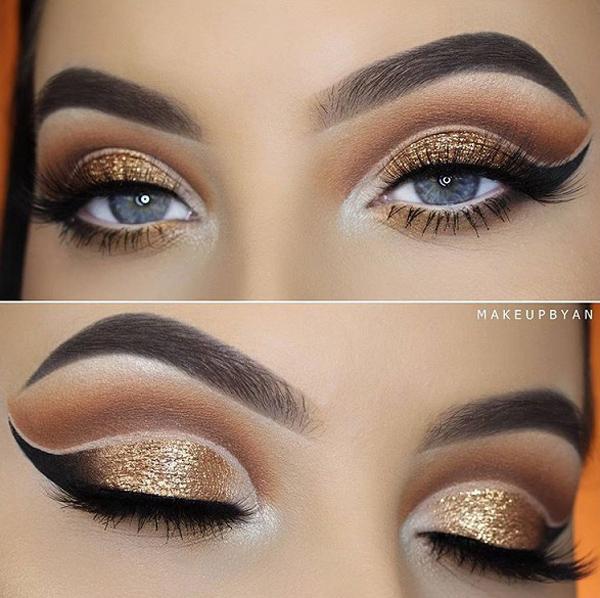 This is the right choice for eye shadow. The opposite is the color of the eyes, metallic shades refreshes look and eye is beautiful contoured with eyeliner and dark shadow.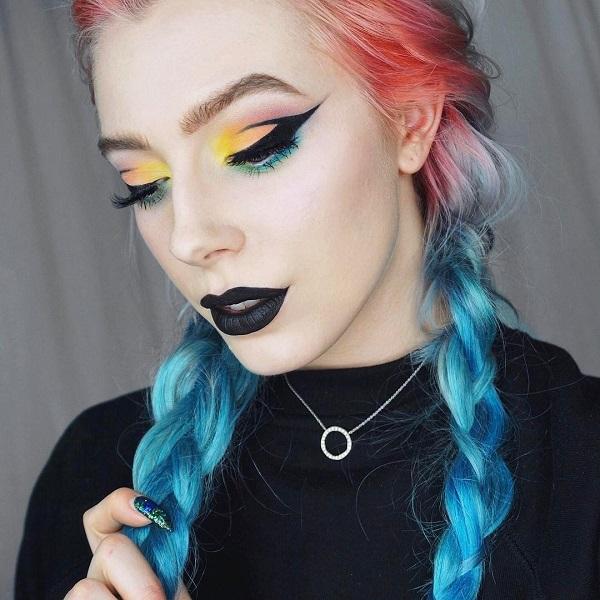 This style is appropriate for a young rebel who still finds herself. Black lipstick is very fashionable this season, especially in matte shades because it resembles on Gothic that has returned in a big way in the fashion world.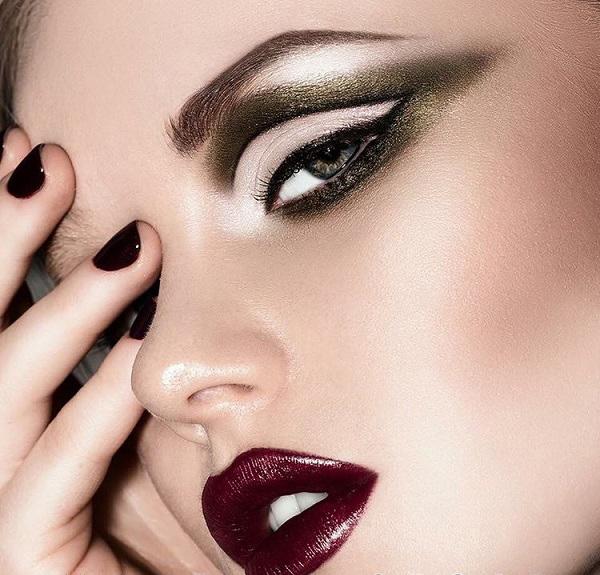 With black eyeliner is a line drawn from the interior of the eyelid to the end of the eye and then withdrawn above eye on the middle of the eyelid. It makes your eyes larger, more highlights view and woman makes more seductive.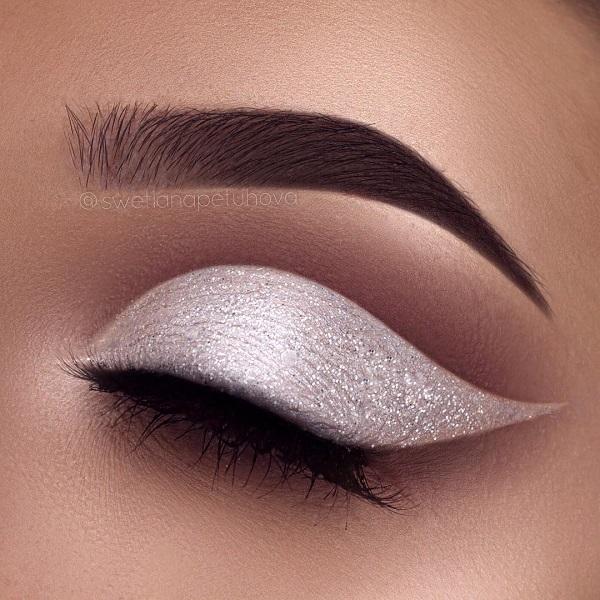 White pearly shadow will refresh your look. On the upper part of the eye, is correctly applied brown shadow which agrees with the girl's complexion. Below eyebrows again going bright shadow.
Source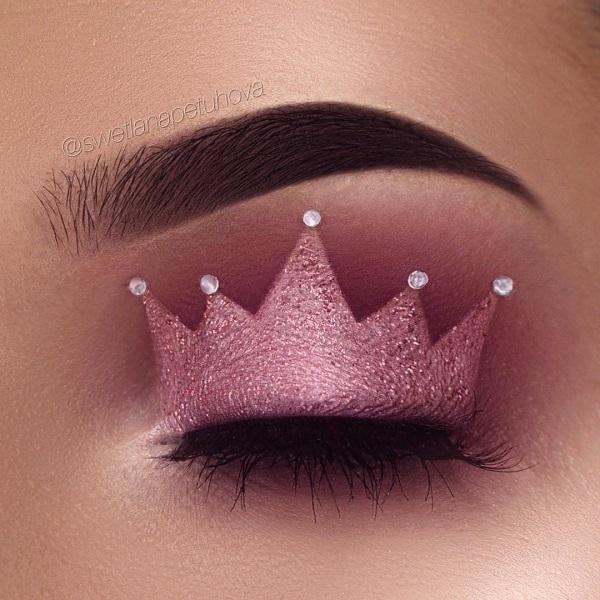 If you like interesting makeup that will make you even more attractive good news is that since lately rhinestones has been used as a supplement to makeup. And with them you are going to be major at the club.
Source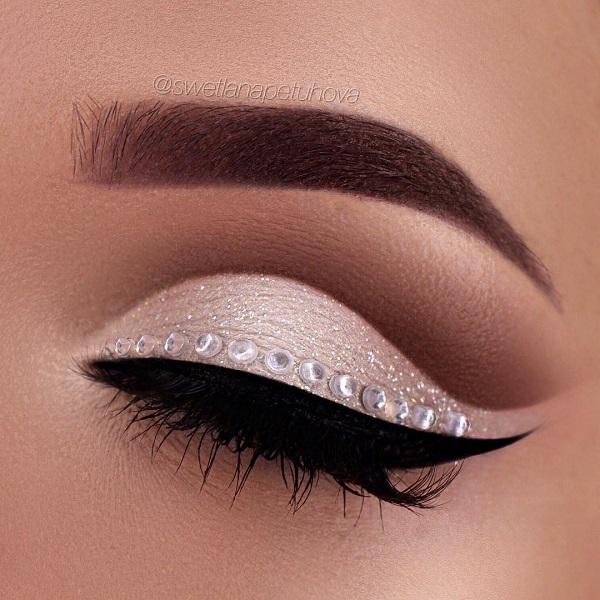 Black eyeliner line with beautiful rhinestones above eyeliner gives a beautiful and glamorous look. Lighter shadow on the lower eyelid should always be framed – contoured with darker in this case brown shadow to give the best look.
Source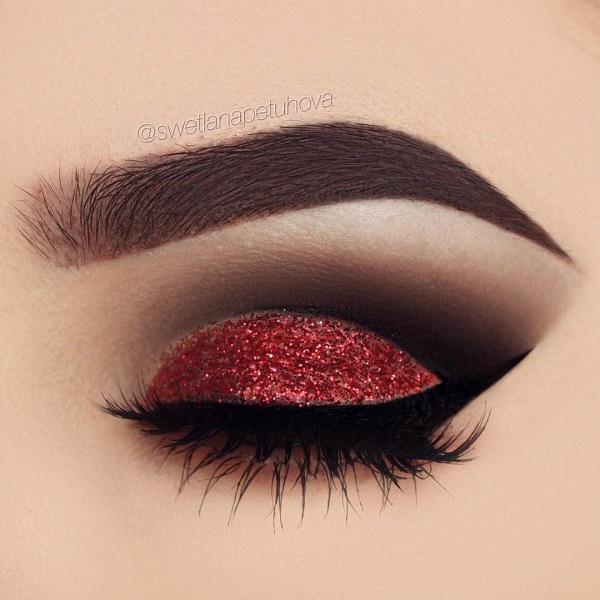 Red and black combination is in every sense very effective, attractive and brave. If you have brown eyes, you can feel free to take this makeup.
Source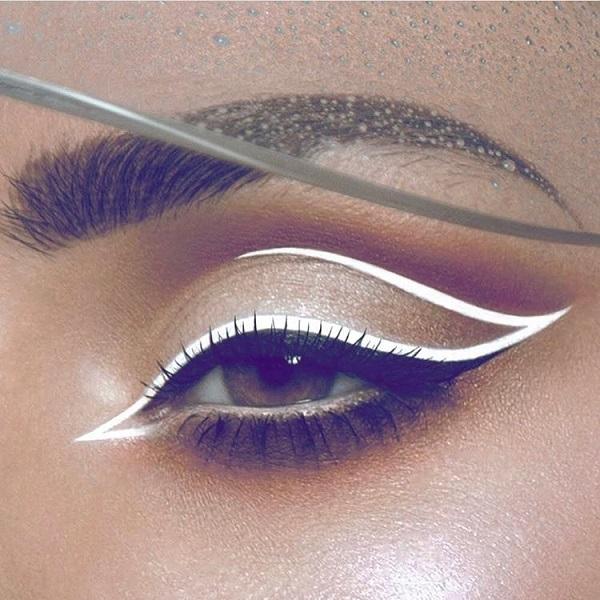 Black eyeliner put above eyelashes. Immediately above it, put the white eyeliner along the eye and gently pull the tail above the eye. If you have not already started to use a white eyeliner it is high time this spring.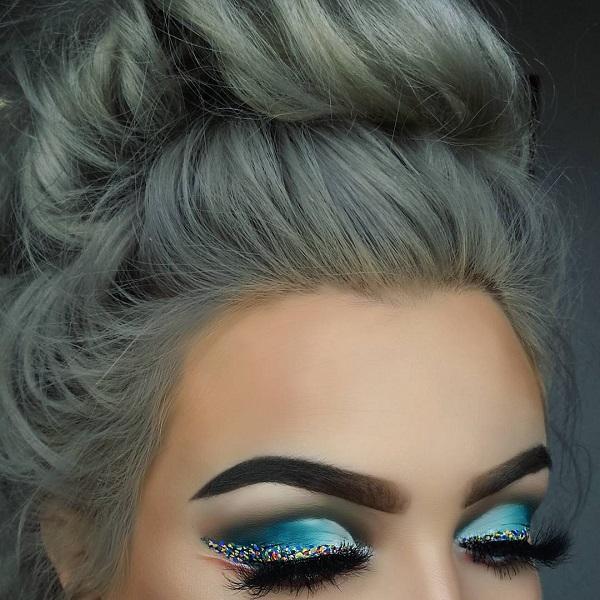 A beautiful pass from the lightest blue to the darkest on the outer edge of the eyelid is a true work of art. But the biggest seal this lady gave these rhinestones in different colors lined up like eyeliner. If you have similar complexion and hair color, do not at all think twice whether to choose this makeup.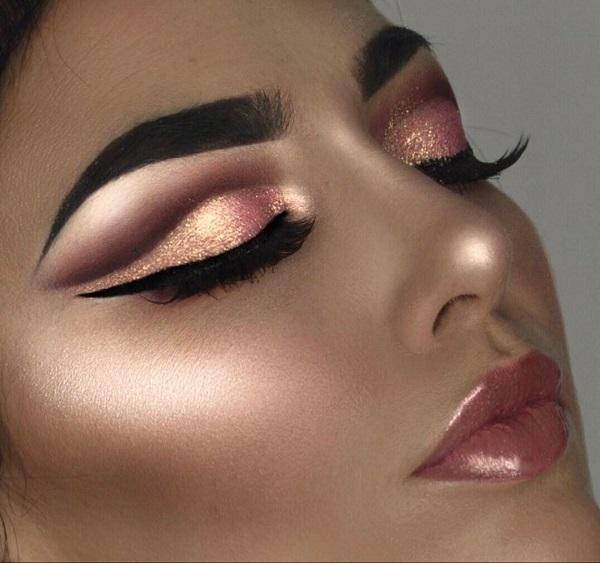 Facial contouring has become an obsession of all lovers of good, high-quality makeup. In fact, there is no good makeup without a good contoured face. Look for tutorials on YouTube and see how your face should be contoured.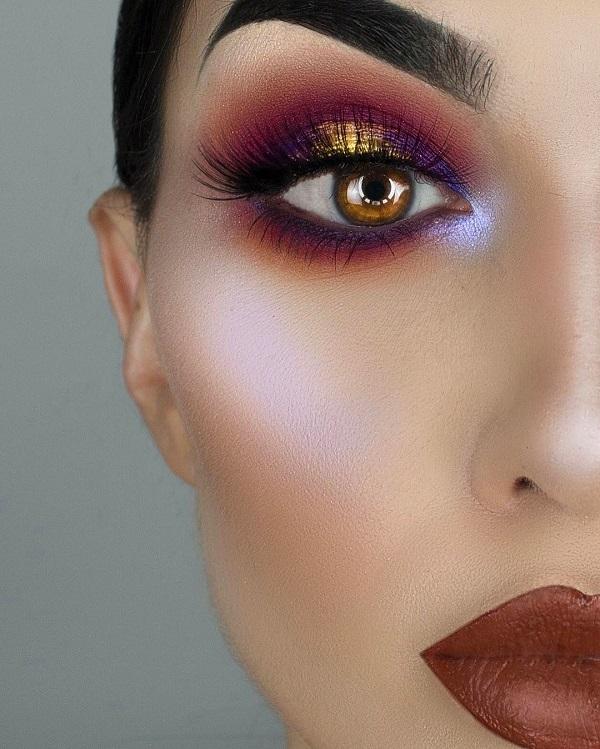 Darker matte lipstick shades such as black, brown and dark purple are very popular. This makeup is without eyeliner, and that's just fine, because in addition to such a wonderful inflicted shadow eyeliner would be superfluous.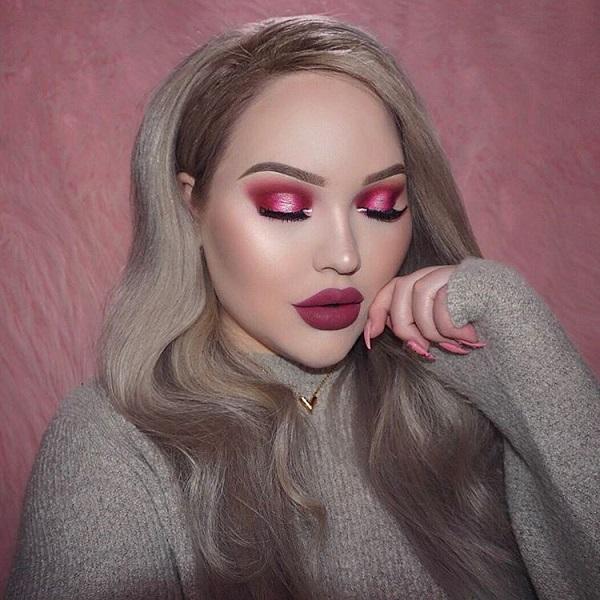 Pink shades eye makeup
Pink shades are nice and for brunettes and for blonds. Considering that spring arrives, rose shadows will be nicely combined with gentle colors of spring.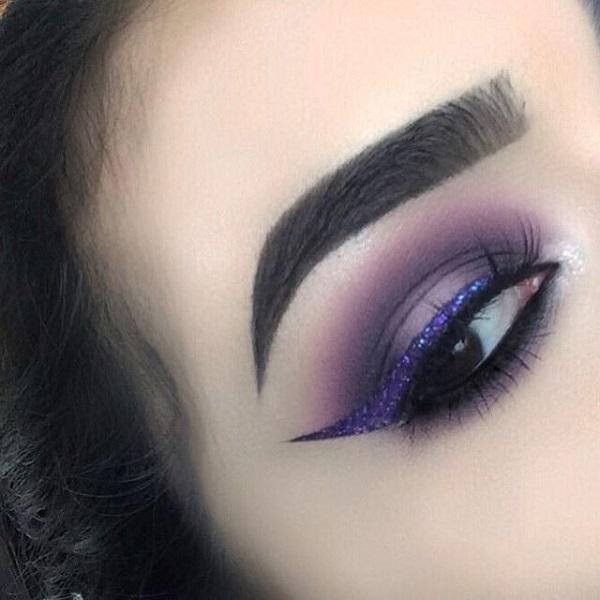 Treat skin around the eyes often. Aging is first seen in this part so that it devote attention. Just after 30 years we should use special creams, serums and gels designed for this area.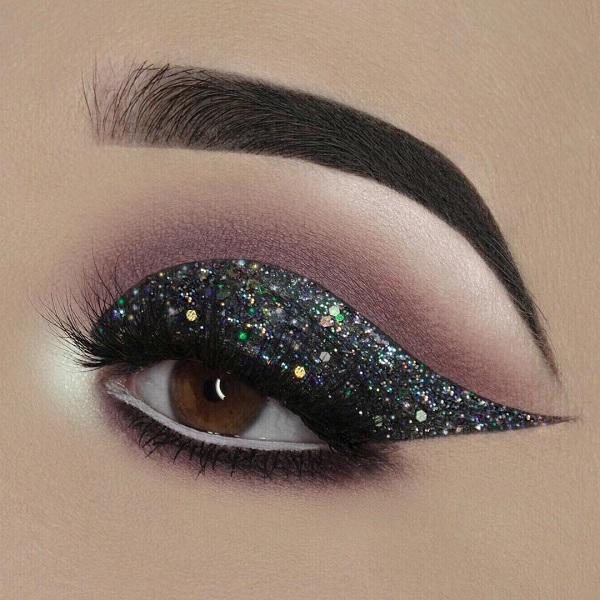 Cut the cucumber into slices and wrap it in the face and eyes. Lie down and hold it about 20 minutes. Your skin will be beautifully moisturosed and nourished. Do this at least twice a week.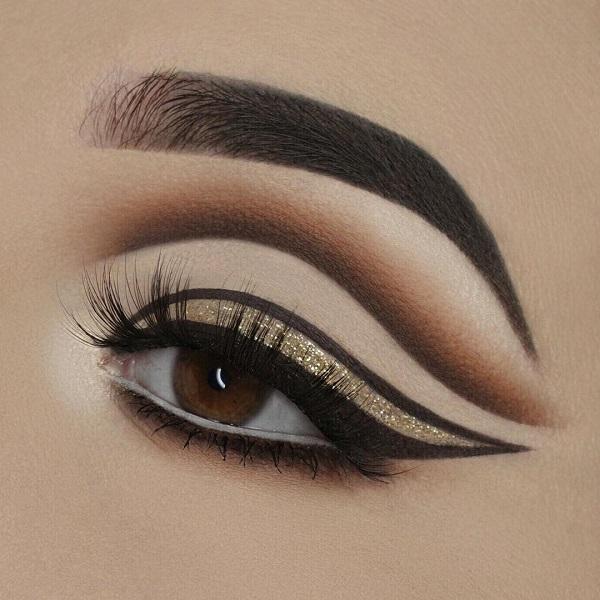 For removing makeup use preparations foreseen for this purpose. If you use simple soap your skin will during time become more and more dry, and it can be uncomfortable and lead to the scaling. Use buffers made of cotton and micellar water instead of plain water and soap. When it comes to wardrobe and makeup with earth shades there is no failures.
If you decide for Japanese drawing of eyebrows, you can save your time spent on their drawing every day. The technique has been popular for long and well accepted also, so I suggest it if your eyebrows are rare and without form.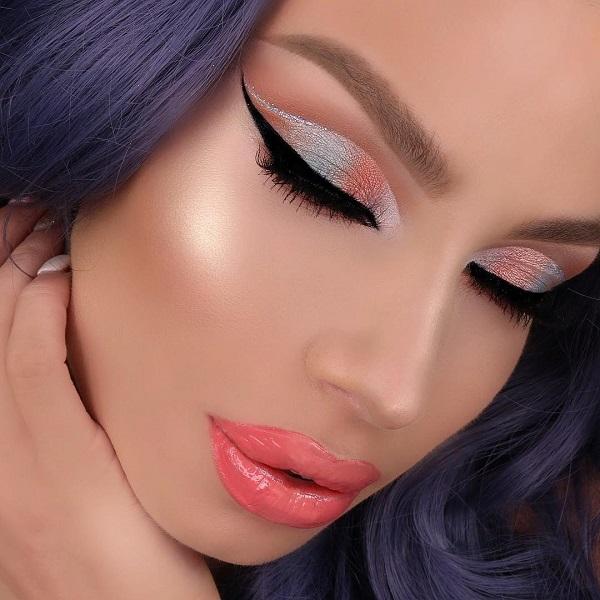 Pastel shades will be an excellent choice for the upcoming spring.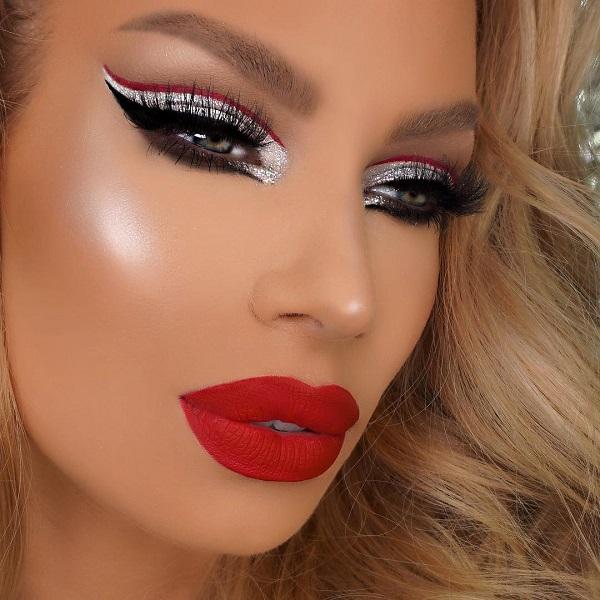 Very effective. Red lipstick is a classic so wear it proudly. Of course shade of red needs to be carefully elected according your complexion.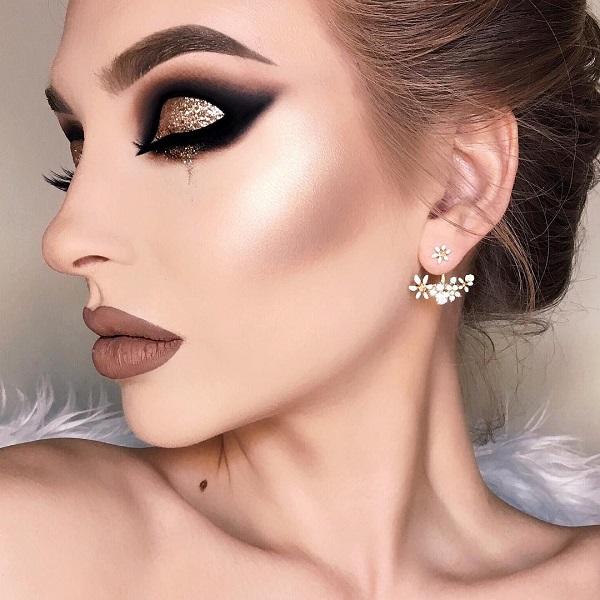 Pure elegance for a glamorous celebration. Long dress in golden tones for lady who wants to overshadow all others.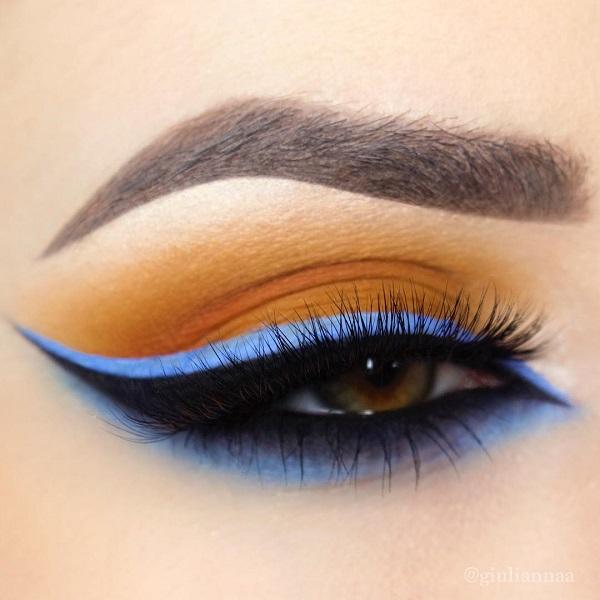 Blue color is important here because it gives strong seal to this makeup in earth shades.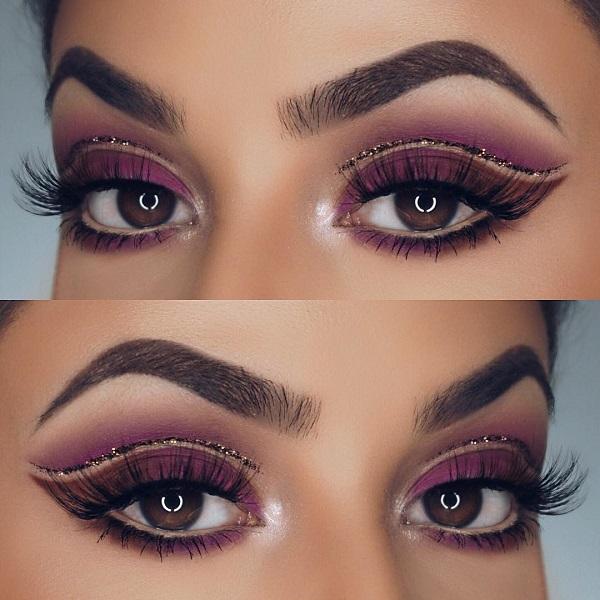 The purple color is a bit mystical, however, and every lady should be somewhat mysterious to be interesting to the partner.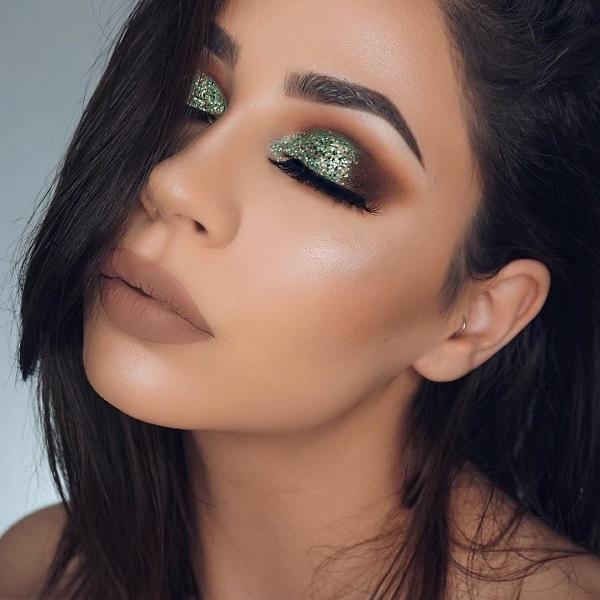 And here green shiny eyes shadow played a major role because it broke the monotony of brown shades.