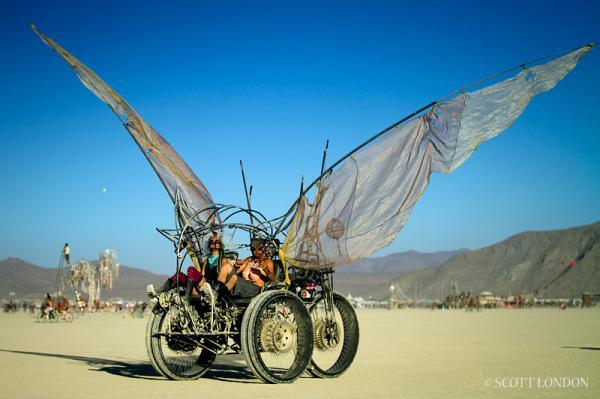 Scott has been documenting Burning Man for the past eight years. It is without doubt one of the world's hippest and most mind-blowing gatherings. It's not quite an art festival, not quite a desert rave, and not quite a social experiment, but something of all three. The event is a week-long celebration of free-form creativity and radical self- expression held each summer in Nevada's Black Rock Desert.
Burning Man takes place in a temporary "city" some five miles wide that rises out of the open desert toward summer's end only to vanish again after the event is over. For a few brief days, the ephemeral metropolis known as Black Rock City ranks among the largest communities in the state of Nevada.
It's a place of breathtaking diversity, a coming together of freethinking artists, dancers, performers, DJs, musicians, designers, and exhibitionists of every stripe. It's also a place of whimsical art installations, startlingly decorated art cars, pulsating soundscapes and wacky theme camps, all set against an uncommonly beautiful natural backdrop.