In the world of body art, floral tattoos hold a special place for their aesthetic allure and profound symbolism. Freesia tattoos, with their delicate petals and vibrant colors, are fast gaining popularity and it's not hard to see why. They're more than just pretty designs; they're narratives etched in ink, stories of resilience, transformation, and the sweet fragrance of love and life.
Unfurling the Freesia: A Backstory
Before we delve into the realm of Freesia tattoos, let's take a moment to appreciate the flower itself. Freesias are delicate, trumpet-shaped flowers, native to Africa, known for their enchanting fragrance and a riot of colors – from the purest white to the most vivid yellows, pinks, and purples. These flowers have long been a staple in traditional bouquets and are also a popular choice for wedding flowers.
But what makes Freesia truly remarkable is its symbolism. In the language of flowers, a Victorian-era code where different blooms represented different sentiments, Freesia stood for trust, innocence, and thoughtfulness. It's no wonder that these meanings have found their way into the skin art narratives of Freesia tattoos.
Freesia Tattoo: A Symbol of Trust
One of the key symbolisms of Freesia, and by extension, Freesia tattoos, is trust. Trust is the bedrock of any relationship, and a Freesia tattoo beautifully encapsulates this sentiment. Whether it's a budding Freesia on the wrist, a vibrant bloom on the shoulder, or an intricate design on the ankle, this tattoo speaks volumes about the wearer's belief in the power of trust.
Freesia Tattoo: A Testament of Innocence
Innocence is another powerful symbolism associated with Freesia tattoos. In a world that often rewards cynicism, an innocent heart is a precious thing. A Freesia tattoo, with its delicate petals and pure colors, is a beautiful testament to the innocence that dwells within the wearer.
Freesia Tattoo: An Emblem of Thoughtfulness
Thoughtfulness, the ability to consider others' feelings and needs, is a trait that's often overlooked in our fast-paced world. A Freesia tattoo serves as an emblem of this quality, a visual reminder of the wearer's empathetic nature.
Designs that Speak: Freesia Tattoo Styles and Themes
The beauty of Freesia tattoos lies not just in their symbolism, but also in their versatility of designs. The delicate structure of the flower lends itself to a variety of tattoo styles and themes. Let's explore some of the popular ones.
Neo traditional freesia tattoo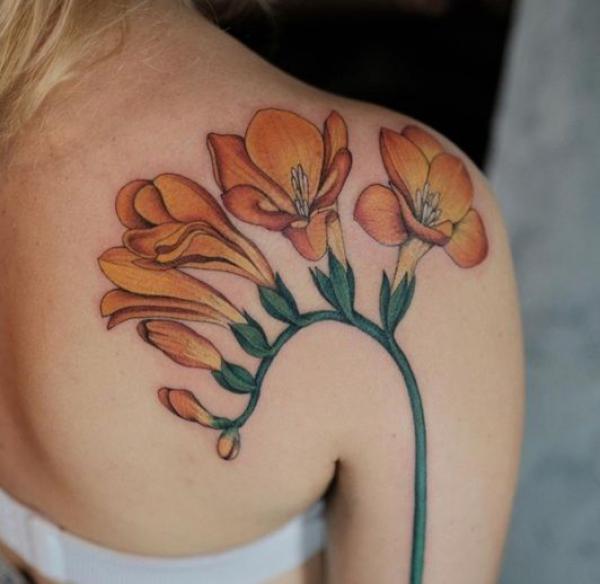 With bold lines, vibrant colors, and a fusion of artistic elements, the Neo Traditional Freesia tattoo is a modern take on traditional tattooing. This style brings out the vivacity of Freesia, with its rich hues and intricate detailing, creating a design that's both striking and expressive.
Realistic freesia tattoo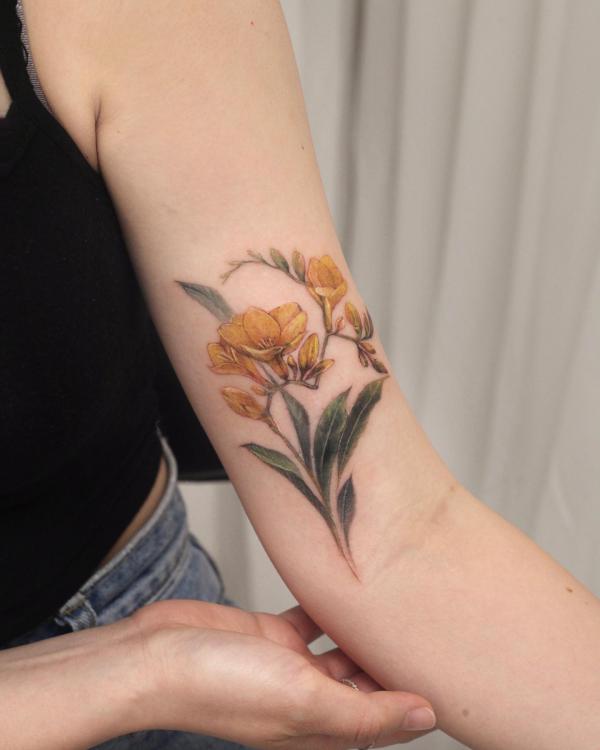 If you're a fan of lifelike designs, a realistic Freesia ink design is perfect for you. This style captures the delicate beauty of Freesia in its true form. With detailed shading and color work, this tattoo mirrors the natural elegance of the flower, making it a stunning choice for nature lovers.
Single Freesia Tattoos
A single Freesia tattoo is a minimalist yet striking design choice. It can be a small, simple line drawing or a detailed, colored piece. This style focuses on the individual bloom, making it a perfect choice for those who want their tattoo to be a personal symbol, a testament to their unique journey.
Freesia ankle tattoo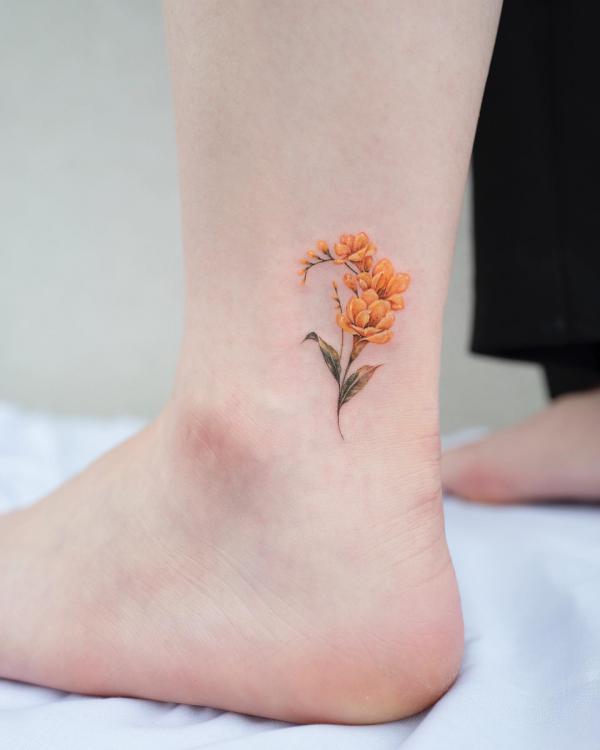 A cute bird perched on the branch of freesia flower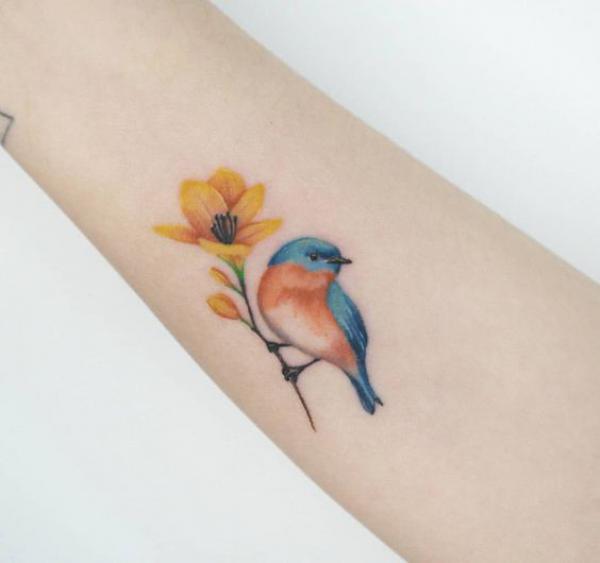 Simple freesia flower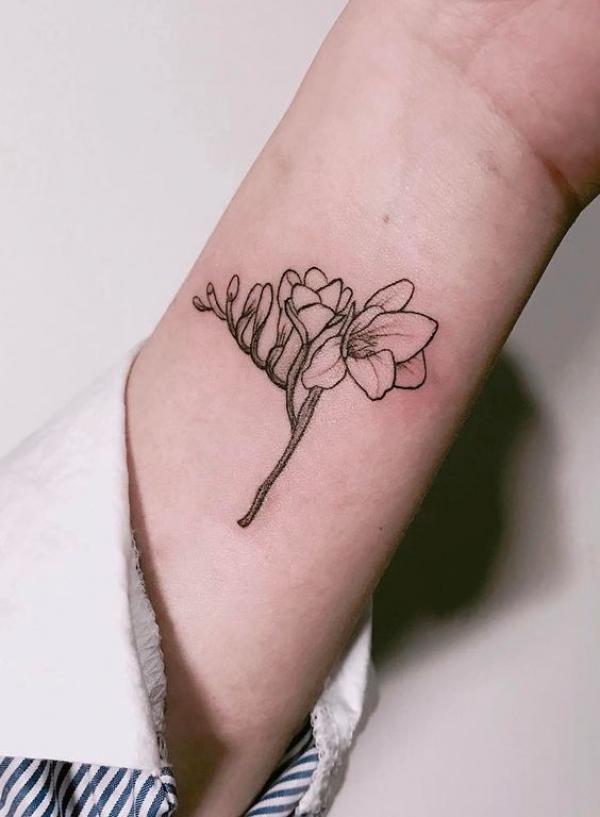 Freesia Bouquet Tattoos
A Freesia bouquet tattoo is a larger, more elaborate design. It can include other elements like names, dates, or other flowers. This style is ideal for those who want a more intricate, visually captivating piece. A Freesia bouquet tattoo can tell a richer story, a narrative of multiple sentiments, memories, or relationships.
A bouquet of freesia ink design on thigh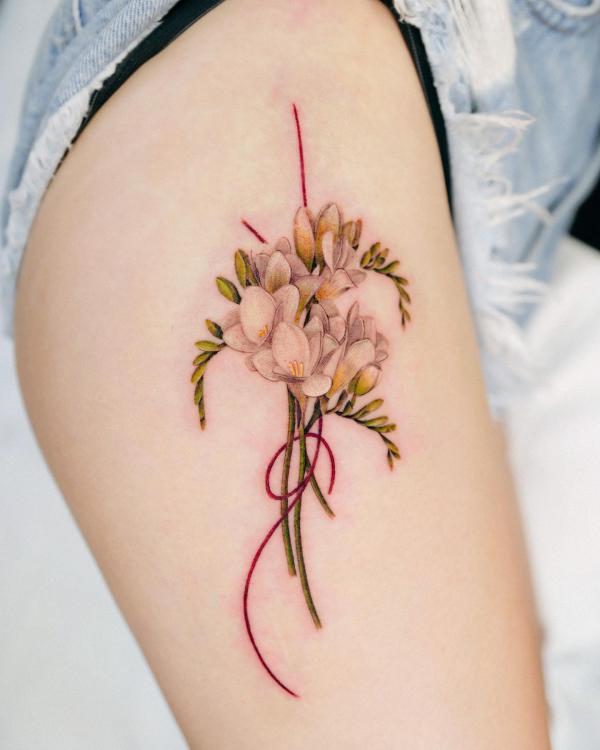 Freesia Vine Tattoos
Freesia vine tattoos are a popular choice for those who prefer a flowing, organic design. The vine can be a simple, flowing line or a detailed, realistic depiction. This style lends itself to placements like the arm, leg, or back, where the vine can follow the body's natural contours.
Freesia and vine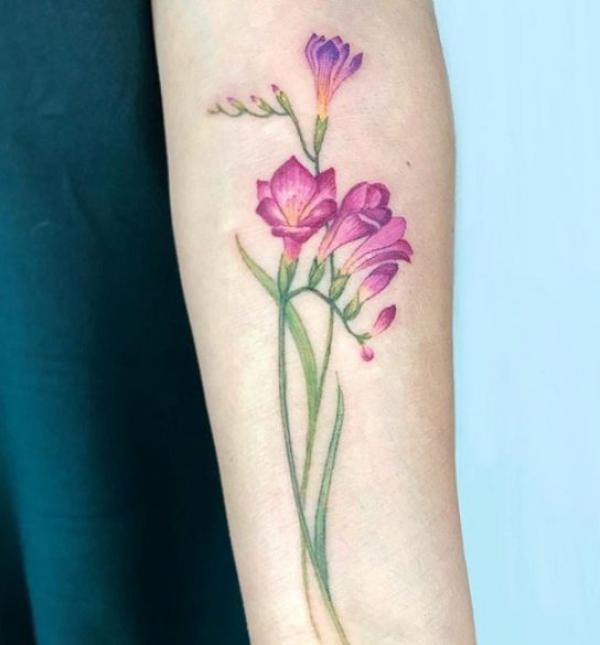 Freesia and Butterfly Tattoos
A Freesia and butterfly tattoo is a beautiful blend of floral and fauna. The Freesia symbolizes trust, innocence, and thoughtfulness, while the butterfly stands for transformation, freedom, and the beauty of change. Together, they create a design that's as symbolic as it is visually pleasing.
Half Butterfly and half freesia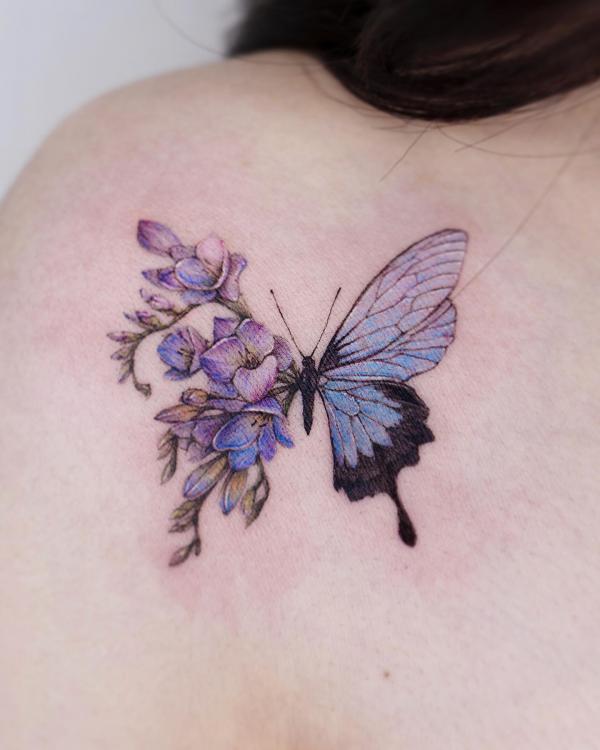 Freesia Watercolor Tattoos
A Freesia watercolor tattoo is a vibrant, artistic design. The watercolor style, with its washes of color and painterly effects, perfectly complements the Freesia's delicate structure and vibrant hues. This design is a wonderful choice for those who want their tattoo to be a work of art.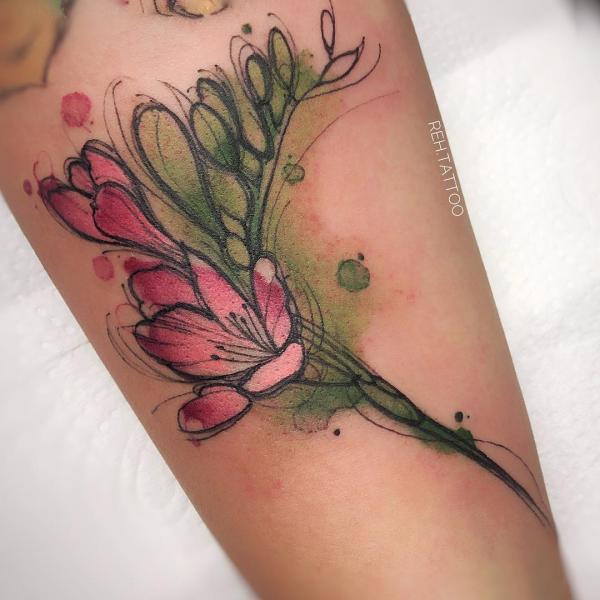 Red freesia with black outline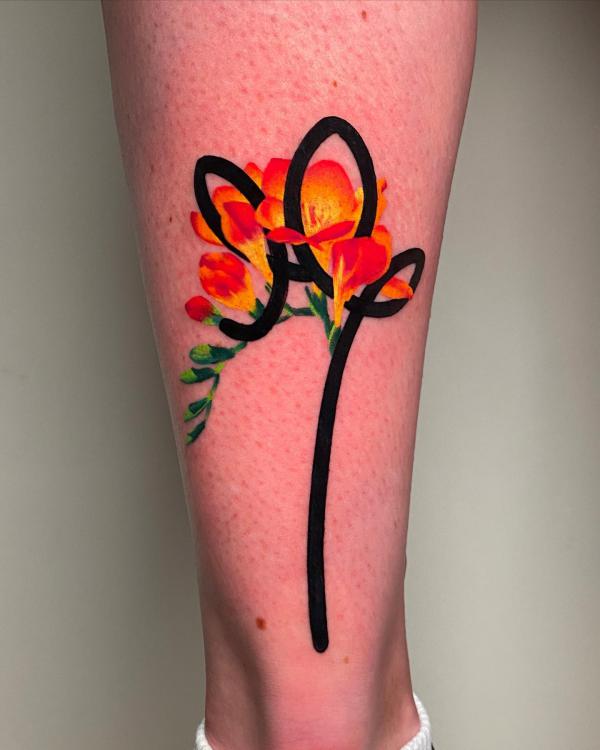 The red freesia with black outline is a bold, eye-catching design. The contrasting colors highlight the beautiful silhouette of the Freesia, making the bloom pop against the skin. This design is a wonderful choice for those who prefer a striking, colorful display of this symbolic flower.
Two freesia flowers with brush stroke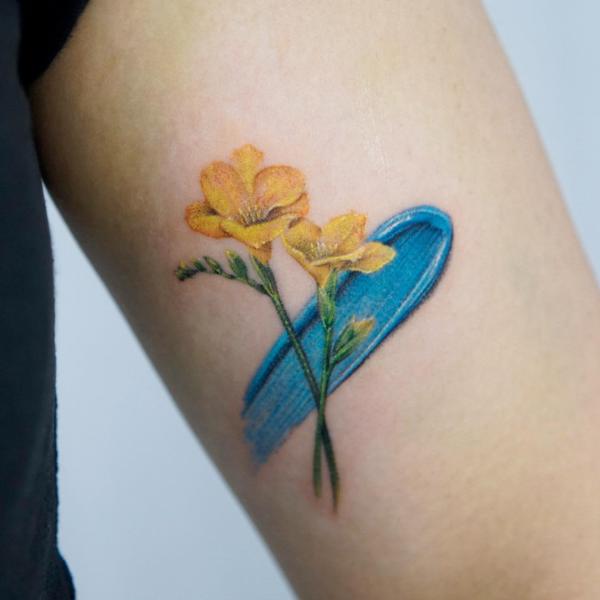 This design captures the delicate beauty of two Freesia flowers using the unique brush stroke technique. The brush strokes add a creative, artistic touch to the design, making it appear as if the Freesias are part of a beautiful painting. It's an ideal choice for those who value the blend of art and nature.
Yellow freesia and bird tattoo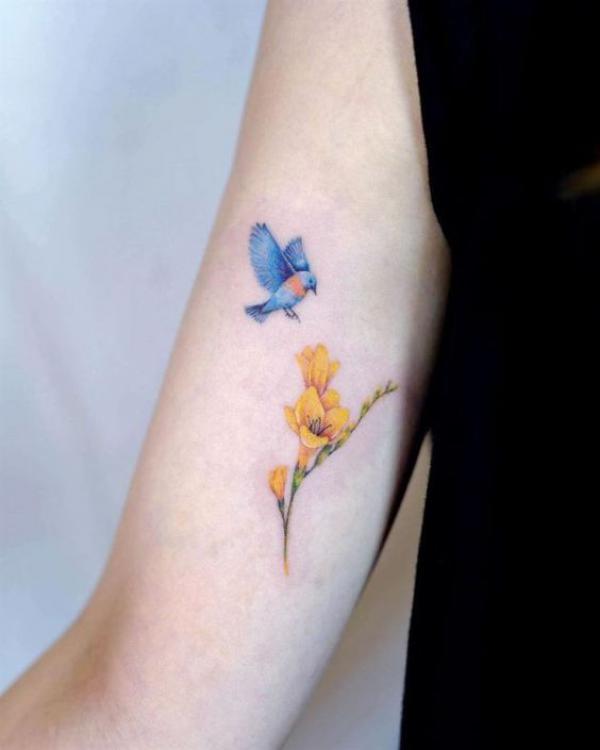 The yellow freesia and bird design tells a harmonious story of nature. The bird, a symbol of freedom, and the yellow Freesia, representing joy and renewal, create a design that's both aesthetically pleasing and rich in symbolism. It's a perfect choice for those who are drawn to vibrant, meaningful narratives.
Black and grey freesia tattoo with name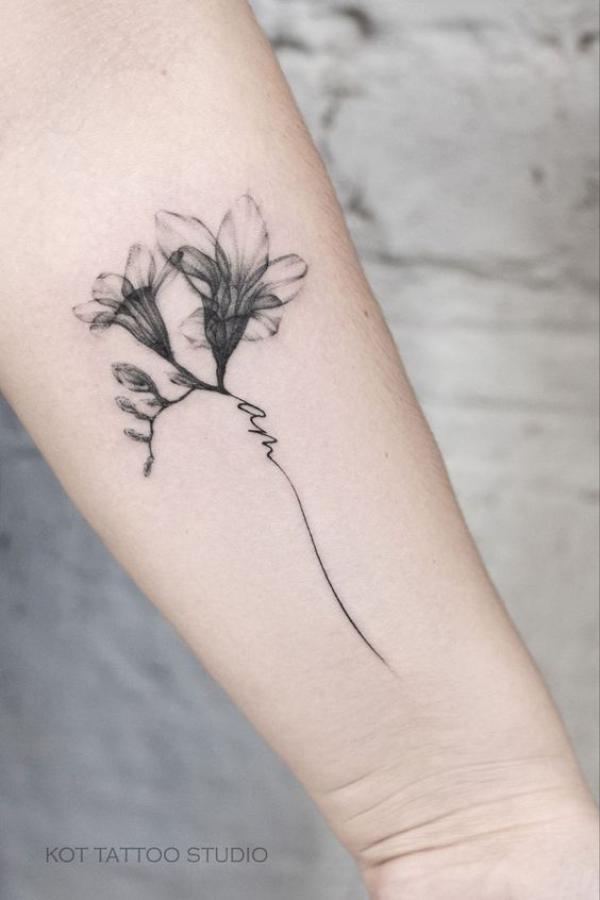 A freesia ink design with a name is a beautiful way to pay tribute to a loved one or to your own personal journey. The grayscale palette gives the design a timeless feel, while the name adds a personal touch, making this design a unique, sentimental piece.
Black freesia line work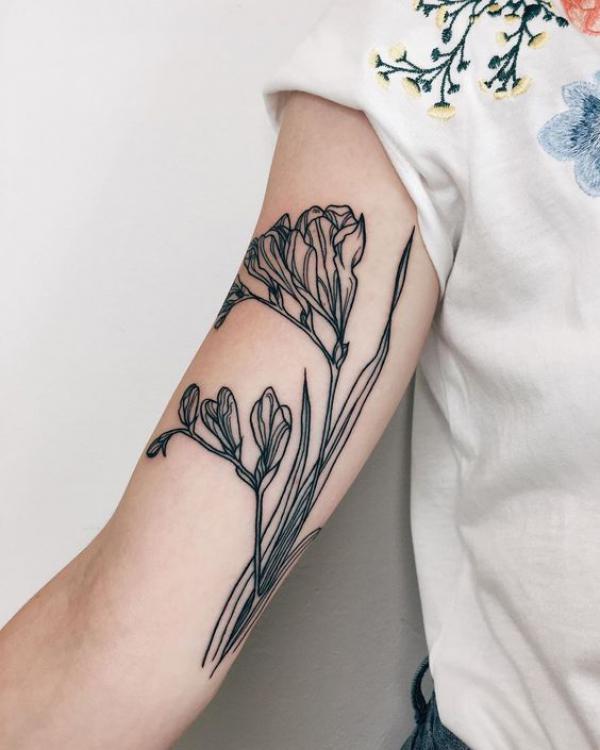 The black freesia line wWork is a testament to the beauty of minimalism. This design uses clean, simple lines to depict the elegant silhouette of the Freesia. It's a versatile choice for those who appreciate the charm of simplicity.
Cute freesia tattoo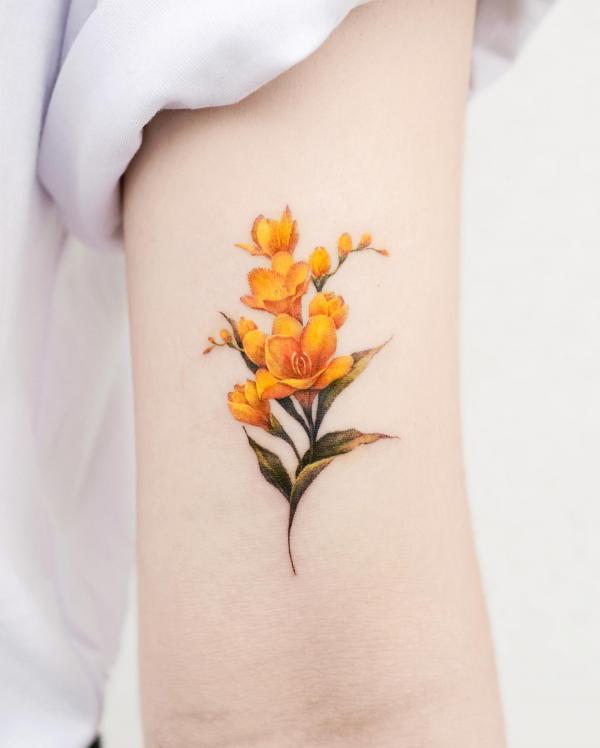 The cute freesia design is a delightful design that captures the flower's charm in a playful, whimsical way. Whether it's a petite bloom on the wrist or a vibrant Freesia bunch on the arm, this design is sure to bring a smile to your face.
Dainty freesia tattoo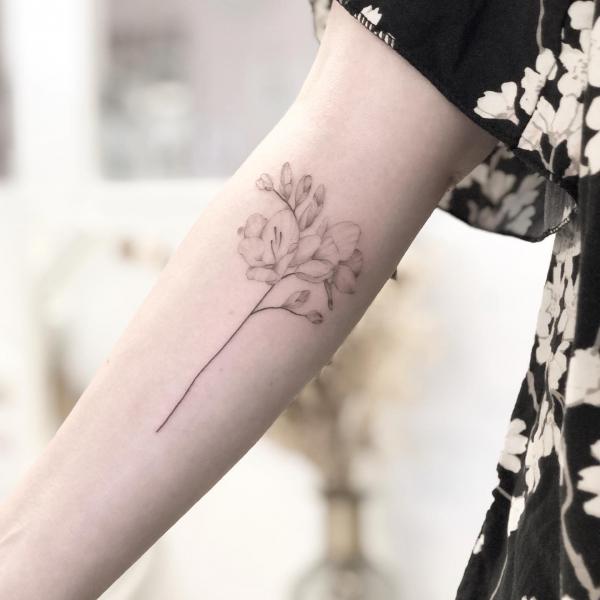 A dainty flower tattoo is all about subtle elegance. This design embodies the delicate beauty of the freesia, making it a beautiful choice for those who prefer subtle, feminine tattoos.
Fine line freesia tattoo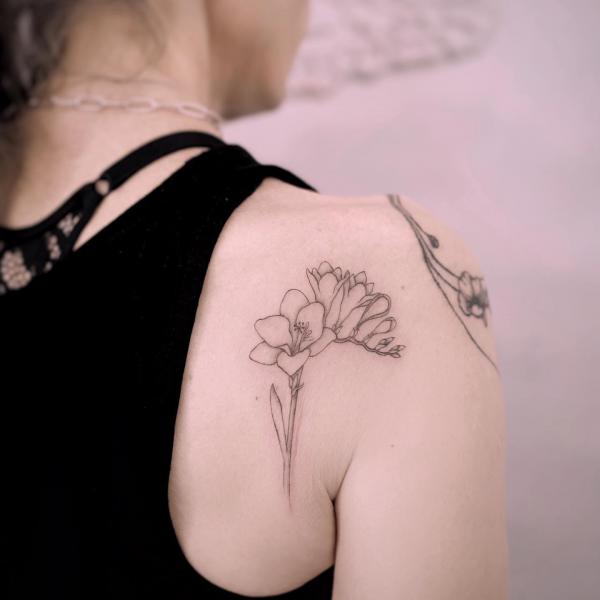 The fine line freesia design uses thin, precise lines to illustrate the intricate details of the flower. This style emphasizes the delicate beauty of the flower, creating a design that's both intricate and elegant.
Freesia and fern circle tattoo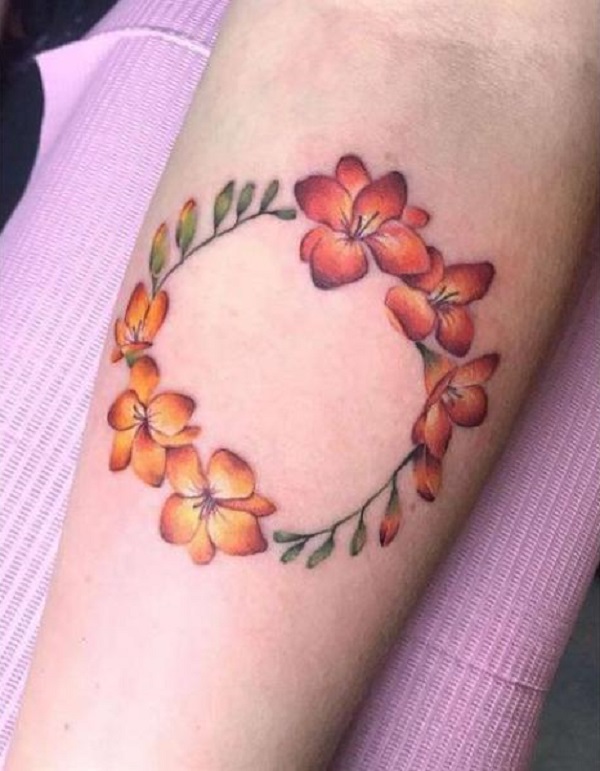 The freesia and fern circle design is a design that embodies harmony and unity. The circle symbolizes wholeness and eternity, while the Freesia and fern represent trust and sincerity respectively. It's a perfect choice for those who value the balance of aesthetics and profound meanings.
Freesia and fern tattoo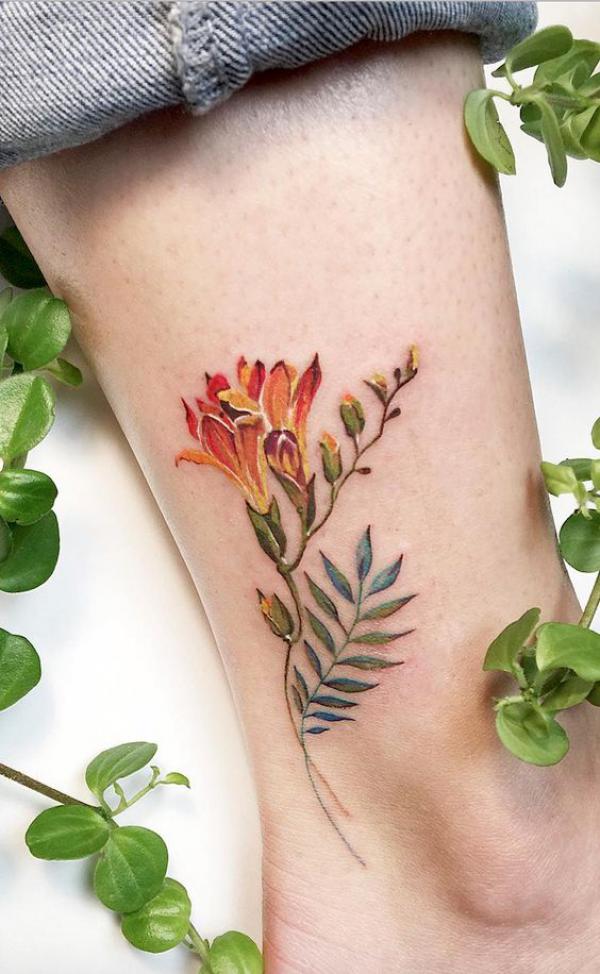 The ankle Tattoo is a beautiful combination of two nature's gems. The fern, a symbol of sincerity and magic, complements the Freesia's representation of trust and innocence. This design creates a beautiful, personal symbol of one's values and beliefs.
Freesia and rose with butterfly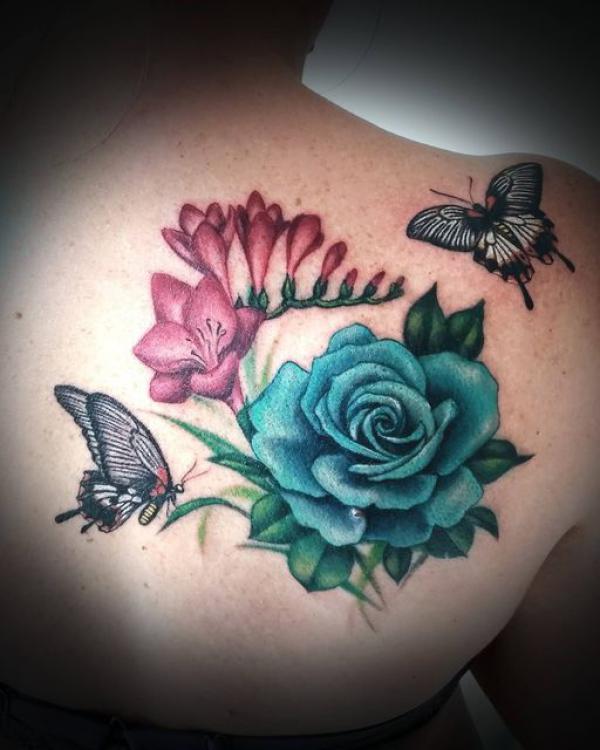 The Freesia and Rose with Butterfly design is a vibrant symphony of nature. The rose, a symbol of love and passion, and the butterfly, a sign of transformation, make this design a captivating narrative of personal growth and love.
Freesia dotwork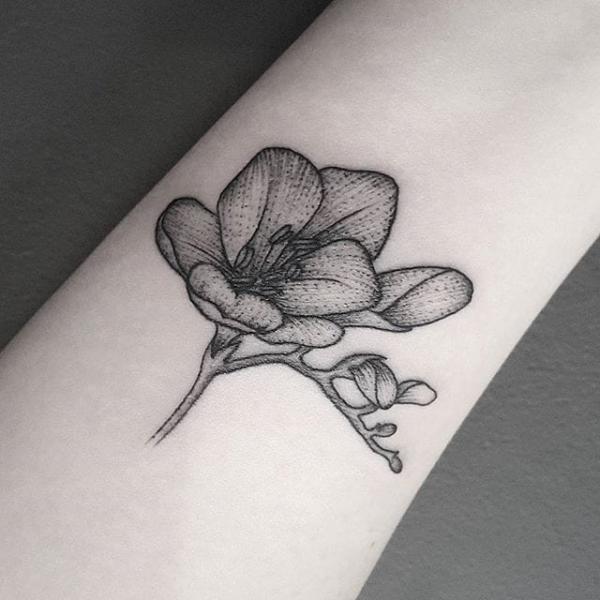 The Freesia Dotwork is a unique take on the traditional floral design. This method uses tiny dots to create the image of the Freesia, resulting in a textured, pointillist look.
Freesia white ink tattoo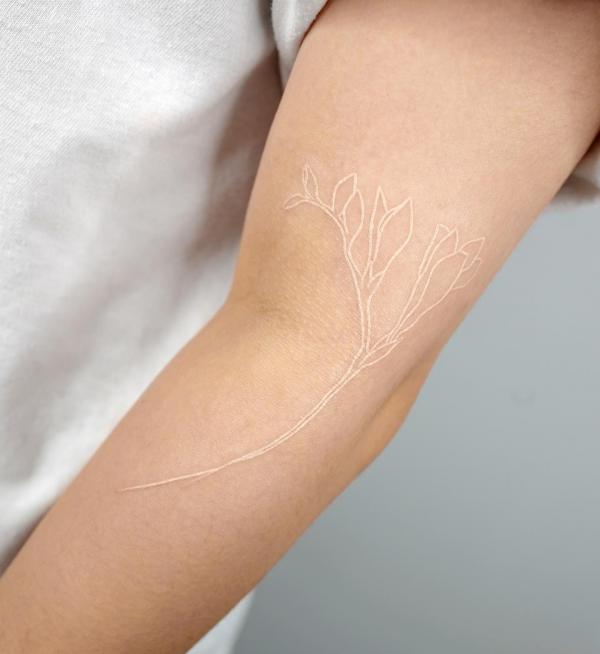 The white ink tattoo captures the essence of purity and innocence that the flower represents. The high contrast against the skin creates a gentle, almost ethereal effect, making it a unique choice for those seeking a more subdued display of their love for florals. The white ink enhances the intricate details of the Freesia, resulting in a design that is both delicate and elegant.
Light purple freesia tattoo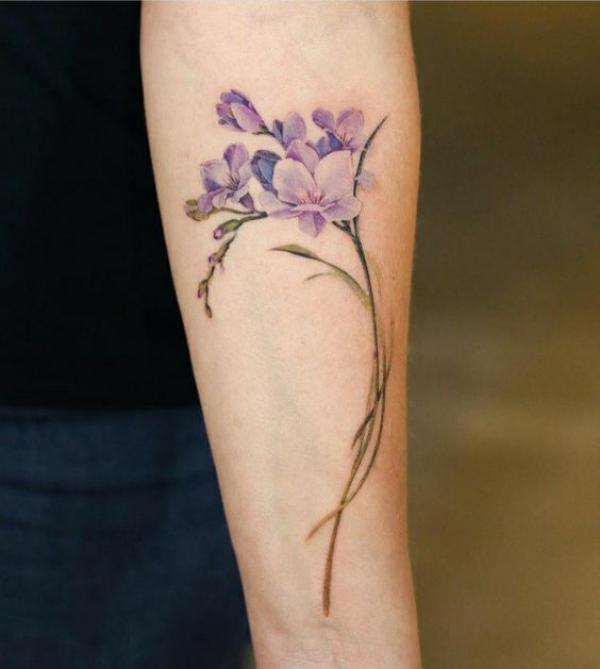 A light purple freesia tattoo is a true showstopper. It's a beautiful blend of the Freesia's symbolic representation along with the soothing appeal of the color purple.
Location, Location, Location: Choosing the Right Spot for Your Freesia Tattoo
The location of your Freesia tattoo can enhance its meaning and impact. Here are a few popular placement options.
Wrist
The wrist is a popular location for a Freesia tattoo. A small bloom or vine can wrap beautifully around the wrist, making it a personal symbol that you can carry with you.
Freesia and daisy wrist tattoo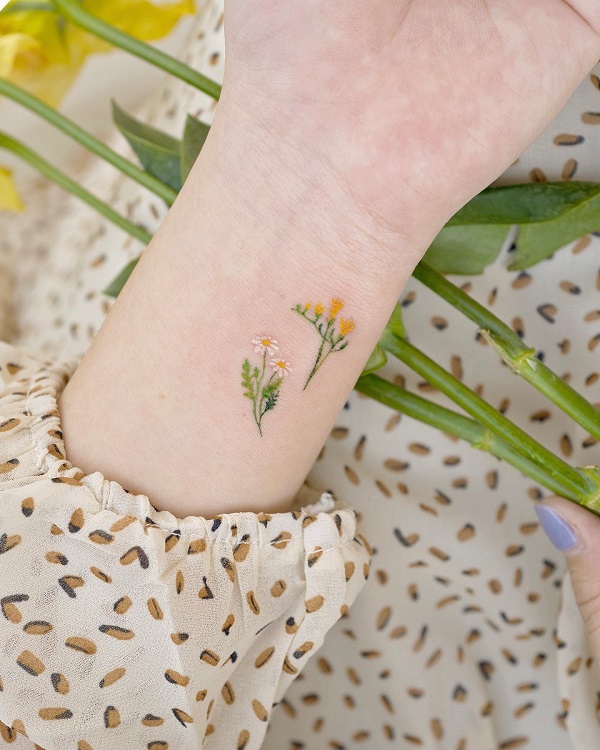 The wrist tattoo melds the charm of two beloved flowers into an elegant design. The Freesia, symbolizing trust and thoughtfulness, pairs with the Daisy, a sign of purity and innocence. This delicate arrangement wrapped around the wrist creates a beautiful, personal symbol, demonstrating a perfect blend of aesthetics and profound meanings.
Ankle
The ankle is another great spot for a Freesia tattoo. An ankle tattoo can be a delicate, feminine design that's easily concealed or revealed as desired.
Freesia and bee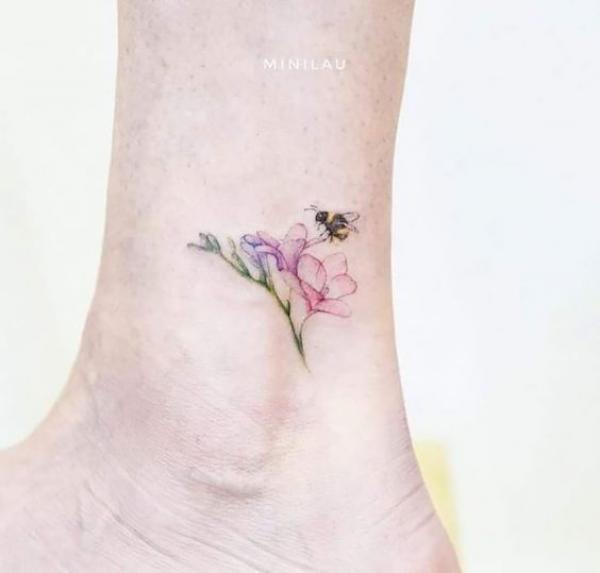 The ankle tattoo is a delightful blend of nature's beauty and industrious spirit. The Freesia pairs with the Bee, an emblem of diligence and community. This charming design on the ankle captures a narrative of harmonious coexistence and mutual respect.
Shoulder
The shoulder offers a larger canvas for a more intricate Freesia tattoo. A Freesia bouquet or vine can flow naturally across the shoulder, creating a striking visual.
Freesia tattoo on the left shoulder blade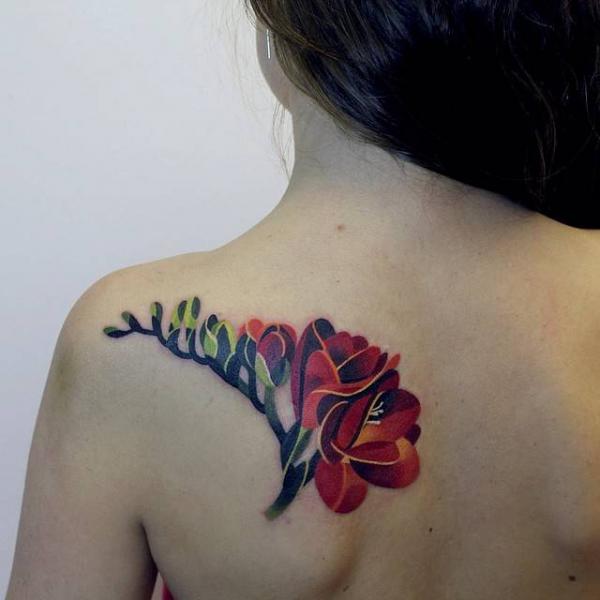 Back
The back, with its broad, flat surface, is ideal for larger, more detailed Freesia tattoos. A sprawling Freesia vine or a vibrant watercolor piece can make a powerful aesthetic statement.
Hand
Hand tattoos are often seen as bold statements due to their visibility. A Freesia hand tattoo, with its delicate lines and vibrant hues, can add a touch of softness to this boldness. It's a wonderful choice for those who want their tattoo to be in the spotlight, a constant reminder of their beliefs and sentiments.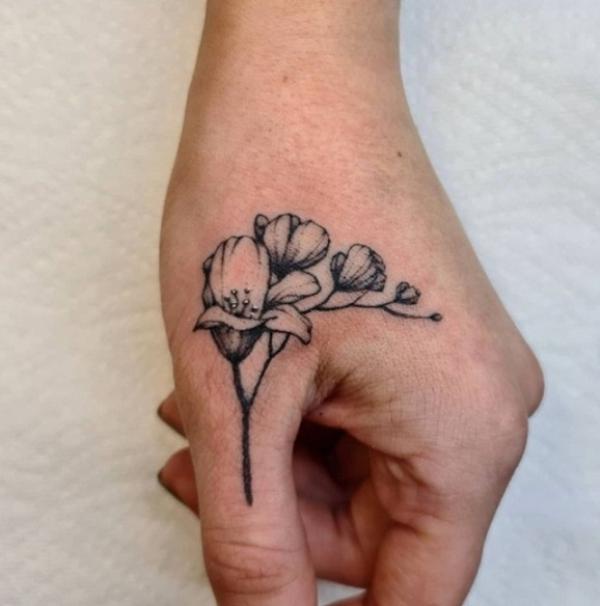 Clavicle
The clavicle, or collarbone, is a popular location for delicate, feminine tattoos. A Freesia clavicle tattoo, with its soft petals and curving stems, can follow the natural contours of your collarbone, creating a beautiful, flowing design.
A clavicle tattoo is easily concealable, making it an ideal choice for those who prefer a more private placement. Yet, when revealed, it makes a strong aesthetic statement.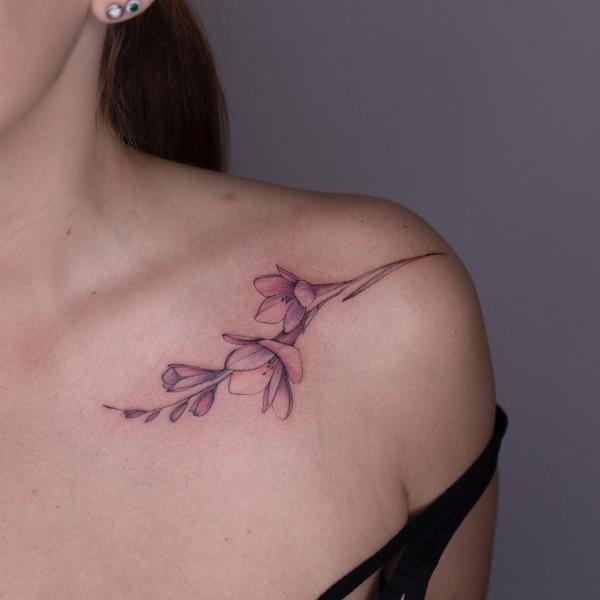 Half Sleeve
Half sleeve tattoos are a powerful visual statement. A Freesia half sleeve tattoo is not just a design, but a story unfolding across your arm, a tale of trust, innocence, and thoughtfulness etched in vibrant colors and delicate lines.
Freesia and daffodil sleeve tattoo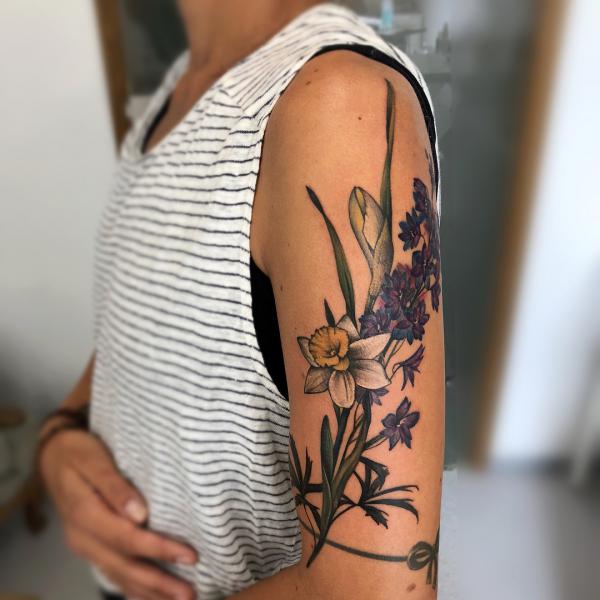 Side
The side is a unique location for a flower tattoo. This placement offers a larger canvas, allowing for more detailed and elongated designs. A Freesia vine, with its curving stems and delicate blooms, can flow naturally along the side, creating an organic, elegant design.
A side tattoo is a more private placement, often concealed by clothing. This makes a Freesia side tattoo a personal symbol, a testament to your personal journey and sentiments. It's your story, told on your terms, unveiled at your discretion.
Freesia outline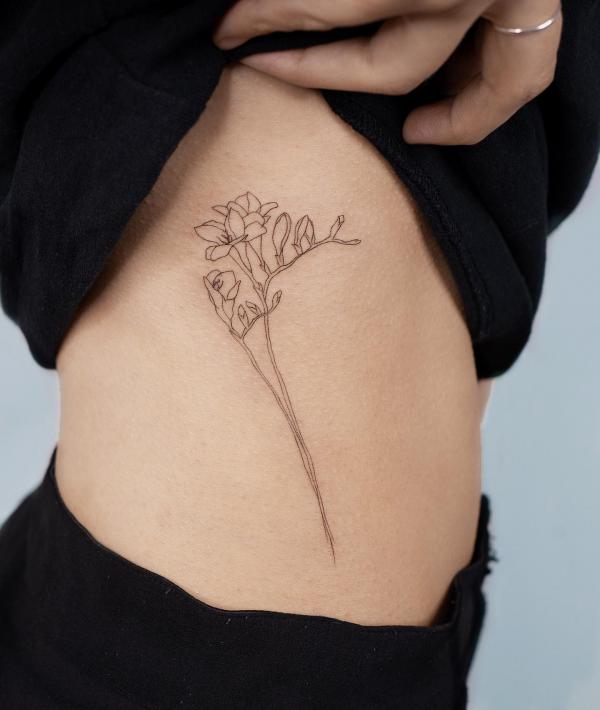 Black and grey freesia side tattoo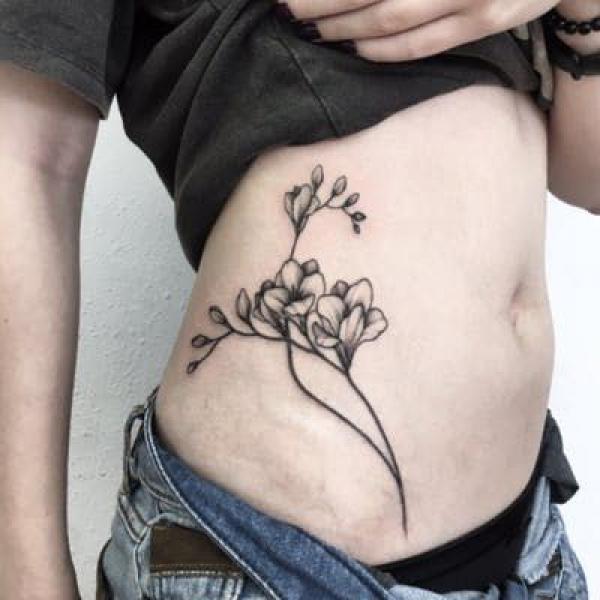 Forearm
The forearm is a great location for a Freesia tattoo. Whether it's a simple line drawing or a detailed, colored piece, the flower ink design is a visual narrative that you carry with you.
Blue and purple freesia with swirls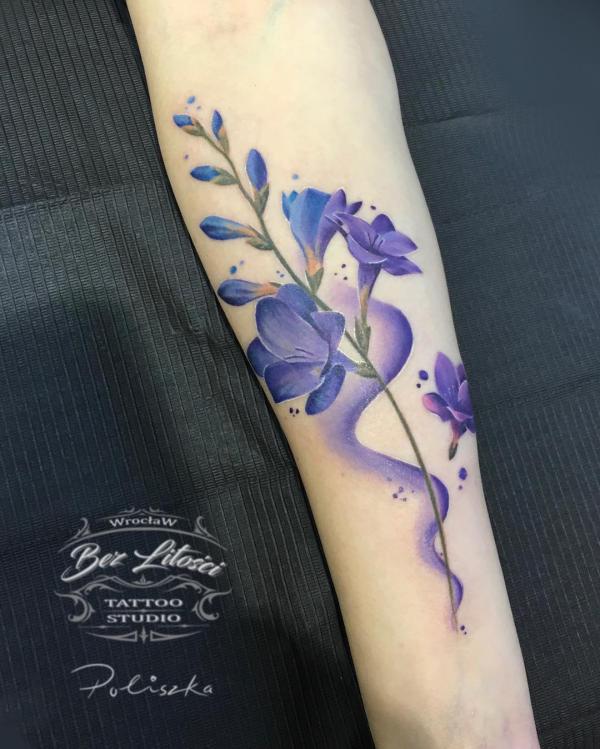 Conclusion
In the end, a Freesia tattoo is more than just ink on skin. It's a tale of trust, innocence, and thoughtfulness. It's a personal canvas that captures the wearer's narrative, beliefs, and sentiments. Whether it's a single bloom, a vibrant bouquet, or a flowing vine, each design is unique, each story is personal.
As you embark on your tattoo journey, remember that the best design is one that resonates with you. Choose a symbolism that speaks to your heart, a style that matches your aesthetic, and a location that feels right for you. After all, a tattoo is a lifelong commitment, a piece of art that grows with you, a story that unfolds with each passing day.
So, step into the world of Freesia tattoos, and let your story bloom in vibrant hues and delicate lines. Because every Freesia tattoo is a tale waiting to be told, a scent waiting to be released, a petal waiting to unfurl. And we can't wait to see what your Freesia tattoo will unveil.