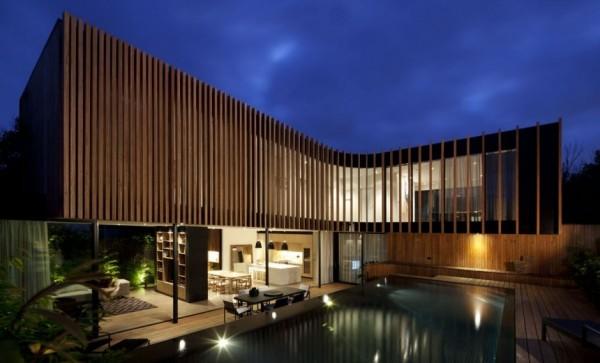 By Matt Gibson Architecture
The existing site contained a grand Victorian double front dwelling badly in need of repair. Upon persuasive encouragement and expert advice the client agreed to retain the front elements of the building.
Following the removal of a previous addition, the extensive brief requested an upper level addition, garage & pool. Our choice (given depth of the site) was to separate rather than attach the new works to the rear of the existing building which availed textured areas of external space between old & new objects. 2 levels of new 'L' shaped floor area are stacked on top of each other at the rear utilising the limits of the site.
The interior spatial logic of the original was flipped. The formality of the existing dwelling was deliberately used for adult (sleeping and greeting )uses whilst the rear of the ground level converts to more informal Living purposes with Children's facilities upstairs. Small extensions off the ground floor 'L' and nips and tucks to the first floor enable a series of separate individual & private light courts that spill off the internal spaces.