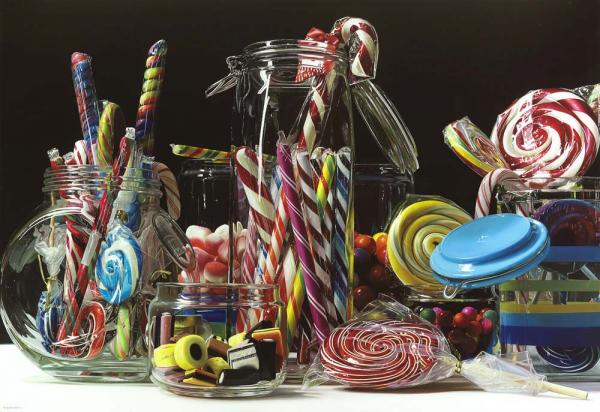 Photorealistic Paintings by Roberto Bernardi. Roberto was born in Todi, Perugia, Italy in 1974. His first works date from the mid eighties, and whilst a young student he dedicated himself to the study of Renaissance painting and pictorial technique. In 1993 he moved to Rome, where he worked as a restorer in the church of San Fransesco a Ripa. After this experience, he dedicated himself full time to the creation of his own hyper-realist works.
Bernardi's paintings have morphed from the dramatic, traditional, classical still lifes so obviously influenced by his Italian heritage to the startling, post-modern imagery he is painting today. Bernardi has an innate understanding of contemporary painting, in particular, the work of the Pop artists and his predecessors in the Photorealist movement. His work has evolved before our very eyes and while doing so, he has been able to maintain a unique, fresh, original point of view. His work has expanded from fastidious representations of glass (such as Arcobaleno, wherein colorful glass vessels are arranged so that each shard of delicate light can be explored, celebrated and perfectly transcribed) to these most recent paintings of domestic interiors.
Like the first generation Photorealist Charles Bell, Bernardi gives weight and depth to translucent objects, creating drama in the overlapping forms and infinite reflections that they create. In a style reminiscent of Bell's gumball paintings is Lecca, Lecca, 2007, an assortment of colorful candies in dazzling glass jars. Every element, down to the cellophane wrappers of the lollipops, is created with such precision as to entice the viewer to try and reach for one of the mouthwatering goodies.