The thunderbird is a powerful and mythical creature that has captivated the imagination of various indigenous cultures in North America for centuries. With its mighty wings and fierce talons, the thunderbird is said to control the elements and bring thunder and lightning with every flap of its wings. This incredible creature has become a popular choice for tattoos, symbolizing strength, spirituality, and the unstoppable force of nature. In this article, we'll delve into the fascinating world of thunderbird tattoo designs, exploring their history, meaning, and showcasing some truly awe-inspiring designs to inspire your next ink.
The Legend of the Thunderbird: History and Symbolism
Before exploring the different thunderbird tattoo designs, it's essential to understand the creature's rich history and symbolism. The thunderbird is a prominent figure in the mythology and folklore of various indigenous cultures, particularly those of the Pacific Northwest, the Great Lakes, and the American Southwest.
The thunderbird is often depicted as a massive, eagle-like bird with sharp talons and a fierce demeanor. It is said to reside high in the mountains or in the clouds, controlling the elements and causing thunder and lightning with the beating of its wings. The thunderbird is also believed to be a protector, guarding the people and the land from evil spirits and malevolent forces.
Given the thunderbird's powerful symbolism, it's no wonder that it has become a popular choice for tattoos. A thunderbird can represent:
Strength and power: The thunderbird's ability to control the elements and its fierce nature make it a symbol of strength and power.
Protection: As a guardian, the thunderbird is often seen as a protective symbol, making it a meaningful choice for those who value their loved ones' safety or are seeking protection in their own lives.
Spirituality: The thunderbird is deeply rooted in indigenous spirituality, making it a fitting choice for those who wish to honor their cultural heritage or express their spiritual beliefs.
Transformation: The thunderbird's connection to the elements, particularly the transformative power of lightning, can also symbolize personal growth and change.
With such rich symbolism, a thunderbird tattoo can be a powerful and meaningful addition to any tattoo collection.
Traditional Thunderbird Tattoos: Embracing Cultural Roots
One popular approach to thunderbird tattoo designs is to draw inspiration from the traditional art and imagery of indigenous cultures, which are often seen in Native American tattoo designs. These designs frequently showcase bold lines, vibrant colors, and intricate details that pay homage to the rich heritage and history of the thunderbird, making them a fitting addition to the broader category of Native American tattoos.
1. Navajo Thunderbird
The Navajo people of the American Southwest also have a strong connection to the thunderbird. Their art often features the creature with geometric shapes, bold lines, and striking patterns. A Navajo-inspired thunderbird tattoo might incorporate these elements, creating a stunning and distinctive design that pays tribute to the Navajo culture.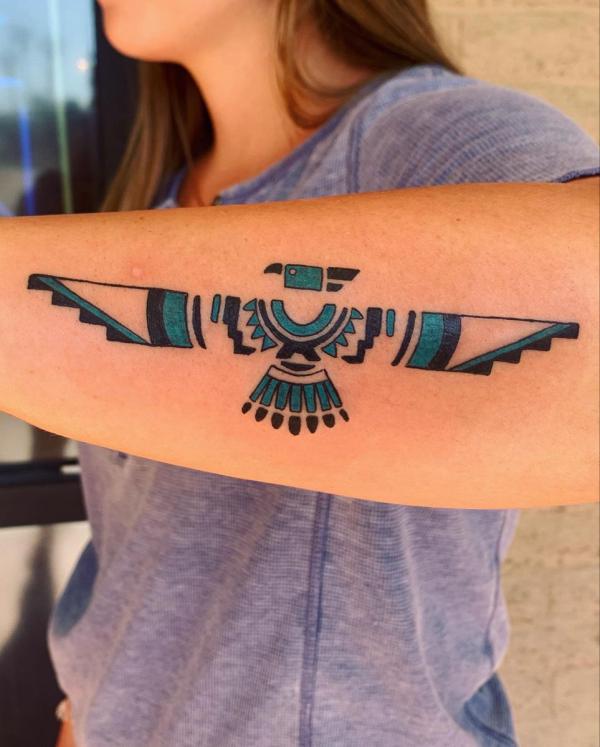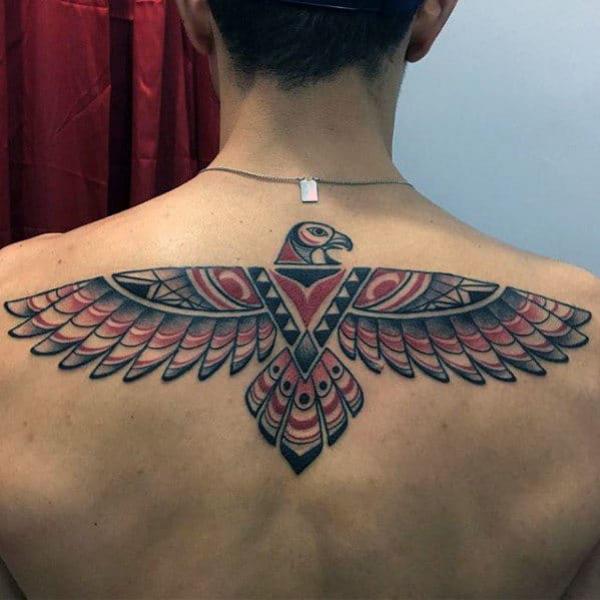 Thunderbird Tattoo forearm tattoo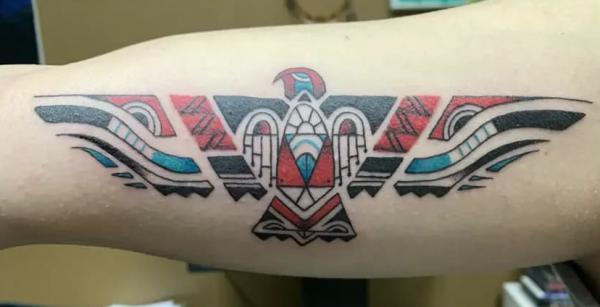 2. Haida Thunderbird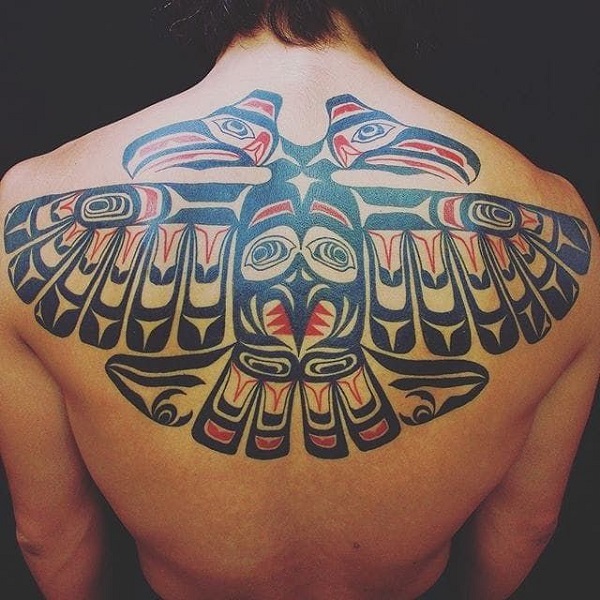 The Haida people of the Pacific Northwest have a long history of creating beautiful and intricate art featuring the thunderbird. A Haida-inspired thunderbird tattoo design might feature the bird in a stylized and symmetrical form, with bold black lines and vibrant red and blue accents. This design can be a beautiful way to honor the Haida culture and the powerful symbolism of the thunderbird.
Traditional thunderbird chest tattoo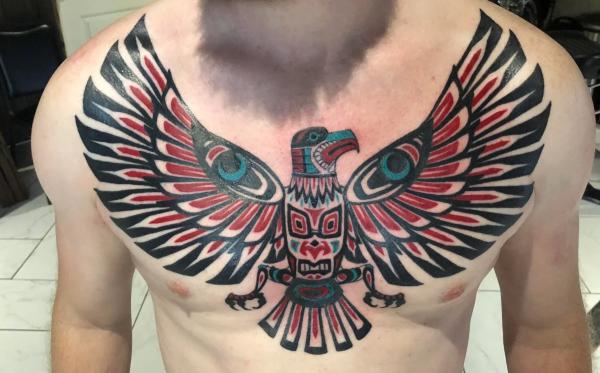 3. Ojibwe Thunderbird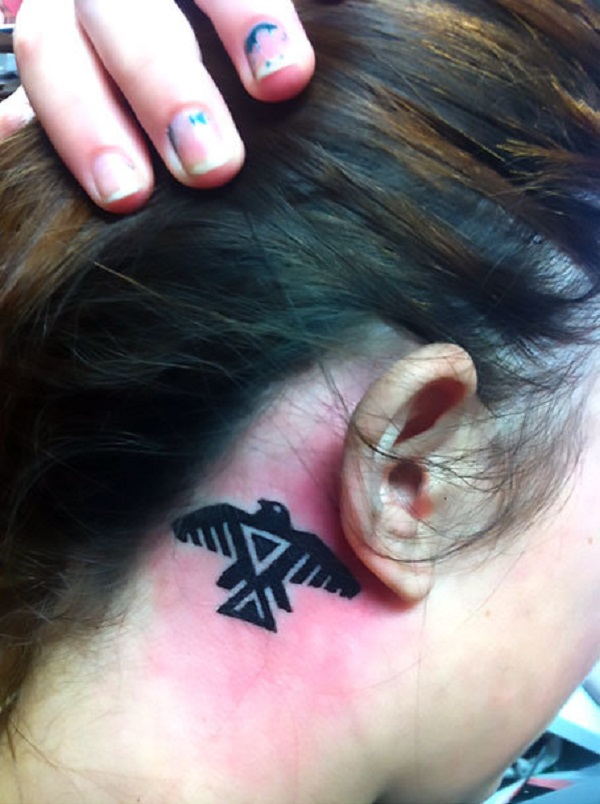 The Ojibwe people of the Great Lakes region have their own unique take on the thunderbird, often depicting it with bright, bold colors and intricate feather patterns. An Ojibwe-inspired thunderbird tattoo could feature detailed feathers and vibrant colors, creating a visually captivating design that honors the Ojibwe culture.
Thunderbird finger tattoo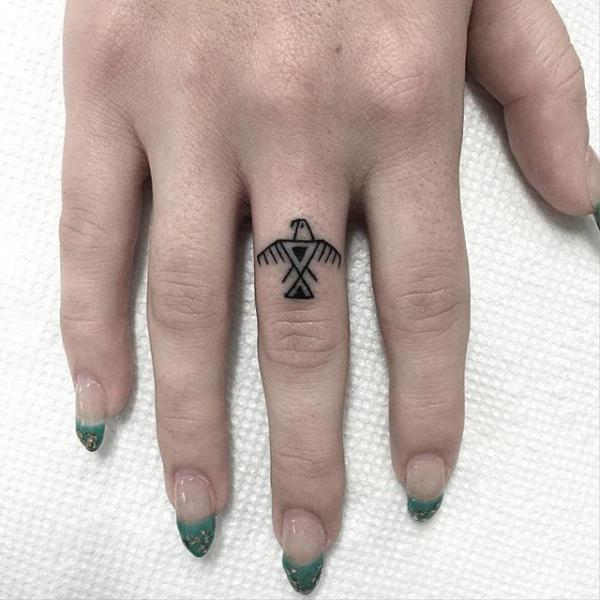 Modern Thunderbird Tattoos: Reimagining the Legend
If you're looking for a more contemporary take on the thunderbird, there are plenty of modern designs that offer a fresh and unique perspective on this mythical creature. These designs often incorporate elements from various tattoo styles, blending them with the traditional symbolism of the thunderbird to create something new and exciting.
4. Realistic Thunderbird
A realistic tattoo design brings the creature to life in stunning detail, showcasing its powerful wings, sharp talons, and fierce gaze. This design can be done in black and grey or in vivid color and can be an incredible way to express your admiration for the thunderbird's raw power and beauty.
5. Abstract Thunderbird
An abstract thunderbird tattoo design takes a more creative and imaginative approach, using unconventional shapes, lines, and colors to represent the creature. This design can be a unique and eye-catching way to pay tribute to the thunderbird's powerful symbolism while also showcasing your artistic flair.
The eye of thunderbird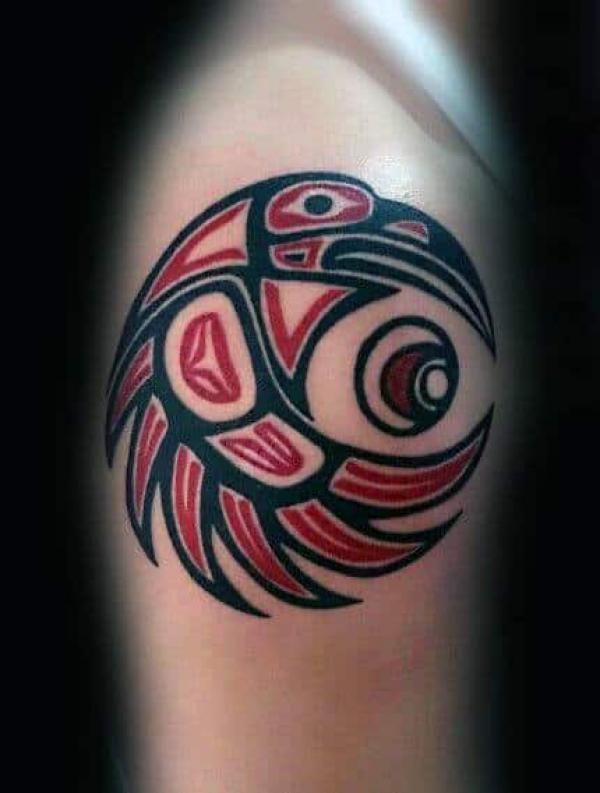 6. Watercolor Thunderbird
A watercolor thunderbird tattoo design combines the elegance of watercolor painting with the bold imagery of the thunderbird. This design might feature soft, blended colors and a dreamy, ethereal quality, creating a visually stunning and unique tribute to the mythical creature.
Thundbird dreamcatcher with a touch of watercolor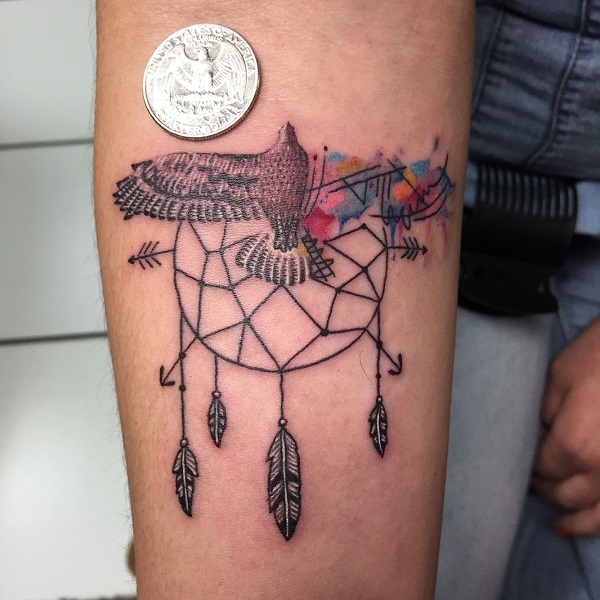 7. Neo-Traditional Thunderbird
A neo-traditional thunderbird tattoo design takes inspiration from traditional tattoo styles while adding a modern twist. This design might feature bold lines and vibrant colors, while incorporating elements such as geometric shapes, floral patterns, or other complementary symbols to create a visually striking and contemporary piece.
Thundbird with Mandala elements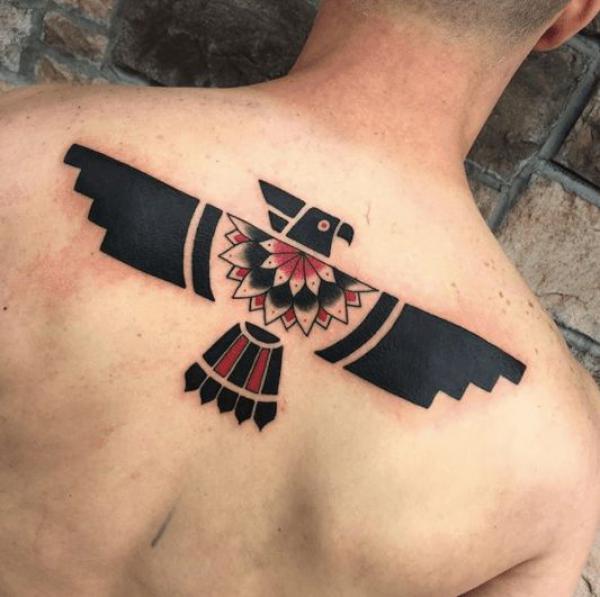 8. Line Work Thunderbird Tattoos
A line work thunderbird tattoo design focuses on the beauty of simplicity, using clean, continuous lines to outline the shape and features of the mythical creature. This minimalist approach captures the essence of the thunderbird without relying on color or shading, resulting in a modern and sophisticated piece. Line work tattoos often emphasize the elegance of the thunderbird's silhouette, showcasing its impressive wingspan and fierce gaze. This style can be an excellent choice for those seeking a subtle and understated tribute to the powerful symbolism of the thunderbird.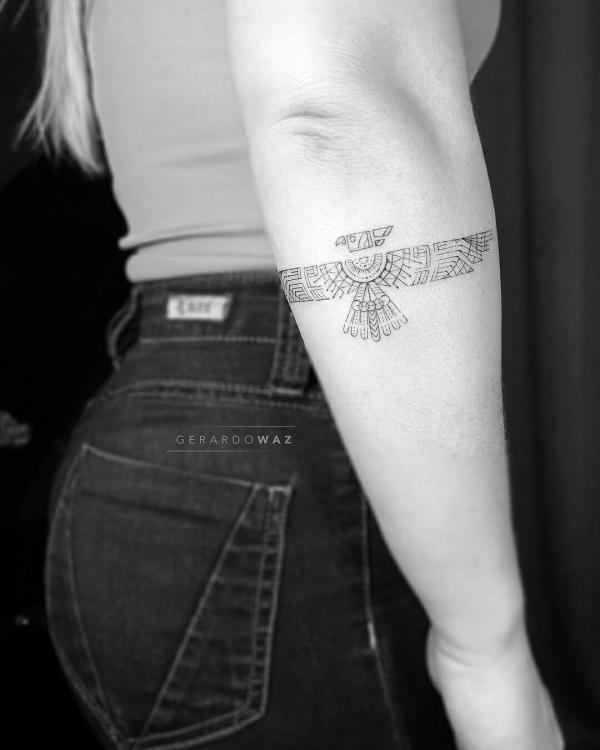 9. Tribal Thunderbird Tattoos
Tribal thunderbird tattoo designs draw inspiration from the striking patterns and bold shapes found in tribal art, creating a visually captivating and distinctive piece. These designs often feature the thunderbird in a stylized form, using thick black lines and intricate patterns to emphasize its powerful presence. Tribal tattoos can incorporate elements from various indigenous cultures or focus on a specific tribe to pay homage to the rich heritage and history of the thunderbird. This design can be an excellent way to honor the thunderbird's cultural roots while showcasing your appreciation for the bold and dynamic aesthetics of tribal tattoo art.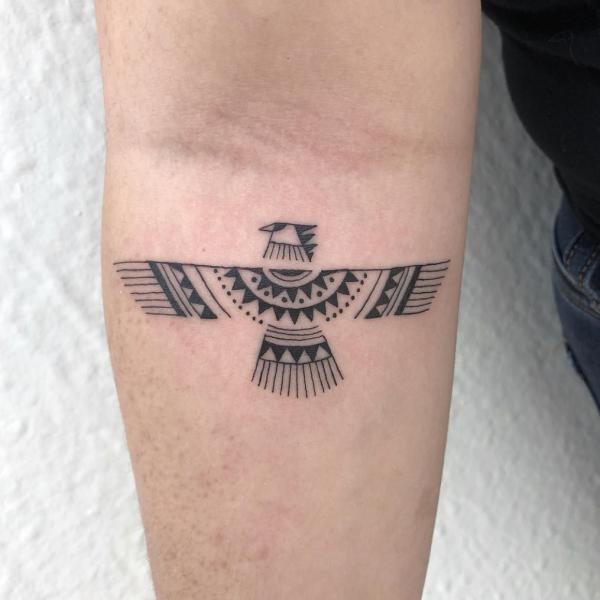 10. Geometric Thunderbird Tattoos
A geometric tattoo design combines the powerful imagery of the mythical creature with the visually striking elements of geometric shapes and patterns. This contemporary approach breaks down the thunderbird's form into a series of clean lines, angles, and polygons, creating a unique and abstract representation of the legendary bird. Geometric thunderbird tattoos often emphasize the creature's symmetry and balance, using shapes such as triangles, hexagons, or circles to create a harmonious and visually appealing composition. This style can be an excellent choice for those who appreciate the blending of ancient symbolism with modern art, resulting in a captivating and distinctive tribute to the thunderbird's timeless power and beauty.
Arrow coordinates thunderbird rib tattoo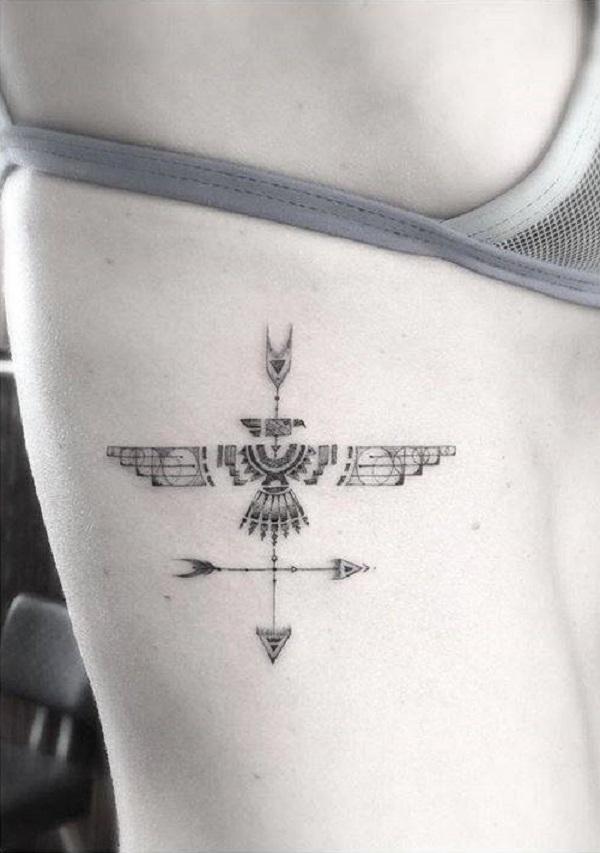 Geometric Native American Thunderbird with Arrow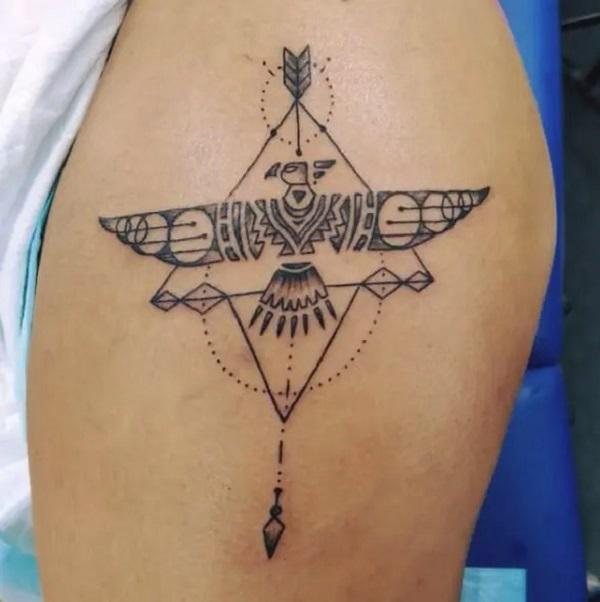 Combining Thunderbirds with Other Elements
To further personalize your thunderbird tattoo design, consider combining the creature with other elements that hold personal meaning or complement the overall theme. Here are some ideas for incorporating additional symbols and imagery into your thunderbird tattoo:
11. Thunderbird and Lightning
Given the thunderbird's connection to thunder and lightning, incorporating these elements into your design can create a dynamic and visually arresting piece. This could include adding lightning bolts, storm clouds, or even a stylized representation of thunder to emphasize the creature's power and control over the elements.
Traditional Thunderbird Hand tattoo
An Eagle falls into dark clouds and thinderbolts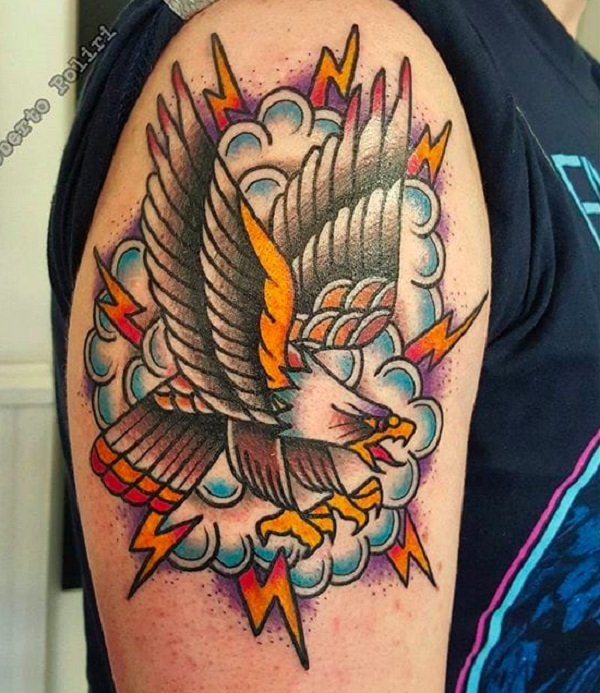 Eagle with thinderbird chest tattoo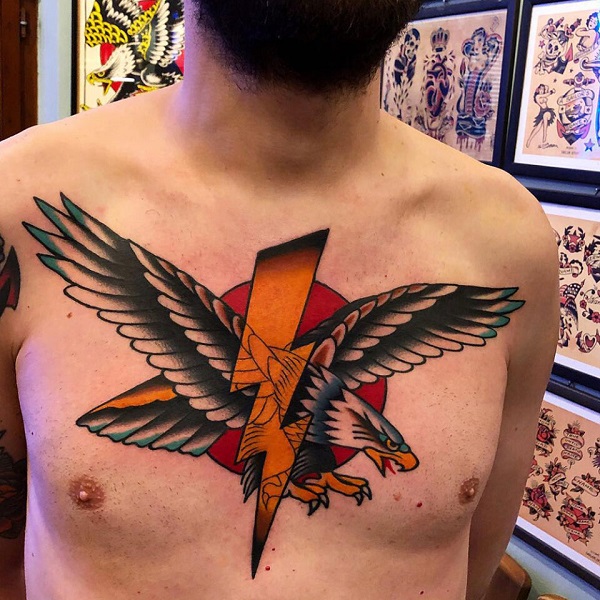 12. Thunderbird and Nature
The thunderbird is deeply connected to the natural world, and incorporating elements of nature into your tattoo design can create a harmonious and balanced composition. Consider adding elements such as trees, mountains, or rivers to your design, or even incorporating the thunderbird into a larger, nature-themed tattoo.
Thunderbird mountain tattoo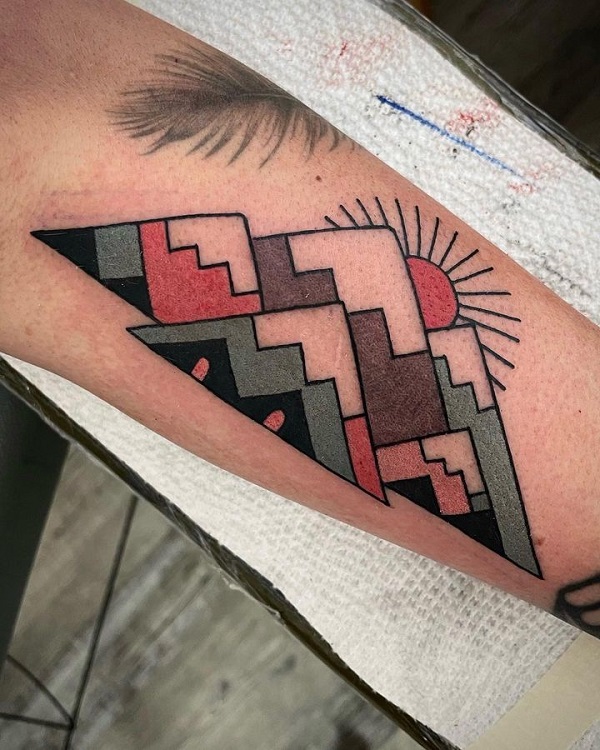 13. Thunderbird and Cultural Symbols
If you'd like to pay homage to your cultural heritage or express your spiritual beliefs, consider adding culturally significant symbols to your thunderbird tattoo design. This could include indigenous patterns, spiritual symbols, or other meaningful imagery that resonates with you and complements the thunderbird's rich symbolism.
Whirling log symbol with thunderbird texture 1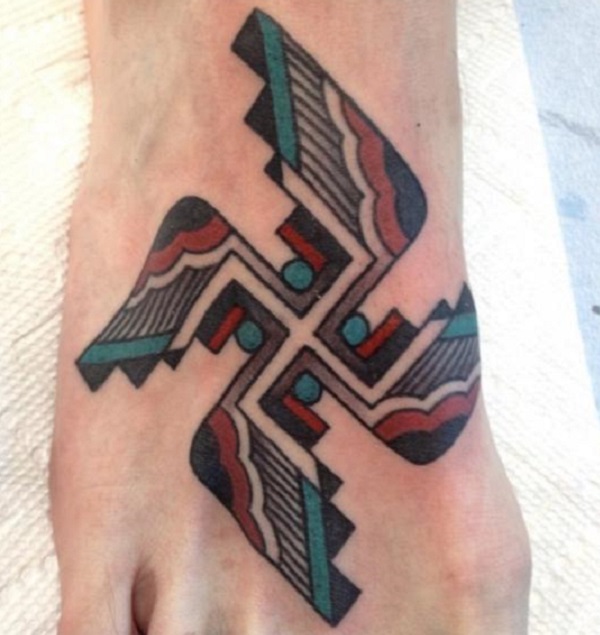 Placement Ideas for Thunderbird Tattoos
The size and intricacy of your thunderbird tattoo design will likely play a significant role in determining the best placement for your piece. However, there are several popular placements to consider for a thunderbird tattoo:
Arm: The arm is a popular choice for thunderbird tattoos, particularly for designs that showcase the creature's impressive wingspan. A smaller design could be placed on the forearm or bicep, while a larger piece might extend from the shoulder to the elbow or wrist.
Chest: The chest offers ample space for a sizable and intricate thunderbird tattoo, allowing you to capture the creature's power and beauty in stunning detail. This placement can also create a bold and eye-catching statement piece.
Back: The back is another excellent canvas for a large or intricate thunderbird tattoo, providing plenty of space to showcase the creature's wings and other elements in your design. A back tattoo can also be easily concealed if needed, making it a versatile choice.
Leg: The thigh, calf, or shin can be a great location for a thunderbird tattoo, particularly for designs that wrap around the leg or incorporate other elements. This placement can also be easily covered or displayed, depending on your preference.
Final Thoughts
A thunderbird tattoo is a powerful and meaningful choice, with a rich history and symbolism that can be deeply personal and inspiring. Whether you opt for a traditional design that pays homage to indigenous cultures or a modern interpretation that showcases your unique artistic vision, a thunderbird tattoo can be a stunning and captivating addition to your ink collection.
By choosing the right design, incorporating complementary elements, and selecting the perfect placement, you can create a thunderbird tattoo that not only captures the creature's legendary power and beauty but also tells your own unique story. So, embrace the power of the skies and let the thunderbird guide you on your tattoo journey.