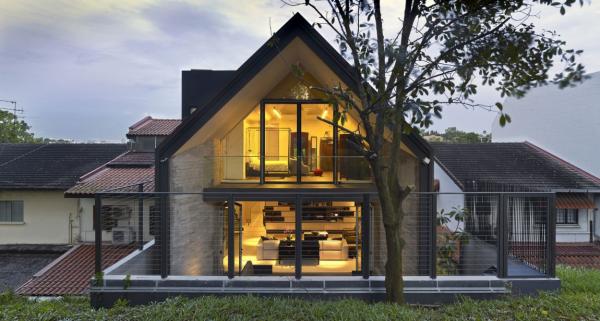 Designed by the New York-based firm Silver+Ong, Y House is the new home of a family from Singapore. Incorporating industrial elements of décor, a triangular-shaped roof and a neat interior, the residence is nothing but breezy, bright and comfortable.
Despite the raw concrete walls, the interior is warm and joyful. The open space living room is connected to the terrace, giving you the feeling that they are one. I like the juxtaposition of styles: traditional (reflected in the roof's shape) and contemporary (the glass wall and the finishings). Both define the house and work excellently together.
The street view is a little less "transparent" than the back of the house, the windows being covered with shutters for an additional sense of privacy. The ground floor accommodates the kitchen, the dining area, a study room and a social area while the second floor houses a more spacious living room and the rooms of the children. The bedroom is located at the top floor and it comes with its own private terrace, offering unobstructed views of the hillside and the surroundings.