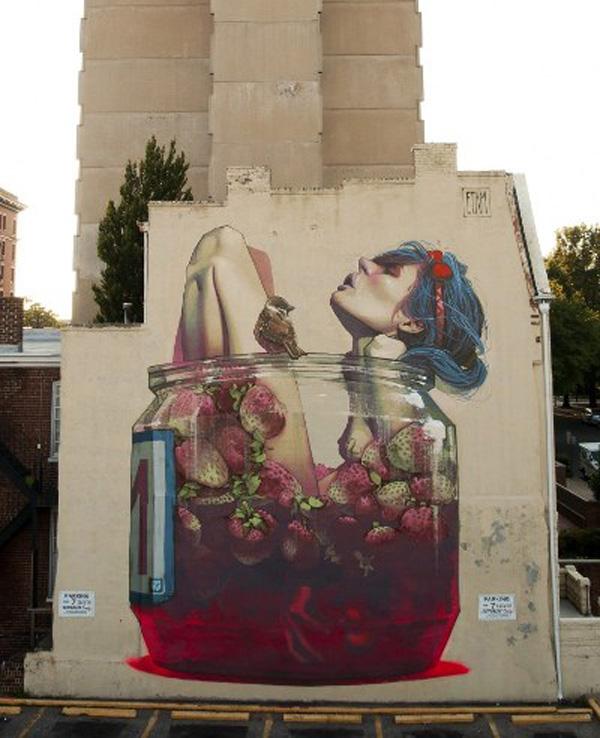 Sainer and Bezt – Etam Cru – A Polish duo called Etam Cru paints wonderful, gentle, dreamy and sometimes tantalizing murals, guiding spray paint like it were a brush. Moonshine mural was done in Richmond, Virginia in USA last year, representing wishful thinking with a hint of irony.
Street art is the relatively novel concept, arisen from the world of graffiti, an artistic movement traditionally carried out in the street. Urban areas have proved to be the perfect canvas for a myriad of artists, but some of them saw the traditional graffiti letter forms as limiting. These creative minds turned to exploration of limitless possibilities of visual expression in urban environment, many of them coming from the very traditional graffiti crews, tagging walls as young, owning parts of their own town. Very soon, new techniques were conjured up and artists began stenciling, scattering paste-ups and event ephemeral installations around cities. The essence of street art remained unchanged. It was still an ephemeral, highly personalized way of creation, but the aesthetics and styles multiplied exponentially, together turning into what we call street art today.
There are thousands of fantastic street artists around planet, but we present 20 imaginative individuals and their phenomenal work, in no particular order.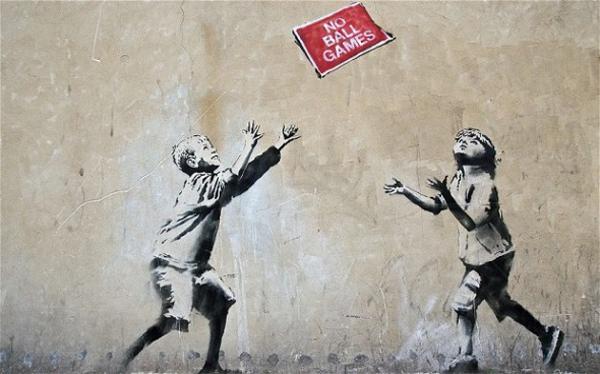 Banksy
First and foremost, we must mention the Jack of the trade, British street artist Banksy. He has been putting his intelligent and entertaining stencils all around the world, while retaining anonymity.
No Ball Games was executed in London in 2009, but recently sold at a controversial auction, which the artist condemned.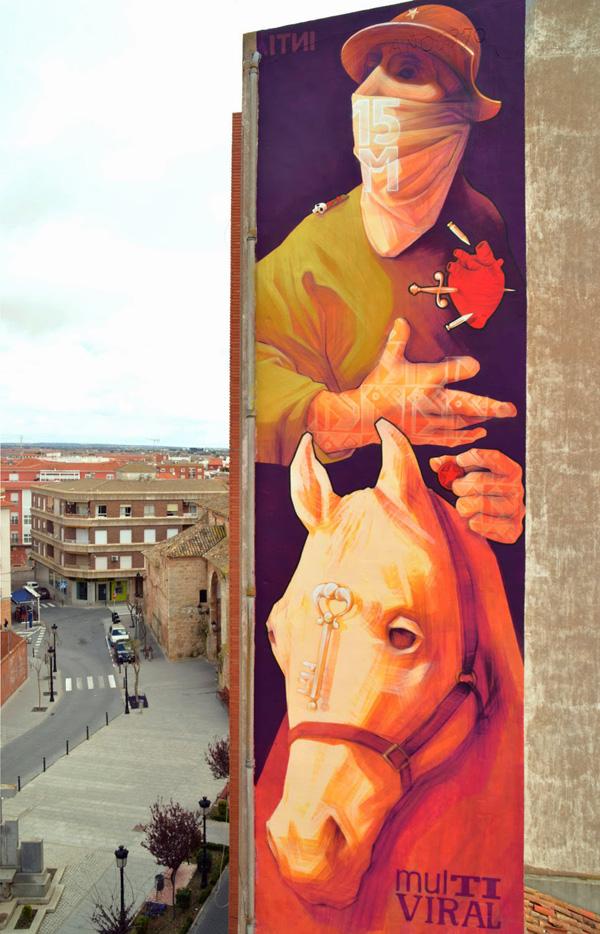 Inti
Inti is a muralist from Chile, whose warm palette dresses wonderful, although sometimes a bit scary, scenes inspired by Latin American history and mixture of indigenous and Christian traditions.
This mural evokes Don Quijote and it was executed in Spain earlier this year.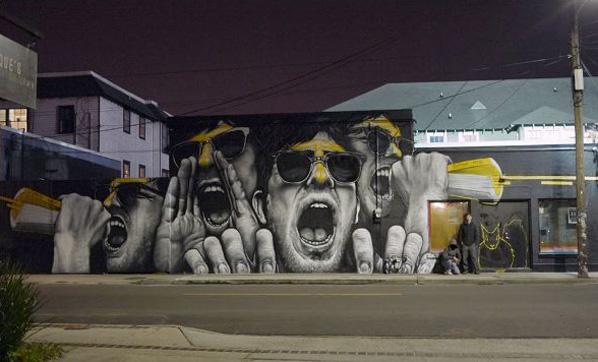 MTO
This French artist chose to station in Berlin, one of the best street art cities in the world. His style is realistic and impressive, with voluminous figures and often a 3D effect, while his subjects are the cool and the famous. His palette is largely black and white with just a hint of red or yellow, as his signature.
This amazing piece was done on a wall in Wynwood Miami district recently.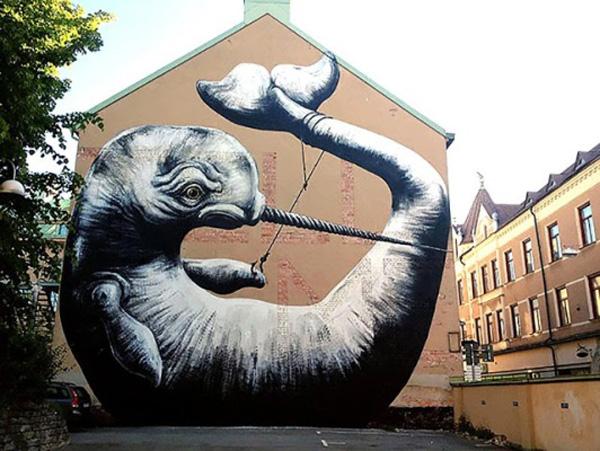 Roa
Roa is probably the most famous street artist from Belgium. He paints animals on a large scale, particularly those species which coexist with humans in urban environment and that are perhaps endangered because of the modernization. His particular sensibility, stunning craftsmanship and perfected style took him across the globe, while he remains true to his initial aim.
This narval mural was done in a small town in Sweden last year. The poor creature is disabled from moving and caught on hook, while awakening empathy in everyone.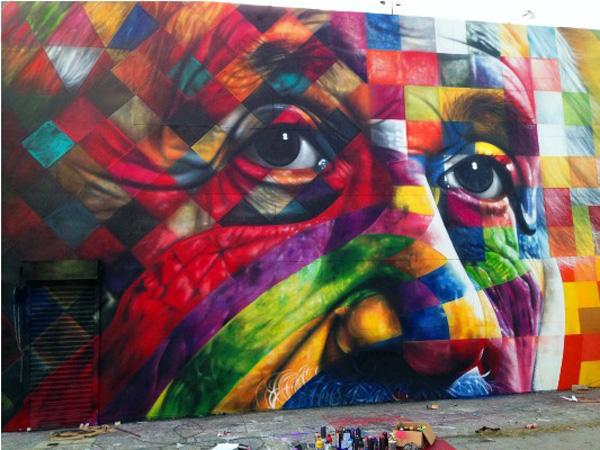 Eduardo Kobra
Kobra is one of the street artists on the rise. His politically engaged murals and studio works are raising a lot of international interest, as is his recent collaboration with Hillary Clinton. He is known for particular, colorful renderings of prominent historical figures or images that helped change and better the world.
The Einstein mural was recently done in Los Angeles, where Kobra reminds the public of the great scientist and honors his legacy.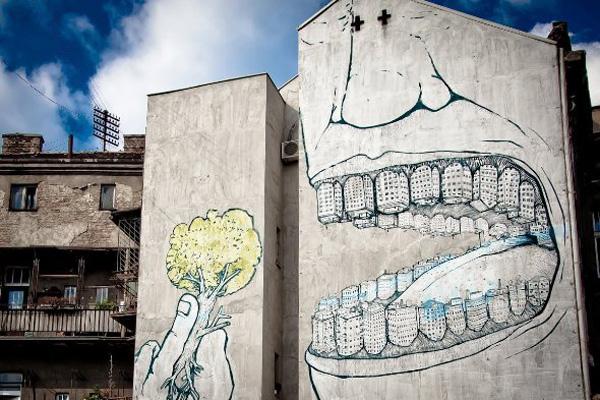 Blu
Blu is an anonymous Italian mural painter. His works are recognized by their charming drawing and an elegant taste of sarcasm, as he criticises contemporary society, cities, pollution and other traits of modern civilization threatening the nature.
This is one of Blu's murals painted in Belgrade, Serbia, where the city is literally eating away its green.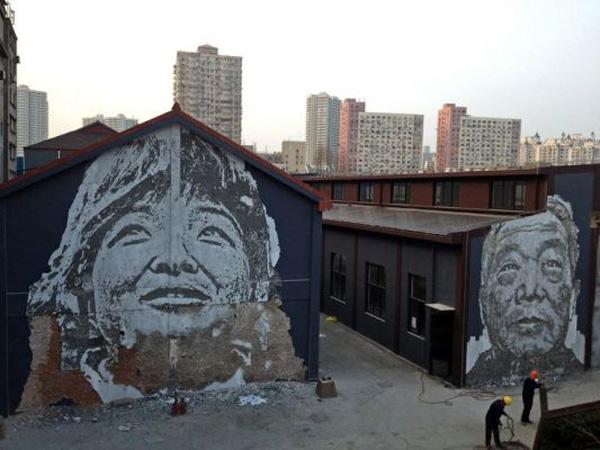 Vhils
Alexandre Farto took the moniker of Vhils, under which he produces astounding murals, often finished by unexpected "destructive" technique. This Portuguese artists chisels, drills and chips away parts of walls, in order to achieve a more tangible, realistic effect. This is why he chooses old, decayed walls and gives them new life with his artwork.
Vhils visited Shanghai this year, where he had an exhibition and executed murals in his own style.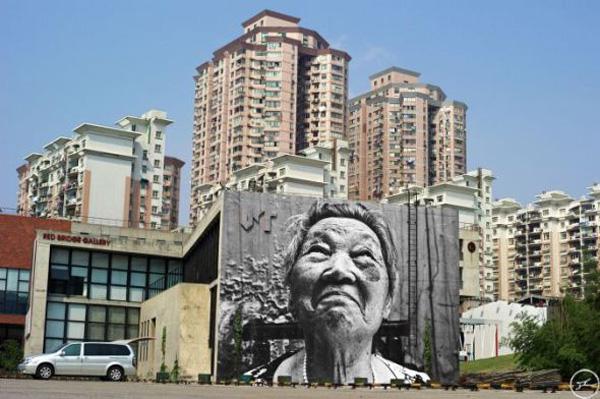 JR
JR is a photographer and a street artist, who can turn a landscape into an art exhibition. He is also a TED prize winner and a believer that art can change the world. Inside Out is the name of JR's global art project, where he tends to involve all the people of Earth to make a statement with their portraits.
This wall piece was completed in 2010 in Shanghai, as a part of JR's Wrinkles of the City project, where he paralleled old buildings and heritage with elderly inhabitants of great metropolises.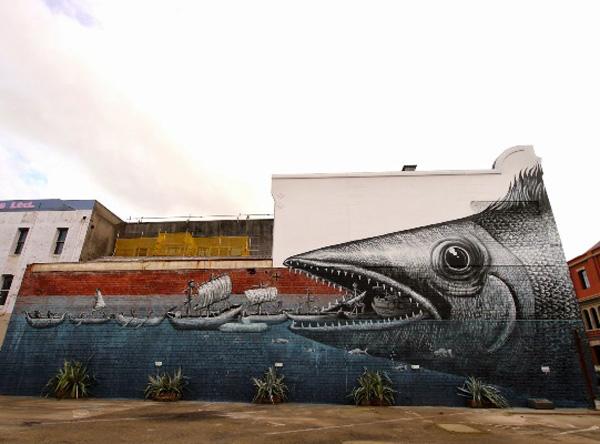 Phlegm
Phlegm is a talented young British street artist, with an intriguing style that leans on some of the most unexpected historical expressions. He comes from Sheffield, but continues to create around the planet, planting his long-limbed, odd creatures on old buildings, but in galleries as well.
This apocalyptic fish mural was completed in Dunedin, New Zealand this year, while the artist does not stand still and continues to imagine new worlds.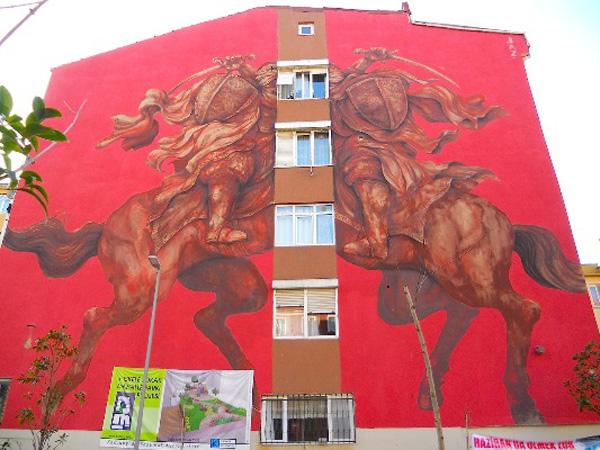 Jaz
Franco Fasoli is an Argentine street artist, known as Jaz. His style is painterly, realistic and so classical that his murals often confuse and amaze, as they do not seem to belong on walls but in museums. He combines aesthetics of traditional Lucha Libre wrestler and the traditional soldiers look to achieve singular, brilliantly painted compositions.
The mural painted on a building in Istanbul, Turkey is one of the most impressive Jaz works.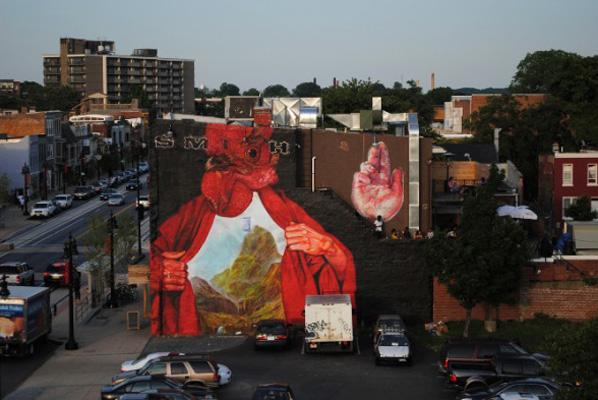 Gaia
One of the ladies of street art based in New York and Baltimore. Her work speaks of nature, of old gods, humans as they used to be and connecting with our roots. Gaia's style is sophisticated and flowing, while she conquers walls with confidence and skill.
This commissioned mural from 2012 keeps all the sensibility of Gaia, as the forgotten divine creature reveals true and pure nature at his very core.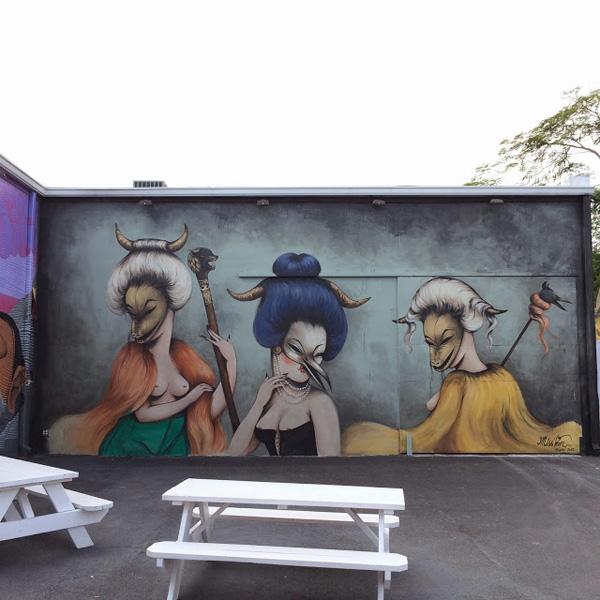 Miss Van
She is the creator of the most seductive kind of street art. Her sultry bunnies, mysterious kitties and burlesque characters look as appealing on walls and canvas alike. Miss Van is based in Barcelona, but she comes from the French town of Toulouse.
This masked trio was done on a wall in street artistic Wynwood district of Miami in 2013.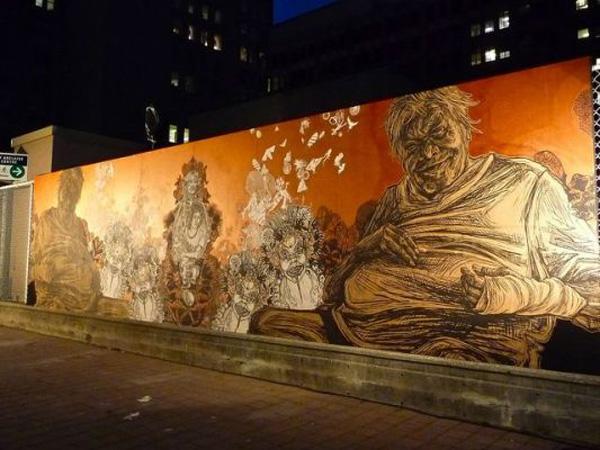 Swoon
Swoon became widely known for her feminine, flowing and imaginative paste-ups, but she rose to global fame when she initiated a floating crew of rafts made by recycled objects, that started on the Hudson river in New York and reached Venice Biennale in 2009.
This huge mural piece was done in Toronto, Canada in 2013.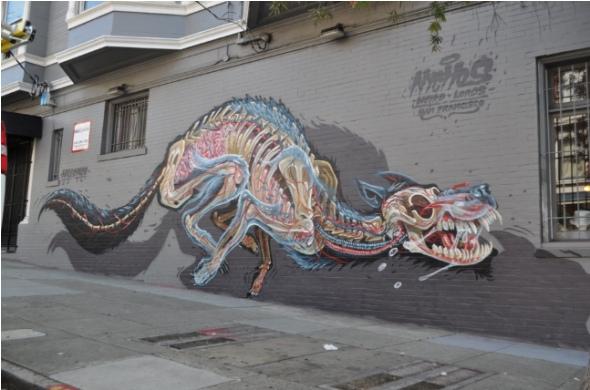 Nychos
Nychos is an Austrian muralist, whose fame is just starting to blossom. He became an influential figure in European street art, while his dissections of various, large scale animal representations let us gaze in the secretive parts of human or living beings' existence. He reveals the core of everything and everyone, from anonymous characters, to pets and beloved cartoon or pop culture figures.
The X-Ray Wolf is a vivid, but entertaining dissection painted in San Francisco earlier this year.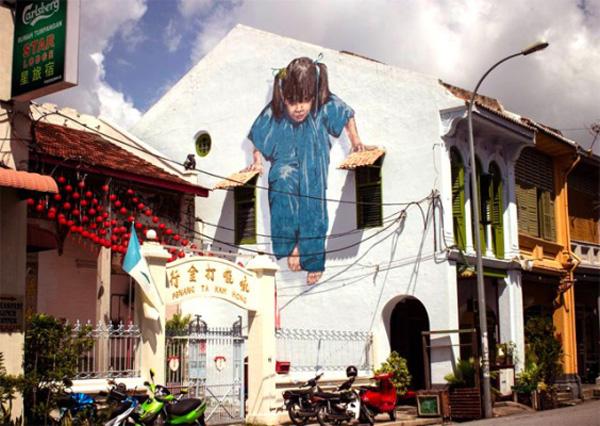 Ernest Zacharevic
Ernest Zacharevic is a young Lithuanian artist, whose life path took him, over UK, to Malaysia. He fell in love with the city of Penang, where he creates his charming versions of childsplay, vitalizing walls of the old part of the city called Georgetown.
This mural is a typical interactive work of Zacharevic, featuring a young Malaysian girl, playing with the house, literally.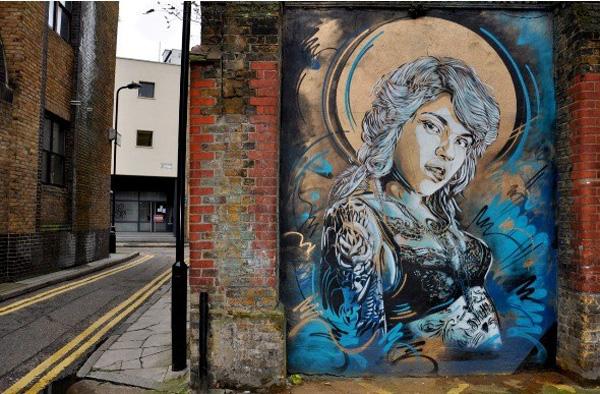 C215
Christian Guemy or C215 is one of the best known French street artists today. His specialty are murals, always featuring prominent portraits of people, usually locals with interesting features. They connect with the environment on several levels, while they feature real persons from the community and embellish it at the same time.
This mural was painted in East London in early 2014, as C215 art has no boundaries.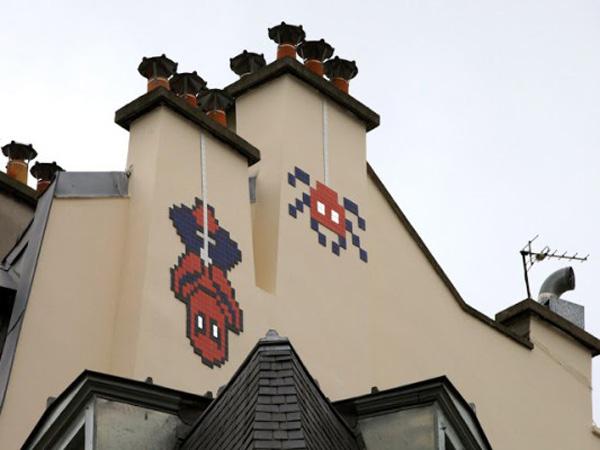 Invader
Invader is another anonymous star of the street art world, who found his expression in creating and pasting small mosaic pieces, depicting characters or small scenes from the iconic 80s game "Space Invaders". He's active worldwide, but his origins are French.
This Spiderman invention was executed on a wall in Paris last year.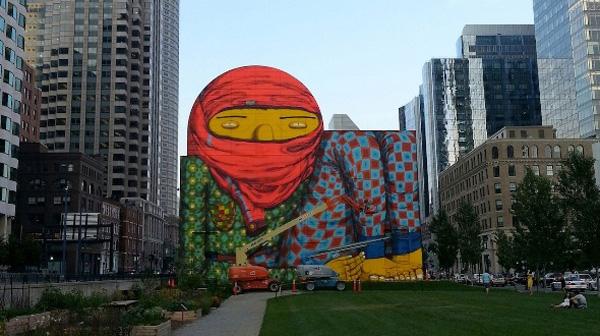 Os Gemeos
Otávio and Gustavo Pandolfo are the twins of street art today. Their moniker – Os Gemeos – literally means twins. They come from Sao Paulo, Brazil, one of the greatest cities for the street based creativity, while their style is characterized by interesting, caricatural subjects, found in usual or impossible situations. Vivid and bright, their art has a lot of admirers and followers across the world.
This huge mural was painted on a wall in Boston in 2012.