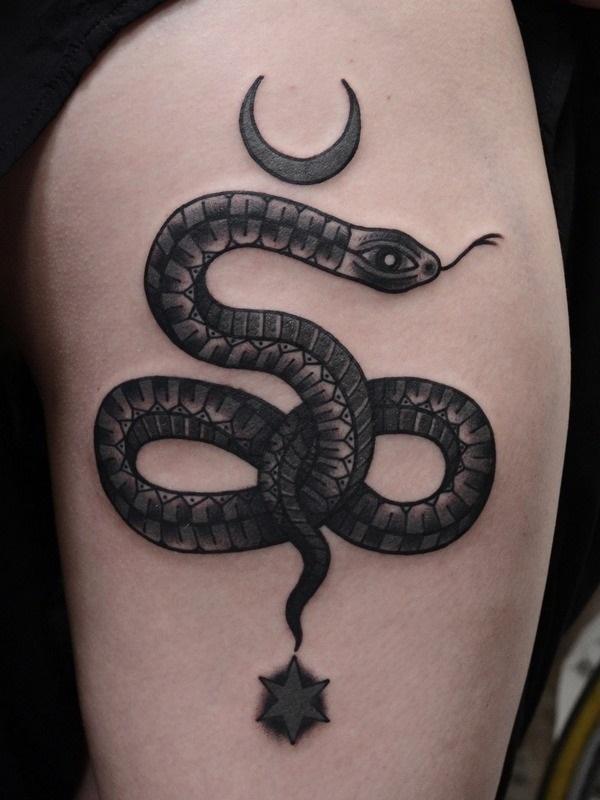 This Beautiful Thigh Piece. Thigh pieces are very popular especially among the women. However, men also love to get bold yet attractive thigh pieces like the one above.
When it comes to tattoos, snake tattoos have definitely got their own class and look. Well, if you are a fan of snake tattoos you will agree with me that snakes are definitely the wonderful creatures that have got bad rap of course, but are really helpful in the fabric of human history and plays very important role in different religions and beliefs.
As we know each tattoo has its own meaning and depiction, the snake tattoos do have specific meanings but that really depends on cultural references, religious belief and superstitions buzzing around the people. The admirers of snake take the meaning in positive sense while the people underestimating them would take the meaning in negative sense. So, as mentioned, snake tattoos symbolize variety of meanings and characteristics. Below, we are going to mention some.
Snake Tattoo Meanings and Their Variations:
Here are some of the meanings that are associated with the snake tattoos:
Great power & intelligence
Grace & sensuousness
Hell
The sign of protection
Rebirth
The divine
Fertility
Birth
Magic
Defense
Revenge
With these meanings, whether you want a snake tattoo with Asian influence or some Viper with traditional tribal features, you can get diverse variations in them. No matter which person chooses which kind of tattoo, no one can deny the fact that snack tattoos do look great and classy. Moreover, the best part about them is that, they can be combined with a number of elements and symbols to depict unique meaning. So, if you are inspired by the Snake Tattoos and want one on your body, here are some amazing pieces to check.
60 Amazing Snake Tattoo Ideas:
Buckle up o catch some really classy yet meaningful snake tattoo ideas.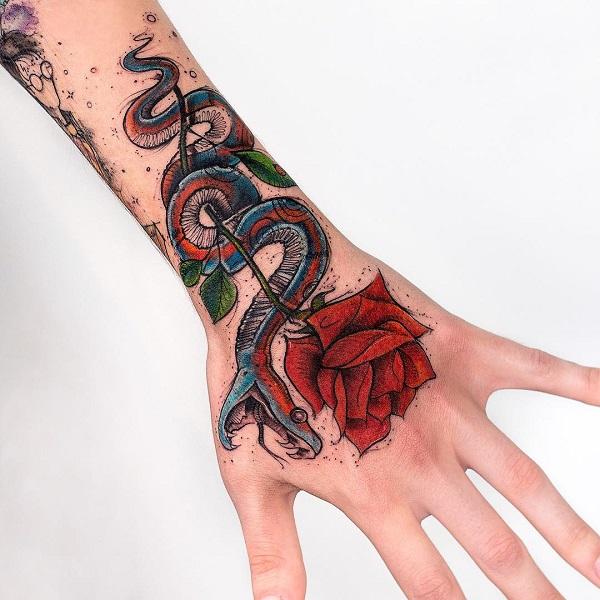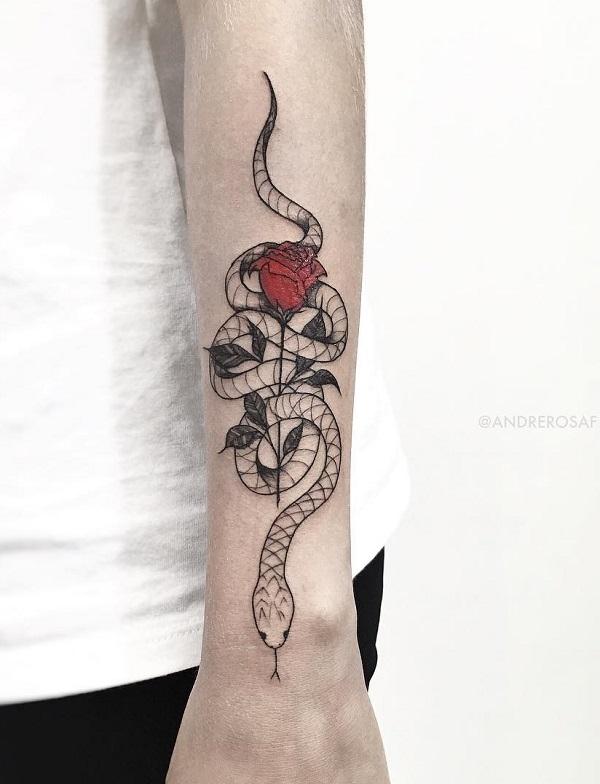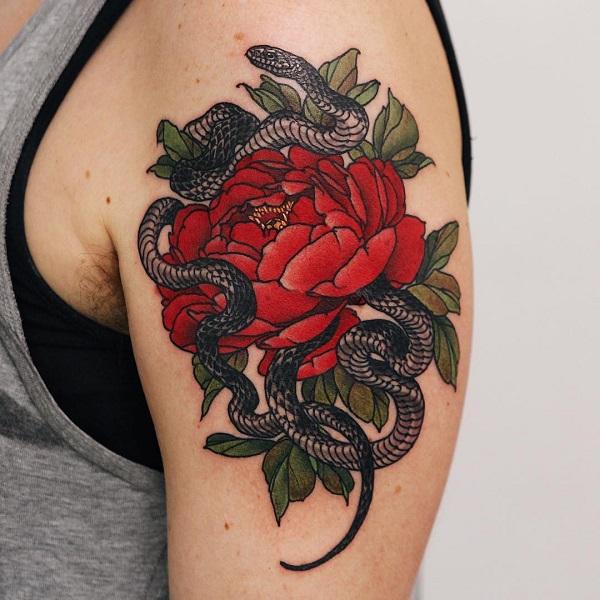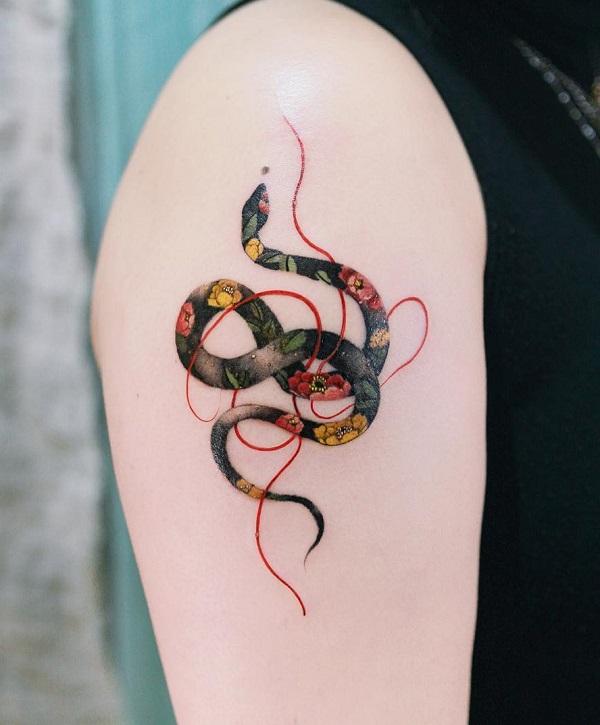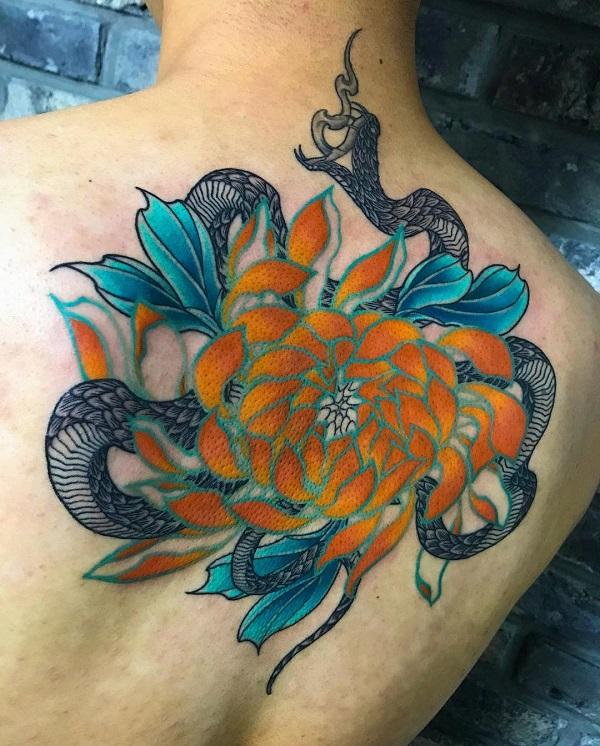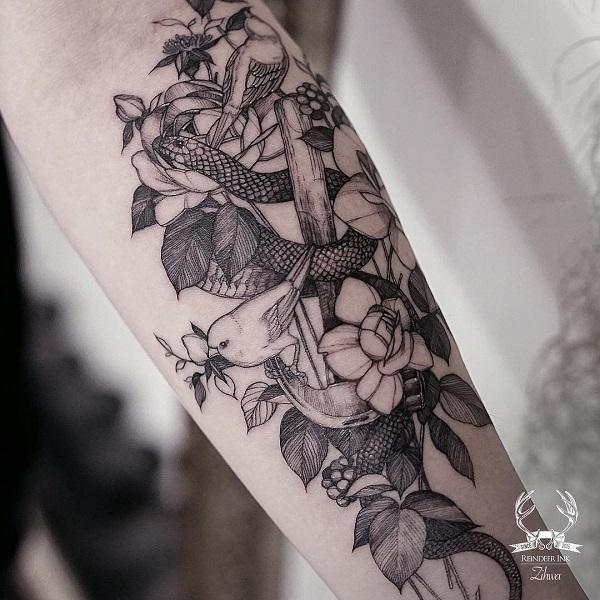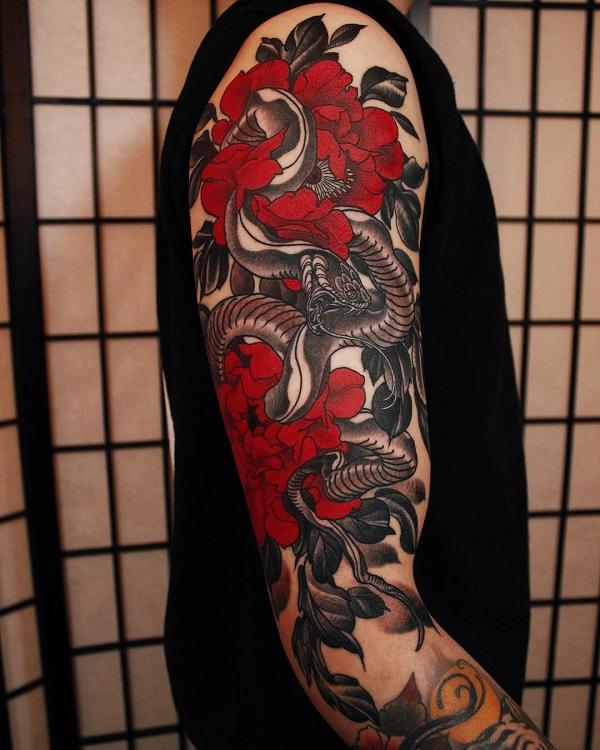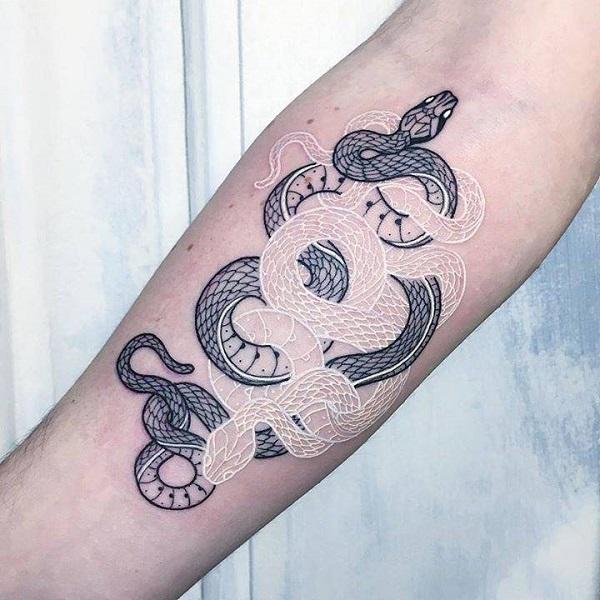 A Symbol of Re-Birth. Snakes, as mentioned above are considered to be a symbol of rebirth. The same symbol of snake tattoos have been depicted in the above image.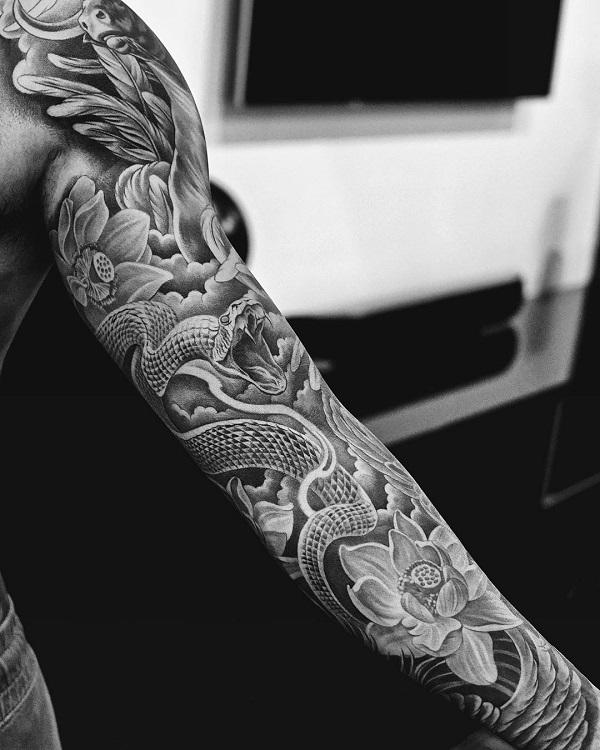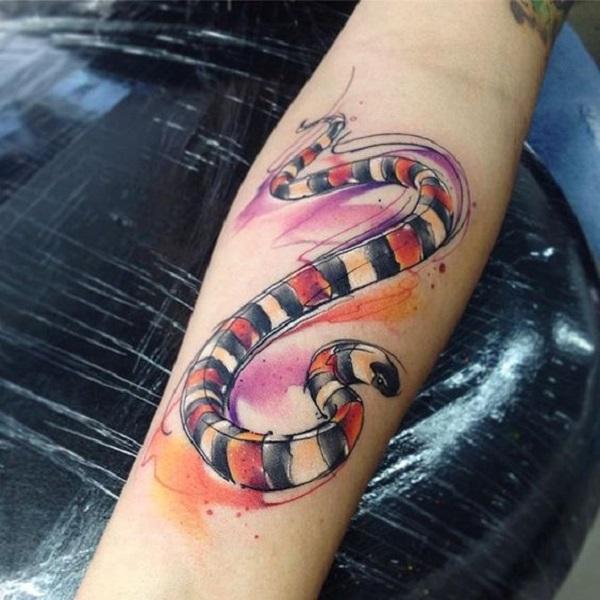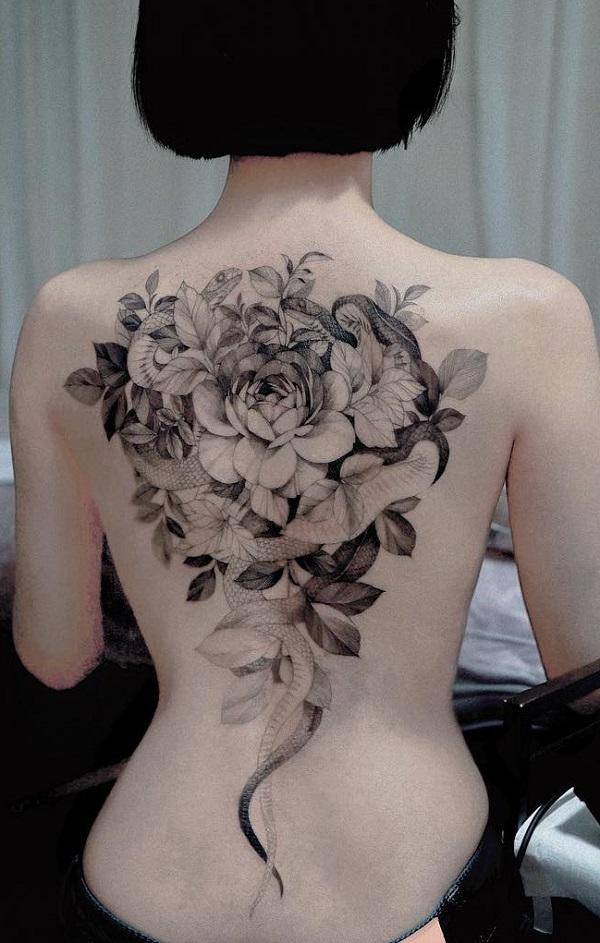 Colorful Venomous Snake Tattoo. Snakes are thought to be aggressive and deadly creatures that is the reason why they are mostly tattooed in dark and bold colors. But this one is different than most of the snake tattoos and offer various colors that is complementing the tattoo as well.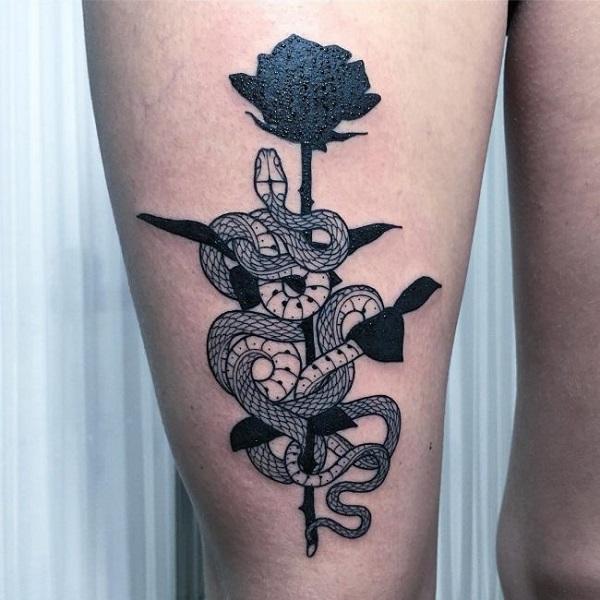 Snake With a Rose. Snake with rose embodies the phenomenon of love and hate at the same time.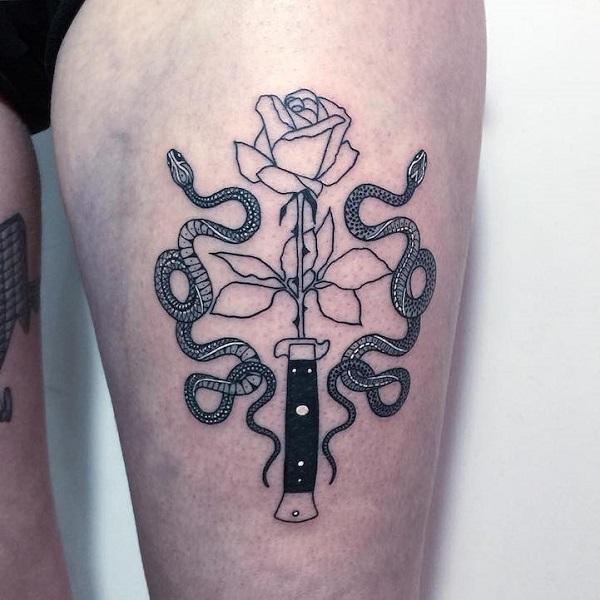 Rose Surrounded by Snakes. Roses are symbol of love , while snakes are considered to be evil creatures and the collective tattoo symbolizes the loss of innocence and beauty of a delicate thing.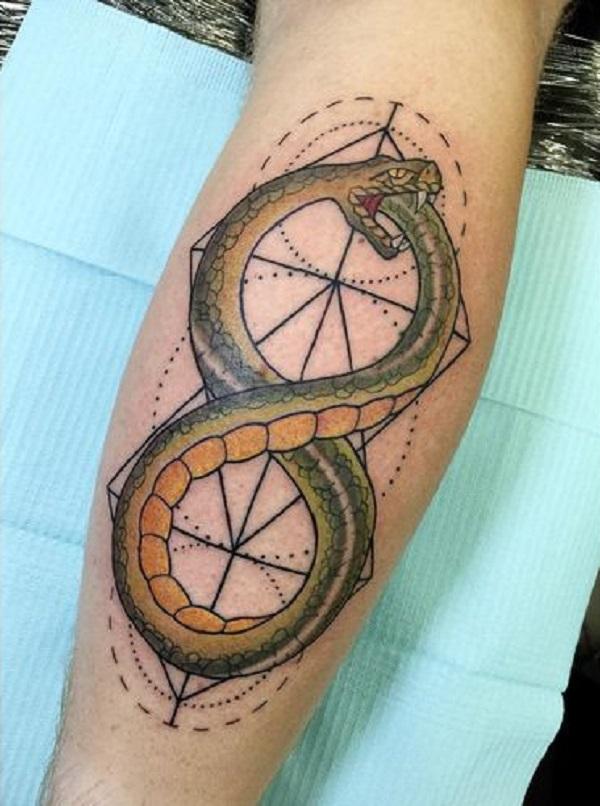 A Geometrical Snake Tattoo. I am not sure what these geometric lines and snakes with them means. However, both these elements combined makes a beautiful piece.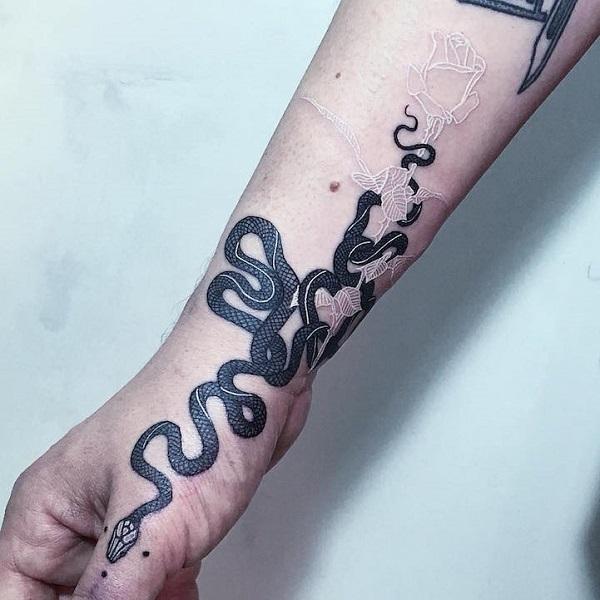 Rose Grabbed by Snake Tattoo. Mirko Sata is a Milan-based tattoo artist who has specialization in making these coolest black and white snake tattoos.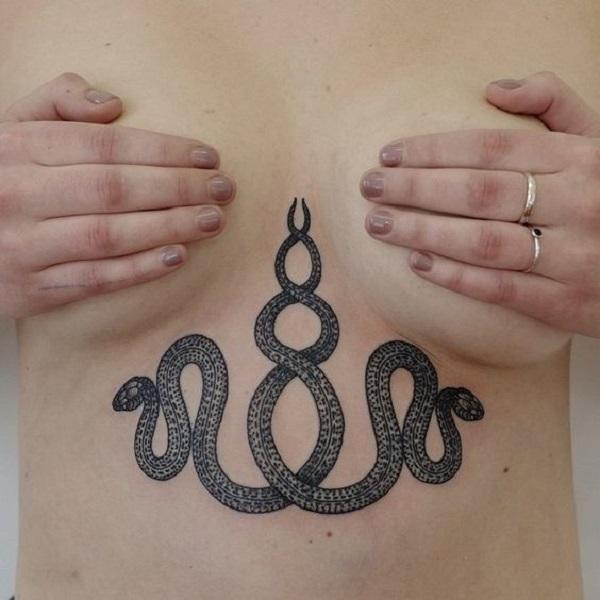 Beautiful Abdominal Piece. No placement other than abdomen can be better for this tattoo.
Tiny Snake Tattoo for Her. Snake tattoos do represent femininity and the above tattoo is a true depiction.
White and Black Snake Tattoo Design. Another amazing piece by Mirko Sata.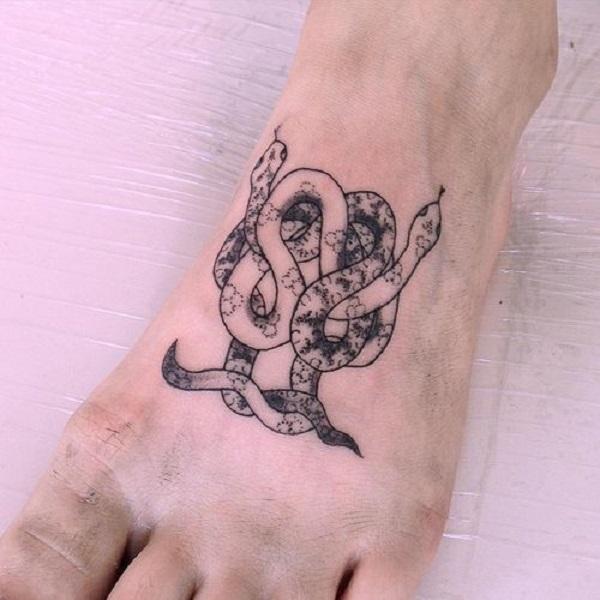 The Foot Piece. This foot piece is quite attractive for the people looking for something attractive while keeping it cool and simple.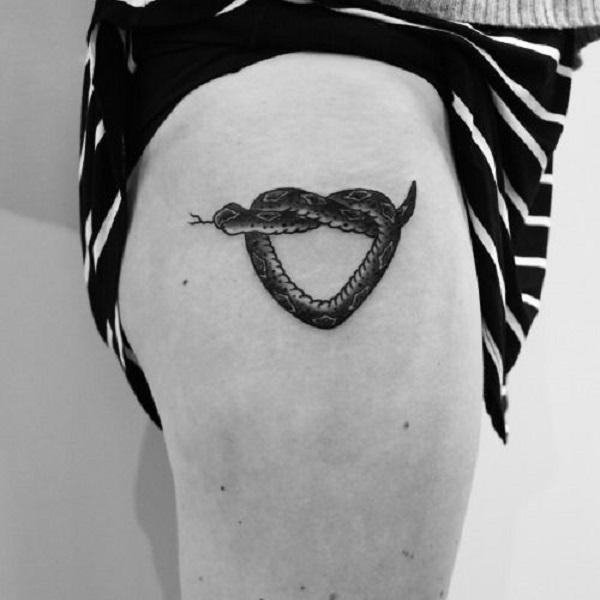 Heart-ed Snake Tattoo for Her. Sensuousness, grace, sexuality, fertility and birth, all are depicted by this simple looking snake tattoo.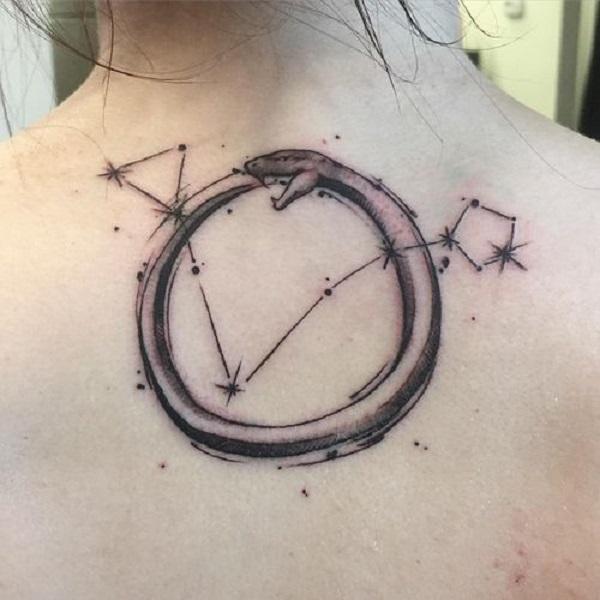 That Back Piece. Who thought snake tattoos can be this gorgeous and attractive?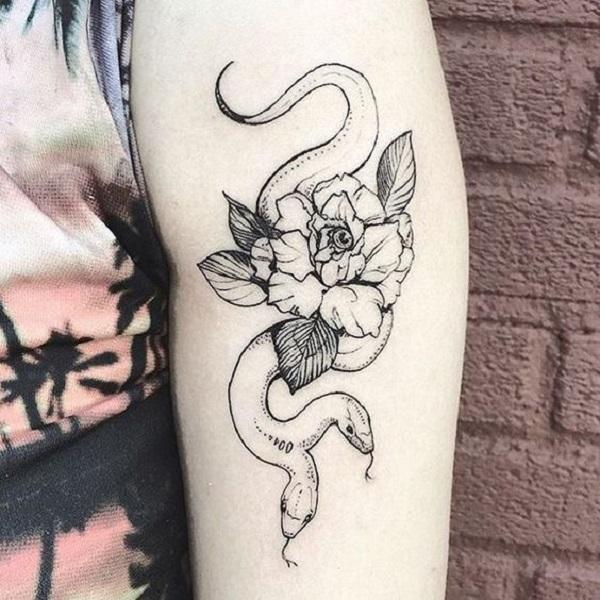 Two- Headed Snake Tattoo. Two headed snake tattoos mostly rooted back to Egyptian culture. These represent power and protection at the same time.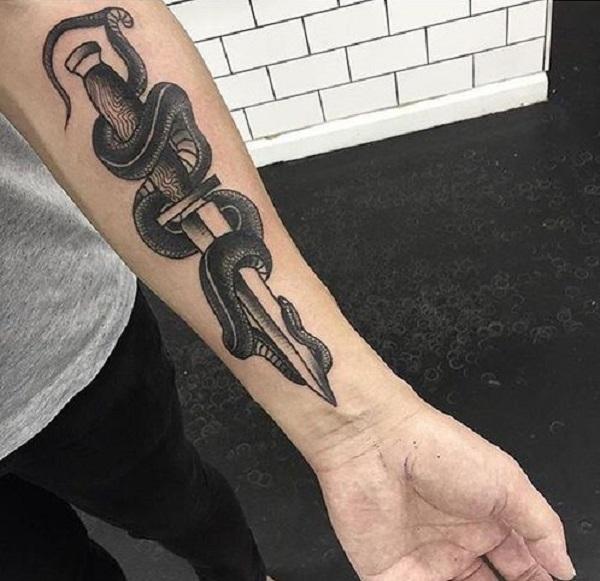 Snake with Sword Tattoo. This tattoo can be used to depict the defense and revenge at the same time.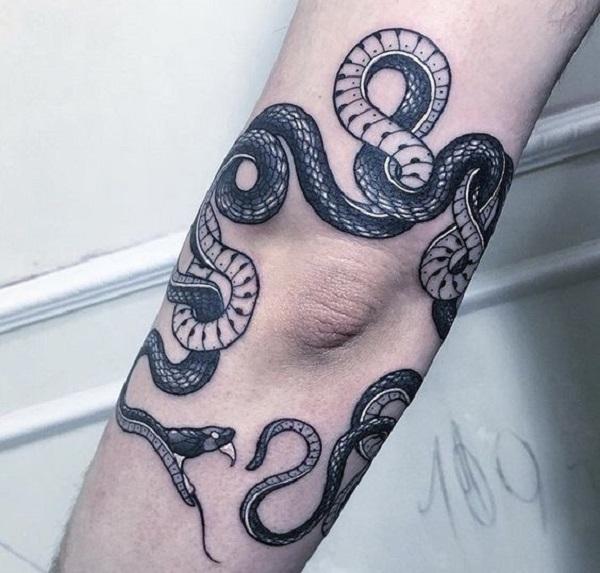 A Long Snake Tattoo. Variations in snake tattoos are large and the best part is that sake tattoos look amazing in all styles and designs.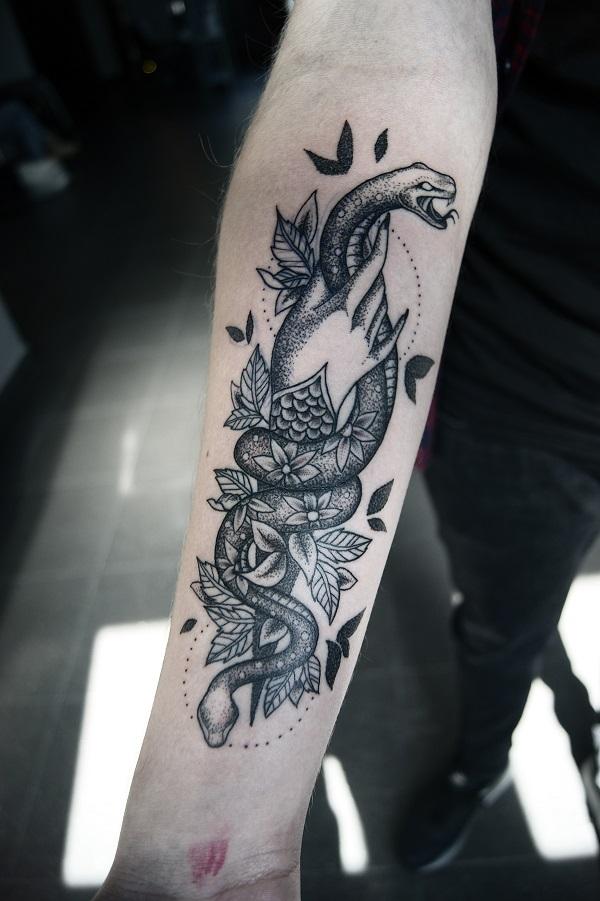 Dull Snake Tattoo Idea. This dull yet quite scary snake tattoo is truly an inspiration.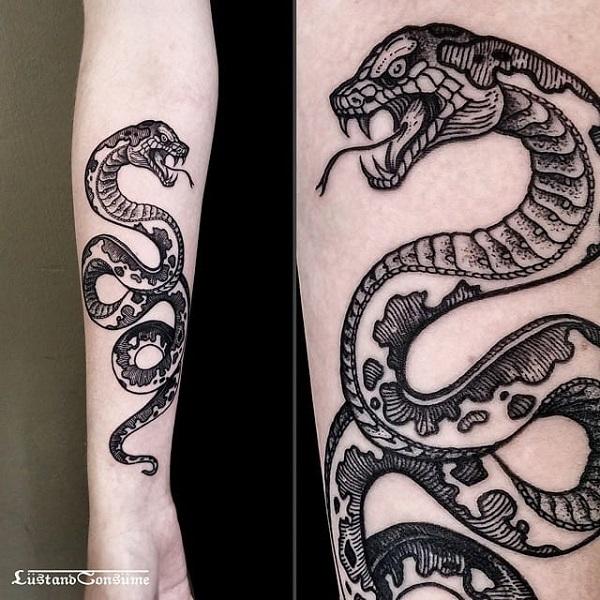 Scary Snake Tattoo Design. This scary snake tattoo is quite best for the people with short temper and more aggressiveness to define their personality.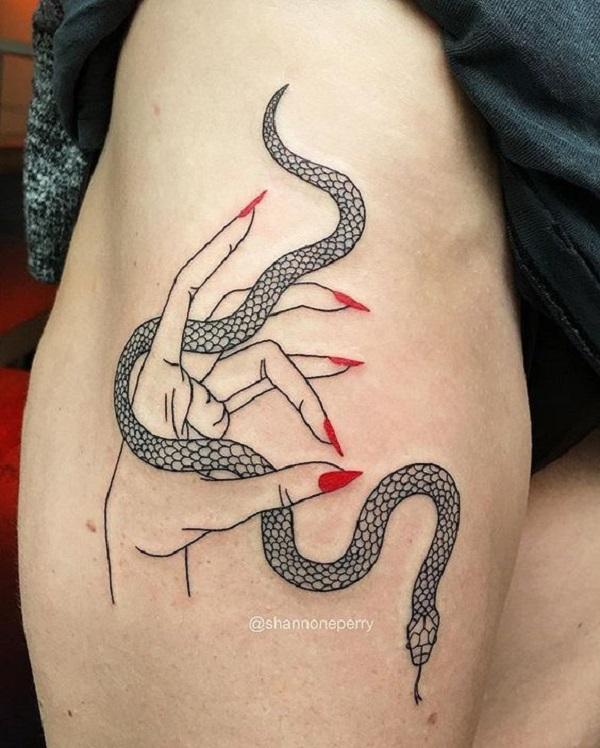 Snake on Fingers Tattoo. You can create your own piece by adding your creativity and aesthetic sense into the design. This amazing snake tattoo is the true depiction of creativity and aesthetic sense.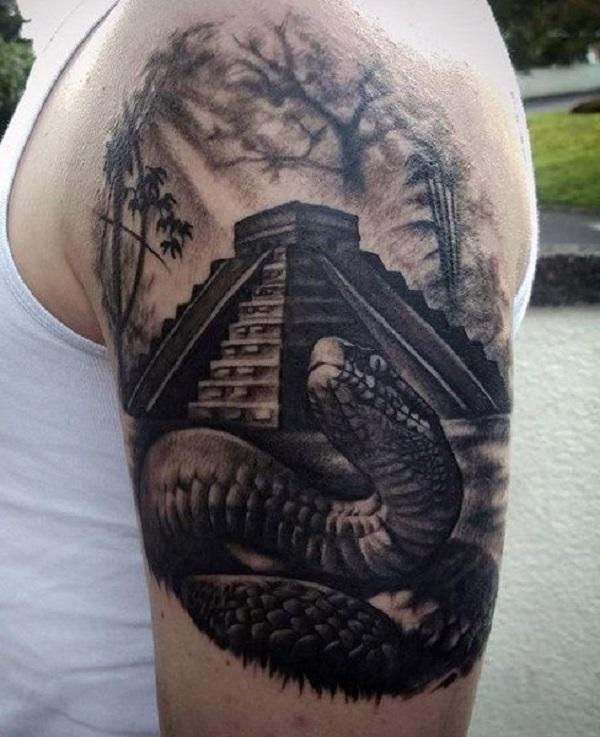 Realistic Snake Tattoo. Don't confuse this tattoo with a real snake. Well with these details and amazing work, you can surely be dodged.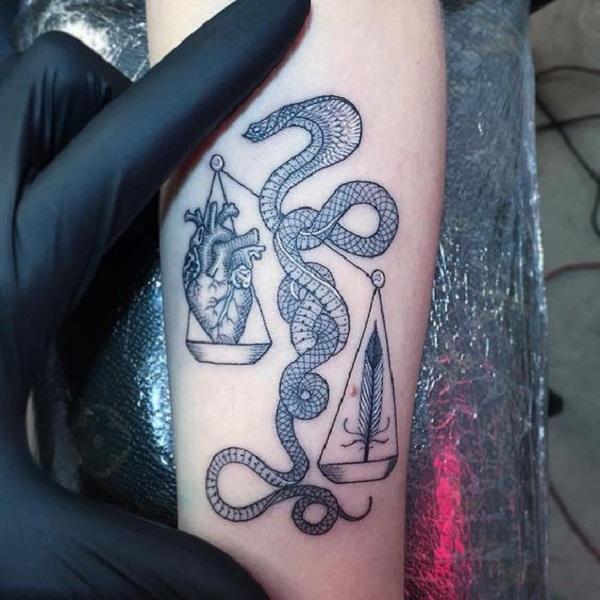 The Scale Tattoo.This tattoo might be having some mysterious meaning. But this one is really great to watch.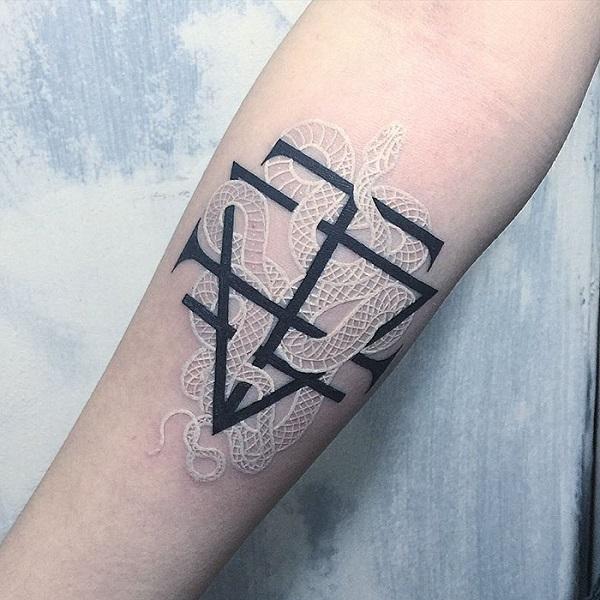 Tribal Snake Tattoo Design. Another masterpiece by Mirko Sata. The magic in his hands is clearly seen in this tattoo piece.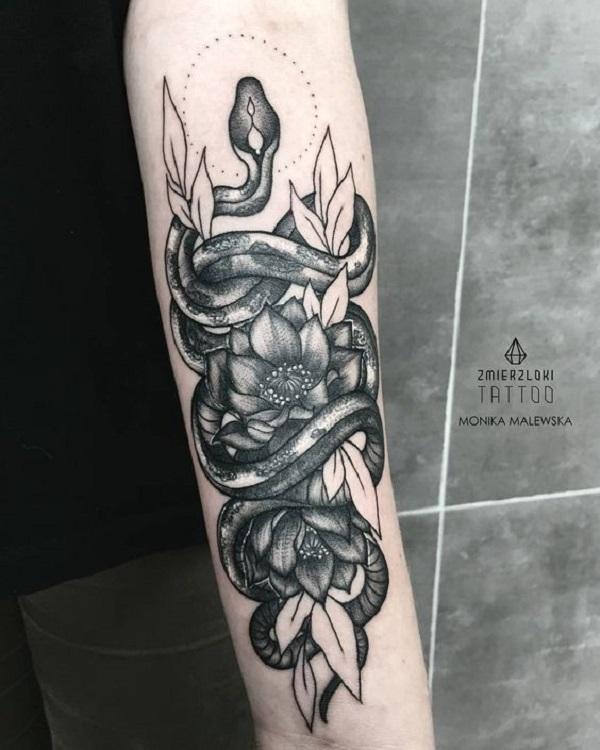 Shaded Snake Tattoo by Monika Malewska. Bold and bright, snake tattoos are always classy to wear.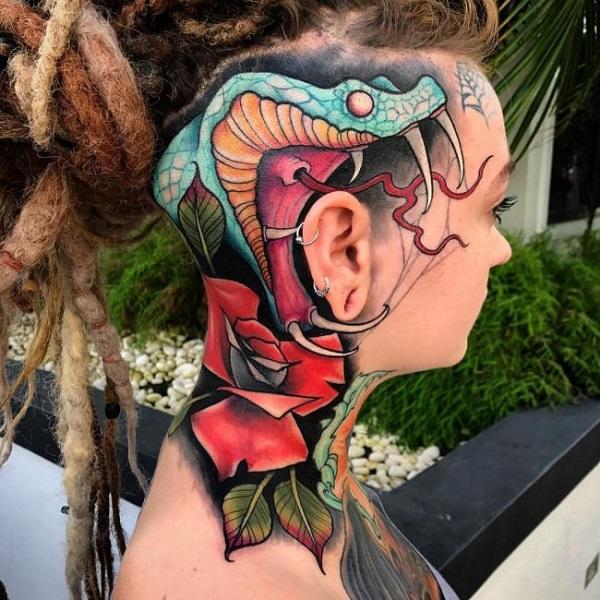 Snake with a Peony. Emo girls can definitely have this colorful yet mysterious peony with snake tattoo.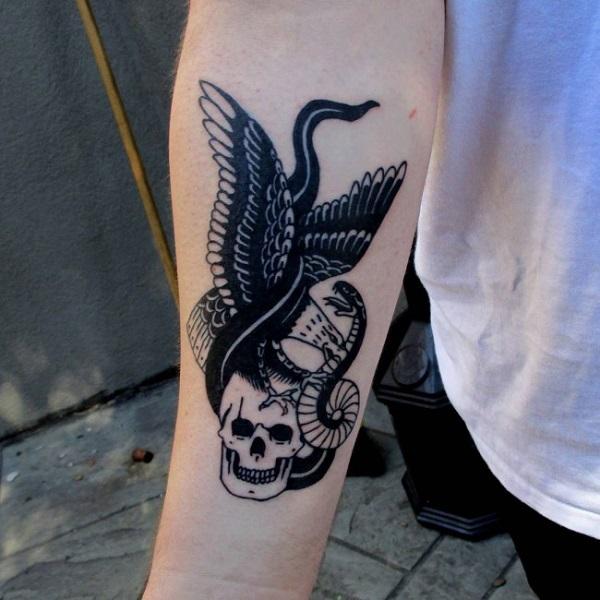 Snake with Skull Tattoo. Being epitome of death and decay, skulls are mostly coupled with the snakes in tattoos to symbolize a complete physical and spiritual destruction of a being.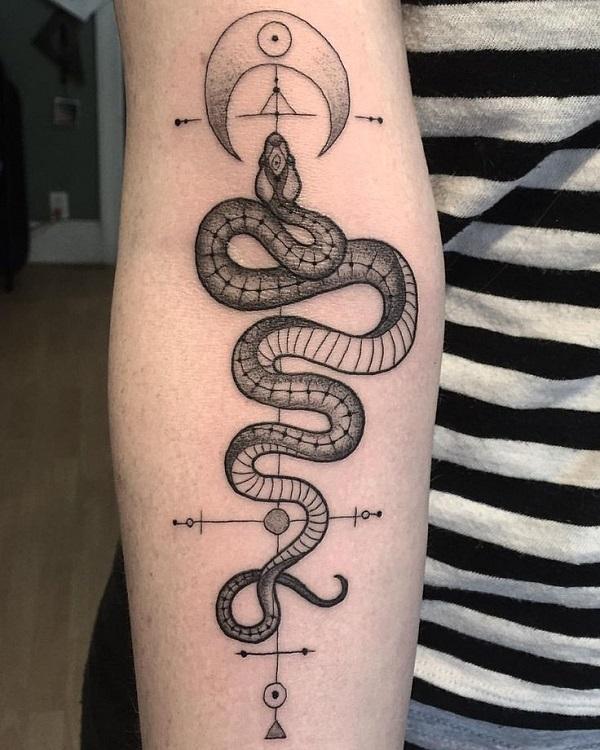 Geo Snake Tattoo. With the lots of lines and black colors, this tattoo is worth watching.
The Red and Black Viper. Ahh! If you are a person with weak heart, you must avoid seeing this oh-so scary red and black viper tattoo.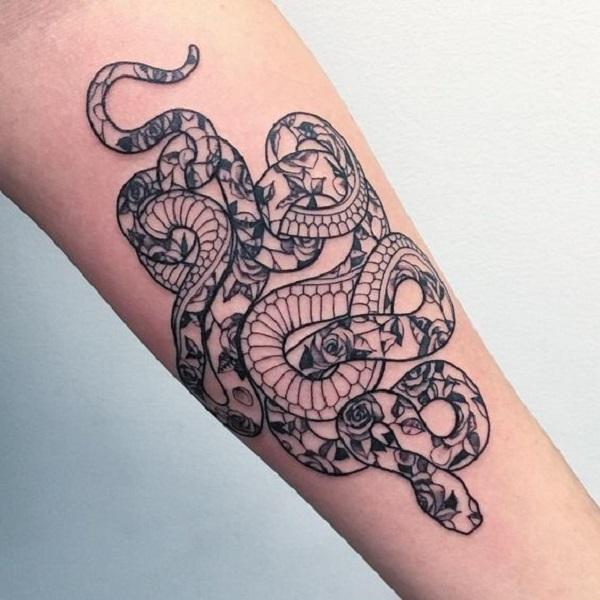 Forearm Snake Tattoo. With the patterned skin and coiled tail, this forearm piece is worth sharing.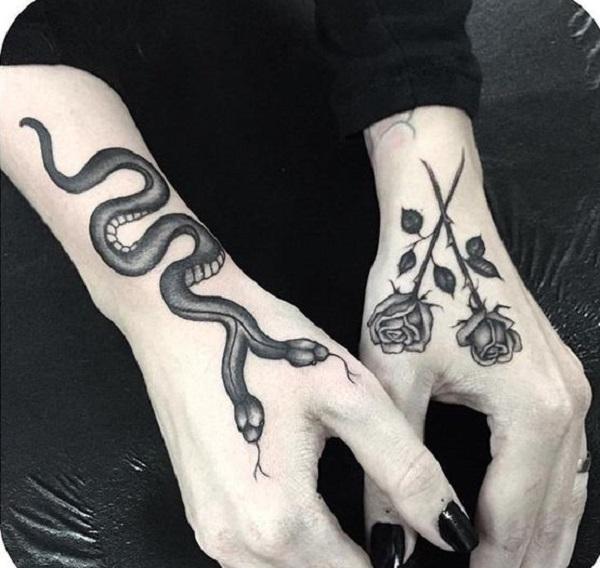 Shaded Snake Tattoo. Abother two- headed snake tattoo on the list with double protection and power depiction.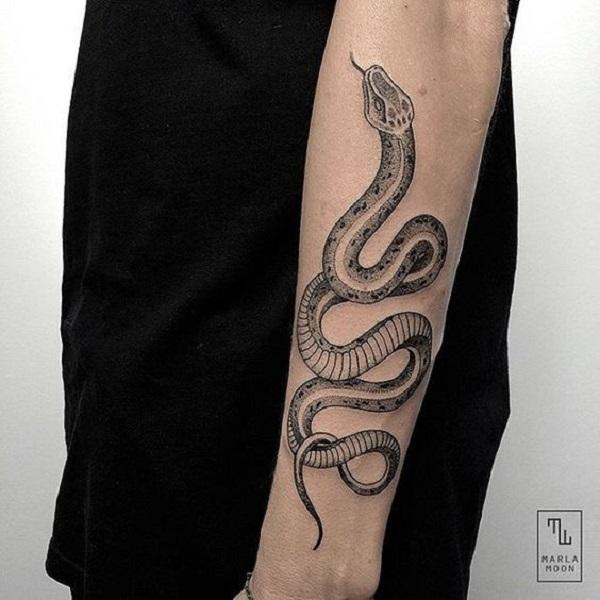 The Gorgeous Forearm Tattoo Design. This gorgeous forearm tattoo has got our mind.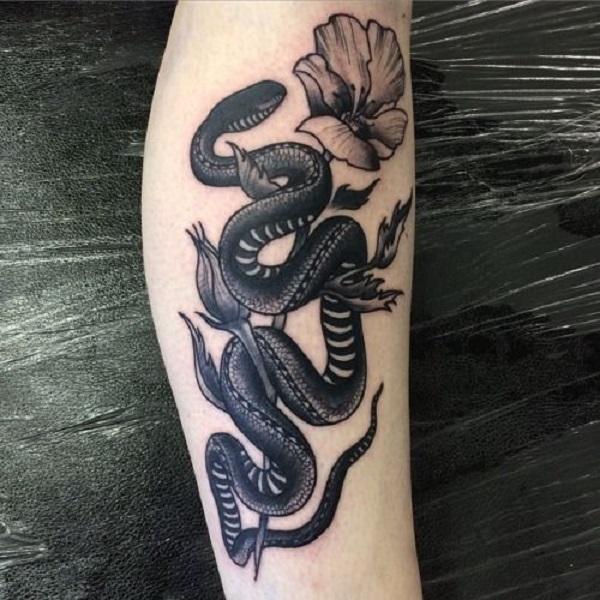 The Deadly Snake Tattoo. The snake with the flowers is a one common variation that you can have in your snake tattoos to make them classy yet attractive.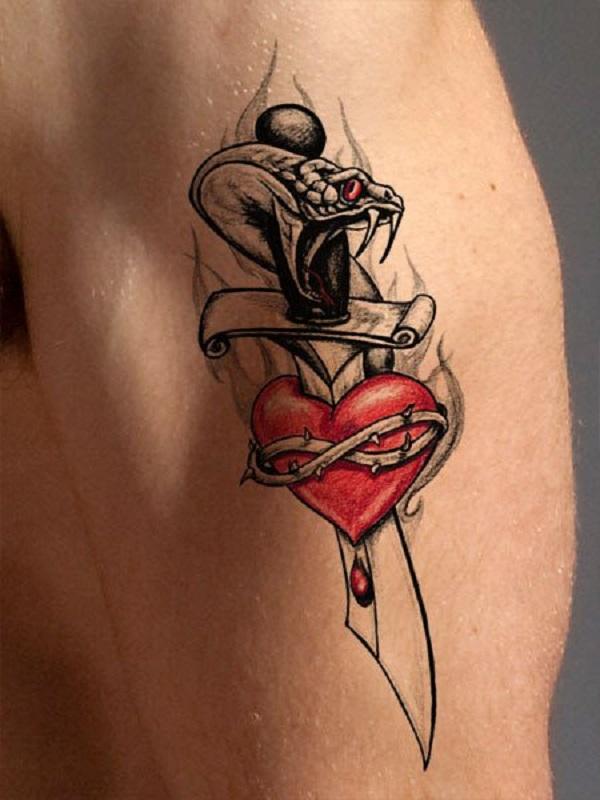 Angry Snake Tattoo. This snake tattoo is truly a depiction of what an actual snake would look like while he's angry.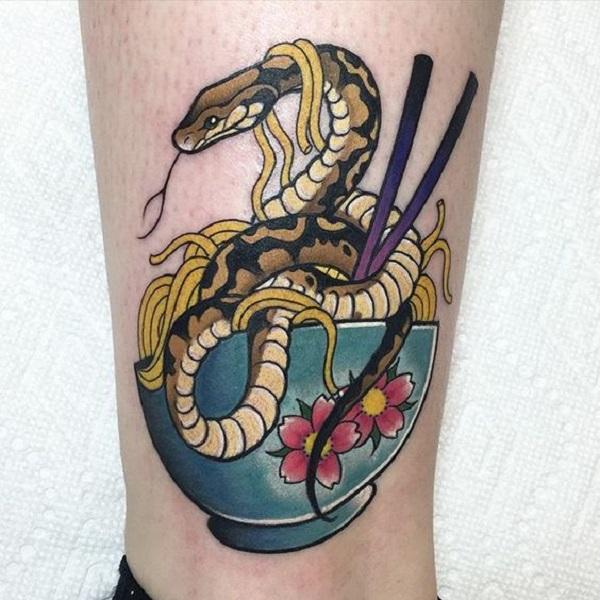 Therapeutic Snake Design. Snakes have been long associated with the therapeutic and medicinal use. For example, the bowl of Hygeia, Caduceus and Rod of Asclepius.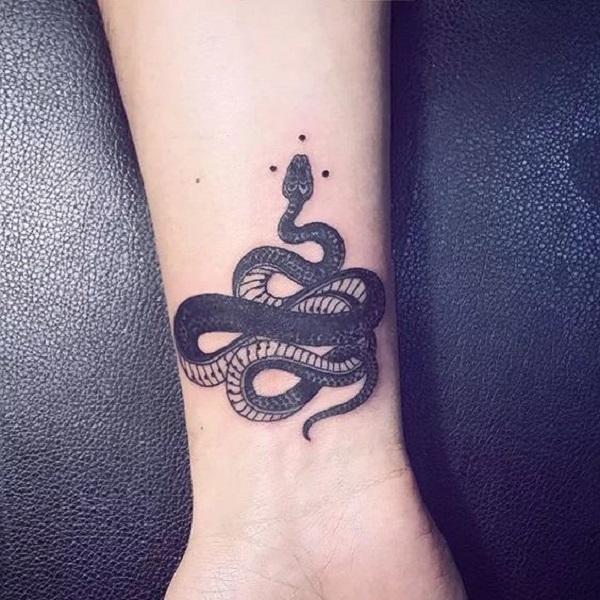 The Divine. Snakes are widely used as the symbol of Divine in most of the cultures.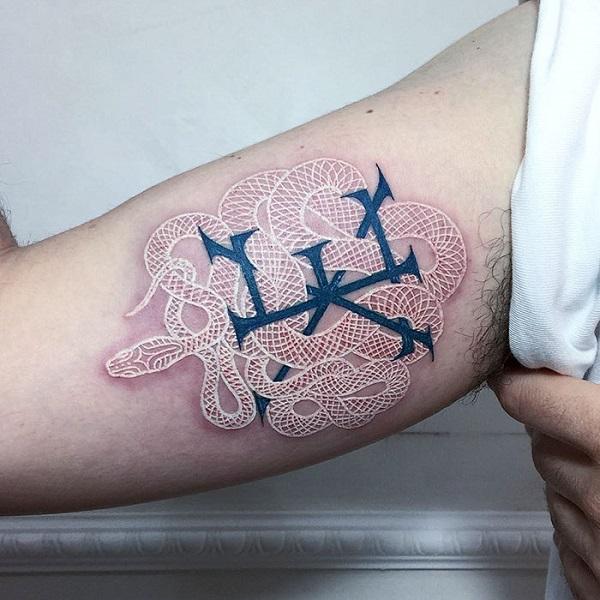 The Coolest Snake Tattoo. You might have never seen the coolest snake tattoo than this one. With the simple color, this tattoo is definitely worth while.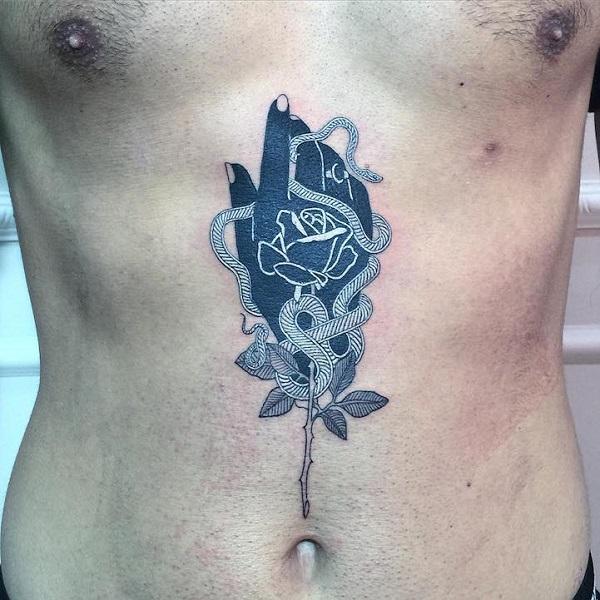 A snake and a Hand Tattoo. Another snake tattoo on the list with unique variations and mysterious meaning.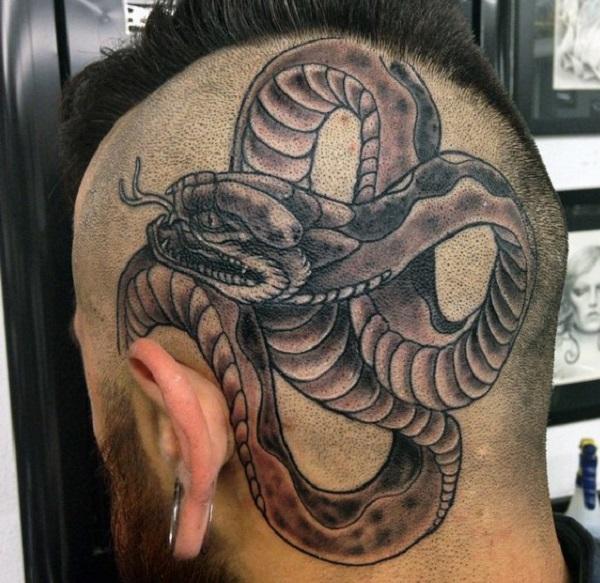 Scalp Snake Tattoo. This scalp snake tattoo is utterly classic.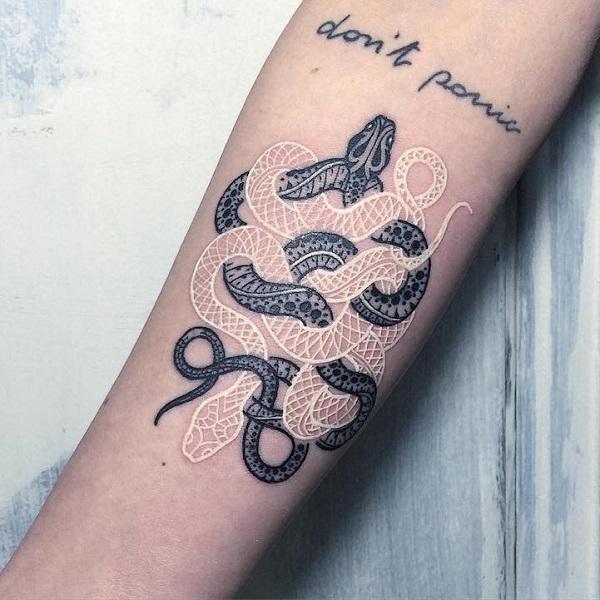 "Don't Panic" Snake Tattoo Design. With the quote, "Don't Panic" this black and white snake tattoo is definitely frightening.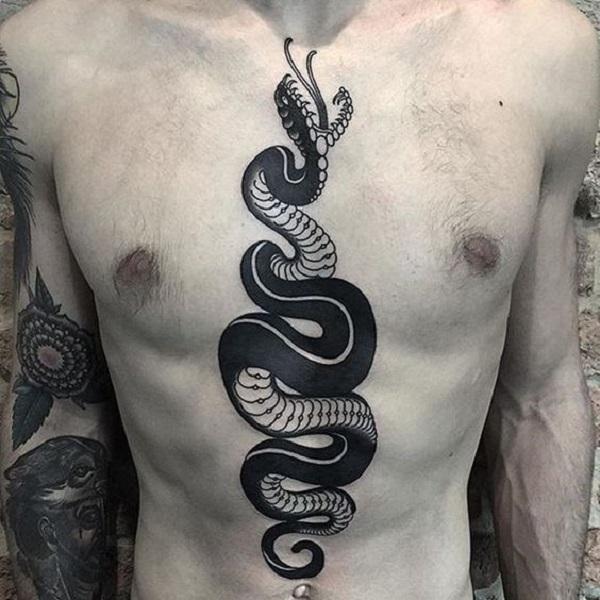 Detailed Snake Tattoo. Rich in details and creativity, this snake tattoo is worth considering.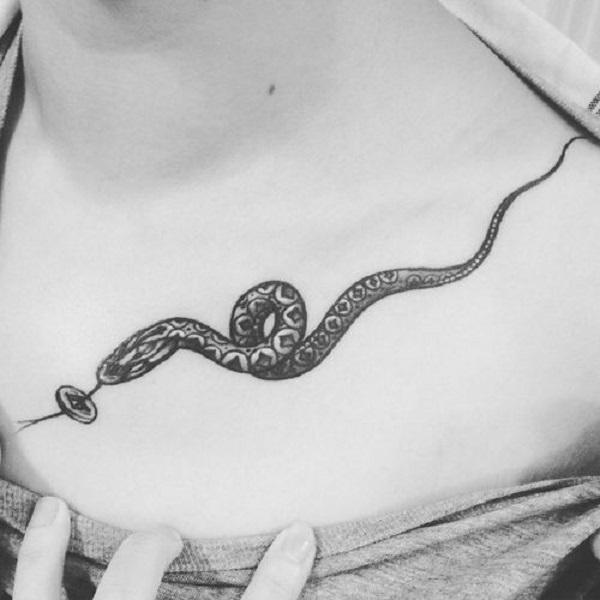 That Sex Symbol. This sexy snake tattoo at sexy placement would definitely be arousing.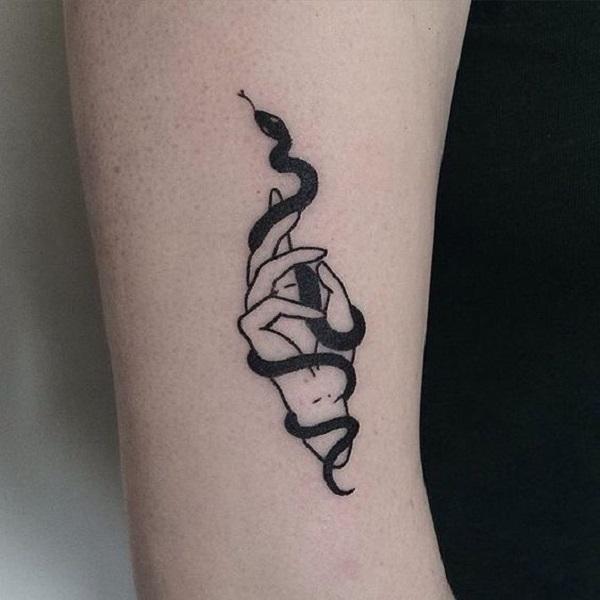 Rolled Snake Around a Hand Tattoo. Rolled snake around a hand tattoo is full of creativity and details.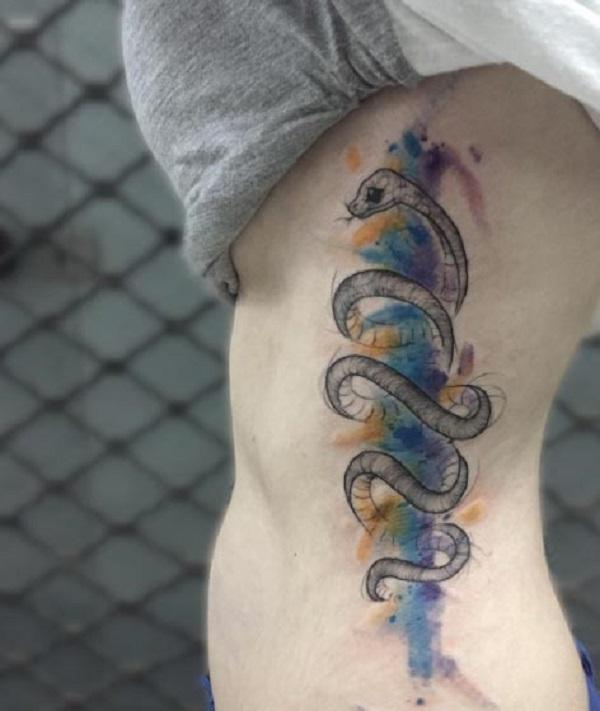 The Snake Rib Piece. For the additional sensuousness, the snake tattoo can be placed at ribs like the one above.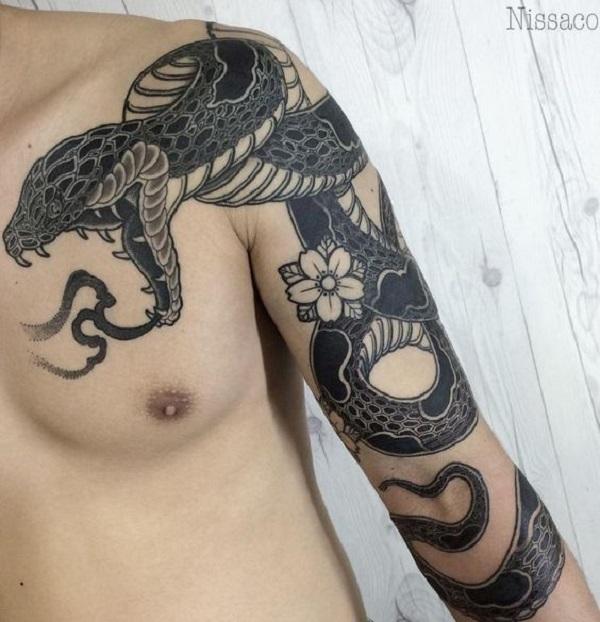 Snake Sleeve Tattoo Design. Looking for a sleeve tattoo design that is worth carving? You have got to the right place.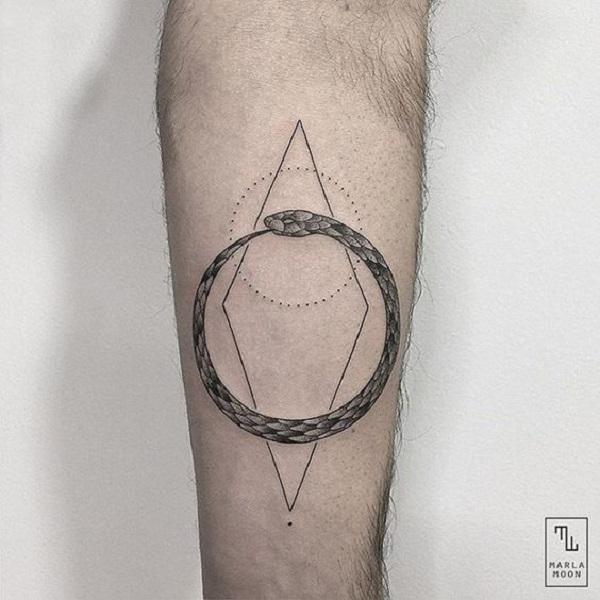 The Death Cycle. Being a symbol of death, this tattoo reminds the bitter end of each and every person on this Earth.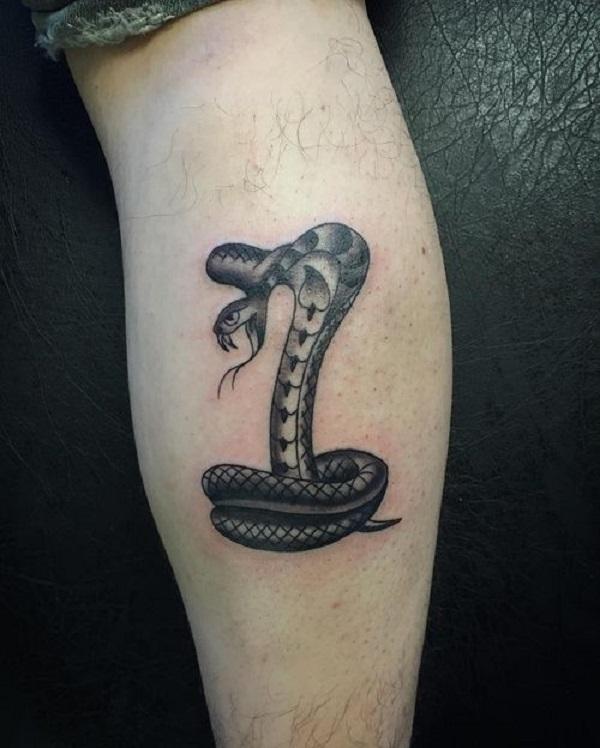 A Sign of Defense. Snakes are vey defensive and that is the reason why they are used as a symbol of defense.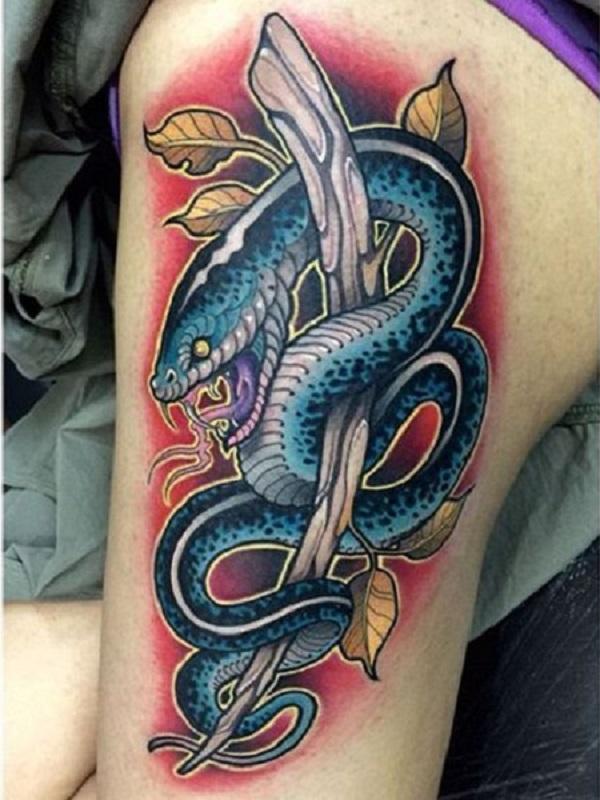 Angry Snake Tattoo. The tattoo is depicting the aggressive nature of snake who is always prepared to unleash its fury.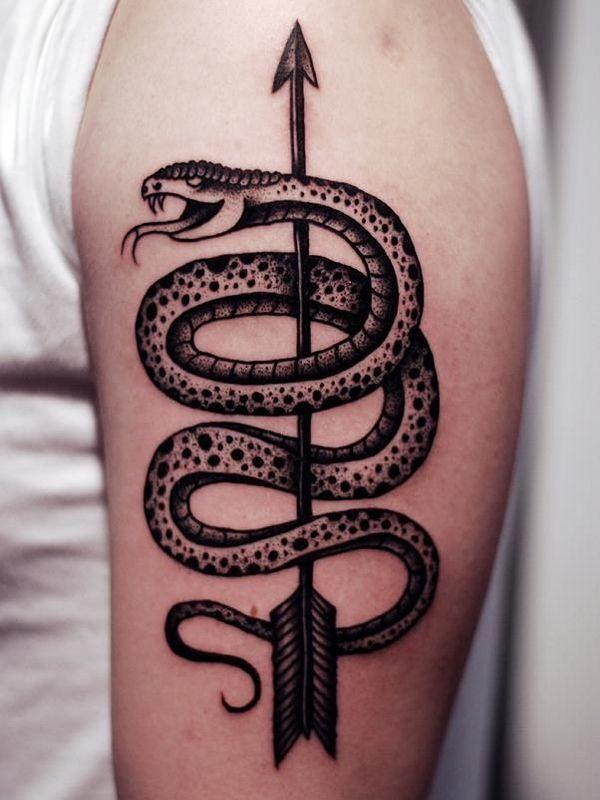 The Snake and the Arrow Tattoo Design. with that deadly snake and arrow, this tattoo is definitely symbolizing the revenge.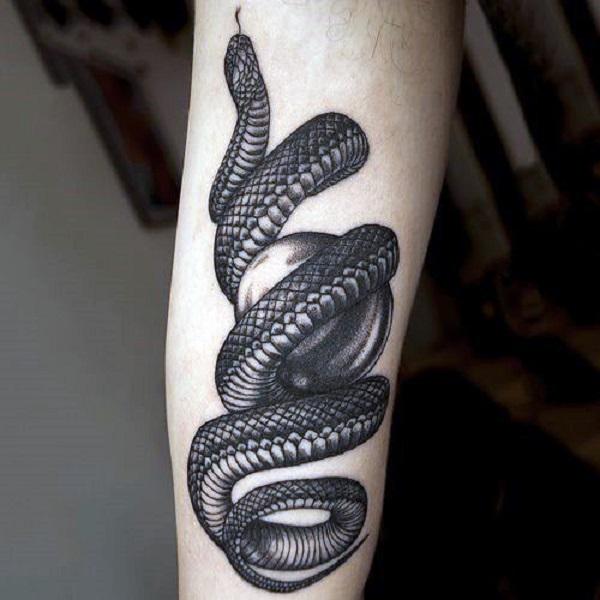 Coiled Snake Tattoo. A coiled snake is a deadly creature that is posed and is a sign that calm appearance can be deceptive.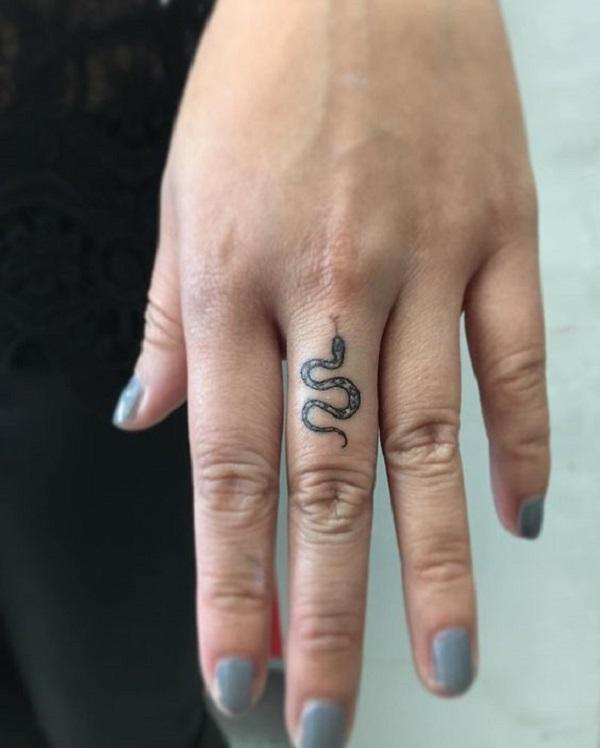 Tiny Little Snake Tattoo for Her.Although snakes can never be cute, but this tattoo is somewhat more of a cute than being deadly and aggressive.
That Sexy Leg Snake Tattoo. Lengthened long the leg, this snake tattoo is really sexy and arousal.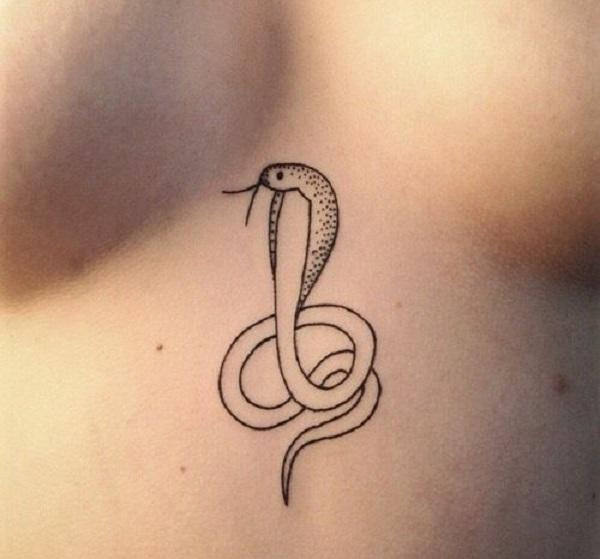 Baby Cobra Tattoo Design. Simple yet meaningful, this baby cobra snake design is truly worth getting.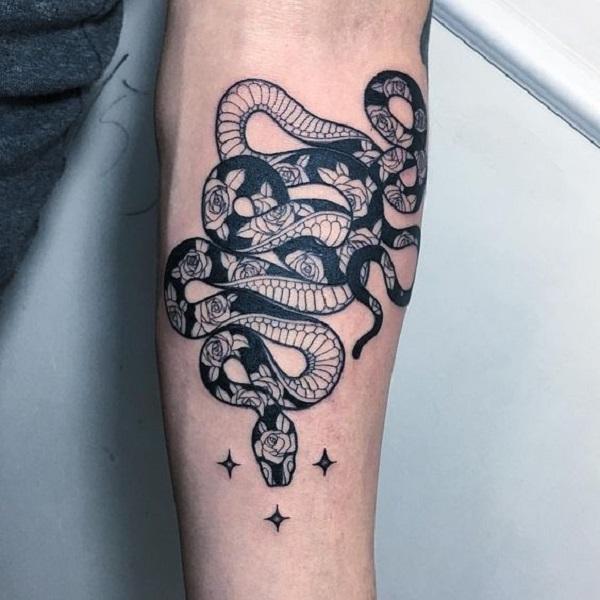 Another Coiled Snake Tattoo. This coiled snake is ready to strike in a heartbeat.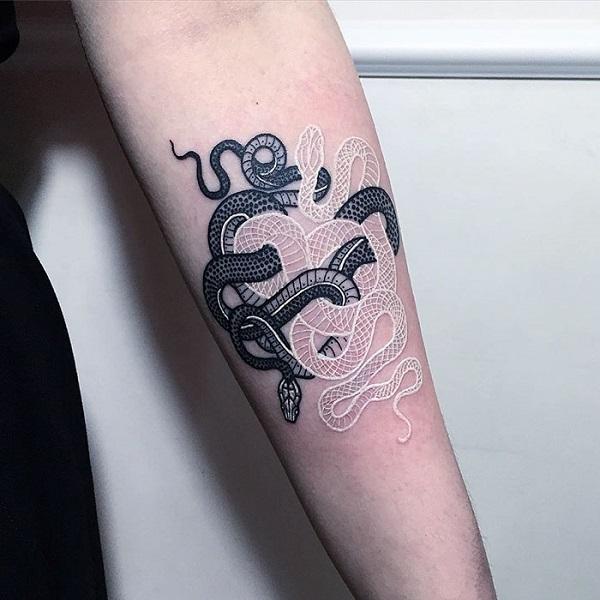 Black and white serpentine Tattoo Design. Mirko Sata is a perfectionist in these black and white serpentine tattoos and this is not what I am saying.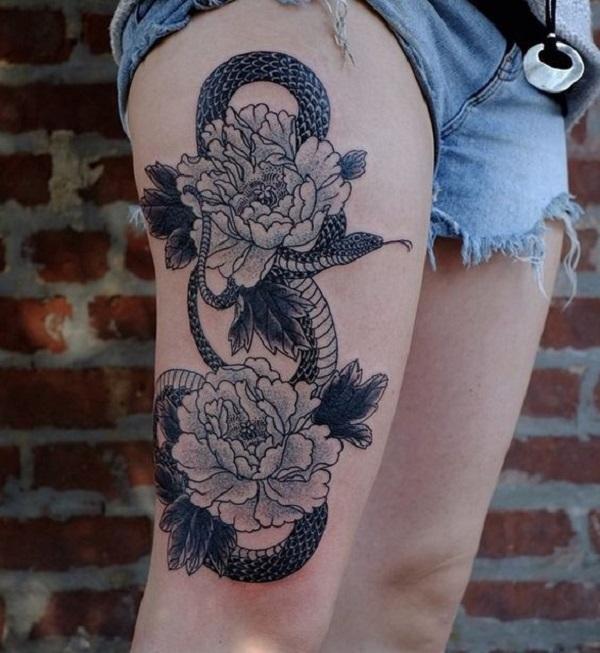 Healing Snake Tattoo Design. The snakes change their skin to show the process of timely healing. This is what being depicted by the tattoo.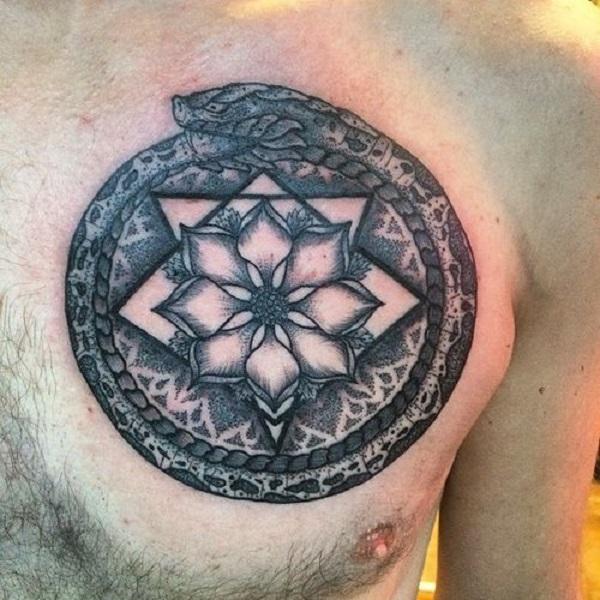 Deadly Snake Tattoo. This might be a tribal snake tattoo which is rich in cultural history and tribal patterns.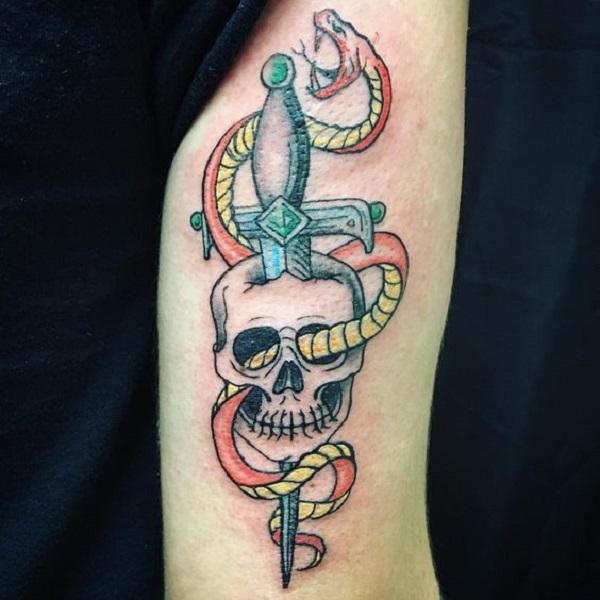 Scary Skull and Snake. This tattoo represents the utter decay and death at the hands of a featured creature.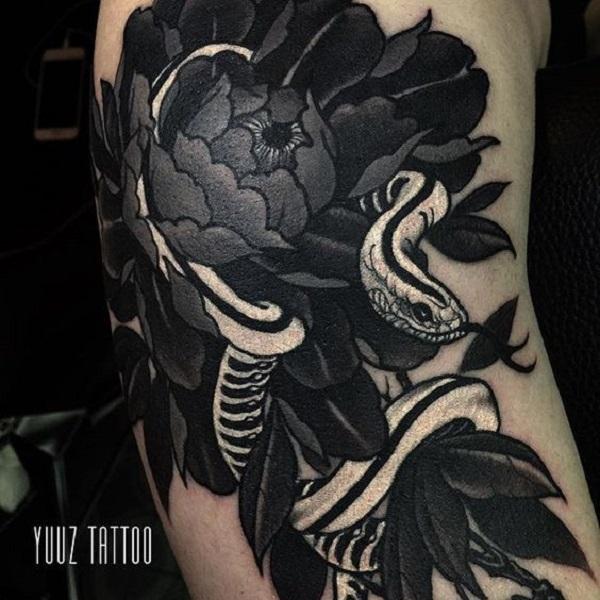 Snake Hiding Behind the Flower. "A rose by another name would smell as sweet."-William Shakespeare (Romeo and Juliet).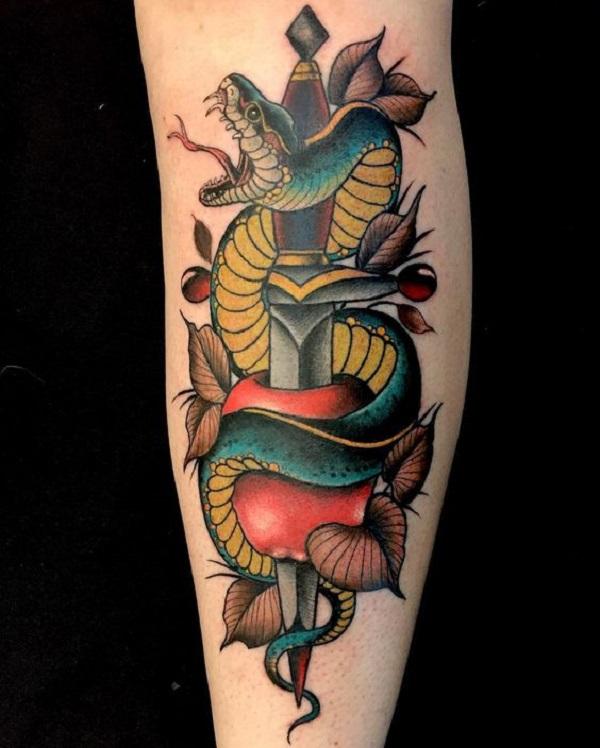 The Snake and the sword Tattoo. This tattoo is definitely symbolizing defense and protection.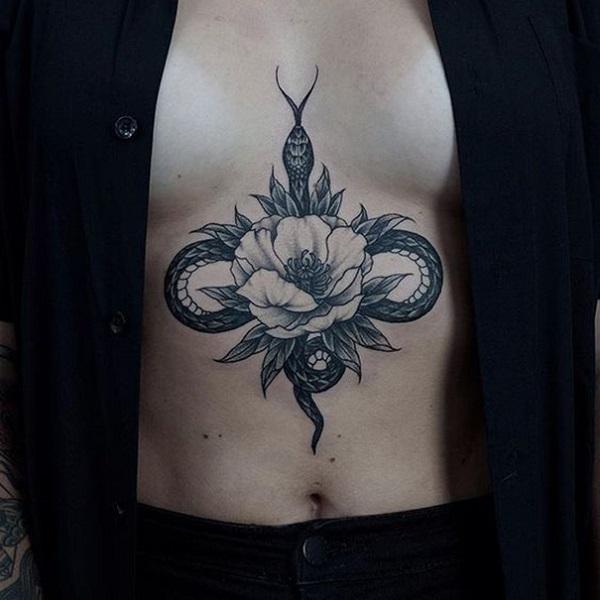 The Snake's Venom. Hidden within a delicate flower, this venomous snake is going to bite you any minute now.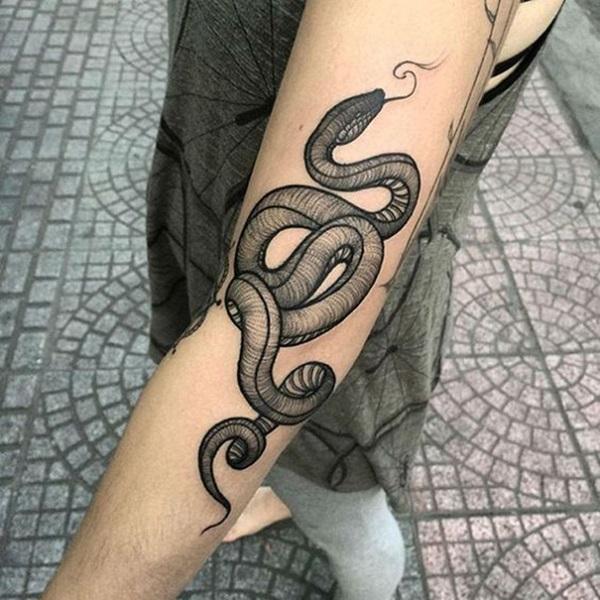 Abstract Snake Tattoo. Abstract arts are really popular and especially with the snake tattoos.
Get these bad ass snake tattoos and symbolize mystery and potency at the same time.