In the course of history, roses kept to stay as the source of inspiration. Not only do the flowers send out fragrance in life but also feed our spirits, inspire artists to create amazing artwork of paintings or illustrations. In the tattoo trend nowadays, rose tattoo is becoming one of the most popular flowers tattoo designs by artist. Whether you'd like to honor friendship, or show affection or admiration, a rose tattoo can express right sentiment or emotion.
What is the meaning of rose tattoo?
Throughout history, roses have acquired cultural significance in many societies. Generally people interpret their meanings by their colors. Different colors of rose species are sending different messages. So it's important to know their differences when you come to make a choice.
The red represents true love with passion and desire. So roses in red color can be used to convey the meaning of romantic love, respect, admiration and self-appreciation. A yellow rose, on the other hand, sends a message of appreciation and platonic love without implication of romance. A tattoo with this color may suggest the feeling of joy, happiness and express meaning of friendship or mature love.
Another popular color of rose flowers you may come across is pink color. The meaning of pink roses varies with their intensity of color. Deep pink of this flower stands for grace and elegance while light pink colors are associated with gentleness, sympathy and admiration. So a tattoo with pink roses, which normally appears on the body of woman, can be used to express these qualities.
Purple roses are rare species although they do exist in nature. Similar to its existence, a tattoo with purple shades of rose flower may be associated with enchantment and magical love. Rose in deep purple suggest a vibe of regal splendor.
Tattoo is not just replica of natural world. In this regard, although there's no rose that grows in real black color, rose tattoos in black and white or grayscale are quite popular. Black rose may not be always associated with negative things, such as death, sadness or farewell, but evocative of fairyland, representing the meaning of deep hope and everlasting love.
Symbolic meaning of rose in Christianity
The phrase "rose of Sharon" appears in Song of Solomon (old Testament), which is related to Jesus and symbolize perfect love of Jesus as the rose is considered to be the most perfect of all flowers. In Catholics, the rose serves as a symbol of the rosary. So a tattoo with rose and rosary expresses one's true love and faith in Jesus Christ.
Meaningful Rose tattoo designs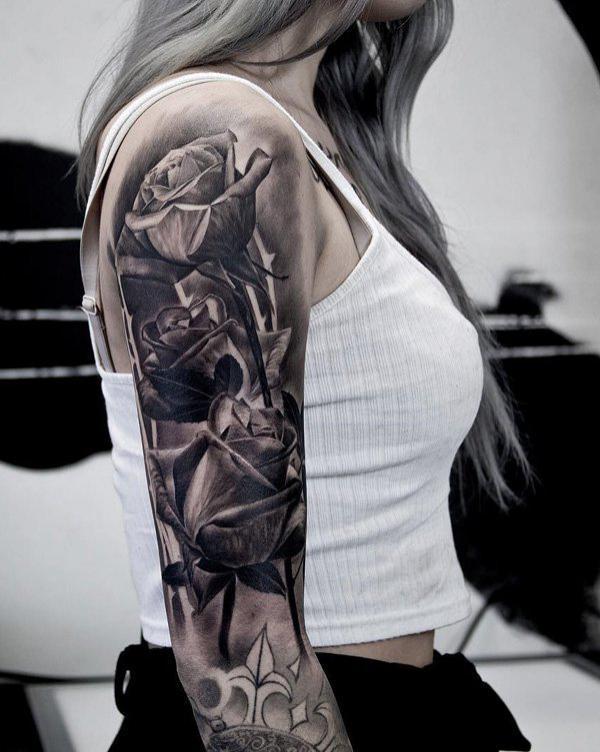 Just like other subjects, tattoos with roses come out in variety of designs, which is one of popular tattoo ideas for both and men and women. If you are fascinated with its beauty, and struggling on which one is suitable for me, here is the collection of designs for your idea.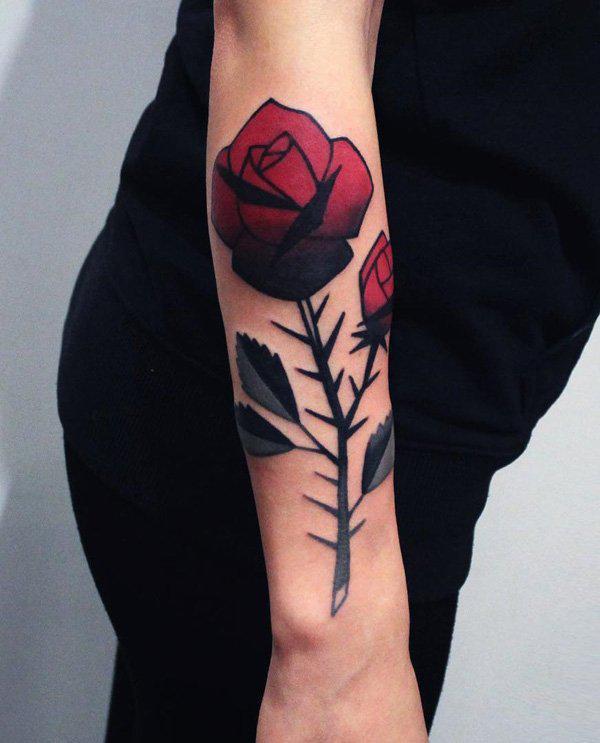 A prickly rose on forearm
Some say thorns represent an idea of love that comes with sacrifices, others say roses with thorns is for people who don't pay much attention to outer beauty. What can be said for sure is that this tattoo shows less sensitivity and romance and looks wonderful in black and white shades.
Roses Gakkin tattoo, Kyoto
Tattoos have served as rites of passage, marks of status and rank, symbols of religious and spiritual devotion, decorations for bravery, sexual lures and marks of fertility, pledges of love, punishment, amulets and talismans, protection, and as the marks of outcasts, slaves and convicts. The symbolism and impact of tattoos varies in different places and cultures.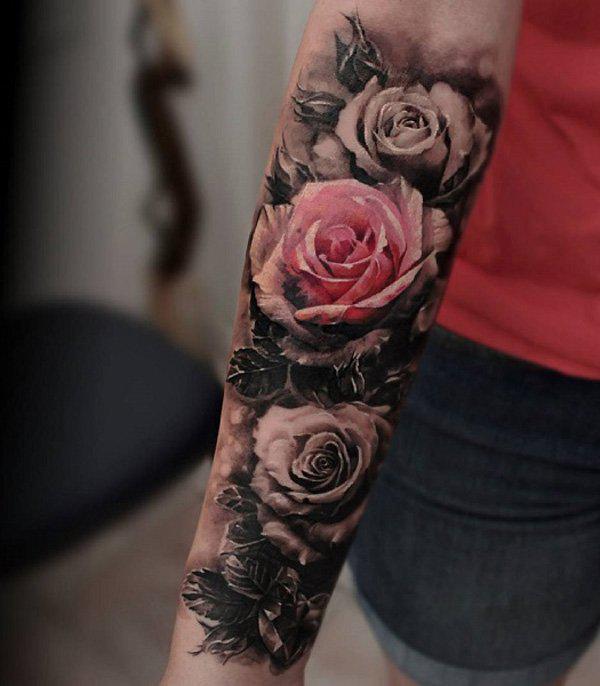 The meaning of roses varies by colors. Red roses represent Love, Beauty, Romantic Love, and yellow ones express joy, and friendship, while a dark red one stands for unconscious beauty and black symbolizes death and passing away. It can also be the beginning of new things, a journey into unexplored territory. Roses often appear together with other motifs to form hybid tattoos, representing their integrated meanings. Here we have a careful collection of fabulous rose related tattoo designs by different artists. Absolutely beautiful! Let us know the one you like the best.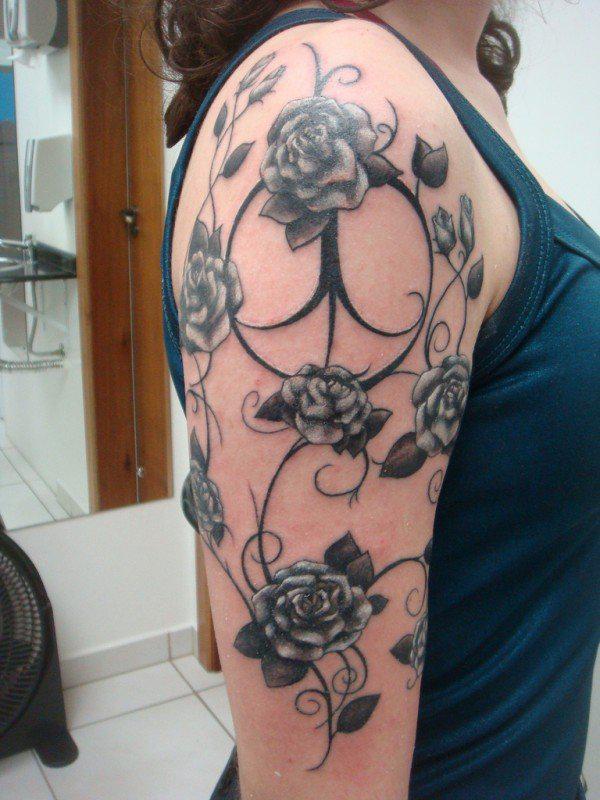 Beautiful tattoo done in black and grey realism technique with composition of this flower. This is also a perfect example of a rose used as love symbol.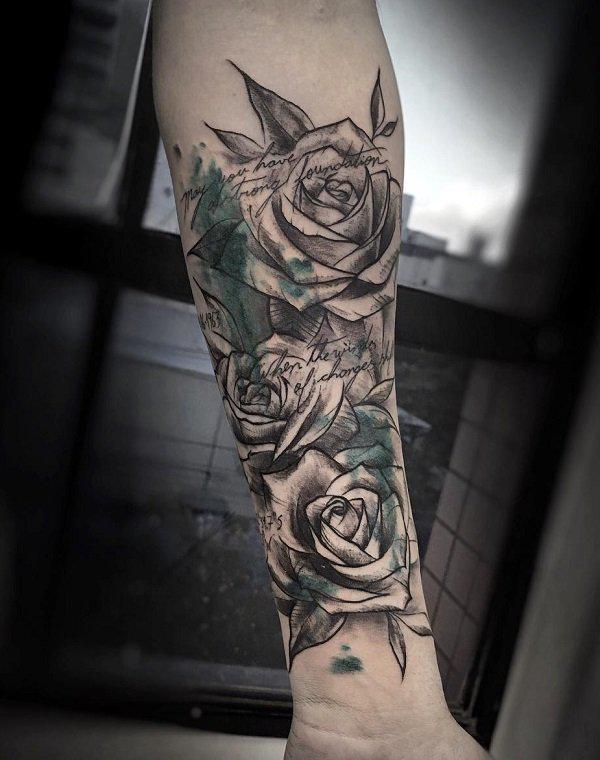 Ink sketch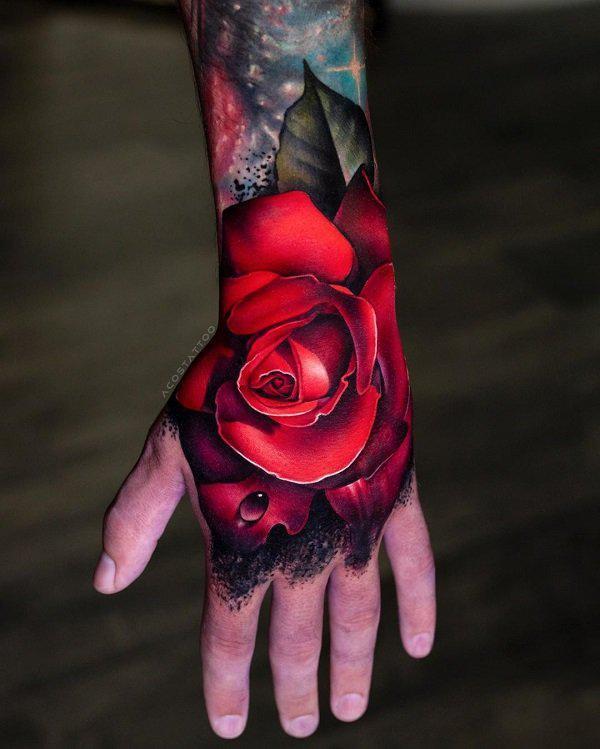 3D Rose on hand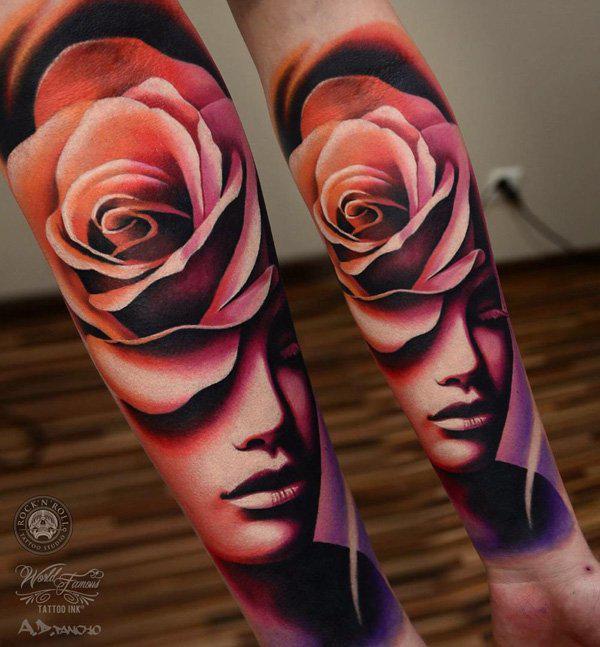 Charming rose headpiece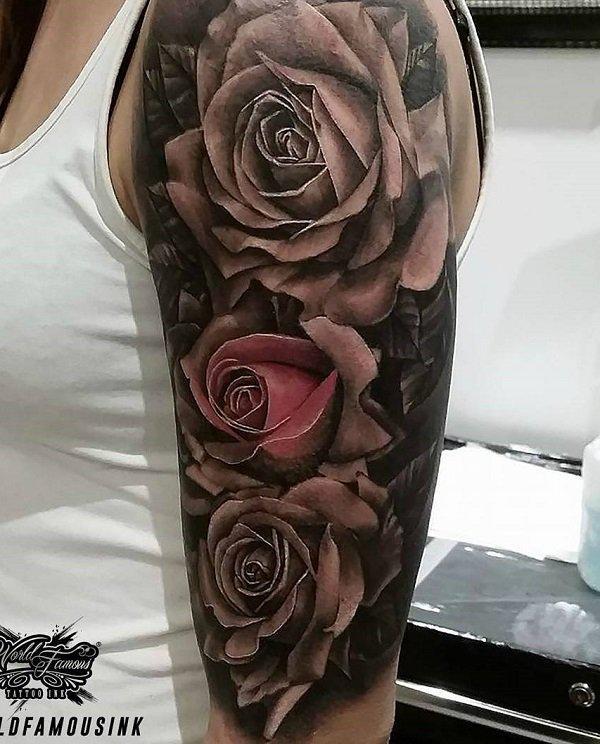 Three roses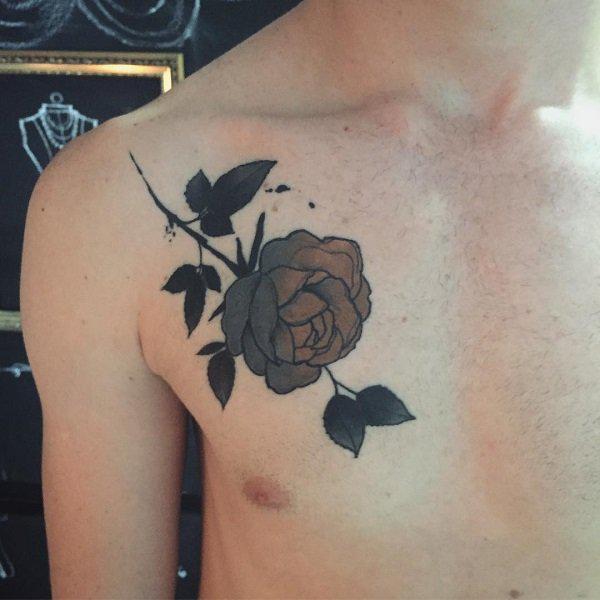 A stem flower on chest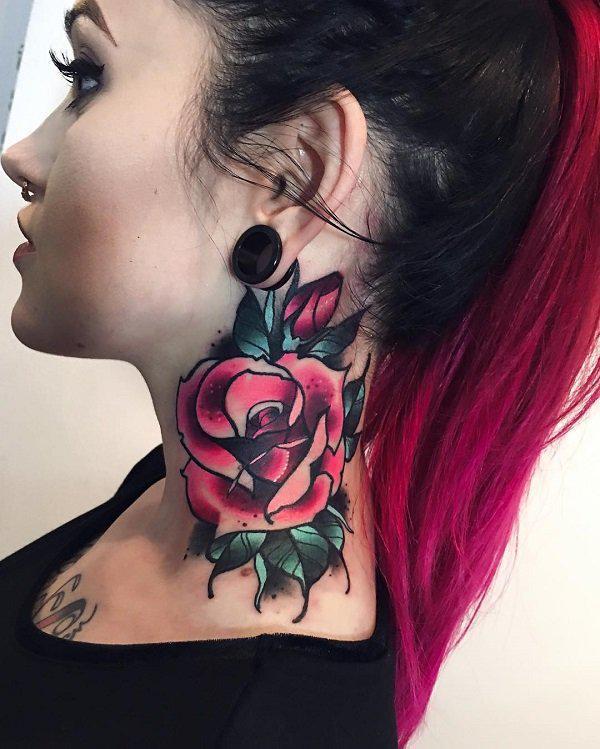 Rose on neck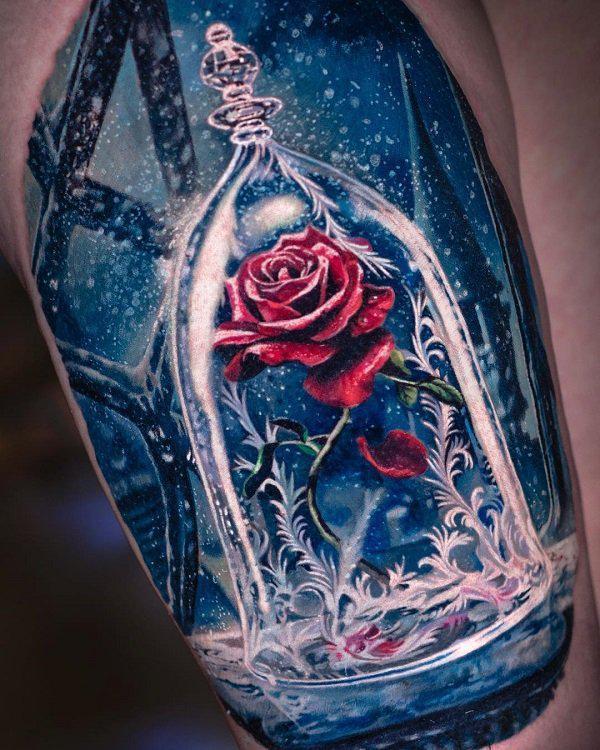 Rose in glass tatto on arm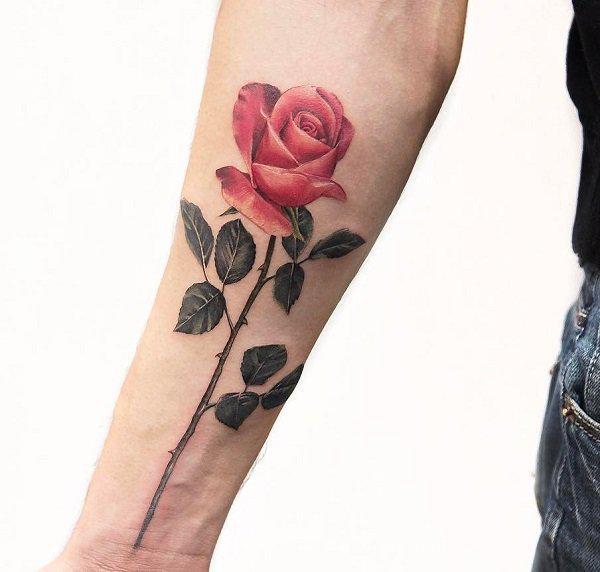 Single stem rose with horns tattoo on arm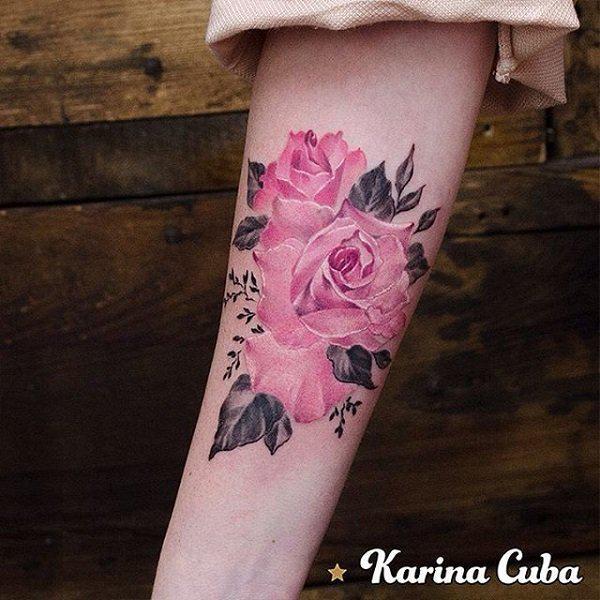 Playful Pink rose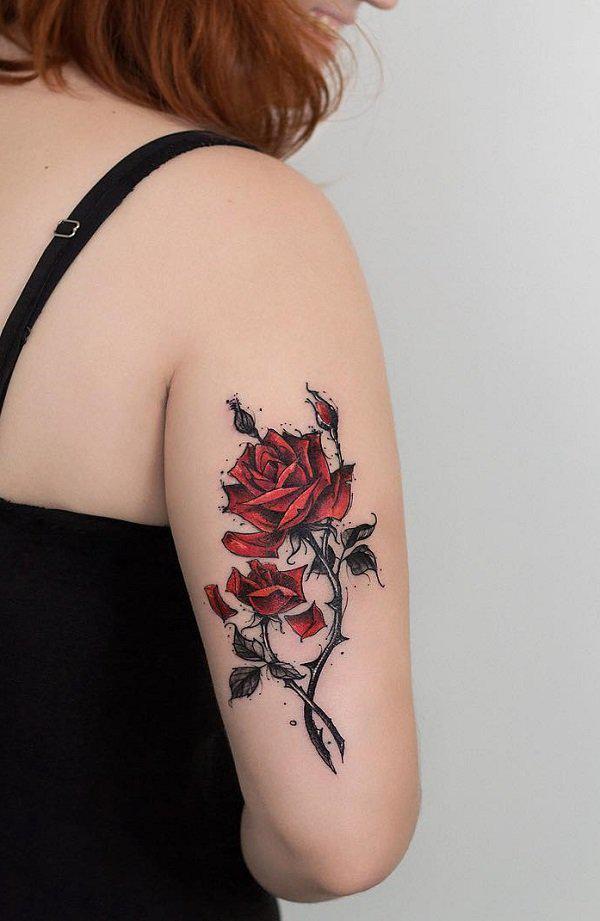 Red rose with hips and horns tattoo for women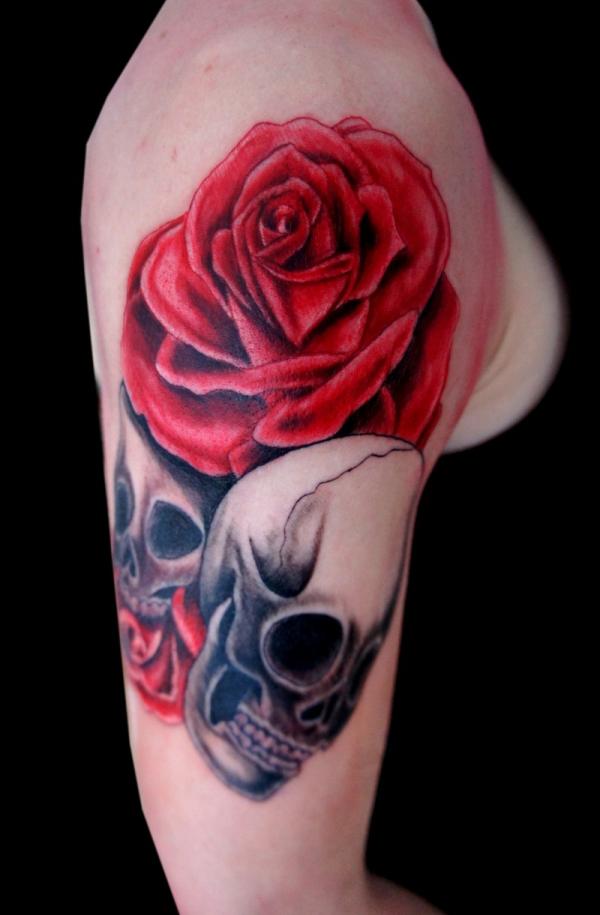 Rose and skull in black and red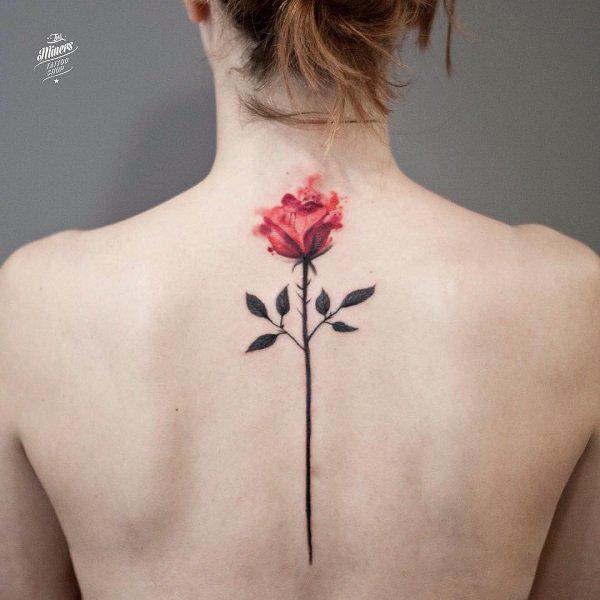 Single stem rose with horns tattoo on spine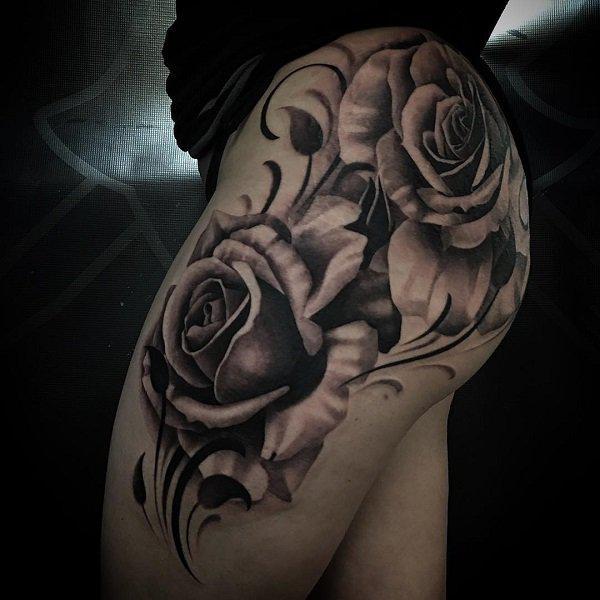 Black and white rose tattoo across thigh and hip
3D rose tattoo on back for women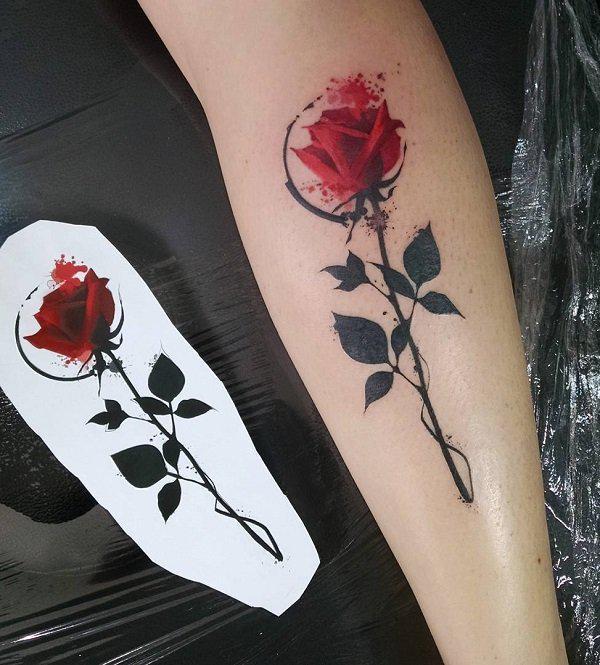 One stem rose tattoo with splashed droplets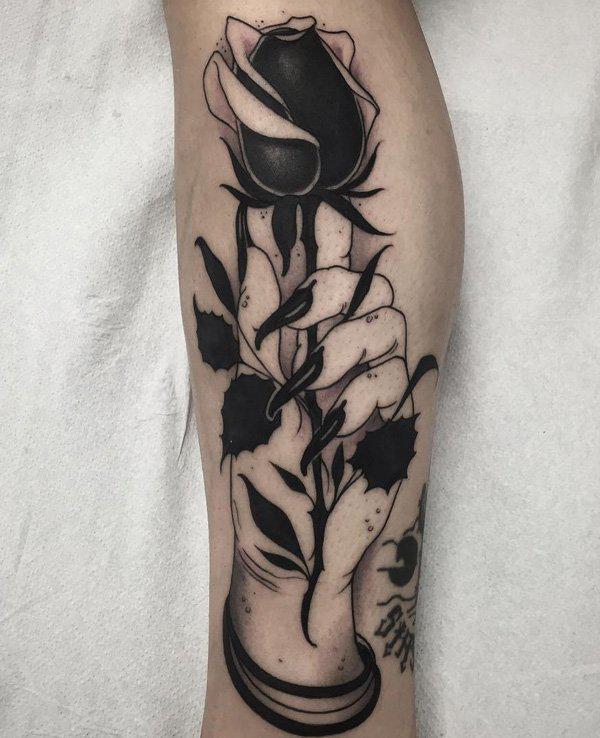 A rose in hand tattoo on half sleeve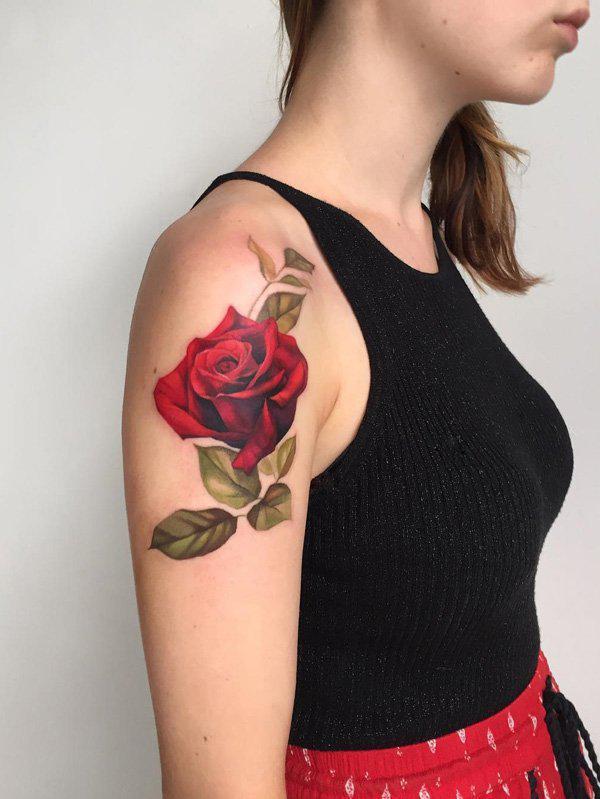 Red rose tattoo with grey leaves on arm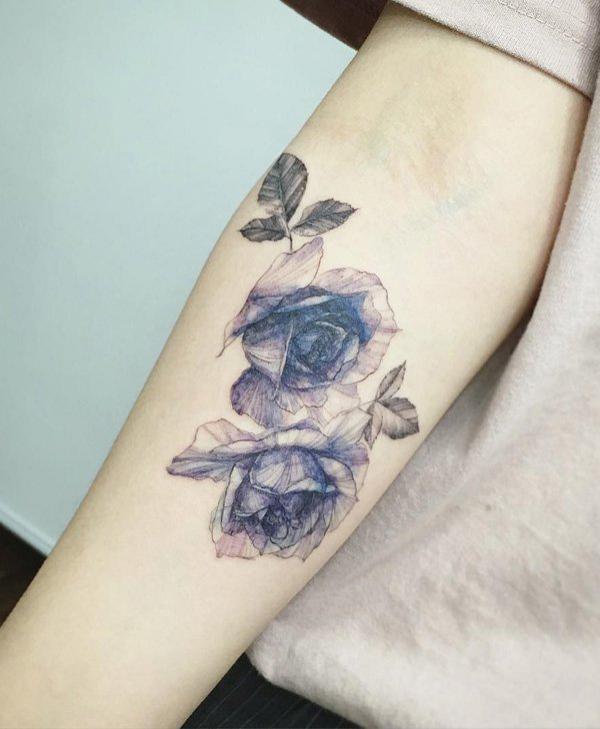 Blue rose tattoo in sketchy style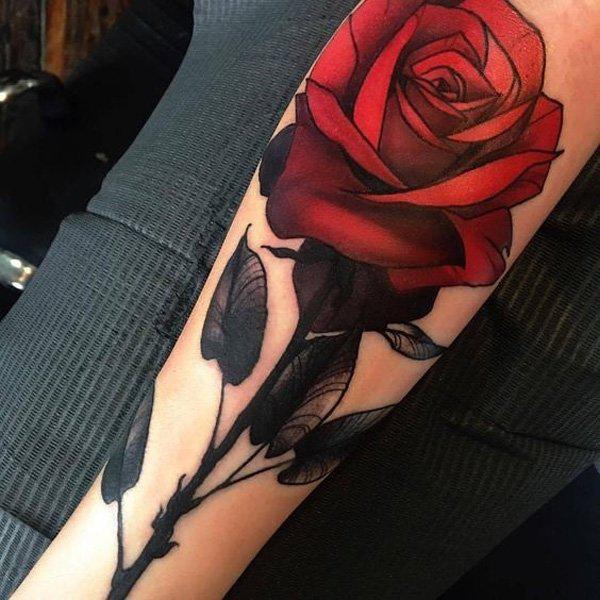 Amazing red rose in full bloom tattoo on forearm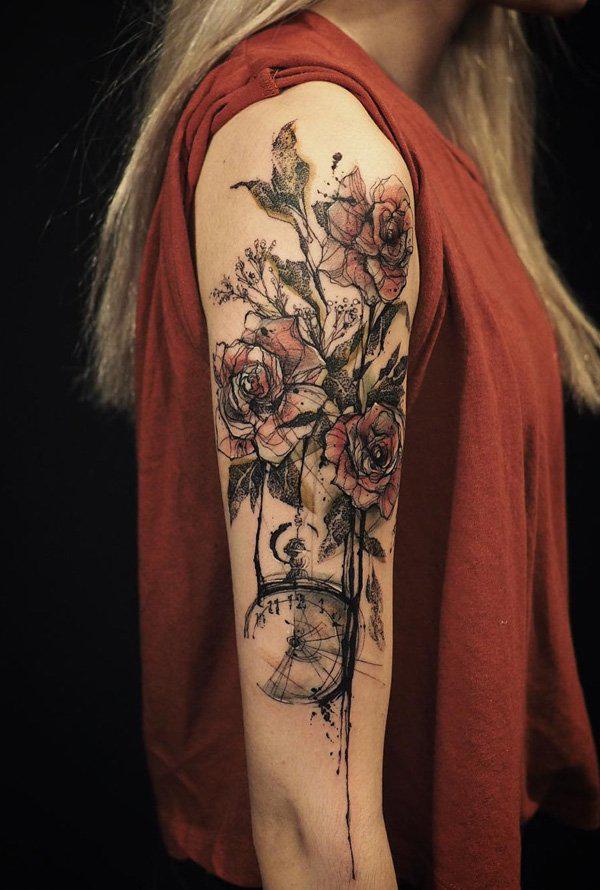 Roses with watch tattoo in illustrative style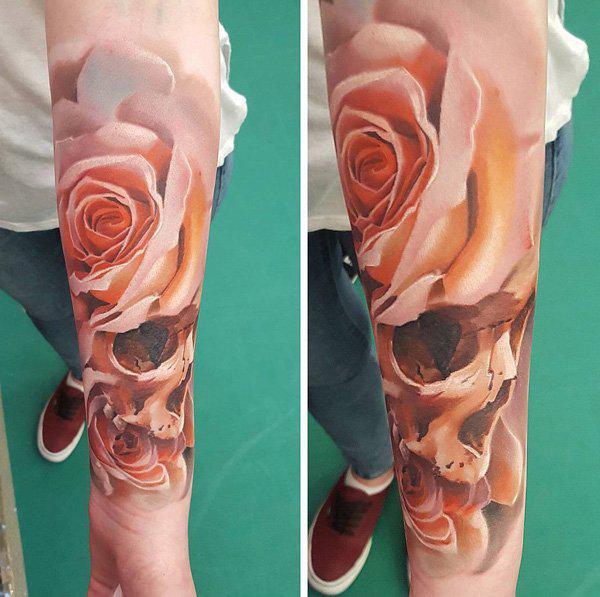 Pink Rose with skulled petals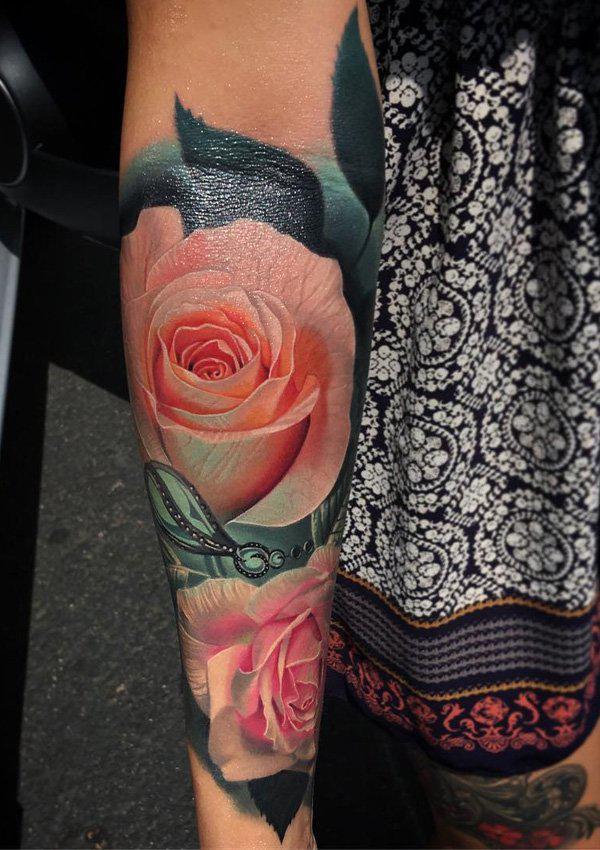 Two pink roses tattoo onforearm tattoo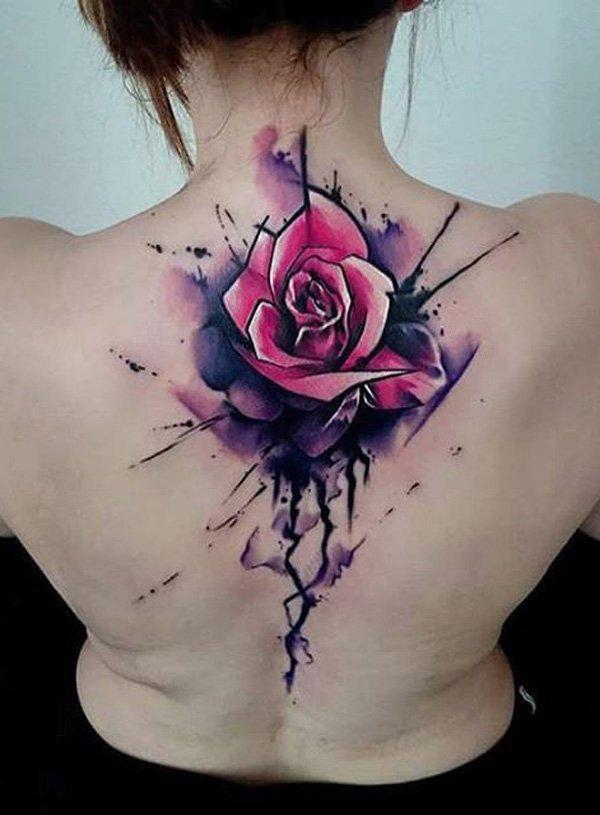 watercolor rose tattoo on back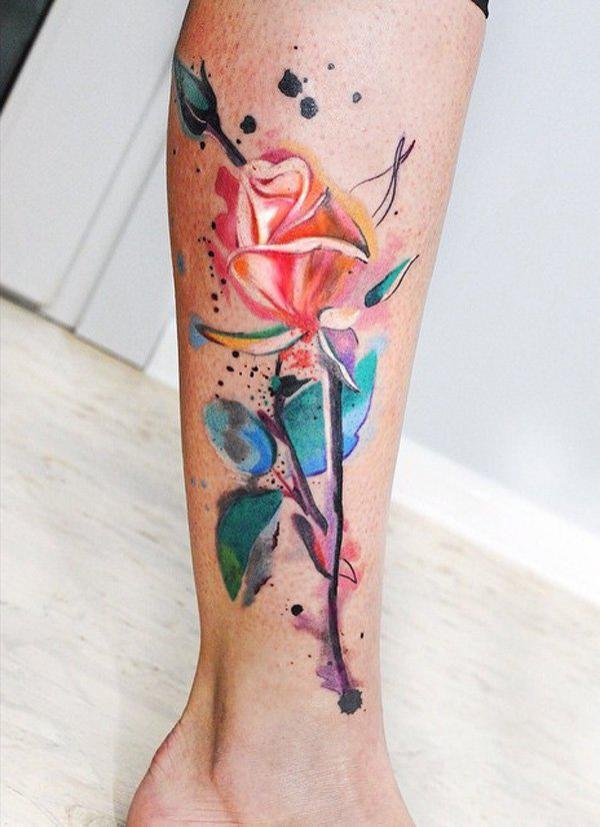 Vibrant one stem rose tattoo in watercolor style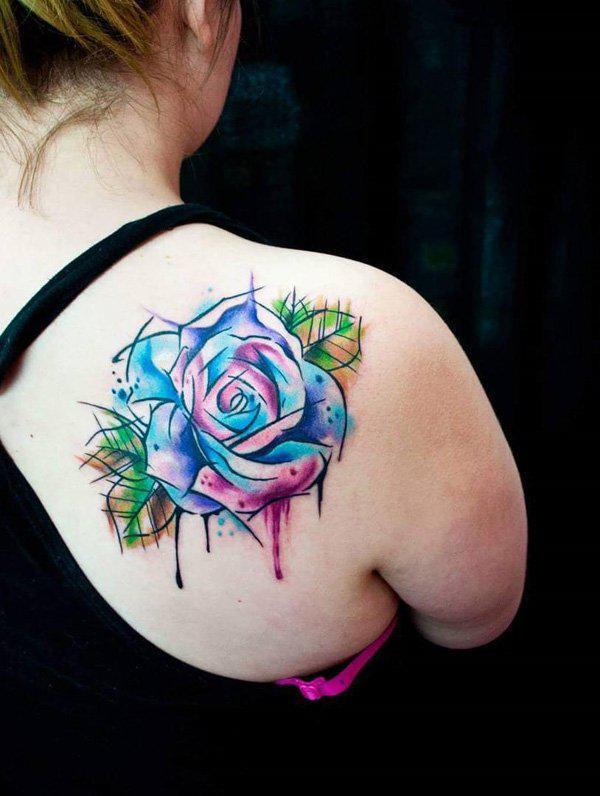 Watercolor rose on back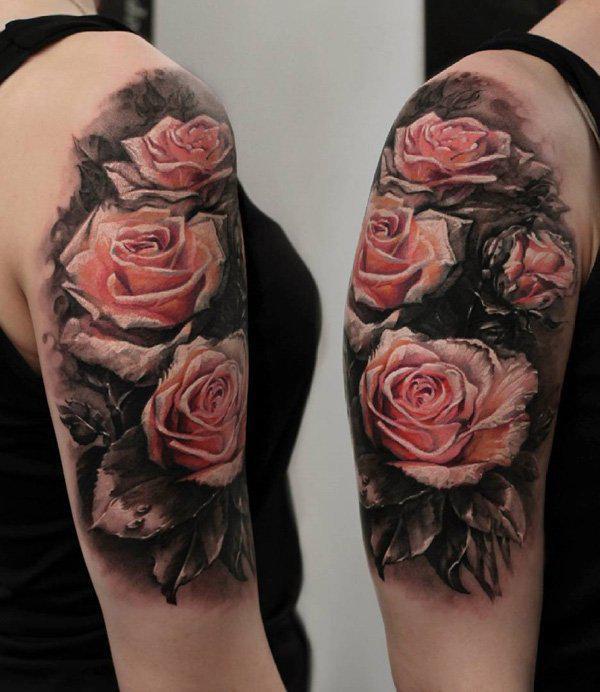 3D Pink rose covering half of sleeve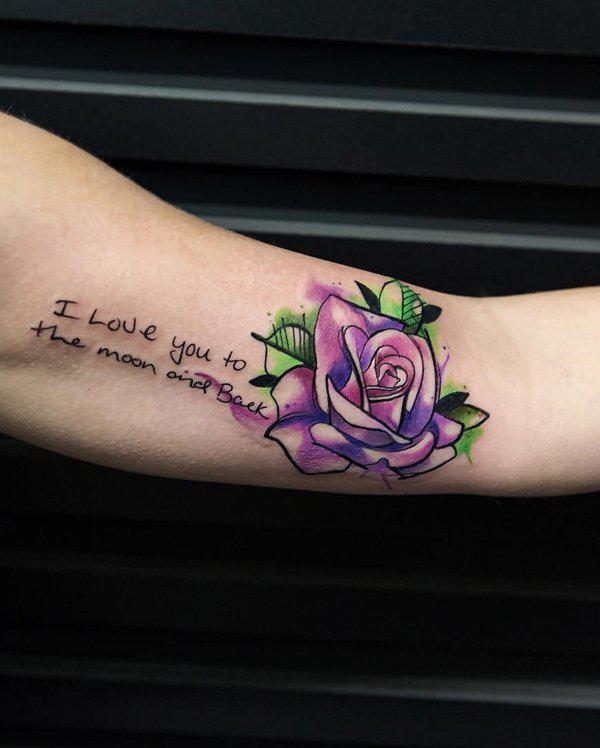 Rose tattoo in Watercolor style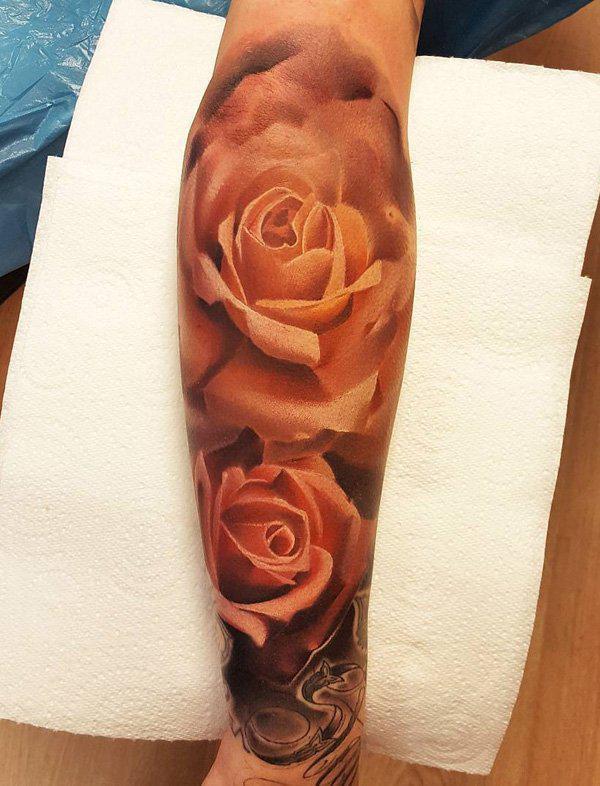 Two yellow roses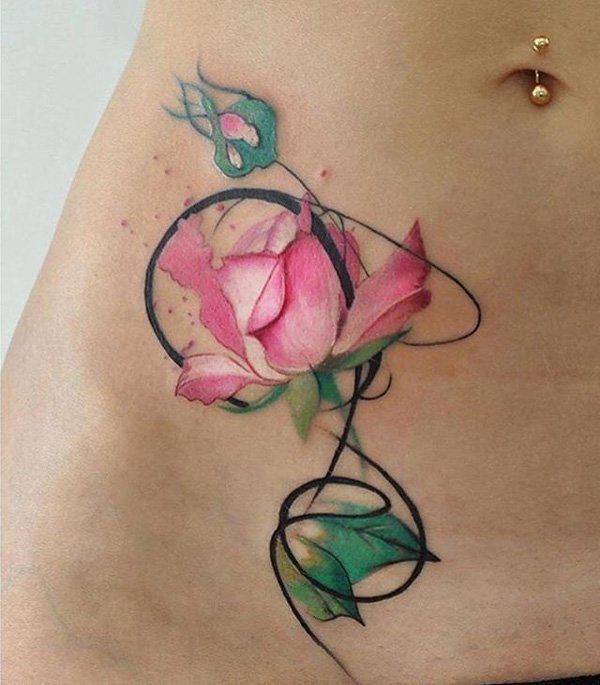 Rose in Pink Color and 3D style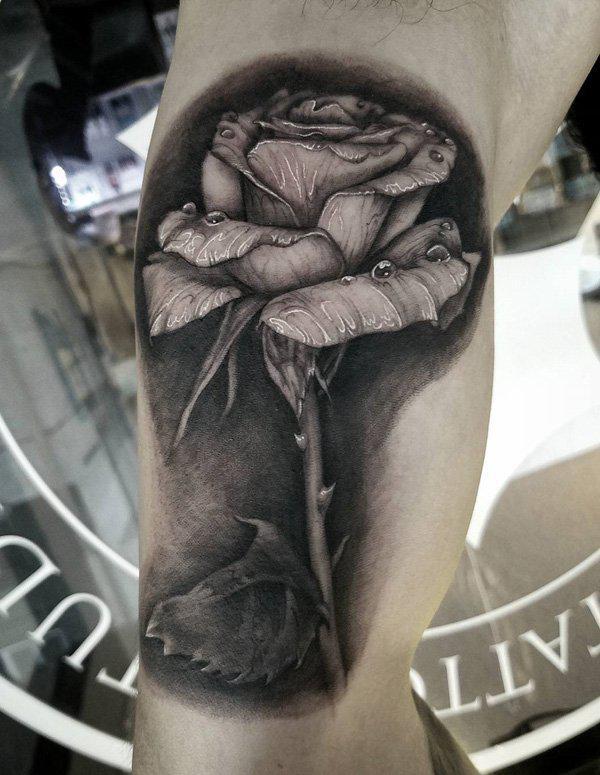 Grayscaled Rose with dew or water droplets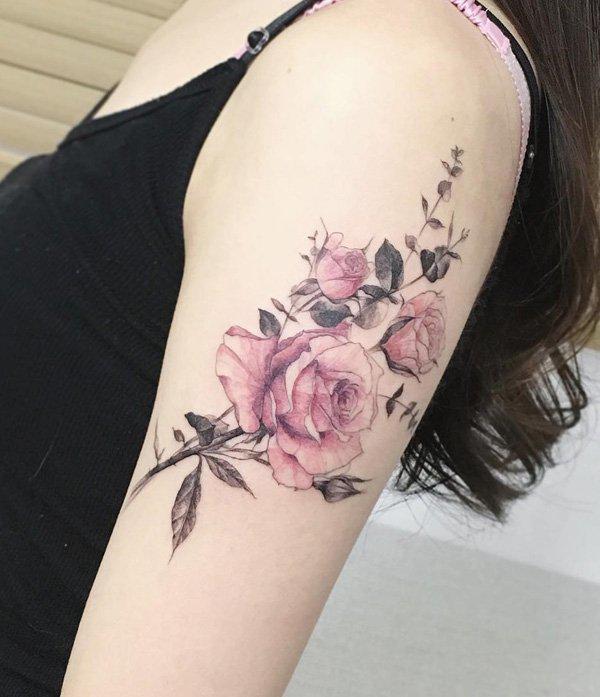 Amazing pink rose sleeve tattoo for women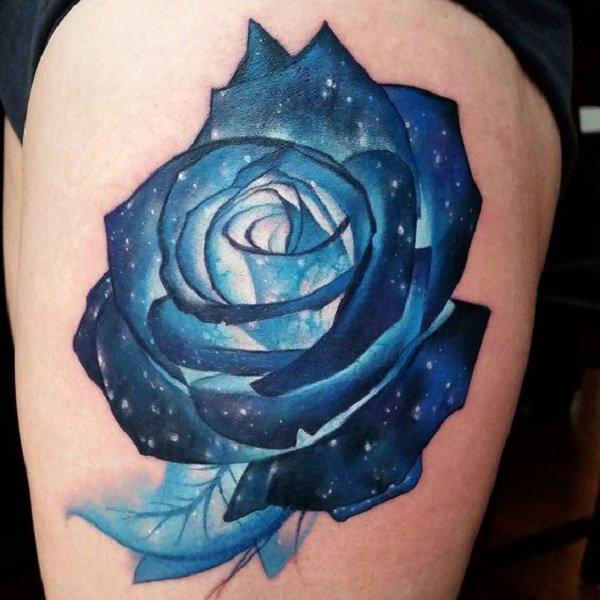 Blue galactic rose tattoo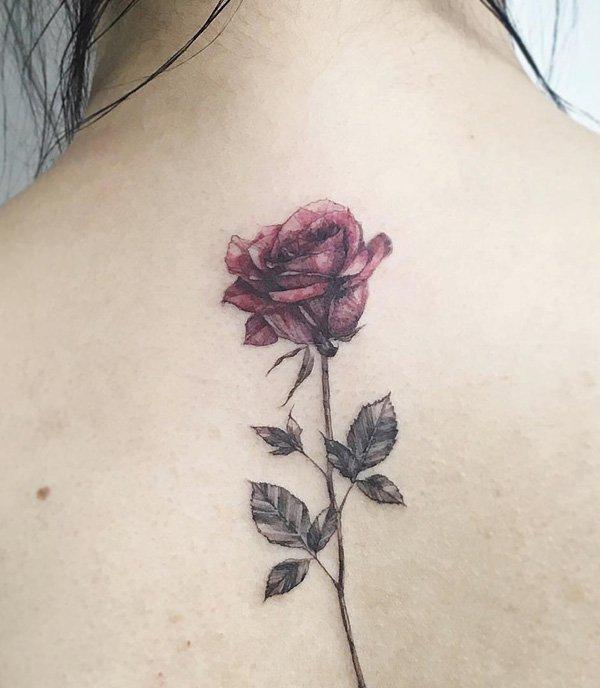 Purple rose tattoo on back for women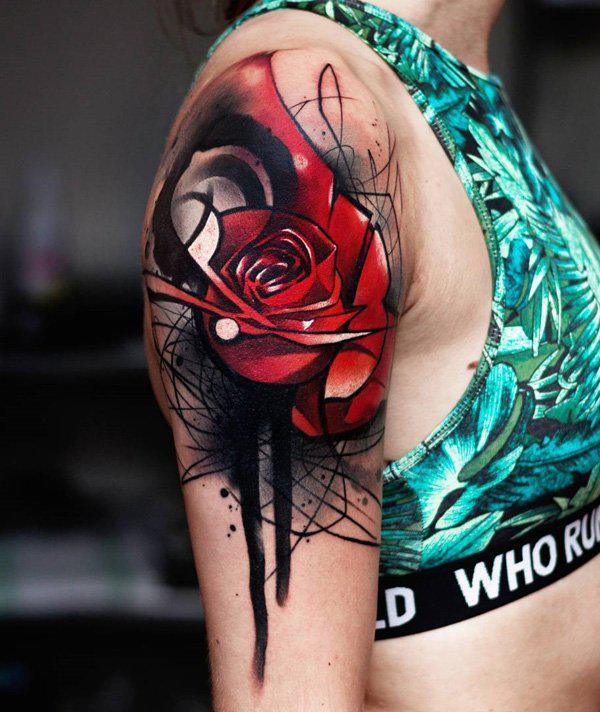 Rose tattoo in mixed media style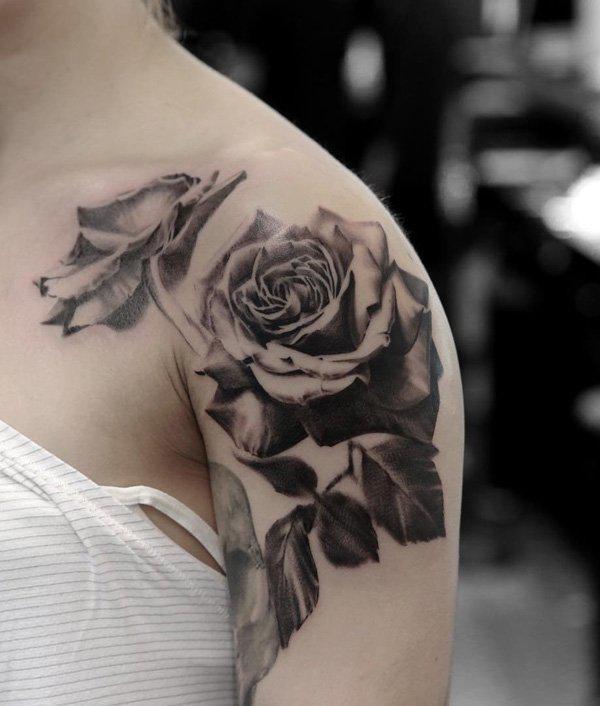 Black and white rose tattoo on shoulder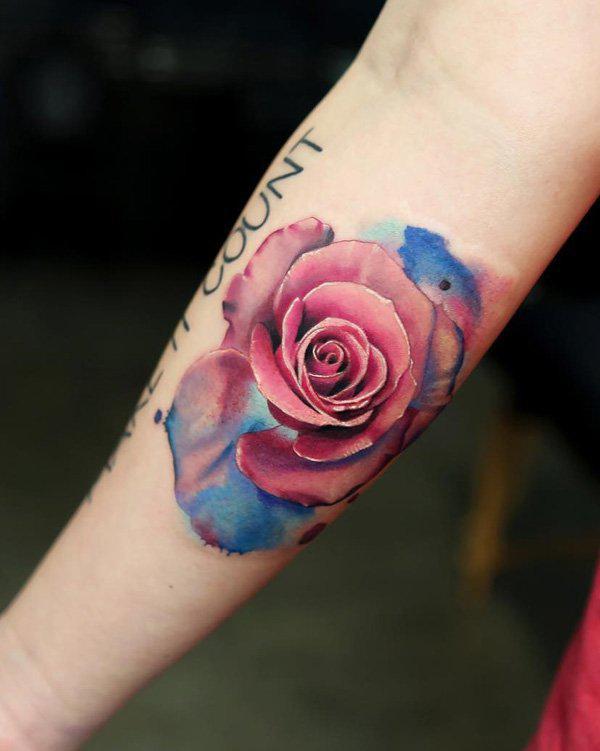 Pink to blue rose tattoo in watercolor style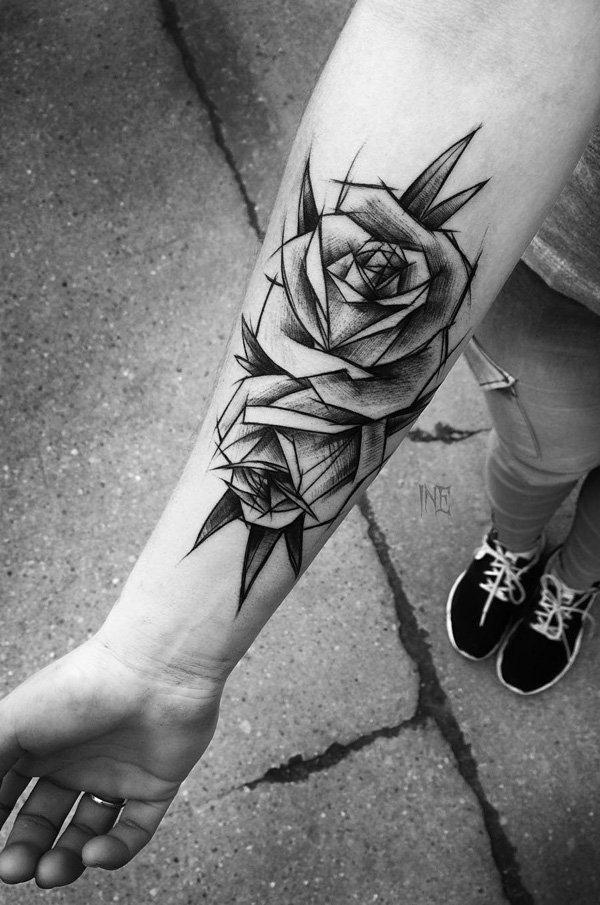 Black and white rose tattoo on forearm in pencil drawing style
Blue rose tattoo in Watercolor style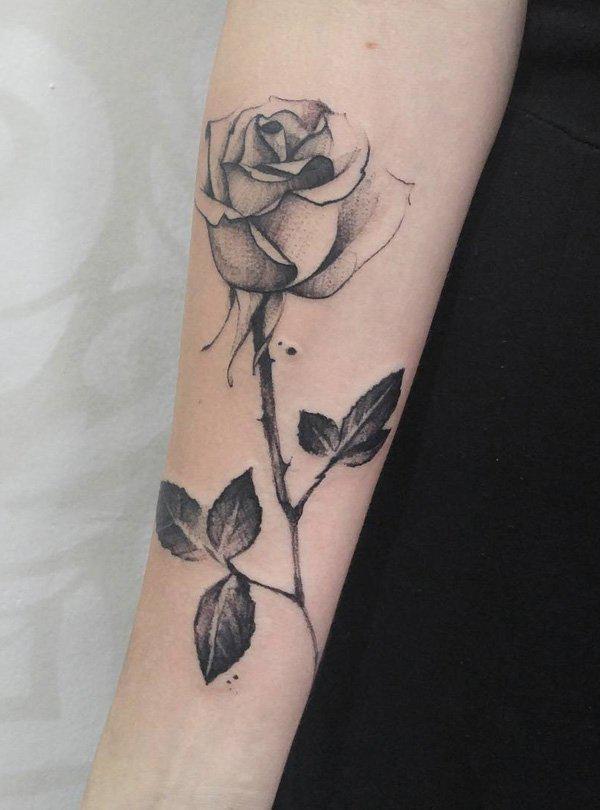 Single stem rose tattoo on forearm in black and white style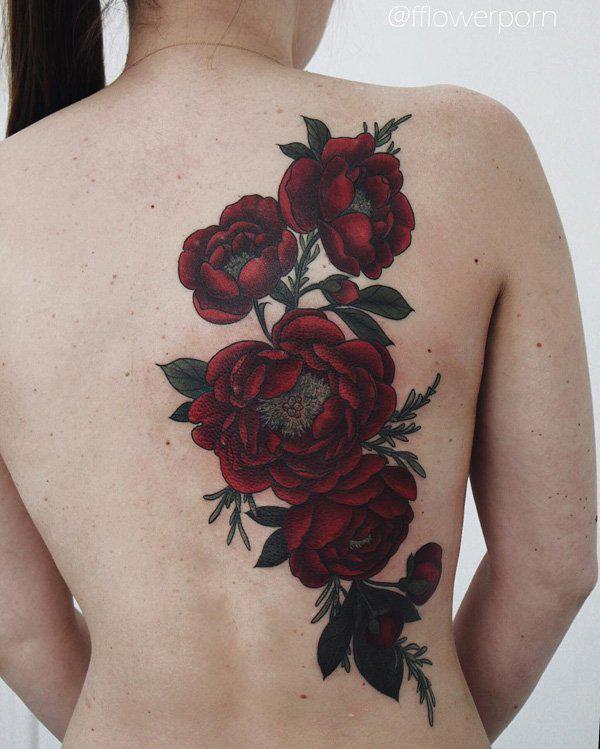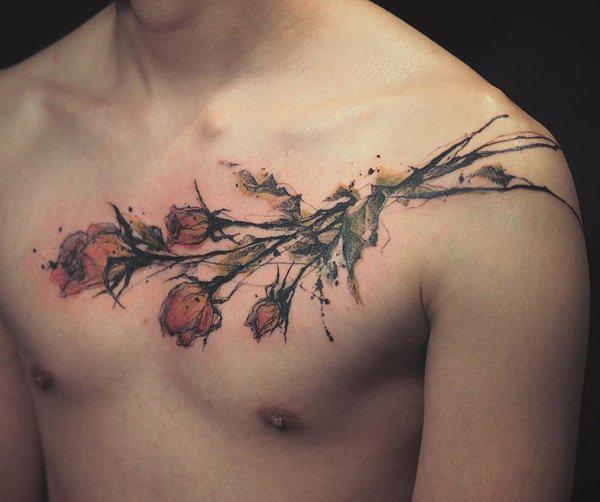 Illustrative rose tattoo on chest for men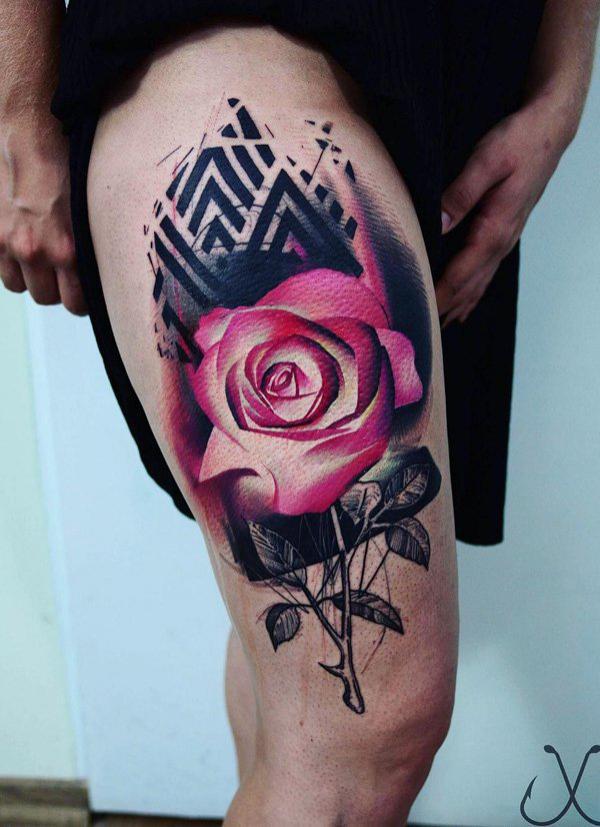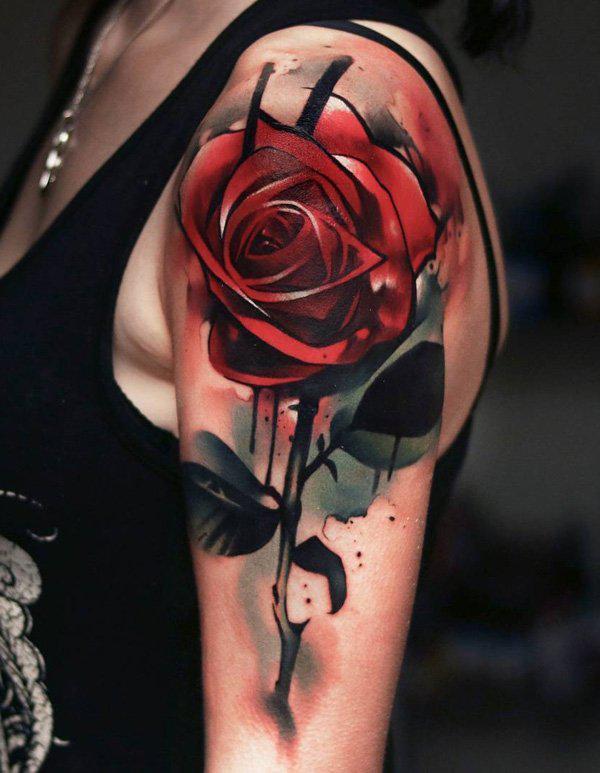 Red rose sleeve tattoo
Rose tattoo with leaves in mandala pattern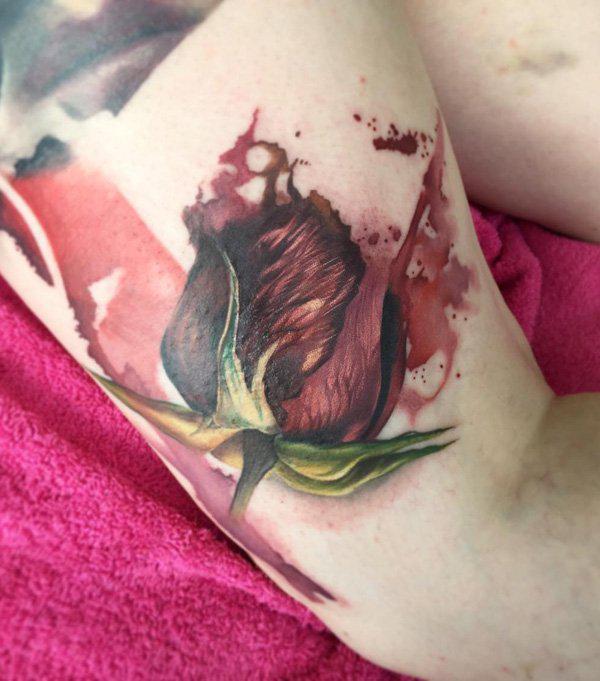 Rose bud thigh tattoo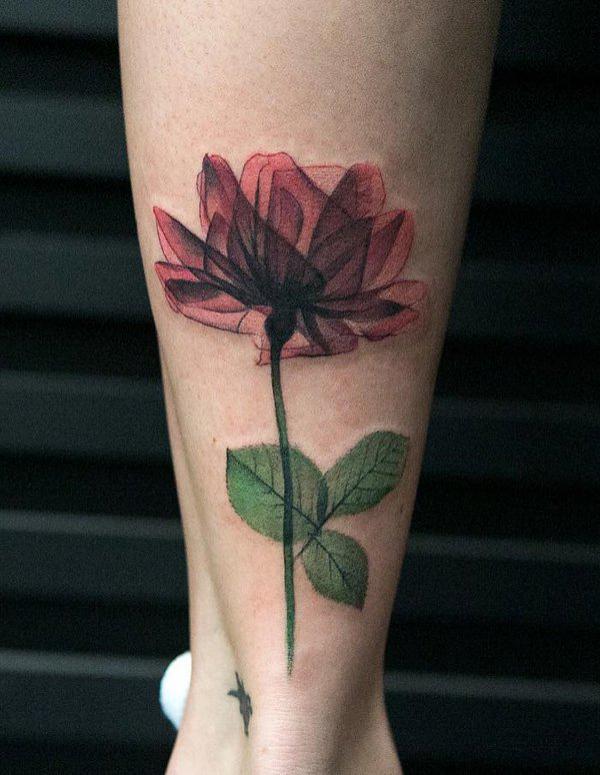 Transparent love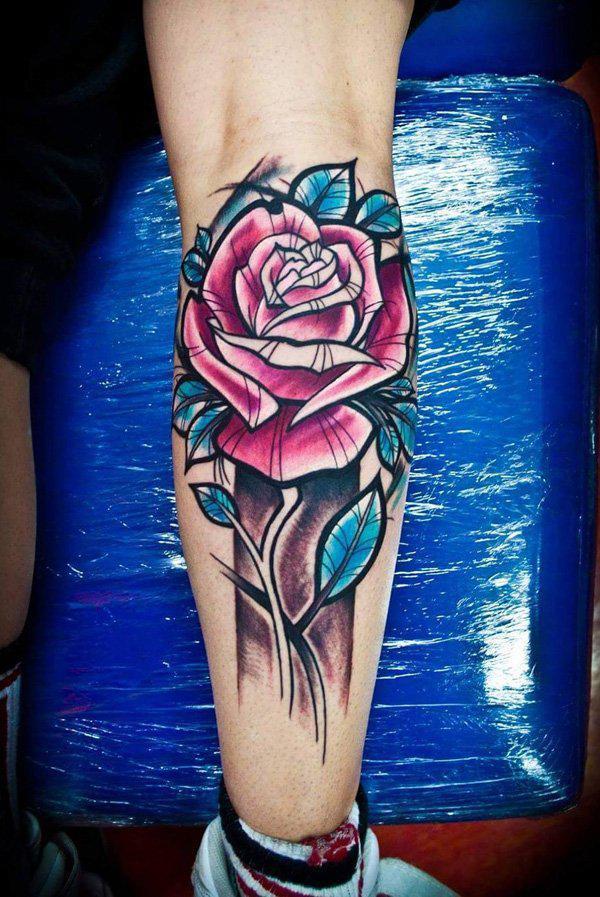 Rose tattoo on mixed media style on calf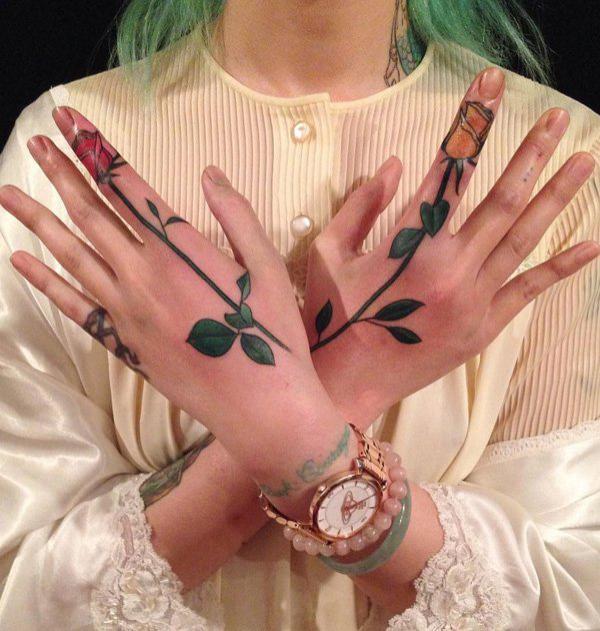 Maching finger rose tattoos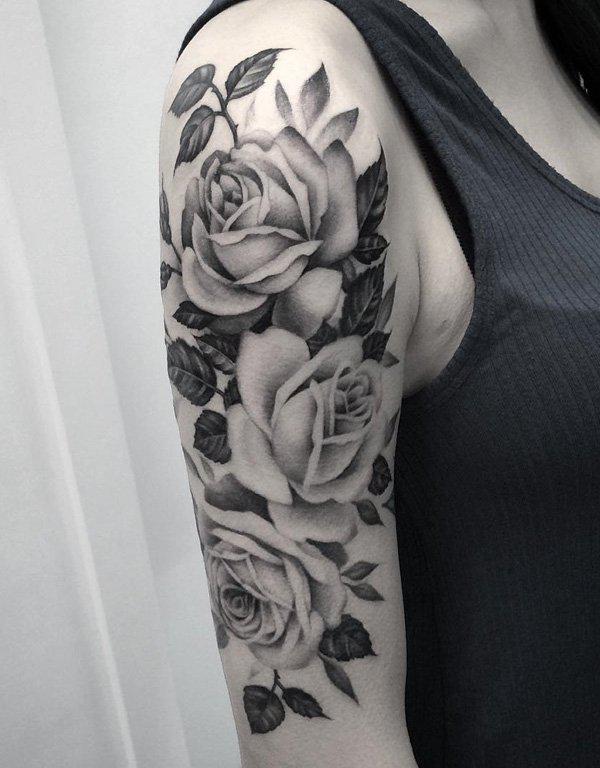 Three Roses in grey scale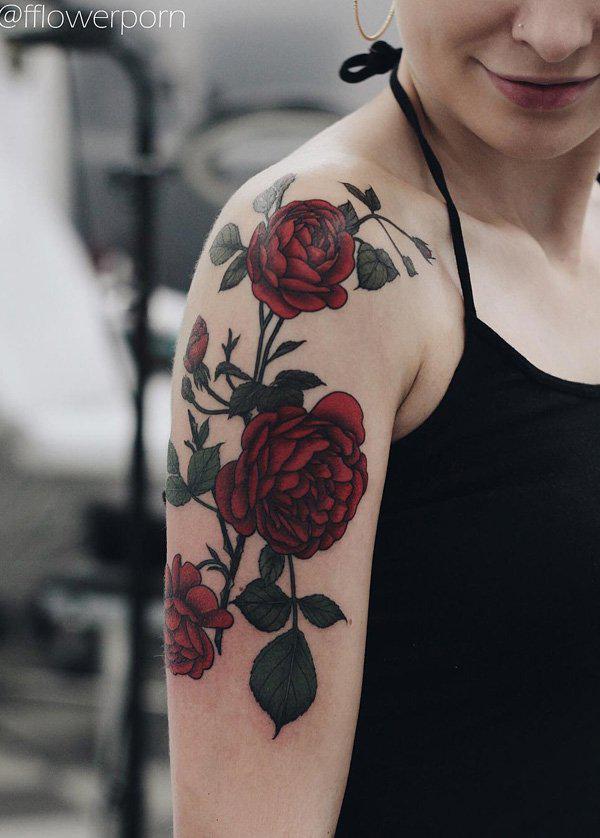 Half sleeve rose tattoo for women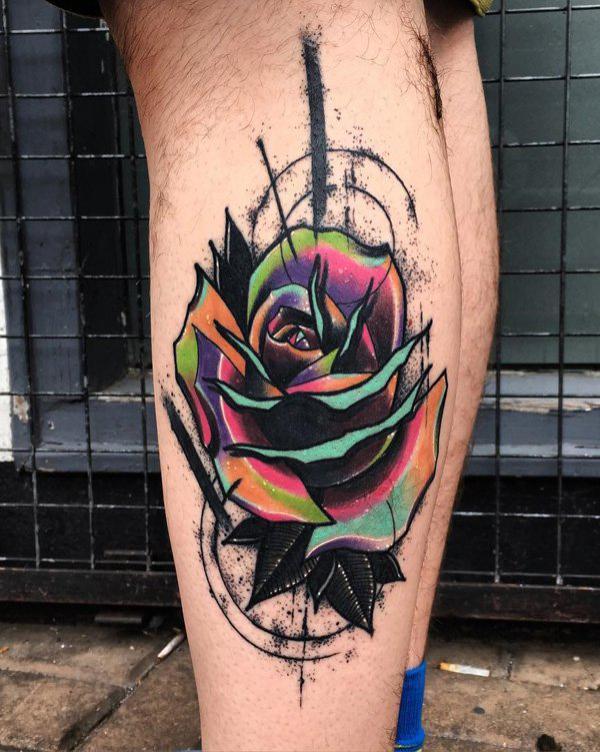 Rose tattoo on leg in mixed media style for men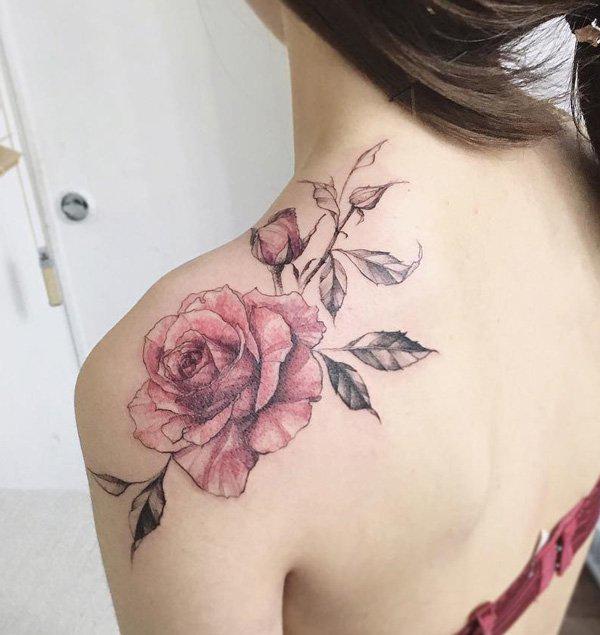 Shoulder Rose tattoo in light pink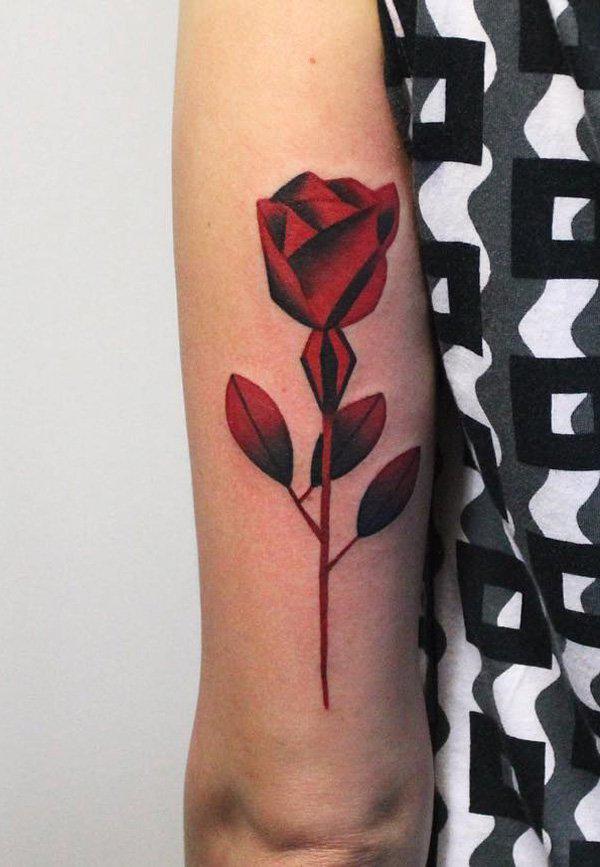 Rose sleeve tattoo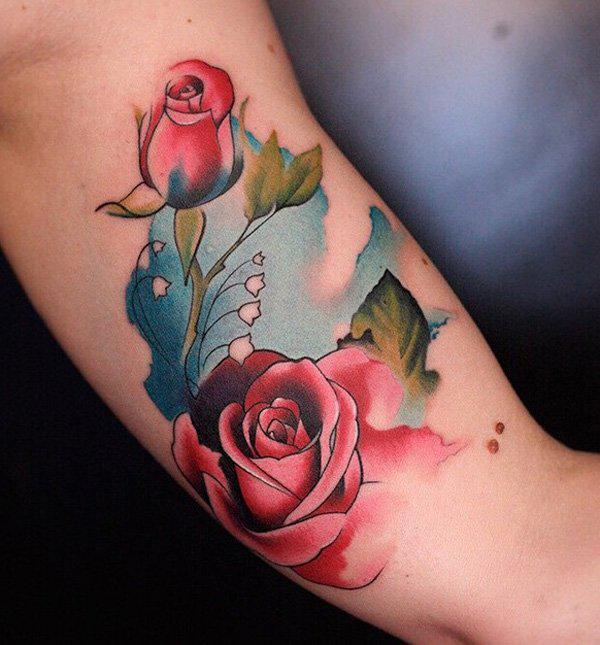 Two Roses in watercolor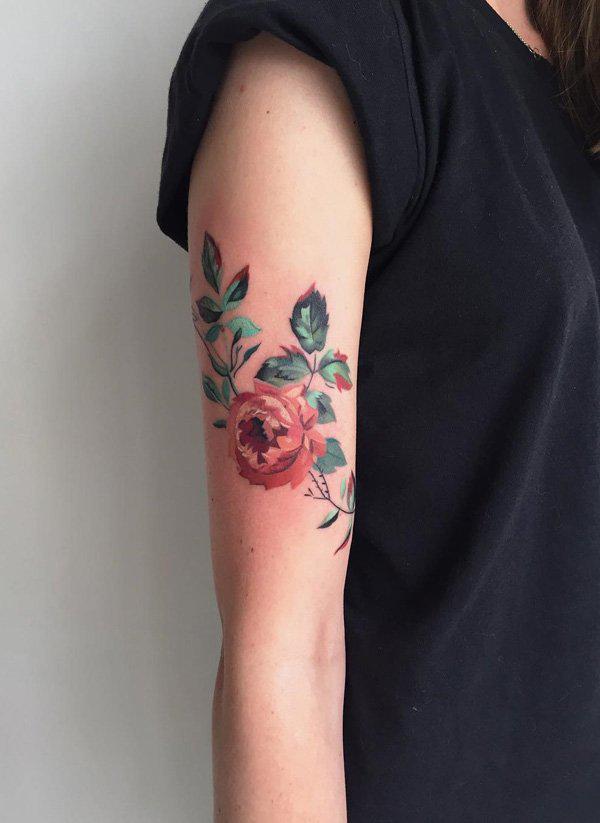 Elegant flowers for girl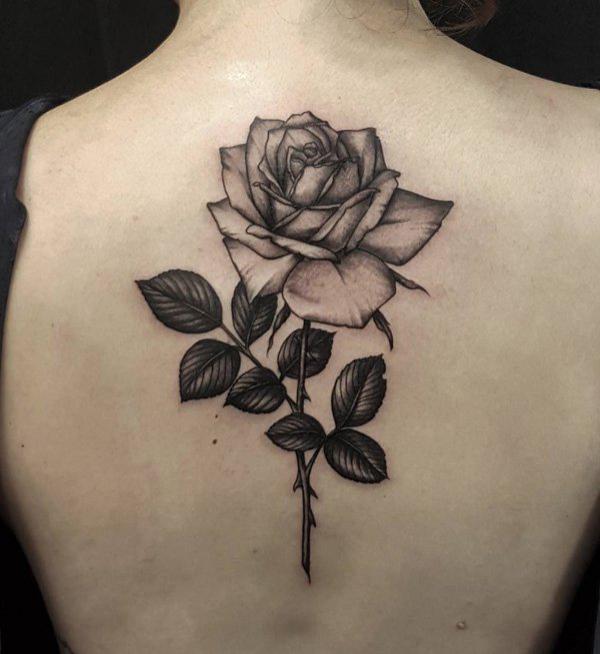 Rose symmetry tattoo over spine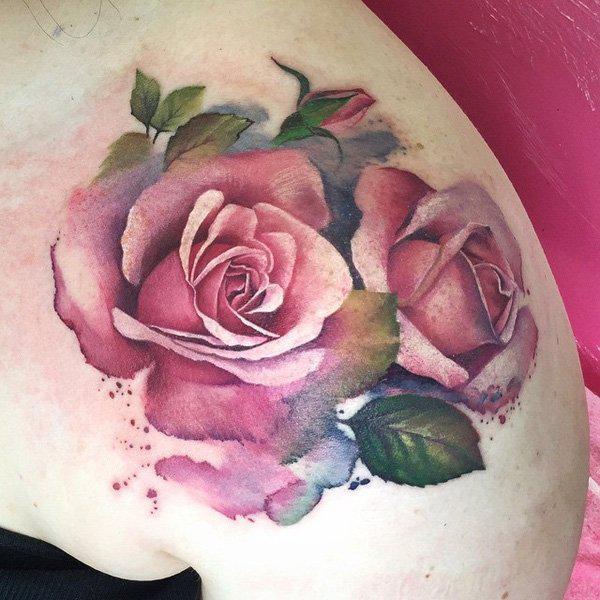 Watercolor rose tattoo on shoulder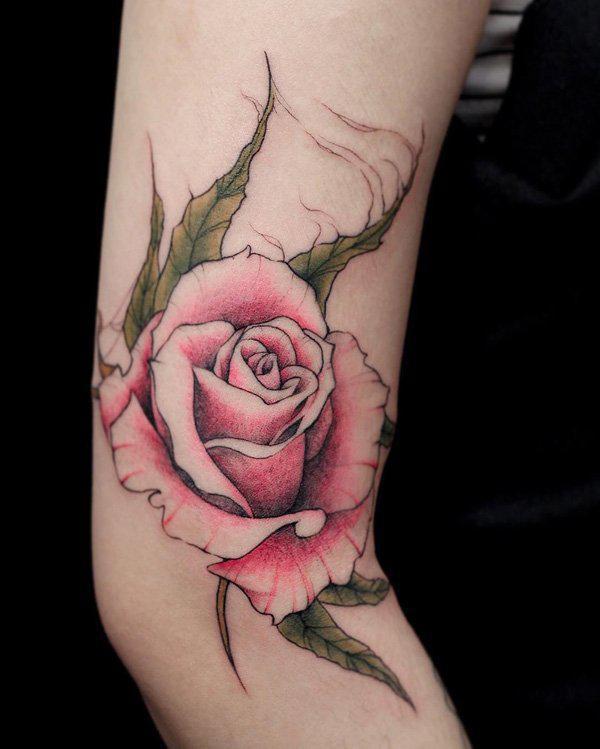 Light Pink Rose tattoo on arm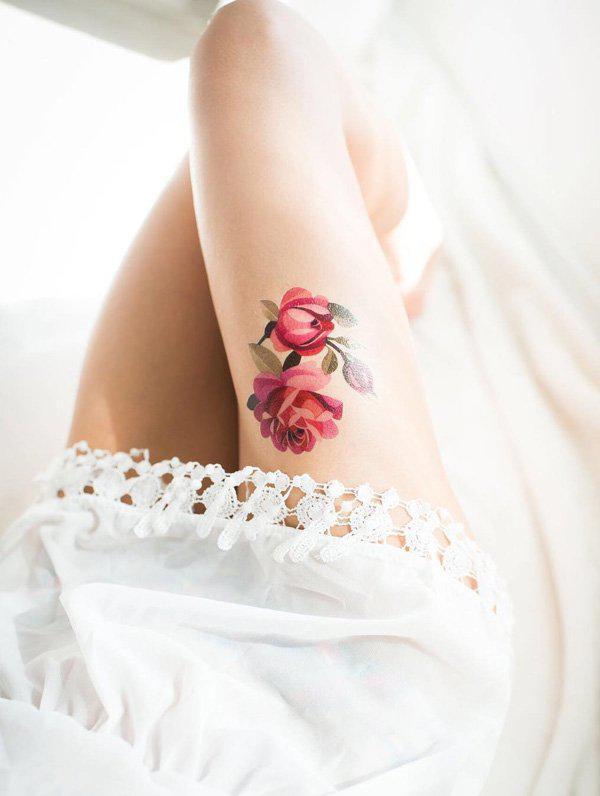 Cute Rose Tattoo on thigh for wonen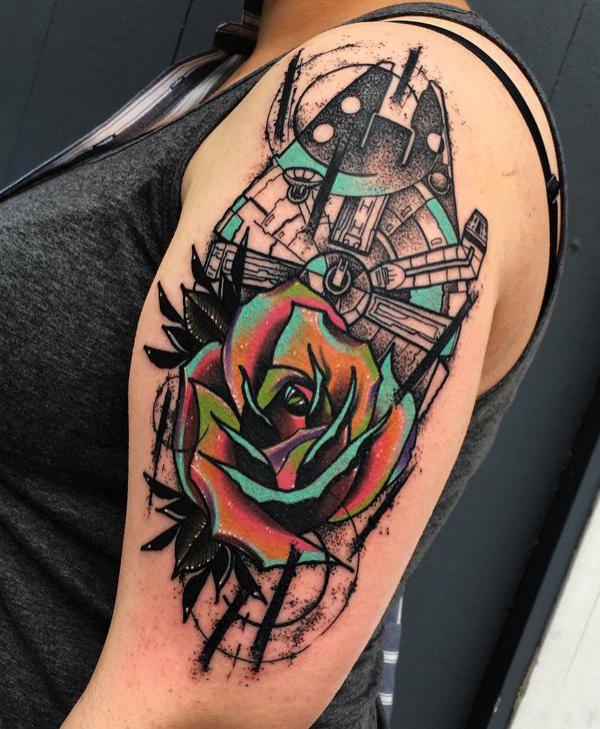 Rose tattoo on half sleeve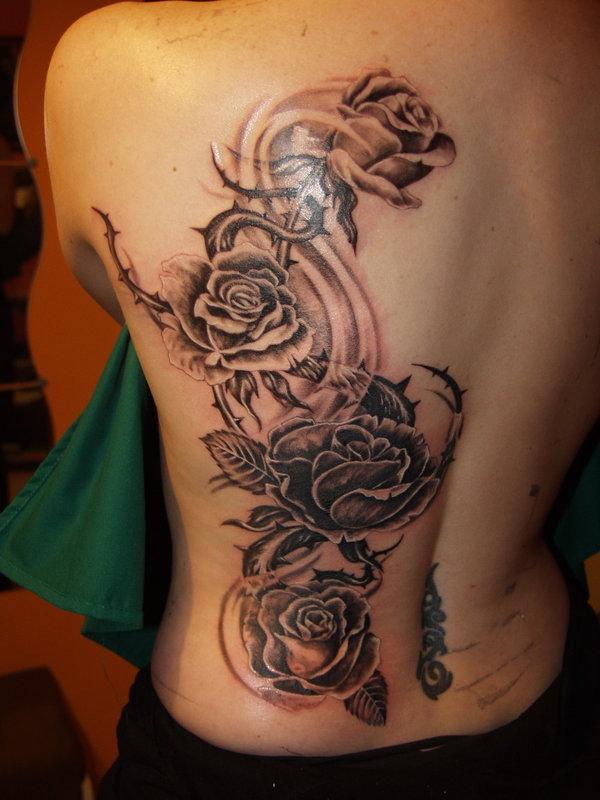 Grey Roses with thorn tattoo on half back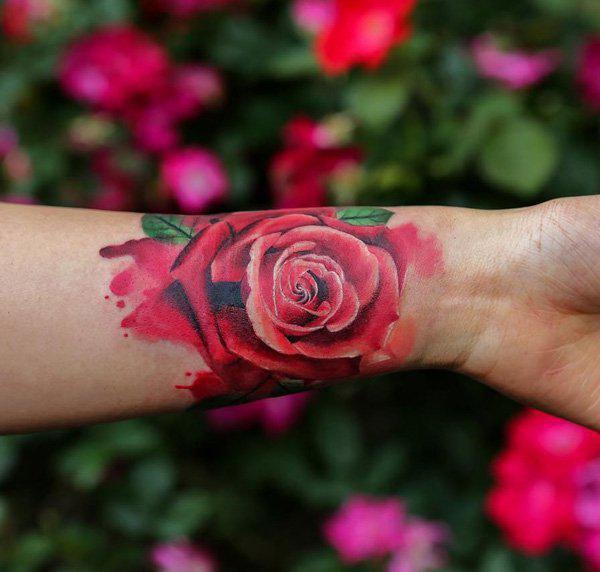 Flower wristband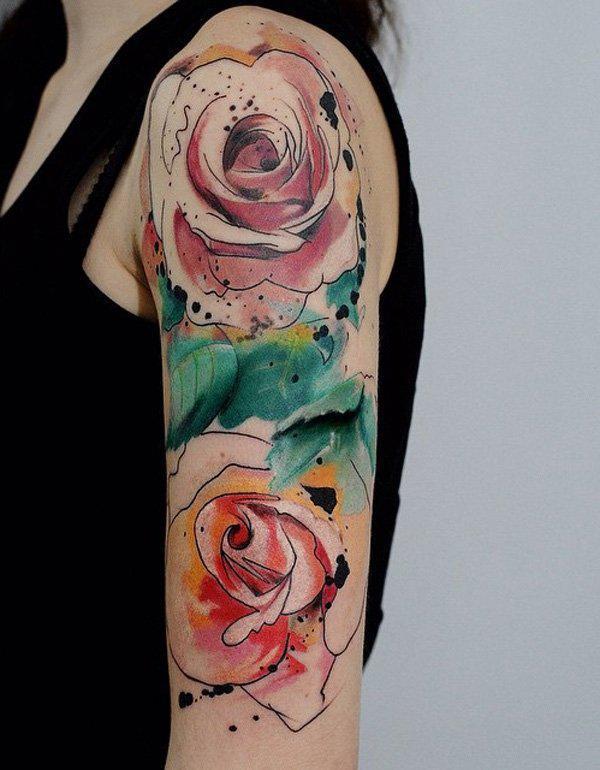 Watercolor rose tattoo across half of sleeve for women
Amazingly executed red piece done in realism style. Hand is one of the most popular placement for tattoo lovers. It is also a perfect way to finish full or half sleeve tattoo.
As symbol of love, roses comes up with inscriptions of the names of loved ones in tattoo designs. For example, some designs use this flower as motif to tribute mum or dad. They may appear in American traditional or old school styles.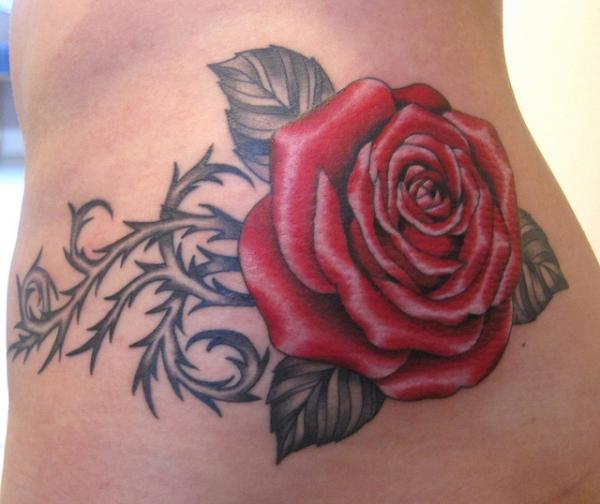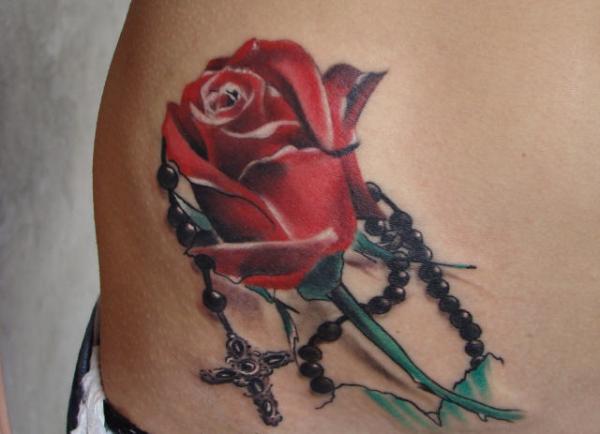 Jesus Love
Rosary paired with red rose made in realism with the addition of graphical elements. This tattoo looks very feminine and is usually chosen by the owner for expression of faith or religion.
What would make a good revolver tattoo? Of course an addition of roses! Such contrasting images look great both on a female, and a male body.
Colorful rose on the neck is also a popular choice among fans of tattoo art. Despite the visibility, rose on neck is able to complement the existing tattoo compositions on the body.
Roses in traditional American style can be combined with other motifs, such as butterflies. So romantic and sensual tattoos are often chosen by women. The combination of insects and flowers has been in the tattooing for many years.
Black Rose made in the traditional American style. Usually black roses are associated with death and mourning. However, apart from the dark symbolism, black roses can also represent the rebellion, the end of a long and difficult path, or endless hope.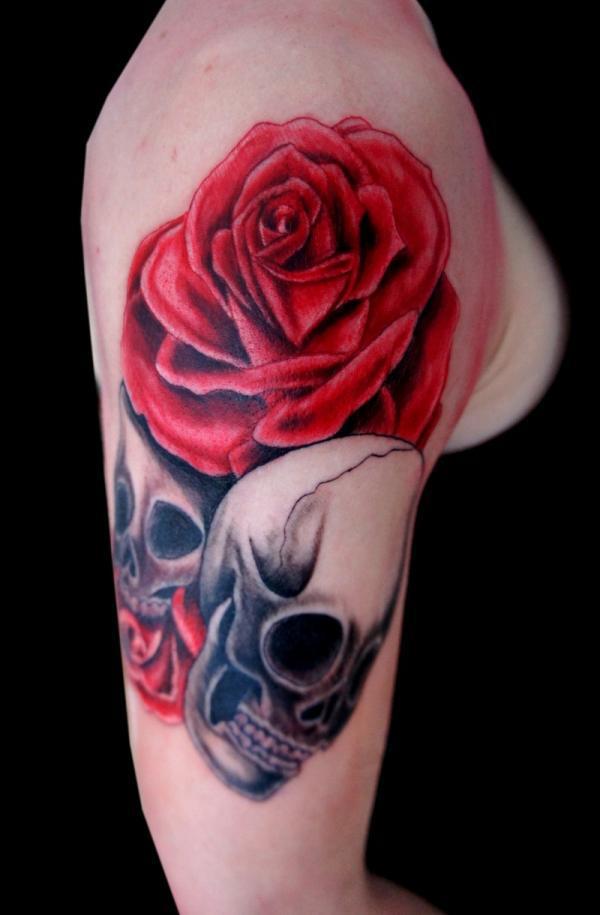 Skull and rose tattoo on arm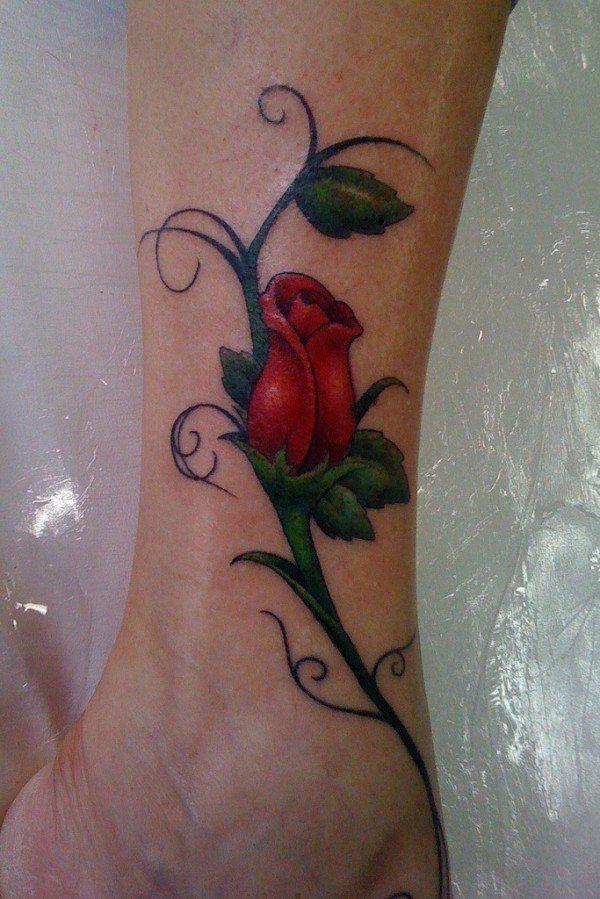 Rose bud to bloom tattoo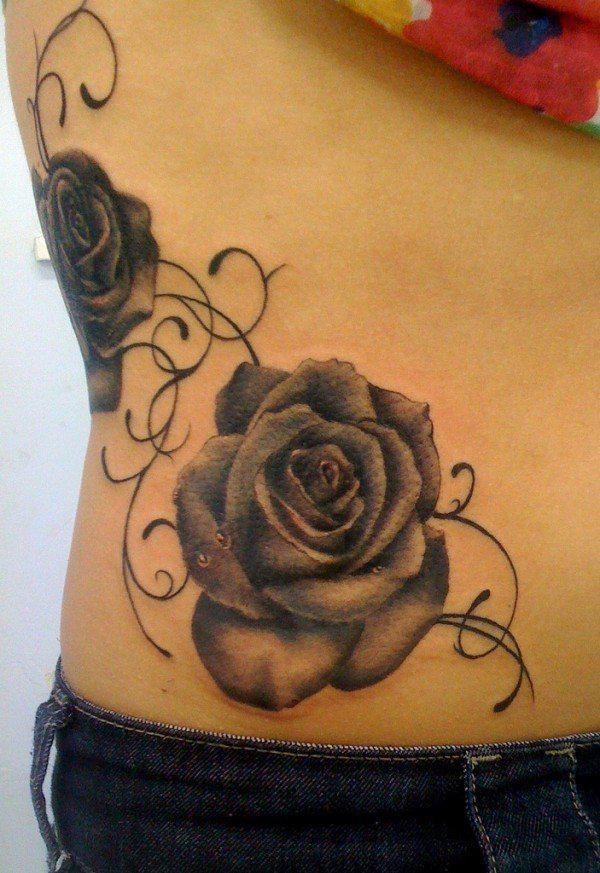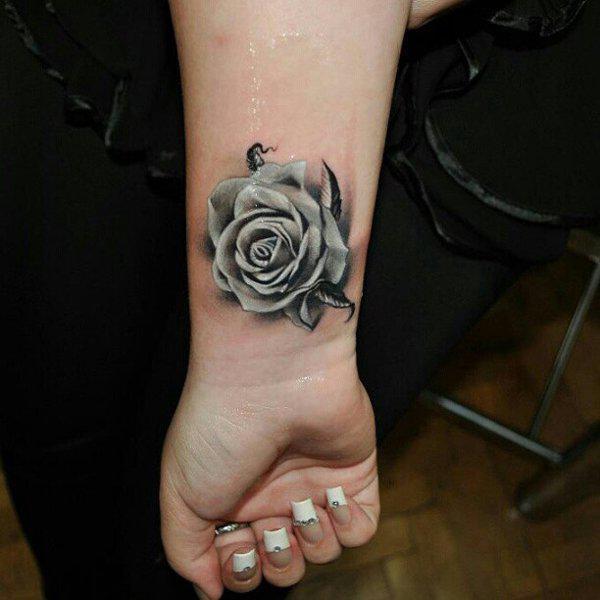 Grey Rose on wrist
There are several ways to create the black and white tattoo. With grey wash (which is in fact a translucent black ink). Or using the actual white and gray ink. The latter technique is best for realism tattoos as on photo above.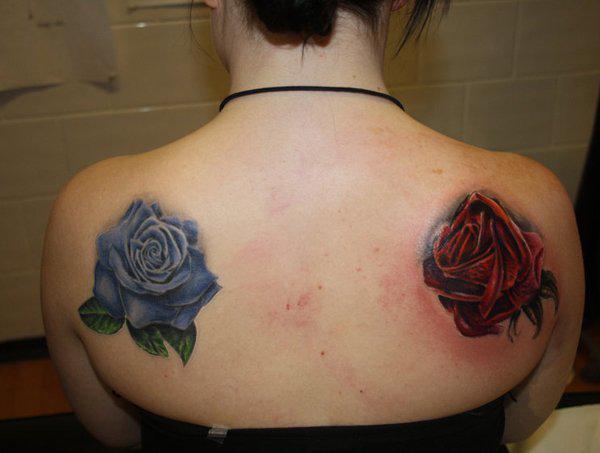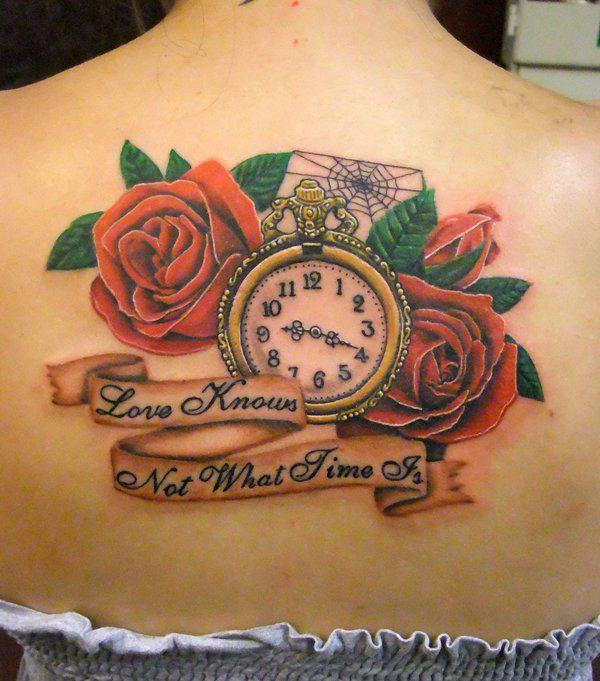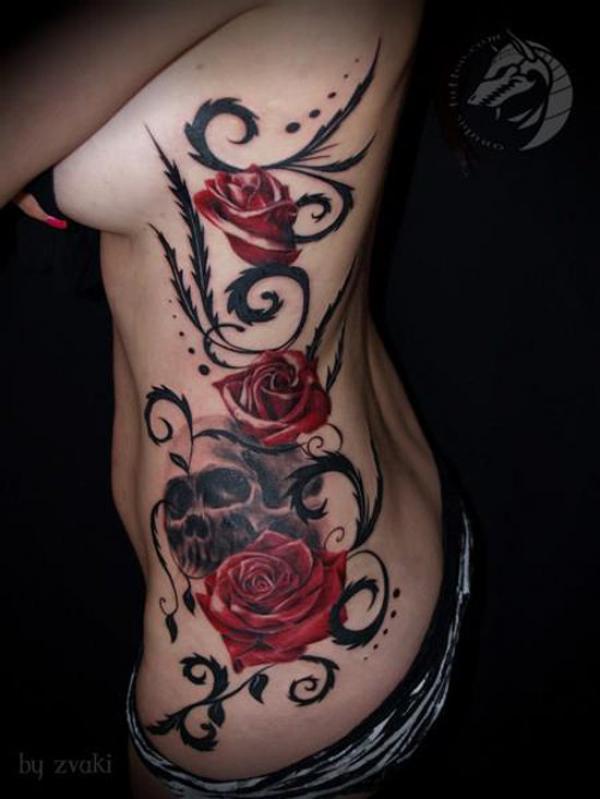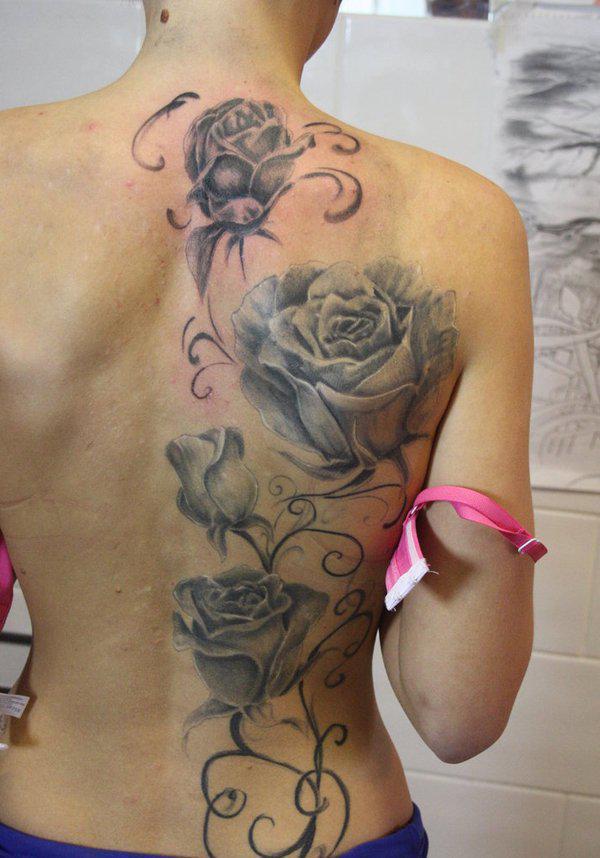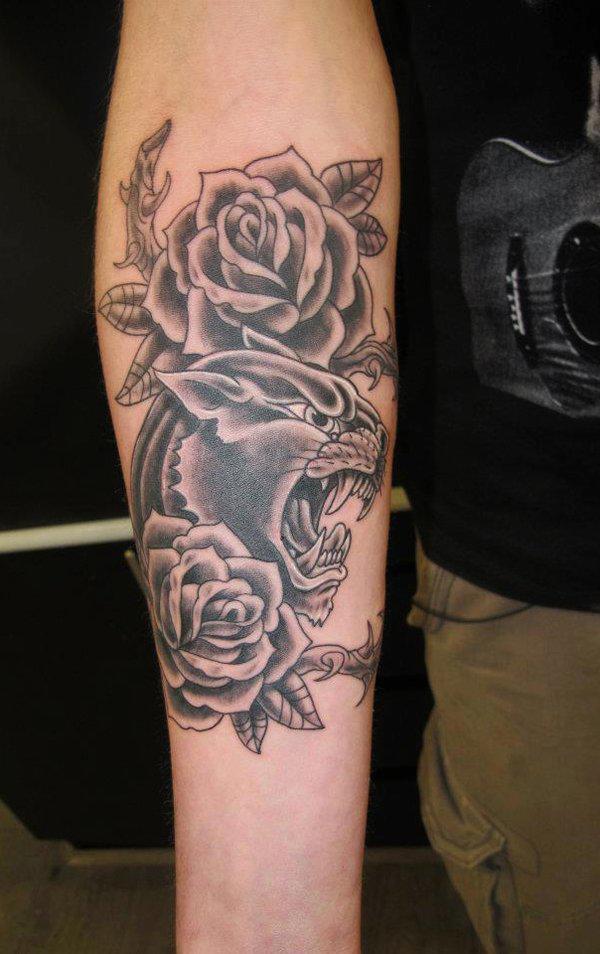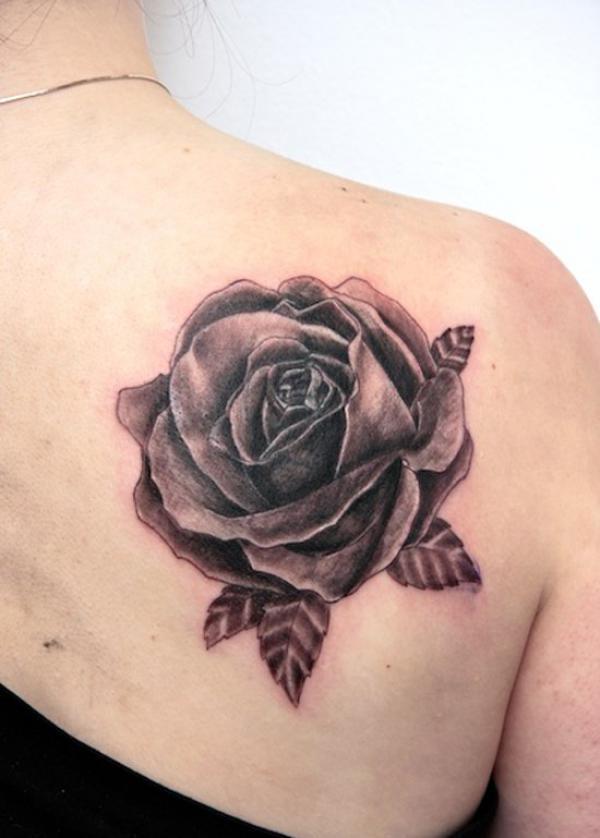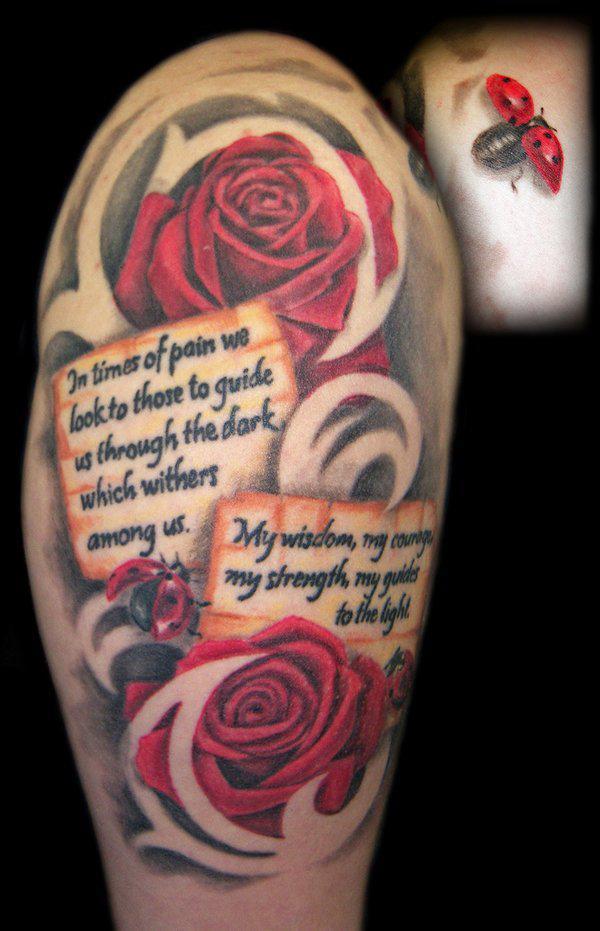 This sleeve tattoo features inspiring verses with roses and ladybugs. A ladybug is believed to be signs of good luck and prosperity. Whenever how difficult it is, the tattoo will be able to led to live forwards. Just as the verse says, "In times of pains we look to those to guide us through the dark which withers among us."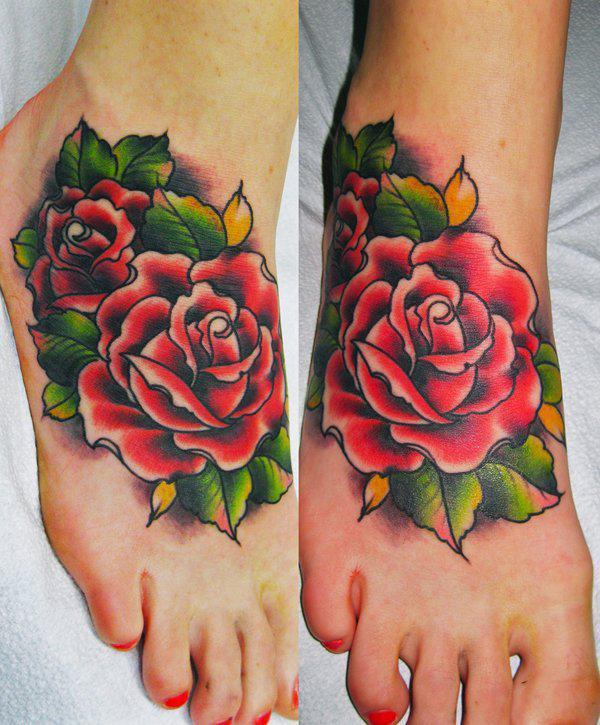 Roses look very nice on the feet. Despite the high morbidity of this place, many people decide to decorate their feet with colorful tattoos. It is worth mentioning, that the healing process of a tattoo on this part of the body requires a quality care and attentiveness.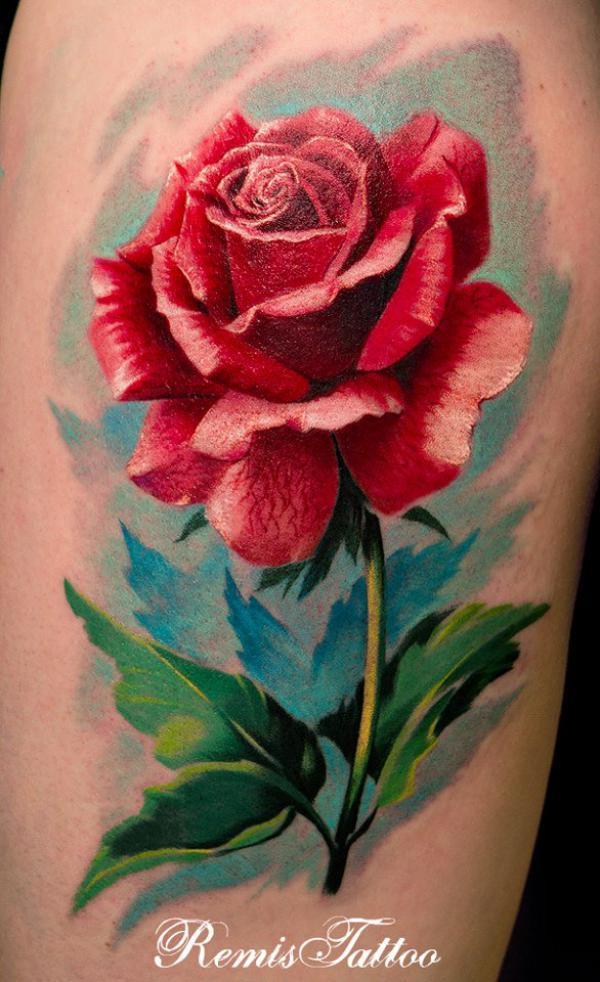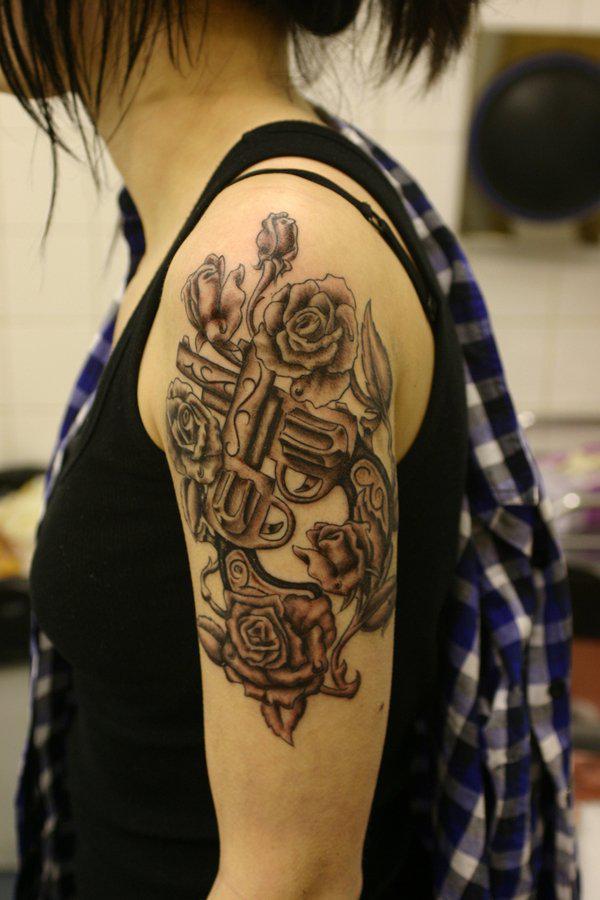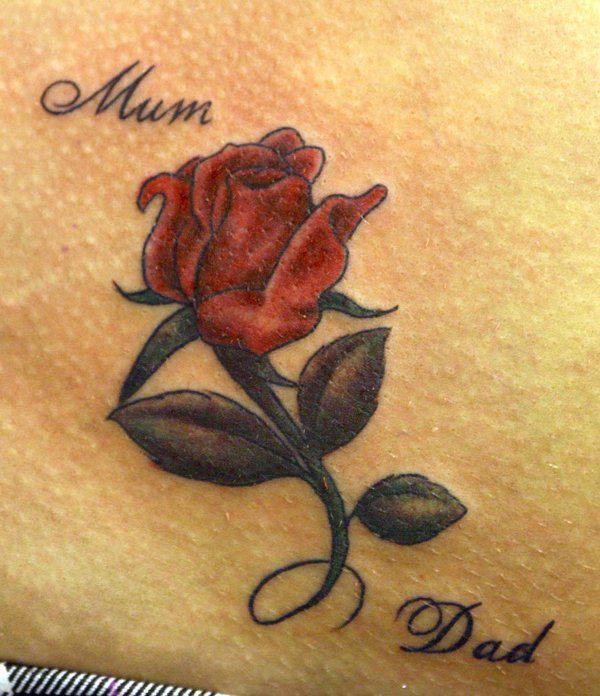 The red rose in conjunction with the two words – Mum and Dad, is a very clear expression of love to the parents of the wearer.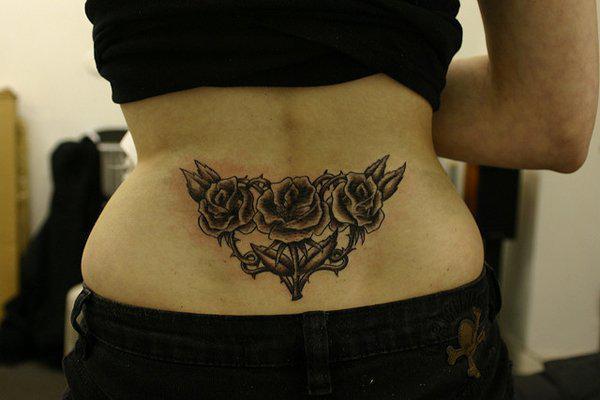 Symentric roses for decorating the sacrum area of the body. Girls around the world choose this place for a tattoo. Symmetry flowers can be supplemented with abstract patterns or spike stems as in the photo.
Roses on side tattoo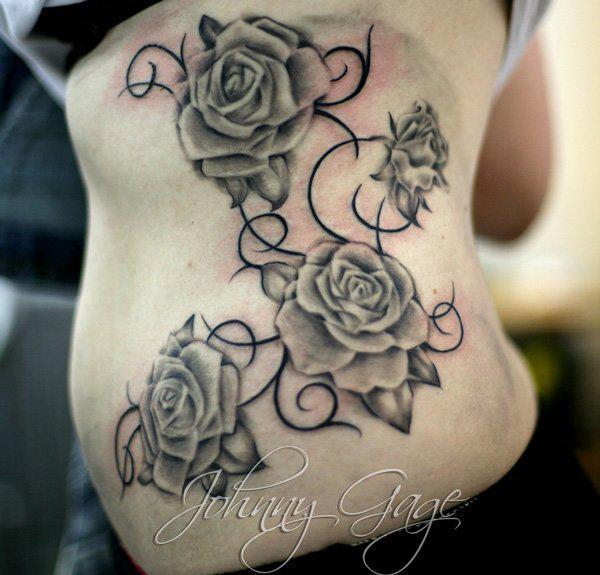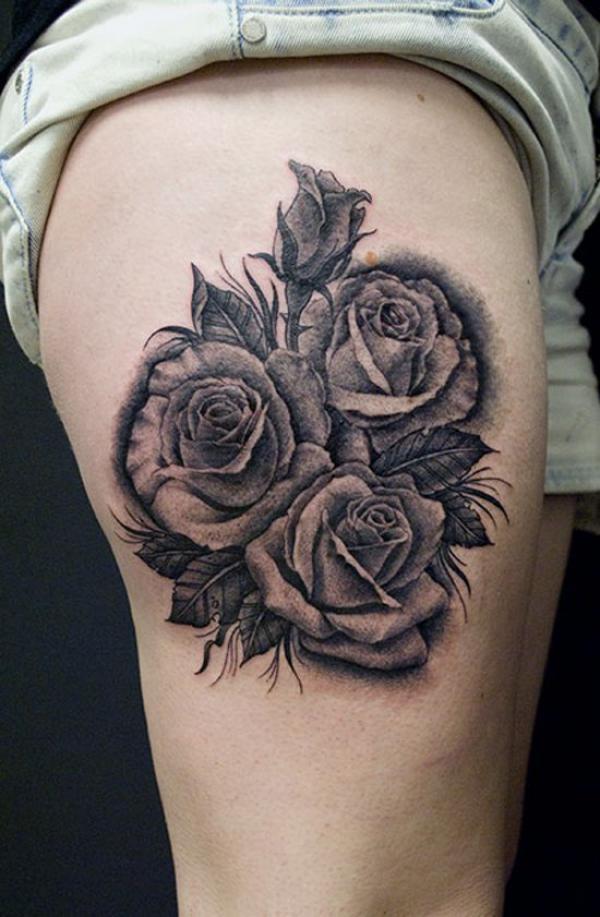 For more original and filled composition is better to combine open and closed roses in one sketch. This type of tattoo should be done in realistic style. In addition, tattoo artist can play with color to get a very bright and colorful rose tattoo.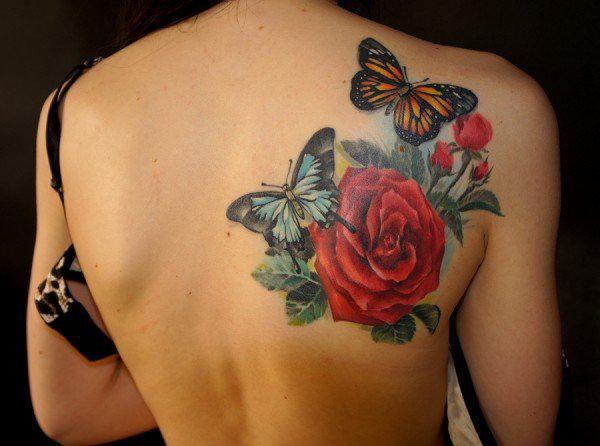 Every year, the realism is gaining popularity in tattoo art. That is not surprising. After all, even the most usual tattoo made in realism looks extravagant and original. For example, this tattoo with roses and butterflies.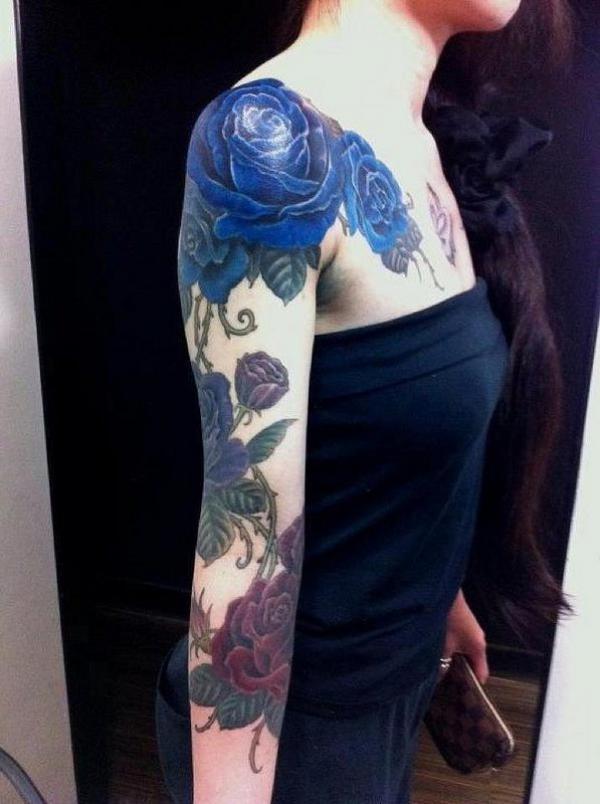 Blue and Purple Roses Tattoo
In the world of tattoos, blue roses symbolize fantasy, something unattainable or even impossible. Despite the interesting symbolism, they are less popular than red or black ones. To get the most spectacular look, this design complements with purple rose and green leaves, which makes a showy look.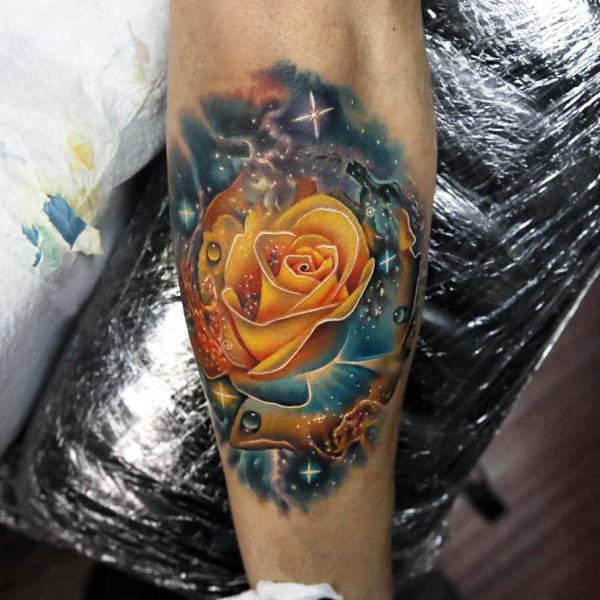 Yellow Rose in Galaxy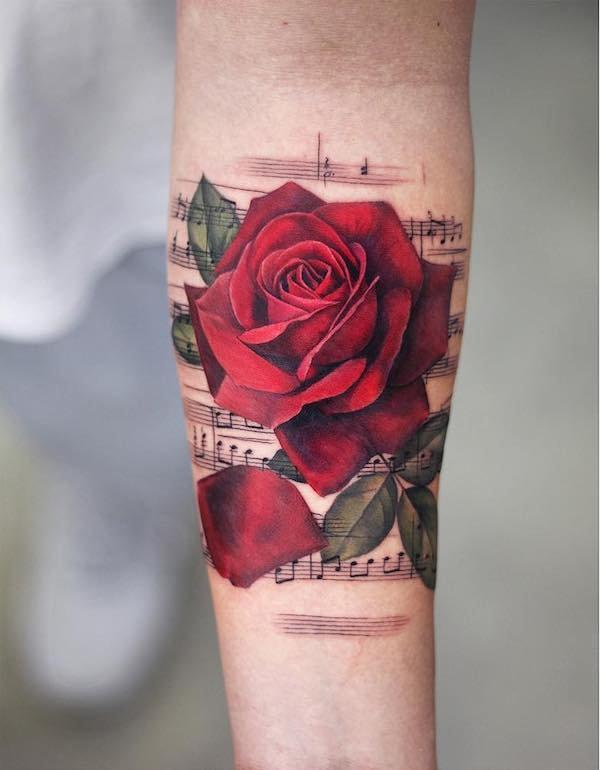 Music and Rose Tattoo on Arm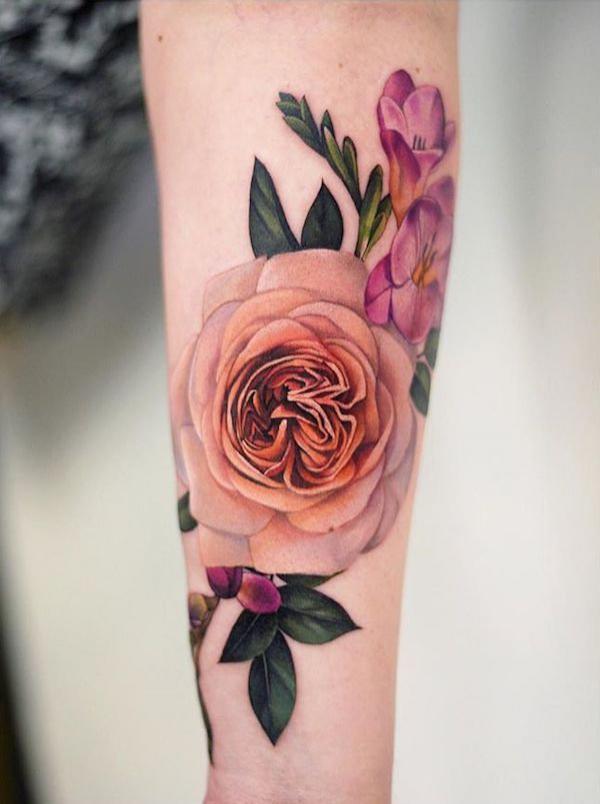 Yellow rose in full bloom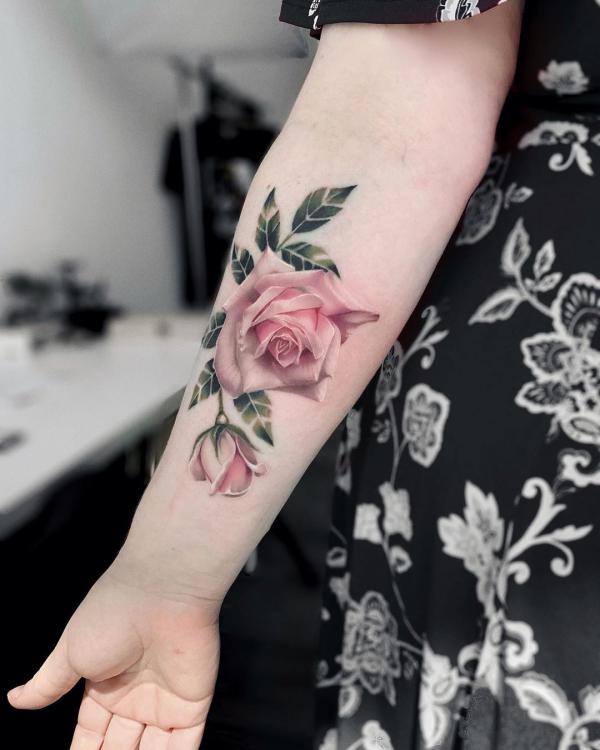 Pink rose and rosebud tattoo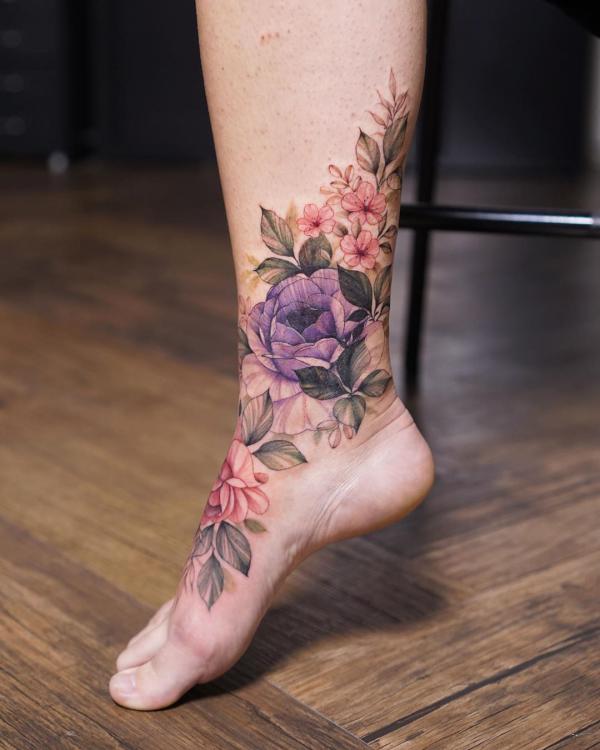 Rose bush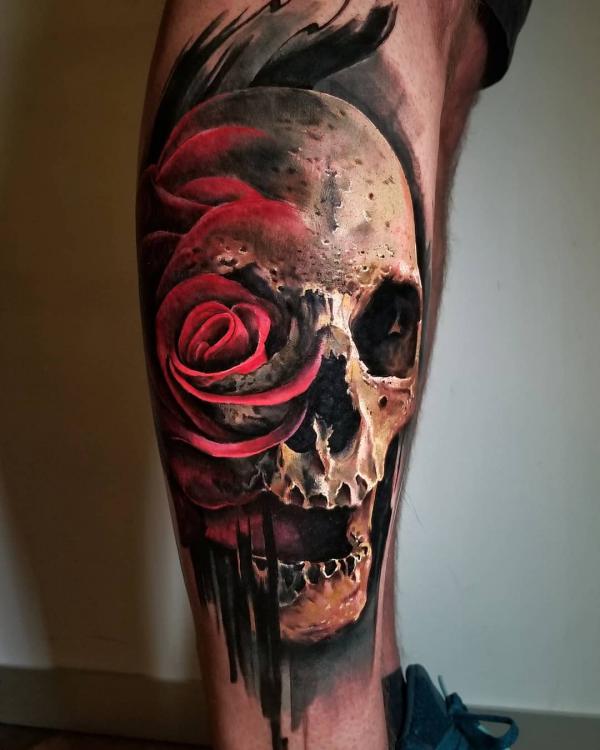 Skull with rose in the eye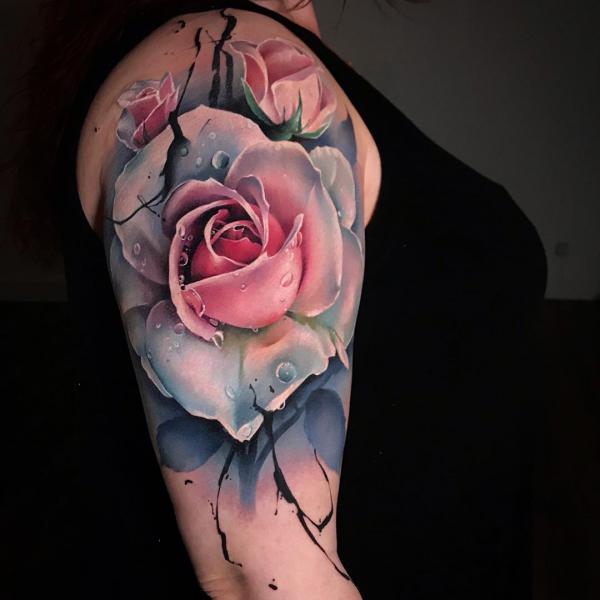 Rose with pastel pink to blue shades on sleeve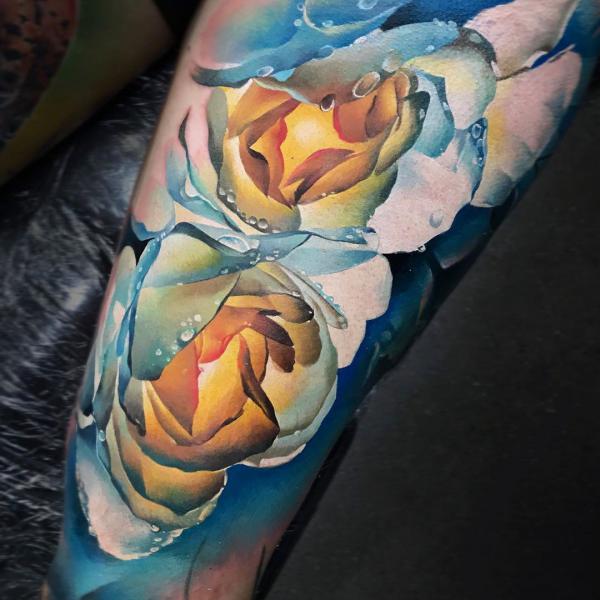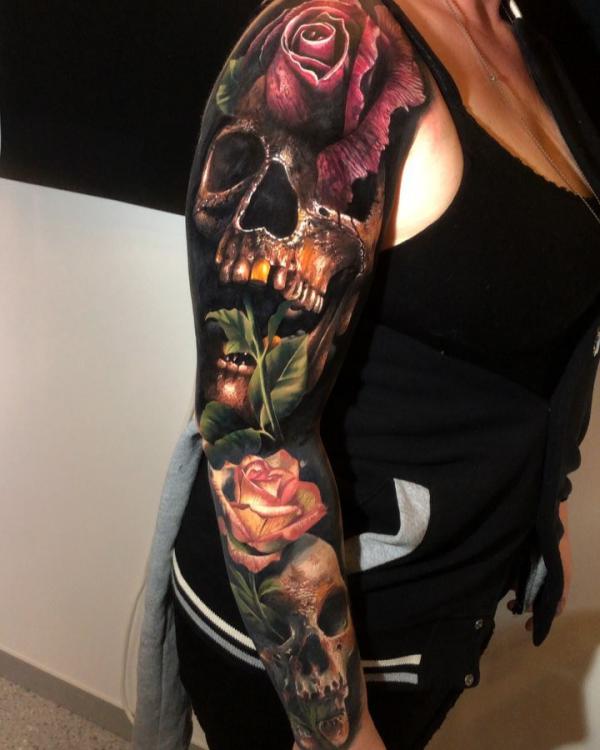 Gothic skulls with roses tattoo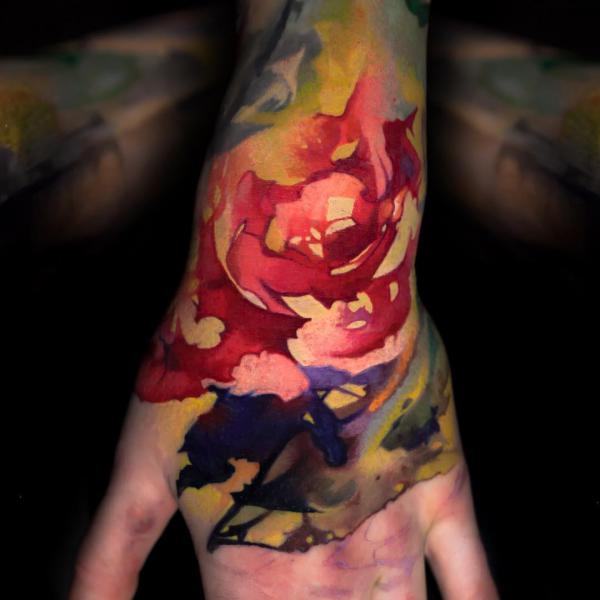 Abstract rose painting tattoo on hand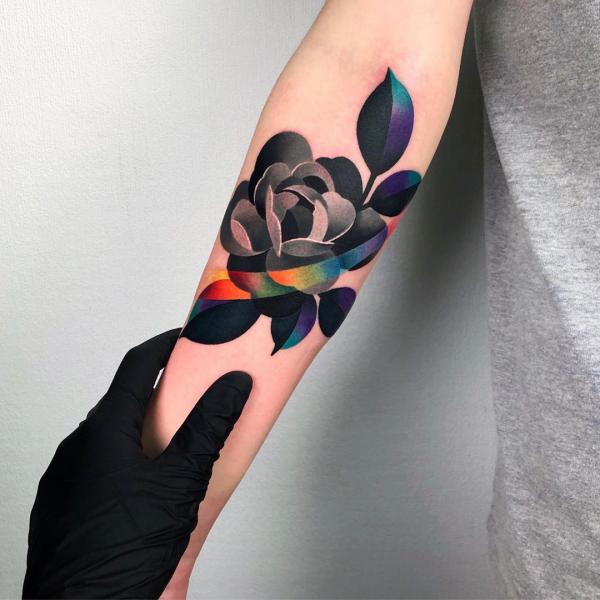 Stylized rose with rainbow stripe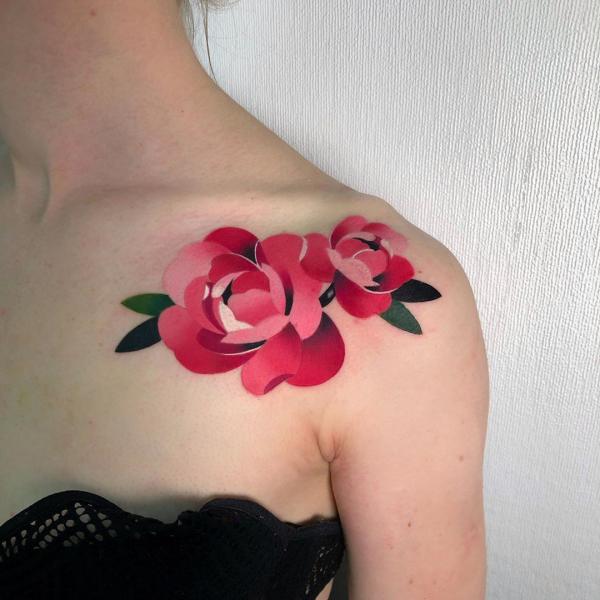 Shoulder rose tattoo in pastel red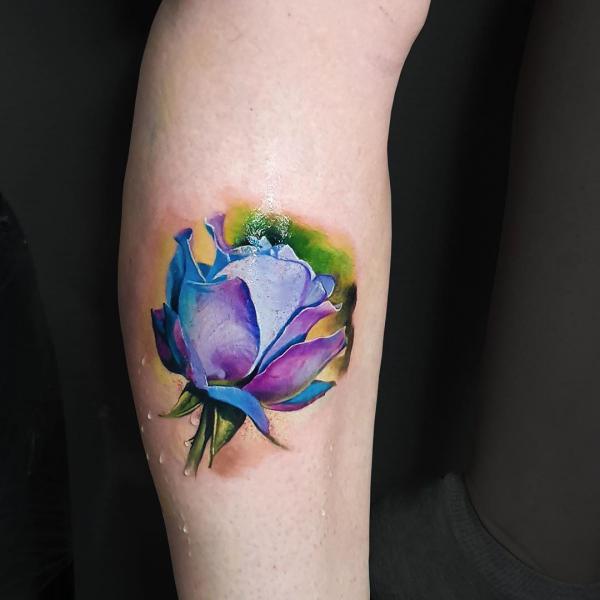 Blue rose with shades of purple on petals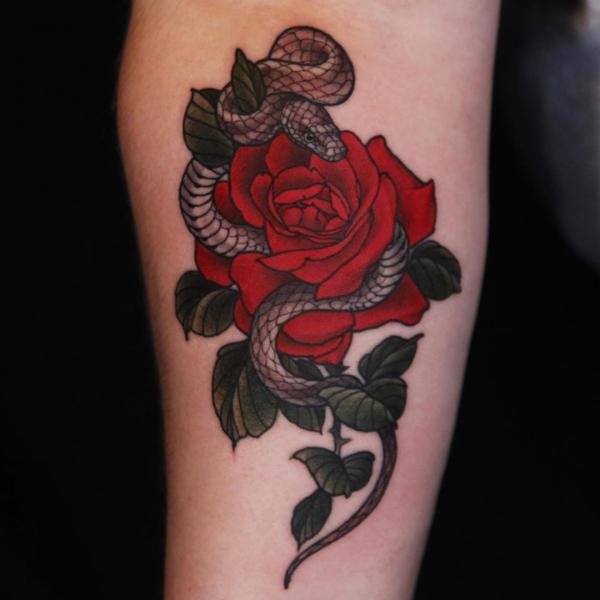 Rose and snake tattoo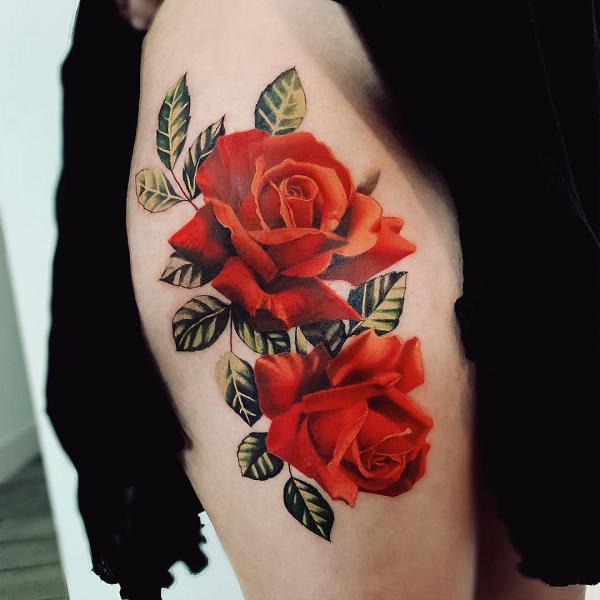 Two roses tattoo on thigh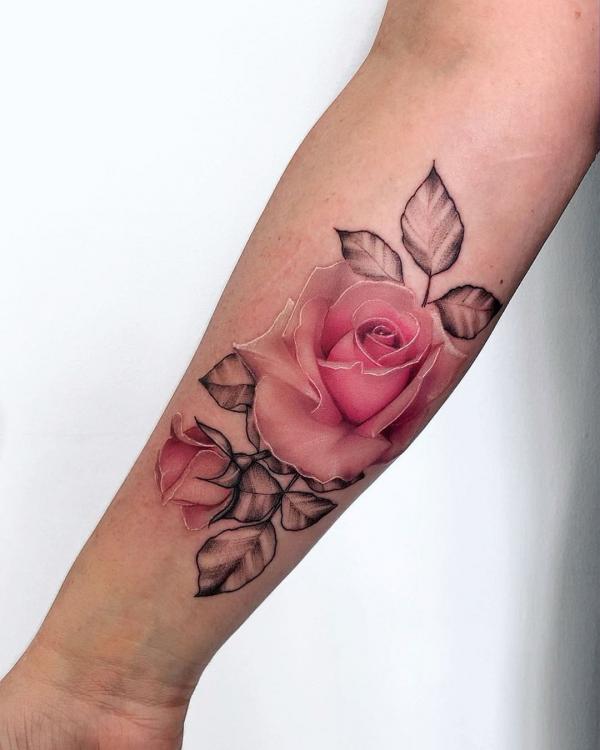 Cristal pink rose tattoo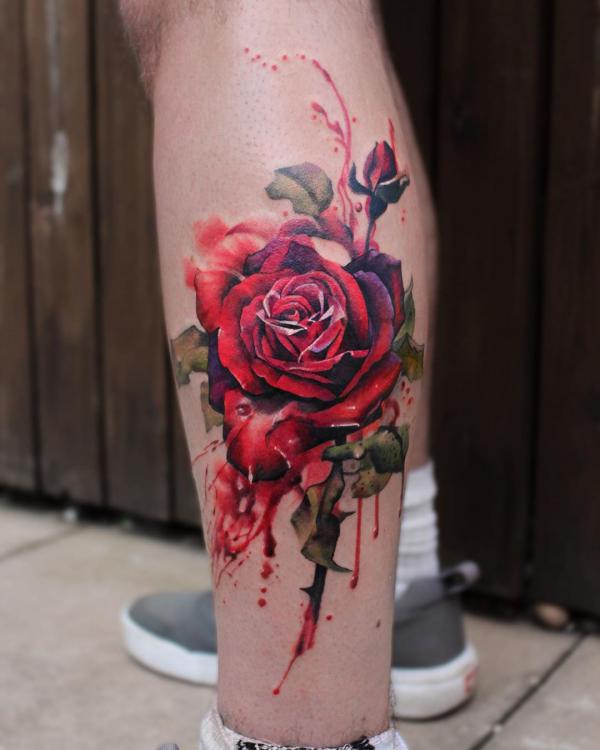 Watercolor rose tattoo on calf
Zombie head with roses tattoo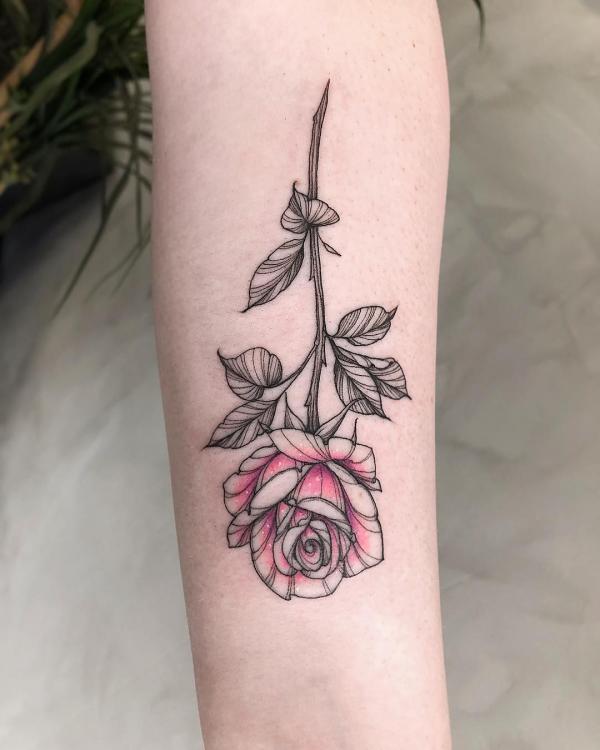 One stem rose upside down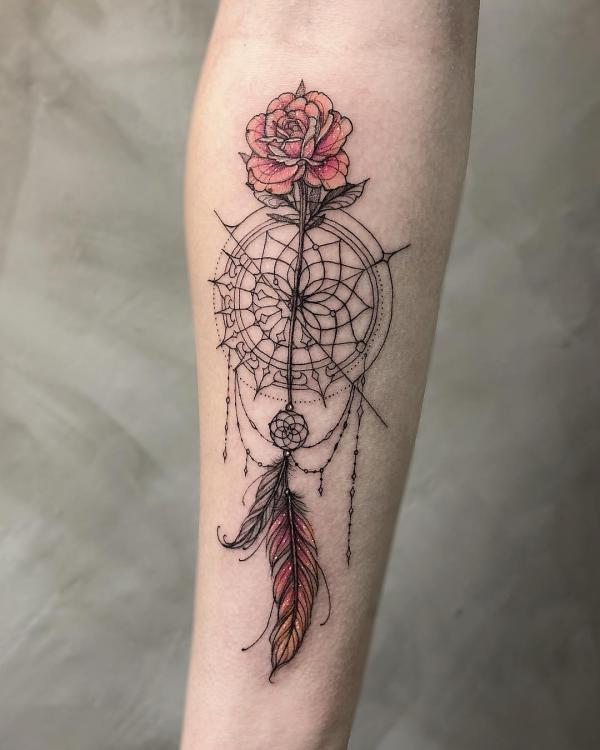 Dreamcatcher rose tattoo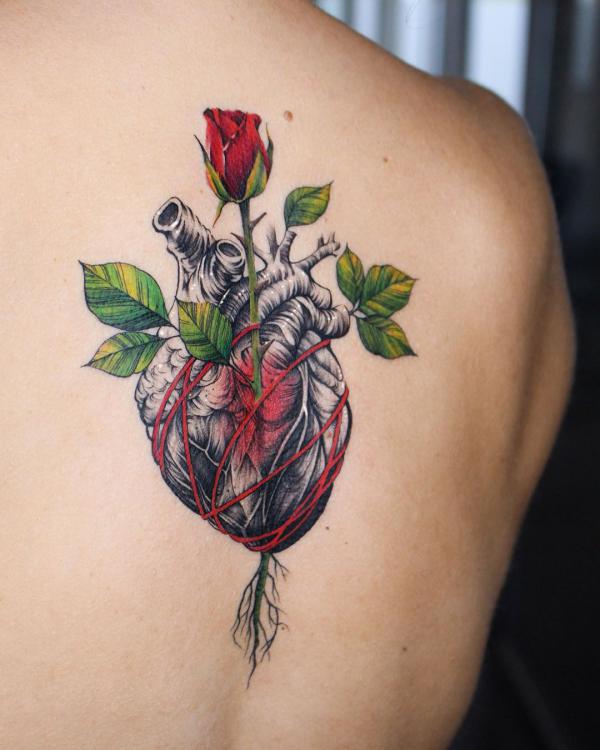 Rose in heart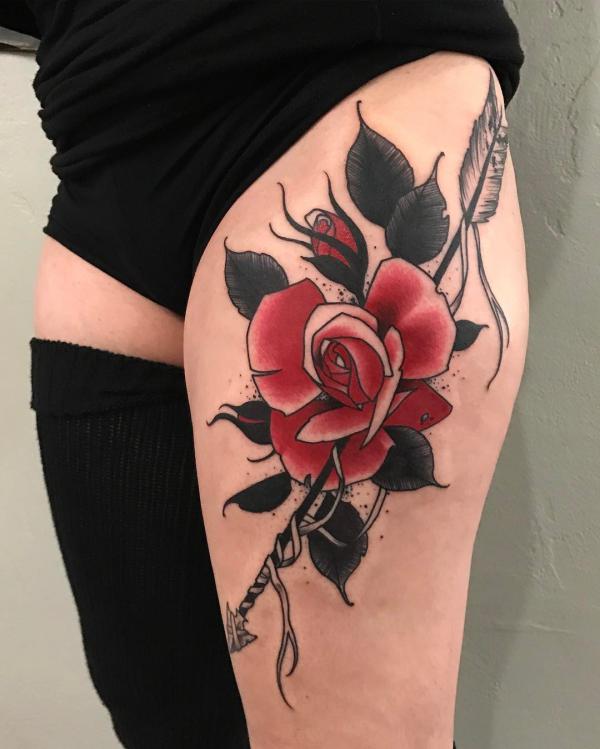 Penetrated with an arrow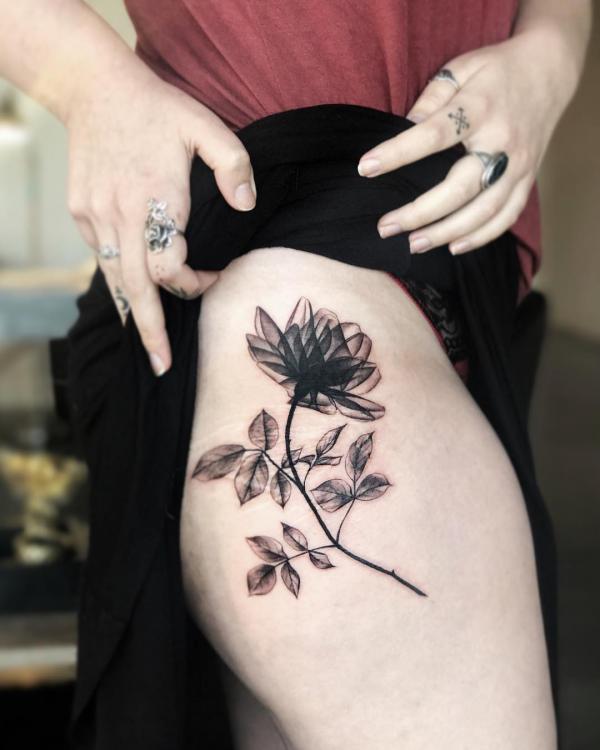 Rose in phantom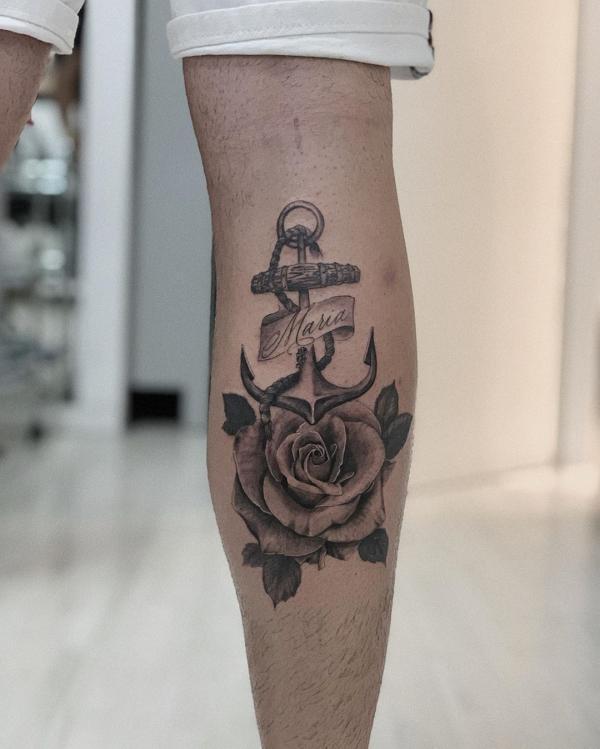 Secure Love – Anchor Rose Tattoo
When a boat arrives in harbor, an anchor needs to be thrown into water to hold the boat in position. So anchor is a sacred symbol for sailors and it is associated with stability, safety and hope. For example, this tattoo, with an anchor attached to the rose with rope, expresses the longing to safeguard the one who is loved.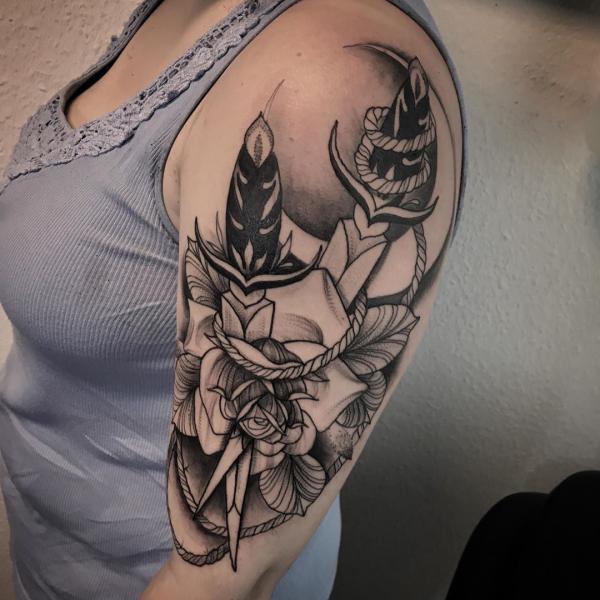 Rose and Dagger Tattoo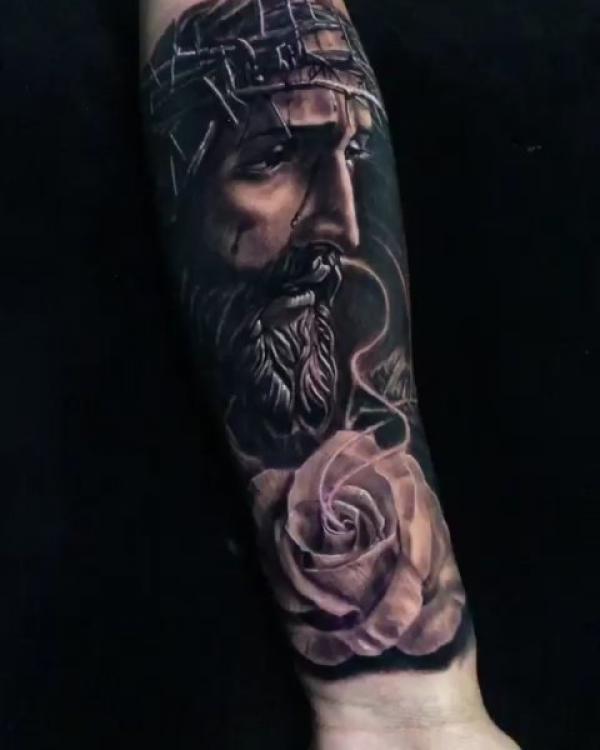 Jesus Rose Tattoo
If you have read the above context, it would be no surprise for you to find the design with Jesus and rose together. The portrait of Jesus is portrayed as if he's in deep thinking with shades of black and white. On the bottom, the rose under shaded light is connected to Lord with stream of vibe. The whole tattoo appears in photo-realistic style.