Life without friends is incomplete. They say that if you share that grief with a friend it will become smaller, and if lucky share with a friend it will double up. I deeply believe that this is true. I sincerely believe in friendship for life. I do not doubt that a man in life may have only a few real friends. True friendship leaves no one indifferent so it also could not our fashion designers and dictators of fashion trends. Friendship bracelets are extremely popular as they can easily match almost outfits in any season.
On the other hand, you can DIY Friendship bracelets with different materials, colorful threads, metals. It is more appealing to decorate them with beads, buttons, pebbles, and various other additives. If you want you can easily make them with a little effort and will. They symbolize love, friendship, willingness, care. Knit them for a daughter or a son. Now you can proudly walk them the street because it is hit.
If you want to weave your own friendship bracelet, you will need only four, five, six or more knots in different colors and a glue. You can use the thread for embroidery. Fasten the ends of 5 cm from the end of the knot and attach the adhesive to a hard surface. Separate the strings by colors. First of all learn the raw bond and diagonal lines as work, or a friend can show you the technique during an afternoon coffee, it will be interesting in the company anyway. So, determine the size of bracelets, for example, 15 cm. Take six different thicker ends. Share them into three groups of two. At the top we connect node and knit 8 cm long braids. When they are over again tied knot.Start from the left to the right, take the first thread and underline below the other forming a knot. Thus around each subsequent threads. The first thread becomes the last thread. After that we take the thread number two and repeat the process. Color at the end is color you are currently working with – the conclusion – that color should always be the last. If you make a mistake you'll easily repayment that part and do it properly again. When spun bracelet length 15 cm, for example, the ends tie in a knot, again, than divide them into three groups of two and again do a braid. Braid is 8 cm, for example, at the end knot again, we cut excess end and that's it.
Repeat this until you do the bracelet length you want. Then tie the strings in a knot and cut the excess.
If you decide for a bracelet made of metal or some other material decorated with beads and rhinestones, all parts can be found in specialized shops for jewelry making.
In any case, if you are not conscientious weaving them, now almost every jewelry shop has them so buy one for you and your best friend. There are many models, you only need to choose the one that best describes you and her, and of course your friendship.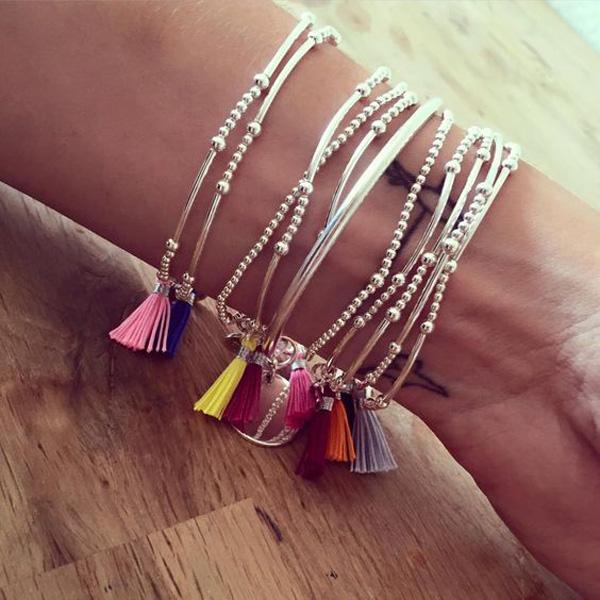 For several seasons it is fashionable to wear several bracelets on one arm.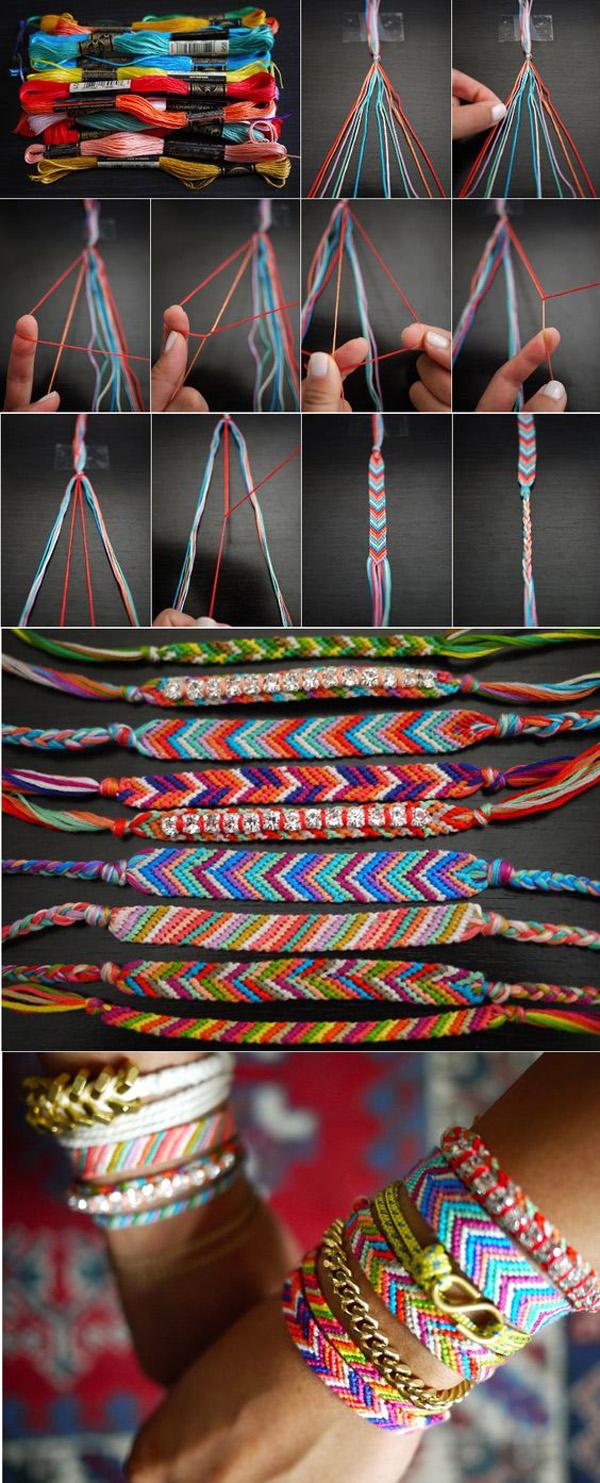 Knit bracelet never stopped to be trendy. The girls wear them ever since. Instructions how to weave them by yourself you'll find in text above.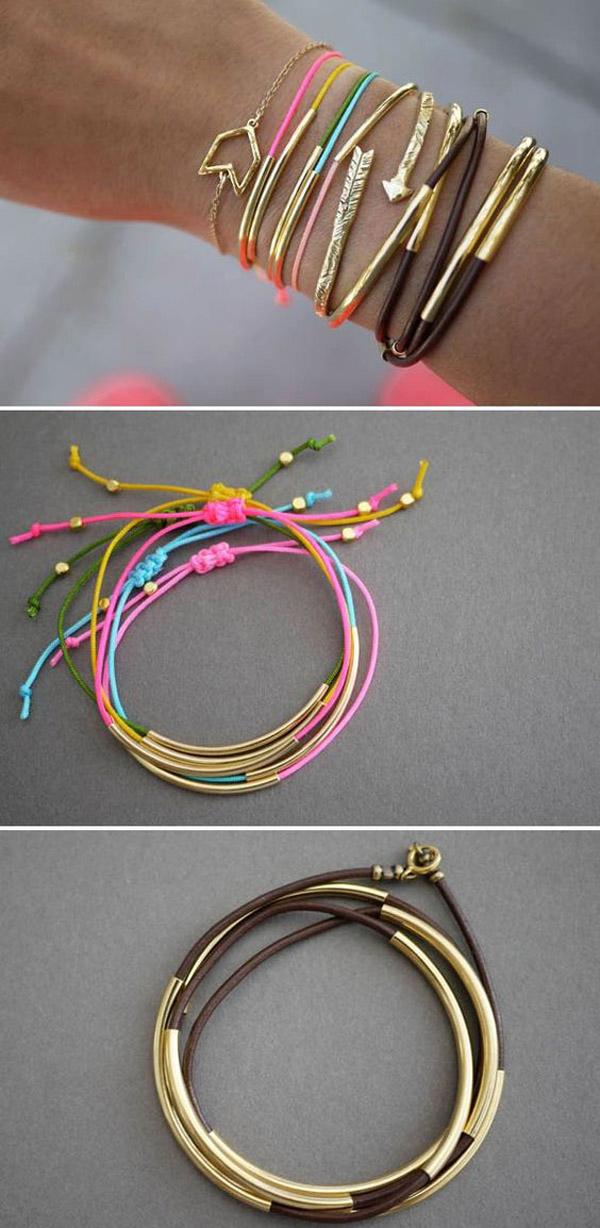 These bracelets are produced in a combination of materials and metal and it looks very nice. If you are making them, parts made of metal or plastic you'll find in specialized shops where people sale parts for making jewelry. Possible is also a combination of rubber and silver, rubber – gold, rubber and some metal …
You also have models in a little bit biker style.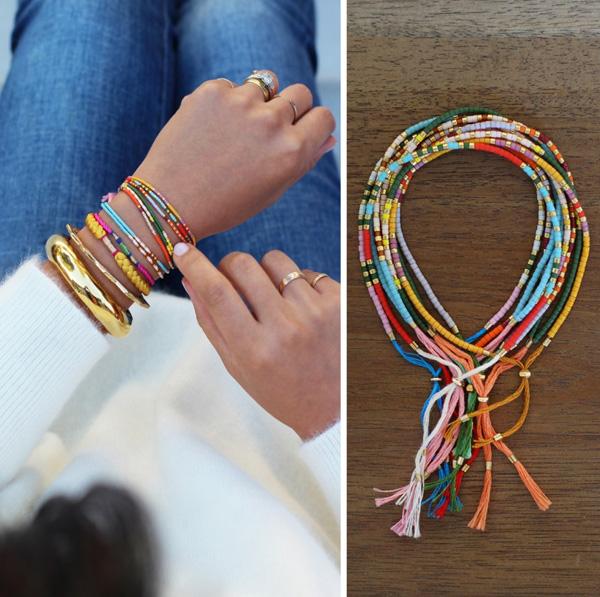 In summer every combination you can couple these bracelets, a great bunch of them will look cool especially if bracelets are in different colors.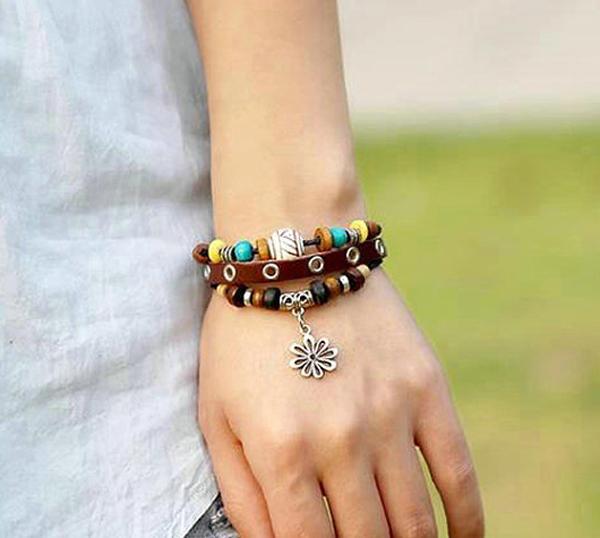 Here you see a model with beads in various colors.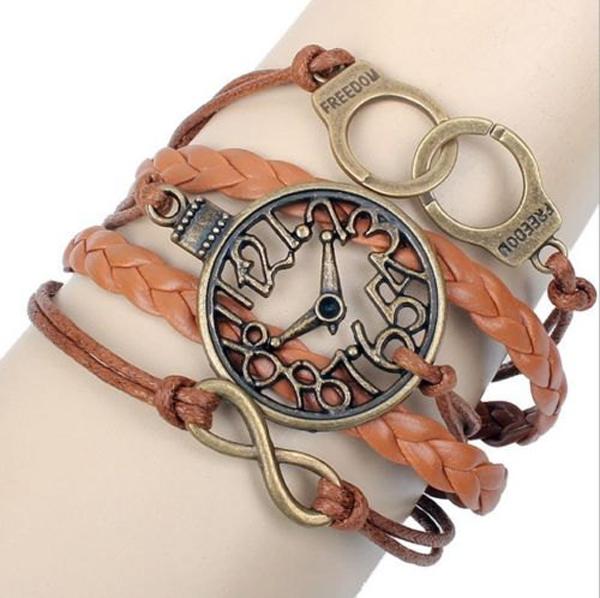 Earth colors are in vogue, such as illustrated. Imitation of watch or the real watch will look great in combination with several of these bracelets.
Source

Leather bracelet with details in golden color and delicate white pebbles, for casual outfit.

Simple metal bracelet wrap with the thread in color and add metallic parts like these on the picture and you will have a brand new bracelet.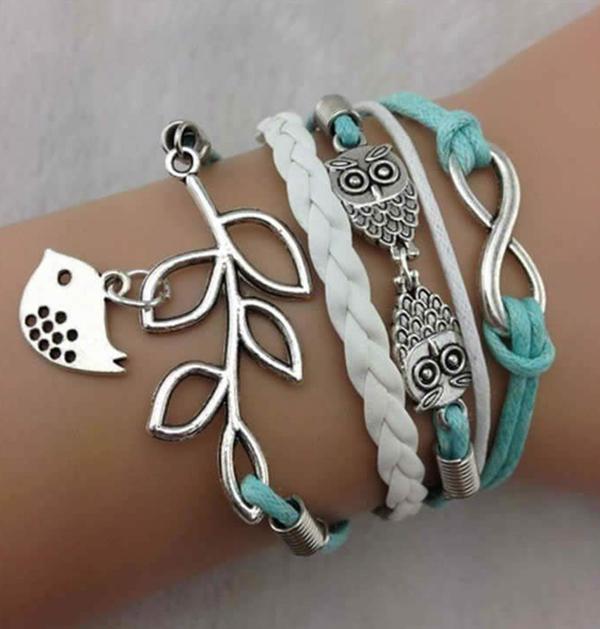 Details such as owls are modern. Owl means wisdom. Bring it on your hand … But be wise …
Source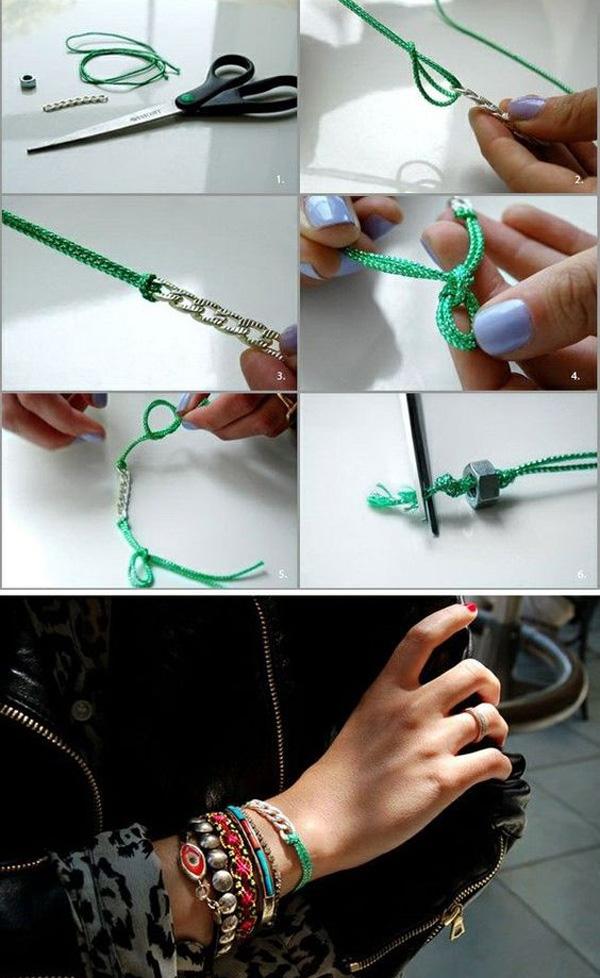 With a little effort, using scissors, thread and metal detail that you like, you can easily make a bracelet. Let this image help you get the idea.
Source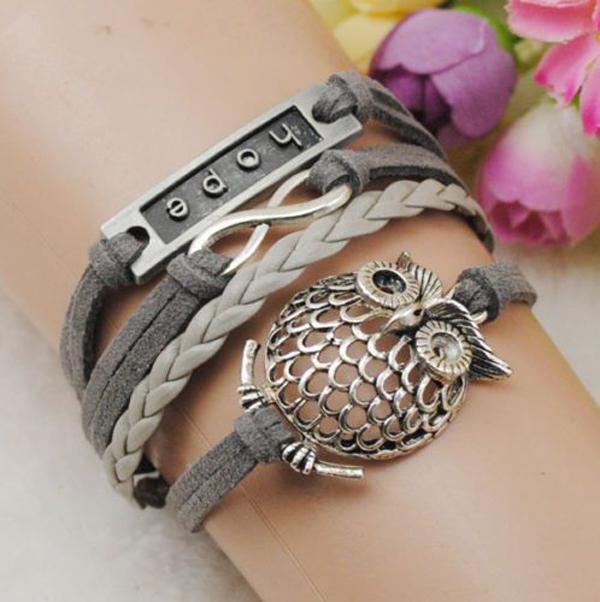 Grey in various shades plus owls and your autumn days will be cheerful …
Source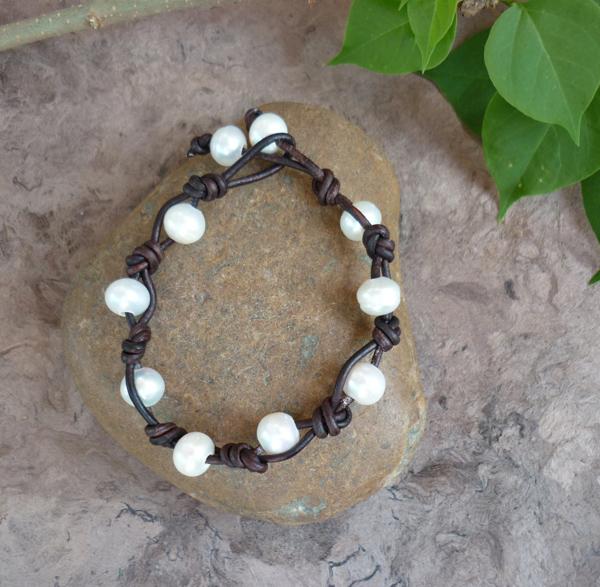 Gentle white beads like pearls. Today it is hard to find a true friend like it's hard to find pearls. Symbolically decorate your bracelets with these beads.

Follow the instructions with the pictures and make these two bracelets, one for you and one for the person you love. Such a gift will delight everyone, especially when it comes from the heart. The price of something isn't important but attention is.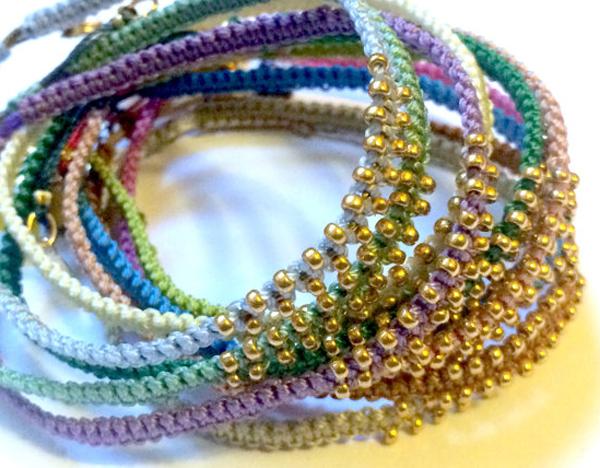 Let each day be magical like these bracelets in this picture. For magical days you will need just a little effort and the company of right people.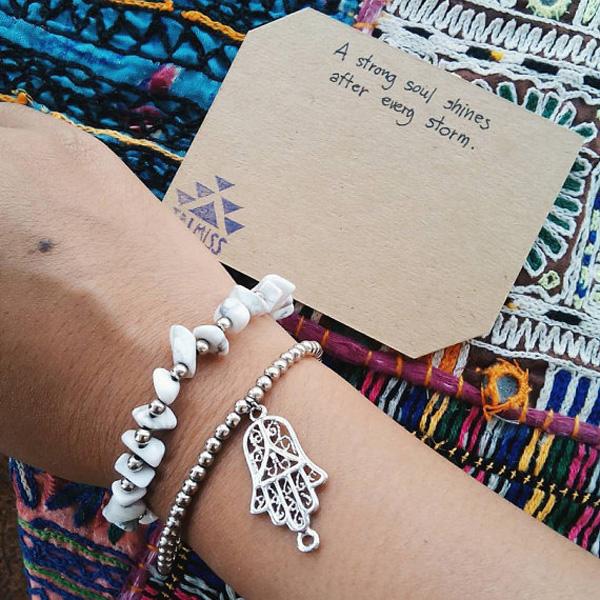 Discrete but effective.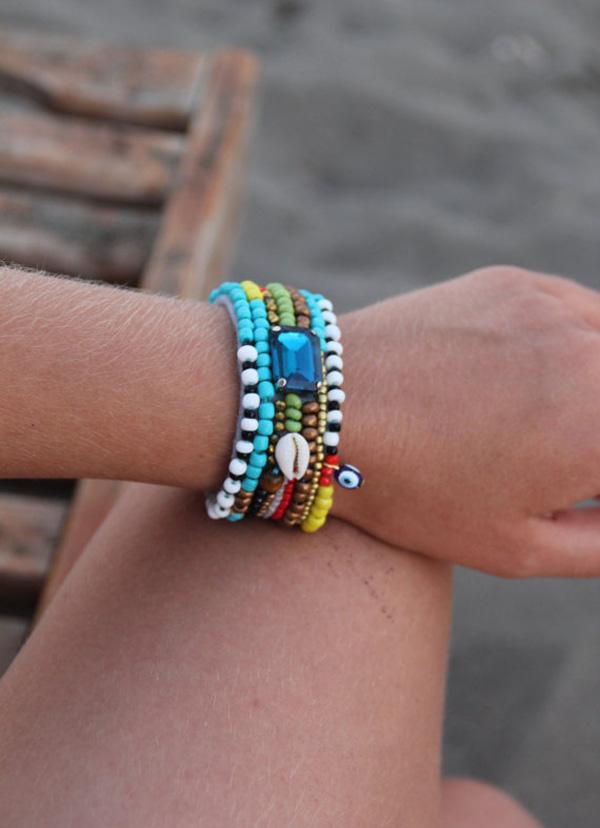 Many bracelets and a lot of beads…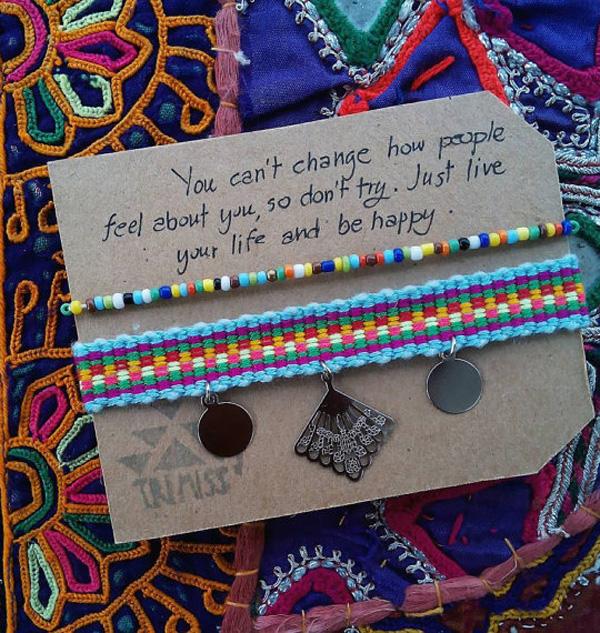 You can wear a bracelet from the picture, but every day have thought from the picture on your mind. It's true.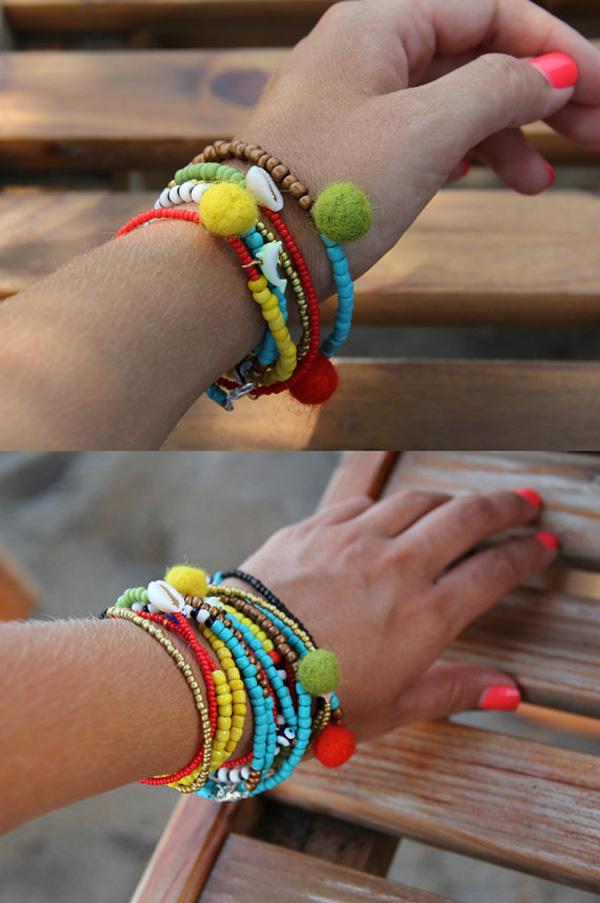 An interesting combination with effective red.

Another photo that shows how to create the bracelets and necessary material for that. If you have good will go ahead.

In the braid insert the bead and bracelet will be more interesting.

A simple and inexpensive detail that can serve you for making bracelets – button.

Here's how you can also take advantage of the zipper!

As you can see in the picture, these bracelets you can also make at your home with the help of pliers, and of course it is necessary to go to shop for jewelry parts. Let your imagination run wild, and your creativity will come to the fore.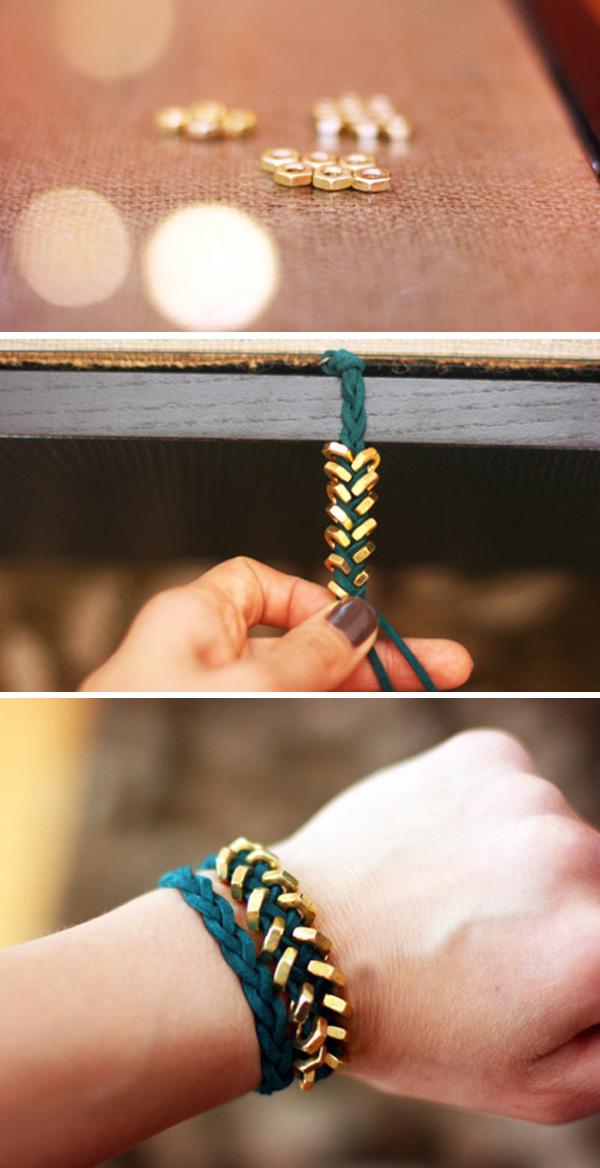 Like knitting your hair spun bracelet throwing nuts in color of gold through it.