Start making your own DIY Christmas decor
In this holiday season it's a great way to be creative and celebrate it as festive as we can. There are just so many things to do that sometimes you don't know where to start. There are family dinner arrangements, hosting Christmas parties and shopping for Christmas gifts. It's so hectic that you're not even sure that you can survive through the season. A good trick when you want to enjoy the Christmas season is to keep everything simple especially your decorations. Let your creativity kick in when picking out your tables, curtains, stairwells, mantels and so much more. Trying out Christmas DIY Ideas not only makes your home look unique but it can also help save you money as well.
Focusing on a décor
It's important when you have a highlight in the room and that could happen if you choose a certain décor to stand out and be the belle of the ball. Take for example, your Christmas tree. Of course, in just about any home, the Christmas tree is the focus however they can be overshadowed by the other decorations. In order to avoid this, the key is positioning the Christmas tree right. Look for a place in the room where the tree can be visibly seen. If you have gifts under the tree, try to wrap them up in monochrome colors so that the tree is further emphasized.
Grand entrance
The next thing you should put some work on is your entry space. Christmas is all about loving and sharing which is why you should decorate your home as elegant and as welcoming as it can be. You can always work with the traditional colors of Christmas or you can mix up your own color choices. The entrance gives the initial look of your home so you may want to make sure that it looks inviting and lovely to guests.
Wonderful treats
Moving on to the smallest details, what is Christmas without treats? They may be small but are actually there for a reason; and that is to spread the love towards everyone. Treats and designs can come in various ways such as Christmas calendars, Christmas chocolates and candies. What you can do is to make use of old jars and redesign them to fit into the Christmas theme. Inside these jars you can place chocolates, candy canes and candies. You can also be creative and place Christmas characters inside them or mini Christmas houses. This can also do wonders when your home décor has a certain theme to it.
Light 'em up!
Another thing you should not forget this Christmas is the lights. Illuminate your home and your Christmas tree by way of bright and attractive Christmas lights! You can do a lot of things with the lights. Arrange them to form a scenario or simply drape them over your Christmas tree for a subtle effect. You can choose your Christmas lights in any order of color as you like. Some people chose to keep it simple and just hang the lights normally outside of their house. There are others that plan elaborate designs for their Christmas lights and they arrange them grandiosely outside while picking themed color combinations and lighting timing.
Make your mantel a masterpiece
What a lot of people neglect when it comes to decorations is the mantel. The trick is, having a grand looking mantel actually helps make the room look a hundred times more festive. This is why when you go Christmas mantel shopping; choose one that can make a statement at first glance. When you have a great mantel you can simply ease up on the décor since the mantel will be taking a huge amount on the spotlight. Therefore when you are running out of ideas for wall decorations at home, you should always go for a good mantel to compensate.
Wonderful dinner table
Since its Christmas, people are going to be expecting a lot from the dinner party. This is especially true when you invited a lot of guests and it will need extra attention on the décor. Your simple dinner table can easily transform itself into something grand given that you prepared the necessary décor and amazing food as well. Make your guests feel like they are kings and queens by adding simple touches like silver colored embellishments on napkin rings, metallic placemats or the like, ornaments that go with your dinner table theme. You can even add a creative centerpiece for your dining table. You can imagine just how many possibilities there are when designing your dinner table centerpiece.
Bottom line
What's important is that you enjoy what you're doing. Christmas is the season to be celebrated and not pressured. Accept that there are some things you can't do but there will always be other things that you can accomplish instead. That is why the best choice for making your décor this Christmas is through DIY crafts. They are fairly easy, they look unique and you can even unleash your creativity. In order for this to work, make sure that you invest just the right time and not rush them up because you know that you want the outcome to turn out good. You can even make this as a bonding session between family members. Make your Christmas this year a memorable one.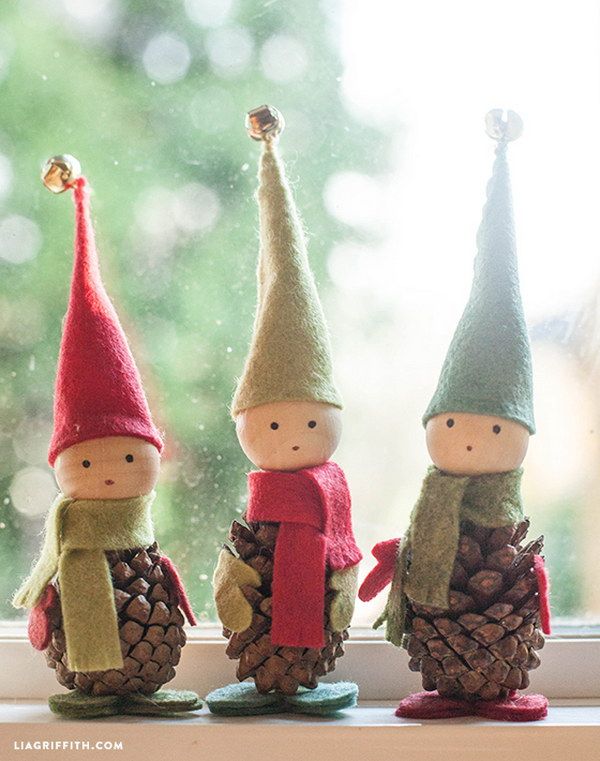 Very cute pinecone Christmas elves. Be creative in making your Christmas décor and use what you can find nearby to make something as unique as this.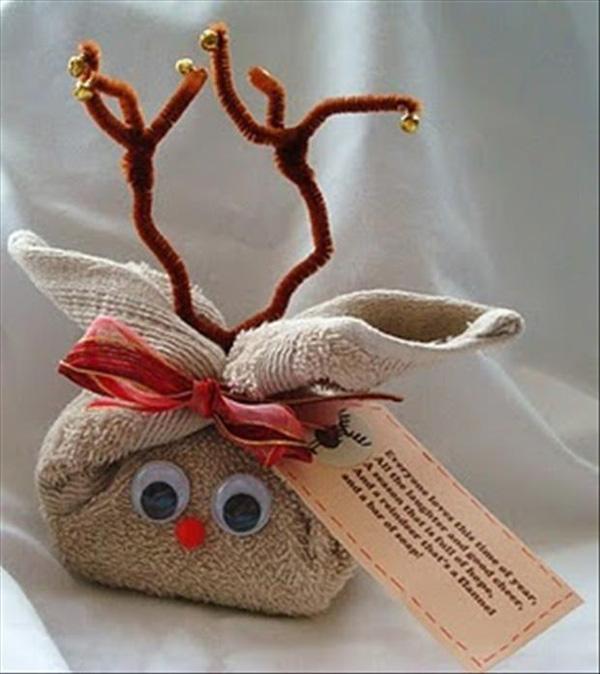 Reindeer inspired gift wrapping. What can a pair of googly eyes do? Make a present extra special. Complete that reindeer effect with crafted antlers, a red nose and a Christmas ribbon.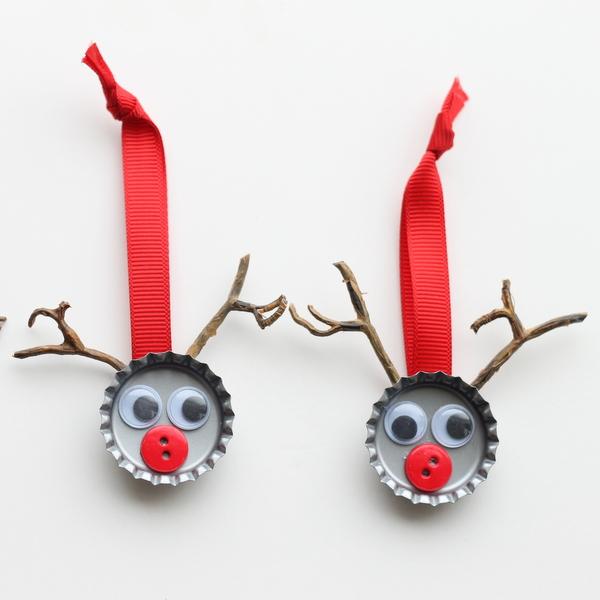 Make use of everything this Christmas and that includes bottle caps. Reindeer inspired bottle caps that can serve as cute Christmas party giveaways.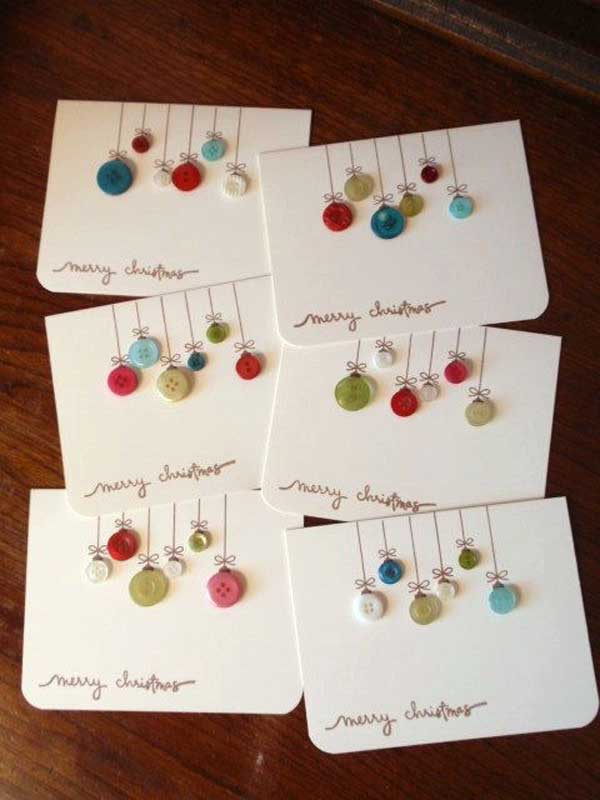 Colorful button Christmas cards. Set your creativity on the roll with these Christmas cards made out of paper and extra buttons.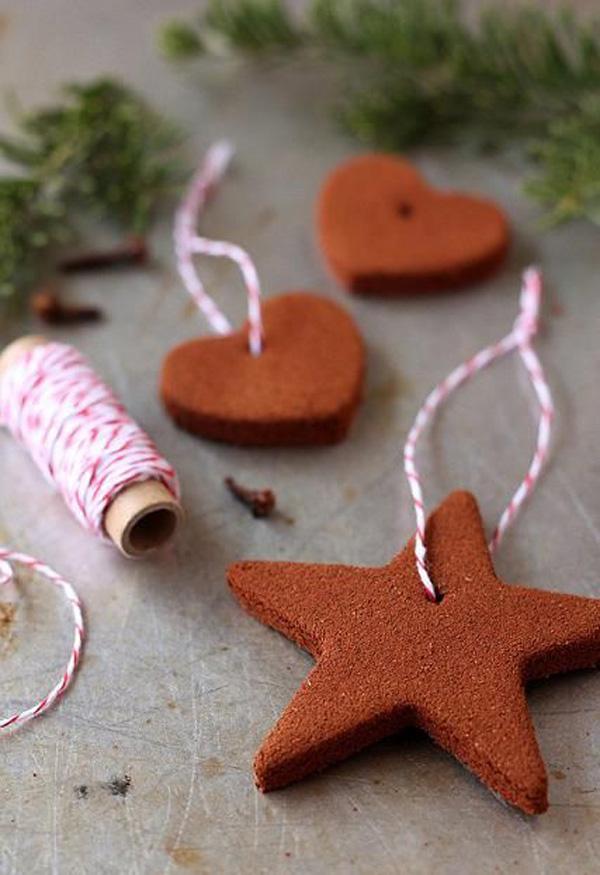 Beautiful Christmas inspired wall hangings. You can hang these on your walls or on your Christmas tree. All you need is a simple thin rope and shapes you have either carved out of foam or wood.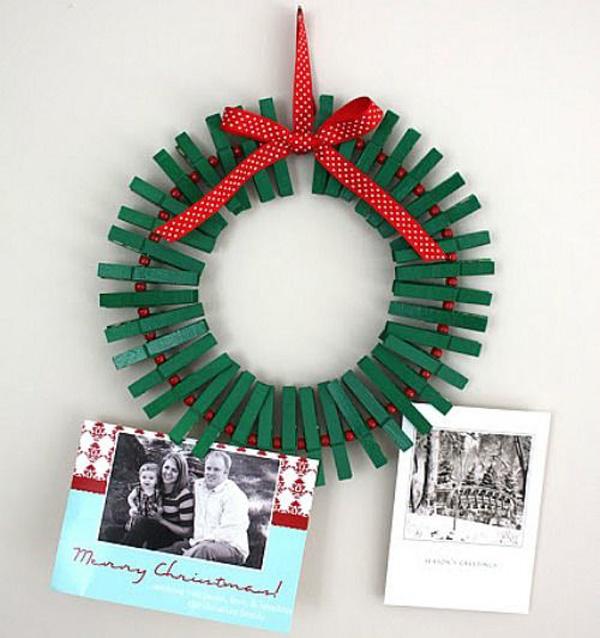 Be practical they say this Christmas. This is what it means to be practical. You can paint laundry pins and use them to make a wreath then add ribbons and even a special picture to personalize it even more.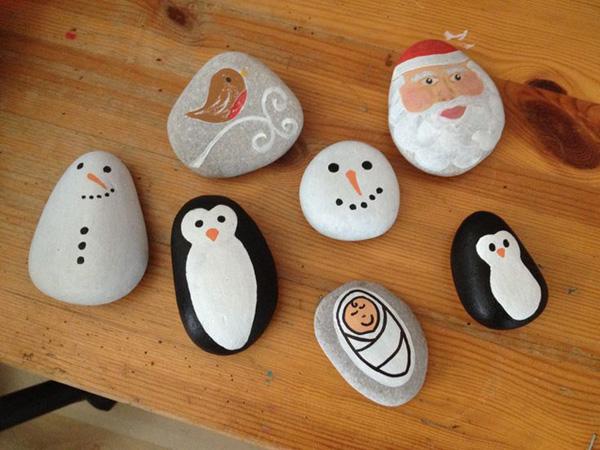 When you live near the beach you may have collected special rocks over time. This Christmas season may be the best way to use them by painting on Christmas related characters on them.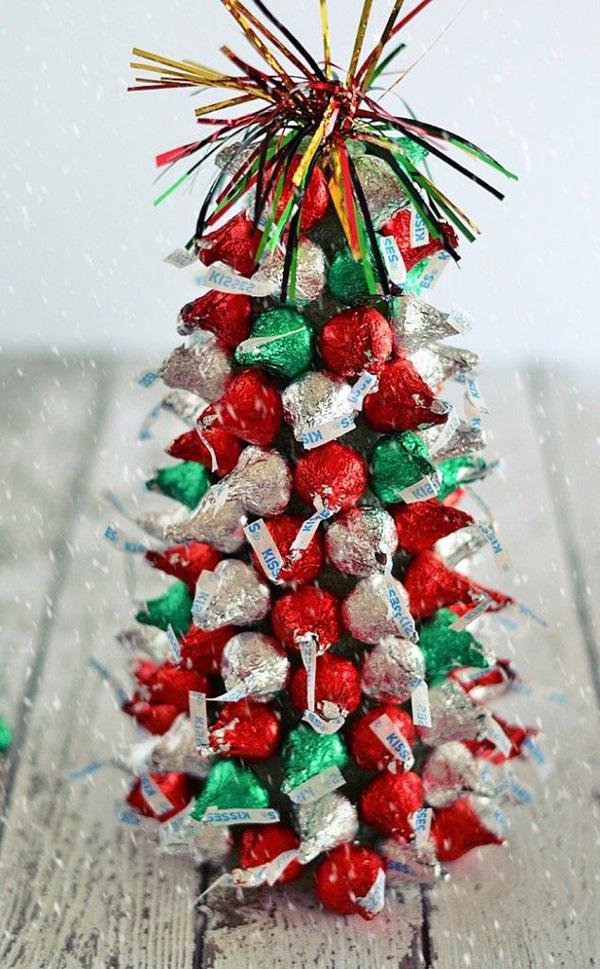 Kisses inspired Christmas tree. When you want to display the treats with style, this is your go to project. Stack up your chocolate kisses and form a Christmas tree along the way.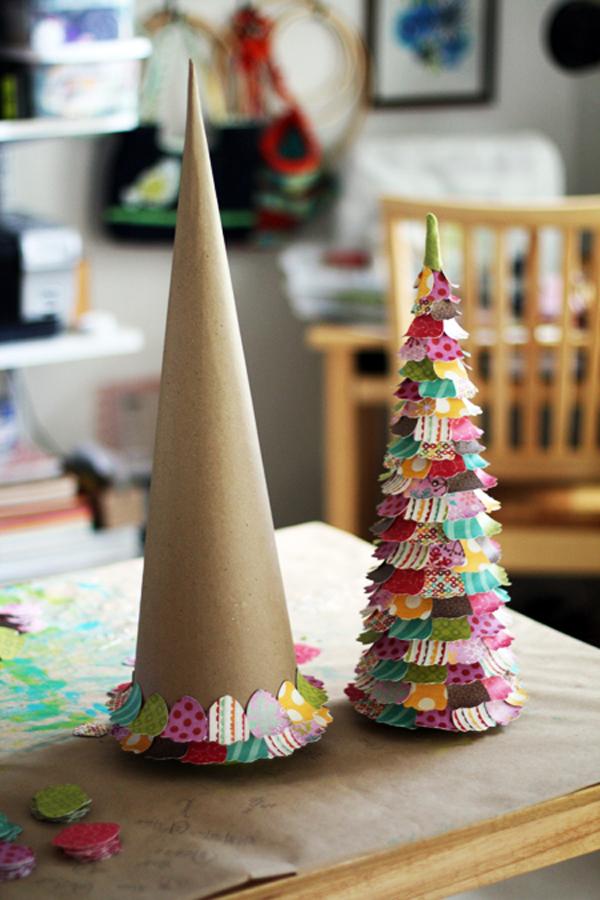 Lolly Chessie's mini Christmas tree cone with paper leaves. There's no limit to how you can design your Christmas trees and the quirkier they are the better. Put on colorful cut outs on your cone shaped Christmas tree and stand out.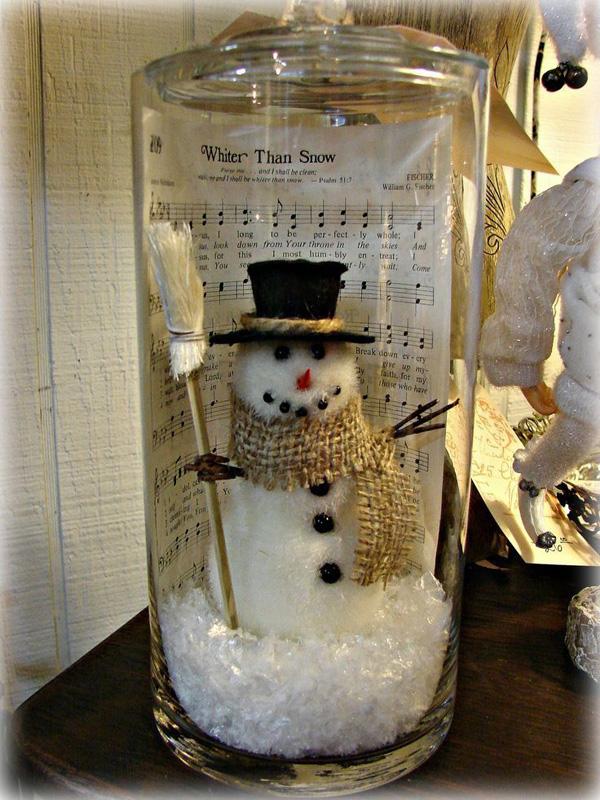 Snowman in a bottle. Make your own miniature snowman in a bottle with cotton and simple things you can find around the house like unused cloth, pins and even matchsticks.

Snowflake inspired mini Christmas trees. These are actually simpler than they look. Have a ready snowflake pattern on your piece of paper along with thin sticks, beads and a glue gun and you're good to go.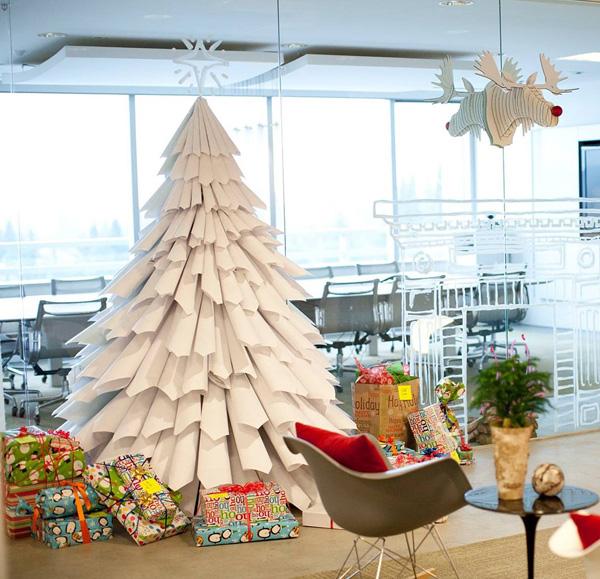 Deviate from the norm with this paper inspired Christmas tree. Looking for a practical way to decorate your tree? Then this might just be the solution.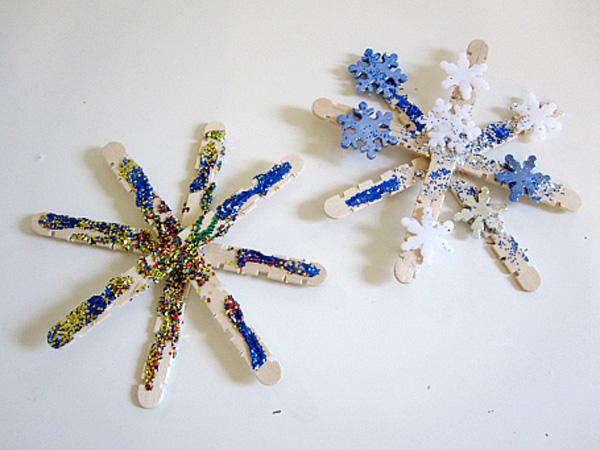 Glittery start shaped designs. A very simple yet innovative star shaped design using Popsicle sticks, glitter, glue and cute design cut outs.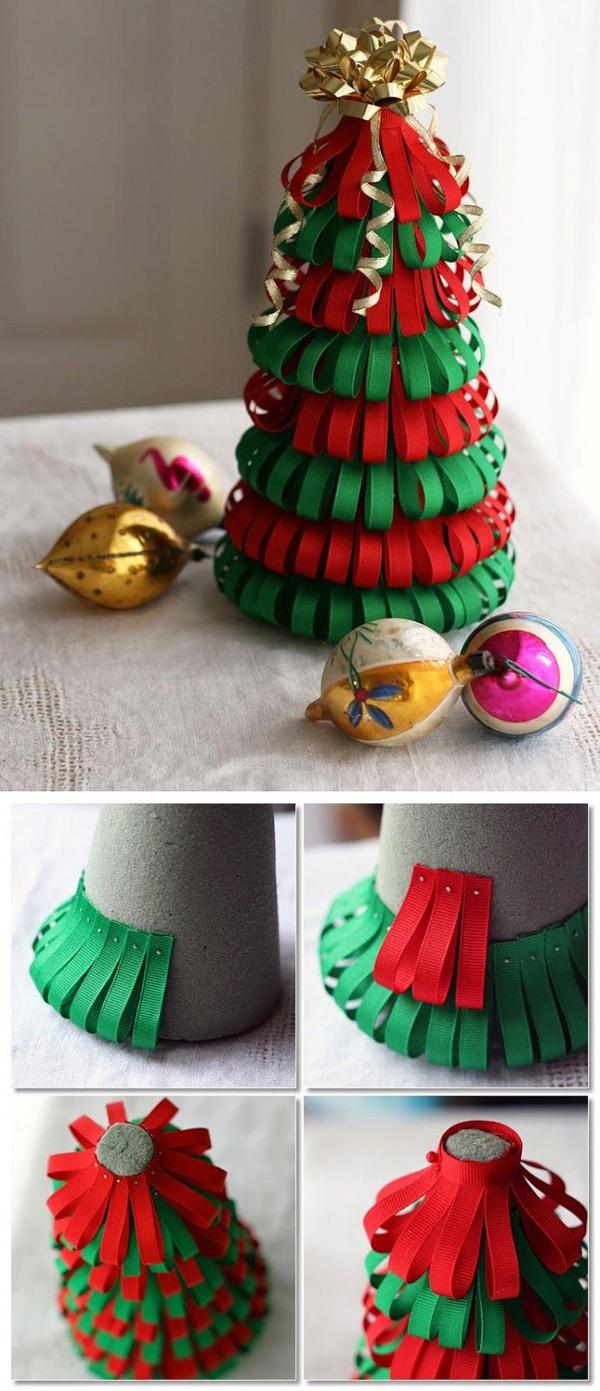 Ribbon inspired Christmas tree. Make use of things around the house, especially remnants of prior decorations such as extra ribbons and cone stands to create this one of a kind Christmas tree.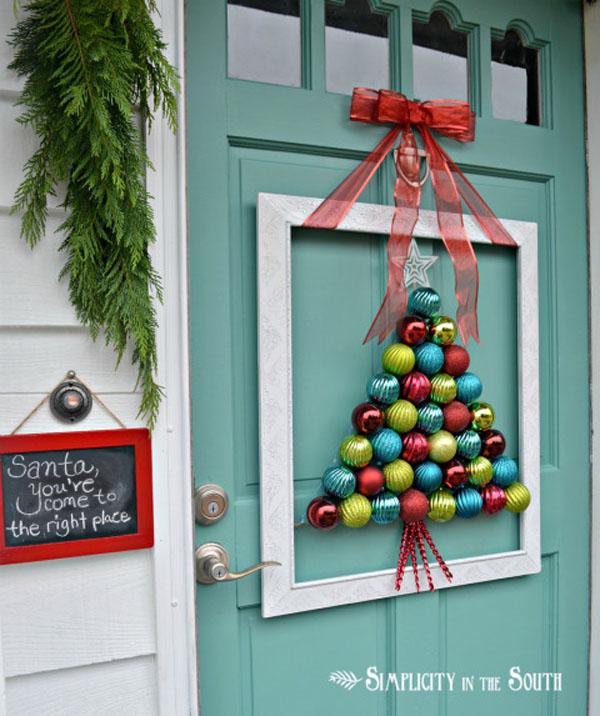 Who says Christmas balls are only for the Christmas tree? You can get out of your way and arrange the extra Christmas balls to form a tree shape and decorate your front door with it.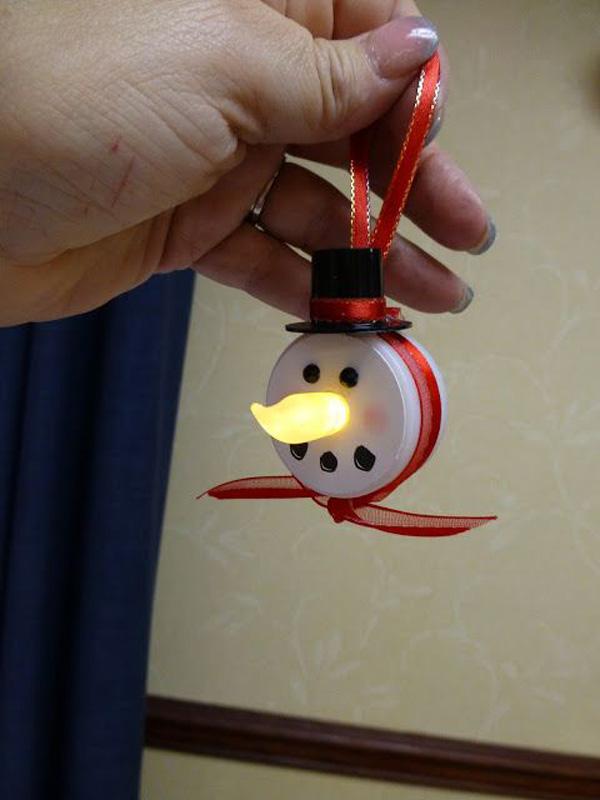 Snowman Christmas lights. Make your own snowman Christmas lights by piecing together things around the house like old parts of toys, buttons and so much more.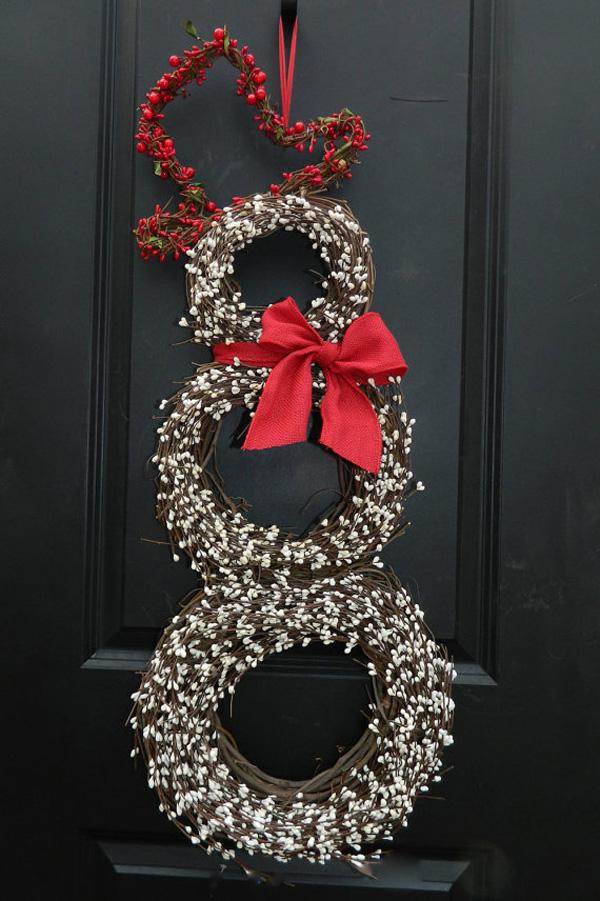 A snowman made out of organic Christmas wreaths. You can easily pick out twigs, berries and flowers nearby your house and design them in a snowman shape complete with a ribbon and a fancy hat.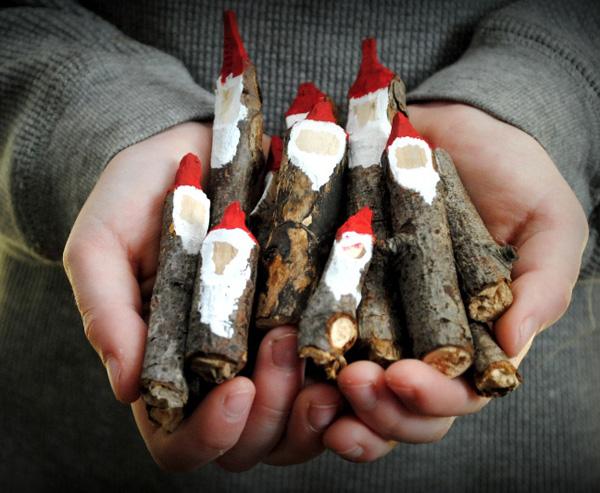 Santa twigs. When you have creativity in you, you can create absolutely anything from everything. In this case a simple paint made a huge difference to once unnoticeable twigs.
Very cute Christmas wall holders. They have been arranged in a Christmas tree shape and even have Christmas balls hanging in front of them. Simple, creative and definitely one of a kind.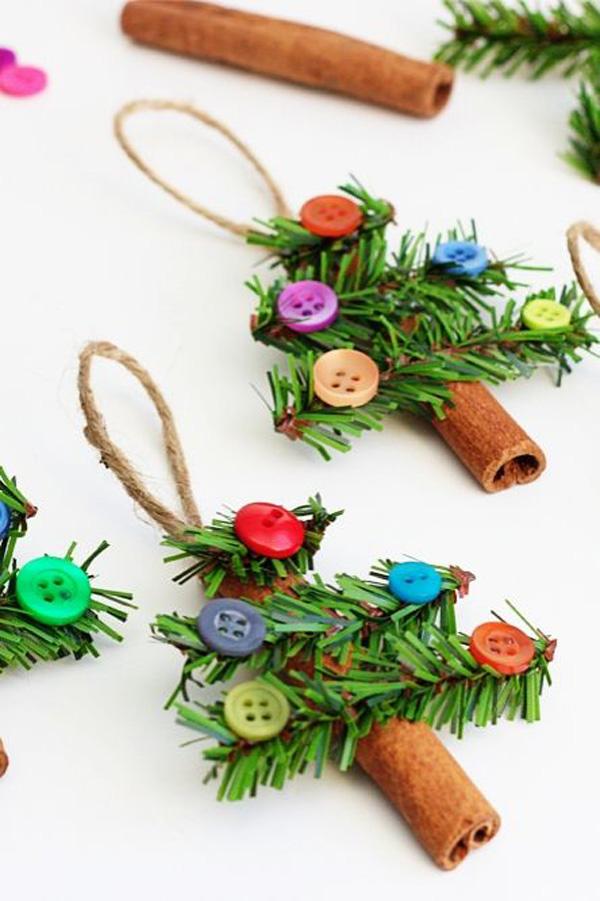 Mini Christmas tree hangings made out of used or recycled materials. Combine together old Christmas tree plastic leaves, colorful buttons, cardboard or wood and rope to make a bunch of these cute Christmas tree decors.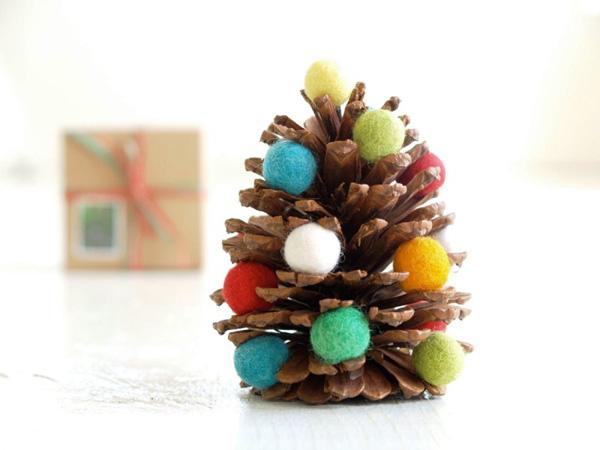 Pinecone Christmas tree. Stick various foam beads into the pinecone to make it look like an adorable miniature Christmas tree. You can even make a dozen of these to pace around the house.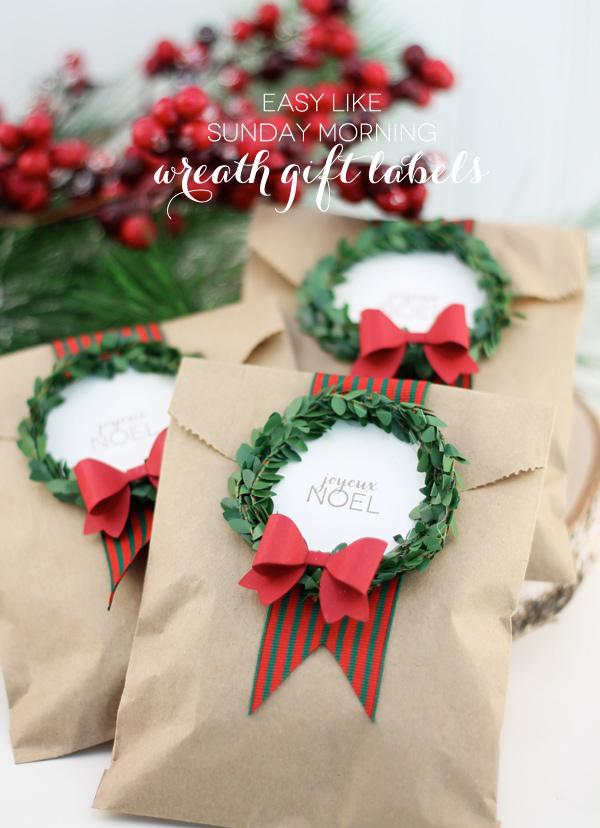 Think out of the box with those Christmas treats. Recreate a simple brown envelope by adding mini wreaths and messages on top for a more personal touch.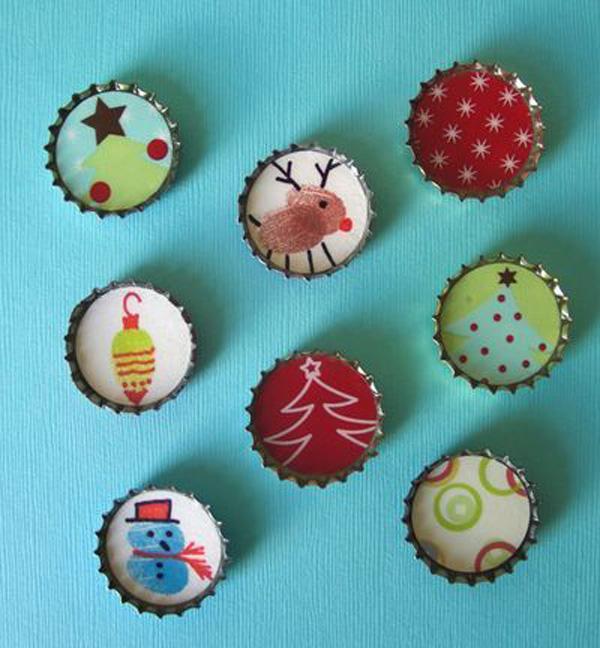 More creative bottle caps coming your way! Check out this very cute and innovative bottle cap designs that your kids can make and can hang up on your wall during Christmas.

Christmas characters on a Popsicle. Funny, creative and very simple to do with things that you can and will always find inside the home.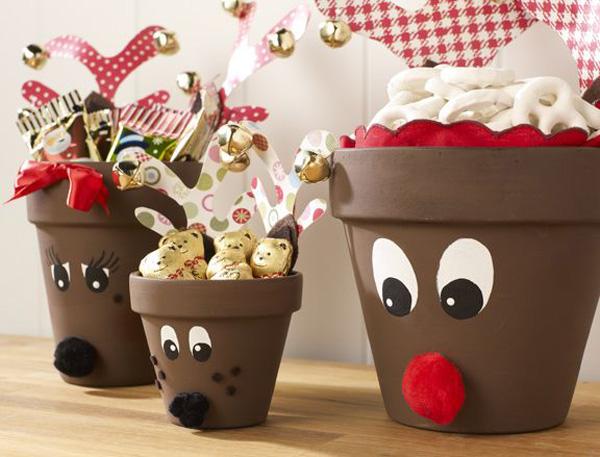 Reindeer pots! Even pots have the right to look festive. Design them by drawing googly eyes and putting on noses and freckles on top.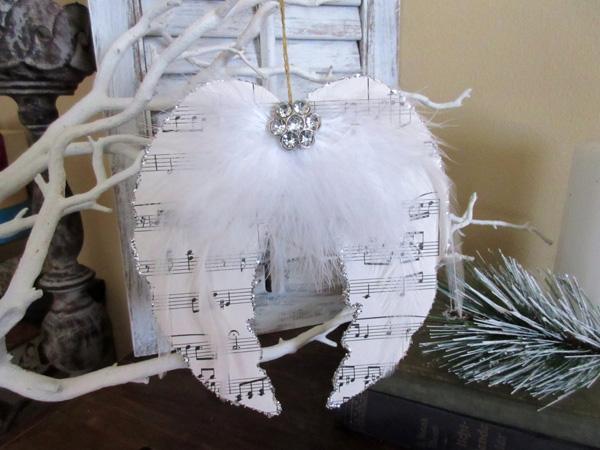 Angel wing shaped notes. This is perfect for houses with themes like white Christmas. They are perfect as Christmas tree décor and even wall hangings.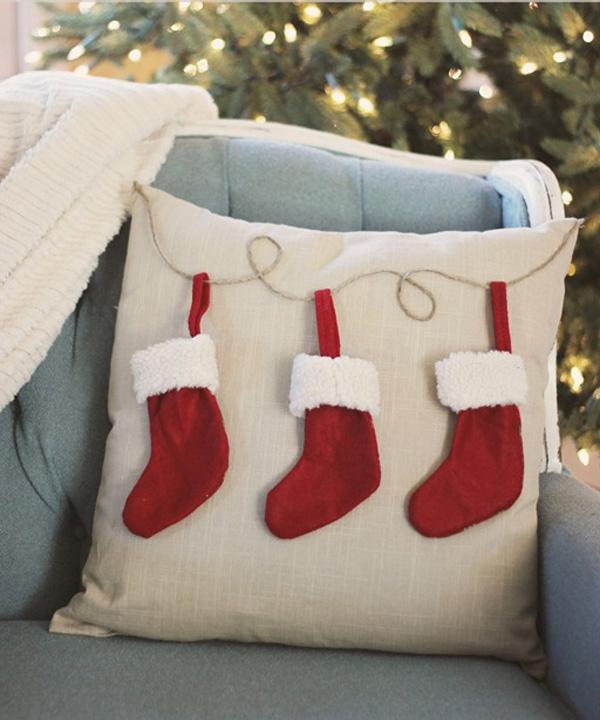 Christmas stockings inspired cushion cover. Very cute and warm looking. It helps make the home and the sofa look more inviting when you have guests coming over.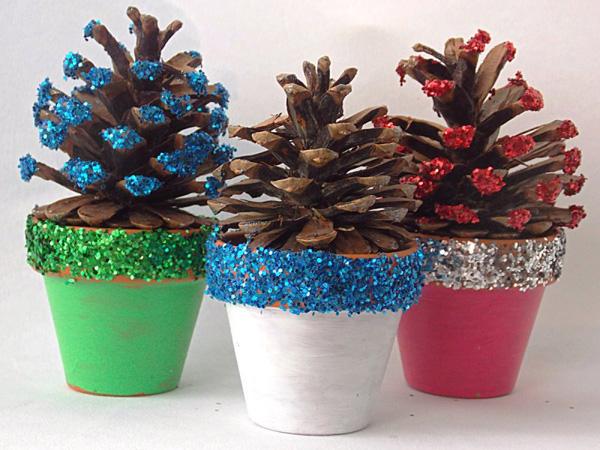 Pretty pinecone potted plants. Design them in different colors for a touch of variety. Easy to make but can definitely fill the empty spaces in your home.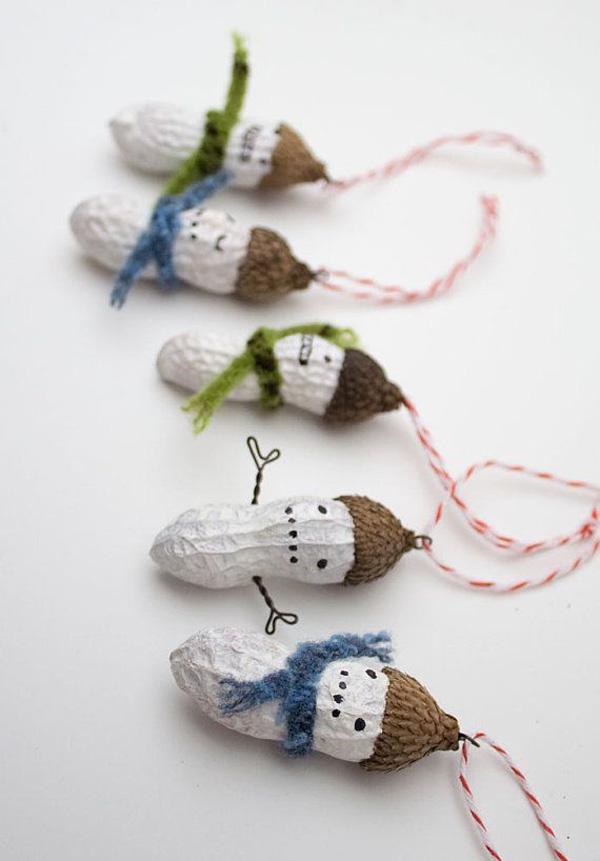 Snowman peanuts. Have fun with your Christmas treats by coating them in Christmas inspired characters such as a snowman with cute hats and scarves.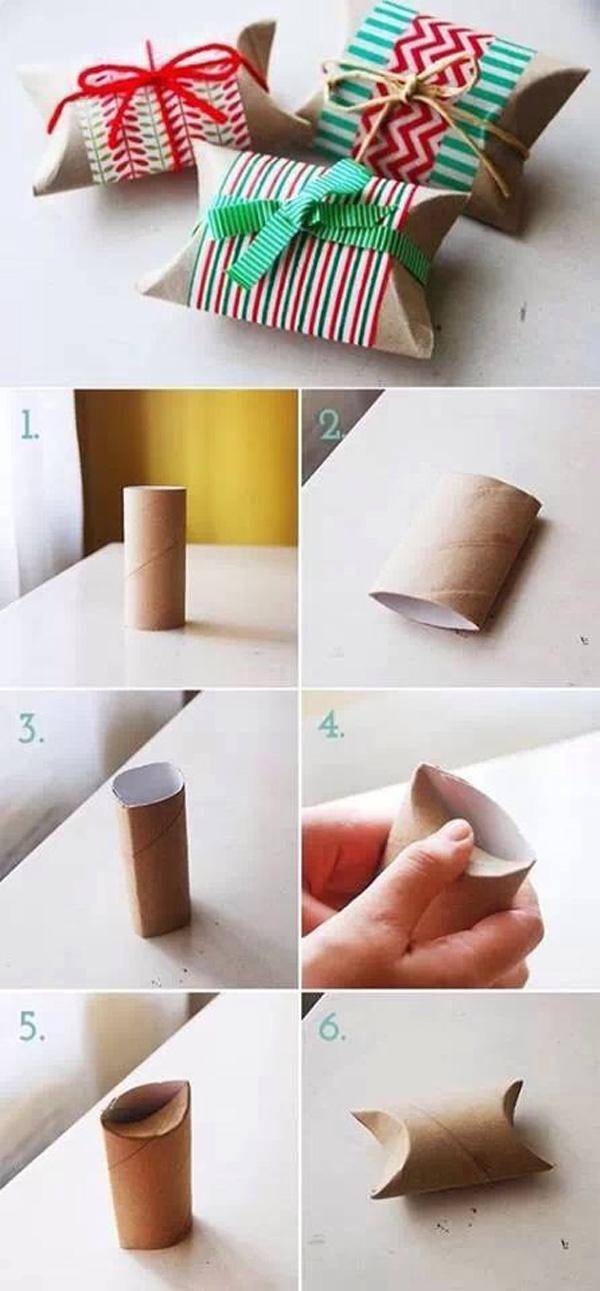 Make use of that old tissue roll by transforming them into envelopes. Very simply done and looks amazing with the added wrappers and ribbons.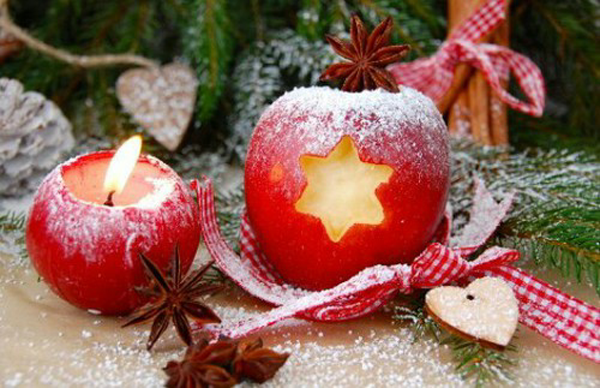 Even apples can have cute designs too. Carve Christmas designs into your apple treats and display them as your centerpiece on the dinner table.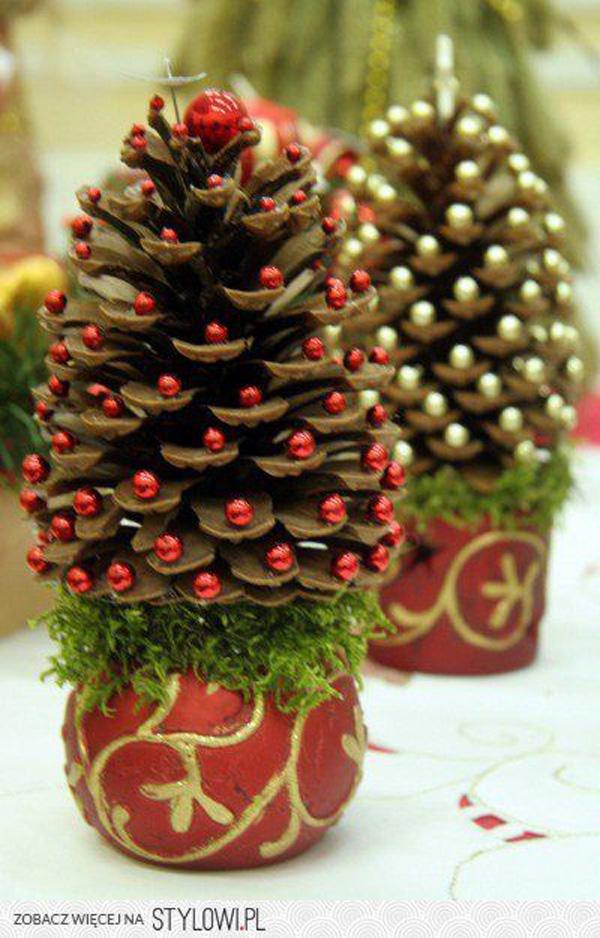 Adorable pinecone table designs. Group together Christmas balls, plastic leaves and pins to decorate your mini pinecone Christmas tree for display.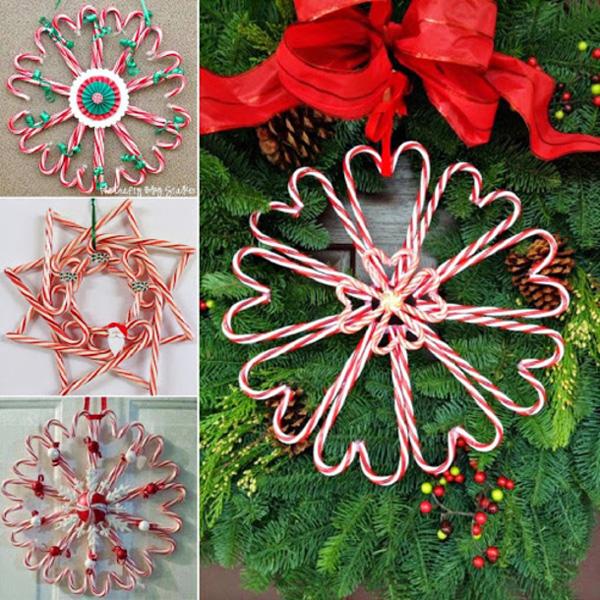 Go out of your way to decorate candy canes in a festive manner. Form them in star and heart shapes forming a beautiful Christmas wreath.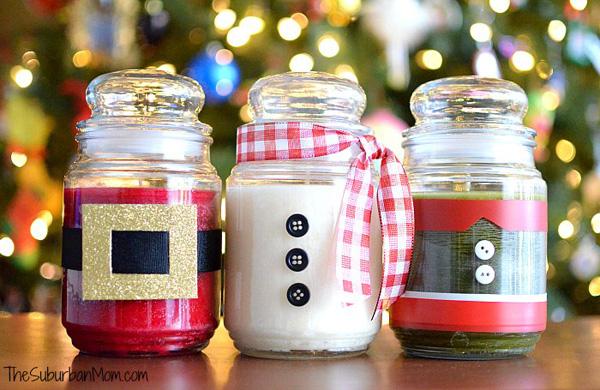 Creative Christmas DIY candles you can display as your centerpiece. Play along with how the bottles of the Christmas bottles will look by dressing them up into popular Christmas characters.

Sock snowmen. Take a look at this adorable bunch made out of old socks. Choose colorful and fun patterns to make the clothes and hats of the snowmen.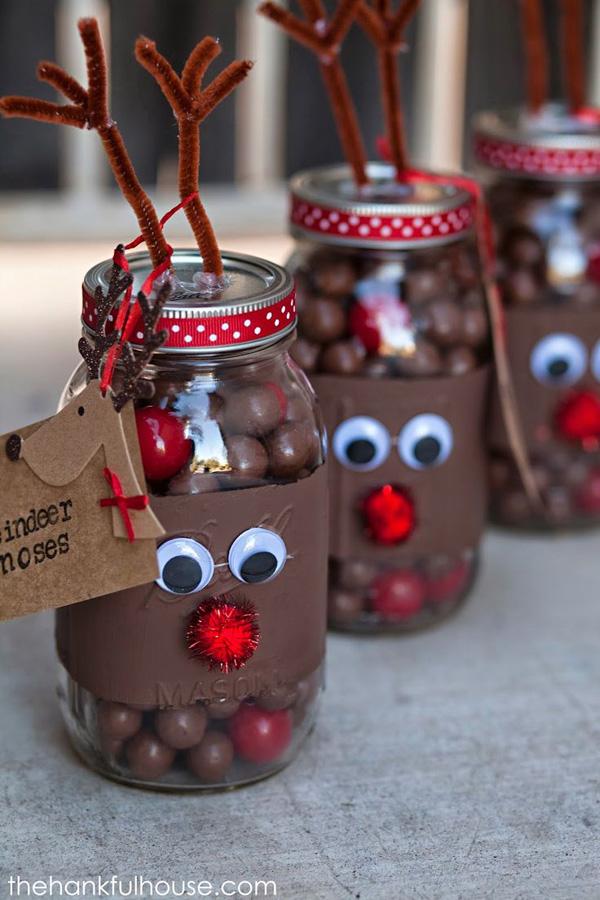 Reindeer bottles. Make your chocolate treats this Christmas stand out by decorating their bottles in reindeer fashion complete with googly eyes, antlers and a red nose.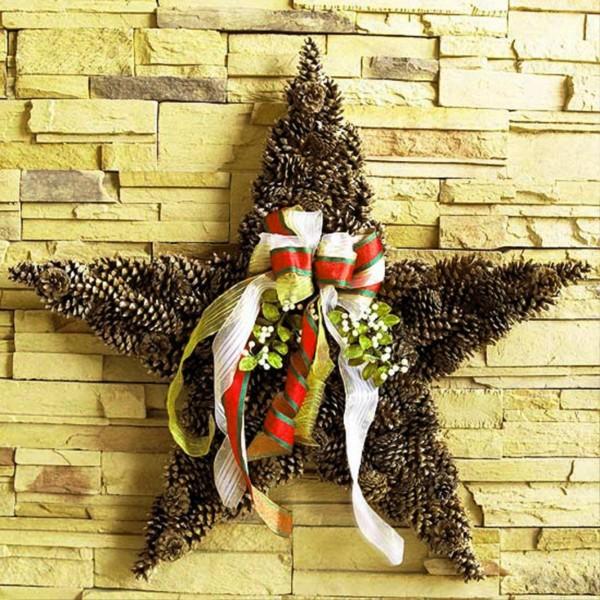 Pine cone themed star wreath. If you have an abundance of pinecones why not make this star shaped wreath? Complete the design by adding flowers and Christmas ribbons in the middle.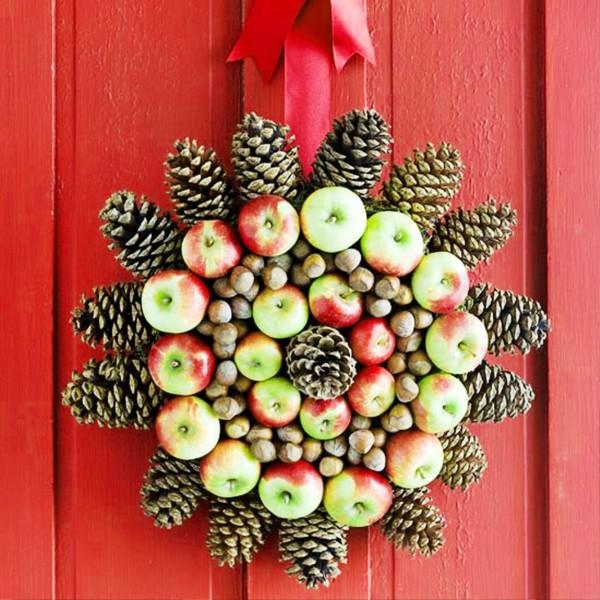 Outdoor pinecone, apple and nut wreath. Take a step further in your decorations by combining these three items to complete a unique Christmas décor.

Newspaper themed Christmas DIY ornaments. Tired of regular looking Christmas balls? Make them unique by adding newspapers and personal drawings on them to make them more personalized.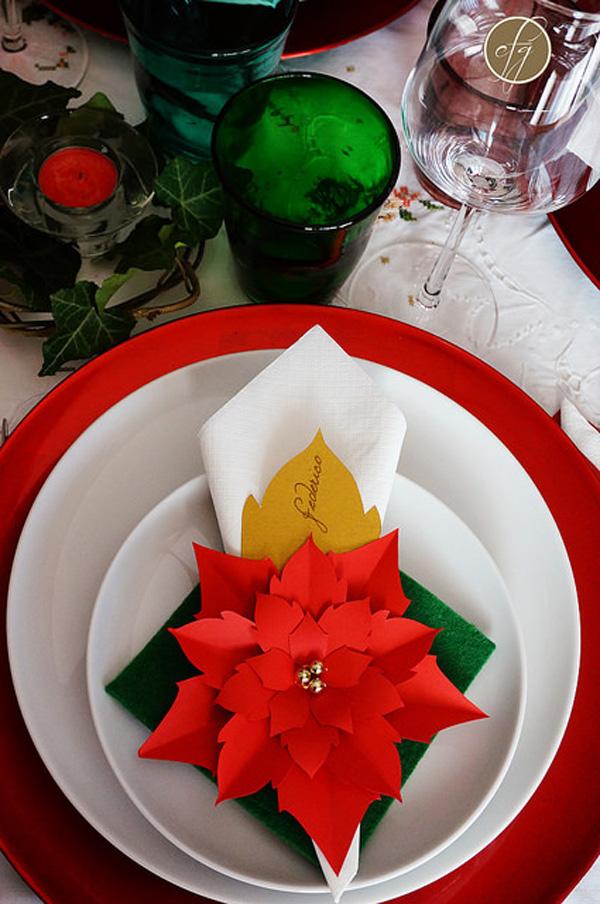 Dining table décor for the Christmas dinner party. Add a touch of color into your table napkins by creating poinsettia flowers and joining them together with silver beads and colored napkin for effect.

Simple DIY Christmas coaster that you can recreate by yourself. Make wonderful personalized coasters that you can place on the dining table perfect for the upcoming Christmas party.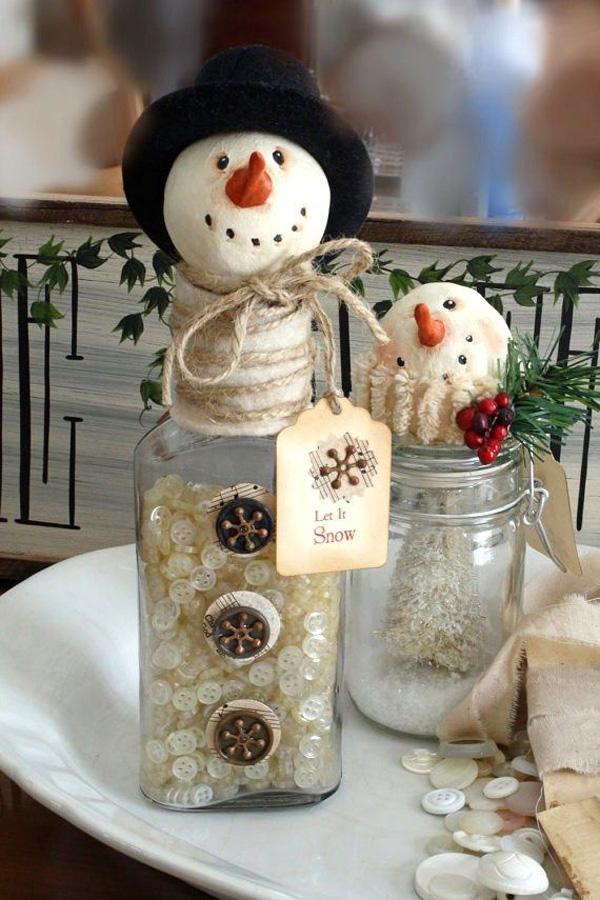 Personalized snowman bottles. Fill up your snowman bottles with simple things like white buttons or a mini Christmas tree and cover it up with a snowman's head design on the bottle cap.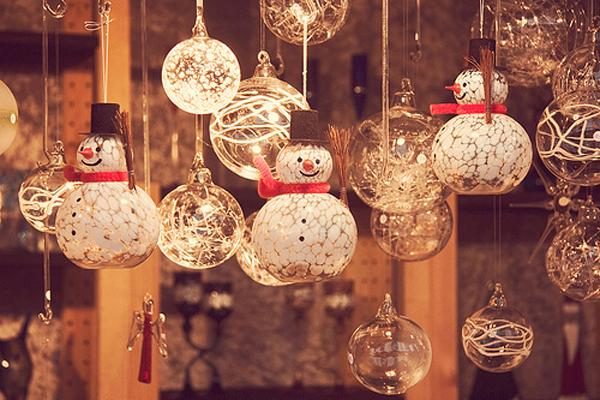 Glamorous snowman hanging ornaments. Let your wall décor shine and glint with crystal Christmas balls as well as snowman designed Christmas balls. It can surely make any room just as elegant.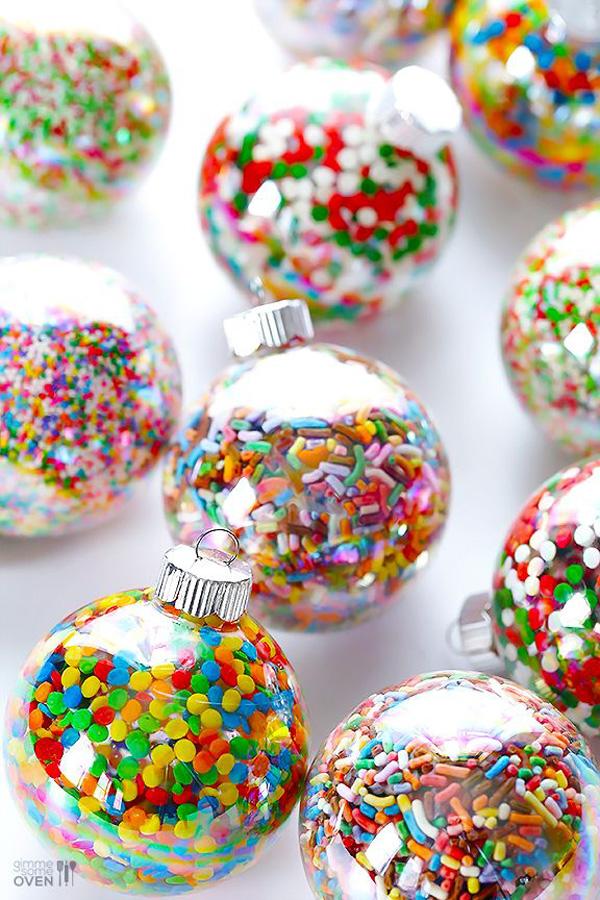 Cute Christmas sprinkles ornaments. Fill up your clear Christmas balls with colorful sprinkles. These can add more life and color to your Christmas tree and décor.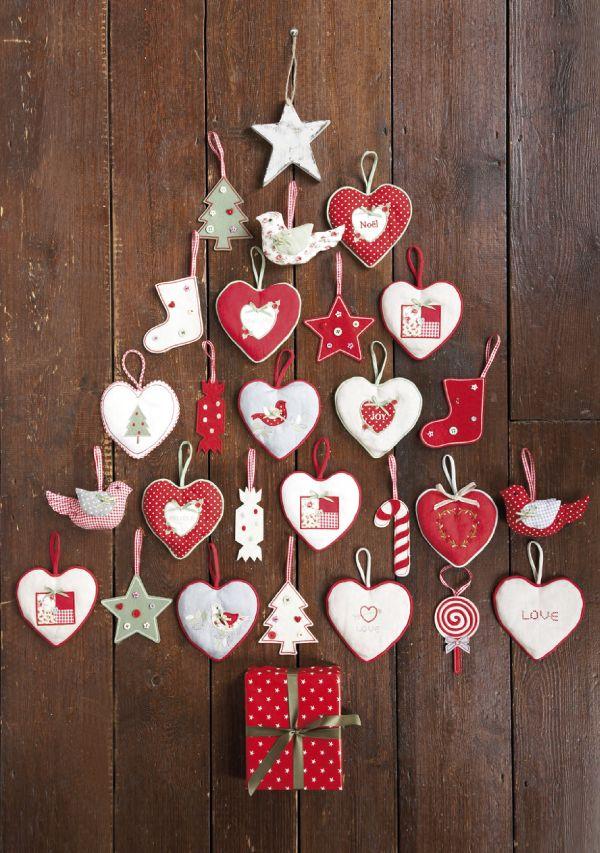 Christmas tree shaped ornaments. Group together various shaped ornaments to form a Christmas tree. You can choose a color theme of your choice and even choose the designs of the ornaments that will go with your color theme.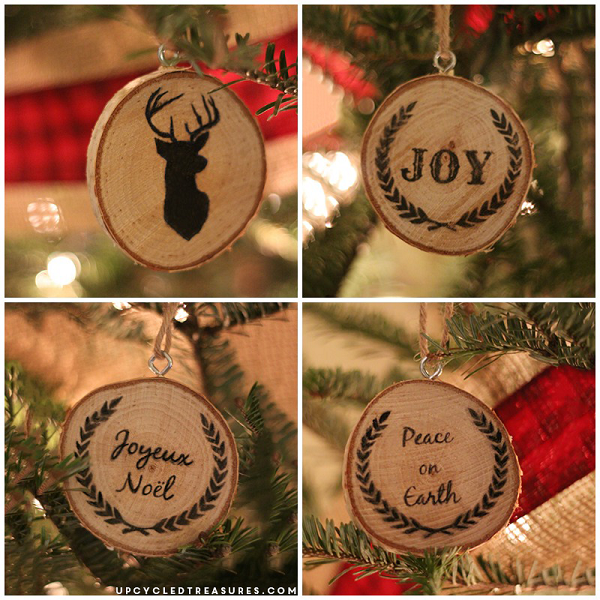 Classic wooden Christmas DIY tree ornaments ideas. Make your own Christmas tree ornaments by cutting small pieces of wood and painting on your favorite Christmas characters and quotes.

DIY Christmas candle holder sprinkles idea. Creativity has no bounds. You can make your candle holder extra special by painting on glue on the exterior and throwing sprinkles all over it for a snowy effect.

Tasty Christmas candy wreath. It may look hard at first glance but it is actually pretty easy and entertaining to do. Make the kids wonder in awe as you create a wreath out of all the Christmas goodies topped with a fluffy red ribbon.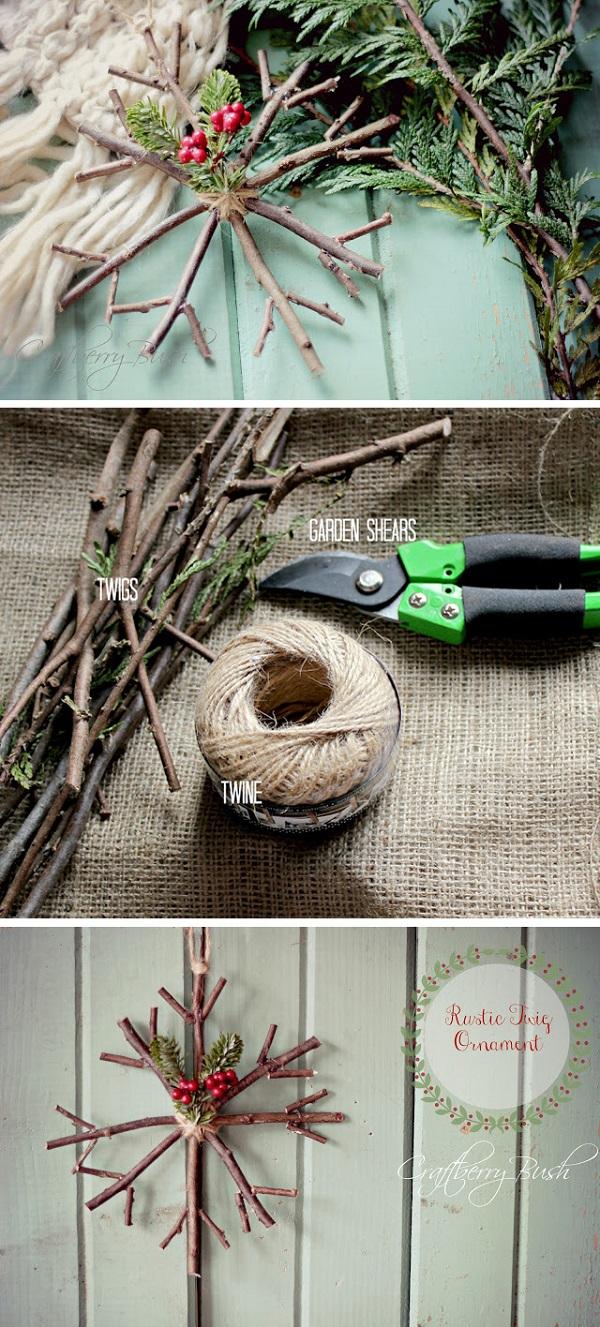 Unique and one of a kind rustic twig ornament. You can easily do this with twigs, shears and twine plus your favorite berries. Hang them in walls, doors or even windows.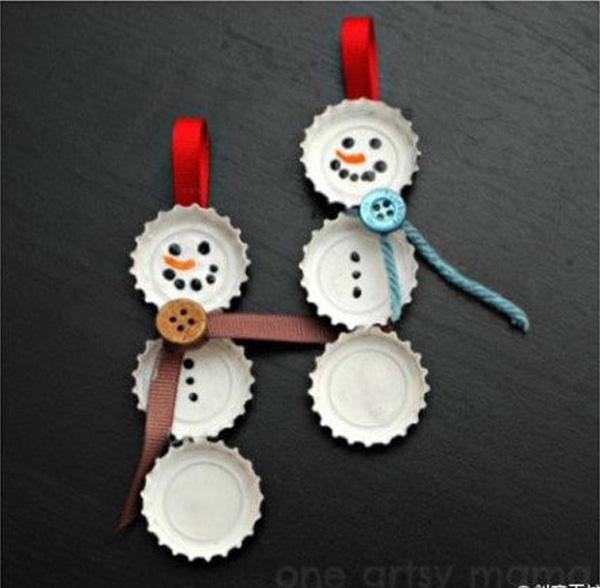 Simple yet interesting bottle cap snowmen. Instead of throwing away those bottle caps littering around, why don't you transform them into Christmas décor? All you need are buttons, glue, ribbons and a good old sharpie for drawing.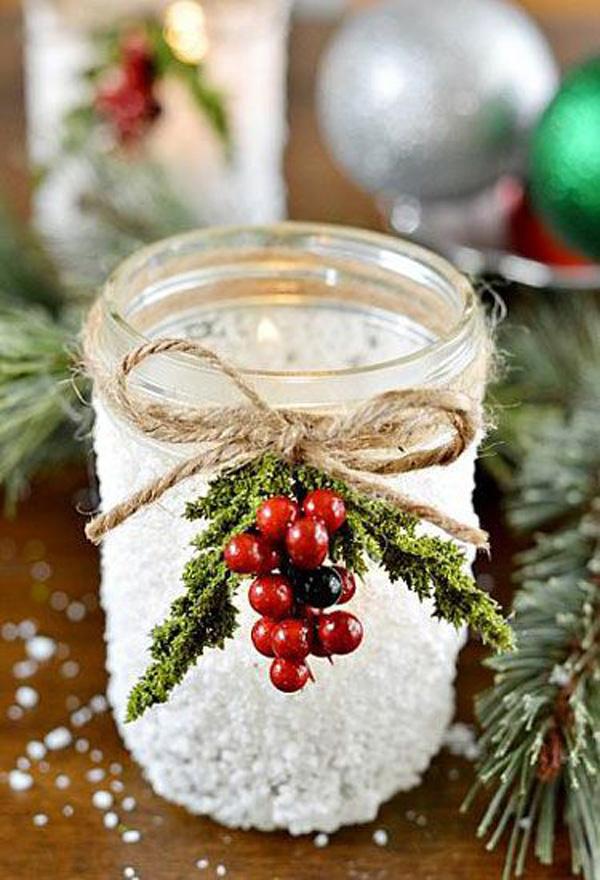 Sprinkled bottle candle holder/ make your candle holder seem like snow with this sprinkled design. Tie a ribbon with twine and insert faux berries in the middle to make it even more appealing.