Touch of Delicateness
Tattoos, although are very versatile, are usually associated with men. It's stereotyping but it is what the common folks would think about. They would be thinking of those rugged and macho designs that we commonly see on rugged and macho men on TV shows with muscles bulging and filled with tattoos from head to toe. Popular culture has given us that image and it has stayed for a while with most of us.
However, these tattoos aren't just for men. Nowadays, more and more people are opening up to the culture of getting a tattoo. These aren't just for tradition or to show you are tough, these aren't just designs made for hard men. These tattoos tell stories and show support for various causes. These tattoos have now become a part of the world of art as it should be long time ago. Now, women could be able to enjoy delicate tattoos that show off their femininity.
There are many designs to choose from; some are more delicate while others can show your inner strength. Some are abstract with hidden stories while some show the message clear as spring water. But the best of these designs are those that you know will speak for you, no matter what gender and age group you belong.
Spine Tattoos for Women
Spine tattoos have become a popular choice for women. Spine is a really fragile part of the human body. It's right in the middle of our back from the top of the neck down to our buttocks. Once it snaps, it could either kill us or paralyze us. Seeing as how important the spine is as well as how delicate it can be, it's the perfect spot for tattoos on women. The placement could mean totally relay how strong but fragile you are.
But if you are not someone who likes to give cryptic messages, then the spinal area is still a great place for tattoos. When you want discretion either for work or school, you can totally hide it with your clothes. But you can flaunt it with bareback clothes when it's casual days or you can show parts of it.
If you have been thinking of getting a cool and unique tattoo, why not go for a spine tattoo? Here are some gorgeous inspirations for ladies out there (who knows, you guys might want one, too)!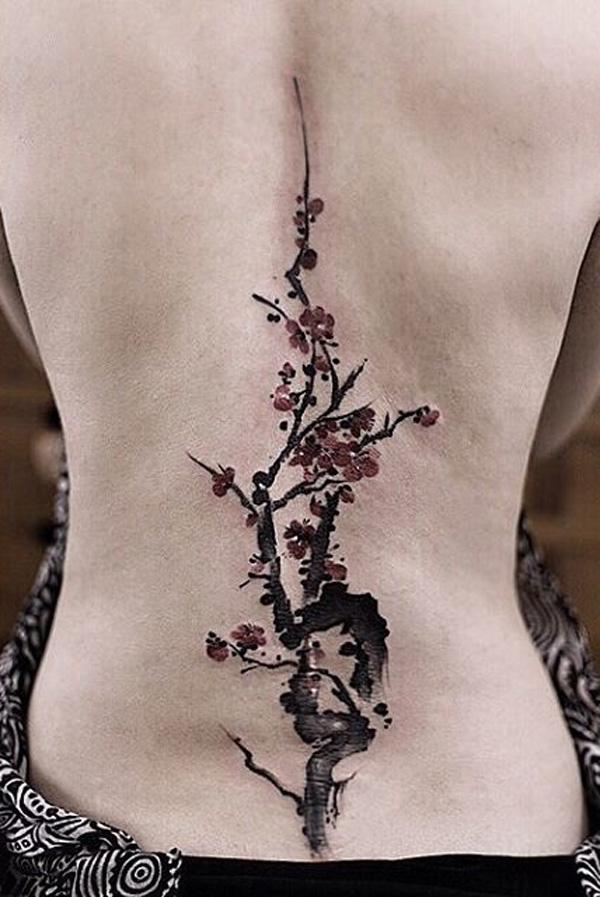 Cherry blossoms have different meanings but in Japanese culture, it's a symbol for samurais. These soldiers are chivalrous, brave, courageous and noble and the cherry blossom tattoo on spine has also been affiliated with those meanings.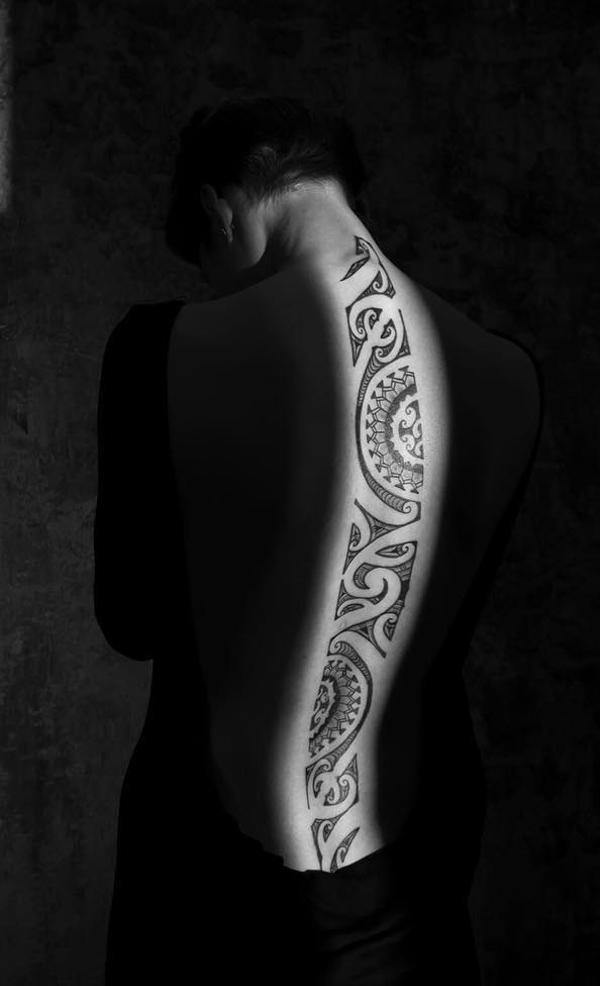 This wonderful tribal tattoo may or may not have any meaning but one thing is for sure; it shows the delicateness or a woman's body and it is just pleasant to look at.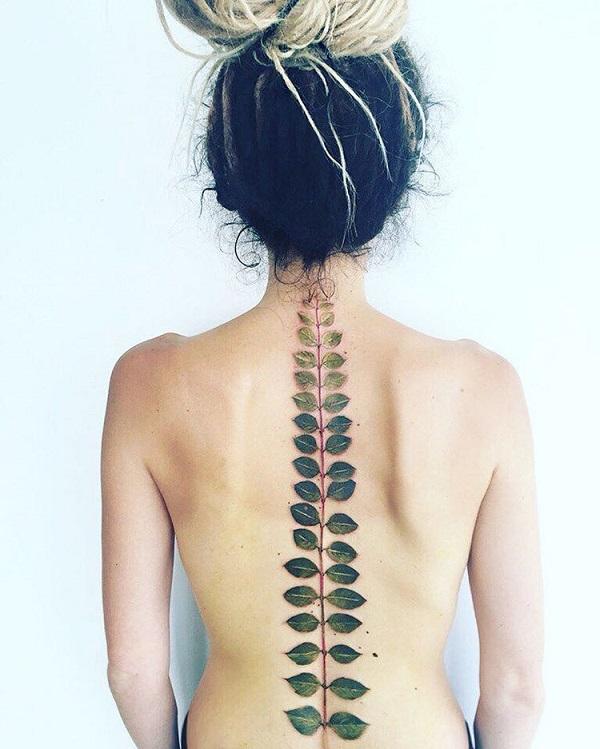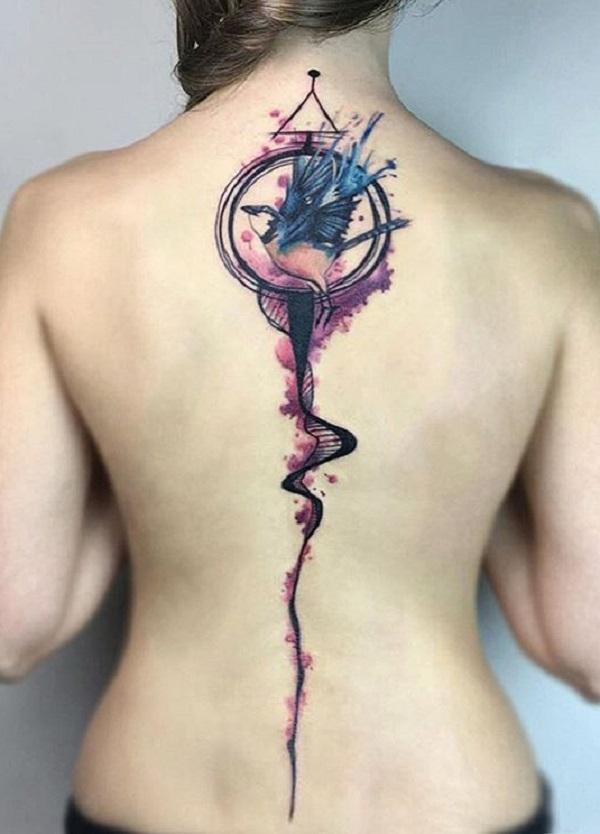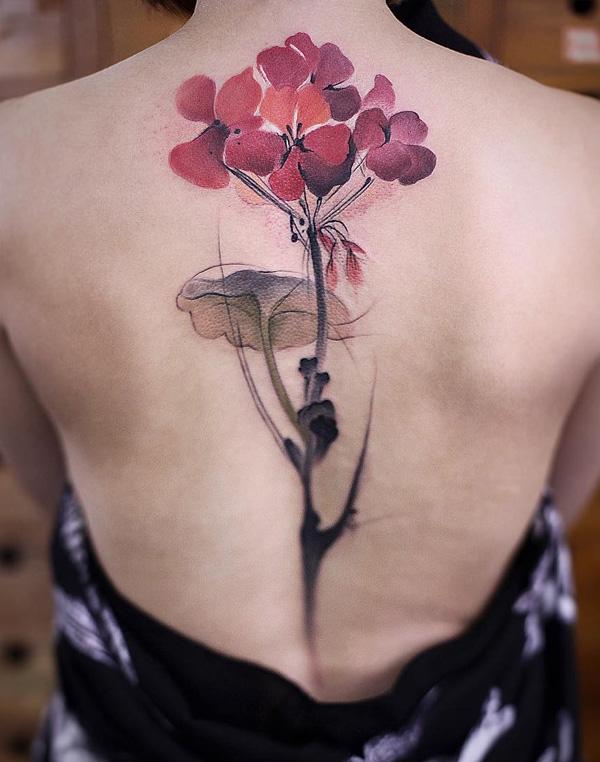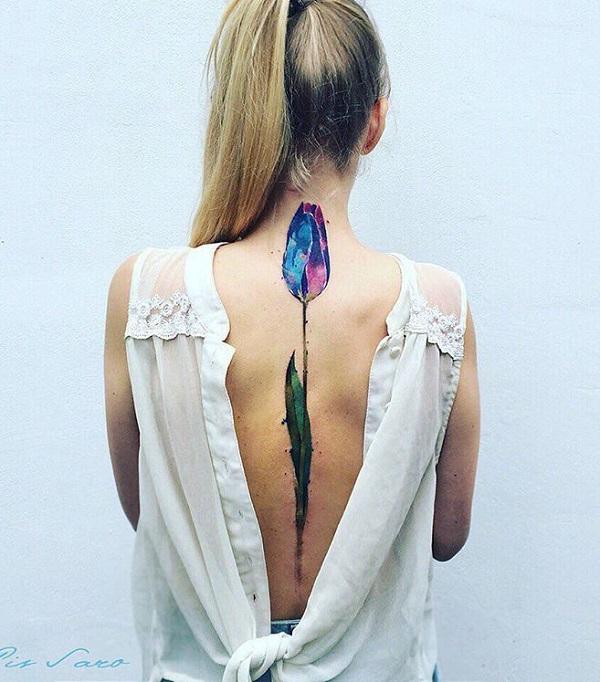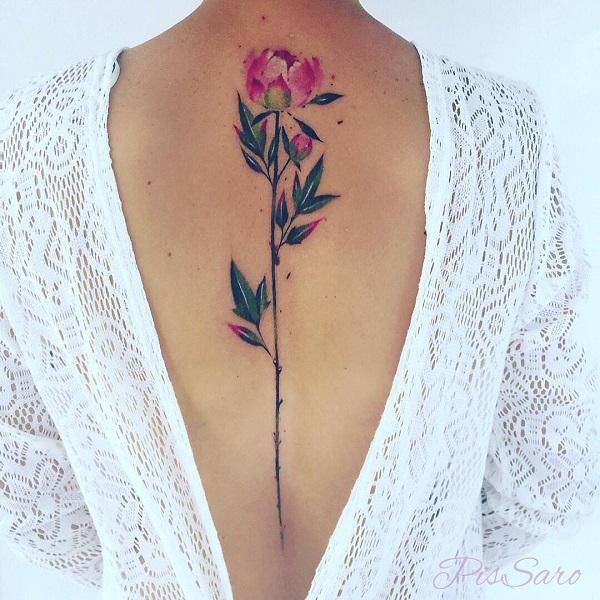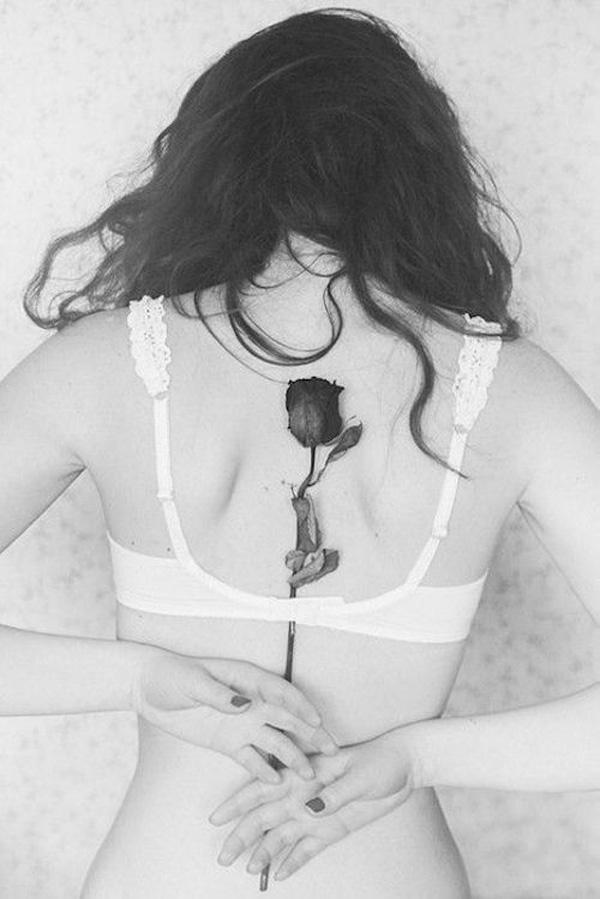 This vintage style, hyper realistic rose tattoo is perfect for a spine tattoo. Roses means love and in one way or another, spine can mean life. So it could mean love your life if you want to be dramatic. But it's elongated and beautiful form is enough to earn its spot.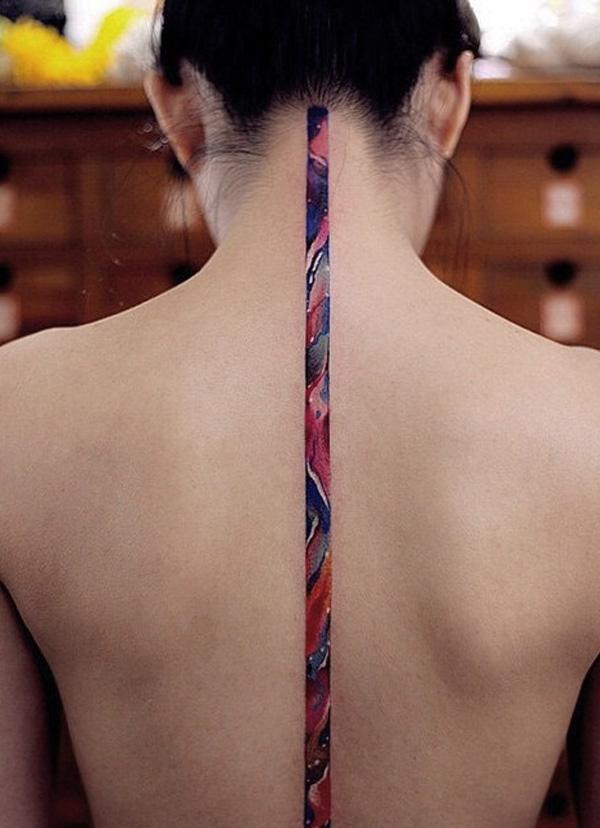 As said, the spine is from the top of the neck to the bottom. You can outline your spine with this wonderful work of art. It's plainly just mixtures of colors but when you really look at it, it could be the universe.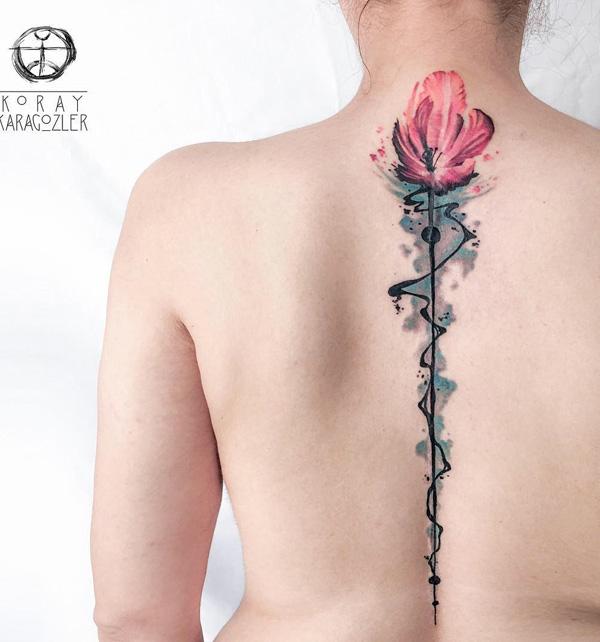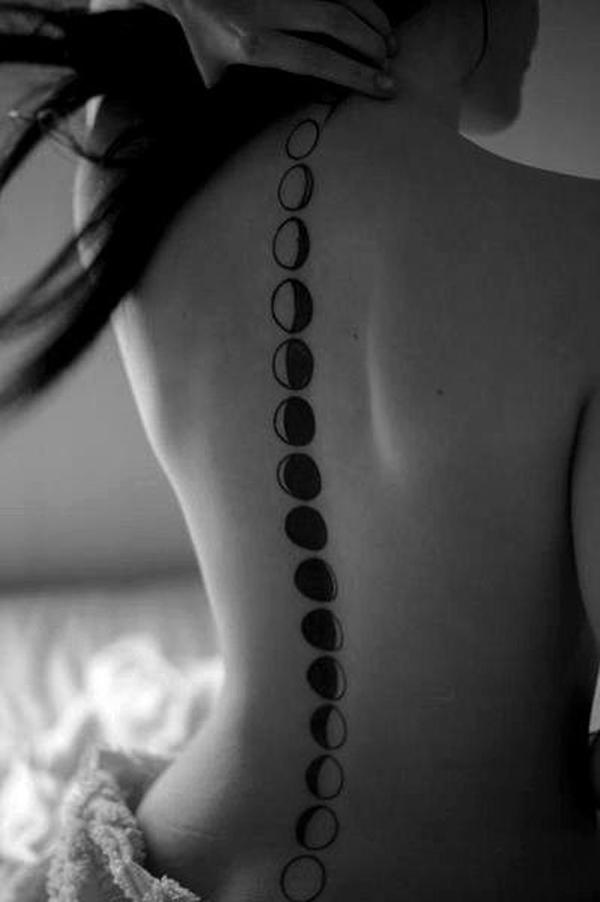 If you are thinking what could be the best tattoo design for your spine, then the moon and its phases is a unique but wonderful tattoo. Moon symbolizes feminine power and subtle strength so it's the perfect design for you.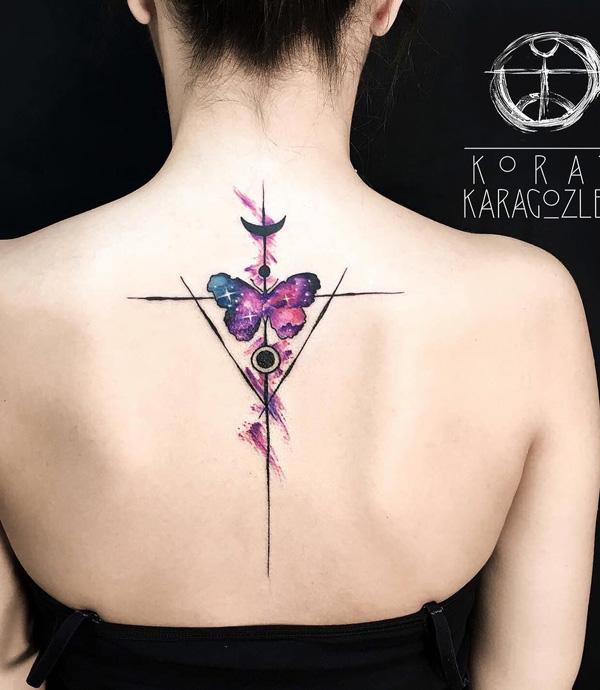 Your spine tattoo doesn't really mean you need a design that will cover up your whole spine. This butterfly tattoo could work as well. Butterflies represent rebirth as well as love and spirituality. No winder movies often depicts souls as butterflies.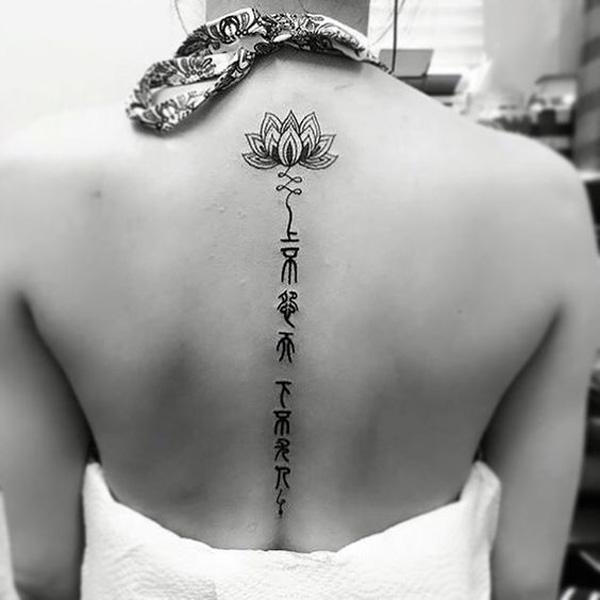 Lotus is yet another symbol that is rich in meaning. Some of these are renewal and life. In this design however, the lotus is not alone. It's accompanied by letters from an ancient language and could mean something to you.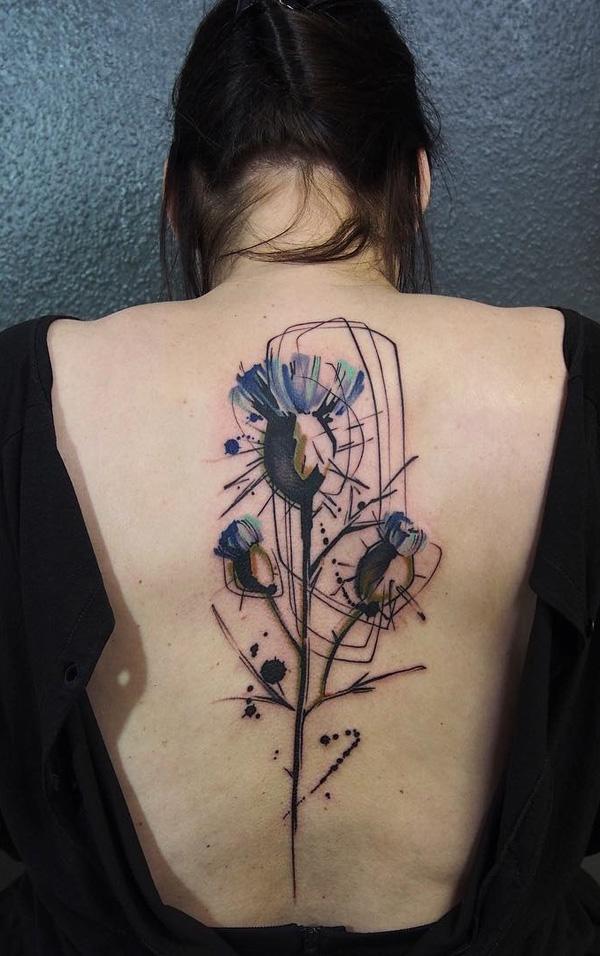 A watercolor inspired flower tattoo works best to show your beauty and fragility as a woman. Plus these are designs that can easily capture the eyes of people passing by.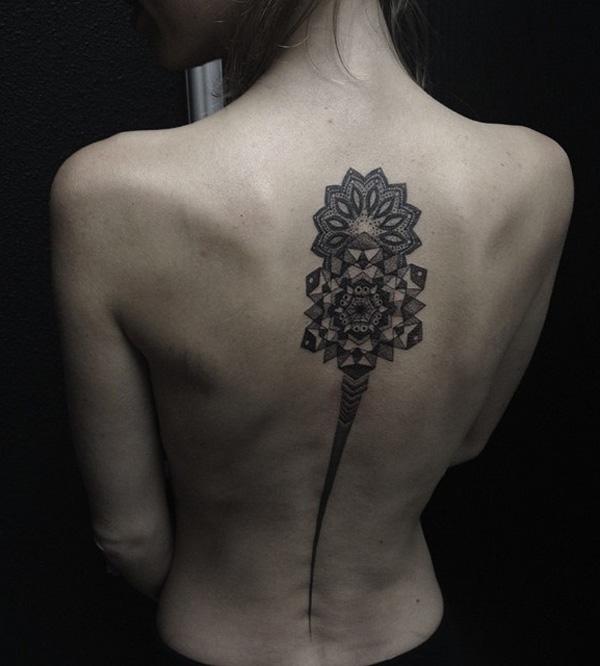 The mandala is a symbol that is not only full of meaning but also a great tattoo design. It's usually colorful and the symmetries and geometric designs will really make you look at it.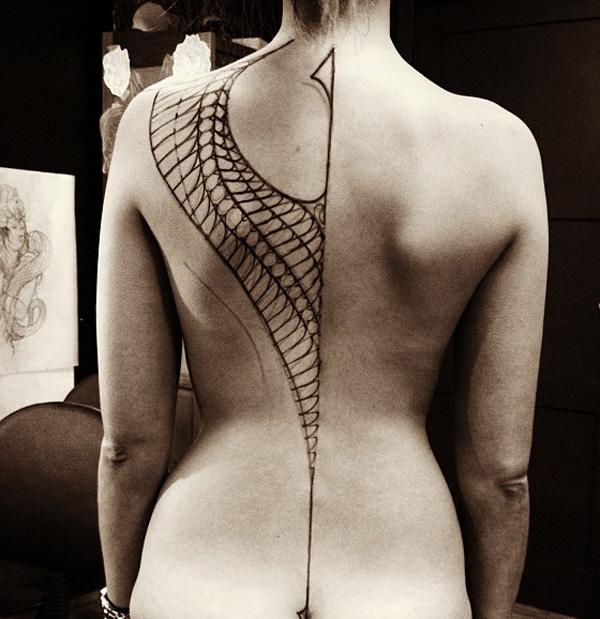 This amazing abstract tattoo will make you feel you have a wing (yep, just one) or perhaps an invention of the ancient Egyptian civilization.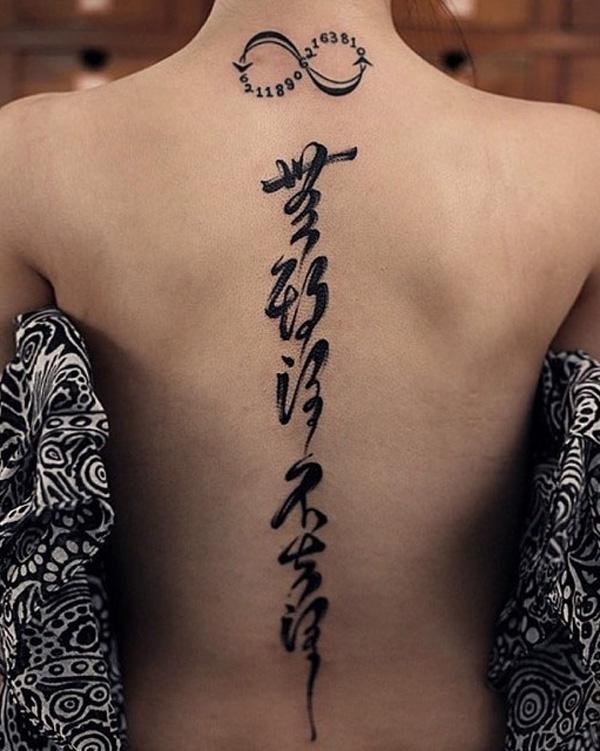 An infinity sign with numbers plus Japanese characters equals a cryptic looking tattoo. Who knows what you might be hiding in those tattoos?
Mandala symbols aren't just circles, these can also be formed in flowers but the meaning remains the same: unity, eternity and completeness.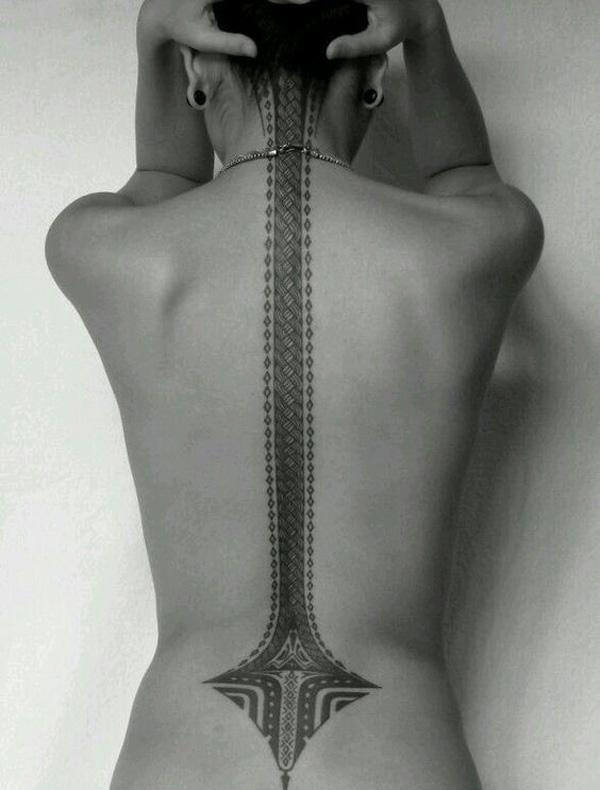 This tribal design doesn't really have a specific message or symbolism. But it can depend on you and it's simply a unique and beautiful design for a unique and beautiful person.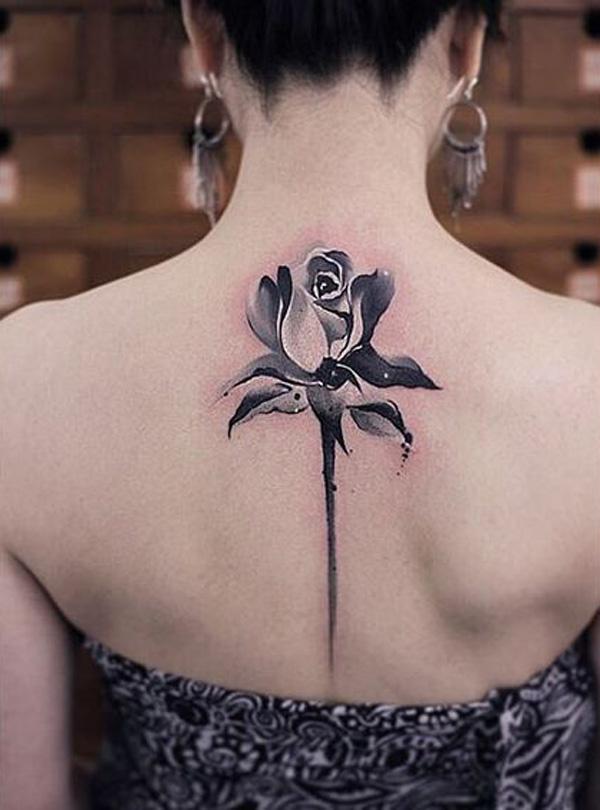 Another rose spin tattoo but this one is much subtler and smaller.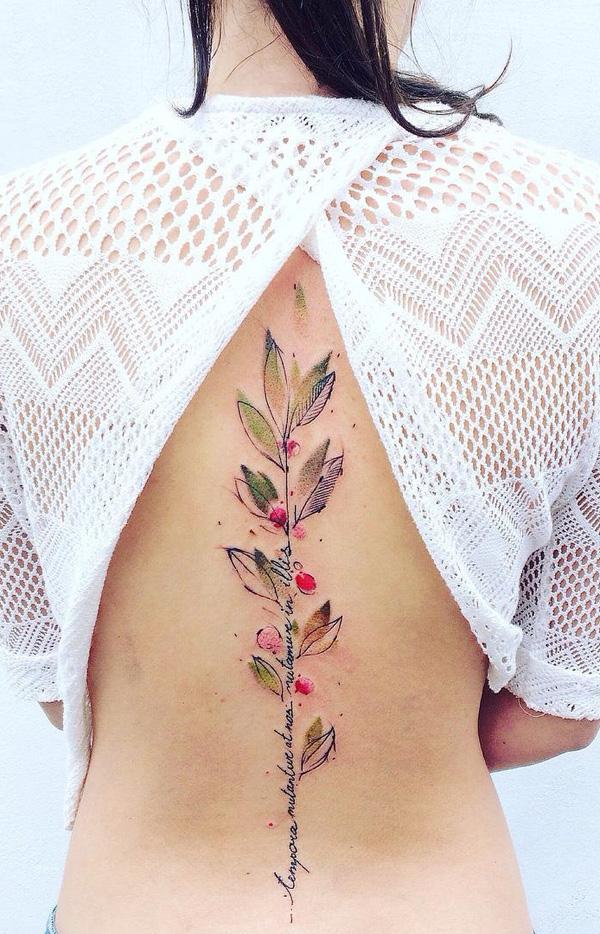 This gentle airbrush style tattoo shows a quote as the stem of a small but budding tree. It can relay to you growing to words that you have really believed in.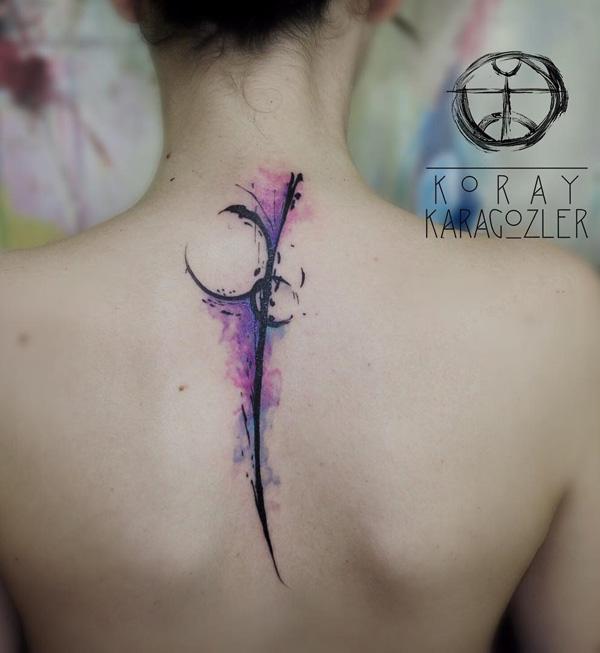 This simple and yet very soothing watercolor tattoo is a good design for anyone who wants a subtle tattoo.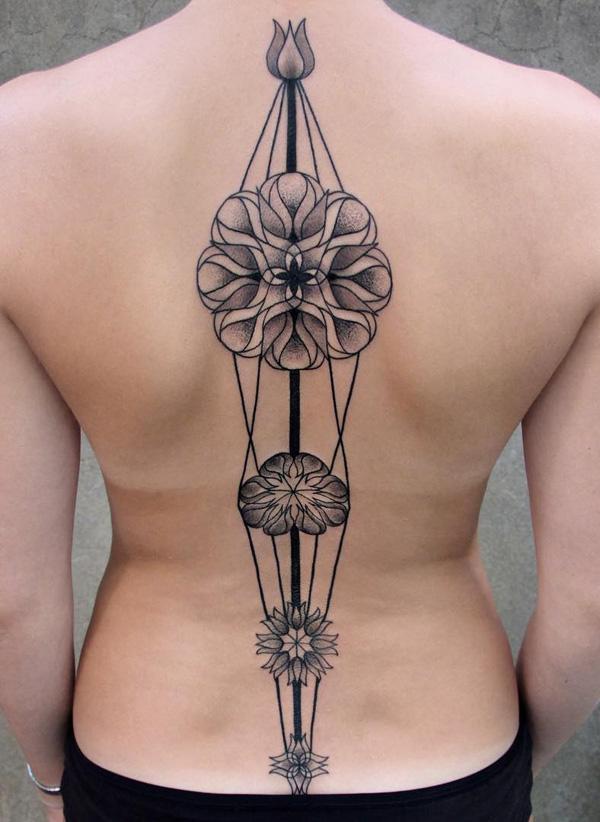 Mandala tattoos are widely popular for back especially spine tattoos. It feels like there are alignment of stars and destiny is just waiting to unfold itself.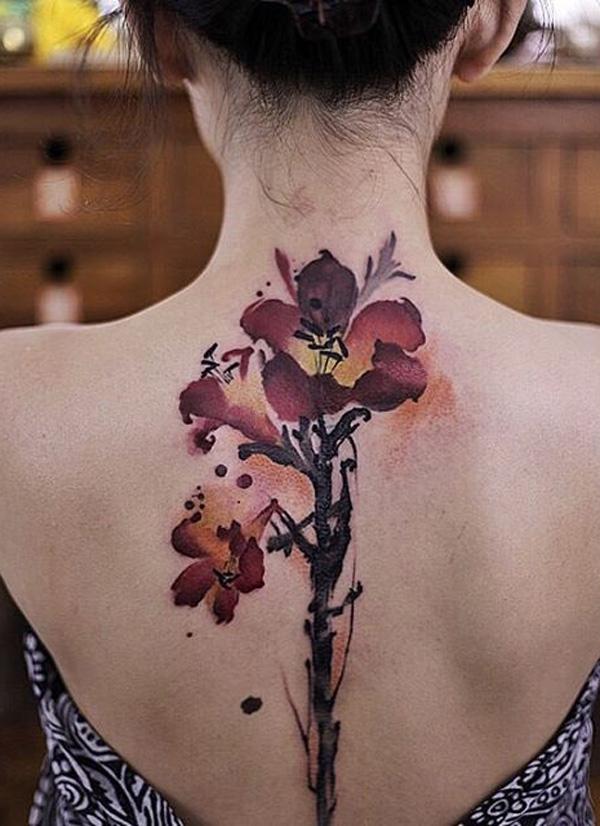 This beautiful flower tattoo is perfect for spine tattoo. The flowers themselves are placed in the upper back part so you can flaunt it easily with some type of clothes. The stems could then outline your spine.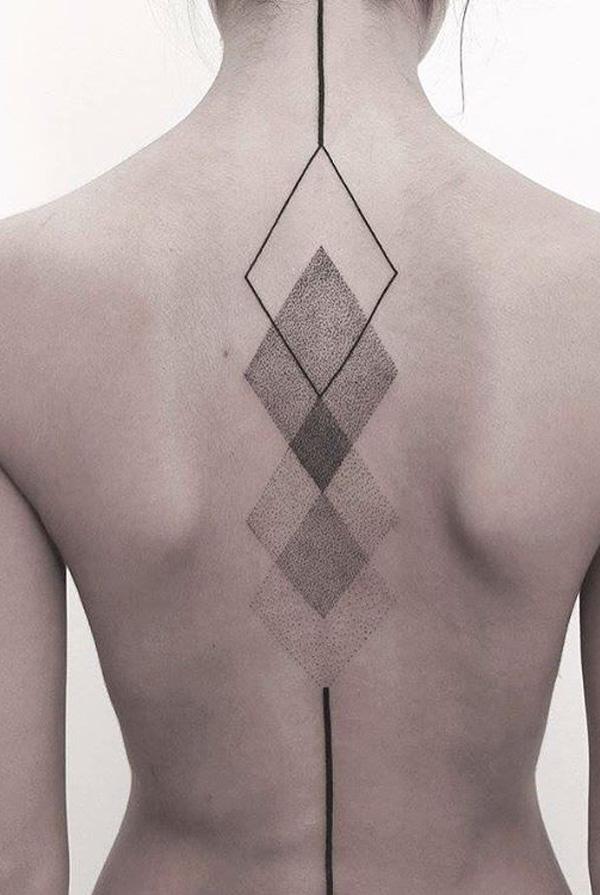 These diamonds may seem simple; but this design is hard to make since it's done by creating little dots that could fill up the diamonds and lighten or darken the area.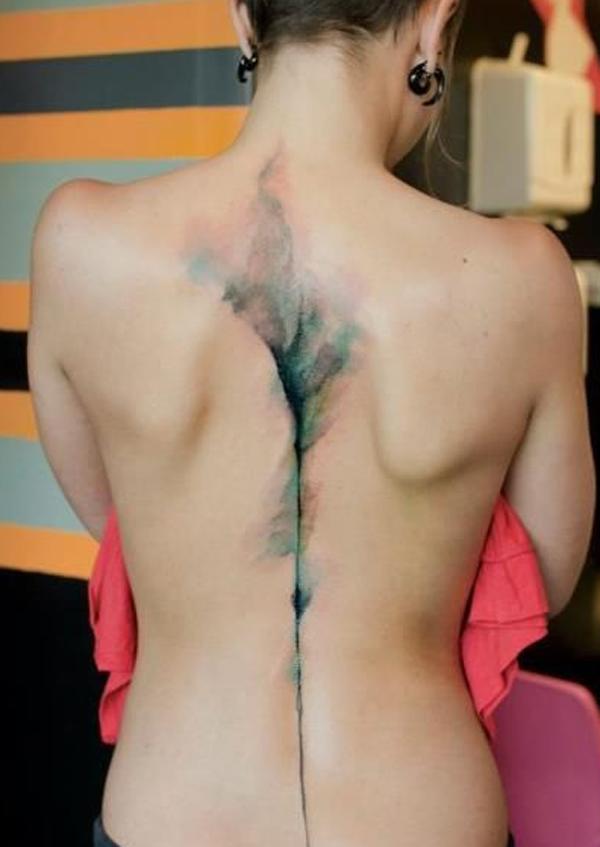 Sometimes, tattoo designs don't need a definite shape or picture. This beautiful watercolor smoke style of different colors just proves that.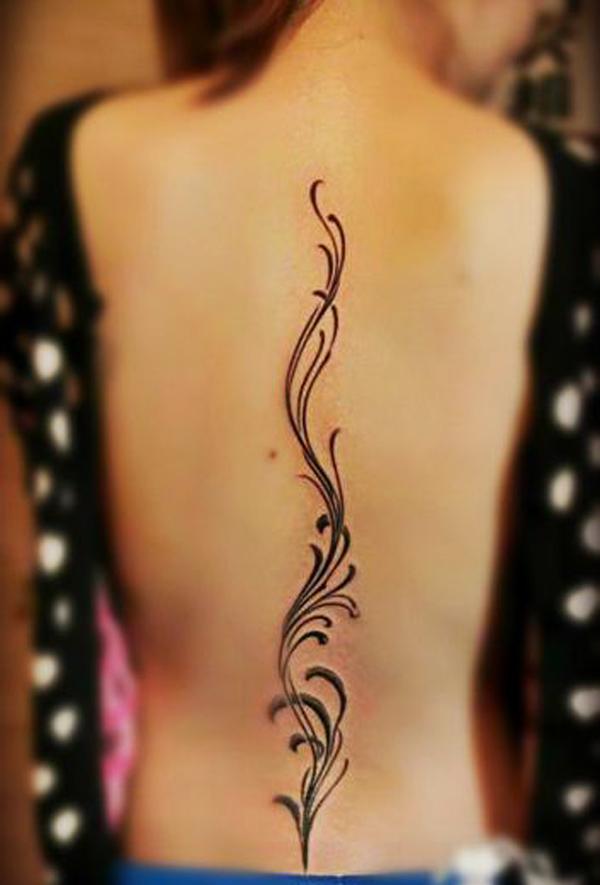 These beautiful swirls tattooed on your spinal area feels like there is a beautiful magic flowing out of you. It's really simple but majestic. Perfect for any women out there.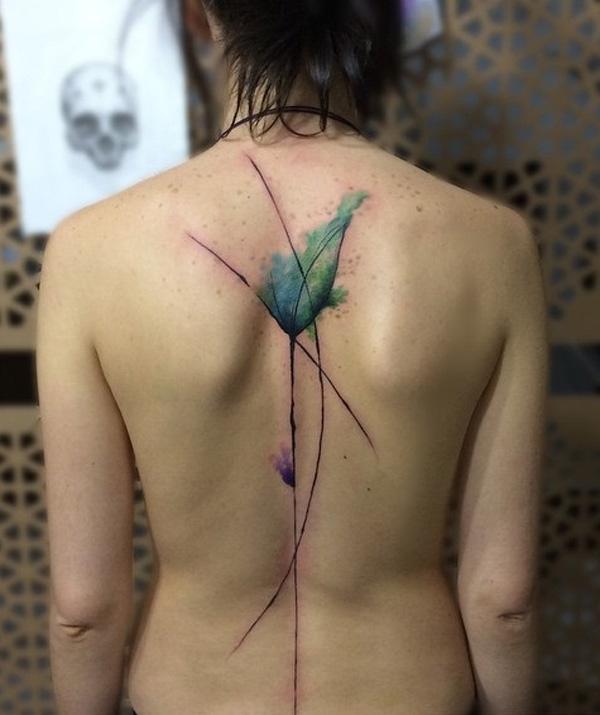 Another watercolor inspired spine tattoo. This one looks rather like a flower. The best thing about watercolor inspired tattoos are the splash of bright and pastel colors. It's actually a hard style so find a good tattoo artist.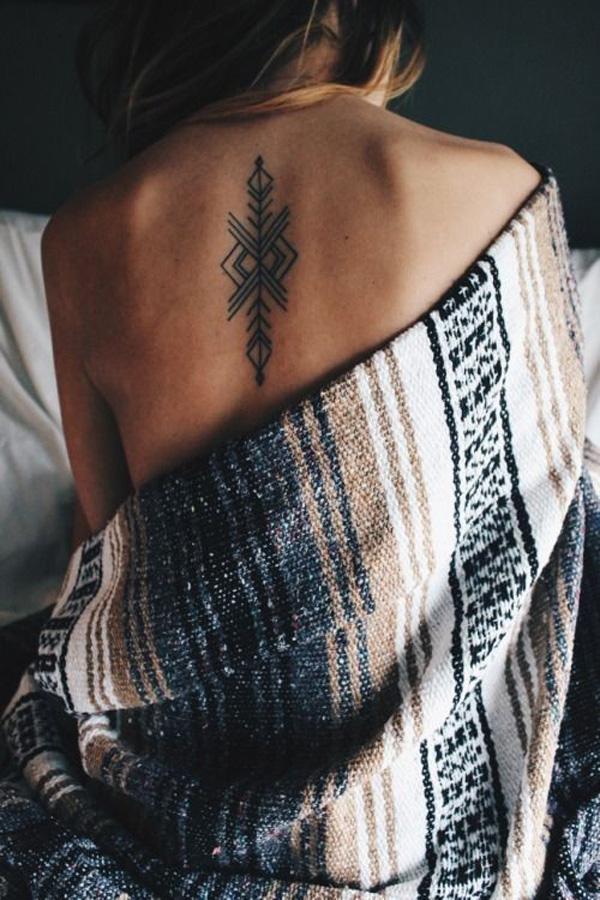 This smaller tribal design may not really mean something but it's a beautiful tattoo with an enthralling design.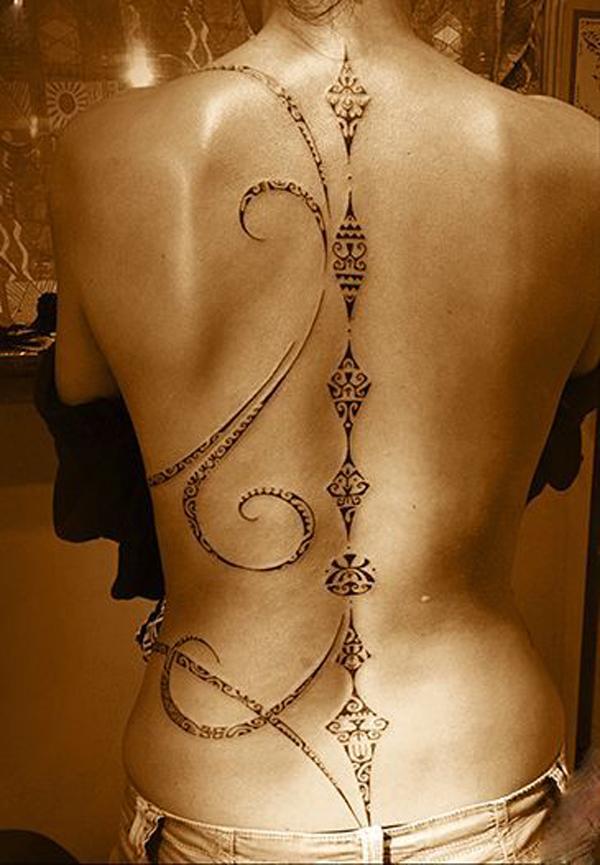 These swirls and patterns would make your think of those Indian patterns you commonly see in their palaces. If there's any design that can make you feel elegant all the time, this is it.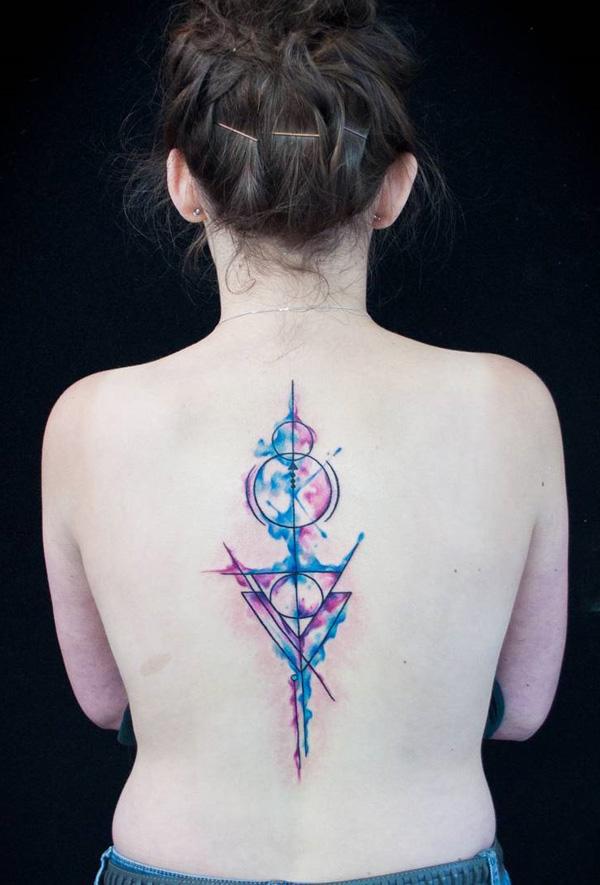 It could be the color or the shapes, but the design itself would make you really think. Its mystical and you wouldn't want to take your eyes off of it.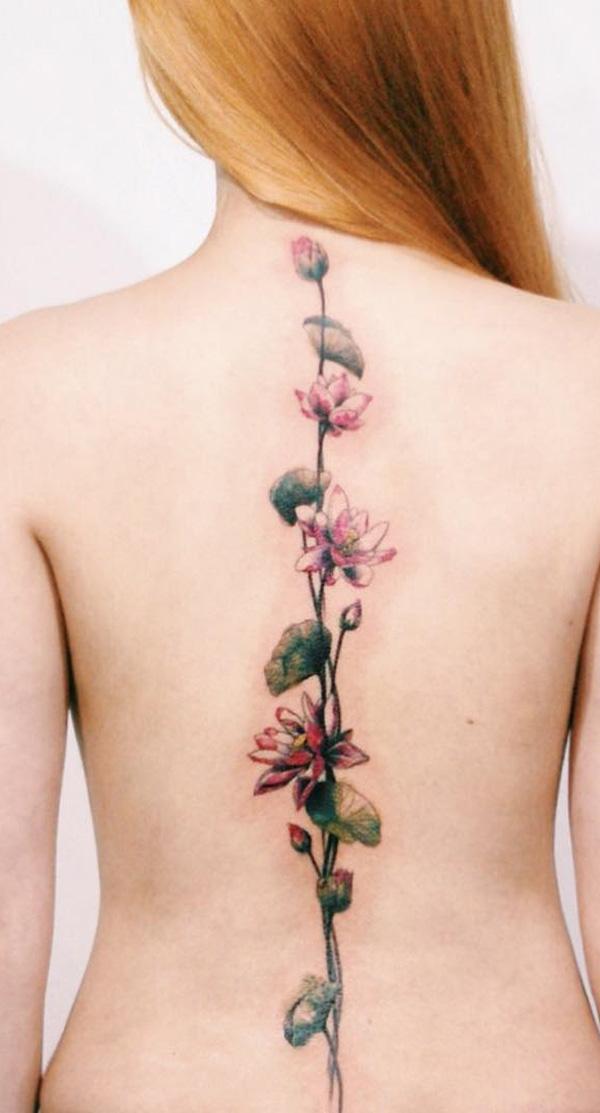 A pink lotus generally means purity and devotion. These two things are also often associated with women.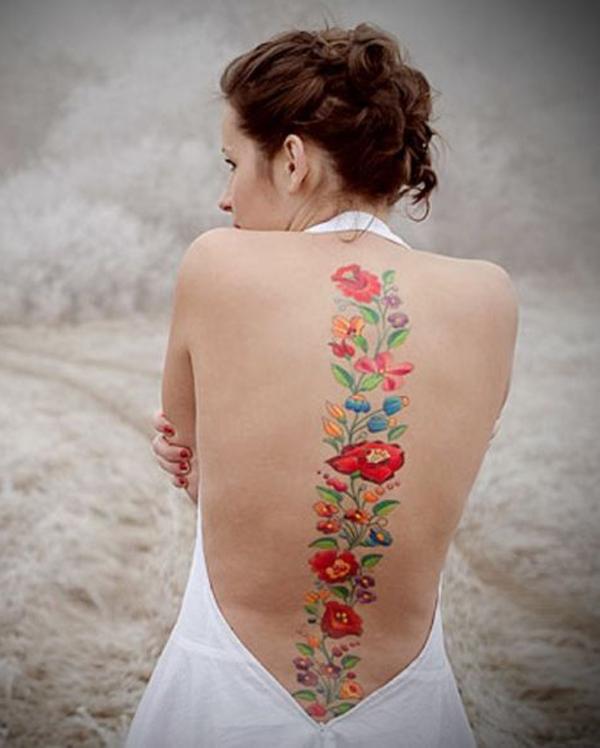 Have a garden of beautiful flowers on your back. Each flower could have a different meaning and all these could also represent who you are as a person.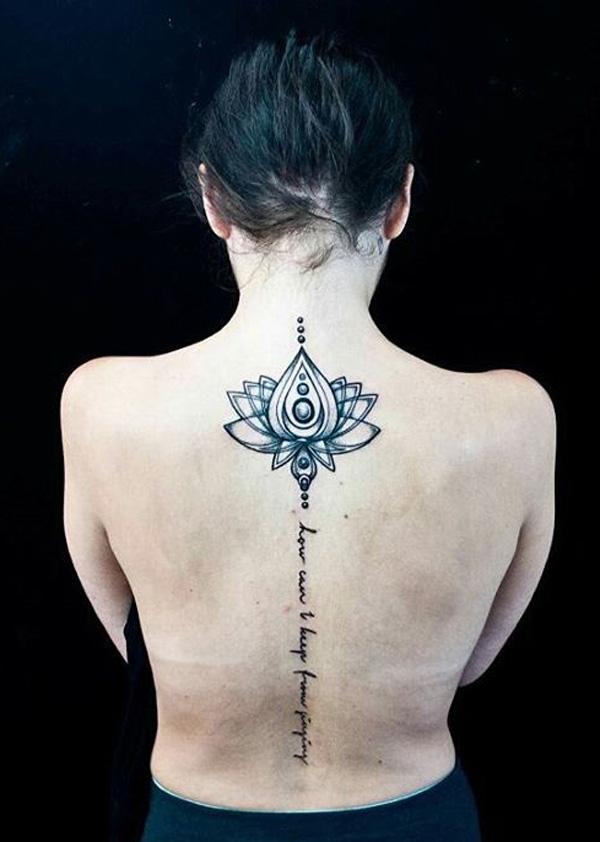 Combining designs with quotes along your spine is also a great idea. You can choose a quote or your motto in life; basically something that makes you stand strong and tall.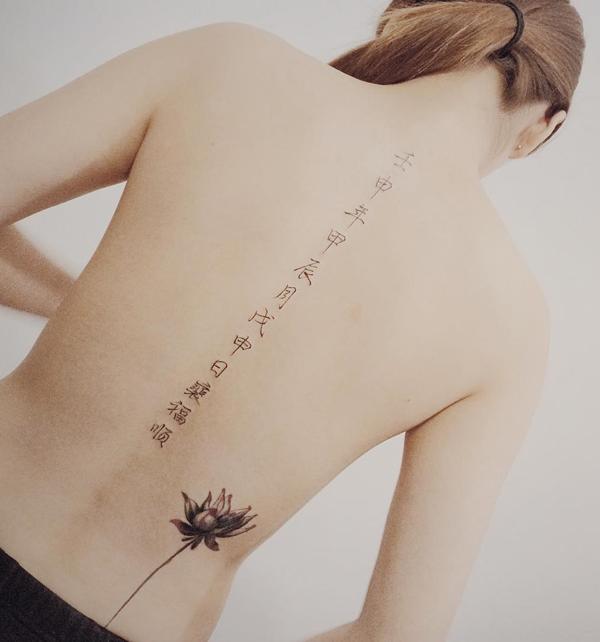 Combine a lotus tattoo with Chinese characters. These characters could relay your message but you should try to consult an expert so you don't do anything wrong with your characters.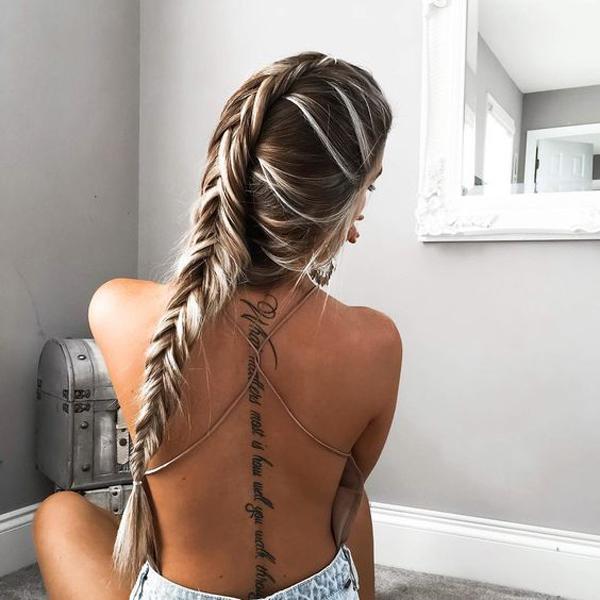 Words alone could become great tattoos.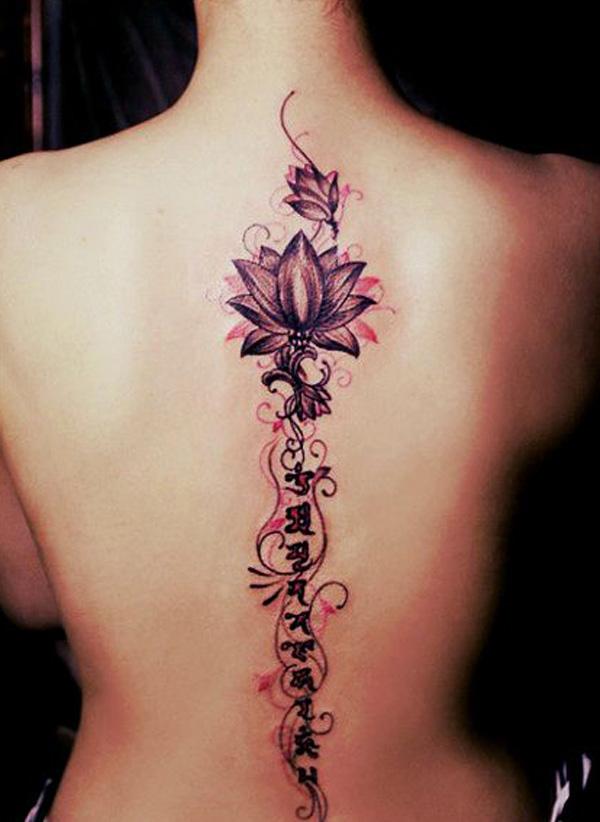 Go with softer and feminine colors to complement your design. This is another lotus flower spine tattoo and besides the color of the flower, pink shadows give more life to the design.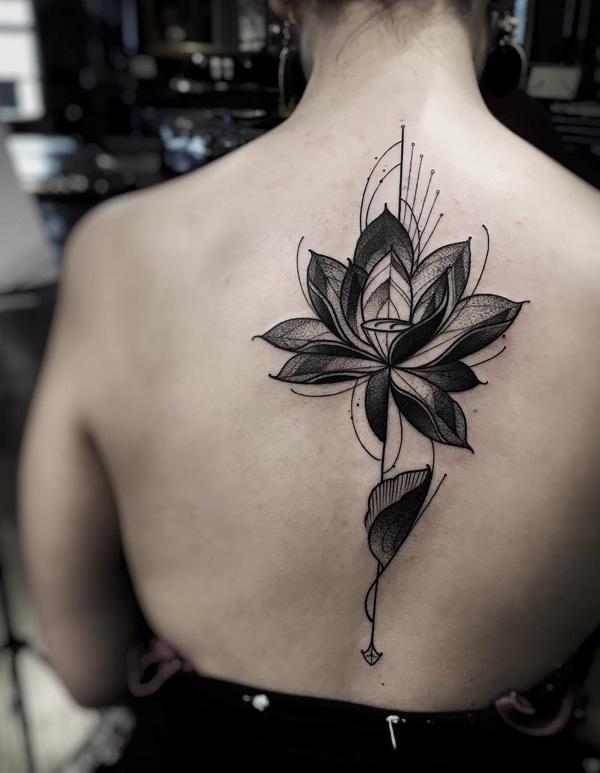 An abstract style lotus tattoo for a more unique design. A lotus flower has different meanings depending on its color but in general, it is associated with spiritual purity and enlightenment.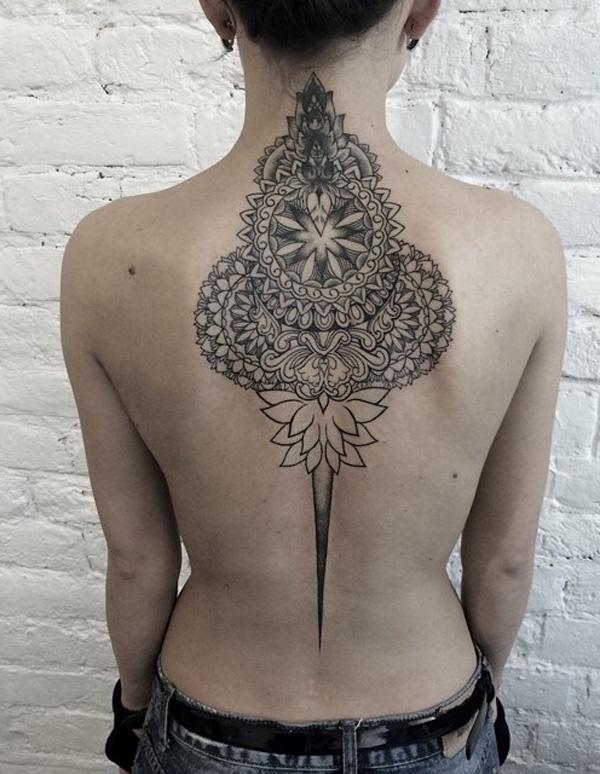 This stunning Mandala design has everything you want in a tattoo; a great message, magnificent details and a great overall visual appeal.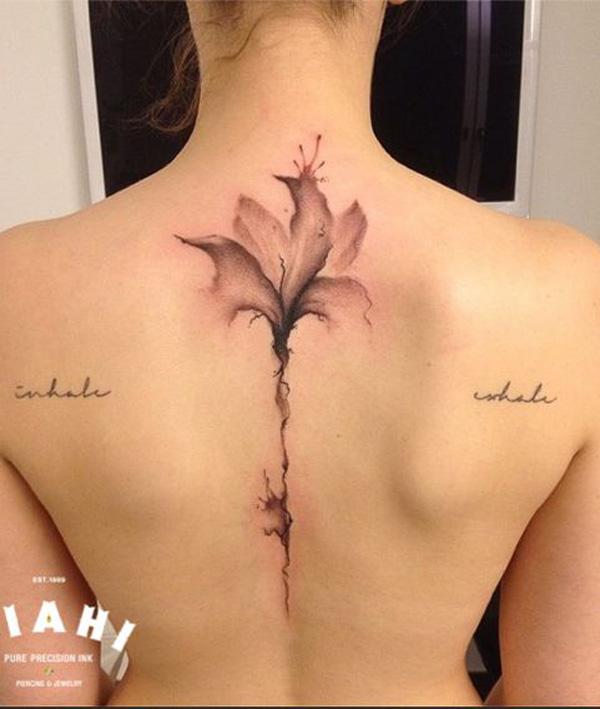 A delicate and soft tattoo to remind you to inhale and exhale. Life is beautiful especially in its calm moments.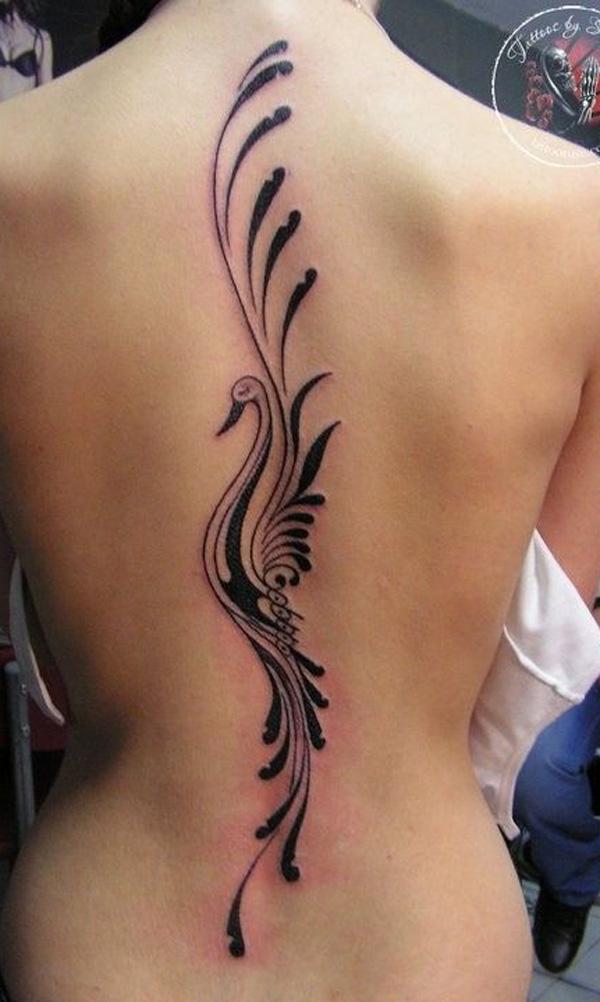 Phoenix are mythical creatures that die in their own flames, but are reborn in their ashes. Not only are they beautiful creatures but they are also symbols for being reborn.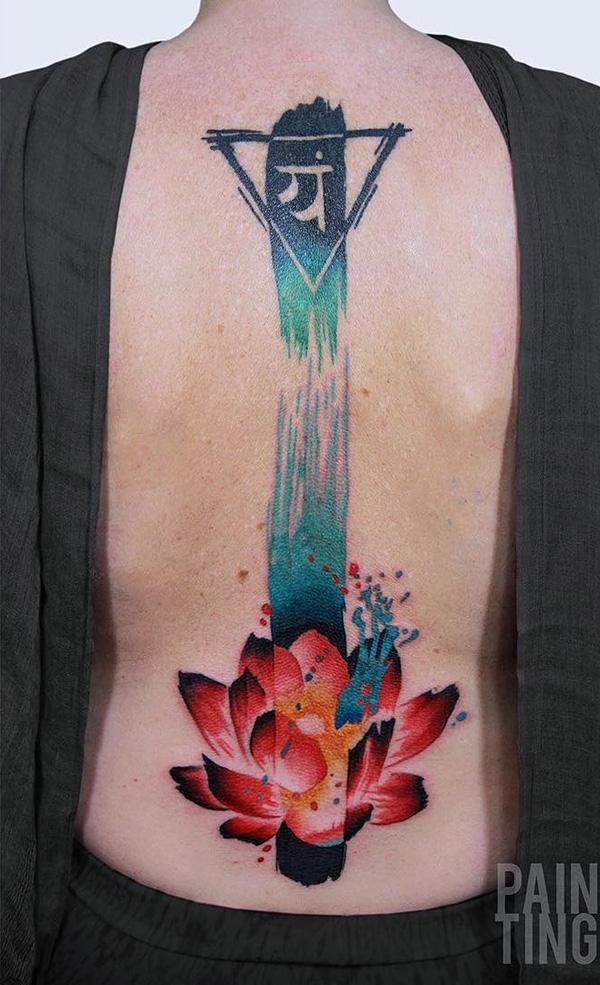 This great Lotus alternative design is more for people who want bold and alive tattoos.