The lotus flower is not just a beautiful bloom, but a symbol imbued with profound meanings and cultural significance. As an emblem of purity, enlightenment, rebirth, and transformation, it has captivated people across many cultures and religions. Today, it is an increasingly popular tattoo choice, serving as permanent reminders of the wearer's personal journey, beliefs, and aspirations. In this article, we'll delve into the rich meaning of the lotus flower tattoo. We will also explore what makes it such a meaningful and versatile designs.
Symbolism of the Lotus Tattoo
The lotus flower's life cycle is unlike any other. With its roots based in the muddy bottom of a pond, it submerges every night into the murky water only to re-bloom the next morning, clean and vibrant. It's this daily rebirth that gives the lotus its potent symbolic meaning.
Purity and Transformation
Despite its origins in muddy waters, the lotus flower emerges clean and beautiful. This stark contrast between its roots and its bloom is seen by many as a metaphor for our human journey. Just as the lotus rises from the mud to bloom in the sunlight, we too have the ability to rise from adversity, cleanse our spirit, and reach our true, beautiful potential. This symbolism makes the lotus tattoo a powerful choice for individuals who have overcome significant challenges in their lives.
Enlightenment and Spiritual Awakening
In Buddhist tradition, the lotus flower signifies spiritual awakening and enlightenment. The journey of the lotus flower from the murky bottom to the surface mirrors the journey of the human soul towards enlightenment. As such, a lotus tattoo can symbolize a person's spiritual journey, serving as a reminder of their personal growth, their quest for truth, and their commitment to a path of wisdom and understanding.
The Many Colors of the Lotus: Symbolic Meanings
Not all lotus flowers are the same, and the color of a lotus can carry its own symbolic meaning. This diversity adds another layer of complexity to the lotus flower tattoo, allowing for even more personalization and significance.
The White Lotus: Purity and Perfection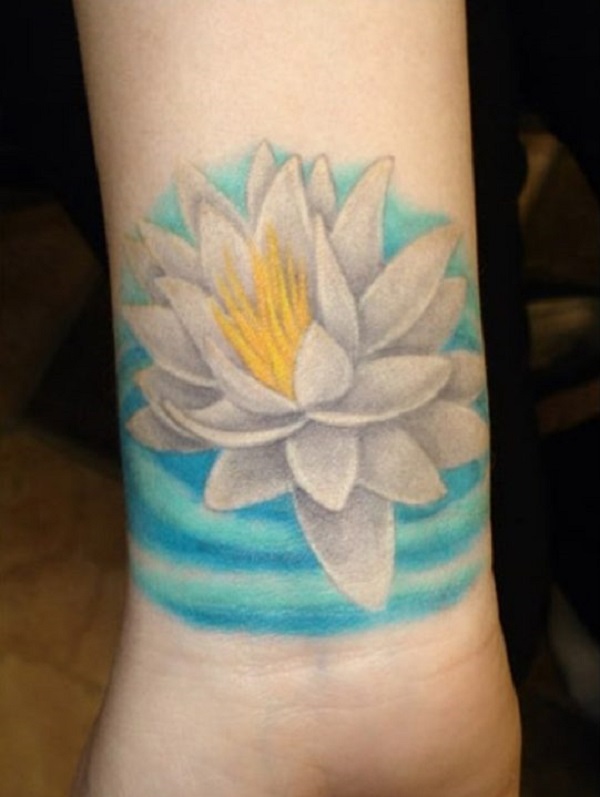 In many cultures, the white lotus flower symbolizes purity, perfection, and spiritual perfection. Its pristine, untainted petals represent the purity of the mind and soul. A white lotus flower tattoo can signify a person's spiritual awakening or their aspiration towards spiritual perfection.
The Red Lotus: Love and Compassion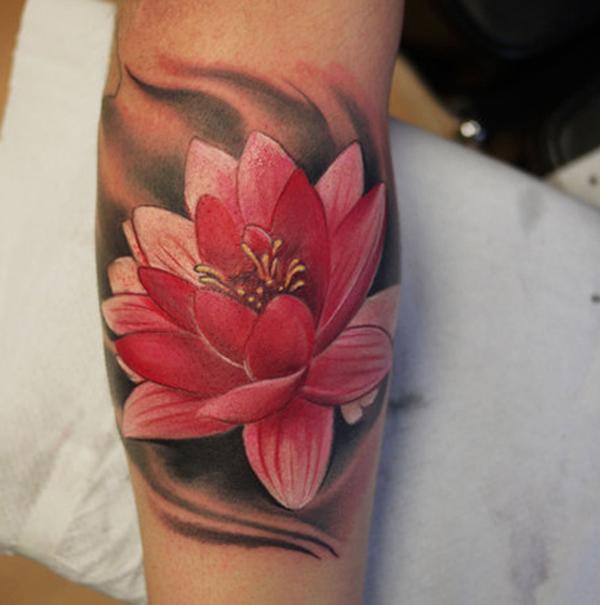 The red lotus is associated with love, compassion, and all the qualities of the heart. It's the lotus of the heart, symbolizing our capacity to love, empathize, and connect with others. A red lotus tattoo can reflect an individual's compassionate nature or their journey towards embracing love and compassion.
The Blue Lotus: Wisdom and Knowledge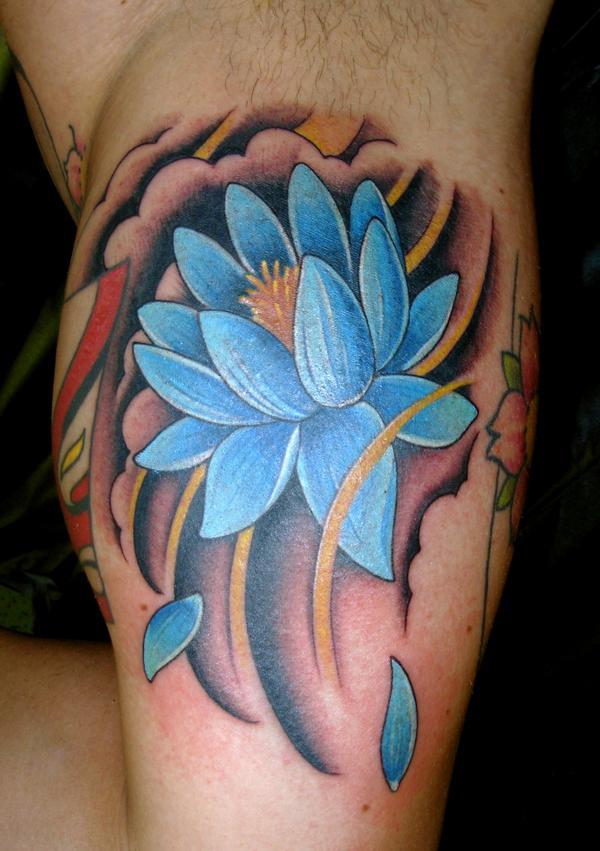 The blue lotus is linked to wisdom and knowledge. It's often seen as a symbol of the victory of the spirit over the senses and signifies wisdom and knowledge. A blue lotus tattoo can represent a person's quest for wisdom, their journey towards gaining knowledge, or their triumph over worldly temptations.
The Pink Lotus: Buddha and the History of Buddhism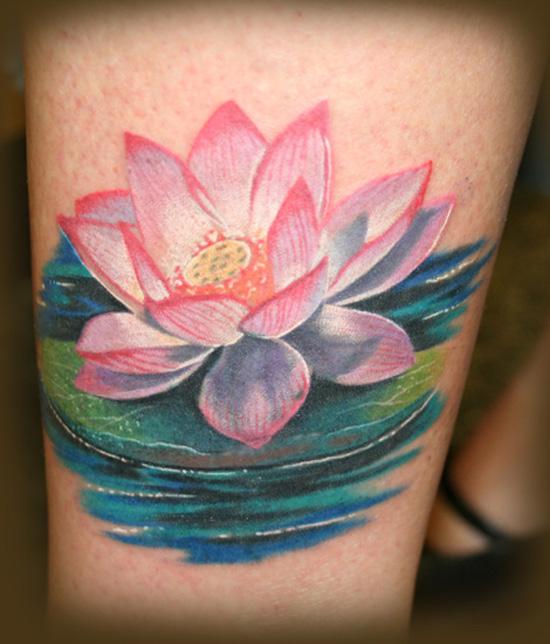 The pink lotus is considered sacred in Buddhism. It's often associated with the history of Buddha and the tales of Buddhism. As such, a pink lotus tattoo can symbolize a person's devotion to the Buddhist faith or their connection with the teachings of Buddha.
The Lotus tattoo designs and meaning
The lotus flower tattoo is versatile. While it can be different styles, it can be also combined with other symbols to create a richer narrative. This allows for a multitude of unique designs, each carrying their distinct meaning.
The Lotus and the OM Symbol
The OM symbol, or AUM, is a sacred sound and spiritual icon in Indian religions. It signifies the essence of ultimate reality and consciousness. A lotus flower tattoo combined with the OM symbol can symbolize the profound connection between the individual and the universe, the spiritual unity of body, mind, and spirit.
Divine lotus with OM symbol
Om and lotus tattoo black and grey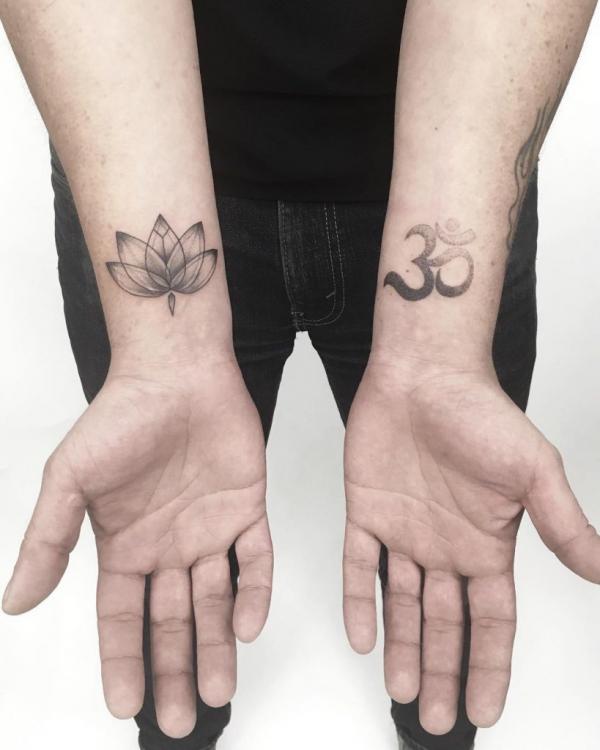 In Hinduism and Buddhism, the "Om" symbol represents the sound of the universe, and it's often used in meditation. A tattoo combining the Om symbol and the lotus flower can symbolize a deep spiritual connection to the universe. Having these two symbols on each wrist can serve as a constant reminder of inner peace and spiritual awakening.
The Lotus and the Unalome Symbol
The Unalome symbol represents the path to enlightenment in Buddhism. A tattoo combining the Unalome symbol with the lotus flower can signify the individual's journey towards enlightenment, the path from chaos to harmony, from ignorance to wisdom.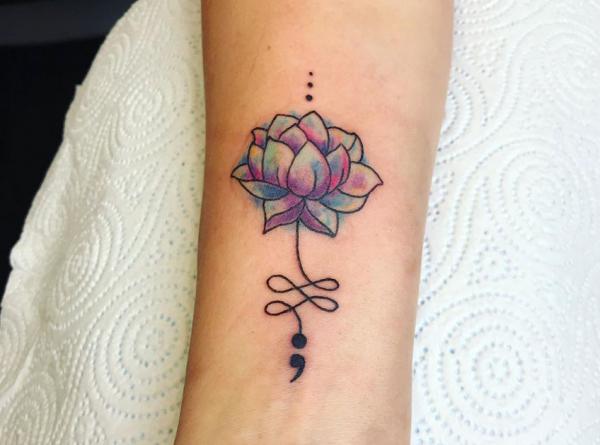 Unalome is a spiritual symbol in Buddhism representing the path to enlightenment. Combining this with a lotus flower and a semicolon (which has been adopted as a symbol of mental health awareness and continuing despite struggles) in a watercolor style can make for a unique and deeply personal tattoo.
Unalome lotus tattoo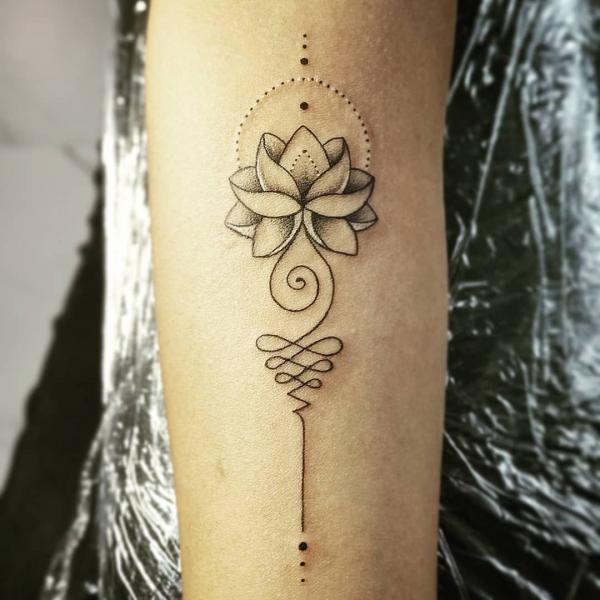 Unalome is a spiritual symbol in Buddhism representing the path to enlightenment. Combining this with a lotus flower and a semicolon, a symbol of mental health awareness and continuing despite struggles, in a watercolor style can make for a unique and deeply personal tattoo.
The Lotus and the Mandala
The Mandala is a geometric configuration of symbols used in various spiritual traditions. In Buddhism, it represents the universe and the idea of interconnectedness. A lotus and mandala tattoo can symbolize the connection of all life, the harmony in the universe, and the individual's place within it.
Mandala lotus with moon and sun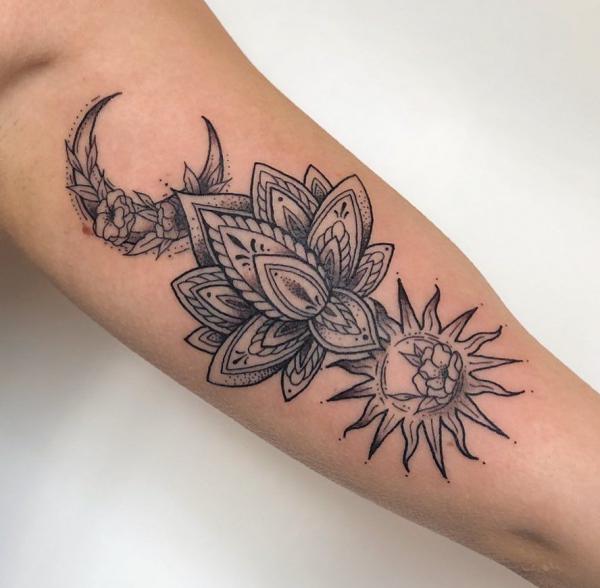 The Lotus and the Snake
The snake is often seen as a symbol of transformation due to its ability to shed its skin. A tattoo of a lotus entwined with a snake can symbolize continual growth, rebirth, and the ability to overcome obstacles through transformation.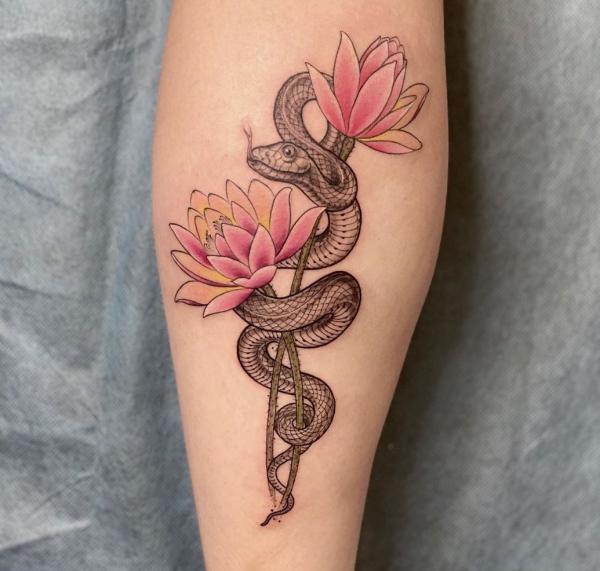 A lotus with a snake design can be a unique and captivating design. The snake is often seen as a symbol of transformation due to its ability to shed its skin. Combined with the lotus, this design can symbolize continual growth, rebirth, and the ability to rise above challenges and transform into a better version of oneself.
Skull and lotus in the mud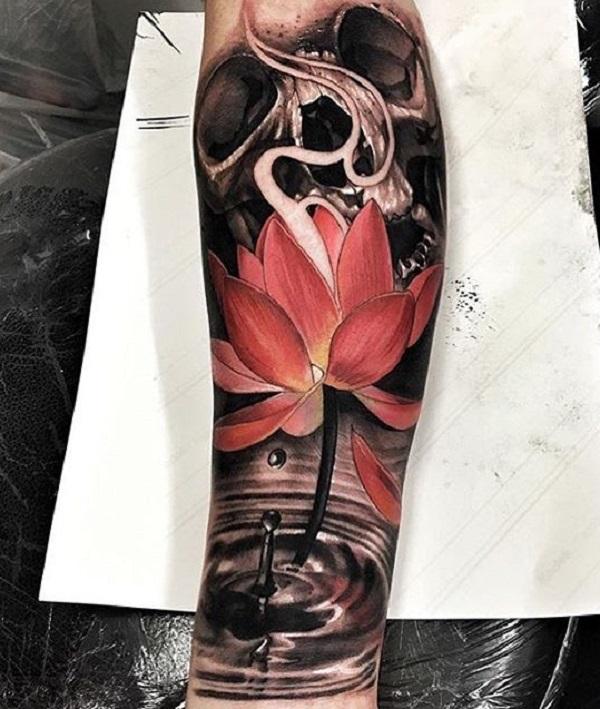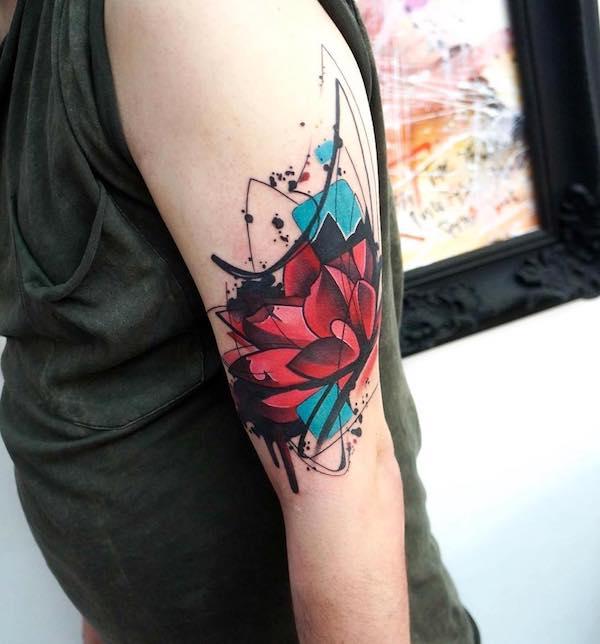 Watercolor lotus with stem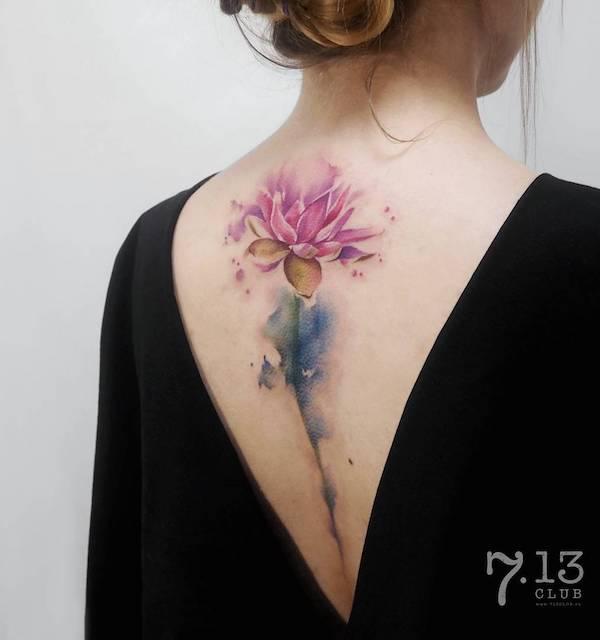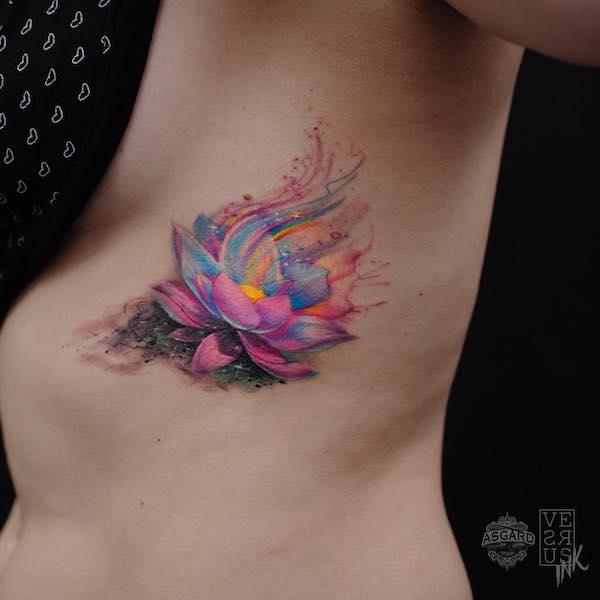 Lotus tattoo with stem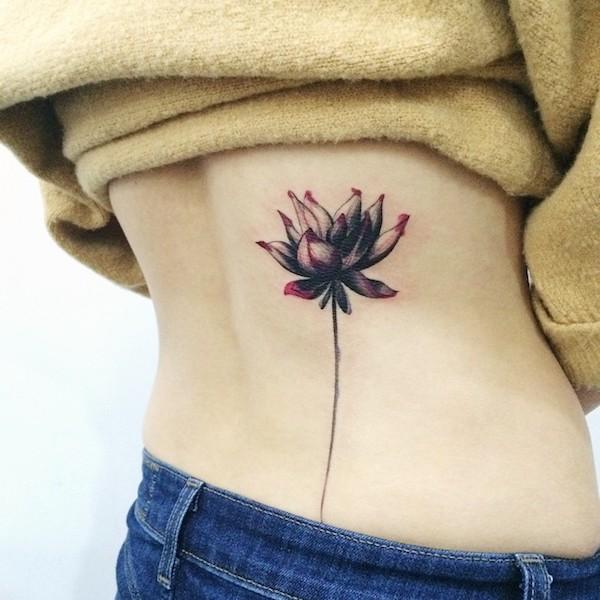 Birds, stars and love emerging from the bud of a lotus flower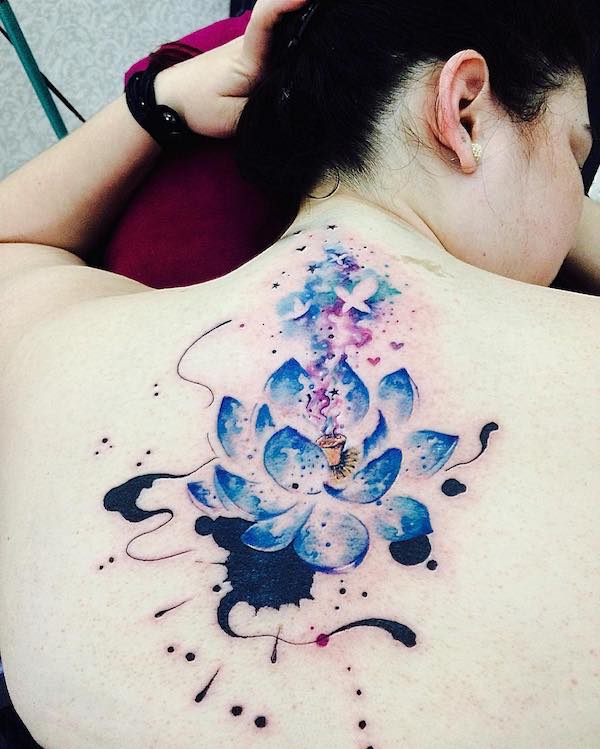 Small lotus chest tattoo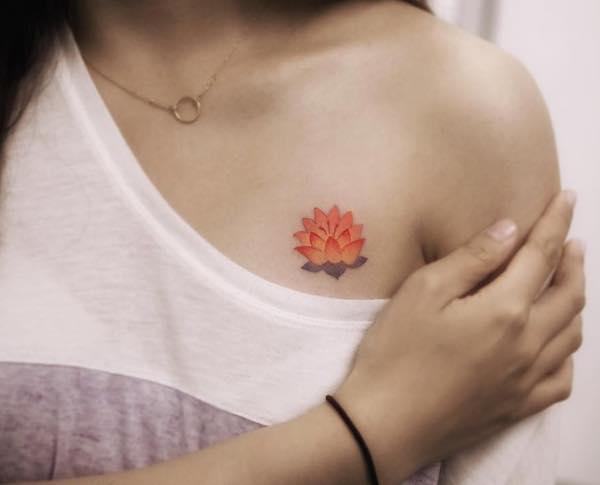 Glowing lotus tattoo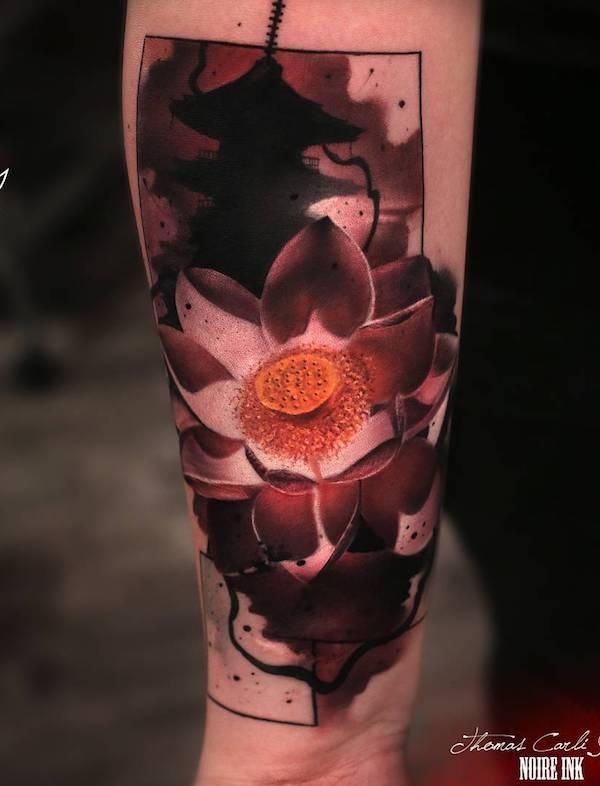 Geometric lotus tattoo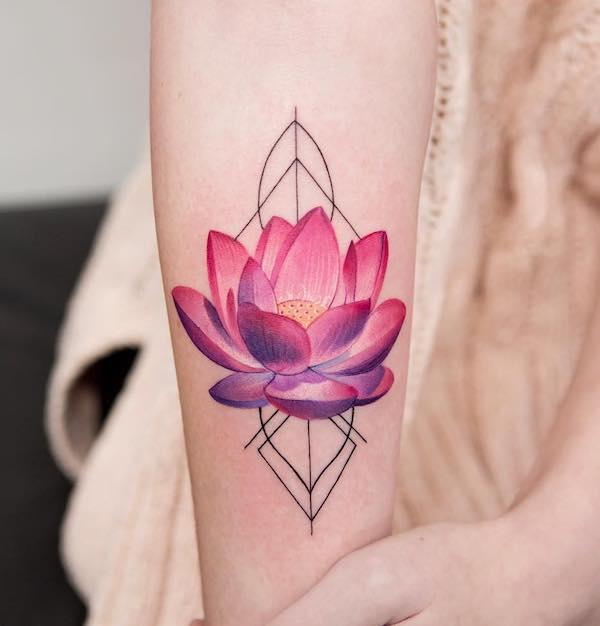 Light pink lotus flower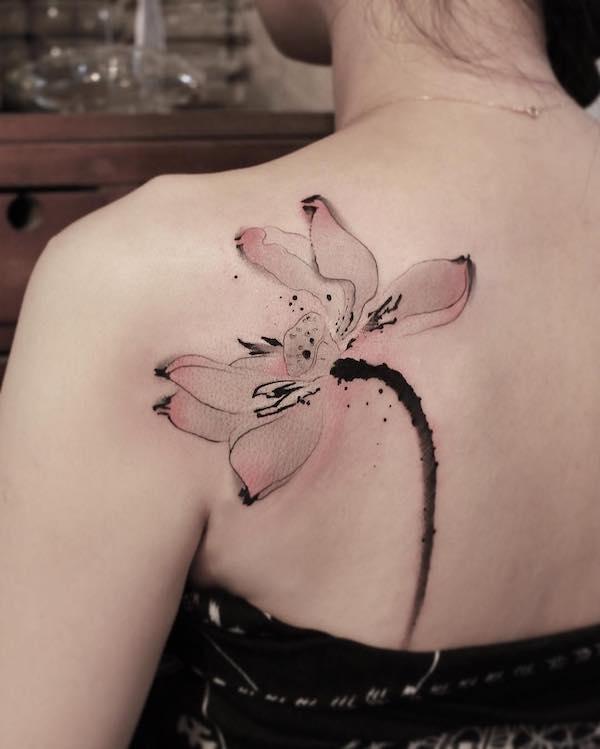 Elegant lotus rectangular tattoo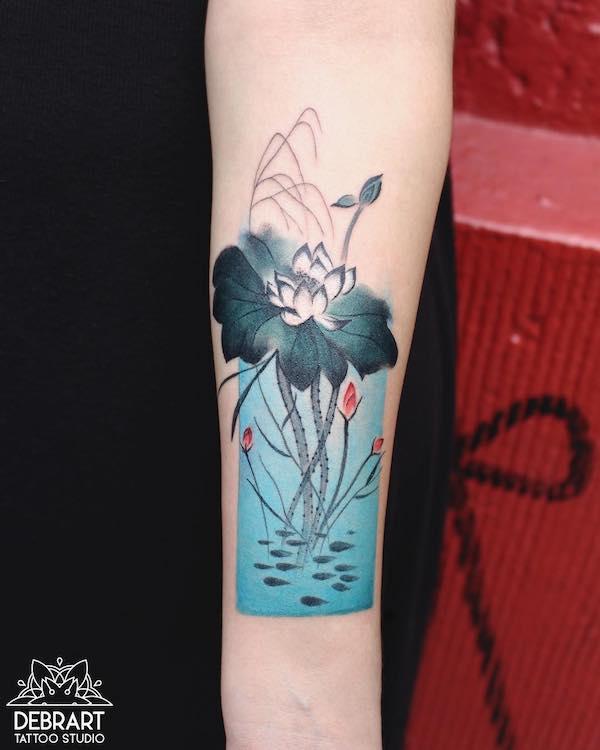 Lotus flower galaxy tattoo
Skull lotus tattoo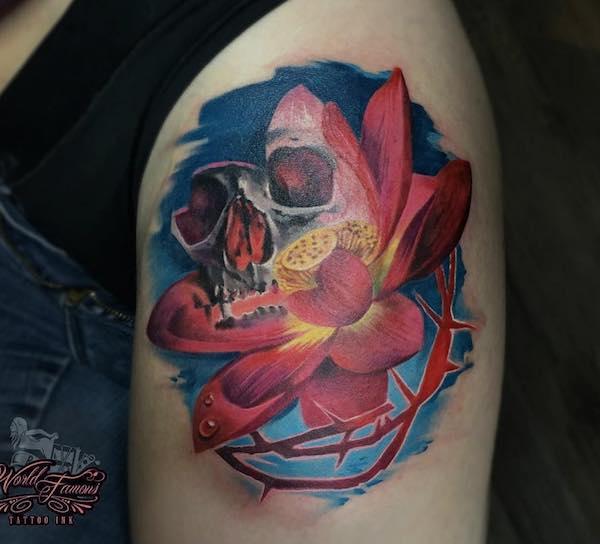 Butterfly lotus watercolor tattoo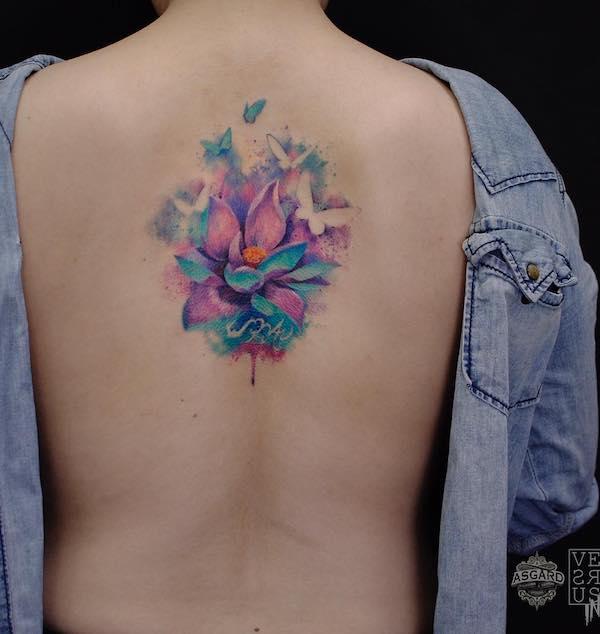 The lotus with butterfly watercolor design showcases the enchanting beauty of both elements. Against a watercolor backdrop, negative space butterflies emerge, representing transformation and growth. This design captures the delicate balance between fragility and strength, embracing the ever-changing nature of life.
I love you to the moon and back tattoo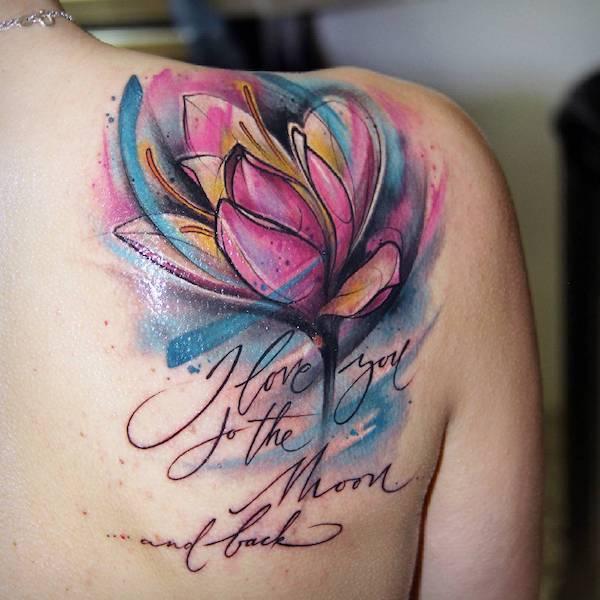 The quote tattoo combines the elegance of the lotus flower with a heartfelt message. I love you to the moon and back tattoo, signifies an immeasurable and boundless love, surpassing any distance or obstacle. It represents a deep and unconditional affection that knows no limits, conveying a message of unwavering commitment and devotion. The lotus flower, known for its resilience and spiritual symbolism, further enhances the profound meaning behind this design.
lotus henna tattoo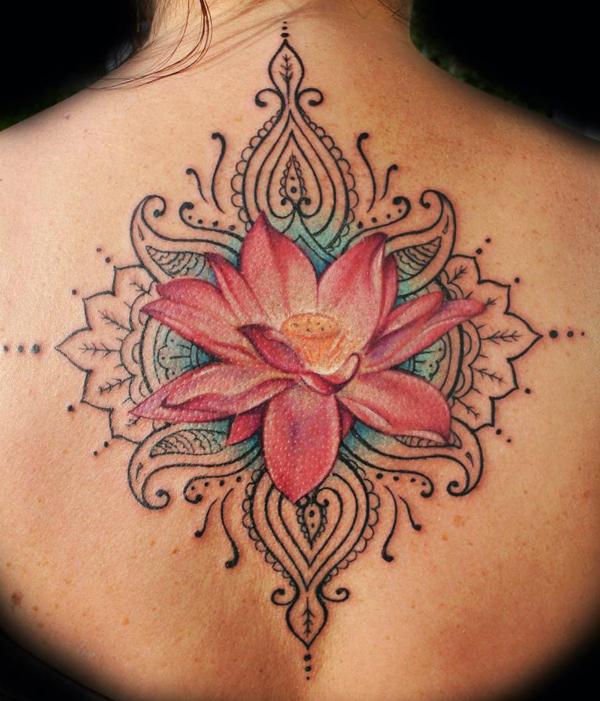 Great tattoo which extends in the middle of backs to the neck is very sexy, and also if is in the fiery colors – red and black, the effect is even better.
Lotus in water tattoo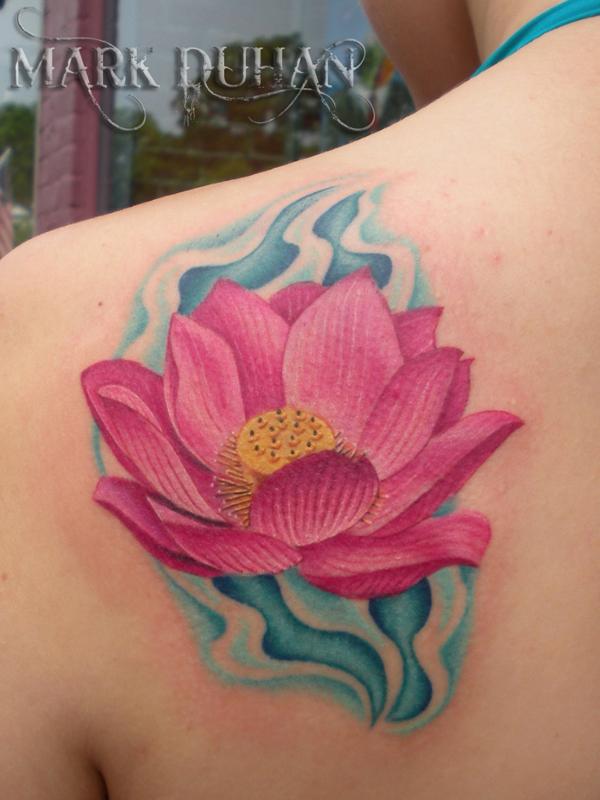 The combination of pink and blue colors is timeless as if the lotus is floating in the water.
Black ink abstract lotus tattoo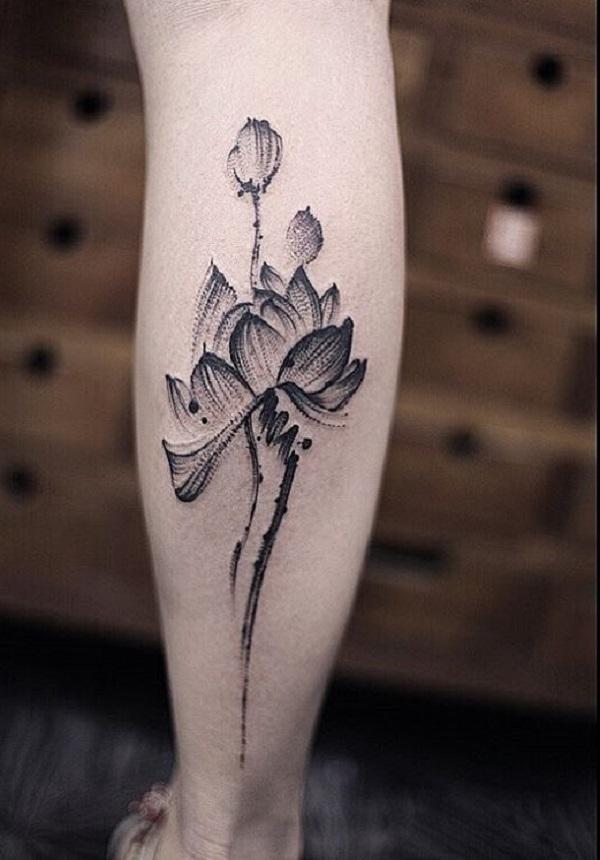 Watercolor sketchy lotus side tattoo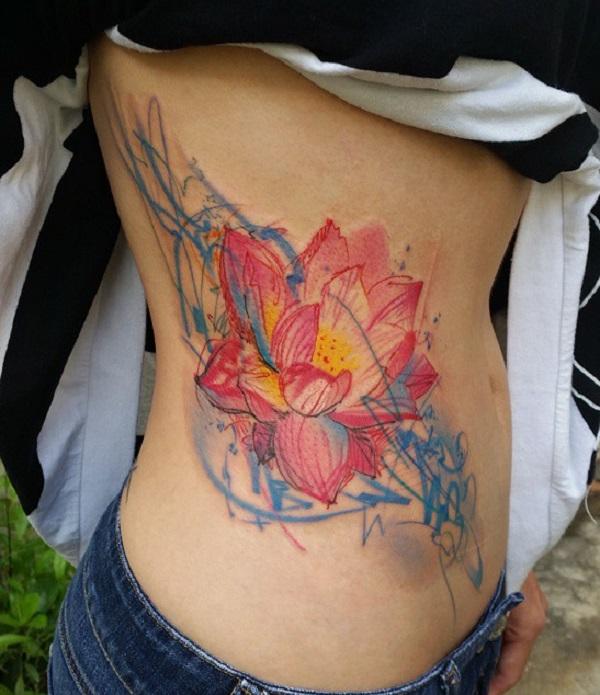 Elegant Lotus tattoo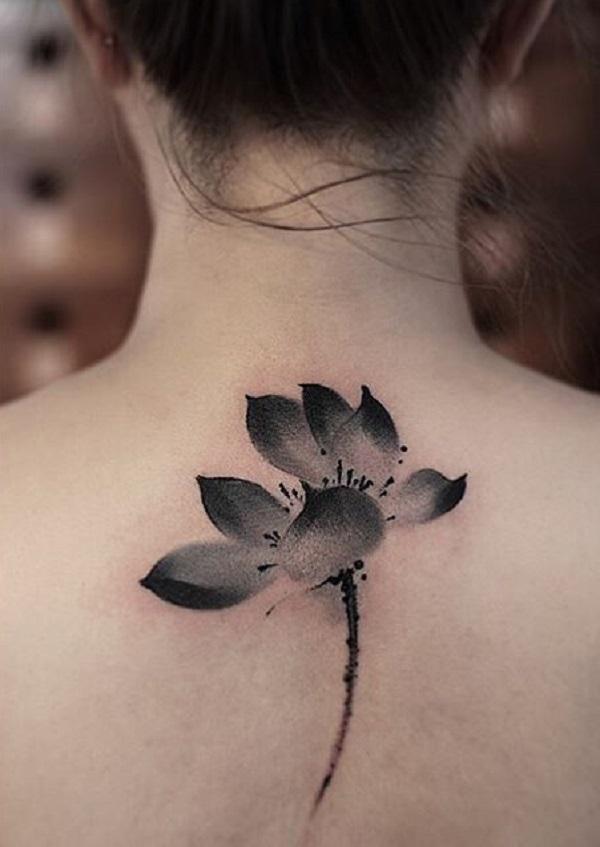 Lotus with a diamond bud tattoo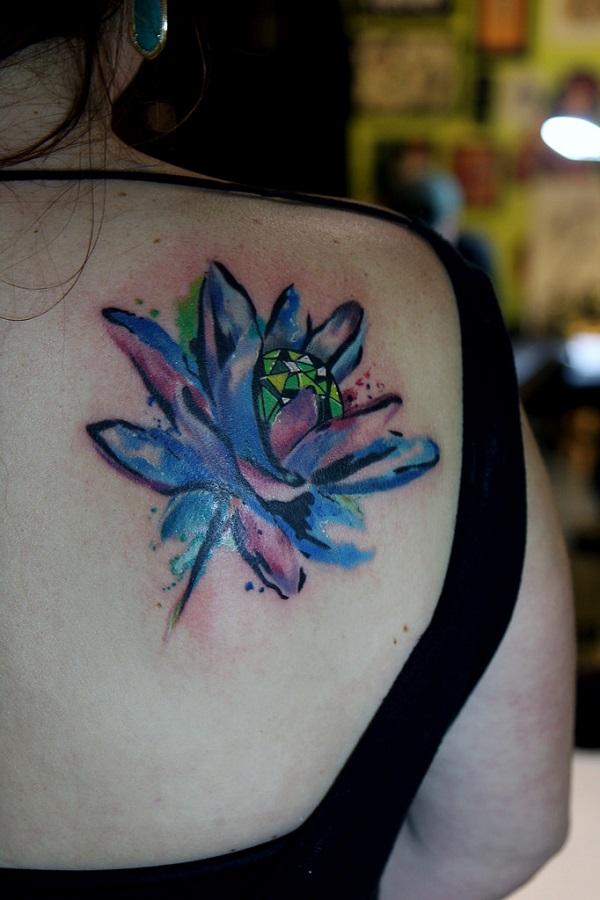 The watercolor tattoo design is a potent symbol of beauty and resilience. The lotus signifies purity and spiritual evolution, while the diamond tattoo, embodied in the bud, represents unyielding inner strength. This design merges these symbols to encapsulate the transformative and precious nature of personal growth, making it a deeply significant and powerful tattoo choice.
Blue watercolor lotus tattoo on back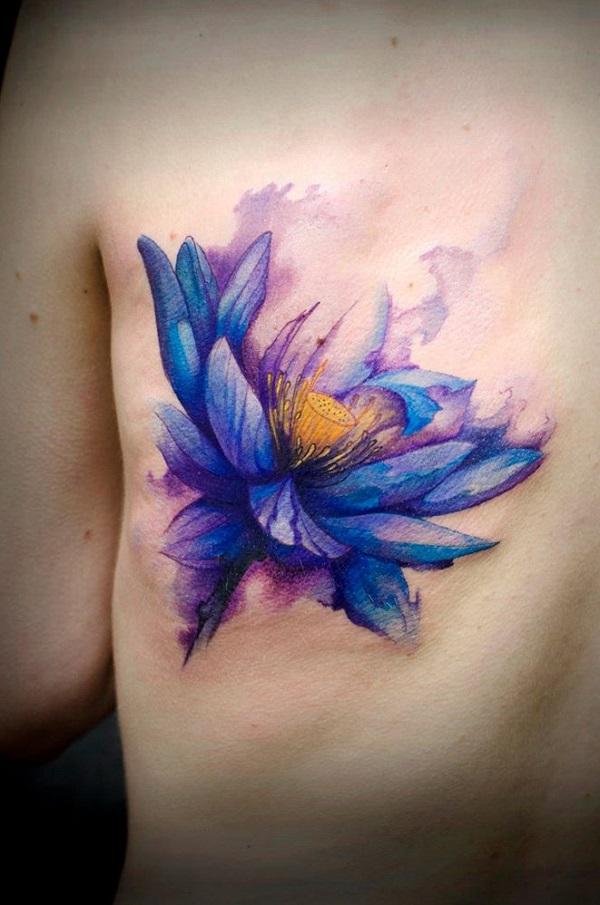 Lotus flower family tattoo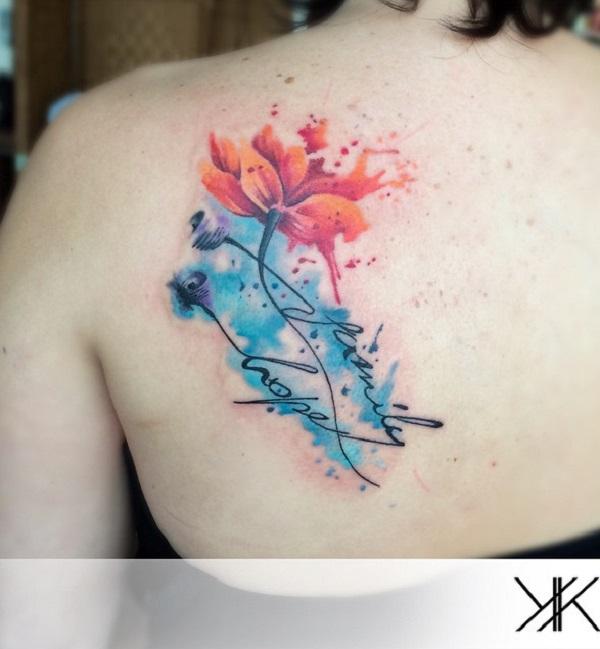 The shoulder blade design combines the beauty of a watercolor lotus flower with the meaningful words "Family" and "Hope." This design represents love, unity, and resilience. The vibrant watercolor style adds a touch of artistic expression, while the words serve as a constant reminder of the importance of family bonds and the power of hope in our lives.
Two lotus flowers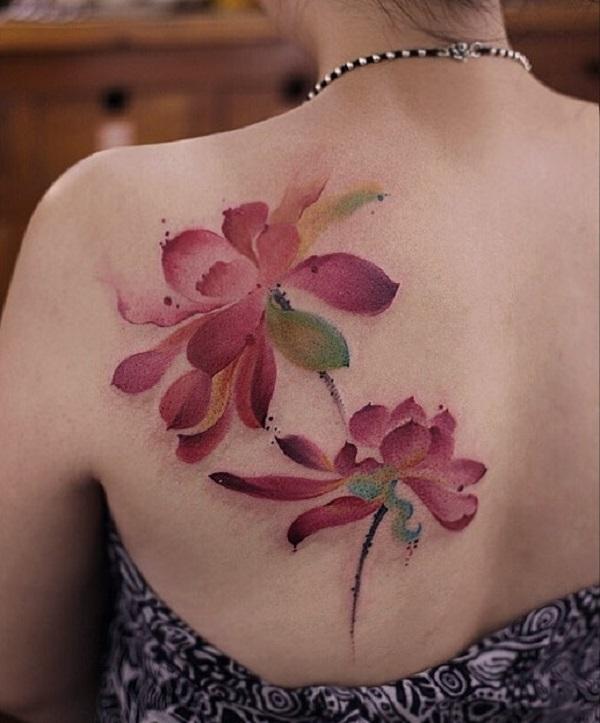 The two lotus flower tattoo, rendered in a watercolor style, creates a feminine design for the female. The graceful blossoms symbolize purity and spiritual awakening. The vibrant watercolor technique adds a touch of fluidity and vibrancy, making this tattoo an enchanting representation of femininity and inner growth.
Lotus flower and pod tattoo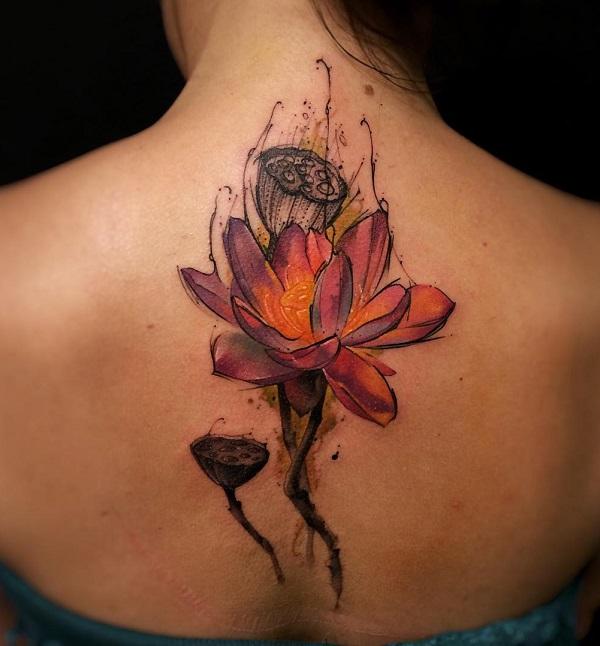 The lotus flower and pod design, rendered in a watercolor style, is a mesmerizing design for women. The delicate petals of the lotus flower gracefully intertwine with the seed pod, symbolizing beauty and potential. The watercolor technique adds a soft and ethereal touch, enhancing the feminine allure of this captivating tattoo.
Colored lotus tattoo on rib cage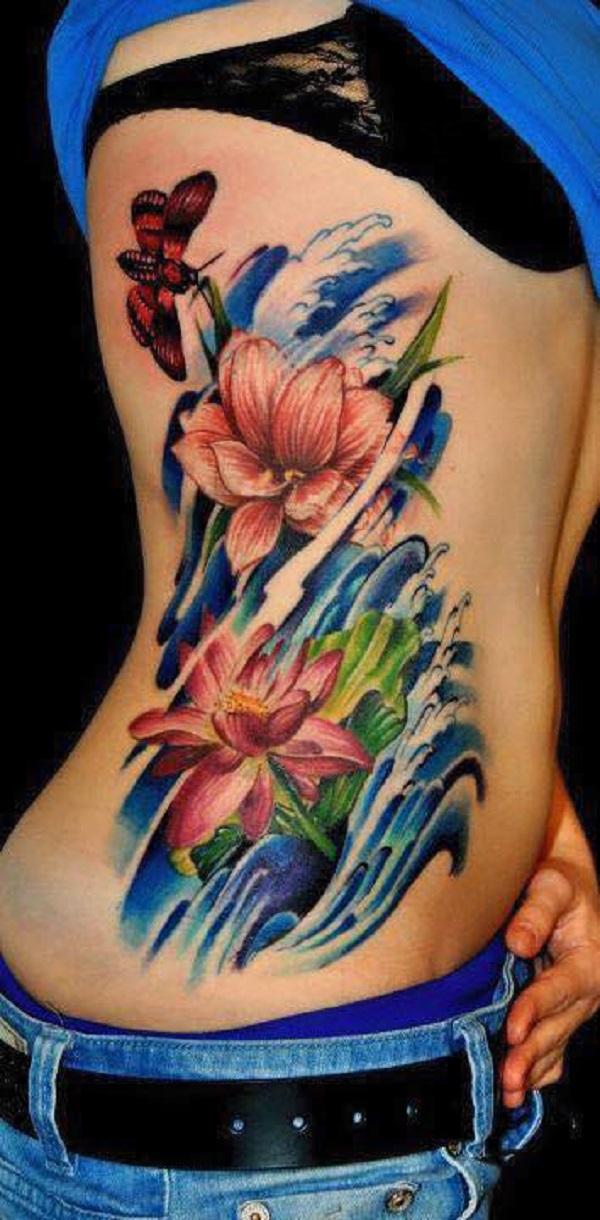 Lotus and frog tattoo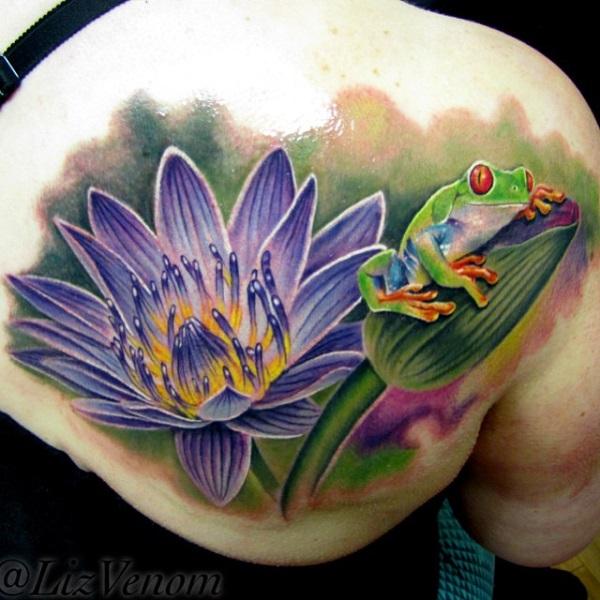 The lotus and frog design showcases a vibrant and realistic scene against a watercolor backdrop. The lotus, symbolizing purity and spiritual growth, harmoniously coexists with the frog, representing transformation and adaptability. This colorful tattoo captures the balance between serenity and change, reminding us to embrace life's transitions with grace and openness.
Skull with lotus flower tattoo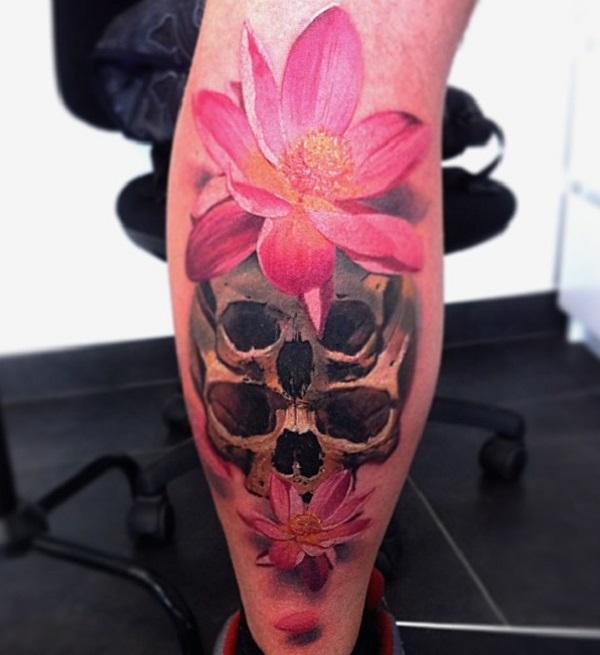 The skull with lotus flower design is a striking juxtaposition of life and death. The skull, symbolizing mortality and impermanence, is adorned with a delicate lotus flower, representing purity and enlightenment. This design serves as a reminder to embrace the beauty and fragility of life, finding hope and transformation even in the face of darkness.
Spiritual lotus tattoo design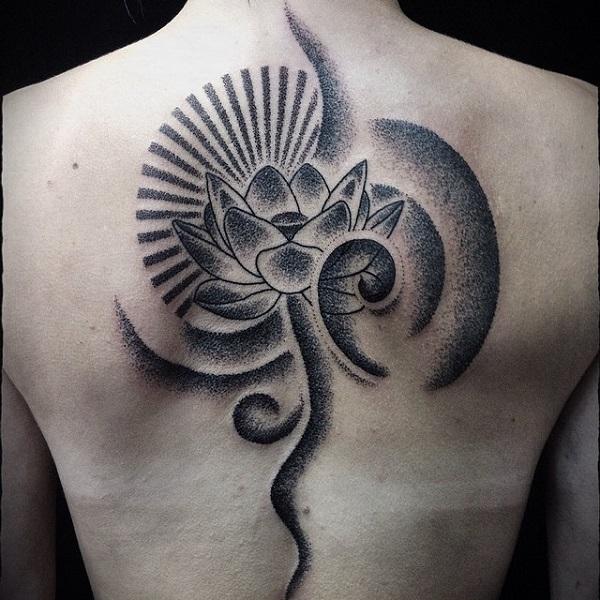 Lotus brush painting tattoo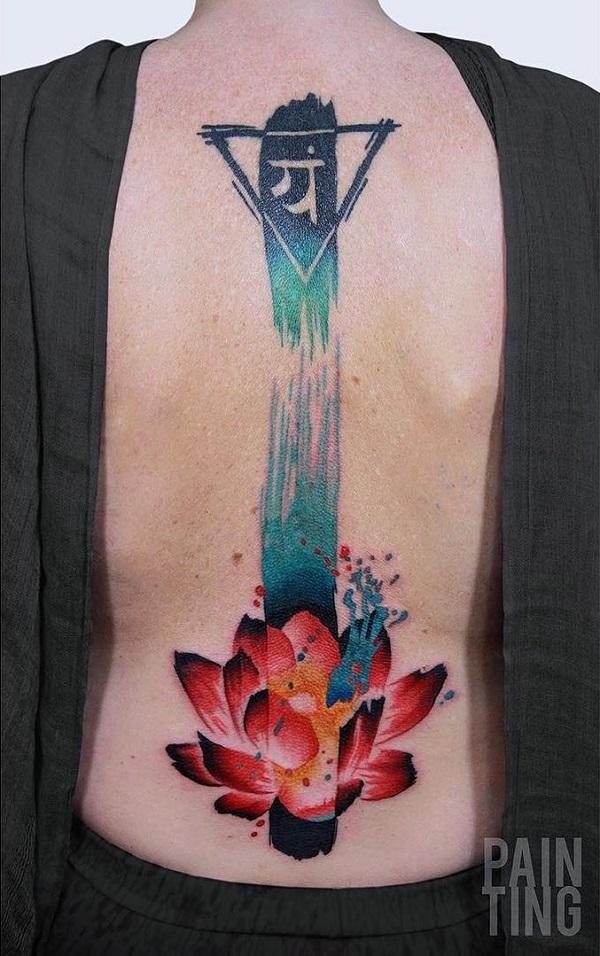 A single brush stroke gracefully follows the spine, representing the fluidity of life. At the lower back, a vibrant red watercolor lotus emerges, symbolizing passion and transformation. This unique design captures the essence of artistic expression and serves as a constant reminder of the beauty found in embracing change and growth.
Blue and red Lotus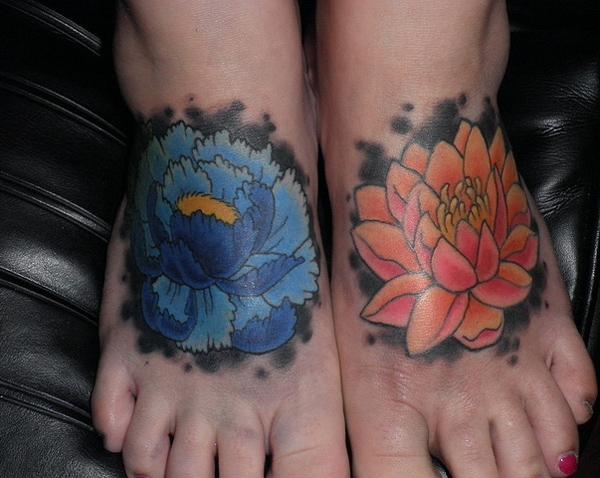 The blue and red lotus flower tattoos grace each foot with elegance and meaning. The blue lotus symbolizes spirituality and wisdom, while the red one represents love and passion. These complementary colors blend together to create a harmonious and visually striking design, reflecting balance and inner transformation. These tattoos on the feet become a beautiful expression of one's journey towards enlightenment and embracing the beauty of life's complexities.
Pink lotus flower tattoo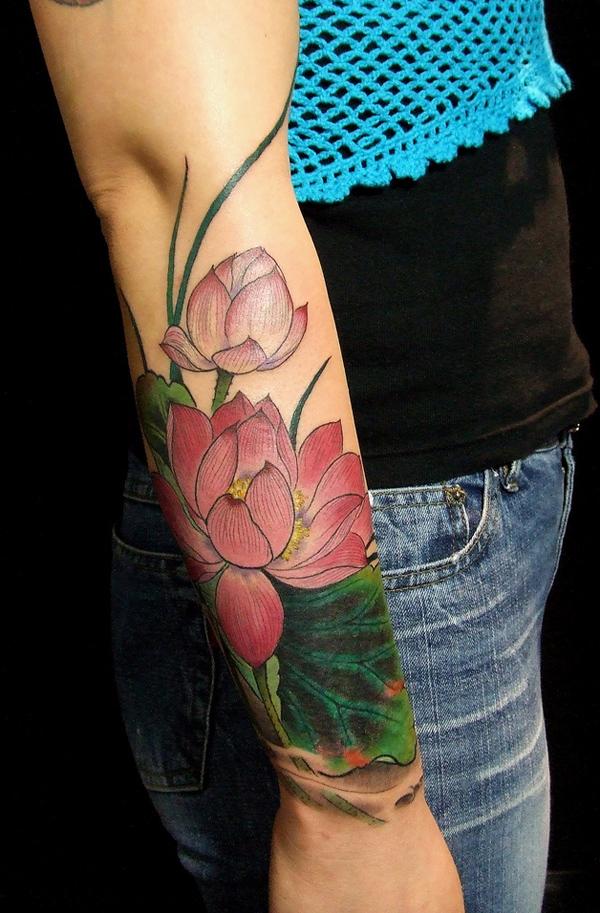 The pink lotus flower is a vibrant and meaningful design on the forearm. The lotus, a symbol of purity and spiritual awakening, is rendered in a striking pink hue, adding a touch of femininity and grace. Its placement on the forearm allows for visibility and a constant reminder of personal growth and enlightenment.
Buddha sitting on lotus flower tattoo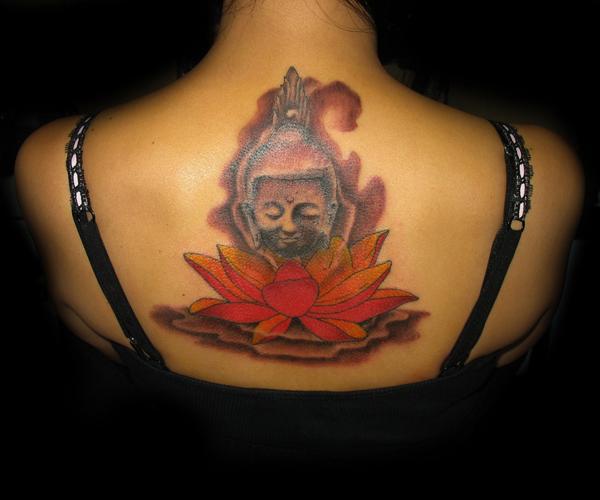 Featuring a meditative Buddha poised atop a lotus flower, this design signifies enlightenment and spiritual transformation. The positioning on the back gives the tattoo a sense of grandeur, making it an impactful visual statement of personal growth and tranquility.
Indian Lotus tattoo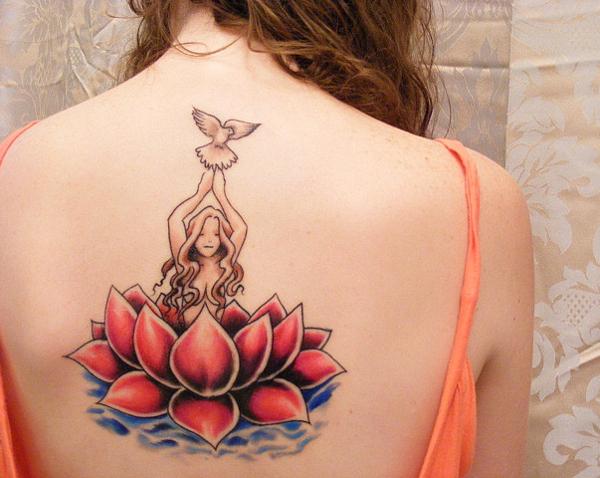 Indian lotus (Nelumbo nucifera) is one of the most beautiful specie of lotus. Leaves and flowers of this plant rises up to two meters above the water.
Buddha lotus flower tattoo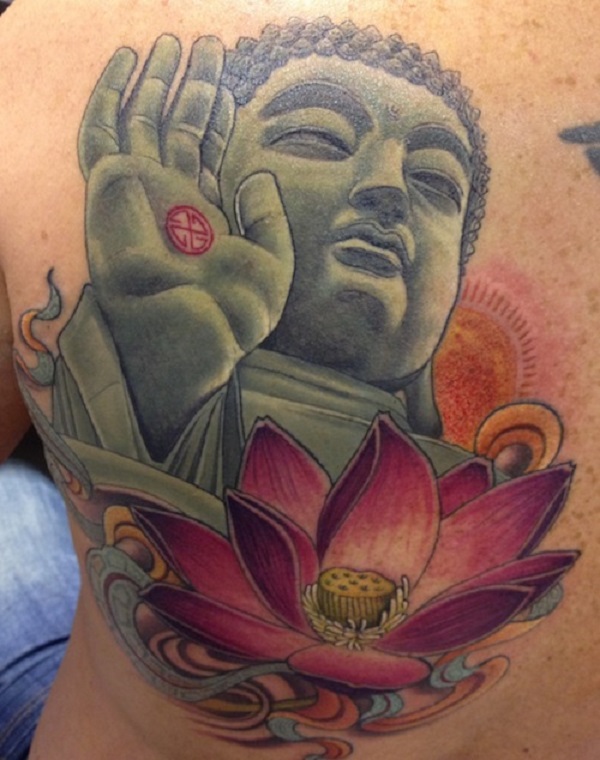 The lotus flower with Buddha tattoo design is a visually stunning and rich in symbolism. It features a tranquil Buddha statue calmly resting above a vibrant pink lotus flower, an emblem of purity and spiritual enlightenment. This tattoo elegantly captures the essence of Buddhist philosophy, embodying the journey towards inner peace and self-realization.
Dark Koi fish and lotus tattoo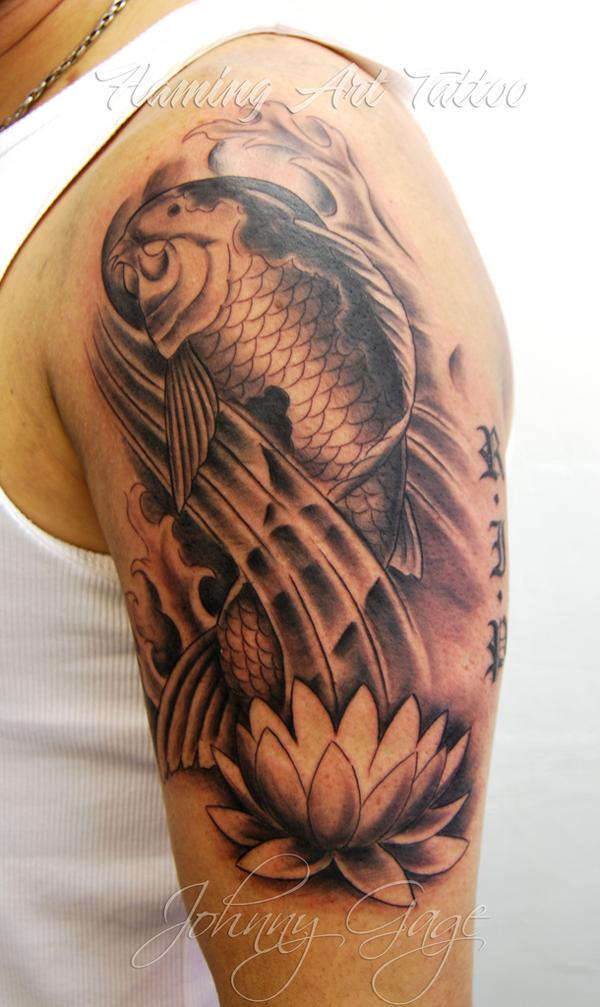 The lotus plant grows out of the water so it can be easily connected with other symbols of water, such as fish. Fish are a bit mysterious and a lotus flower is somewhat related to the oddity so that it is possible to connect this two. Of course, if you pay any attention to these things, if not you can lotus flower connect with any other sign.
Lotus Flower with Swirl Stem tattoo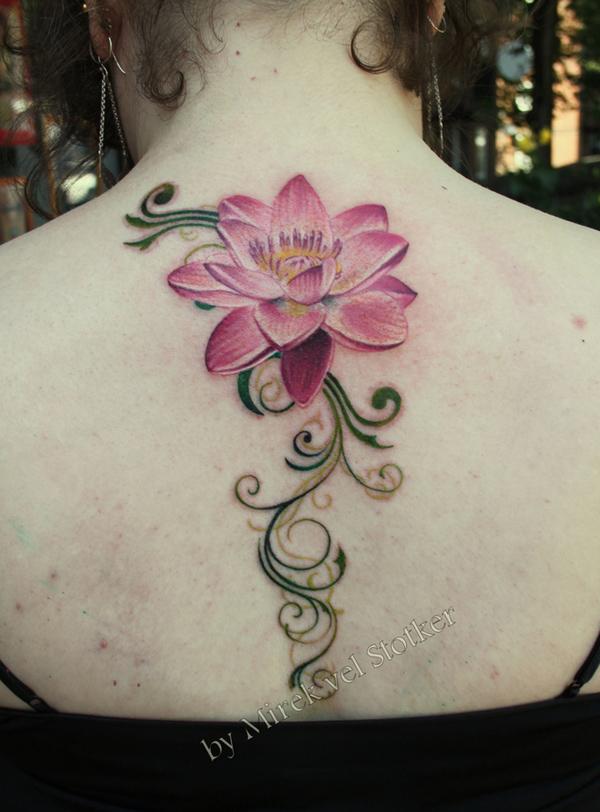 The spine piece is a captivating design that showcases the delicate beauty of a lotus flower accompanied by a swirling stem. The lotus symbolizes purity, transformation, and spiritual awakening, while the swirling stem adds a touch of dynamic movement and energy. This design represents the journey of personal growth and the interconnectedness of our experiences in a visually stunning way.
Lotus growing out of mud tattoo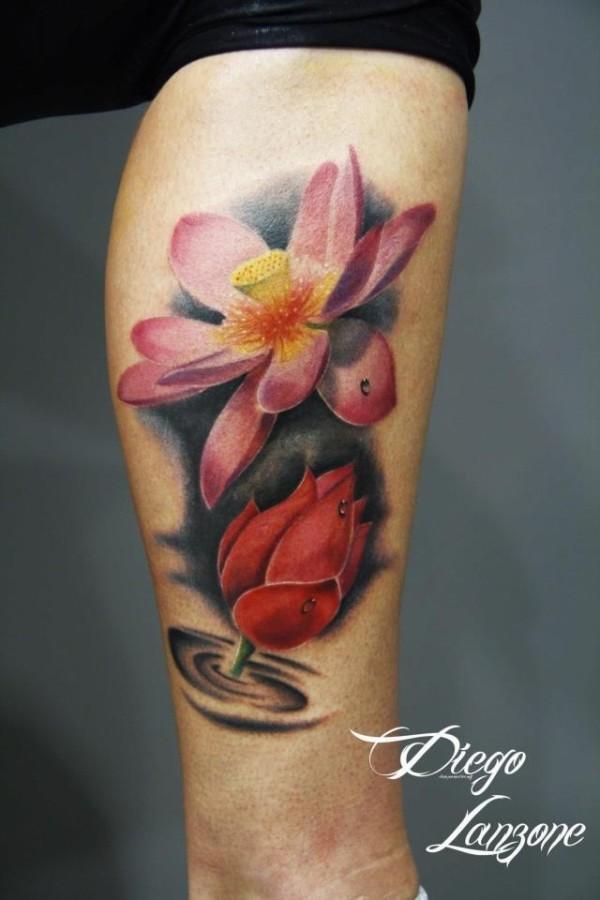 These darker shades even in different colors are much more challenging than bright and flashy colors!
Lotus with Kanji Tattoo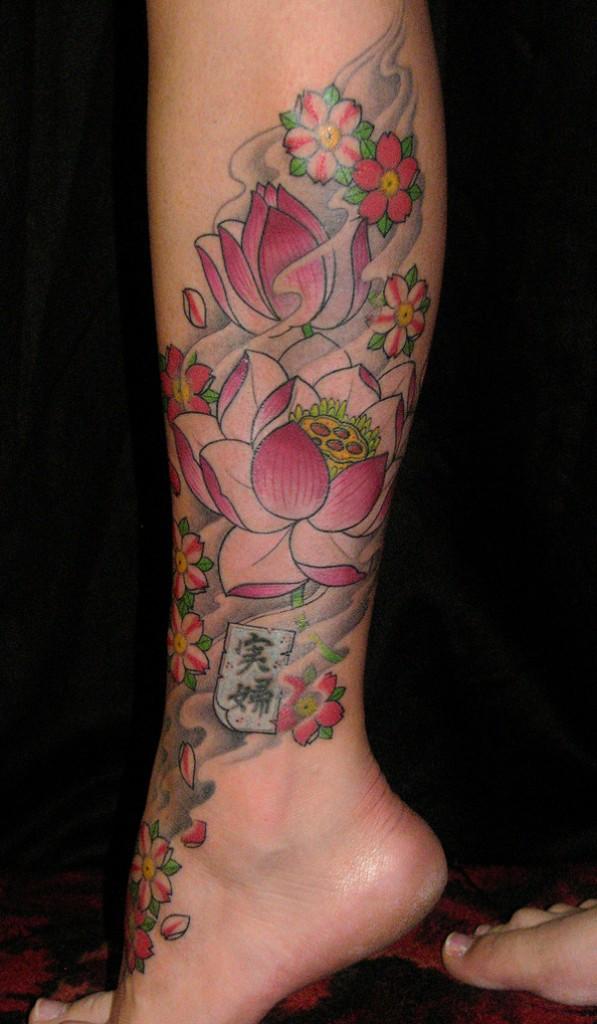 The tattoo that stretch all the way from the foot to the leg is appealing. The tattoos on upper side of the foot are choices of many famous ladies.
Skull and lotus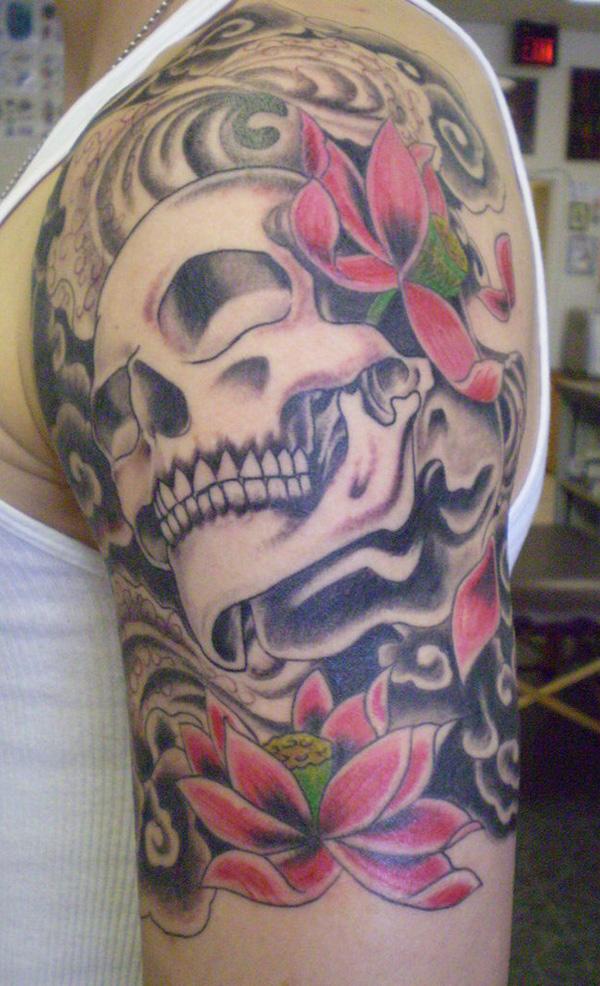 Tattoos that contain skulls are often the choice of men, but of course it is not the principle!
Lotus with dates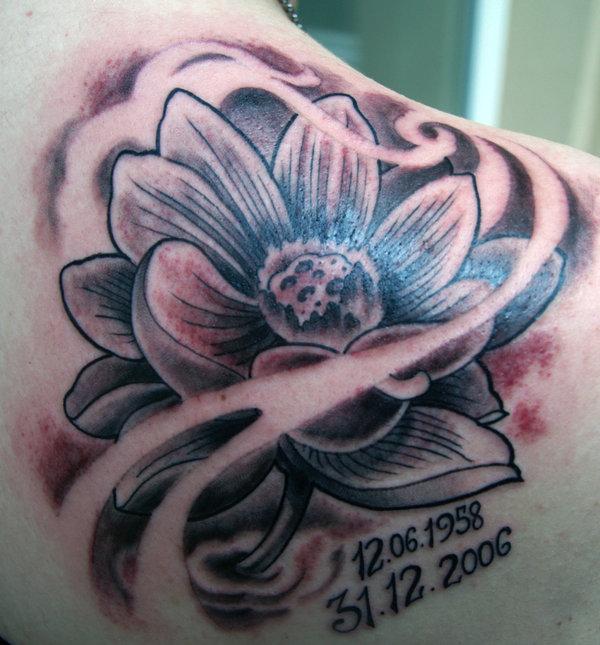 When you tattoo names, dates and messages keep in mind that it will be always important in your life, because the tattoos last all life. Do not get a tattoo as soon as you fall in love, maybe the next day you experience true love of your life and previous sympathy you'll hardly put off the skin!
Lotus lettering tattoo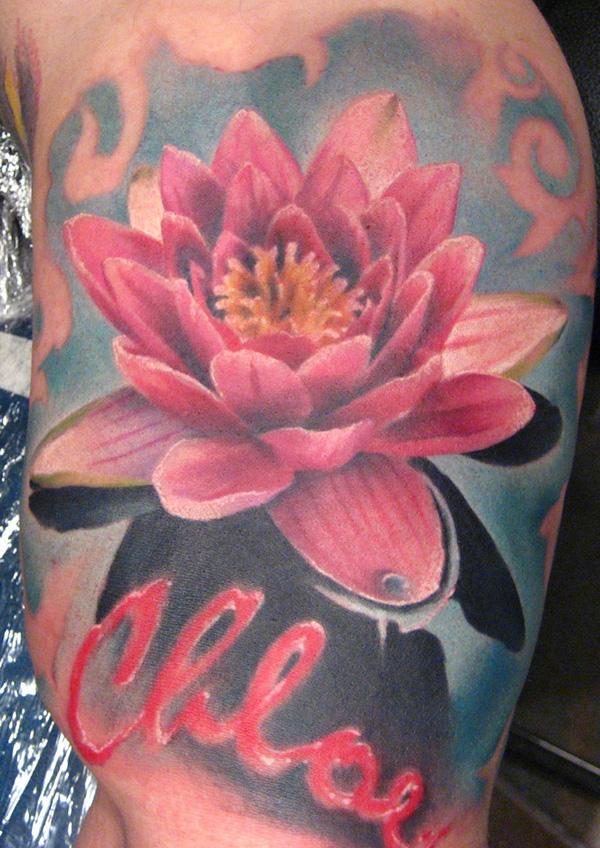 Large tattoos are not much more effective than small, often one discrete can be more seductive and sexier.
Lotus and waves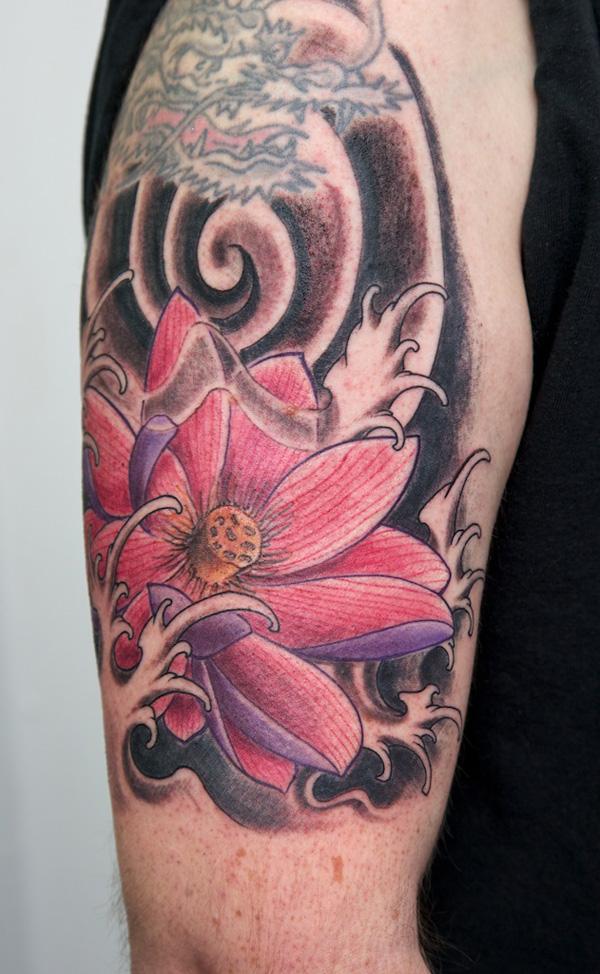 What is the lotus in the East, the lily and rose are on West of the world!
Lotus with Chinese characters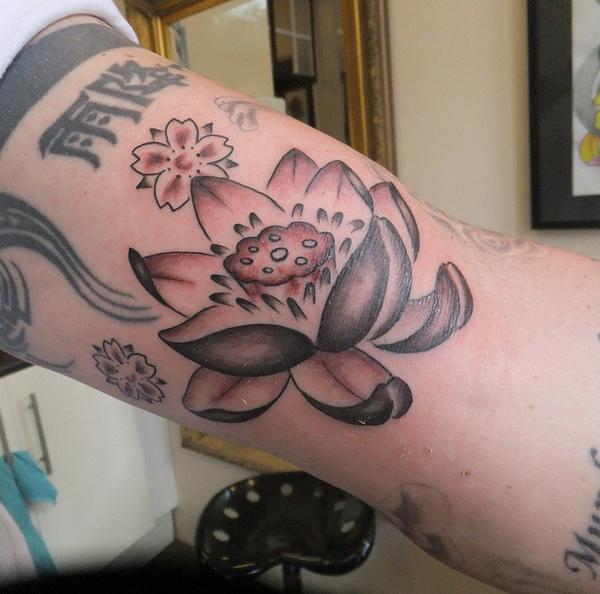 Before tattooing Chinese characters, well inform yourself about their meaning, if you don't want that someone who knows the Chinese language astonished you later with their meaning. It happens all the time!
Black lotus tattoo on upper back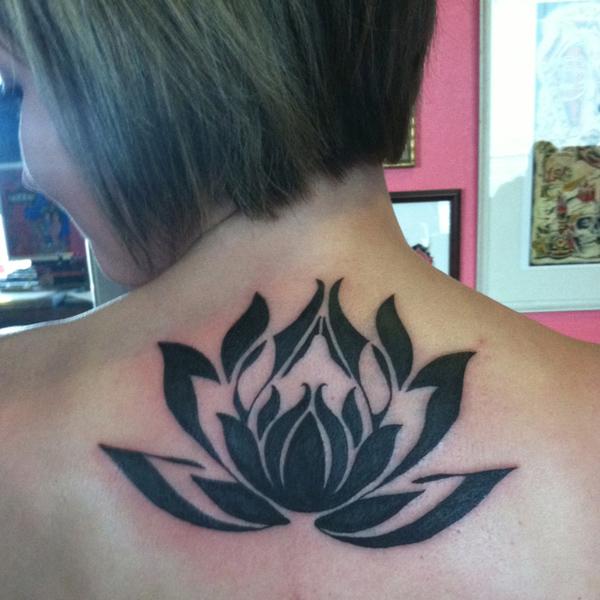 The lotus grows in dirty water, and it could symbolize good man with all the spiritual virtues, who survives in this fast-paced, modern world, where we all often struggle with disturbed values.
Lotus with Names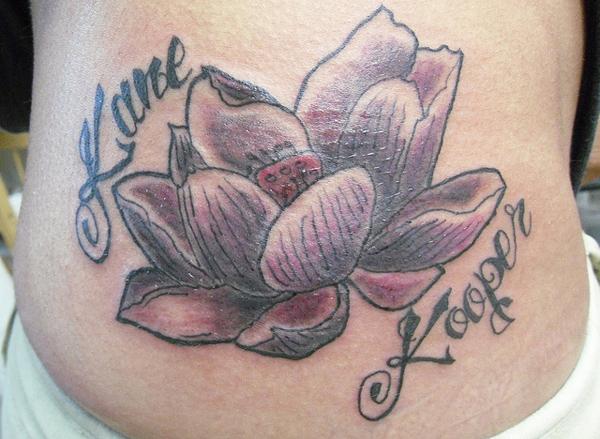 If you are doing tattoo in places where there is more "meat" tattooing process will be less painful, and vice versa.
Lotus with words Love Yourself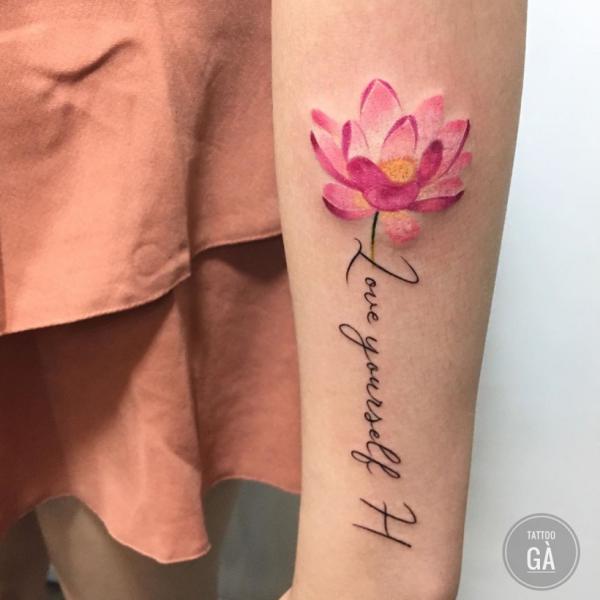 Lotus tattoo with Name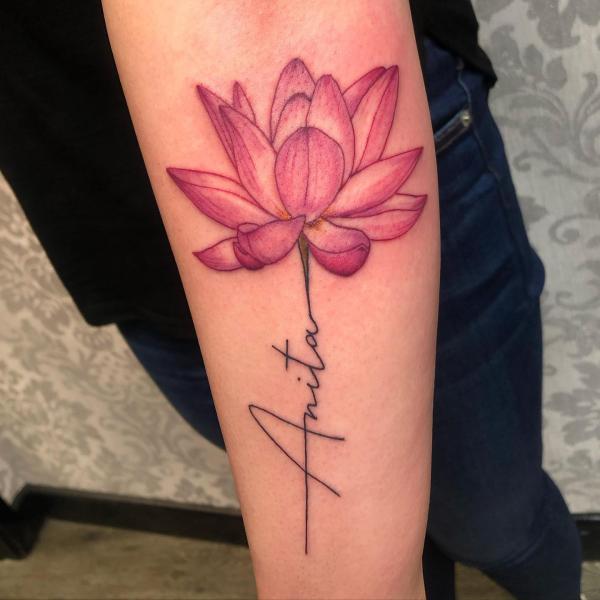 Large black lotus flower tattoo on side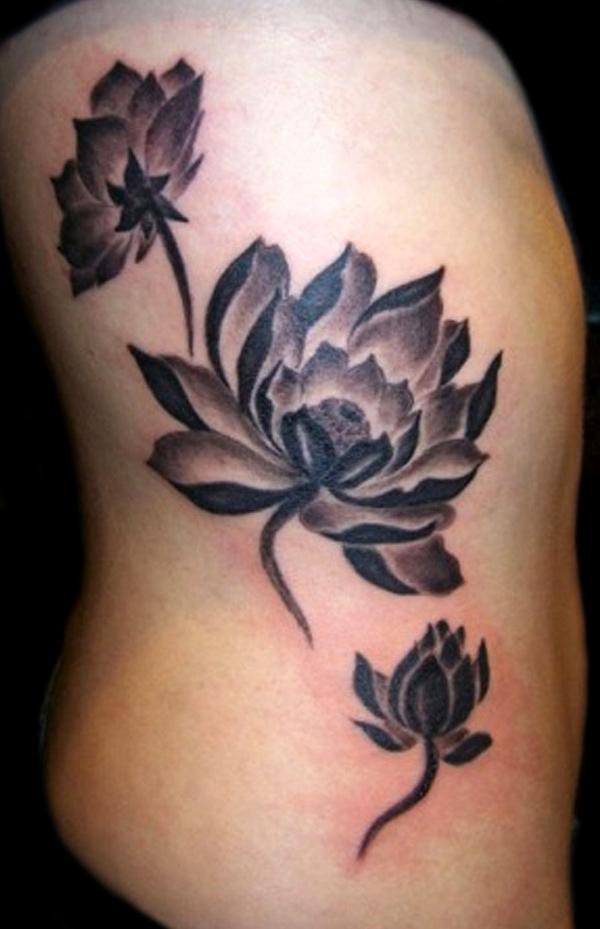 Large or small tattoos in black are more attractive to most people, and most often for them they are deciding.
Black and white Moth and lotus flowers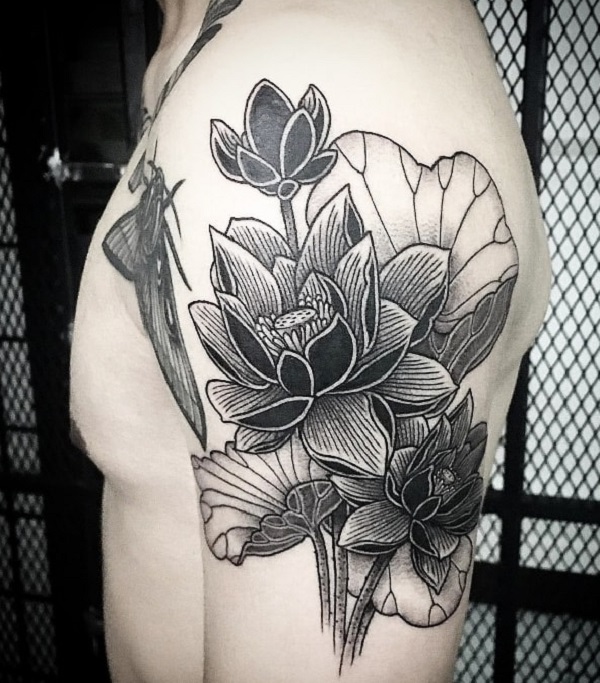 Combing the moth with lotus flowers is a captivating quarter sleeve design. The moth, a symbol of determination and faith, is masterfully paired with lotus flowers, embodying purity and spiritual awakening. Rendered in striking black and white, this tattoo showcases the exquisite interplay of nature's elegance and resilience.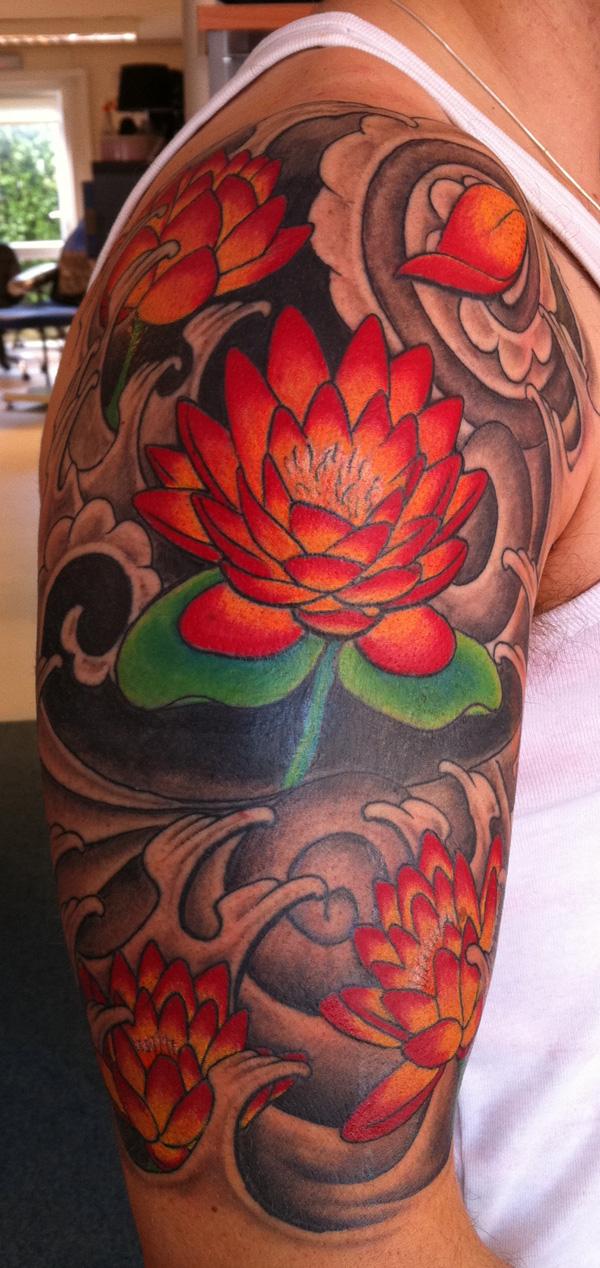 The Japanese-style lotus coverup design showcases a vibrant red lotus and waves cascading from the shoulder down to the elbow, all rendered in striking colors. This mesmerizing design not only conceals the previous tattoo but also becomes an irresistible work of art. Symbolizing resilience, transformation, and inner strength, the coverup tattoo embraces the essence of Japanese tattooing and leaves an indelible impression.
Single lotus flower tattoo on rib cage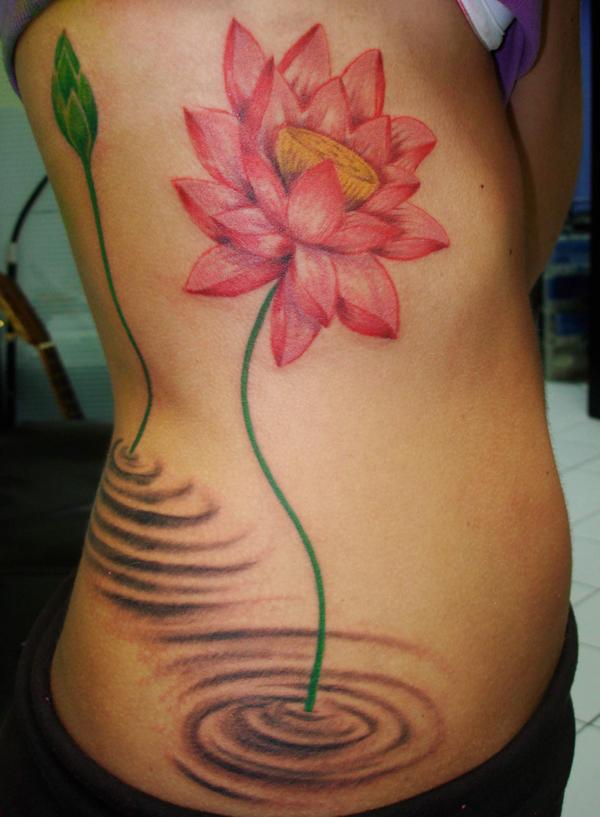 Although this tattoo is in several colors, those different colors does not affect the vast surface of the skin, but somehow discrete and beautiful woven into the whole picture. Not at all intrusive.
Butterfly and purple Lotus flowers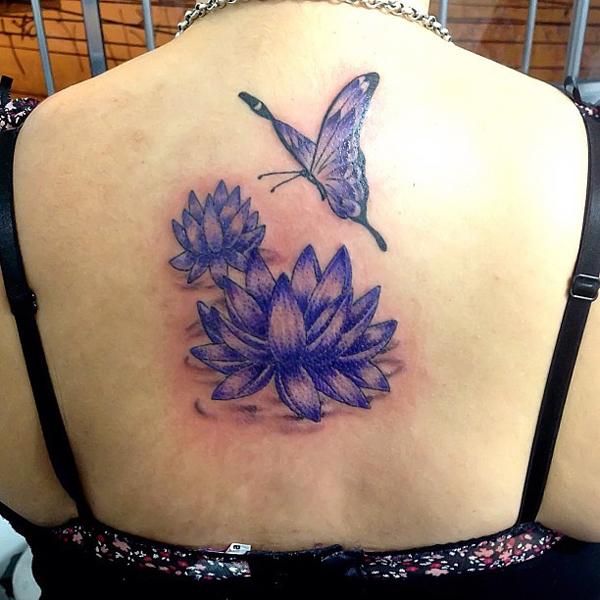 Tattoos are nice on the back especially if it is a beautiful and visible picture like this.
Dragonfly flying over lotus flowers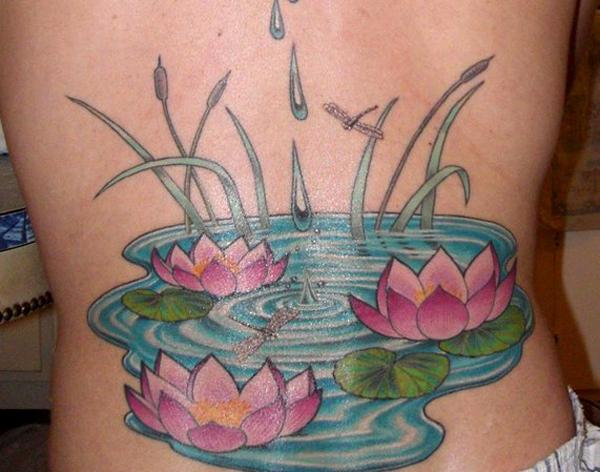 This tattoo would stand nicer on a canvas rather than on the body.
Lotus rib tattoo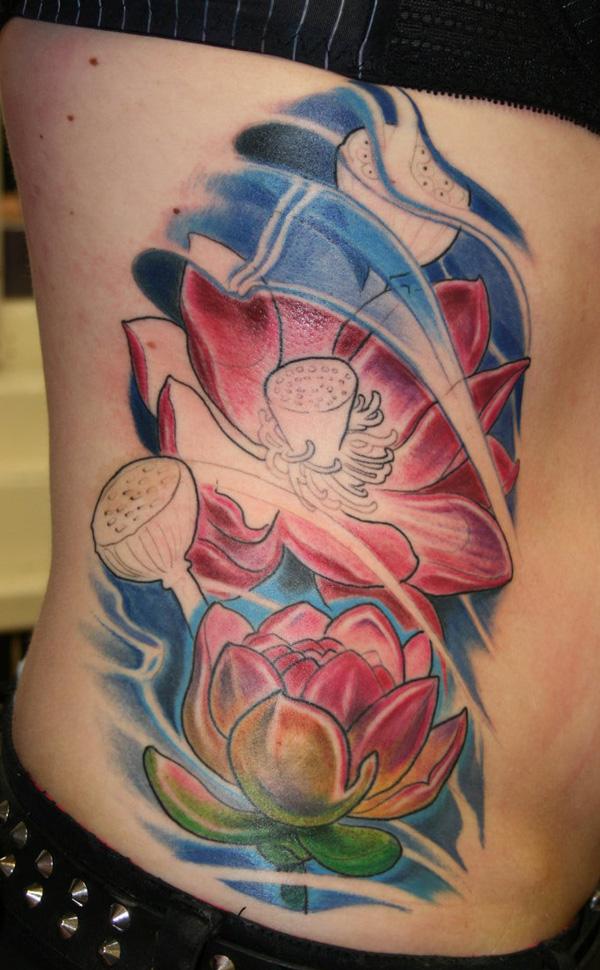 Before you decide what you would like to tattoo consult with tattoo master what he advises you to do and what he could best do to you.
Colorful lotus flowers side and stomach tattoo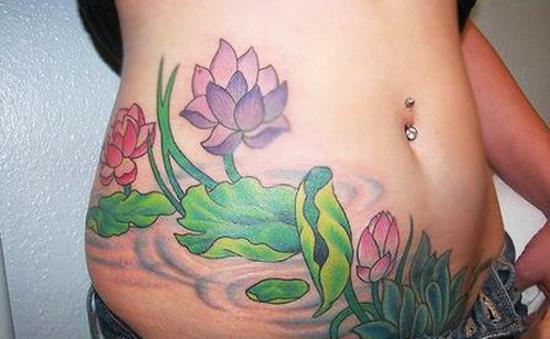 Before tattooing take care to inform yourself about the rules which you need to comply before tattooing.
Blue and red lotus flowers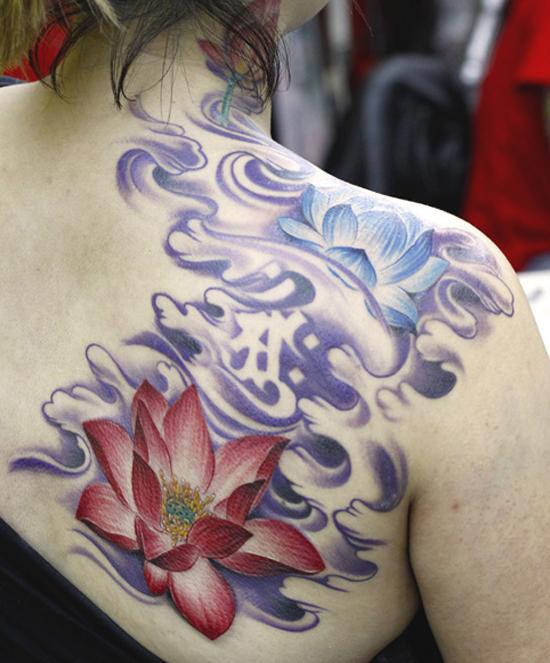 Red lotus is associated with love, and the blue with a win, so this tattoo could mean that love conquers everything.
Lotus and bamboo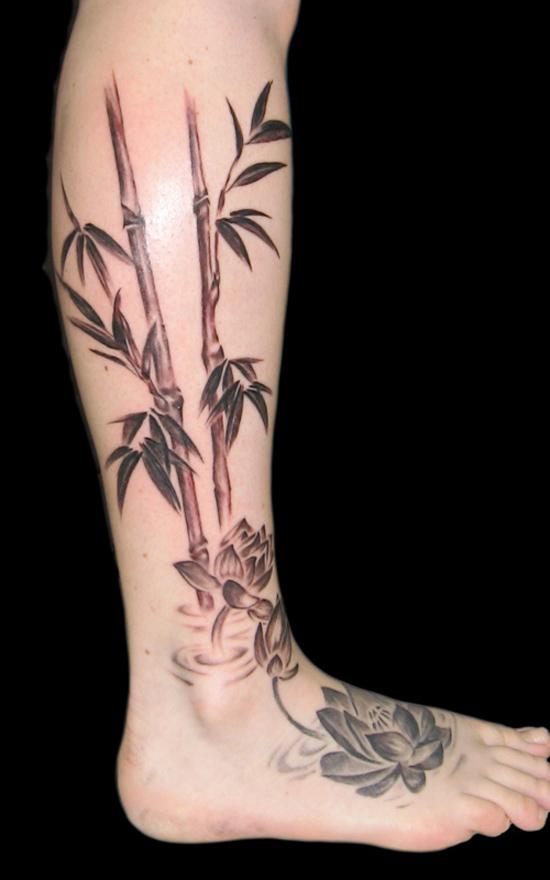 A narrow elongated tattoos are very seductive.
Lotus and Hibiscus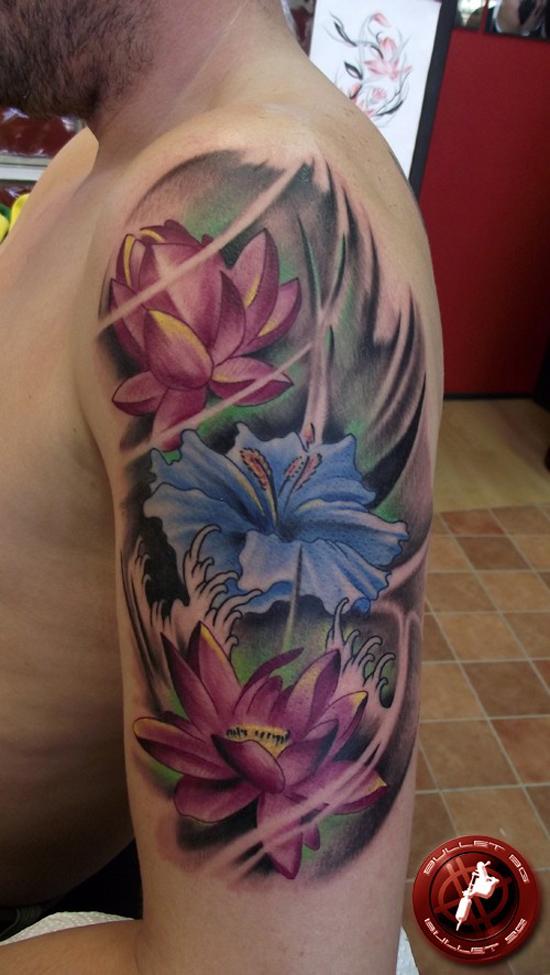 Although at this tattoo there are several different colors they are beautiful incorporated and do not look distorted.
In any size you do this picture it will nicely stand on any part of your body.
No mud no lotus tattoo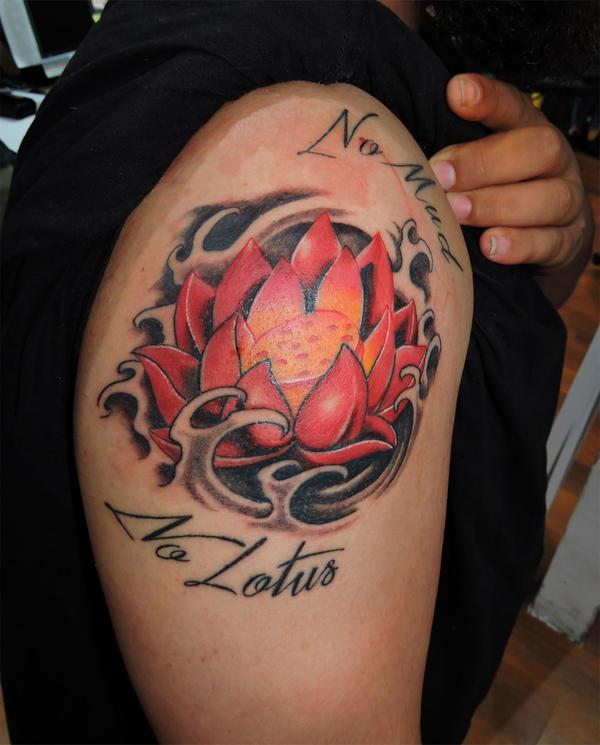 The phrase "No mud, no lotus" is a powerful Buddhist teaching that reminds us that suffering and happiness are not separate, but interdependent. A tattoo featuring a red lotus in water, depicted in the Japanese wave pattern, with the phrases "No mud" and "No Lotus" above and below the design, serves as a beautiful and poignant reminder of this teaching. This unique concept combines the beauty of the lotus with the symbolism of overcoming adversity.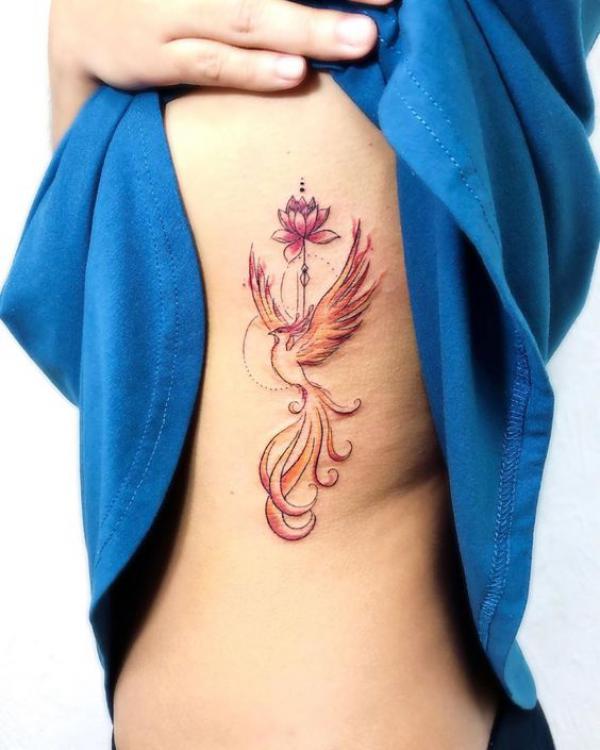 The phoenix, a mythical bird that rises from its own ashes, is a symbol of rebirth and renewal. Combining it with a lotus flower, which also symbolizes rebirth, can create a powerful image. A watercolor style tattoo of a phoenix rising above a lotus can be a vibrant and evocative depiction of personal transformation.
Pink rose on mandala lotus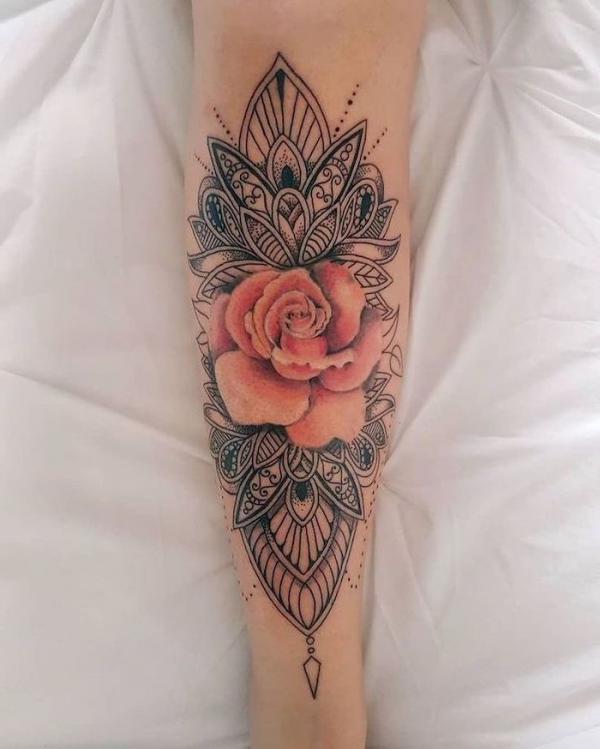 A pink rose nestled among the intricate patterns of a mandala lotus could make for a truly beautiful tattoo. The rose, a symbol of love and passion, combined with the spiritual significance of the lotus, makes for a deeply personal and intricate design.
Traditional lotus tattoo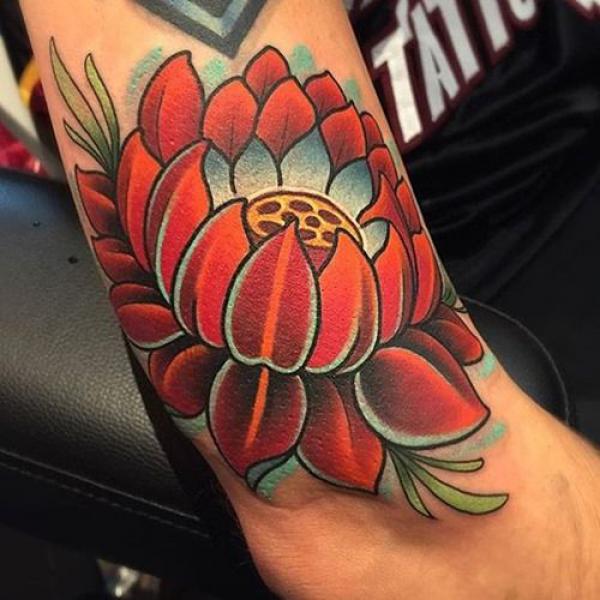 Tribal Phoenix rising from Lotus tattoo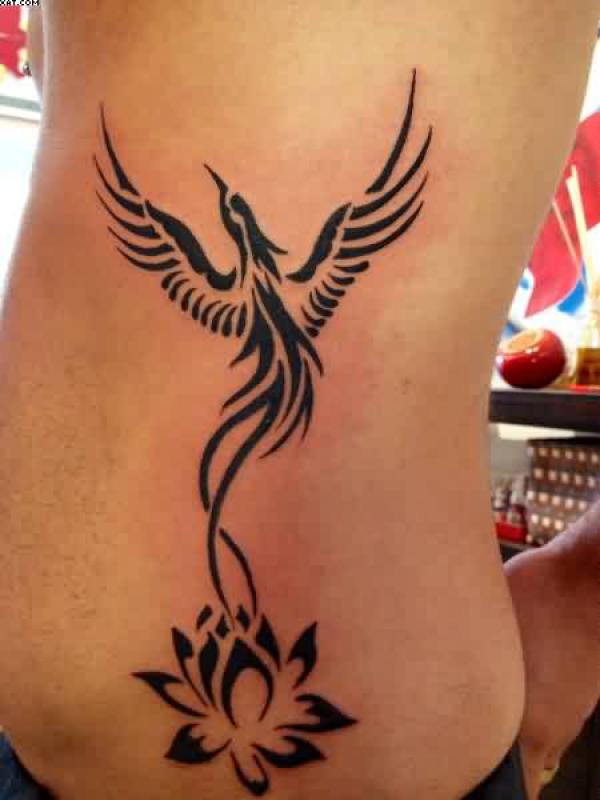 If you appreciate the aesthetics of tribal tattoos, consider the design of a phoenix rising from a lotus flower. The powerful lines and shapes of tribal design paired with the symbolism of the phoenix and lotus can make for a striking and meaningful tattoo.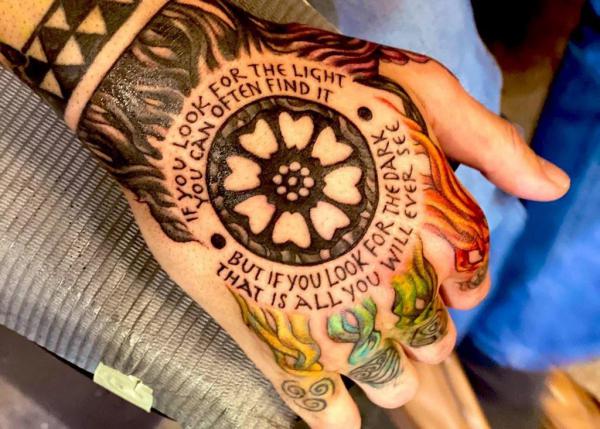 Fans of the "Avatar: The Last Airbender" series will recognize the white lotus as a symbol of wisdom and enlightenment in the show. Pairing the white lotus with a quote from Uncle Iroh, "If you look for the light you can often find it. But if you look for the dark that is all you will ever see," makes for a unique, meaningful, and geeky tattoo.
Lotus flower tree of life tattoo for female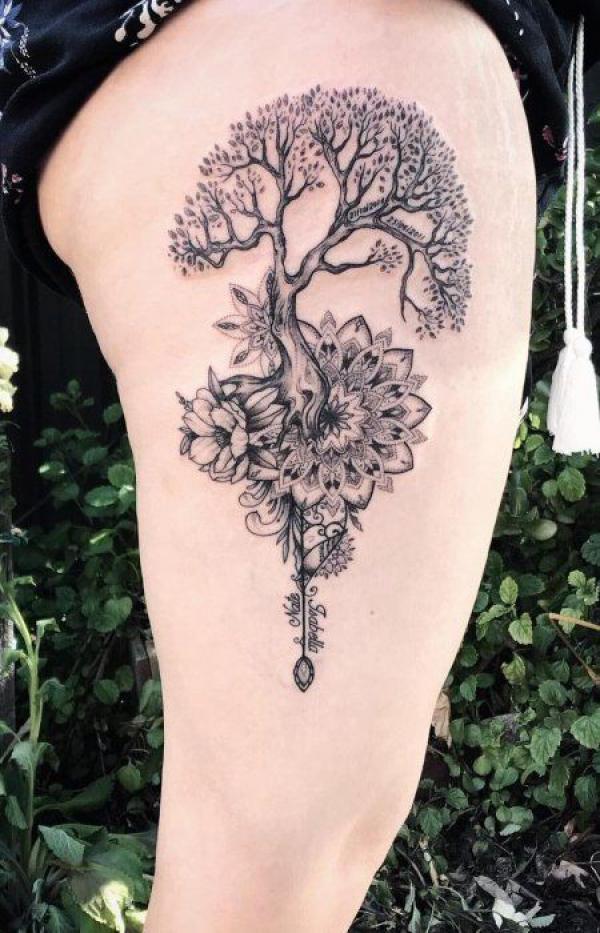 The tree of life symbolizes growth, strength, and connection to all life. The tree of life growing out of a lotus flower can symbolize personal growth and connection with the universe. This could make for a beautiful thigh tattoo in black and grey.
Lotus flower throat tattoo male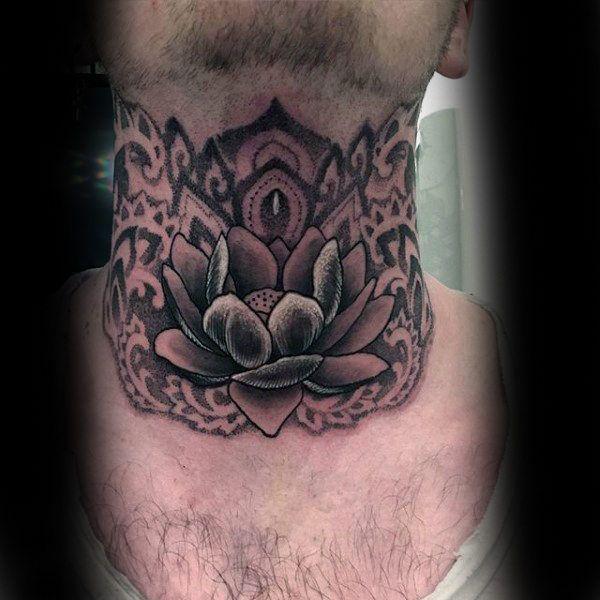 For something dramatic and bold, consider a lotus flower throat design. This can be an intricate and eye-catching design, and the throat is an assertive location that highlights your commitment to the symbolism of the lotus.
Black and white lotus avatar tattoo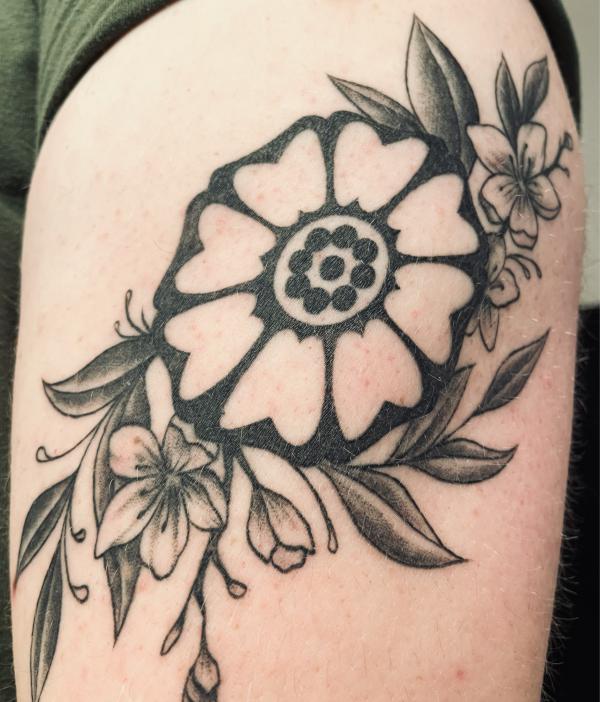 Burning lotus tattoo on thigh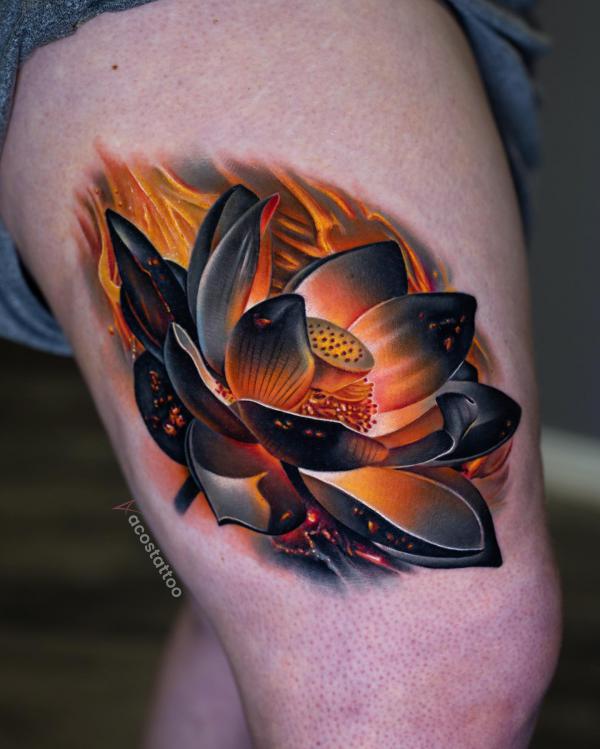 A burning lotus is a unique twist to the traditional lotus flower design. The flames symbolize transformation, passion, and the cleansing power of fire. It's a potent representation of the rise from struggles, akin to the lotus blooming from the mud. This tattoo can serve as a daily reminder of your strength and resilience in overcoming life's obstacles.
Lotus flower seed of life tattoo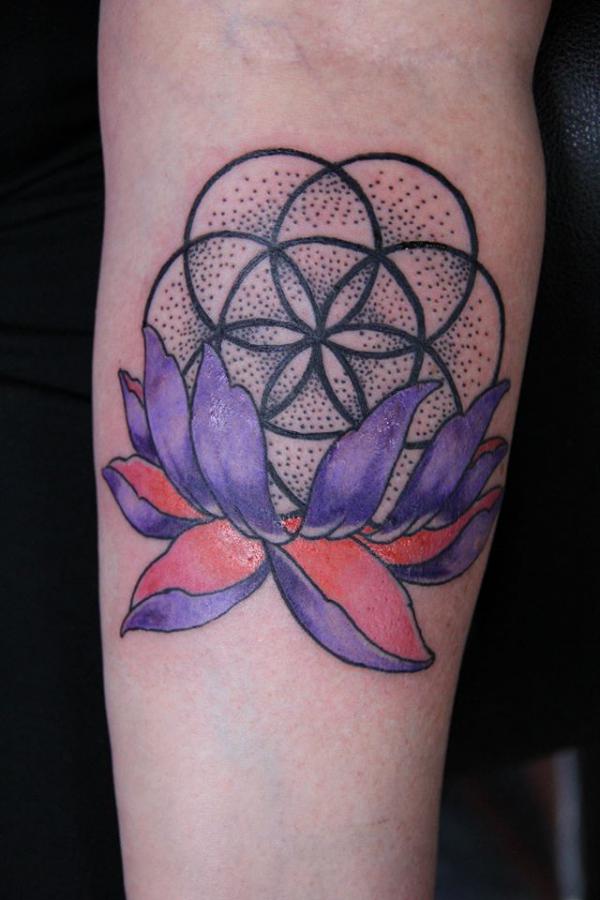 The "Seed of Life" is a symbol from sacred geometry, representing the seven stages of creation. When combined with the lotus flower, it symbolizes the journey of life, the growth, and the potential for unlimited possibilities. This tattoo design can be an emblem of personal growth and the continuous cycle of transformation.
Colored lotus unalome tattoo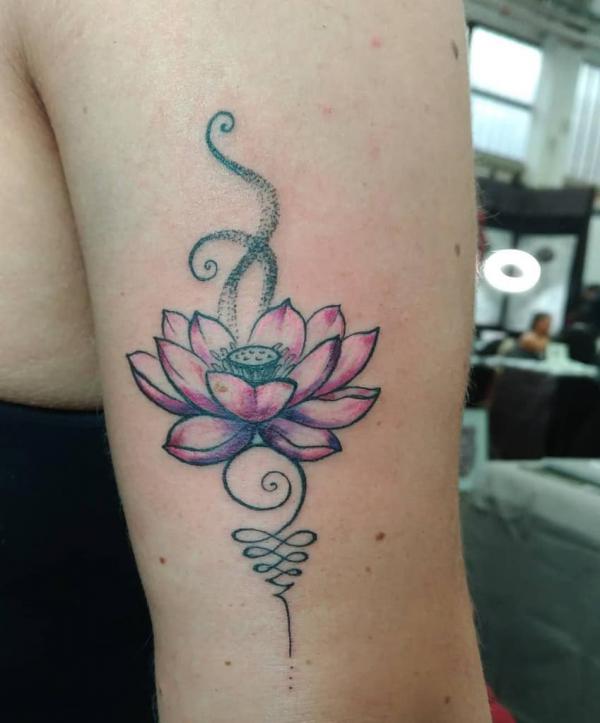 The Unalome symbol represents the path to enlightenment in the Buddhist culture. A colored lotus Unalome can be a vibrant and visually striking design. The Unalome leads to the center of the lotus flower, symbolizing the journey towards enlightenment, while the use of color can represent the diversity and richness of life's experiences.
Colored Lotus with OM symbol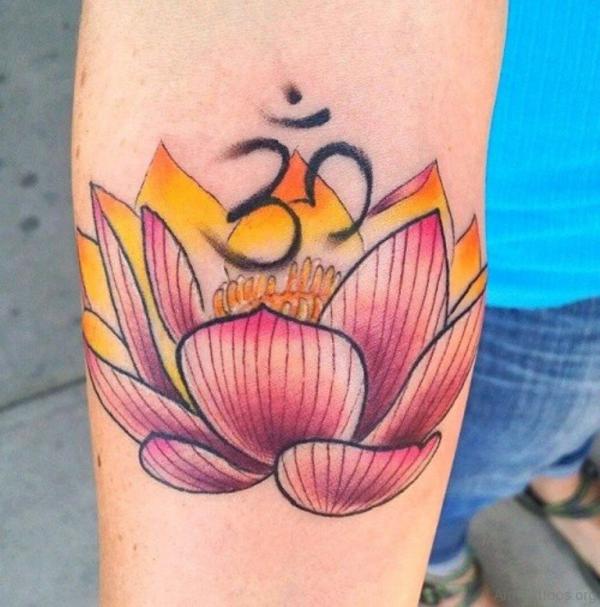 The OM symbol in Hinduism represents the sound of the universe. Combining a colored lotus with the OM symbol can create a visually appealing and spiritually rich design. It's a representation of the unity of mind, body, and spirit, and the individual's connection to the universe.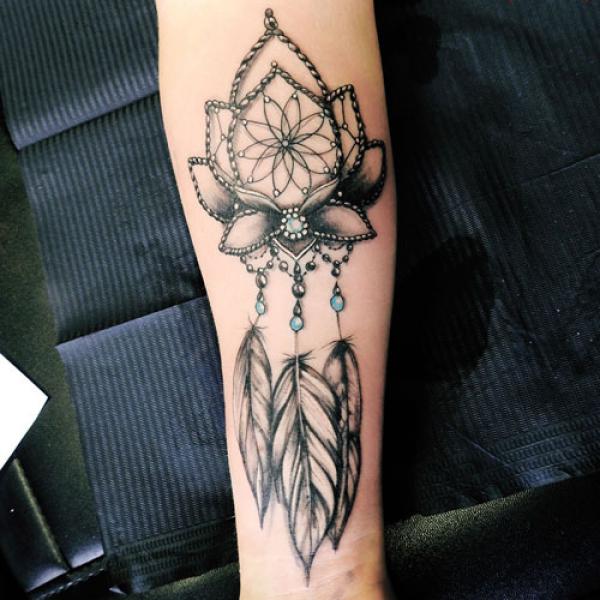 A dream catcher is a Native American symbol meant to protect the individual from negative dreams. When the wheel of the dream catcher is depicted as a stylized lotus, it combines two powerful symbols of protection and enlightenment. This design can serve as a personal talisman, symbolizing the catcher of bad energy and the blossoming of good.
Dark lotus tattoo
A dark lotus can be a captivating and somewhat edgy design. The contrast between the darkness and the beautiful lotus flower can symbolize the balance between light and dark, struggle and beauty, chaos and order. This design can be a powerful metaphor for life's contrasts and the beauty that can bloom from darkness.
Lotus arrow tattoo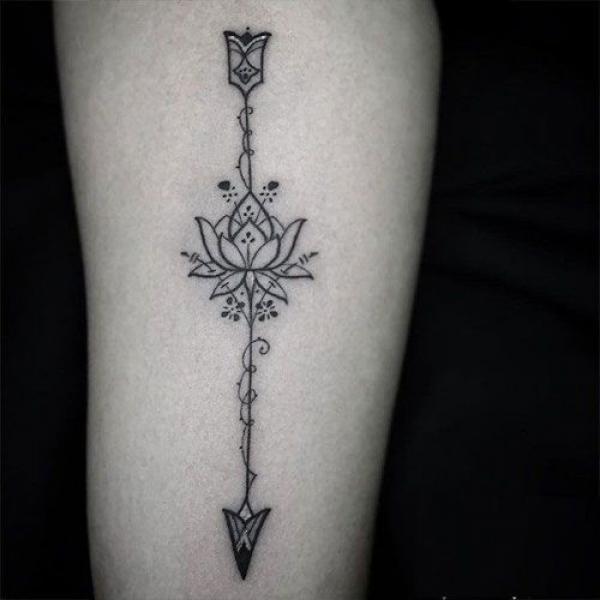 An arrow through a lotus flower can signify focus, direction, and movement forward, despite the adversities symbolized by the lotus flower. It's a motivational design that can remind you to stay focused on your path and keep moving forward, no matter what challenges you face.
Lotus and moon phase tattoo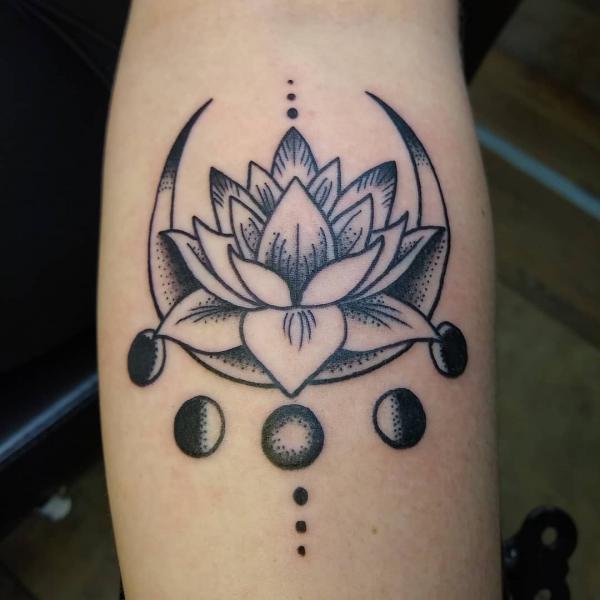 The moon not only affects the tides but also symbolizes the rhythm of time, change, and cyclic nature of life. A lotus and moon phase tattoo, or a mandala lotus with stylized moon and sun, can represent the cycles of life, growth, and transformation, just as the lotus blooms anew each day and the moon changes each night.
Hamsa lotus with eye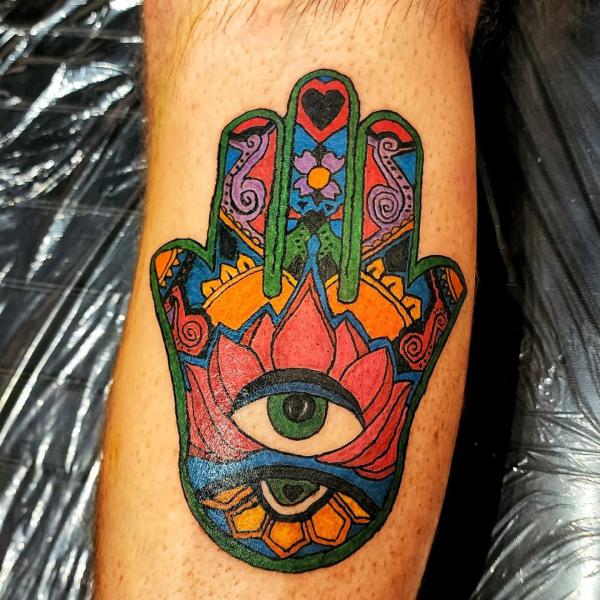 Lotus heart tattoo dotwork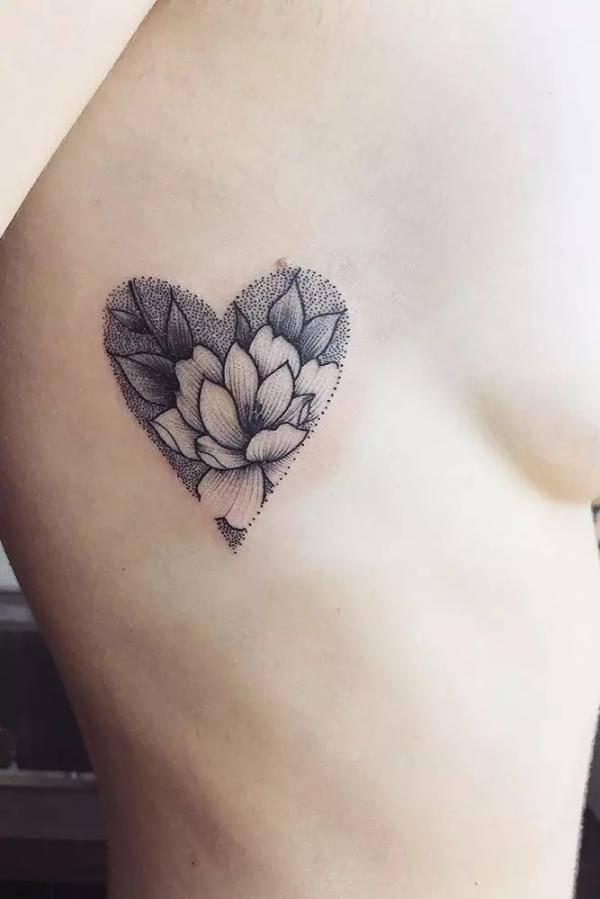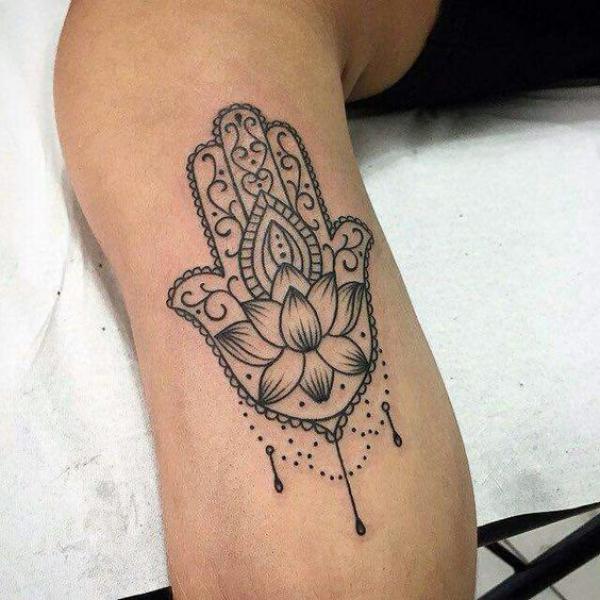 Placement ideas for the Lotus Flower Tattoo
The placement of a lotus flower tattoo can be influenced by factors such as desired visibility, personal pain tolerance, and the specific design of the tattoo. From small, delicate designs on the finger or ankle to larger, more detailed pieces on the back or thigh, the lotus flower can be adapted to fit almost any placement. Now, let's examine some of the most common placements and their suitability for different designs.
Leg
The leg can accommodate both large and small lotus designs. Being a moderately painful area, it's well-suited to first-time tattoo recipients and those who prefer a design that can be easily concealed or displayed.
Watercolor Lotus flowers tattoo on both legs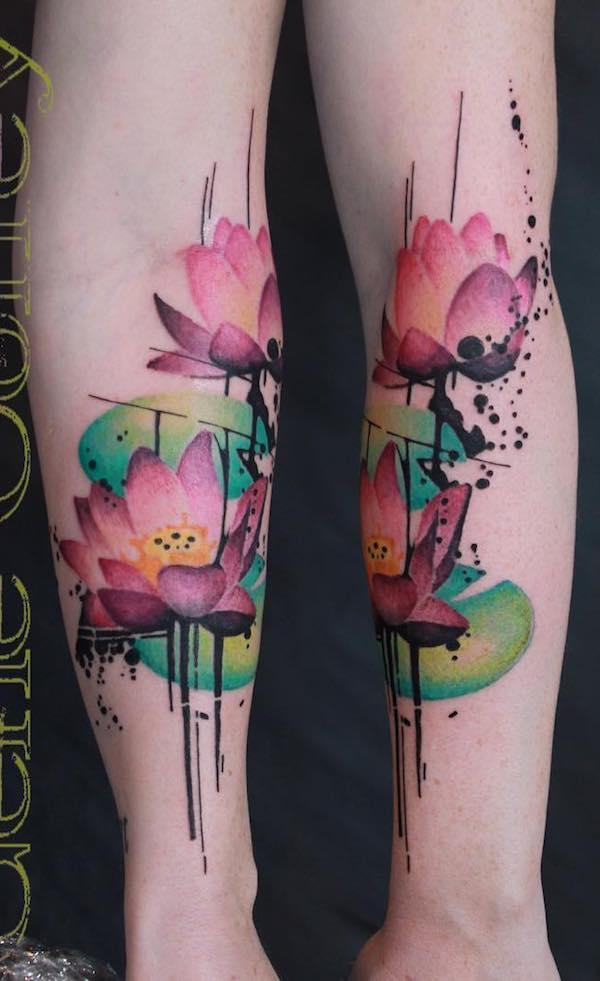 Two captivating lotus flower blooms are rendered in a watercolor style. Symbolizing purity and enlightenment, the lotus flowers create a visually stunning and meaningful design. The watercolor hues adds a vibrant and ethereal touch, enhancing the beauty and grace of this leg tattoo, making it a vibrant and artistic expression of inner growth.
Feminine pink lotus flower leg tattoo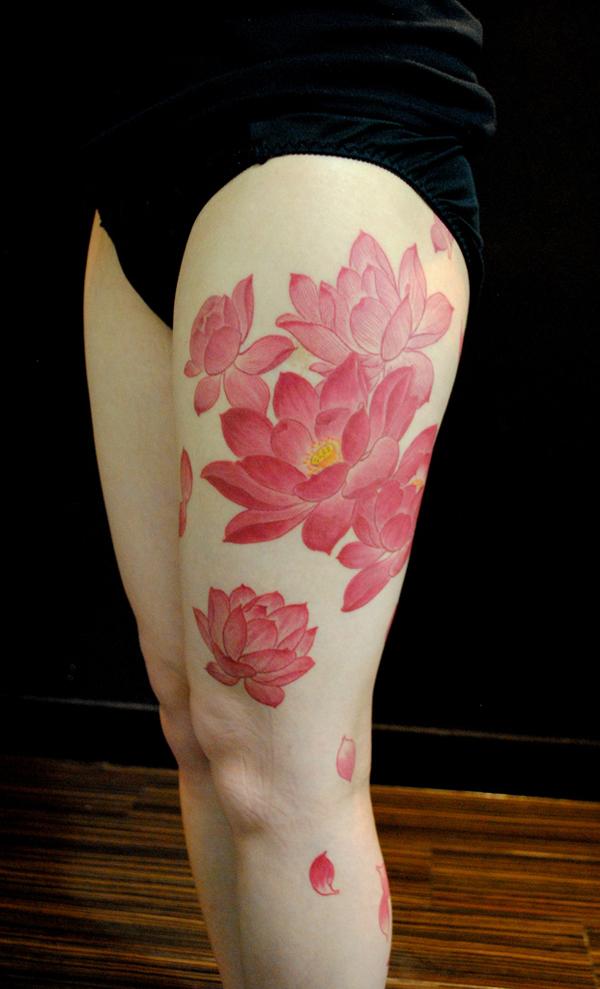 The feminine lotus design showcases delicate beauty and grace. The lotus, depicted in soft pink hues, radiates a sense of femininity and serenity. The falling petals add a touch of movement and evoke a poetic charm, symbolizing the transient nature of life. This captivating design embodies elegance and serves as a reminder to embrace change and find beauty in every stage of our journey.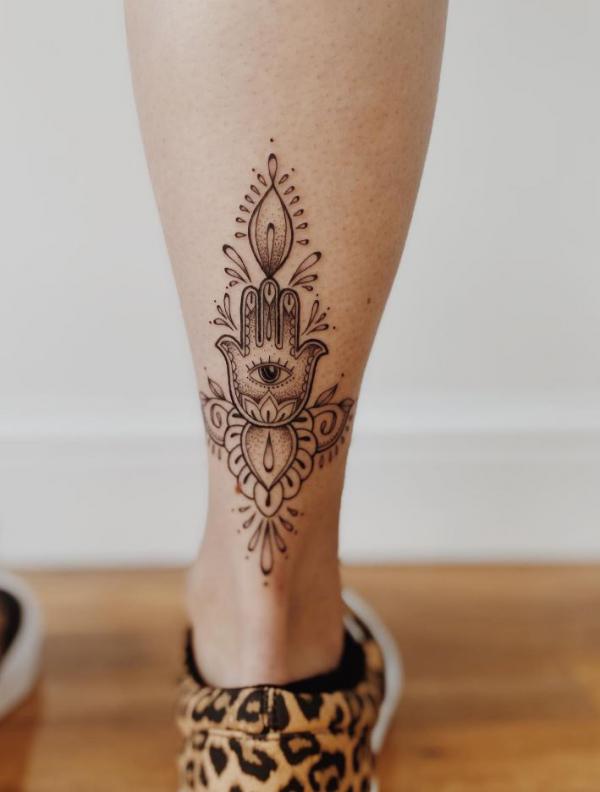 Shoulder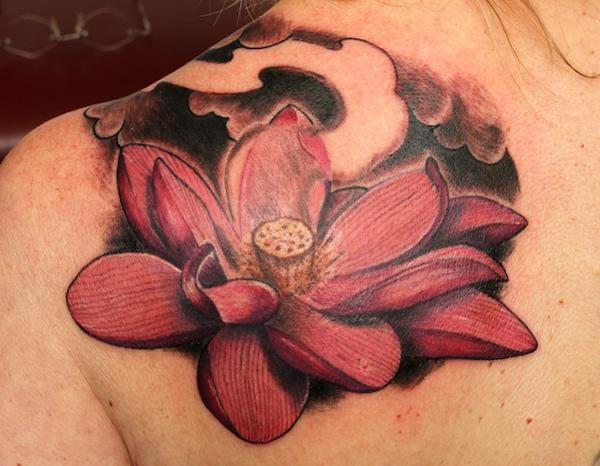 The shoulder is a versatile spot for lotus tattoos, capable of supporting both intricate and simple designs. Being less painful and easily concealable, it's a great option for those who want flexibility.
Negative space lotus tattoo on shoulder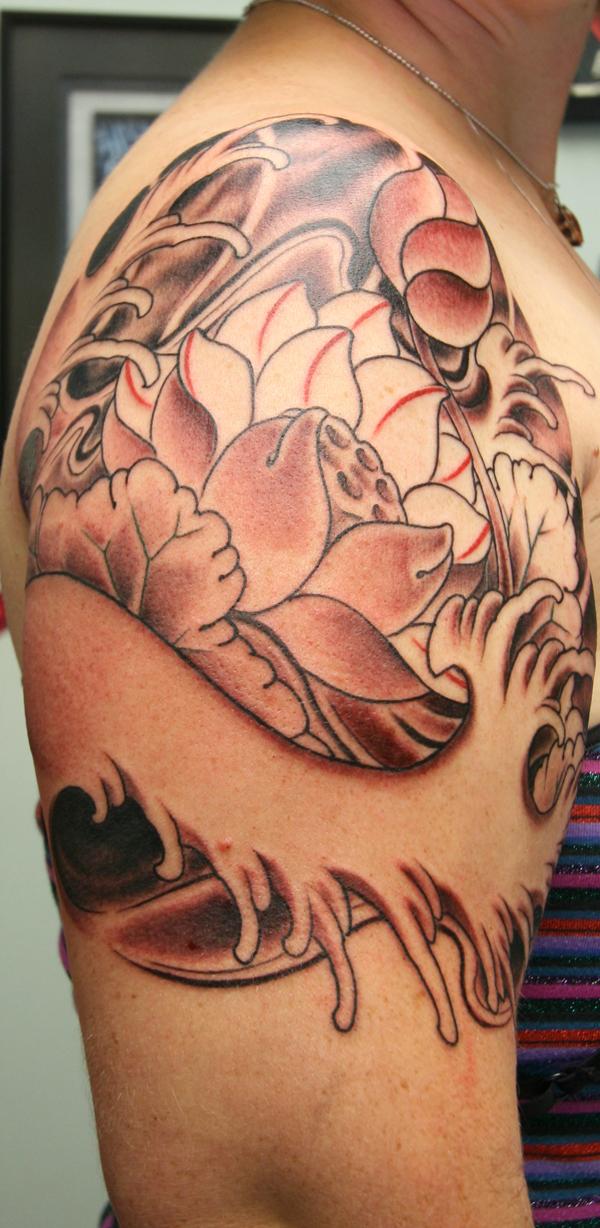 The compelling design uses the skin's natural tone to illustrate a lotus flower and surrounding waves. The lotus, a symbol of purity and rebirth, emerges from the tumultuous waves, signifying resilience and tranquility amidst chaos. This unique, minimalist approach creates a visually striking and symbolic tattoo.
Sketchy lotus drawing tattoo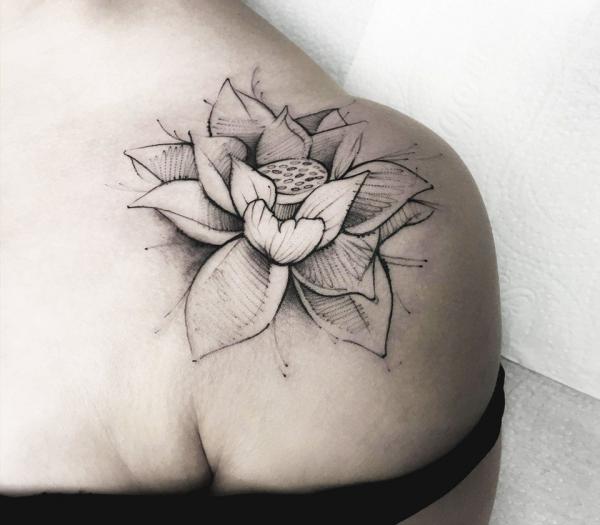 Sketchy or freehand style tattoos have a unique charm and can give your tattoo a personal touch. A sketchy lotus drawing on the shoulder can be a beautiful piece of body art, symbolizing purity, spiritual awakening, or personal growth.
Hand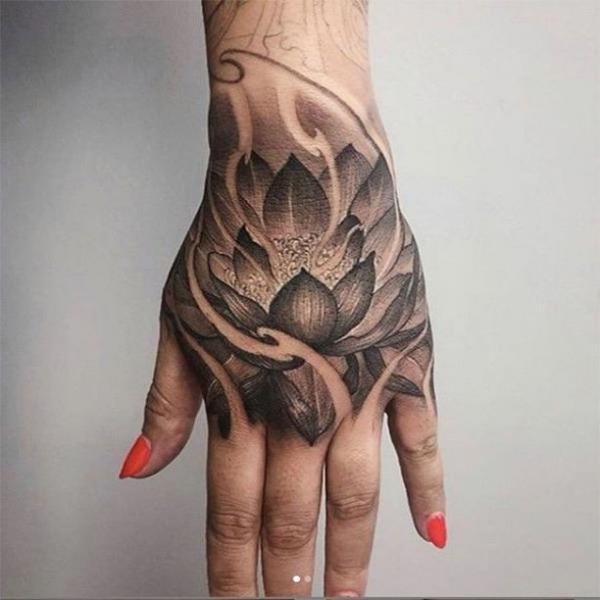 Hand placements are perfect for smaller, detailed lotus designs. Highly visible yet painful due to thin skin and bone proximity, they're a bold choice for tattoo enthusiasts.
Yellow lotus hand tattoo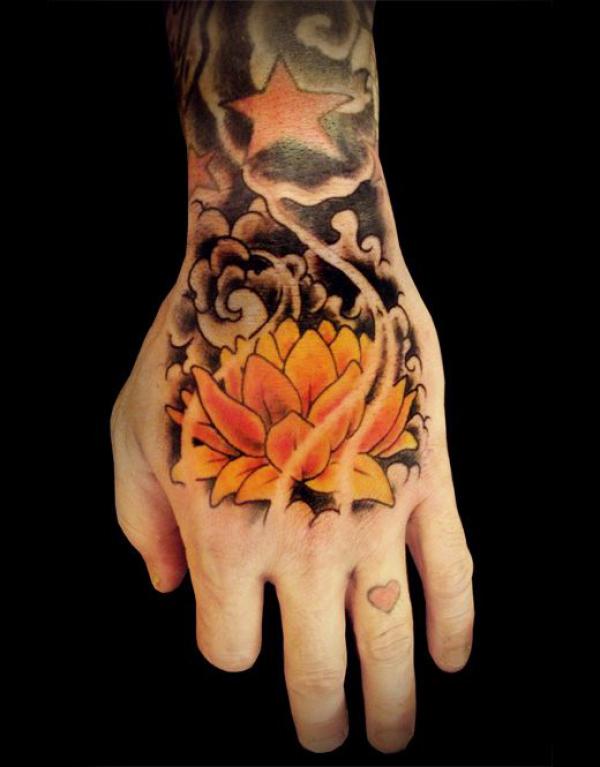 The yellow lotus symbolizes spiritual ascension and enlightenment. A design of a yellow lotus in a dark water pattern on the hand, combined with a love symbol on the finger, can be a beautiful and symbolic piece of body art.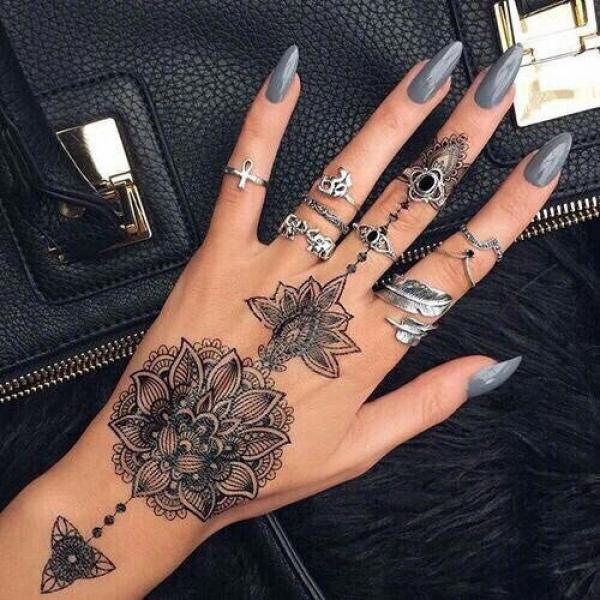 A mandala is a spiritual symbol representing the universe in Hinduism and Buddhismn. The lotus design can represent the intricacy of life, the beauty within complexity, and the interconnectedness of all things.
Thigh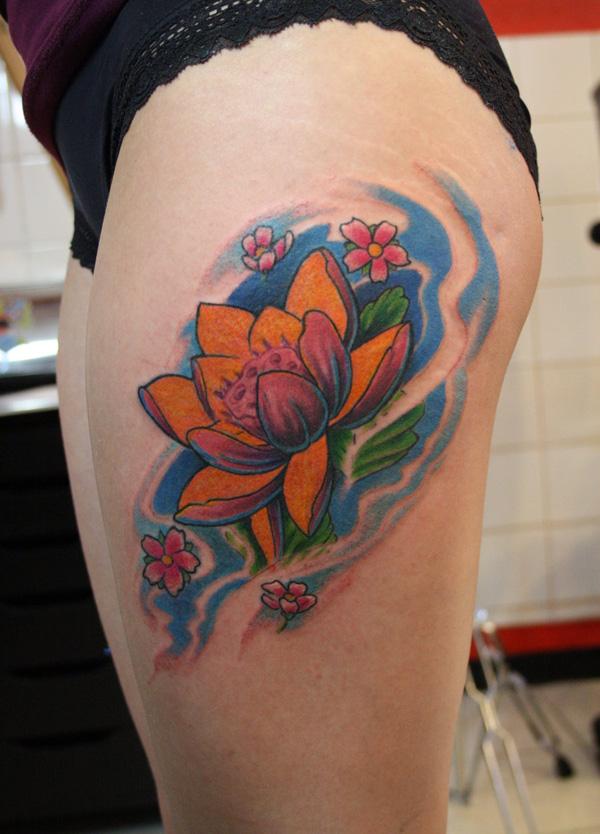 The thigh, less sensitive and spacious, is ideal for larger, detailed lotus designs. Its visibility can be easily controlled, making it a popular choice for more private individuals.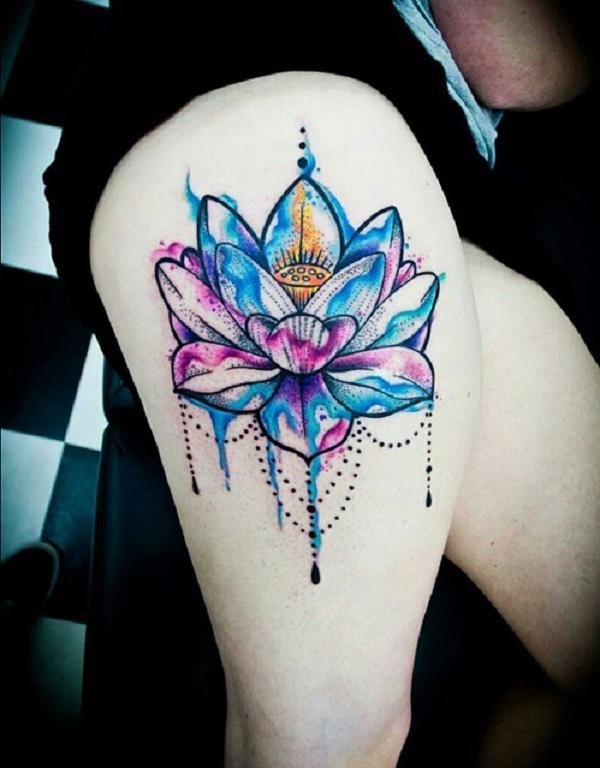 The lotus flower bracelet tattoo, in watercolor style, gracefully adorns the thigh with its vibrant hues. The delicate lotus blooms encircle the thigh like a beautiful bracelet, symbolizing purity and enlightenment. The watercolor style adds a soft and artistic touch, creating a captivating and feminine design that celebrates the beauty of the lotus and personal transformation.
Cat and lotus flower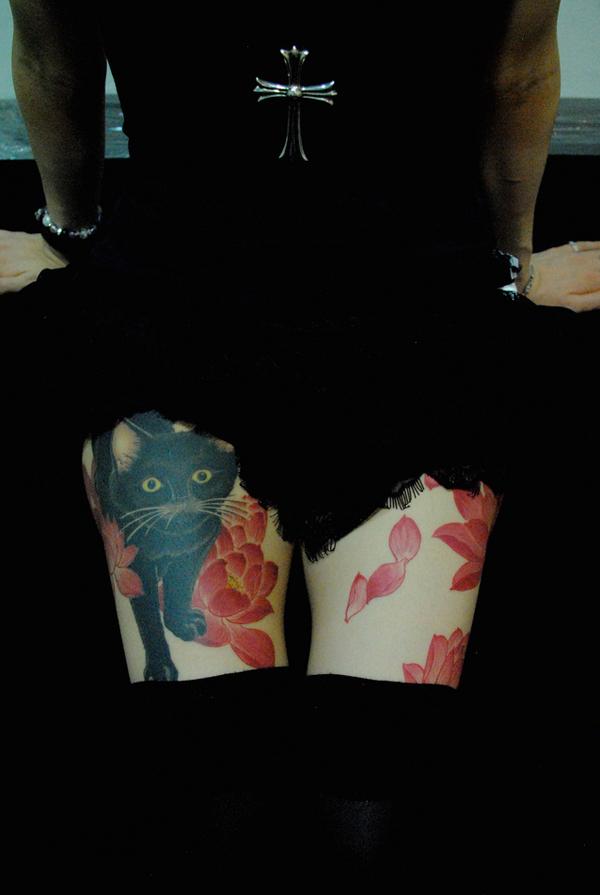 The cat and lotus flower design adorns the female thigh with grace and symbolism. A feline, representing independence and mystery, intertwines with a delicate lotus flower, symbolizing purity and enlightenment. This captivating fusion of elements creates a meaningful tattoo that celebrates femininity, inner strength, and the beauty of nature.
Back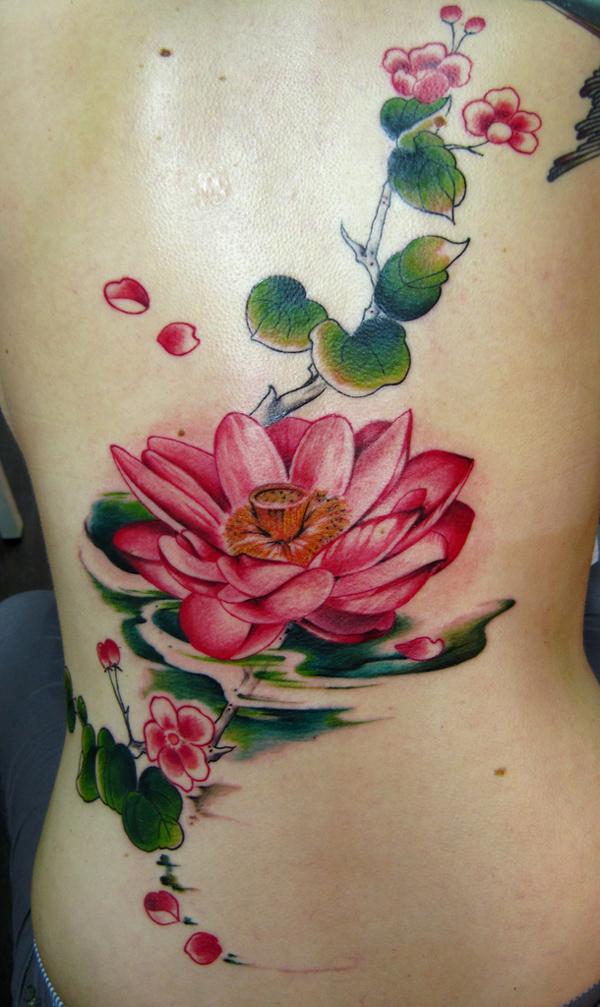 The back provides an extensive canvas for large, elaborate tattoos. However, it is also a good idea to place a small lotus design on the back. While less sensitive, its visibility is low unless you're wearing clothing that exposes it.
Lotus mandala back tattoo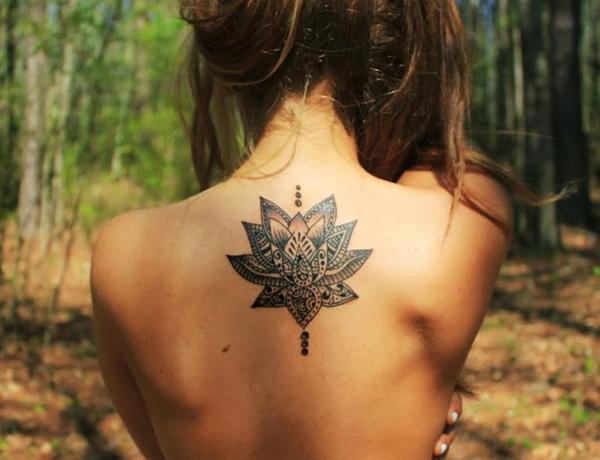 Inked symmetrically on the spine, the mandala lotus captures the essence of balance and harmony. The intricate patterns and geometric shapes create a mesmerizing visual experience, symbolizing unity and the connection of all things. This powerful tattoo serves as a constant reminder to find inner peace and embrace the beauty of the present moment.
Lotus flower tattoo on the back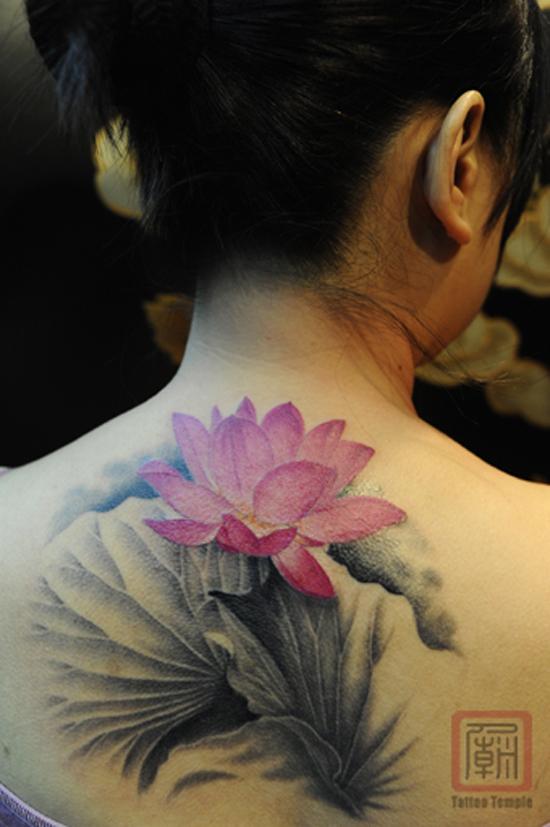 Neck
The neck is suitable for smaller, delicate designs. Though it's a moderately painful spot, it offers high visibility, making it a striking choice.
Lotus flower of life tattoo for male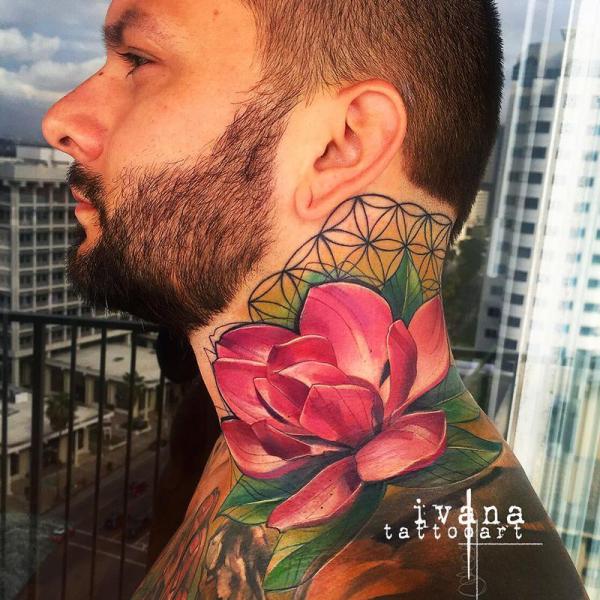 The large tattoo can be an impressive and masculine design, stretching from the neck to the shoulder. The size and placement allow for intricate detailing, and the lotus flower of life can symbolize the connection of all life and the individual's place within it. This design can be a powerful statement and an expression of personal philosophy.
Large lotus flower on the back of neck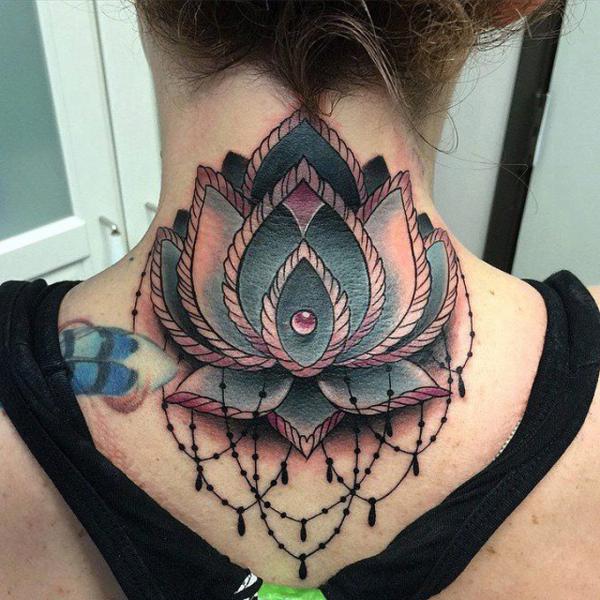 The large lotus flower design can be a subtle yet powerful statement for females. It's a place that's often hidden but can be revealed with an updo or off-the-shoulder outfit. This tattoo design can remind the wearer of her inner strength, resilience, and capacity for growth and transformation.
Finger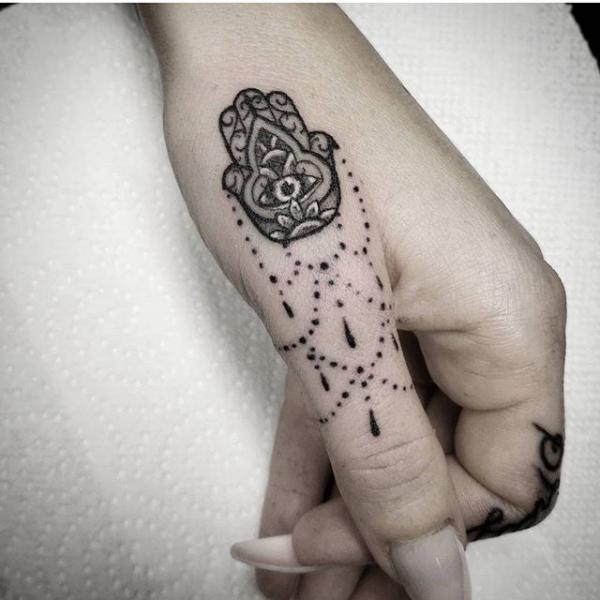 Finger placements are best for tiny, simple designs. Though highly visible, they can be quite painful due to the proximity to bone.
Shoulder Blade
The shoulder blade can accommodate medium to large designs. Being a less sensitive area, it's a great choice for those who want a tattoo that's easy to conceal.
3 lotus flowers tattoo on shoulder blade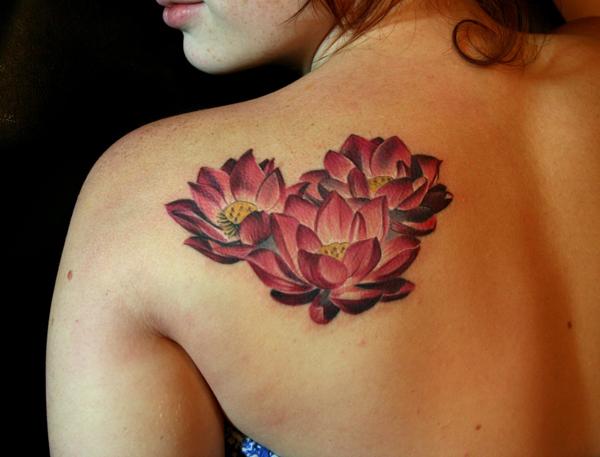 The petals of the lotus flower open when the sun rises and closes in the evening when the Sun goes. After a few days (about four), it becomes darker and darker, slowly wilt and fall off.
Black and white Lotus and wave shoulder blade tattoo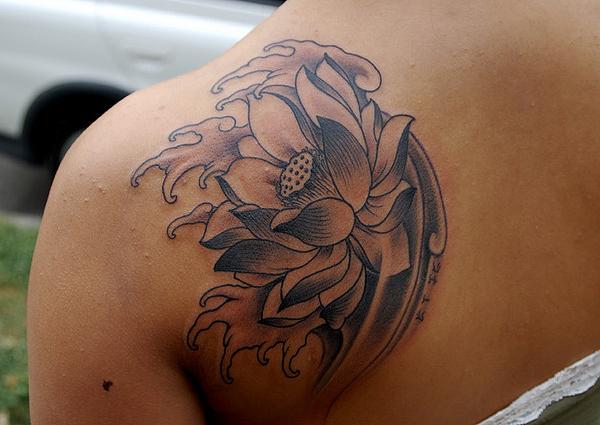 Simple done nice tattoo on her shoulder in black color will stand nicely to every girl.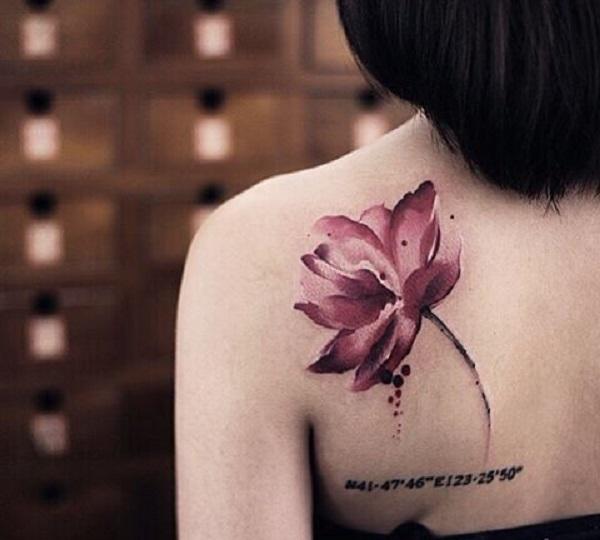 Watercolor lotus painting tattoo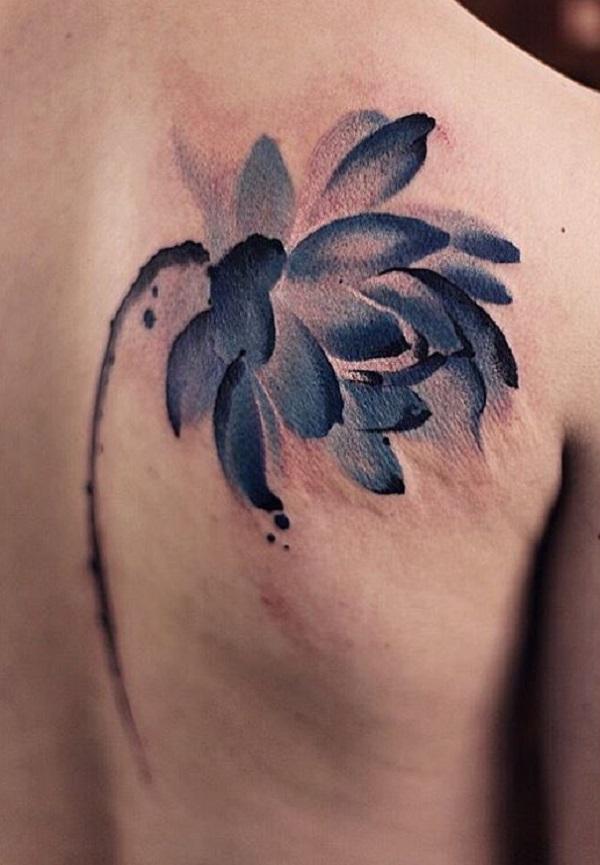 Sternum
The sternum is best for small to medium-sized designs. While it offers a unique and easily concealable location, it can be quite painful due to the thin skin over the bone.
Mandala lotus flower sternum tattoo
The mandala lotus design embodies feminine beauty and spiritual significance. With intricate patterns and delicate details, this tattoo gracefully adorns the sternum. The addition of hanging bracelets adds a touch of elegance, symbolizing adornment and self-expression. This beautiful tattoo is a lasting sign of inner power that shows how resilient and strong you are. At the same time, it shows the blossoming of a person's true soul, blending art and spirituality in a clever way.
Low Back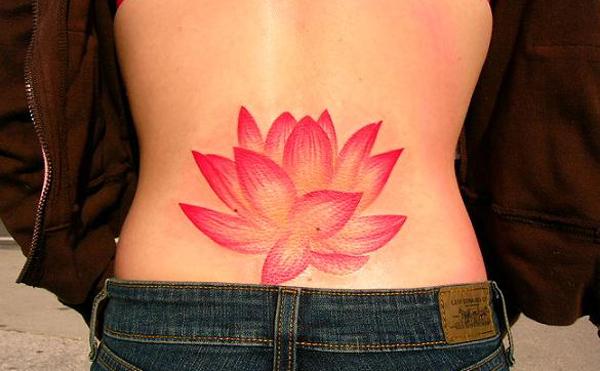 The low back is ideal for medium to large designs. It's less painful and the tattoo can be easily concealed, making it a popular choice.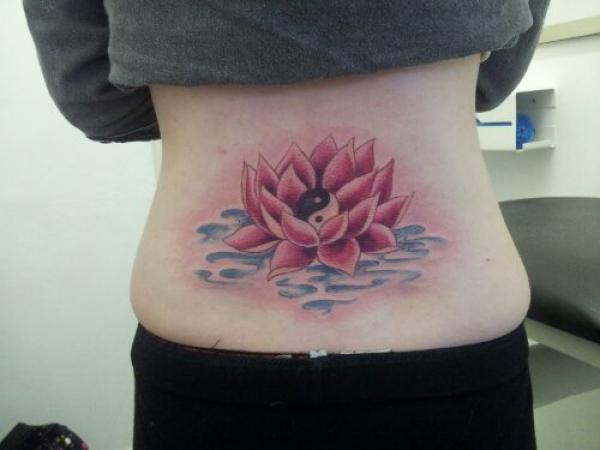 The Yin Yang symbol represents balance and harmony in Chinese philosophy. A design of a pink lotus with a Yin Yang bud can make for a beautifully balanced and harmonious design.
Koi fish and lotus low back tattoo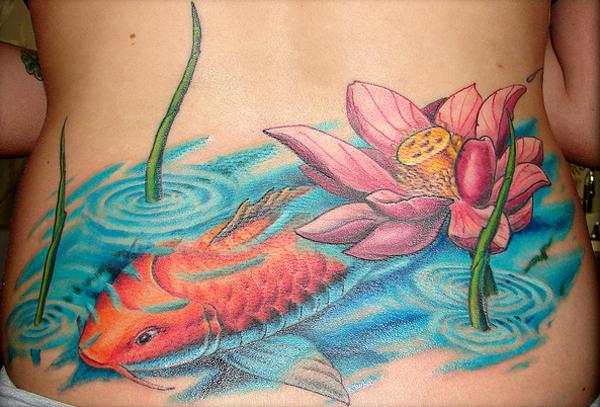 Great tattoo in the lower part of back in a lot of different colors. I think that perhaps this whole picture in one color, preferably black, was much more attractive. Well, if you're a fan of tattoos in various colors, do it, man should pamper to himself!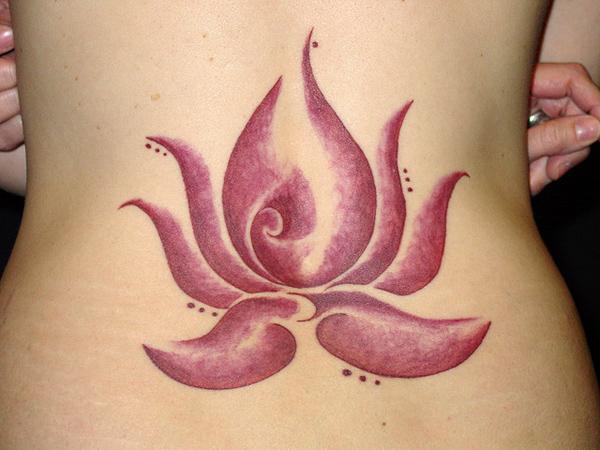 Calf
The calf can support medium-sized designs. It's a moderately painful area with good visibility, especially when wearing shorts or skirts.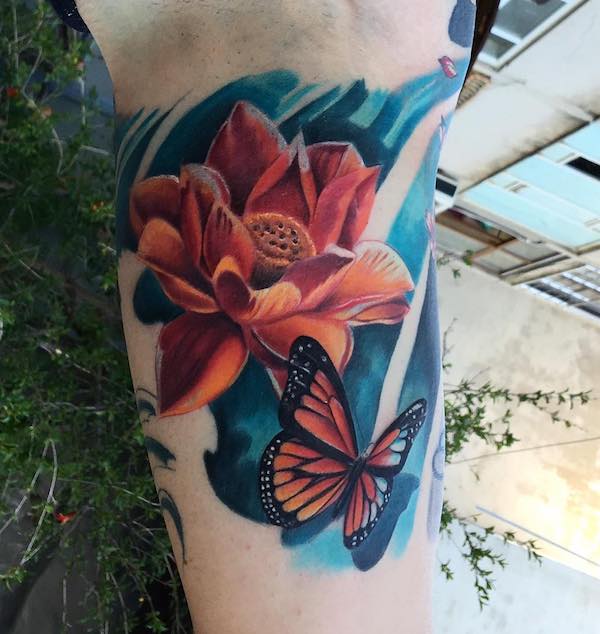 The calf piece featuring a realistic butterfly near lotus flower creates a harmonious and enchanting composition.The delicate details of the lotus flower stand for spiritual awakening and purity, while the butterfly's appearance stands for change and freedom.. This design celebrates the beauty of nature's cycles and captures the essence of personal growth and renewal.
Ankle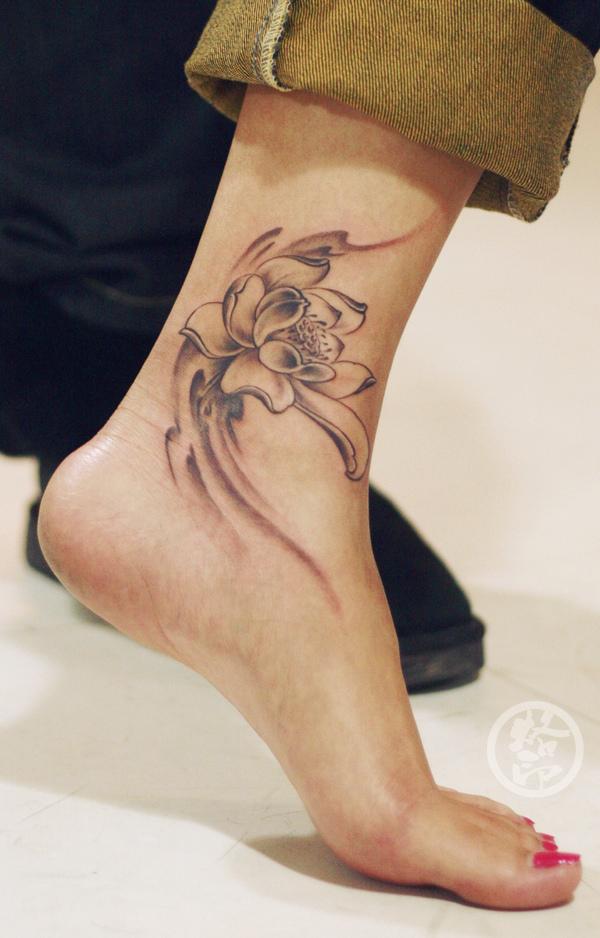 Ankles are suitable for small, simple designs. Despite being quite visible, they can be painful due to the close proximity to bone.
Minimalist lotus outline ankle tattoo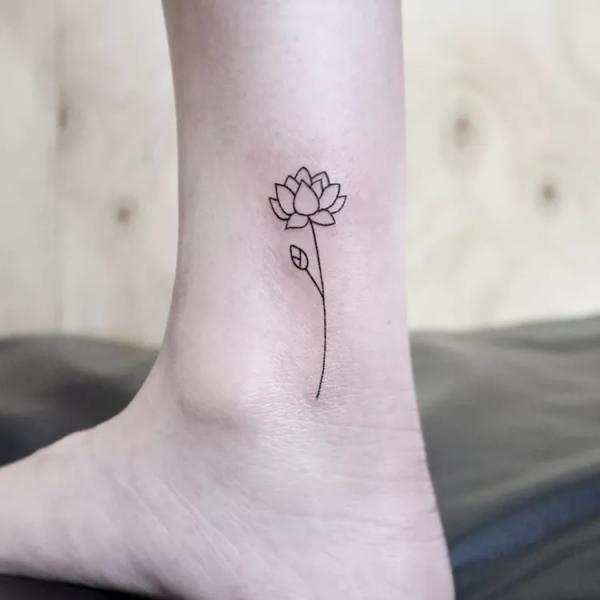 For those who prefer a subtler, more minimalistic approach, a simple lotus outline on the ankle can be an elegant choice. This design can be a gentle reminder of personal growth and the potential for beauty to emerge from adversity. Despite its simplicity, it carries a profound meaning.
Forearm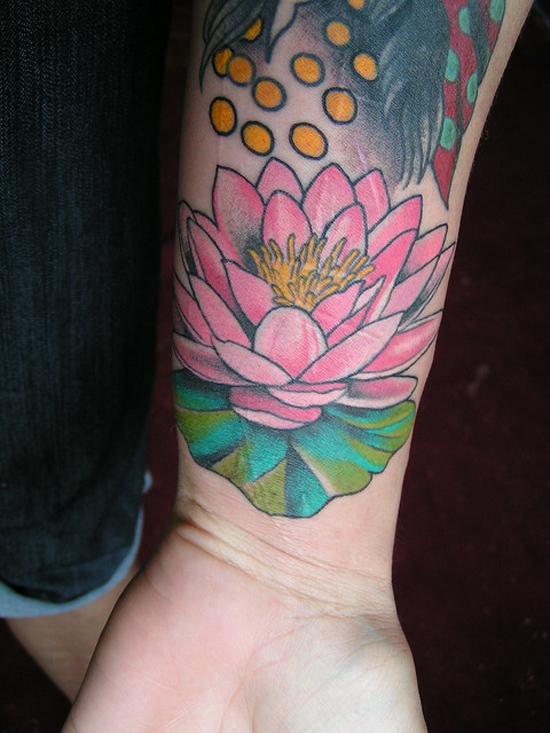 The forearm is a popular spot for medium-sized designs. It offers high visibility and is moderately painful, making it a great choice for those who want their tattoo to be seen.
Simple lotus outline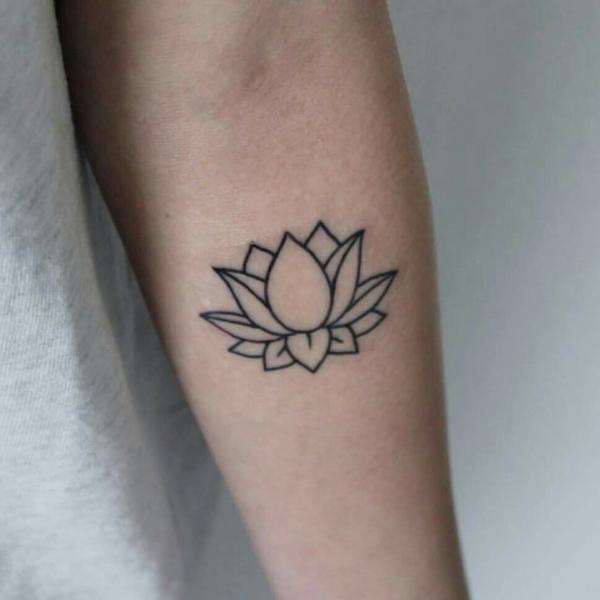 Sometimes, simplicity speaks volumes. A simple outline of a lotus flower on the forearm can be a subtle but powerful statement. This minimalistic design can be a reminder of personal growth, tranquility, and the beauty of emerging through difficult times.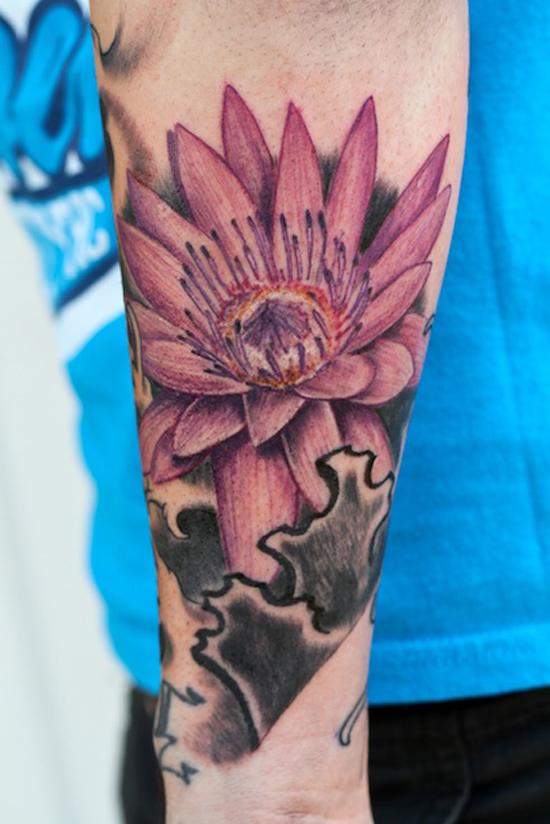 Sleeve
A sleeve tattoo that incorporates a lotus design can be a stunning choice. It's a commitment to a large, visible design and can cause moderate to high pain due to the size and complexity.
Black and white lotus sleeve tattoo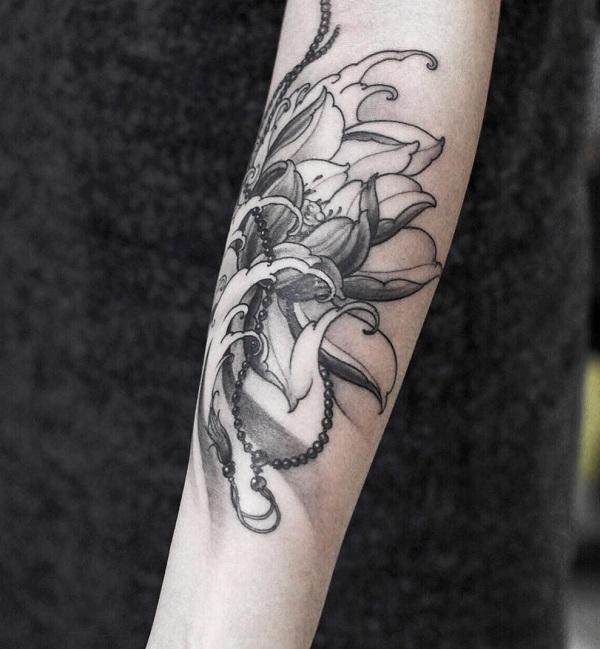 Beautiful lotus sleeve tattoo female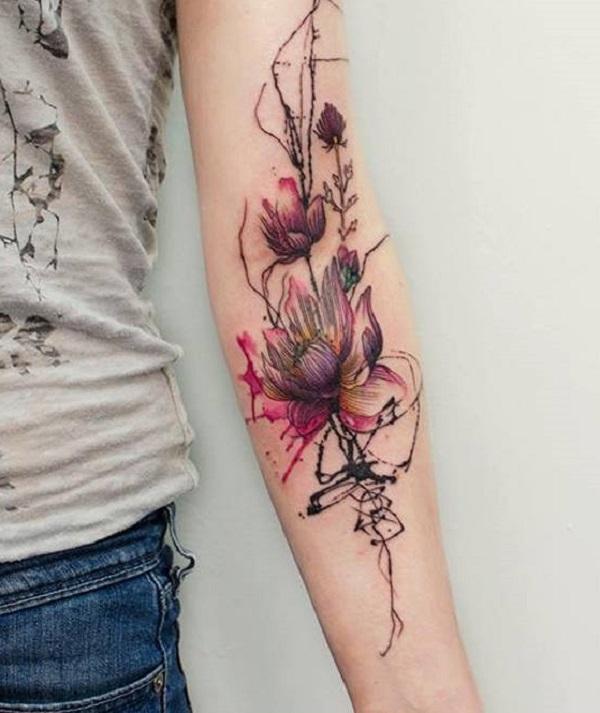 Why Choose a Lotus Flower Tattoo?
The beauty of the lotus flower tattoo lies in its versatility and depth of meaning. It's a design choice that can be deeply personal, reflecting the wearer's unique journey, personal beliefs, and aspirations.
For those who have overcome adversity, the lotus flower tattoo can serve as a powerful symbol of transformation and rebirth. For those on a spiritual path, it can symbolize their journey towards enlightenment and their commitment to wisdom and understanding. And for those who aspire to love, compassion, and connection, the lotus flower can stand as an emblem of their open heart.
Moreover, the lotus flower tattoo allows for personalization through color choice and the addition of other symbols. It's a design that can evolve with the wearer, reflecting their growth and transformation.
Conclusion
In conclusion, the lotus flower tattoo embodies a rich tapestry of meanings and cultural significance. It's a testament to the human spirit's ability to rise from adversity and bloom in its full glory. It's also a symbol of our journey towards enlightenment, our capacity to love and connect, and our quest for wisdom and knowledge.