The tattoo is one of the greatest ways of self-expression. To wear a tattoo is in a way a part of a cool artistic tradition that goes back to the ancient times. Hamsa tattoo serves as a talisman in most cases. It embraces a deep mystical sense. The hamsa tattoo bearer can wear it facing up or down. Hamsa tattoo gives its own happiness, harmony, protection, health, endurance, fortitude and success.
Both men and women tried to decorate their bodies with the help of tattoo and this tradition keeps for today.
An ancient sign is the best choice for the meaningful tattoo. One of such ancient signs, that is so popular and widespread among people who wish to ink the tattoo is hamsa. The word "hamsa" marks five. Hamsa is known as a protective talisman in the form of palm. Hamsa is also called the Hand of God. It commonly depicts as a symmetrical palm with two thumbs on the both sides.
A blue color is frequently used as the best one for a hamsa tattoo (as blue color can protect everybody from dispelling evil eye). Sometimes it happens dark blue or turquoise ones.
As you'll see from our examples hamsa often inks with some supplementary signs. For example, eye, star of David, elephant, owl, fish, jewels, red flowers, kinds of roses, colorful leaves and so on. These magic symbols increase the power of this tattoo and transform a little the tattoo meaning.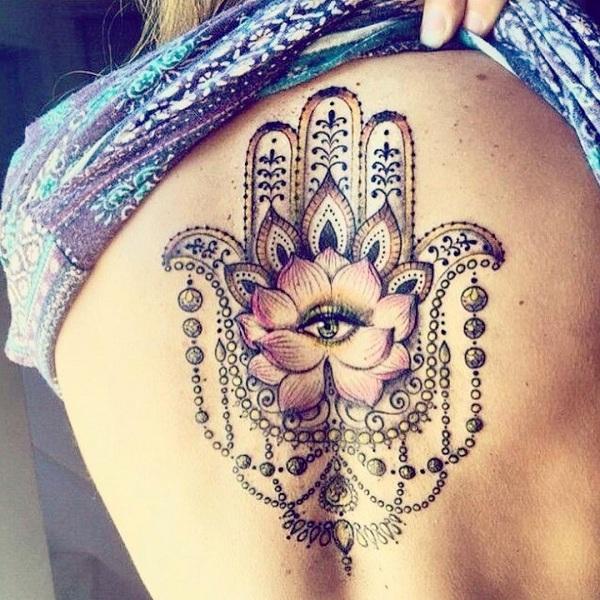 Hamsa tattoo will be a gorgeous decoration for both sexes. Getting this tattoo shows that you're interested in ancient cultures and know the meaning of ancient signs. Such tattoo usually inks to help the person and to guide through the life. Today there are a lot of different splendid and uncommon Hamsa tattoo designs.
We think that you'll necessarily find the most suitable tattoo design for you from the offered variants and will be pleased so much with this choice!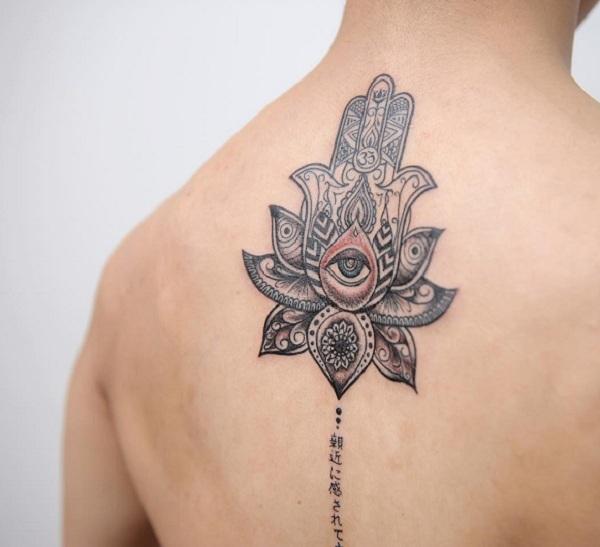 A big tattoo on the man`s back always seems effective and mysterious, especially if it's an ancient symbol such as hamsa with an eye, flower and hieroglyphs.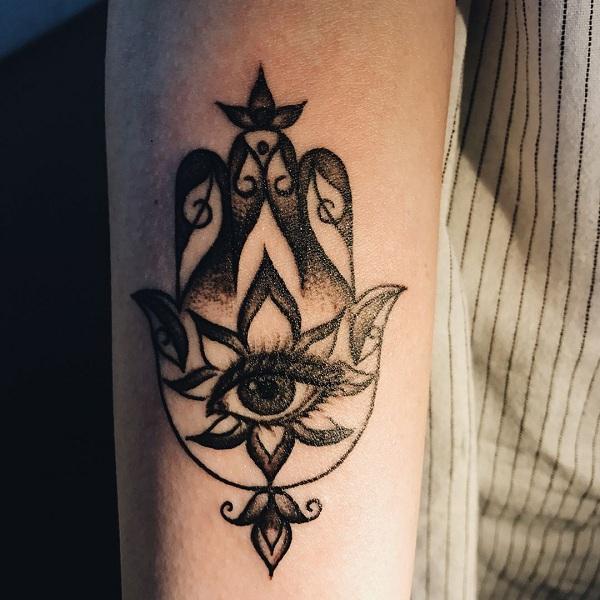 The black and white hamsa tattoo on the arm are decorated with the leaves and an eye in the center. It looks mysteriously and adorably!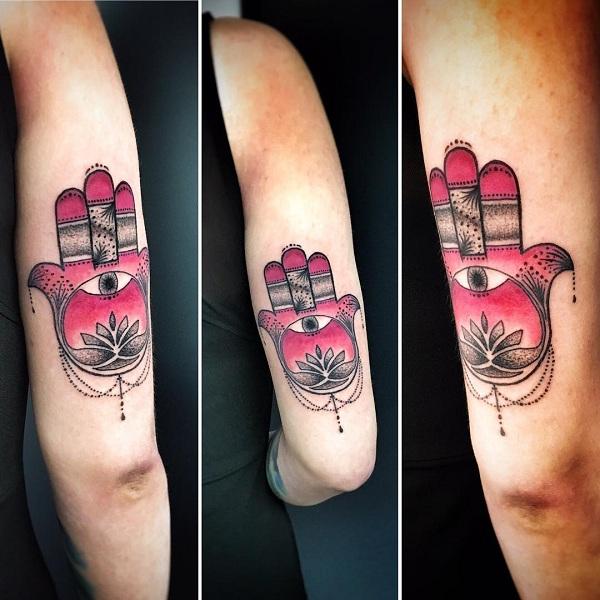 The unusual variation of hamsa tattoo is here in this example. The combination of black and dark pink colors looks unordinary but so interesting!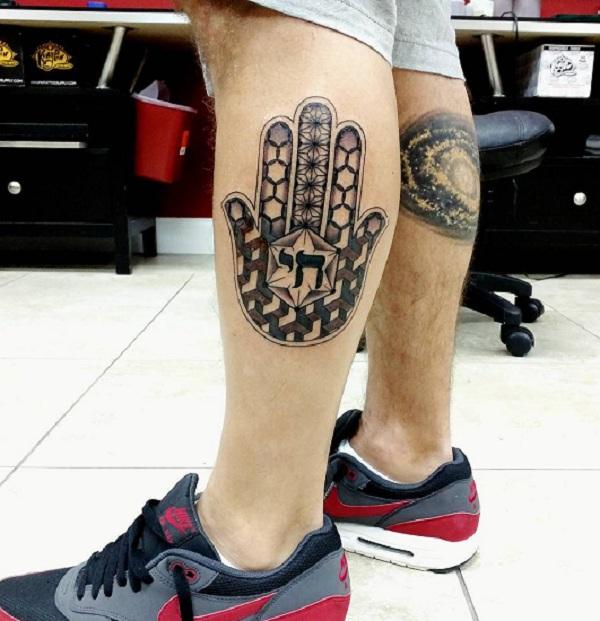 Hamsa tattoo on the leg in a 3D style is a mixture of ancient and modern.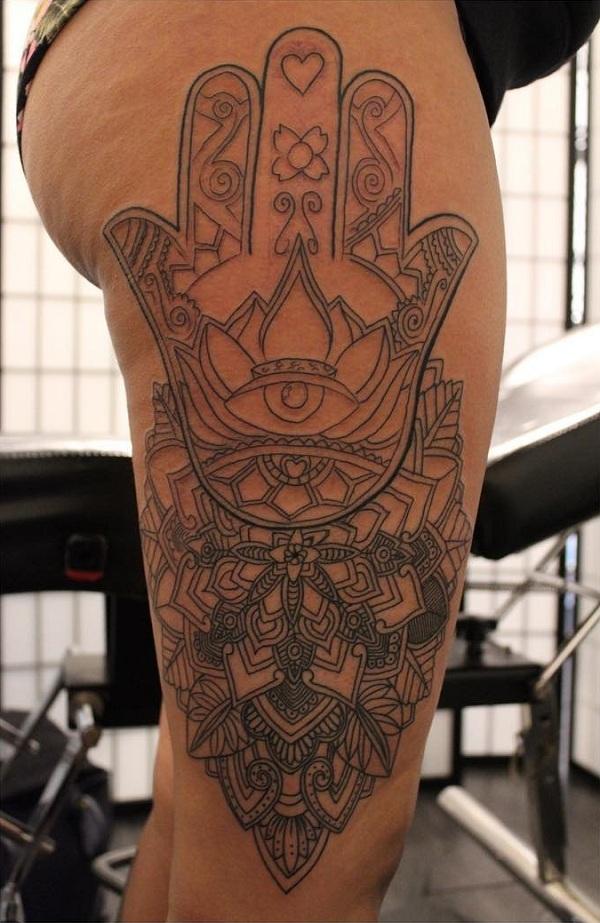 So the large hamsa tattoo done on the thigh contains a lot of small details and signs. It`s really a great job!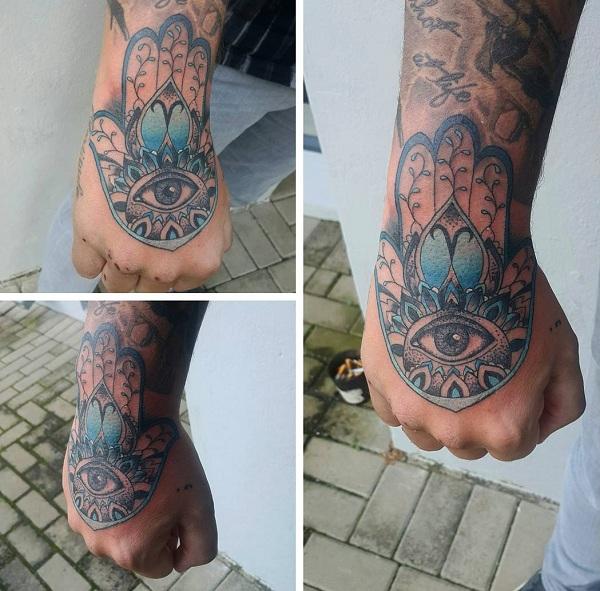 This tattoo piece on the hand is created with black and light blue colors in a traditional way.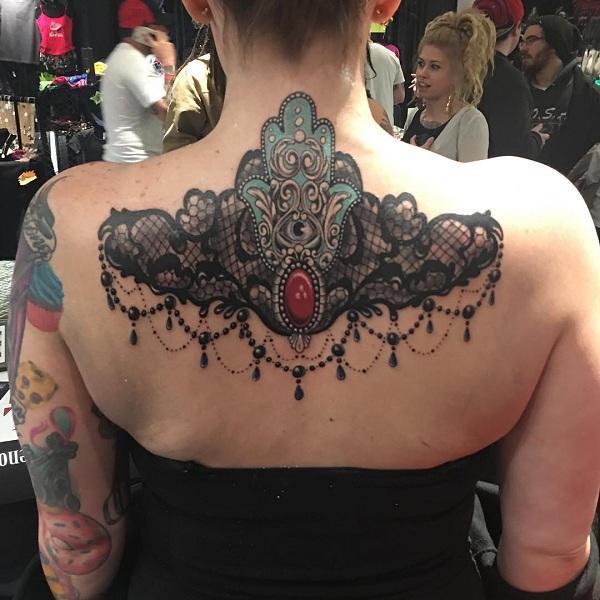 It`s a piece of art, but not a tattoo! Done on the back this tattoo is decorated with the involved white patterns and the eye in the center of hamsa. It also has a large red jewelry and black background for turquoise hamsa that looks like a brooch.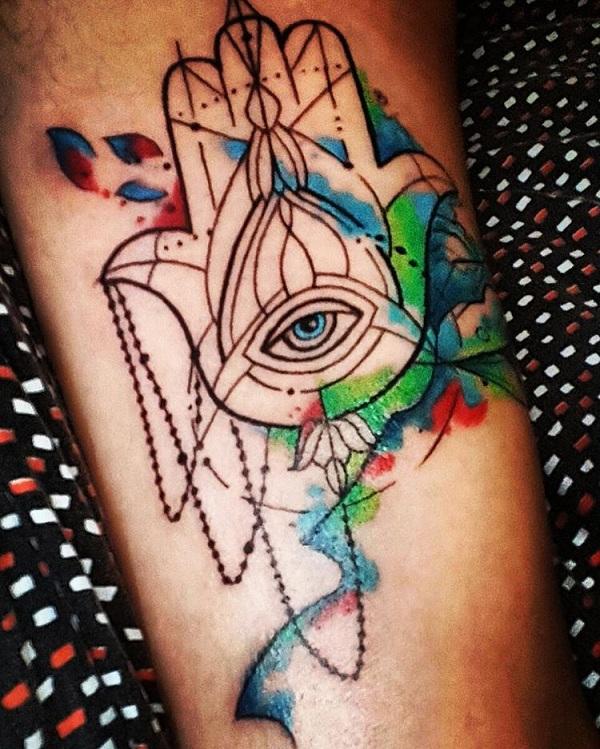 Graphical interpretation of hamsa tattoo design. But here we see the combination of graphical and watercolor styles.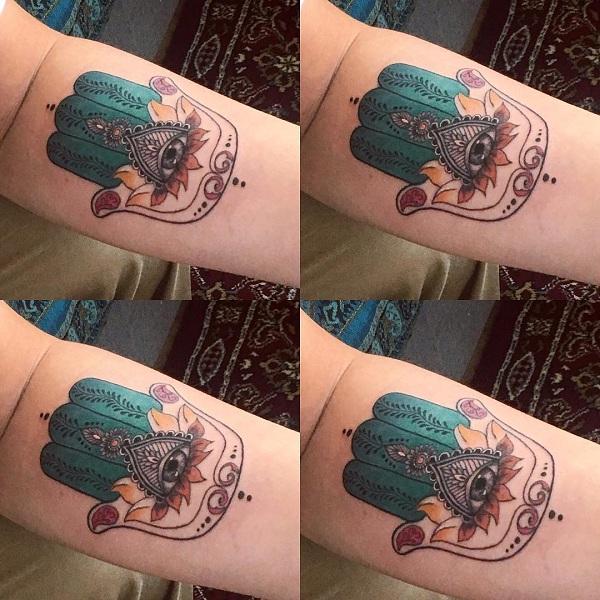 Such innerarm tattoo attracts people's attention at one because of the rich colors of the ink.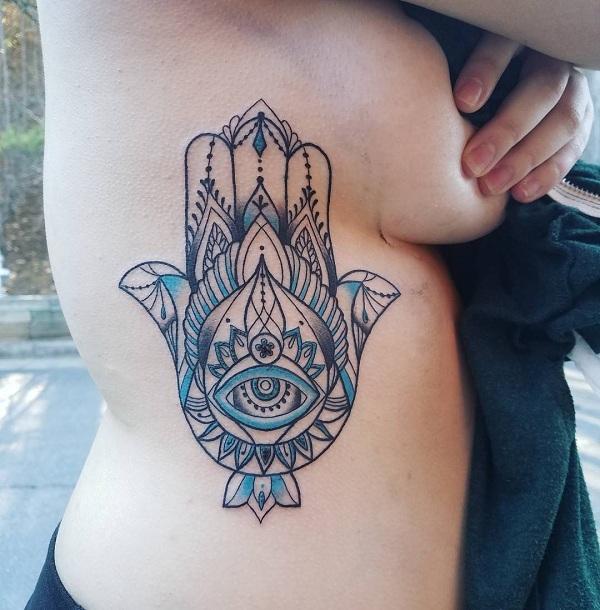 Women like wearing a tattoo on the side especially if the tattoo is big-sized and magic.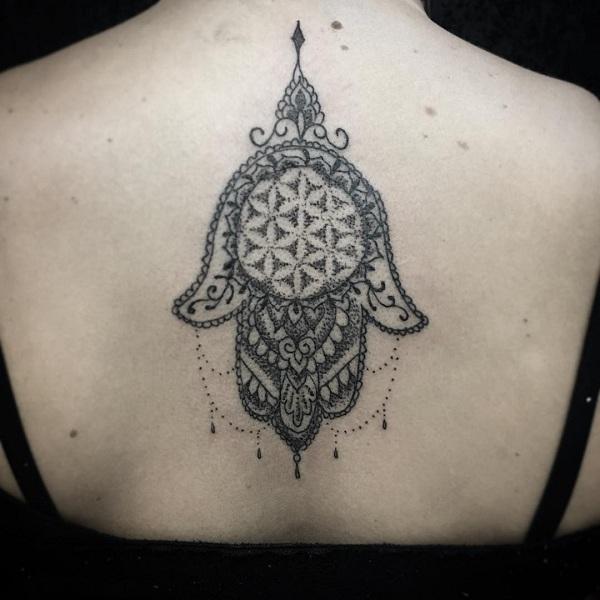 This hamsa tattoo facing down inked on the woman`s back is done in a black and white style that increase the mystery of the sign.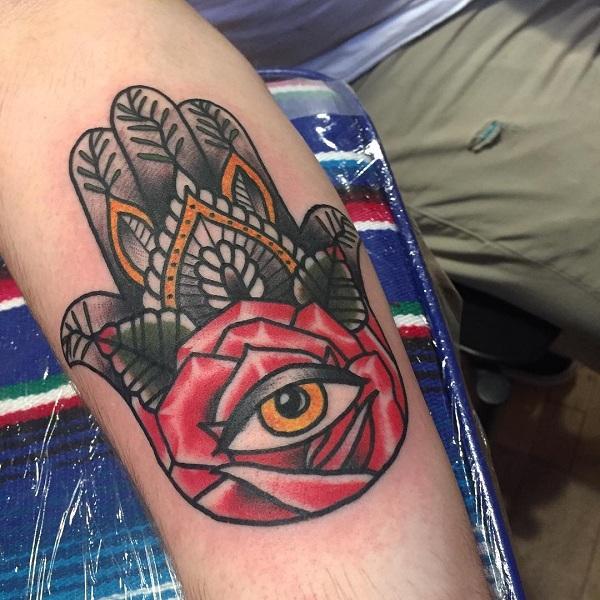 The tattoo on the inner part of the arm often occurs among hamsa tattoos. Here is the graphical, colorful tattoo. Except for traditional signs, this tattoo contains a red rose.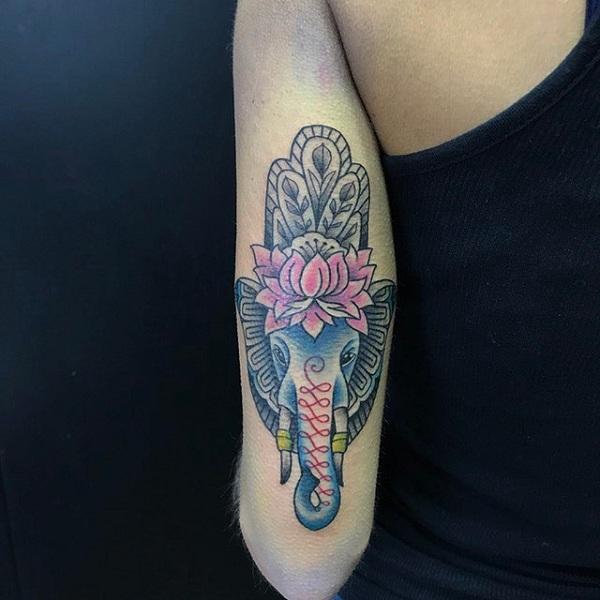 Hamsa tattoo with an elephant and a lilac flower on the halfsleeve are combined to stress the importance for a person meaning as a talisman. The flower and elephant are done in color to be more stand out on the black hamsa background.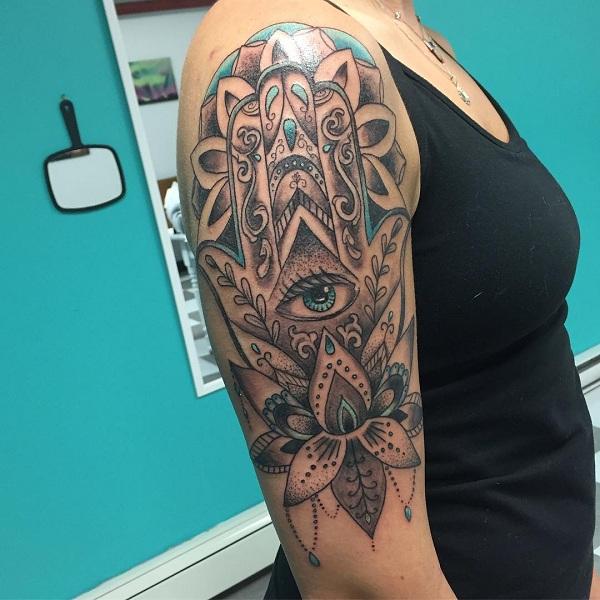 Black and turquoise colors are well-combined together as we see in this example. A realistic eye and lotus complete brilliantly hamsa halfsleeve girl`s tattoo.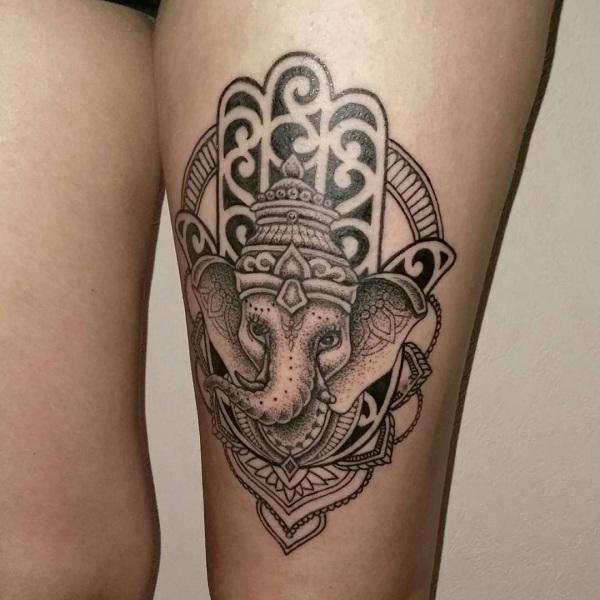 Any girl`s tattoo on thing always looks sexy. This is no exception. But it also looks meaningful and creative.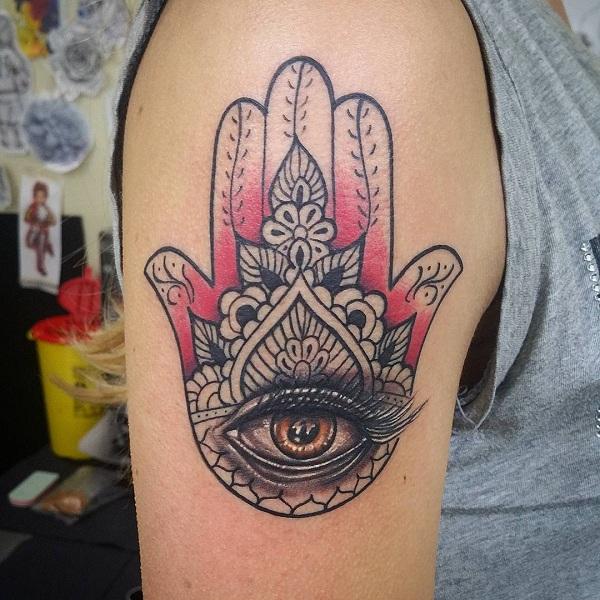 This realistic eye with long black eyelashes charms and hypnotizes.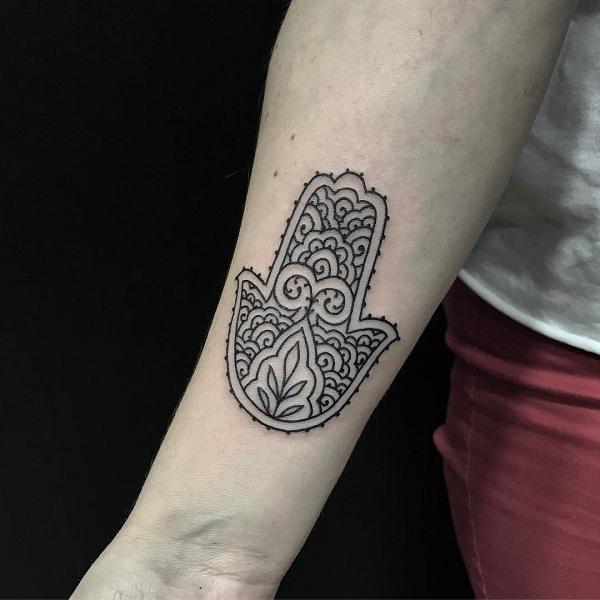 It seems like a very simple design on the innerarm, but it's so difficult work as here we see a great variety of small details.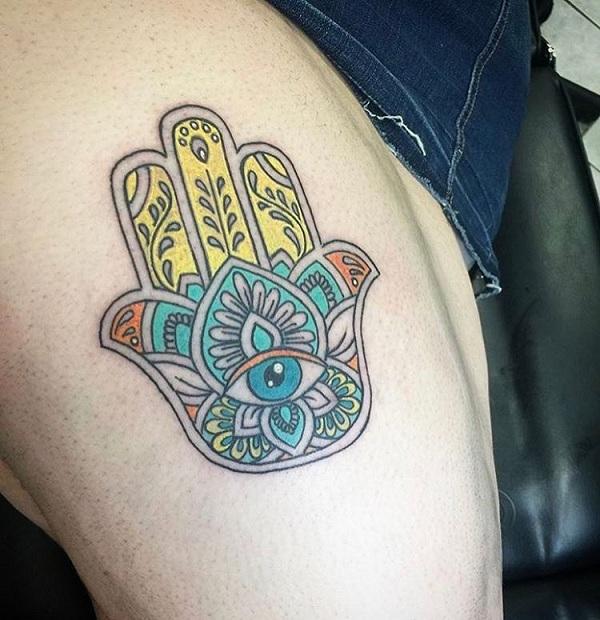 Bright and colorful hamsa tattoo on the thigh is a decoration for every woman who would like men's attraction.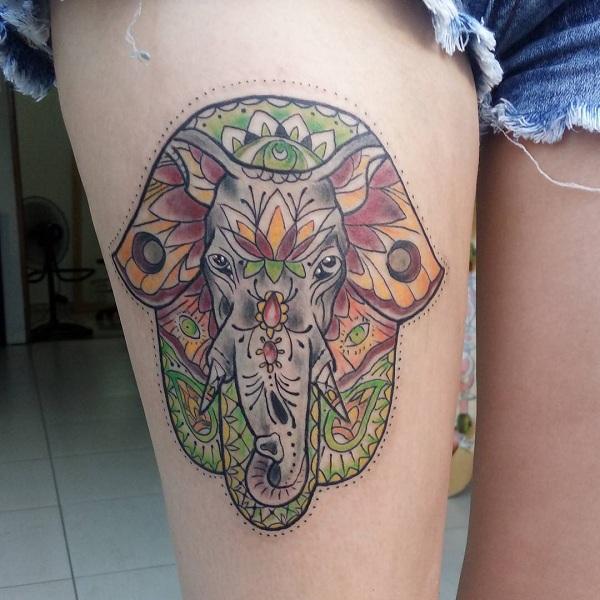 Wonderful matching of colors and perfect transition from hamsa to elephant sign. They're like one united mark and at the same time two independent ones.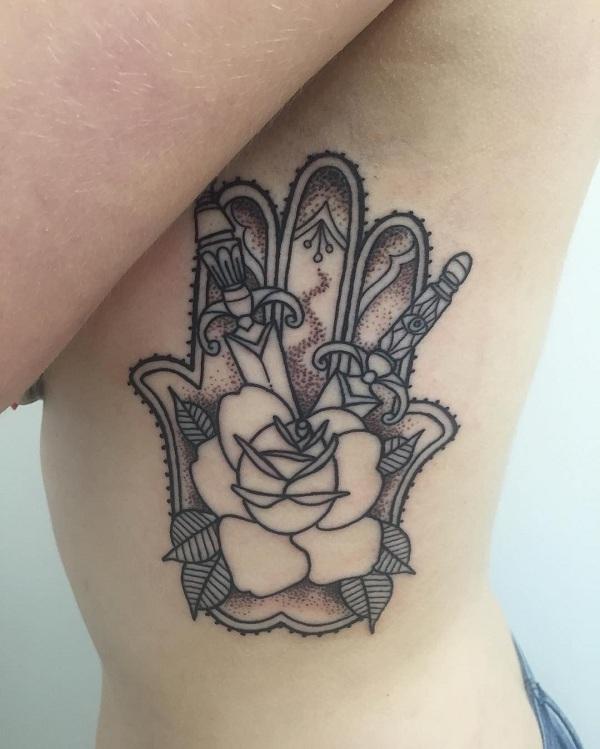 Hamsa, rose and two swords… All these signs on one tattoo on the side. All these signs performed in a black and white style.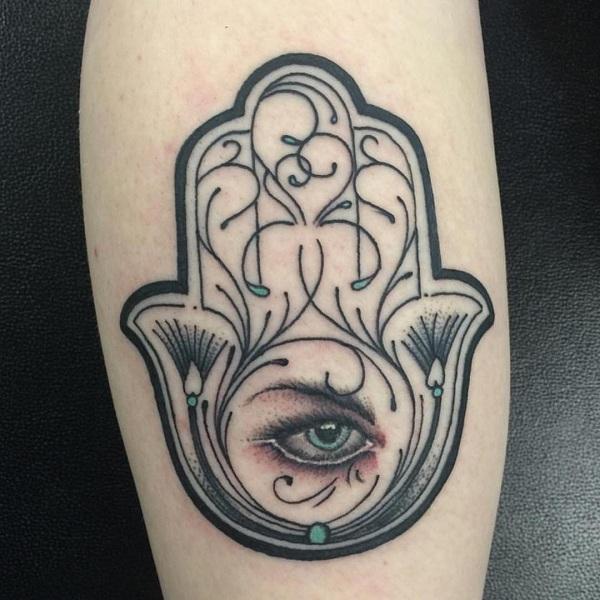 Here hamsa sign mixes with the eye done in a 3D manner which makes the tattoo more realistic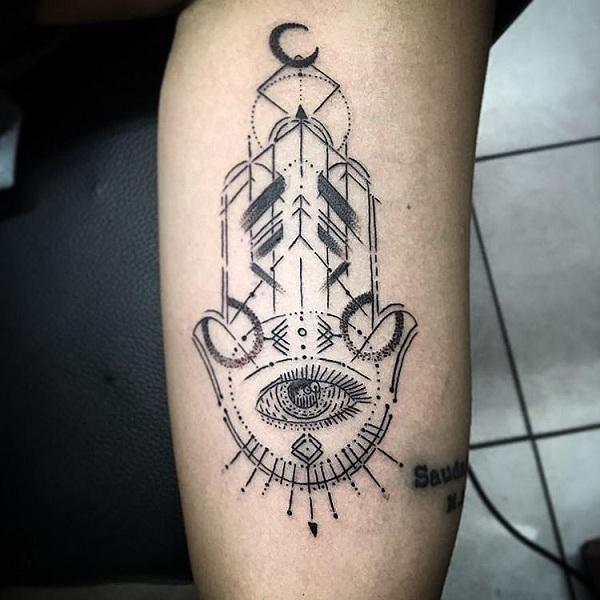 Now we see a clearly graphical hamsa tattoo with a lot of small difficult details which a great tattooist done perfectly.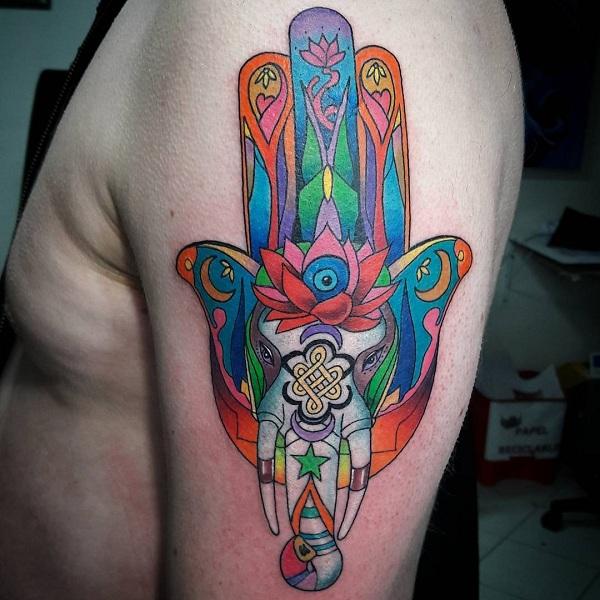 A bright halfsleeve tattoo cannot be overlooked. Hamsa, elephant and the star of David inked in a motley manner.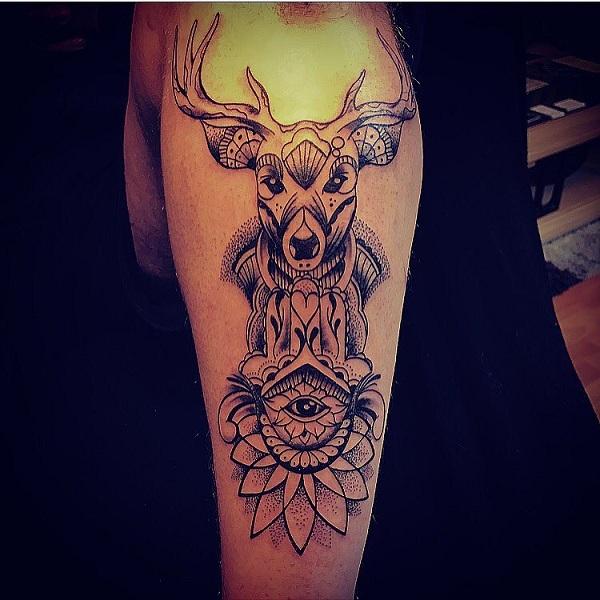 An uncommon combination of signs – deer and hamsa with an eye, but looks interesting and attractive.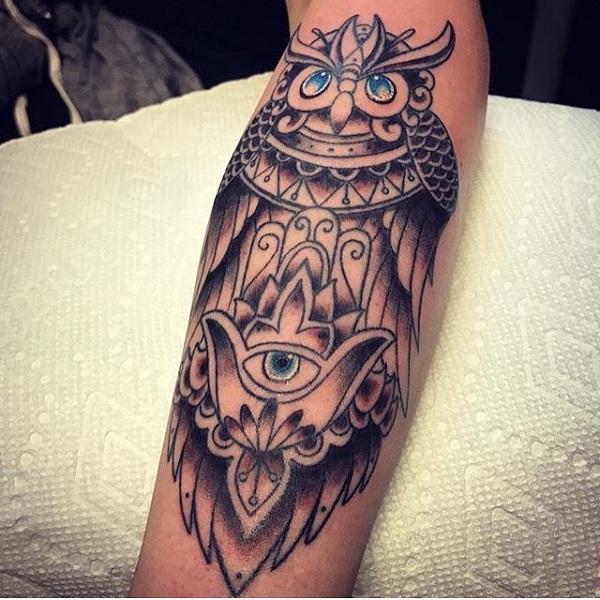 The owl is added to the hamsa ink to say just about wisdom.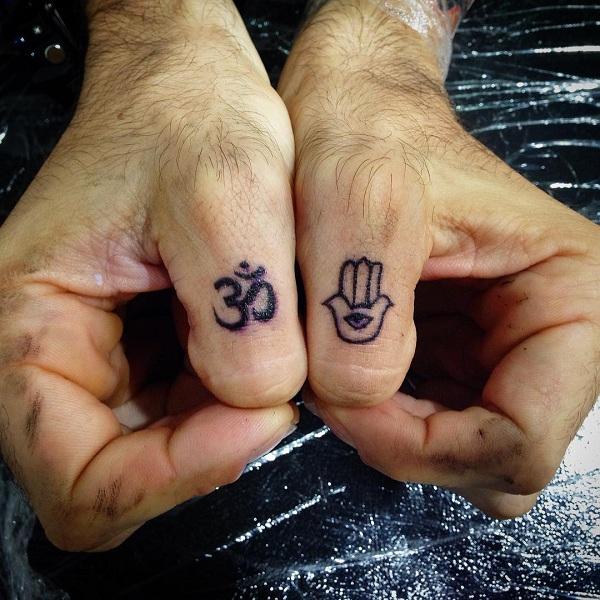 In the case when you want to wear the tattoo, but you have some doubts try to get some small one like the man in the photo. It's small, it`s discreet and it's symbolic.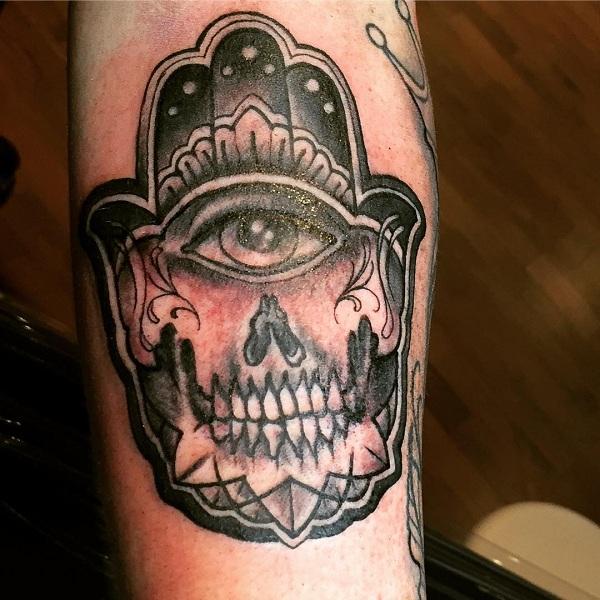 Black and gray hamsa tattoo with a skull is an extraordinary way to think about life.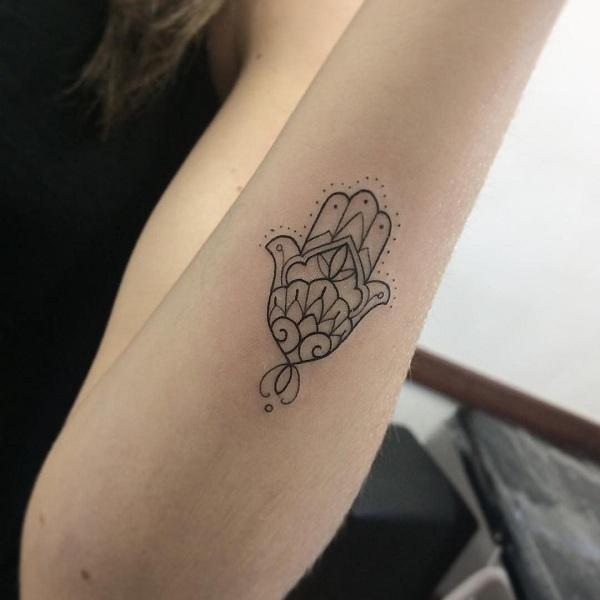 Sometimes some simple designs look more meaningful and lovely. For example, see on this photo.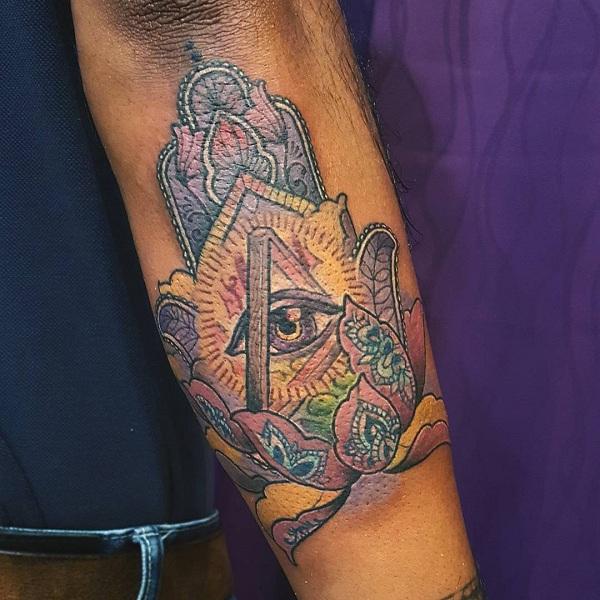 This arm tattoo is created in a 3D manner and combines so tender colors that it's impossible to avert the eyes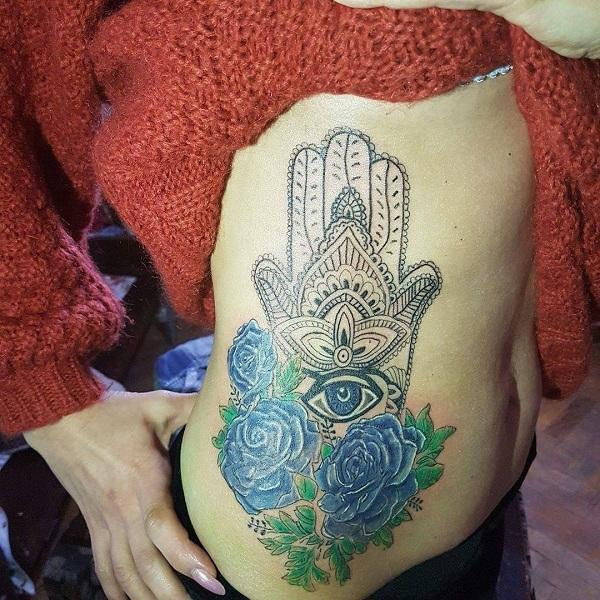 What a cute hamsa tattoo on the side among the blue roses with green leaves! Black hamsa contrasts nicely with blue eye and roses to emphasize the controversial nature of the bearer.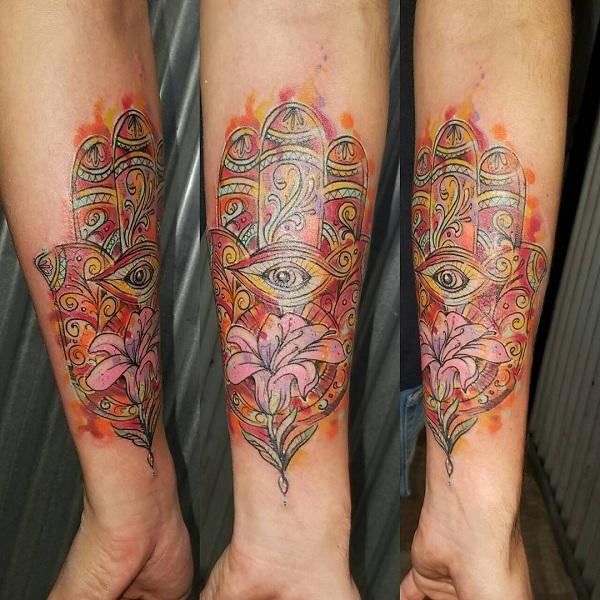 Hamsa tattoo on fire! Unexpected and effective!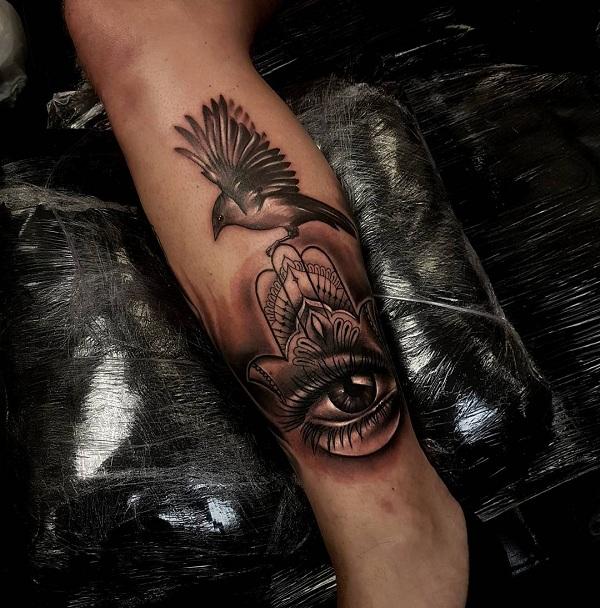 Bird, hamsa and 3D eye… All these signs are done in brown mist.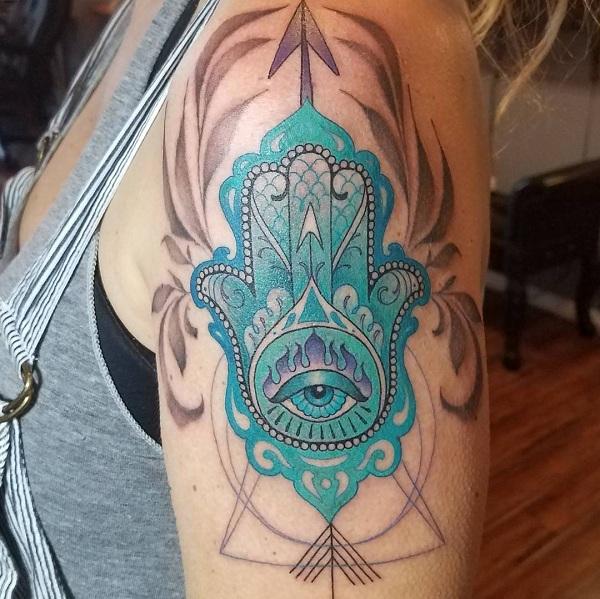 The blue hamsa tattoo is surrounded by geometrical signs and dark leaves. The tattoo is done with clear lines and absolutely accurate transition.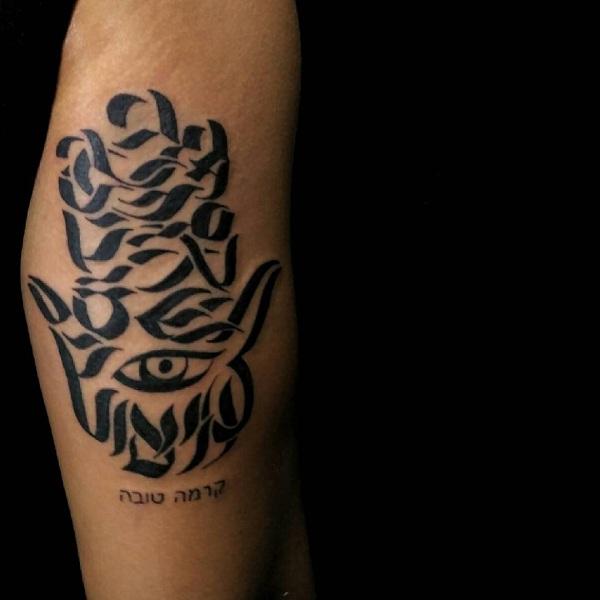 The hamsa in a linework style is trendy and fascinating. Thick perfect black lines and abstract hamsa image look renew and creative. The inscription beneath the ink adds the sense of intrigue.