Black is undoubtedly one of the most classic colors that you can choose for either your dress or your nail. The black themed nails could invoke something majestic and mysterious that suits just every outfit and occasion they are paired with. This is also the reason why so many people like the color black. It's consistent and spontaneous and you are immediately transformed into something glamorous overnight.
When it comes to nail art the options are endless when you opt for the dark color inspired designs. There are hundreds of styles that you can choose from and incorporate the color black into. Below are some techniques you can use for your black themed nail art.
Black polka dots nail art
Who doesn't love polka dots? They're very cute, classy and gorgeous looking. The polka dot combination is definitely one that you should try out even once. It never goes out of style and it's very easy to recreate. Simply paint your nails in black or white base. Add the dots in the opposite color with a dotter or a toothpick, let it dry and add your top coat. You can design the polka dots in various ways such as using small or bigger sized dots to match your theme.
Black and white striped nails
Stripes are in nowadays, if you want to match up with your outfit then you can always paint on stripes on your nails. You can do stripes vertically, horizontally and diagonally, the choice is yours! All you need is to use a stripper or precision brush to help you in making the lines look as straight as possible. If you don't have such things you can also use stamp the stripes by using tapes to cover your nails. You can opt to make thin or thick stripes depending on the style that you're going for. You can even add designs and embellishments on top to make the nail art stand out even more.
Animal print nail art
This is also another nail art design that has gained popularity recently. You can always don leopard or zebra prints in black and white. They look very pretty and can compliment just any outfit you may have. The zebra print especially is very much in the original color of black and white and there are leopards too that have black and white combinations on their spots. Always start with your base coat then using the opposite color paint alternating stripes. You can use any of the strip methods above to achieve this. Paint on the stripes from left then right and so on for the stripes to look real good. If you want the stripes to stand out a bit more, you can add another hint of color beside the stripes; usually a brighter color such as yellow or if you want to stick to the monochrome theme, you can go with light gray.
Black glitter nail art design
It's safe to say that glitter looks more beautiful with this color than any other colors. It's because black enhances the glitters and makes a good background canvass for the glitter on top. To make the glitter stand out you can use the sandwich technique of layering the glitter and polish alternatively to give the vanishing effect. It's a wonderful technique that you can easily paint on yourself.
Tribal nail art
Black and white is also a good combination when it comes to tribal stye. Any other color as well can go with black with absolutely no problem. You can paint the color as your nail background and experiment on the shapes and forms to paint on top using a uniform or various shades of nail polish. You can also do the opposite and use another color as the background while you use the black as the silhouette image on top. It makes your nails look classier and definitely unique.
Freehand nail art design
When you want your own design and express yourself through nail art you can do so with a dark nail polish theme. You can also use floral designs with black and white nail polish. Use black as the background and white as the flowers on top or the other way around; it would look magnificent no matter which. You can even paint on your favorite things like clouds, kites and even letters which form words on your nails. The sky is the limit and your creativity is the basis. Look or more options online on what designs you can also do for your nails.
More black nail ideas
Whatever nail art you choose for your nails, you can never go wrong with this color. Experiment to your heart's desire. Don't be held back by common color combinations that you see. You can always check blogs or videos online on how to paint on certain black inspired designs that you also wish to recreate. What's important is you enjoy making your own nail art designs, and of course practice makes perfect!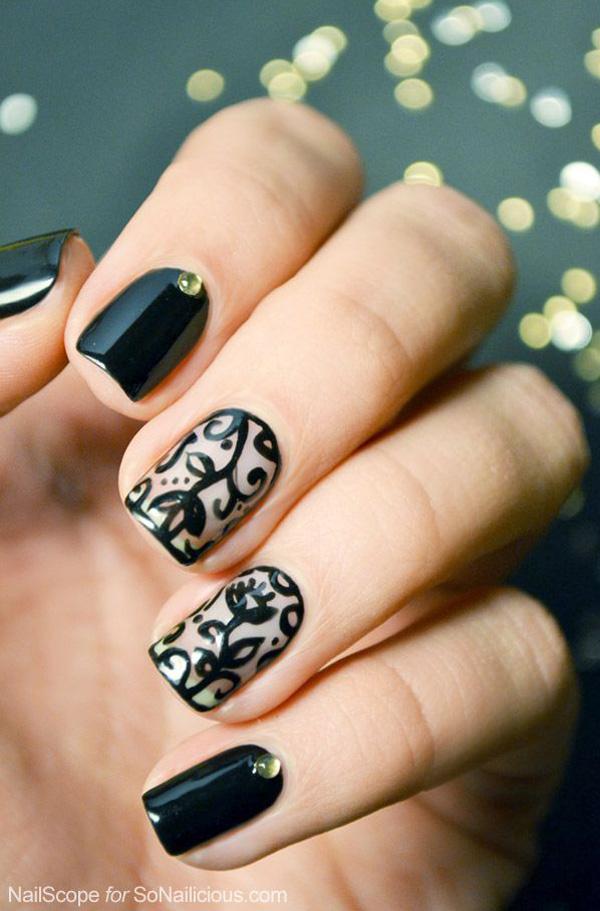 Wonderful flora nail polish. Take a look at this lovely black against clear polish combination in floral design. Simple yet elegant looking nail art.
source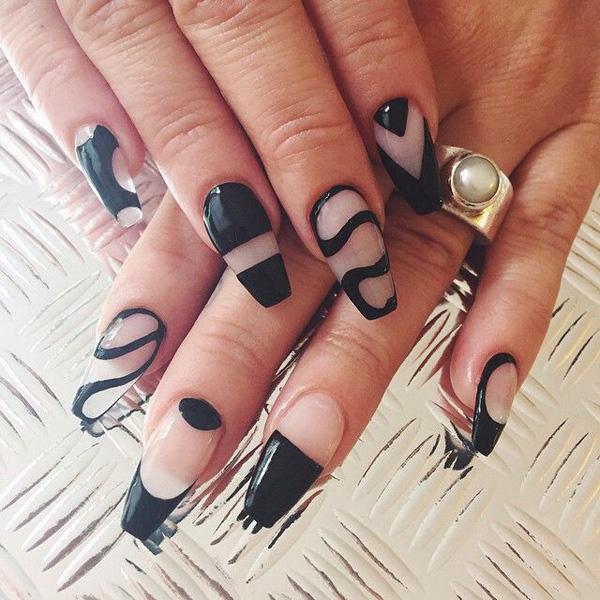 Abstract nail polish design. Play around with clear nail polish and black designs on your nails. You can even paint on your cuticles to make the abstract designs look unique.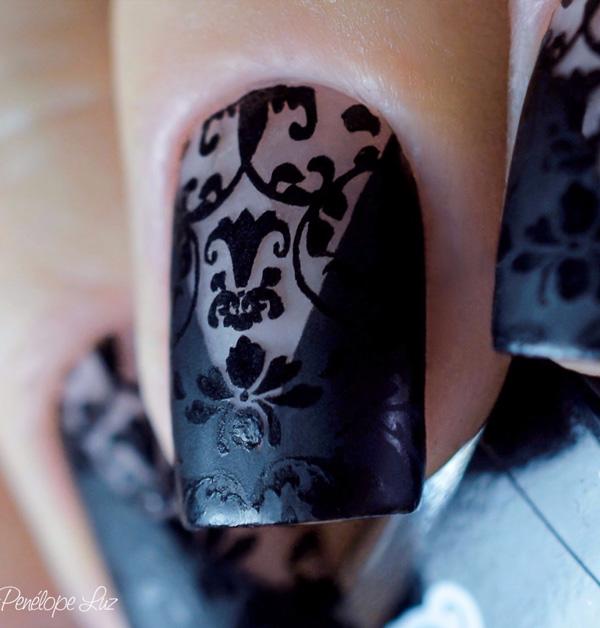 Black polish lace nail art design
Draw on intricate lace designs on your nails over a v-shaped polish against your clear coat.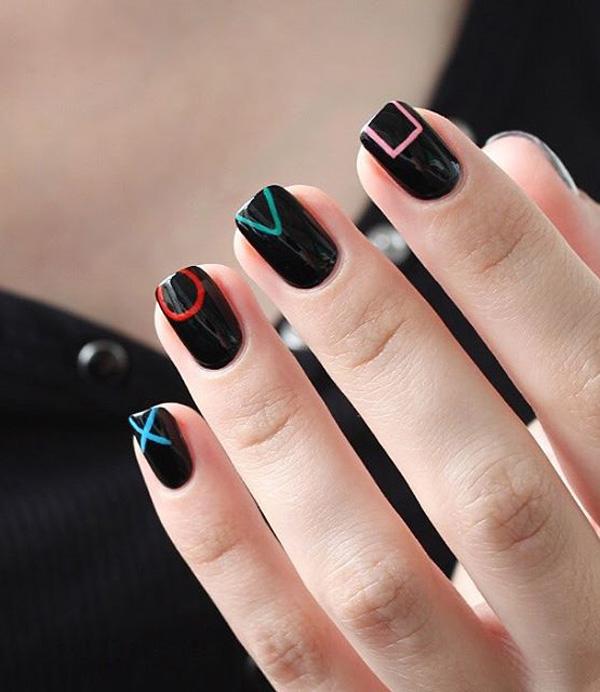 Playstation controller inspired black design. Perfect nail art design for short nails as well as gamer geeks that also want to look fashionable while playing.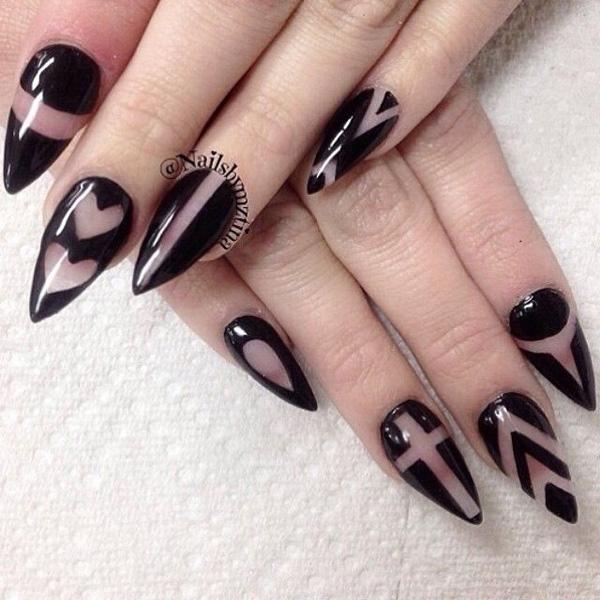 Random shapes black and clear polish design. Draw various designs such as lines, diagonals, and hearts and cross designs on your nails using dark nail polish and a clear base and top coat.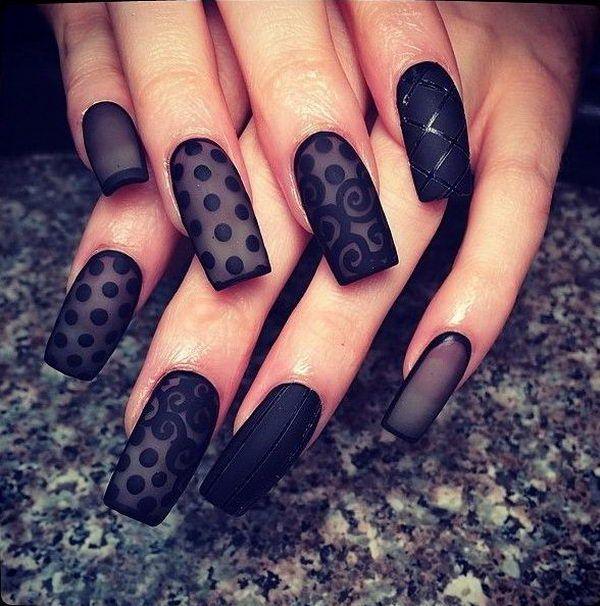 Beautiful satin inspired black polka dot nail art design. Make your nails look as sophisticated as it can be with this pretty saint and black polka dot nail art design with lace accent.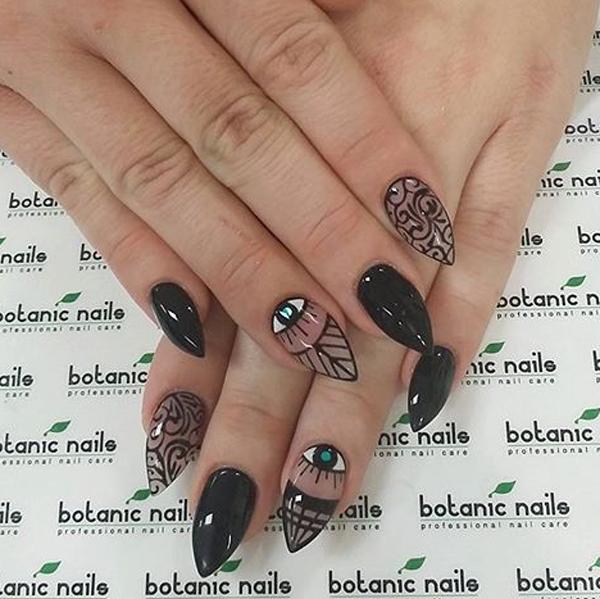 Black and clear polishes nail art design with eye details. Make your tribal inspired black nail polish come to life with alternate clear and black nail polish details.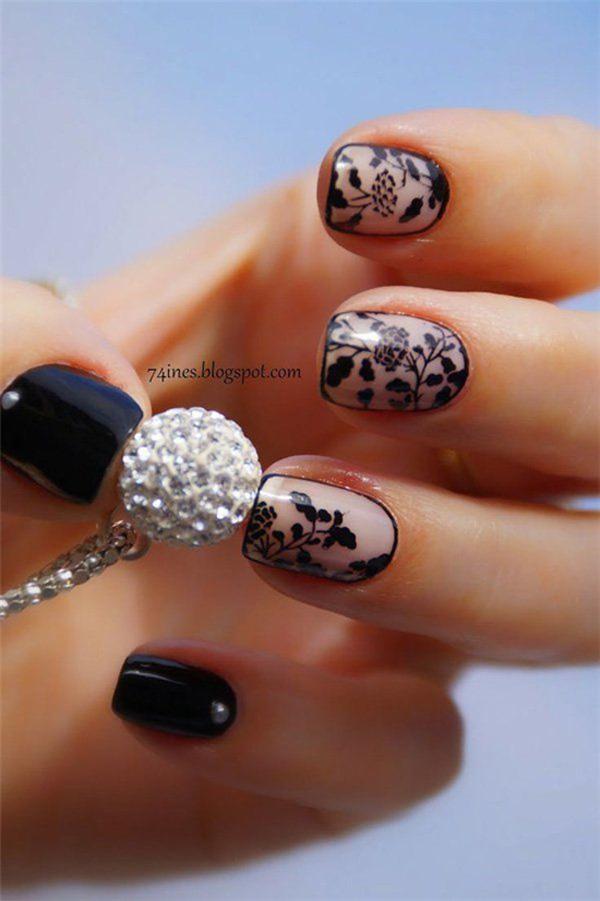 Floral design black polish nail art design and clear coat. Frame your nails in beautiful floral nail art design against a clear nail polish to create that painting effect on your nails.
source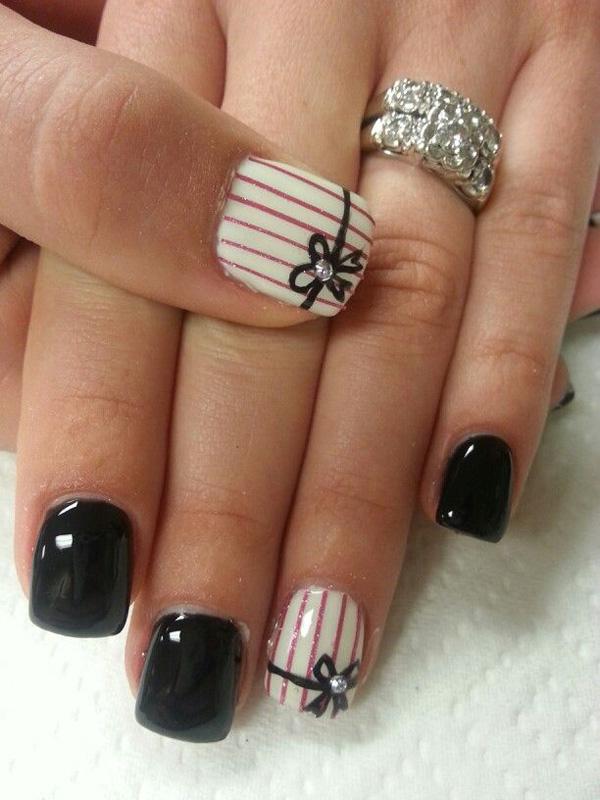 Pretty striped black and white nail art design
Make your nail art stand out with glitter stripes and a thin black ribbon painted across the tips adorned with silver beads on top.
Black French tips with colorful sequins nail art design. Give life to that rather simple French tip by adding colorful tiny star hexagon shaped sequins on top and on the French tip linings.
Vintage looking floral nail art design in black polish frames. As like a painting on a canvass, draw thin black frames all over your nails creating French tips and adding intersecting lines in the middle. Also add pretty flowers inside in bold black outlines for effect.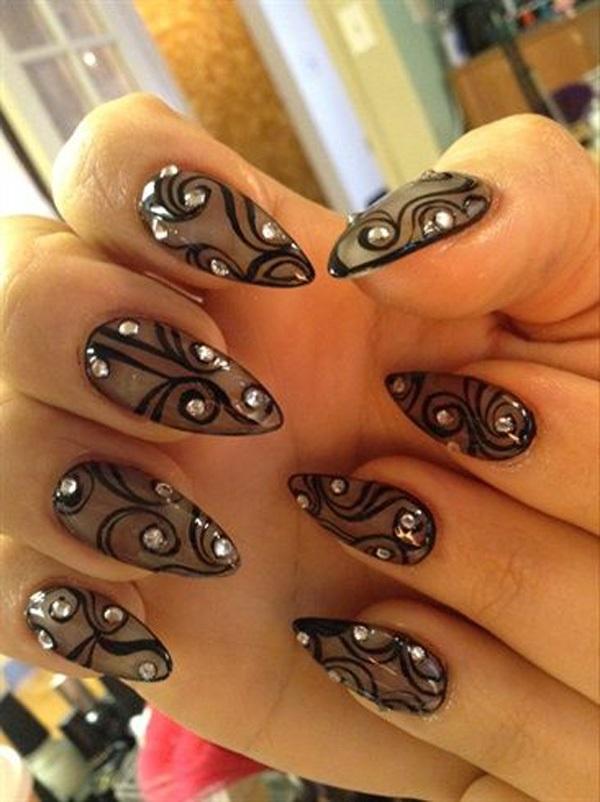 Make your nails look fancy with this black lace polish design. Add silver beads on top for a more dramatic effect and top off with a clear coat to preserve the design.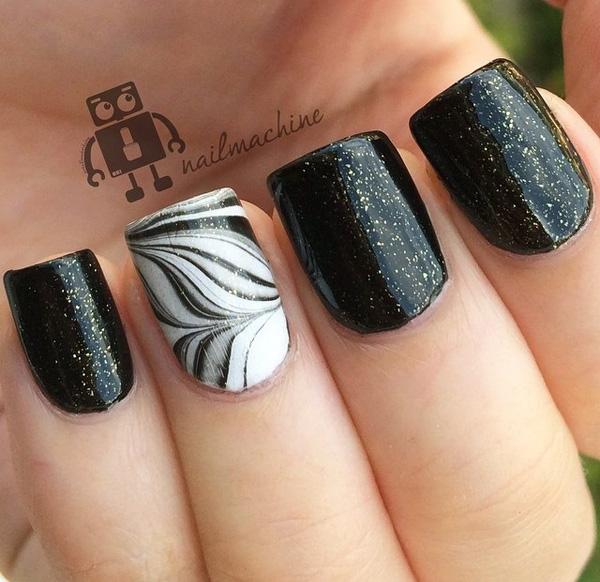 Beautiful black feather nail art design. Combined with a sandwich gold glitter paint design, this nail art combines the soft and elegant touch of the feather and glitter effect.
source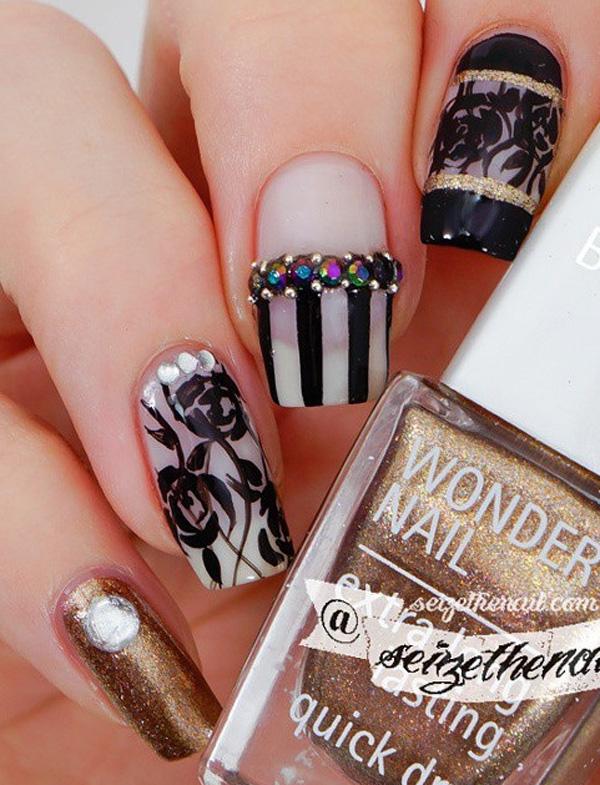 Black, white and gold stripes and floral nail art design. Combine black polish with a white background and gold glitter as accent as well as silver beads to complete this magical ensemble.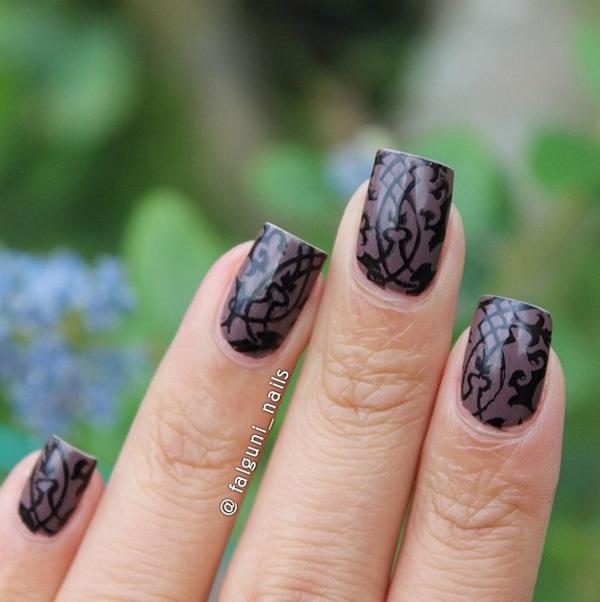 Black and gray lace design
A perfect nail art design when you want to be subtle but at the same time look absolutely elegant.
Black nail polish in stripes nails art design. Spice up your nails with this cut combination of gold glitter polish, black polish and stripes with clear coating and gold embellishments.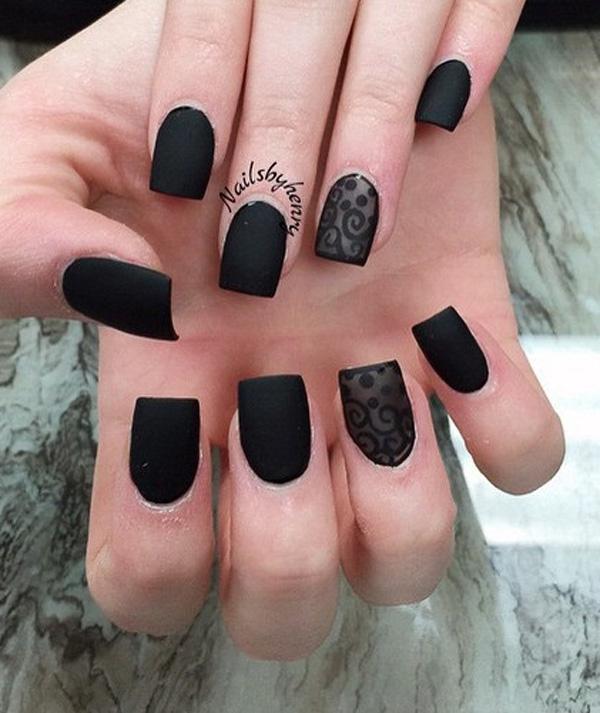 Matte black nail polish with lace design. Be bold and black with this amazing looking nail art that is easy to recreate and gives your hands a wonderful impact.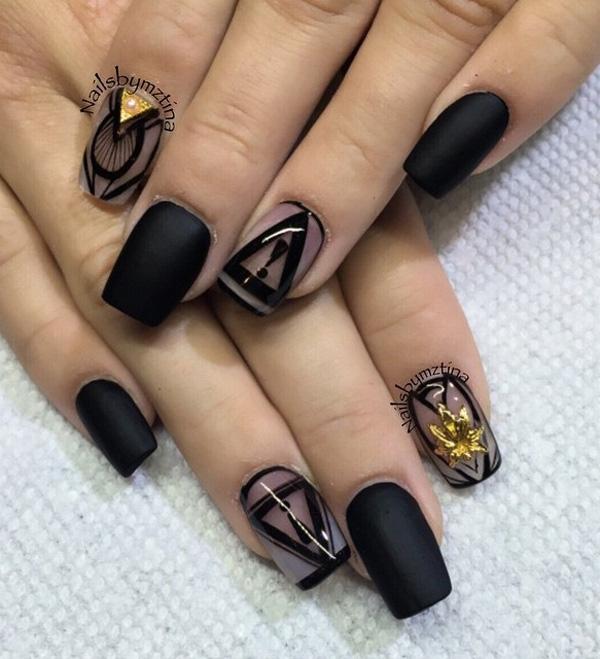 Matte black and tribal inspired nail art. Cover your nails in bold matte black polish and add tribal designs as well as small French tip for an added dramatic effect.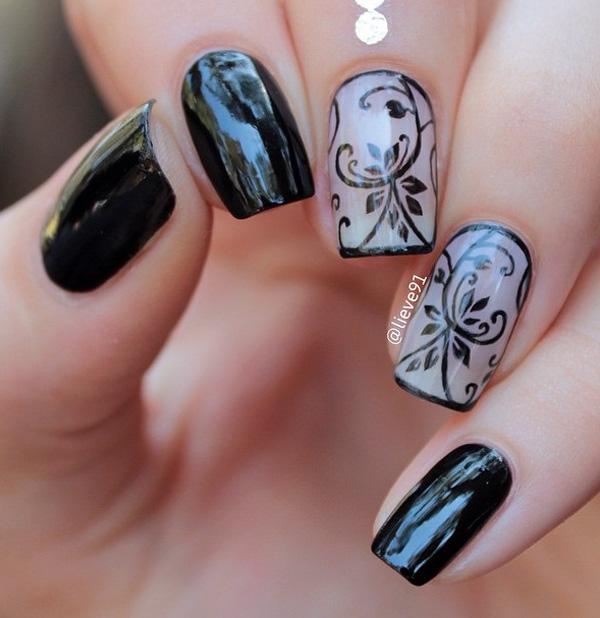 Black and white floral design. Paint on your favorite flowers in black polish by using a white base coat. It looks clean and always trendy.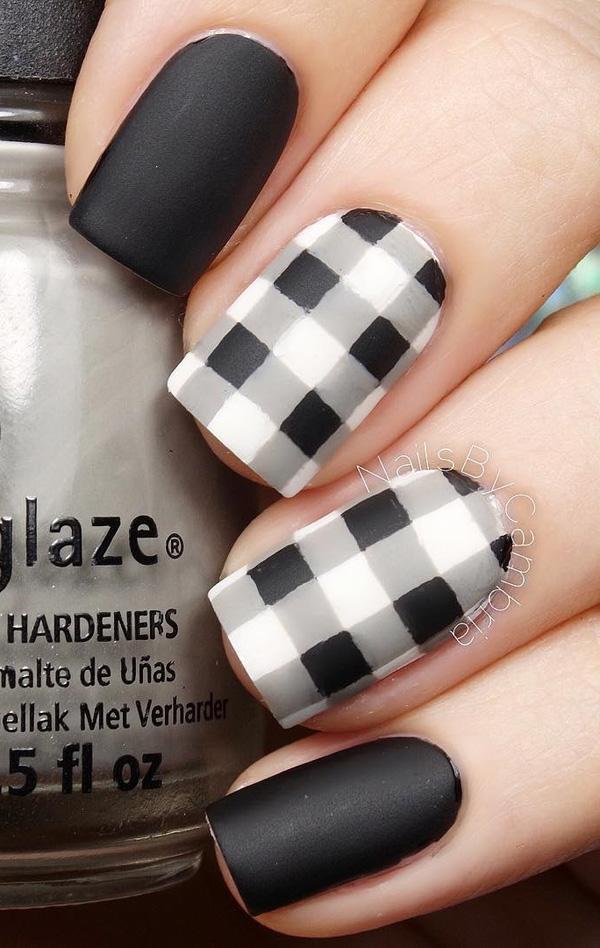 Black and white plaids nail art design
Be different and design your black and white polish into these quirky plaid designs.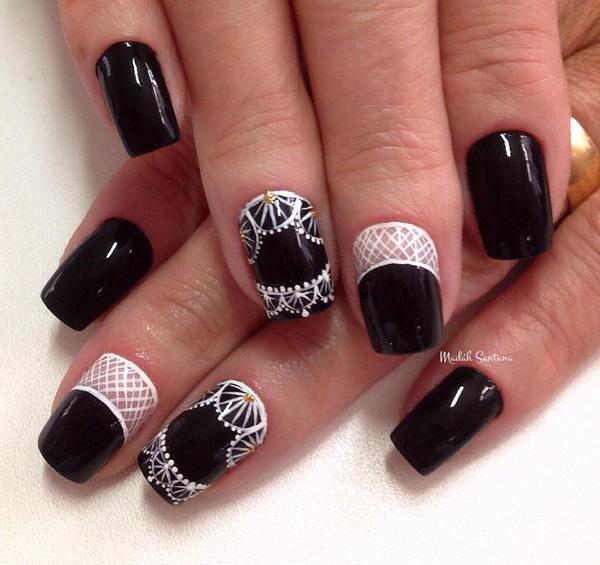 Black and white lace nails art design. Wonderfully adorable designs that can instantly make your nails look glamorous in just a few strokes.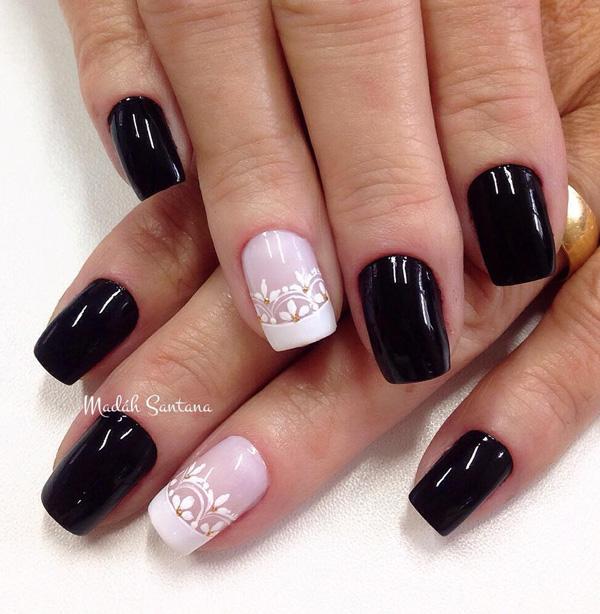 A rather simple but elegant looking nail polish. Add a simple French tip with flora designs and small beads on top and everything already looks perfect.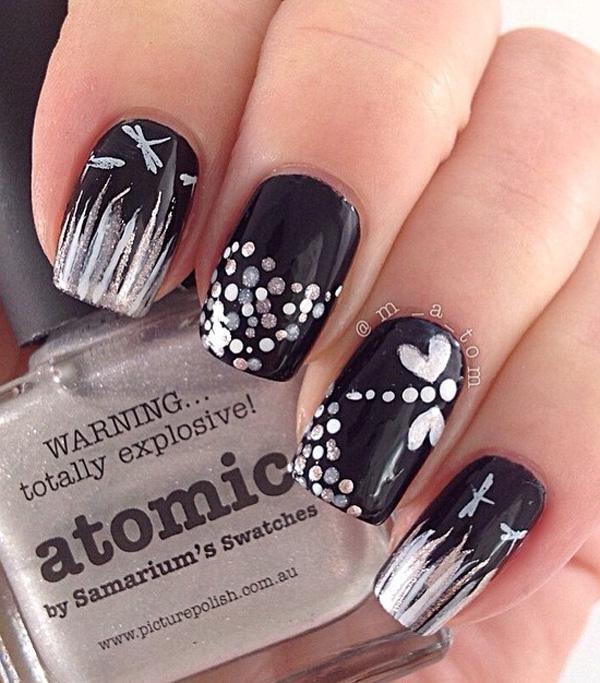 Black polish dragonfly design. A very pretty and artistic style that uses multiple colors to complete the mysterious dark effect on the nails.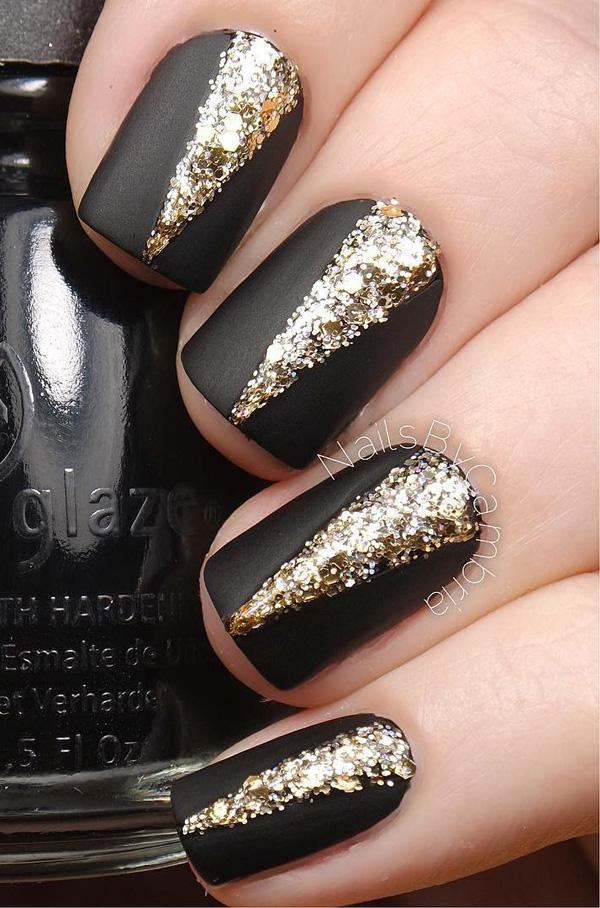 Black and glitter gold design
Gives your matte black nails some attitude by adding v-shaped glitter gold polish in the middle.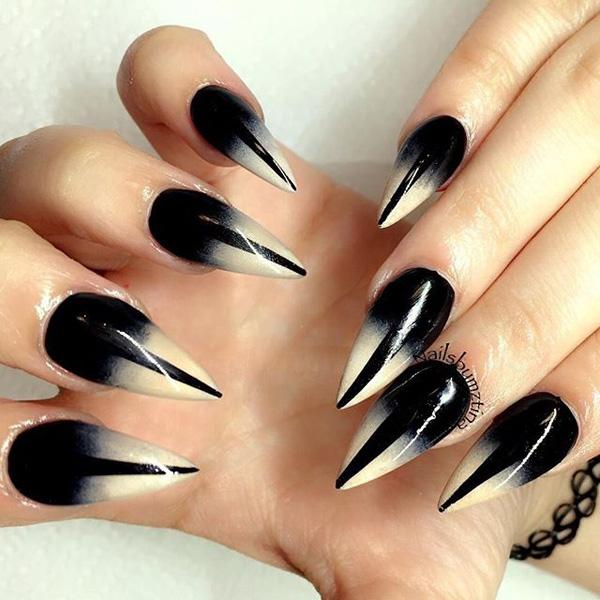 Black and white gradient nail art design
Start to play with the gradient design and come up with unique designs as this.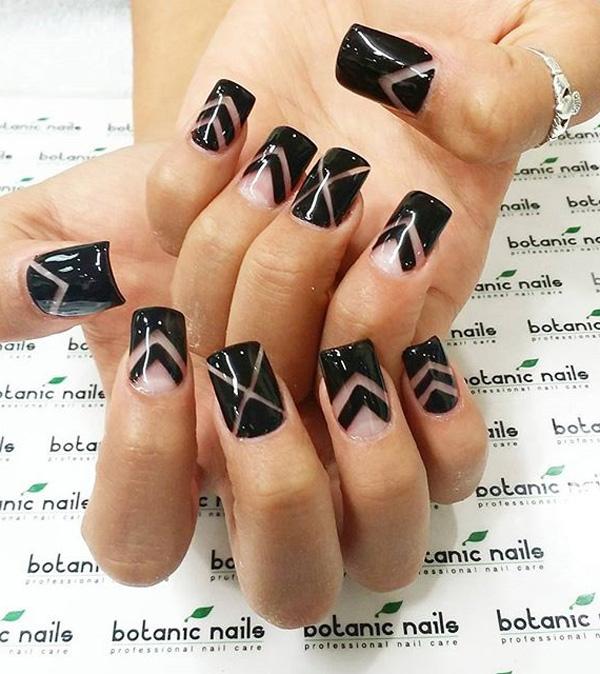 V-line ensemble. A rather catchy looking nail art design that uses clear coat and black polish and you're done! Simply choose designs that you can easily recreate on your own.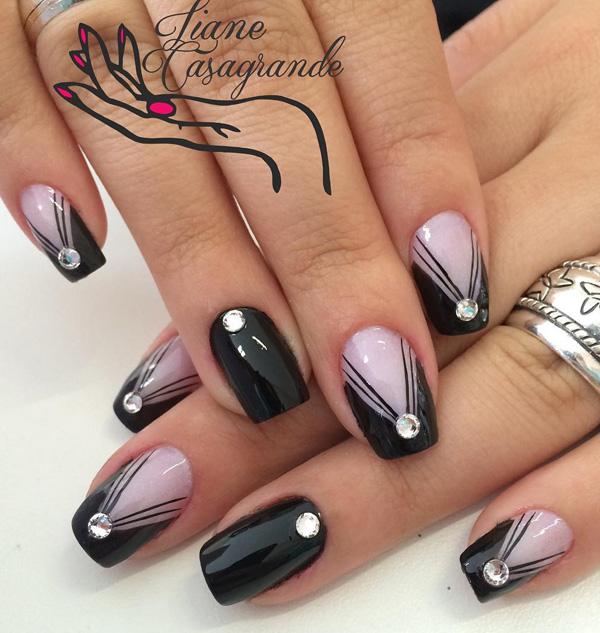 Beautiful black and periwinkle nail art design
Start off with a black and periwinkle base color then add the polishes alternately upstairs while adding the v-shape on the lighter nails.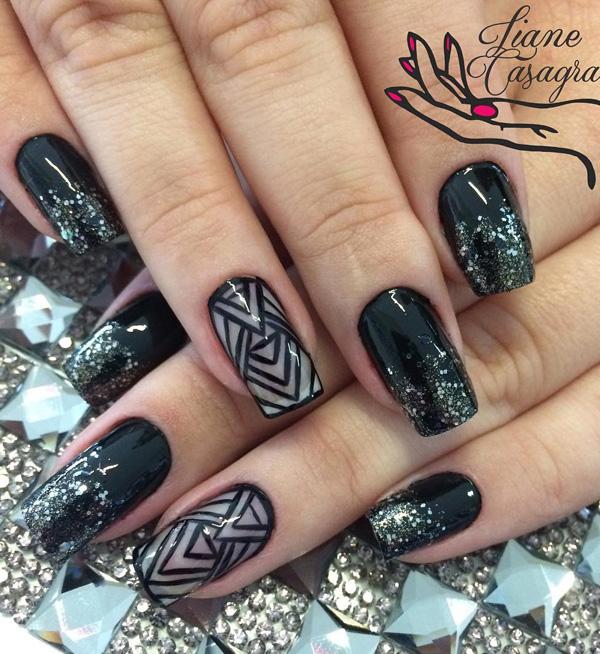 Tribal looking nail art design. The black sequins tip is a good boost for fashion and can your clothes when you have neutral tones or maybe white.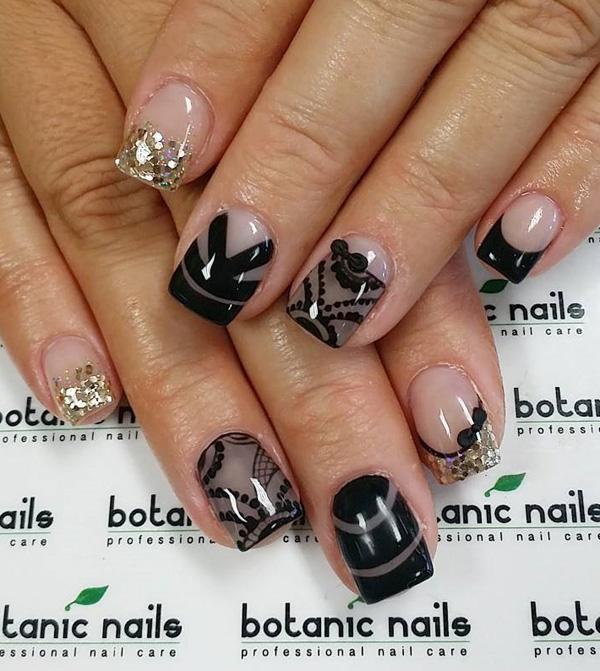 Very cute mini tribal design compete with roads, buildings and even the gold sequins as French tips serve as the mountains when we were playing games as kids.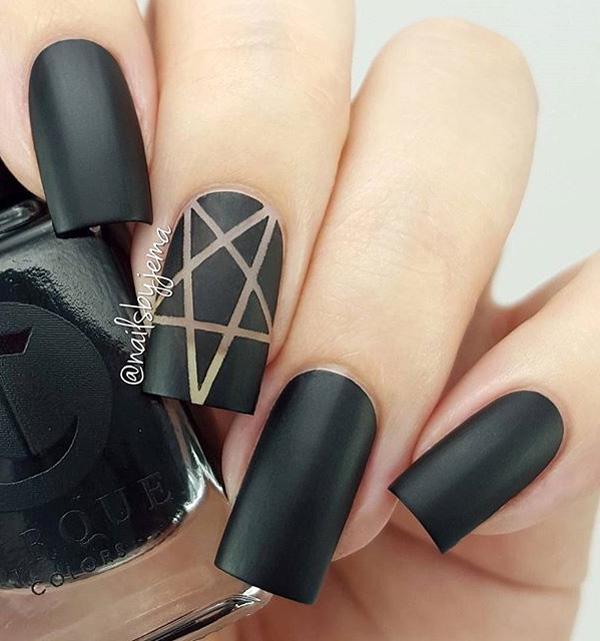 Matte black nails with a golden detail. If you love matte and a subtle design then this nail polish is simply perfect for you.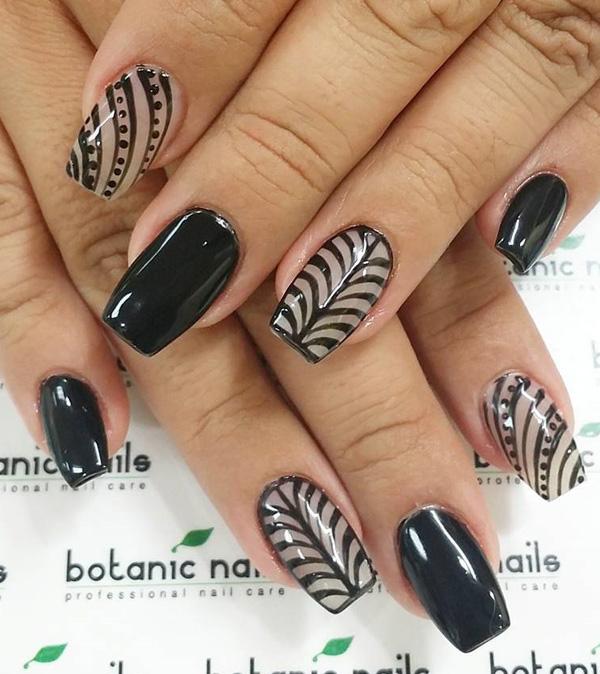 Feather inspired black and white nail art. A wonderful looking nail art design that is unique on its own and will look amazing in any occasion.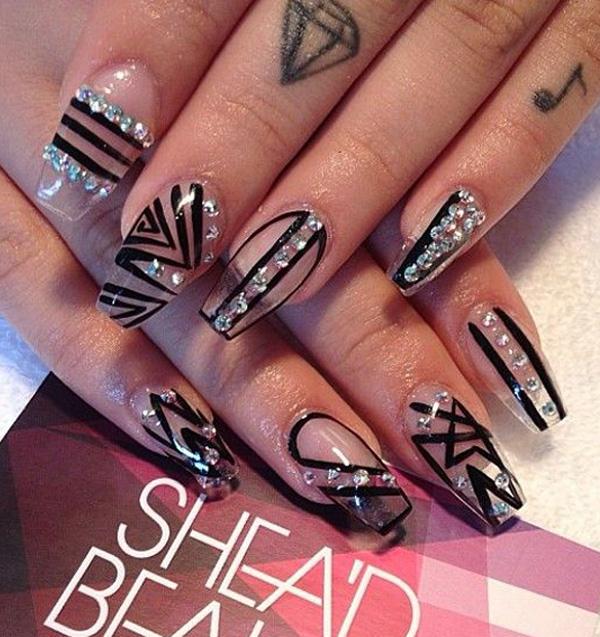 Artsy looking stick on nails in black tribal polish designs. The silver embellishments on top help make the nail art look very interesting.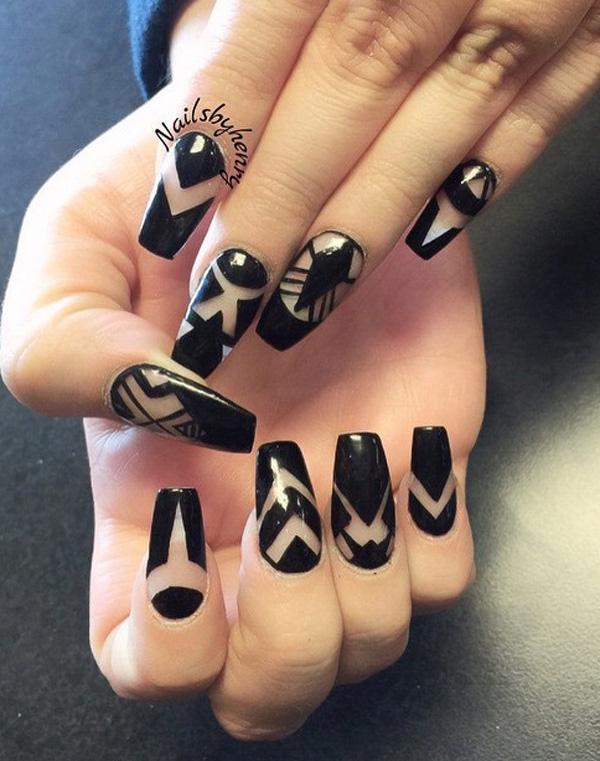 Black nail polish and clear coat in tribal designs. Make your nails look like a blast with exciting tribal designs.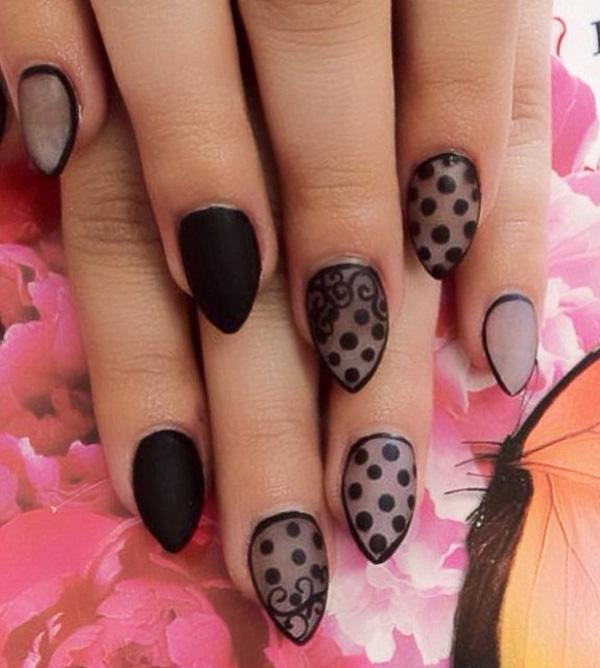 Black polka dots nail art design
Partner your polka dot design with a matte black color to make the design stand out even more.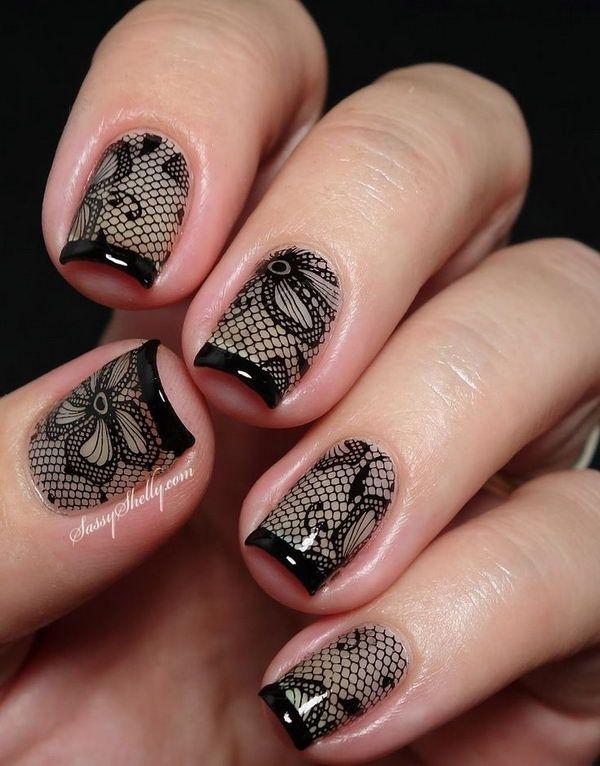 Amazing black net and floral nail art design with French tips. Add a bit of drama into your nails by creating this well detailed and intricate looking design in black polish.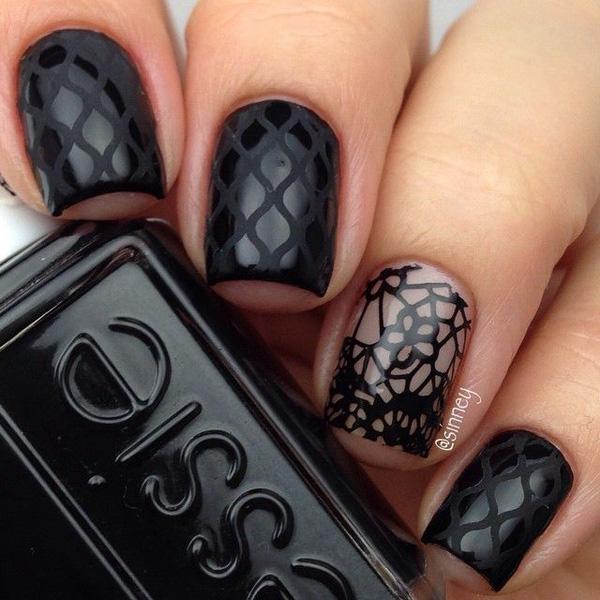 Black laces design
Make your nails look different from the rest through recreating this cute and unique embossed nail art technique.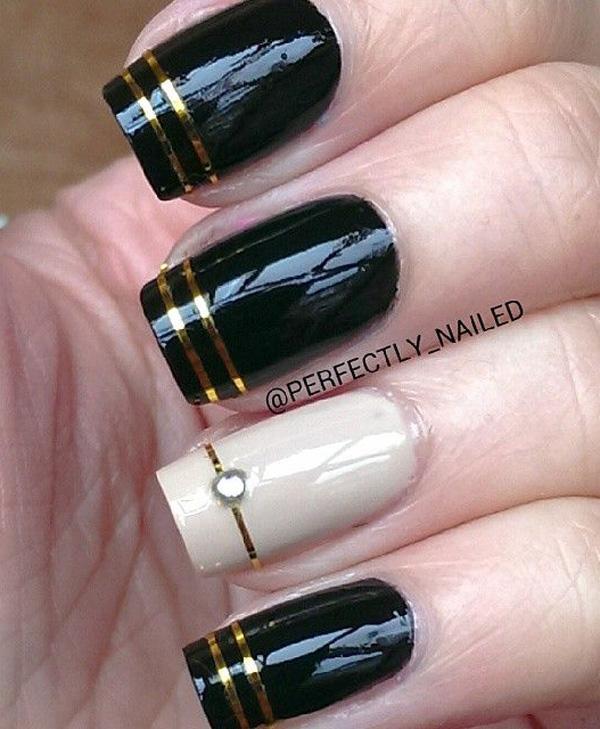 Black and white nail art design with gold stripes and embellishments. Let your fingernails be as sophisticated as they can be with this quaint and pretty design.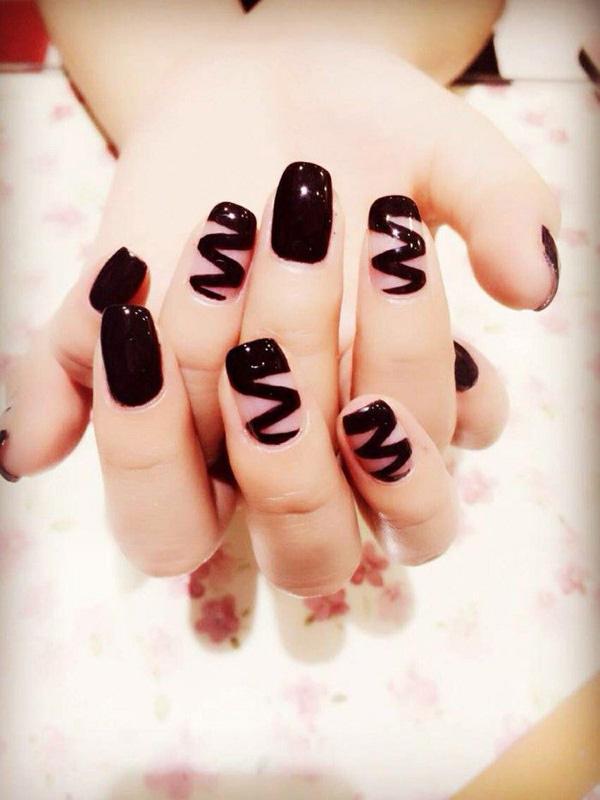 Black chocolate syrup inspired nail art design. Let your nails look like you've just dipped them into delicious chocolate with help from a rich filling of nail polish.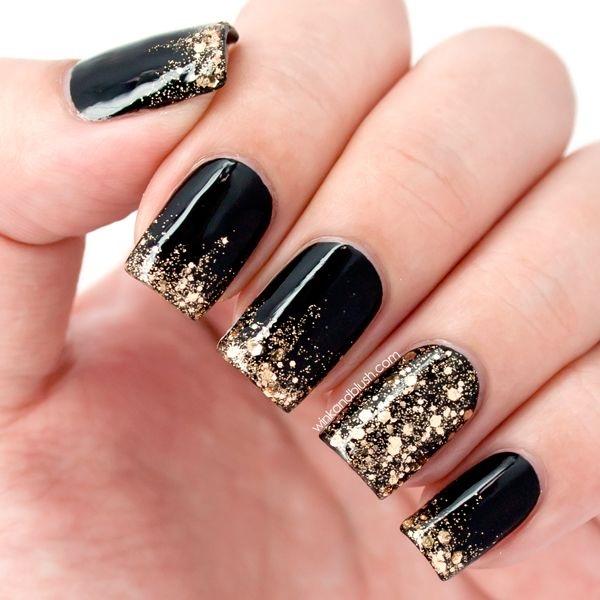 Black nail polish with gold glitters and sequins
Let that golden French tip stand out by adding gold embellishments instead of regular nail polish.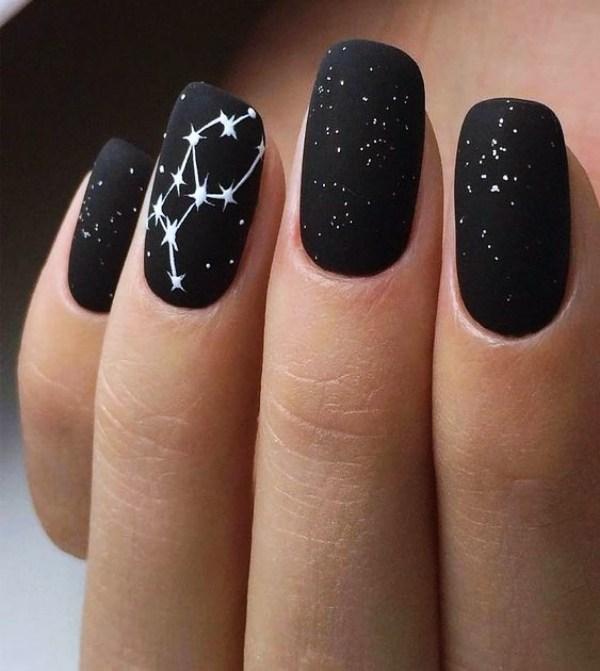 Black night with stars in the sky