Geometry is a fascinating concept that has found its way into various branches of art, and tattooing is no exception. The unique combination of precision, symmetry, and creativity that geometric tattoos offer is unparalleled. These tattoos are not just about aesthetics; they also hold deep meanings, making them an irresistible choice for tattoo enthusiasts. In this article, we explore some of the most compelling geometric tattoo ideas that can transform your body into a canvas of mathematical beauty.
The Allure of Geometric Tattoos
Geometric tattoos are a captivating blend of art and science. They draw heavily from sacred geometry, a belief system attributing mystical significance to certain geometric shapes and proportions. These tattoos use shapes and patterns to create designs that are visually striking and rich in symbolism.
The beauty of geometric tattoos lies in their versatility. They can range from simple shapes to intricate patterns, from minimalistic designs to elaborate masterpieces. They can stand alone or complement other designs, making them an excellent choice for all tattoo lovers, regardless of their aesthetic preferences.
Cube tessellation full back tattoo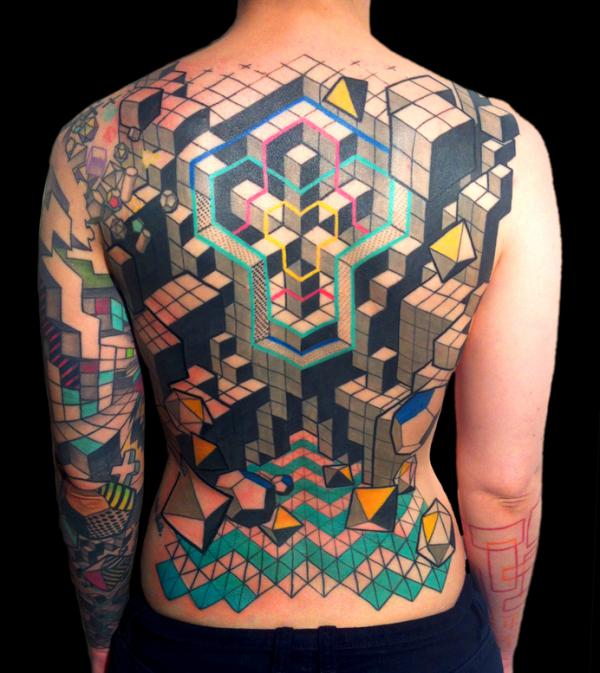 Imagine your back transformed into a 3D tableau of interlocking cubes, each one perfectly fitting with the next. This design offers a mesmerizing pattern that plays with perspective and depth, creating an optical illusion that makes your tattoo more than just a picture. It's a puzzle, a conversation starter, a piece of wearable art.
Galaxy Penrose triangle tattoo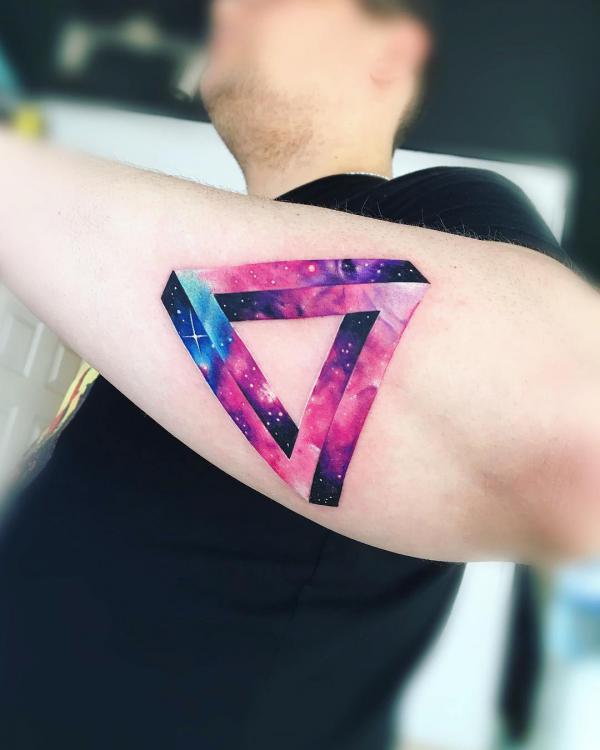 The Penrose triangle, an impossible object that can only exist in two dimensions, becomes even more intriguing when filled with the vibrant colors and swirling patterns of a galaxy. This design is a beautiful paradox—a symbol of impossibility filled with a representation of infinite possibility. It's a statement piece that speaks to the mysteries of space and the mind-bending beauty of geometry.
Geometric Fibonacci patterns with an realistic eye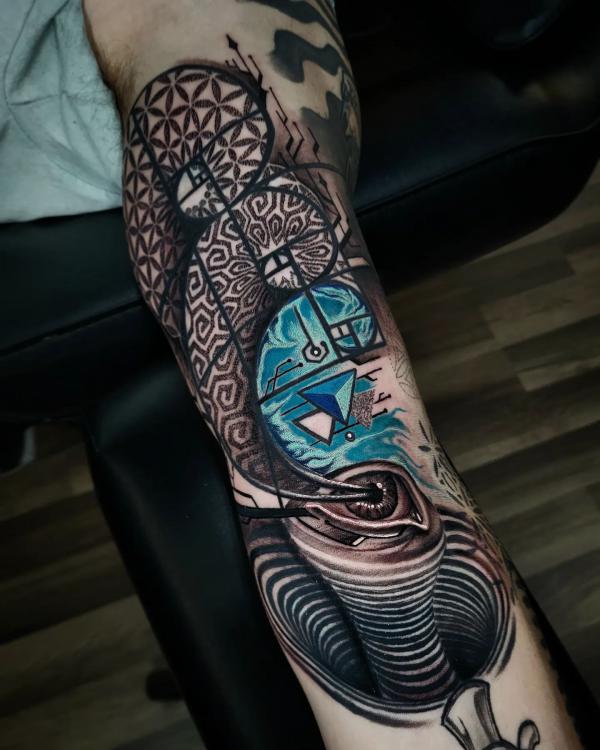 If you're a fan of mathematics and mysticism, consider an ink design that combines geometric Fibonacci patterns with a realistic eye. The Fibonacci sequence, a series of numbers in which each number is the sum of the two preceding ones, plays a significant role in many natural phenomena. Paired with an eye—often seen as a symbol of perception and enlightenment—this design can represent the beauty of nature's order and our recognition of it.
Geometric helm of awe tattoo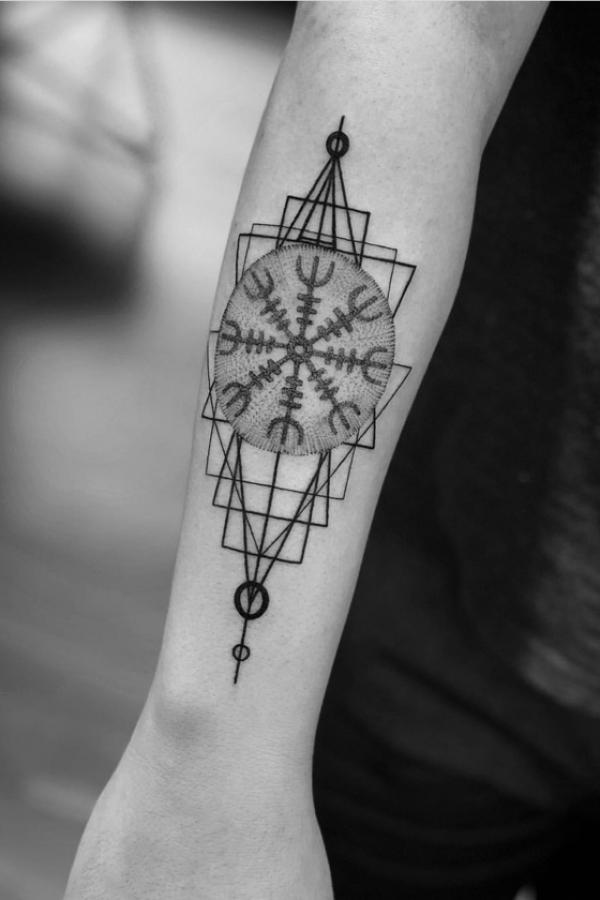 The Helm of Awe is an ancient Norse symbol associated with protection and power. In a geometric rendition, the Helm of Awe is paired with the pattern of interlocking lines and shapes, maintaining its sense of strength and potency. This tattoo can serve as a personal talisman, a reminder of inner strength and resilience etched in your skin.
Geometric rabbit forearm tattoo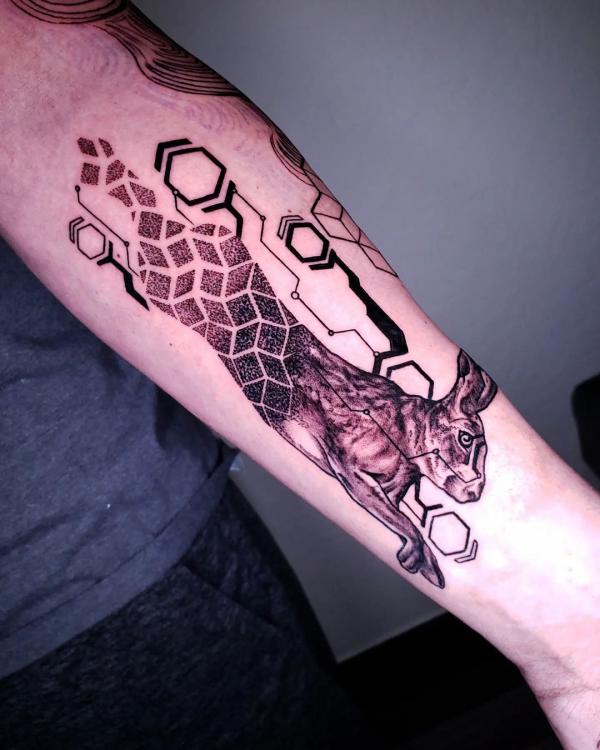 The rabbit, a symbol of abundance and warmth, is rendered in geometric shapes in the rear part of its body, giving it a stylized, modern aesthetic. The forearm placement makes this tattoo highly visible, allowing you to share your affinity for this creature and your love for geometric design with the world.
Mandala full back tattoo for women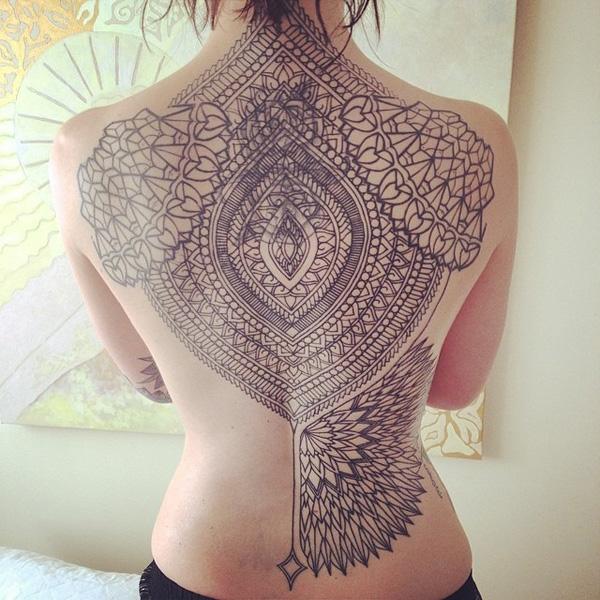 This full back tattoo is a breathtaking choice for women seeking a large, intricate design. The mandala, a geometric pattern that represents the universe in Hindu and Buddhist symbolism, is a beautiful display of symmetry and intricacy. Covering the full back, this tattoo is a testament to your commitment to your personal journey and the vast universe of experiences it encompasses.
Stylized geometric flower thigh tattoo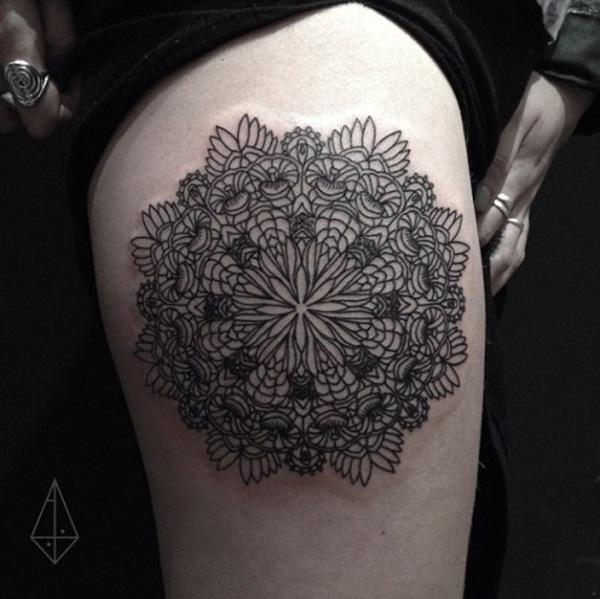 A stylized flower tattoo is a fusion of natural beauty and mathematical precision on the thigh. The flower, a universal symbol of growth and beauty, is created from geometric shapes, lending it a sleek, modern look. The thigh placement gives this tattoo a sense of intimacy and personal significance.
Geometric matching tattoos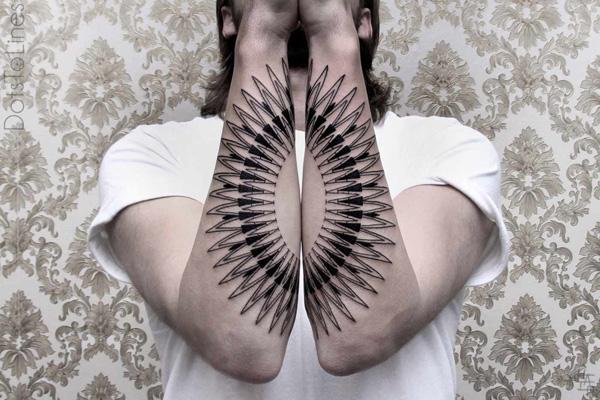 Black and grey mandala lotus thigh tattoo
For a design that's both elegant and spiritual, consider a black and grey mandala lotus tattoo on the thigh. The lotus, a symbol of purity and enlightenment, is designed in the style of a mandala, creating a detailed, symmetrical pattern. The black and grey palette lends this tattoo a timeless, classic appeal.
Mandala shawl nape tattoo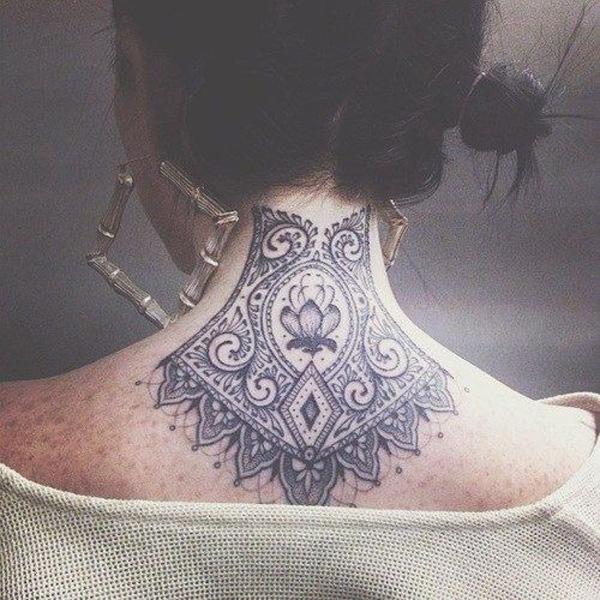 This design, placed at the nape of the neck and extending down the back in a shawl-like pattern, creates a stunning visual effect. The mandala, with its intricate geometric details, transforms into a piece of wearable art—a testament to the beauty and complexity of the universe and your place within it.
A tattooed women with geometric sleeve tattoo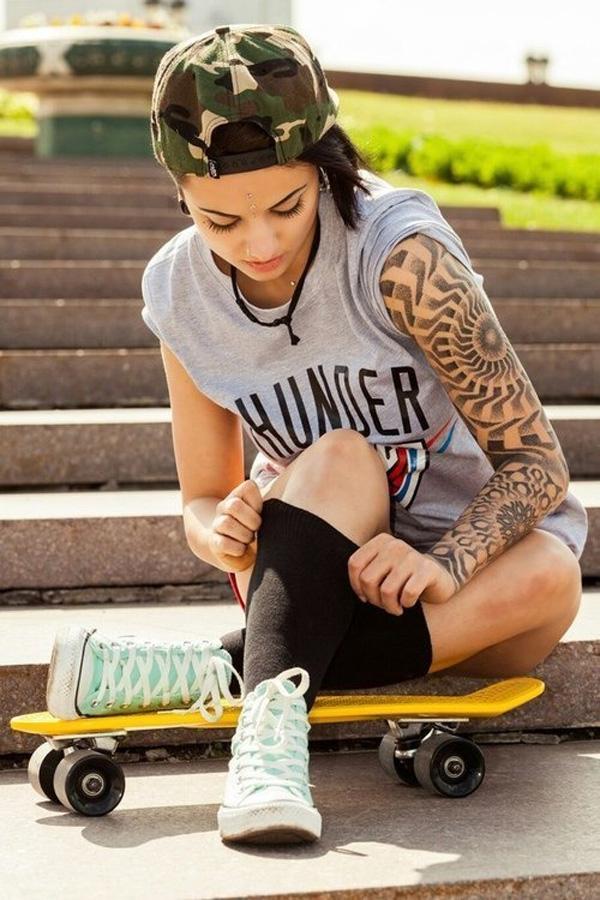 Imagine a woman with a full sleeve tattoo, every inch of her arm covered in stunning geometric patterns. Circles, polygons, and lines intertwine, creating a hypnotizing maze of shapes on her skin. The sleeve placement makes this design a bold statement, a testament to her confidence and appreciation for the beauty of geometry.
Geometric tattoo on back for women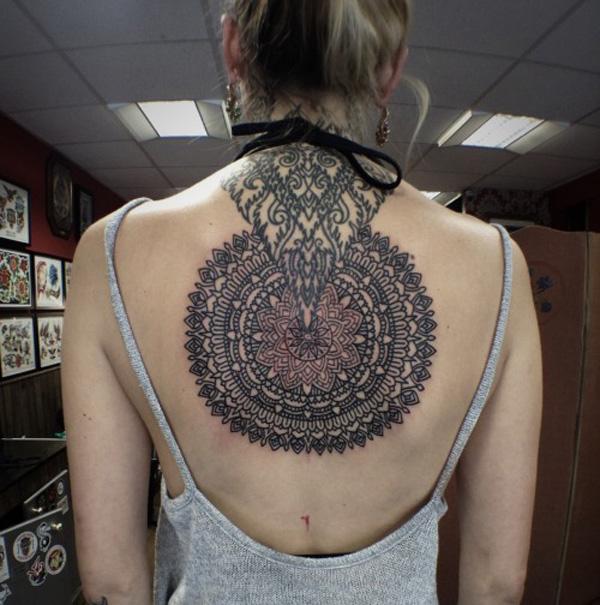 The back is a large canvas that's perfect for showcasing intricate geometric designs. For women, a geometric tattoo can be both a personal symbol and a work of art. Whether it's composed of interlocking polygons, symmetrical mandalas, or a beautiful tessellation, such a design becomes a testament to the harmonious blend of precision and creativity.
Mandala and solid star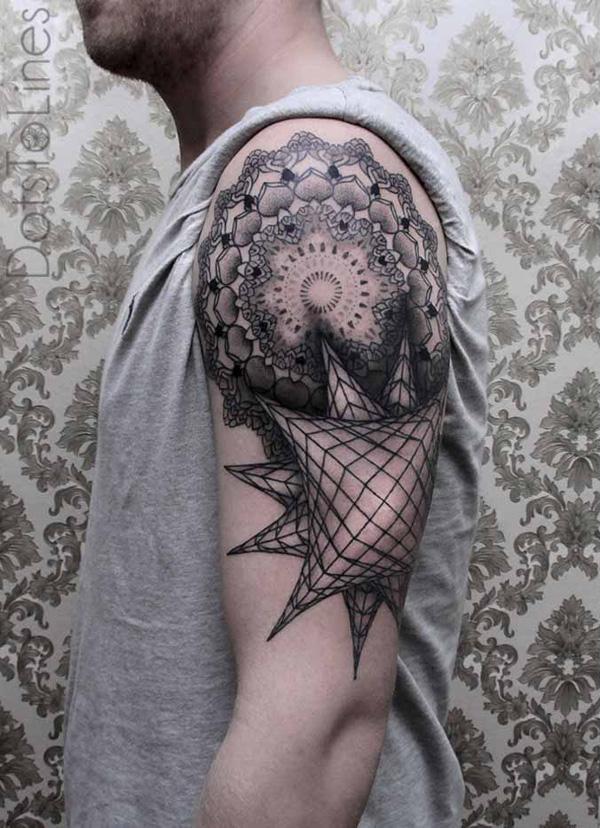 A quarter sleeve tattoo that combines a mandala and a solid star is a powerful choice for men. The mandala, with its intricate geometric patterns, represents the cosmos, while the solid star stands as a symbol of guidance and aspiration. Together, they create a design that's both visually striking and rich in symbolism.
Flowing geometric patterns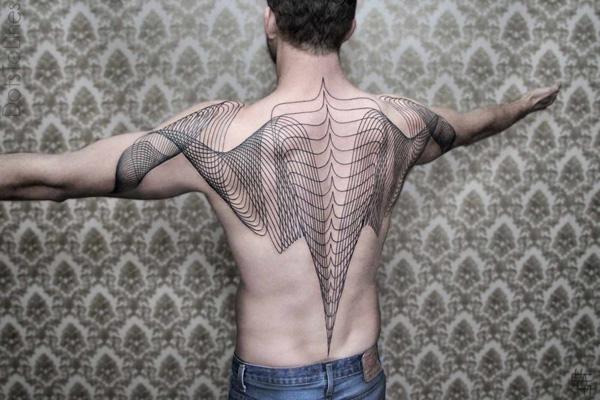 Geometric tattoos don't have to be rigid and strict. Flowing geometric patterns, for example, can create an illusion of movement on the skin. Picture a man's back adorned with geometric shapes that seem to flow and ripple like water or wind. Such a design can symbolize harmony between order and chaos, structure and fluidity.
Mandala flower and roses tattoo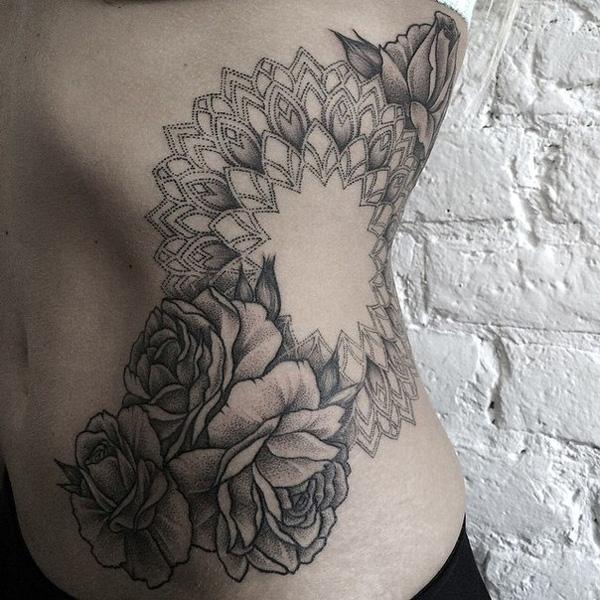 A black and grey ink design featuring a mandala flower and roses merges geometric artistry with natural beauty. The roses add a romantic touch to the geometric precision of the mandala flower, and the monochrome palette lends the design a timeless, classic appeal. This design can symbolize the unity of nature and mathematics, passion and precision.
Mandala flower and peony thigh tattoo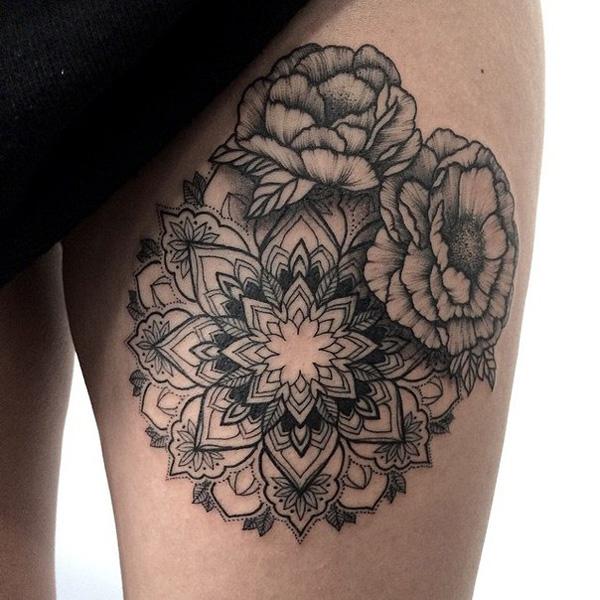 A thigh tattoo that combines a mandala flower with a peony creates a design that's both charming and meaningful. The peony, a symbol of beauty and fragility, contrasts beautifully with the geometric, symmetrical mandala. This combination can represent a balance of beauty and structure, chaos and order.
Intricate decagon matching forearm tattoo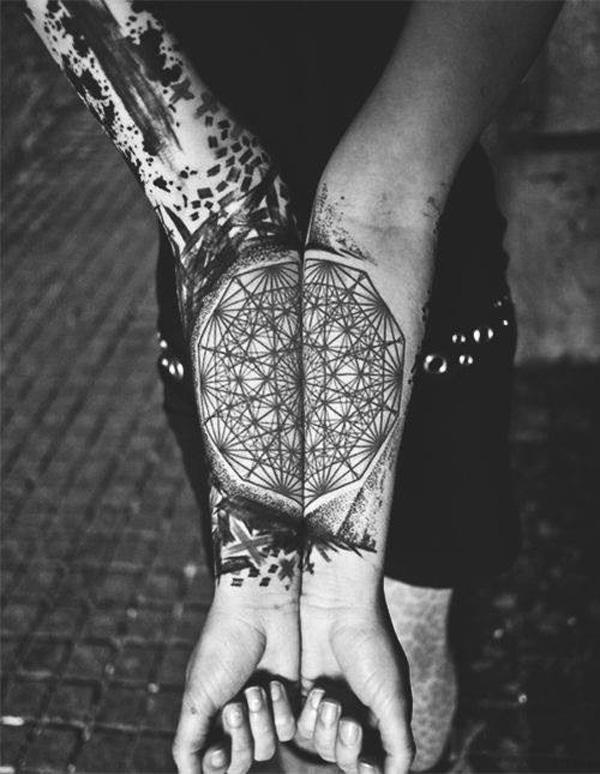 Feminine ring around shoulder blade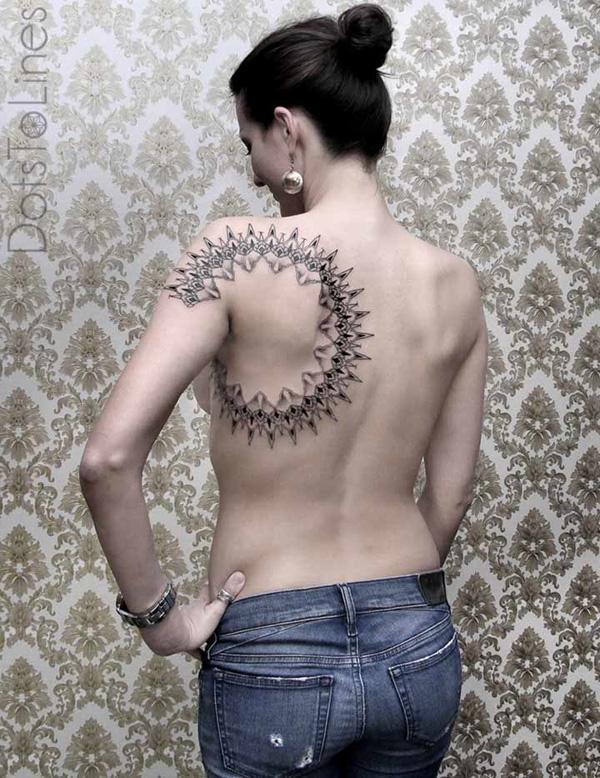 The shoulder blade tattoo can be a subtle yet stylish choice for women. The geometric ring can be as simple or intricate as you want, with additional elements like dots, lines or even small geometric flowers added for extra detail. This design can symbolize completeness, unity, and the eternal cycle of life.
Twisted tetrahedron chest tattoo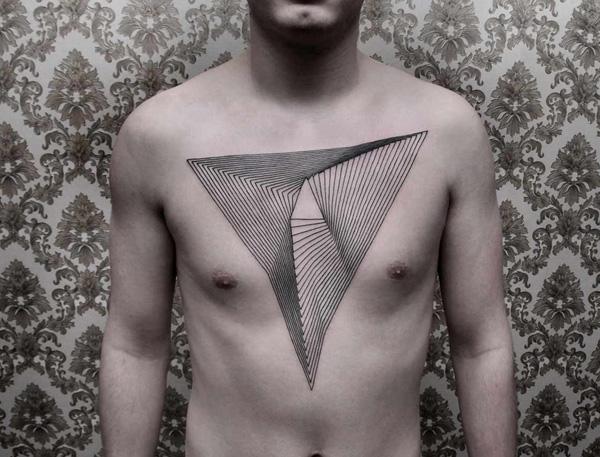 The chest tattoo is a bold, 3D design that's sure to turn heads. The tetrahedron, a pyramid-like shape with four faces, represents stability and strength in geometric symbolism. When twisted, it creates an optical illusion that adds depth and intrigue to the design. This tattoo can symbolize resilience, dynamism, and a willingness to view things from different perspectives.
Black and grey polyhedron patterns bicep tattoo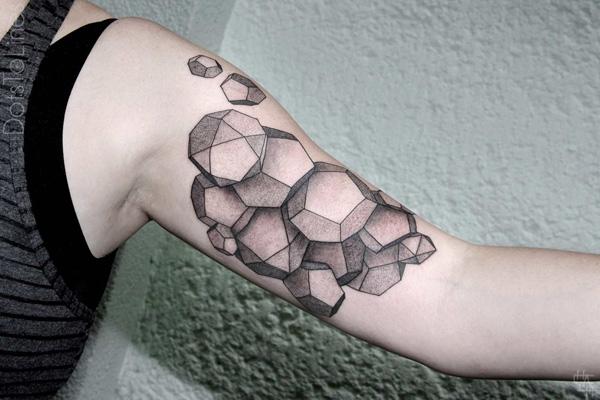 Consider a black and grey tattoo of polyhedron patterns on the bicep. Polyhedrons—3D shapes with flat faces and straight edges—create a mesmerizing pattern that's both visually striking and symbolically meaningful. The bicep placement adds a touch of toughness to the design. This tattoo can represent strength, complexity, and a deep appreciation for the beauty of geometry.
Twisted lines spherical surface with negative space in the center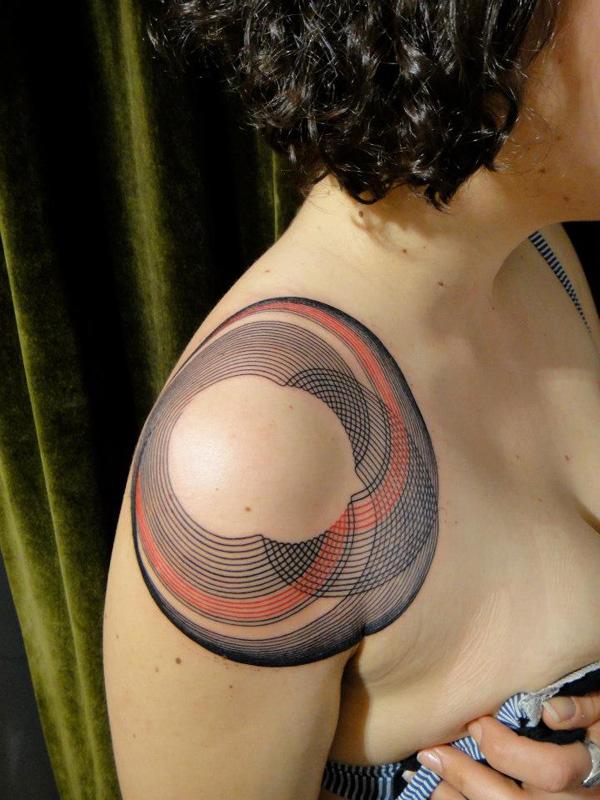 Starting with an innovative twist, imagine a tattoo of a spherical surface formed by beautifully twisted lines, with a striking negative space in the center. This design plays with the principles of geometry and space, creating an optical illusion that draws the eye and sparks the imagination. It's a bold way to express your appreciation for the beauty of complexity and the power of simplicity.
3D block geometric tattoo on one side of chest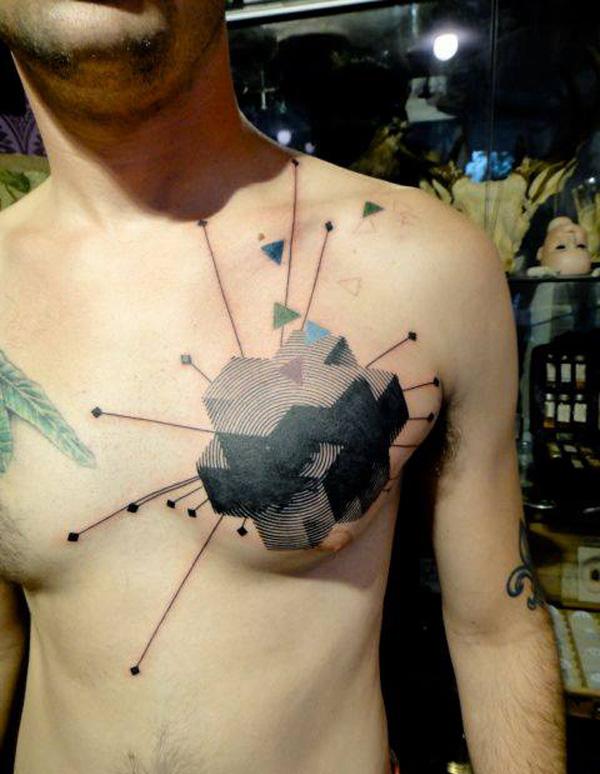 This design uses the principles of 3D geometry to create an illusion of depth and dimension on the skin. The chest placement gives the tattoo an intense, personal significance. This tattoo is a testament to your love for geometry and your courage to carry it close to your heart.
3d Six pointed star pattern forearm tattoo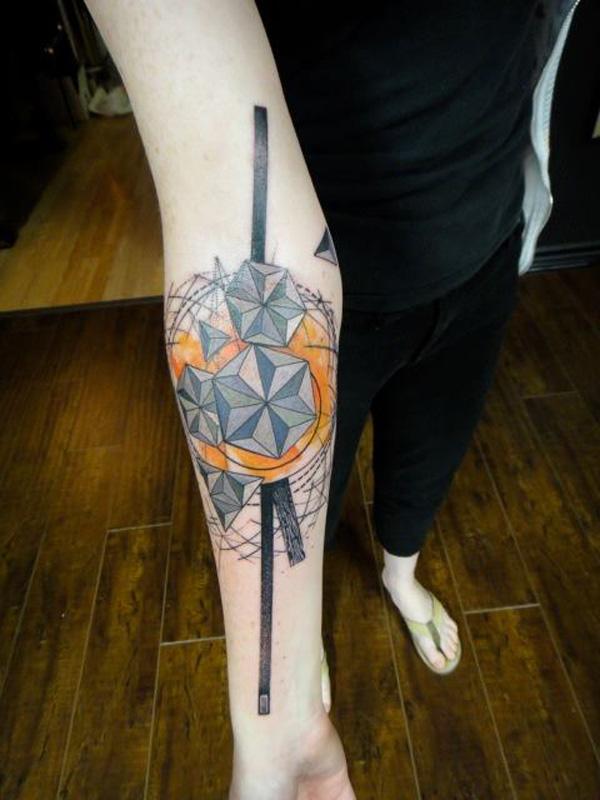 The forearm tattoo is a blend of geometric beauty and symbolic depth. The six-pointed star, also known as the Star of David, is rich in cultural and spiritual symbolism. Rendered in 3D, it becomes a captivating optical illusion. This tattoo is a declaration of your identity and your fascination with the intersection of geometry, culture, and spirituality.
Geometric head tattoo for men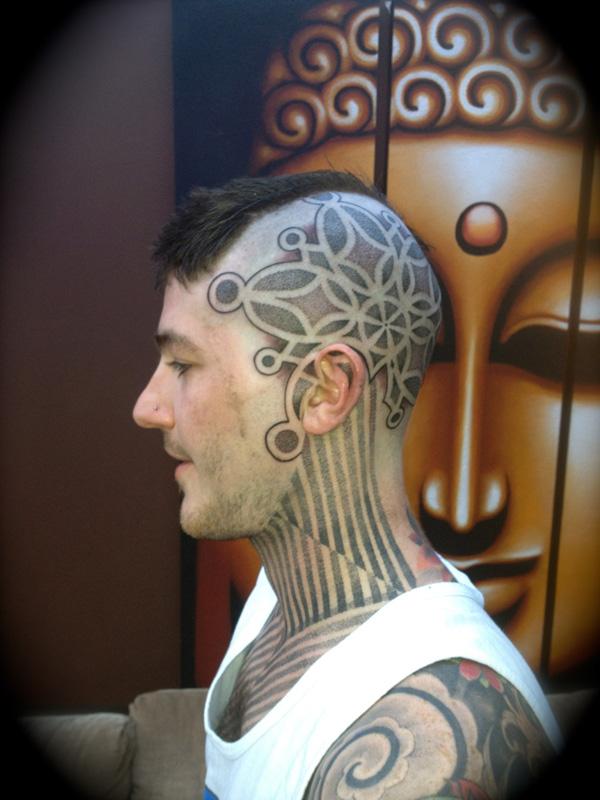 For men seeking a bold expression of their love for geometric patterns, a head tattoo is a thought-provoking choice. Whether it's a series of interconnected shapes, a complex tessellation, or a mesmerizing fractal pattern, this tattoo is a testament to your commitment to your passion for geometric design.
Mandala quarter sleeve tattoo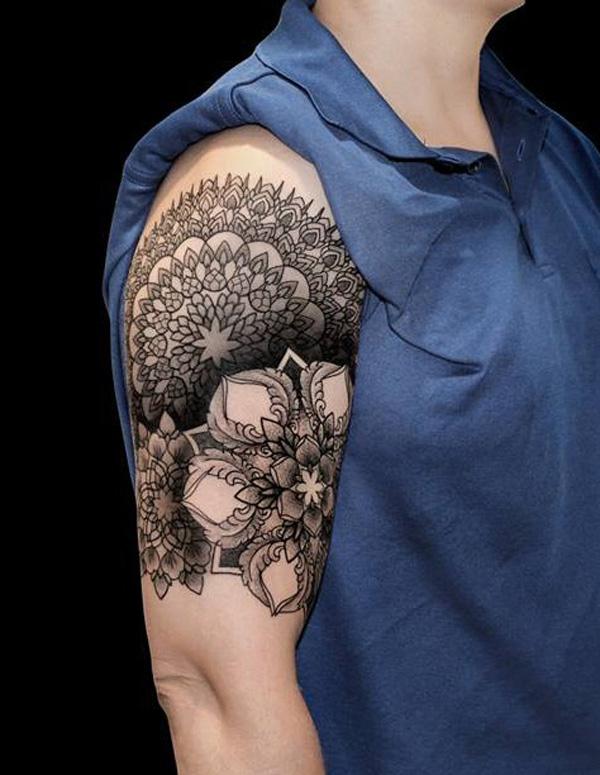 A mandala quarter sleeve ink design is a visually stunning and spiritually significant choice. The mandala, a circular, symmetrical design that represents the universe in Hindu and Buddhist symbolism, is a deeply meaningful and visually engaging pattern. As a quarter sleeve tattoo, it is a declaration of your spiritual journey and your appreciation for the beauty of the cosmos.
Circular patterns resembling Greek meander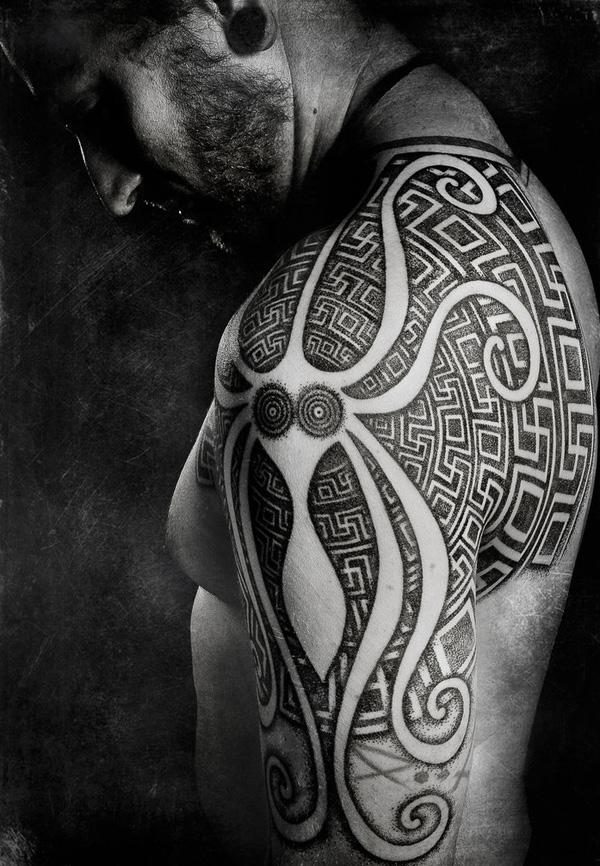 Greek meander patterns, also known as Greek keys, are a series of continuous lines that continuously fold back on themselves, creating a series of right angles. When these patterns are formed in a circular design, they create a captivating visual effect. This tattoo can be a nod to your love for both geometry and history.
Geometric flower of life full sleeve tattoo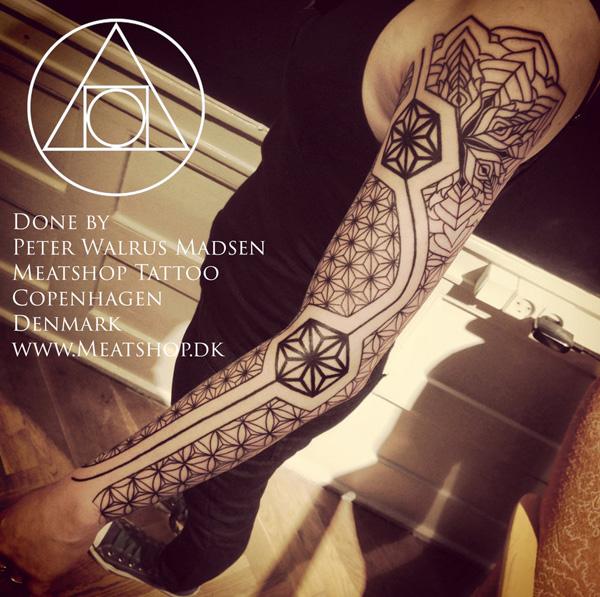 The full sleeve tattoo featuring the flower of life is a compelling choice. The Flower of Life, a pattern of evenly spaced, overlapping circles that form a flower-like pattern, is a symbol of sacred geometry believed to contain the patterns of creation. As a full sleeve tattoo, it's a bold statement of your belief in the interconnectedness of all life.
Blackwork hexagonal pattern full back tattoo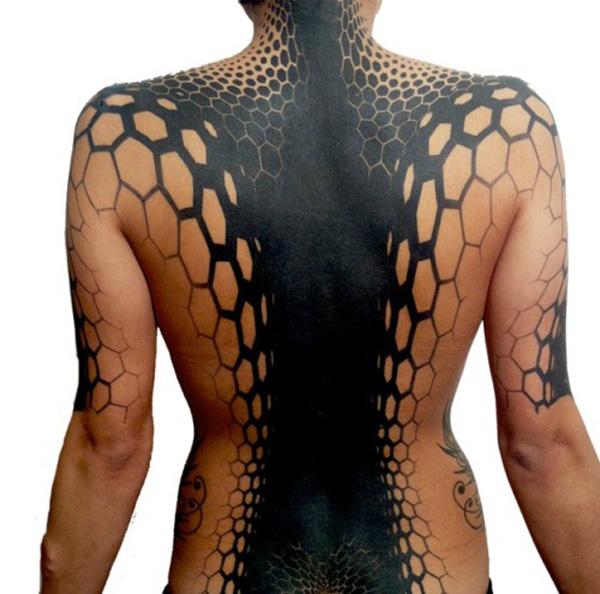 The full back tattoo is a testament to geometric precision and personal resilience. The hexagon, a six-sided shape, is a symbol of harmony and balance in geometry. In blackwork style, the hexagonal pattern creates a striking contrast against the skin, making this tattoo a captivating display of geometric artistry.
Geometric elephant tattoo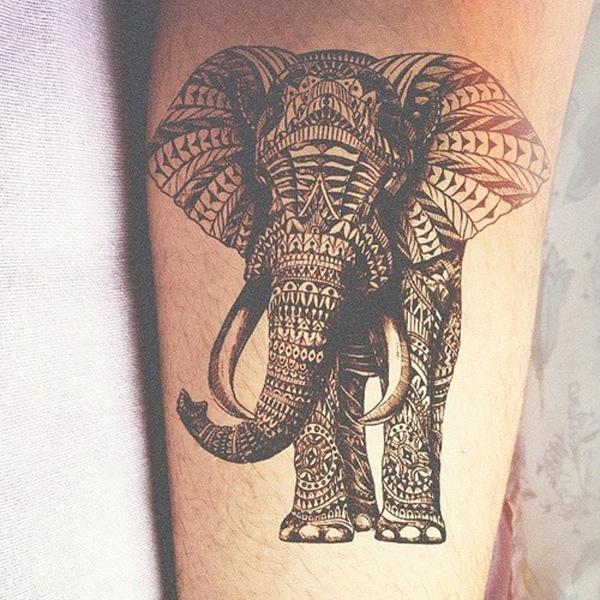 An elephant rendered in geometric style is a charming and meaningful tattoo idea. The elephant, a symbol of wisdom and strength, becomes a modern, stylized figure when depicted using geometric shapes. This tattoo is a beautiful way to express your respect for nature and your love for geometric design.
Half circular geometric line work on shoulder blade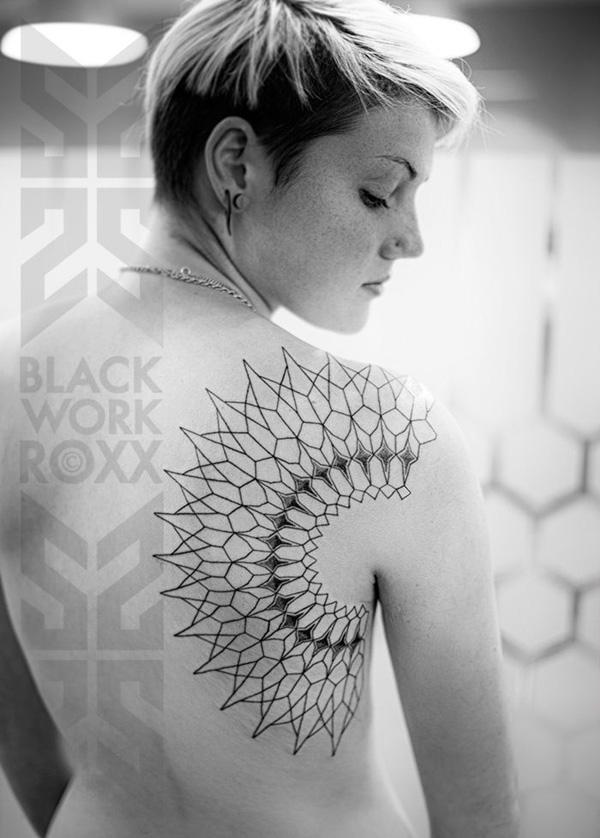 The geometric line work forms a half circle, creating a design that's both minimalistic and complex. The shoulder blade placement gives the tattoo a sense of intimacy, making it a personal symbol of your love for geometry.
Mandala bloom belly tattoo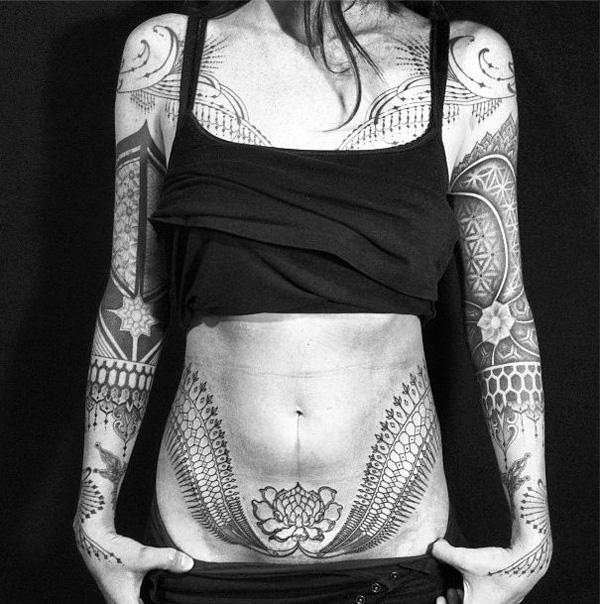 Intricate geometric pattern lower leg tattoo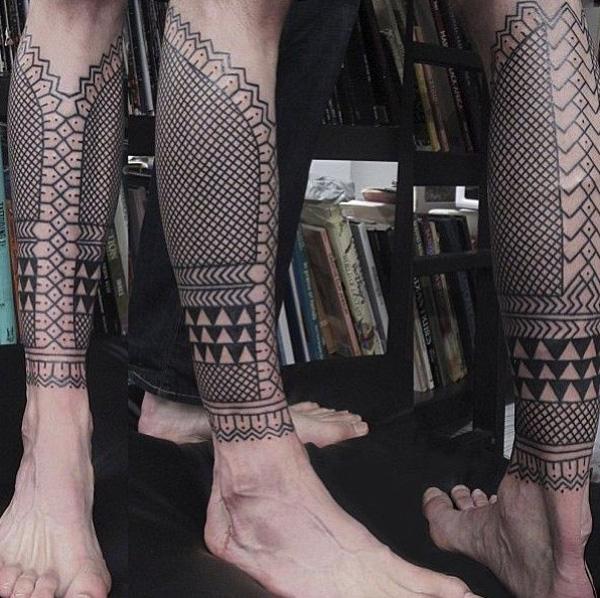 Geometric full sleeve tattoo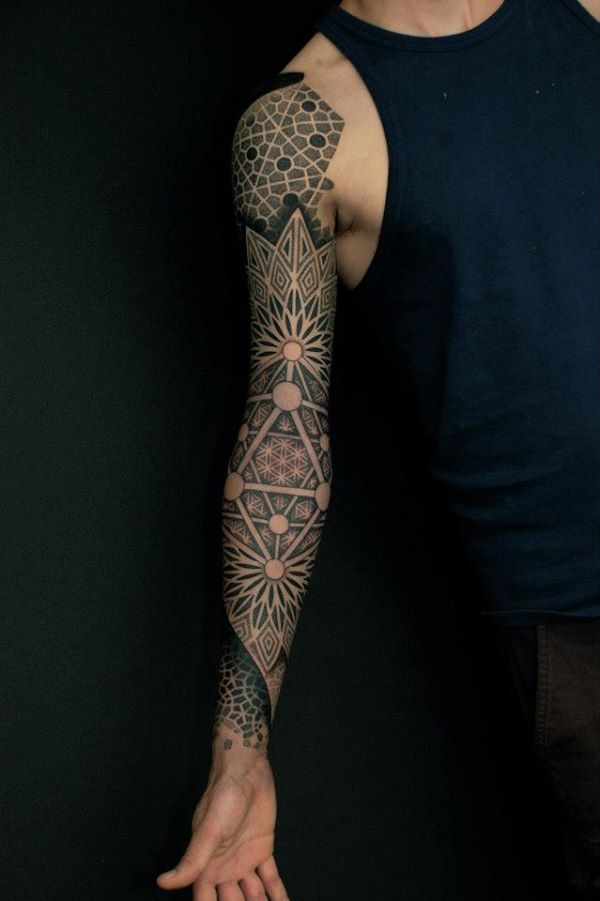 Radial dots pattern with negative space circle shoulder tattoo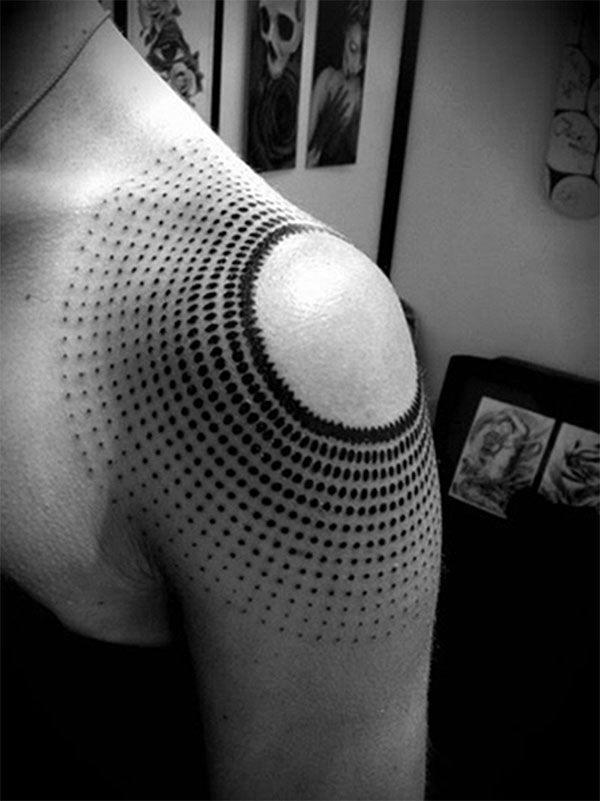 Geometric forearm matching tattoos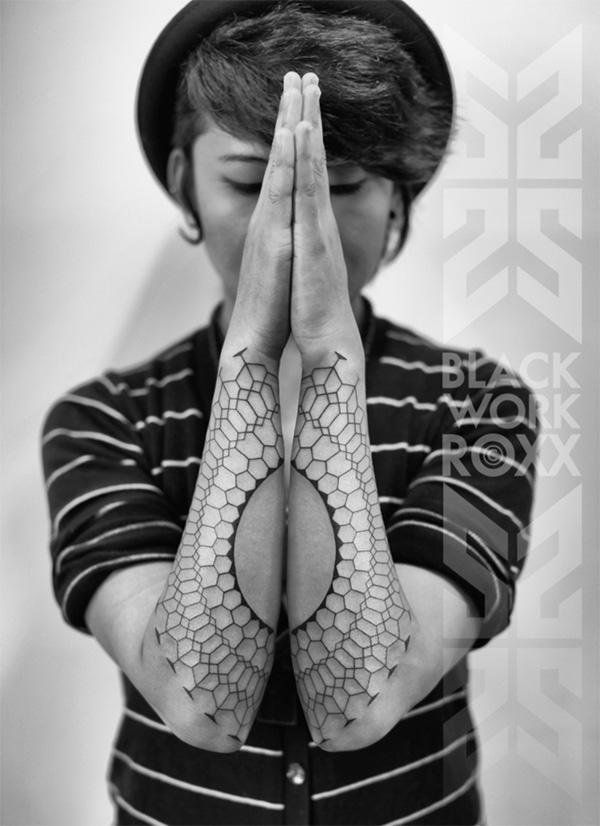 Mandala flower tattoo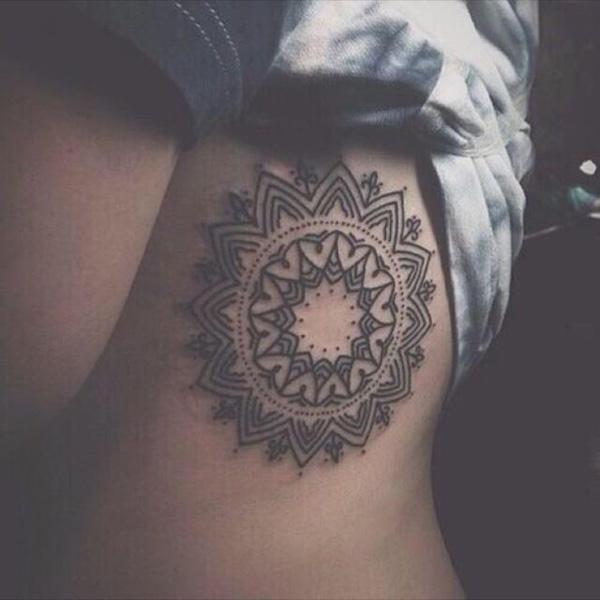 Flower of life tattoo on inner forearm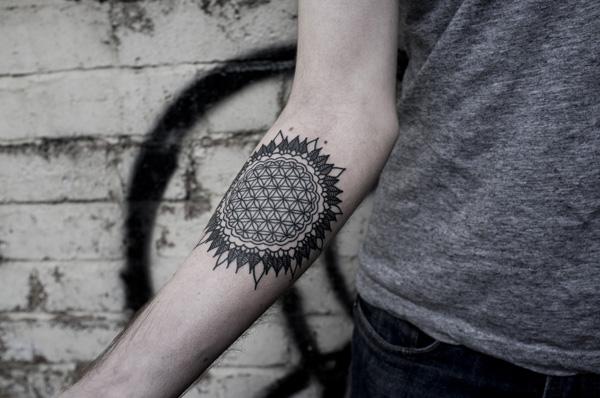 Yin Yang Vector equilibrium geometric tattoo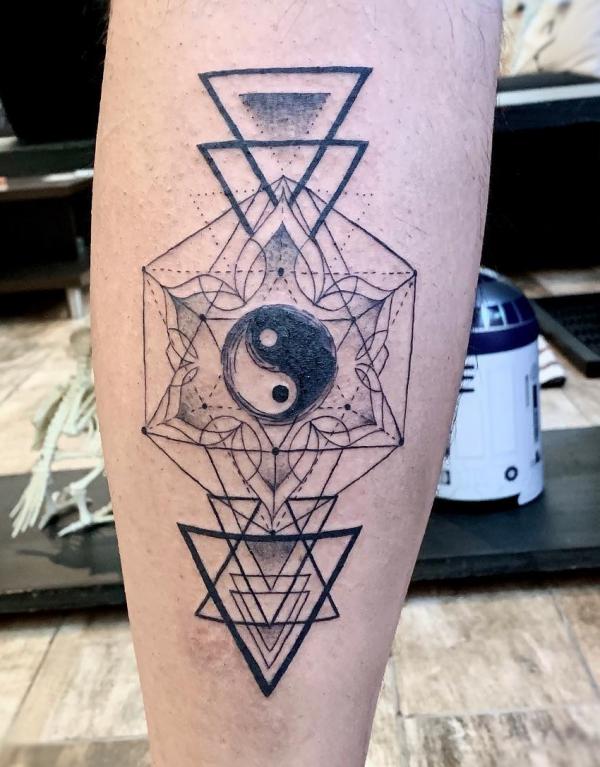 3D cube optical illusion tattoo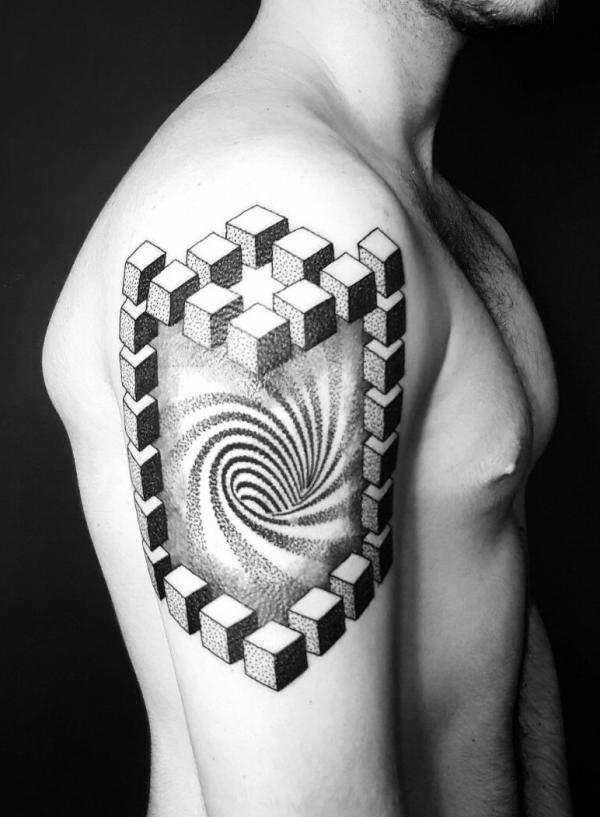 Colorful Metatron's cube thigh tattoo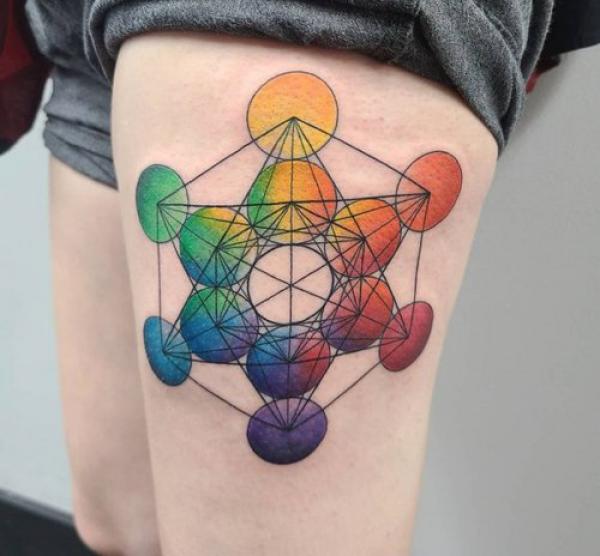 Cube linework tattoo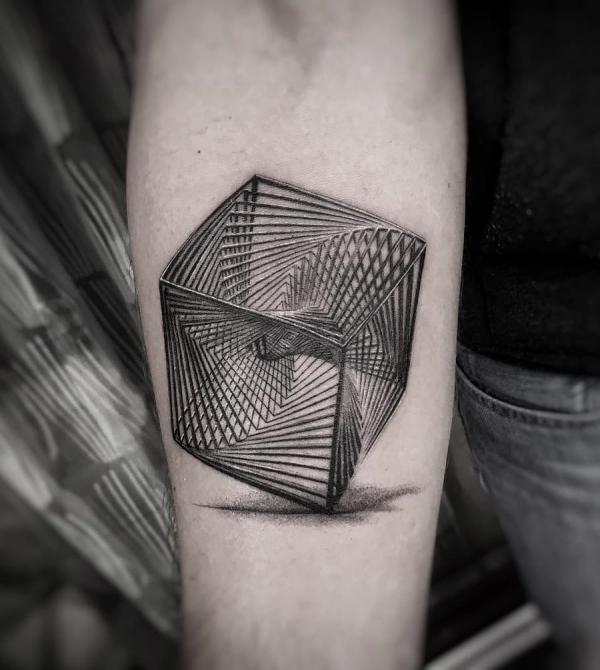 Geometric tessellation shoulder tattoo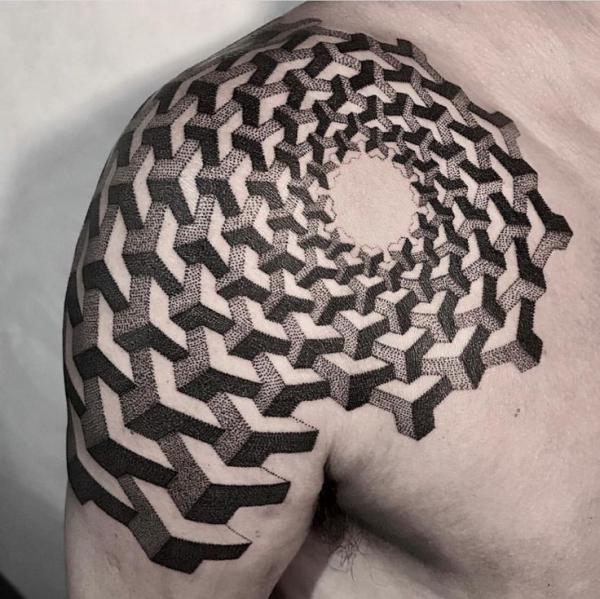 Honeycomb pattern tattoo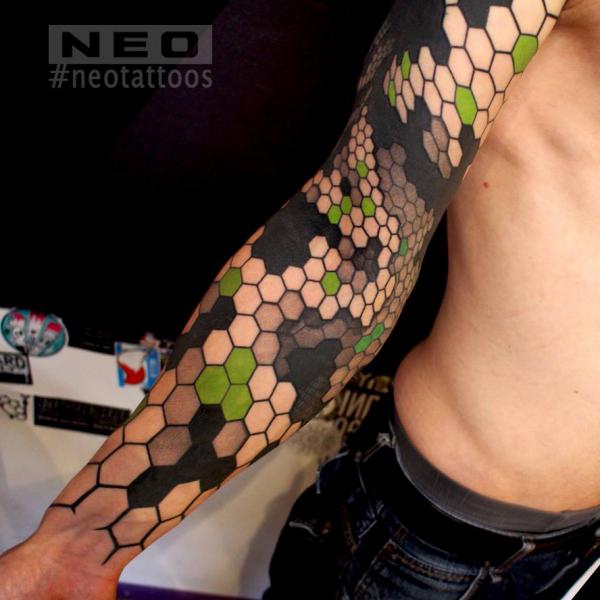 Geometric wave and palm tree Design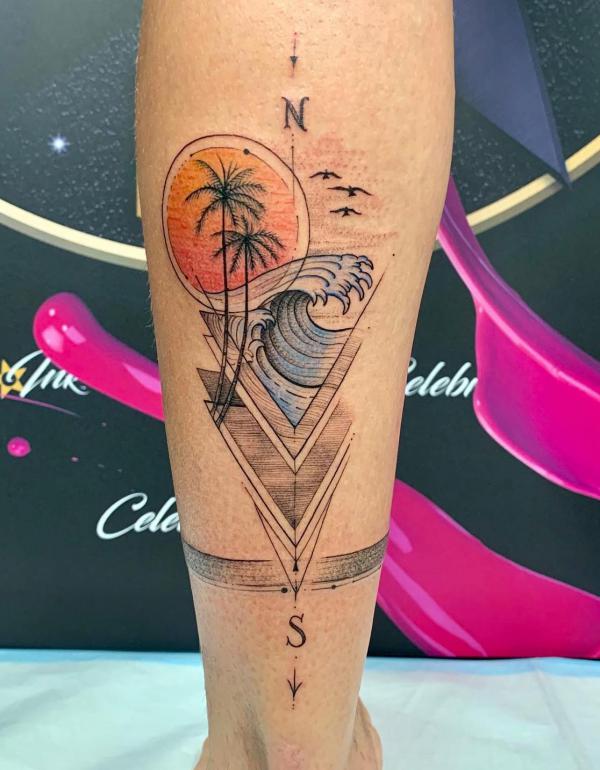 Geometric skull and flower design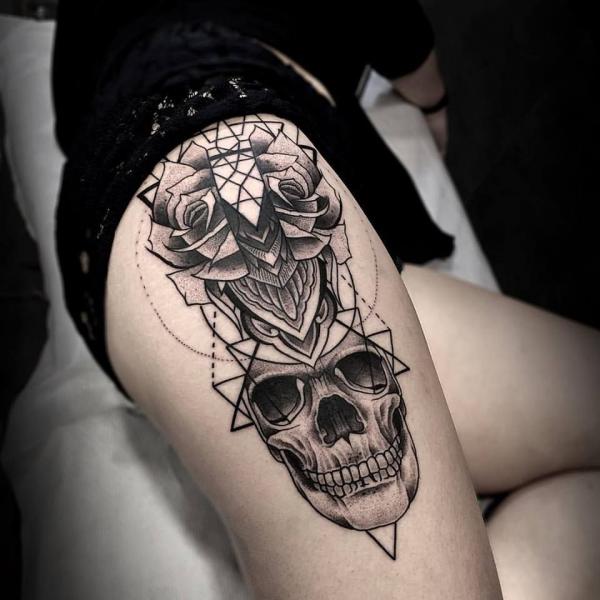 Merkabah Star in Metatron's cube
Geometric hourglass tattoo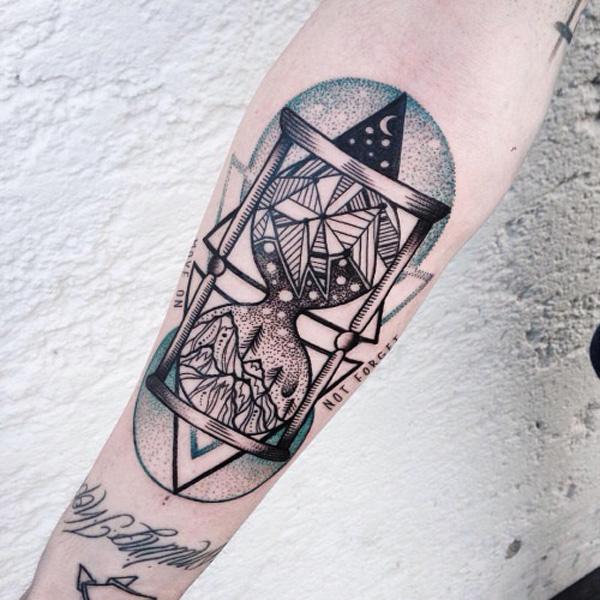 Geometric circular pattern head tattoo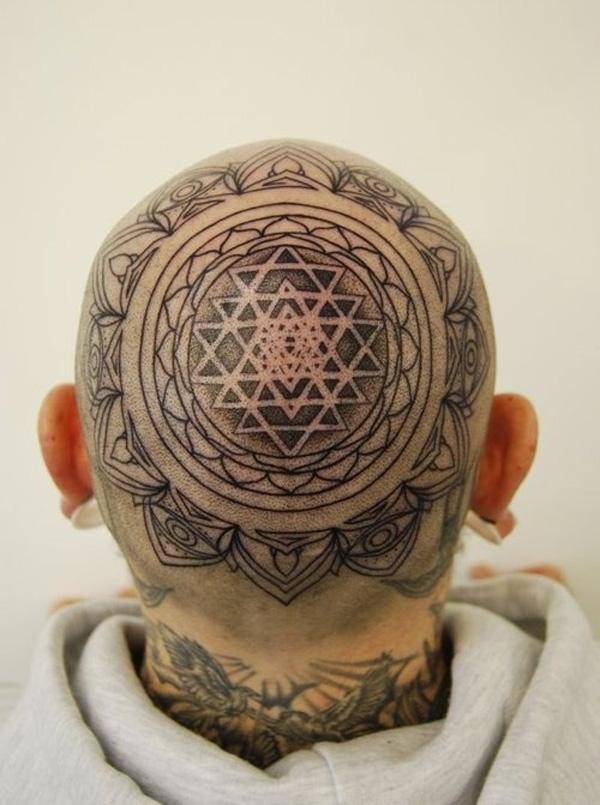 Optical Illusion geometric tattoo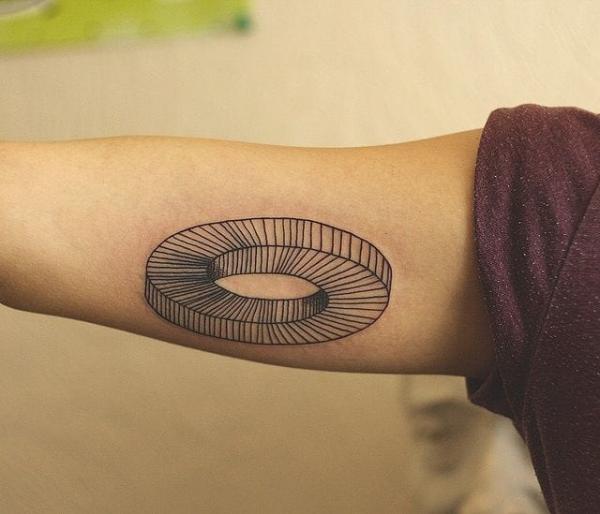 Geometric protea tattoo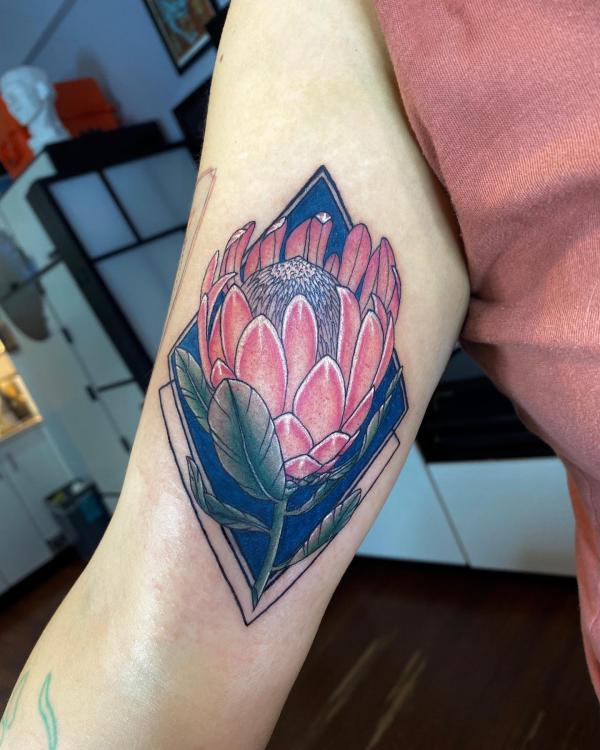 Torus arm tattoo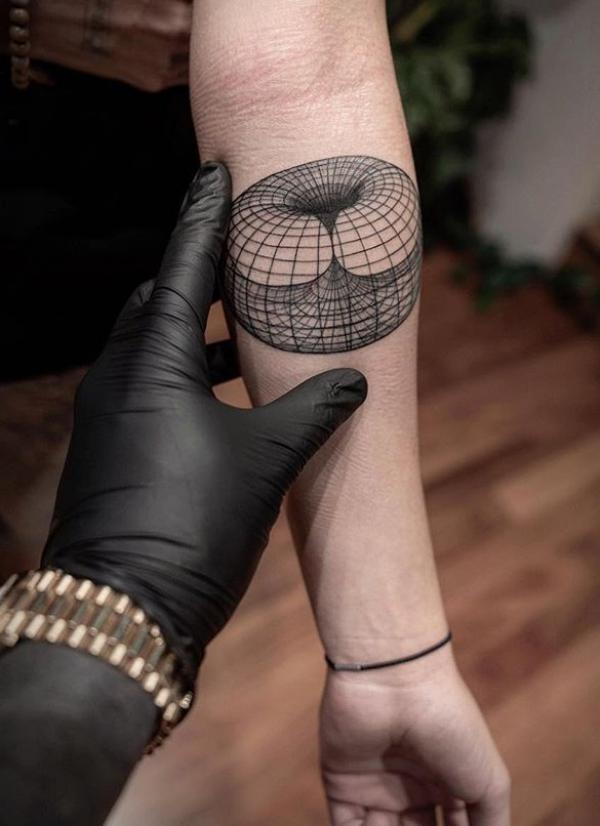 Geometric chrysanthemum with origami bird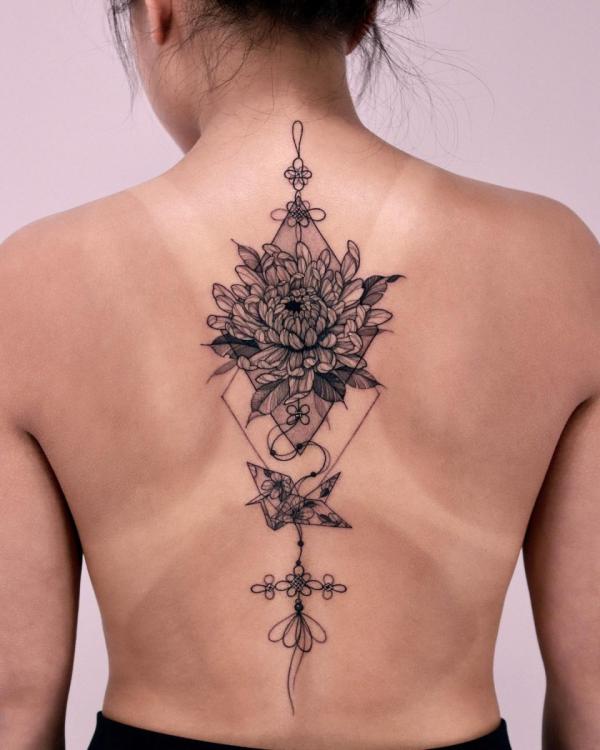 Vector Equilibrium and The Merkabah Star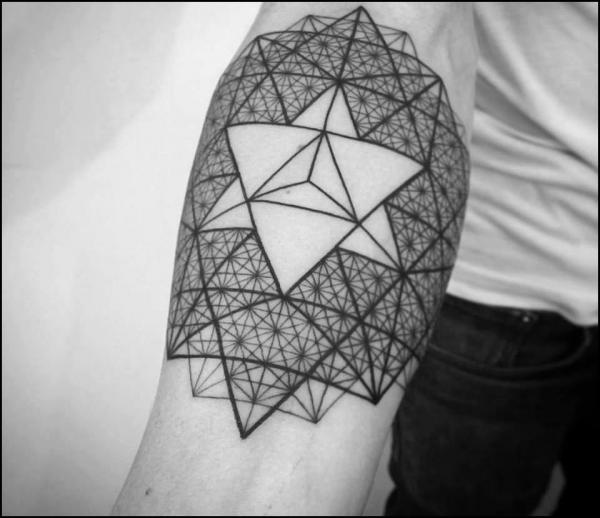 Geometric Deer Tattoo on upper arm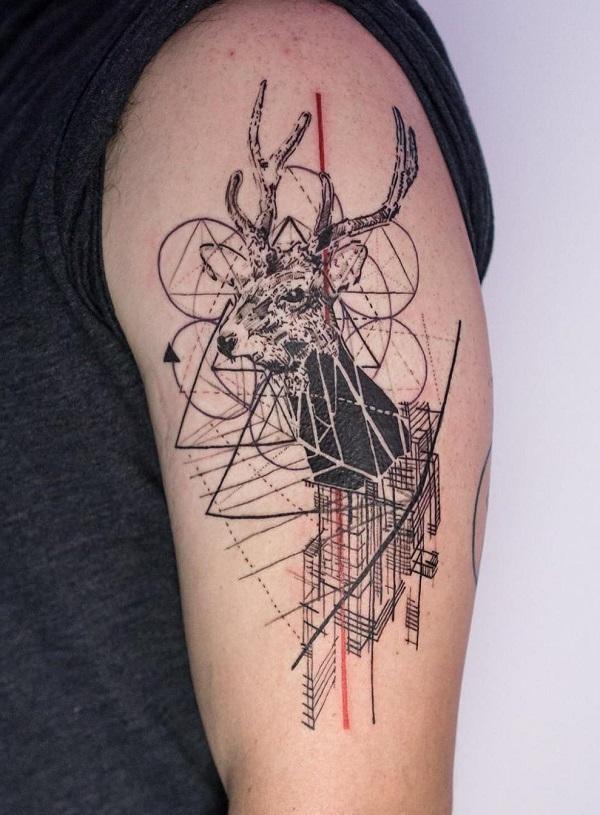 Geometric deer dotwork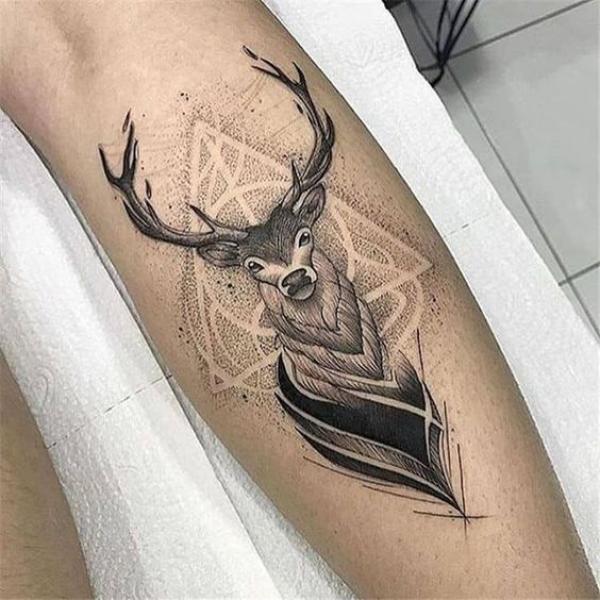 Vesica piscis in Metatron's cube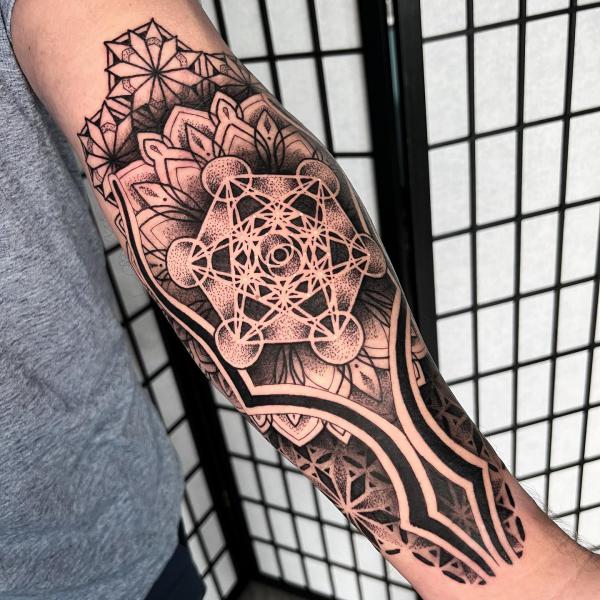 Geometric jolly roger tattoo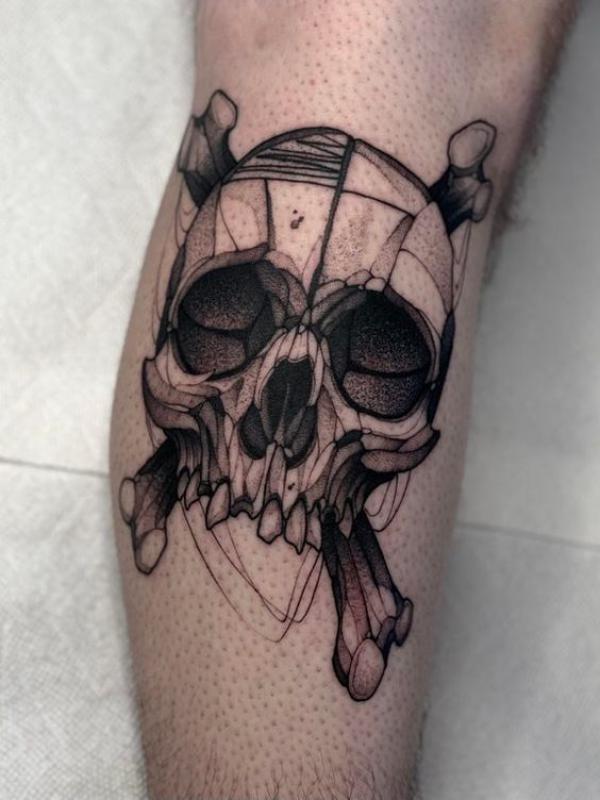 Geometric Luna Moth dotwork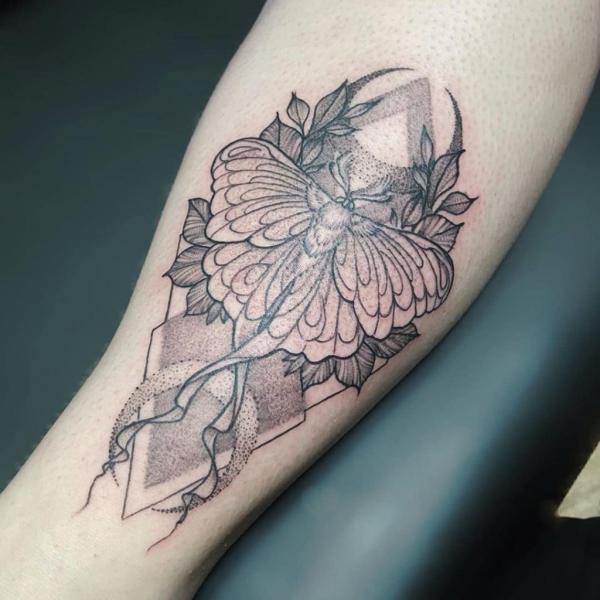 Music flower of life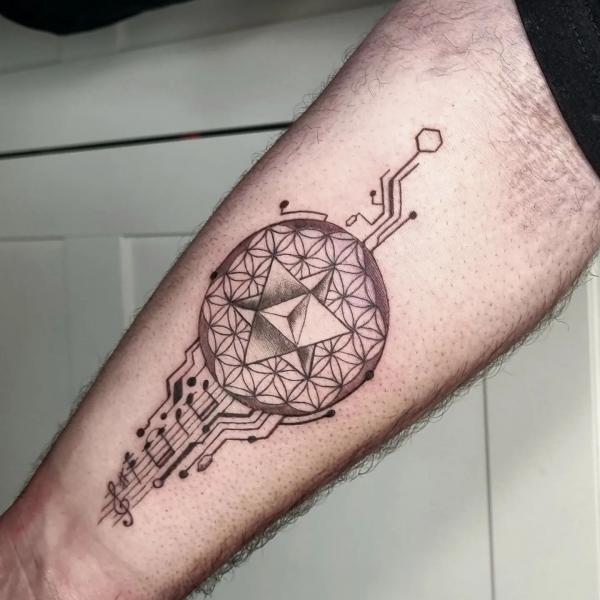 Geometric orchid ink on the back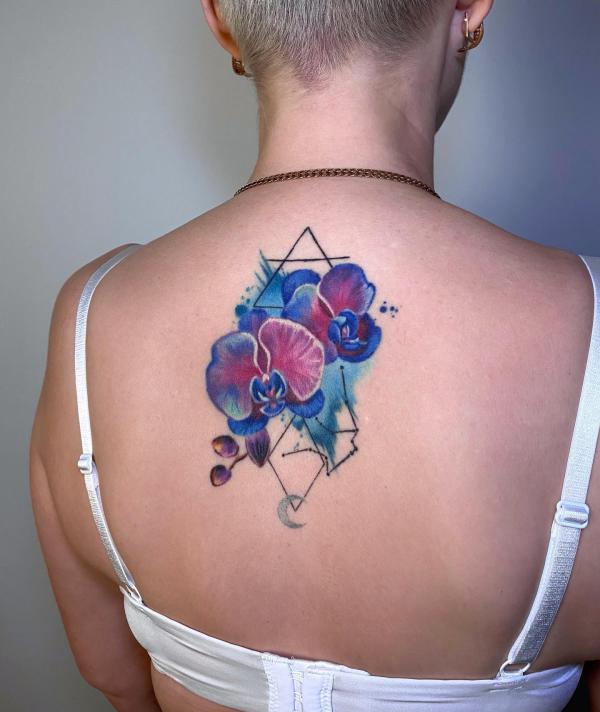 Geometric deer skull with tree antlers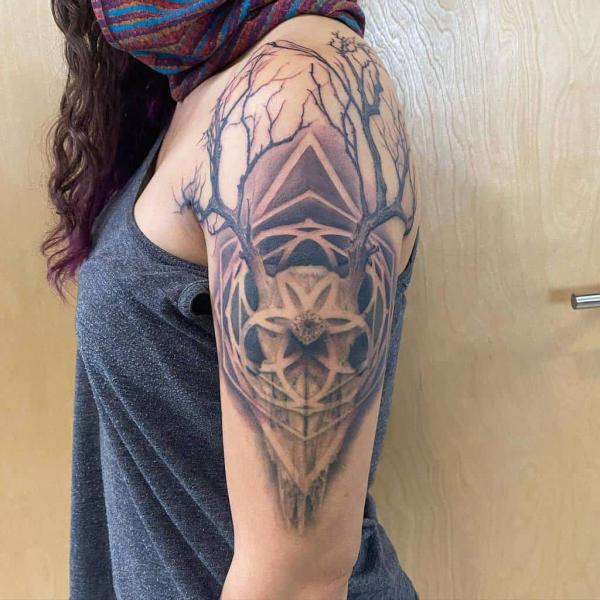 Octopus seed of life tattoo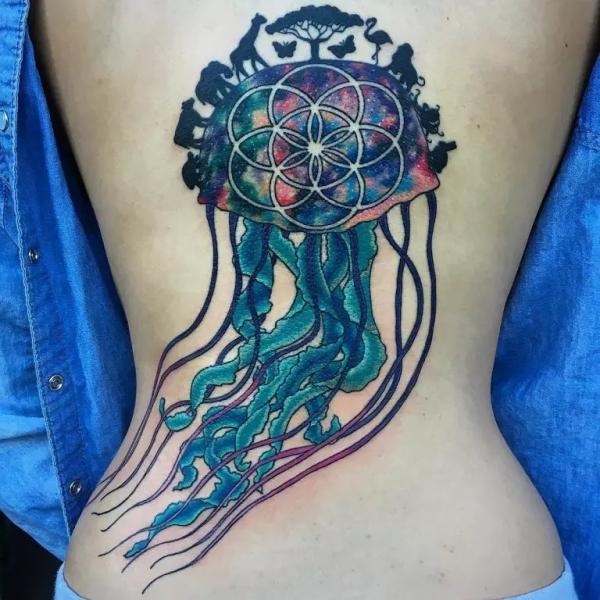 Geometric Blue Rose Tattoos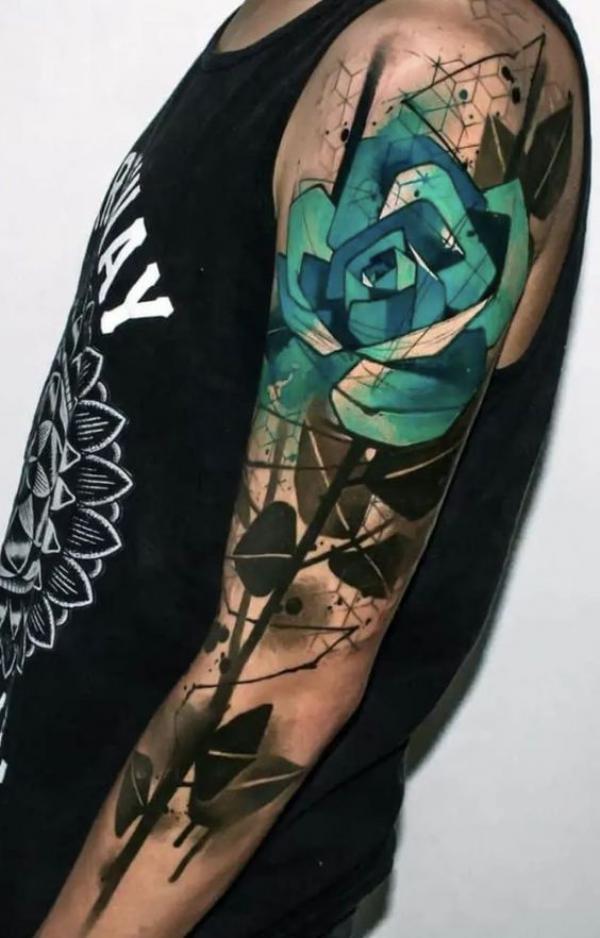 Geometric blue rose tattoos creatively combine the natural beauty of roses with the precision of geometric shapes. These designs often feature blue rose elements intertwined with triangles, circles, or intricate patterns. The symmetry and precision in these designs add a modern edge to the traditional rose tattoo.
Geometric daffodil tattoo in traditional style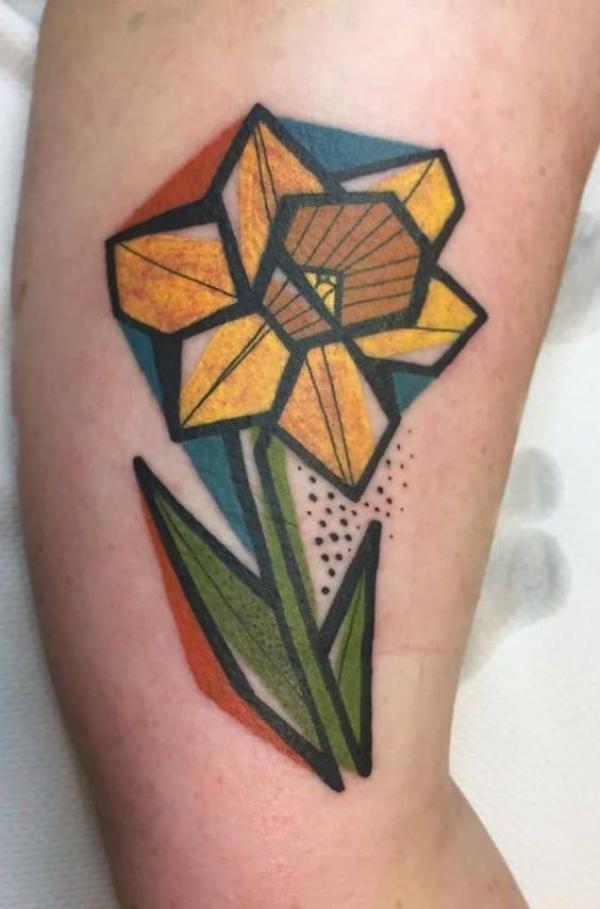 Colorful geometric frog tattoo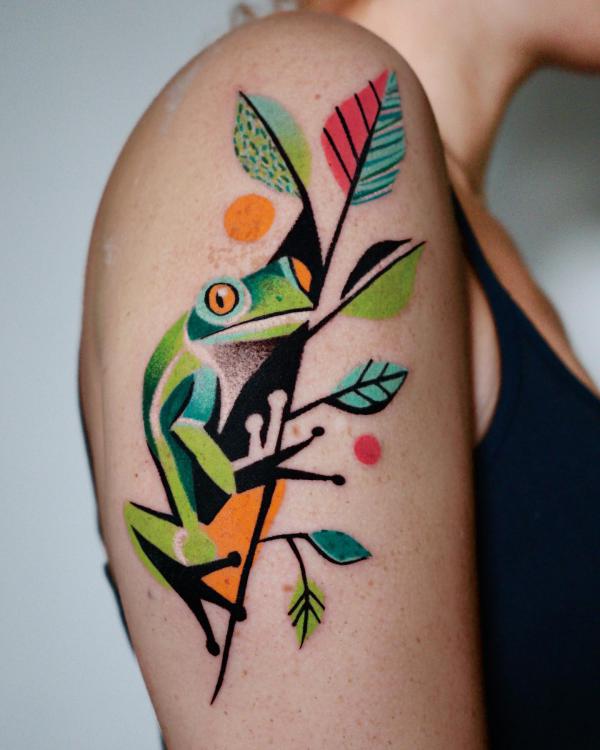 Geometric water lily outline on the forearm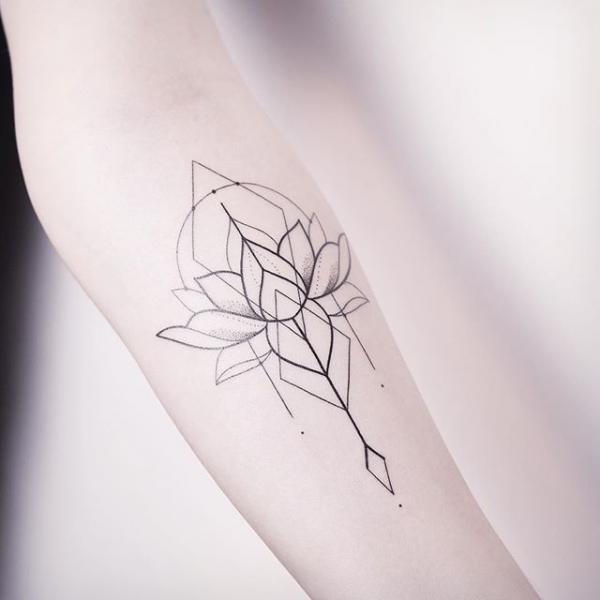 Lavender geometric Gemini constellation tattoo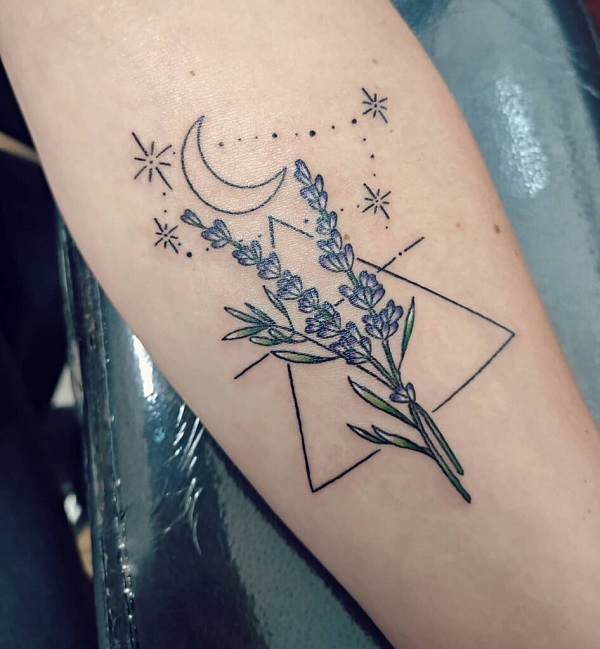 Geometric scorpion tattoo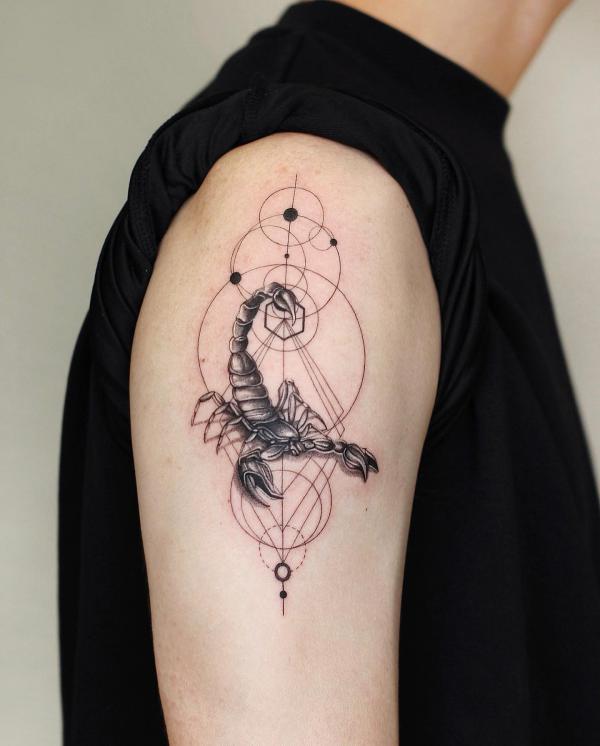 Geometric death moth tattoo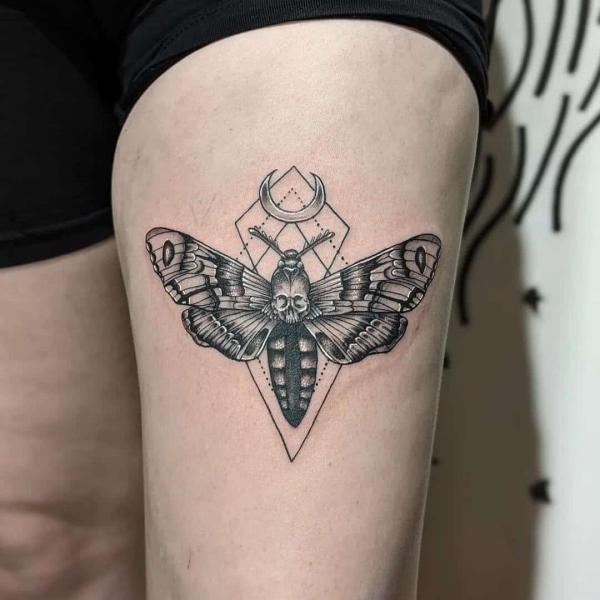 Dot circles knee tattoo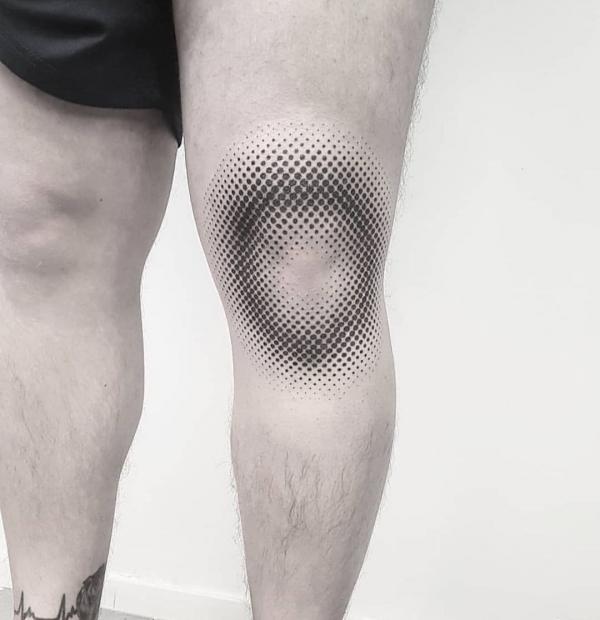 Geometric skull and anchor sleeve tattoo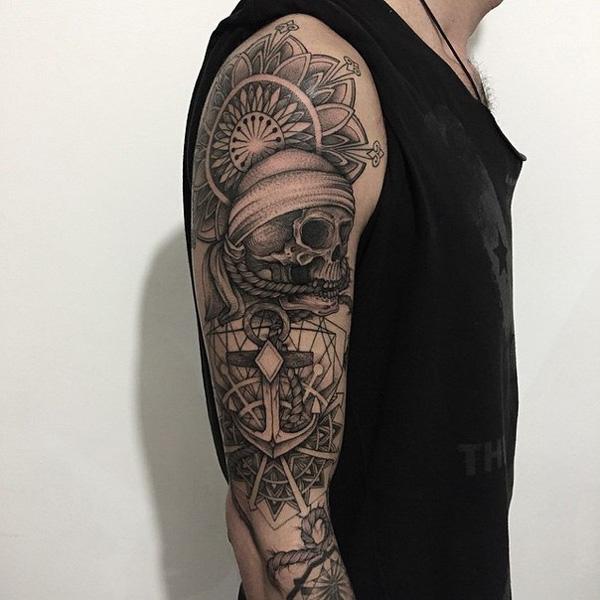 Geometric conch shell tattoo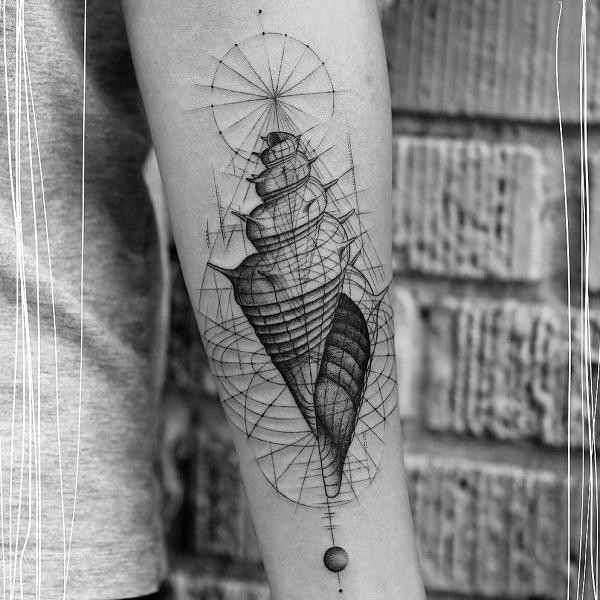 Triangle Sunflower tattoo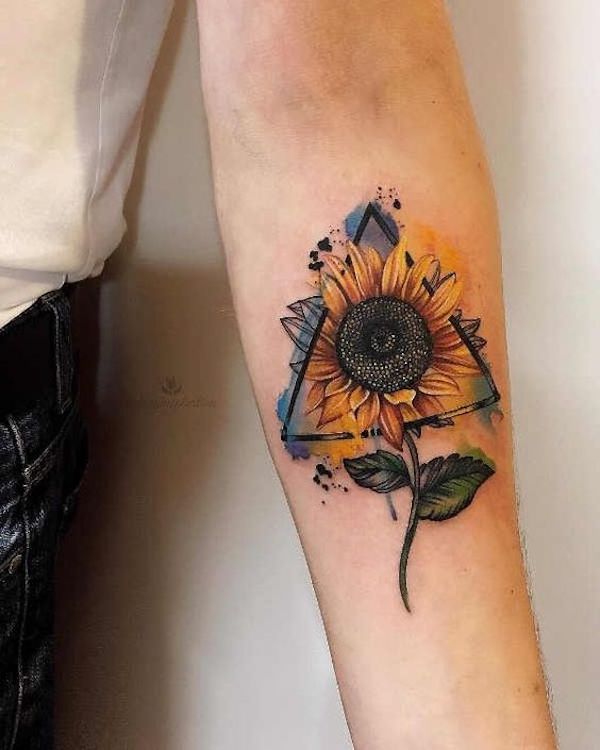 Geometric Trident and wave tattoo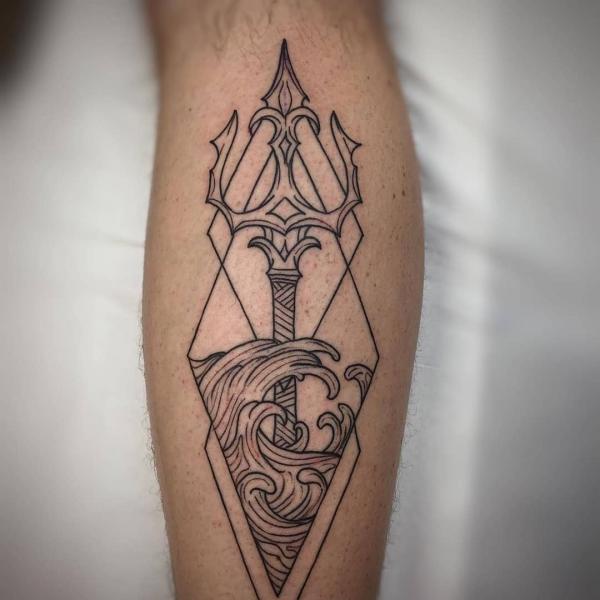 Geometric dragonfly and spider lily tattoo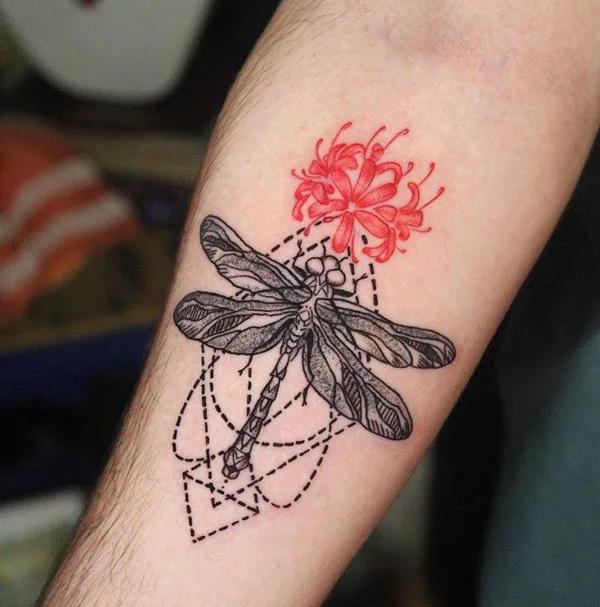 Double triangles with violet flower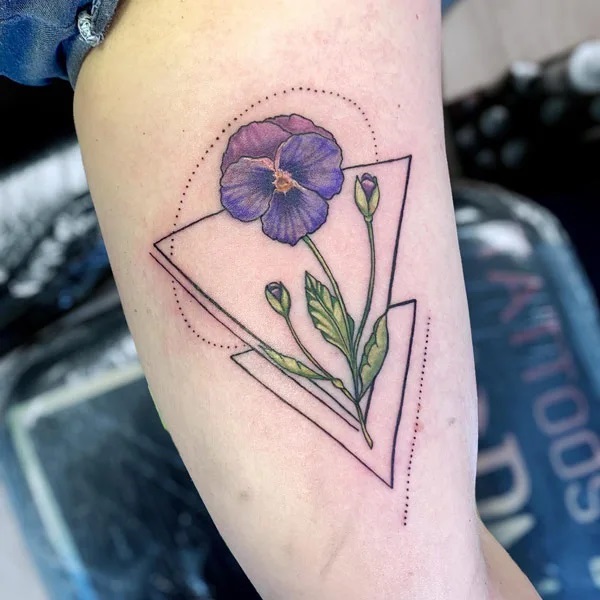 Bull skull with triangle and arrows in different direction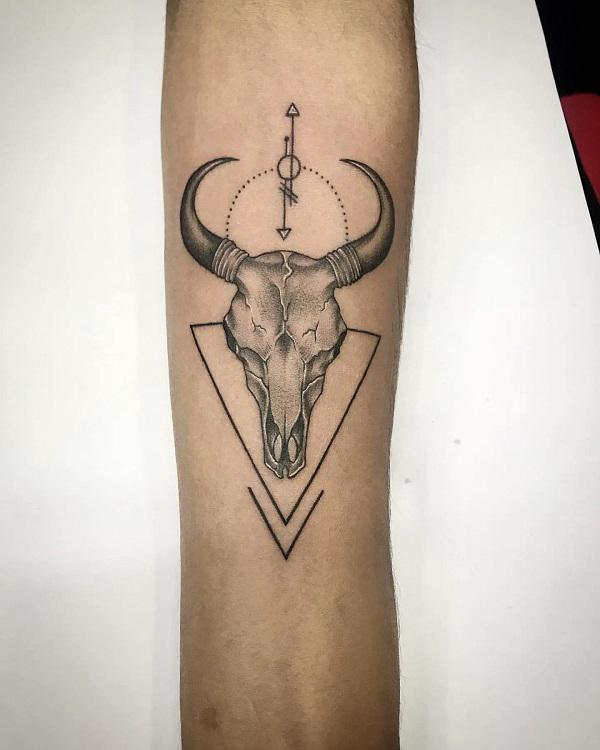 Geometric jigsaw puzzle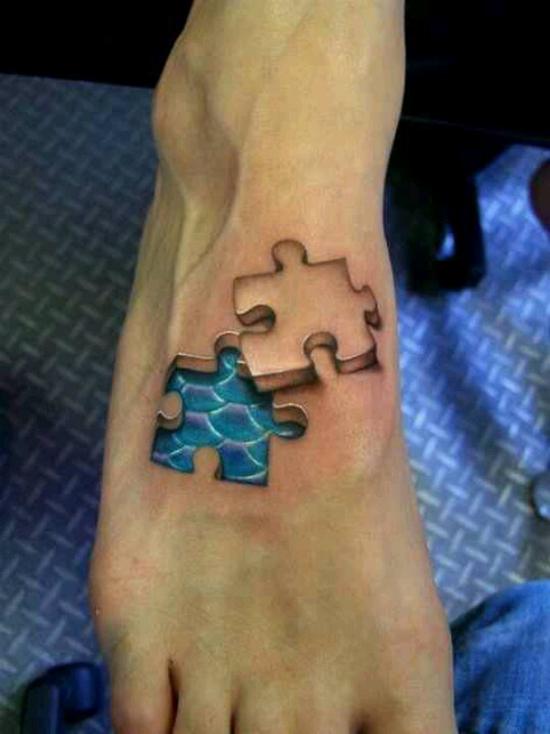 Half Taurus head half geometric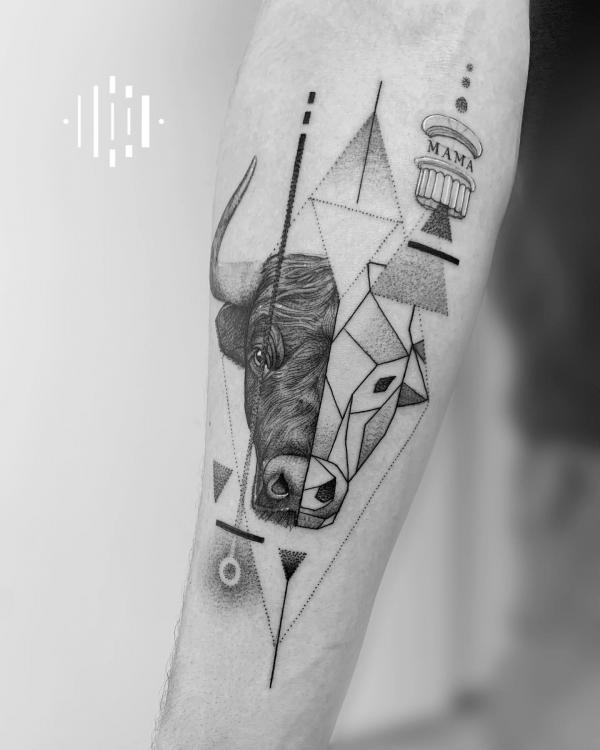 Geometric goat skull with spider webs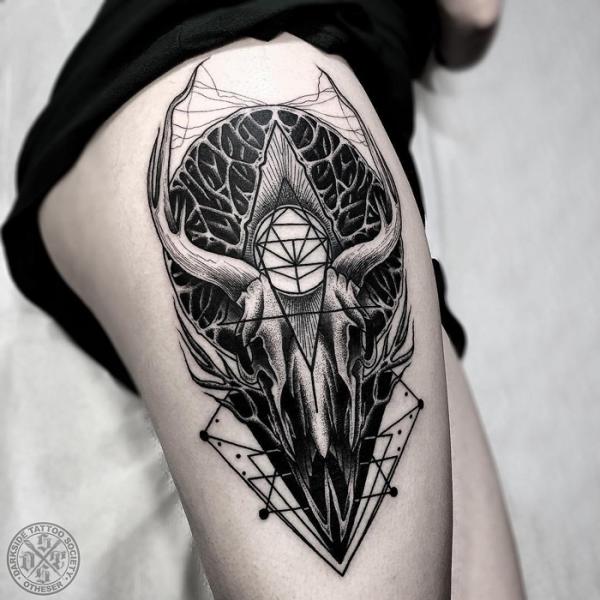 A dragonfly and Fibonacci number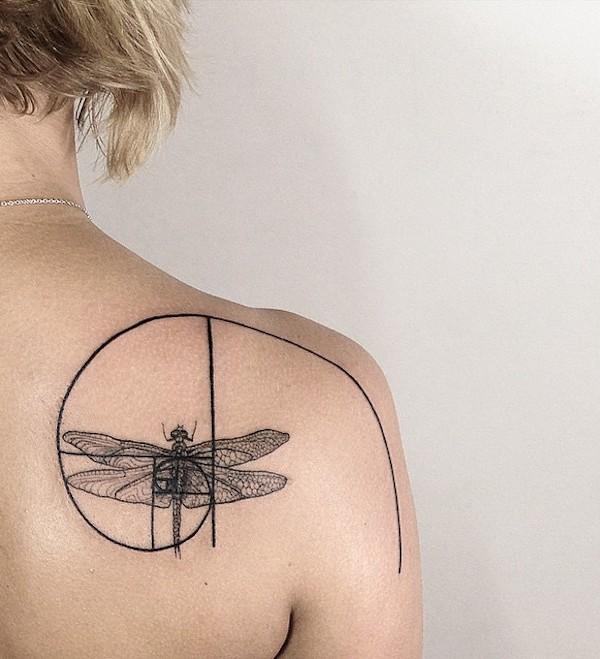 Geometric Thundbird with Mandala elements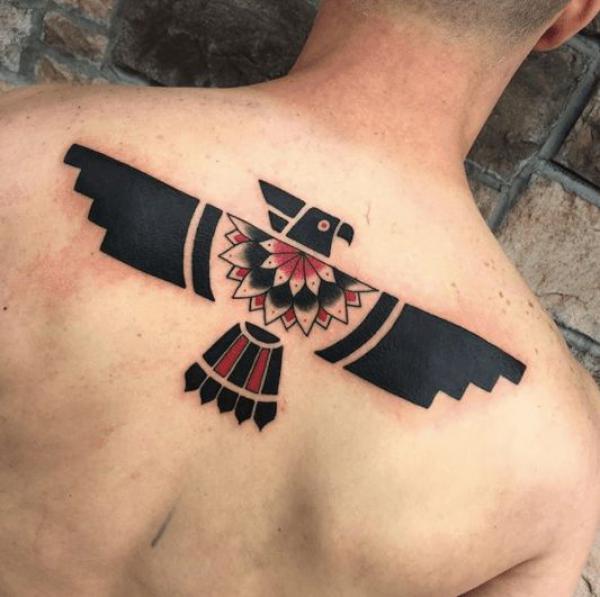 Hand blackwork with intricate geometric patterns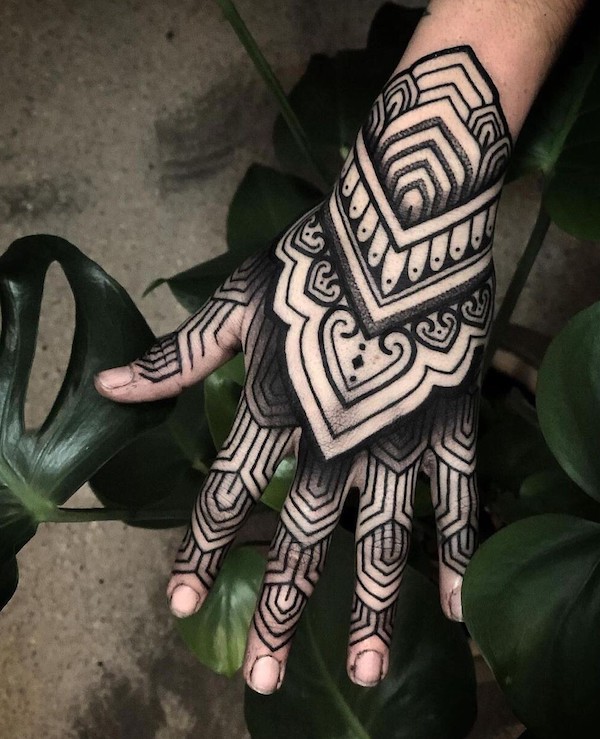 Geometric eye dotwork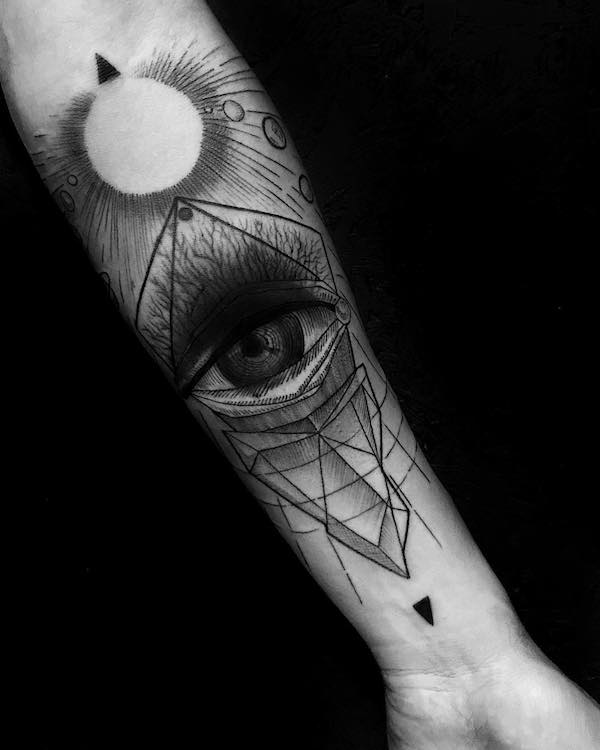 Geometric lily calf tattoo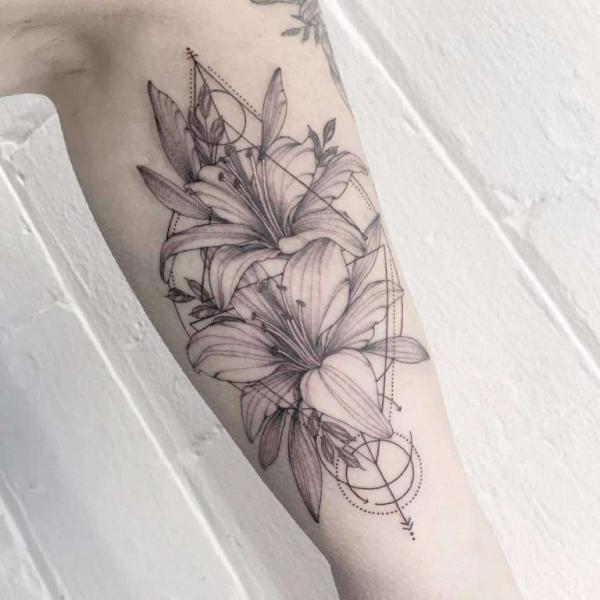 An owl made up of geometric shapes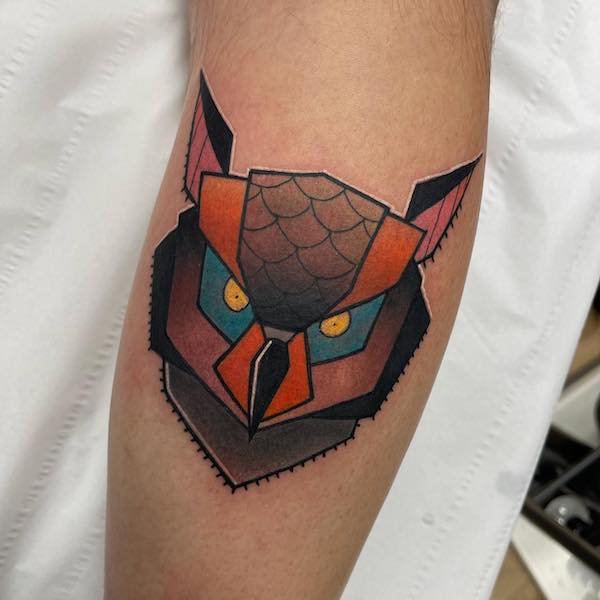 Celestial stars and Monarch butterfly tattoo on arm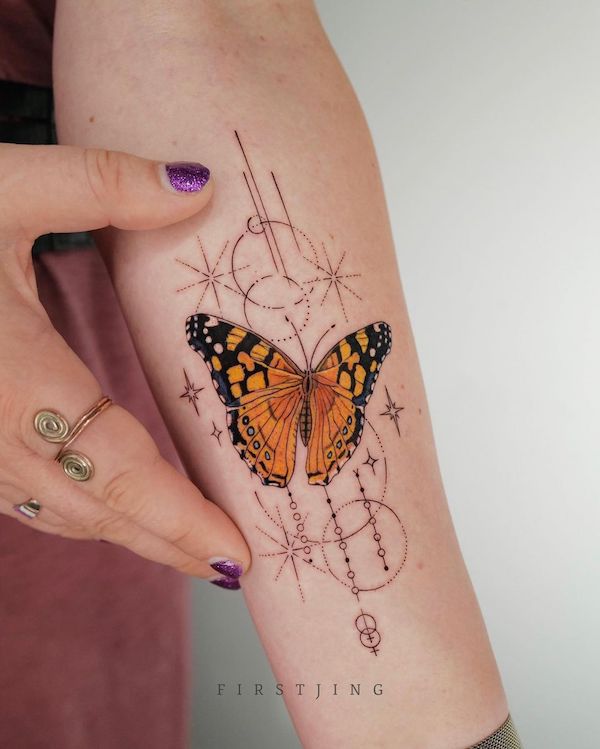 Geometric bear tattoos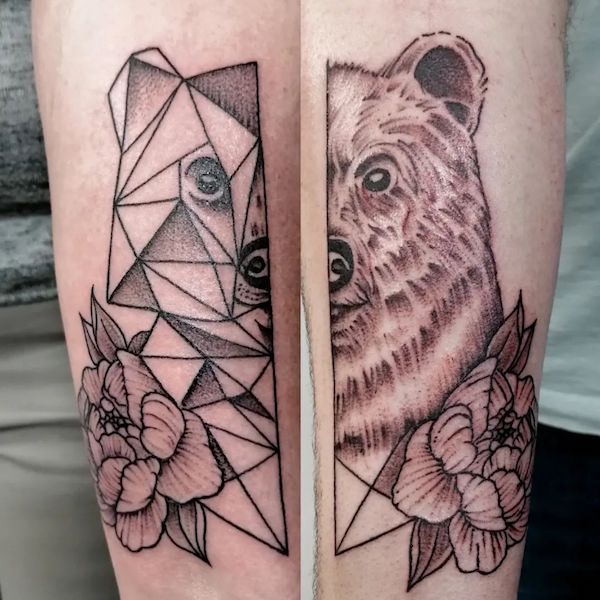 Forearm wolf tattoo with abstract lines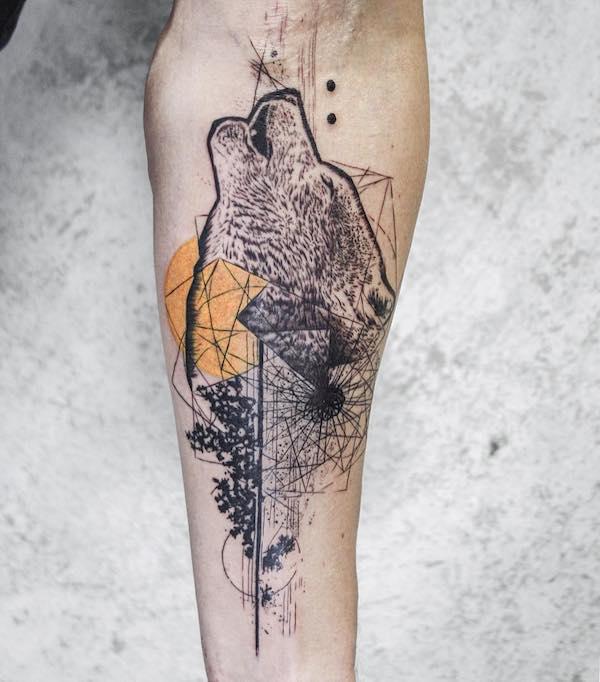 Great wave with geometric cubes under the stars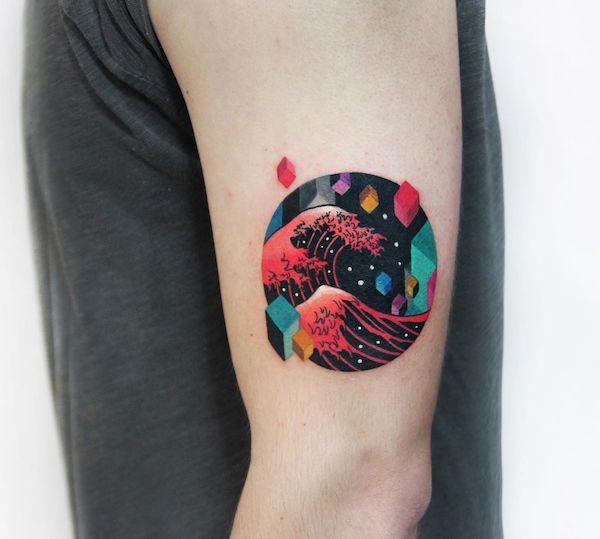 Geometric Ouroboros infinity tattoo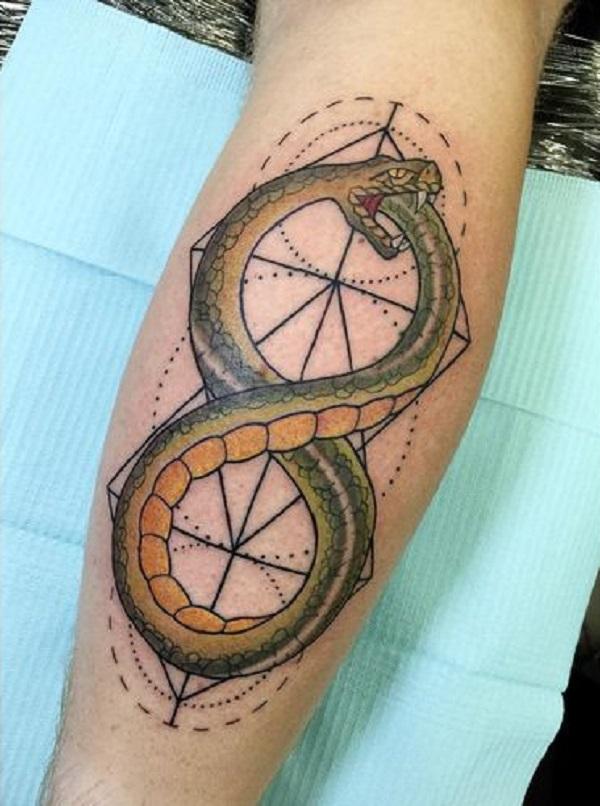 Eight-pointed star and bee tattoo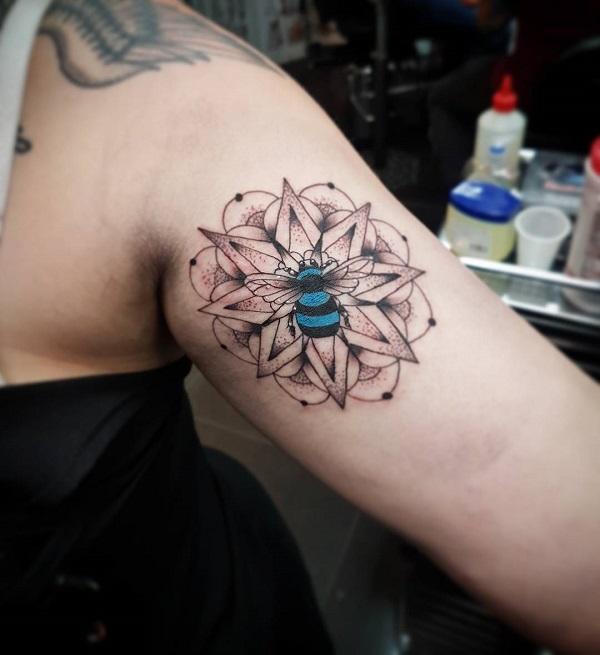 Geometric tiger face on forearm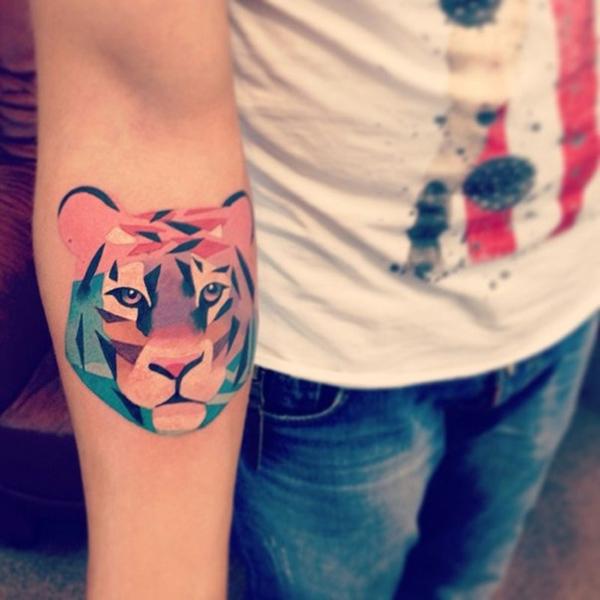 Geometric Dove fine line work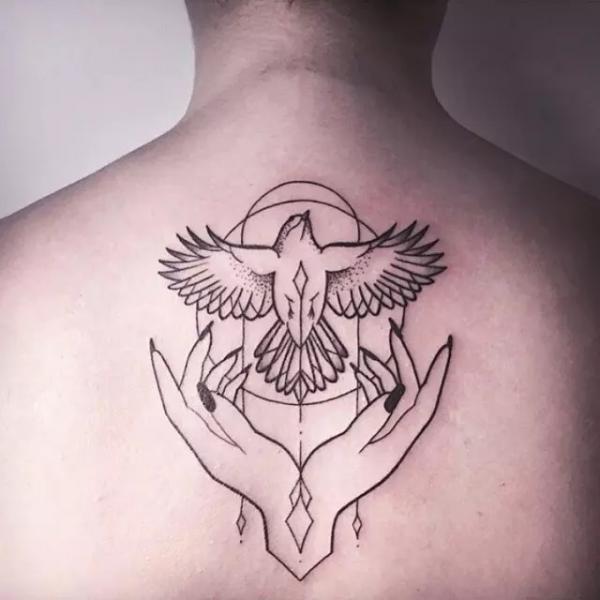 Blackwork intergrating geometric and mandala patterns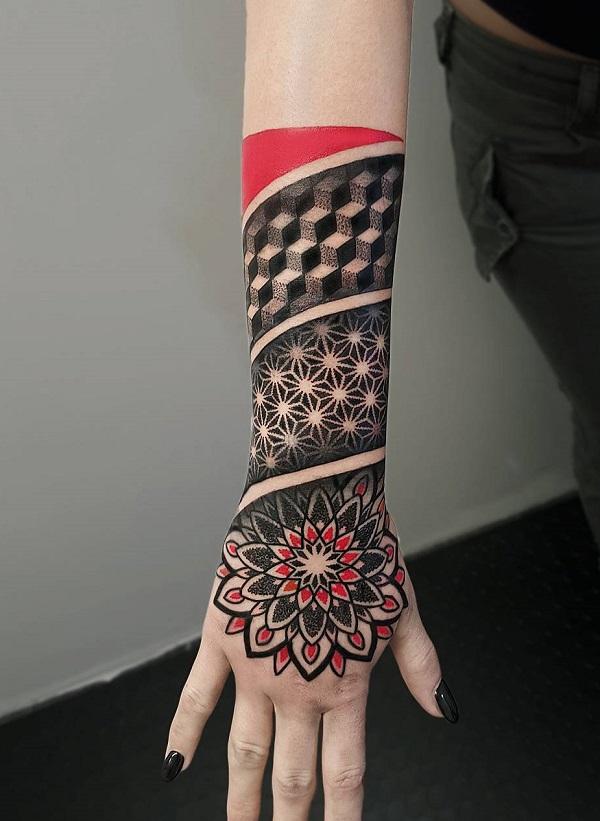 Geometric blackwork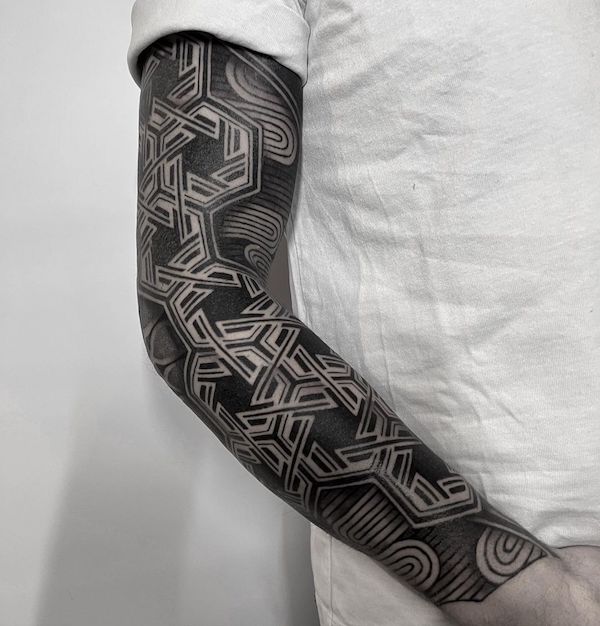 Illustration portrait and geometric tattoo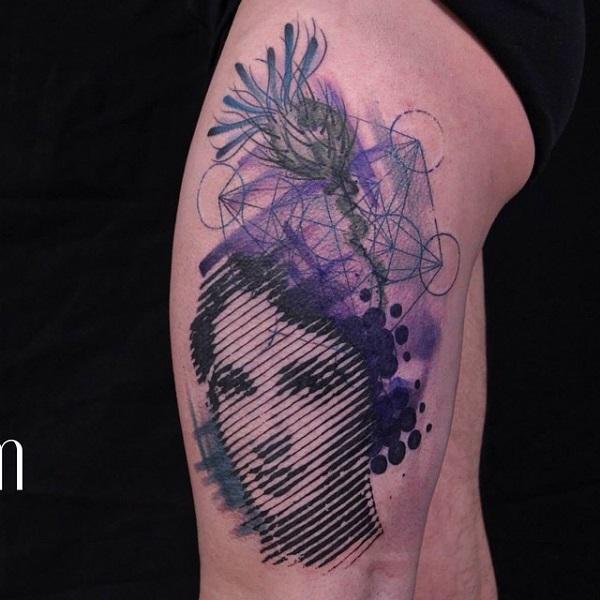 Geometric abstract sleeve tattoo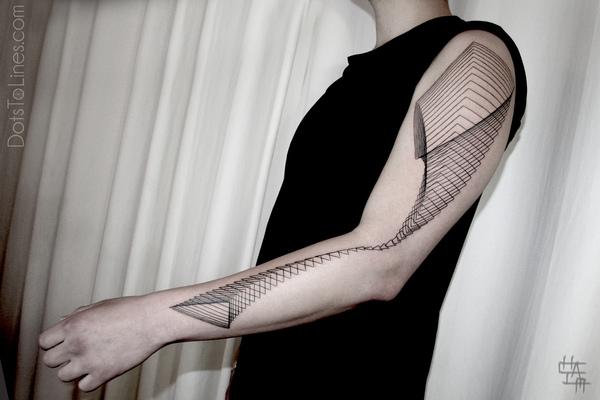 Geometric praying hands tattoo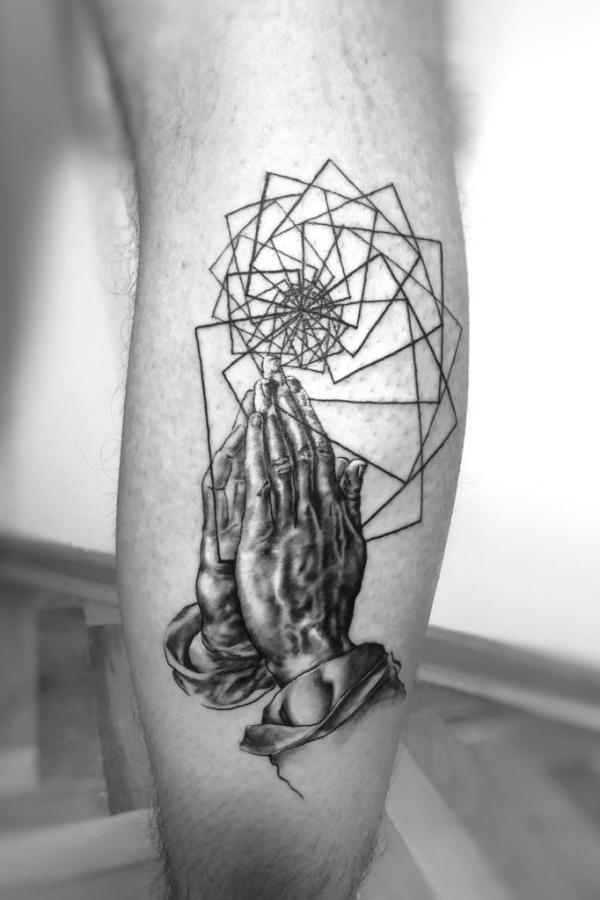 Illustration portrait and geometric tattoo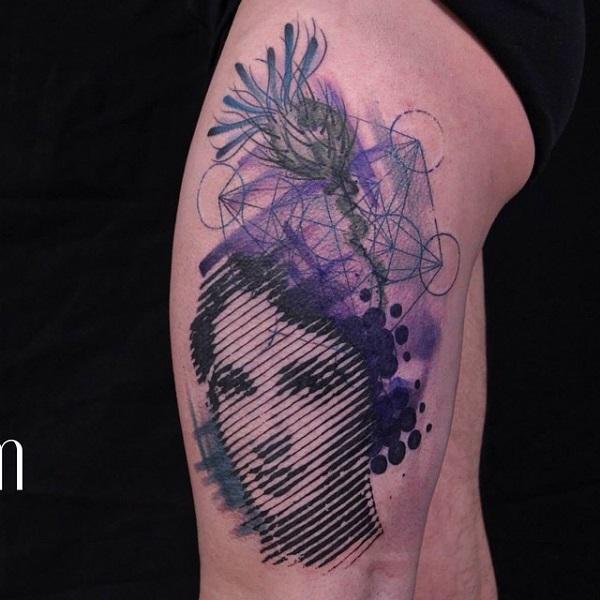 Geometric garter dotwork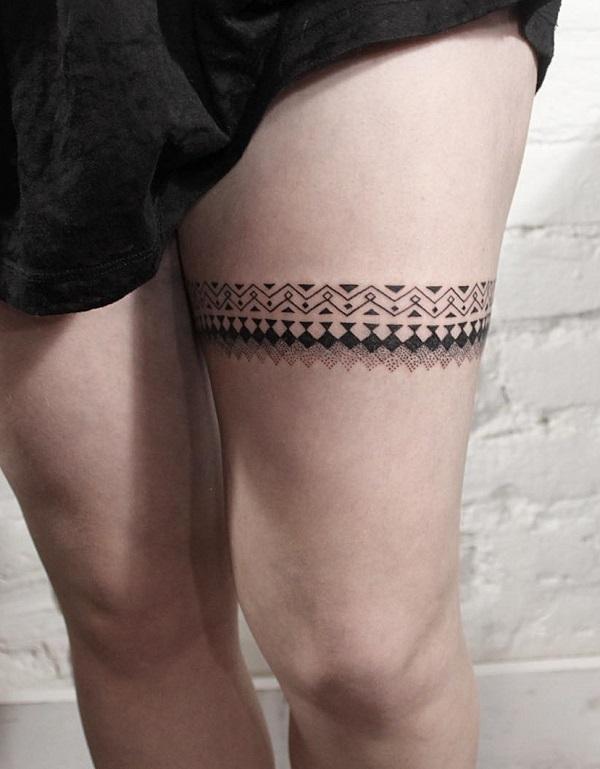 Blackwork with cool geometrical patterns Cool for women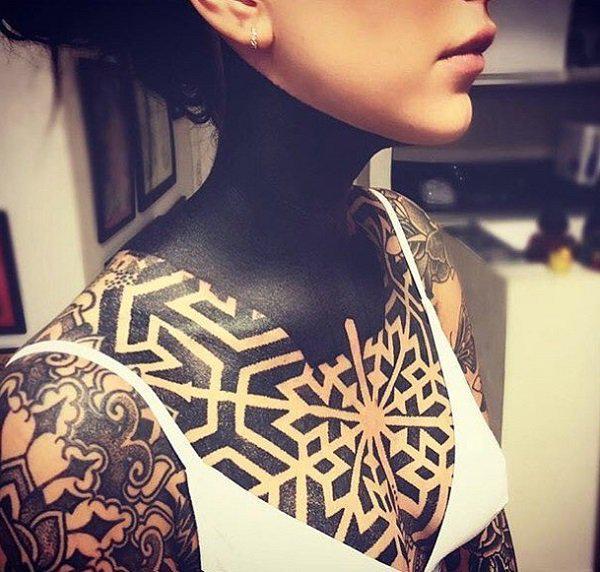 Geometric and Abstract Feather Tattoos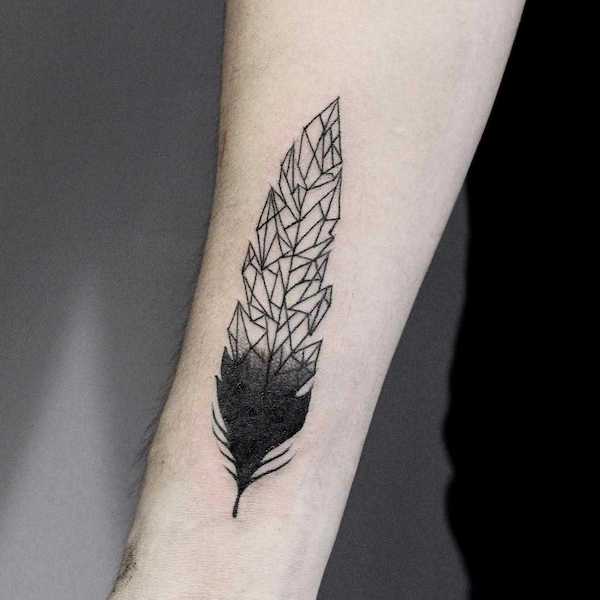 Geometric skull tattoo on thigh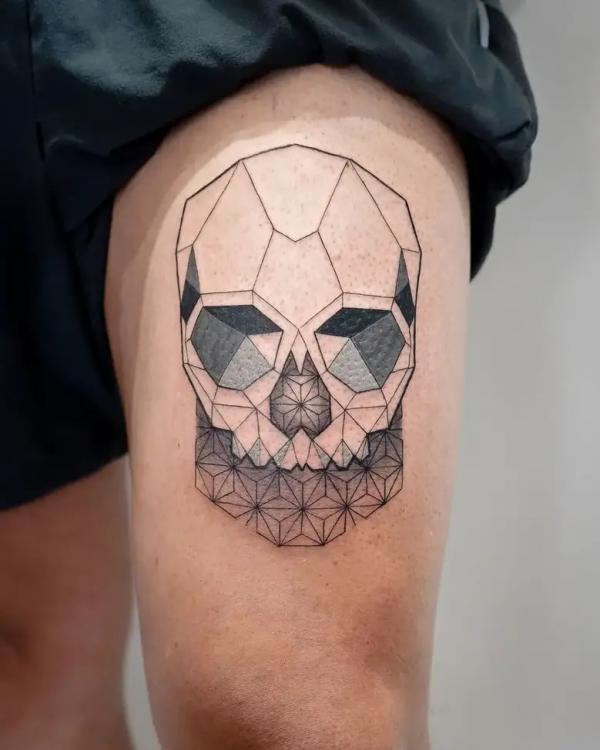 Conclusion
Geometric tattoos offer a world of possibilities, from minimalistic shapes to detailed patterns, from bold blackwork to vibrant colors. They are not just visually appealing but also rich in symbolism, making them a meaningful choice for a tattoo. Whether you're a tattoo enthusiast looking for your next piece or a newbie contemplating your first tattoo, geometric designs offer a unique way to express yourself.
Remember, the key to a great tattoo is not just the design but also the artist. So, once you've decided on your geometric tattoo, make sure to find a skilled tattoo artist who specializes in geometric designs to bring your idea to life.