Tattoos are a potent form of self-expression, a way of telling your story on your skin. Among the myriad of tattoo designs available, dandelion tattoos have found a special place in the hearts of many women. Before we delve into the fascinating world of dandelion tattoo designs, it's important to understand the symbolism behind this humble flower and why it makes such a compelling tattoo choice.
The Symbolism of Dandelion Tattoos
Dandelions, while often considered a common weed, carry profound symbolism. Generally, they are associated with freedom, transformation, and hope. The life cycle of a dandelion, which transforms from a vibrant, yellow flower into a ball of delicate seeds that disperse with the wind, beautifully portrays the journey of life and the potential for new beginnings.
Historically and culturally, dandelions have been celebrated for their healing properties and have been seen as symbols of survival and resilience, capable of thriving in harsh conditions. This combination of hope, transformation, resilience, and freedom makes dandelion tattoos a rich and multifaceted symbol.
Popular Dandelion Tattoo Designs for Women
The beauty of dandelion ink designs lies in their versatility. They can be designed in various styles, from minimalist line art to detailed realistic renditions, and can be easily customized to reflect personal meanings. Let's explore some popular examples for women.
Single Dandelion Tattoos
A single dandelion tattoo is a simple yet powerful design. It can be a small, delicate piece on the wrist or a large, detailed design on the back or shoulder. Regardless of the size, these tattoo symbolize resilience and the potential for new beginnings.
Yellow dandelion flower tattoo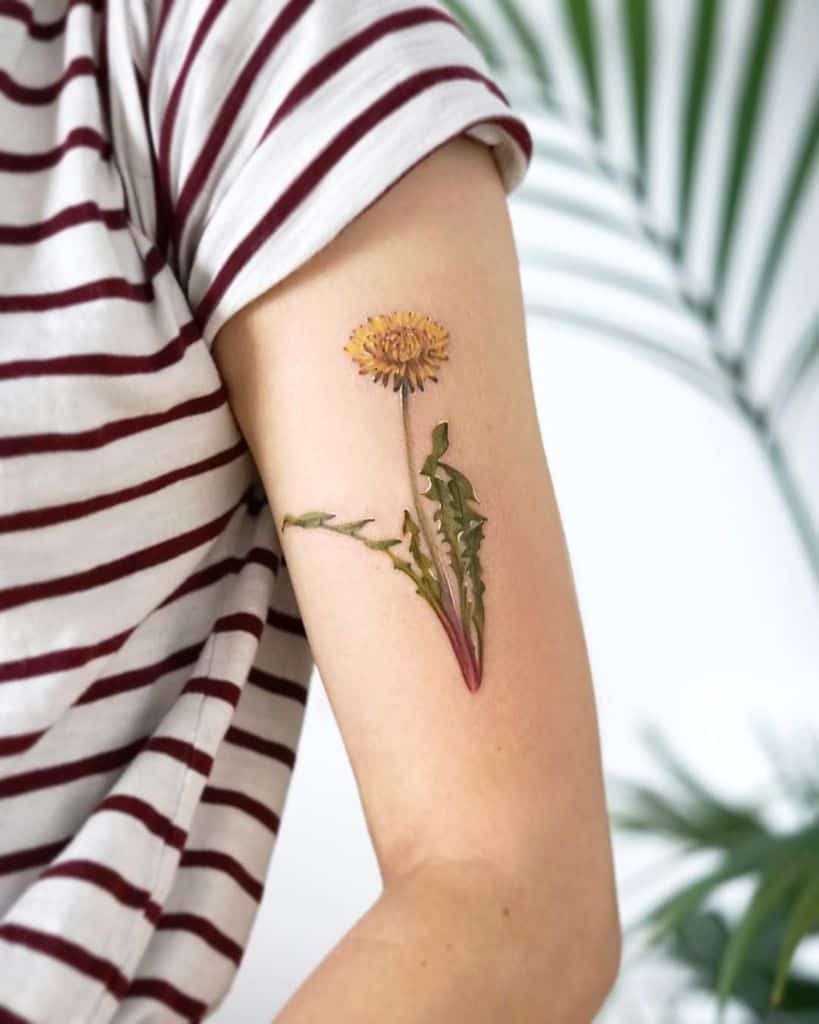 Dandelion fluff tattoo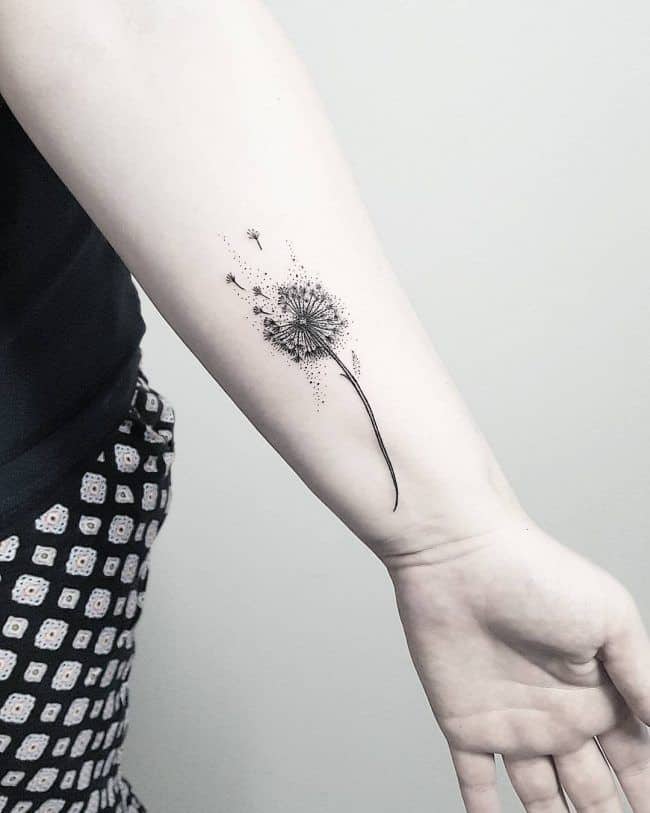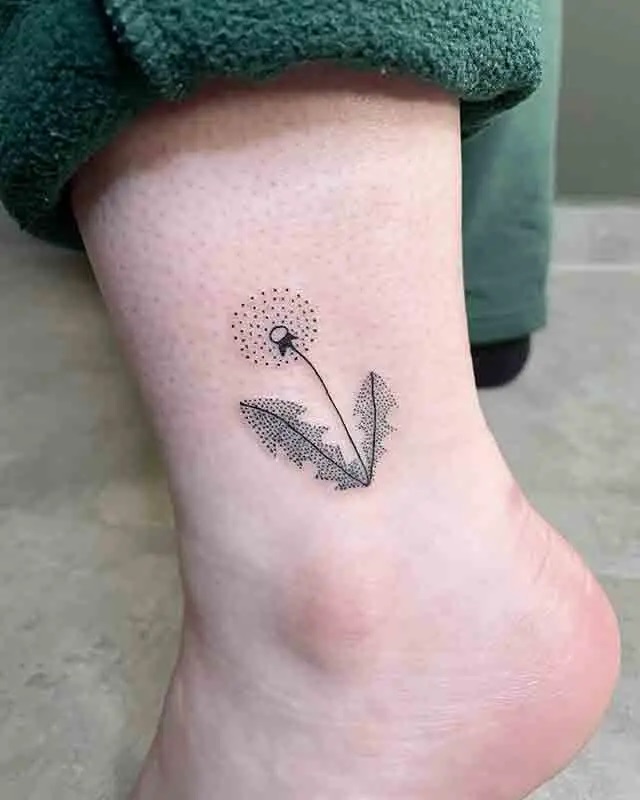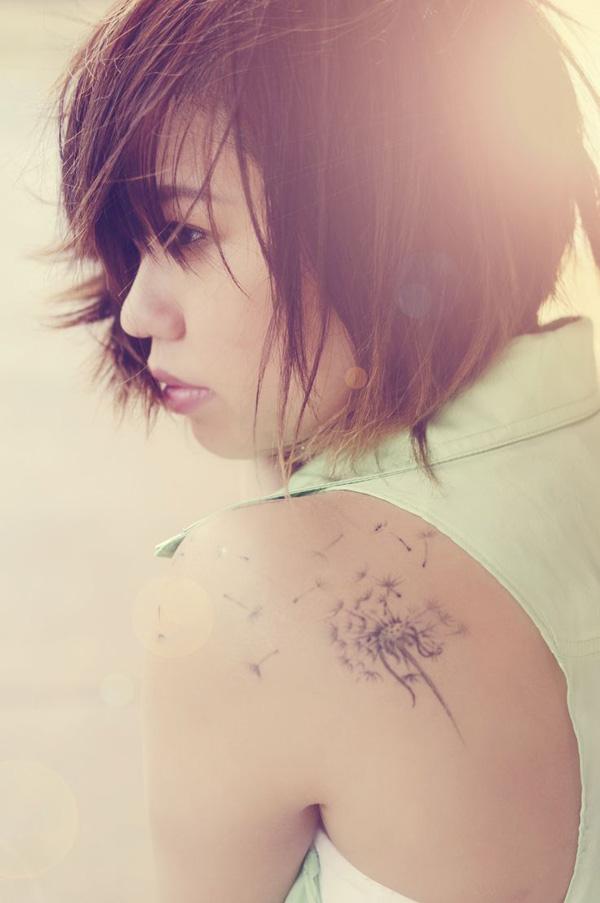 Dandelion and Quote Tattoos
A meaningful quote with dandelion design can express a personal philosophy or sentiment. The quote can be about life, freedom, hope, or transformation, enhancing the symbolism of the dandelion.
Every breath is a second chance tattoo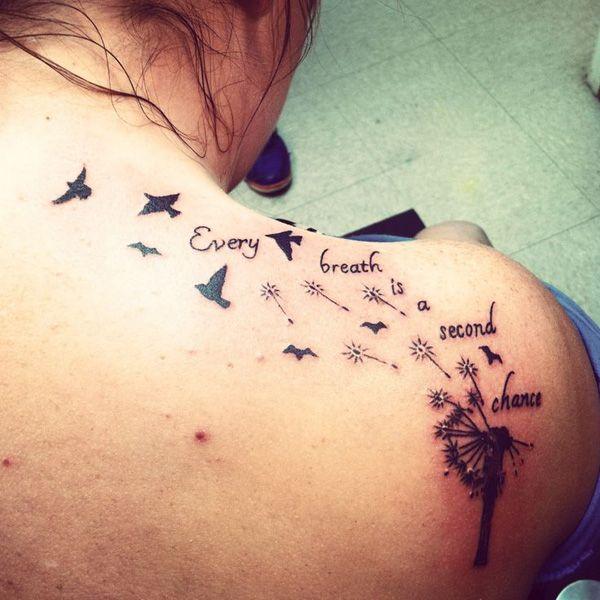 Inhale the future exhale the past tattoo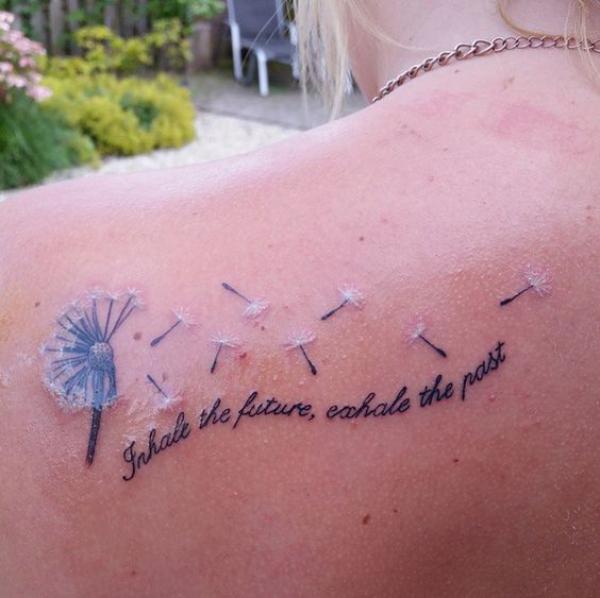 I'm flawed if I am not free tattoo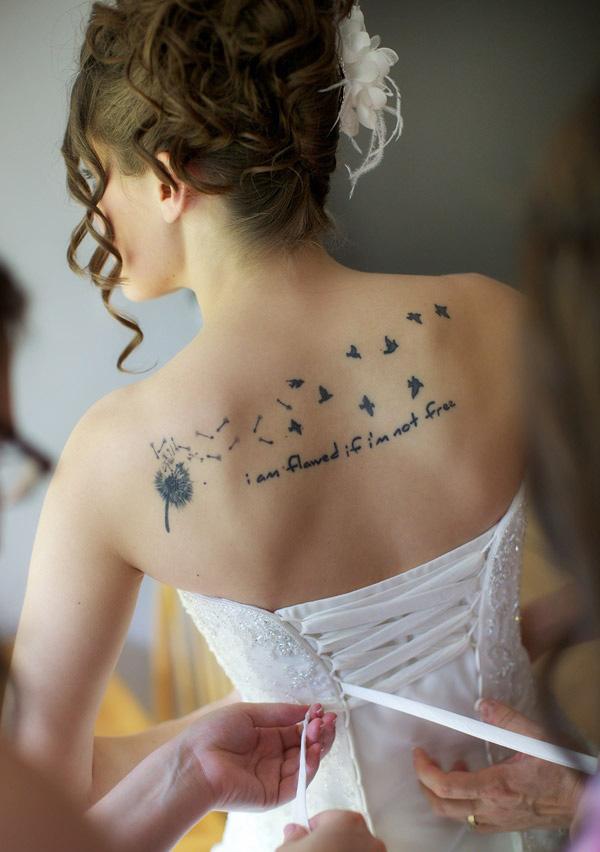 Let it go dandelion tattoo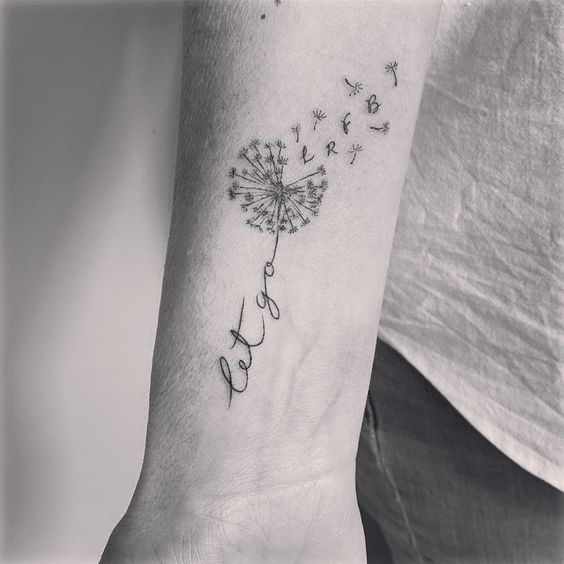 Everything happens for a reason tattoo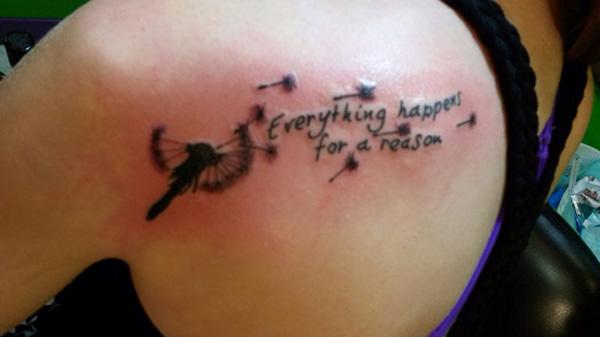 To die will be an awfully big adventure tattoo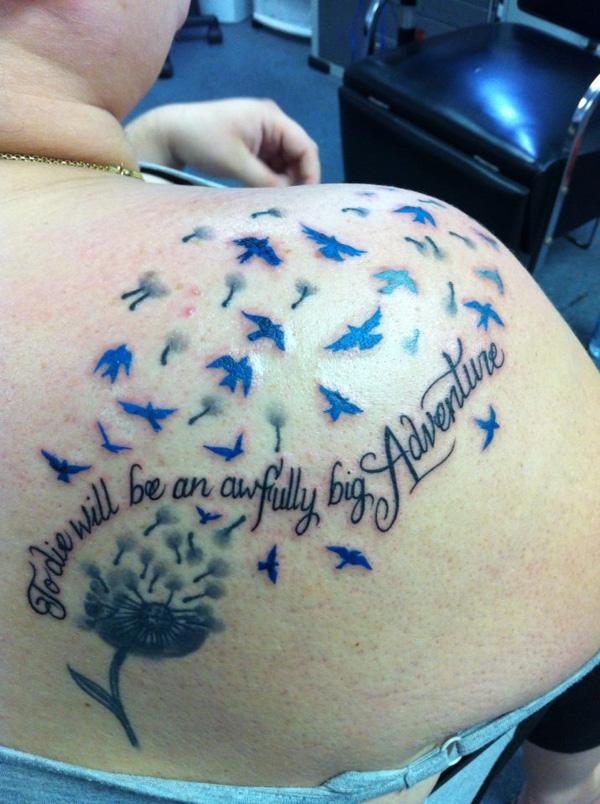 He believed she could so she did tattoo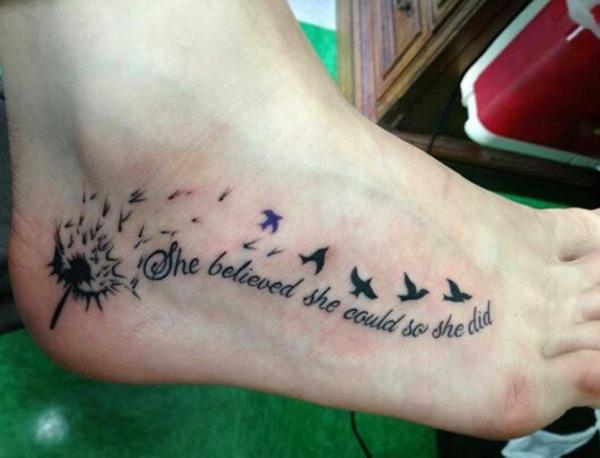 Watercolor side tattoo with quote – La suerte de ahora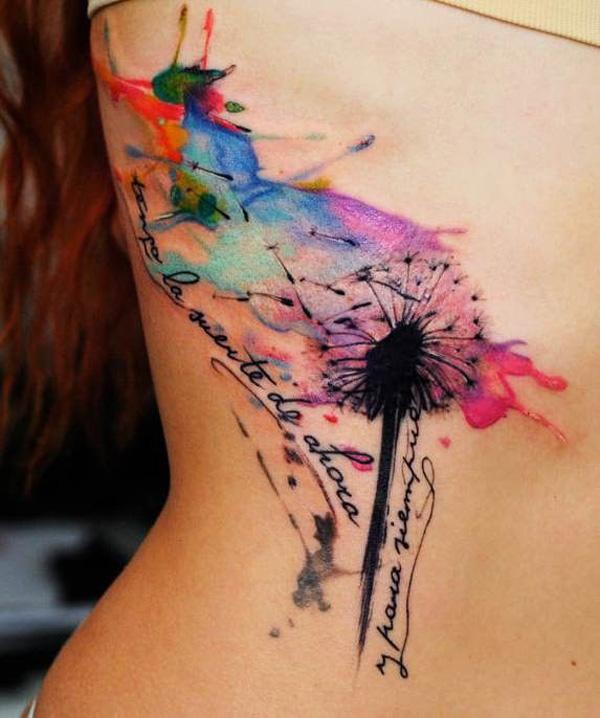 Best friends on earth make the best angels in heaven tattoo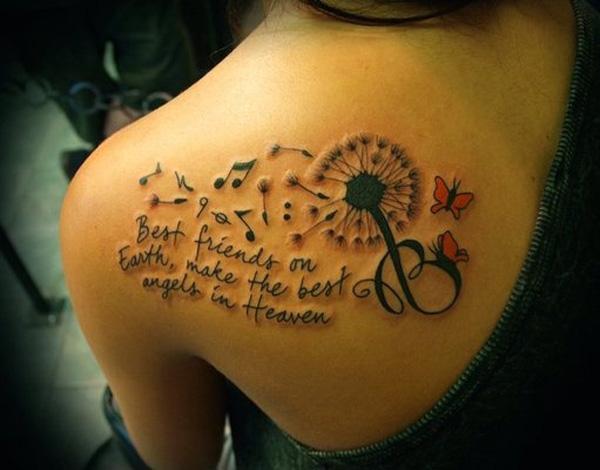 This too shall pass tattoo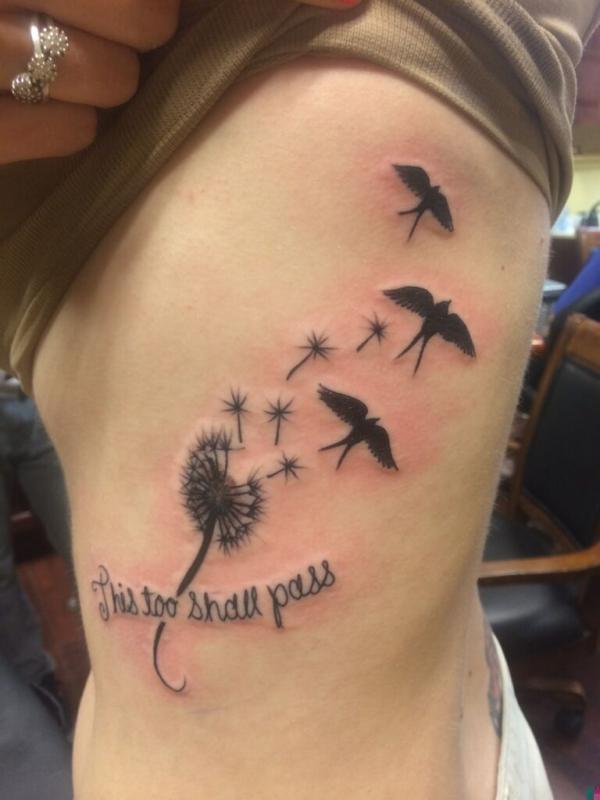 Wer lernt von der Hoffnung zu leiten der lernt zu fllegen ohncflugel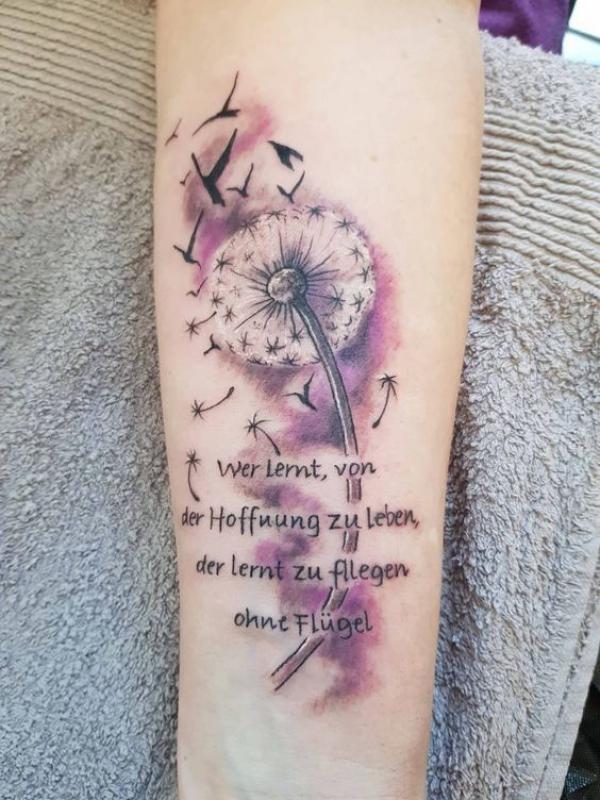 Whoever learns to lead by hope learns to fly without wings.
Just breathe tattoo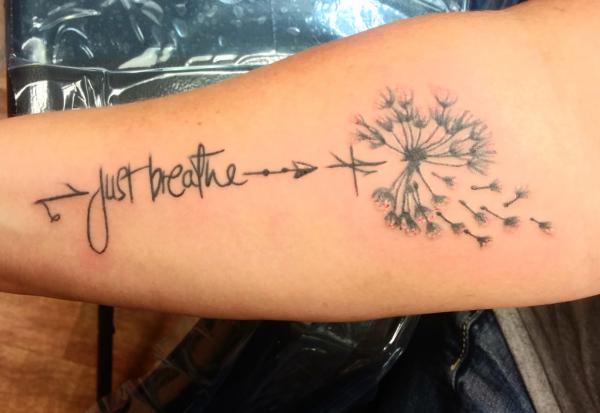 I gave them life they gave me a reason to live tattoo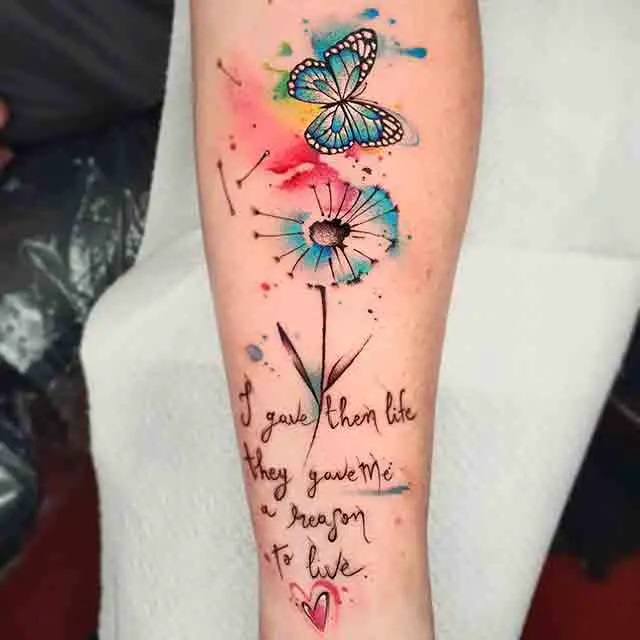 Love is like the wind you can't see it but can feel it tattoo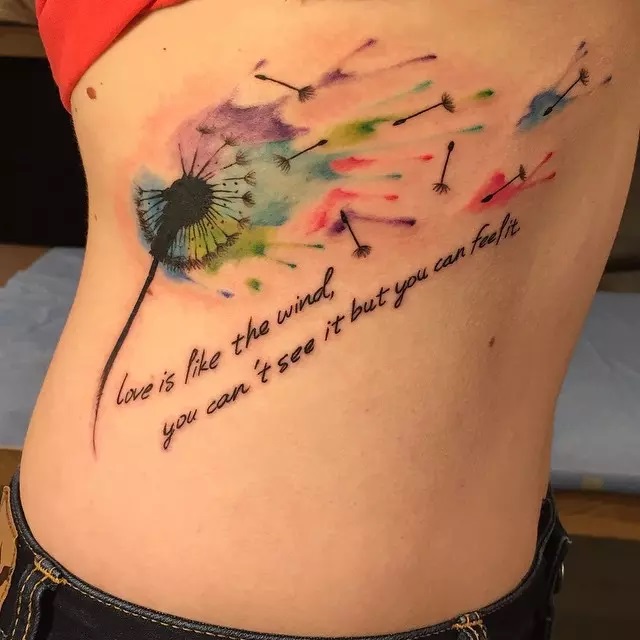 The ones that fear change are the ones that don't care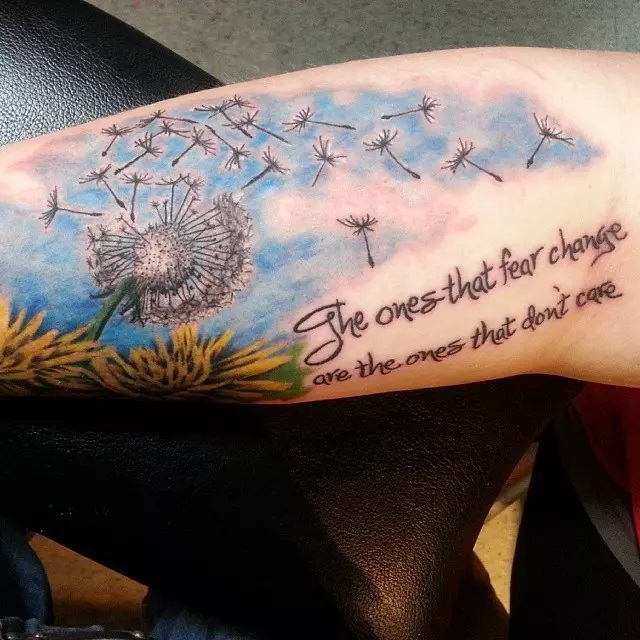 What else is possible Tattoo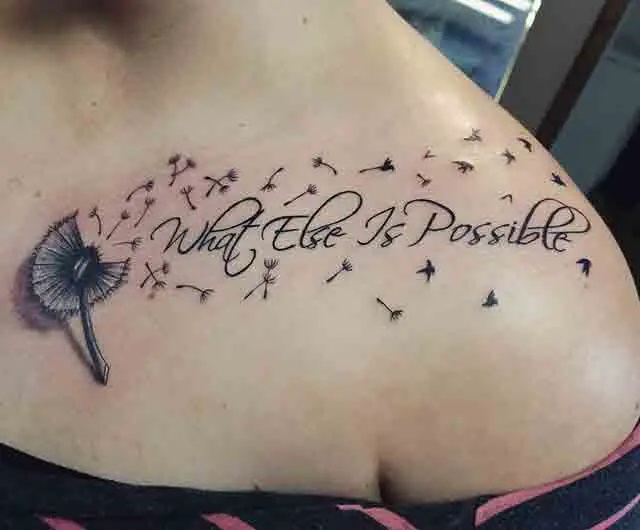 Dandelion Turning into Birds or Butterflies Tattoos
A popular design features a dandelion turning into a flock of birds or butterflies, symbolizing freedom, transformation, and the fleeting nature of time. This design is visually captivating and carries a deep symbolic resonance.
Cute dandelion and birds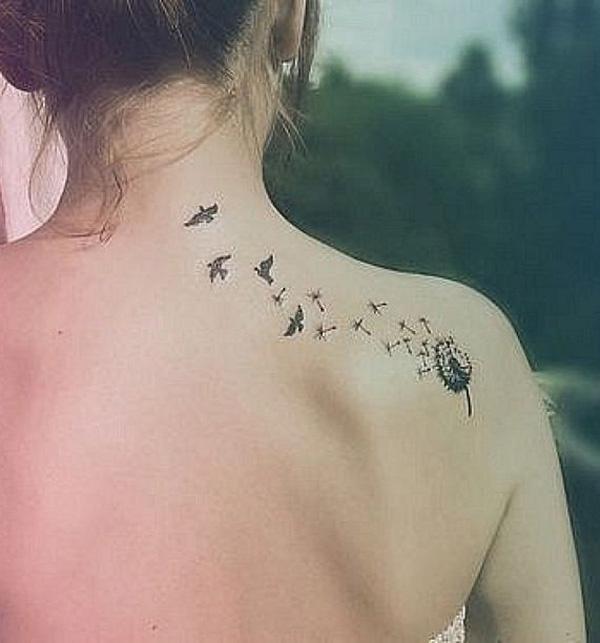 Origami birds and Dandelion on watercolor backdrop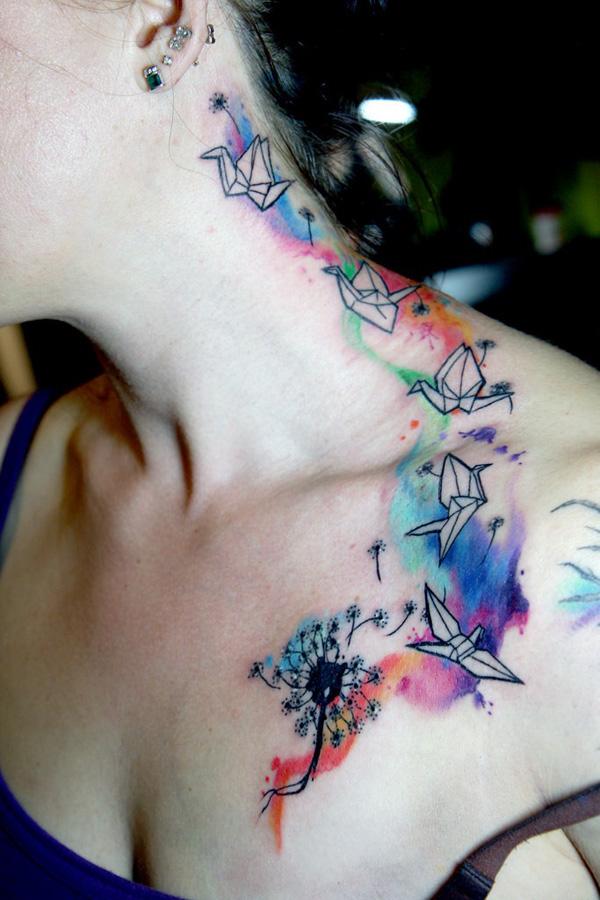 Blowing dandelion with birds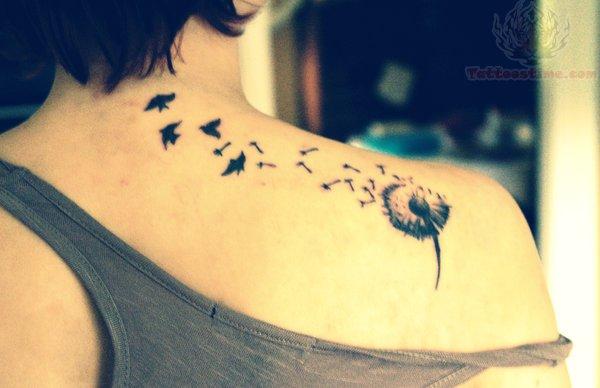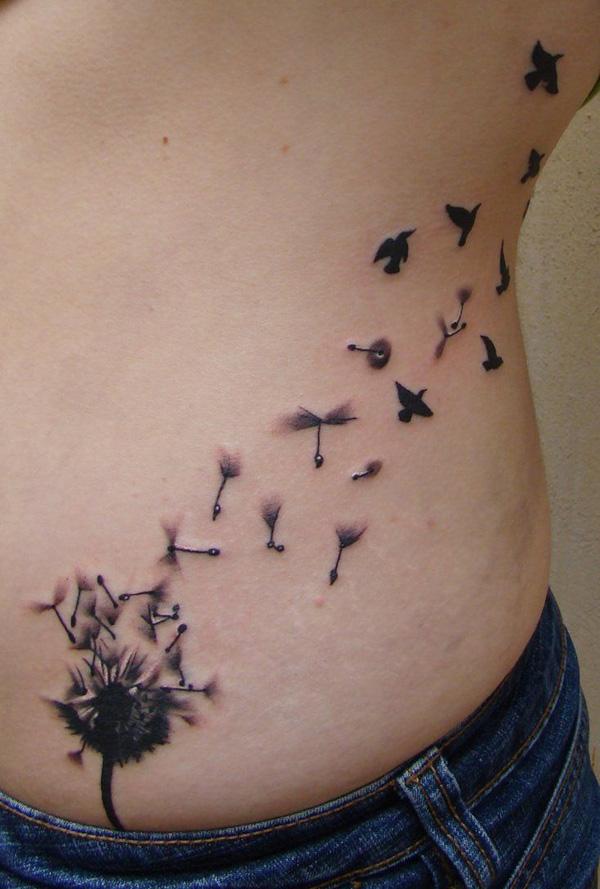 Dandelion blowing with butterflies tattoo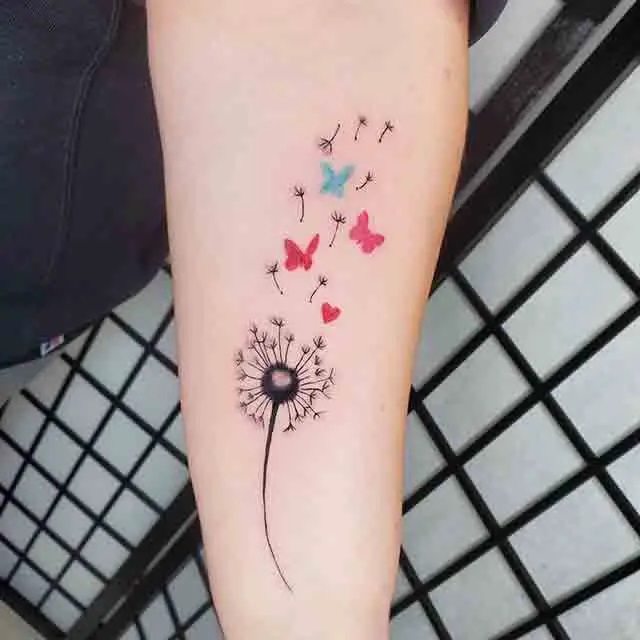 Dandelion blown with birds to the blue sky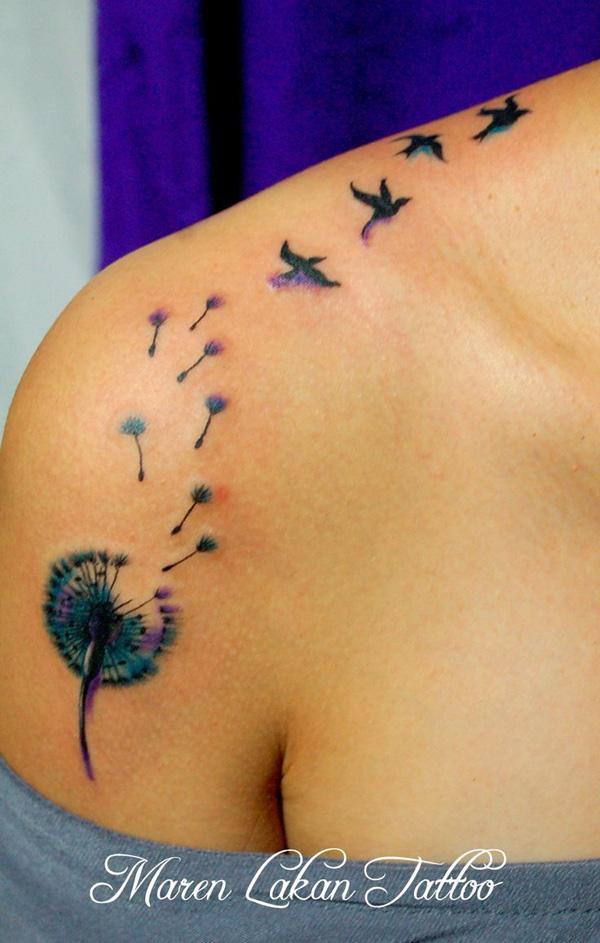 Colorful dandelion and birds in the wind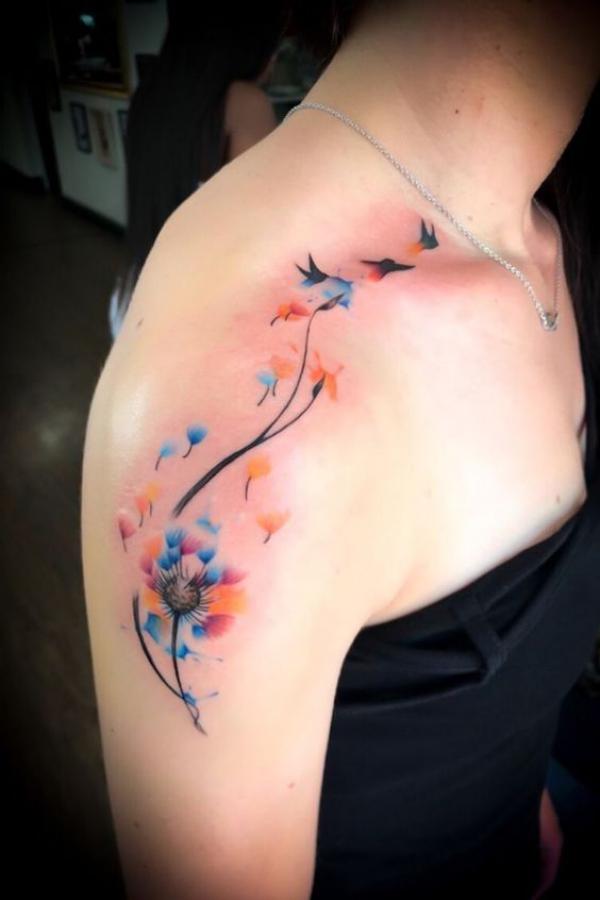 Mother daughter dandelion tattoo with quote I love you more than air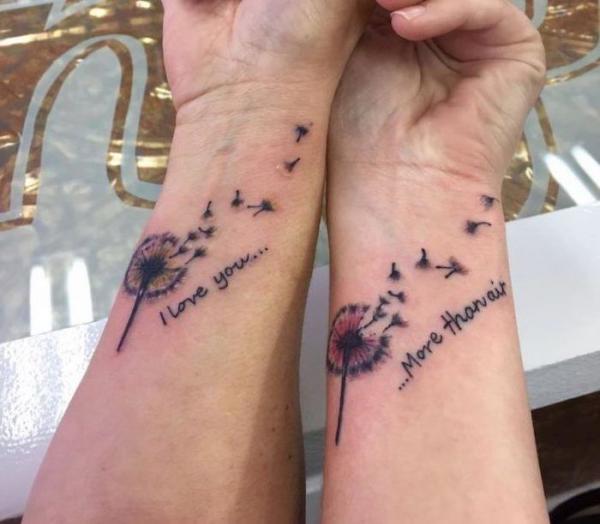 Freedom dandelion flower tattoo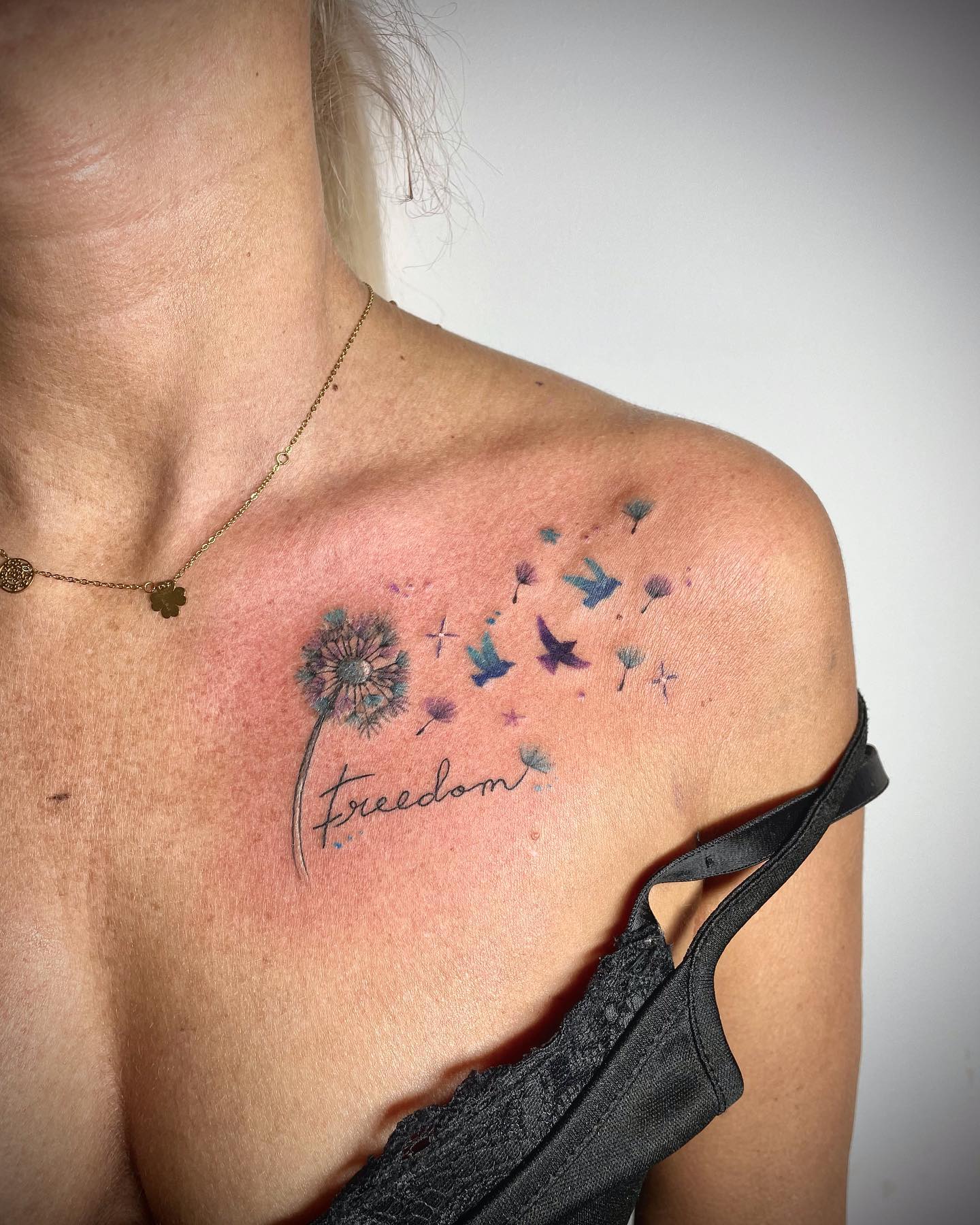 Colorful dandelion shoulder tattoo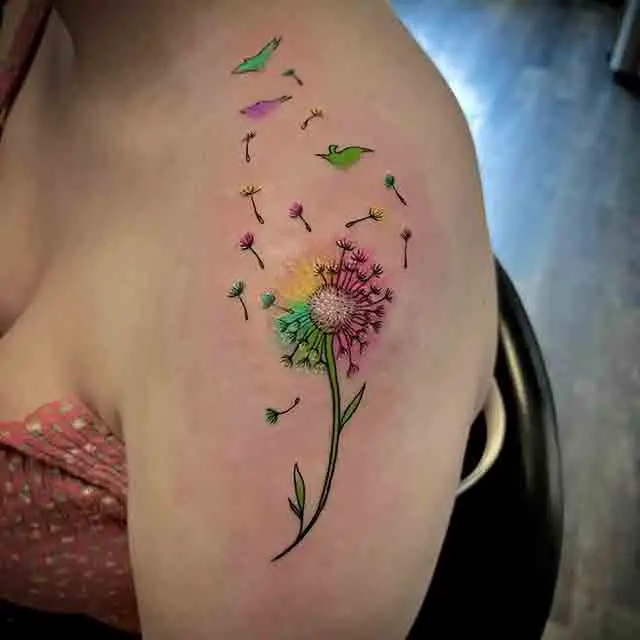 Watercolor Dandelion Tattoos
Watercolor tattoos incorporate vibrant colors and a 'painterly' feel, resulting in a piece of art that is both visually stunning and meaningful. The style can lend a dreamy, ethereal quality to the dandelion design.
Dandelion watercolor ink on shoulder blade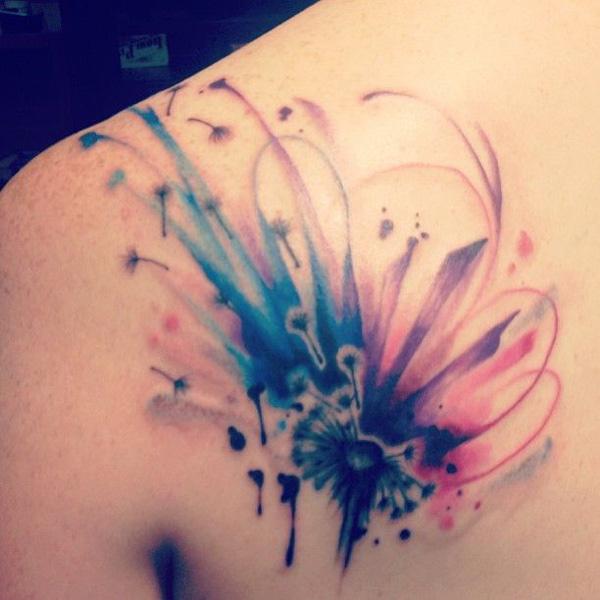 Dandelion silhouette on watercolor background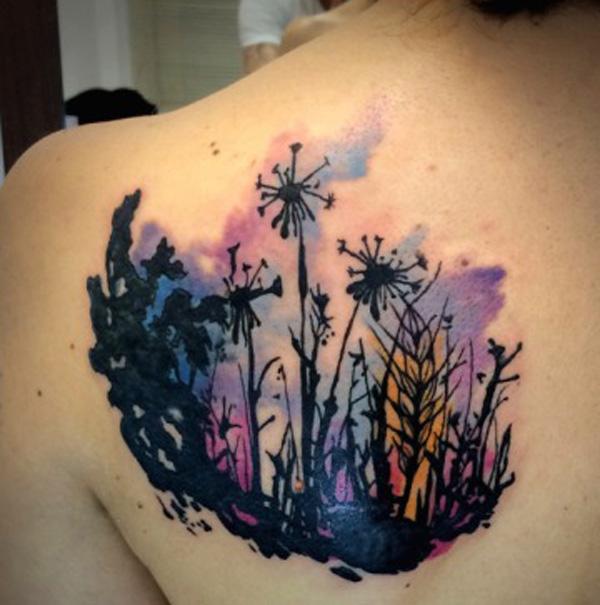 Black dandelion on watercolor backdrop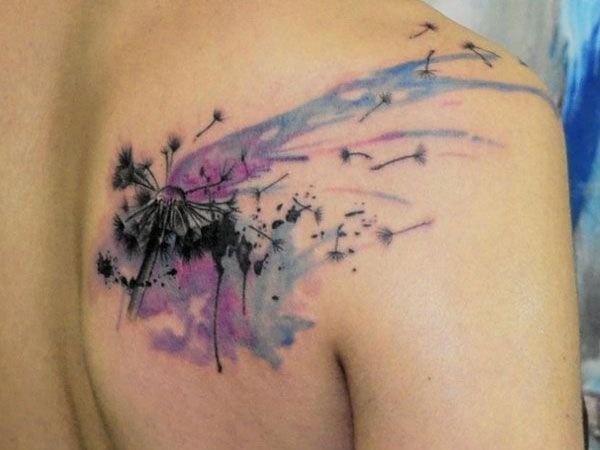 Dandelion and birds tattoo with word Believe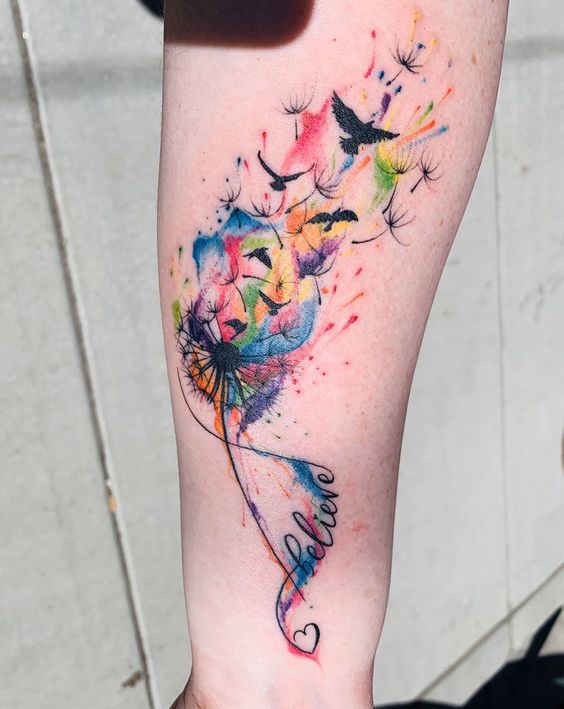 Rainbow dandelion tattoo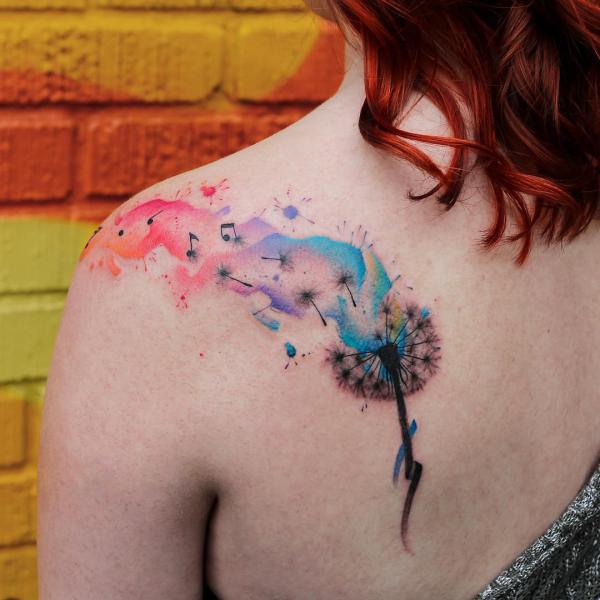 Dandelion and Floral Elements Tattoos
Dandelion ink designs can also be combined with other floral elements to create a bouquet of symbolism. Each flower can add a unique layer of meaning, creating a complex and personalized design.
Dandelion and hyacinth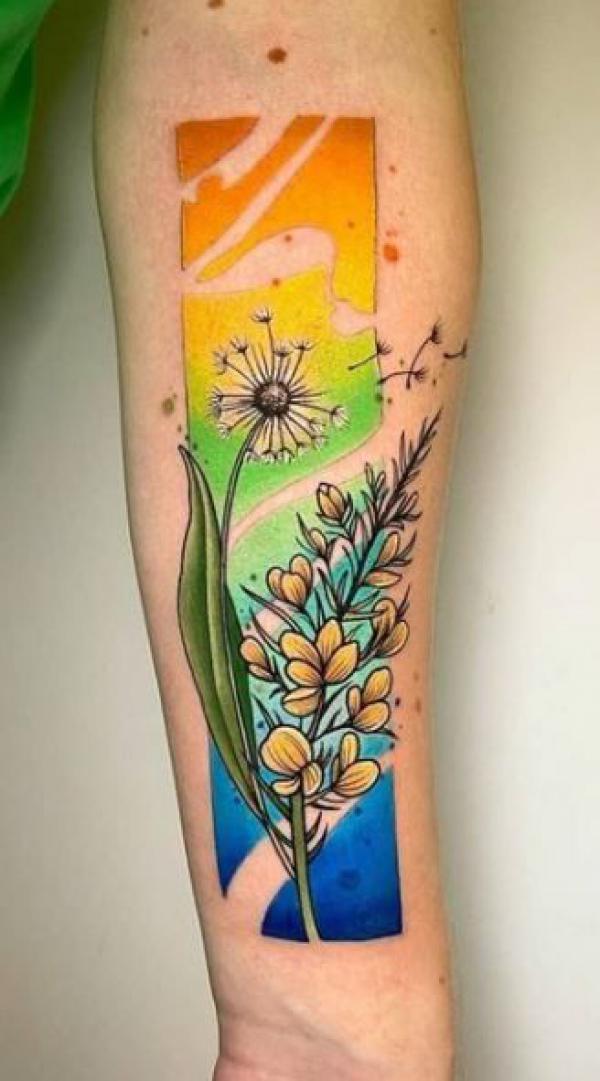 An ink design featuring a dandelion and hyacinth combines the symbolism of hopes and dreams with sincerity and playfulness. It's a beautiful representation of optimism and authenticity.
A bouquet of dandelion rose and sunflowers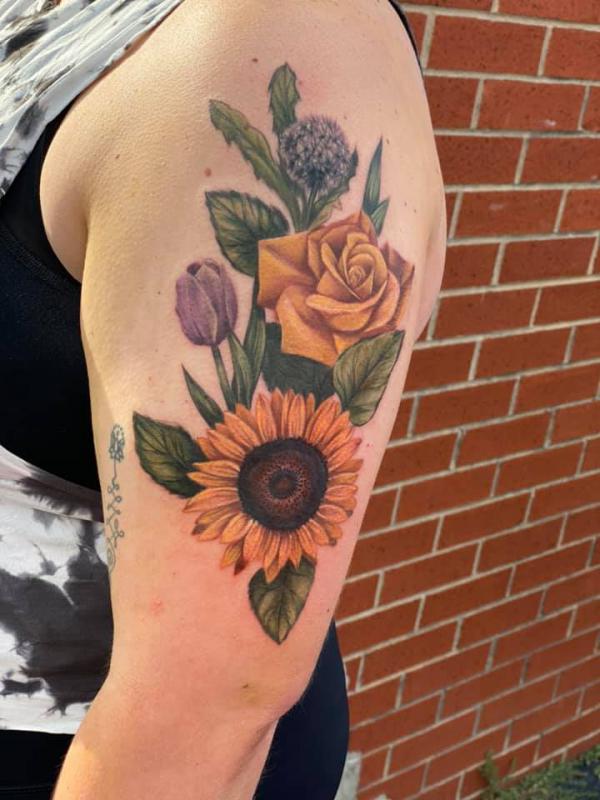 A bouquet of a dandelion, rose, and sunflowers merges the emblems of wishes, love, and positivity. This vibrant, colorful tattoo design can represent a harmony of emotions and aspirations.
Yellow dandelion flower and dark seeds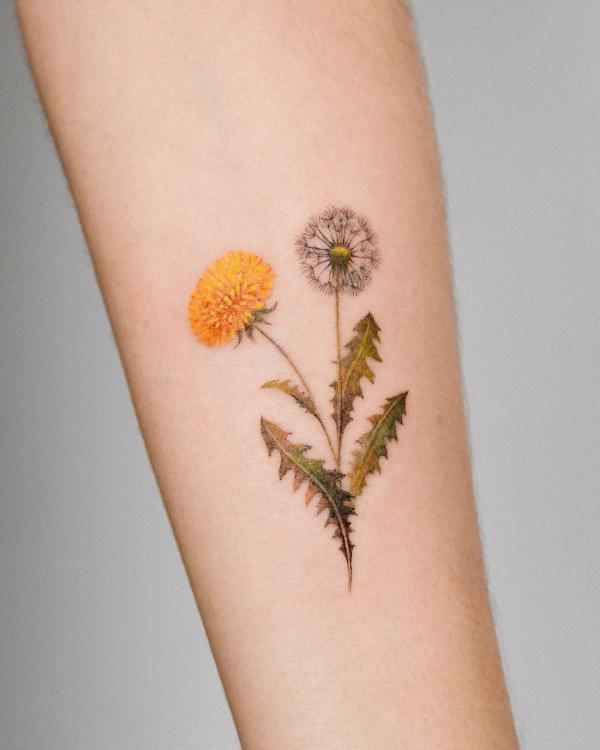 A design with a yellow dandelion flower and dark seeds can symbolize the contrasting elements in life — brightness and shadow, happiness and struggles, yet always with the promise of growth and transformation.
Vintage sunflower and dandelion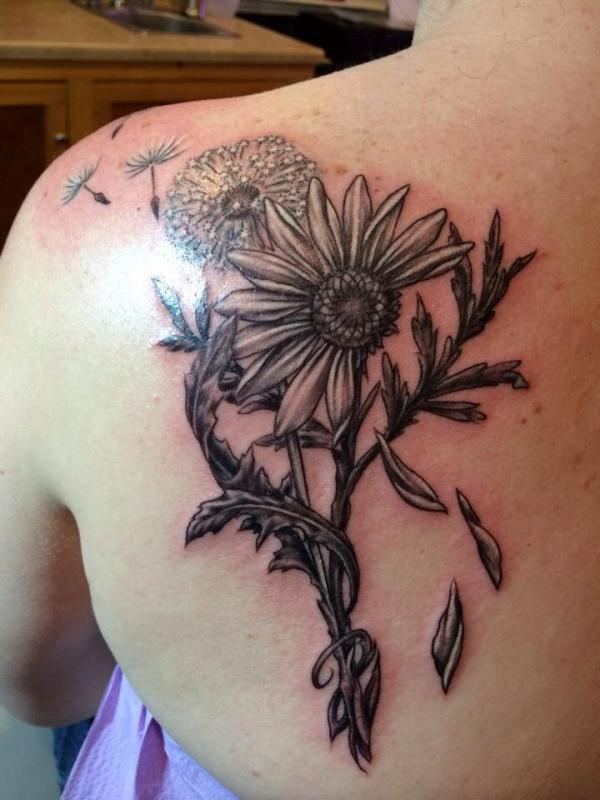 Vintage sunflower and dandelion tattoos blend traditional symbolism with a nostalgic aesthetic. It's a charming way to express endurance, positivity, and dreams.
Poppy and Dandelion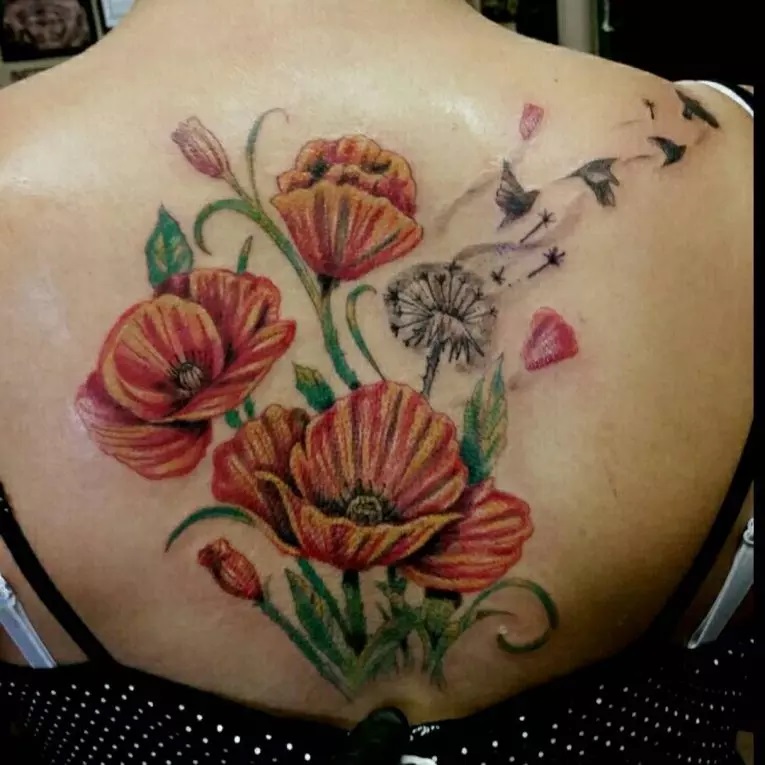 A poppy and dandelion combination can embody the themes of remembrance and dreams. The combination can serve as a poignant symbol of honoring the past while looking forward to the future.
Geometric dandelion flower tattoo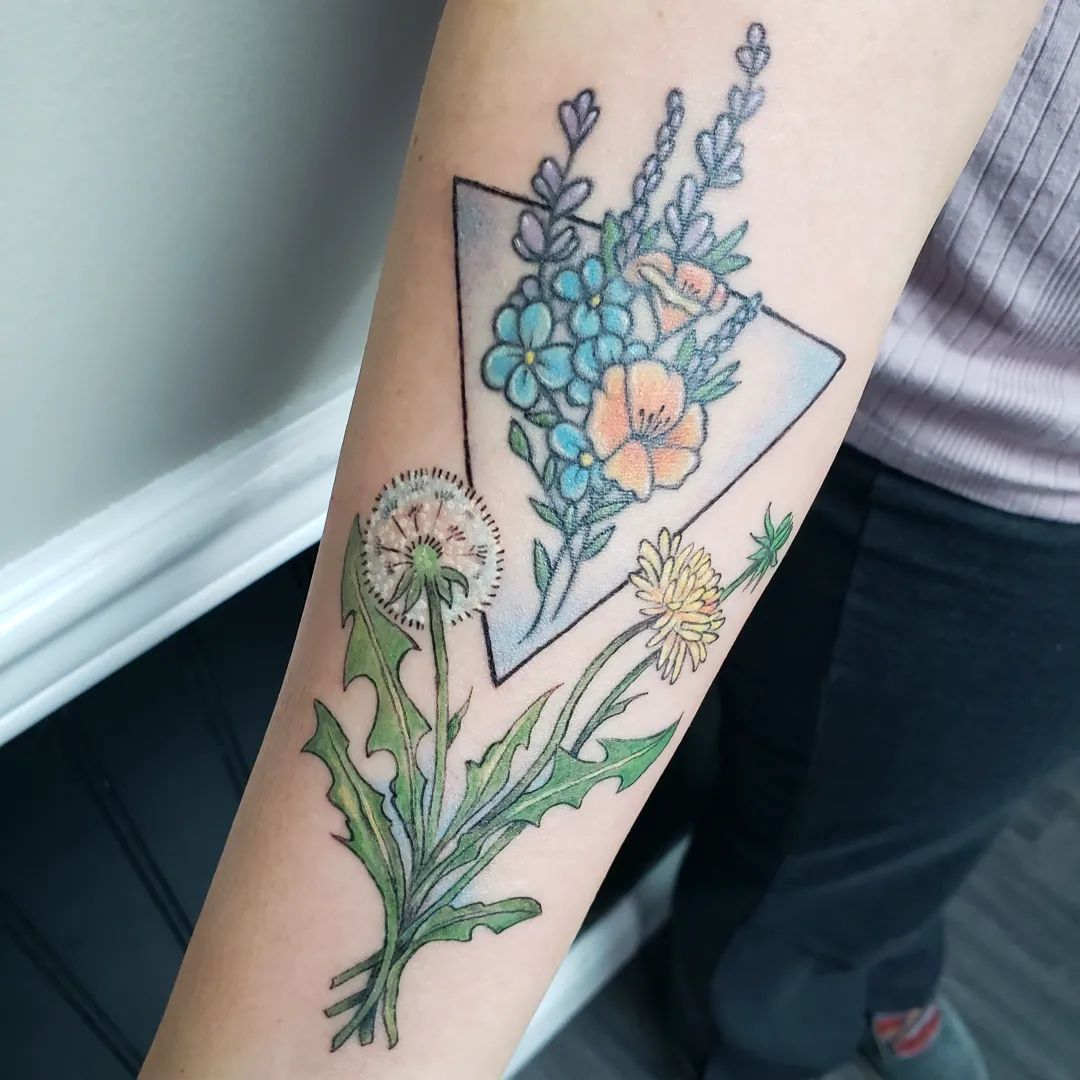 Rebirth dandelion butterfly tattoo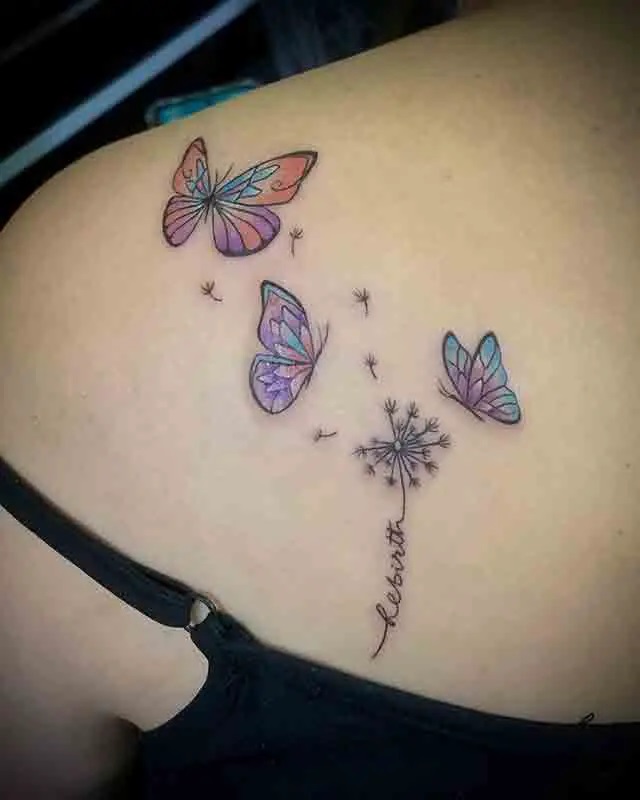 The idea of a dandelion transforming into fluttering butterflies is a beautiful and potent symbol of rebirth and transformation. This tattoo design, with three butterflies taking flight from a dandelion and the word "Rebirth" inscribed beneath, makes a powerful statement about overcoming challenges and emerging stronger and more beautiful.
Angel and dandelion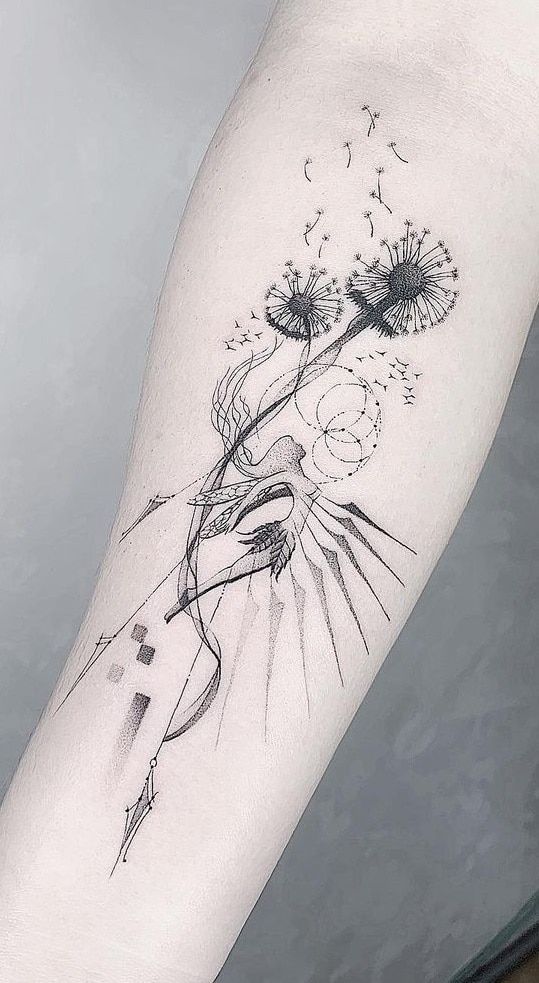 This design combines the ethereal beauty of an angel with the delicate simplicity of a dandelion. The angel, with wings unfurled, seems to be releasing the dandelion seeds into the wind. This can symbolize letting go of past hurts, embracing freedom, or sending out your wishes and dreams into the universe.
A little girl blowing dandelion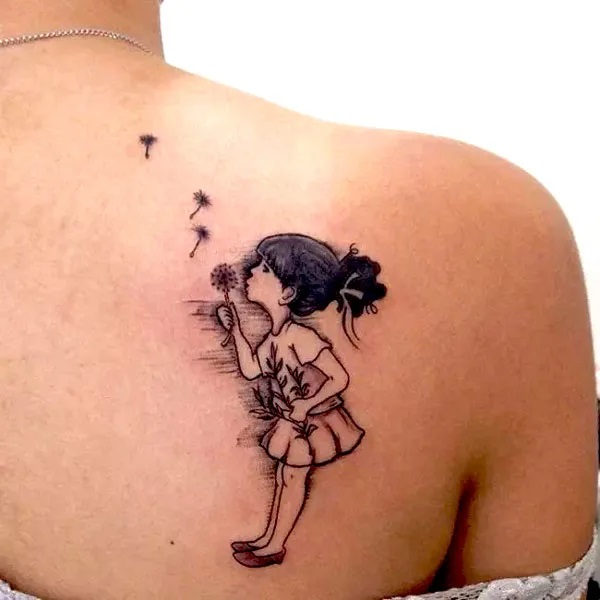 This design depicts a little girl blowing a dandelion, releasing its seeds into the wind. It's a charming design that captures the innocence and wonder of childhood.
Abstract dandelion face tattoo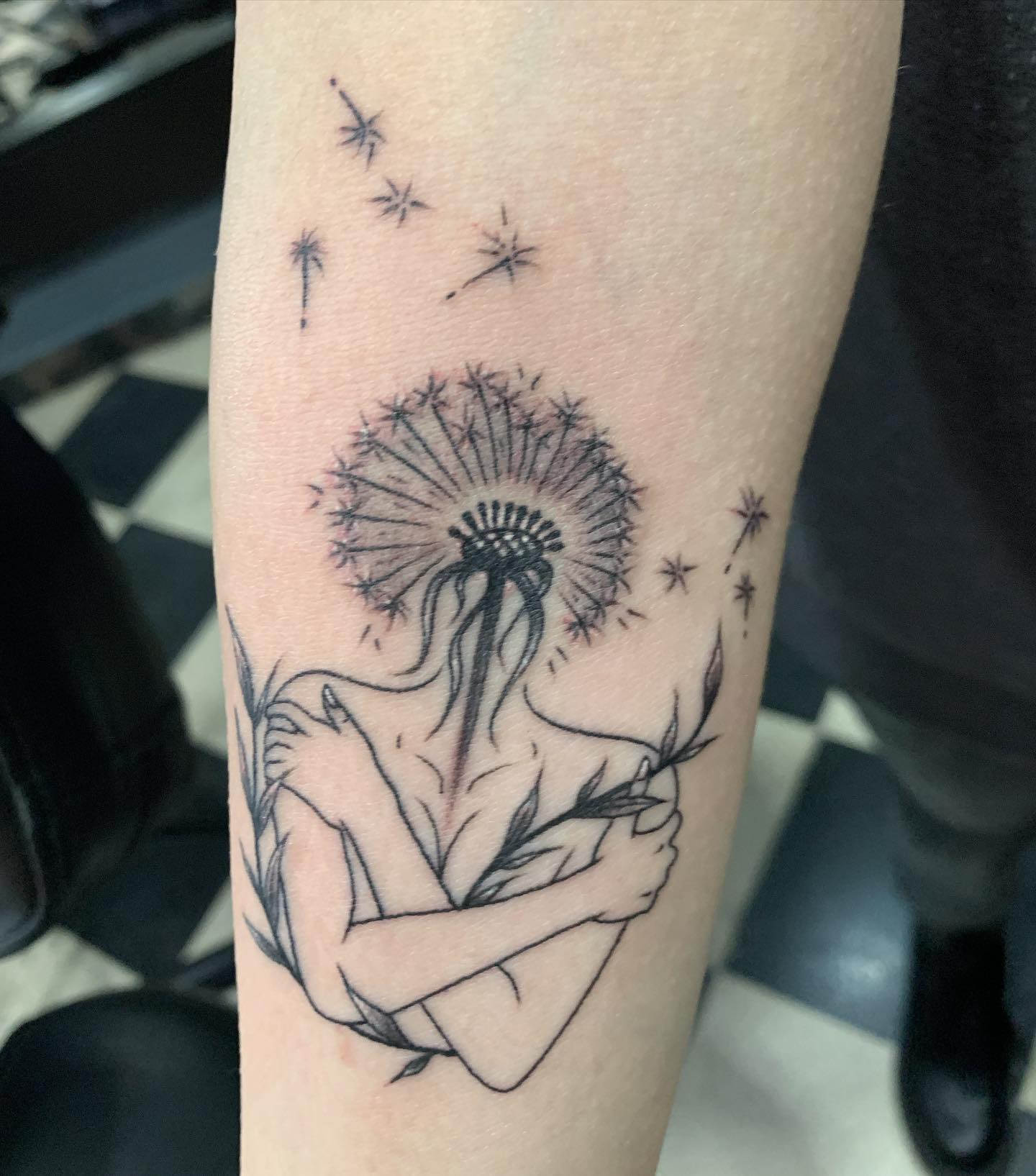 This design incorporates the shape and texture of a dandelion as a human face. This unique design can symbolize the deep connection between humans and nature.
Butterfly and dandelion shoulder blade tattoo
A shoulder blade provides an excellent canvas for a design of a butterfly and a dandelion with blowing seeds. The design's flow follows the natural curve of your shoulder, creating a captivating piece of body art that symbolizes change, growth, and freedom.
Artistic dandelion trash polka tattoo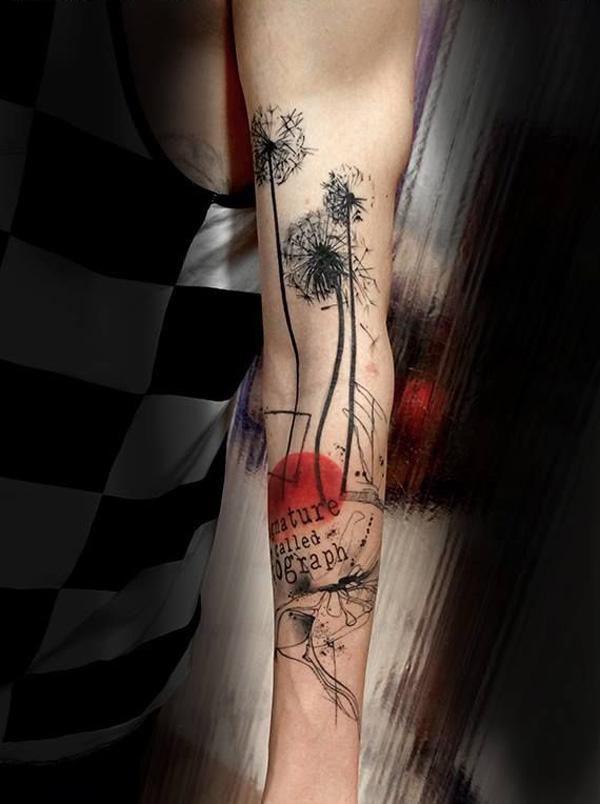 Trash polka is a tattoo style that combines realism with abstract elements, often using a limited color palette of black, white, and sometimes red. An artistic dandelion trash polka sleeve can be an edgy, modern take on the traditional dandelion tattoo, turning it into a striking piece of body art.
Dandelion blowing in the wind tattoo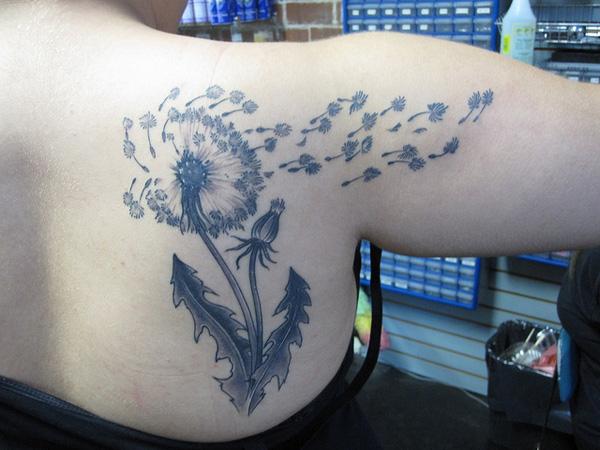 This design idea involves a dandelion with seeds blowing in the wind, cascading from the shoulder blade down to the arm. The flowing design can signify life's changes, the transience of time, or the dispersion of ideas and dreams.
A bouquet of dandelion with root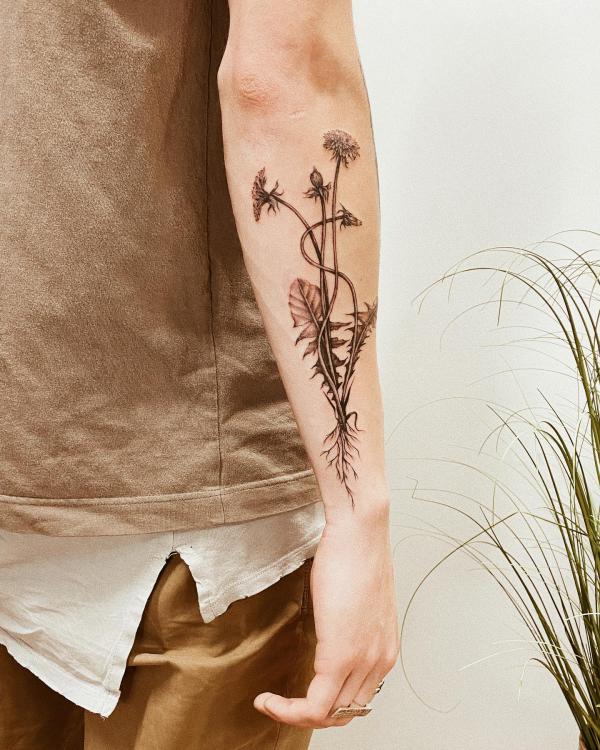 A bouquet of dandelions with exposed roots can represent resilience and survival despite adverse conditions. This tattoo can serve as a powerful reminder of your strength and ability to thrive even when things get tough.
Abstract dandelion tattoo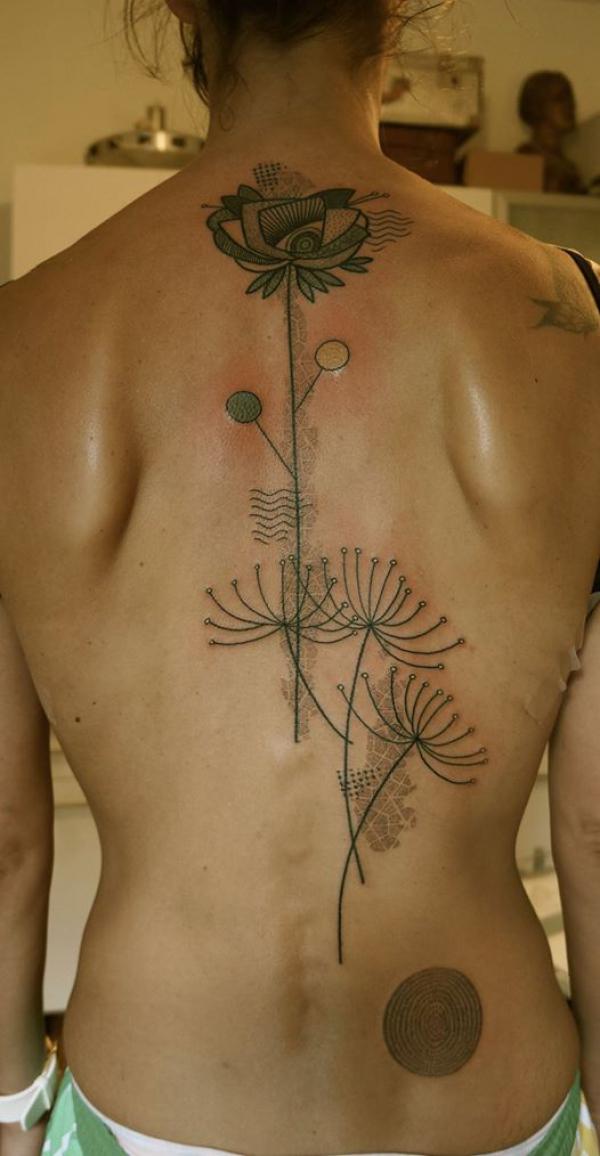 For those who prefer abstract designs, this dandelion line work can be an excellent choice. Using only lines and dots, this design captures the essence of a dandelion in a modern way, making an understated yet stylish statement.
Blowing dandelion and dragonfly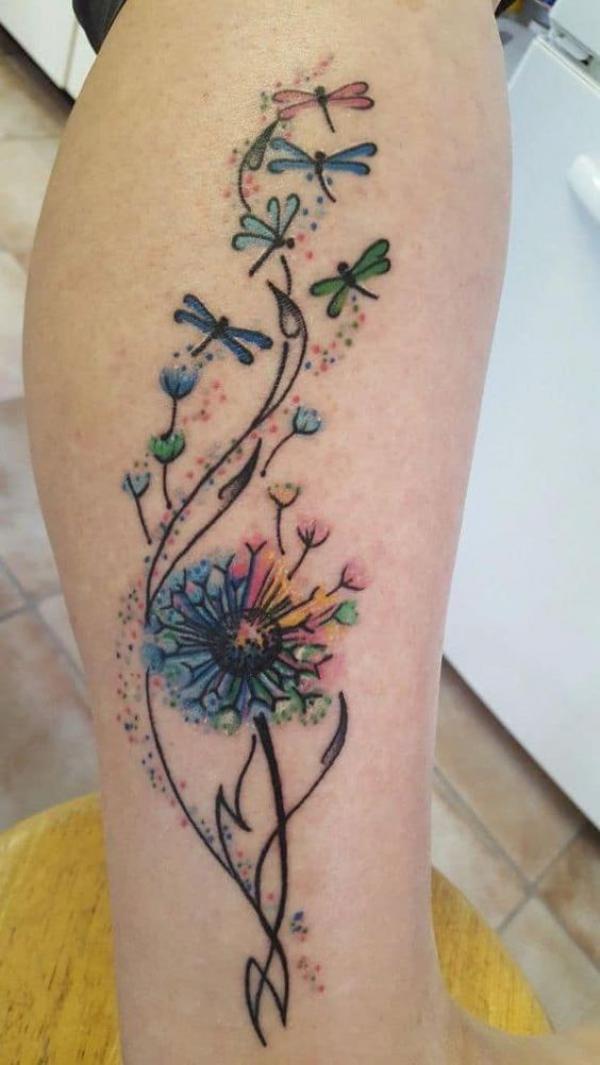 In this creative design, the dandelion seeds transform into dragonflies instead of the typical circles or hearts. The dragonflies can symbolize change, adaptability, and the understanding of life's deeper meanings, adding a unique twist to the traditional dandelion ink design.
Dandelion and human face outline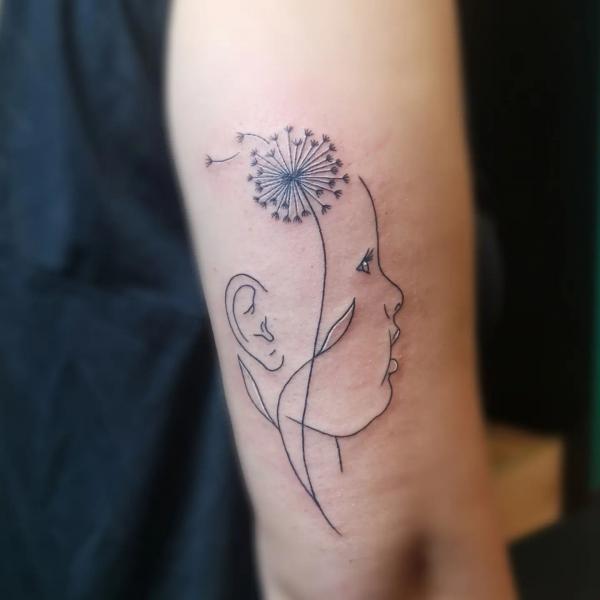 Combining the silhouette of a human face with a dandelion blends the natural with the personal. This design can symbolize the connection between humans and nature, or it can represent personal growth and self-discovery.
Dandelion with ferns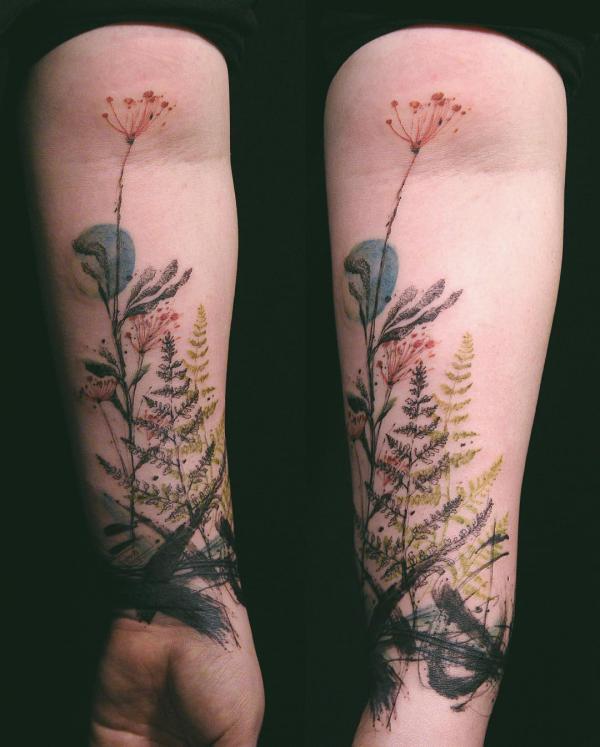 Pairing a dandelion with ferns creates a lush, woodland-themed design. The ferns can symbolize sincerity, magic, and fascination, complementing the dandelion's symbolism of hope and dreams.
Dandelion semicolon tattoo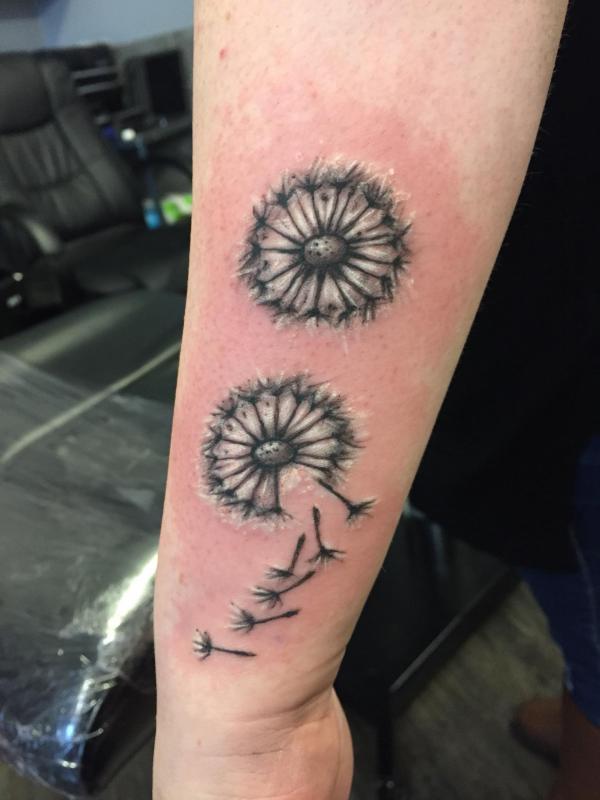 The semicolon has become a symbol of mental health awareness and suicide prevention. A dandelion semicolon design can serve as a powerful emblem of hope, resilience, and the continuation of one's story, reminding us that like a dandelion, we can thrive in adverse conditions and spread our seeds far and wide.
Dandelion Seed Tattoos
Dandelion seed tattoos focus on the stage of the dandelion's life cycle when it disperses its seeds into the wind. This design can symbolize letting go, freedom, and the start of a new journey.
Music notes from dandelion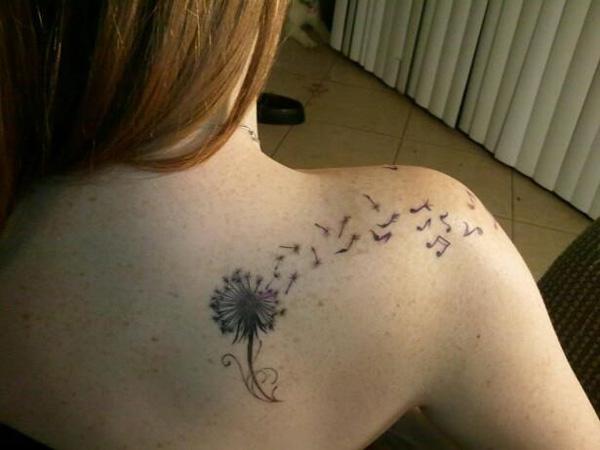 The design of music notes emerging from a dandelion creatively blends the themes of sound, freedom, and transformation. It can represent the power of music to inspire change and the dispersal of melody into the world, much like dandelion seeds in the wind.
Dandelion music notes tattoo shoulder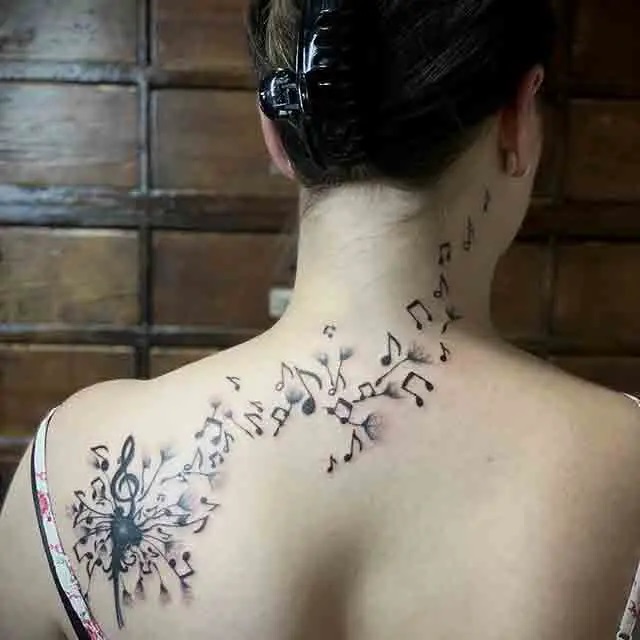 A dandelion music notes design extending from the shoulder to the neck is an elegant, flowing design. It signifies the music's movement, as if the tunes are floating upwards, symbolizing freedom and the release of creativity.
Falling dandelion white ink tattoo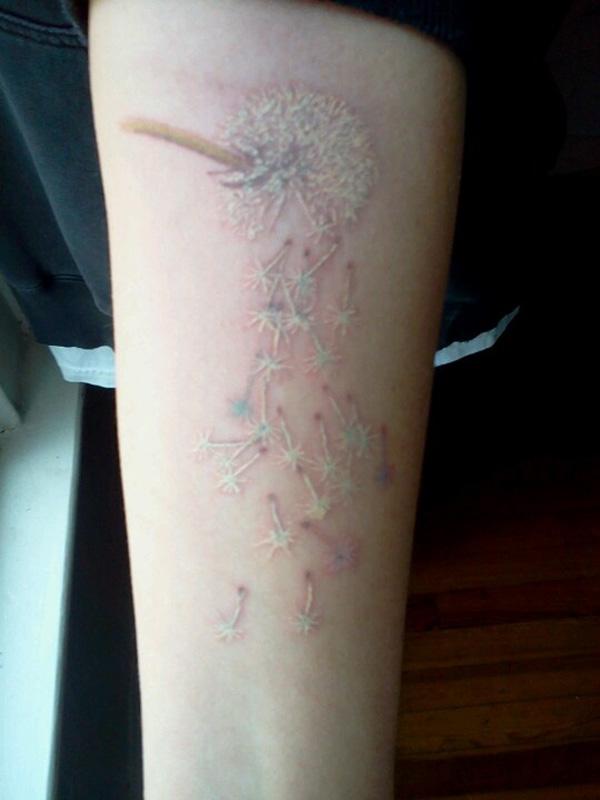 Falling dandelion white ink tattoos can create a unique, subtle effect. The white ink gives the design a soft, ethereal appearance, as if the dandelion seeds are quietly falling or floating in the wind. This can symbolize the gentle, quiet dispersal of ideas or dreams.
Dandelion tree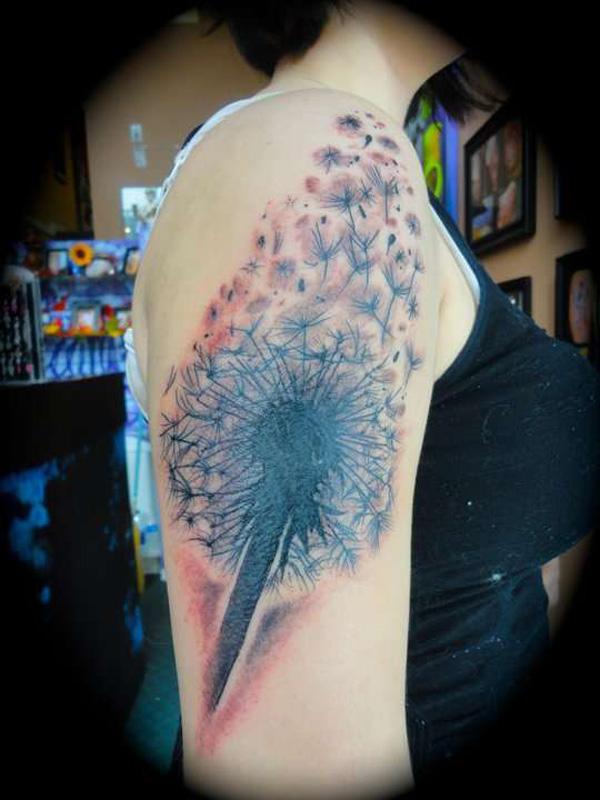 Colored dandelion falling down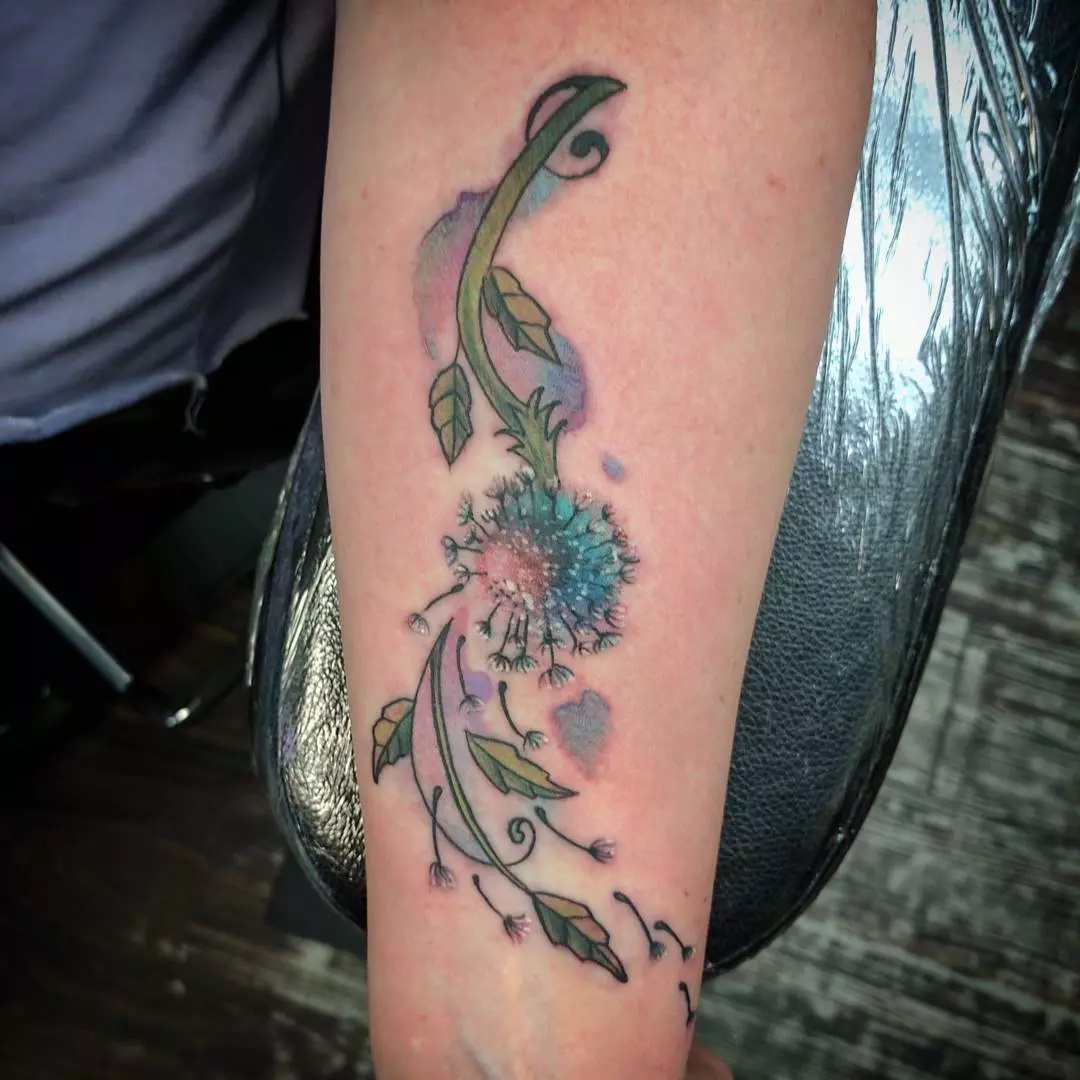 Traditional dandelion flower and seeds tattoo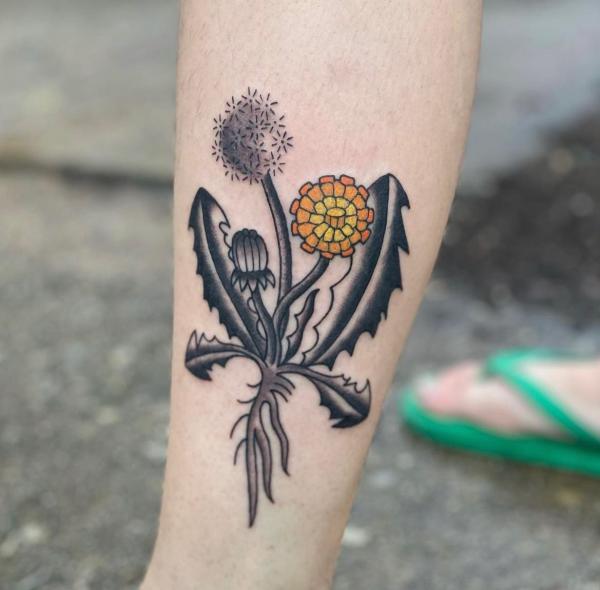 Music notes blown out of dandelion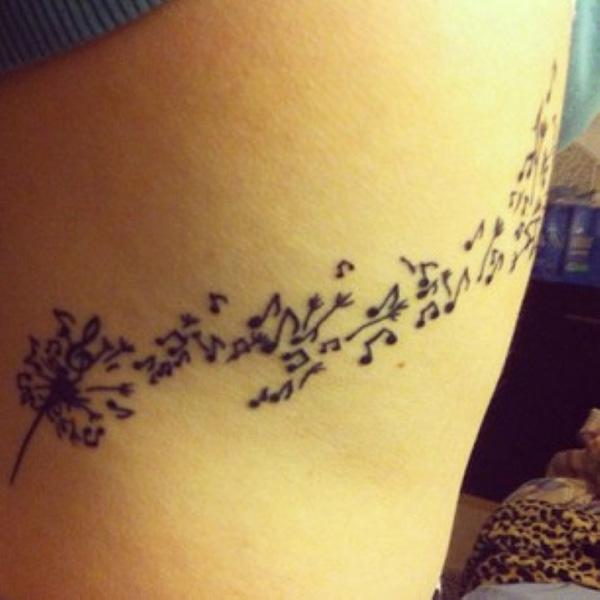 Dandelion back tattoo for women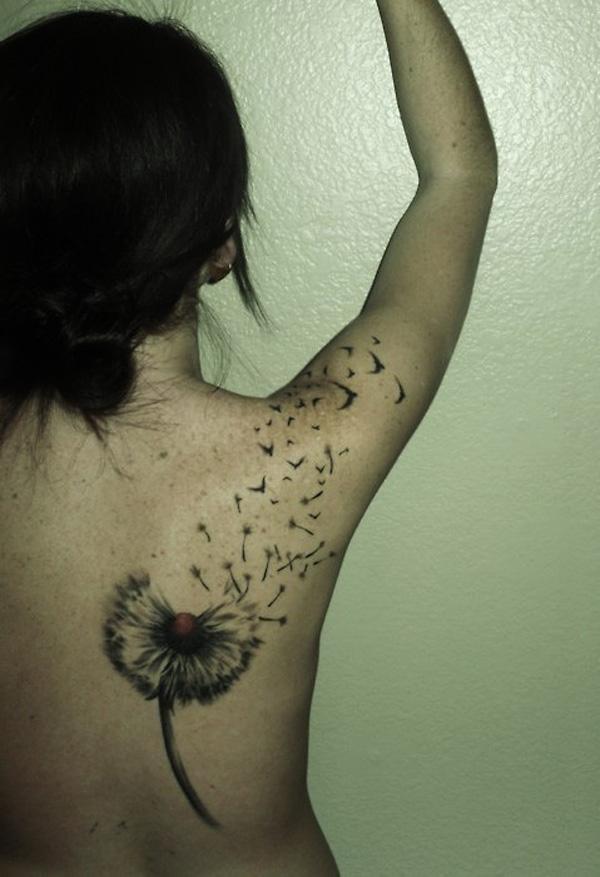 Dandelion tattoos with words
Meaningful quotes, phrases, or single words could enhance the symbolism of the dandelion ink designs. These tattoos can carry personal mantras, names, dates or words of significance to the wearer. The words can be intertwined with the dandelion's seeds, wrapped around the stem, or placed nearby, creating a harmonious blend of text and imagery. The combination of the dandelion's symbolism of transformation and freedom with the power of words makes these tattoos a unique and meaningful form of self-expression.
Dandelion tattoo with lettering in black color
A bird perched on dandelion with names and dates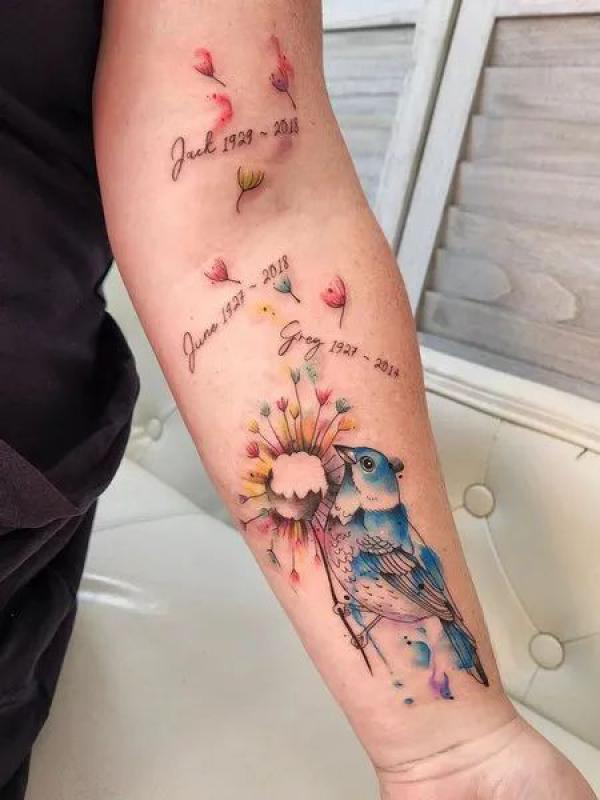 Dandelion family tattoo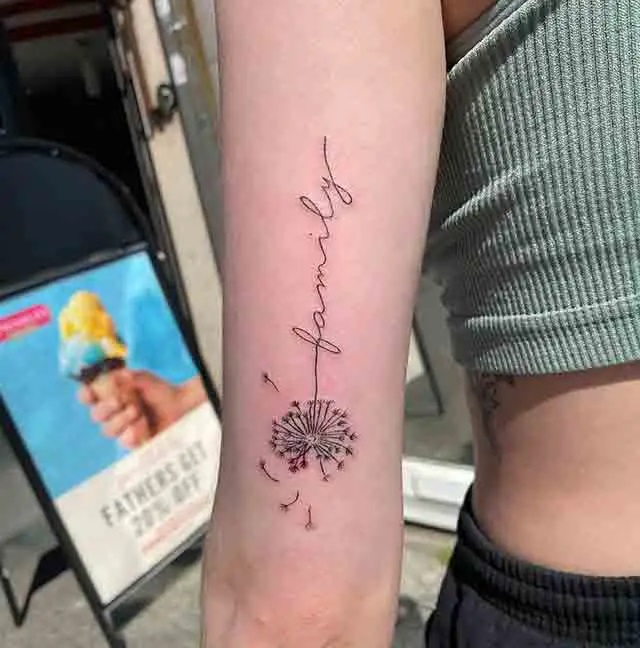 Dandelion Make a wish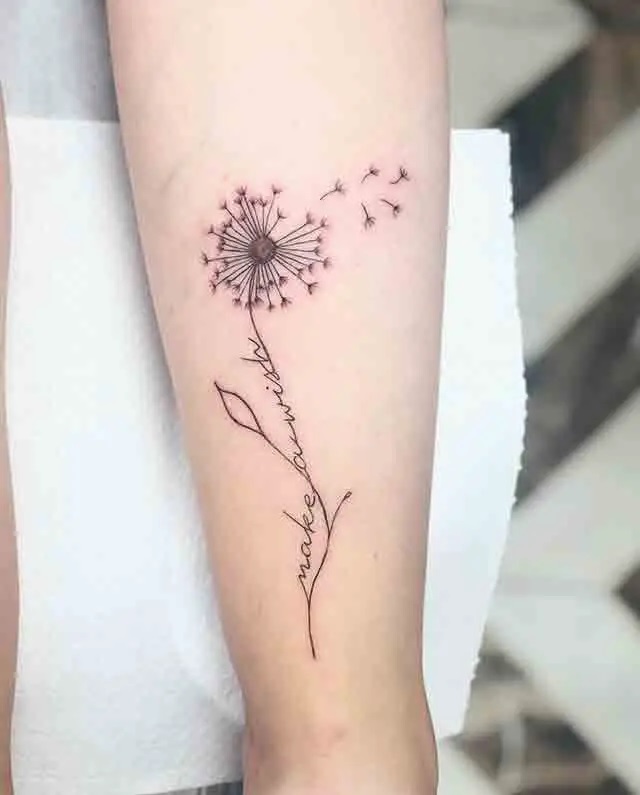 Red dandelion with words Vis ta vie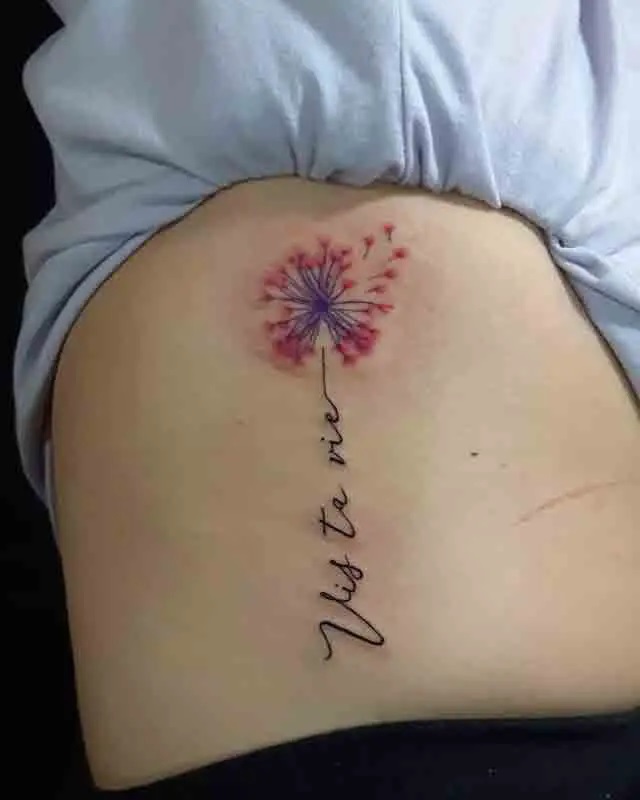 Dandelion with name low back design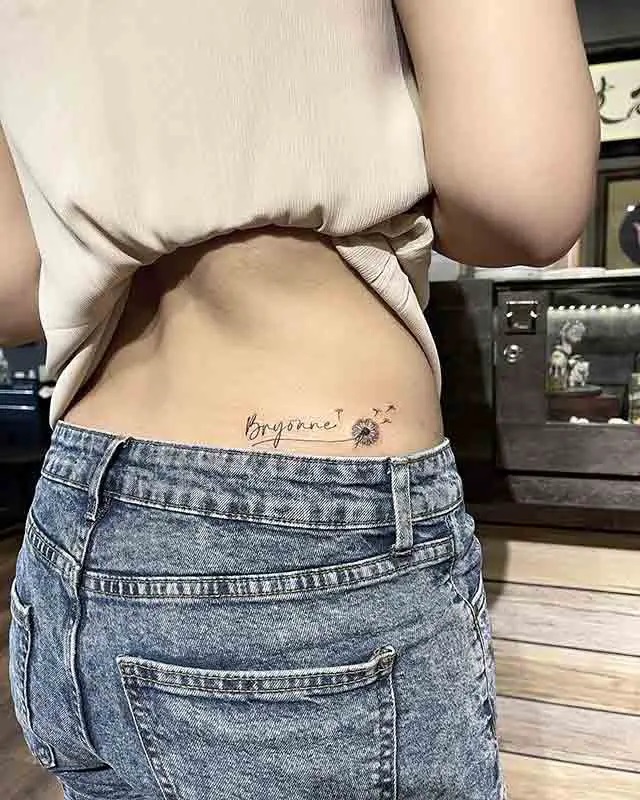 Dandelion Tattoos with Celestial Elements
Incorporating celestial elements like stars, moons, or suns into a dandelion tattoo can add a sense of mystery and wonder to the design. This combination can symbolize the connection between the earth and the cosmos, or the idea that we are all made of 'stardust'.
Dandelion with moon and stars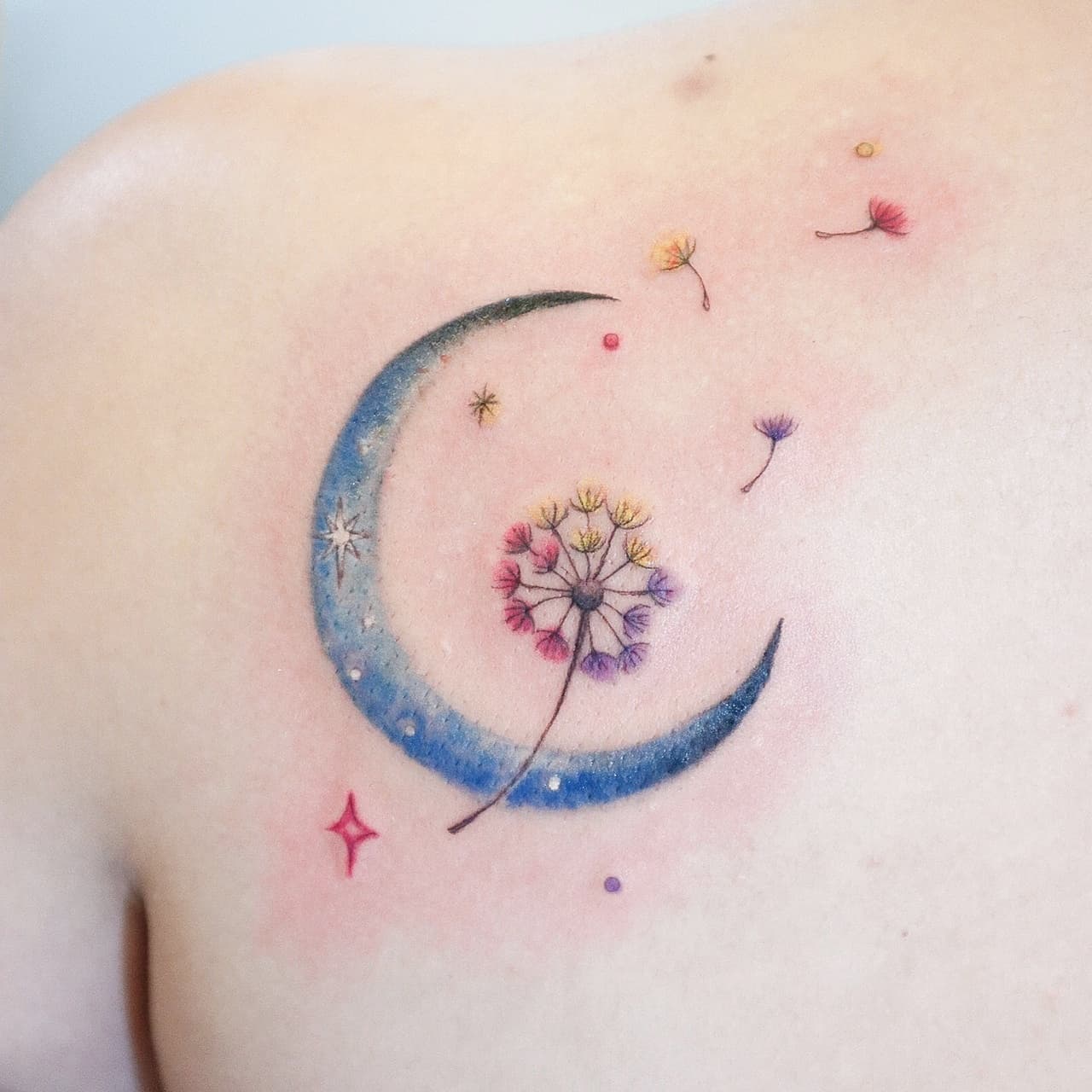 Trash Polka celestial dandelion tattoo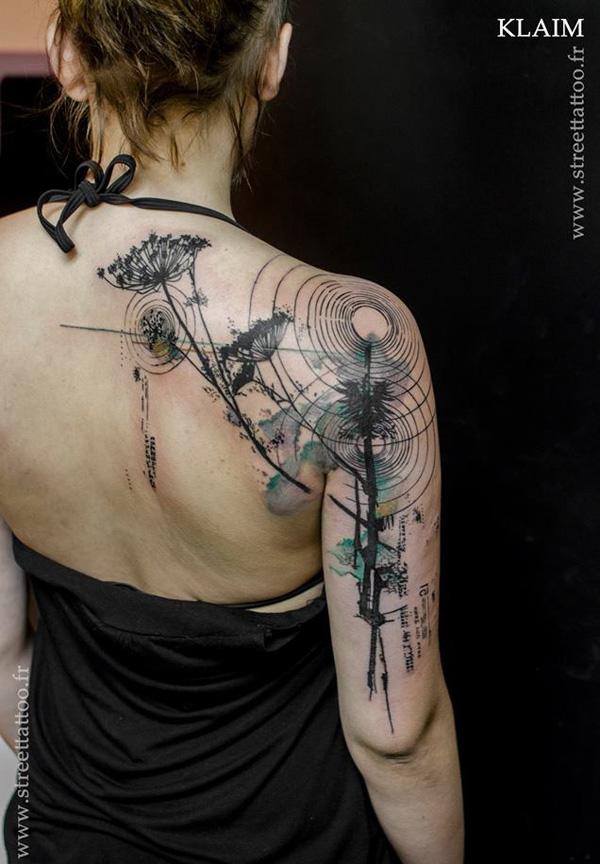 Placement ideas for dandelion tattoos
Dandelion tattoos can be placed in various locations on the body, each adding a unique aesthetic appeal. The choice of placement can depend on factors like visibility, pain tolerance, and personal preference. Whether the design is large and detailed or small and subtle, there's a perfect spot for every dandelion tattoo.
Wrist
A wrist placement for a dandelion tattoo is ideal for smaller designs and ensures high visibility. It's a popular spot for first-time tattoo recipients and those who wish their tattoo to be in sight regularly.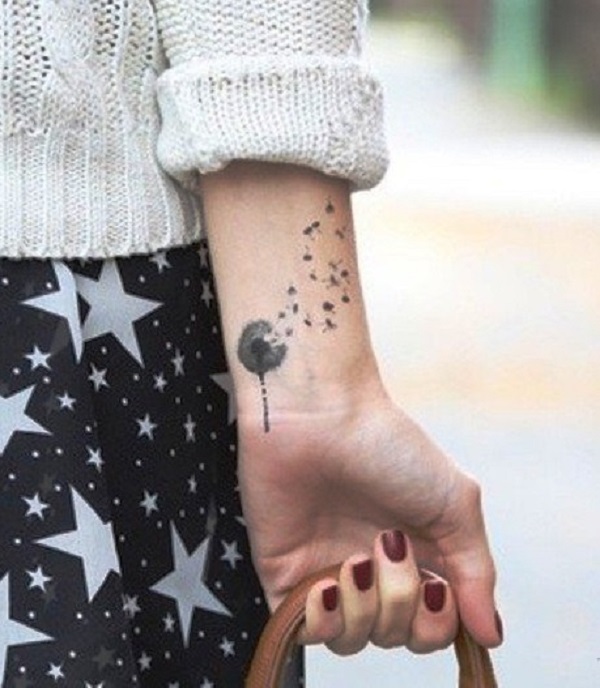 Dandelion and birds on wrist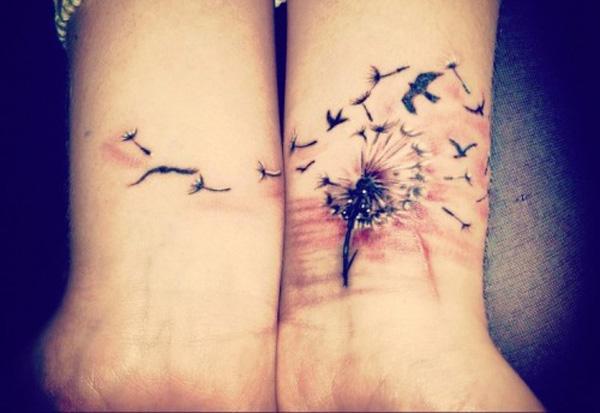 Back
The back offers a large canvas for intricate dandelion designs, making it suitable for larger tattoos. This area also allows the artwork to be easily concealed when desired.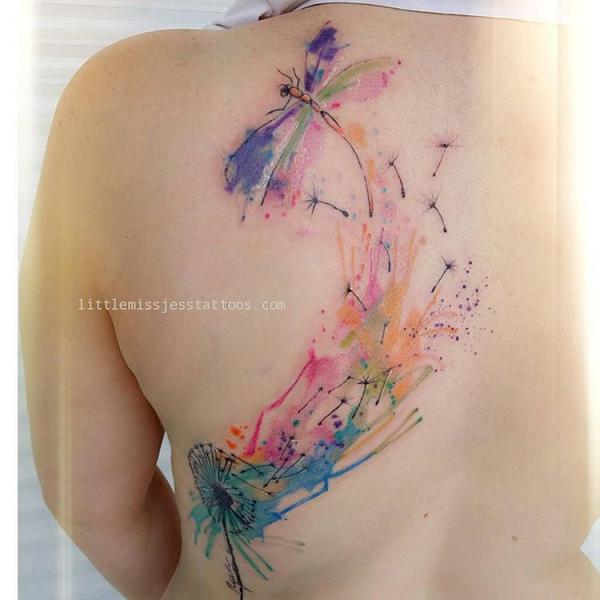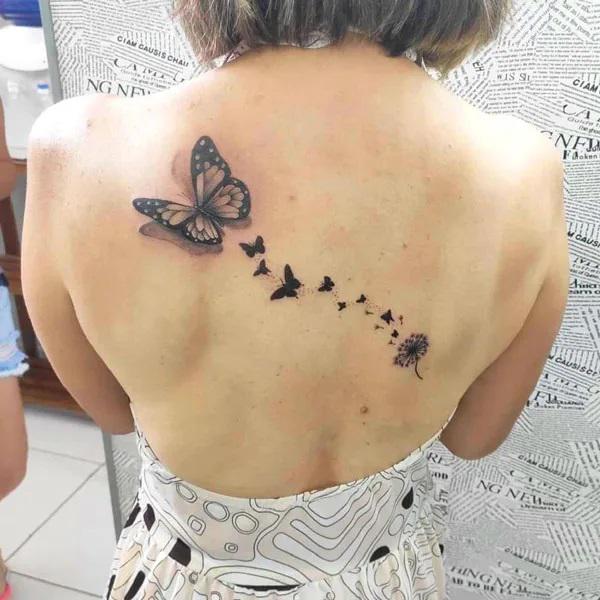 Black ink dandelion feather back tattoo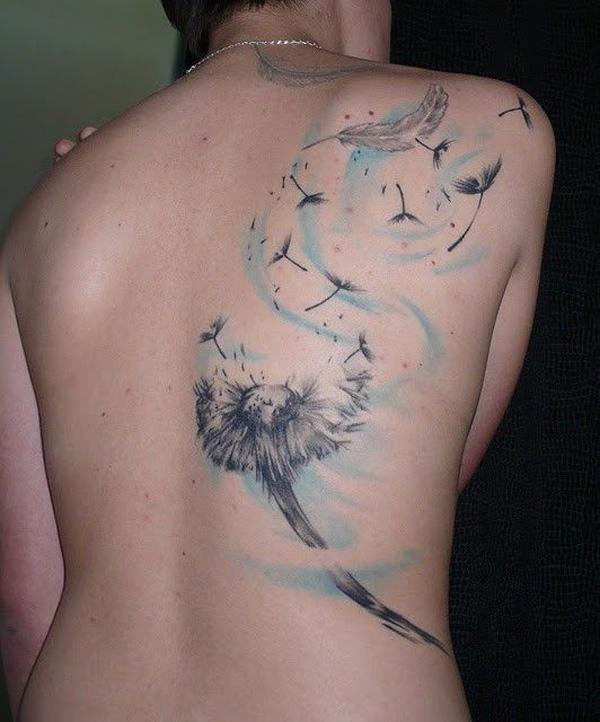 Behind the Ear
Behind the ear is an excellent spot for a discreet and stylish dandelion tattoo. It's perfect for small designs and can be easily shown off by pulling your hair back.
Cute dandelion behind ear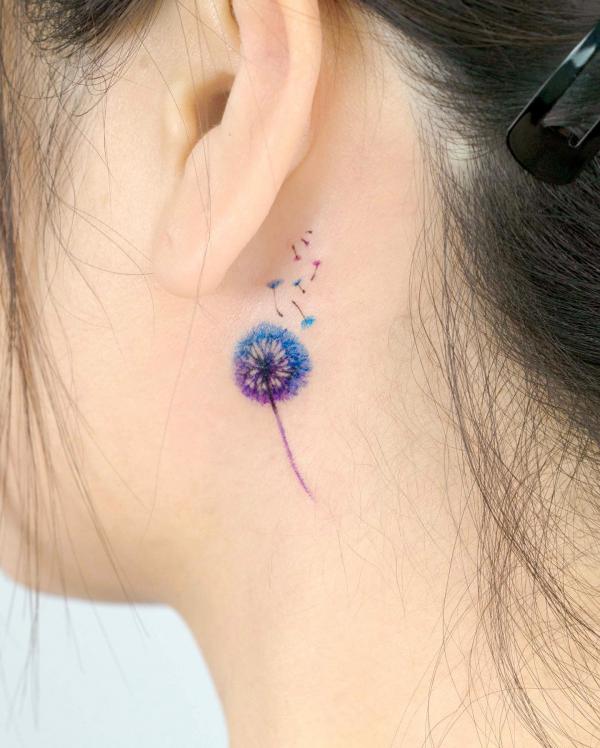 Minimalist dandelion tattoo behind ear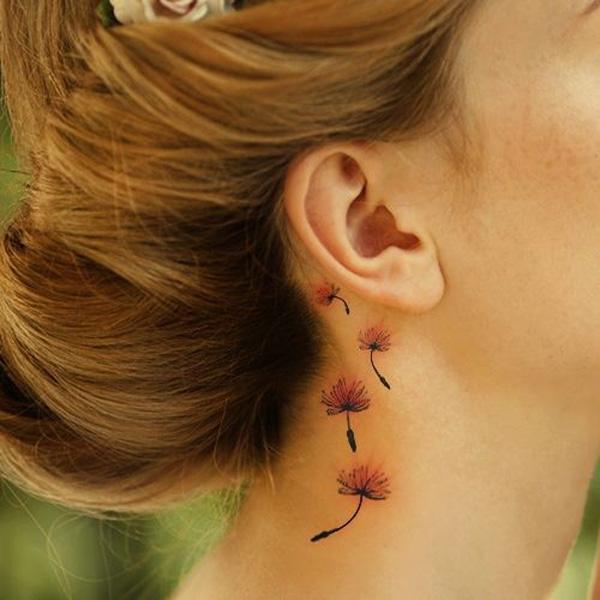 Dandelion and music note heart tattoo behind ear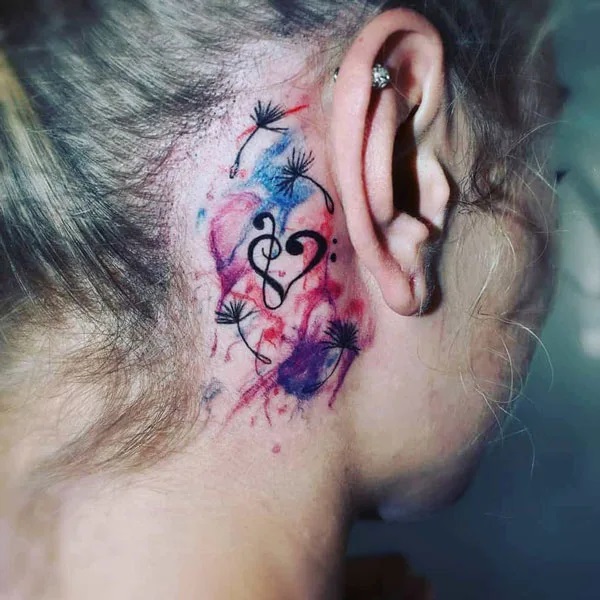 Foot
The foot is a popular location for dandelion tattoos, particularly for those who prefer their tattoos to be more private. This placement suits small to medium-sized designs.
Dandelion foot tattoo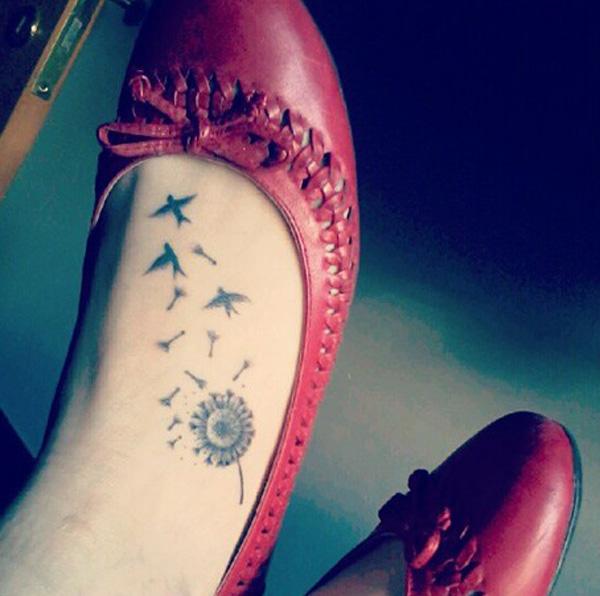 Shoulder
A dandelion tattoo on the shoulder can easily be showcased or concealed, making it a versatile placement. The shoulder's flat surface is ideal for both small and large designs.
Blowing like dandelion shoulder tattoo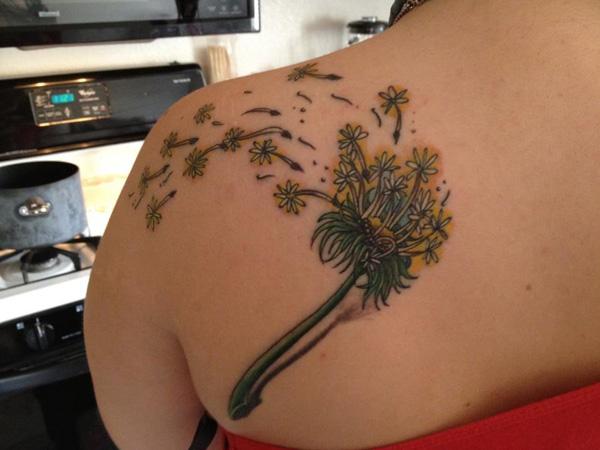 Forearm
The forearm is an excellent location for dandelion tattoos, providing high visibility and easy care. It's a great spot for medium to large designs.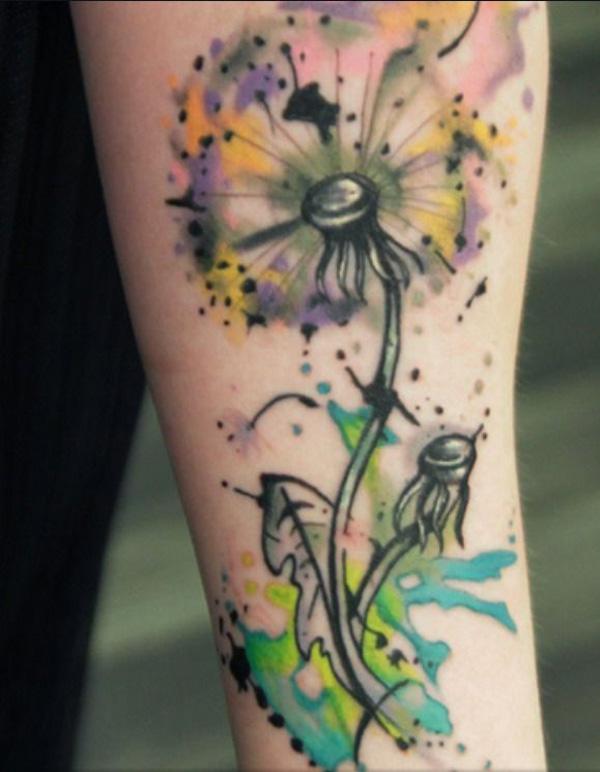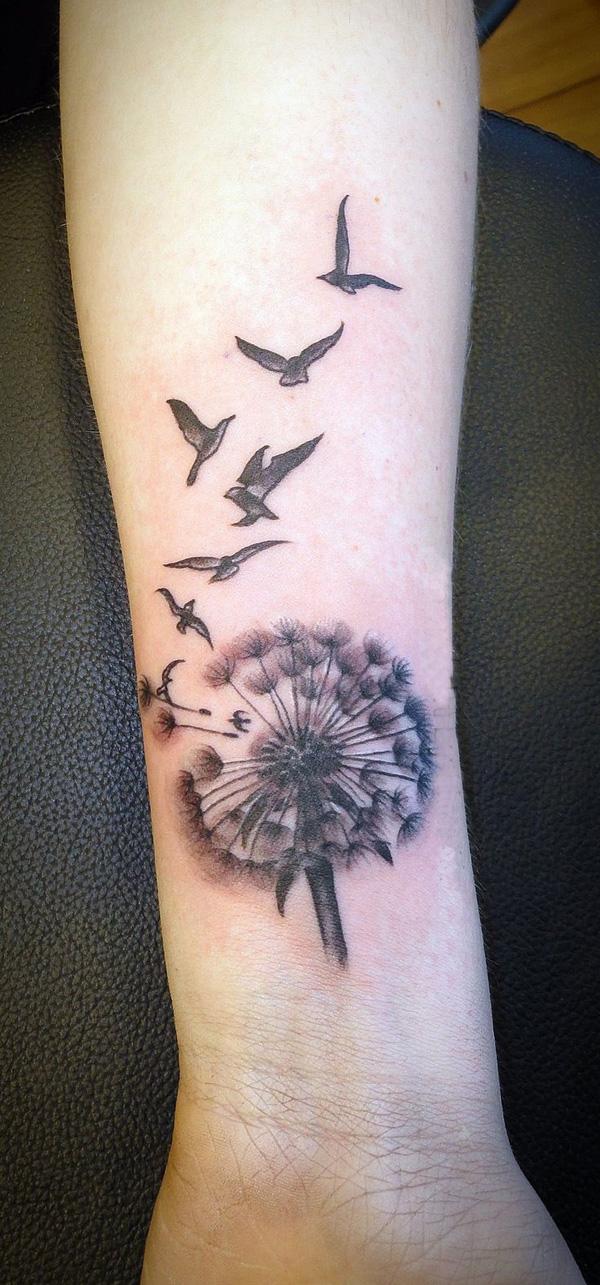 Hand
Hand placements are bold and highly visible, perfect for those who want their dandelion tattoo to be seen. This location suits smaller, detailed designs.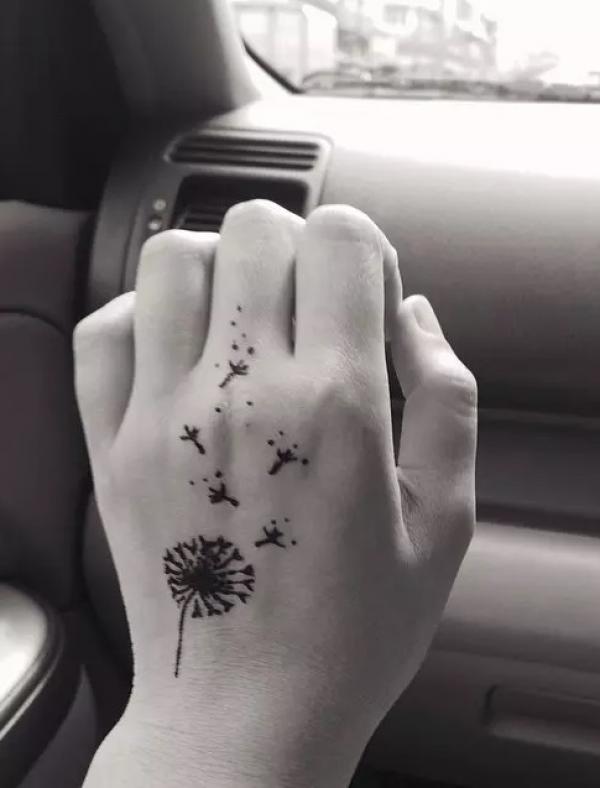 Collarbone
The collarbone offers a stylish and elegant location for a dandelion tattoo. This spot beautifully highlights small to medium designs, adding a touch of elegance to one's overall look.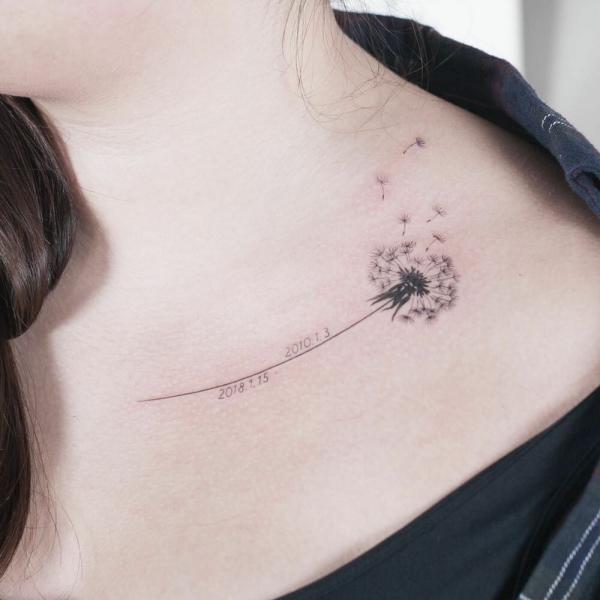 Just breathe Collarbone tattoo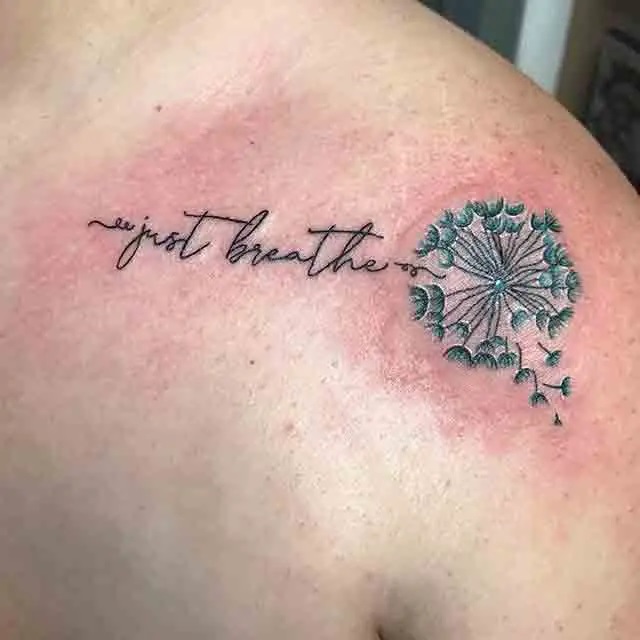 Spine
A dandelion tattoo on the spine offers a vertical canvas for an elongated design. It's a discrete location, suitable for people who prefer their tattoos to be more private or intimate.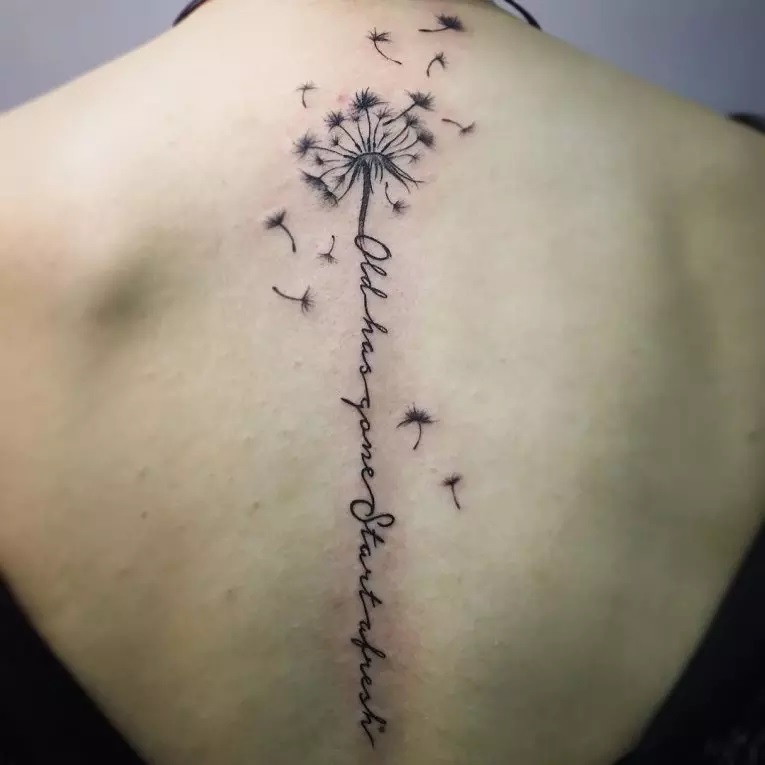 Arm
The arm is a popular location for dandelion tattoos due to its visibility and versatility. It provides ample space for detailed designs and allows easy display of the tattoo.
Dandelion with bud to bloom arm tattoo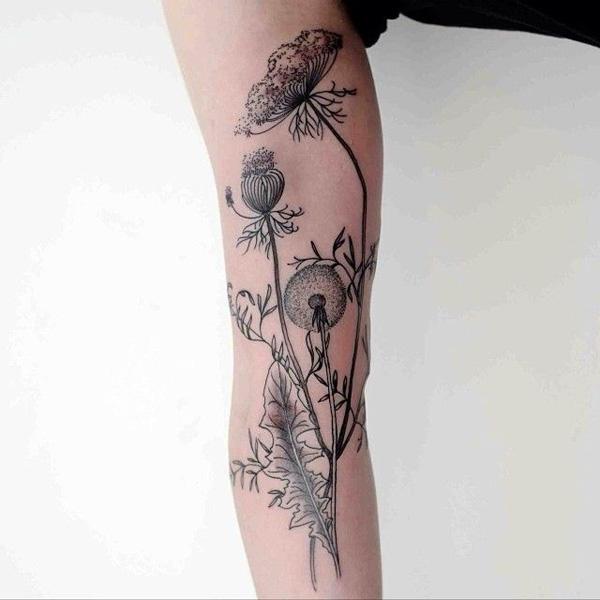 Thigh
The thigh's large surface area is perfect for larger dandelion tattoos. This placement can be easily concealed or revealed, offering a degree of flexibility.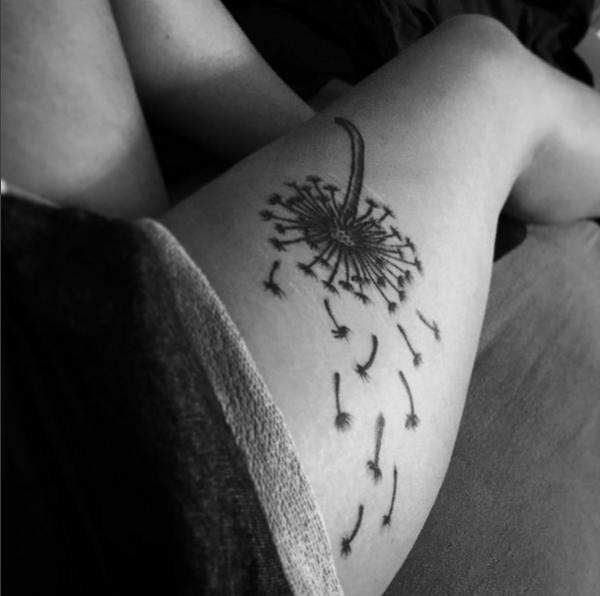 Rib
A dandelion tattoo on the rib can be intimate and personal. Though often associated with a higher pain level, this location is an ideal canvas for a large, detailed design.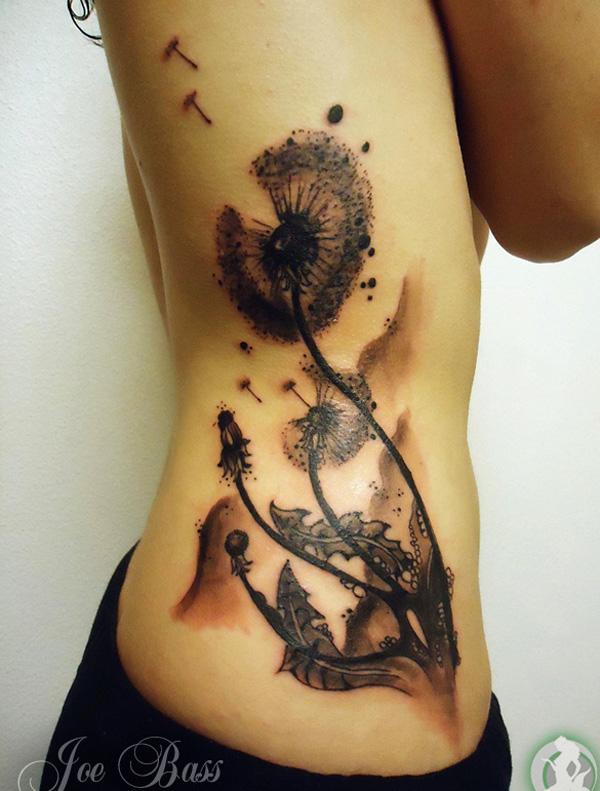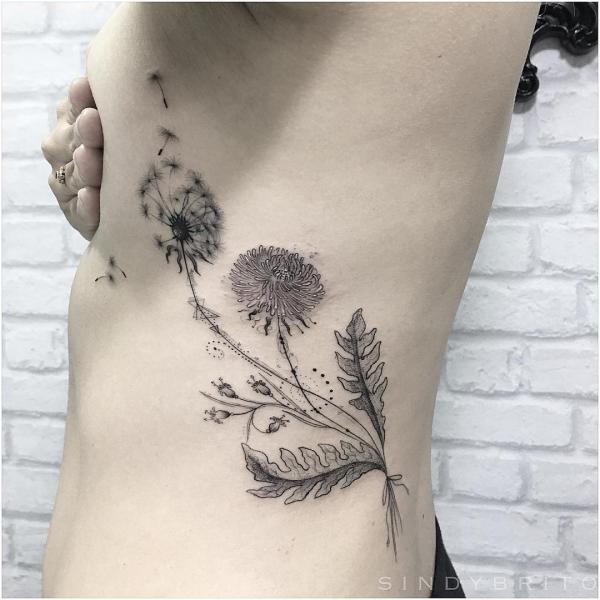 Neck
The neck is a bold and highly visible location for a dandelion tattoo. It's a unique spot suitable for small to medium designs.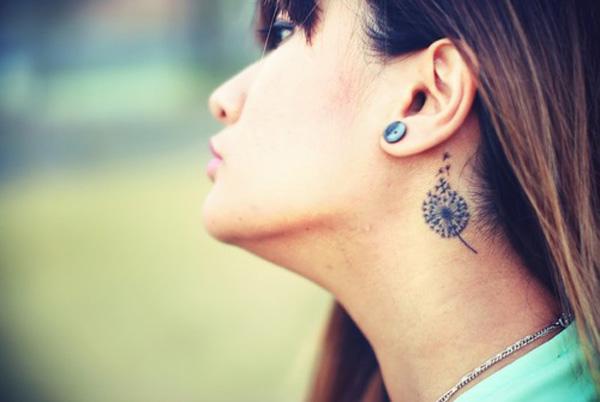 Blowing dandelion Tattoo on neck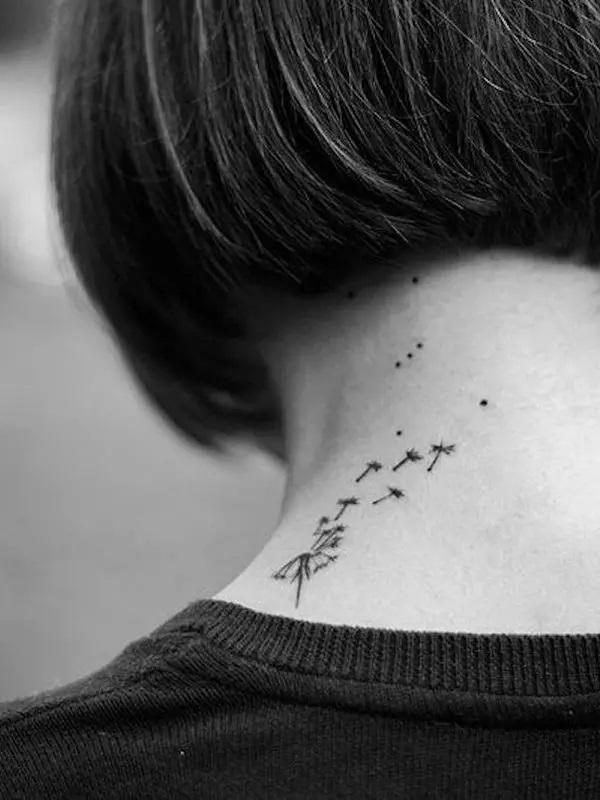 Sleeve
A dandelion tattoo incorporated into a sleeve can create a beautiful and intricate design. This placement allows for a detailed and complex depiction of dandelions.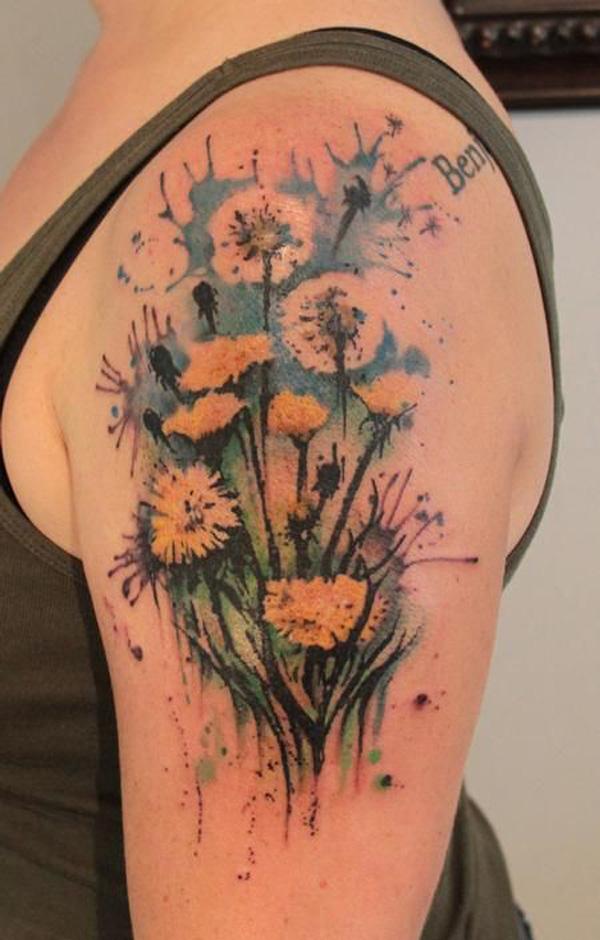 Ankle
The ankle is a subtle yet chic location for a dandelion tattoo. It's perfect for small, delicate designs. Additionally, it's easy to display or hide the ink at this location.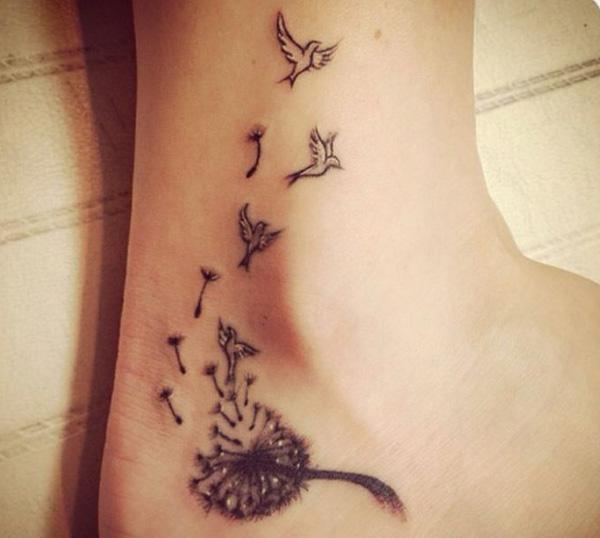 Calf
A dandelion tattoo on the calf offers a sizable canvas for medium to large designs. You can easily showcase your tattoo with shorts or skirts, making it an appealing choice.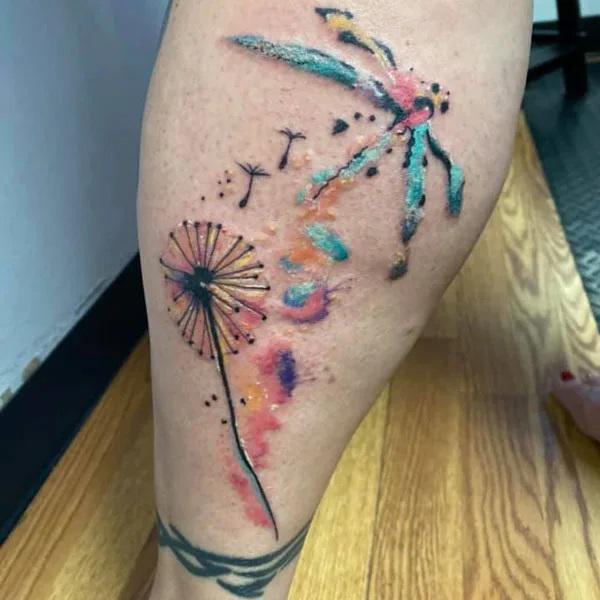 Finger
Tattoos on the finger are perfect for those desiring a subtle yet impactful design. This placement is ideal for small, delicate tattoos and adds a unique touch of style.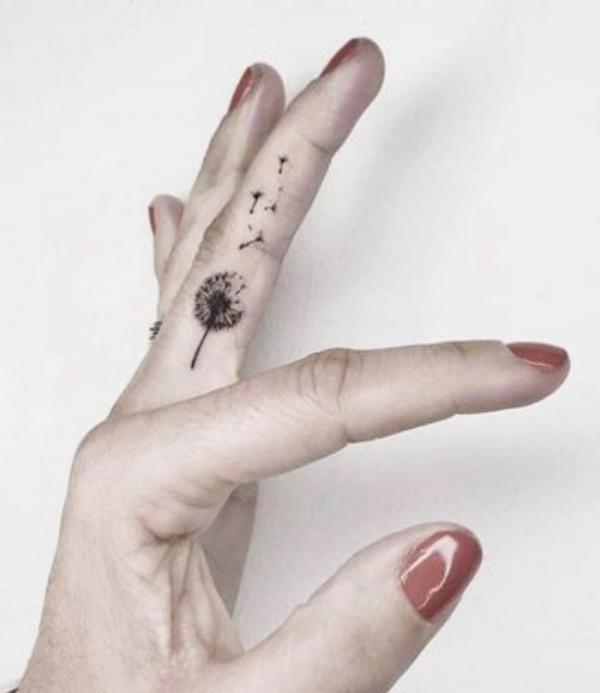 Conclusion
Dandelion tattoos for women are not only visually appealing but also carry a profound symbolism. These designs tell a story of resilience, hope, transformation, and freedom. Whether you choose a minimalist design or a complex rendition, a dandelion tattoo can be a beautiful and meaningful expression of your personal journey. So, let your creativity bloom and choose a design that reflects your story and resonates with your heart.