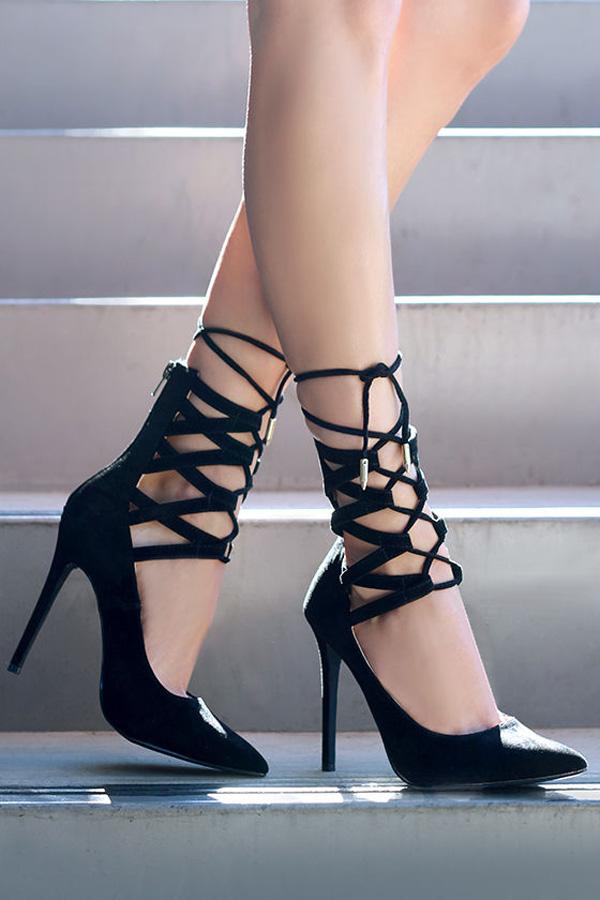 Black pumps are usually one of the must-haves. But if you're tired of simple pumps, here's a black lace up heels that will make you feel much more sexy; and definitely stylish. It would be best to wear it with dresses or skirts.
What Never Goes Out of Style
Fashion has always been changing. A decade ago, all the trends were far different than the trends 10 years later. Some may be coming back, but it would always be evolved. If there is one thing that doesn't change in fashion, it's that heels are always the best option for women to feel dominant and powerful, or shy and girly, to casual and chic. It's versatile and can go with mostly any item of clothing you've got. If you've actually been watching Victoria's Secret Annual Fashion Show, heels are even great even if you're simply on your undies and bras.
But of course, wearing heels all the time may not be as comfortable as wearing sneakers or platforms. Just like with almost everything else, be sure that what you're wearing suits the occasion and the venue. If you're going to work, you can wear heels BUT try not to wear those ones that gives you sudden fear of heights or perhaps ones that looks like it could be used as a murder weapon. Try to tone it down. And there will be no doubt that you'll have to walk to and from work, to and from the nearby coffee shop or convenience store, or up and down the stairs when the elevator is broke. Those times, you'd be thankful you didn't wear that too-cute-but-too-deadly heels you've got.
Nonetheless, formal parties and date nights could be the exceptions. You can have all the excuse to wear that heels you've been waiting to wear. And whether you've got a mini black dress, a seductive long gown, or a simple casual outfit, you're heels would make sure you are dressed for the occasion.
The Walk of Fame
A pair of the best heels you have laid eyes on is definitely the best feeling. Whether you're really not that into heels or you're in love with these kinds of shoes, wearing some stunning shoes will make you feel ten times more confident. And it's even better if you can flaunt it with your walk.
For those who are not that accustomed to wearing high heels (especially 3 inches and above), you might want to start with those lower ones or with platforms. It could help you find your balance and it could offer you more comfort. If you think you're ready for the higher ones, it would be better to practice walking with your heels on before the day you're supposed to wear them. You can familiarize yourself with the feeling and of course, the balance.
If you're not yet that good at finding the right shoes, well here's a list of the most fashionable ones you could see. You might see the exact same style in shops near you or you can find almost identical ones.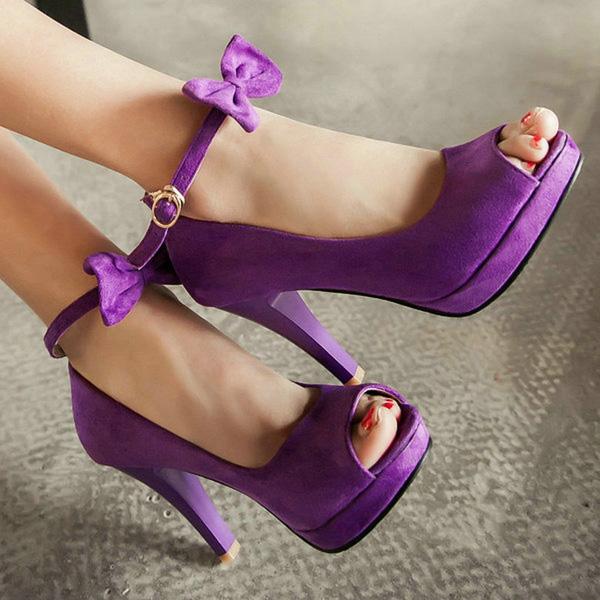 Ankle strap heels vary in height but the main thing is it would feel much more secure to wear, thanks to the strap. But pairing it with a cute color, peep-toe action and some bowtie? It would definitely bring out the girl in you.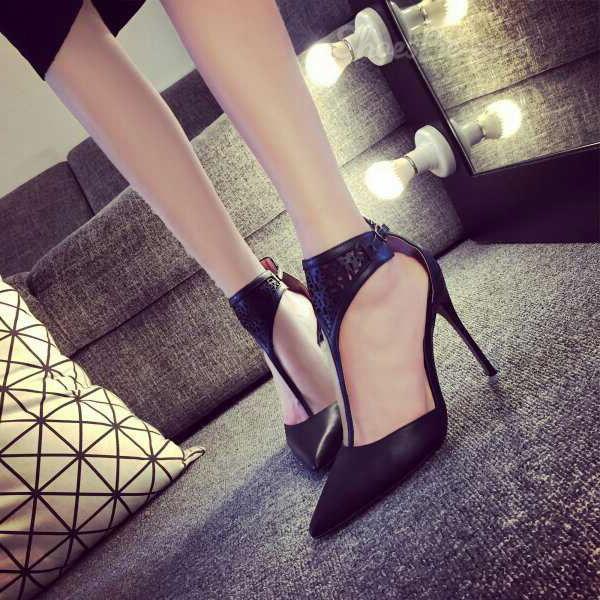 T-Straps are almost similar to ankle straps but this one connects the ankle strap to the shoes (which forms a T-shape; thus the name). This pointed stiletto is both perfect for work and parties with the eyelet T-Strap design.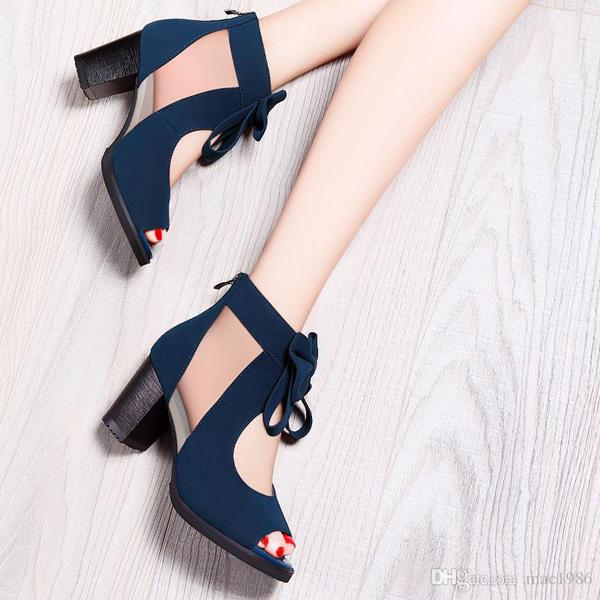 Here's another ankle-strap peep-toe blue number. The design is much more fun with ribbons in the front and a little more peep-show in the side.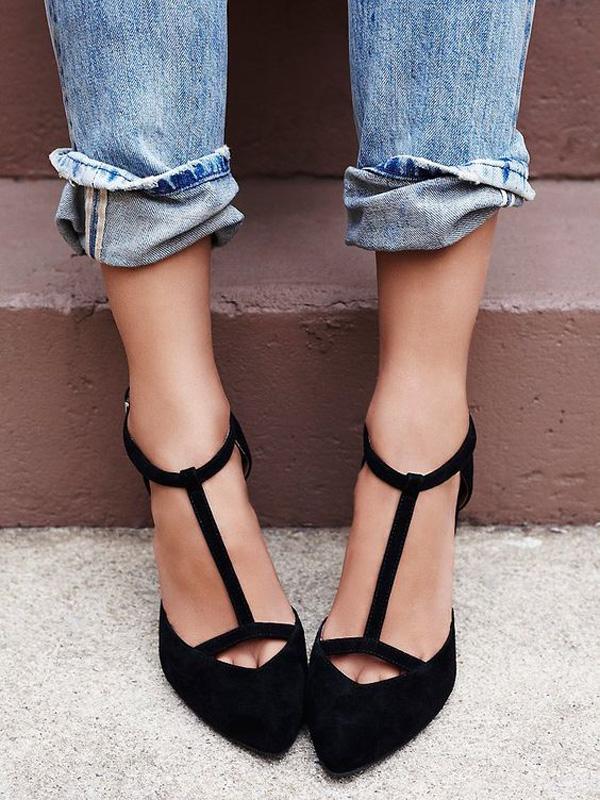 Getting yourself this black suede shoes is the type of all-around shoe. Whether you're going to work, to a casual stroll in the mall to a night out with your friends, it will be perfect. Plus it's more comfortable since it's not that high.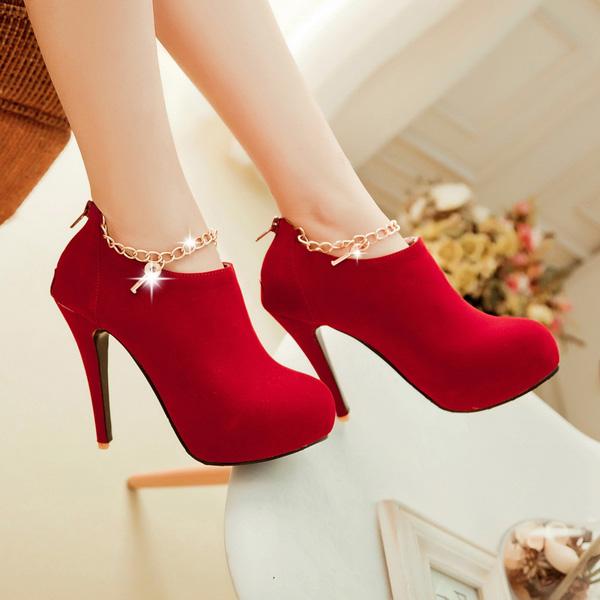 Pumps and other heels may not be suitable for some seasons; like autumn. So if you feel the change in the weather but you still want to look incredibly great, then you can pick out this red ankle bootie heels with gold chain design around the ankle.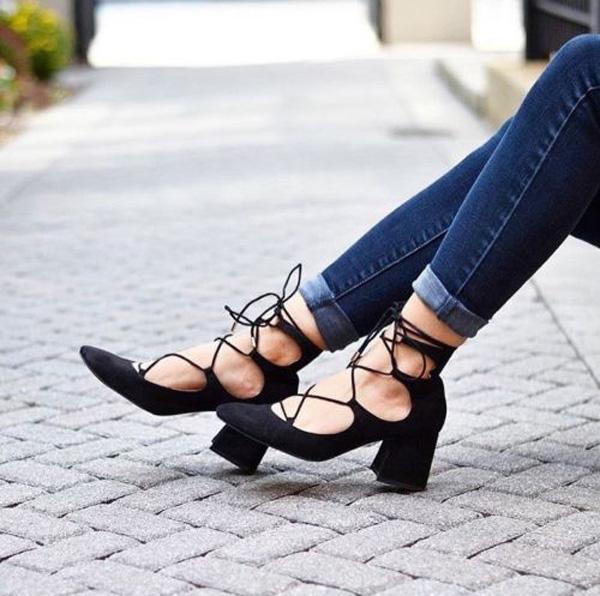 Chunky heels may not really look that good in the midst of cigarette heels, but when you've got a lace up one, it doesn't matter. And you can be much more comfortable to still be active.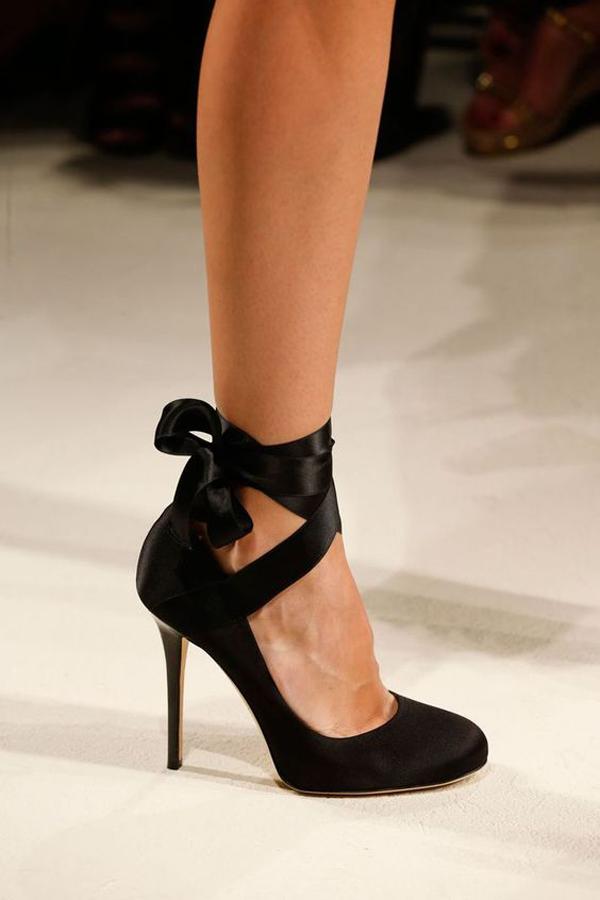 There's the classic mini black dress; in shoes, there's the classic black ribbon ankle strap pumps you simply must have. It's elegant. It's stylish. Perfection.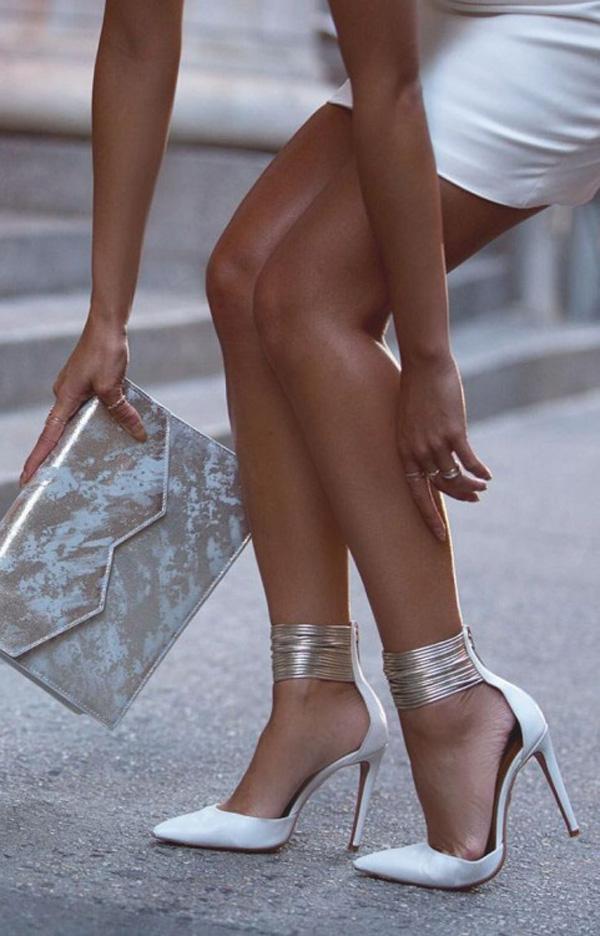 Usually in this kind of heels, the ankle straps give the shoes a good accent. So here's a perfect example of a simple and yet elegant ankle strap design.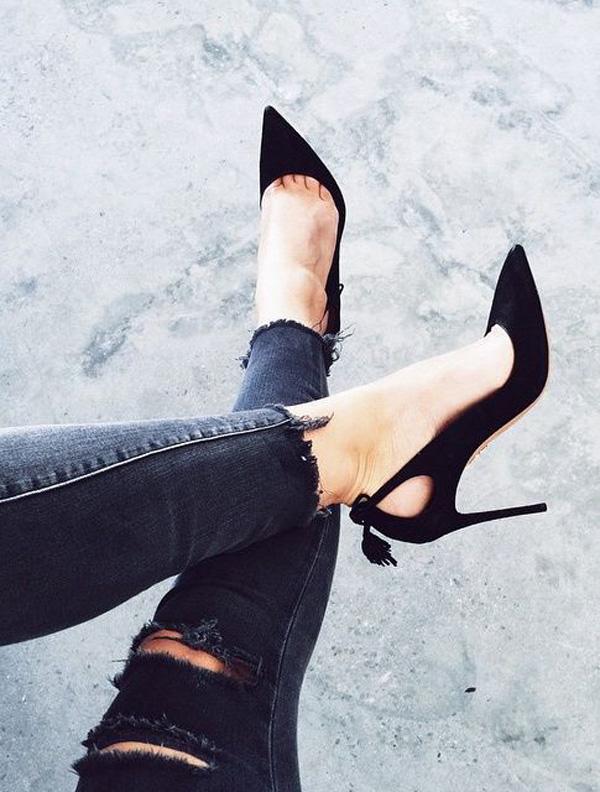 Here's a fabulous black pointed heels you can wear with any kind of style. The outcome would still be chic. The little ribbon and cut out in the back is an usual style that will make it look different than others.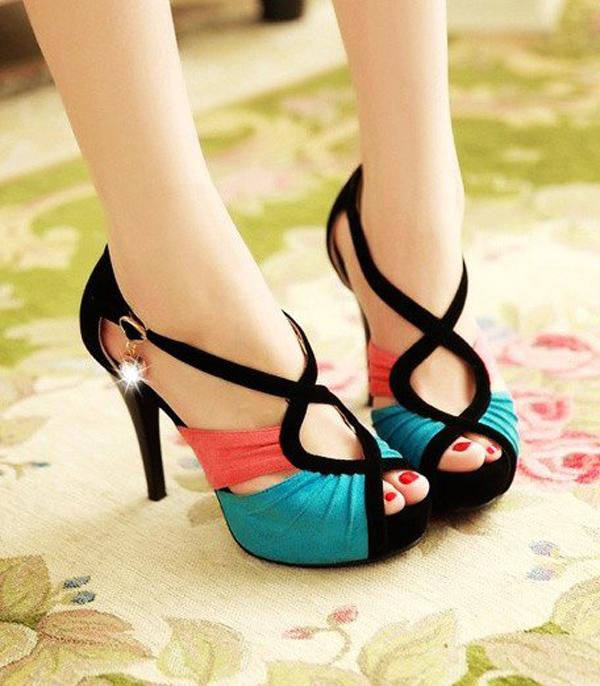 Here's an open toe sandal heels that says it doesn't really have to be closed all the way for it to look glamorous. Plus vibrant colors are still in style.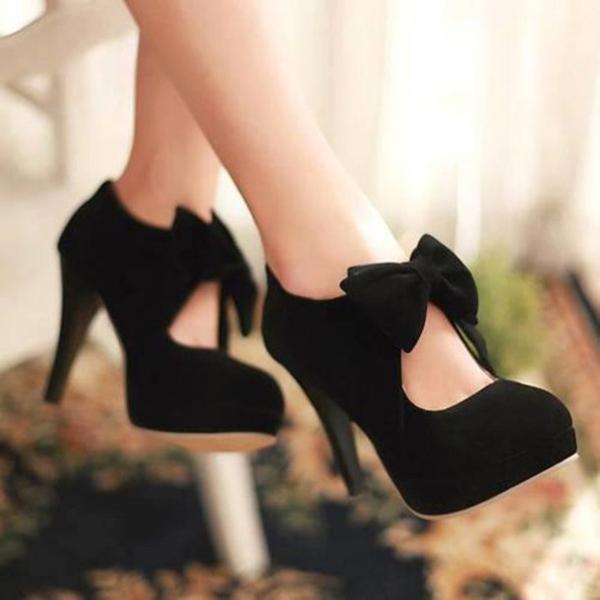 Bows on shoes are really girly and chic but these are still great shoes for parties and date nights. It just goes to show a more feminine side to you. Here, the bows are bigger but it definitely makes the heels much better.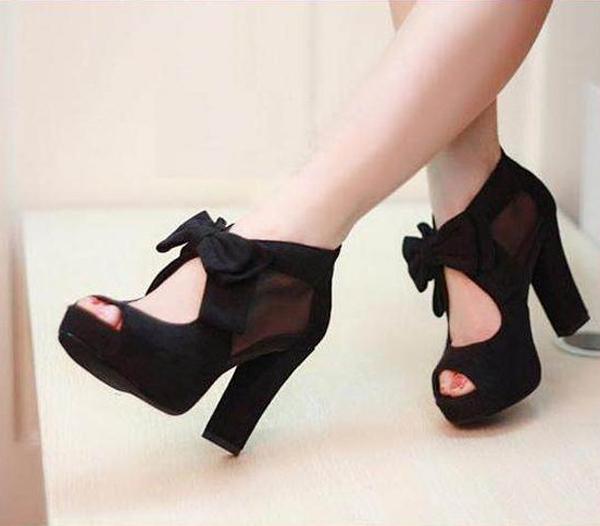 Here's another bow knot peep-toe heels that definitely looks more girly. The translucent side fabric of the heels give it a more unique design.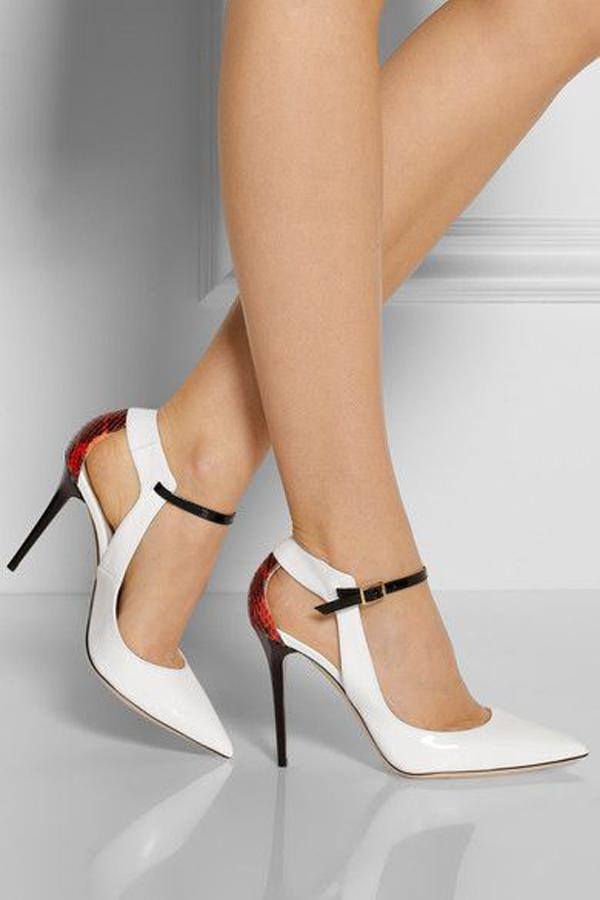 White heels are not so bad especially when you know how to wear them. These white shoes are rather elegant and are mostly for special events. But here's one that will break the norm with a red leather backside and cut outs on the heels.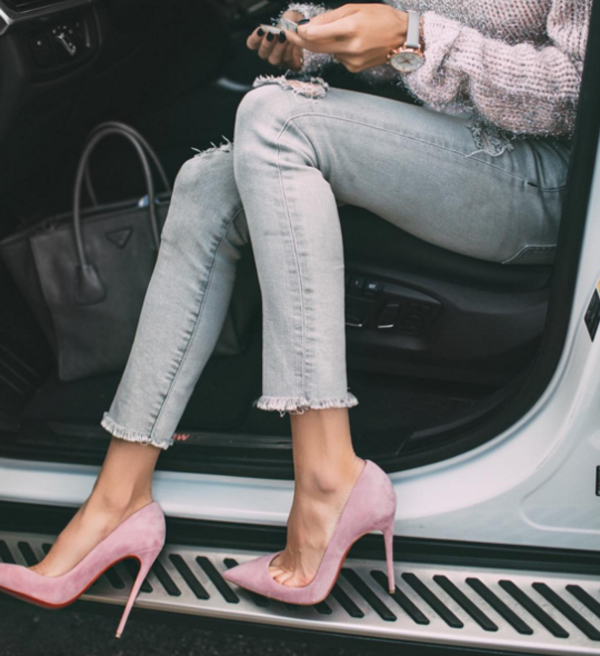 Sometimes, a heel doesn't need too much designs for it to become elegant. Here's a simple, elegant and still fashionable pale pink cigarette heels that goes perfectly well with jeans or gowns.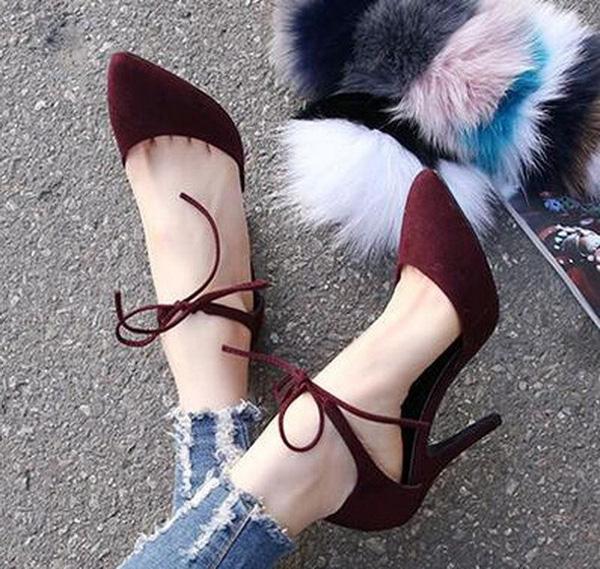 Ankle straps are sexy to look at. But it's even sexier with this straps you really have to tie into a knot. Plus it's a deep red suede shoes. Really makes you feel sexier.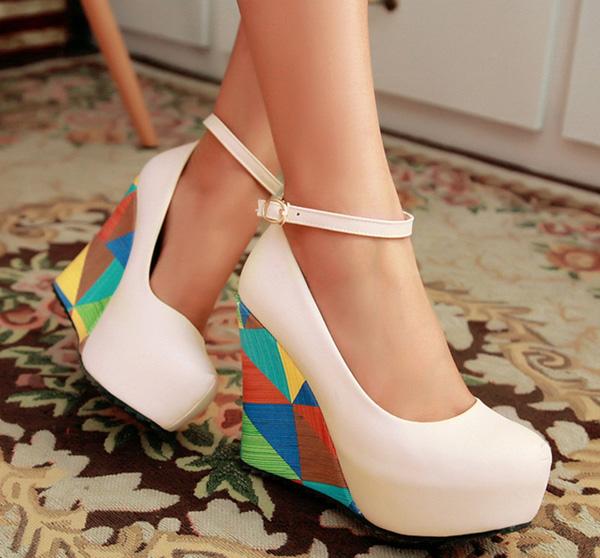 If you think wedges look too bulky and so not fashionable, think again. This closed ankle-strap wedge is the way to make a simple outfit way much fab. Its colorful wedge is perfect if you want a little life in your whole ensemble.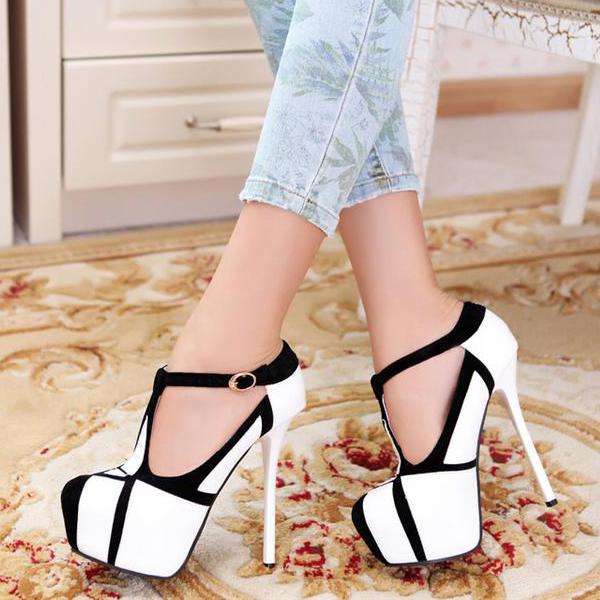 This is the perfect example of the word chic. This stilleto T-Strap high heel may look intimidating, but thanks to the platform, it won't be as hard as you think. Plus the black and white design makes it perfect for a playful casual or formal outfits.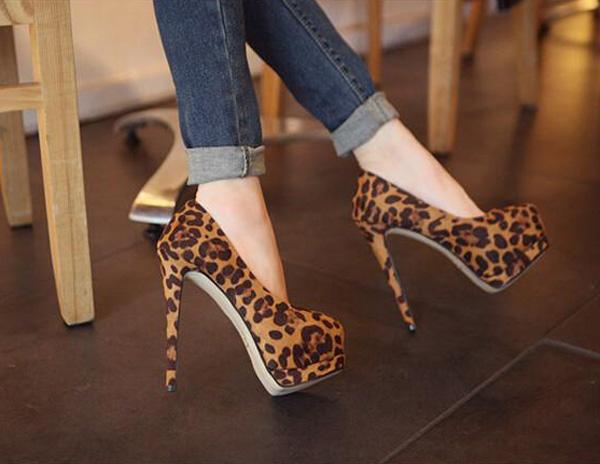 Donning an animal dress is tricky, but wearing an animal print shoes is amazing. Here's a great leopard platform pumps to practice and perfect your catwalk.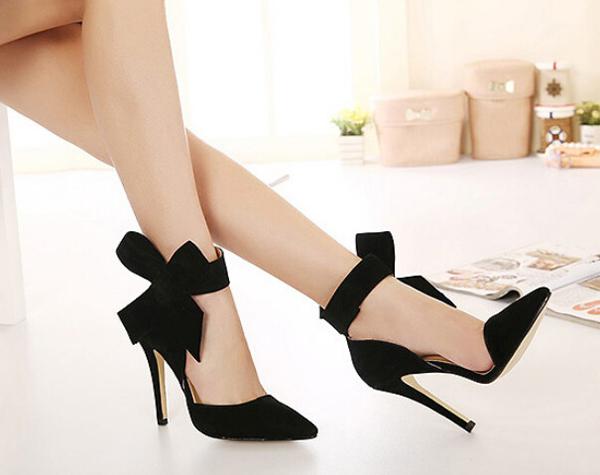 Pointed shoes are rather old-fashioned. But a big bowtie plus that high heels, it would fit in exactly with the trend these days. You can even wear it on big events like weddings.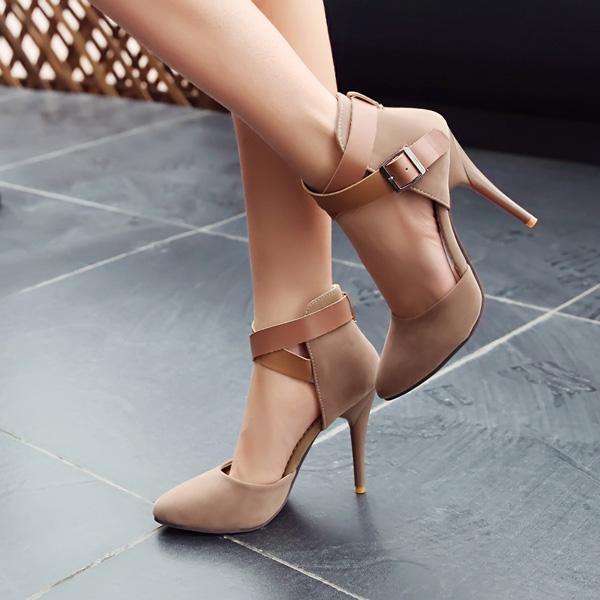 Here's another pointed high heel shoes that you can definitely wear to work, meetings or New York strolls. The double ankle strap takes it in between casual and professional.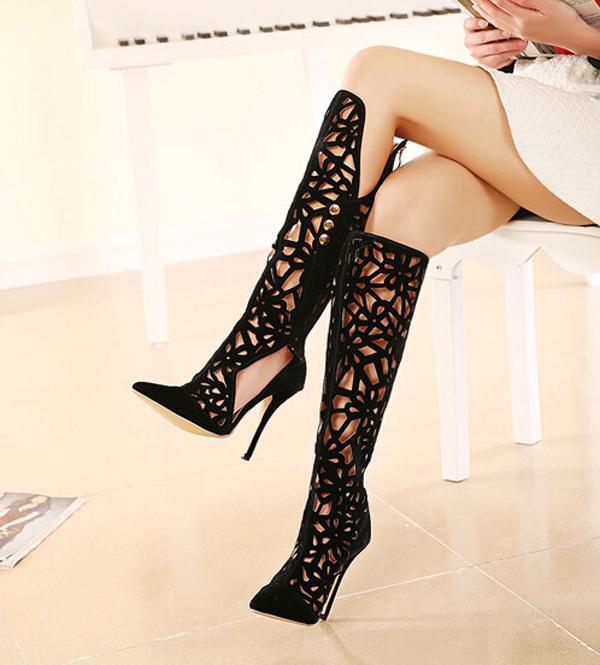 If you're feeling really stylish and experimental with your look, this black knee-high hollow out, high heels boots is the perfect start. It's really unique and definitely stylish. It would make simple shirt and shorts ensemble Fashion Week worthy.
Nothing speaks precious than a pair of high heels pumps that's bedazzled with countless diamonds. It's sophistication at its best.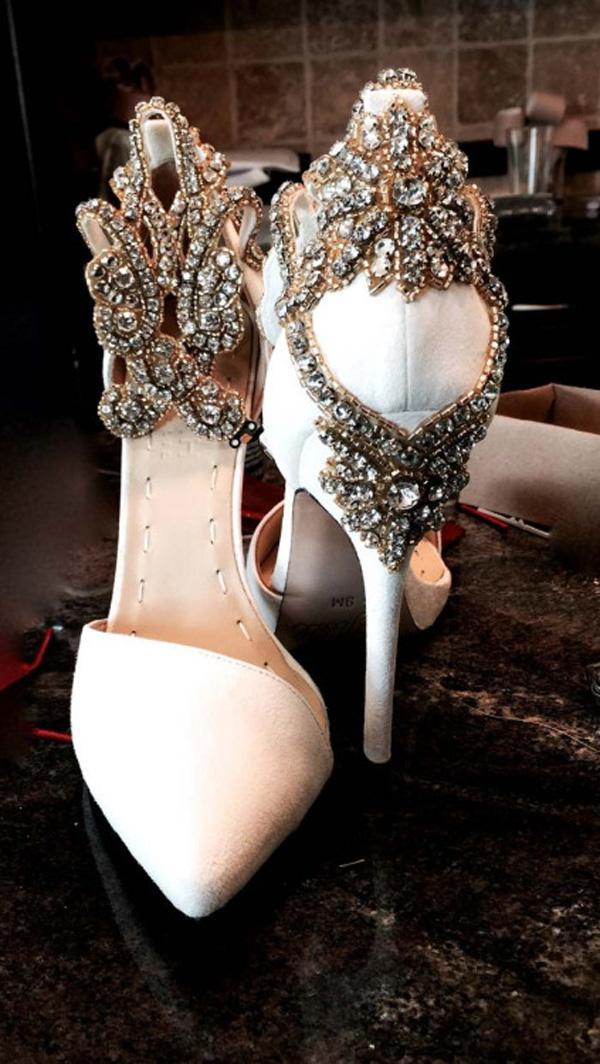 Well if you don't want to go way too much on your diamonds, you can always just make it as the accent of your shoes. Like on this pointed stilettos where the ankle strap is made of diamonds. The design reaches the back so it's much better to wear it with dresses above the ankles.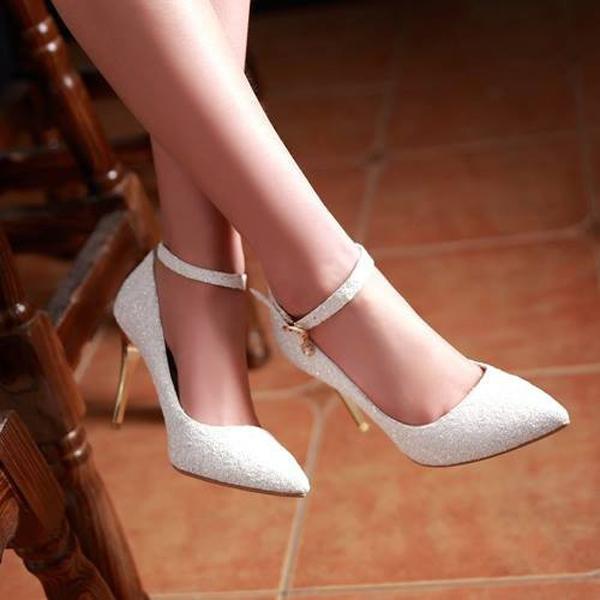 If you're feeling much more demure, here's a stylish sparkly white ankle strap shoes with gold high heels. It would make you feel more mature and even royal.
Cigarette heels always seems so "deadly". Red shoes has been synonymous to sexy. Combine the two and add some studs, you have a must-have deadly sexy shoes to party on all night.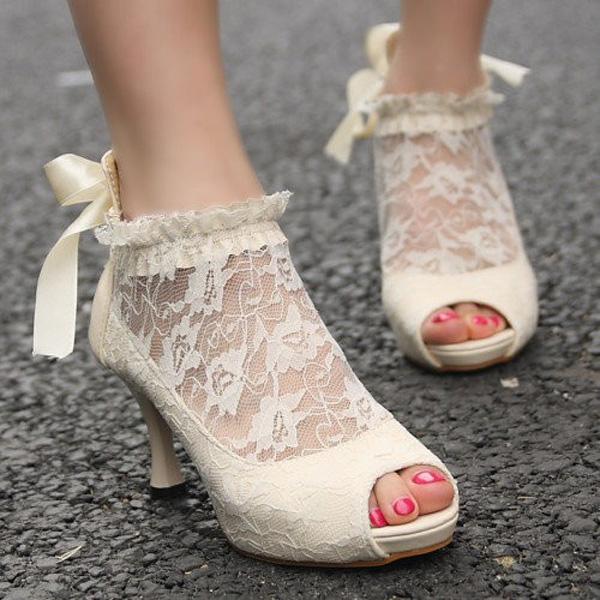 Laces aren't just for dresses. It can also work well with shoes. Here's a lace design on a kitten heel shoes. It's like you've gone back to a 50's wedding scene.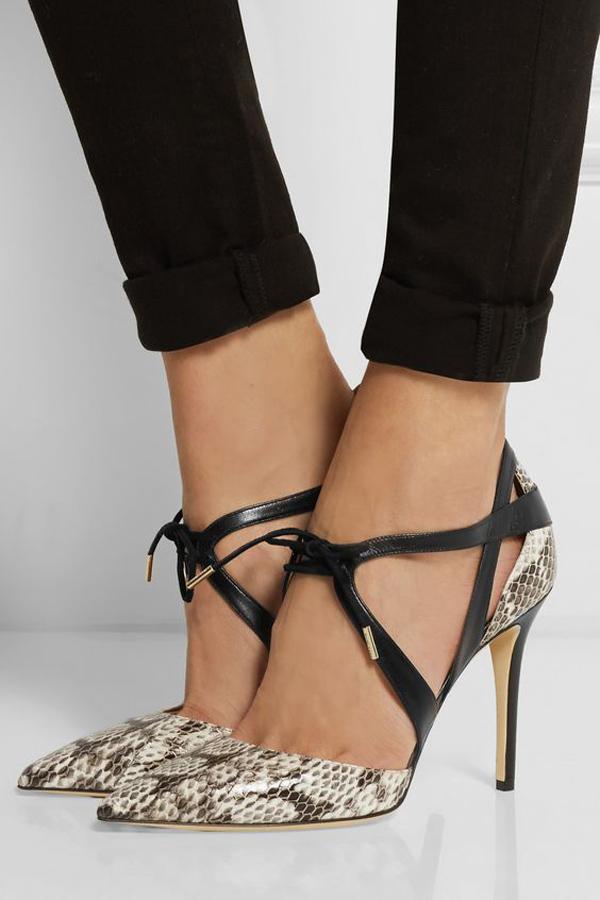 This leather pointed pumps is the right shoe to wear if you want to feel more empowered. Most of the times, heels could definitely make you feel exactly like that. And with this great design, it's hard not to hold your chin up high.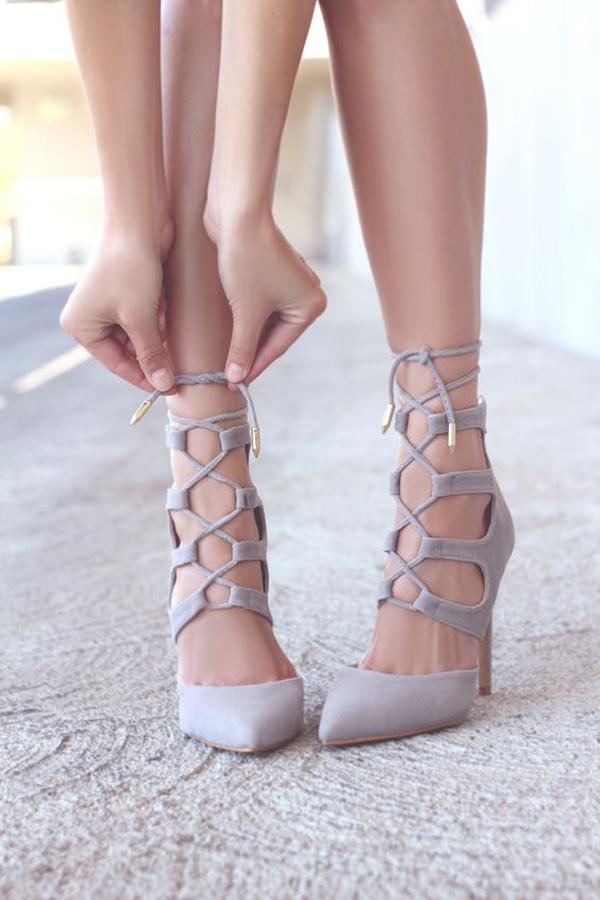 Lace up shoes always makes you feel very stylish. In this heels, it's actually very hard not to.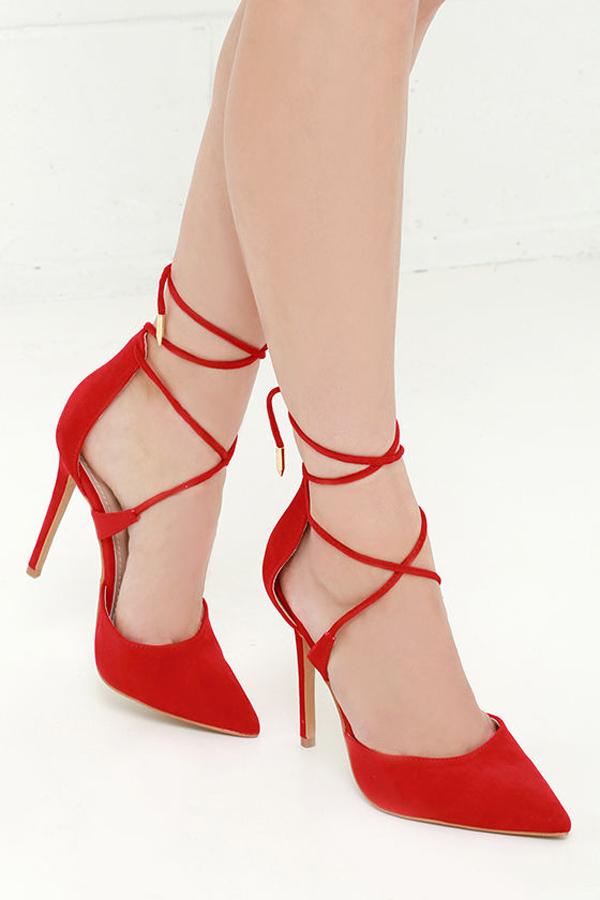 Red heels are usually for partying, but it can definitely brighten up dull office uniforms or simple mall clothes. The lace would then make it more secure so you can do whatever you usually do without having to worry a little Cinderella scene.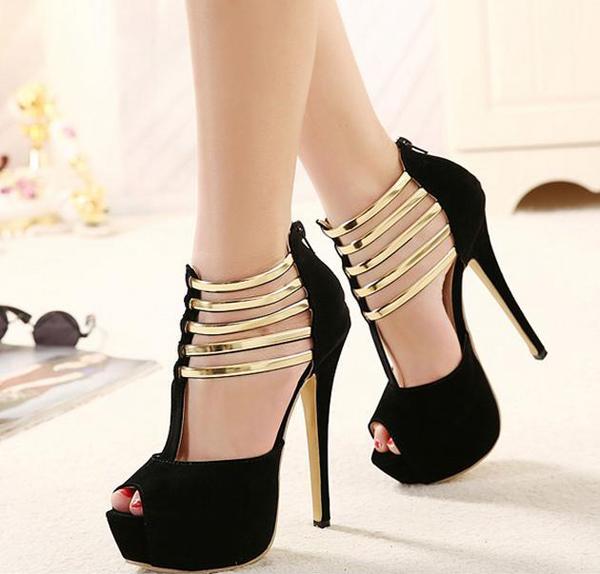 Black and gold is usually an elegant pair. So in this black platform shoes, gold ankle straps are a definite way to glam it all up.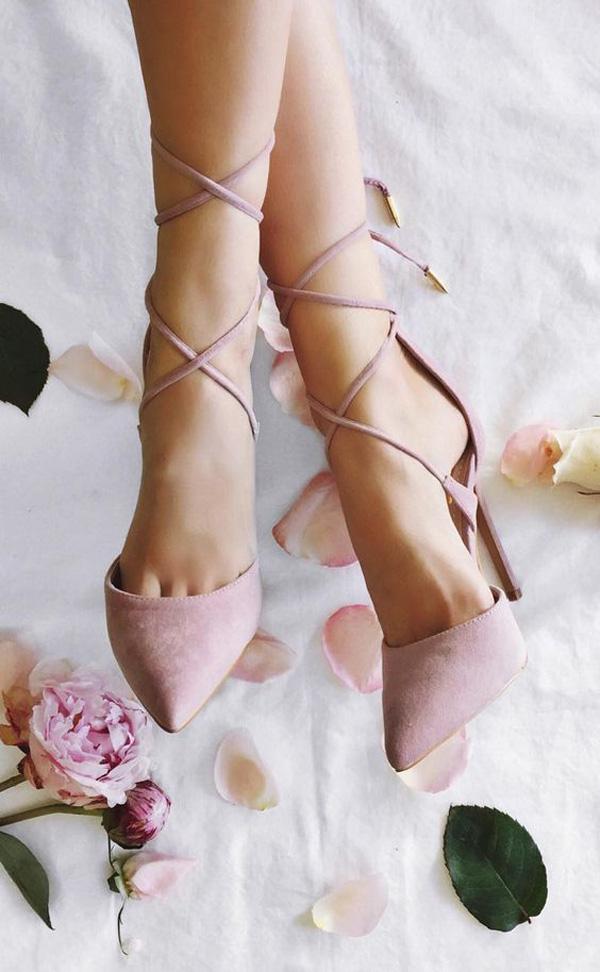 Pointy, lace up heels in dusty rose color. You can totally imagine yourself as a princess when wearing this pair.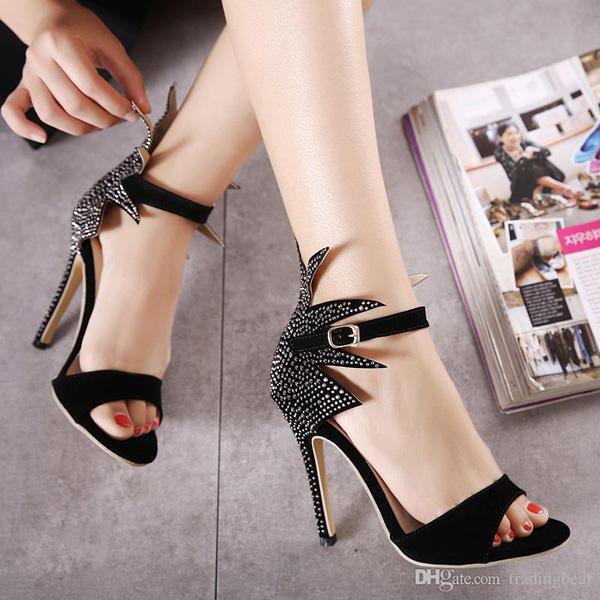 If you're really into unique designs, this high heels sandals should be on your list. The unique back-side filled with studs will make people keep stealing glances at you.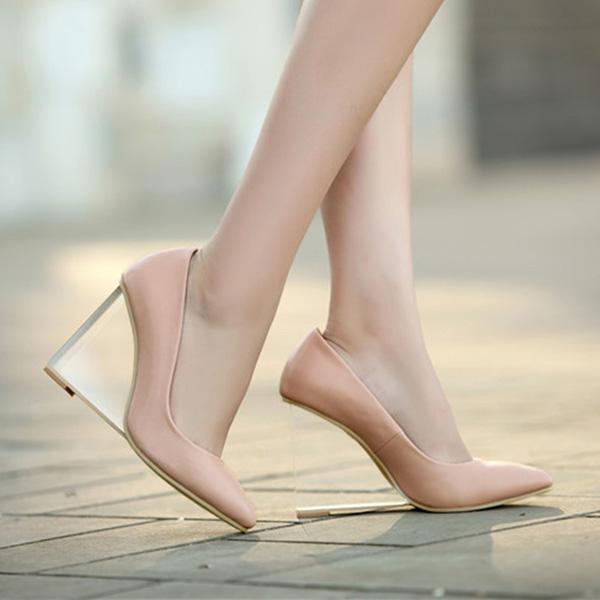 Want the illusion of floating? You definitely got it with this transparent wedge heels. A great way to make people look back at you the second or third time around. Simple in front; fun when you finally see the heels.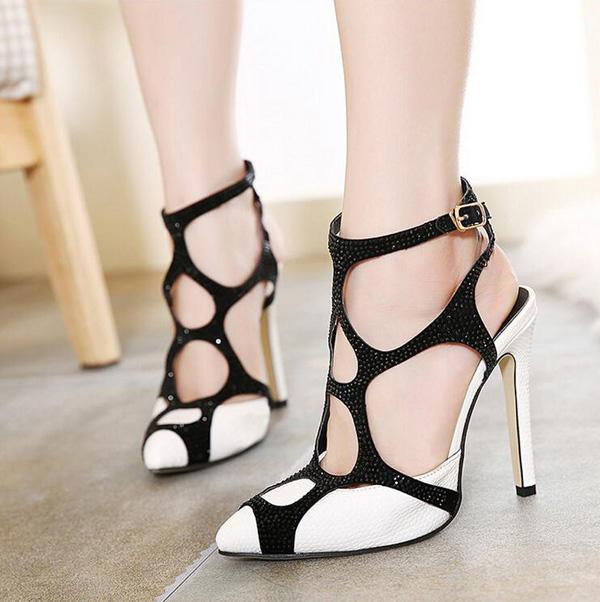 Bring the party anywhere you go with this sassy ankle strap heels in black and white.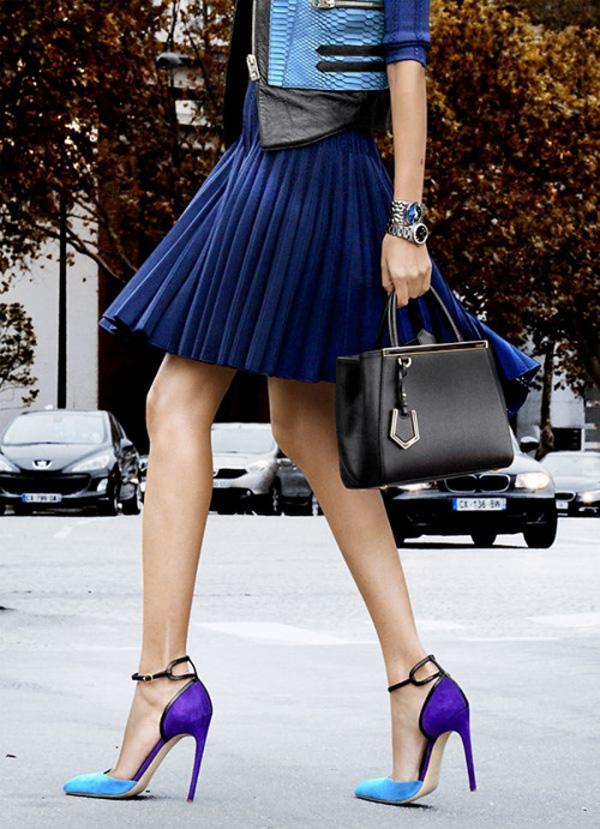 Color blocking has been consistently on the trend up until now and there's no reason it won't be. It's fun and it makes you look so alive. Here's a great blue and violet stilettos that will be great for your color block sessions.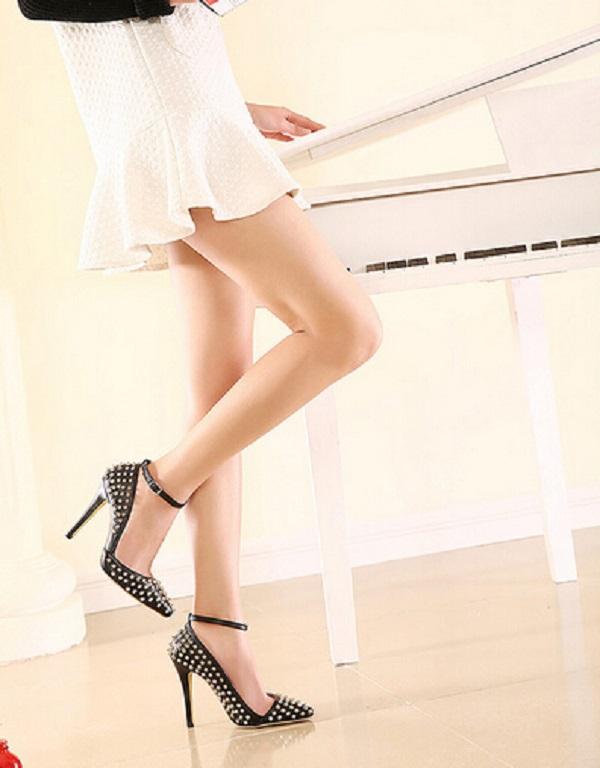 Pointed heels are more on formal or semi-formal outfits before, but with this studded pointed heels, you can wear it to make your outfit rock more.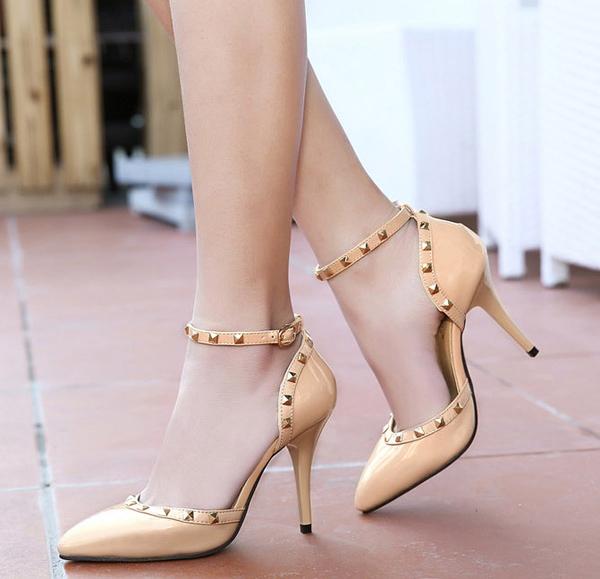 Nude pumps with gold studs: the stylish way to look sophisticated and demure.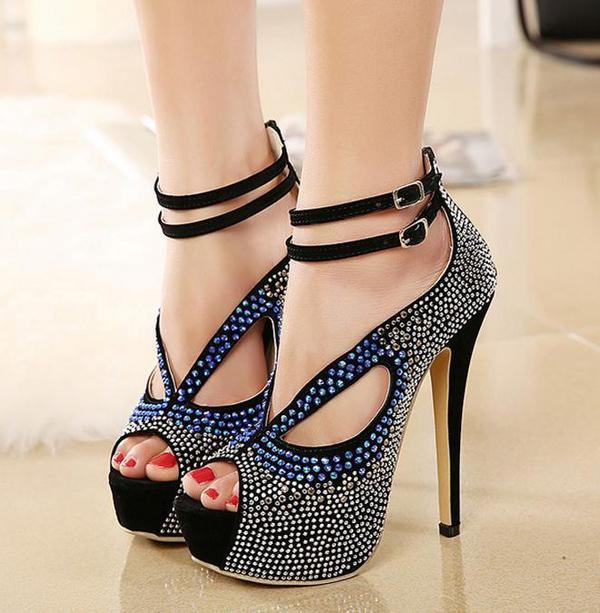 This peep-toe platform shoes filled with studs in white and blue is exactly what you need on prom nights or homecoming dance. It's fun. It glitters. It's glamorous. No doubt the best heels of the night.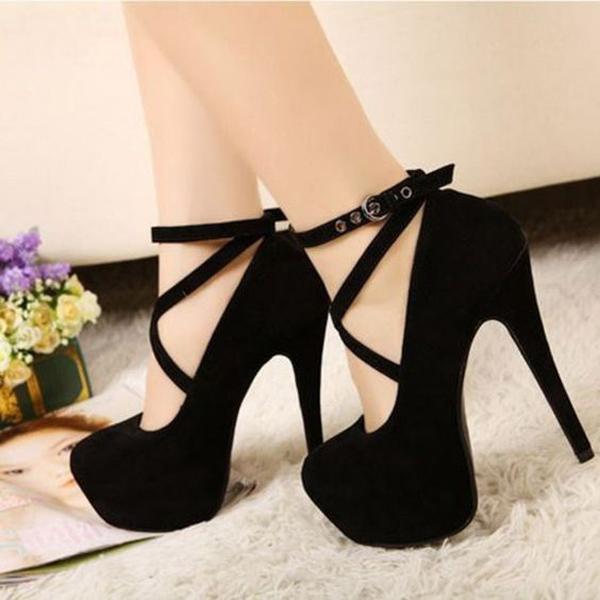 Platform heels make it much more comfortable to wear stilettos that reach up to 8 inches. But these kinds of shoes are usually the sexiest types of shoes to wear. Especially with a cross strap. No need for further designs as it's already a piece of art on its own.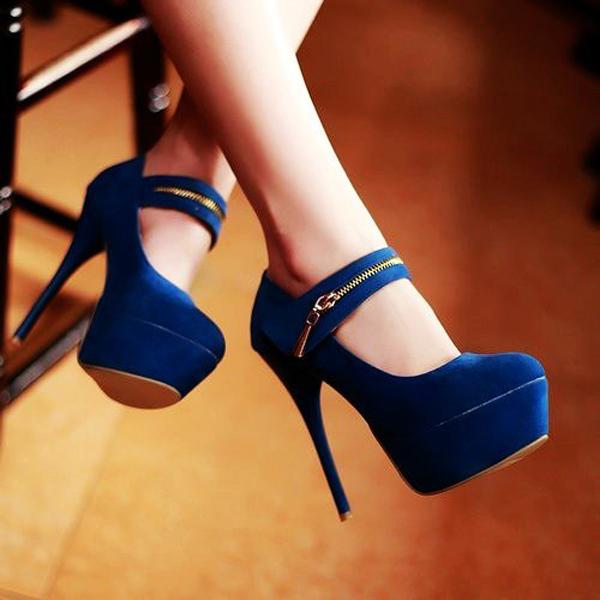 This royal blue platform shoes is fashionable and it would help boost up your confidence. But the best part? That simple buckle that makes your look different (in a great way) instantly.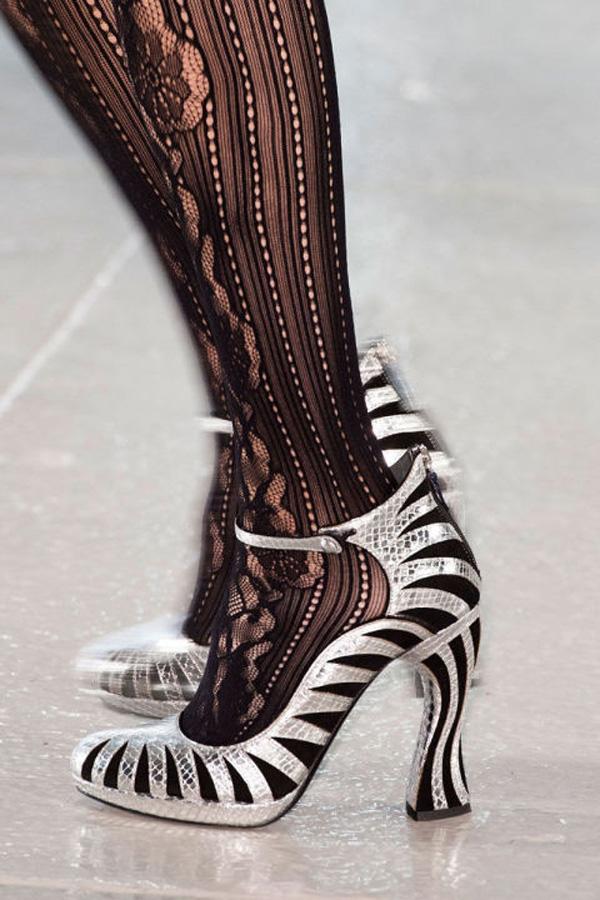 If you really want to go with one-of-a-kind, here's something surely unique to your eyes. Wearing these kinds of shoes is tricky but once you find the perfect match for it, it surely is high-fashion.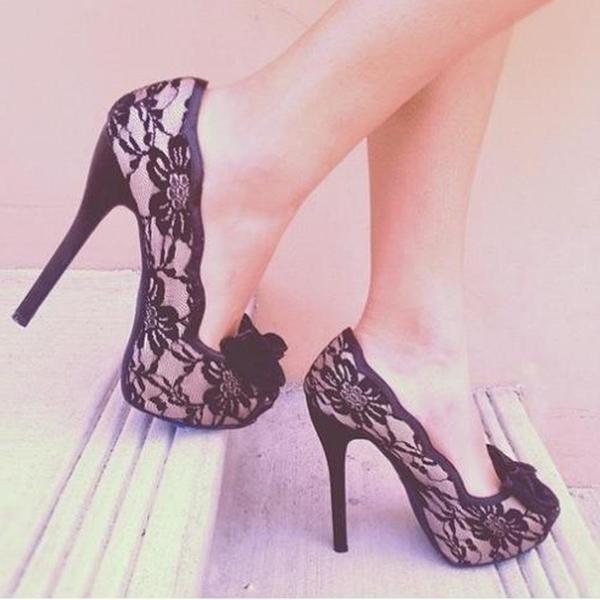 Here's another proof that laces are also great for shoes. This one is much more modern than the previous one and is much sexier.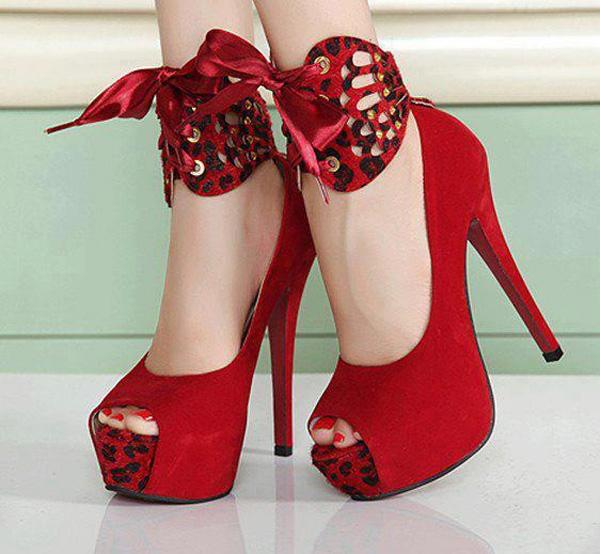 This high heels could seem over the top with the corset-type ankle strap with big ribbons and the black and white design. So it's much better if you wear a simple dress to compliment it. Let it speak for your entire outfit and it won't disappoint.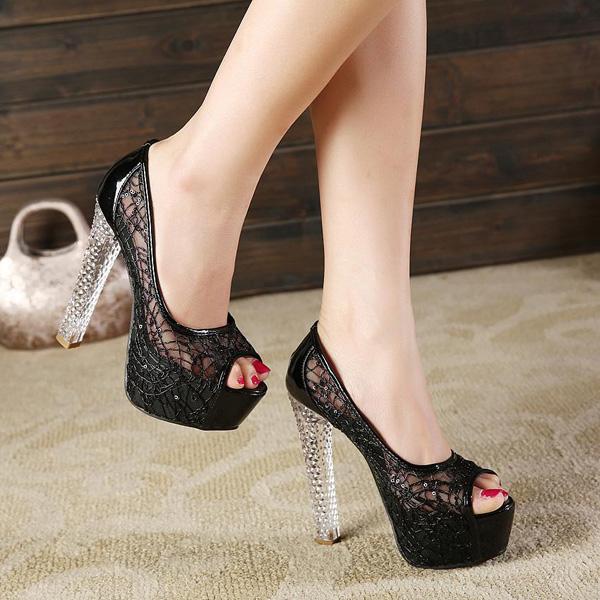 This peep-toe black platform with crystal heels is all you really need to match with almost any dress you have. It's simple and yet still so fashionable.