Start your winter with the basics. Beanies, scarves and boots are the way to go. Sticking to a neutral color like black makes it easier for you to pair them up with other pieces.
Ideas for arranging your fashionable winter wear
Whenever autumn is in sight, winter is definitely nearby. It's time for the dark mornings and colder nights seeping in. Owing to this we need to update our wardrobe to suit the cold and keep ourselves warm. If you still have no idea of what your winter wardrobe should be comprised of then below are some simple tips on updating your fall wardrobe to fit with the colder winter season.
Start fixing your wardrobe
It's about time to start updating your wardrobe since the winter time is nearing. It may either be adding new room for clothes or clearing out clothes that you will not be using this winter season at all. Start mildly. If you have too much stuff on your wardrobe it can confuse you and will eat much of your time in choosing when you're going out. However if you have fixed your closet
If you find an outfit that you haven't worn for at most twelve months then it's probably about time that you keep them out of your everyday clothing. You can also try and get rid of them by selling them online, holding a garage sale or giving them away to charity. When you have your closet cleaned up then you can have more room for more outfit combinations as well as new winter coats.
Have a checklist of the clothes that you have
If you're not that sure of how many pairs of leggings or scarves you have, it's time to be in check. Mostly we don't know how much we buy clothes and in some cases we even forget that we bought them before. This makes our closets full and wardrobe uncoordinated. The key is finding out what the key pieces that you have and what else you have to buy to complete them. Prepare a budget for the coats, knits, shoes and bags that you want to add in your wardrobe, if you already have a similar piece then you won't have to buy them again.
In case you have special events to attend to in the future, try to think about an outfit you can buy and use again. If you have older clothes that could still work then why not pair them up with your new clothing? There are clothes that you need to clean out but you also have to take note of the clothes that are vintage which you can combine with your newer pieces. It not only helps you save money but it also makes you look unique.
Do some research
References are important. Why not go online and surf on your favorite fashion websites? You may have favorite celebrities and would want to copy their styles as well. Go on social media and scroll through your friend's outfit of the day's and you might get an idea or two of what you could wear for the winter. Look at fashion blogs and watch fashion shows online; these are great places to give you an idea to work on with.
The wonderful thing about looking at online stores is that they give you a quote of the outfit and you can bookmark it for the future. It enables you to save for the outfit and compute how much you need to spend to complete a winter outfit number. They also give you a glimpse of what pieces of outfit you can fit together and of course you can search for other types of clothes in just one click of the mouse.
Start your own Inspiration board
Not a lot of people would do this but they can really help you out. Some say it's a waste of time, but in reality it gives you a whole lot of motivation to look good and work on your outfits. A simple cork board up your wall will suffice, print or cut out your favorite pieces and arrange them creatively on the board; it's fun to make and can really bring out your artistry.
You can also do this digitally by creating inspiration boards on social media. Make an album of all the outfits you like and you can update them easily whenever you like it. You can even start your own "to wear" ideas. It all depends on what type of medium you wish to sue as long as you can access it comfortably.
Have a check in your lifestyle
Choosing your outfit should show who you are. Of course you would like what's new and trending but can you afford such? A lot of fashion pieces are expensive nowadays and it's really wise to save up and use combinations of clothes that you can wear casually rather than purchasing a whole new outfit that you can't afford. Don't wear clothes that are too expensive for you and don't compliment how you live. You can buy those heels but you're not a person who likes heels very much is just a sad contradiction. Get smaller heels if you really need to get one.
Wear clothes that you are comfortable in. there are plenty of stores where you can find amazing outfits at the price that you can afford. If you really love an outfit which is expensive, save for it and make sure that it's something that you can wear for a multitude of occasions and not just a onetime event.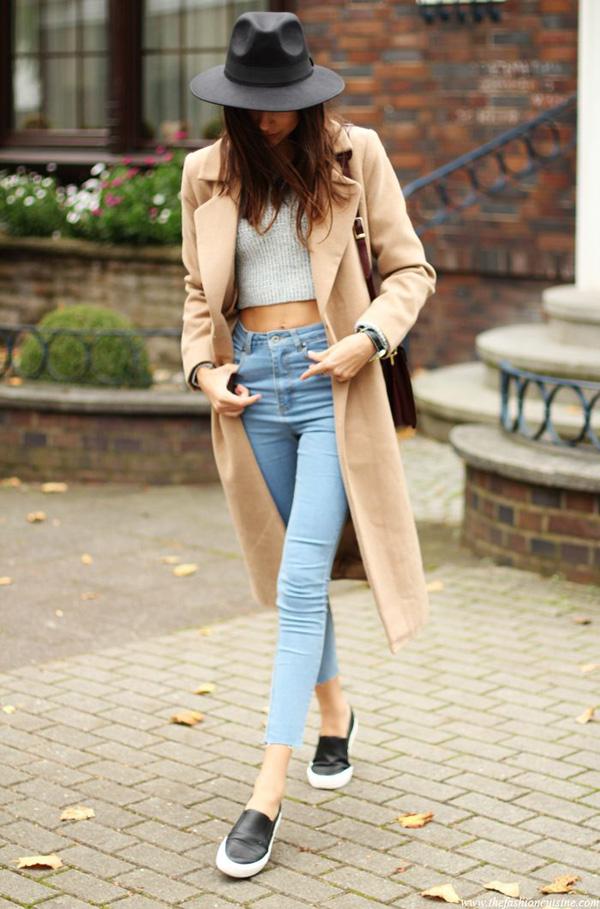 Even though its winter time you can always be trendy. Don a light colored trench coat and match it with your favorite crop top and jeans for a casual effect.
Make your winter wear as comfy as possible with this gray slip on sweater. Pair it up with your tights and casual shoes and be on the go.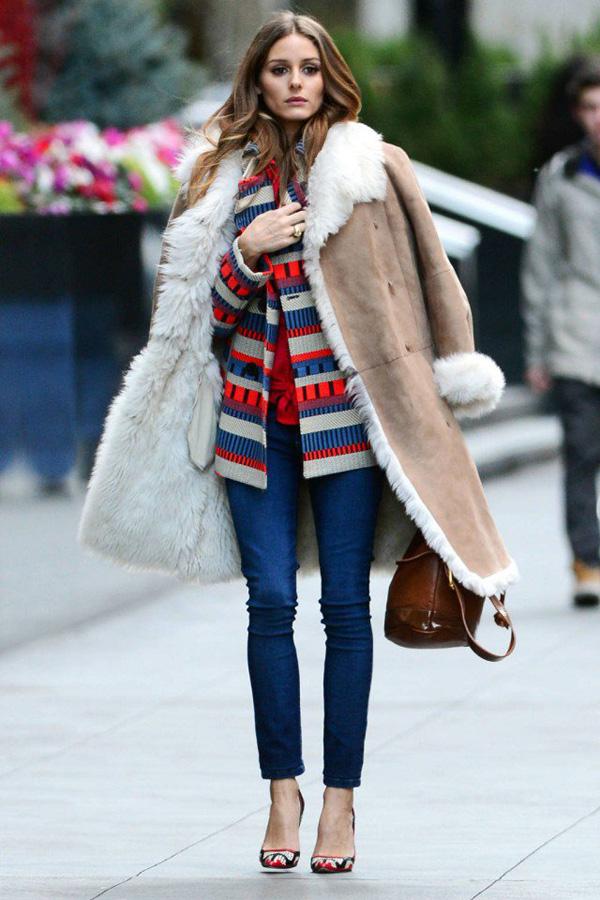 Since it is winter don't be afraid to whip out your fur coats and colorful sweater to match the season. Going with the blue and red combination can never go wrong with the cold weather.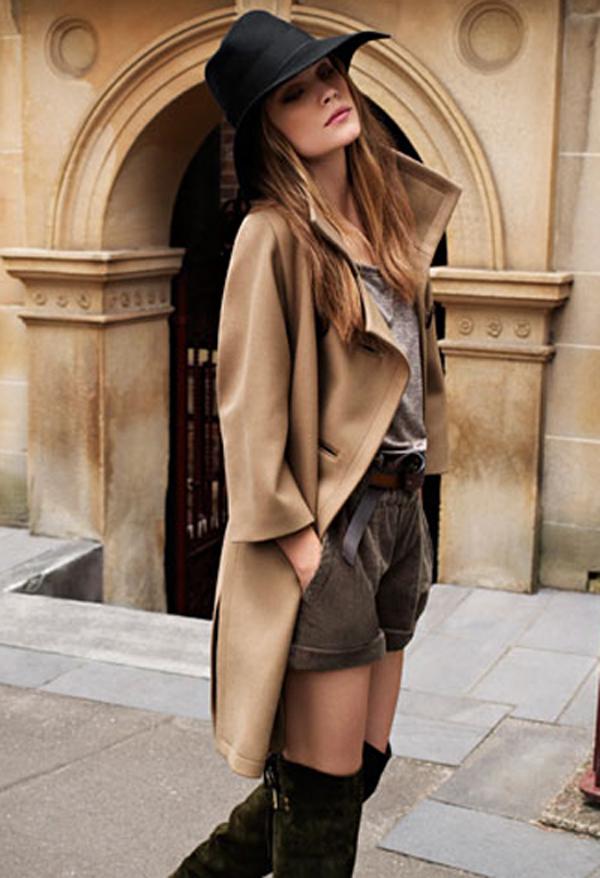 Even in the cold you can still rock shorts. Match up your beige or cream colored trench coats with a simple shirt, shorts and knee high boots.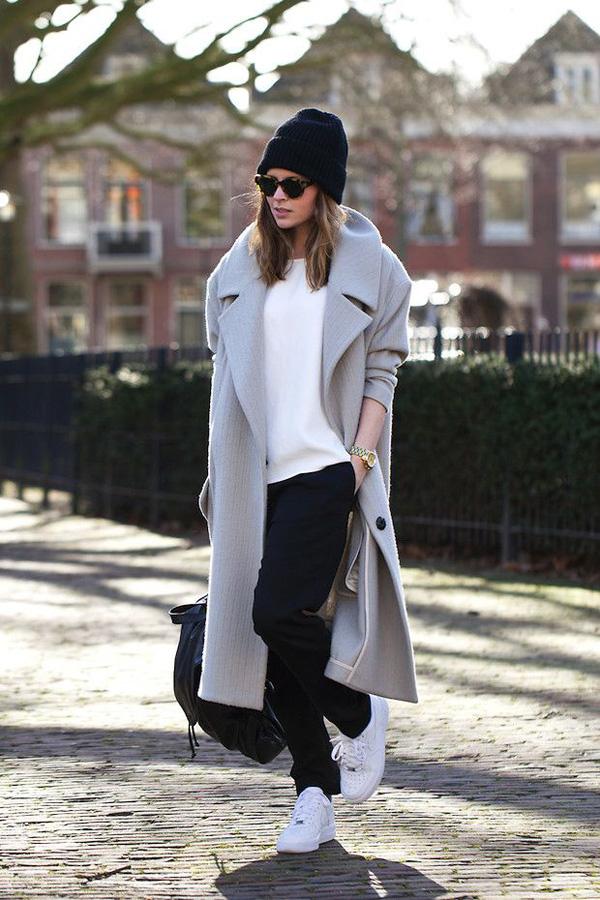 If you like light colors for the winter then you should try out this combination. The gray trench coat complements the white shirt and shoes while the dark pants stand as a balance for the colors.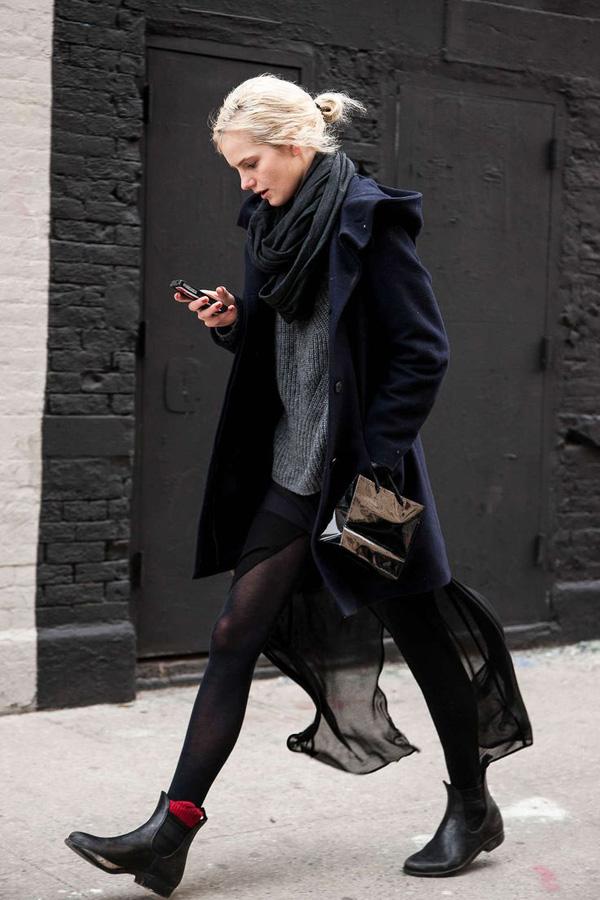 Who says slits are outdated in the winter season? Pairing it with the right ensemble is the key to making it look great, grab your dark colored scarf, coat and sweater and layer them up to accentuate your slit skirt.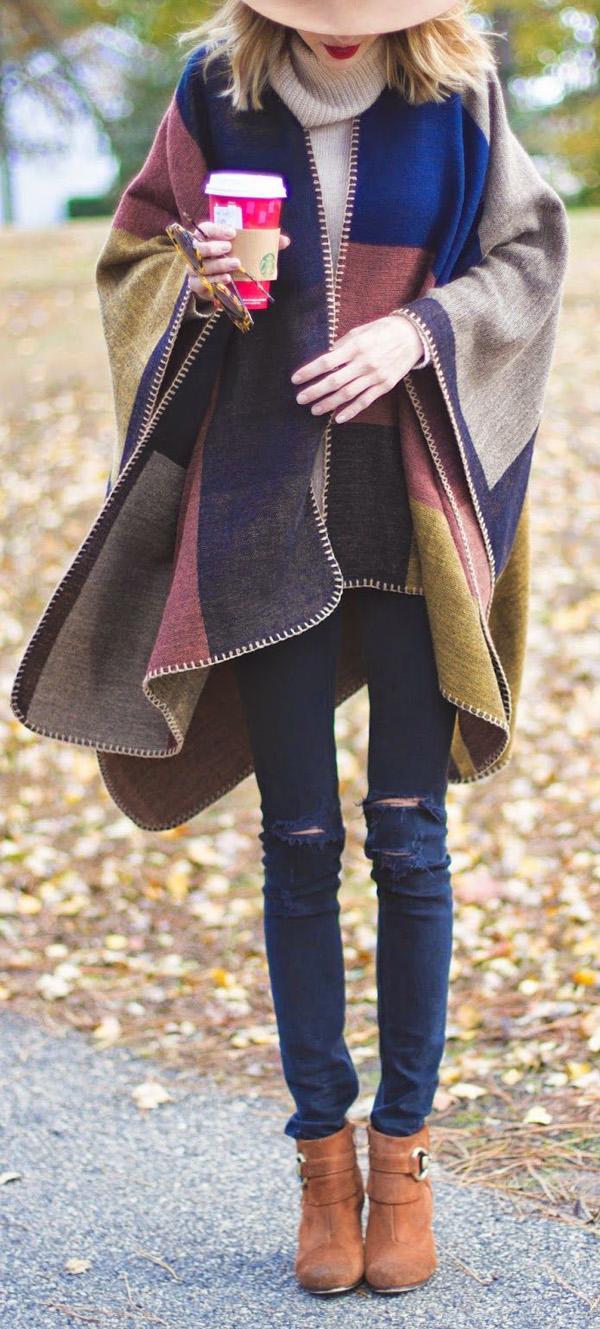 Are you still in the post fall fashion craze? Check out this pre winter outfit that uses fall colors for the poncho. At the same time it signifies winter is coming with the gray turtle neck and boots.

Stand out in a bright red outfit this winter season. Pair up your red coat and sweater with striking black pants, shoes and beanie.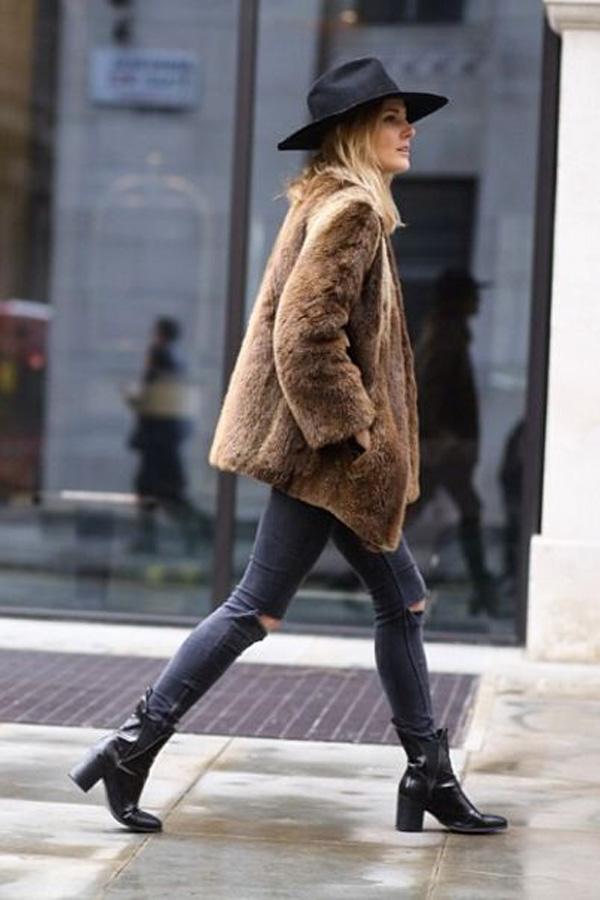 Since winter is seeping in, what better outfit to pull out of your closet than your fur coat? Match it with your favorite ripped jeans and high heeled boots and be on your way.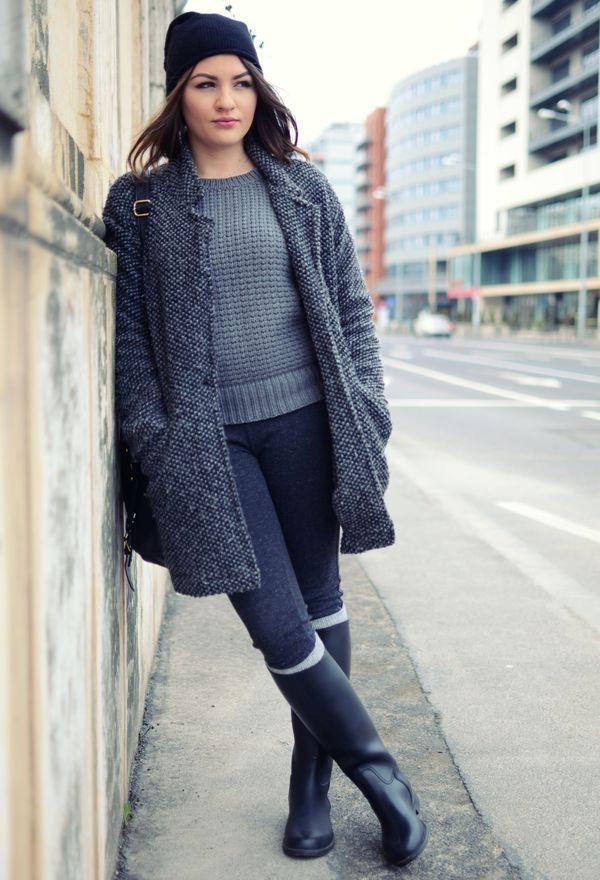 Bundle up in darker colors as winter approaches. Gray and dark blue are excellent choices since they give you the feeling of being warm and comfortable in their subtle colors.

Give an accent to your all black outfit with this beige colored poncho. If you don't feel like covering yourself up this winter, this outfit can help you stay warm and comfortable wherever you may go.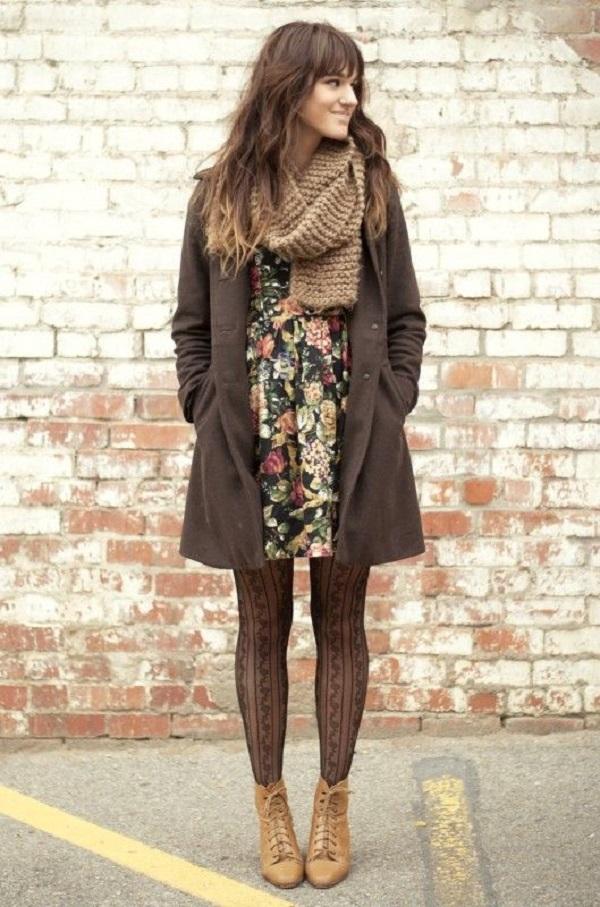 Scarves and dresses can be your thing this winter. Simply pair them up with your favorite coat, stockings and boots that make your outfit come out as cute and adorable.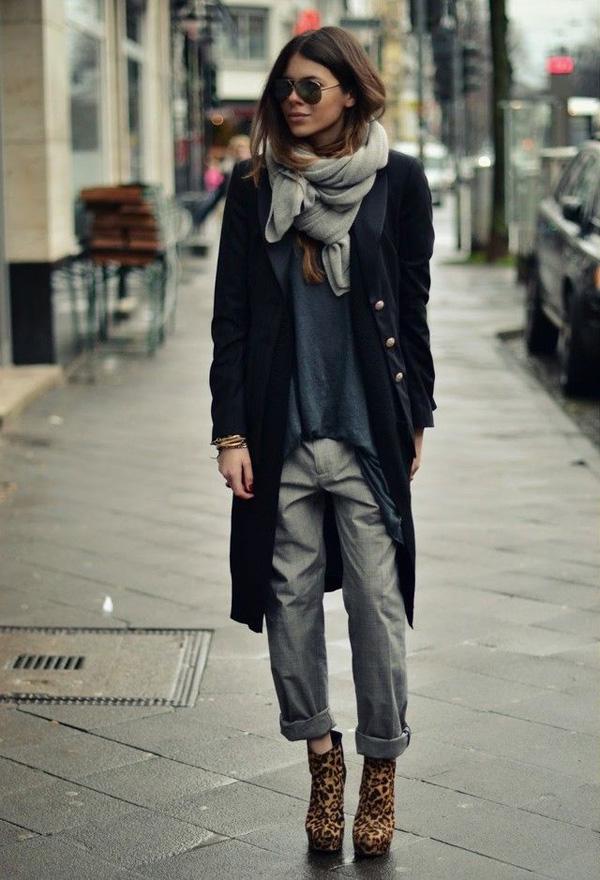 If you want to give attention to your rocking leopard boots then going all plain on your top clothes would be a good idea. Contrast your light colored boots with subtle hues of blues and grays.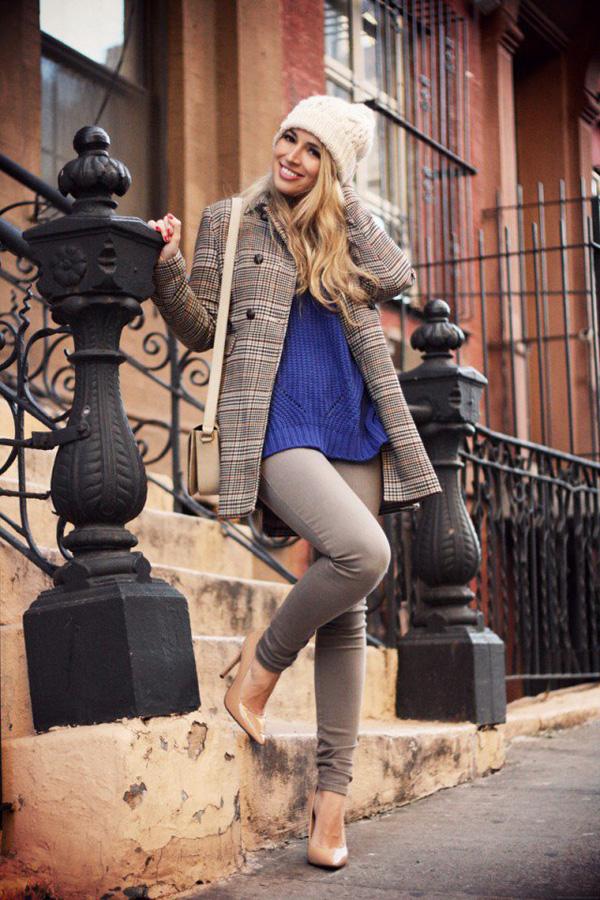 Pair up your plaid coat with your winter outfit. Add color into your winter ensemble by picking a royal blue color amidst the gray and cream hues of your outfit.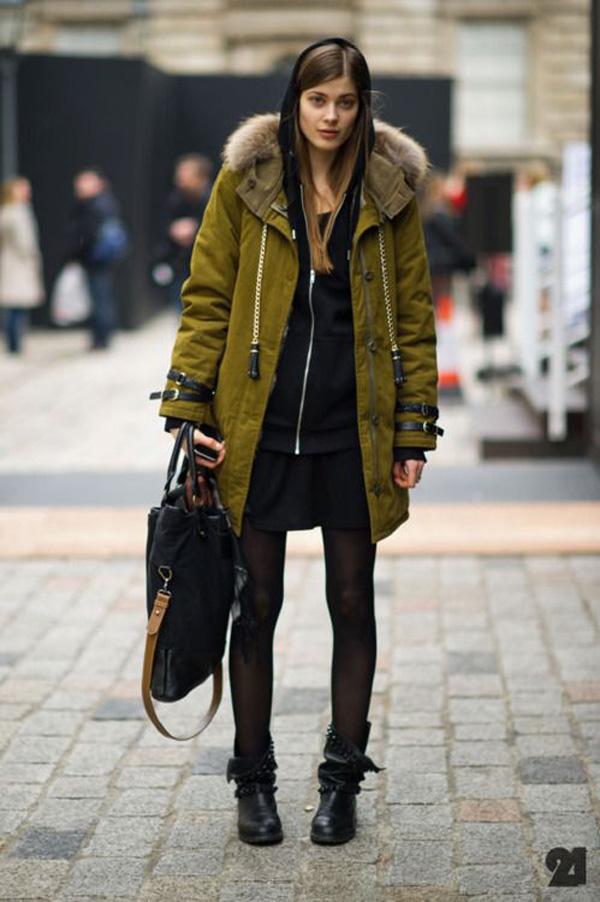 Hoodies are worn best in the winter season. You can pair up hoodies and coats to make a wonderful looking ensemble like this. Ear stockings and boots to perfectly match the get up.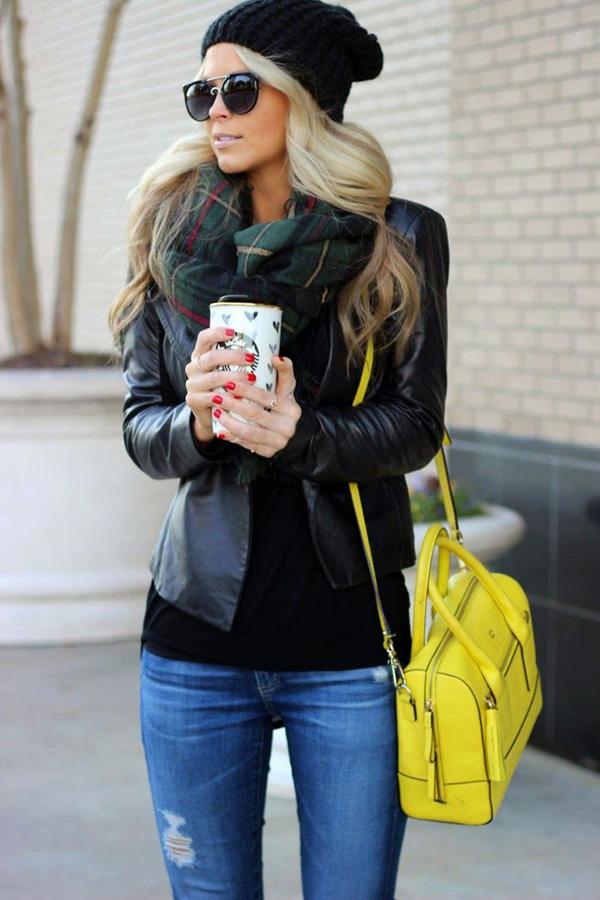 If you're opting for the simple jacket and jeans this winter, why not spice it up with a plaid scarf? Simple yet fashionably looking, don't forget to wear a beanie to match the scarf.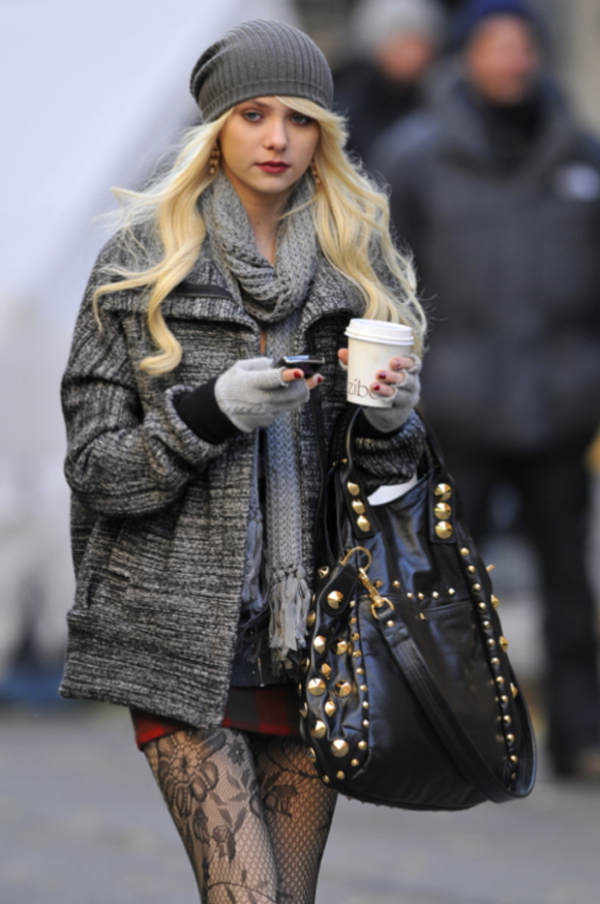 Miniskirts are still definitely in the winter season. The trick is pairing them up with the right matches such as your scarf coat, gloves, hat and stockings.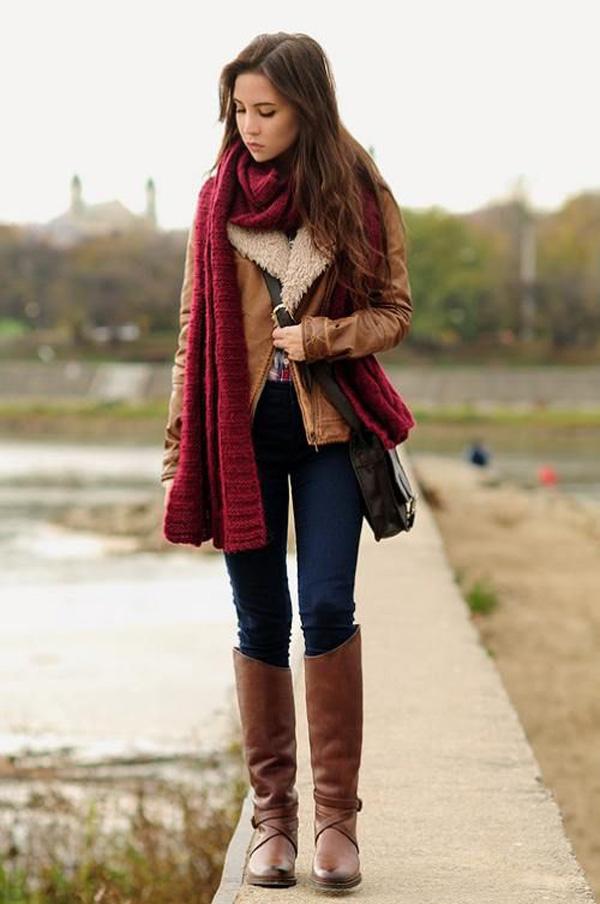 Charming looking winter get up. Highlight your scarf by wearing clothes that simply match it such as cream or brown colors for a red scarf and neutral blue colored jeans to blend into the combination.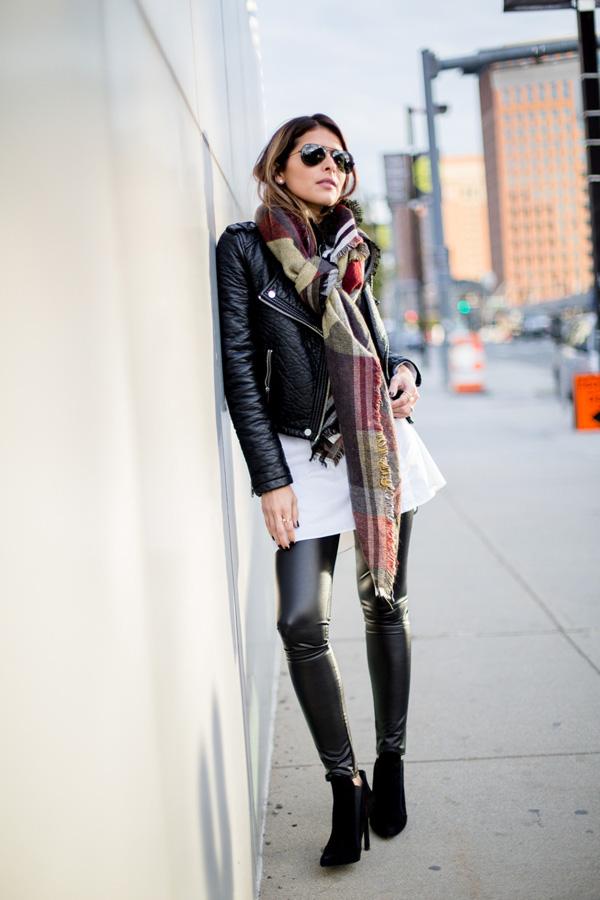 Don't be afraid to be sleek and stylish this winter season, match your jacket, white miniskirt, tights and boots to make a statement. Throw in a plaid scarf to blend everything in your look.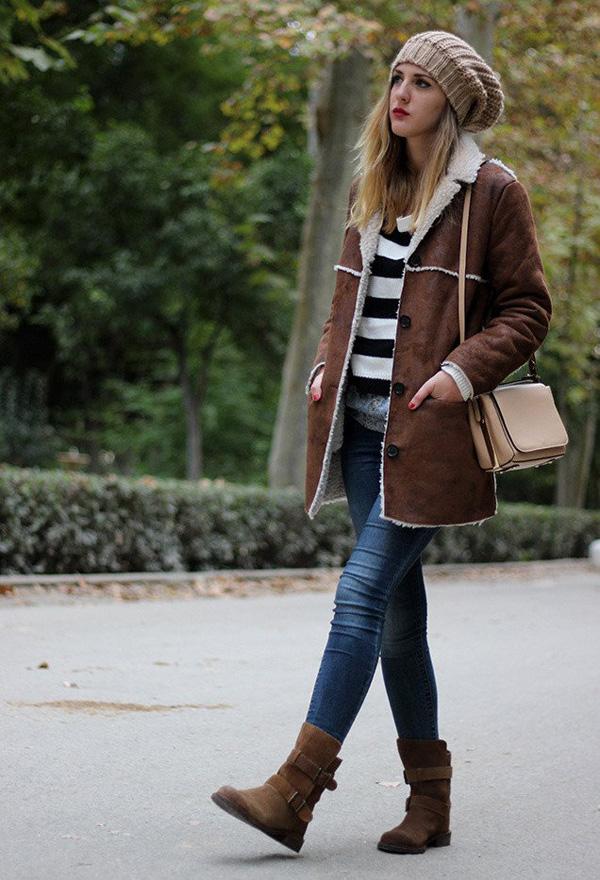 Add life to your winter outfit by combining colors such as tan, blue and black and white. This gives your outfit a homey and comfortable look that you can wear in almost everywhere.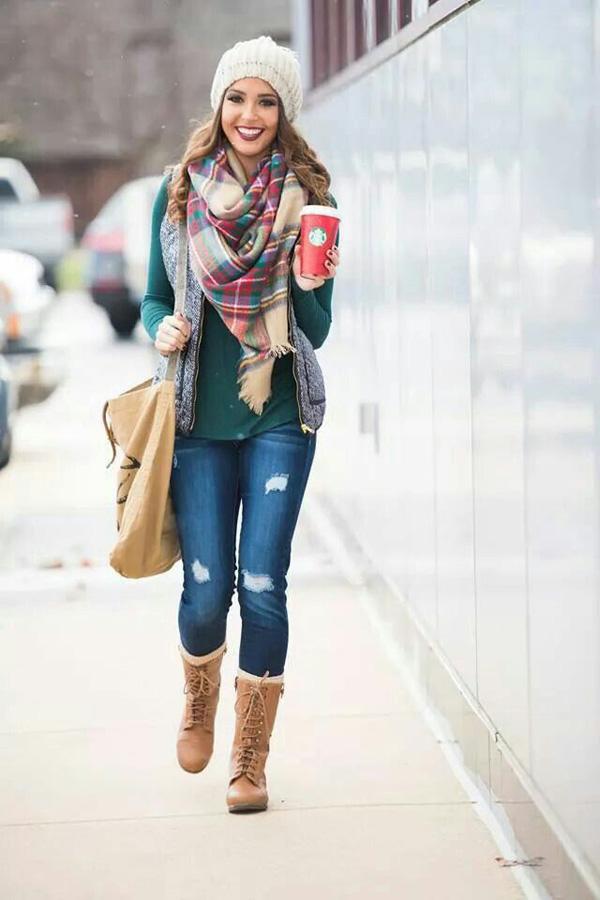 When winter is around, Christmas is definitely around the corner. Don't miss the chance to adapt the Christmas colors into your winter clothing such as green, red and tan colors.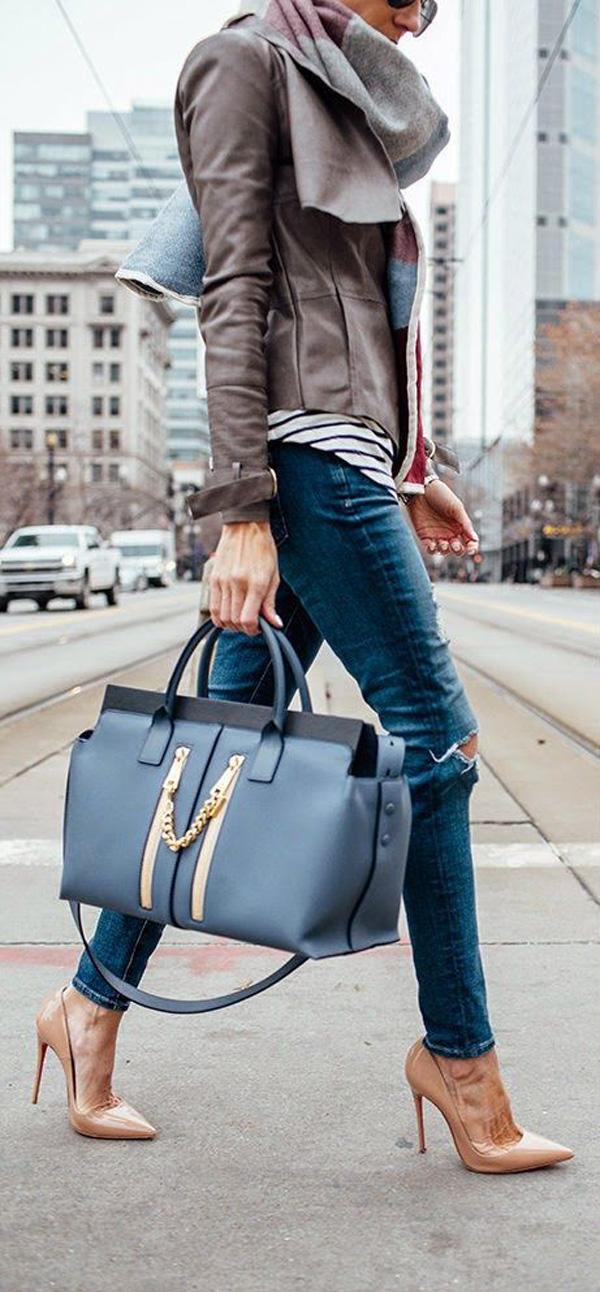 Winter is all about boots, but it doesn't mean that you can't wear heels either. Spruce up your winter outfit by wearing your best pair of nude heels that can complement just about any color you have on your outfit.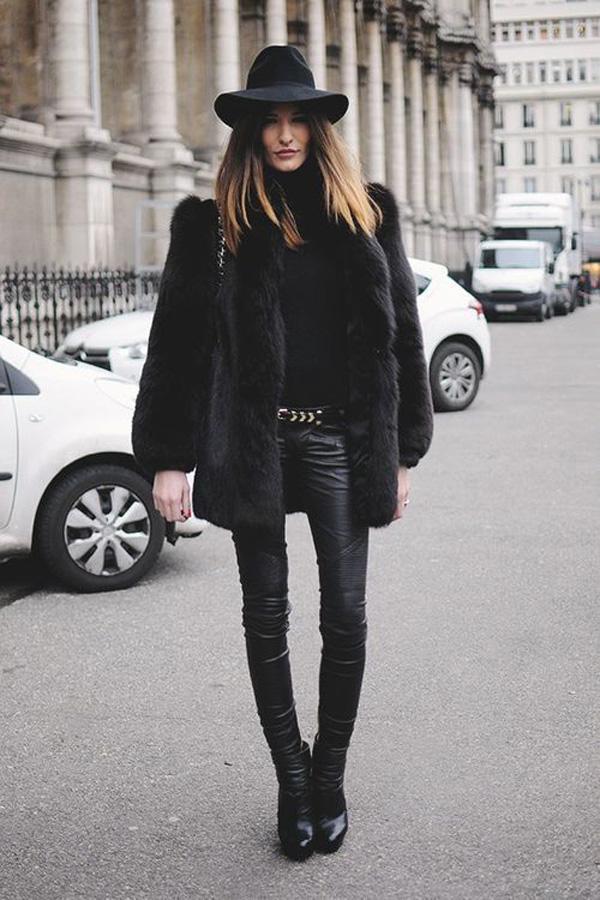 Go all black on your winter clothing. Add volume to the black hues by wearing a fur coat and boots. Add a belt with gold embellishments to give the illusion of separating your shirt and pants.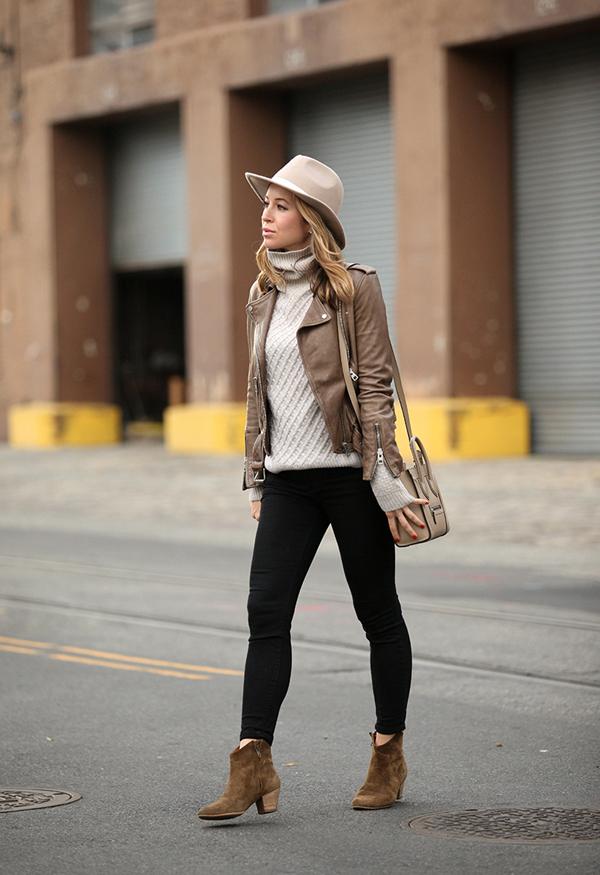 Looking for a simple winter outfit? Check this ensemble out. Pair a simple turtleneck with a leather coat and jeans. Finish up with a pair of stunning boots and you'll look great.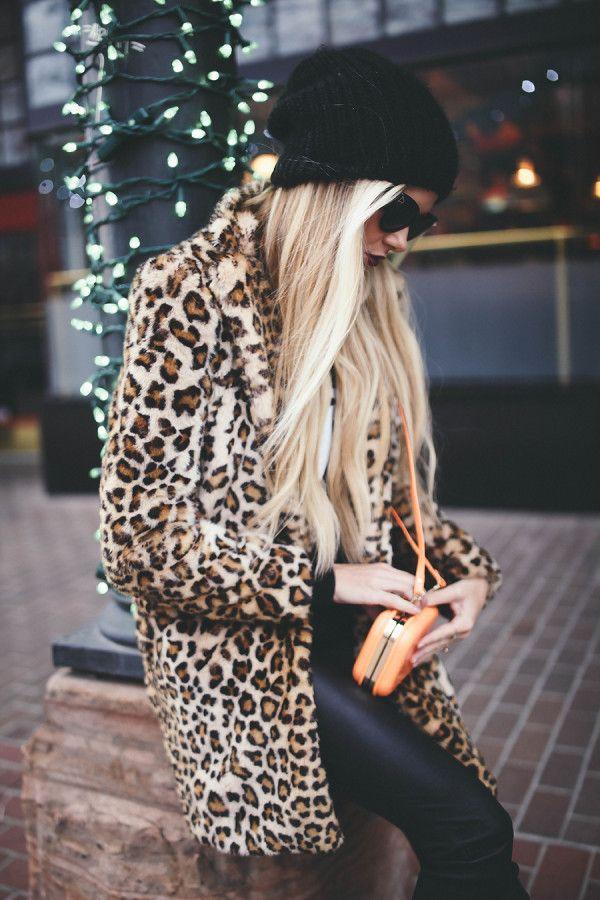 Stand out from the sea of plain colored coats with this bright colored leopard winter coat. Tone everything else down by wearing plain colored beanies and shirts as well as regular jeans.

Sporting a heavy trench coat? If you are then lighten things up with a simple gray top and ripped jeans but keep the winter fashion alive by wearing boots.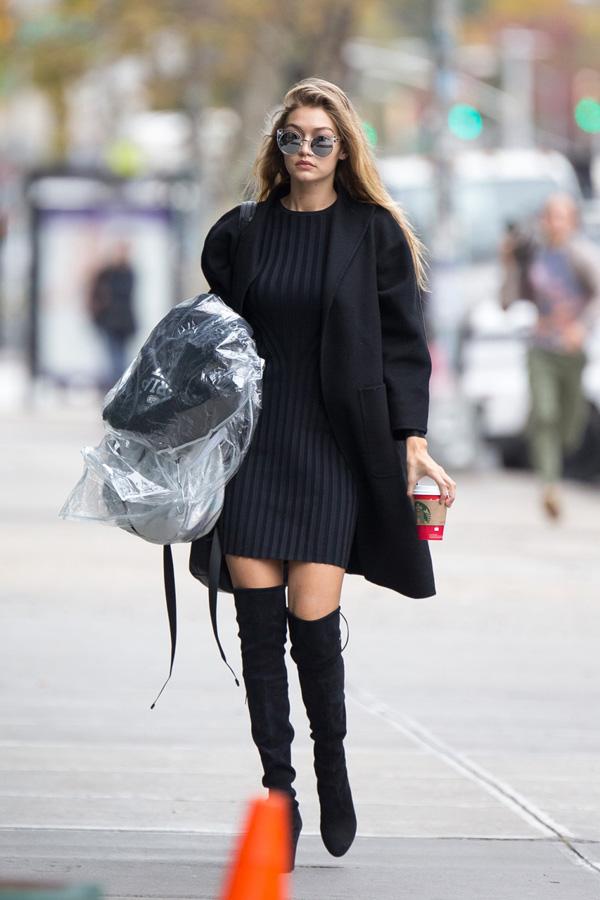 Make your little black one piece look smashing with this black trench coat and boots. Give more accents to your look by throwing in a pair of cool shades.

If you want a simpler winter outfit then you can try this get up. A simple shirt and cardigan go well together, add a beanie into the ensemble and spice it up with a skirt, stockings and boots.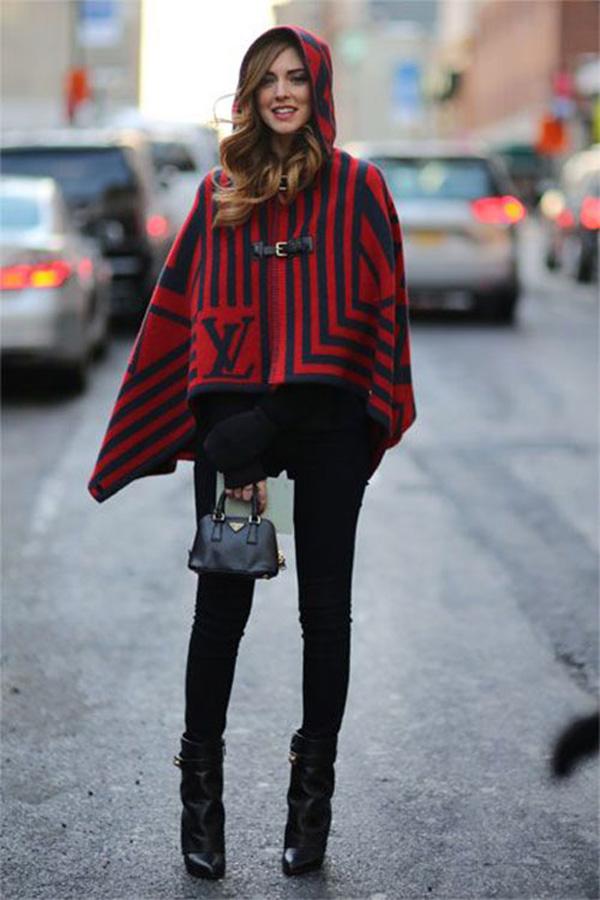 Channeling little red riding hood this winter? A stylish red poncho is all that you need. Match it up with your all black outfit and you are more than ready to go.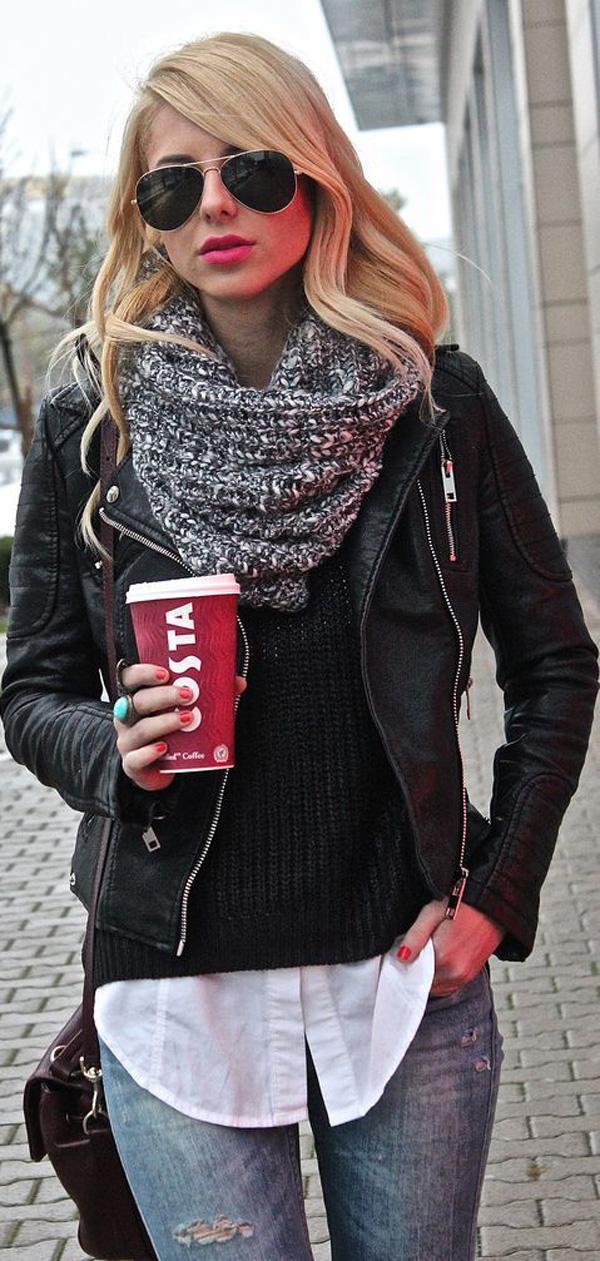 Black and grey is the perfect color combination this winter. To tone down the striking colors, pick out a white button down shirt and a pair of faded jeans to go with the outfit.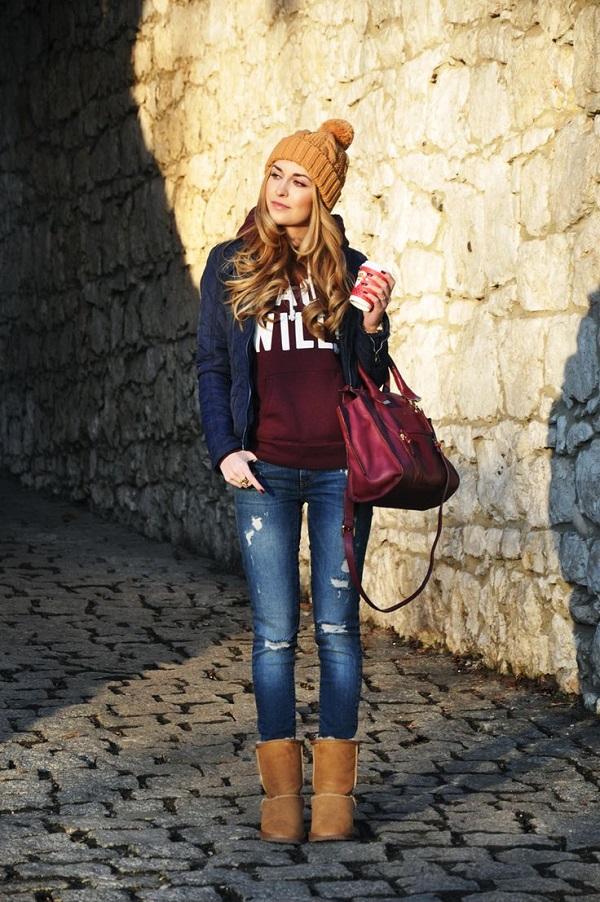 Keep it clean, keep it simple. Look free and outgoing with a simple denim jacket, shirt, ripped jeans and boots to accompany you this winter season.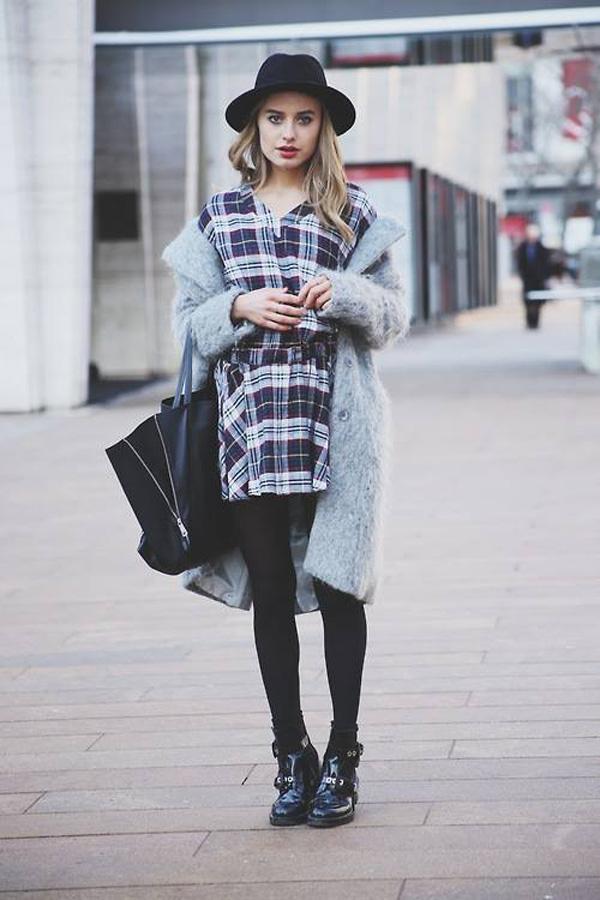 How can you transform a simple outfit into a winter wardrobe? The answer, fur coats. Adding a wonderful looking coat can heighten just about any outfit; choose one that can go well with the colors of your get up.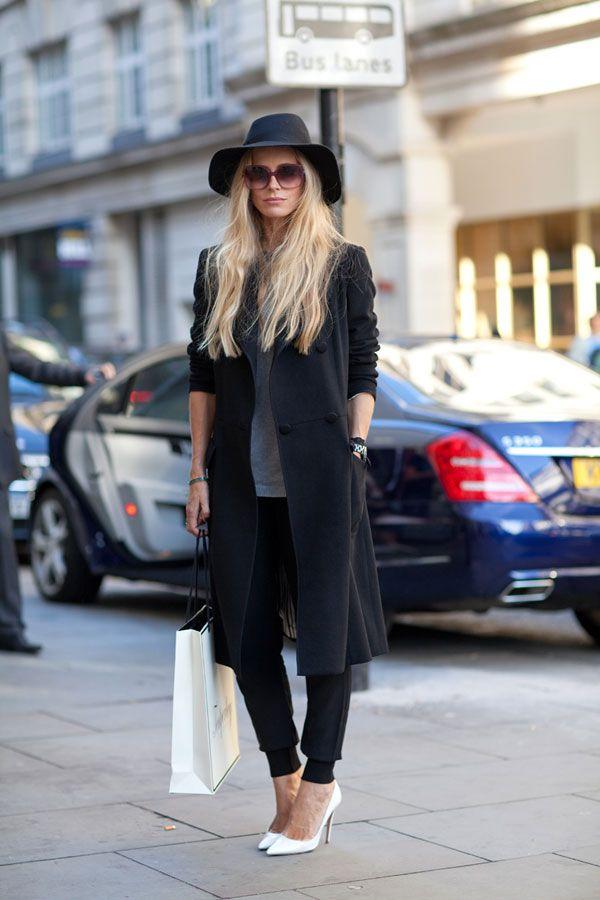 Simple yet trendy winter outfit. Don your favorite shirt and pants then top it up with a sleek trench coat and white high heels to make a statement.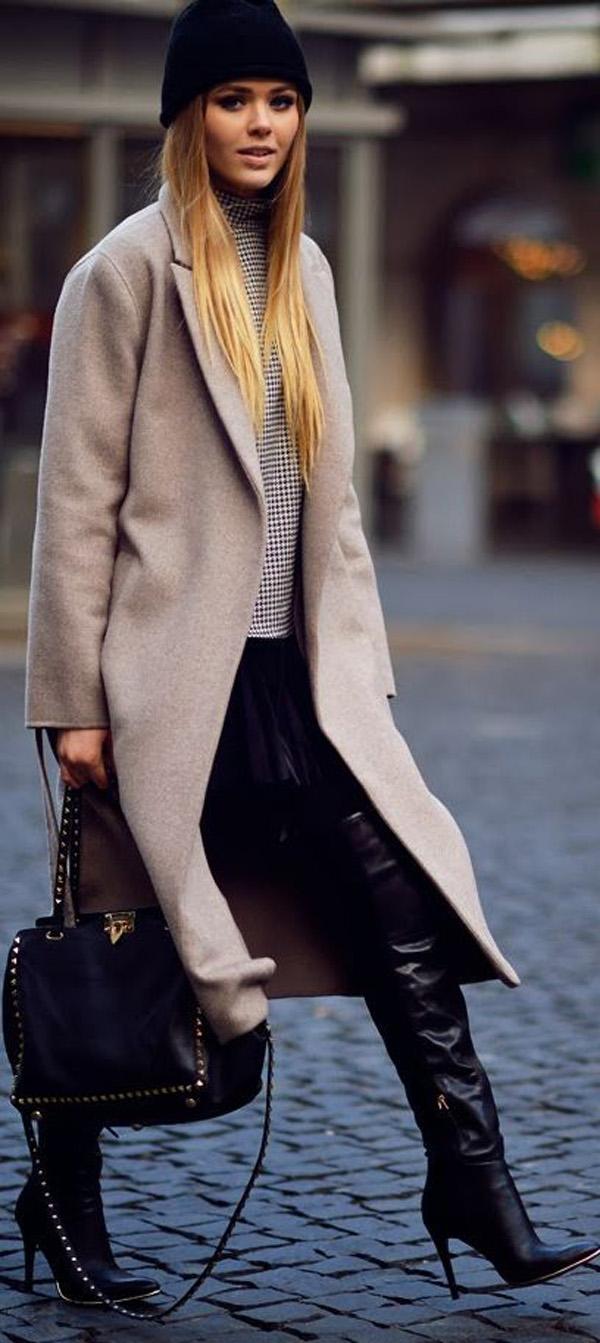 Want to look fabulous in this winter season? Look great with this skirt and trench coat ensemble. The thigh high boots are a great addition to the combination of skirt and turtleneck.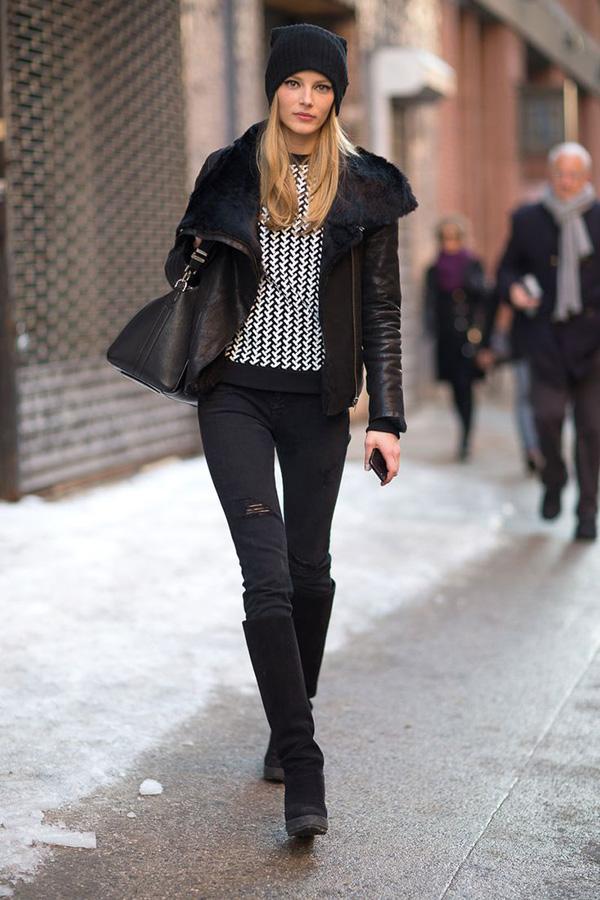 You want to be comfortable in your winter outfit yet at the same time you want to look fashionable, then this combination is perfect for you simple leather jacket and simple jeans amped up with high boots will do the job.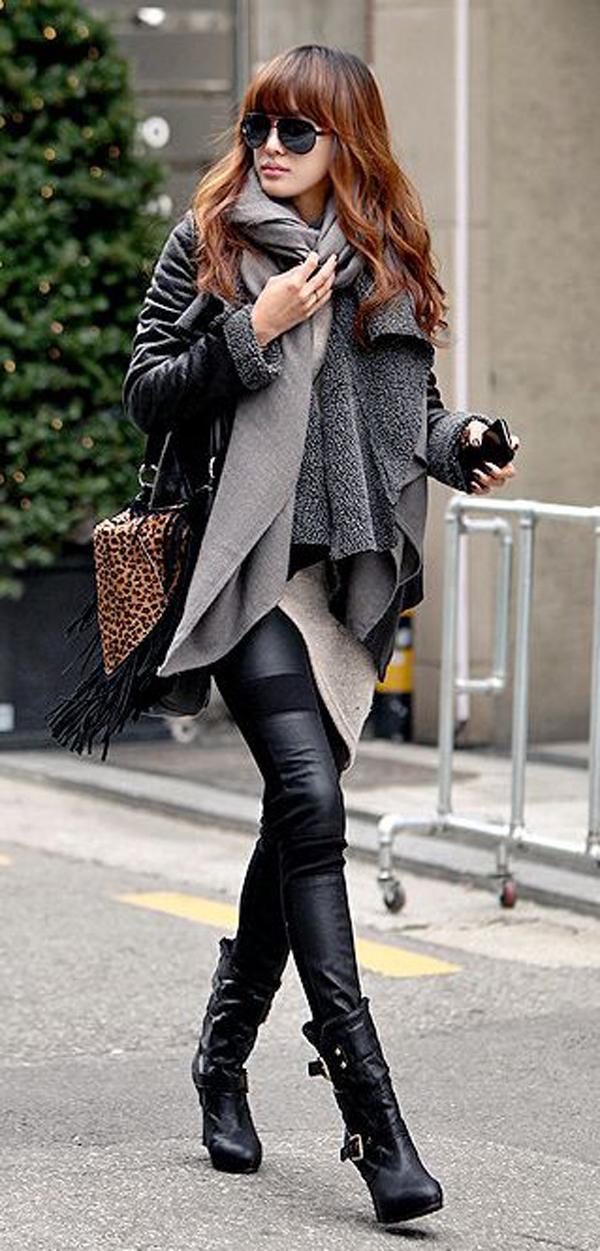 Keep yourself warm this winter but at the same time look amazing. Partner your scarf with a matching coat and tight jeans. Finish the look with some deadly black boots.

Some choose to look sleek this winter while some choose to look warm and comfortable. This fall colored outfit is your answer to that, wonderful bright colors yet keeps you warm from the budding cold of the weather.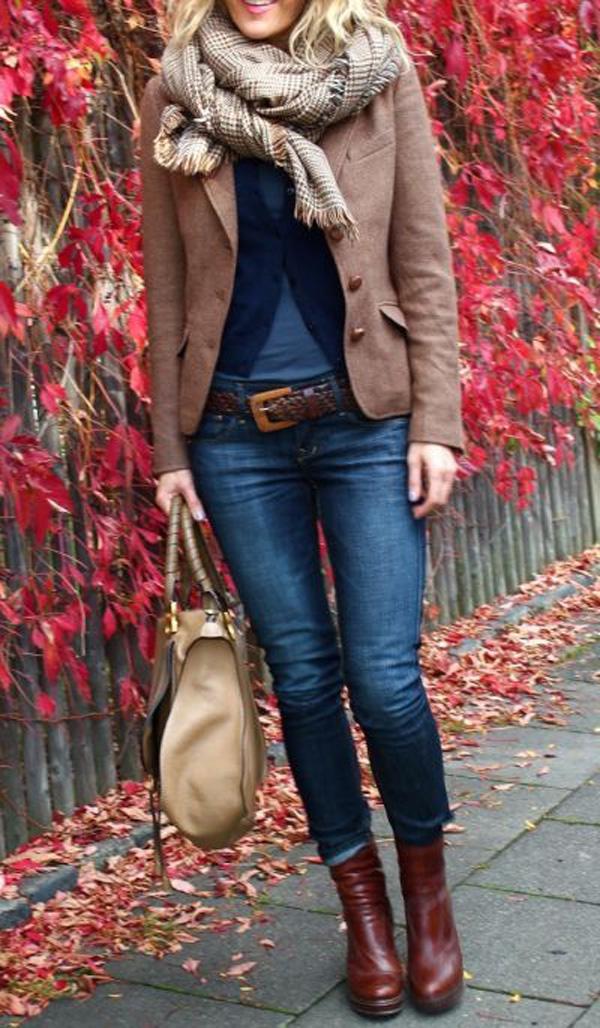 Make a difference from regular winter outfits by adding a vest layer into your get up. It won't only look warmer, but you look more professional and fashionable in a sense.

The best way to be in fashion this winter is to choose your pieces right and combine them creatively. This ombre inspired fur coat is accompanied by a simple pair of black pants and light gray high boots and simply stands out.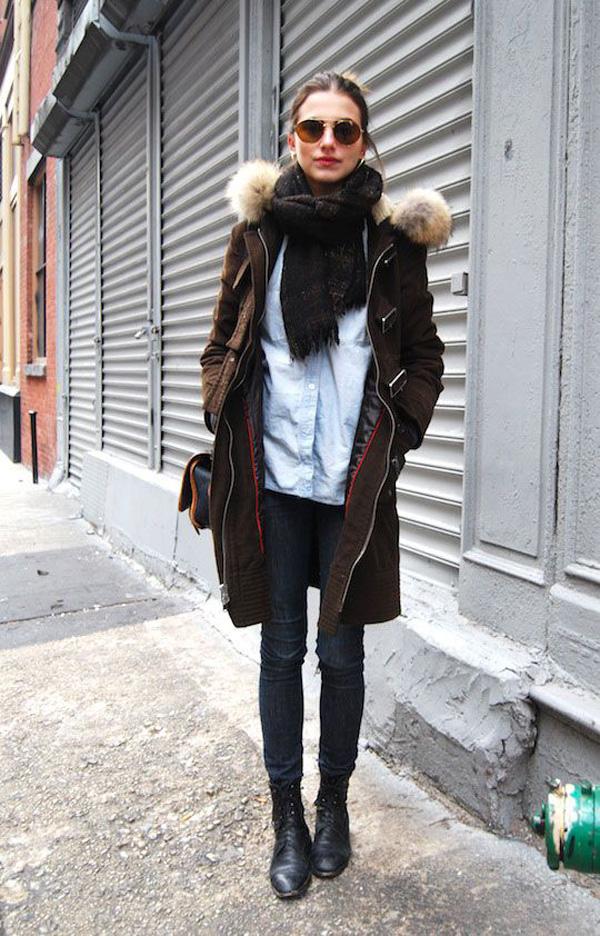 Do you need an on the go winter outfit? This could be the perfect combination for you. A simple coat over a button down shirt, denim jeans and good old boots.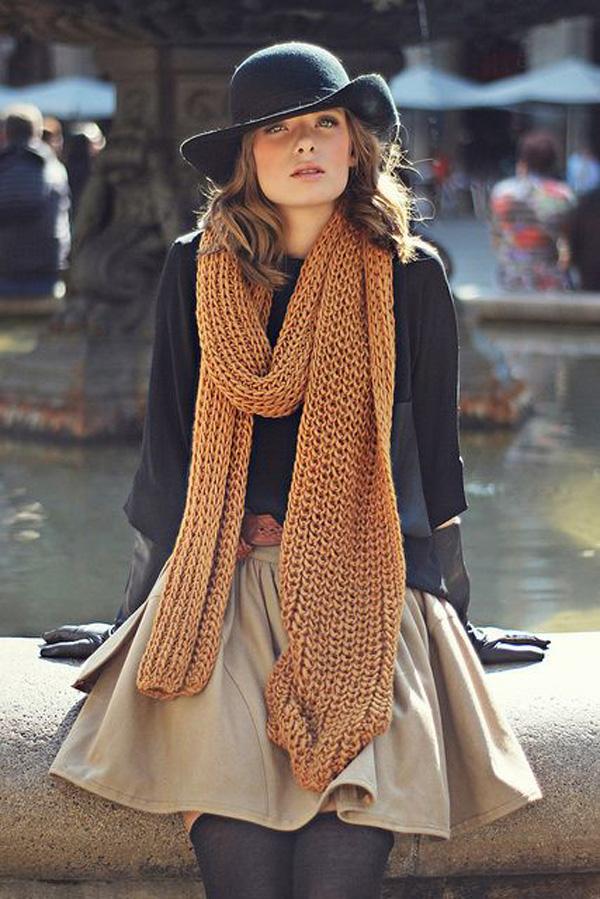 Look gorgeous with this pretty winter get up. Pull out your knitted scarves and partner them with your blouse and skirts to make a statement. Enhance the look by wearing thigh high socks and gloves.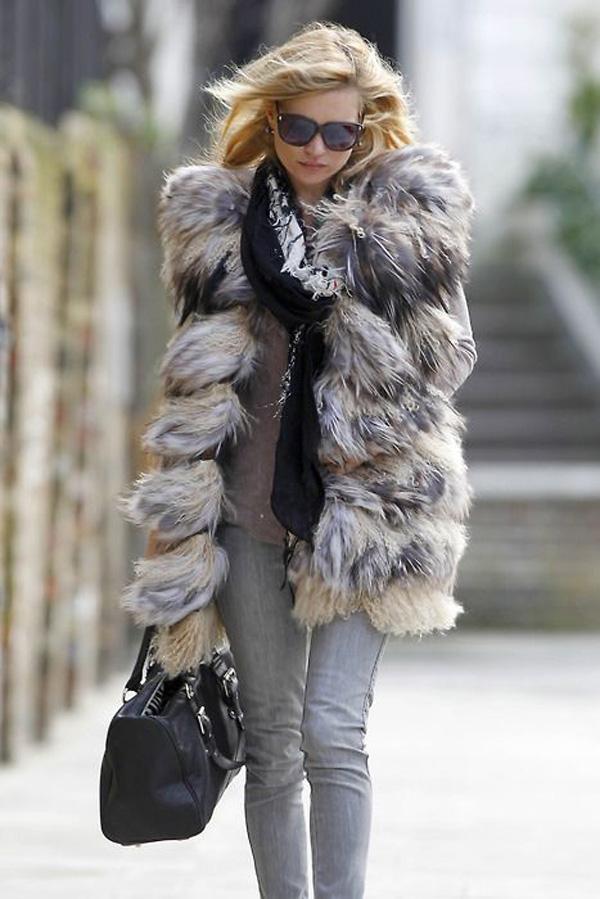 A simple way to make a simple outfit gorgeous is to don a wonderful looking fur coat. When you have a fur coat that can make a statement the rest of your wardrobe should be toned down or kept simple.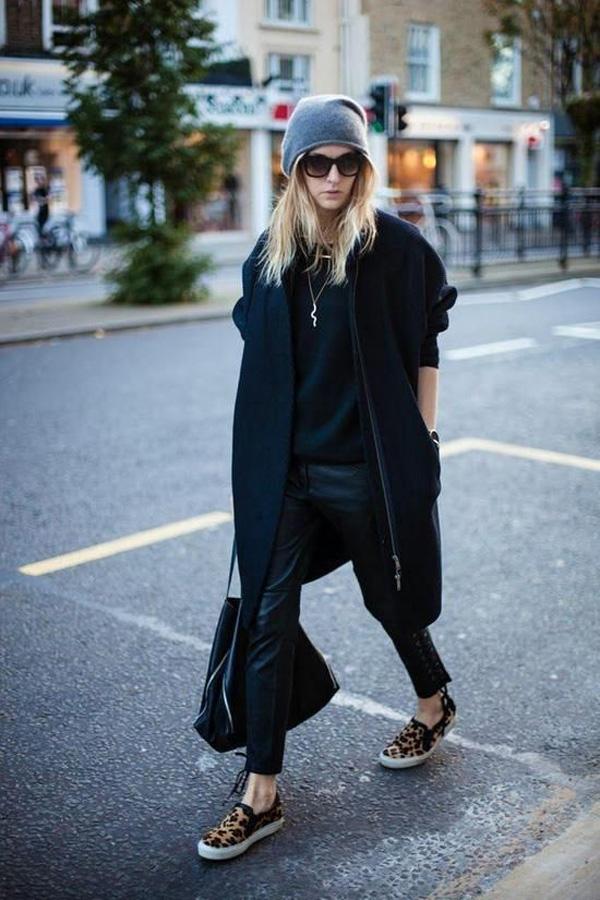 Neat and tidy winter get up. Less is more as some would say and the plain fabrics used in this get up makes the overall look seem more organized and interesting.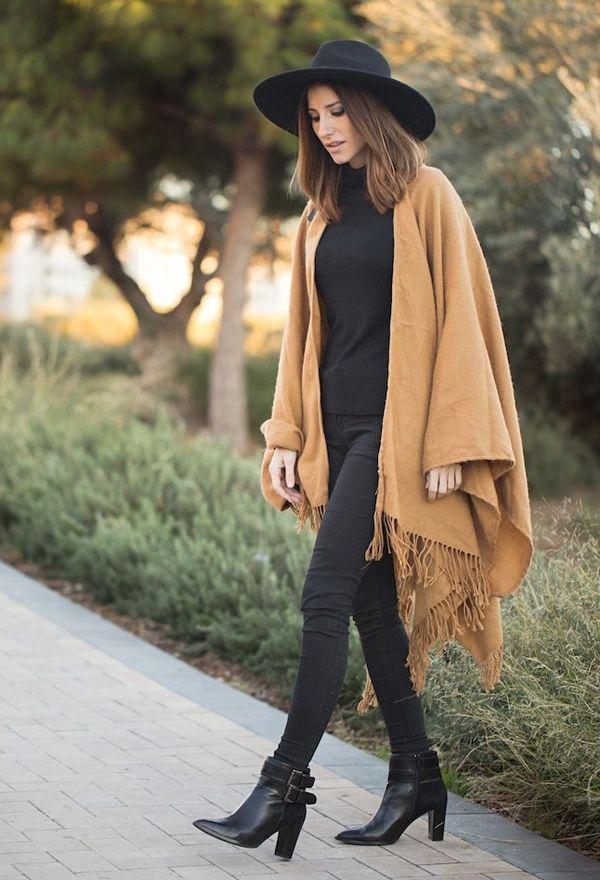 Wearing an all black outfit? Lighten it up with this tan colored poncho and give drama to your outfit.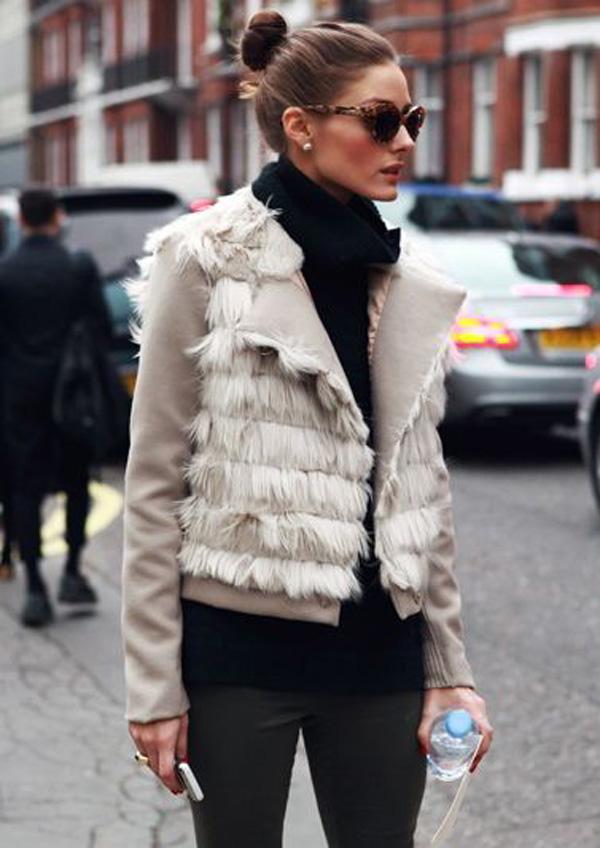 Whenever you're wearing a plain shirt or inner layer don't forget to wear something flashy on top. It adds volume to your outfit and gives accent to the other parts of your get up.

Try to be different this winter season with this simple but flashy outfit. Wear an astounding sleeveless trench coat and pair it up with your long sleeved turtleneck, add drama to the combination with a skirt, stockings and high boots.

Get that post fall and pre winter vibe into your outfit. Start by using fall colors into your winter outfit. The colors can even give your look the warm and comfortable feeling.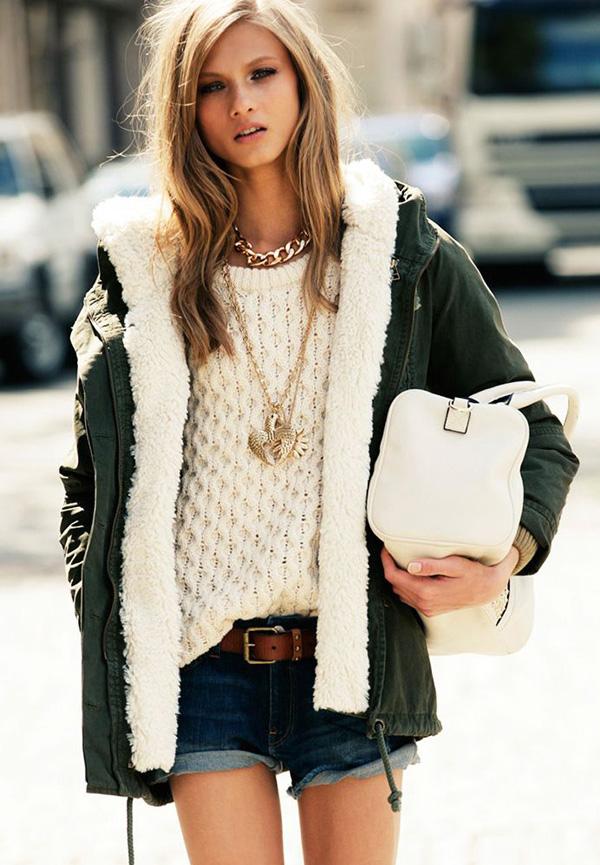 Shorts can also make it in the winter weather. Pair up your favorite denim shorts with a simple short and warm coat. You can also add accessories to make your outfit more interesting.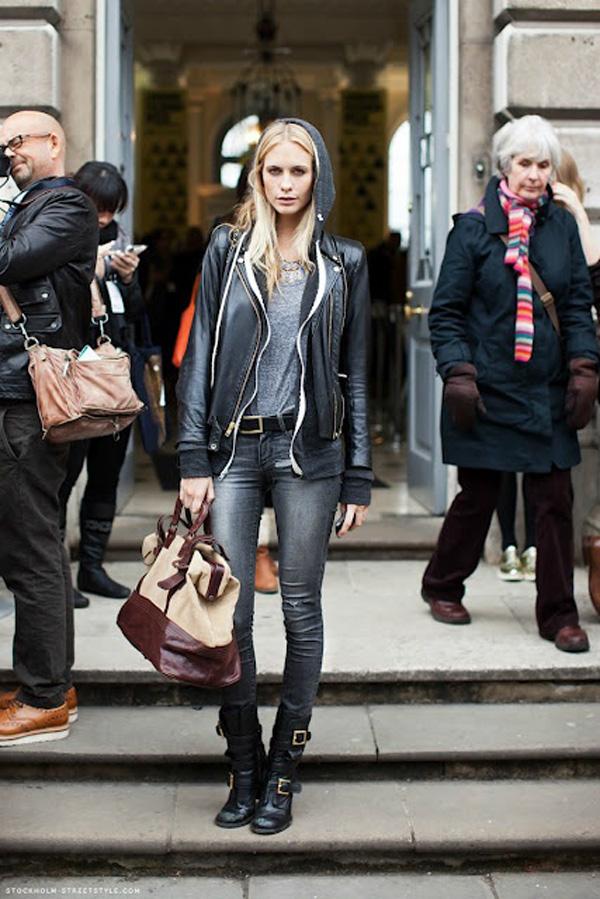 Subtle yet classy winter fashion. Leather jackets and boots can transform just about any other outfit into something sleek. Don't forget to add them into your winter wardrobe.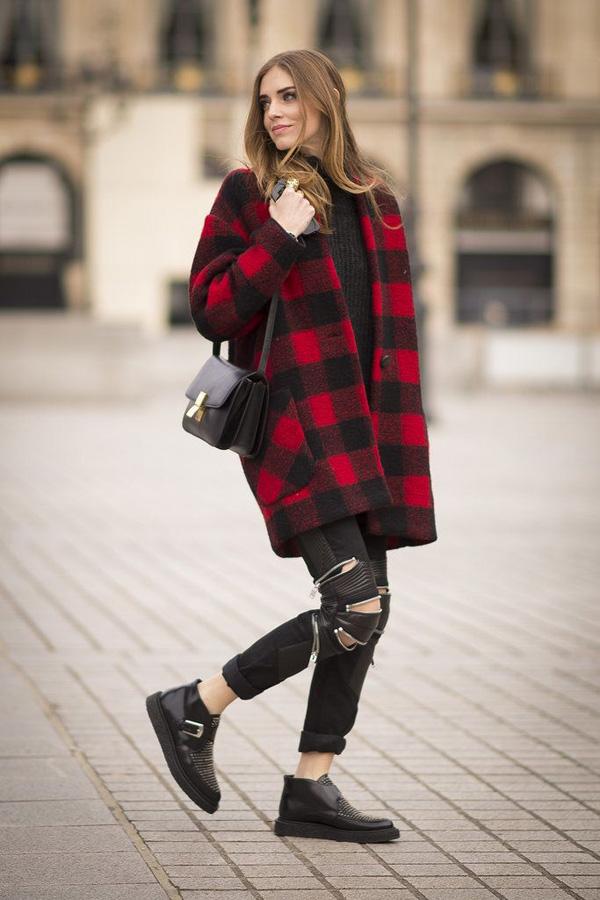 Simple and comfortable winter get up. Grab your favorite checkered cardigan and wear it over a plain shirt, ripped jeans and tennis shoes for a fashionable yet comfortable outfit.

Check out this great looking winter outfit. A simple top and jeans with leather jacket and topped with plaid scarf. Casual shoes are also worn for a more toned down effect.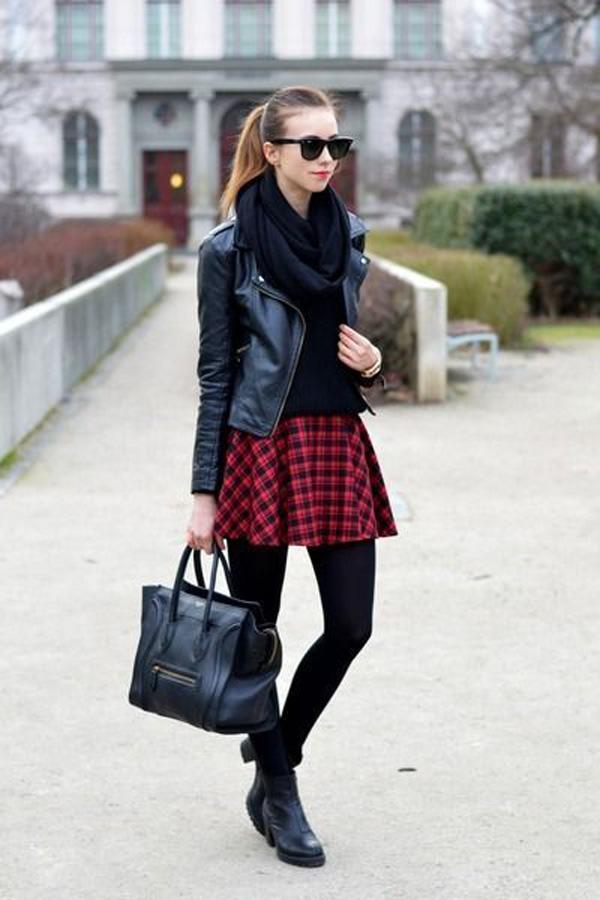 Be sleek and classy but bring in some of that schoolgirl charm in this wonderful winter outfit. Wear a comfortable shirt and leather jacket and pair it up with a plaid schoolgirl skirt plus stockings and boots.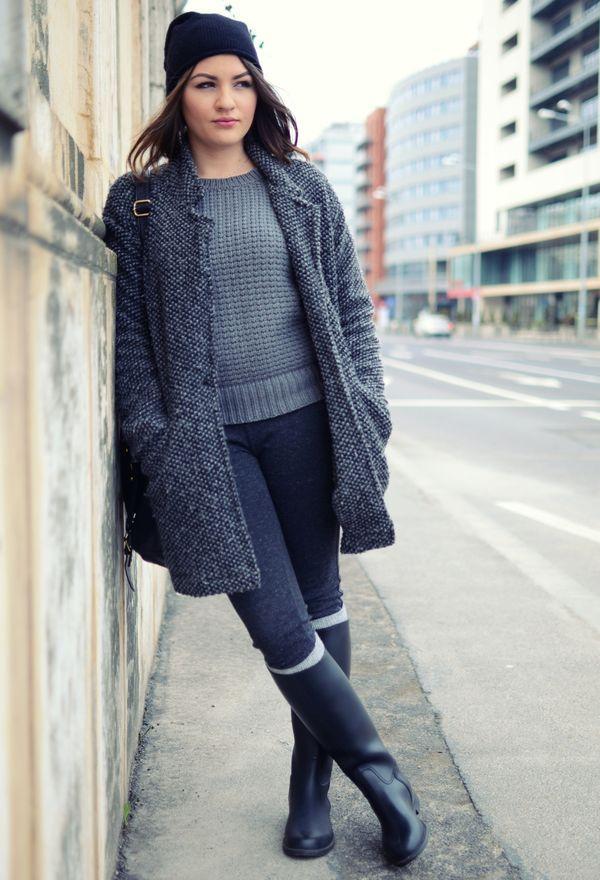 – DOUBLE PICTURE-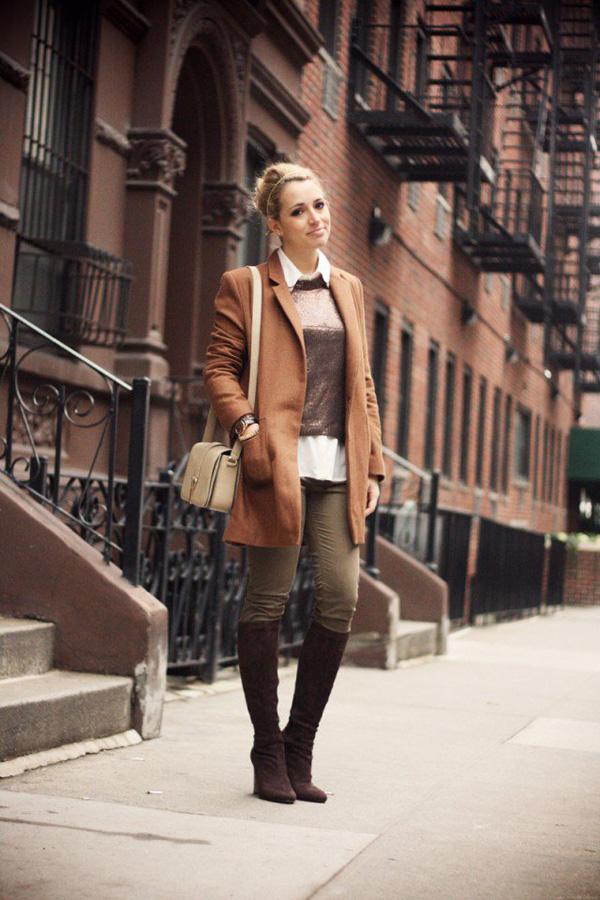 If you're looking for a cozy outfit for this winter season then this might be what's ideal for you. Take your tan colored coat and drape it over your favorite button down shirt and sweater. Wear high boots over your denims to add to the effect.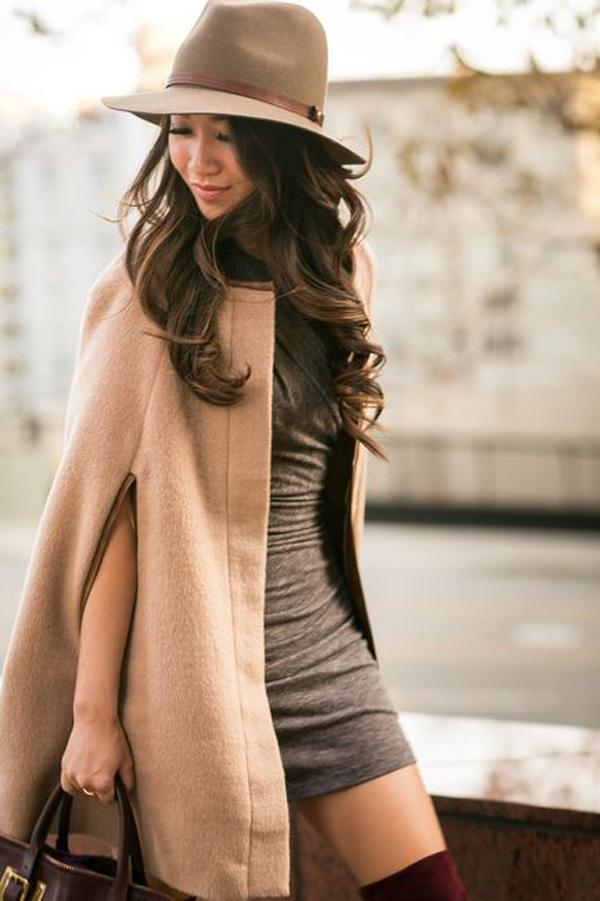 Wonderful looking winter season outfit. Give more attention to your one piece dress by wearing a cream colored coat above, a matching hat and stunning high boots.