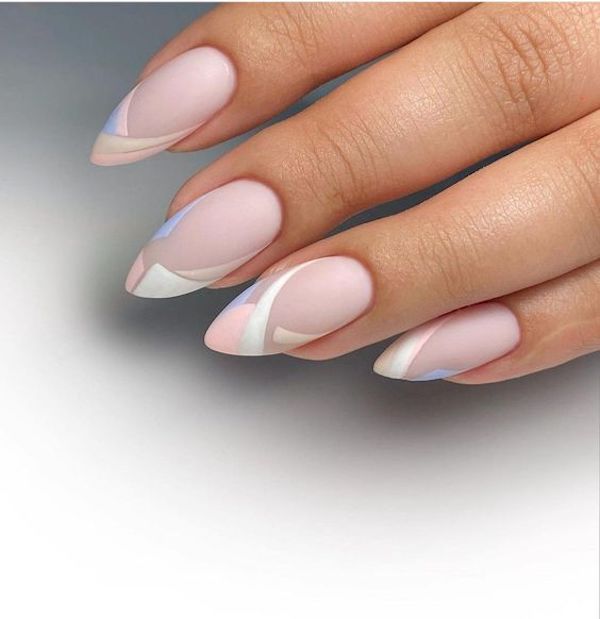 The beauty is fleeting. However life has feelings, such as soul, love and joy. Women today silicones implant in the chest, lips, do tattoos, tightens the face to be nicer and more attractive to opposite sex and to themselves. Many condemn it – plastic surgery, tattoos, and all that is not of Mother Nature provided us. But do not overlook this. Life is one, and let's not spend it caring what others will say.
Because now we are here, this little slice of eternity is just our now and we are where we are. Relive it well, with a smile, with the people you love doing things that make you happy.
Upgrade your nails as you like, because the choice is big and beautiful nails will make every your day more beautiful. Because everyone likes to see beautiful things. Why you need to have ragged varnish nails? We live in the 21st century and it gives us a lot of opportunities. Do not build for others. Beautify them for you. That your days become brighter I more colorful. Don't do something just because that likes our best friend or boyfriend / girlfriend. It is important that you do things that lures you smile.
We live in a fast world, time flies, so do not allow you to lose yourself in that world. E working time is often very long, the children are home and wait us to get home from work to drive them ti private classess and prepare them food, all the washing, house cleaning all that is waiting for us. In that fuss we don't have opportunity every day to separate time only for us, but at least two hours a week try to separate. Go to the hairdresser, or fix your hair yourself, tune nails, soak the body in cherishing milk and cream.
Nothing nicer than manicured female hand. I had a grandmother who entire life had pretty cleaned up moderately long and rounded red nails. And she was a successful businesswoman and a housewife. Her hands even when she was aged were always manicured. Now when we apply gel nails we don't have need to paint them every or every second evening, just do gelling which lasts good three weeks. Almond nails are always in fashion. It is a form that is timeless and applies to all generations. A little bit younger ladies can now decide for more pointy nails, and the older ones for slightly arched nails. The choice is yours. Decide for those who currently describes your mood and feelings. I do not know about you, but I'm also putting on makeup and nails and i dress up how I feel. Only when our body and soul agree – we really shine.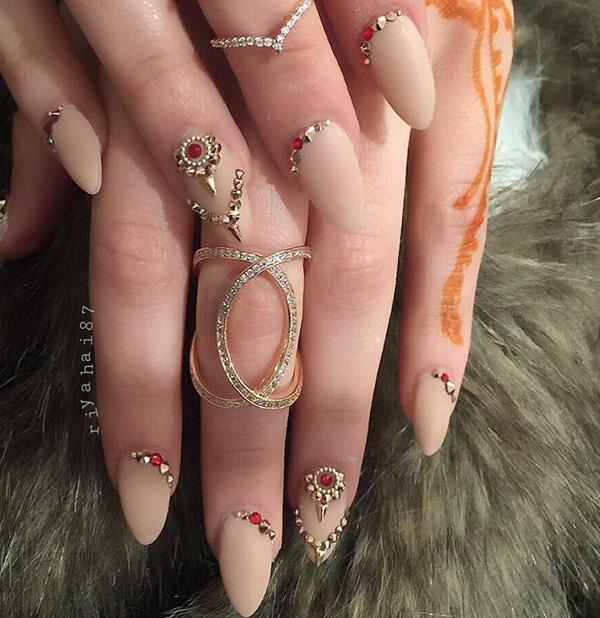 Neutral colors and feminine shapes. These nails remind me of India, the sensitive feminine soul, the luxury part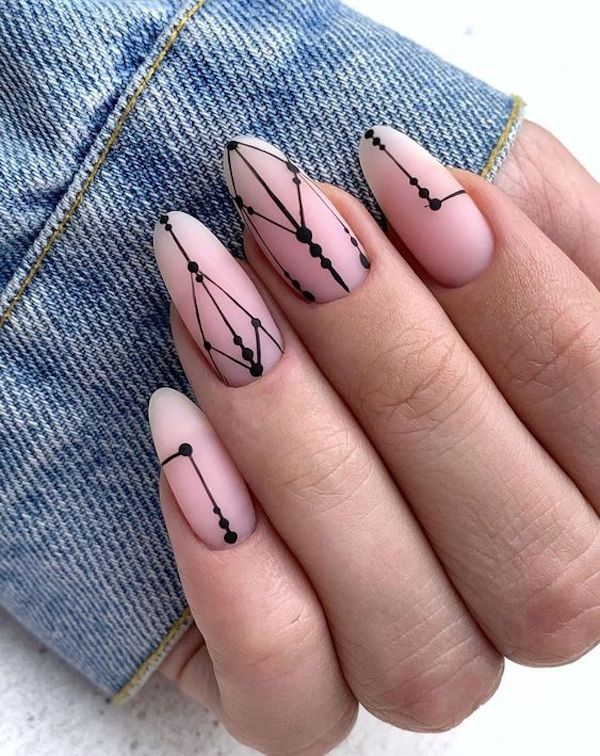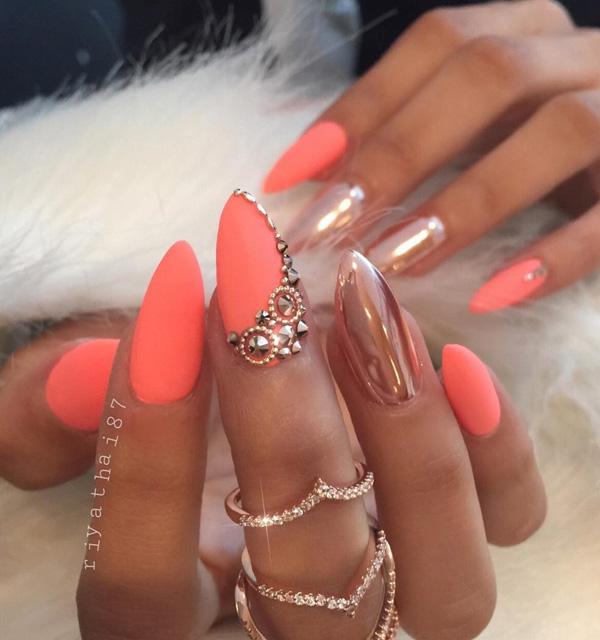 One nail on left and one nail on right hand in a metallic color with shiny rhinestones in the same shade. Other nails are mat in a gentle color that gives a seductive touch of glamor to your look.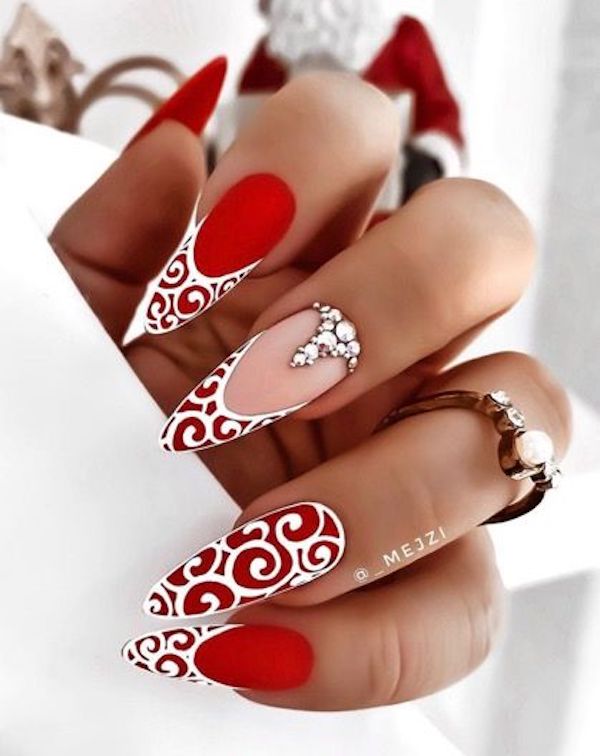 Eternity red color, and a red rose as a small but effective detail.
Source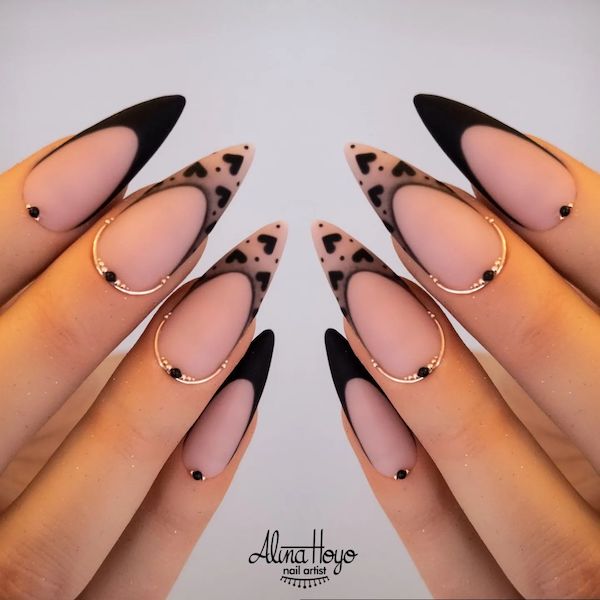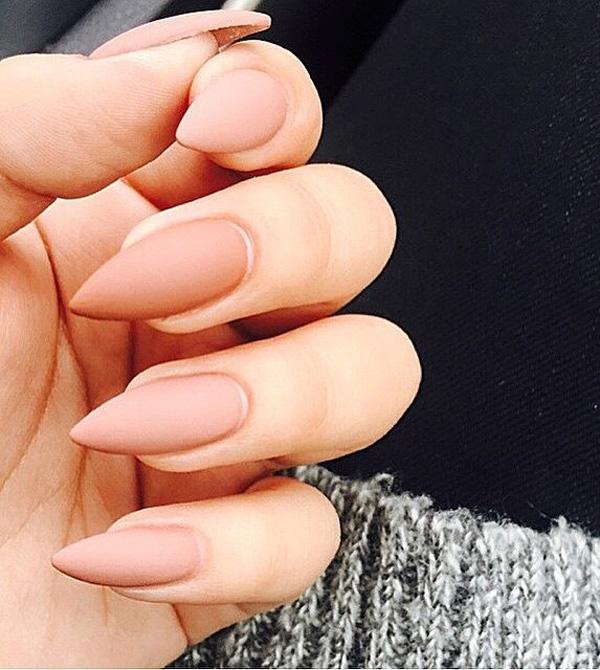 Modern pointy shape in combination with the color of flesh for youthful appearance.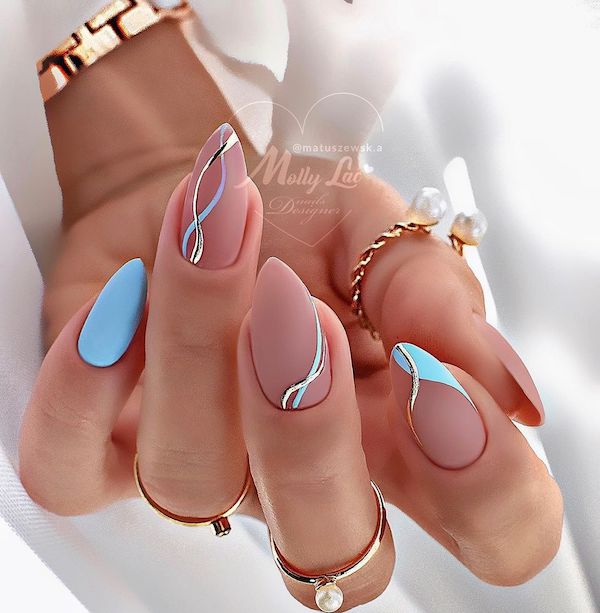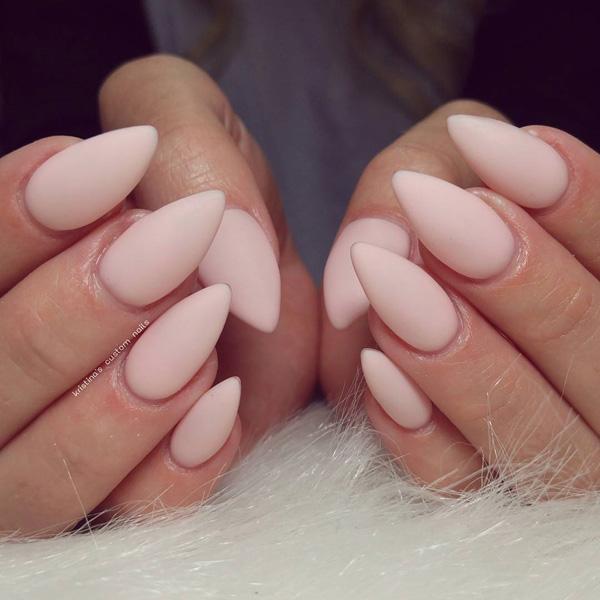 If you have mastered the technique of gelation nails, matte look you'll give them after the final layer of colorless gel treat nails with buff file. Apply cuticle oil around the nail and with buffer and rub it on the nail. At the end with a buffer on which you put a little alcohol skip the nail to remove the fat from the oil and that's it.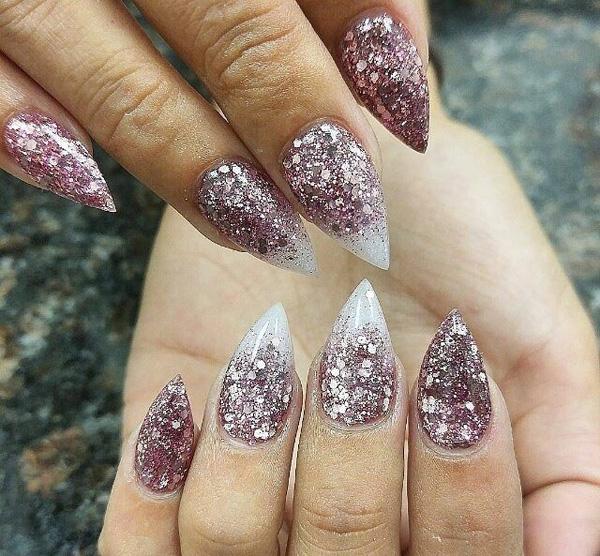 These nails provide an answer to the question of who's the boss. The answer is: I'm the boss!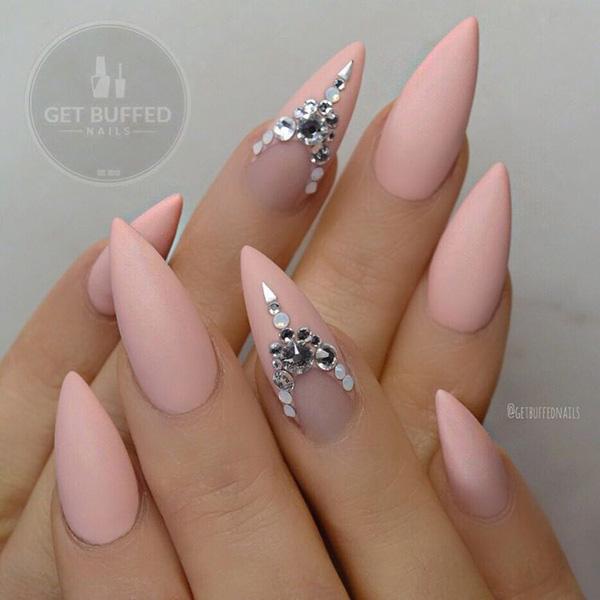 I love when something is shining, but to be honest looking at these pictures more and more I like mat nails. These combined with the zircons really seem royal.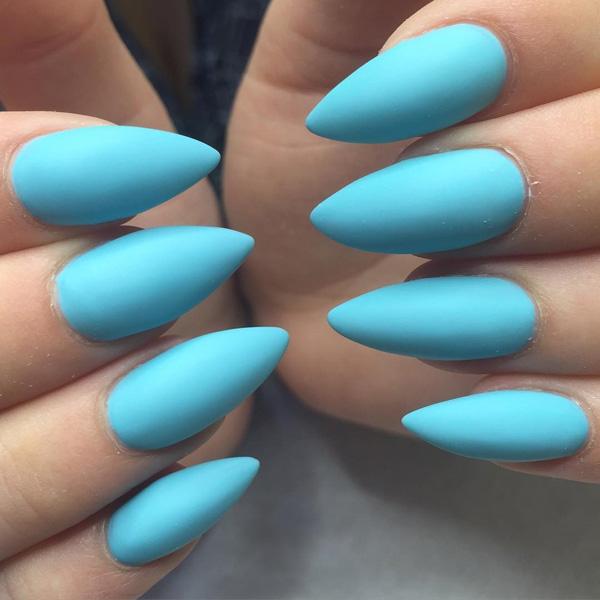 The sky blue color on the nails, and no need for any additional details.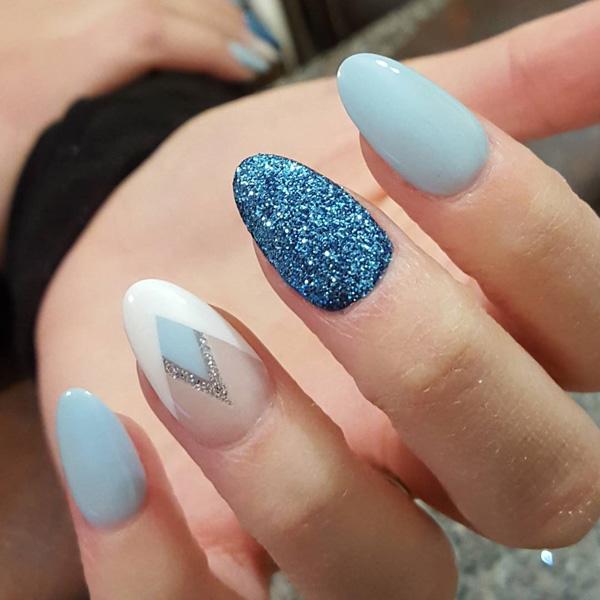 Excellent combination of colors with blue glitter gel nail on the middle and interesting franch on ring finger. It can definitely be combined and with other colors as you like.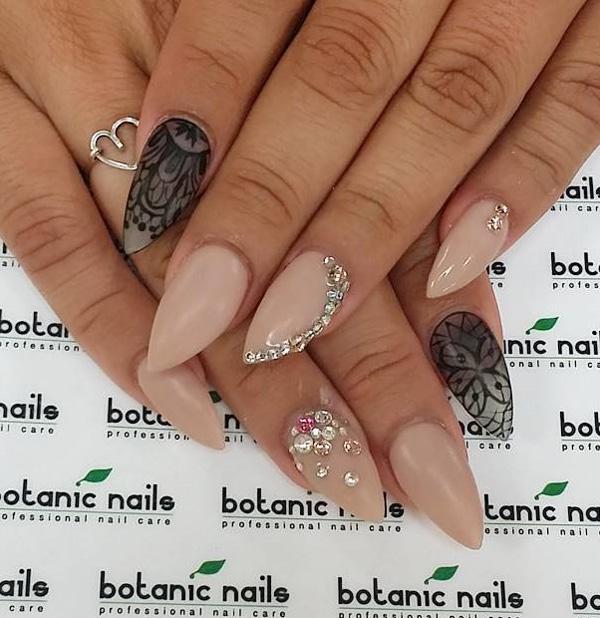 If you have a good manicure at a nail on both hands draw different patterns as illustrated. It is always interesting and somehow mystical, doesn't it?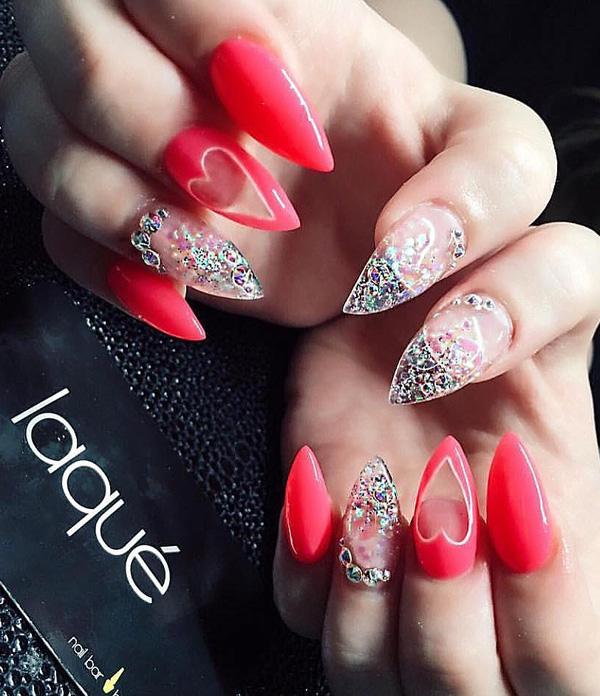 These nails ANNOUNCE love! Love is the most important, hearts decorate clothes, cakes, book covers, and also can decorate our nails!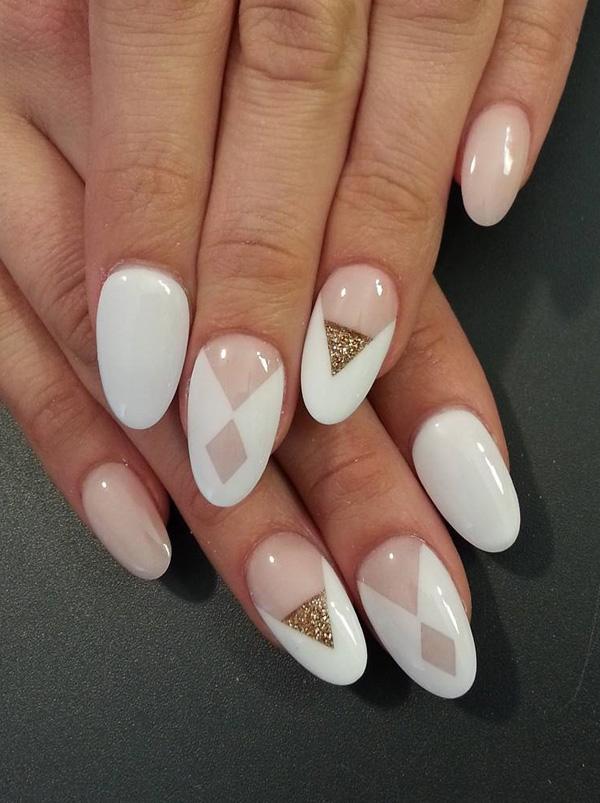 For lady with style.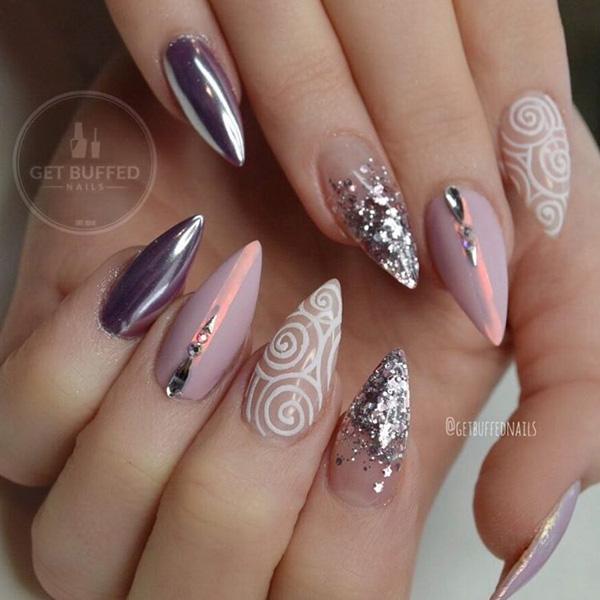 These nails remind me of the universe, galaxy, stars. On something glamorous, gentle, seductive and at the same time extremely modern and daring.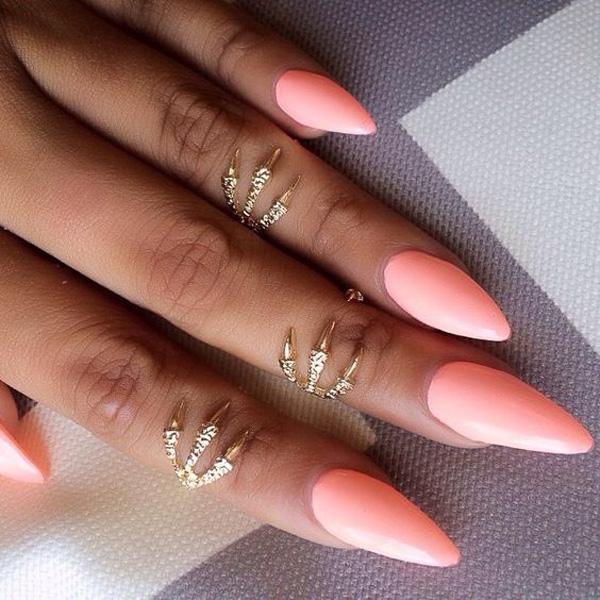 Monochrome nails combine with rings that are worn on the top of the fingers so other details will be superfluous.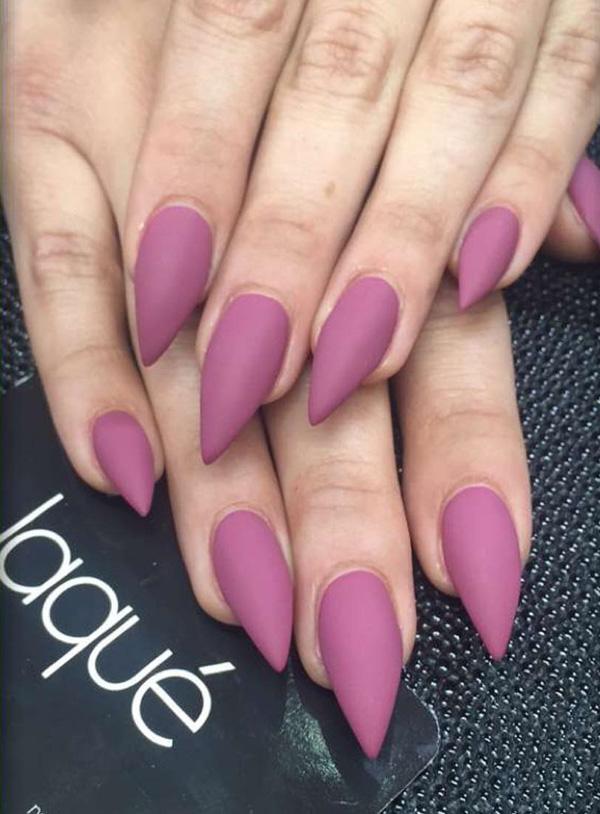 Violet is a royal color. It symbolizes power, nobility, ambition. The combination is stable blue color and energetic red. For her binds magic, mystery, dignity. Cleopatra loved the color purple. Richard Wagner composed operas in the room colored purple because this color gave him inspiration.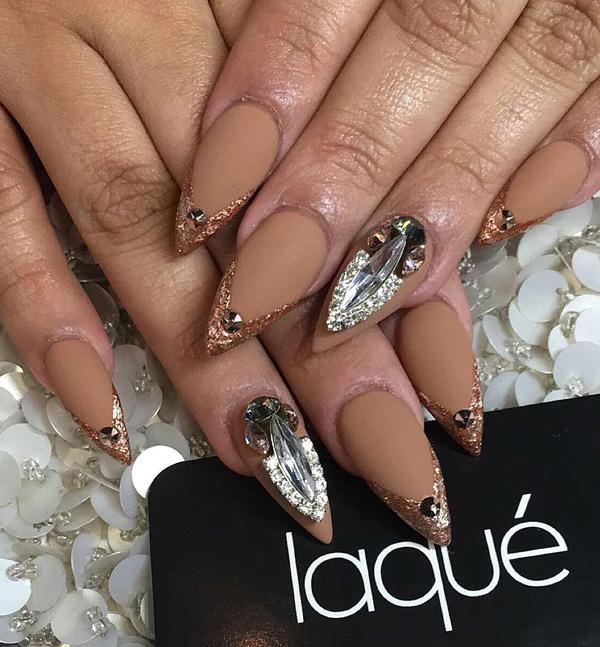 Wise earthy colors combined with the matt and glossy foil and zircons, if you ask me great for red carpet or the most important party in the city.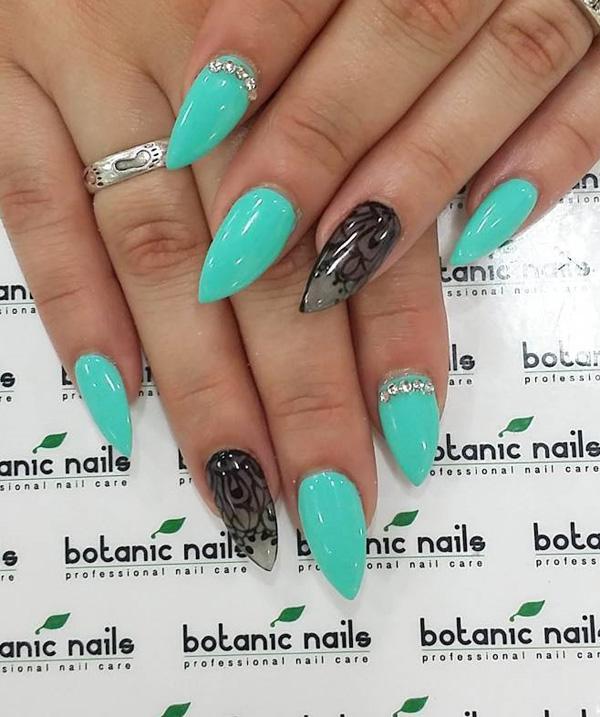 They say that the color of nail polish reveals character. Turquoise nails often choose women who are adventurous, full of life and good energy.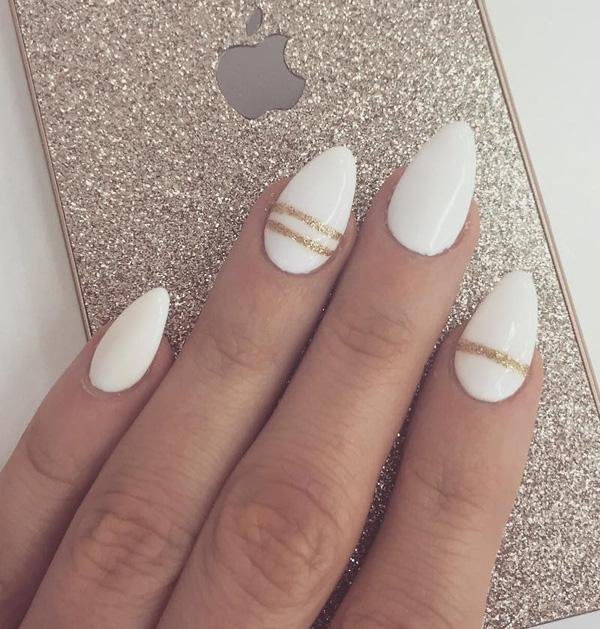 Details make life. If you wait big things to happen you just might miss a million little things that can do our everyday magical. So it is with your nails – can you see how these few golden lines give touch of elegance to a simple white nails.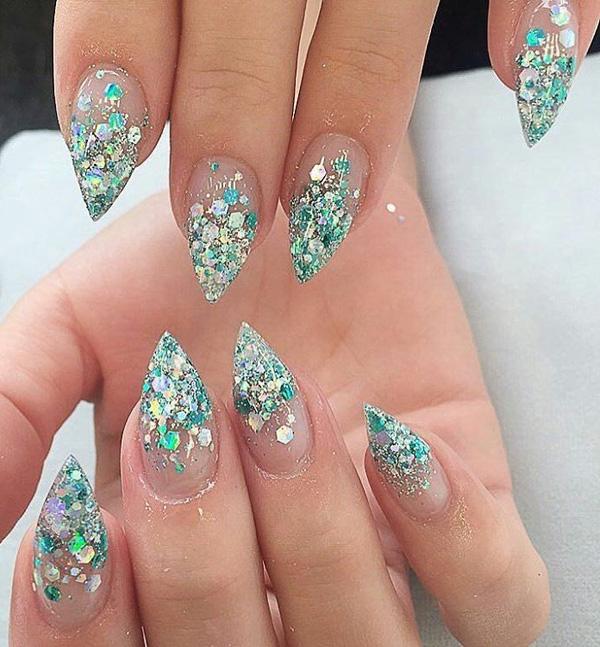 The queen beach in summer, and winter queen in winter. Excellent idea for nails.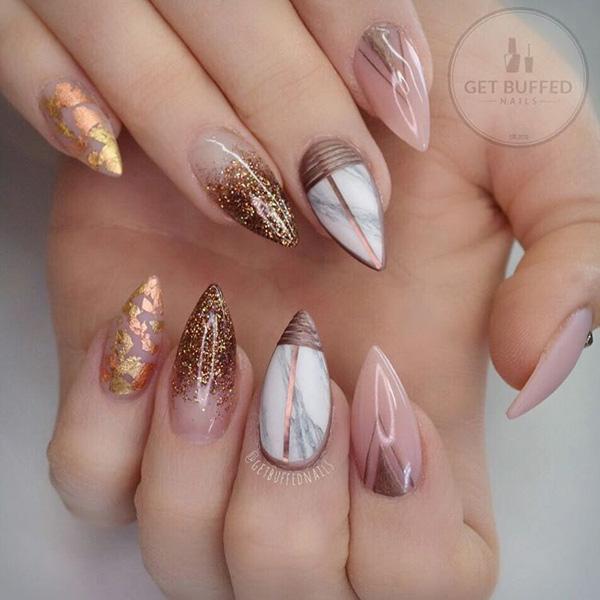 Luxury. Gills gold, gold dust and marble are my inspiration for this manicure.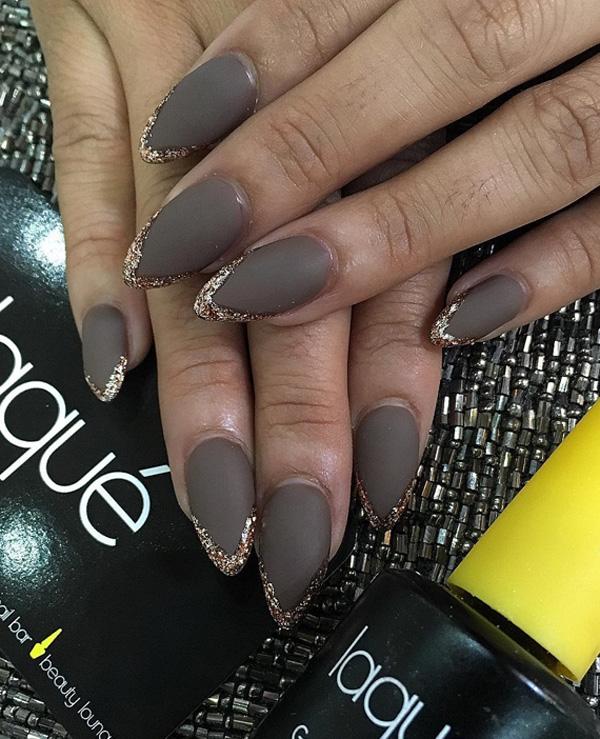 This franch in color is for ten. The brown is warm and more comfortable for my taste than black. Except variant you can see on this image you can be combine brown with purple, green, blue, orange red – just be careful when you combine and (I'm free to say) somewhat conservative.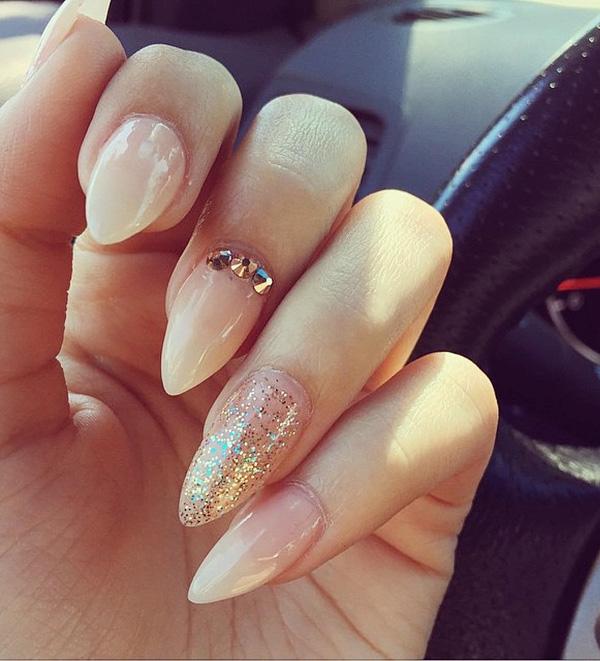 When I gel nails to my friend or she do gel on mine, very often we choose one color for all nails and on ring finger we sprinkle shine like this in the picture that immediately enriches the simple manicure.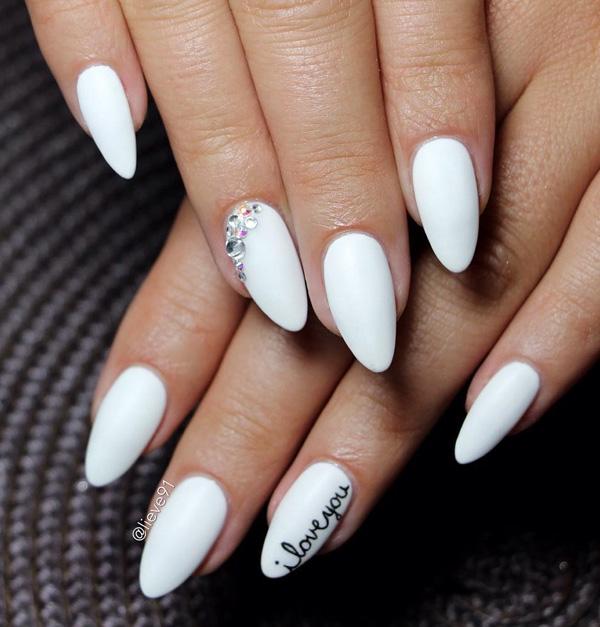 It is so sad to read everyday titles of unrest in the world and so many people forget about the importance of feelings such as love, peace, faithfulness. Use your nails to send a message of love, love is always in, and it should be spread as a contagion. Only in this way will our world be more beautiful place to live. Beautiful message on a white background. White reminds me on peace and tranquility …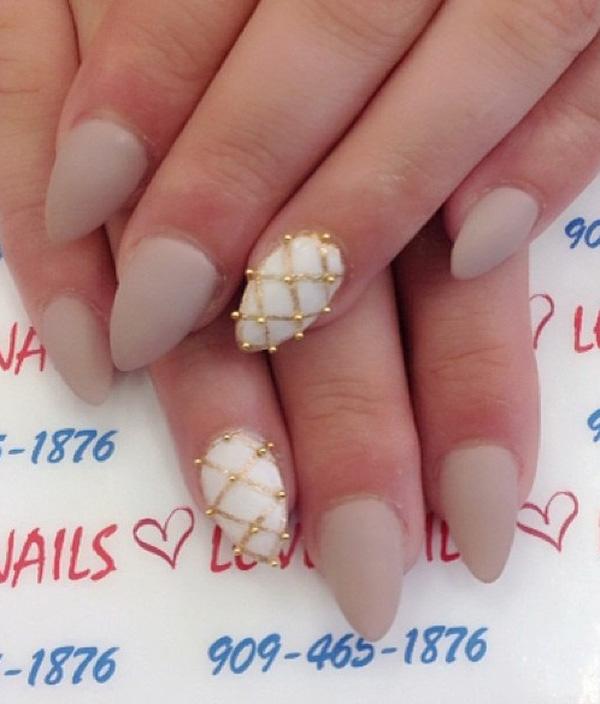 Discreet manicure moderate length, and with gold detail just to record that you are sometimes naughty girl and not just a successful businesswoman, mother, housewife …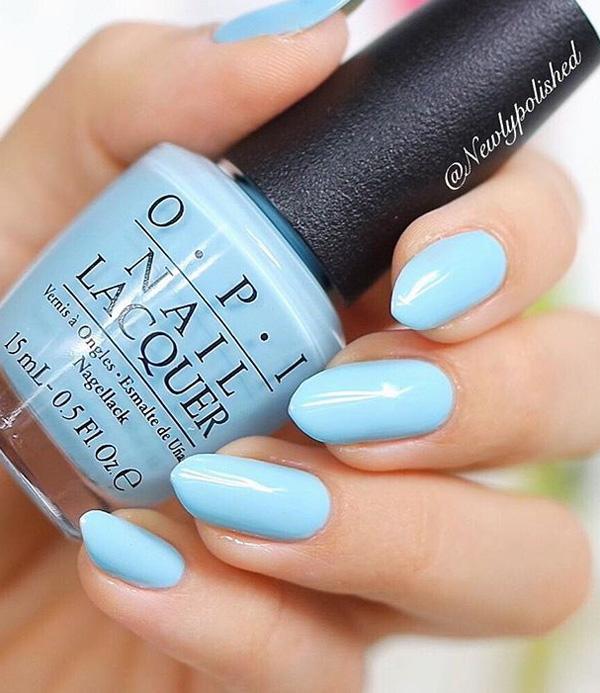 If you prefer to pain your nails own I recommend OPI nail polish in beautiful shades. They are good for both, natural and artificial nails. This nail polish is durable and strong and contain ingredients that reinforces the structure of the nail.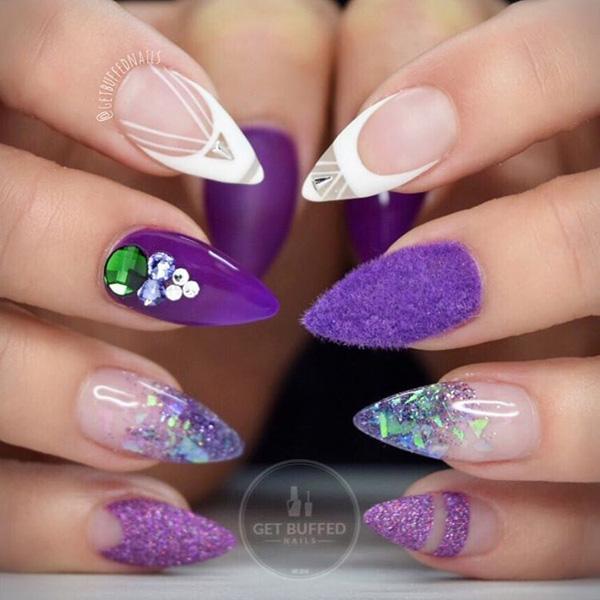 Fur manicure appeared 2012. Many saw it as impractical but at the same time this manicure acquired and a lot of fans. To do this manicure at home you'll need nail polish in color you like, flocking powder for nail art in same color, and fan nail art brush. Polish your nails, don't wait them to dry, on nails sprinkle the flocking powder for nails, and use nail art fan brush to remove powder around the nails. To have longer lasting manicure use rubber gloves while doing physical work.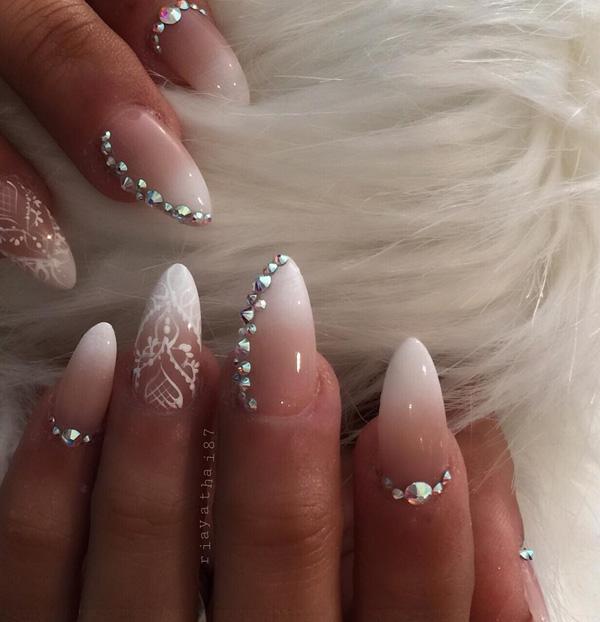 If you will soon to say fateful yes, I recommend this extravagant but also gentle manicure for that so important day in your life.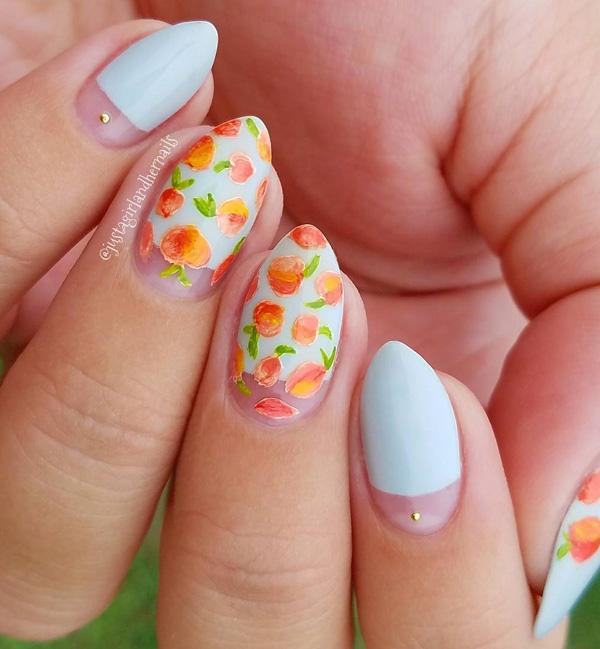 Fruity and nutty, sweet, gentle…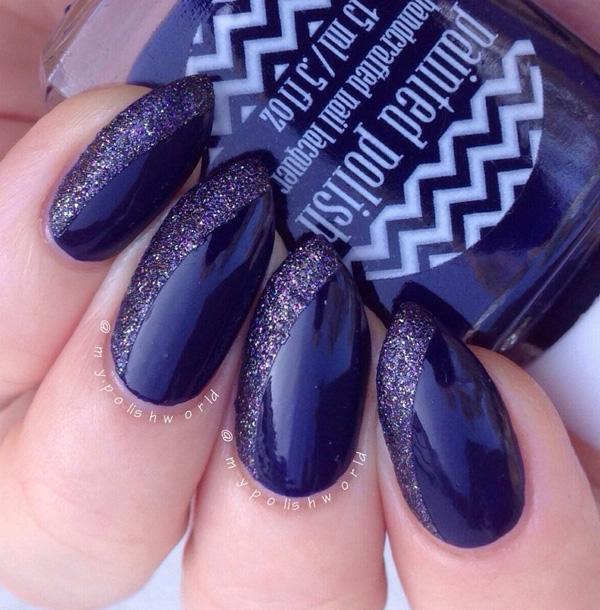 Extravagant lady who knows what she wants, but also and what she doesn't want!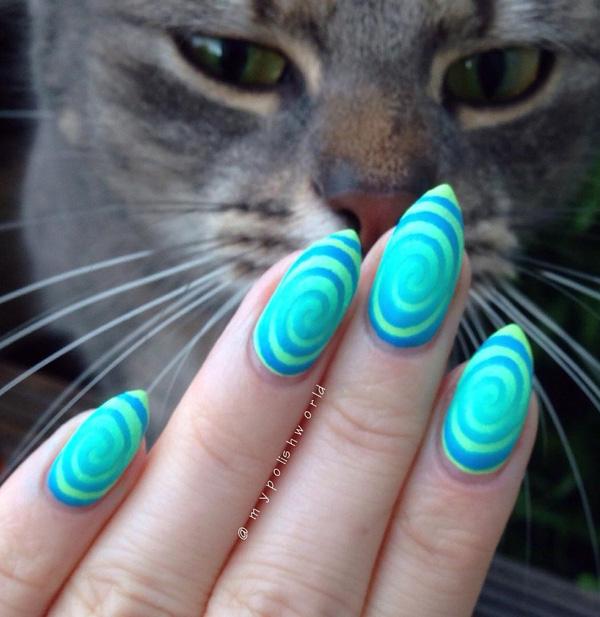 I'm hypnotized but I still like it!
Source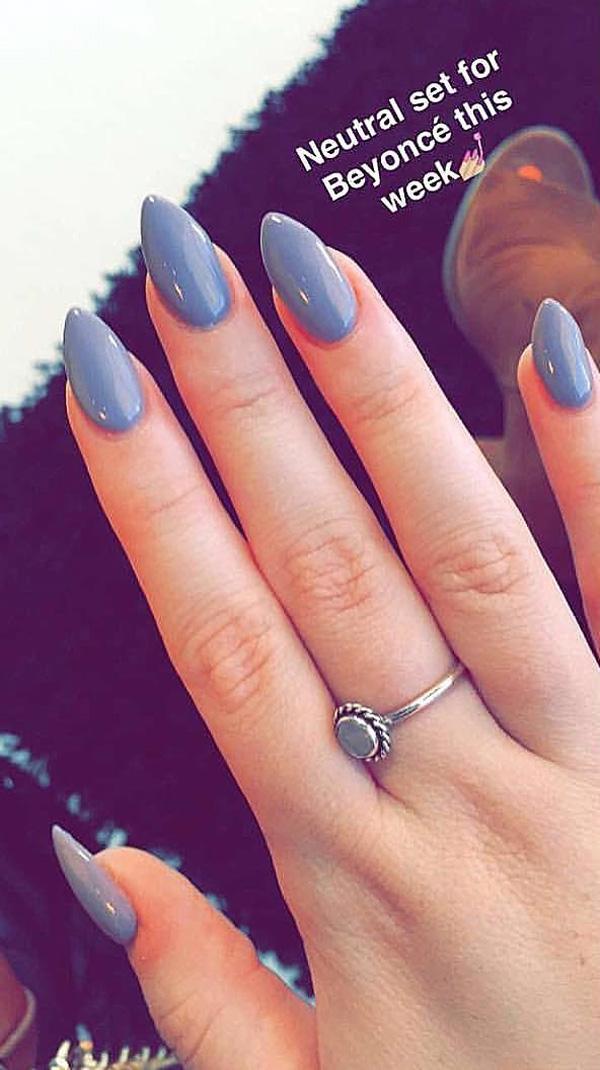 Modern shape and my favorite color. Some wear this on stage and some at a party, at a date, on the job.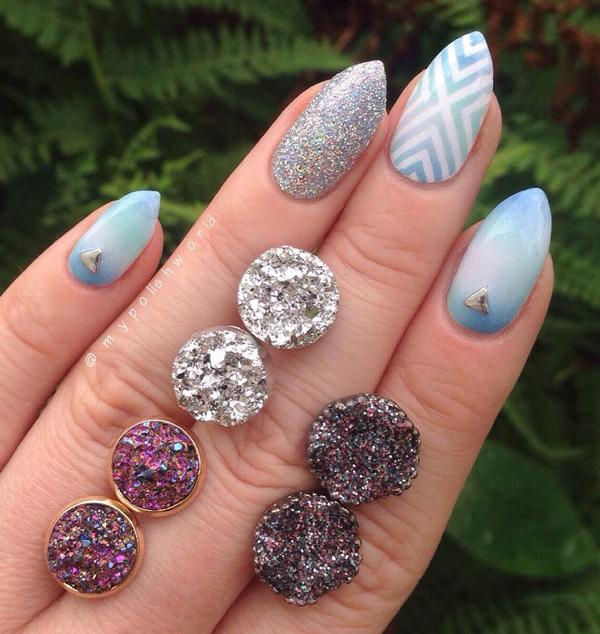 I do not know whether I prefer these brilliant details and rhinestones, or the discrete ombre on some nails…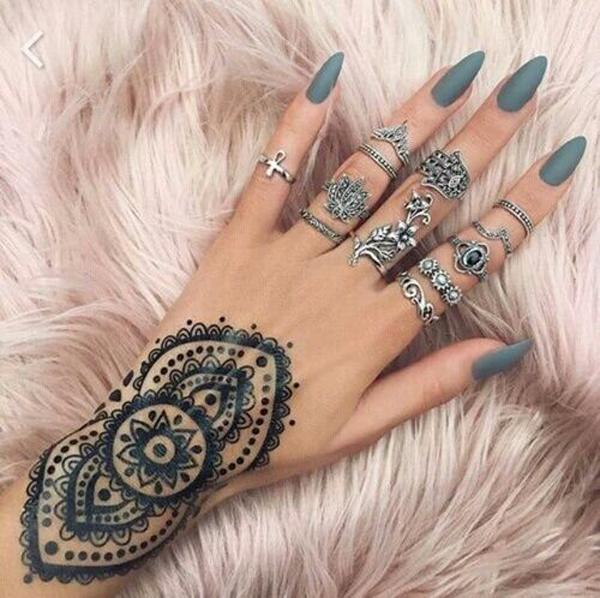 With this nail color, these rings and tattoos you are hindu queen!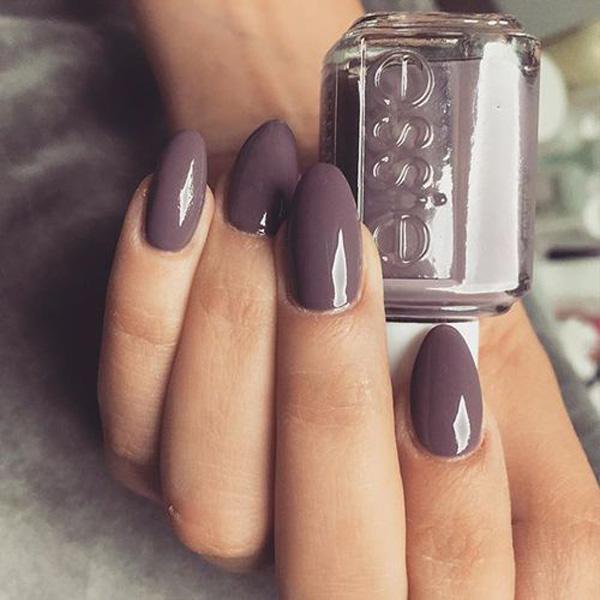 Essie nail polishes strive that every woman provides a dose of luxury. There are over 250 shades. Essie Weingarten has made an effort to put as a special ingredient to them her passion for nails and colors. So you choose this nail polish only if you really care about yourself and the message they send.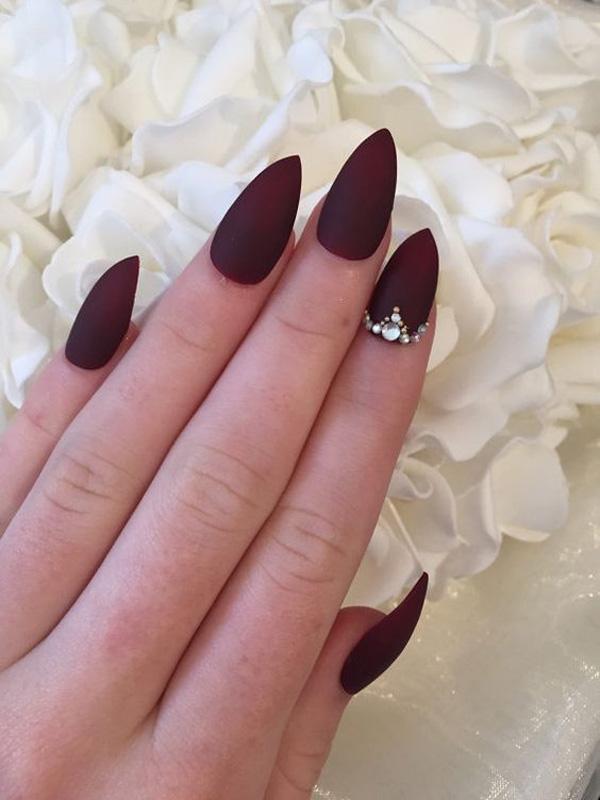 Royal.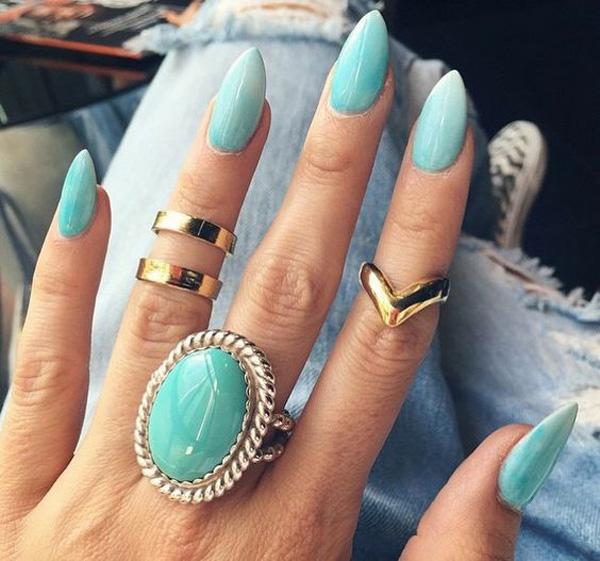 Professional ombre with a very nice done imperceptible transitions.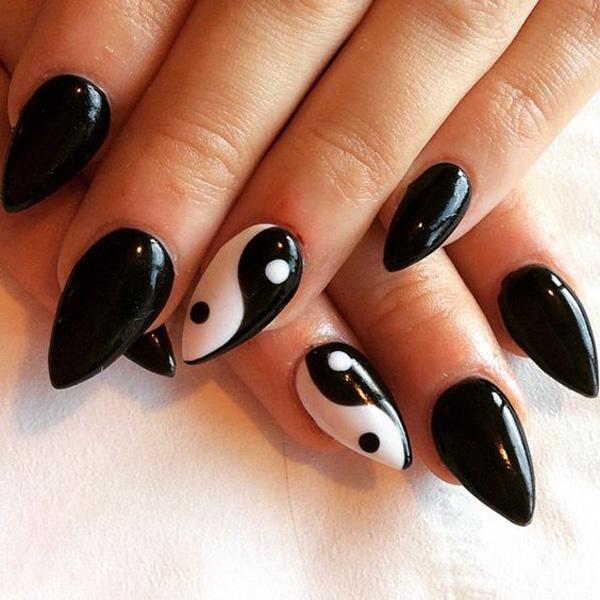 Zen nails – bold and interesting.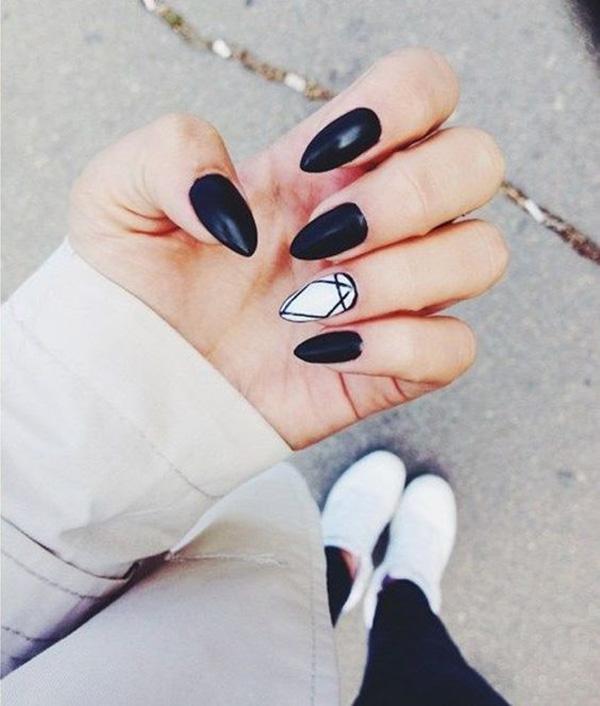 Mystical black and heavenly white, angel and devil in one manicure..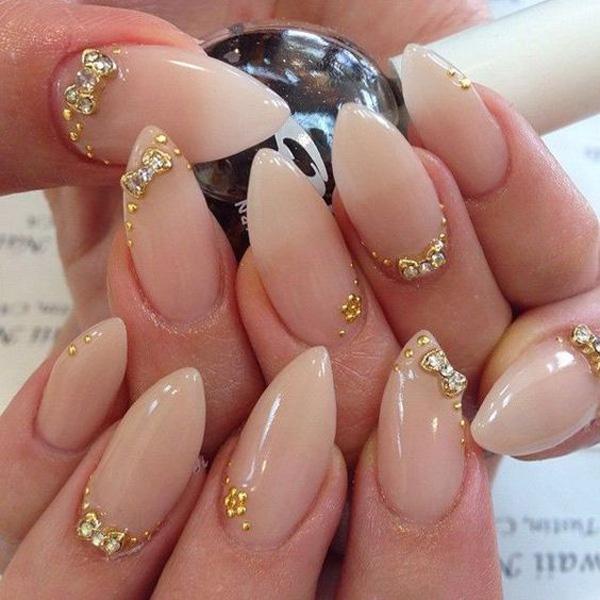 Daddy's little princess…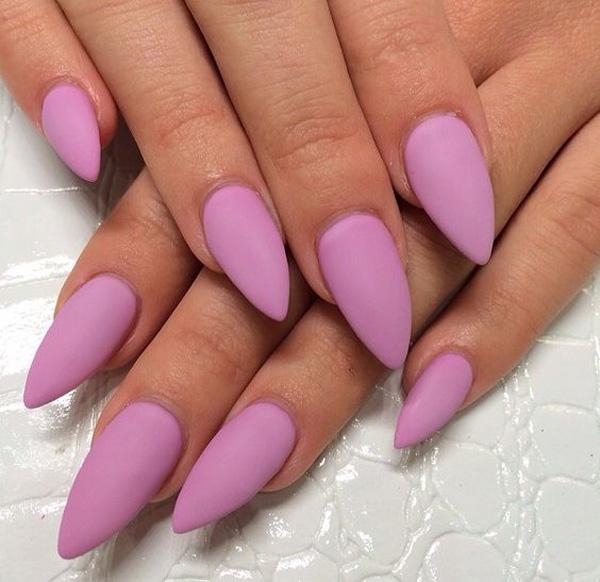 Simple, stylish and beautiful. Every other word would be superfluous.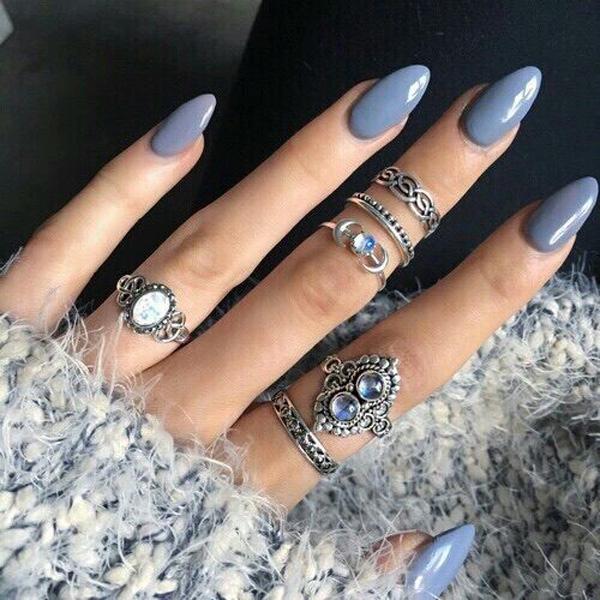 When you get bored of gentle pastel colors, select gray. This color will make your hands look cared.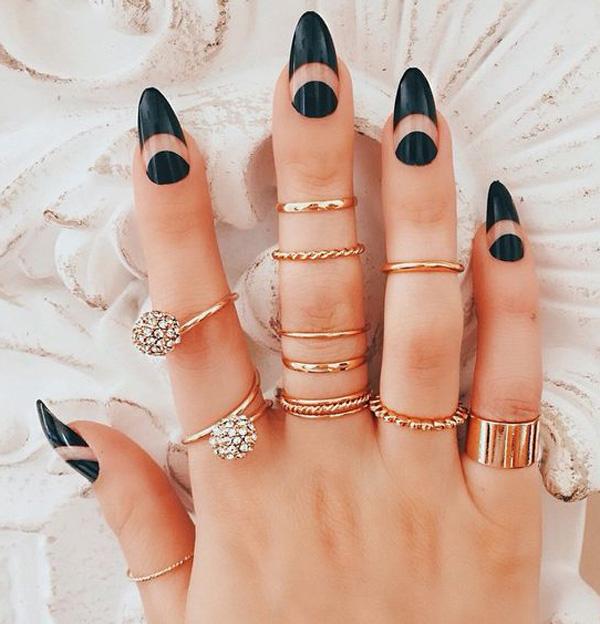 Another idea for painting nails in black.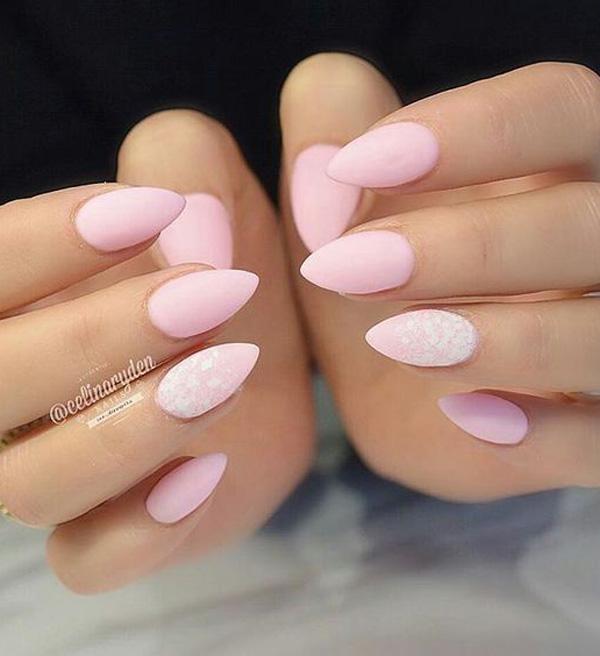 These gentle shades will make your hands look young and cared for.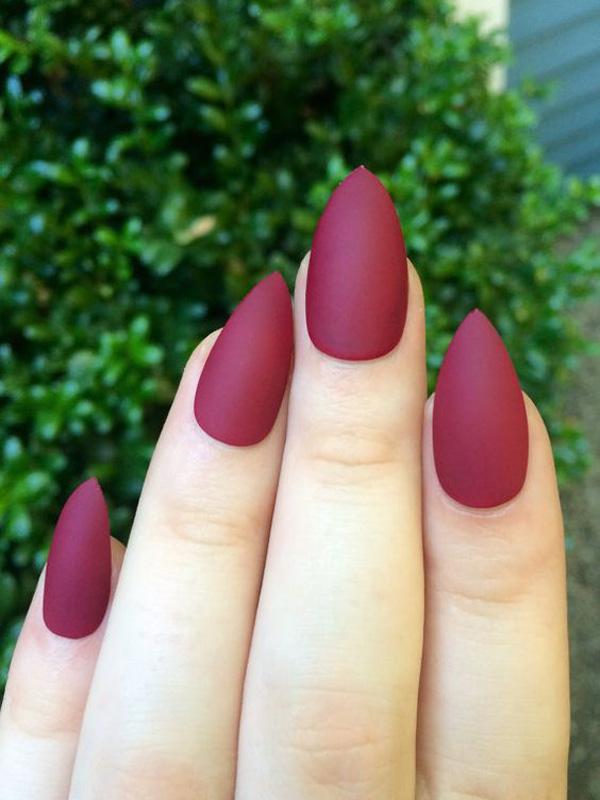 Purple red…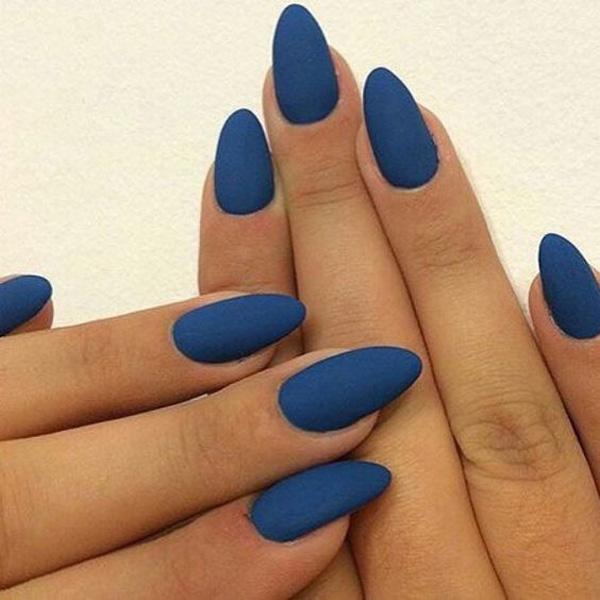 Chic color with which I personally would wear the dress in the same shade.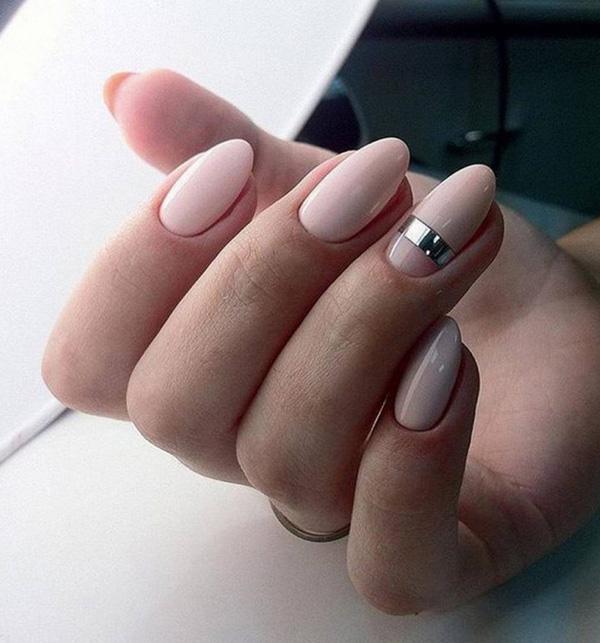 Simplified. For business woman with style.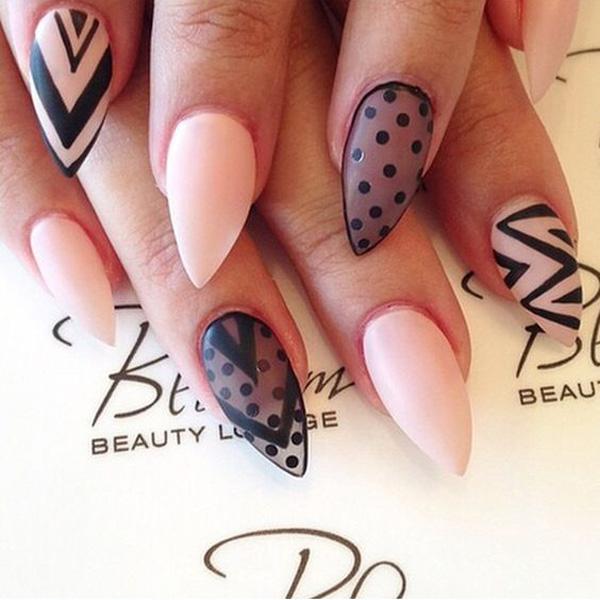 For major in school or college.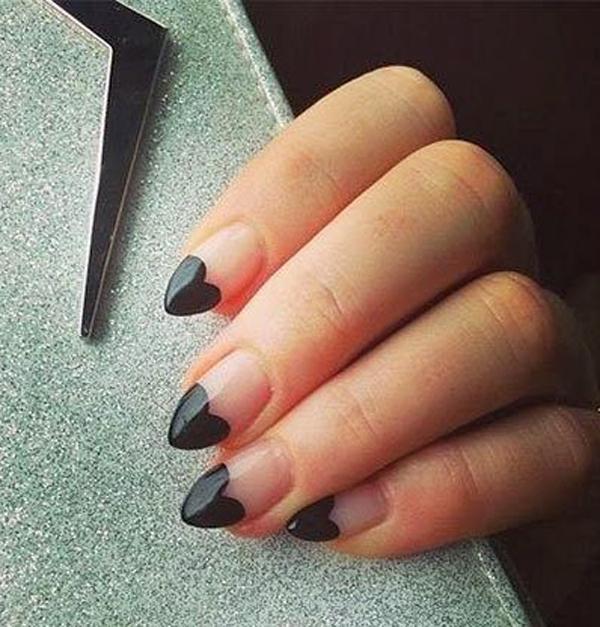 Soft vamp…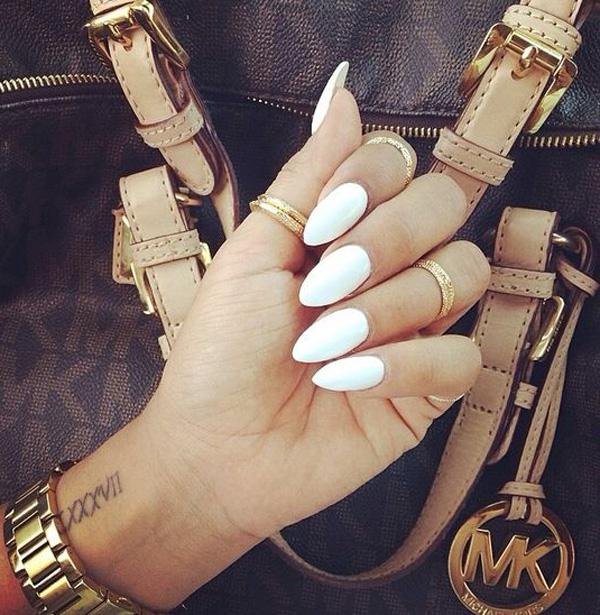 Effective rings and white colors on your nails can look really trendy.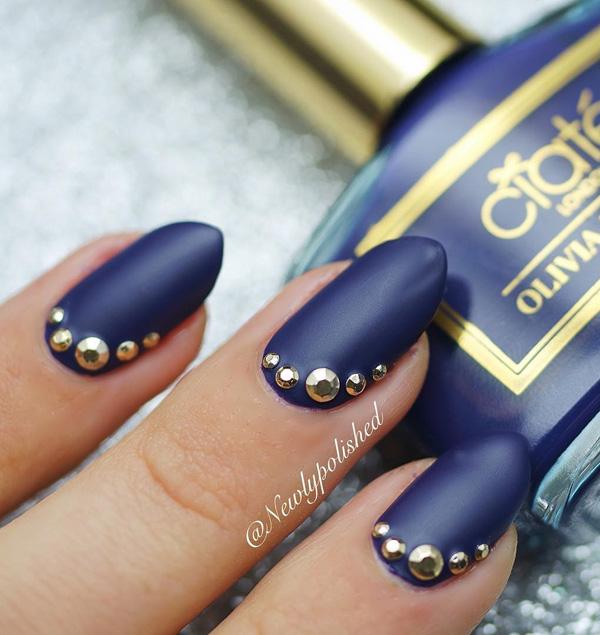 Royal blue color.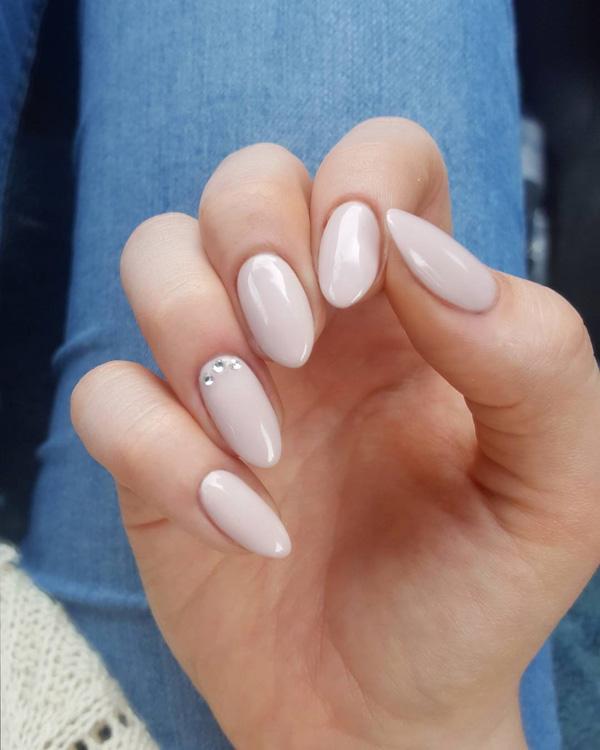 For festive occasions, choose this manicure.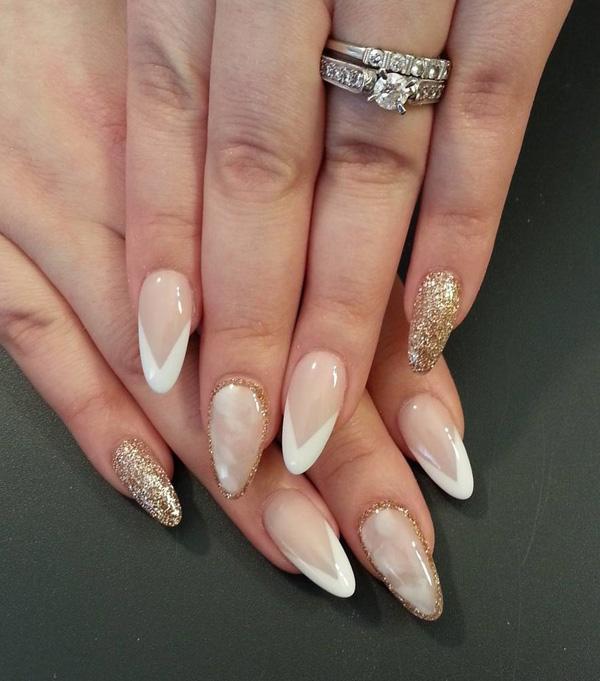 Seductive almond nails in such a gentle shades can be worn on any occasion.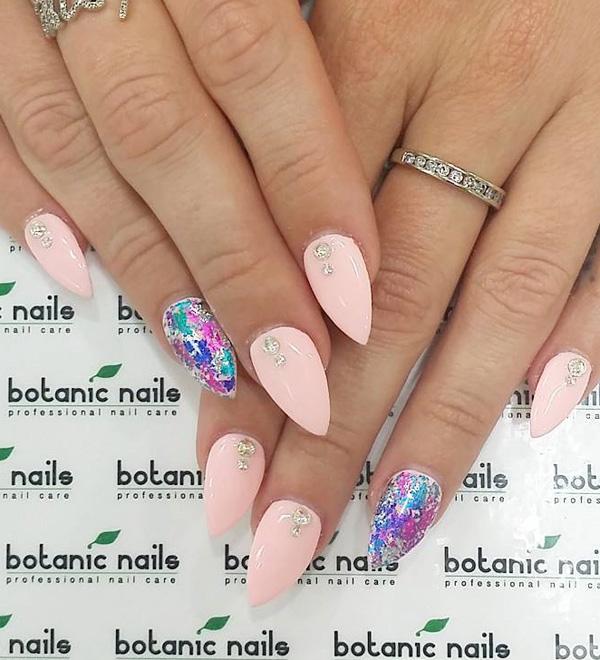 Onde nail with interesting pattern whole manicure makes even more beautiful.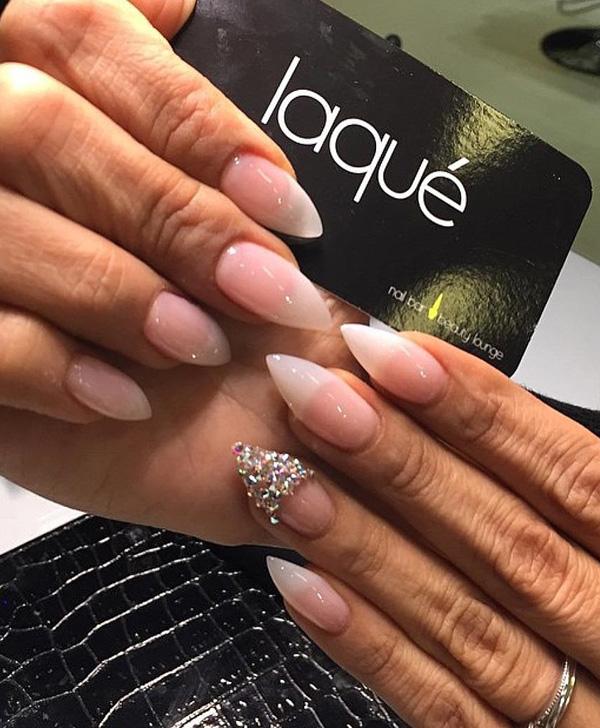 For seductress.