French tips are one of the most sophisticated and simple nails that can be done easily, with or without going to a salon. But like anything in fashion, it comes and goes. Now, there is another trend that is definitely going to be around for a long time; and it has every reason to be. It's simple, yes, but also fabulous and sophisticated. Plus it's something new and refreshing to the eyes of world so it would surely become one of the trends this year. What am I talking about? It's the Crescent Moon Nails.
So the French tip is usually when you paint a different color on your nail tips. Usually the base would be cream, pale pink or clear polish. Then the tip is usually in white though variations and styles have evolved playing with different colors and with different accessories. The Crescent Moon nail on the other hand, is quite similar to French tip, only you would accent the part that looks like the shape or known as the lunula.
The thing with the Crescent Moon Nails however is that it's not really necessary to follow the shape of your lunula. Rather, you'd be following the shape of your cuticles. Don't worry as we'd definitely have lots of inspiration down below.
Quick Tips on Transformation to Crescent Moon Nails
Just a quick tip to keep your nails ready. You would know the basics such as removing the old nail polish and keeping your fingernails clean. But here are a little bit more tips that could really help you.
Keep your nails hydrated. Frequent usage of nail polish remover could make your nails dry. So while your moisturizing your face and body, you can also add some on your nails. Or if you want, you can actually get cuticle moisturizers that will keep your nails looking healthy.
Get that base coat. There are various types of base coats you can get depending on your nail type. While some nails are normal and even healthy, some are actually brittle. Whatever your nail type is, always apply a single layer. It will definitely make your nail polish look better.
Wear rubber gloves. If you have to do the dishes later on, then be sure you have your rubber gloves on. Dishwashers and nail polish doesn't exactly have good relationship together.
Nail hardeners and calcium gels are your friends. To get stronger nails, nail hardeners and calcium gels are your allies. Use your preferred products regularly and in time, you'd see and feel the difference.
So now that you're ready and filled with useful information, we can get started with some inspirations for your initiation on the Crescent Moon Nail trend!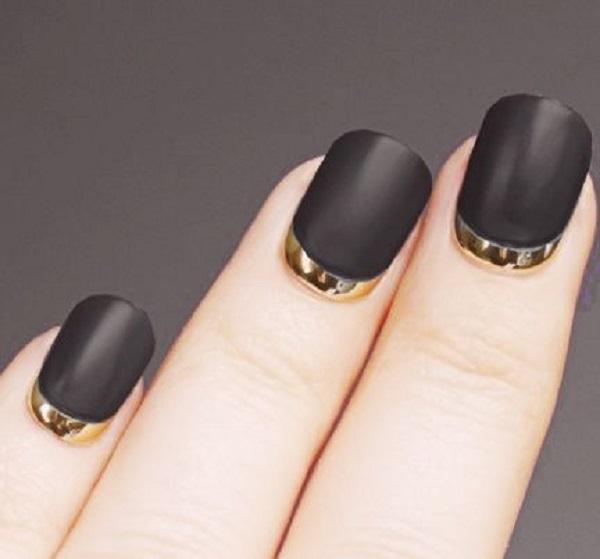 Black nail polish has always been very elegant. But if you make it a black matte nail polish and then a metallic gold crescent moon nail? You can walk the red carpet now.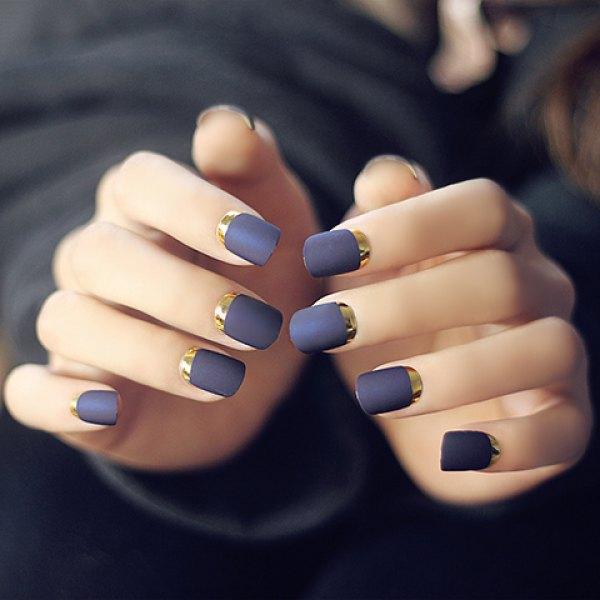 Deep purple matte nail polish for the base and some metallic gold under. It's a perfect match to keep everything simple and yet elegant. The metallic gold gives the look a little "kick" just to make it playful.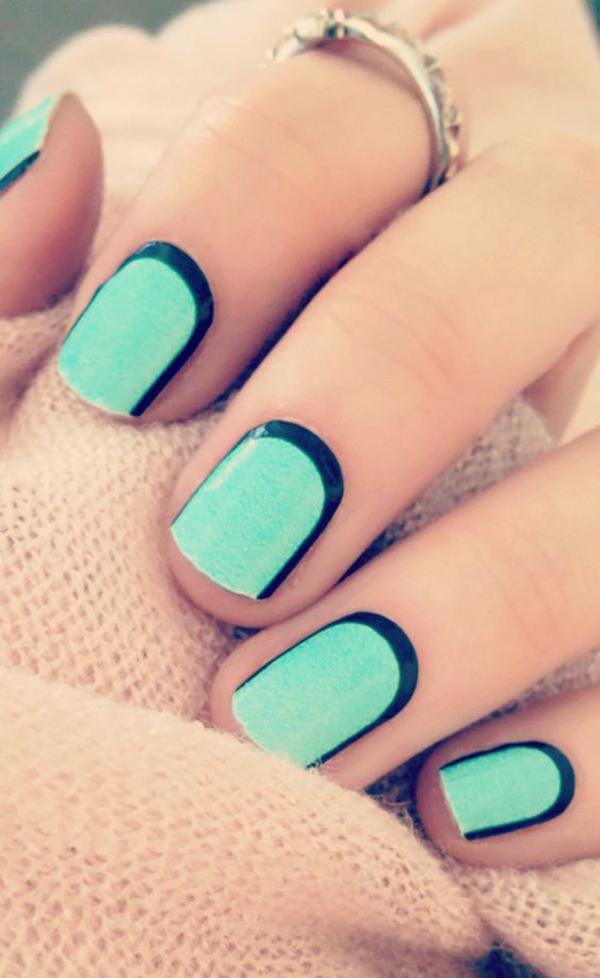 Get a lighter green nail polish and then match it with a black crescent moon accent that borders the green nail polish. It's an exciting match and yet very soothing to eyes. It's perfect for casual outfits and strolls on the park.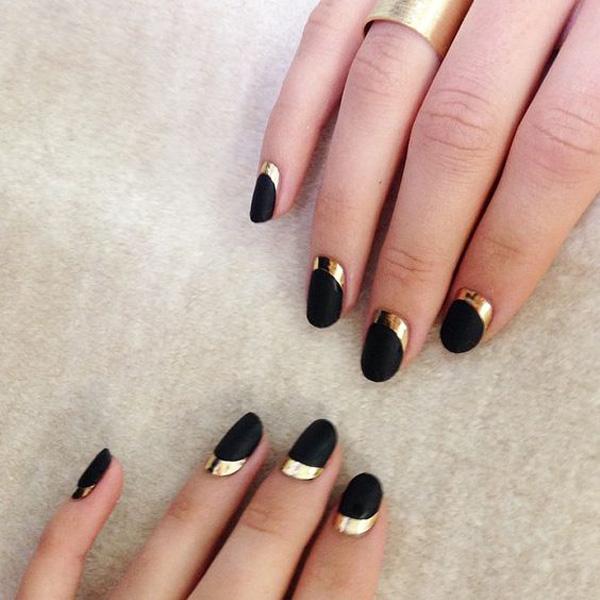 Depending on your nail length, you can make the gold crescent moon thicker as it could add a playful vibe to it.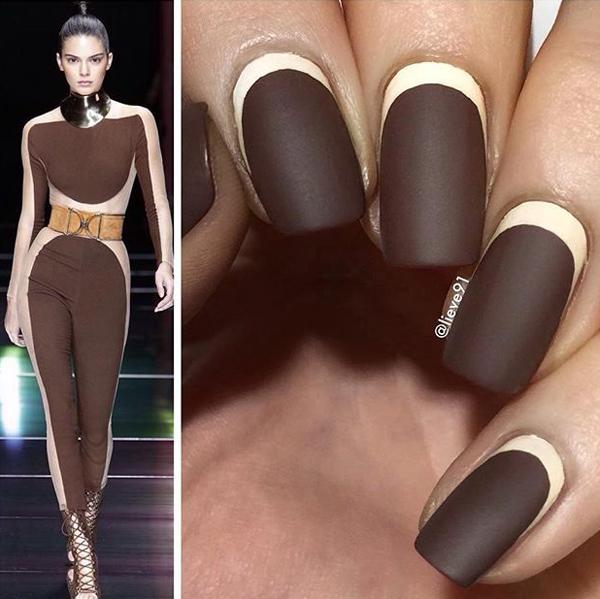 Deep brown matter nails is perfect. But to make it even better, add a cream crescent moon around the nail. It's kind of inspired by this runway look of Kendall Jenner.
Now it's time to be really playful and artsy. Alternate some nail art ideas on your fingers and have a playful crescent moon nail by perfectly dividing it into silver glitters and a plain cyan, aquamarine or turquoise nail polish.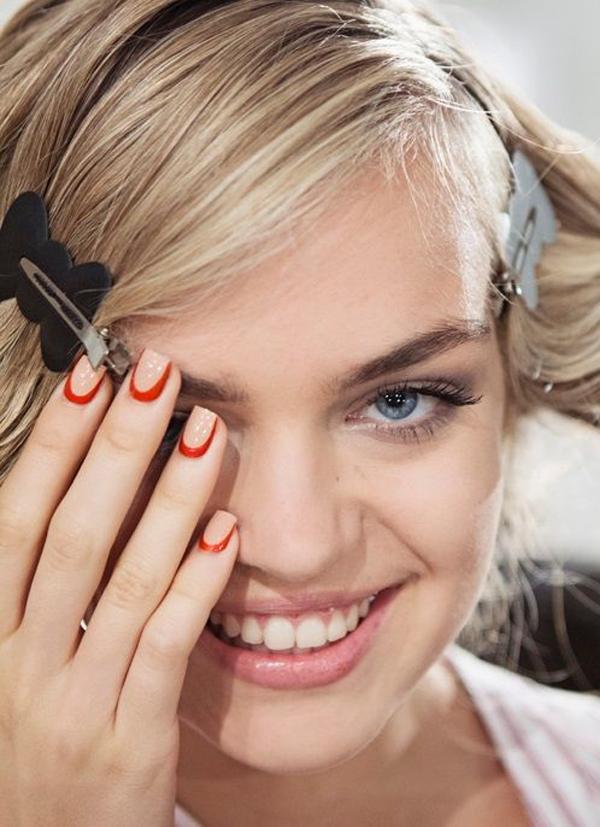 Be a little more sassy with this cream and orange nail polish. Cream would be the base and then have an orange crescent moon nail. Remember to draw it around the nail; thicker under and then thinner when it gets near the bottom just to get U-shape which looks good.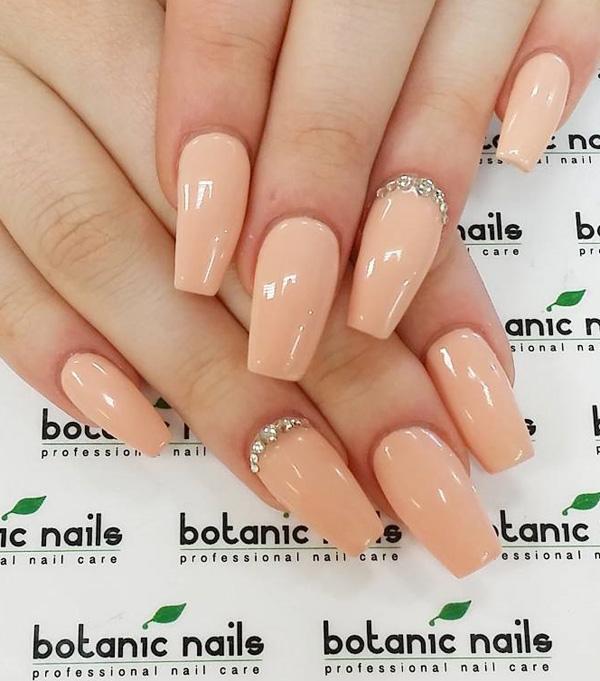 Sometimes it doesn't really have to be that difficult or you don't need two different colors (especially when you only have one nail polish or what you own doesn't combine well with others). You can simply have one nail polish and then accent your lunula with diamonds. It doesn't even have to be with all fingers.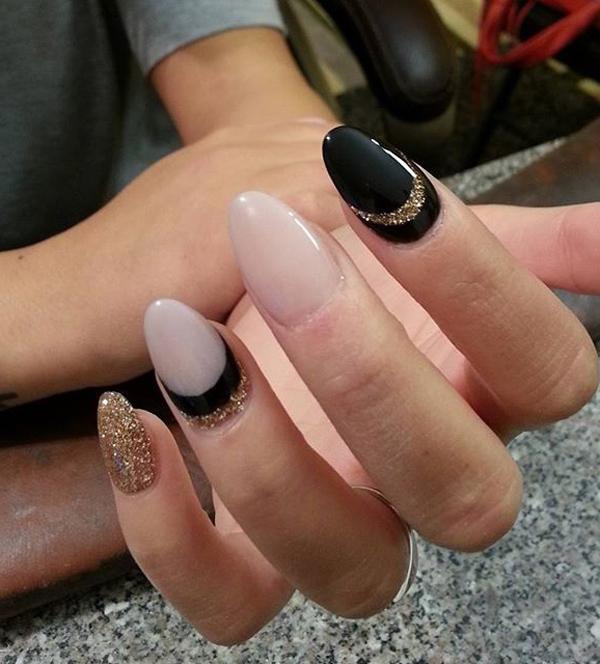 This one is more on the challenging nail arts but it doesn't mean you can't get this look. It's easier if you have more experience with nail art. You can layer three nail polishes on crescent moon nail idea through the help of stencils.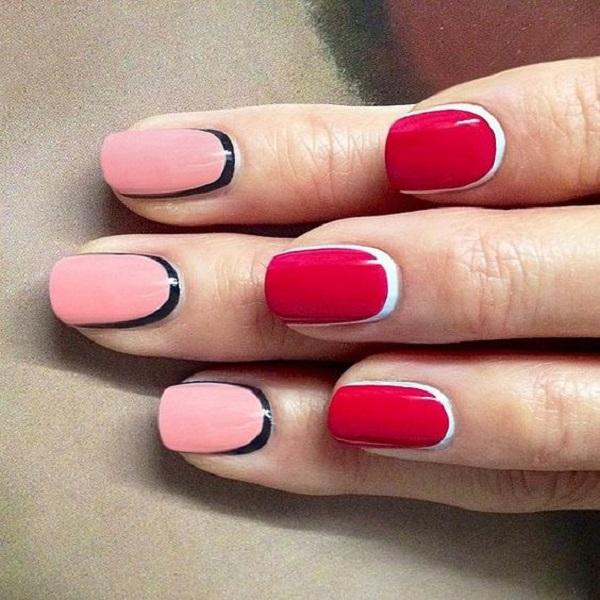 Pink can be too girly while red can be too mature. You can play with these colors to be more casual and fun by adding crescent moon nails. For pale pink, you can match it with black while you can partner white with red.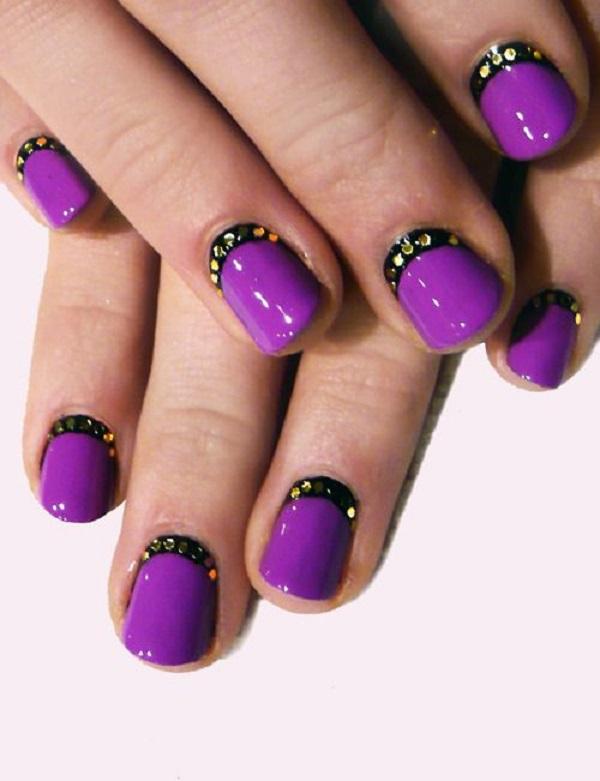 Violet and black is definitely a great combination but it can look too dark especially on nails. So to brighten it up a bit, you could always accentuate it with rhinestones.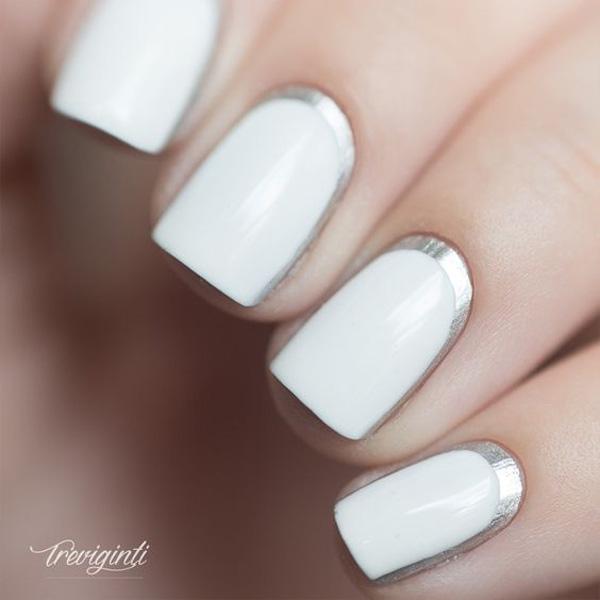 This one is really gorgeous and is perfect for any kind of formal events like weddings. White could be so plain but matching it with thin silver line on the crescent moon around the nail would transform into something breathtakingly beautiful.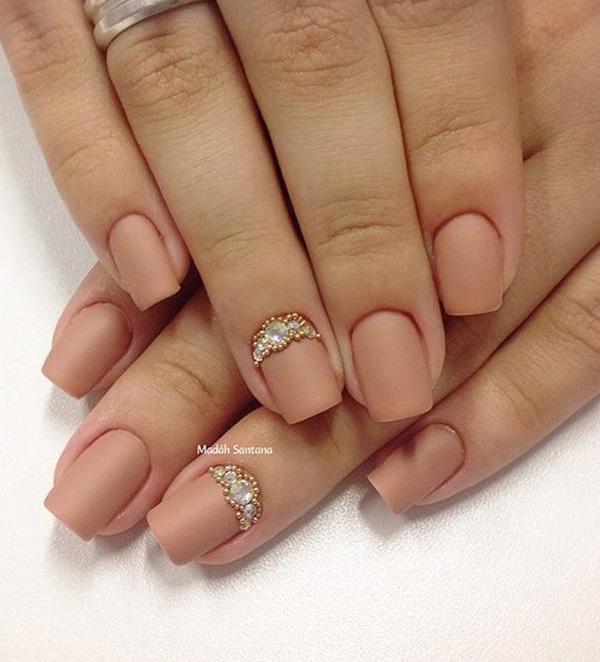 Matte nude nail polishes could transform into boring to fabulous by putting diamonds and small beads. It's really sweet and perfect for formal date nights.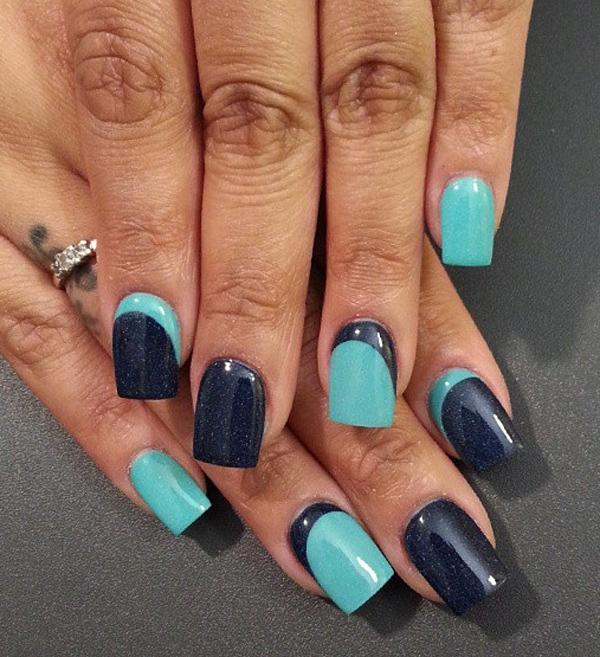 Have the day and night sky in your fingernails. You can choose sky blue nail polish and deep blue with glitters for the nail polish and alternate the design. Unlike the previous crescent moon designs though, this one only goes halfway to one side so it's alright to make it thicker.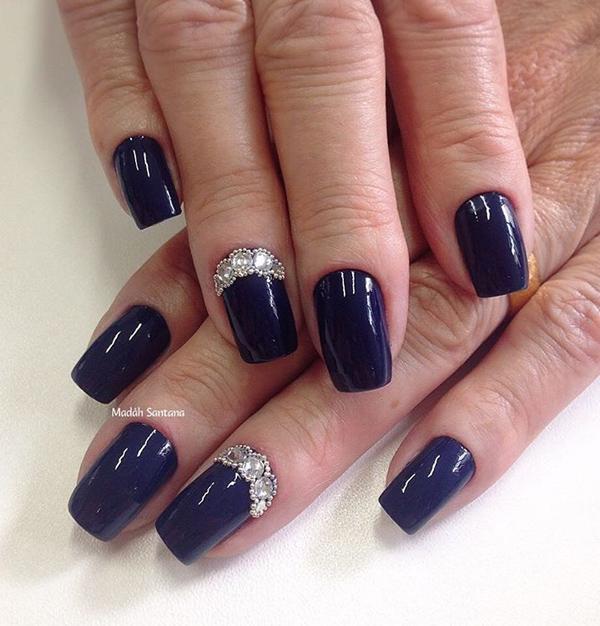 Midnight blue can look extremely good on your nails and alone, it would be good for any kind of occasions. But if you want to make it extra special, place some diamonds on one nail for each hand so you won't overdo the design.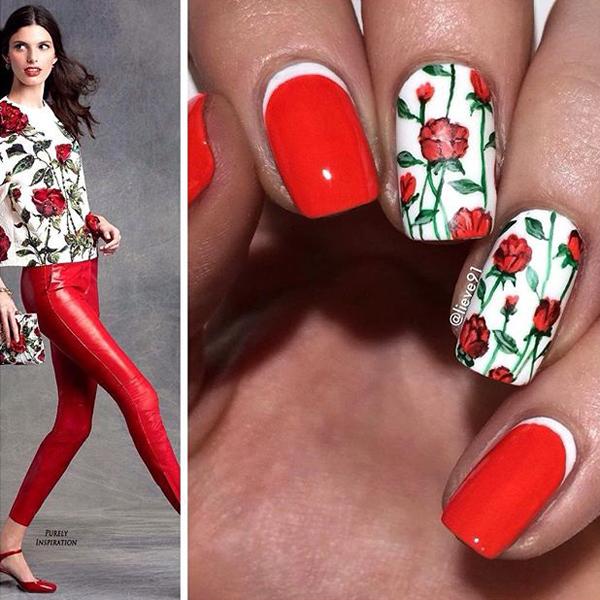 Here's another one that's inspired by another outfit. Get your rose nail art done together with a red and white crescent moon nail so it won't look too messy. It's chic and you can definitely have it anytime.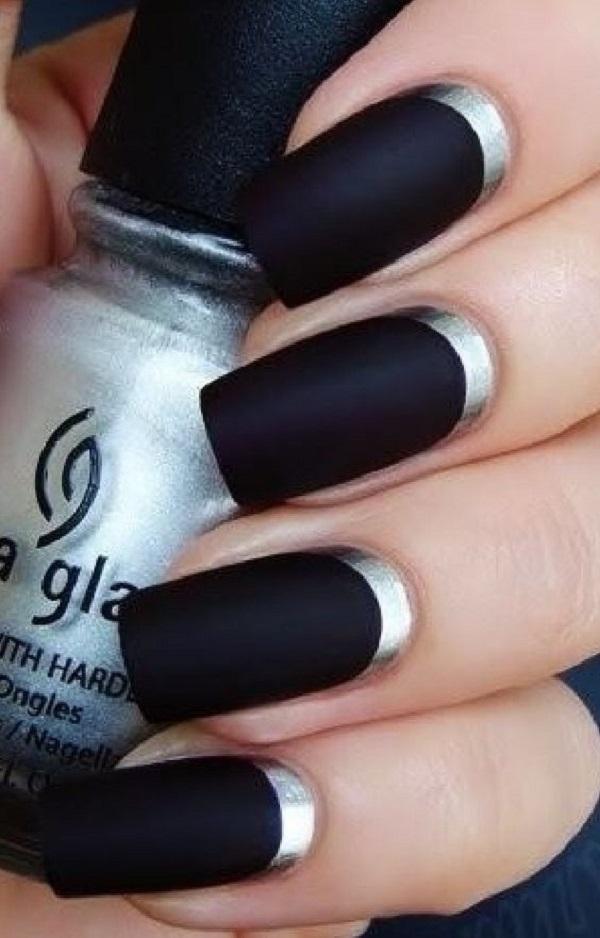 If you want that black matte nail polish but think that gold is a little bit over the top, you can turn to a silver nail polish. It still fancy but in a way that won't be too much to look at.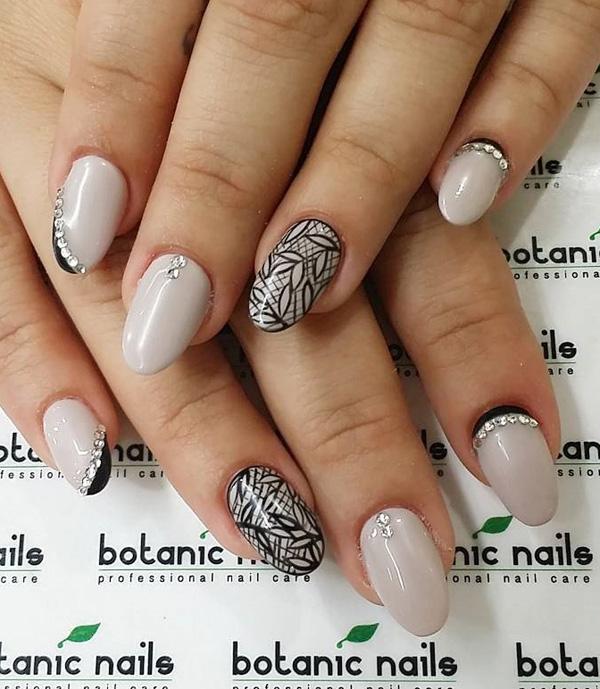 Nail arts are amazing since you can have various designs for each finger. You can now join a crescent moon nail together with some designs like french tips, full nail art or a simple one with diamond design.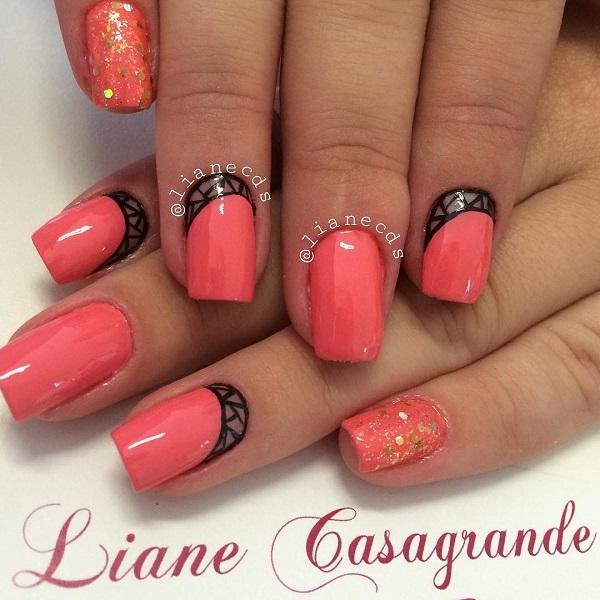 This one mixes simplicity and designs together. Instead of filling in your crescent moon nail with color, you can create lines and patterns to make it look more artistic.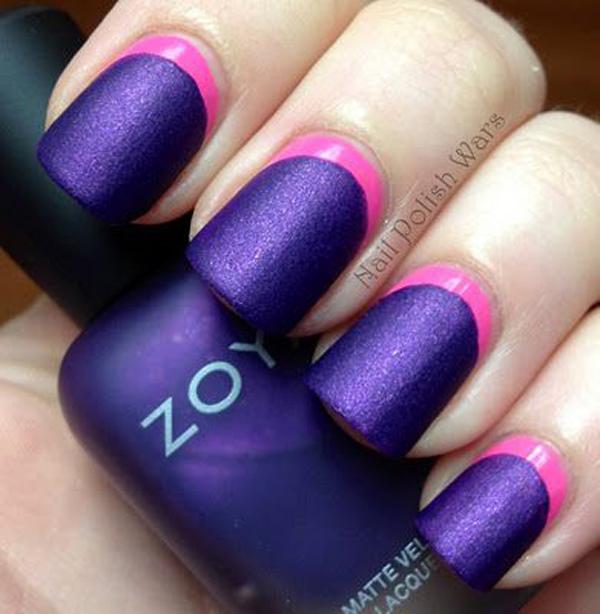 Matte nail polishes are the best in any kind of look you want to rock. And it's especially good to look at when partnered with a suitable color in a crescent moon design. Here, it's a violet matte nail polish and pink crescent moon.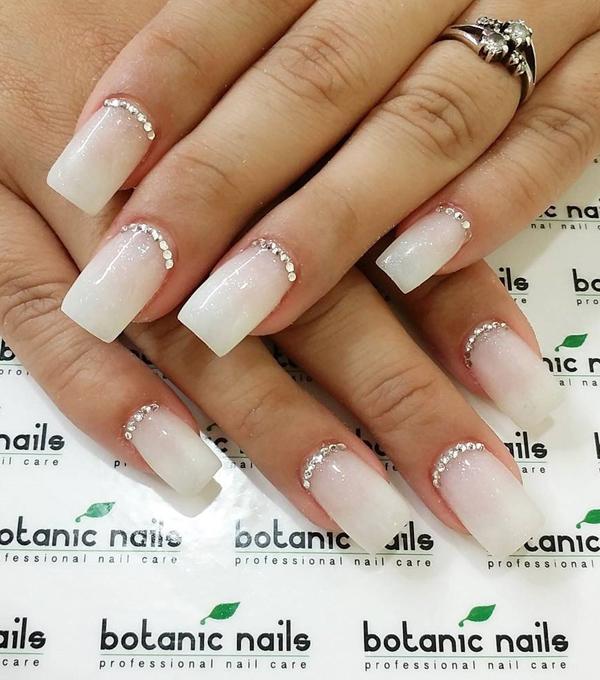 If you don't have a nice and lengthy nail, you can always get false nails and then to make it look more elegant, place some diamond crescent moon nails. It's simple but definitely stunning.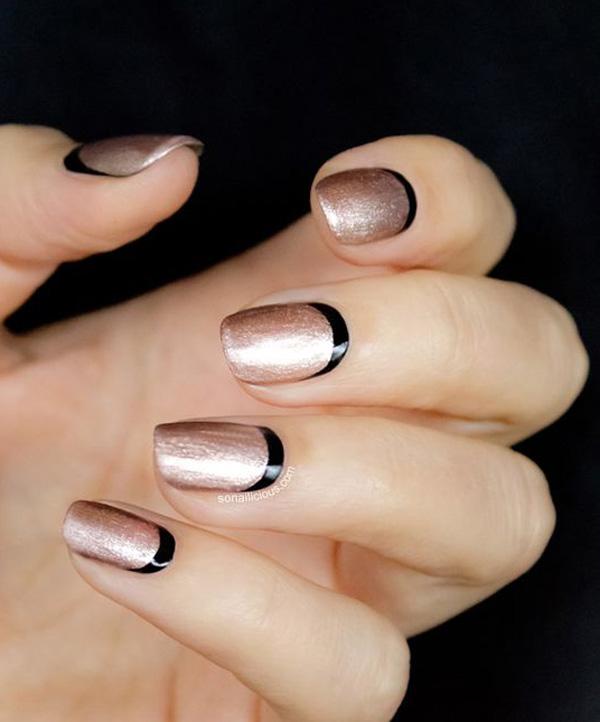 Black and gold has proven to be a great pair for this design. So here's an alternative for the combo where the base is the gold and the crescent moon nail is black. Enjoy this variation for more formal parties.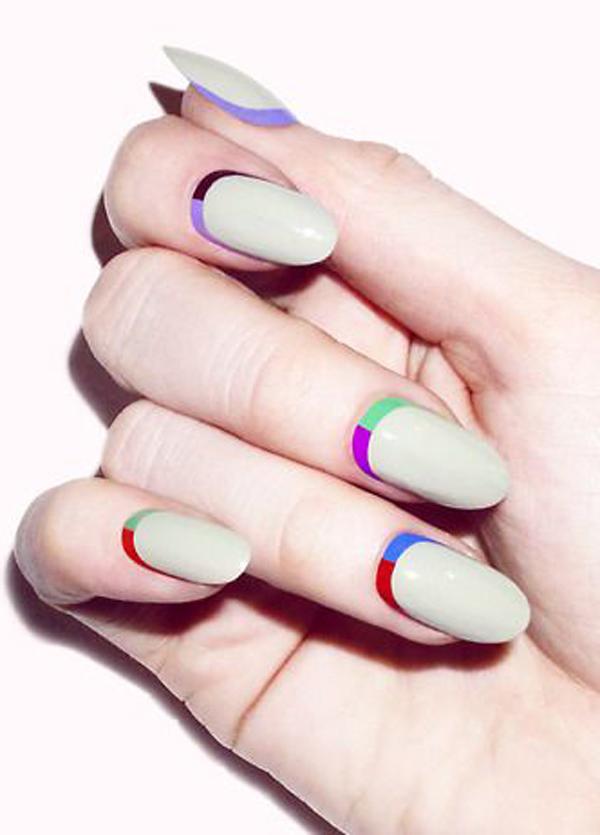 White can be simple but with these colorful crescent moon nails, it will be difficult not to love it. Here, the crescent moon nails are consisted of two colors perfectly divided in the middle. Be sure you get a good combination so it would pop out quite well.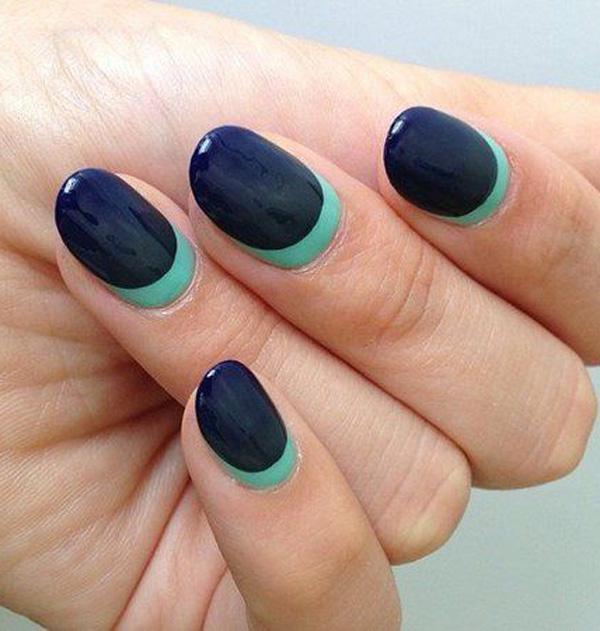 Dark colors are neutral so you can partner it with almost any color. Just be sure that the color you'll combine it to is lighter. Here's a navy base color with sea green crescent moon nails.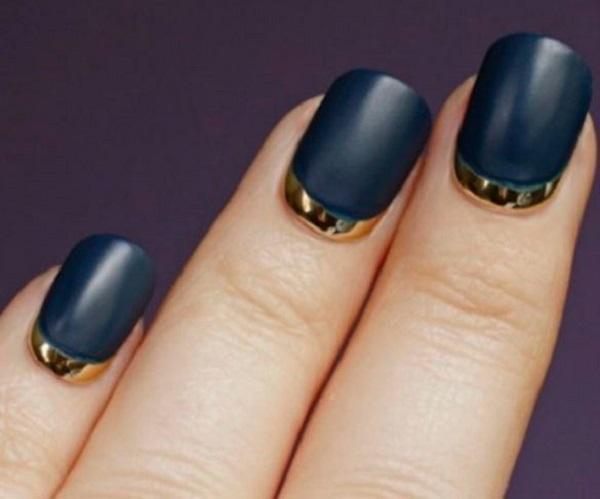 Here's another color that will go well with a navy blue nail polish in matte. The crescent moon nail design is in gold which is really glamorous.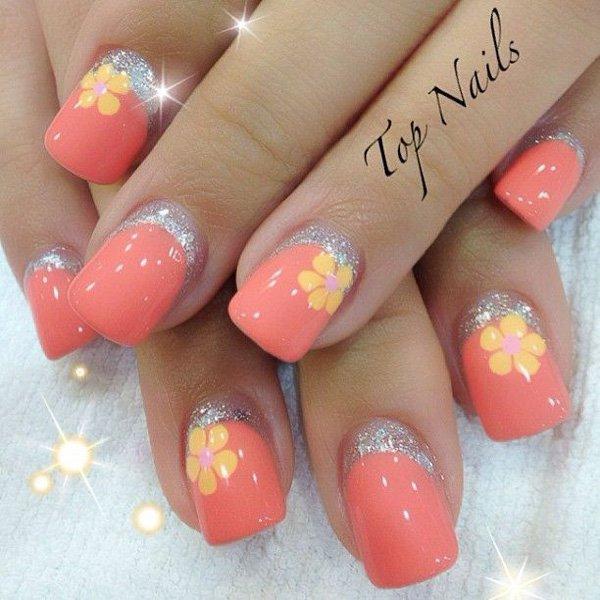 If you're more on the girly side, you can choose this nail art design. Base is peach with silver glitter crescent moon nail design and with little flowers to make it look more girly.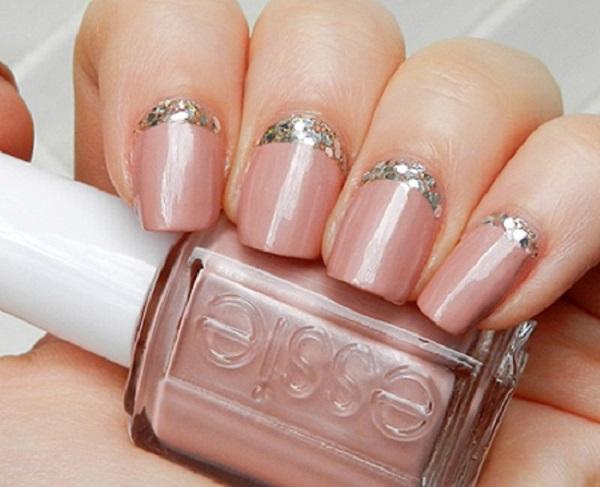 Bedazzling is not only for clothes or shoes, of course you can do it in your nails as well. If you have a rhinestone nail polish (it's usually a clear nail polish with bits of rhinestones in it), then this look can be easy to achieve. Partnering it with pale pick base makes it look like an effortless beauty.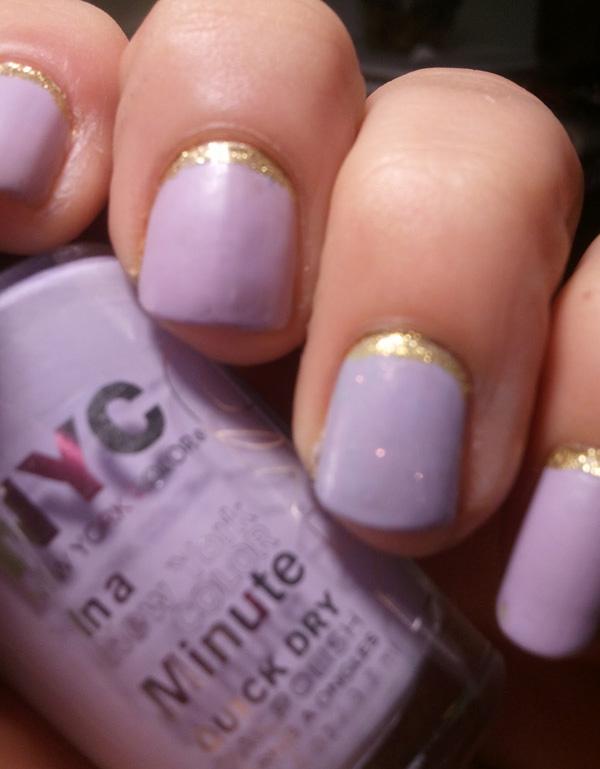 Here's another gold crescent moon example combined with a purple nail polish for an easy casual look.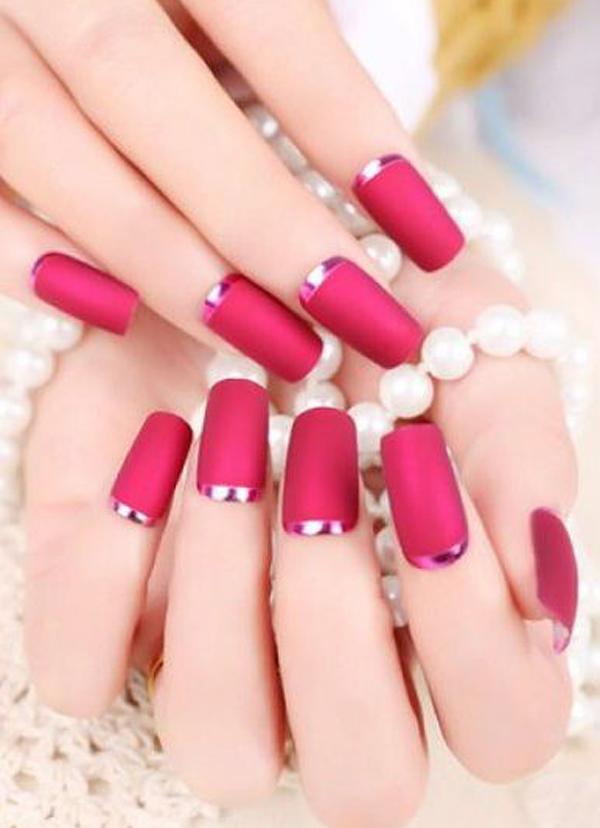 How can a hot pink nail get hotter? By combining it with a silver crescent moon nail. Definitely elegant and sexy.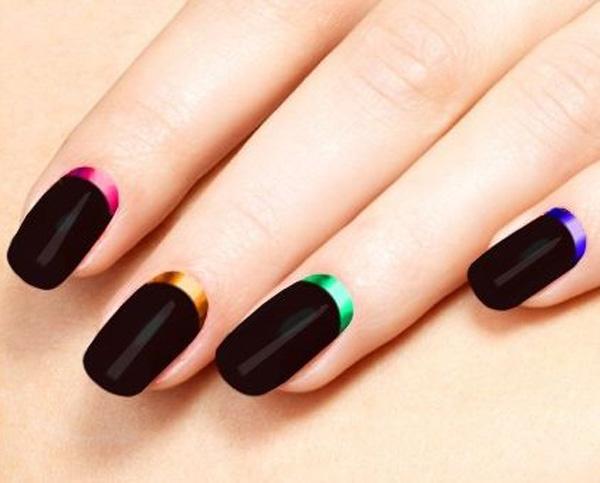 If you don't know which color you should use with your black base, you can simply choose them all. It's colorful but still really good to look at. It adds a bit of fun to an all black design.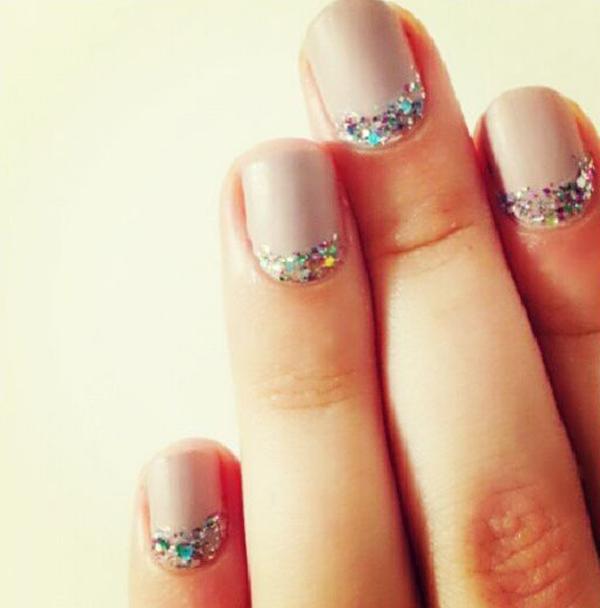 The key to using a rhinestone/glitter/diamond crescent moon nail is to keep the base simple. It would help make the crescent moon become a better accent to the nails.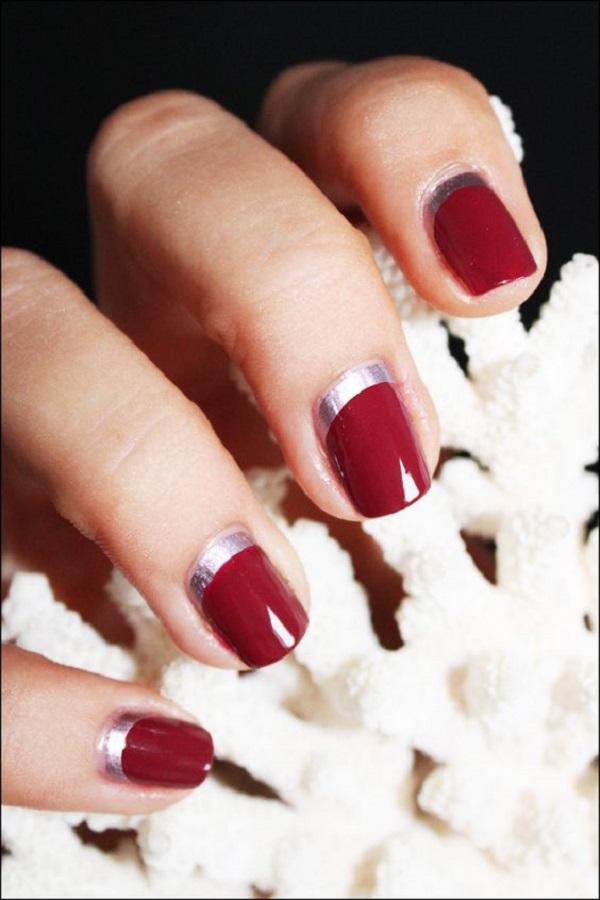 Red nail polishes are often too loud even for some parties. So to tone it down a bit while making your nails look better is to get a silver crescent moon nail.
Blue and black together could be regal. But matte black and blue diamonds can make it two times better.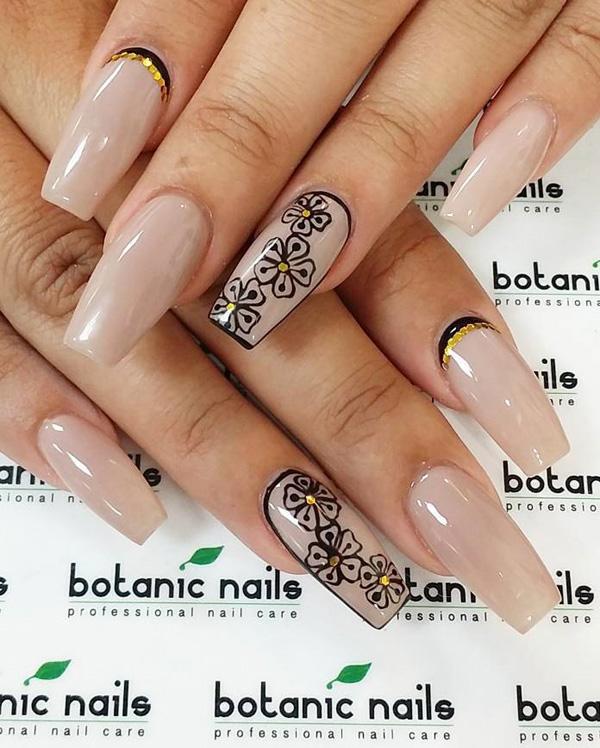 Fake nails might not really look that great without any design at all. That's why fake nails are usually accompanied by nail art materials to make it look better. In this example, nail art, think black crescent moon nails and gold rhinestones would make it a tad classier.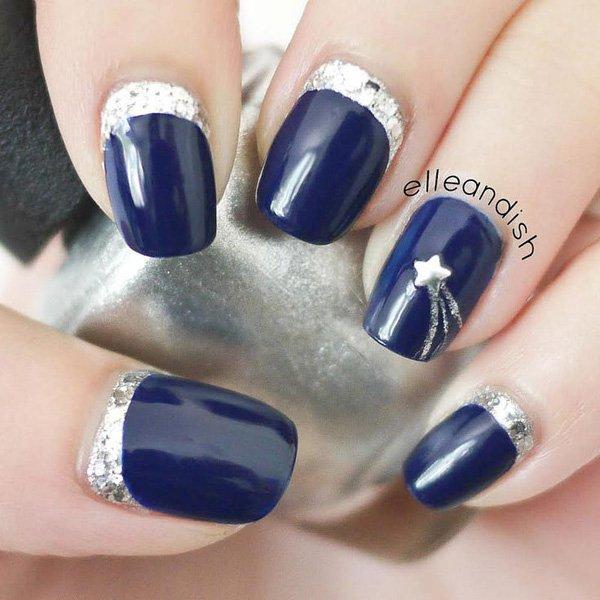 Metallic manicures could be too much to the eyes when it's plain. But you can use it as the crescent moon nail and a little design on your nails. The base could be any color but it would be much better if it's darker, like blue, to tone down its brightness.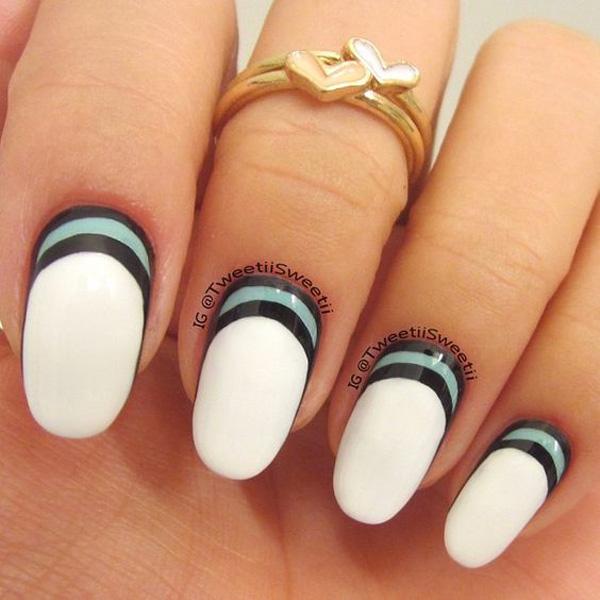 Making layers of crescent moon designs would make an artistic and yet simple nail art design. Especially when you use a simple white nail polish.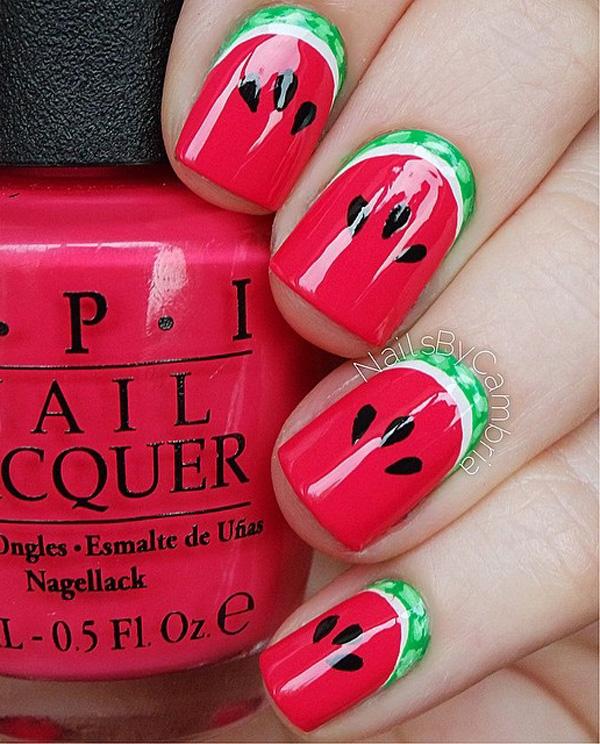 This watermelon design is funky and fun and definitely good for the summer. It's refreshing and crescent moon design is well combined with the entire look.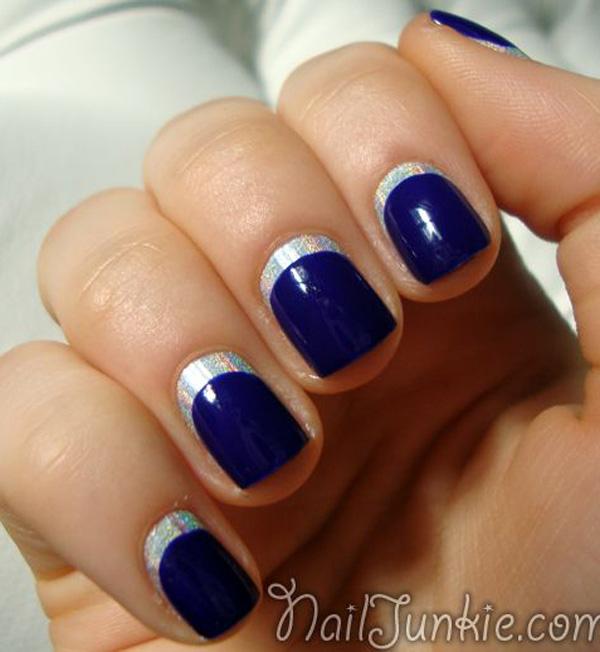 Silver is good with almost any combination and to prove that, here's a proof with blue nail polish.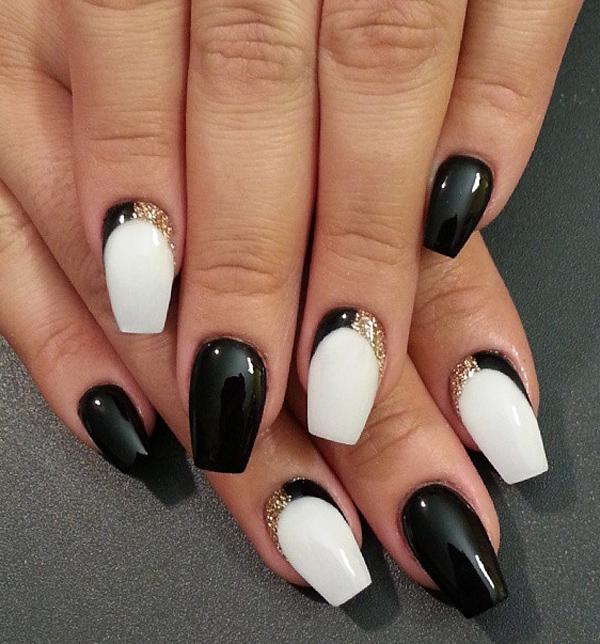 Black, white and gold. The three colors that would make anyone look classic and timeless.