Every new year dictates new trends when it comes to fashion, make-up, care, footwear, hairstyles and often, tattoos. But there are some things that are always fashionable. Tattoos are individual choices, and nobody can dictate to anyone what to paint on their bodies. People work tattoos according to their own feelings, their own emotions and desires. Everyone likes different things. The most important thing is to feel good in your skin. People do tattoos because of different reasons. Some are tattooed because they like these images of different designs on their skin, some hide some physical defect, and some want to immortalize an event, name, date, or something else that means them.
People who want to tattoo often want that their tattoo be unique. It's not a rare case that a person tells his / her life story to a tattoo master so that he can create the original tattoo, first on paper and then on the skin. Men especially like to have original tattoos, and also those who seem even a little bit dangerous. Ladies said in several surveys that worked some magazines, which tattoos on men they like the most and also like to wear it on their own bodies… Among those tattoos are Buddhist tattoos, tattoos with big shading, 3D tattoos, small but effective tattoos, compasses, those related to some events, heartbeats…
To be a tattoo master, you must be extremely creative and often incomprehensible. Unfortunately, and today, in 21. century, some people are very skeptical about those who have images on their bodies. As in the entire fashion industry and in the world of tattooing, old trends become past and new trends arrives all the time. Tattoos that are very interesting both to male and female sex, are 3D tattoos. These tattoos clearly show how far this "art" has been perfected and how much it has moderated. 3D tattoos create an optical illusion and give the impression of three dimensions.
Think carefully before tattooing what you will be tattooing and on what part of the body so you do not have to repent later. Carefully select the tattoo masters. If you are tattooing for the first time, you must visit the salon a couple days earlier. Ask everything you are interested in, it is your right. Do everything the tattoo master tells you in terms of preparing for tattooing and care about tattooed place after the all process. Be sure to pay attention on the hygiene in the salon. If you suspect hygiene in the salon for any reason, do not do a tattoo there. Your health is the most important. If the tattoo master does not take enough care of hygiene, it can endanger your health and can infect you with serious infections such as hepatitis B and C, HIV infection, tuberculosis… Health has no price.
Some of the most interesting tattoos in 2018 we prepared for you in the gallery. Tattooing is today art in which the picture is on a "human" canvas. Tattoos mostly have their story, and if you are looking for an inspiration for tattooing, you may find it in this gallery. We've reviewed a lot of pictures and these are some of the best according to us!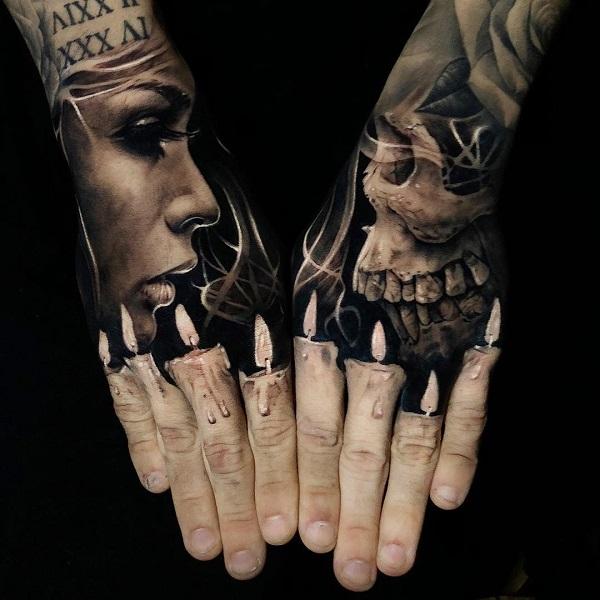 A creative 3D tattoo that simply can not be unnoticed.
Amazing 3D hand tattoo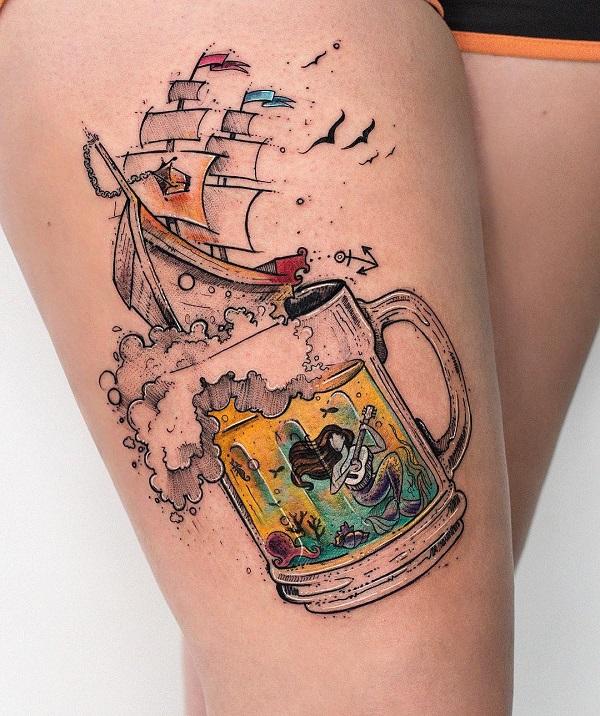 Those who love the sea and boat navigation will surely love this tattoo.
Mermaid in cup and boat thigh tattoo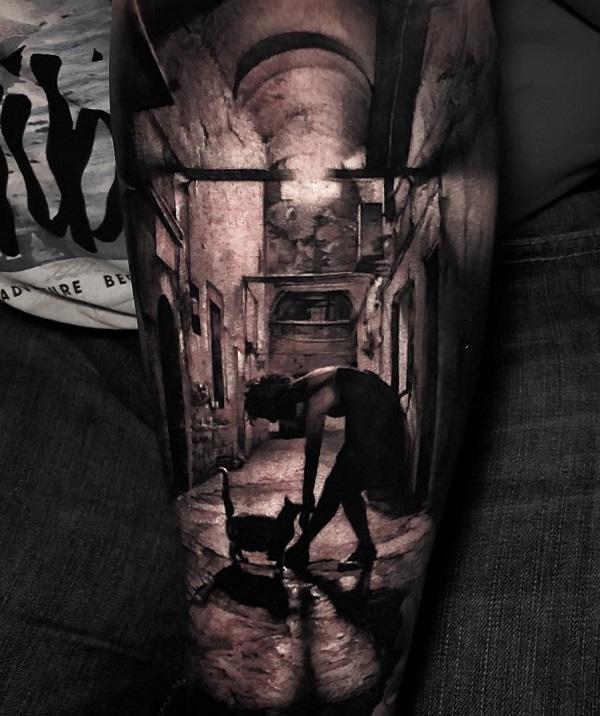 Another 3D tattoo that has depth. Mysterious and somewhat dark, it will nicely stand on both, woman's and man's hand.
Light and shadows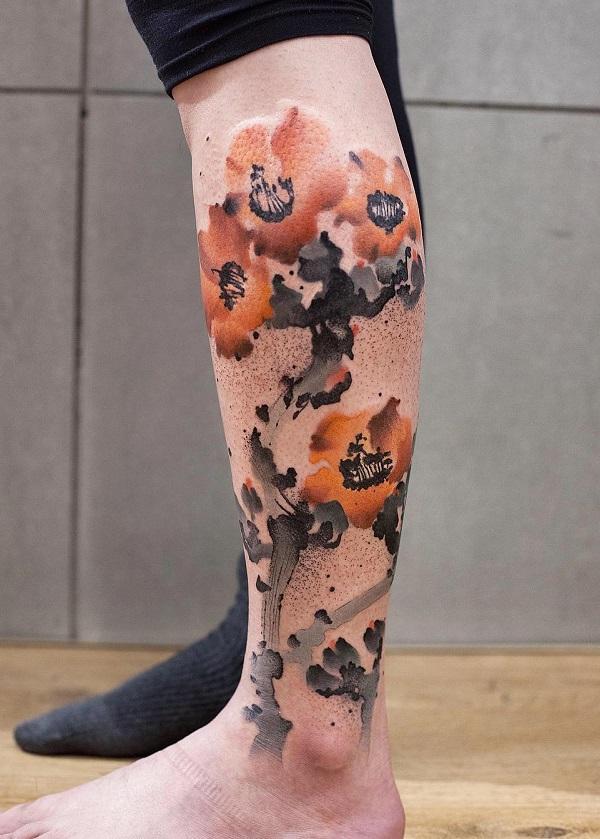 A little artwork on the body. Two shades – black, which is always popular, and dark orange to give a special seal to whole picture.
Kapok flower tattoo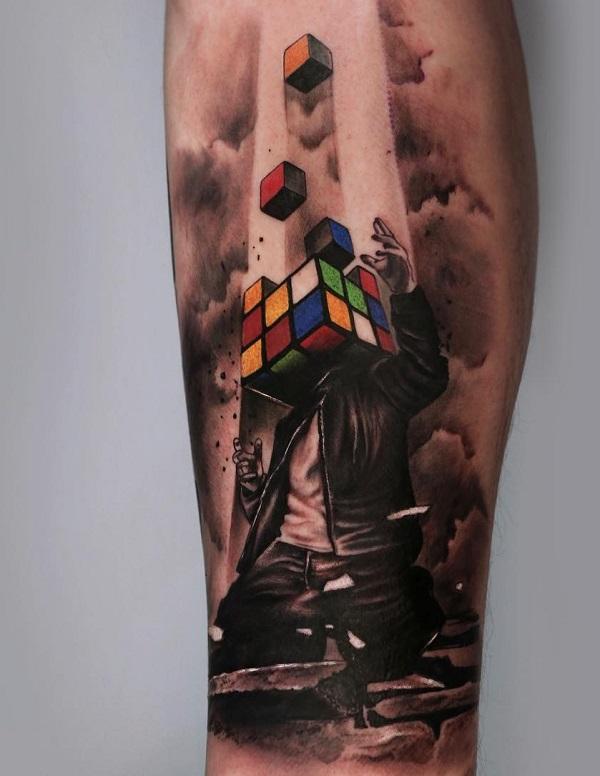 Geniuses with a high result on IQ test will be glad to take this tattoo.
Sleeve tattoo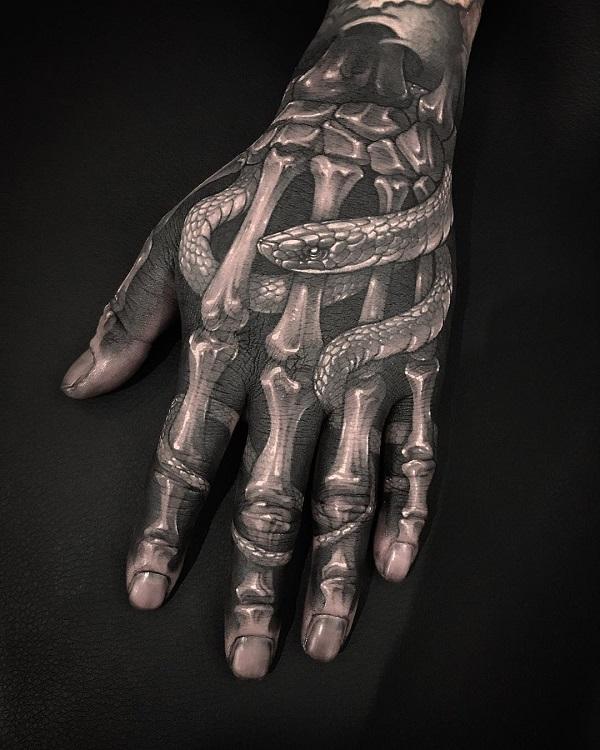 Today, it's hard to find someone on the street who does not have a tattoo. More and more people decide for this masterpieces on their bodies, whether it's a miniature tattoo or a tattoo over your entire arm, leg, back …
3D snake and skull hand tattoo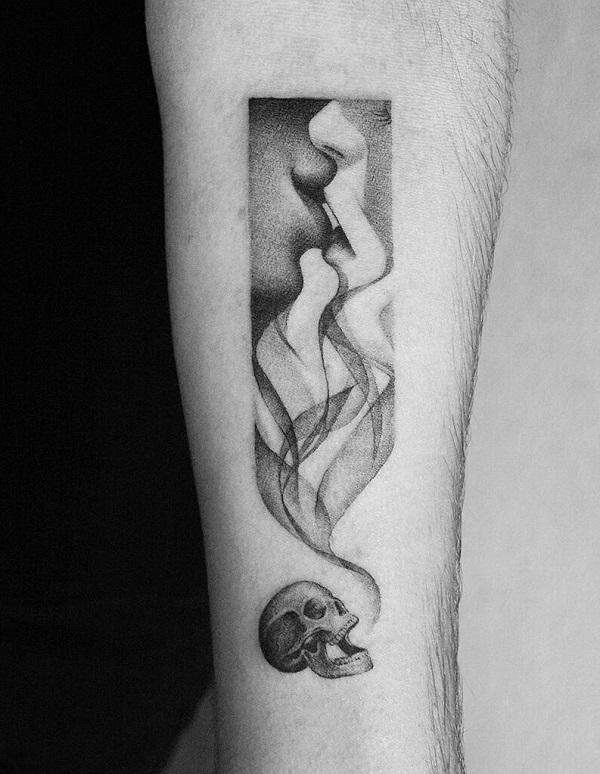 A romantic tattoo with a bit of sadness and darkness that enters the skull below the main picture.
Romantic sleeve tattoo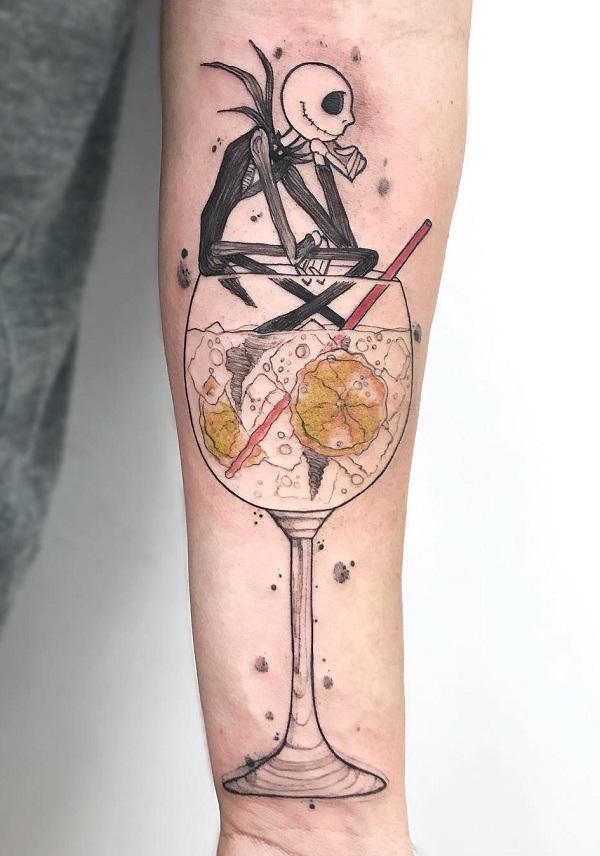 Some people do a tattoo because they want to be cool, but the tattoo should have a little more than that because it is something that will be with you and on you all your life.
Cool forearm tattoo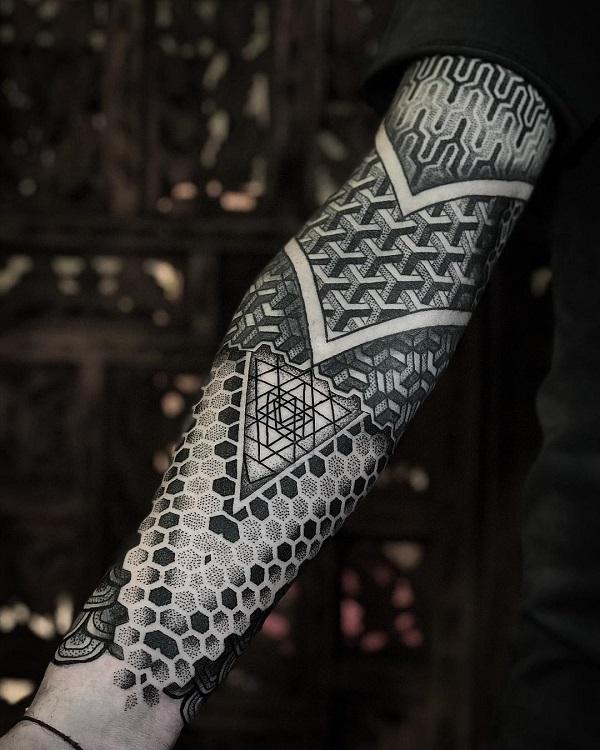 Some say that a tattoo may represent the character of a person who is wearing it.
Cool full sleeve tattoo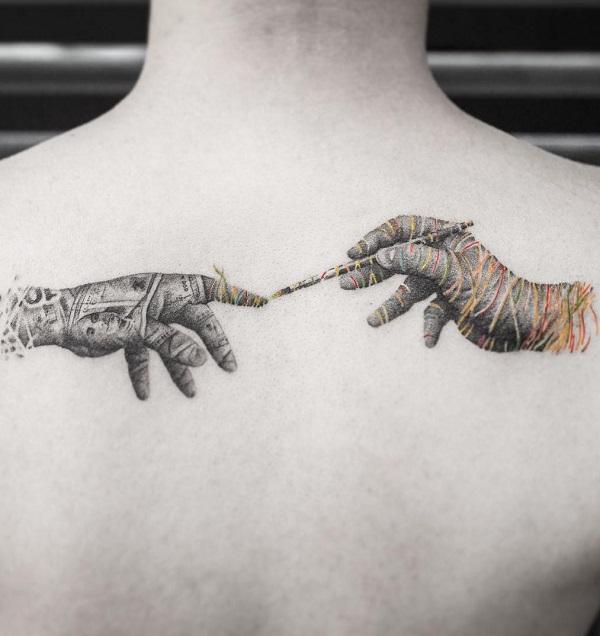 Many people who do not carry tattoos have a prejudice to those who love and carry them, what is completely wrong.
Cool hand tattoo on back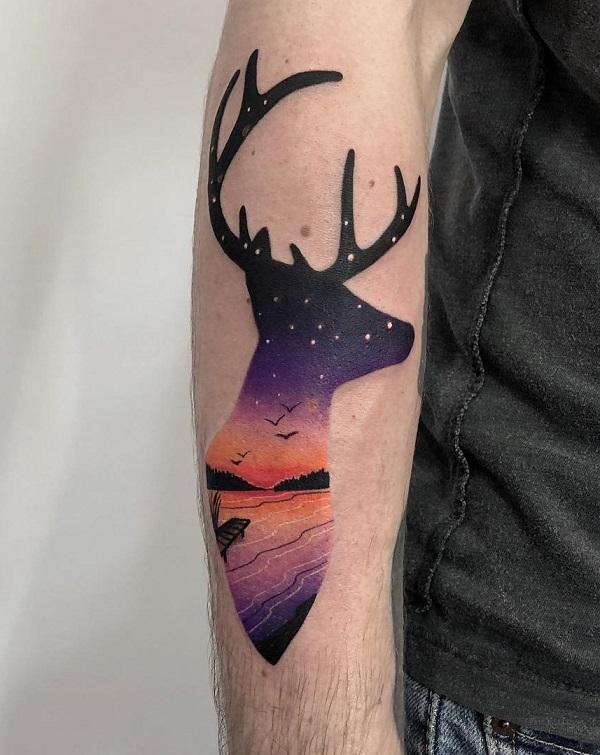 People who wear this kind of tattoos, or hearts, flowers and the like have a sense for aesthetics and decoration.
Deer tattoo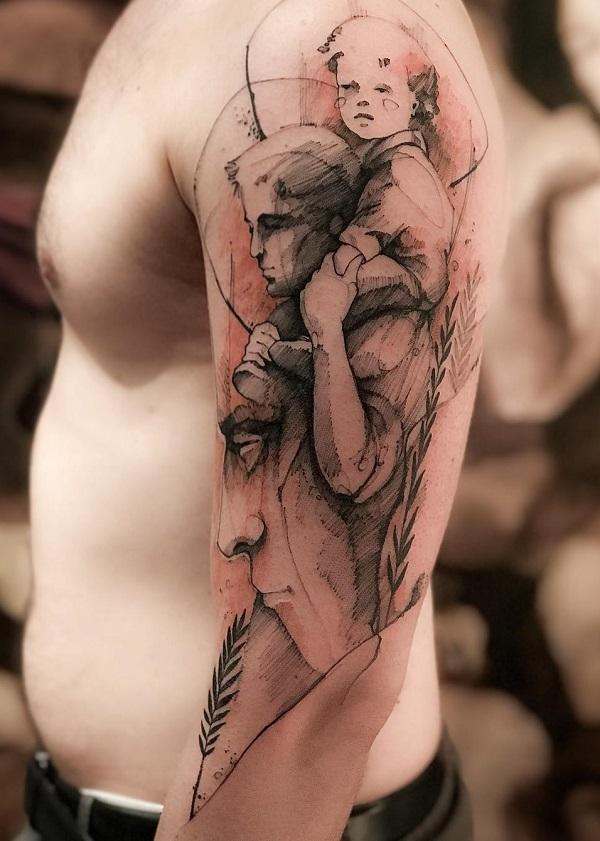 A wonderful tattoo that really can have a great message and significance for the one who decides for it. It is the person who cares of family roots and his family history.
Illustration style sleeve tattoo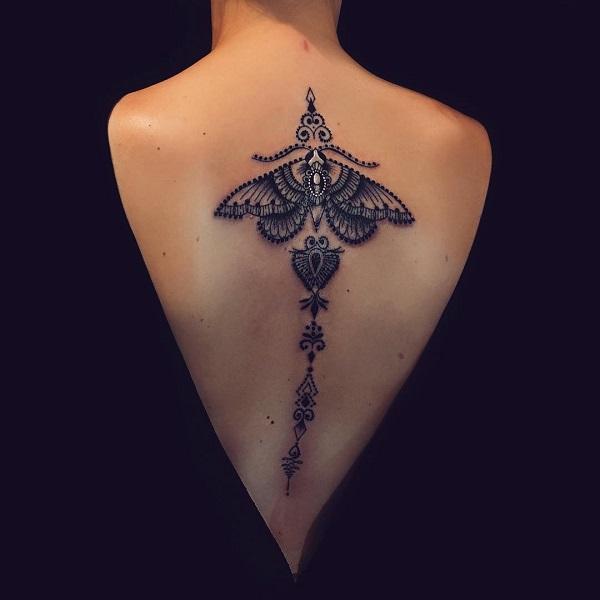 A purely decorative and (I need to admit) very sexy tattoo.
Embroidery style butterfly back tattoo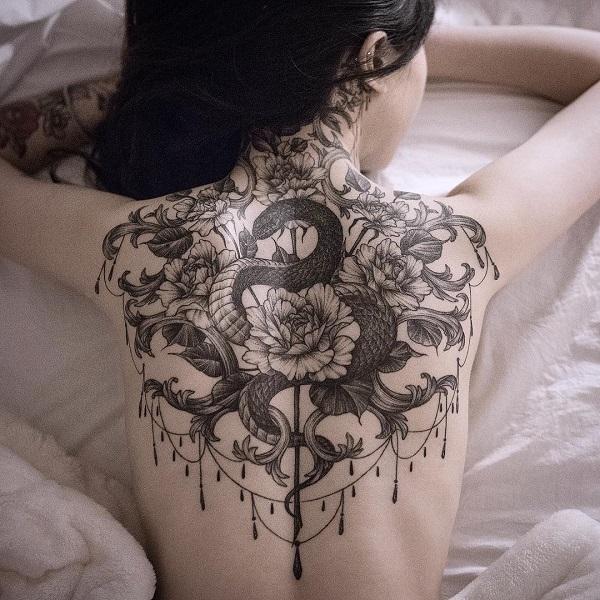 If you are carrying tattoo of a snake, you know that it has the symbolism of transformation, sexuality, magic, renewal, secrets, defense, protection…
Flower and snack back tattoo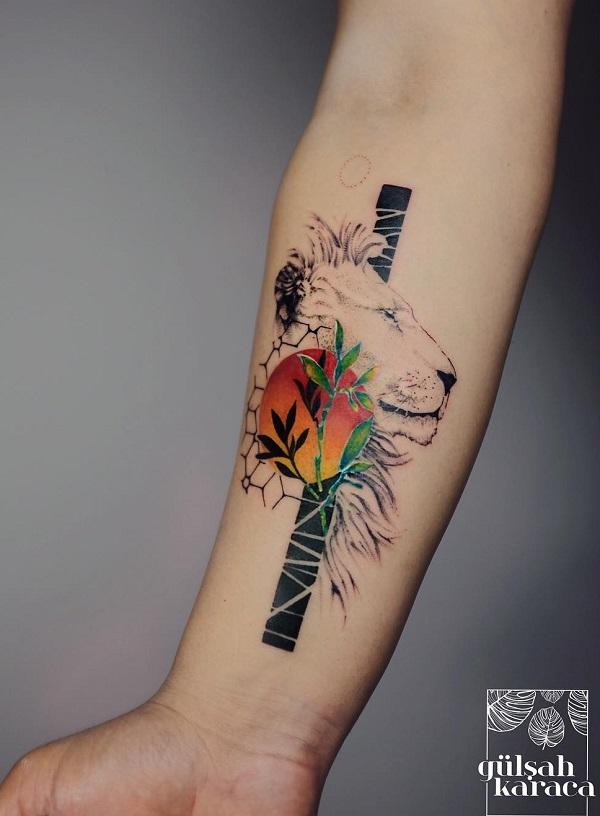 Rare are people who have never wished a tattoo on their body. Many unfortunately stay "it would be interesting" because they are not persistent enough or are not sufficiently informed about all the details.
Forearm tattoo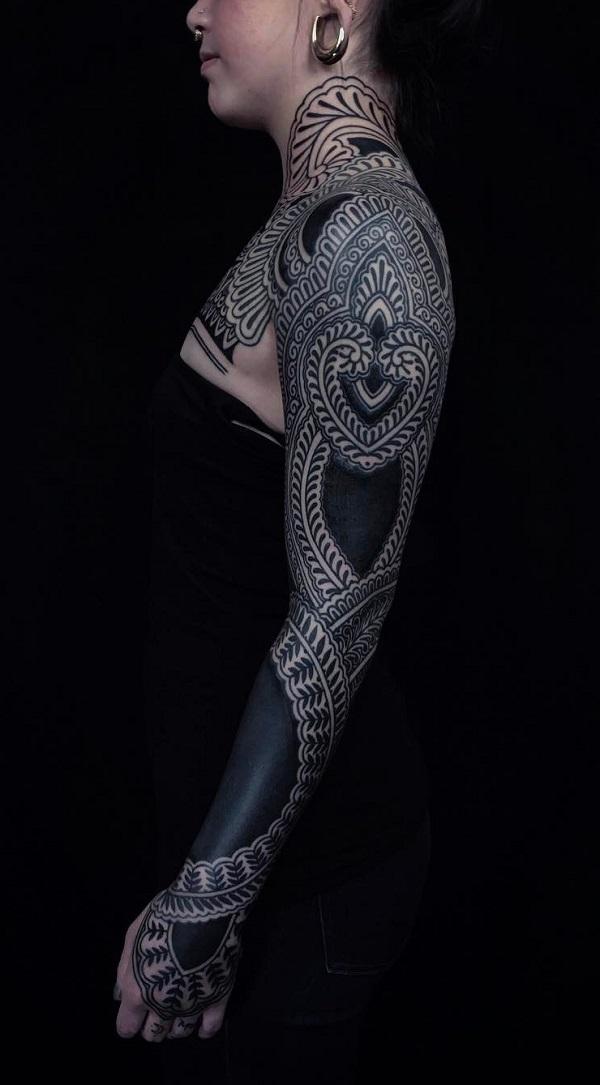 Every person has his own reason for tattooing, and some just want to look more dangerous or more sexy. Someone likes to tattoo text, trees, flowers, initials, portraits of loved ones…
Full sleeve tattoo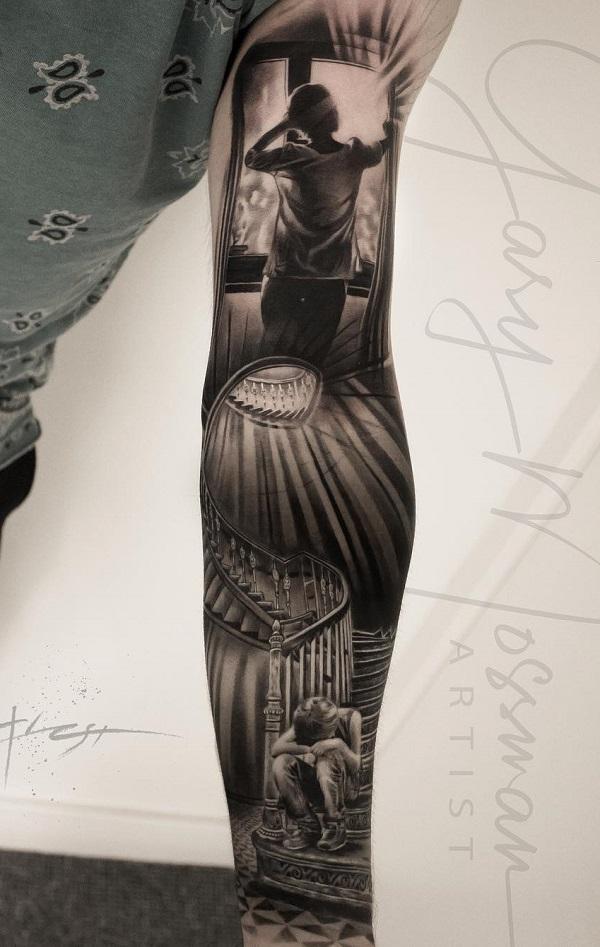 Full sleeve tattoo that is a bit mysterious and surely tells about the life or childhood of the one who wears it…
Full sleeve tattoo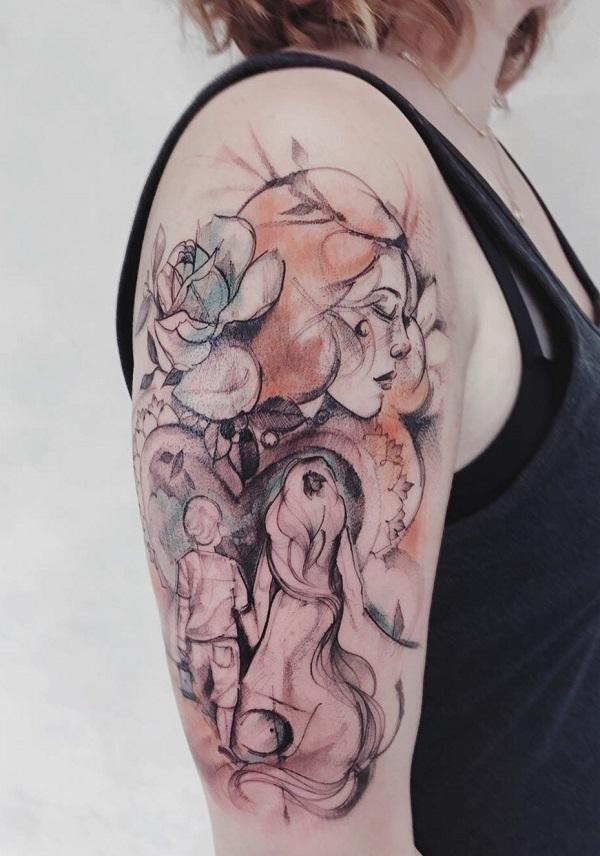 Years when photos of our loved ones were worn in wallets and pendants on a necklace are past. Many people now prefer to wear it on the skin. On that way it won't certainly be lost.
Half sleeve tattoo for women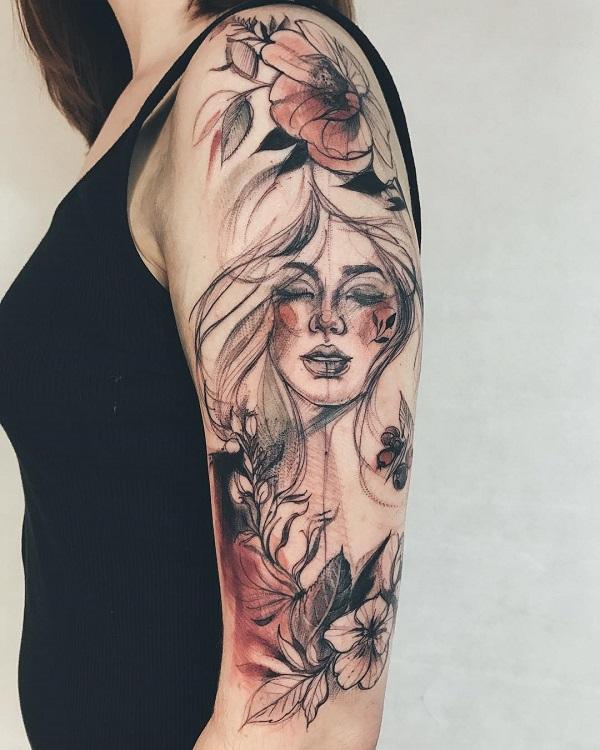 The lady who choose this kind of tattoo is certainly very feminine, seductive and sensual.
Illustration style sleeve tattoo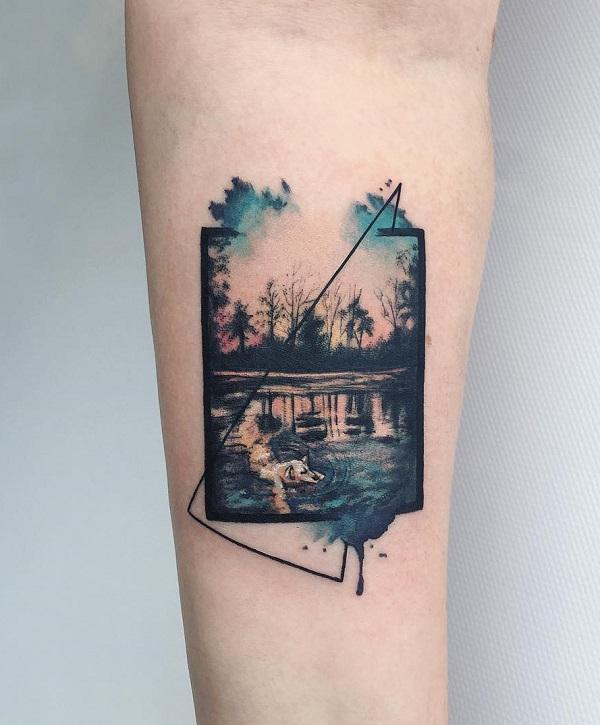 When you do a tattoo, it becomes part of you and your body.
Landscape and shadow tattoo
Source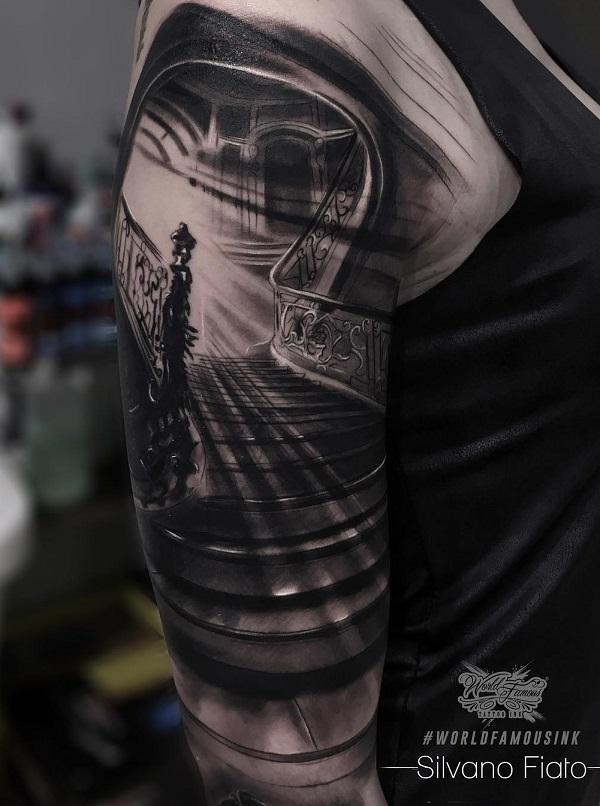 It is true that some parts of the body are more suitable for tattooing if we take care of how the tattoo will look for 30 years. It will certainly look better on hand than on stomach.
Light half sleeve tattoo
Source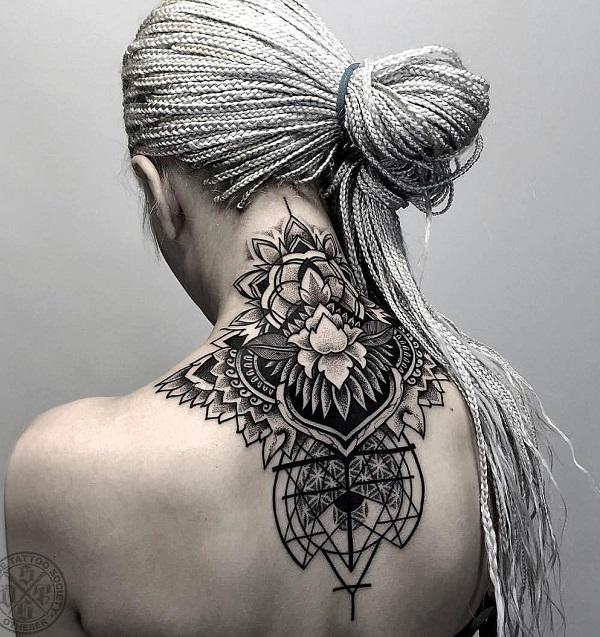 The female body changes in most cases very quickly, so ladies carefully choose the place where you will do your tattoo.
Mandala neck tattoo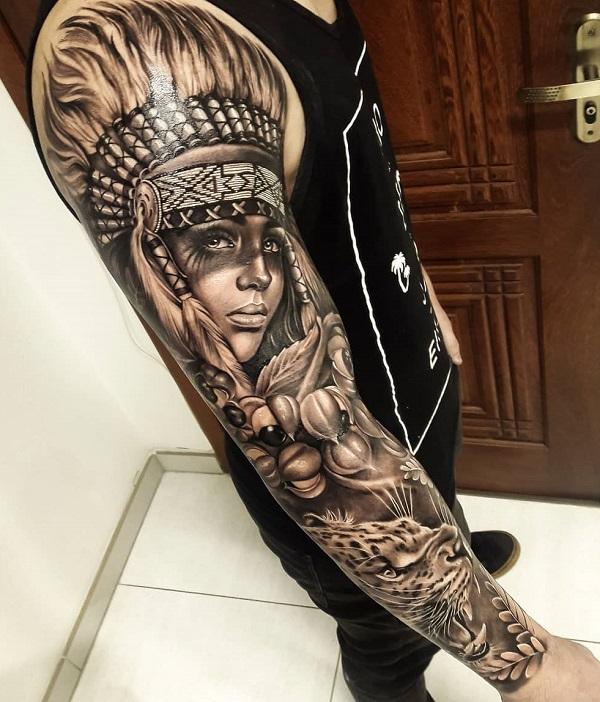 When it comes to aging the skin, it is very important how much you take care of yourself and your body. How much you give care is how much good you will look.
Native American sleeve tattoo
Source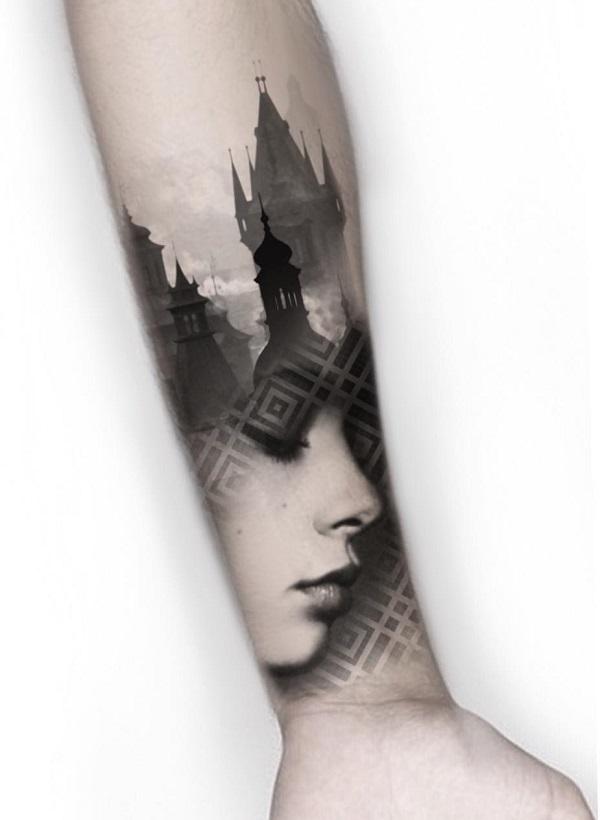 Who does one tattoo, very rarely remains only on that one. It's because of the joy that people feel during tattooing and changing their look. Only those who have tattoo can understand this.
Portrait wrist tattoo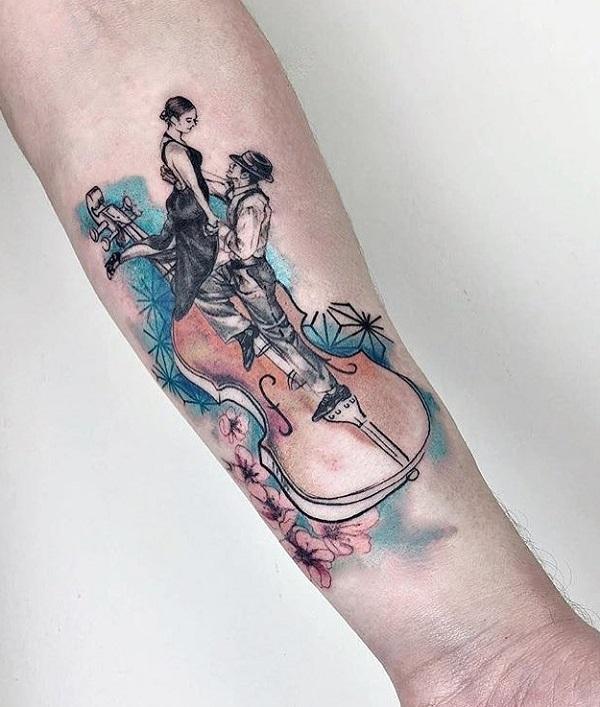 A romantic tattoo of a couple which plays tango can be a choice of a huge fan of this dance as well as romantic people who simply love to love!
Romantic Tango and Cello tattoo
Source
People choose tattoos of portraits in order to immortalize on their skin someone who mean them a lot.
Surreal portrait sleeve tattoo
Source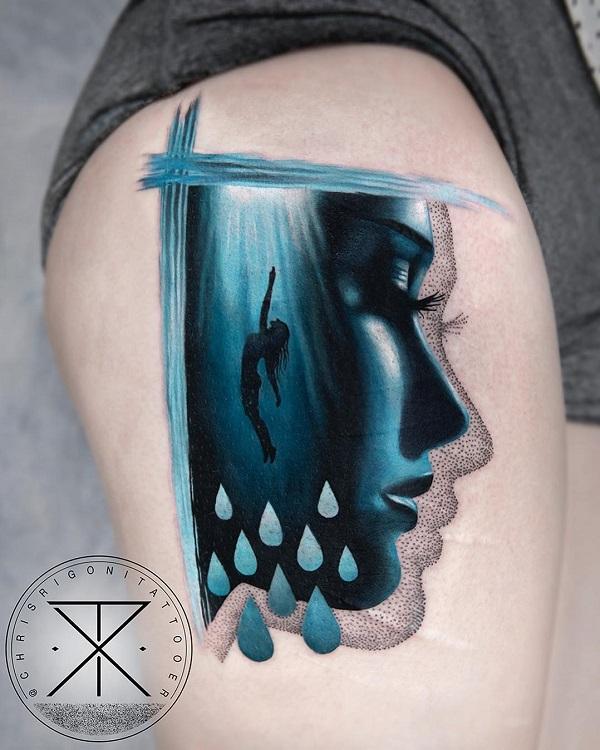 For successful shading you need to be great master. It demands a lot of effort and creativity.
Surreal thigh tattoo
Source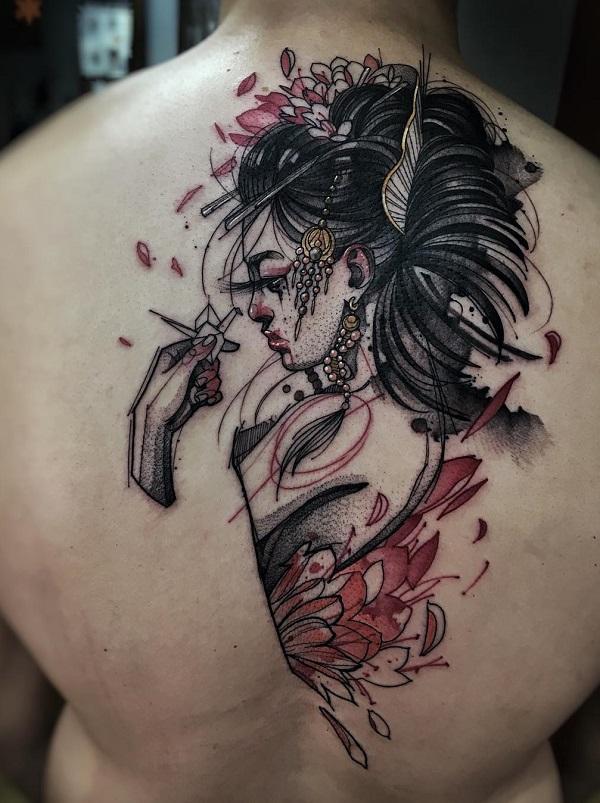 A tattoo that burns. Strong colors like black and red look very powerful no matter what picture you choose.
Japanese tattoo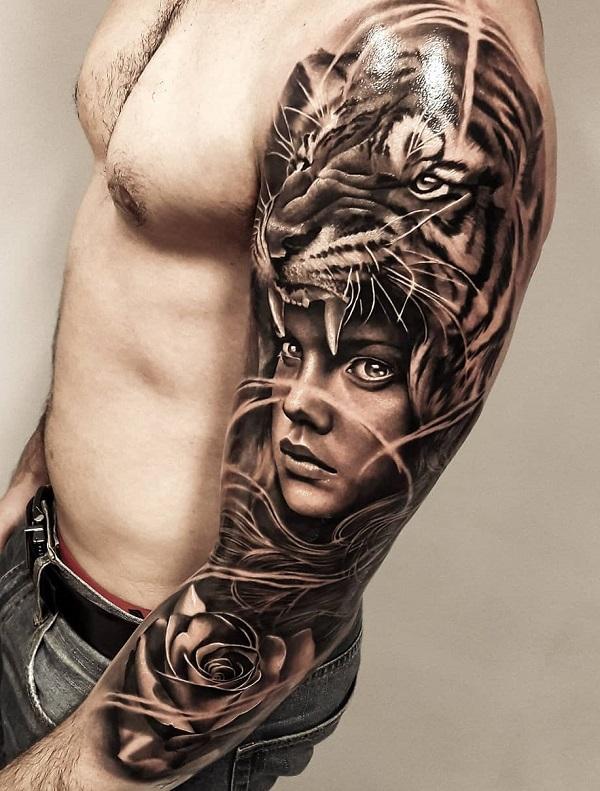 One more long sleeve tattoo on which we can see a girl, tiger and rose. It surely means something to a gay who wears it. Men more often choose long sleeve tattoos.
Tiger with portrait sleeve tattoo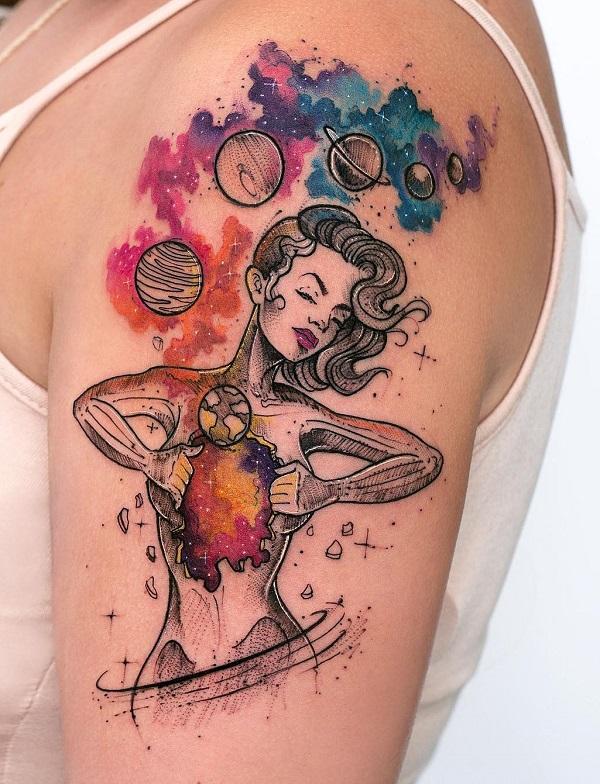 The universe is huge, but for someone she is the all universe.
Universe in me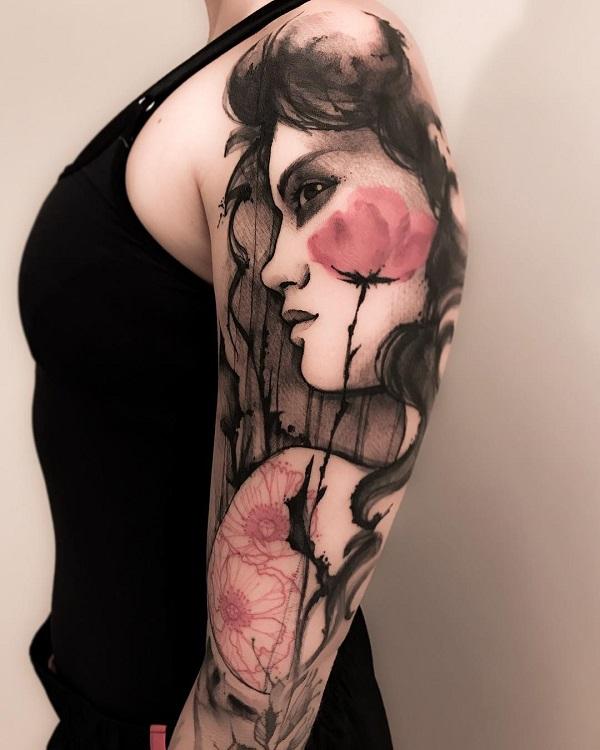 Always look well when you choose tattoo master especially if you are doing for the first time a tattoo and don't have verified tattoo master.
Watercolor portrait sleeve tattoo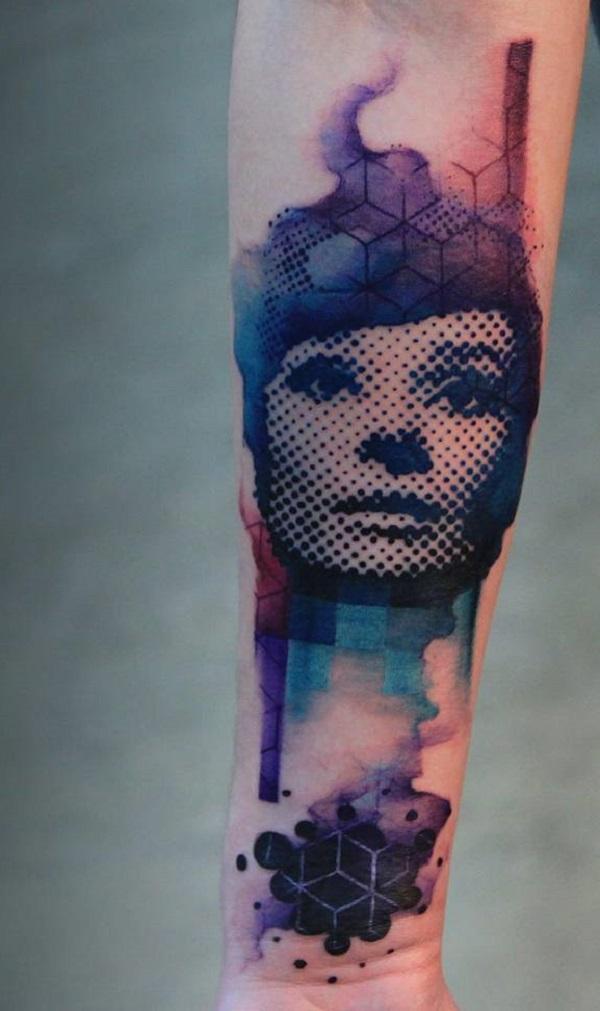 A few days before tattooing visit the salon where you will be tattooed. Pay attention to hygiene, ask about what is prohibited before tattooing and what you need to do after tattooing, pay attention whether tattoo master while doing a tattoo wears gloves…
Watercolor portrait tattoo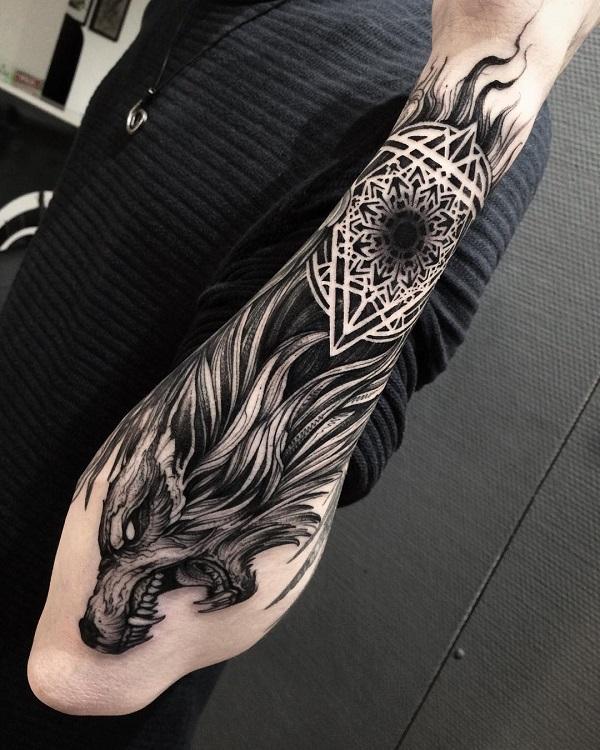 Never do a tattoo with anyone. It's better not to be tattooed than doing this with an unreliable person of suspicious hygiene.
Wlof with mandala forearm tattoo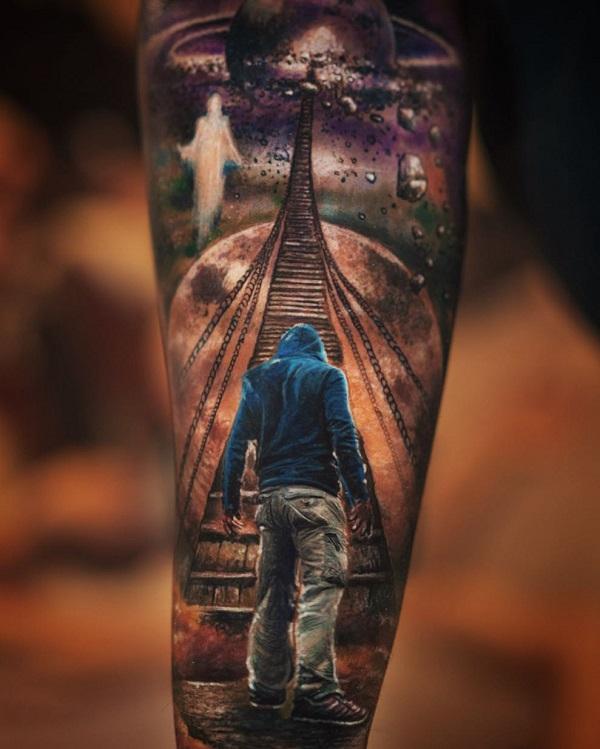 It is not recommended to women doing tattoos on the stomach if they are planning a pregnancy. That part of the body will be changed very much in that case and the tattoo will never be the same again.
3D colored sleeve tattoo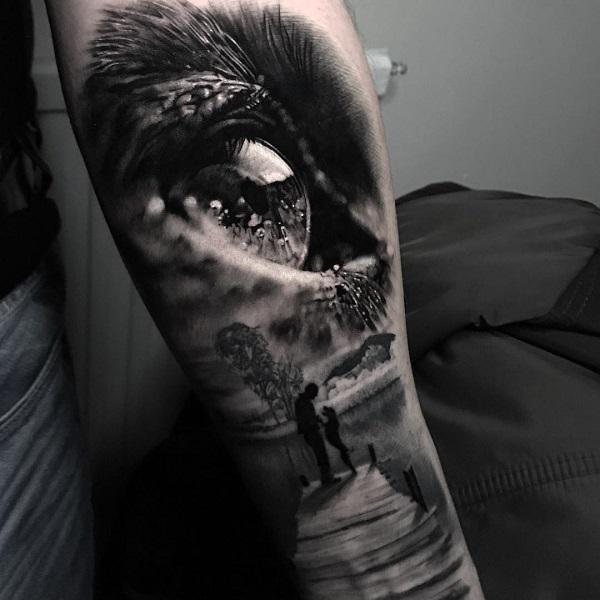 Large long-sleeve tattoos require more than 70 hours of work and can hardly be completed in two terms.
3D eye tattoo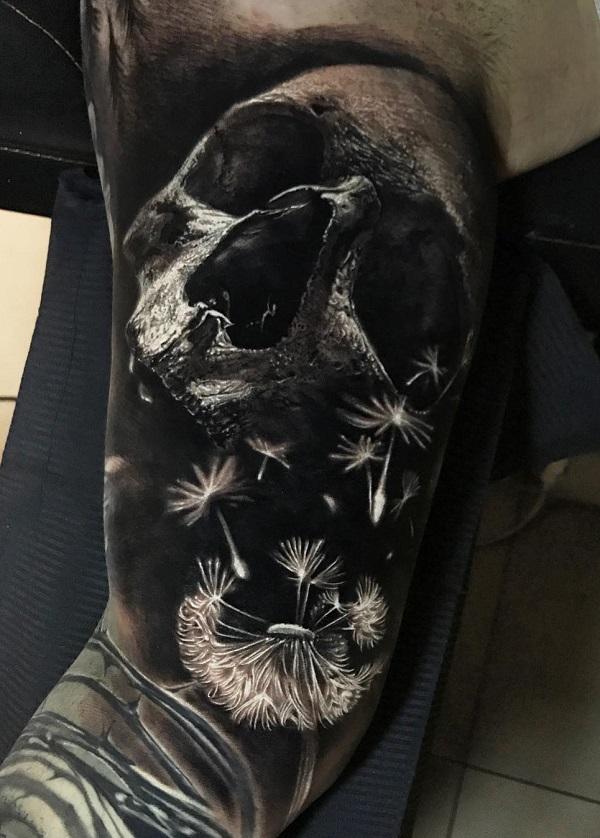 You do not need to prepare skin for tattooing in terms of peeling and hydration.
3D skull and dandelion tattoo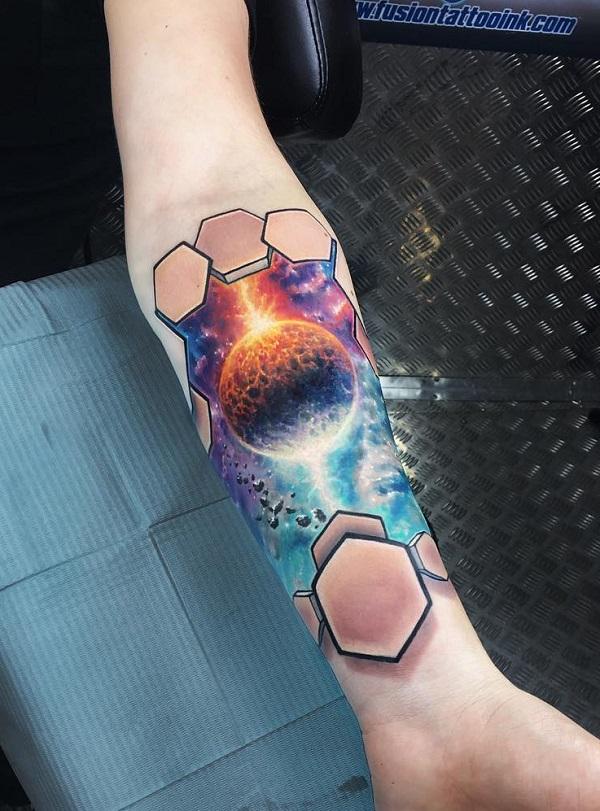 It is important that before tattooing you were not on wax dilapidation, laser treatment or a cosmetic requirement that irritates the skin.
3D Space tattoo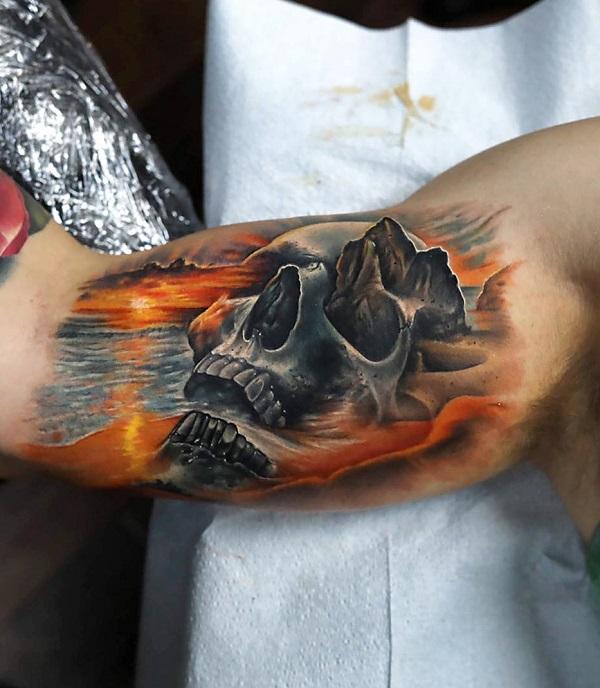 A minimum five days after tattooing you should avoid more demanding physical activity that increases sweating. Sweat can infect fresh tattoos.
3D sunrise and skull tattoo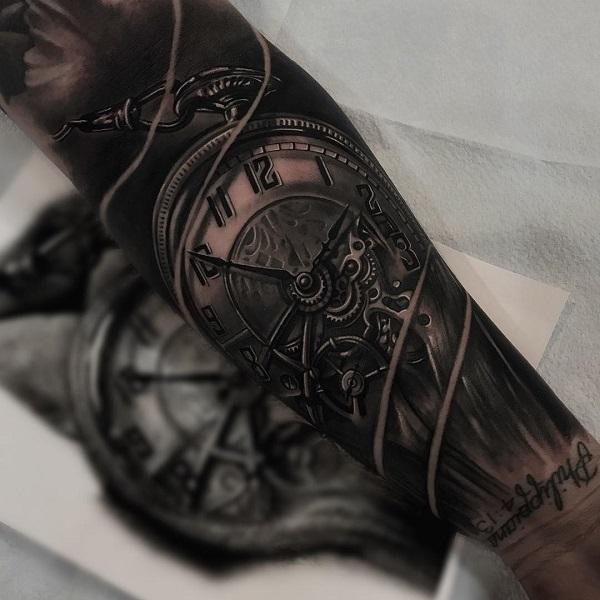 One month after tattooing image should be less exposed to the sun and you should avoid the sea or swimming pool.
3D watch tattoo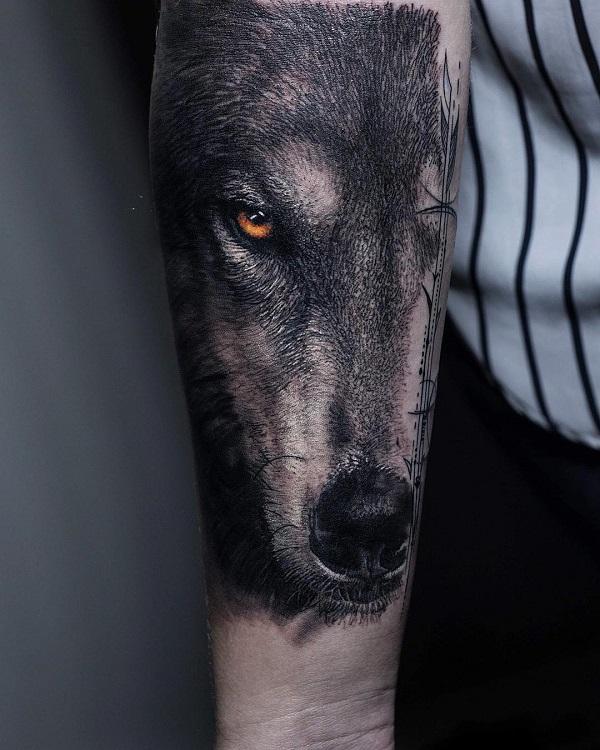 In order to better protect your tattoo, which is on the part of the body that is always covered with clothes, wear clothes made of cotton for the first month.
3D wolf tattoo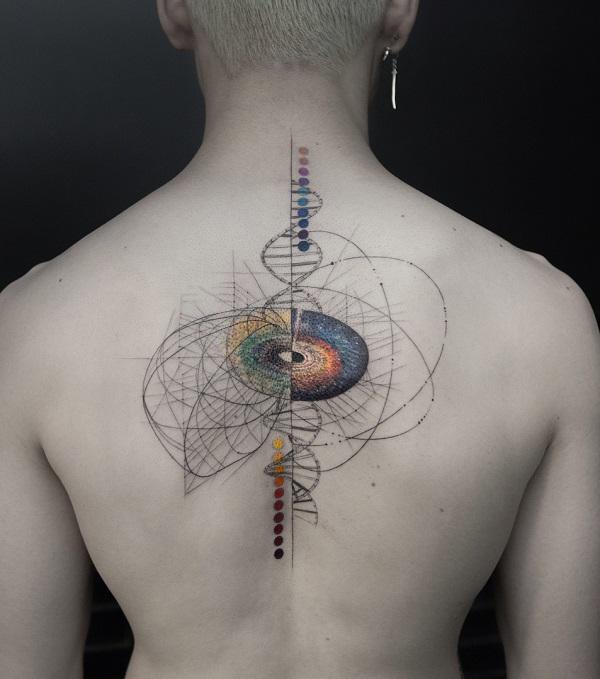 When you are home, let the tattoo naked and not covered with clothes. It will heal sooner.
Abstract watercolor back tattoo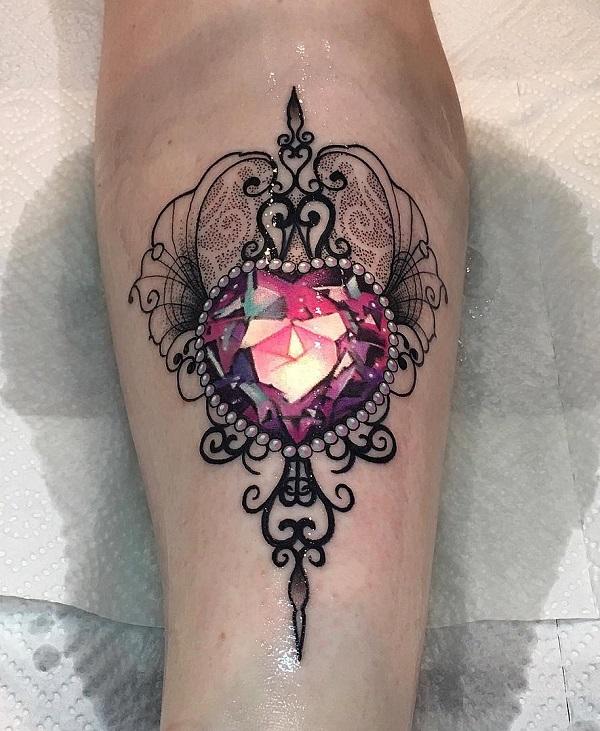 15 days after doing a tattoo put antibacterial cream over tattoos.
Amaing gem tattoo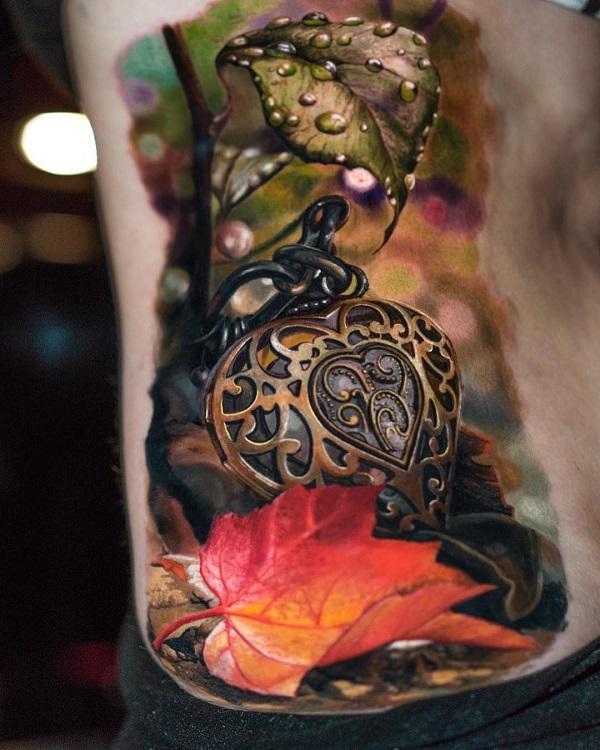 If the tattoo is made with non-sterile accessories, contaminated inks, without adequate preparation and protection of the person that has been tattooed, it is probably that his/her health will be damaged by hepatitis B and C, HIV infection, staphylococci infection, tuberculosis, fungal infection …
Amazing 3D maple leaf and concentric lock tattoo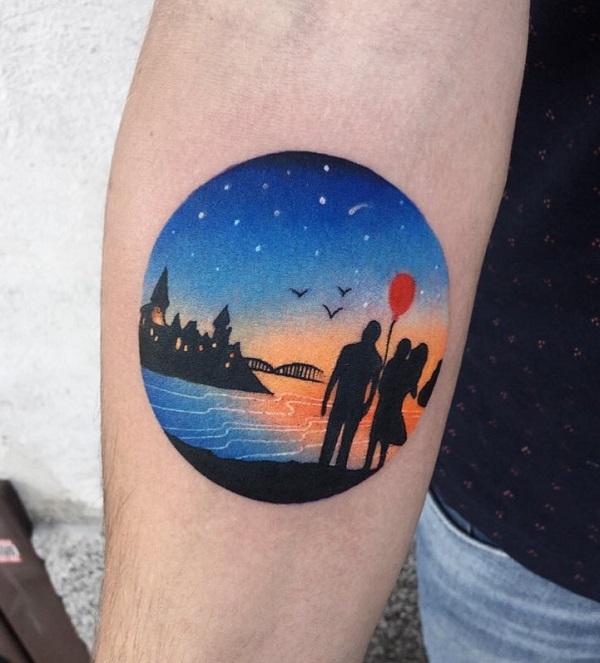 Tattoos on the parts of the body with softer skin are more painful.
Amazing beach tattoo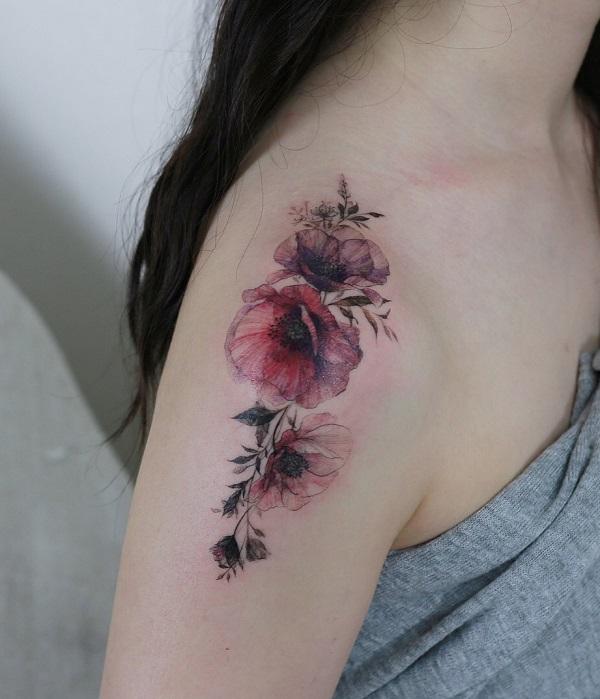 It's often a question "Does the tattoo hurts?". The threshold of pain varies from person to person, but the general opinion is that women are better able to tolerate pain.
Beautiful flower should tattoo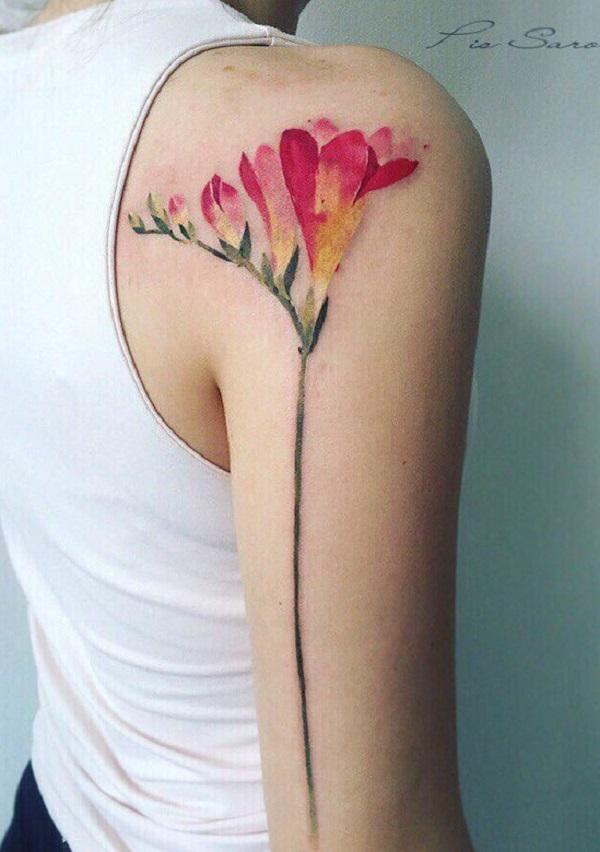 A cute and sexy tattoo along the woman's hand. Everybody will like it.
Beautiful flower tattoo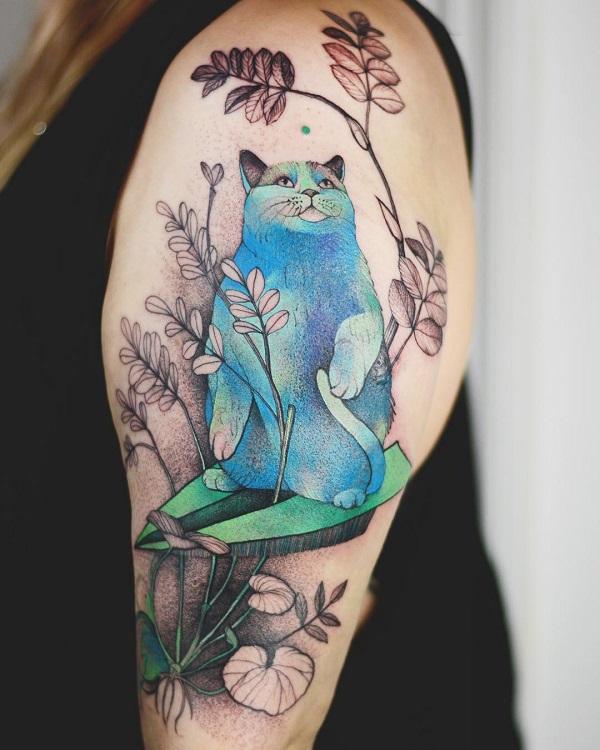 Tattoos can be removed, but it is neither cheap nor easy, and remains a scar.
Beautiful half sleeve tattoo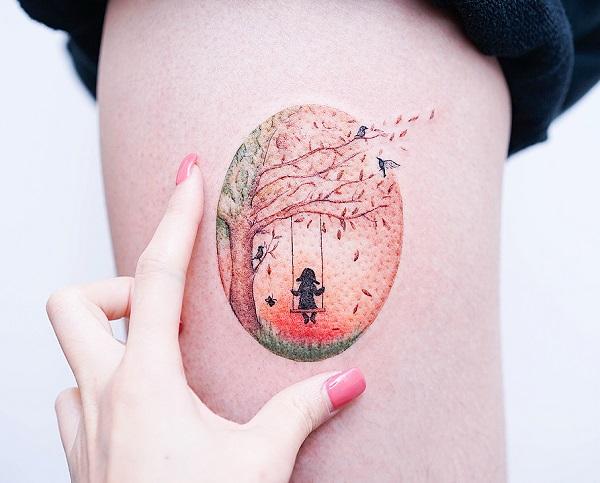 A tattoo does not hurt so much that you wouldn't do it again. Mainly, you would like do it again.
Beautiful small thigh tattoo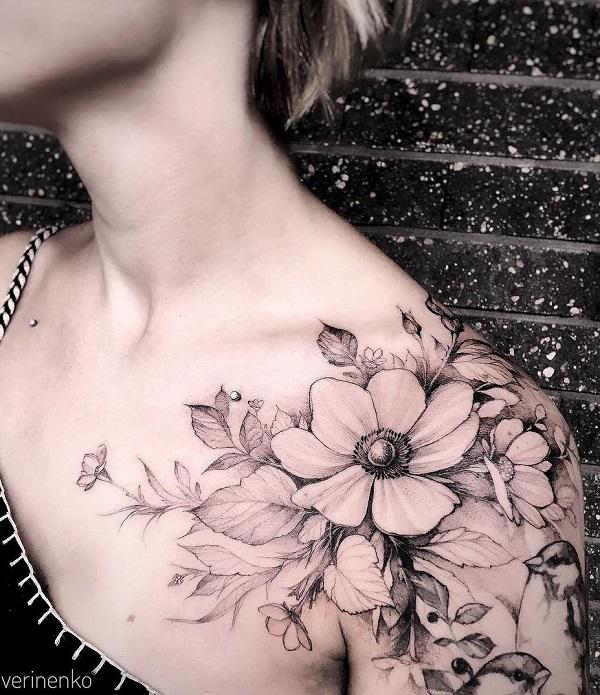 24 hours before you go to do a tattoo, do not drink alcohol or most drugs. Have a good sleep and be full-fed.
Black and gray flower should tattoo for women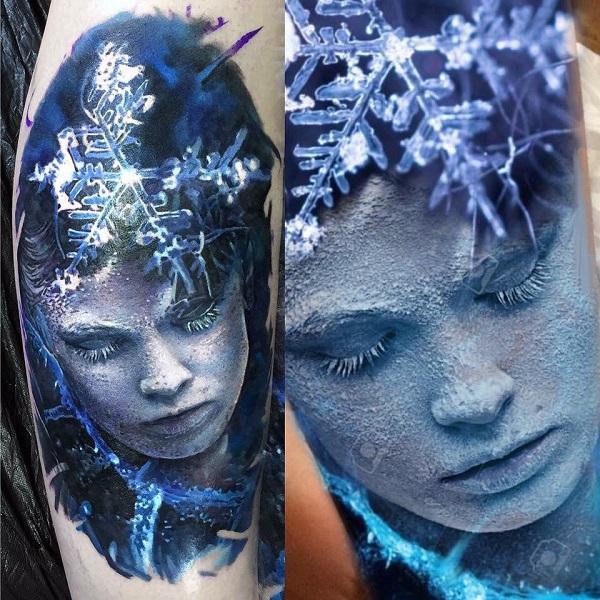 Before tattooing, think carefully about what, where, why… Only so you wont repent later.
Cool 3D portrait tattoo