Women in the modern world managed to win fight for equality with men. We, women, like to be strong and independent to buy ourselves nice clothes, jewelry, shoes, paying our own travels, nights out, haircuts, manicure, pedicure, and all our desires which are often not modest but we count into normal life and not a luxury. We, ladies like to prove ourselves and compete with men. It gives us special kind of joy … But because of that they are afraid to come closer to us. It is generally known that men are afraid of strong women. Although we live in the 21st century, for them is difficult to reconcile with the fact that women earn more from them.
The men were once heads of the family in charge of hunting to feed a family, to prepare wood for winter, for defense against enemies. And women, on the other hand, were in charge of cooking, children… Although the first association of swords is the powerful man who wears it, swords love ladies too. Adriana Lima showed her skills on the New York fashion event "Corkcicle Presents Sword & Sound".
Sword tattoo ideas
Tattoos are very popular way of decorating body. We will see later ideas for tattoos in form of sword. Tattoos tell a lot of us. As a weapon that has been used by warriors for thousands of years, sword tattoo is associated with honor, freedom, power, and strength. A lot of examples of tattoos you will see, in our gallery below, include both men and ladies.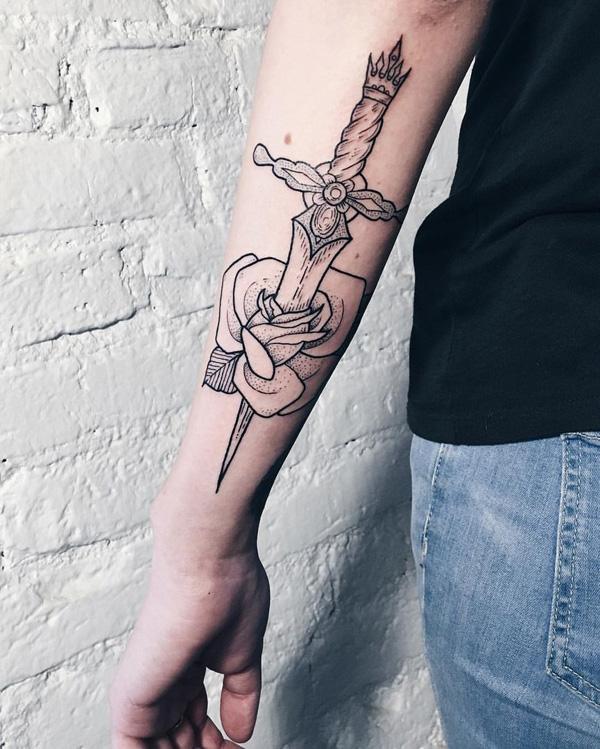 Very clean lines has this tattoo. Rose gives it some intrigue so it probably has some mysterious meaning.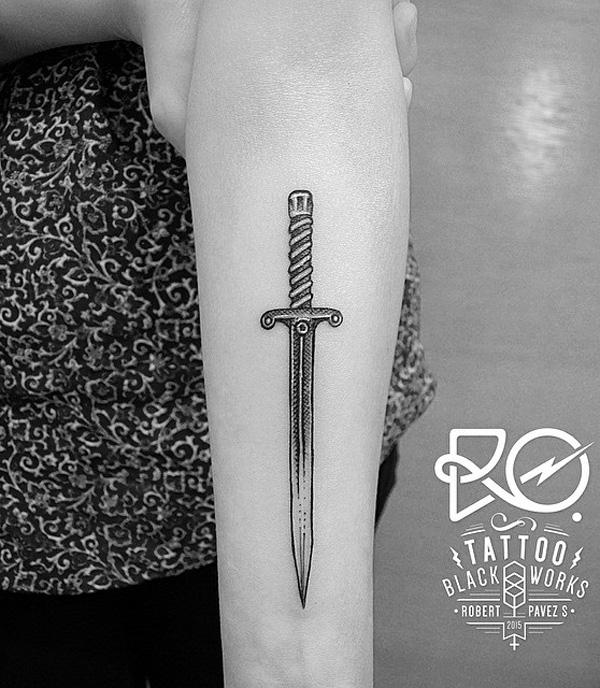 Black tattoo of sword, clean lines for truly fan of swords.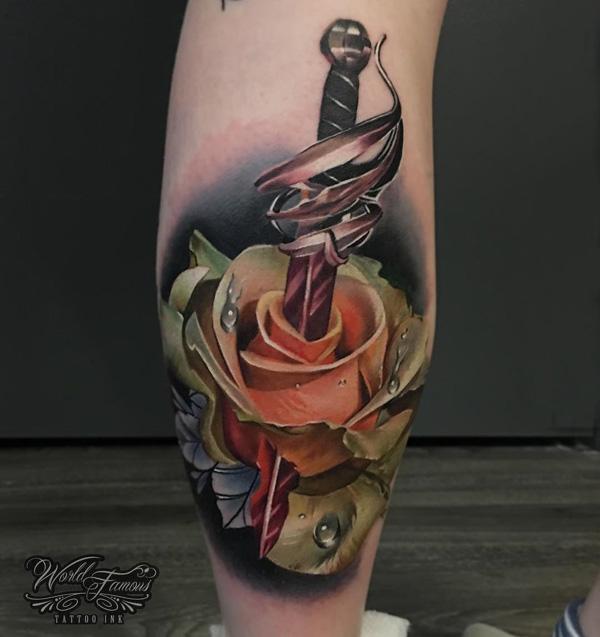 This is as you can see tatto in color. it is very similar to first photo.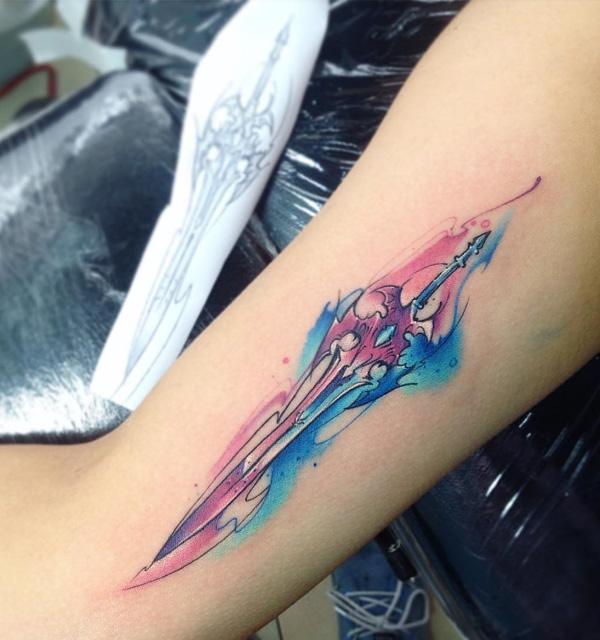 The predecessor of modern European swords is Spata, which was popular in the late Roman army. This tattoo has a very effective colors – blue and pink, which always draw attention.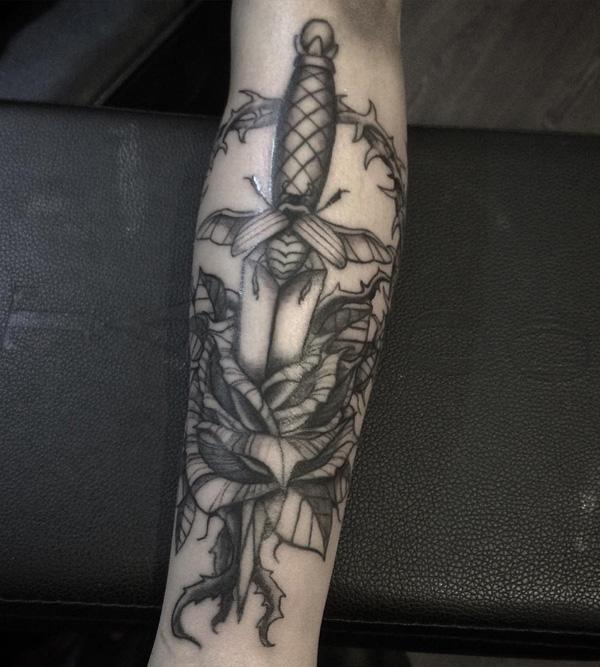 We have a lot of symbols here. Here we have sword (of course). bee, rose and rose thorns. This may have a different meaning, probably important for the owner of tattoo. Beautifully decorated tattoo, the true art.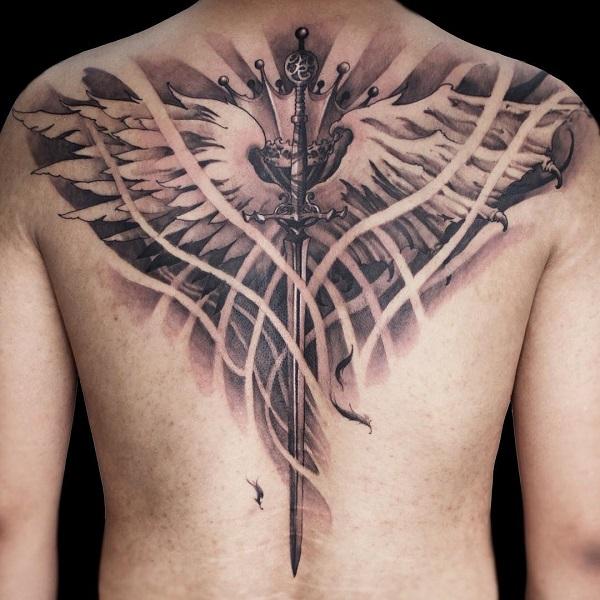 This tattoo was done on the back. Tattoos on the back arethe most often choice of those who work their first tattoo. On the back, tattoos are the least painful. They have become popular nineties. Ladies when do tattoos on back usually do it on the bottom, and the men do it on upper back.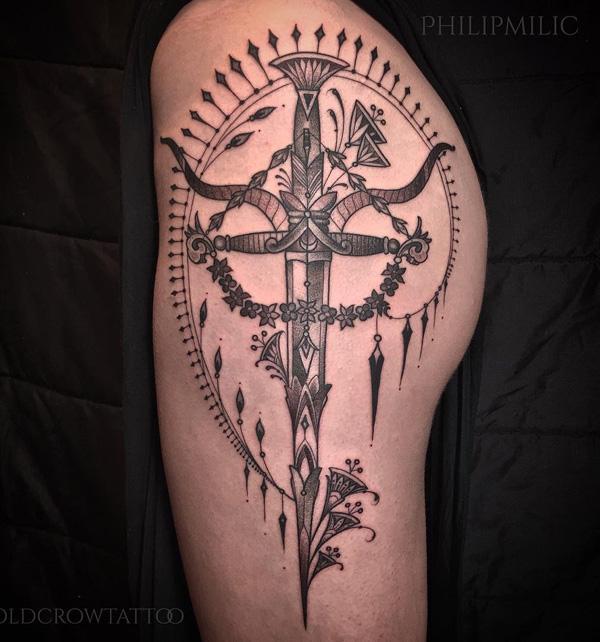 There are different types of swords, so they vary in severity, form, purpose … So swords by purpose can be divided into combat, sports, dance, ritual, decorative …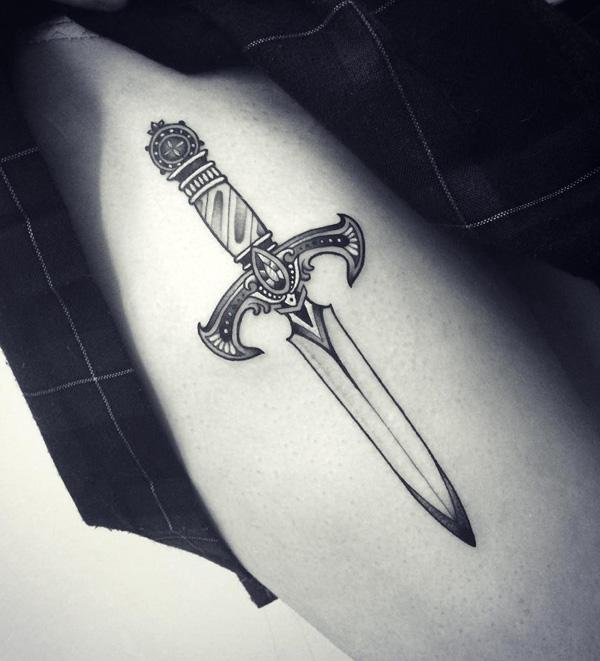 According to heaviness we distinguish heavy weight and light swords. Heavy swords can be two-handed, bastard and single lever, and light are sabers, spades, and rapiers.
Women also do very often do tattoos of sword, because today it isn't just men sport.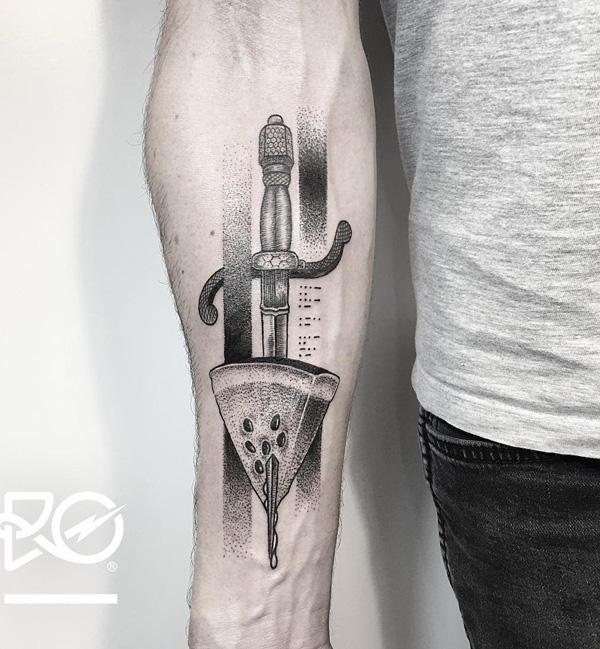 A dagger through slice of watermelon
This forarm tattoo depicts a dagger piecing into a slice of watermelon. The meaning of the combination may not be obvious. However dotwork is surely eye-catching with two stripes go in parallel, creating 3D visual effect.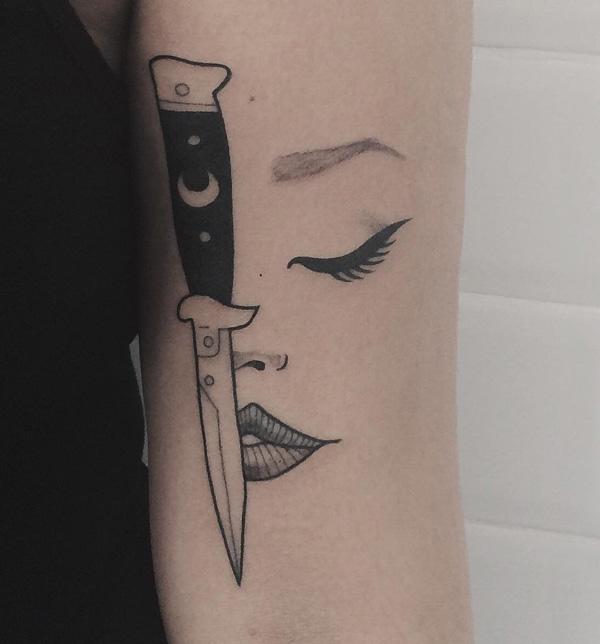 The most famous sword in the world is the sword of Napoleon Bonaparte 200 years old, which is worth about $ 6.5 million. Decorated with gold, Napoleon wore during victory in Marengo.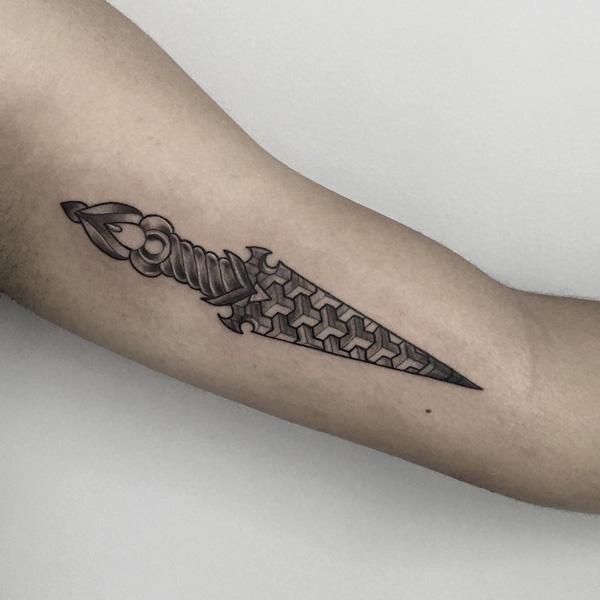 Swords were first started to make the ancient Greeks. They made it of bronze because there weren't other metals with such quality. These were short swords.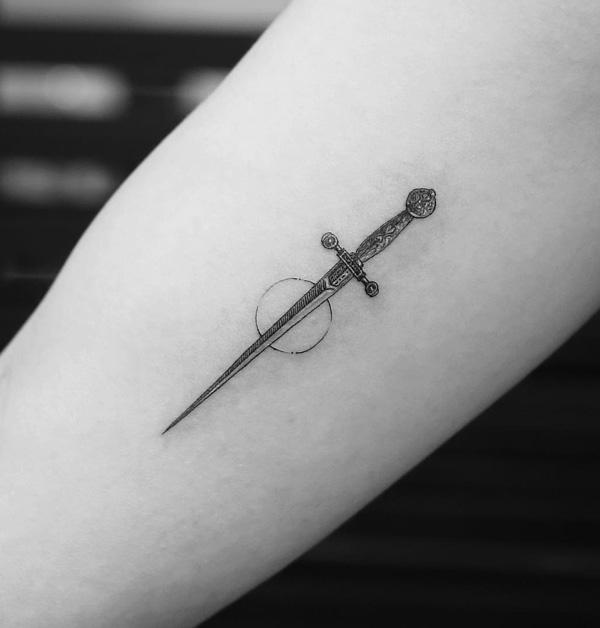 The Romans first began to use steel swords that were similar by appearance to the Greek's. For Romans swords were the main weapon, and for Greeks sideline.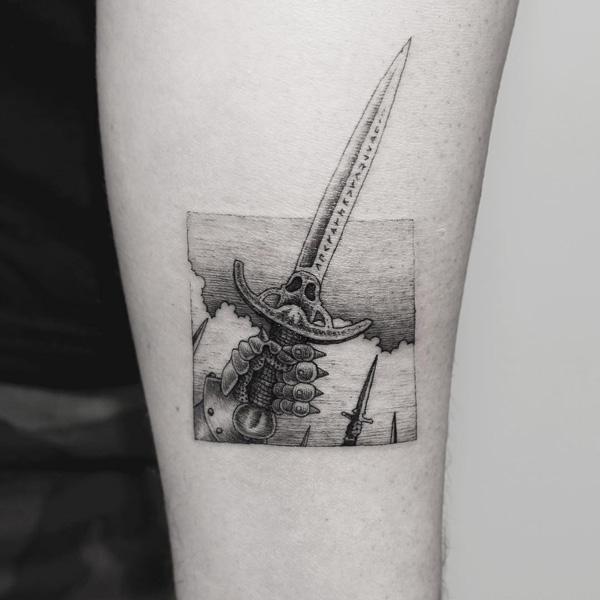 Toledo is a city with rich history, 70 km from Madrid. It is popular by producing steel and swords from the same material which are used in Hollywood. The price of the original is a few hundred euros, but you can obtain a copy for ten euros. On originals write Made in Spain, and on the copy often writes only Toledo but it is not a guarantee that they are produced in this city.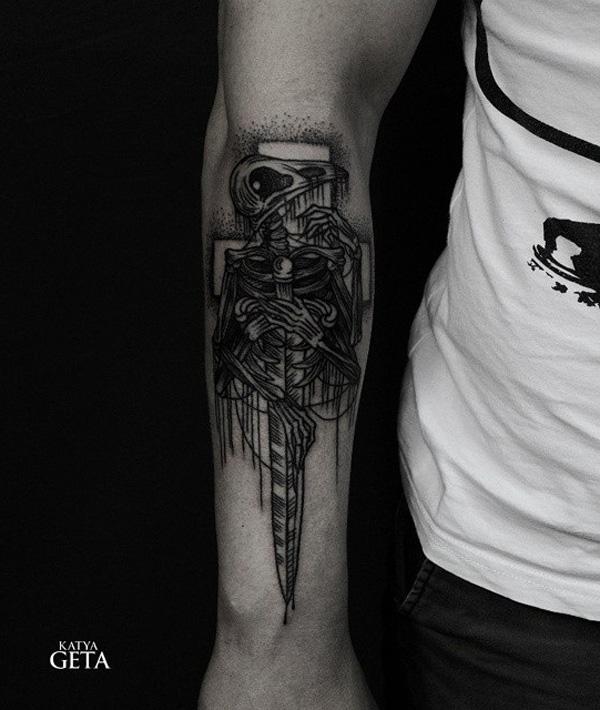 Black Dagger skeleton forearm tattoo
Dangerous tattoo on tough guy.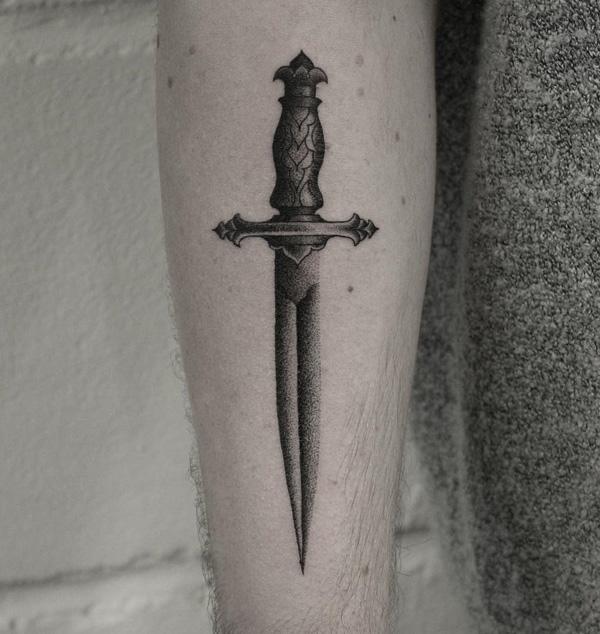 Without excessive details, pure picture of sword on your body. For true lovers of this sport.
Another clear tattoo of sword with crooked blade. Handle it discretely decorated. This shows us that tattoos with simple lines and clear images can be just as interesting as the ones with a lot of moments and details.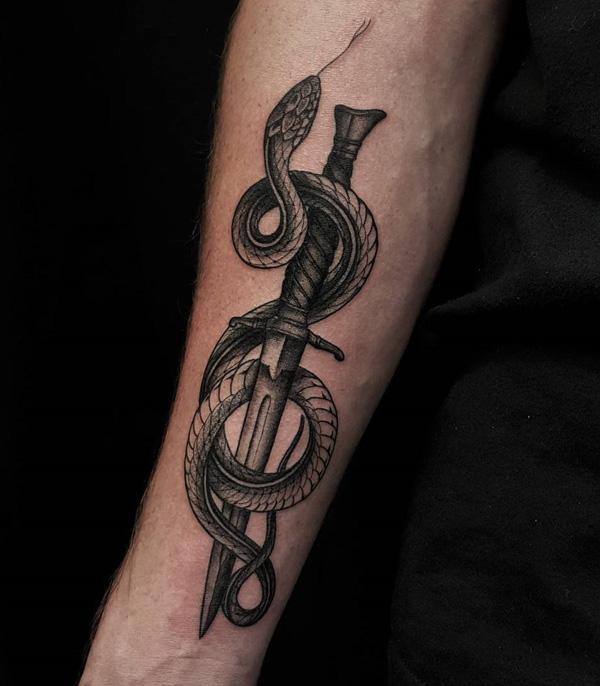 Snake and sword
This tough guy resolved to decorate his tattoo of sword with snake. Snake in religion, mythology and other literature has all sorts of meanings, from fertility treatment and immortality to evil and trouble.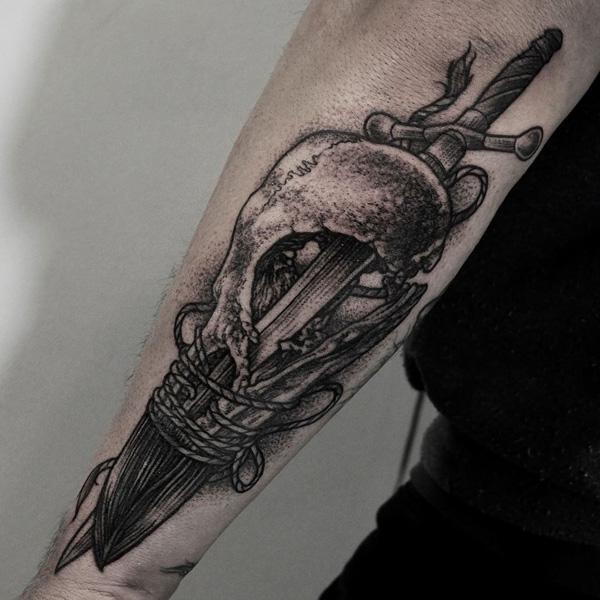 Highly accurate done tattoo on his forearm.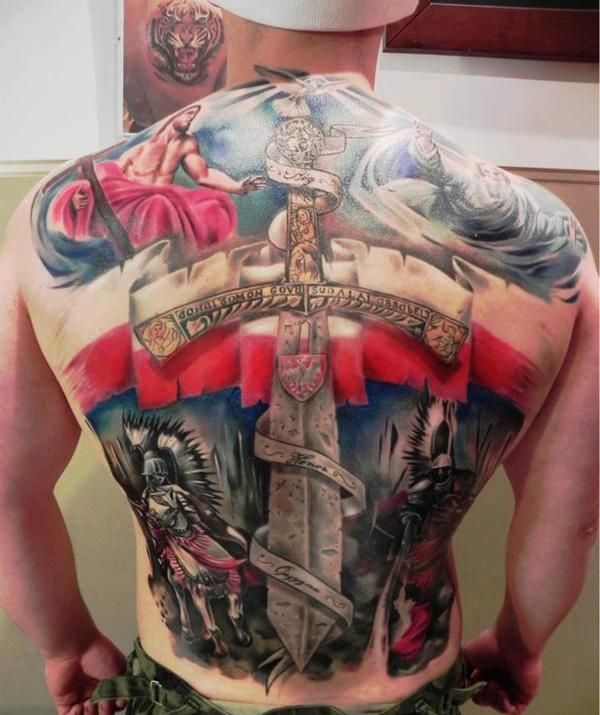 Tattoos over the whole back work definitely the biggest fans of this form of body decoration. Modern warrior who puts justice above all, that's how I would describe this guy.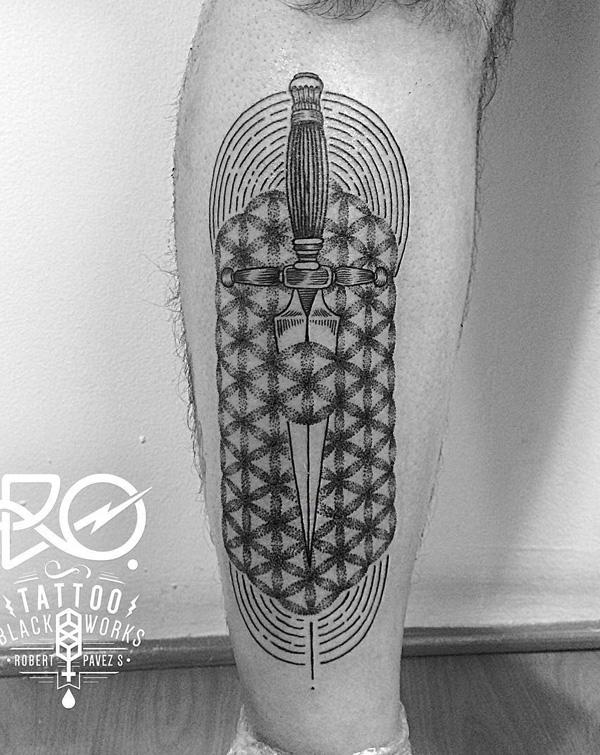 Sword is a symbol of fearlessness and strength. Sword has a constructive and destructive aspect. Constructive aspect because it is used for the establishment of justice, and destructive if it is used for unjust purposes and for causing mischief.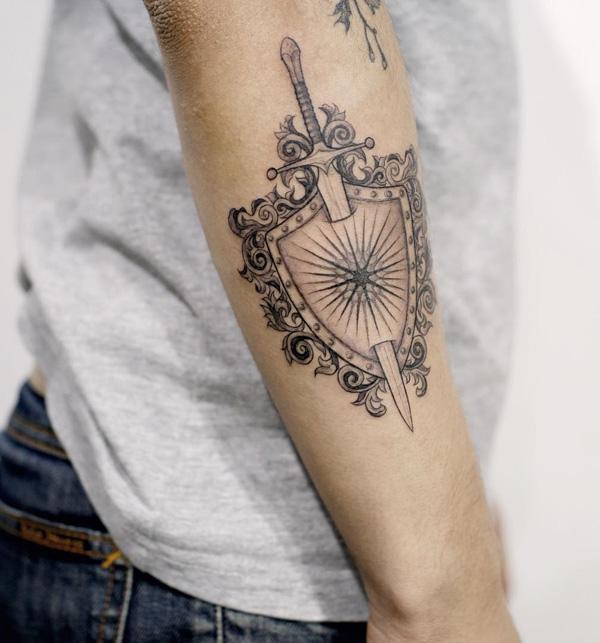 Sword Shield and Sun
Me personally, this tattoo is probably for defender of freedom and justice. Sword and shield. Sword can be a symbol of holy war, a holy war is primarily an internal war with yourself …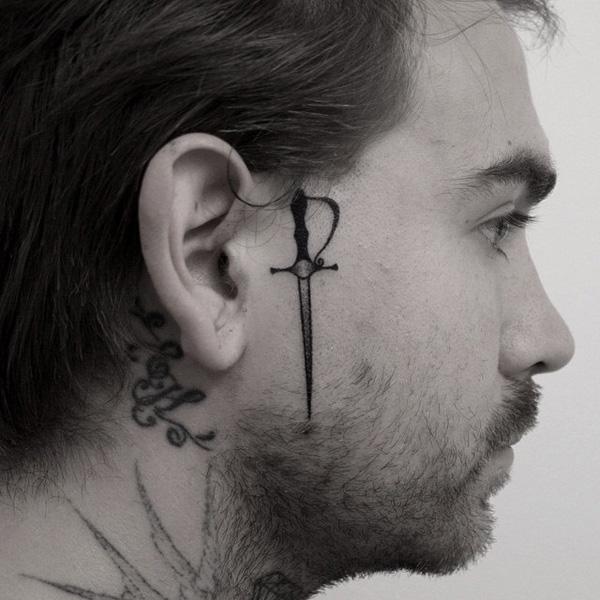 Very interesting place for a tattoo. It is very brave tattoo here, because the tattoos on face it is difficult to hide if for some reason there's need for it. Though if a man does something from the heart there's no reason to hide it.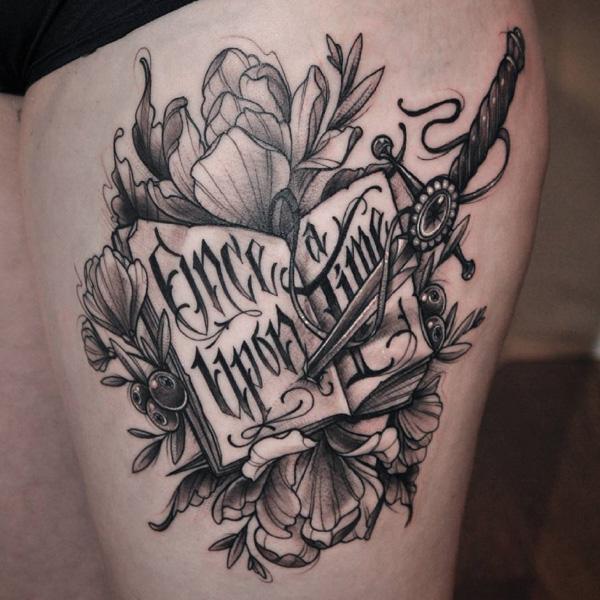 Once upon a time… Interesting tattoo. Tattoo which demand a lot of experience to be done and sword from fairy tale.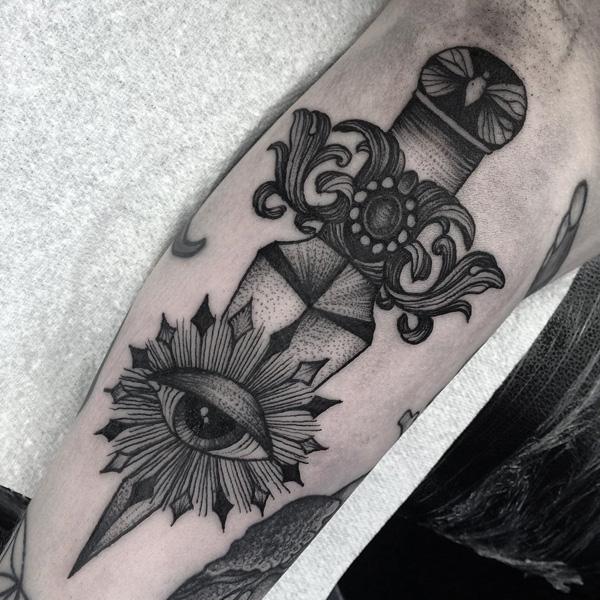 Short swords are swords long between 40 and 80 cm, to do 1 m. To this swords belong Roman gladius and Japanese wakizashi.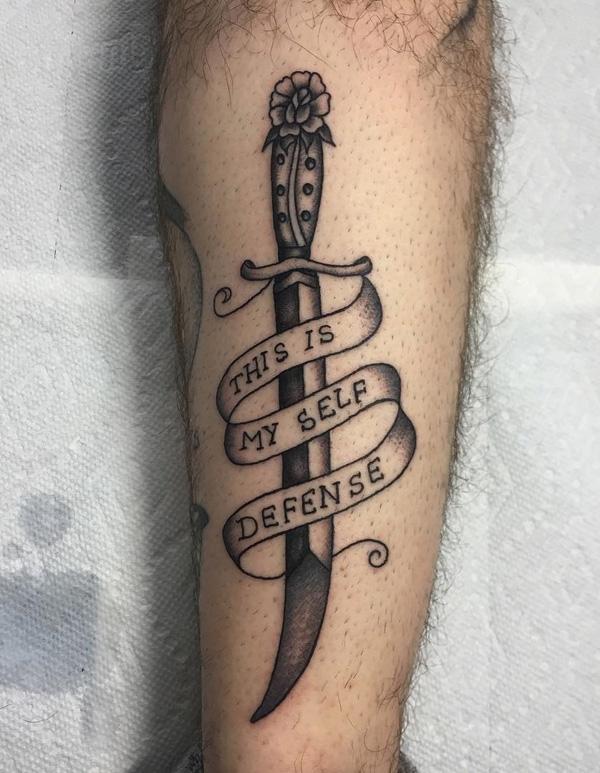 You can tattoo also some message which means to you and with which you want to send some message.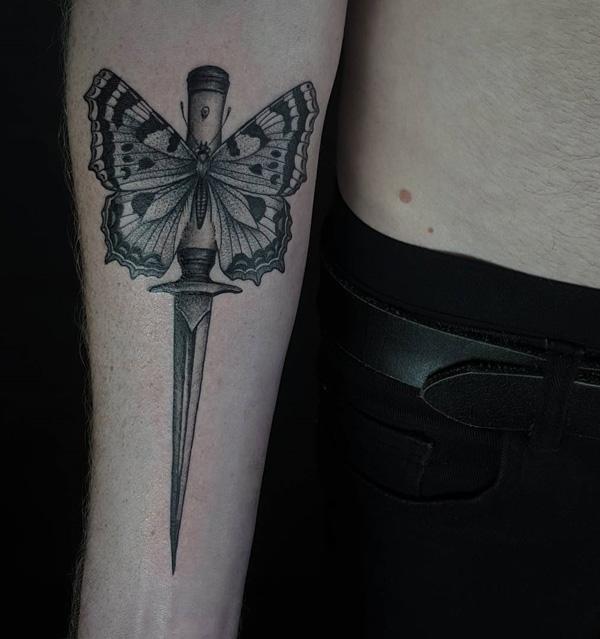 Butterflies are symbols of freedom and sword was used for centuries as weapons that nations used for defending their freedom.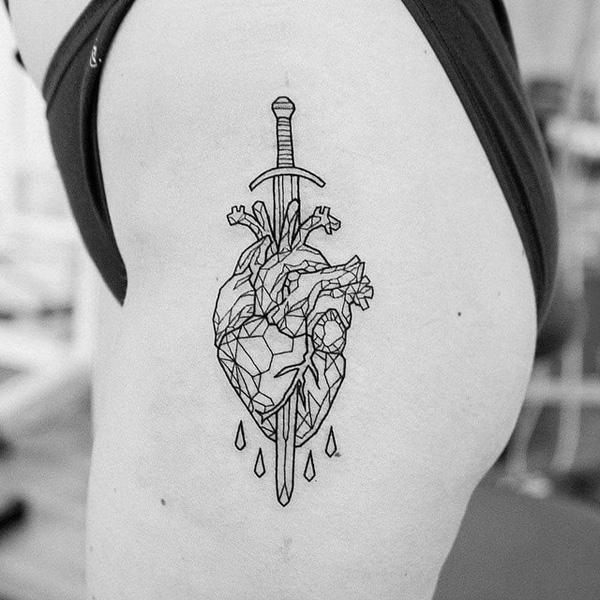 No matter how bad people you encounter and how much they harm you, pry above it, believe in yourself, try to see in everything still the beauty, listen to music, and your wounded heart will become healed.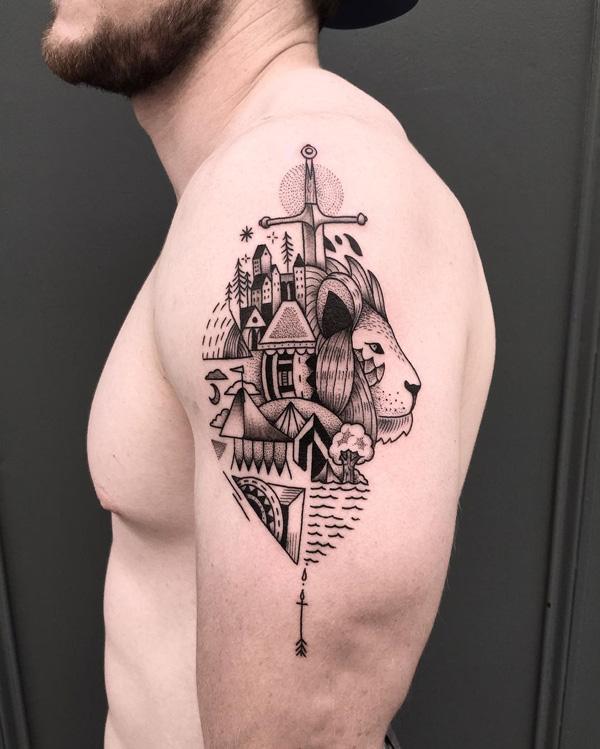 Moon, lightning, lion, stars, armor, sword tattoo
A lot of other details exist on this tattoo. Very interestingly message you can send with tattoo like this guy with the his.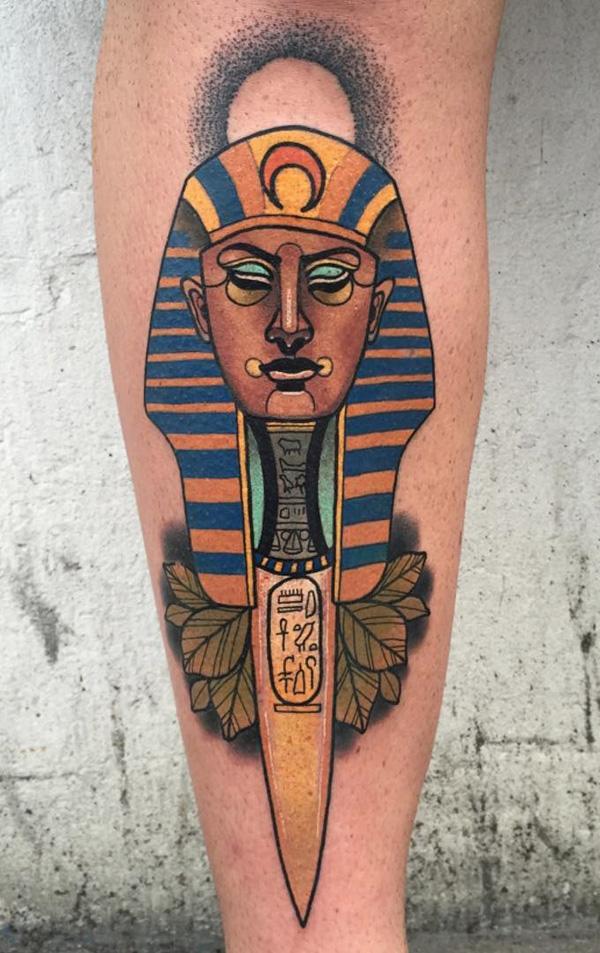 Nicely integrated colors of tattoo gives her beauty. Though there are a couple of colors, none of them stands out and mint coupled give this beautiful tattoo.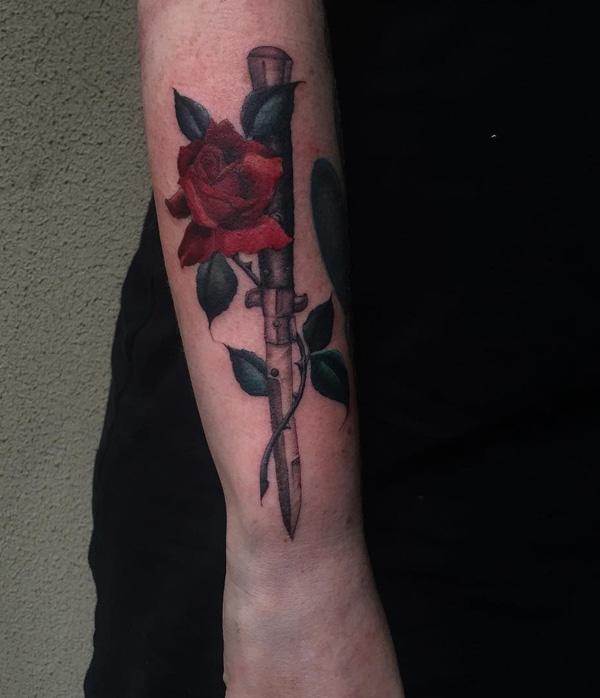 Each sword consists of several parts: handle (thorn apple, cross guard), blade and top, and the groove and ridges.
Sword was created in the bronze age when people began to make larger and longer blades.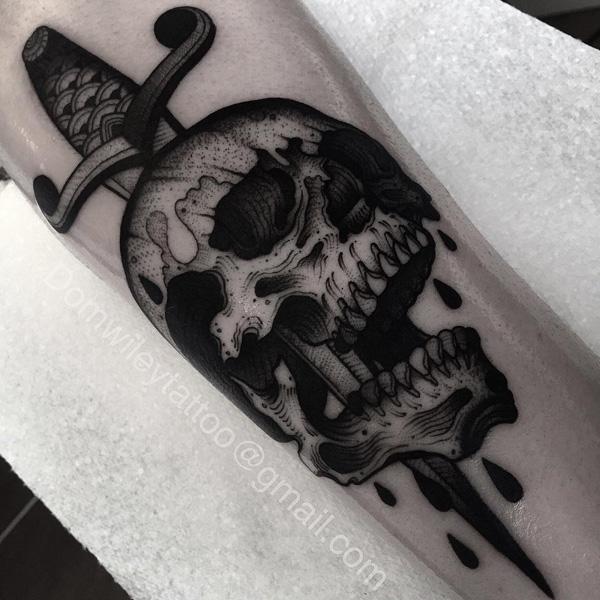 This tattoo reminds me a bit on a pirate's tattoo, but not in a negative sense.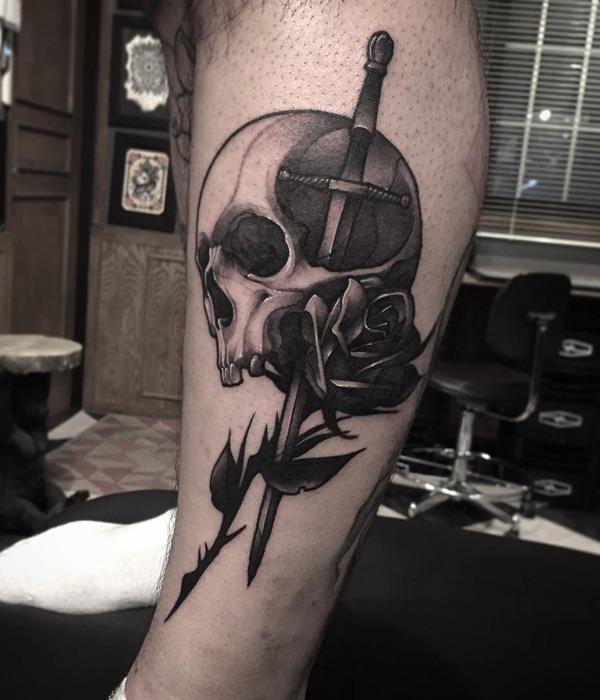 Very interesting, tattoo similar to the previous one for a bit bolder tattoo lovers.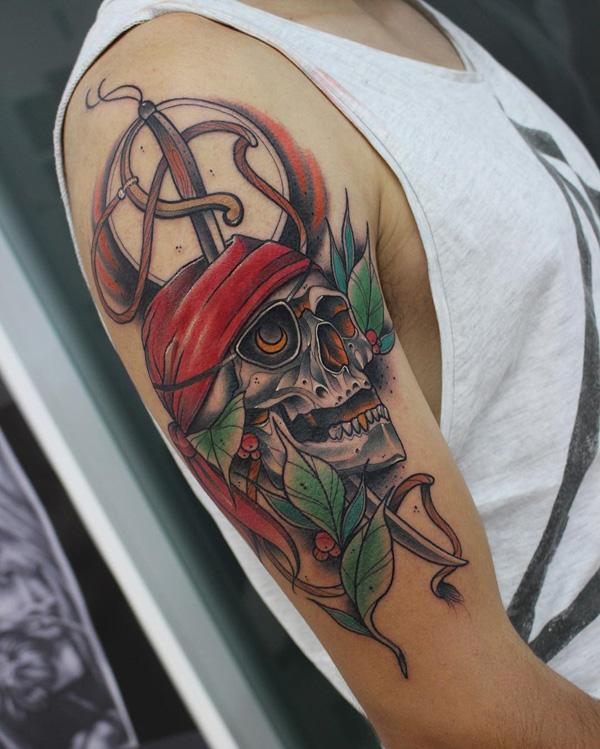 Tattoo of strong and effective colors such as red, or black and green.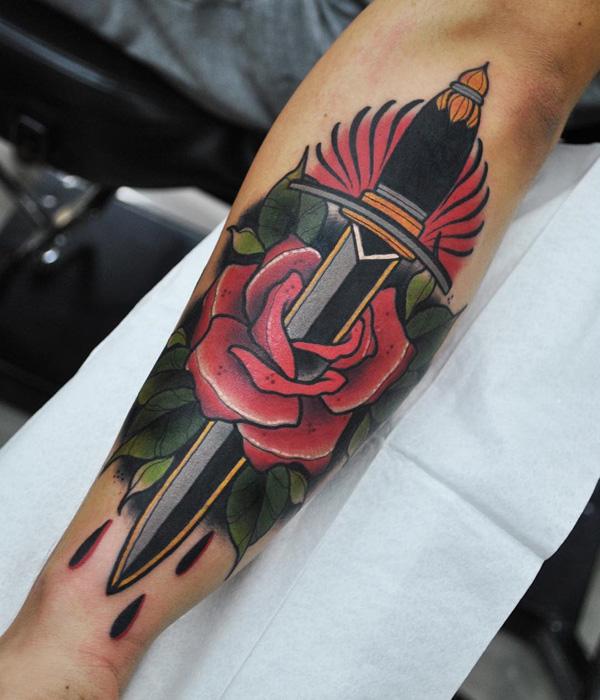 Always choose carefully where you will be tattooed, you may wish for the summer to hide some tattoo but it will be difficult at that time of year.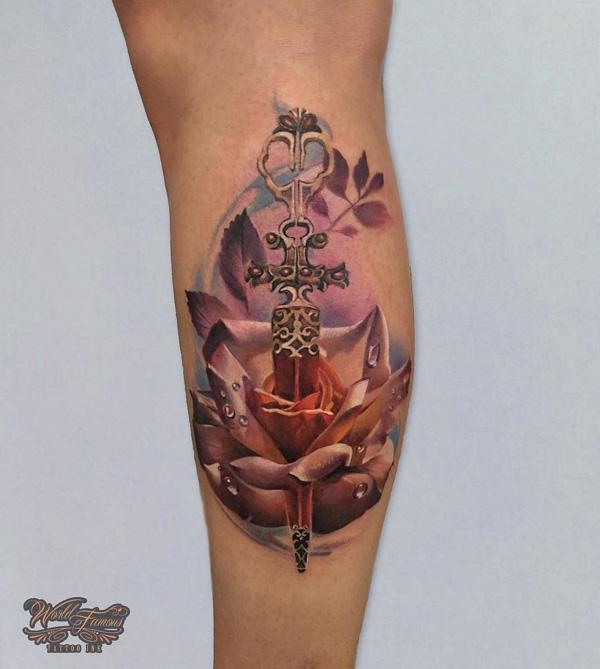 This tattoo looks like a fairy tale to me because of the color and the way how is decorated sword.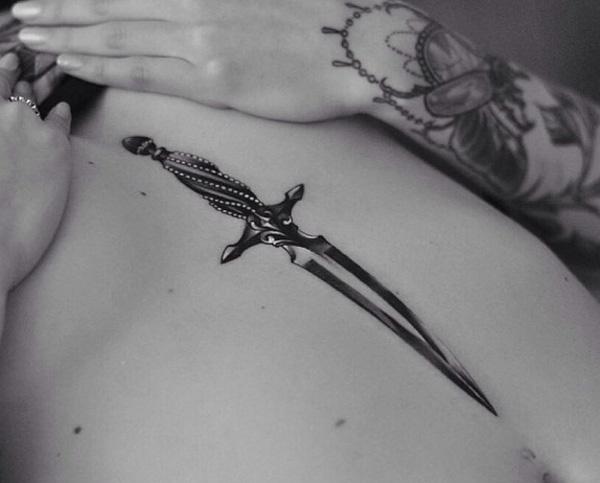 Tattoos under the breasts are very popular. There almost has done Rihanna under the breasts.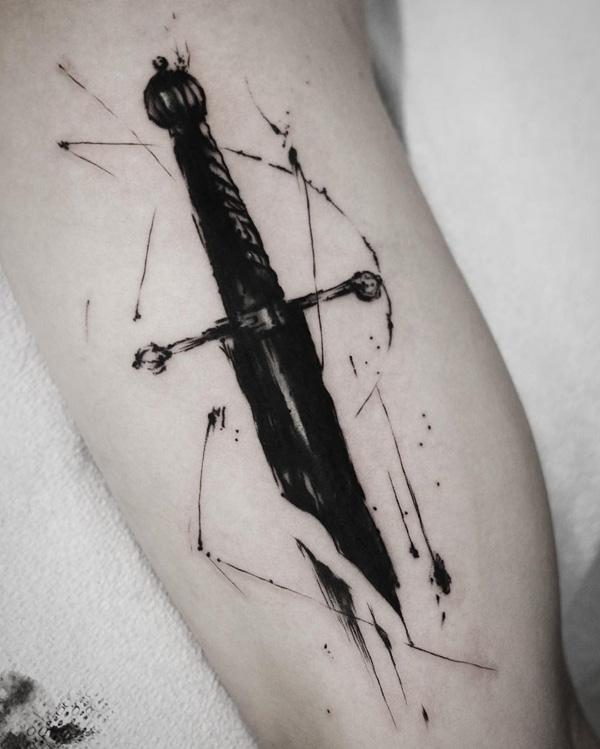 This tattoo reminds me on some art work.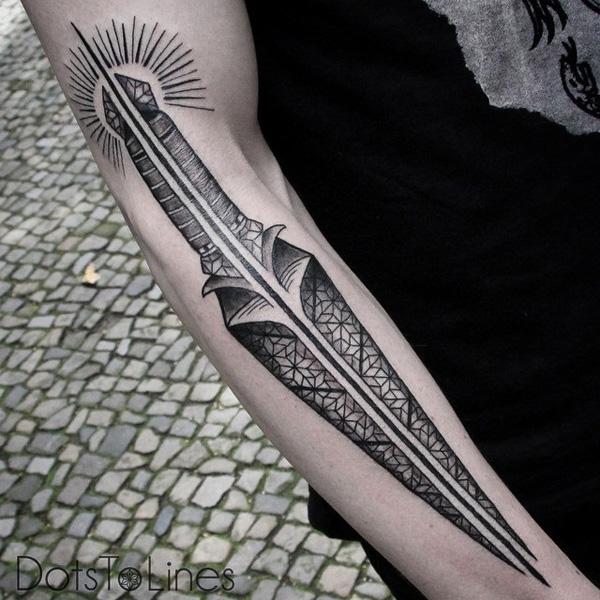 Very effective tattoo along the entire arm. What in my opinion this tattoo gives special beauty is one color of it – black color.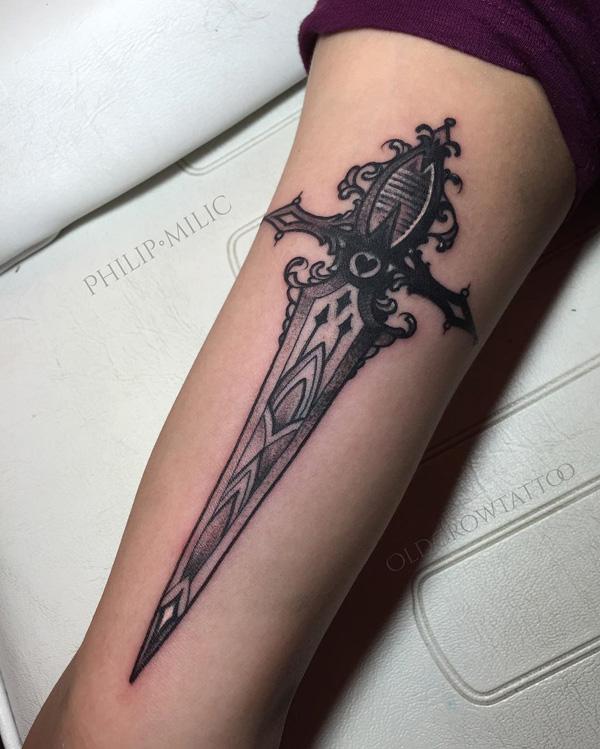 Katana is the best Japanese sword, the best sword of the old world, but extremely tough and brittle. If long used against solid objects can reach cracks. European swords are quite hard, maybe harder than Japanese because they are made to come into contact with other hard objects like armor and helmets.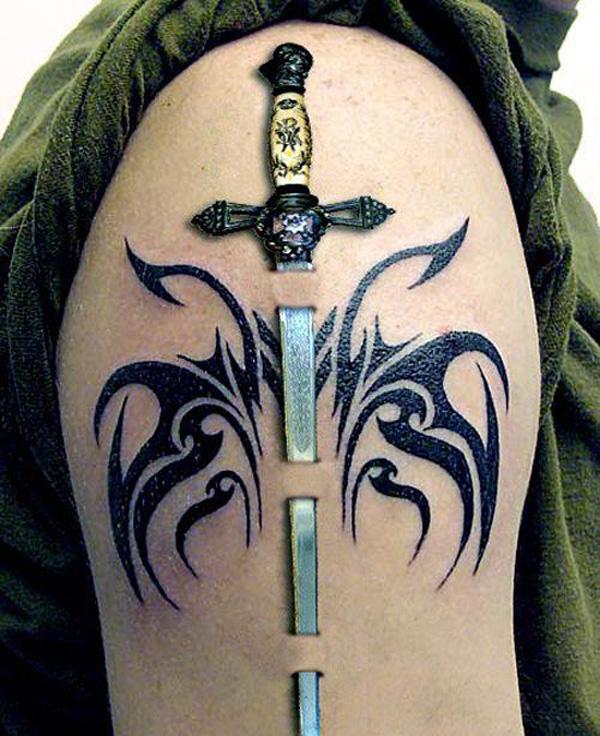 I would call this tattoo as 3 D tattoo. It is perfectly done, so we have the impression that sword actually passes through the skin really.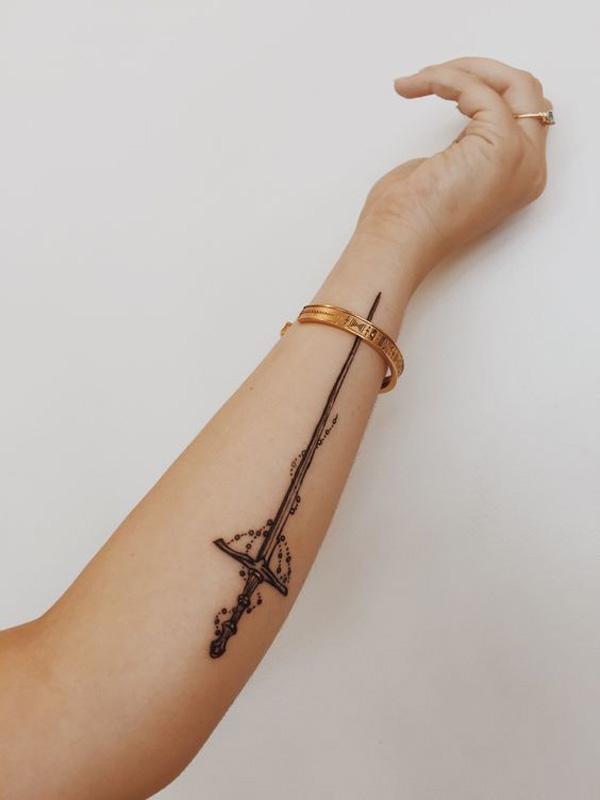 Long but narrow tattoo on arm that looks very sexy!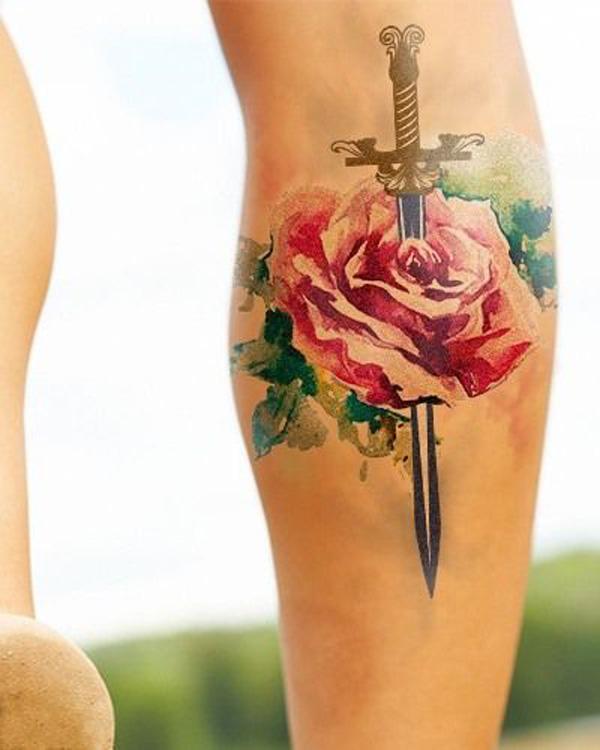 Very nicely done, artist was dedicated while he was doing this rose through which the sword passes … This tattoo is great for both – men and ladies.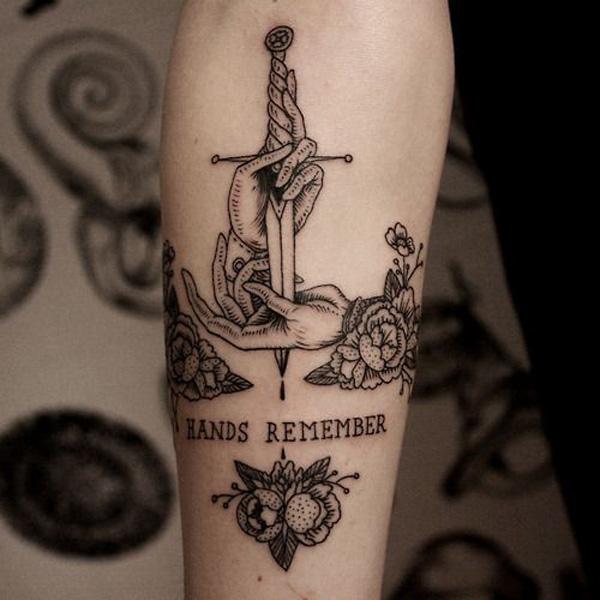 Very interesting tattoo that has it's own message and story…
The motive and meaning of broken sword may have different meanings for different people.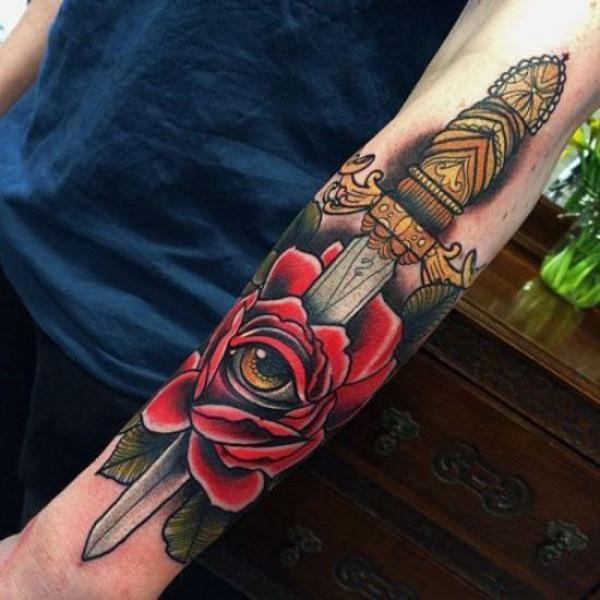 This tattoo symbolize for me the great love which unfortunately failed for some reason. Eye as longing, rose through which passes the sword like lovers who had to split up.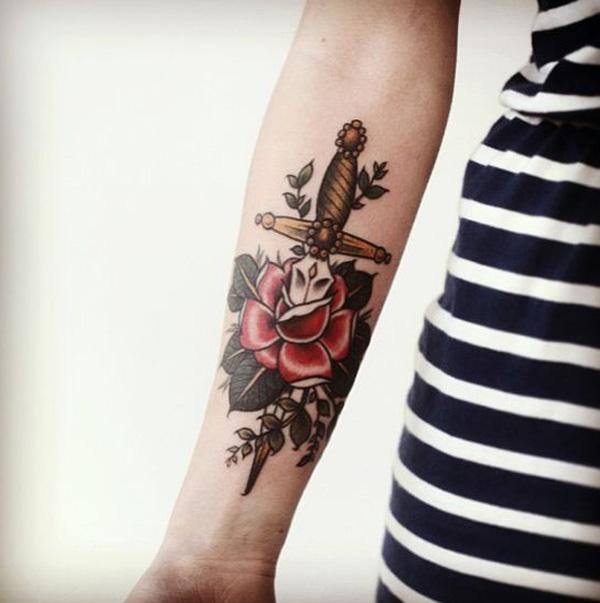 Very similar to the previous tattoo, just on the other side of the hand this guy decided to do it.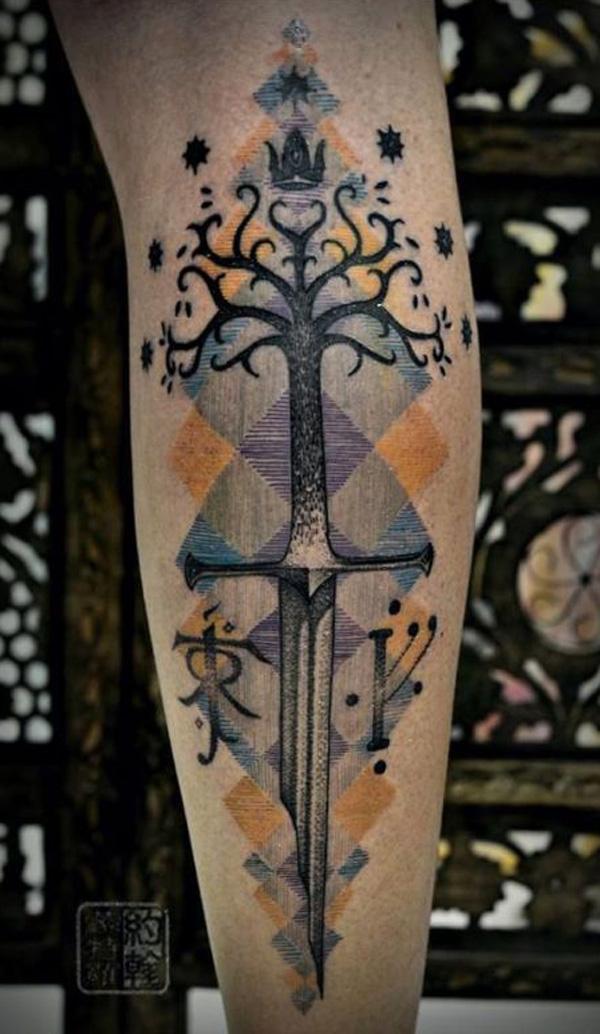 Very interesting stock of sword, as a tree. On your tattoo you can do some initials of the person who means to you or a Chinese character.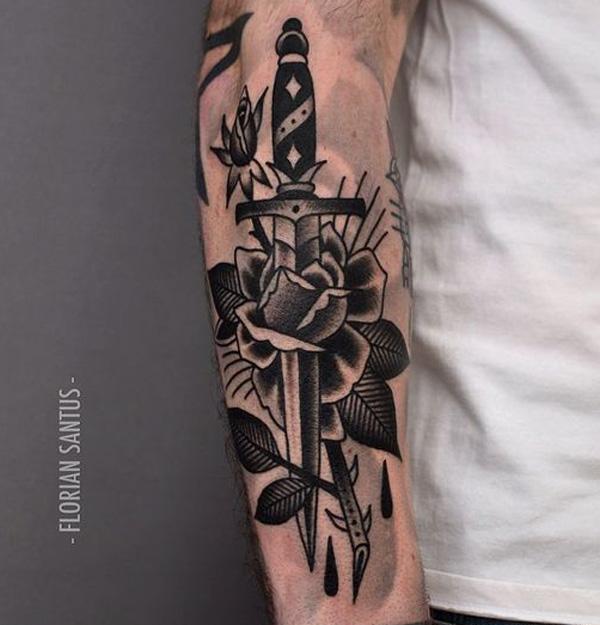 It is very important that tattoo, in my opinion, has some meaning to you, because that's the only way it will be always dear to you, all your life.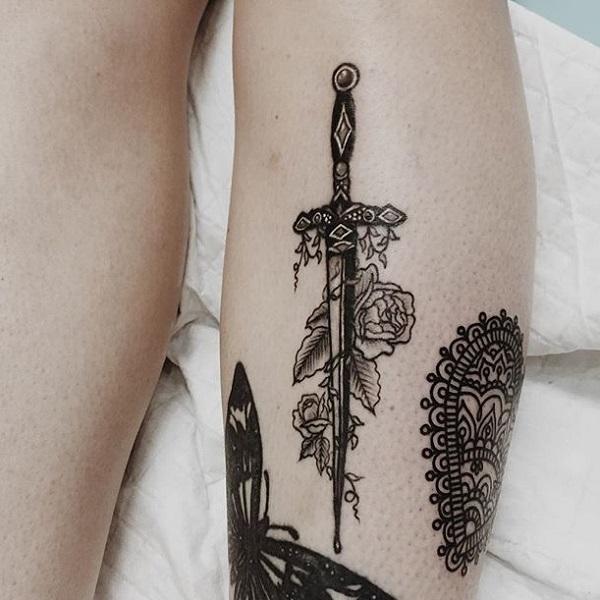 If you are a true lover of this sport and weapon, this tattoos, that we have chosen as examples for you, will surely be a nice detail on your body.