Forearm tattoos are a popular choice for many people, primarily because of their visibility and versatility. They can be easily covered up when needed but also showcased when desired. Forearms are perfect for showcasing intricate artwork or expressing one's personality through tattoos. In this comprehensive guide, we will discuss everything you need to know about forearm tattoos, from choosing the perfect design to understanding the healing process and caring for your new ink.
Why Choose a Forearm Tattoo?
There are several reasons why people opt for forearm tattoos. Here are just a few:
Visibility: Forearm tattoos are easy to show off, making them perfect for those who want to display their body art proudly. On the flip side, you can conceal them easily with long sleeves if the situation demands.
Less Painful: The forearm is less sensitive to pain than other body parts like the ribs or feet, so tattooing on the forearm can be a more comfortable experience for the client.
Versatility: Forearms allow for both large and small designs, making them perfect for a wide range of tattoo styles.
Adaptable: As your body changes, your forearm tattoo remains relatively unaffected. This means that your tattoo design will maintain its shape and size over time, unlike tattoos in some areas that may stretch or warp due to weight loss or gain.
Symbolism and meaning: Many people choose forearm tattoos to showcase an essential part of their identity, such as their faith or heritage.
Selecting the Perfect Forearm Tattoo Design
Picking a design for your forearm tattoo can be an overwhelming task. It's important to choose something that reflects your personal style and holds meaning to you. Consider these factors when selecting the perfect tattoo design:
Personal Significance: A great forearm tattoo should have personal meaning to the wearer. Think about what symbols or imagery resonate with you on an emotional, spiritual, or intellectual level.
Size and Orientation: Consider how large you'd like your tattoo to be and in which orientation you want it to be placed. Do you want your tattoo to wrap around your forearm, or do you prefer a design that runs along the length? Make sure you discuss this with your tattoo artist before finalizing your design.
Color or Black and Grey: Decide if you want to incorporate color in your forearm tattoo, or if you prefer a black and grey design. Keep in mind that color tattoos may require more maintenance over time, as some colors tend to fade faster.
Style: With so many tattoo styles to choose from, take your time to research different artistic approaches before making your decision. Some popular styles include American traditional, realism, watercolor, Japanese, and tribal.
Types of Forearm Tattoos
Forearm tattoos are arm tattoos that come in several types, each with its own unique characteristics. Here are some popular styles of forearm tattoos to consider:
Inner Forearm Tattoos: These tattoos are placed on the inner side of the forearm and can be easily concealed when needed. They provide an intimate space for designs that hold personal significance.
Outer Forearm Tattoos: A popular choice for larger tattoos or those with more intricate details, outer forearm tattoos are highly visible and can be easily flaunted or covered up as desired.
Wrap-around Forearm Tattoos: These eye-catching designs encircle the entire forearm and often incorporate elements from both the inner and outer forearm areas.
Bands and Cuffs: These designs create a band or cuff around the forearm and can be minimalistic or highly detailed, depending on your preference.
Cuded has published a number of similar posts about arm tattoos or sleeve tattoos, check out the links below to find more awesome designs.
Popular Forearm Tattoo Ideas and Themes
Forearm tattoos can be as unique as the individuals who wear them, with a wide variety of designs available to cater to every style preference. However, some themes tend to be particularly popular for men and women. Here are a few examples:
Forearm Tattoo Ideas for men
There is a vast array of styles, themes, and designs to consider when it comes to forearm tattoos for men. We explore some of the most popular and trendy styles below:
1. Tribal forearm Tattoos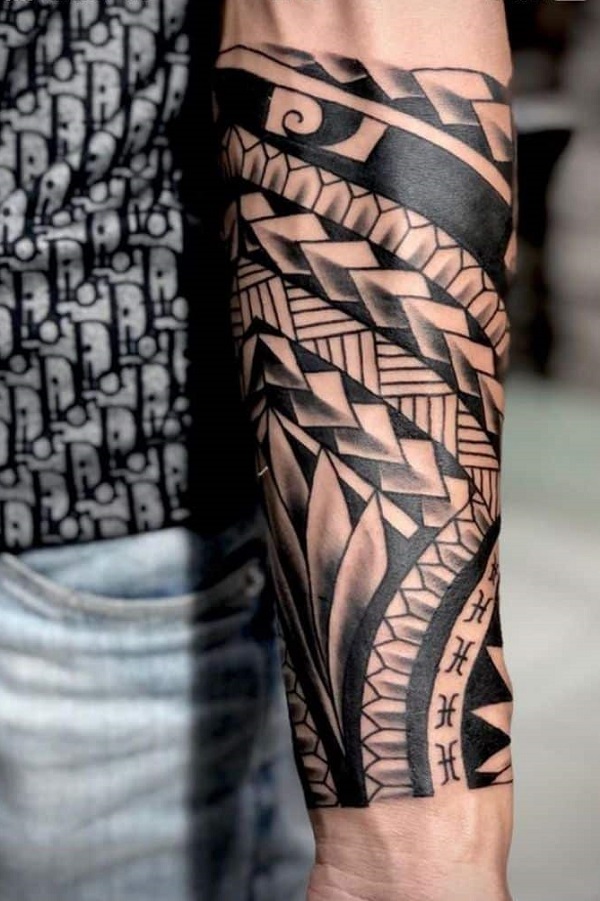 Tribal tattoos have been a long-standing favorite among men, and for good reasons. These intricate and bold designs can symbolize culture, spirituality, or personal strength, and can be tailor-made to express your individuality.
There are different tribal styles to choose from, such as Maori, Polynesian, and Native American, each featuring distinct patterns and symbolizing diverse meanings.
2. Realistic forearm Tattoos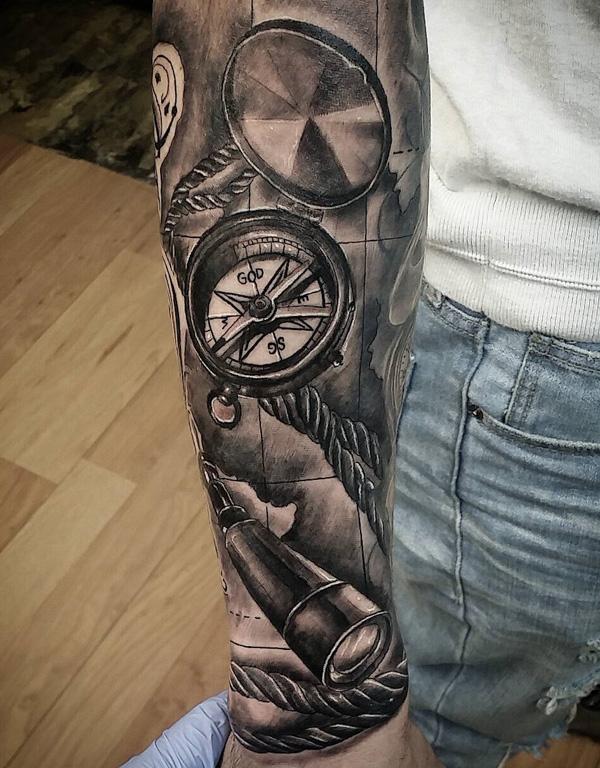 For those looking to capture the essence of a loved one, a specific moment, or a favorite animal, realistic tattoos are an artistic way to showcase these on your body. Photorealistic tattoos can be both visually stunning and deeply sentimental.
3. Geometric forearm Tattoos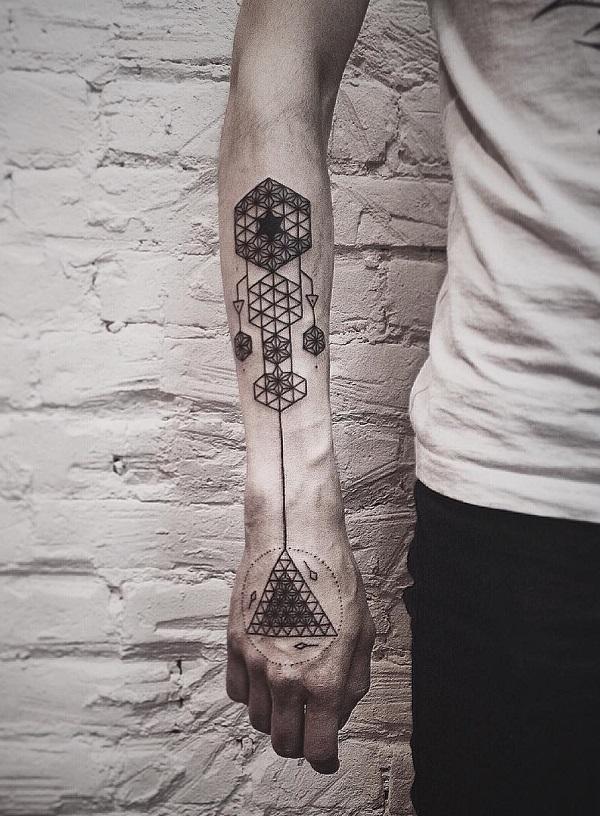 Geometric tattoos are growing in popularity among men, as they represent order, structure, and balance. These designs comprise shapes like triangles, circles, and squares, connected with lines or dots to create mesmerizing patterns. Many geometrical tattoos harbor spiritual and symbolic meanings, making them unique and deeply personal.
4. Script forearm Tattoos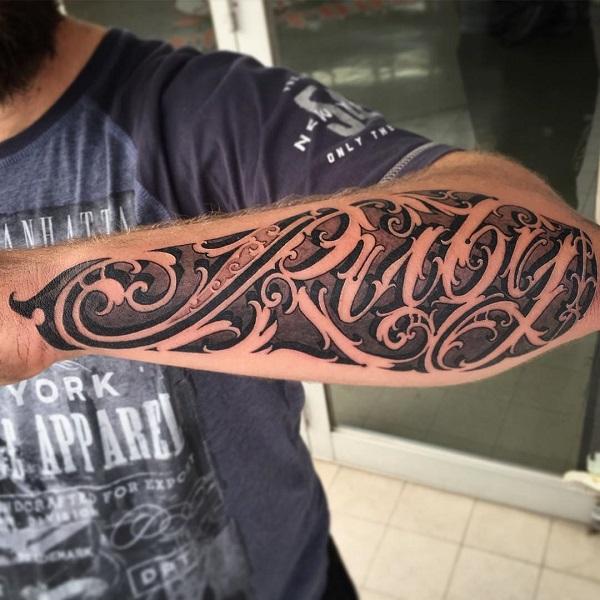 Script or textual tattoos allow for the display of meaningful quotes, names, or dates on your body. Available in numerous fonts, sizes, and placements, these are a simple, yet profound way to showcase your beliefs, convictions, or connections with others.
5. Biomechanical forearm Tattoos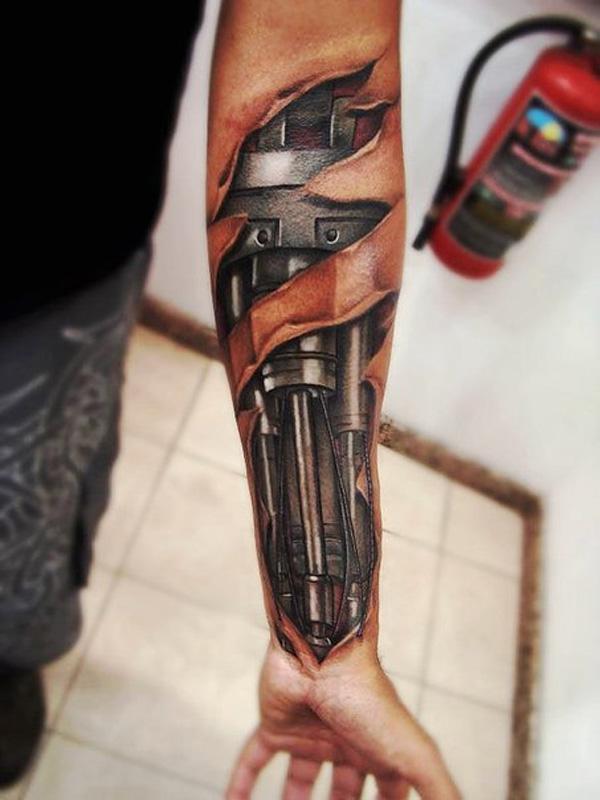 Biomechanical tattoos offer a unique twist on body art, showcasing the inner workings of an individual as if they were made of machinery. Often inspired by sci-fi horror, these tattoos can create an appearance of mechanical parts or alien-like anatomy sitting beneath the skin. This powerful design greatly suits the forearm's natural shape and curve.
Of course, this is not an exhaustive list of tattoo styles or themes. If your desired tattoo doesn't fit the examples above, there are plenty of other options, such as abstract art, watercolor tattoos, Japanese tattoos, traditional imagery, and more. The key is to choose a design that resonates with you, tells your story, and aligns with your aesthetic preferences. Here are more forearm tattoo ideas for men for your inspiration.
Blackwork with raven and half female face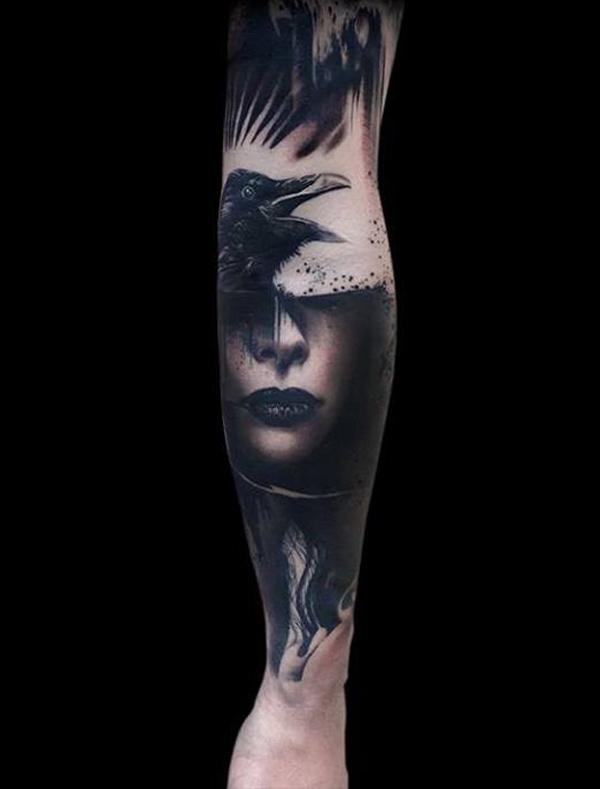 This forearm piece portrays a female face with her eyes covered as if it is in a mysterious hole. Despite the monochromatic color, the tone is emphasized by appearing of the crow. The crow is often associated with bad luck and death, but it also signifies life and mysteries. So if you love adventures or magic life, this is good idea to let the world know.
Realistic elephant forearm tattoo for men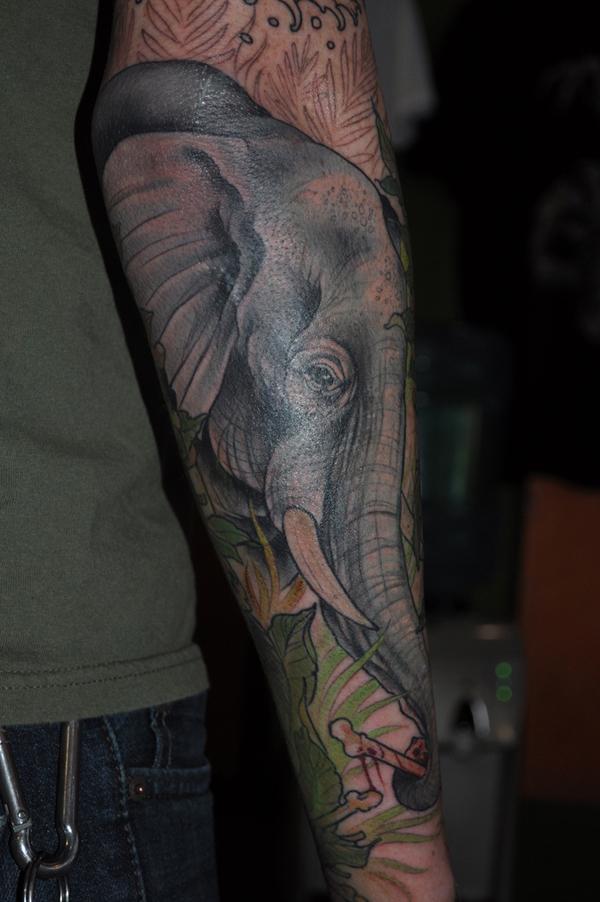 Photorealistic portrait tattoo in 3D style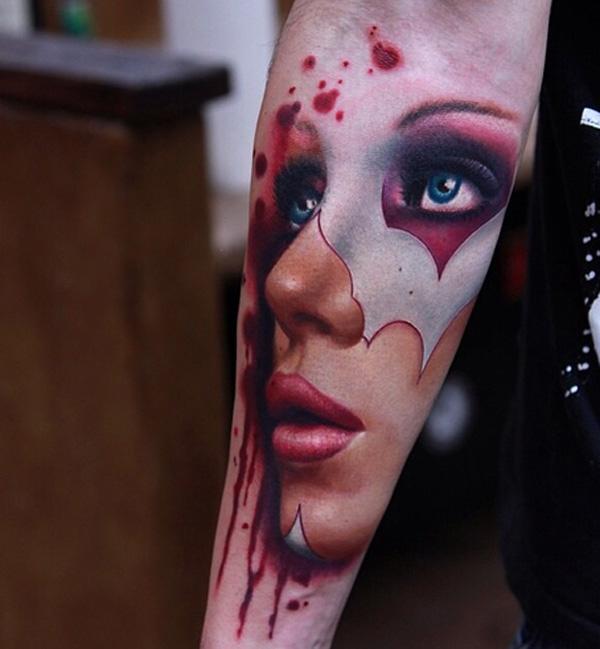 Most photorealistic tattoos are rendered in gray wash for their use of gray and black ink. But this colored piece is unique as if a real face comes out on the arm. The hyper realistic effect was achieved by making use of the natural color of skin with just right lighting and smooth transitions.
When the dam breaks sleeve tattoo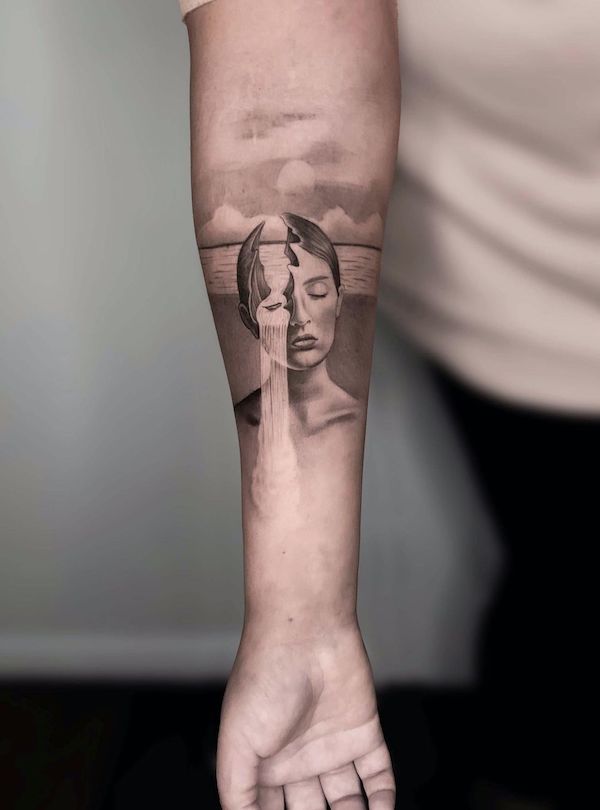 Romantic collage tattoo kissing lovers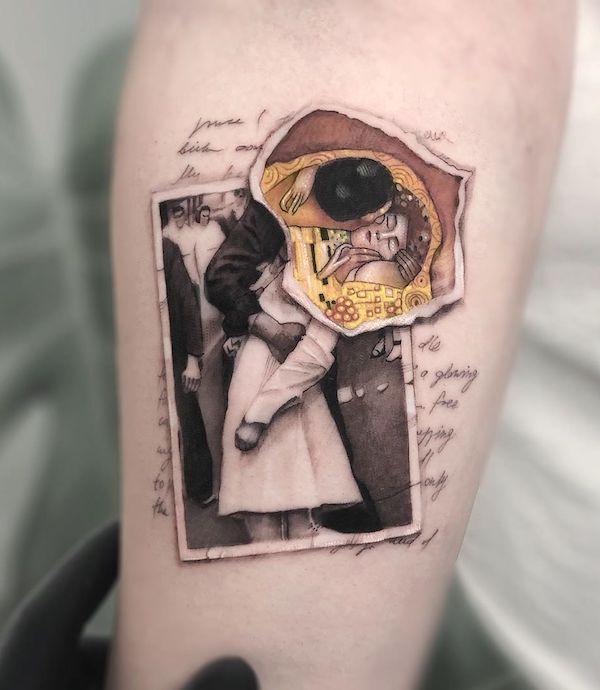 This tattoo reminds me of the iconic photograph "Kissing Sailor" after the end of World War II. Afterwards, photographers captured similar pictures to express romantic love. This design is amazing in that it the romance is fueled with aesthetic beauty by the collage of vintage photos.
Family walking tattoo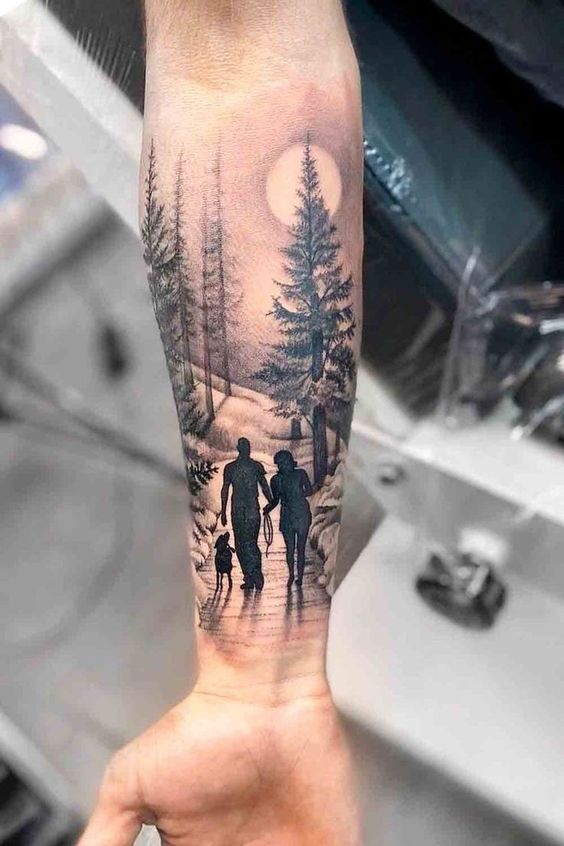 Beautiful portrait of enchanting woman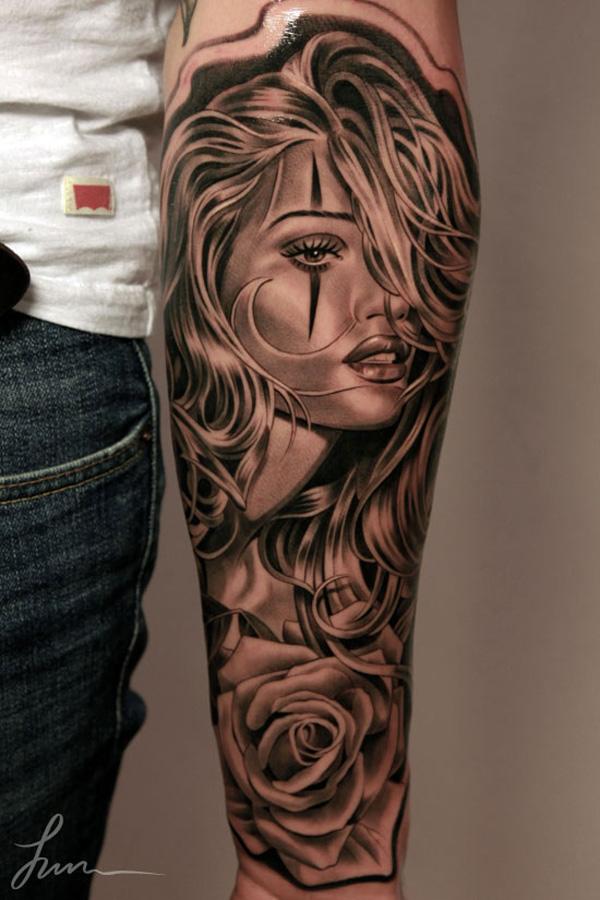 This piece depicts a beautiful portrait of enchanting woman with curly hair style on forearm. The hue of metallic gray makes the tattoo look very impressive and amazing. If you wonder what her relationship with the wearer is, you may find some clue by the rose on the bottom.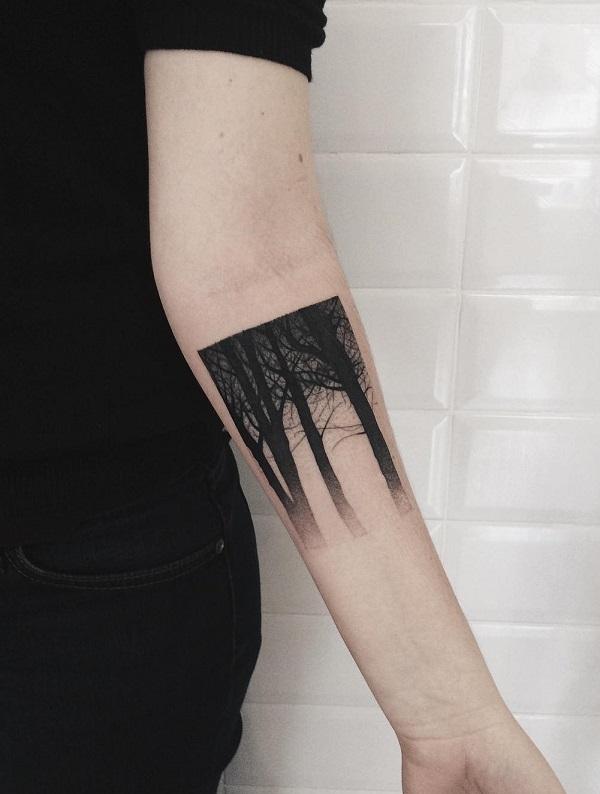 This black and white ink offers a glimpse of forest natural scenery on inner forearm. If someone is passionate about nature, this tattoo is surely addressing the aspiration. A picture is worth a thousand words.
A tattoo of a colored Native American woman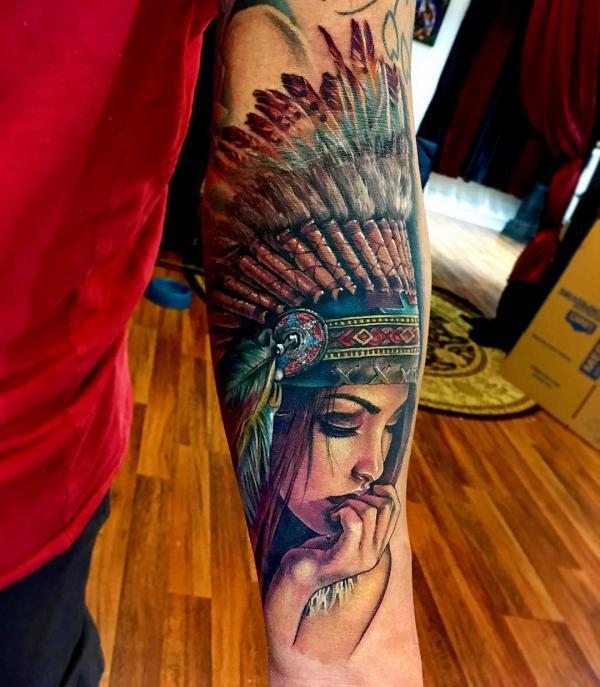 It is a great honor to To wear a headdress among Native American people as it stands for strength and bravery in Native American culture. Historically, women don't wear the headdress. However nowadays the the imagery of women wearing headdress is everywhere. It seems a new icon of fashion. It's absolutely cool to get the Native American tattoo.
Source
Cartoon landscape armband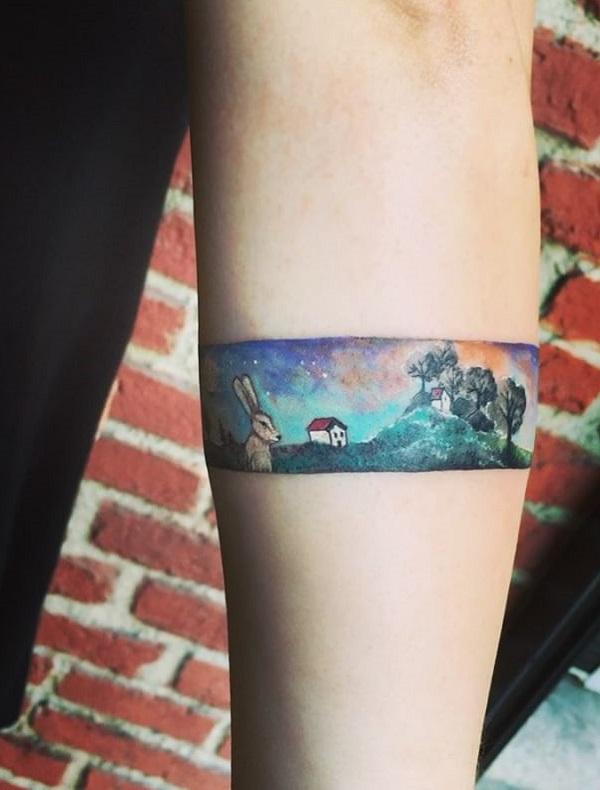 Female face and flowers tattoo new school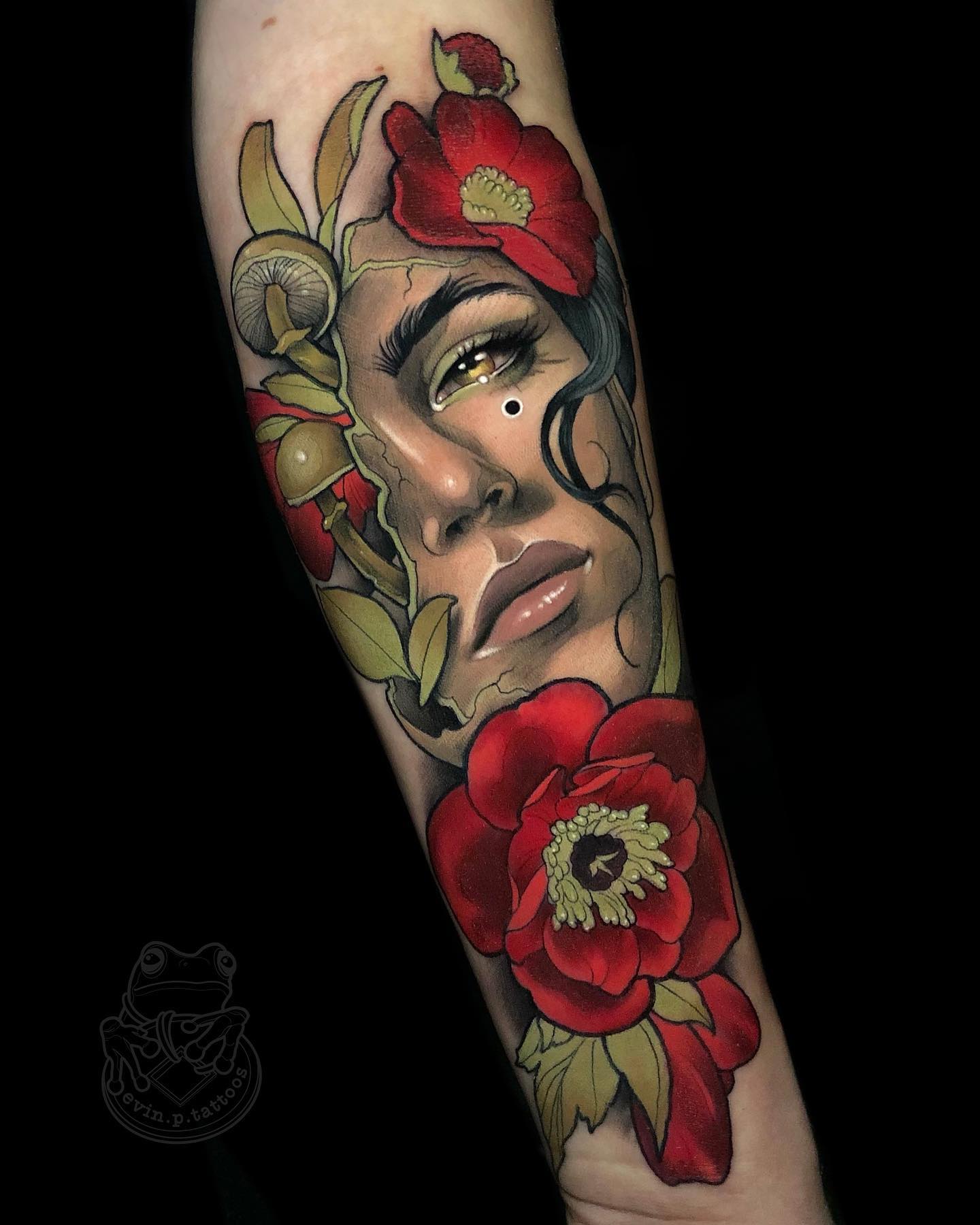 Typically, armband reminds us of sportsman or outdoor life. But this cartoon tattoo brings fresh new air with the beautiful landscape inked in the circumference of the forearm. The cute bunny and little house evoke memory of joyful childhood.
Cool blackwork on foreatm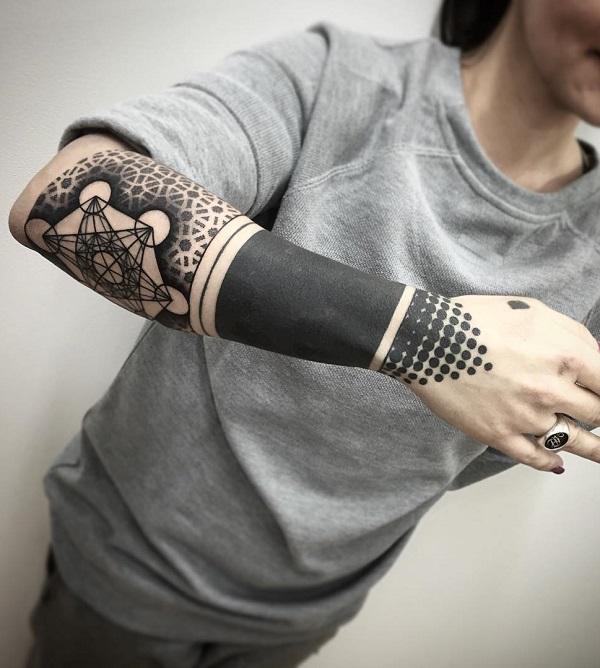 Cool forearm tattoo idea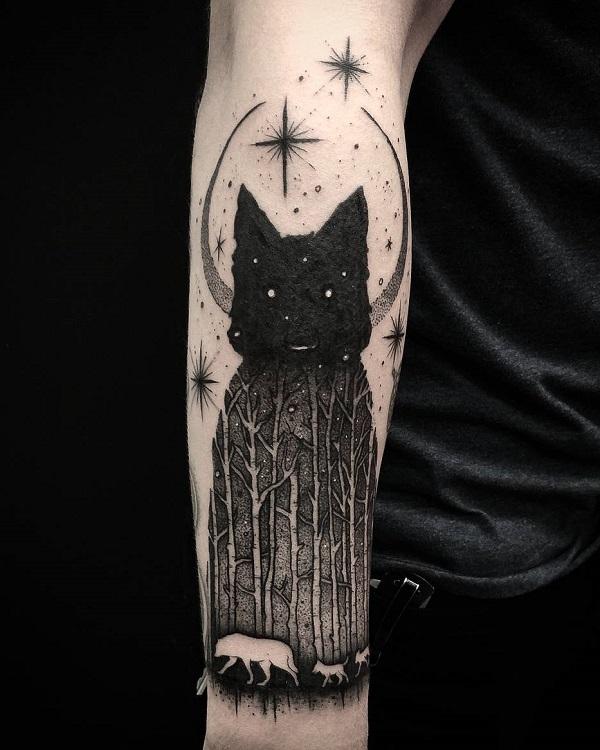 Black and gray Dragon ink on forearm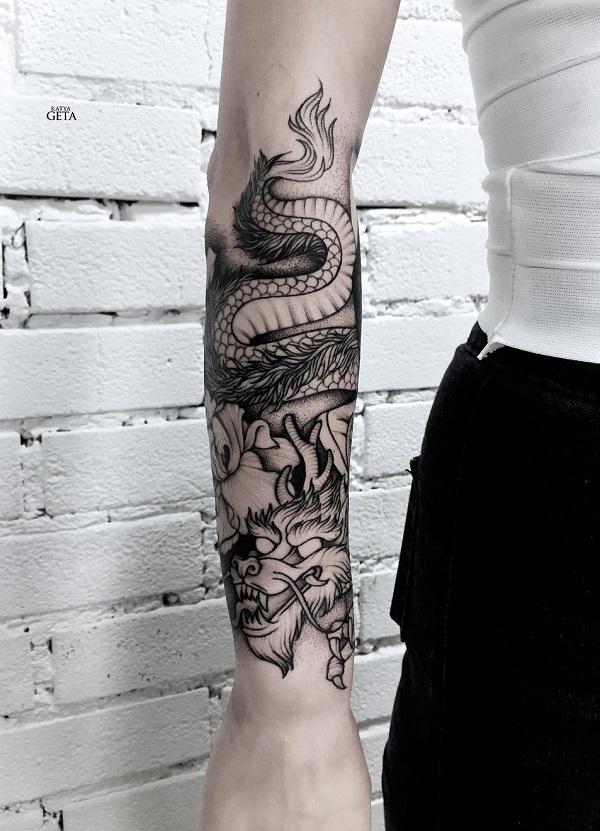 Realistic tattoo with an ink bottle and a quill pen on a piece of paper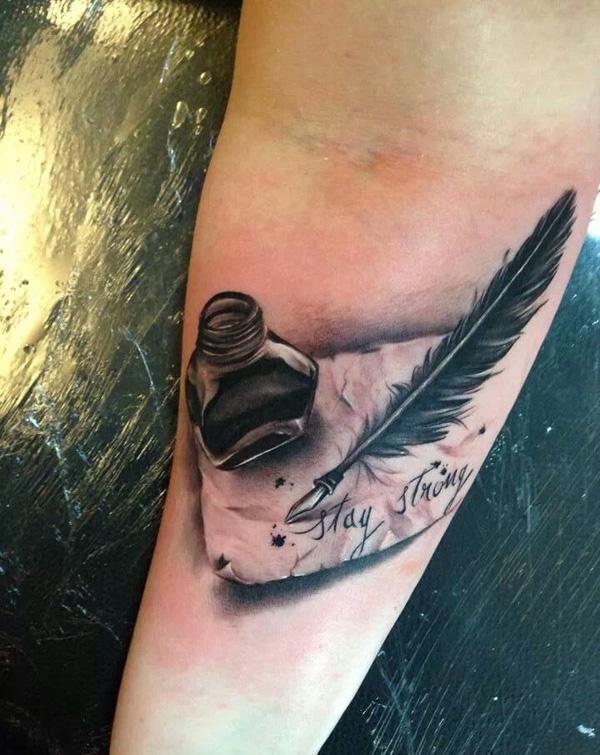 Roses tangled ribbon with quotes – life is not rehearsal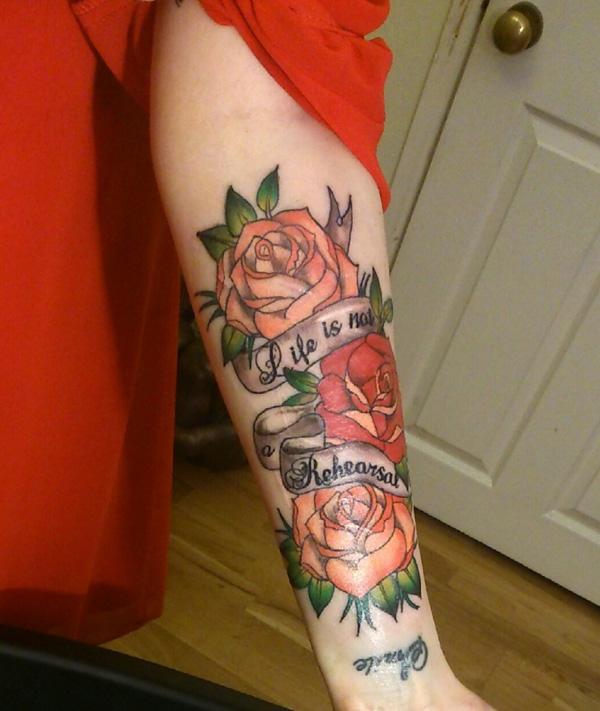 Pink peony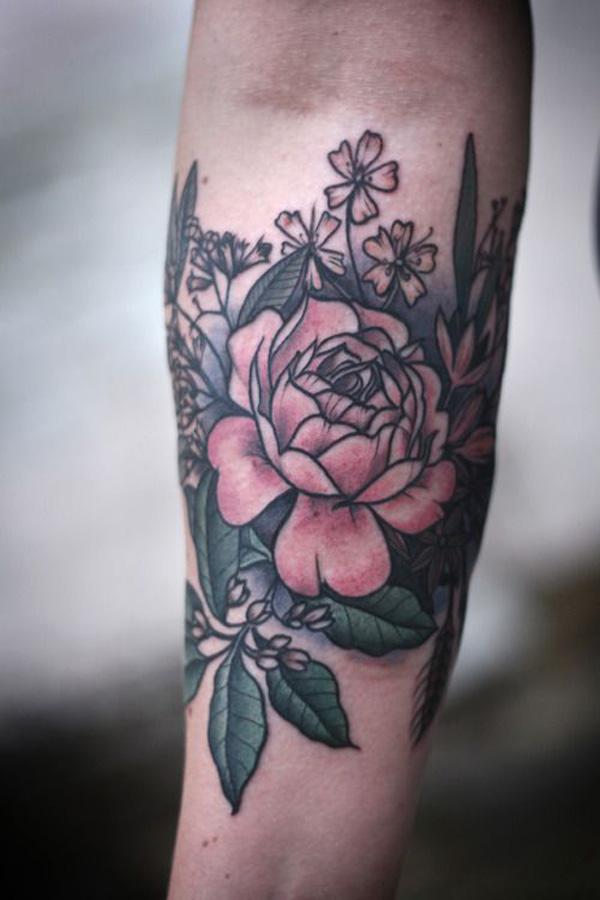 Blue Flower Forearm Tattoo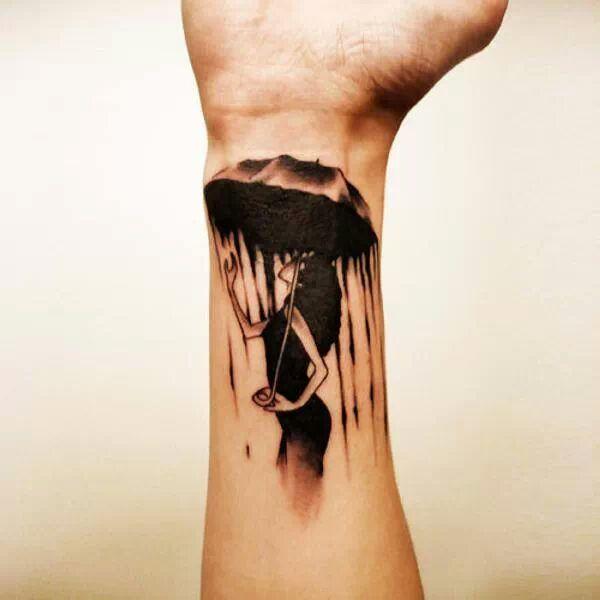 Brush stroke forearm tattoo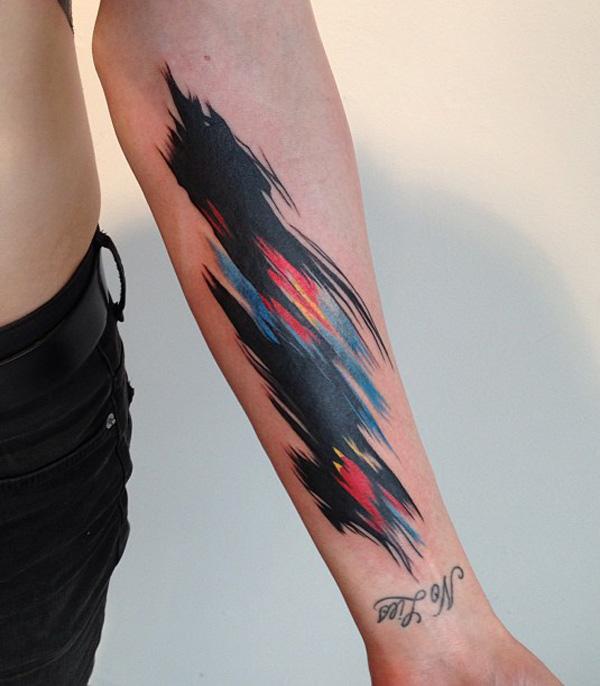 Big Black Feather forearm Tattoo for men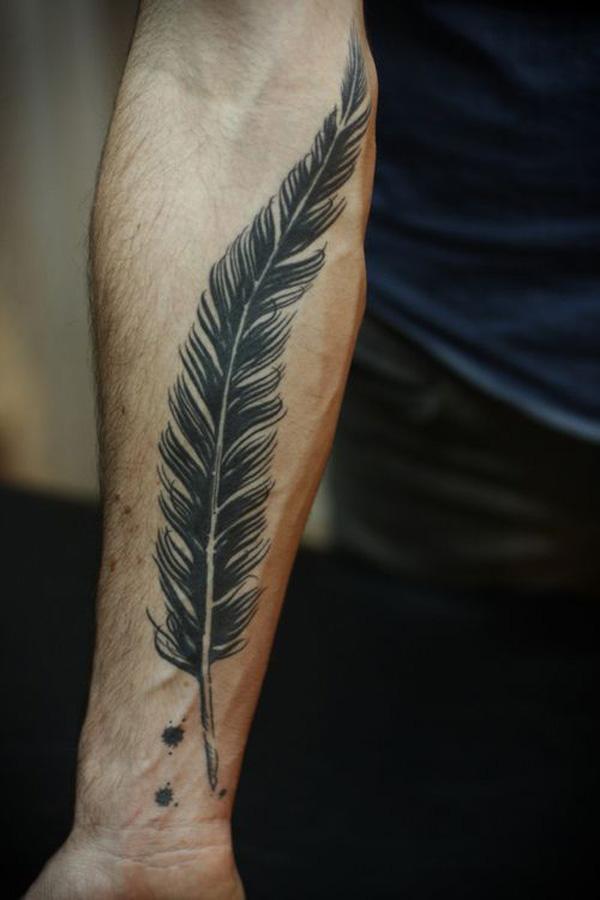 Cool Deer Tattoo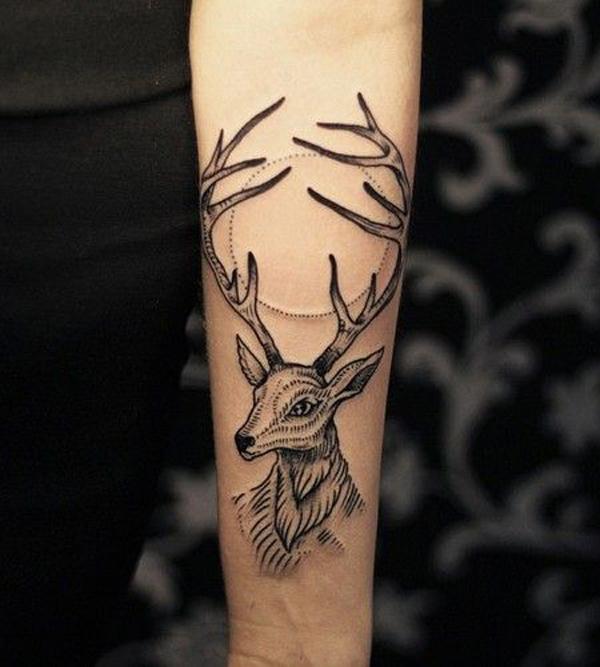 Fire walk with me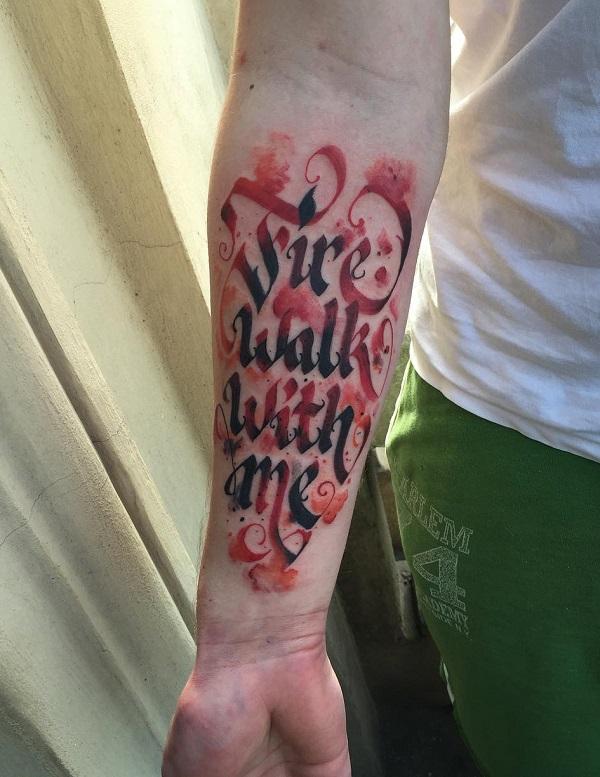 Font script tattoo with roses on arm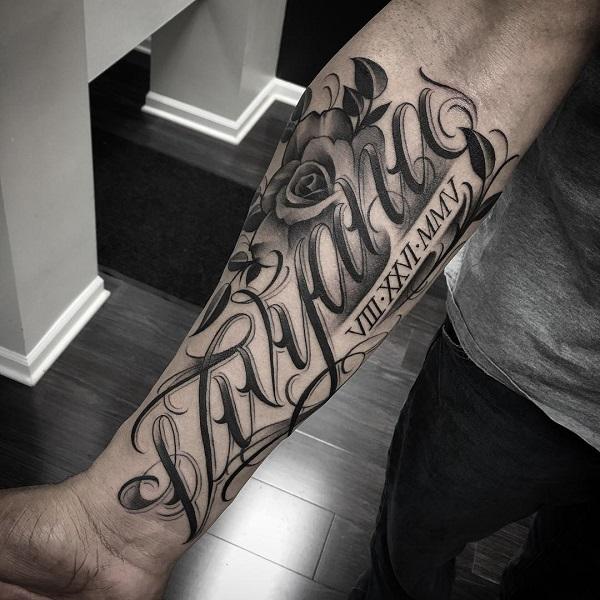 A lot of people use graphic symbols as motifs to express themselves. However, you may opt to ink some meaning words in certain designs. For example, this one features name in stylish font with the date She was born. In the middle of the flower is inked her Capricorn sign that is the tenth astrological sign in the zodiac out of twelve total zodiac signs.
Clean armband dortwork for men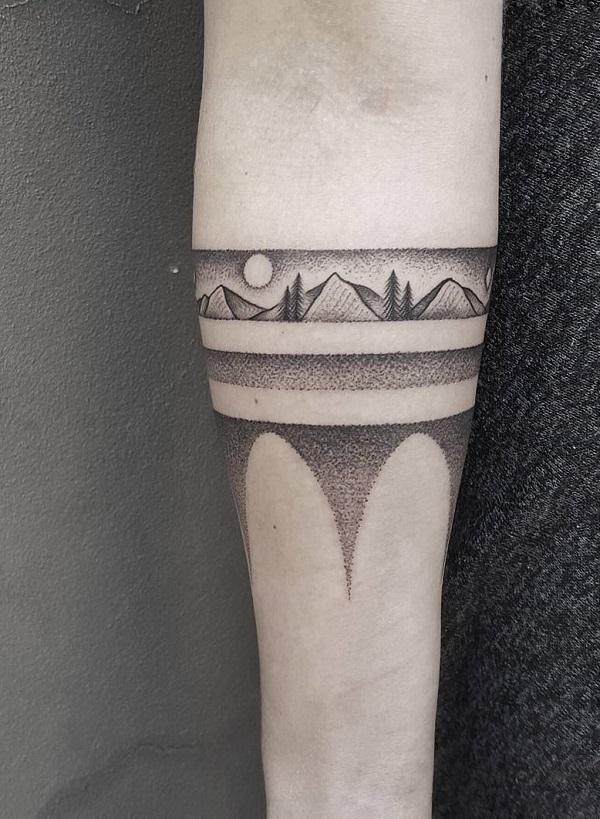 Black linework on forearm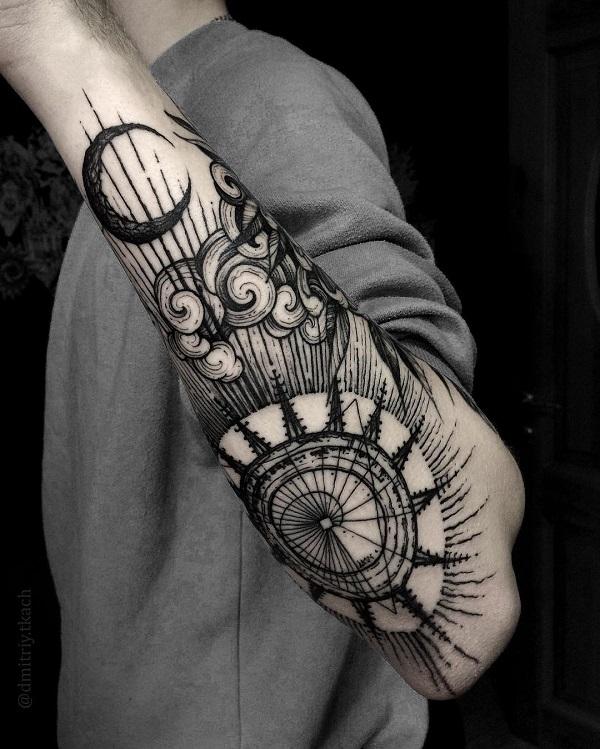 Stars and planets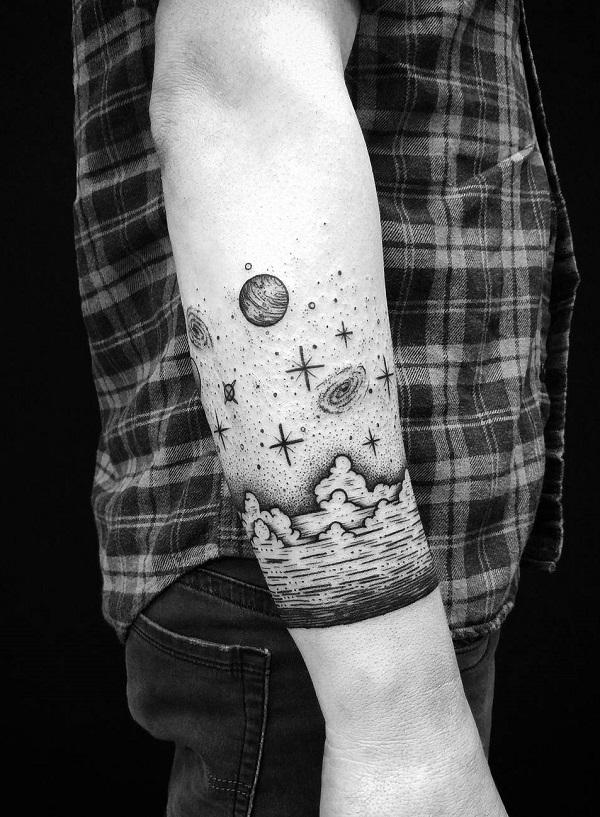 Space tattoos are often portrayed in colorful style so as to create stunning 3D effect. However, if you don't belong to those with exaggerated taste, black and gray may be your consideration. Using the unique dotwork technique the artist created dynamic scenery blending ocean and stars.
Forearm tattoo with nautical motifs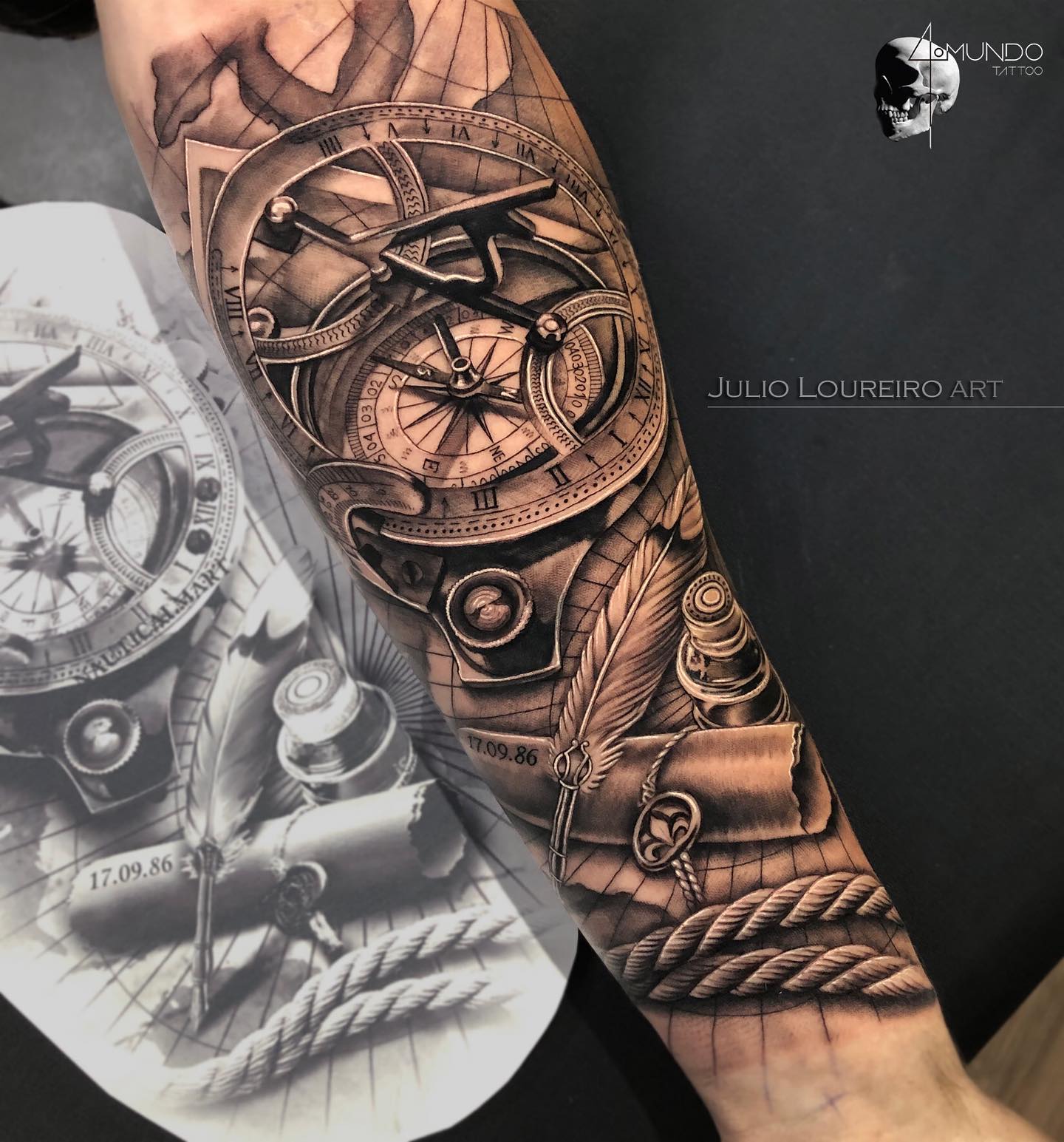 Nature armband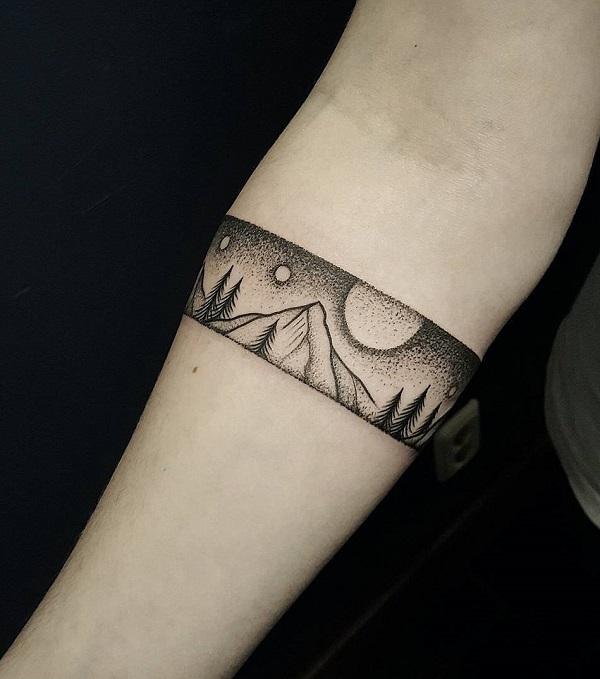 You can't miss the armband tattoo with mountain and all the nature icons. If you are a nature advocate, this is the best idea to remind people how close we are to the environment. And it's also extremely cool with the shading of dotwork.
Forest forearm tattoo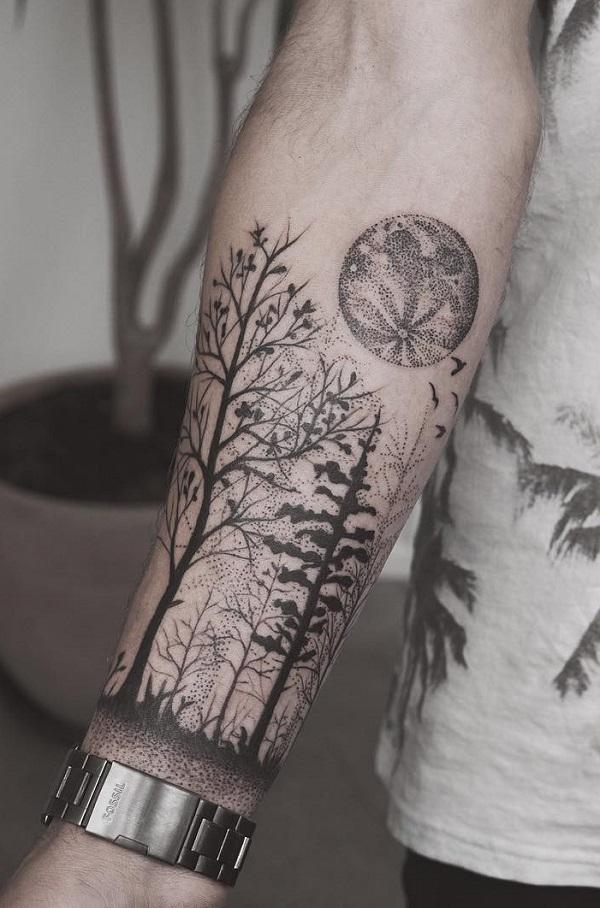 Illustration style forearm tattoo
A little boy and the moon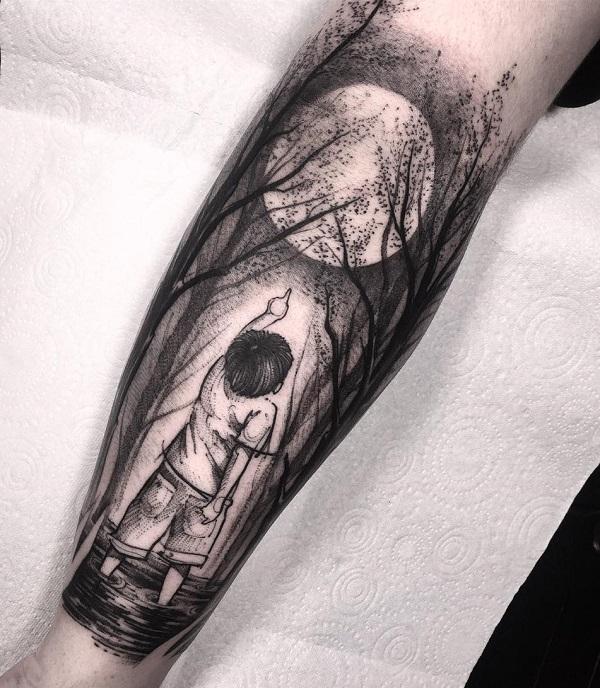 Curiosity is the nature of every boy. And everyone has the experience. This black and white tattoo seems to rewind time and let us see what happened in our childhood. Why does the moon not fall? Why does the moon shine in nighttime?
Mandala line work on inner forearm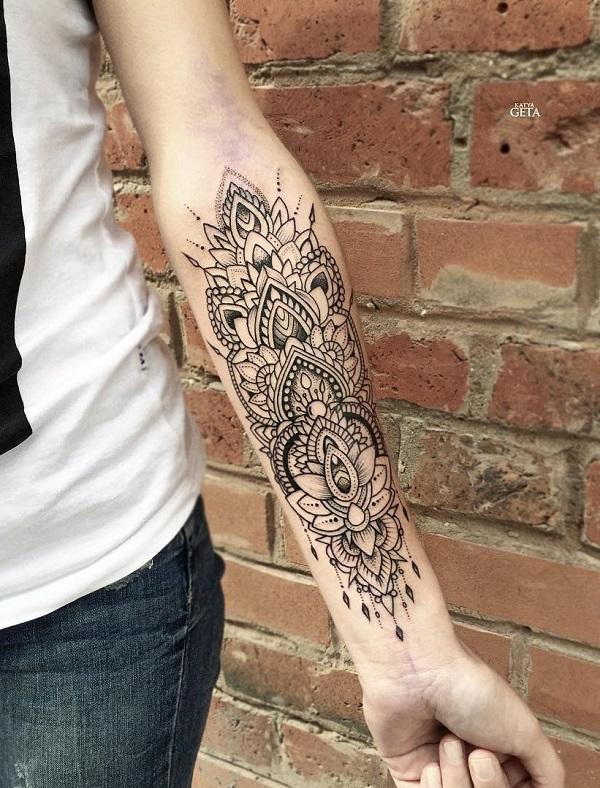 Black Mandala dotwork wristband for men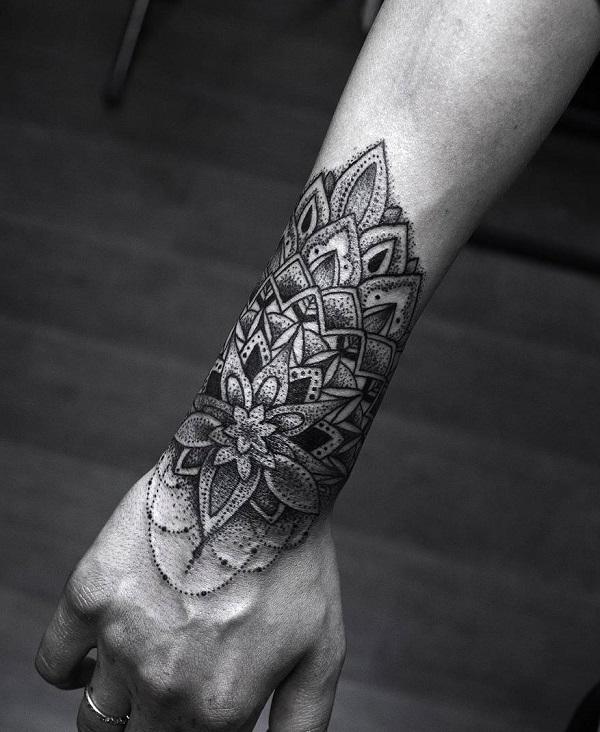 Hummingbird Jewelry tattoo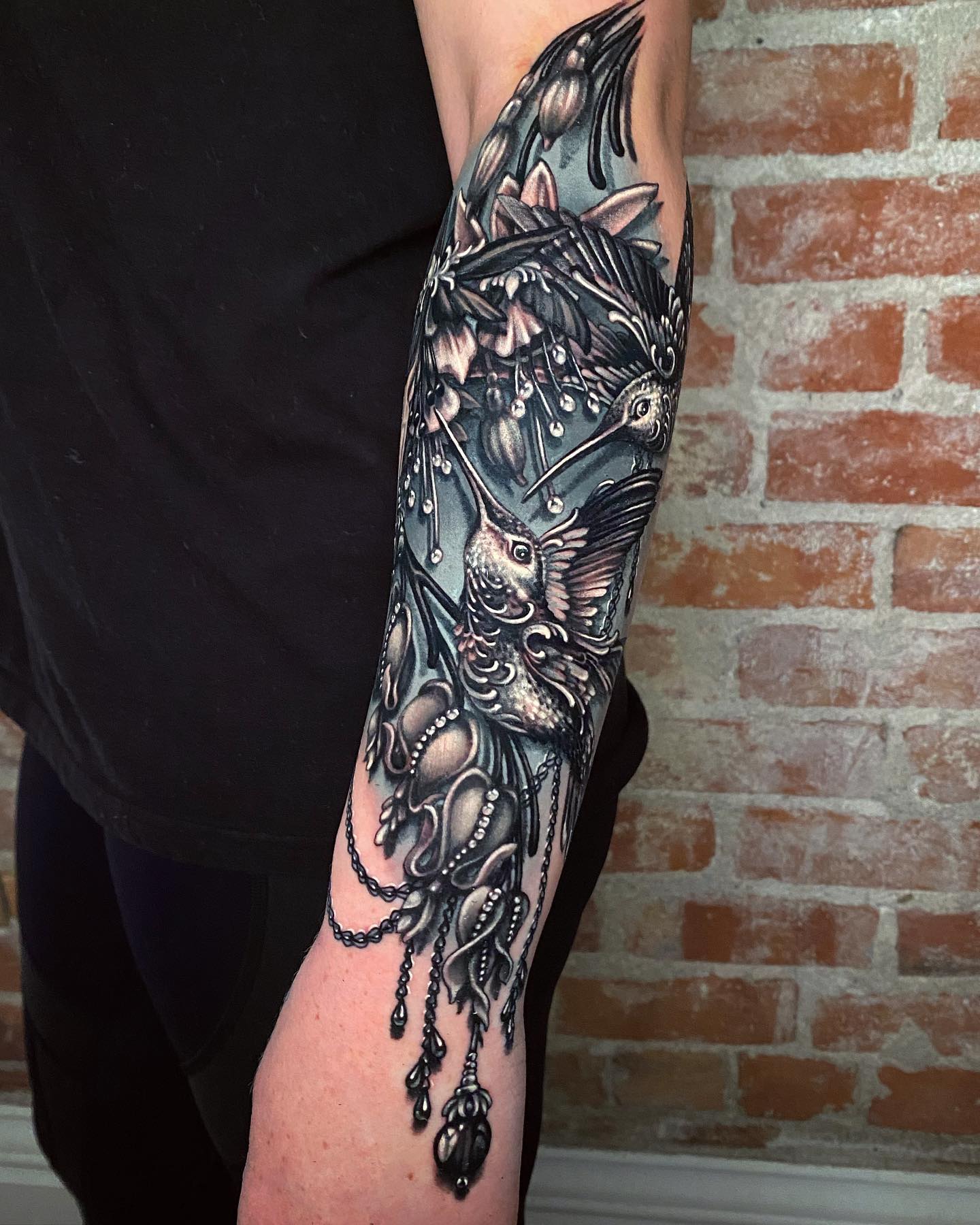 Symmetrical mandala inspired dotwork tattoo extending from elbow to hand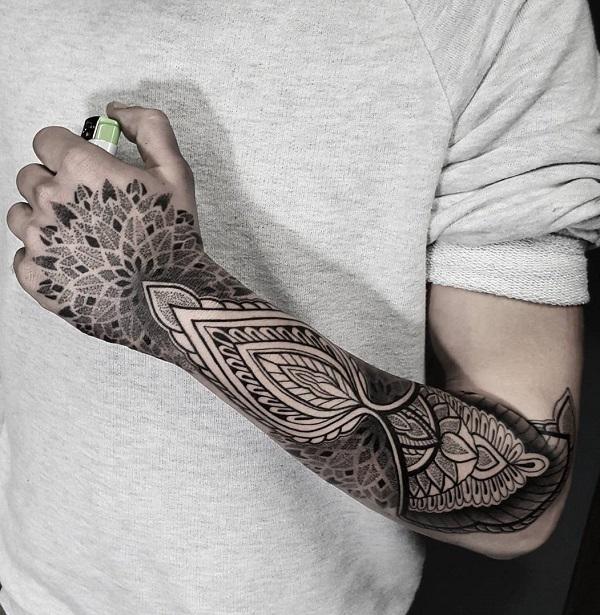 Matching mandala tattoo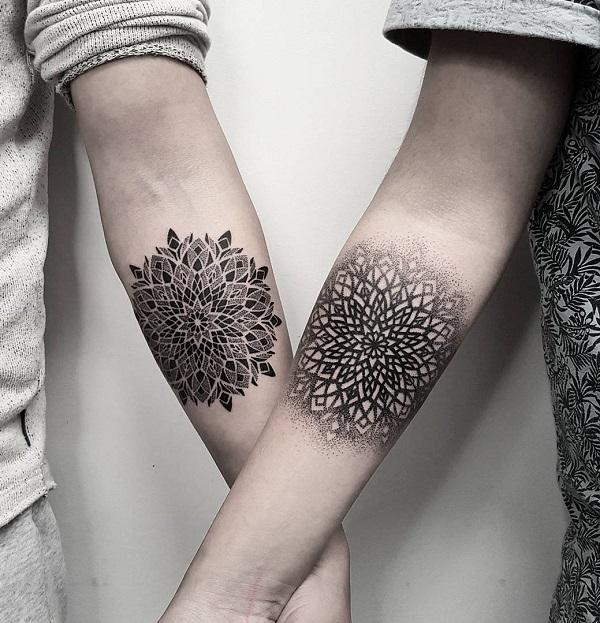 People get tattoo to express themselves. Tattoo is personal. Not only does it express oneself, but also the bond of relationship with others, the beloved one. With the identical mandala inked on the both forearms, no one could replace each other in their minds.
Matching forearm tattoo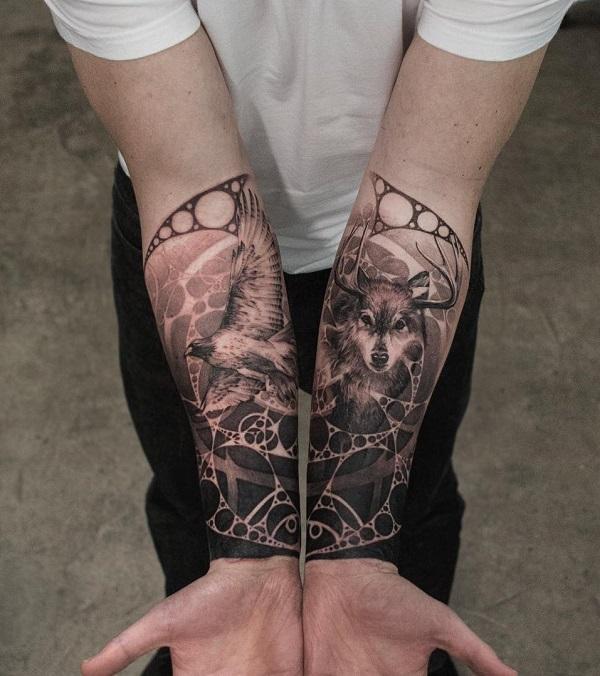 Owl princess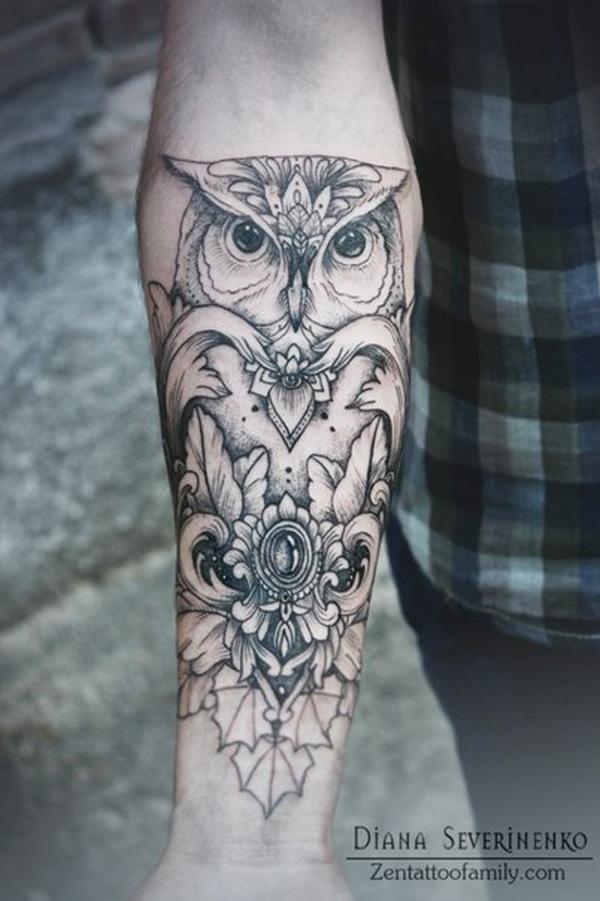 Pear and blossom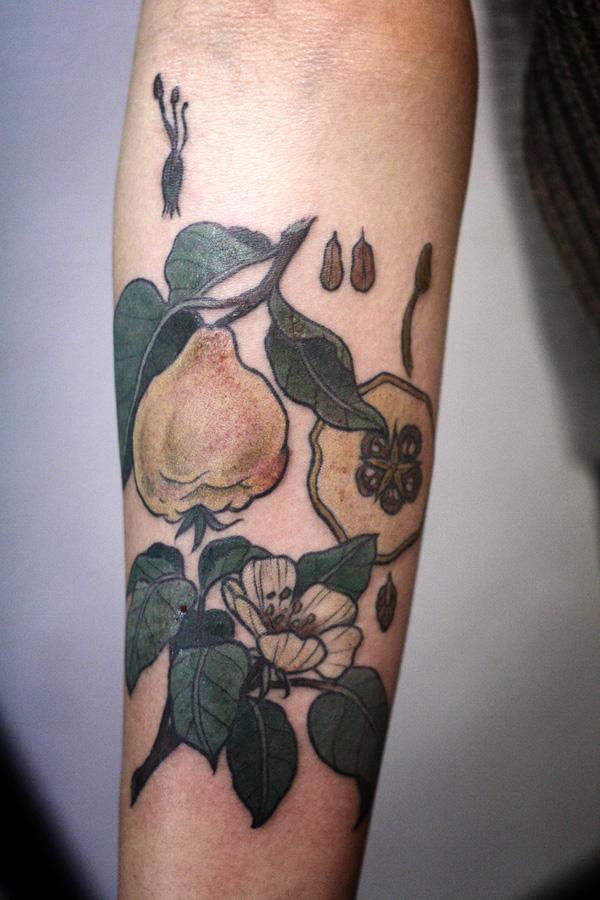 Don't give up this ship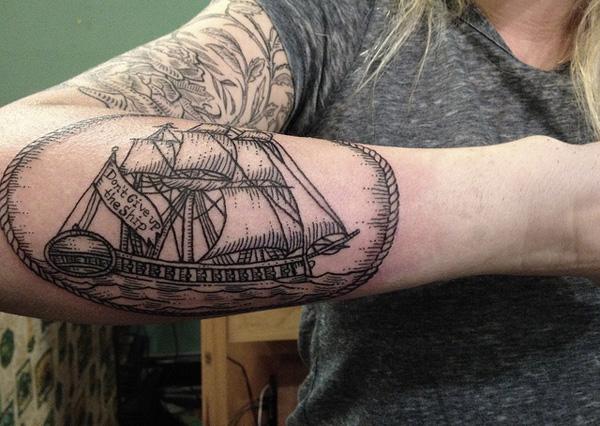 Compass, magnifier and map
Watercolor Flower Forearm Tattoo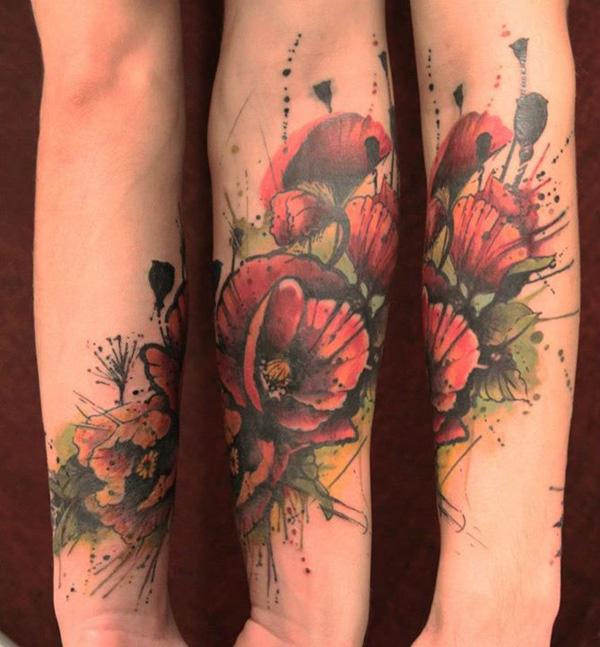 Beautiful Portrait Forearm Tattoo
Moon Forearm Tattoo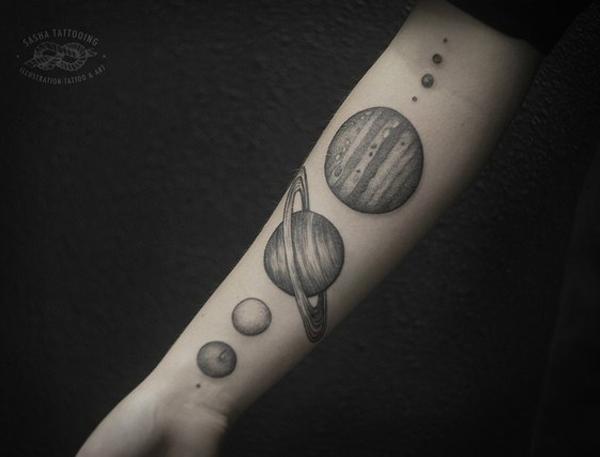 3D Portrait Forearm Tattoo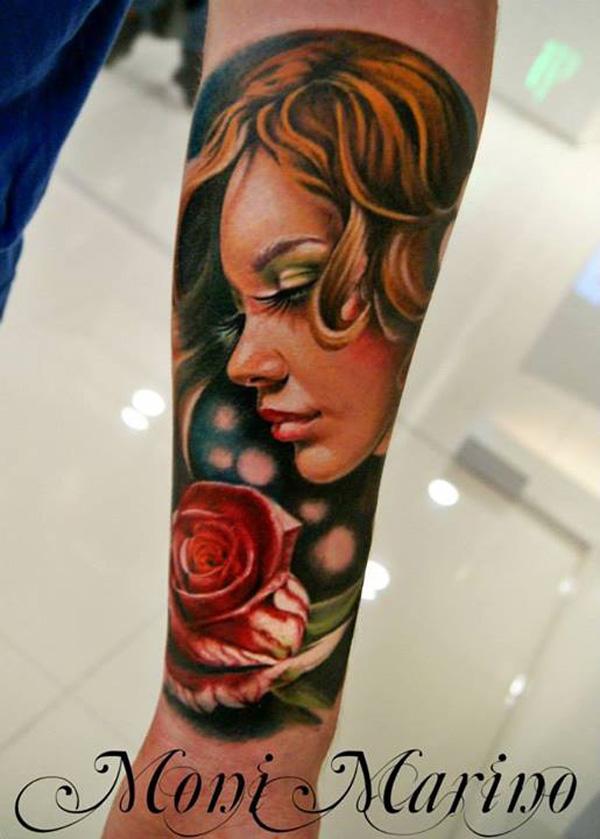 3D Skull Forearm Tattoo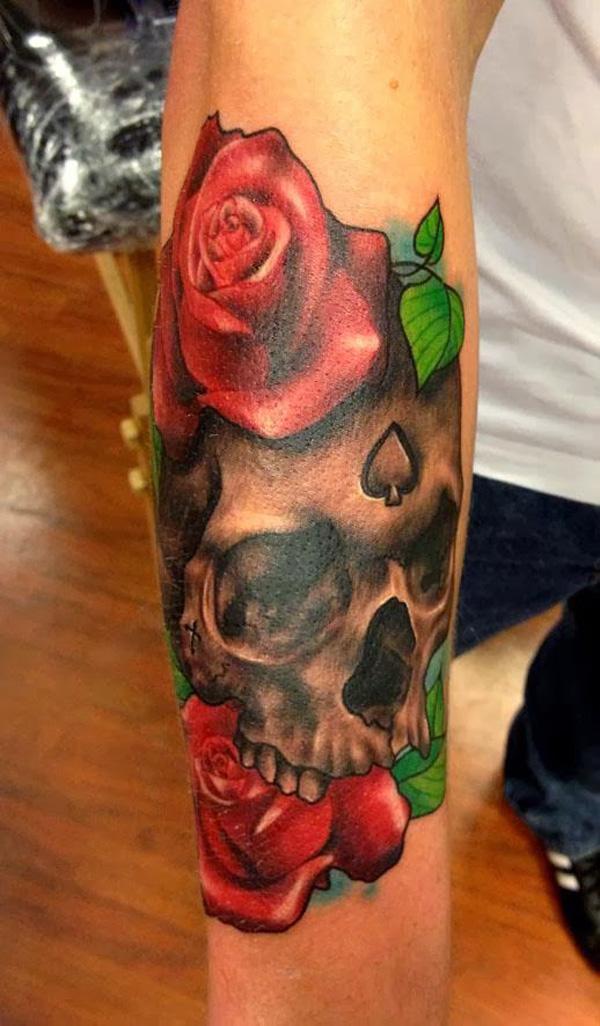 Eye and Rose Forearm Tattoo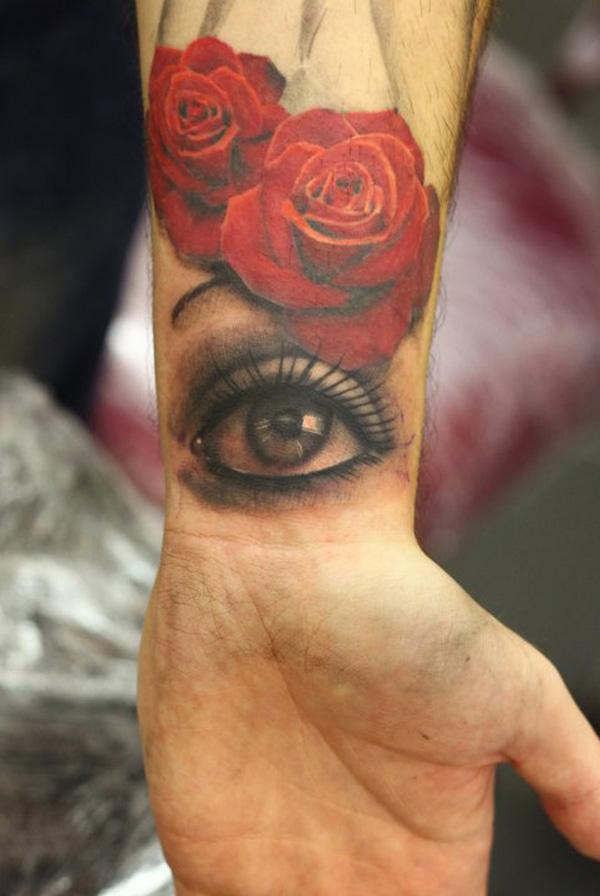 Lettering with rose tattoo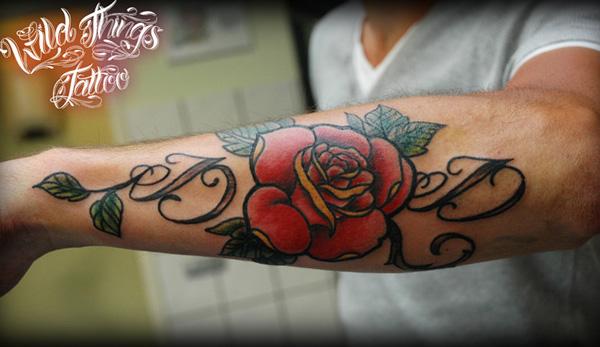 Skull and Flower Forearm Tattoo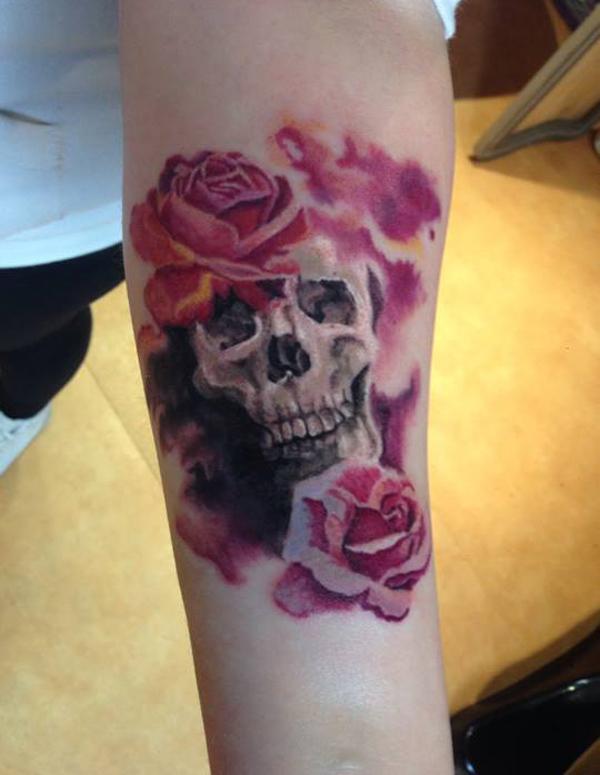 Lip and rose in 3D effect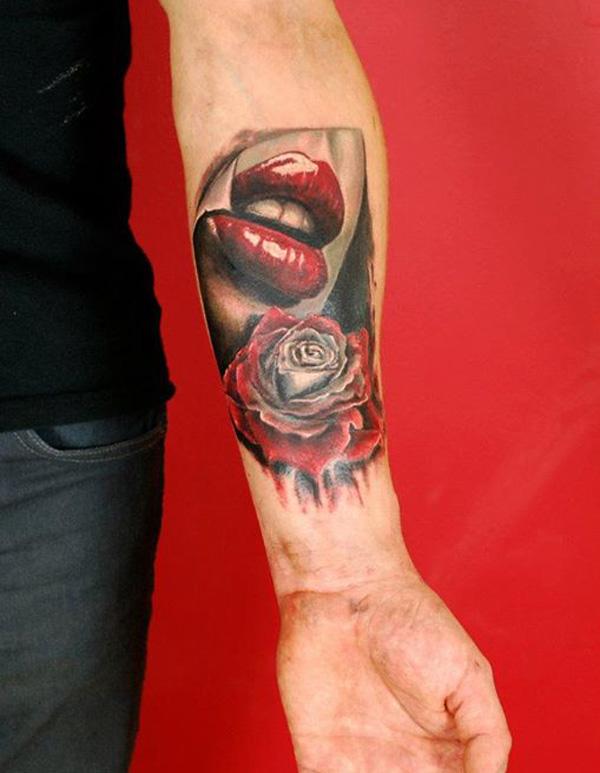 Black and white tattoo with woman portrait and clock on forarm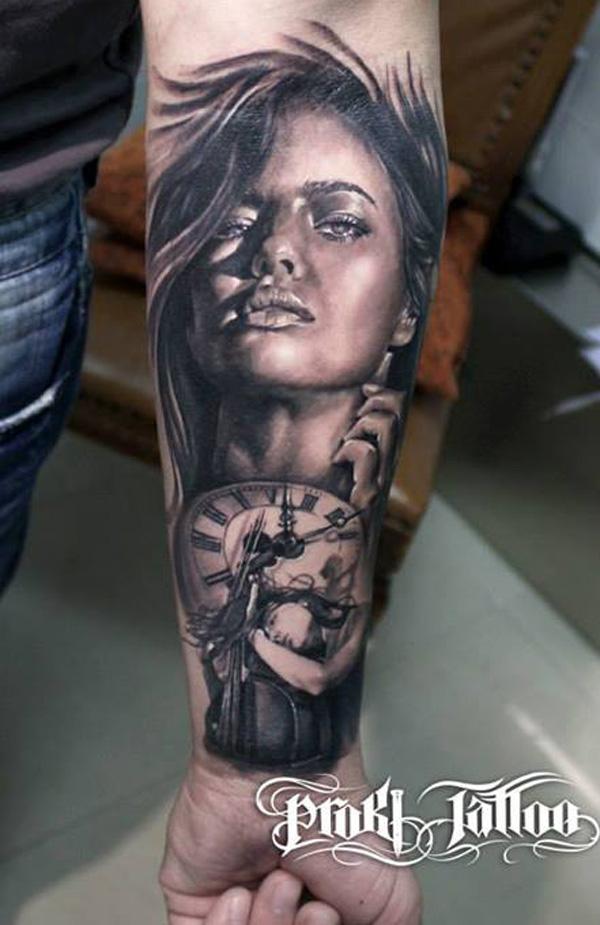 Sad face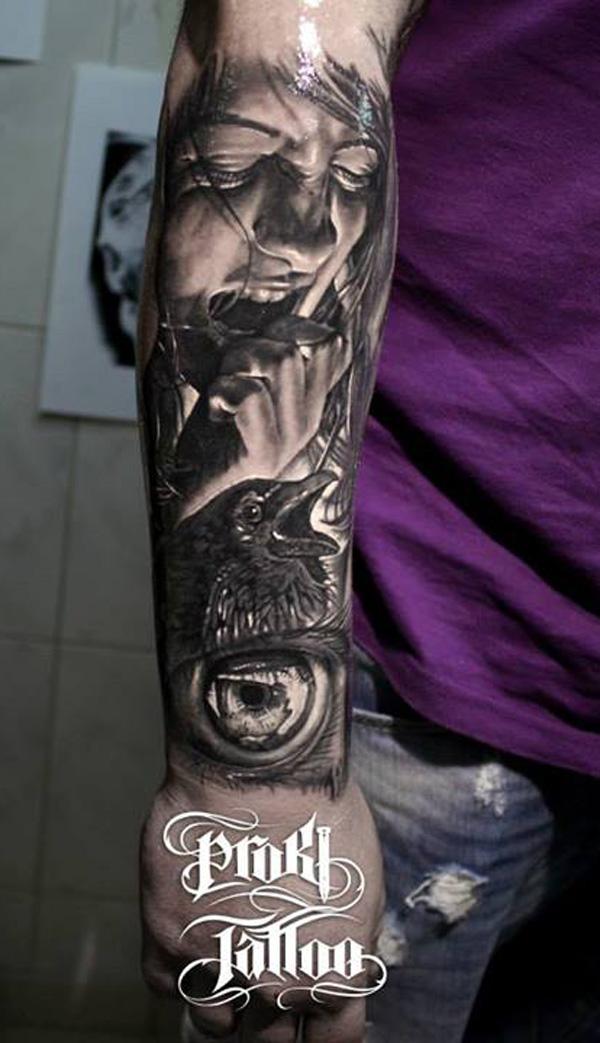 A tattoo always tells a story. That makes it unique for the wearer. This forearm ink depicts a sad face of a woman whose emotion is complemented by the crow below. Are they crying or screaming? Wonder what story is behind the art.
Portrait tattoo with girl, rose and dove in 3D effect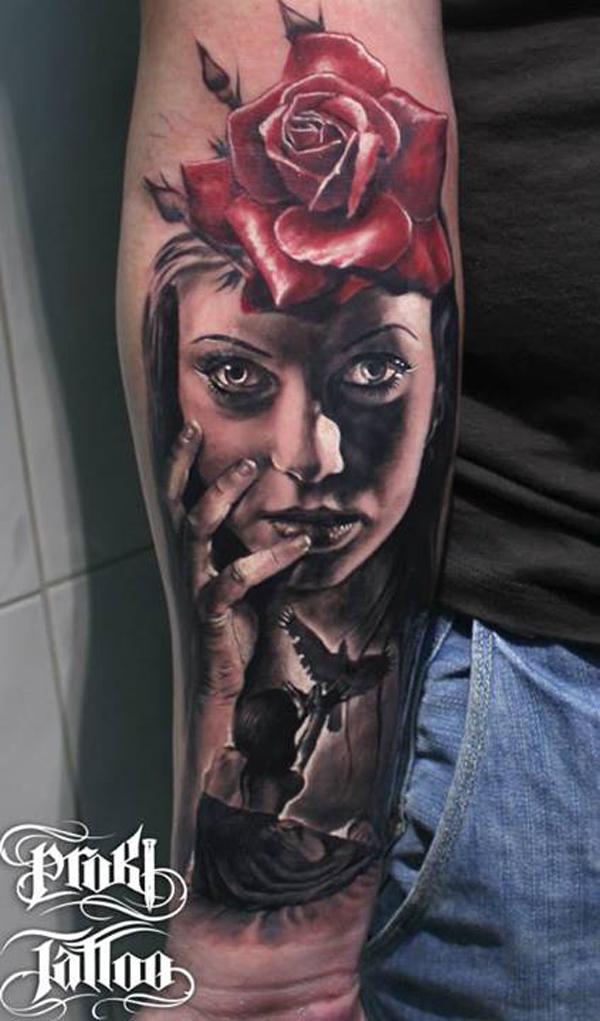 Colored tattoo with sugar skulls and roses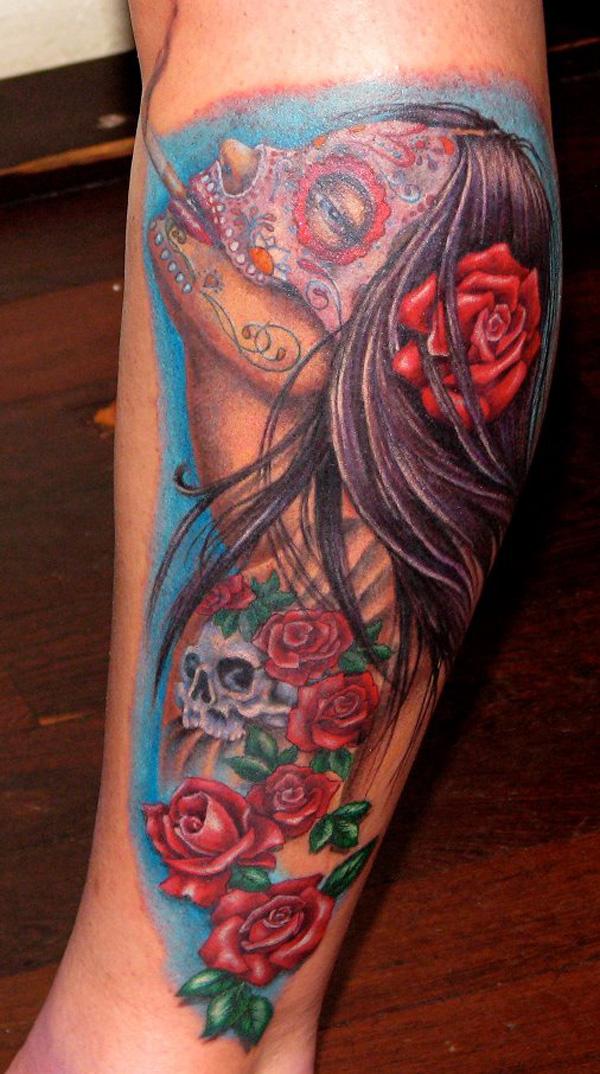 Butterfly Watercolor Forearm Tattoo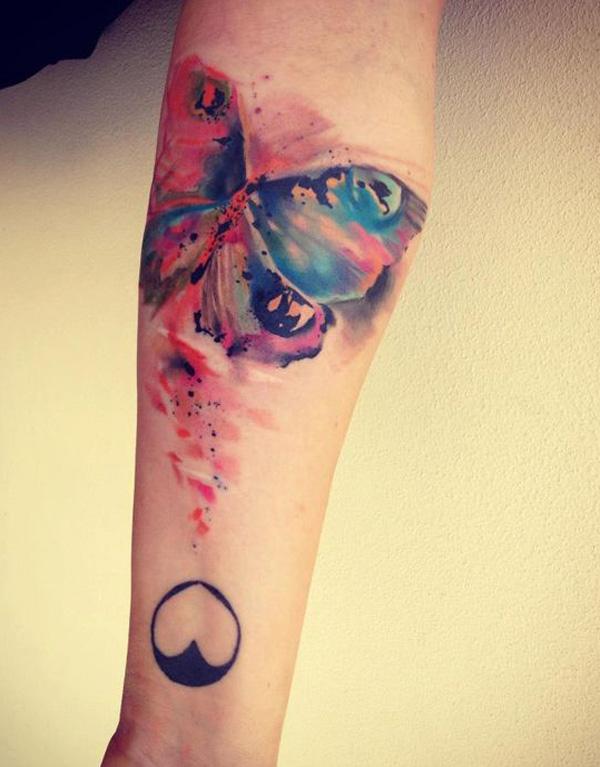 White ink flower blossom tattoo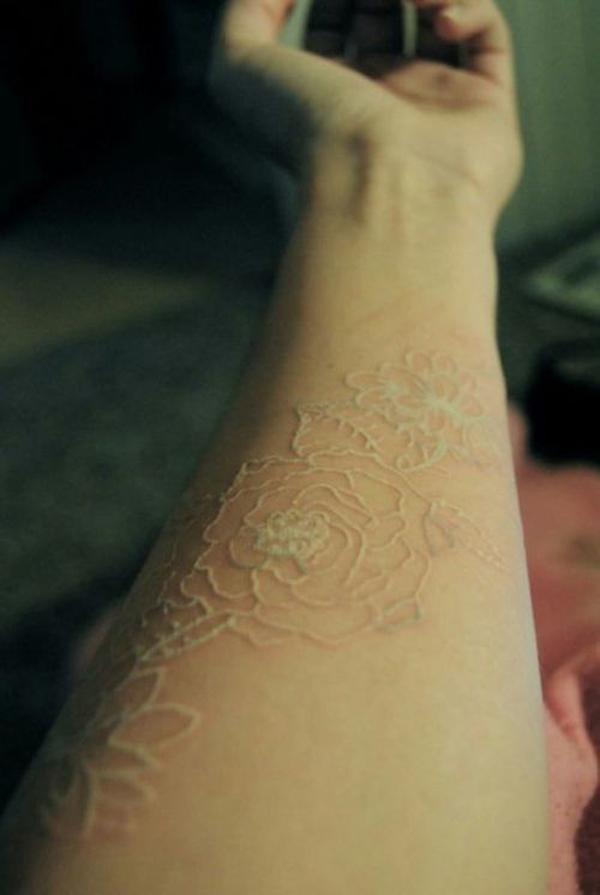 Watercolor butterfly blossom tattoo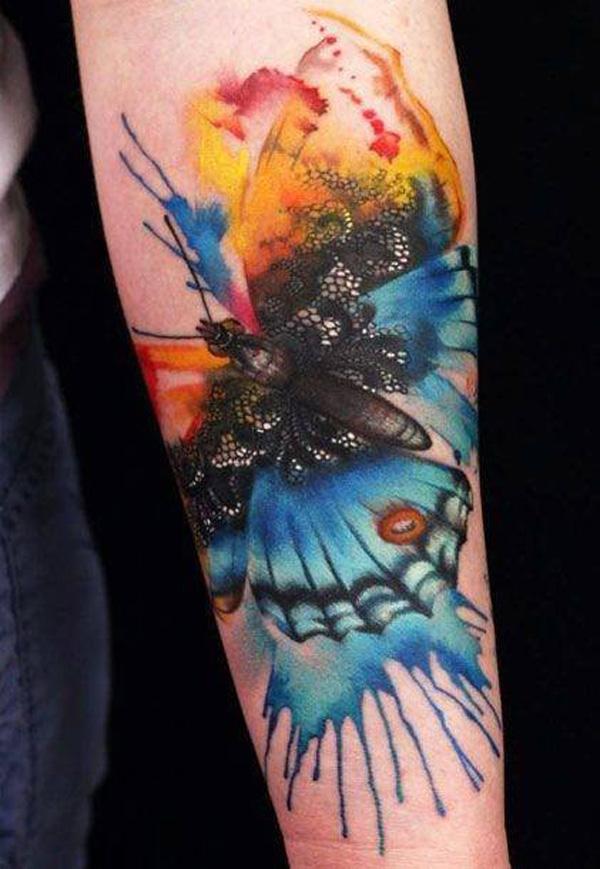 Gun Forearm Tattoo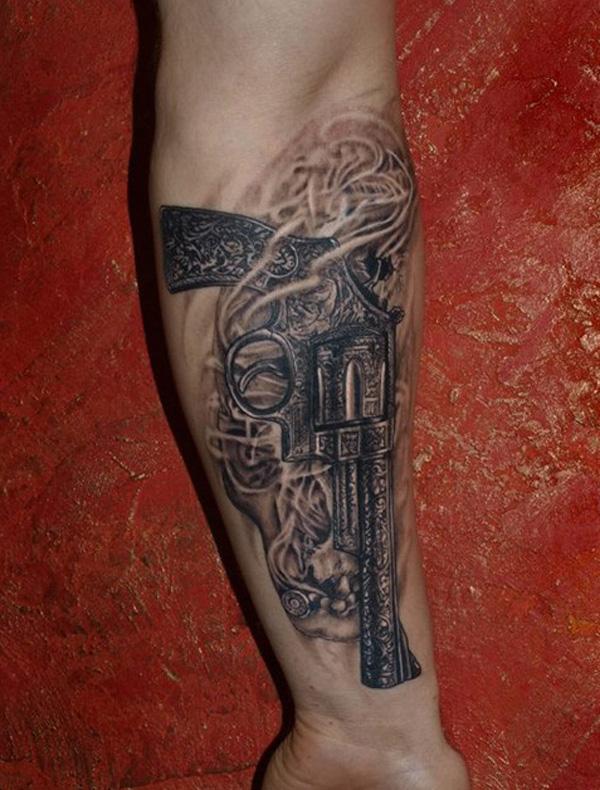 3D Rose Forearm Tattoos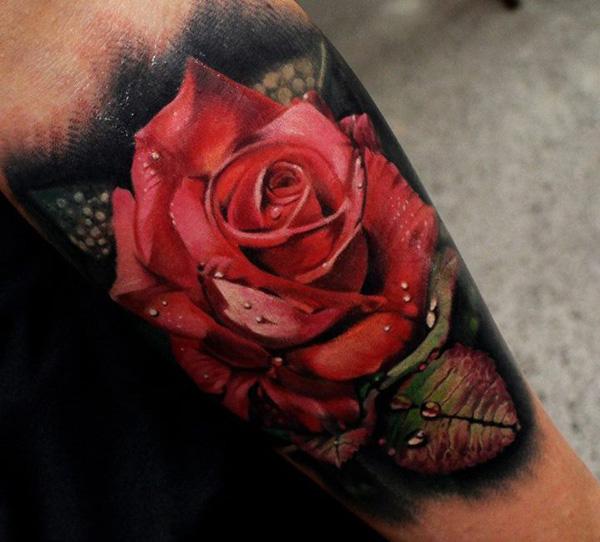 Butterfly Forearm Tattoo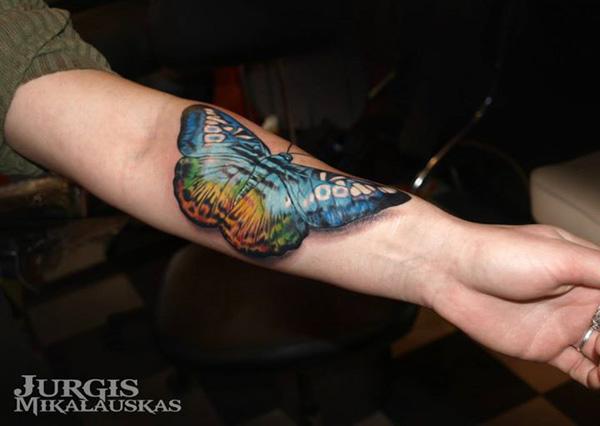 Skull Forearm Tattoo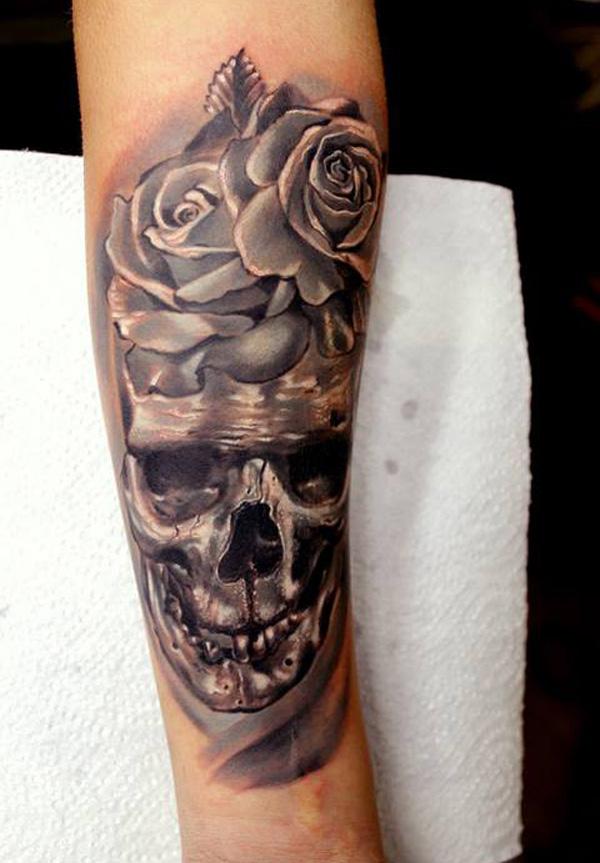 Bird Forearm Tattoo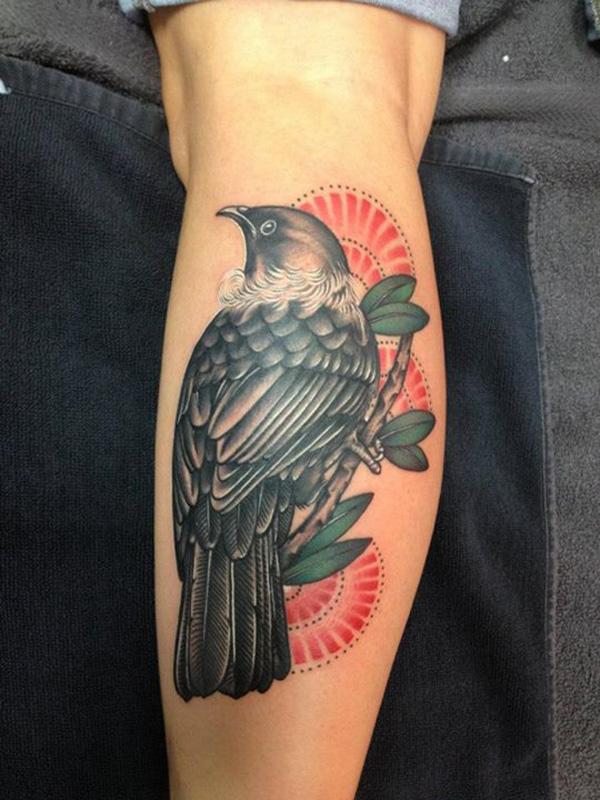 Forest and bear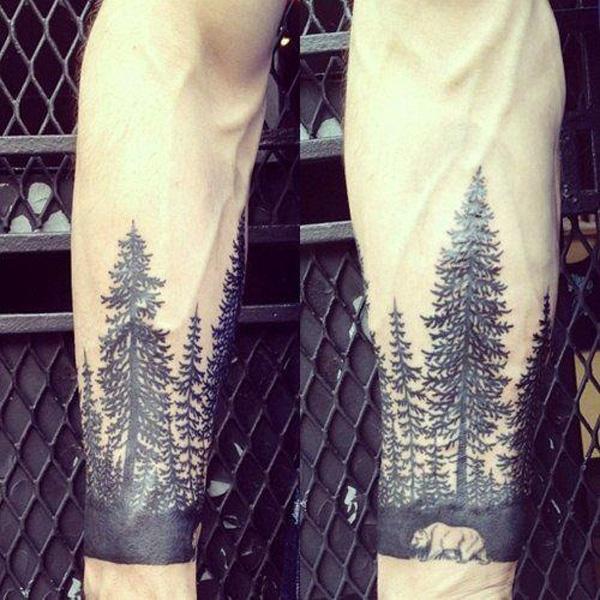 With heavy human activities, our planet is becoming warmer. The glacier is melting, and the forest is shrinking. How to wake up people around us? This forest tattoo is the perfect idea to call for awareness and protection of the environment.
Sheet music rose Forearm Tattoo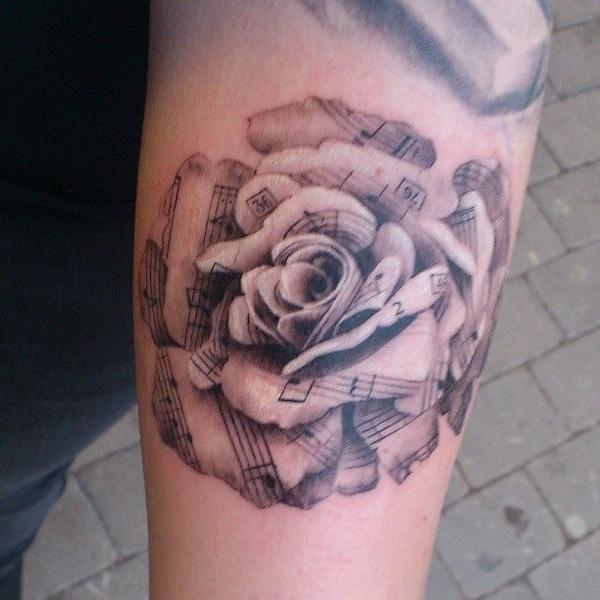 Clock Dotwork on inner forearm for men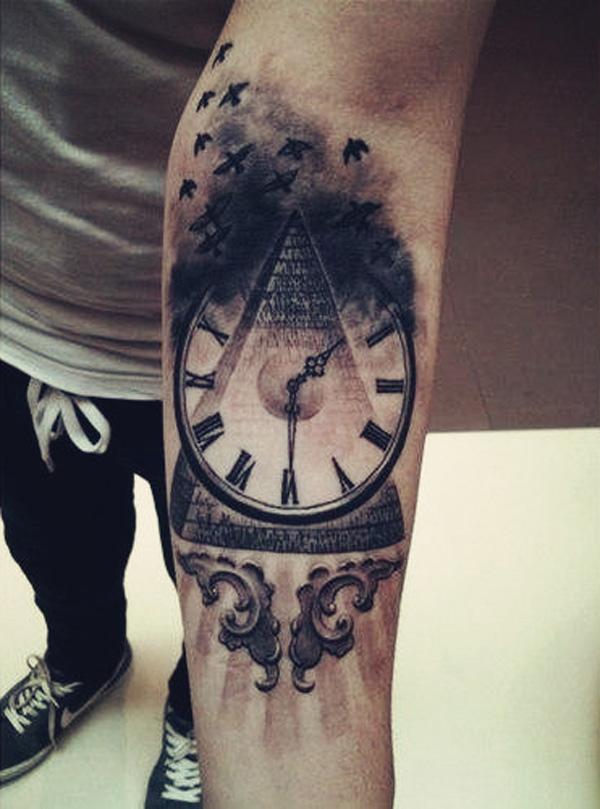 photorealistic tattoo picture with bokeh effect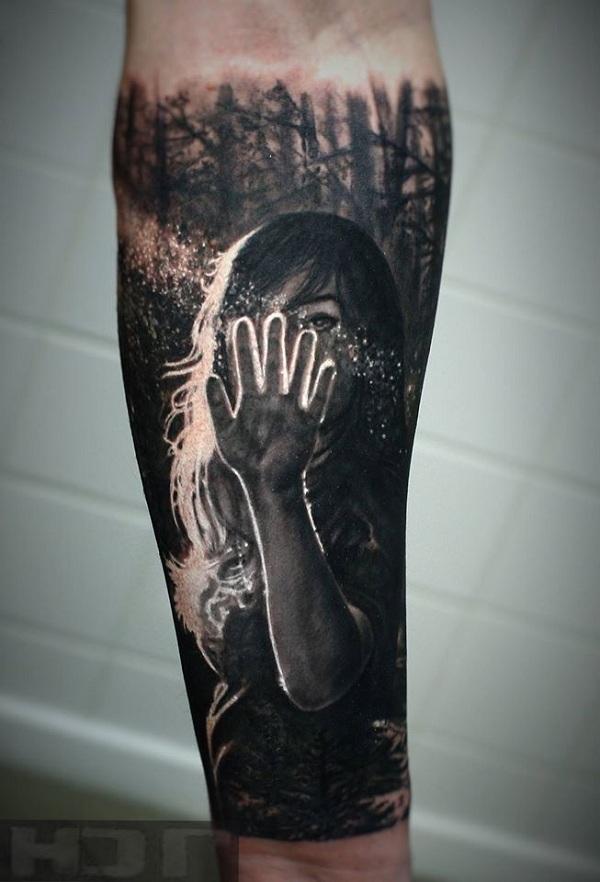 Double arms tattoos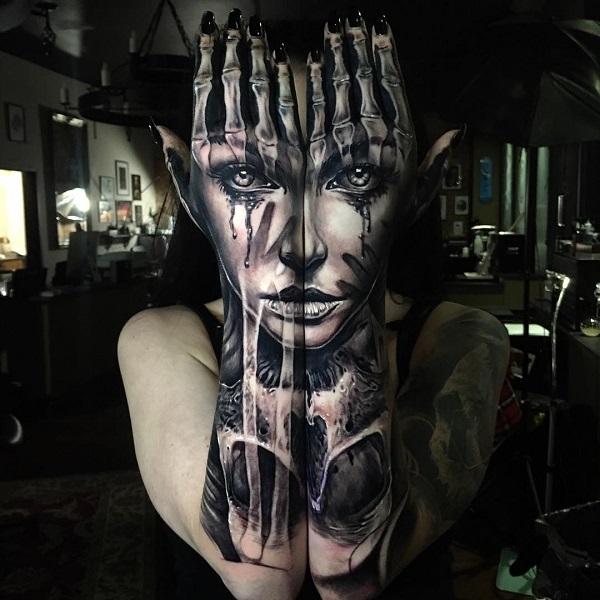 Two-faced is something that one could encounter or behave in the real world. It must not be interpreted as totally insincere but human instinct. With that in mind, it's easy to hide your face just like the double arms ink. The matching tattoos are inked from elbows down to the fingers. When the arms are raised up, a gloomy face appears that is mimicked by the double arms tattoos.
Popular Forearm Tattoo Ideas for women
There is a vast range of designs and styles to choose from when it comes to forearm tattoos for women. Let's explore the different categories that you can select according to your preference.
Small and minimalist forearm tattoos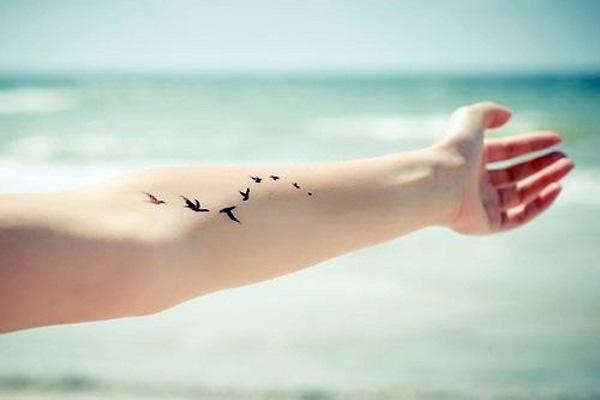 If you are new to tattoos or prefer a subtle and elegant approach, you may opt for a small, minimalist design. These tattoos usually consist of simple shapes, lines, and figures that express your personality without being ostentatious.
Delicate and feminine designs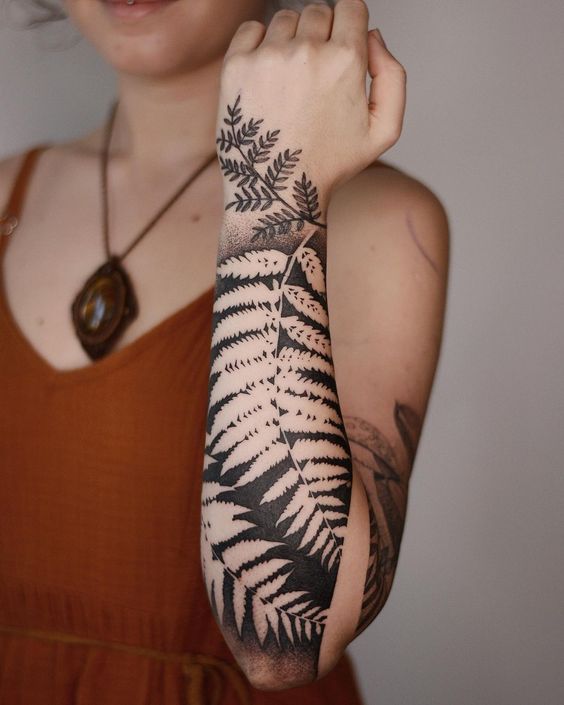 Women who appreciate a soft and delicate look can choose from designs like floral patterns, butterflies, or script tattoos. These tattoos emphasize and celebrate femininity, adding a touch of grace and charm to your forearm.
Elaborate and intricate designs:
For those who adore detailed and eye-catching tattoos, consider opting for intricate designs, such as geometric patterns, mandalas, or elaborate scenes from nature. These tattoos require a high level of skill from the tattoo artist and make a bold statement.
Colorful forearm tattoos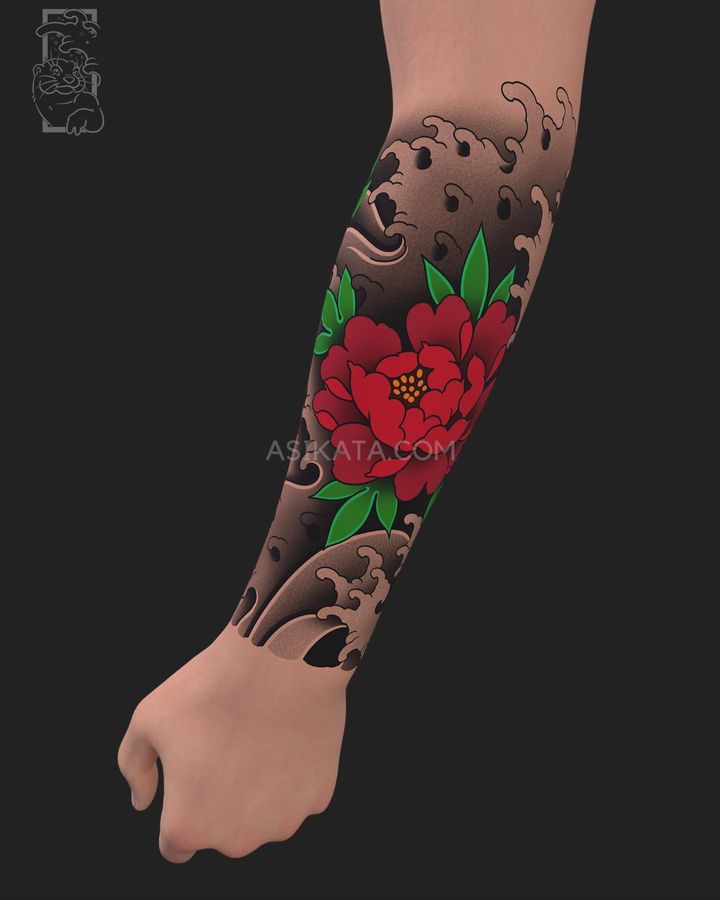 If black and grey tattoos don't excite you, you can always go for colorful forearm tattoos. From vibrant watercolor designs to traditional styles like Japanese or American traditional tattoos, you can choose from a wide array of options.
Matching or complementary tattoos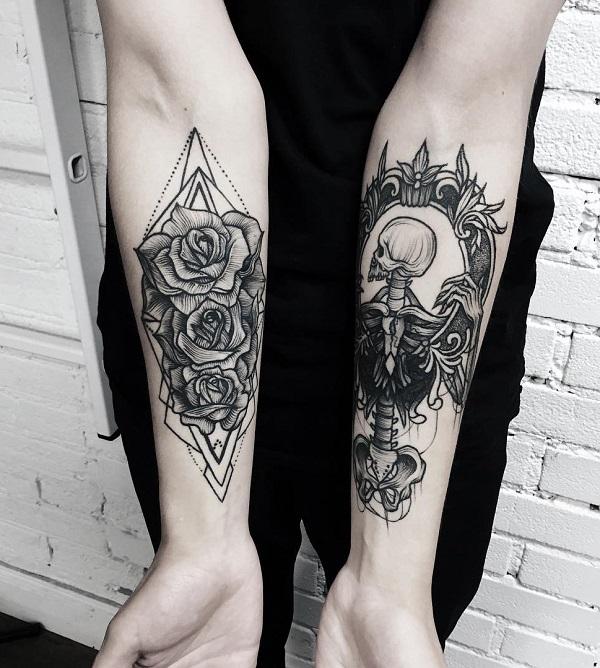 Some women choose to get matching tattoos with their best friends, family members, or partners. These forearm tattoos can be identical or complementary, symbolizing a special bond and connection.
Black and white female with crown forearm tattoo for girl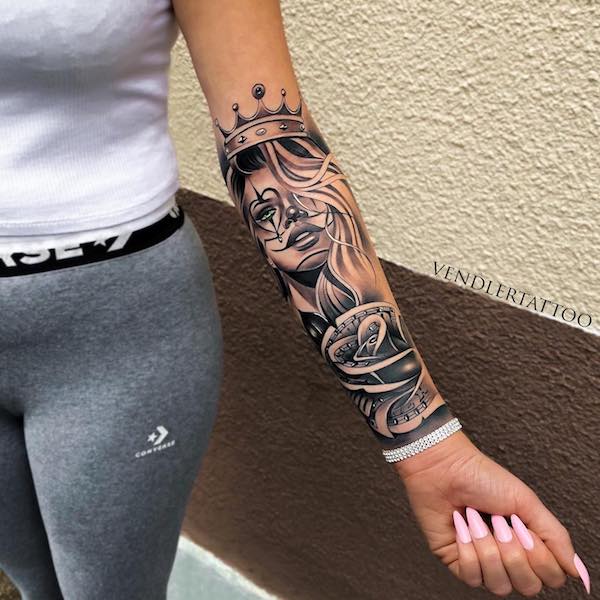 Black and white rose outlines inked like pencil drawing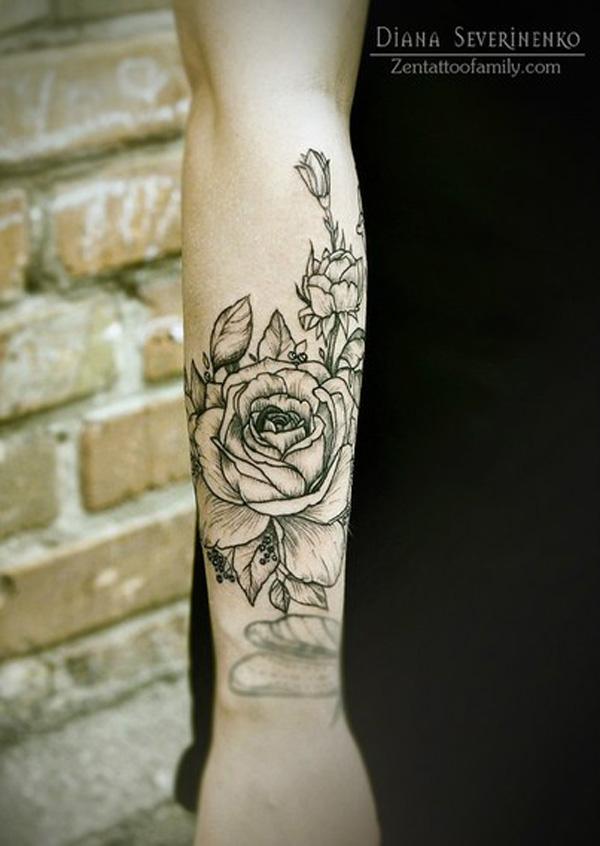 Colored rose tattoo with watercolor splash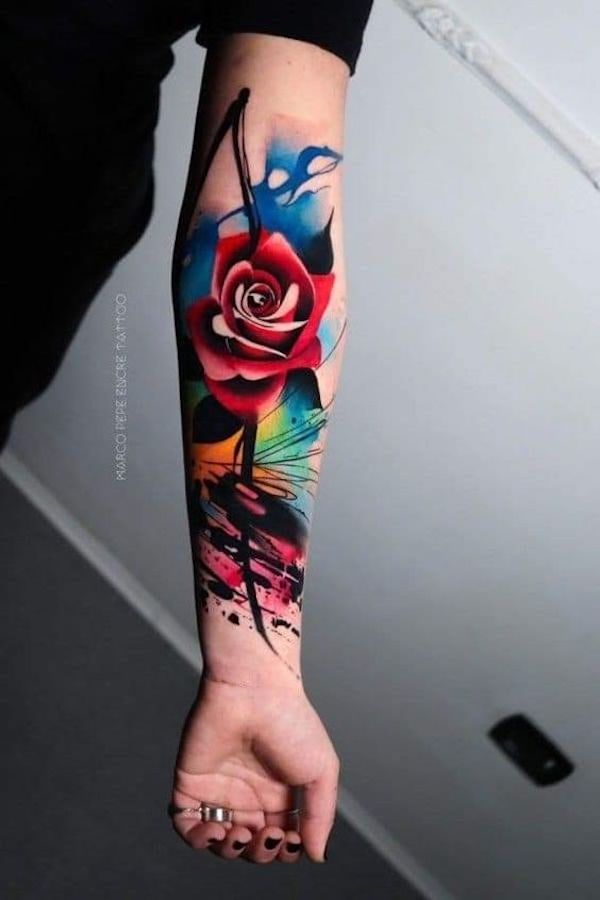 Double forearm matching tattoos for women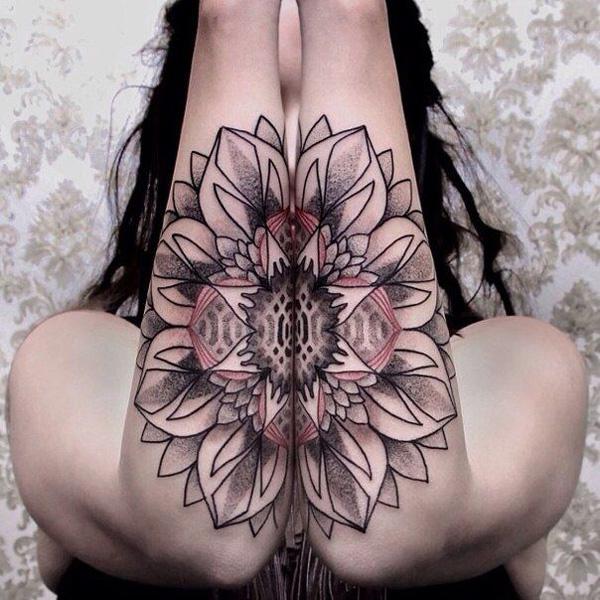 Dream Catcher sleeve tattoo in pastel style for women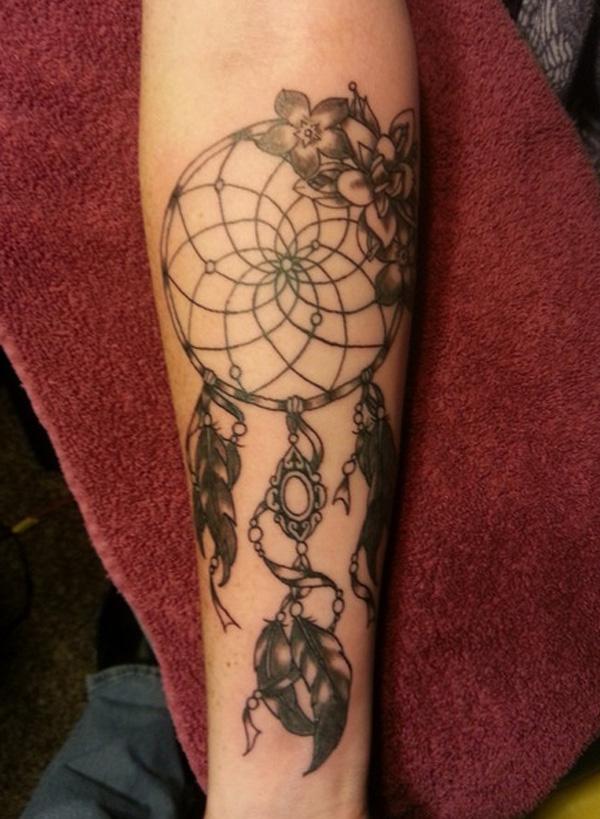 A dream catcher tattoo on the forearm is a beautiful and meaningful choice for women. This tattoo symbolizes protection from negative energy, allowing only positive dreams to pass through its web-like design. It also serves as a reminder of our inner strength, protecting us from fear and doubt while encouraging us to pursue our goals without hesitation. The soft colors used in the pastel style make this tattoo perfect for any skin tone or gender identity, making it an ideal choice for anyone looking to express their personal journey with artful symbolism.
Armband with roses decorations outline
This black and gray armband tattoo on the forearm is an elegant piece that speaks to its wearer's sense of style. The intricate details of the roses provide a unique touch, making this tattoo timelessly beautiful and meaningful. Its placement on the forearm also adds a special significance, as it can be easily visible but still remain discreet when necessary.
Colorful stylized roses on forearm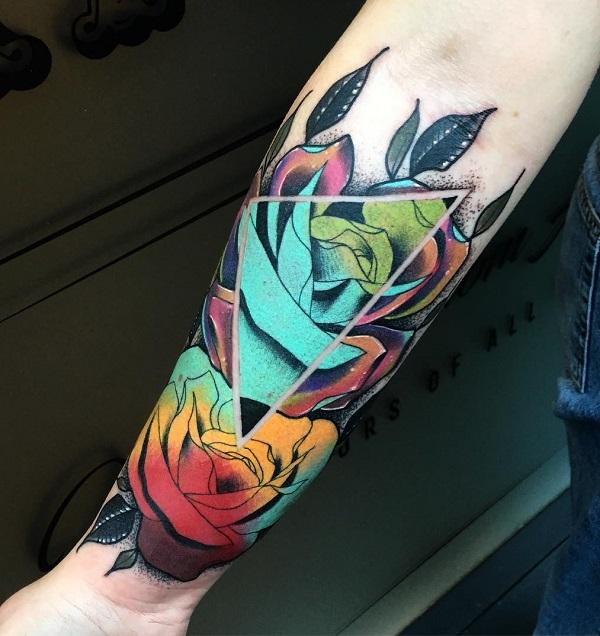 Forearm flower ink in Japanese style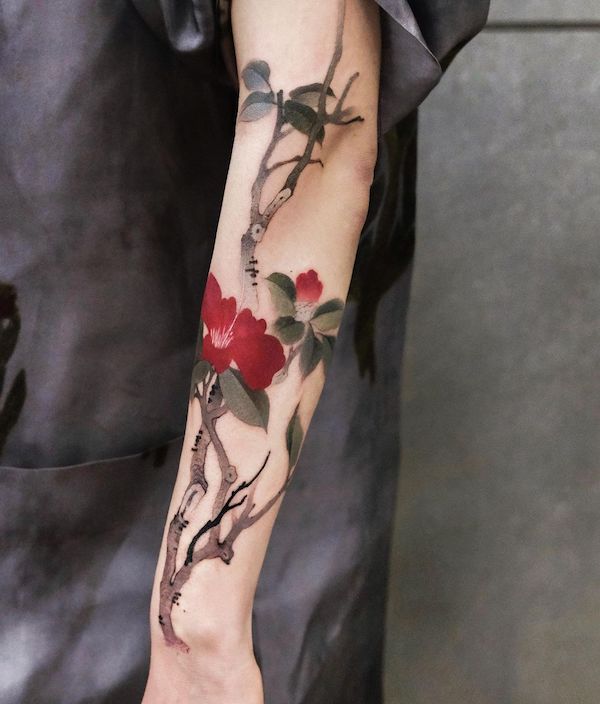 Castle forearm tattoo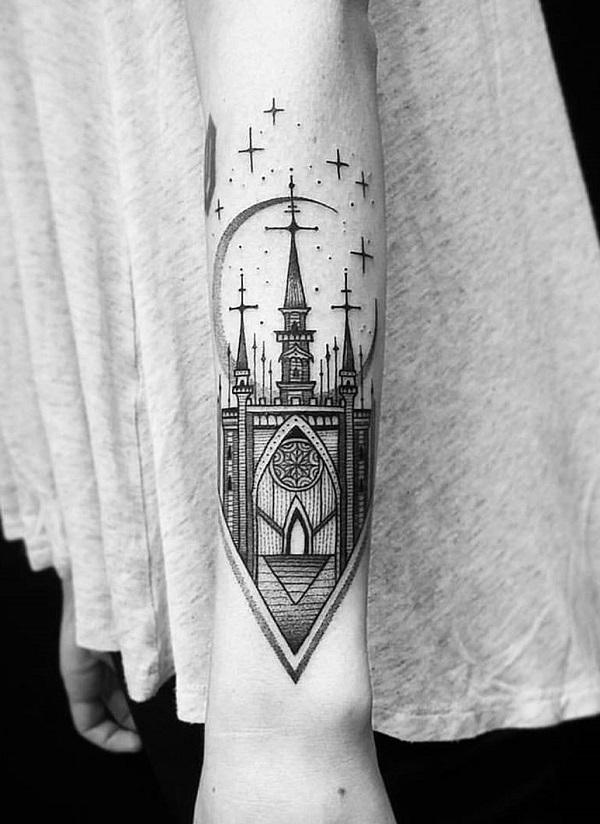 Disneyland features bright and colorful castle that is the centerpiece of the paradise. Everyone has a delightful memory in their childhood. However, this piece pays less attention on its original colors, but renders the park in black and white with twinkle stars.
Pink rose sketch tattoo on forearm
Portrait and spider web forearm tattoo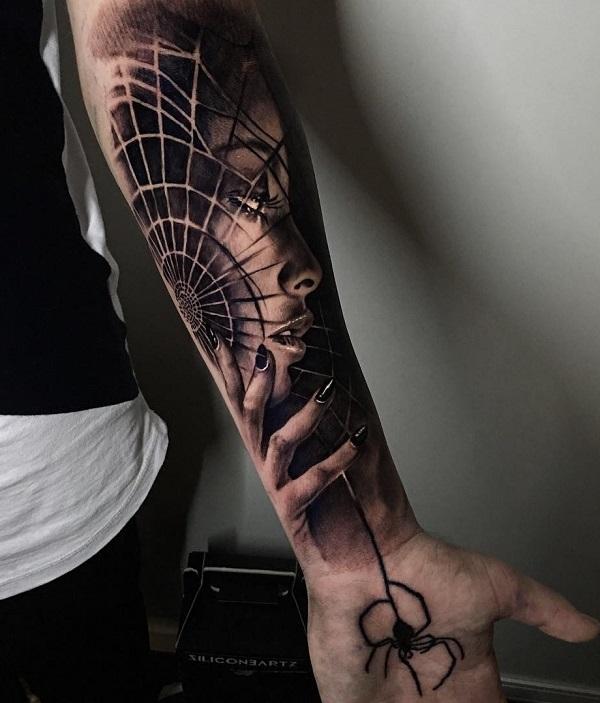 Pine leaves forearm tattoo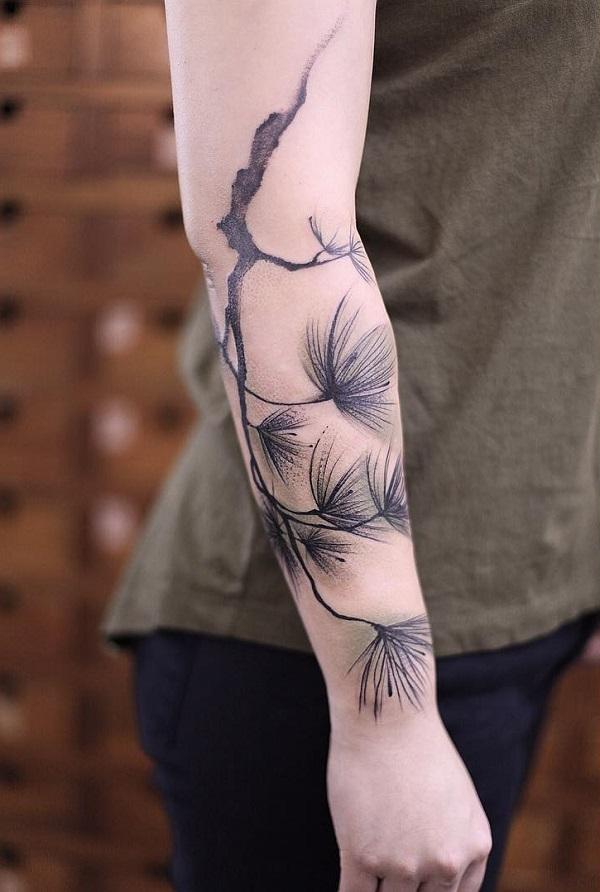 Painterly style forearm tattoo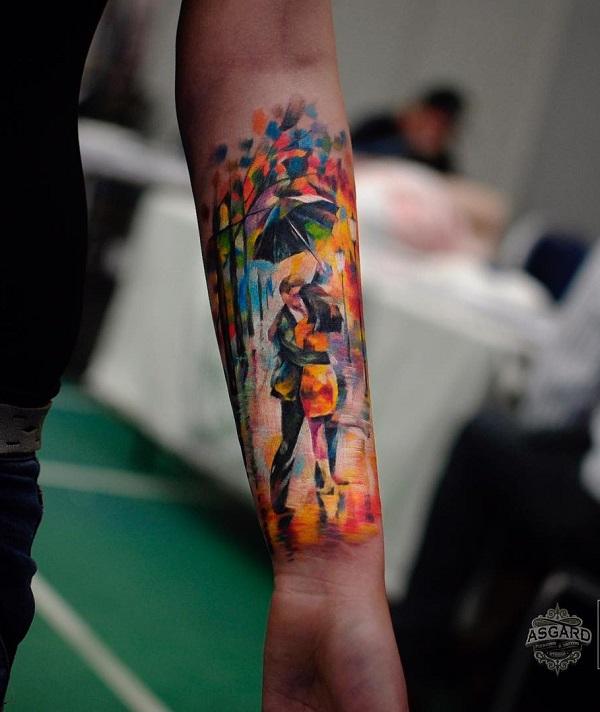 Romantic forearm tattoo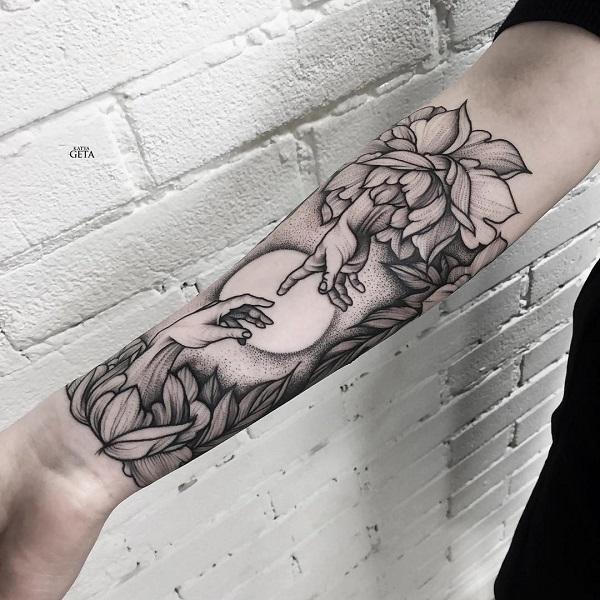 Rose and diamond forearm tattoo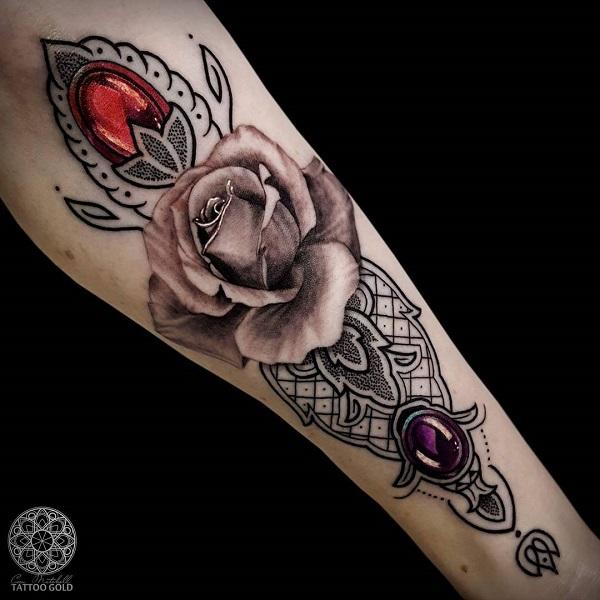 Stylized Roses in red with grey shade on forearm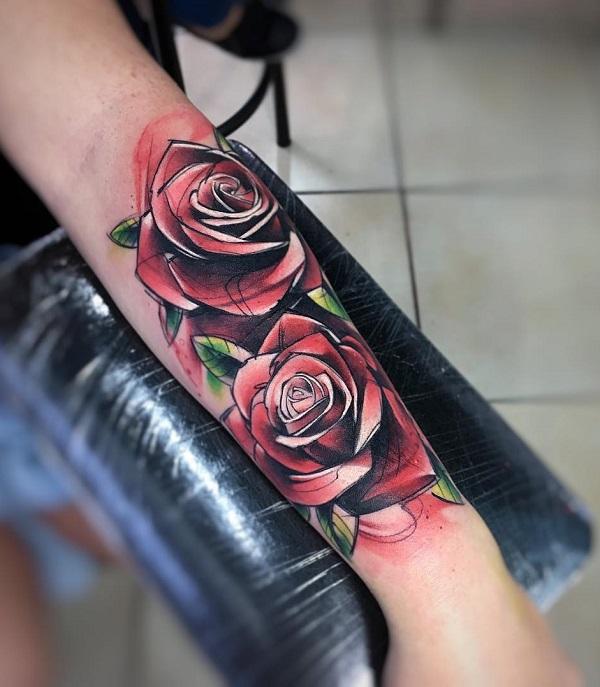 Sketchy rose outline for girl
Colored rose with leaves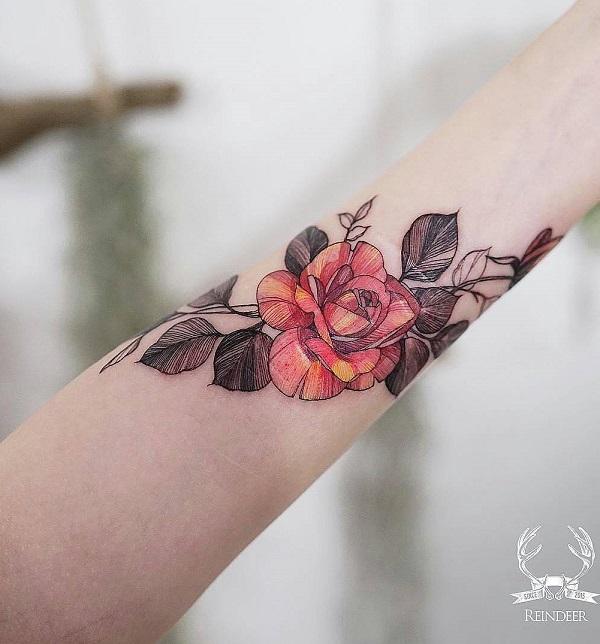 Vibrant sunflower forearm tattoo for women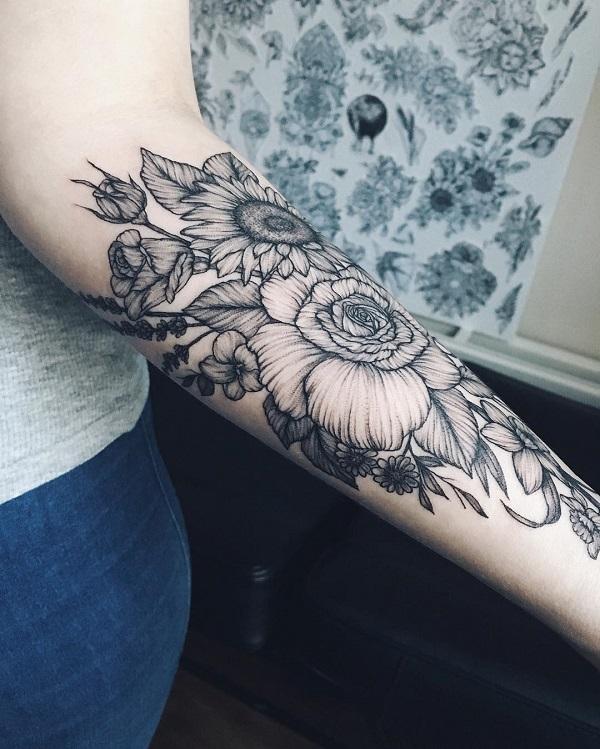 Sunset abstract tattoo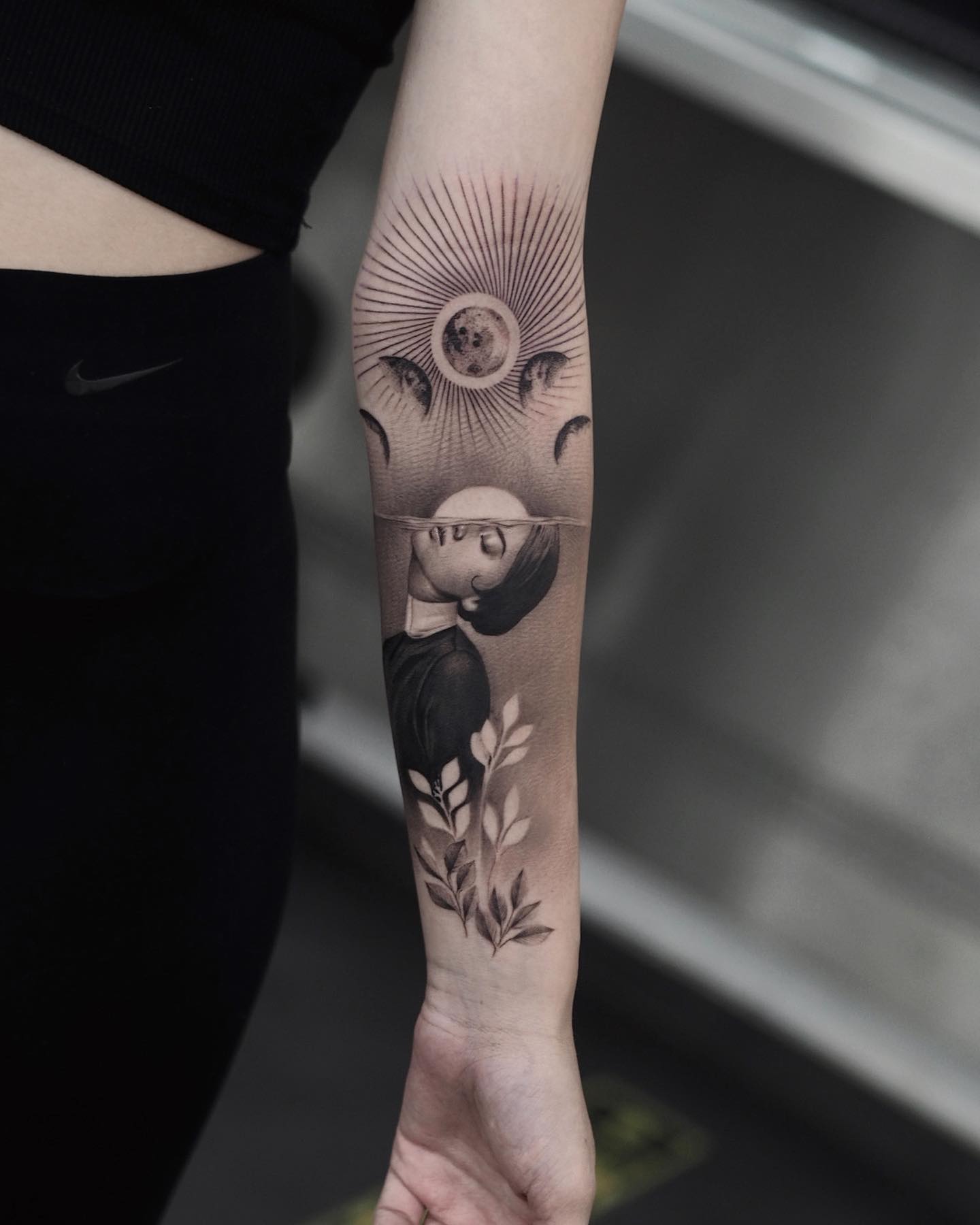 Miniature for tribute to parents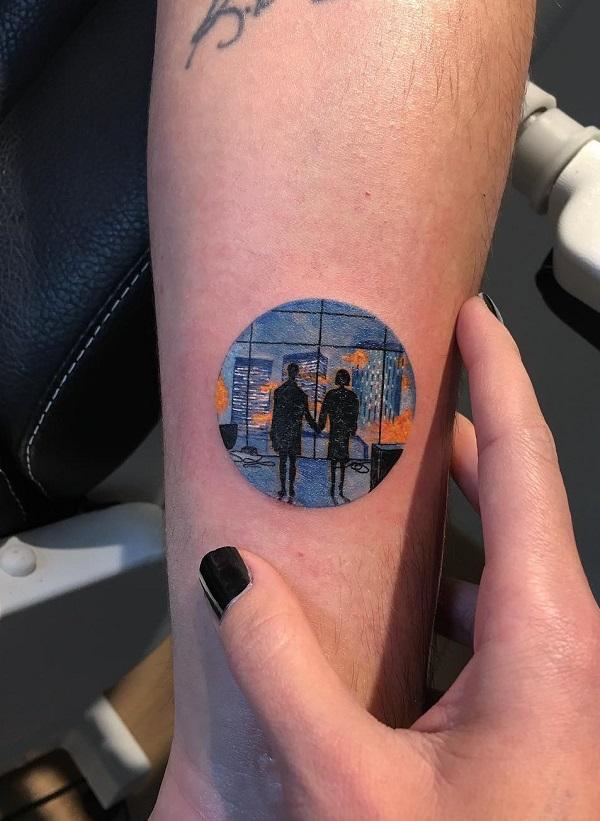 Forearm Tattoo for Girl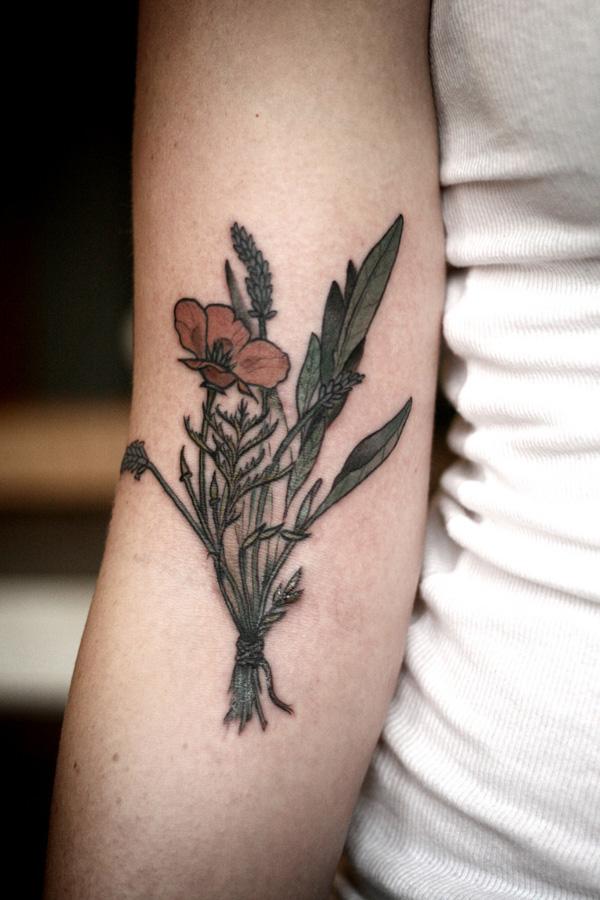 Flower forearm tattoo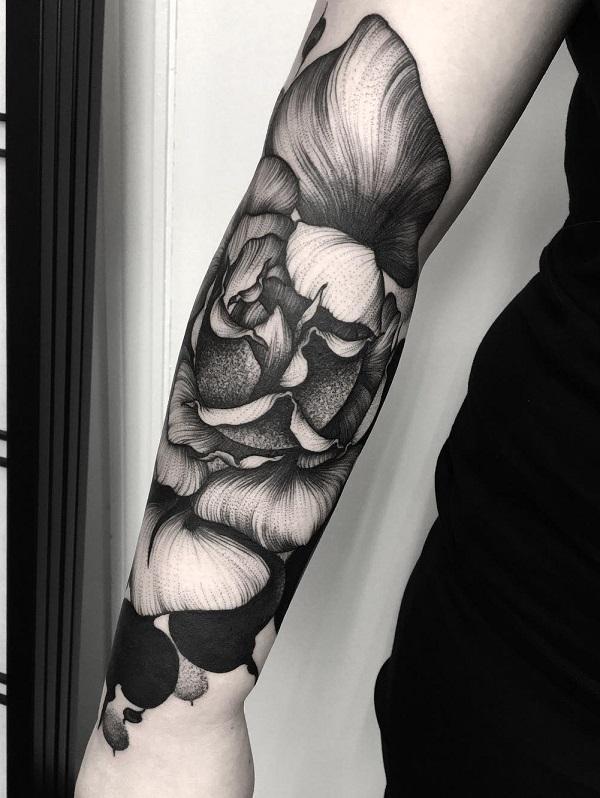 Dotwork peony flowers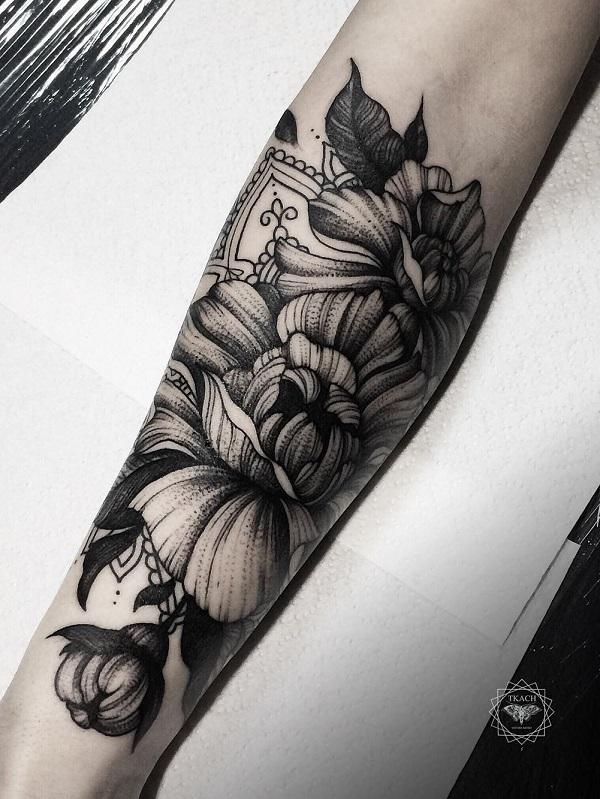 A woman in the rain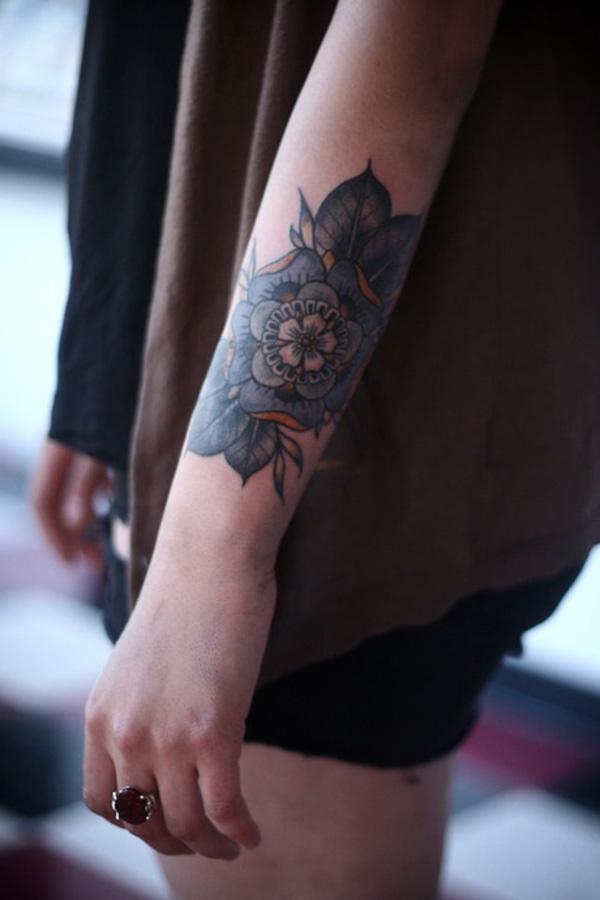 Floral wristband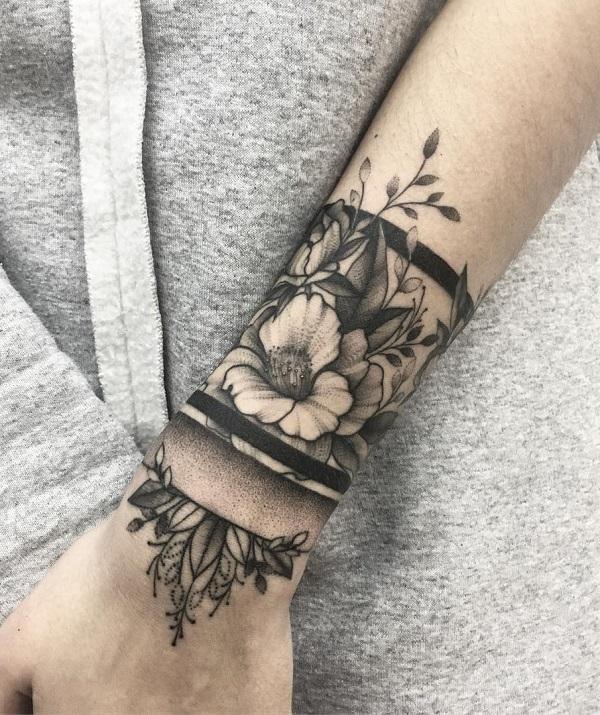 It's popular for sportsmen to wear wristband when playing tennis or badminton. If you live with an athletic lifestyle, a wristband tattoo is a good idea to let the world know. This tattoo is depicted as if the flowers are inserted in the wristband, which celebrates cheerful life every day.
Cherry blossom forearm tattoo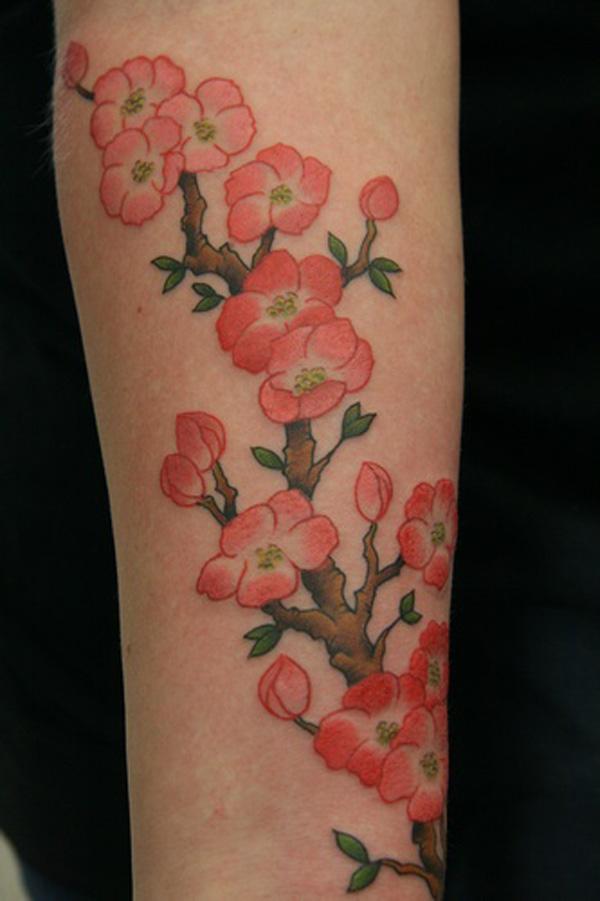 Mandala dotwork tattoo for women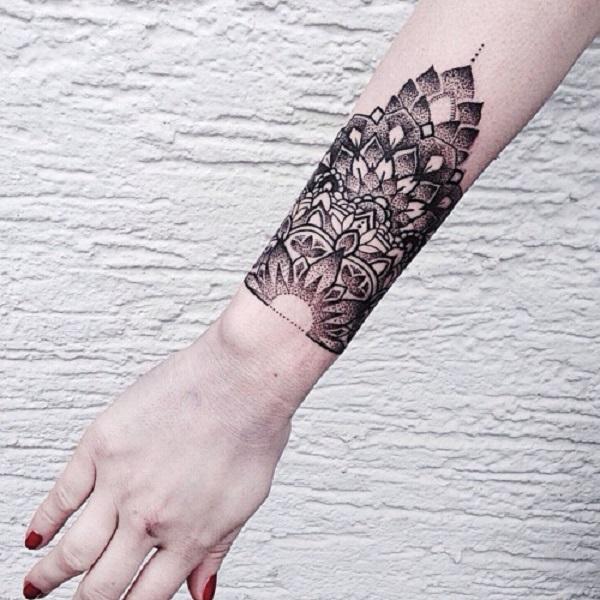 Hummingbird watercolor blossom tattoo
Beautiful hibiscus tattoo women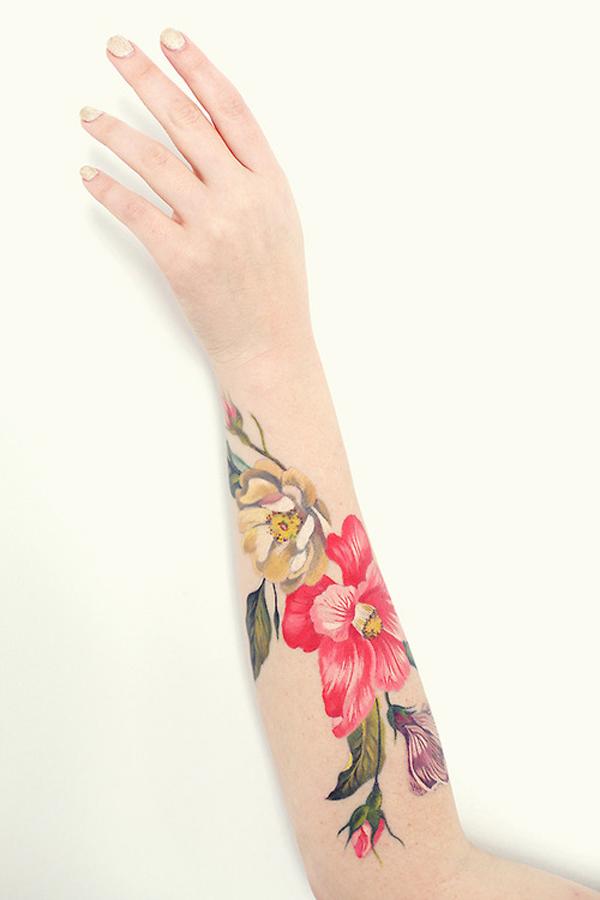 Knitting pattern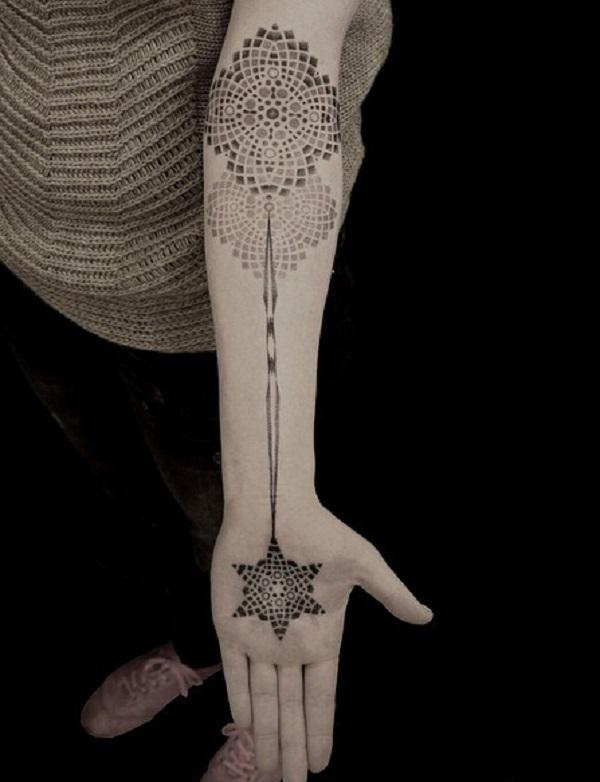 This tattoo draws two circular patterns but in different layer of shading. Their style looks identical to the knitting pattern of the wearer's sweater. On the palm is a hexagon star of similar style that connects to upper block by a line piece.
Blackwork intergrating geometric and mandala patterns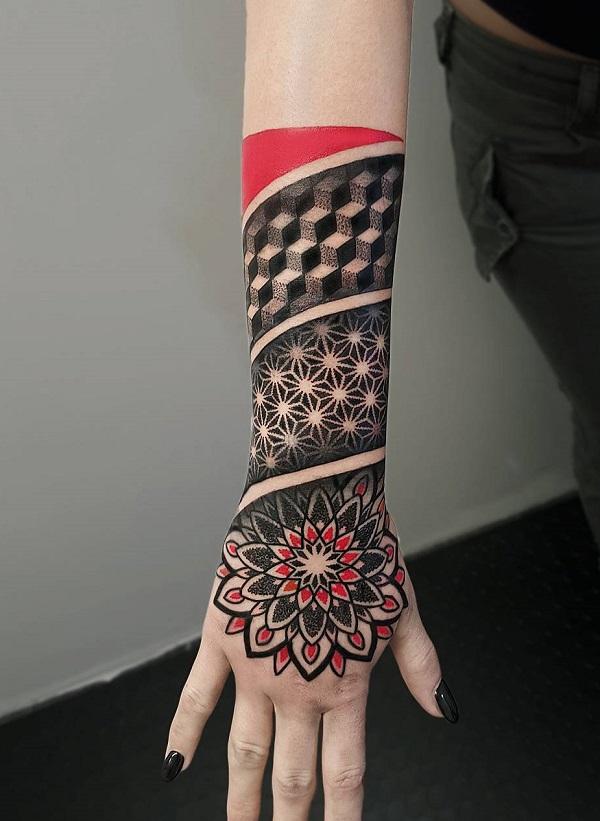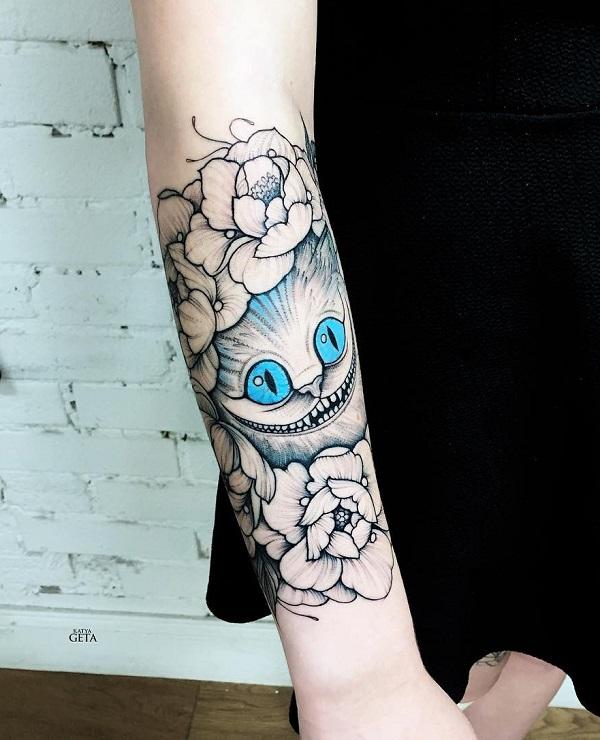 This design features a cartoon character surrounded by the sketch work of peony flowers, which is the best tattoo idea for girls. The Cheshire Cat is sometimes regarded as a guiding spirit for Alice. For a girl, you wouldn't make any mistake if there's such mentor Inseparable from you.
Flower with mandana forearm tattoo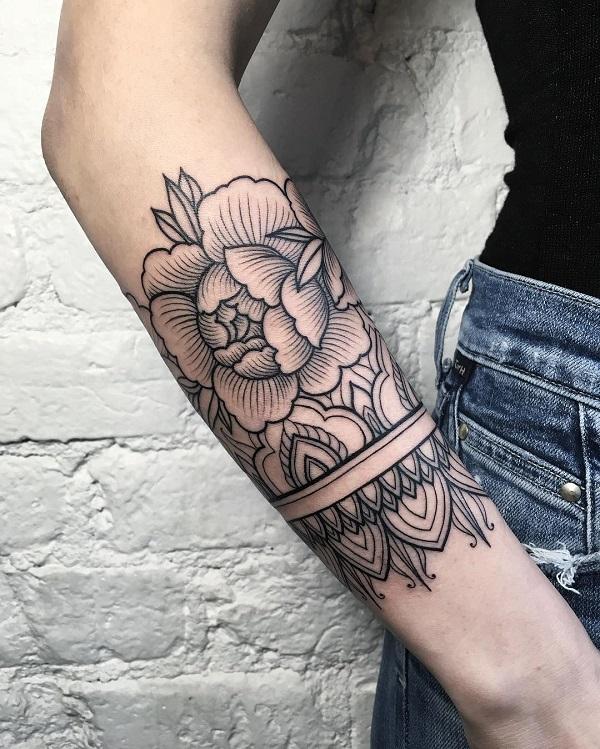 3D Rose Tattoo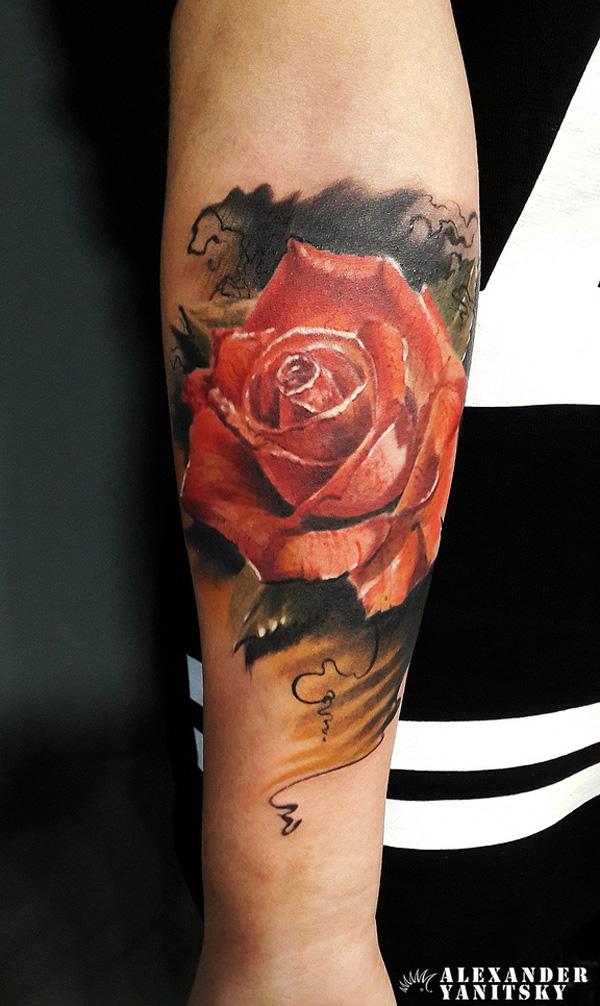 Flowers have meanings, so do the tattoos. This forearm piece draws a red rose with dark sahdes on as background. This expressive rose tattoo could be worn by both men and women.
Owl and love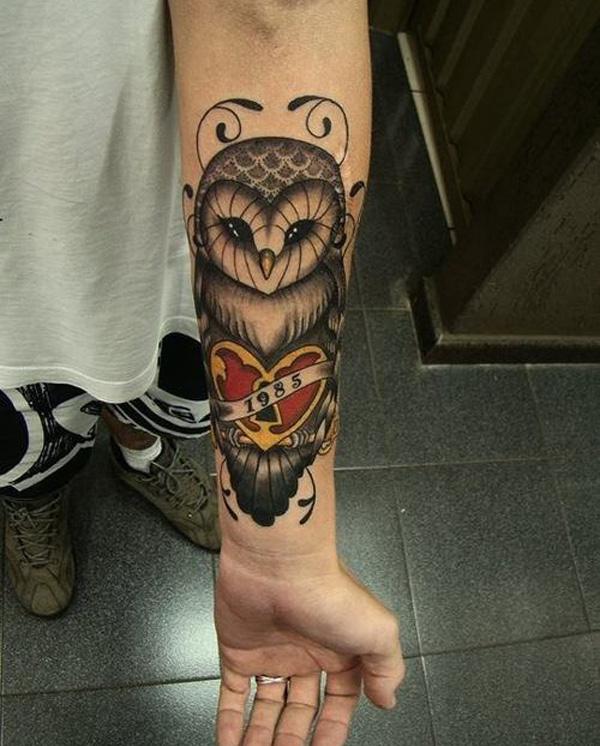 Stylish font script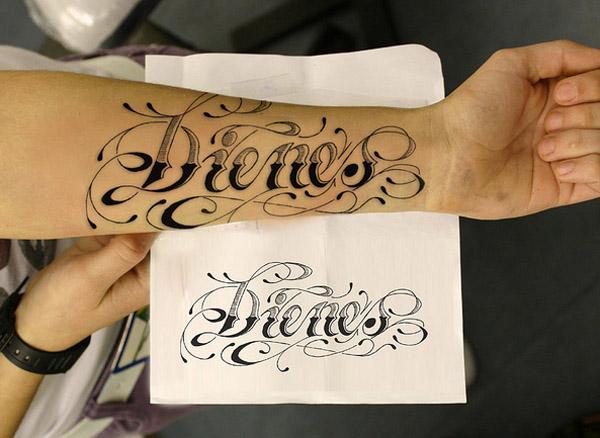 Raven and clock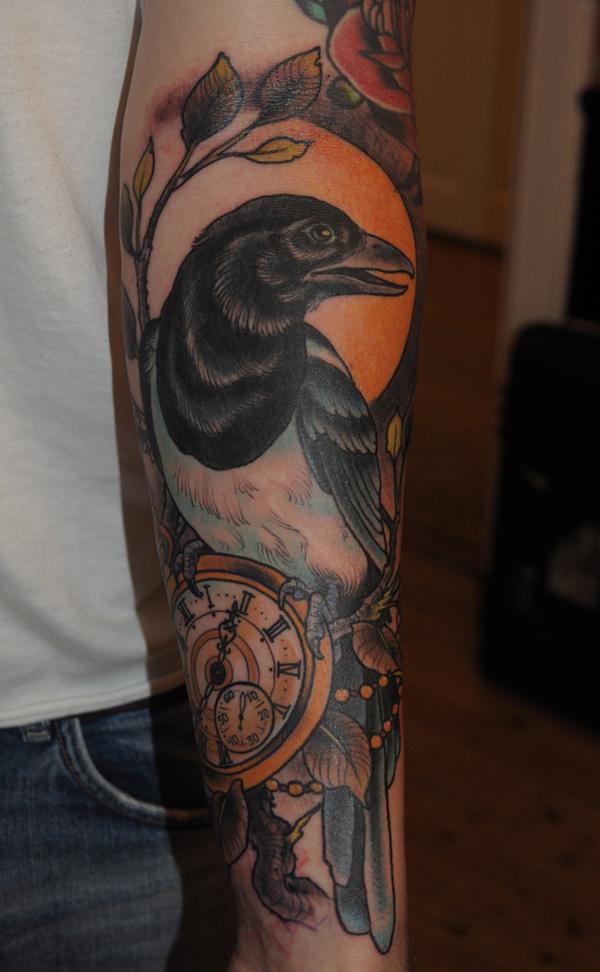 Forearm Tattoo Cost and Session Length
The cost of a forearm tattoo will vary depending on factors such as the tattoo artist's experience, location, and the size and complexity of the design. In general, smaller and simpler tattoos cost less than large, intricate designs. You can expect to pay anywhere from $100-$500 or more for a forearm tattoo.
Session length will also vary depending on the intricacy of your chosen design. A smaller tattoo can be completed in a single session, while more complex designs may require multiple sessions.
Preparing for Your Forearm Tattoo
Before getting inked, proper preparation is key to a smooth and comfortable experience. Here are a few tips to follow before your appointment:
1. Get Enough Sleep: Make sure you get a good night's sleep before your appointment. A well-rested body is better able to handle the tattooing process.
2. Eat Properly: Consume a meal that provides energy and nutrients, such as a combination of carbohydrates and protein, to help your body cope with the stress of getting tattooed.
3. Stay Hydrated: Stay well-hydrated in the days leading up to your appointment, as dehydration can affect your body's ability to cope with pain and healing.
4. Choose Comfortable Clothing: Wear loose, comfortable clothing that allows easy access to the area being tattooed and won't be too tight or restrictive.
5. Bring Snacks: Bring along a snack or even a light meal to consume during any breaks in your tattoo session. Maintaining your blood sugar levels will help you stay comfortable during the process.
The Forearm Tattoo Process and Pain
The tattooing process begins with the artist discussing the design and placement with you. They will clean the area and then create a stencil of your chosen design. It's essential to communicate any changes or questions before the actual tattooing begins.
As for the pain, it's no secret that getting a tattoo can be uncomfortable. However, the forearm is generally regarded as a moderate pain area. Many people find the sensation tolerable since the nerve density in the forearm is lower than other more sensitive areas. Remember that pain is subjective, and each individual's experience may differ.
Forearm Tattoo Healing and Aftercare
Once your tattoo is complete, it's essential to follow proper aftercare instructions to ensure optimal healing and protect your investment. Here are some general tips for caring for your new forearm tattoo:
1. Keep it Clean: Gently clean your tattoo with mild, unscented soap and warm water a few times a day to keep it free from dirt and bacteria.
2. Moisturize: Apply a thin layer of unscented, water-based moisturizer to your tattoo, as advised by your tattoo artist. Avoid using petroleum jelly, as it can cause the ink to fade.
3. Avoid Sun Exposure: Keep your tattoo out of direct sunlight while it heals, and always apply a high-SPF sunscreen once it's fully healed.
4. Avoid Swimming: While your tattoo is healing, avoid immersing it in pools, hot tubs, or open bodies of water, which can introduce bacteria into the healing tattoo.
5. Avoid Picking: As your tattoo heals, it may begin to scab or peel. Avoid picking at the scabs or skin, as this can damage the tattoo and result in an uneven appearance.
Forearm tattoos generally take about two to three weeks to heal fully. However, it's crucial to listen to your body and consult with your tattoo artist if you experience any issues or concerns throughout the healing process.
Final Thoughts
Forearm tattoos are a popular choice for many reasons, from their visibility and versatility to the adaptability of the designs. When considering a forearm tattoo, mull over the various elements, including design, size, and color, and consult with a skilled tattoo artist to create a piece that reflects your personality and holds personal significance. Always remember the importance of proper preparation, healing, and aftercare to ensure your forearm tattoo remains a beautiful, lasting piece of art.