Brick wall seems a bit rustic, but it is classic interior decoration design idea in both rustic and modern minimalist landscaped homes. There are reasons for furnishing home walls. When it becomes aging and its surface is fading, it's surely the time to ramp up the wall. Just strip down to a brick wall, compliment with wall decals with lamps, paintings or clock. Your home will get a completely different look. The brick wall interior design becomes popular at the end of the last century which features variety styles in red or pastel shades of yellow and white bricks.
Bricks originate from Mesopotamia and for thousands of years it is used as an excellent building material. Bricks are made from clay, sand and water and are environmentally friendly product with excellent performance. Inside the brick represents a blend of old and new and it is very easy to combine it.
Brickwork may not be suitable for the living room. But you can have such a wall in the bedroom, in the bathroom, kitchen, dining room… A brick wall in the winter makes your room seem warmer and colder in summer. Brick is appreciated as a construction material that is used for thousands of years. For buildings made of this material the investors will always be happy to give money. This wall will bring a touch of romance to your home, and an extra dose of warmth will give details of wood woven into your space.
If it is necessary to provide additional protection, brick wall becomes appropriate coatings in the interior design. Wall lamps and similar lighting along these walls are desirable particularly if throws emphasis on the brick itself. Brickwork is interesting by itself, so you do not need too much details to emphasize it. If you want this wall in the kitchen, select for it wall without much hanging elements, so the wall comes to the fore.
Sometimes, instead of using real bricks, people use imitation of brick and wall coverings. If blending well into the interior, these walls can also give a nice touch. However, if you choose an imitation wall coverings, the wall must be dry and free of old paint.
Wall of brick is possible to repaint if some stains occur. For this purpose exist a variety of colors and paints for whose use you don't have to be a professional painter. However, if you like the natural color of the bricks – reddish, you can leave natural. This construction material is durable and can look good even after decades of use if you take care of him.
With a little imagination and creativity, this wall can be an effective detail that will enhance your space and make it nicer, warmer, more elegant, more romantic, with a decent dose of rustic. Enjoy the gallery that we have carefully prepared for you, and we hope you will find some idea for your space.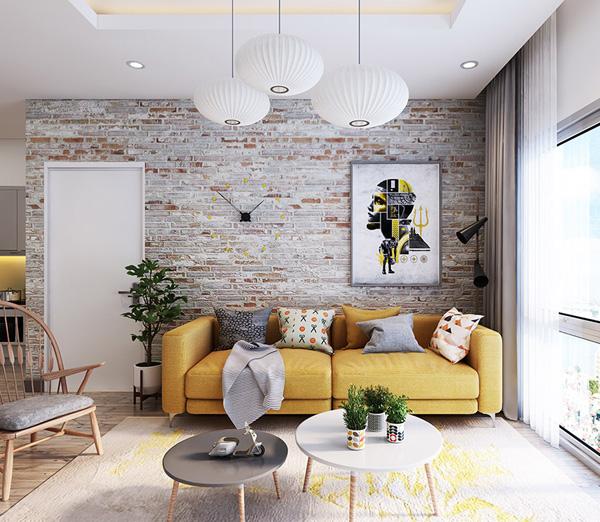 Beautiful room of pastel colors. The modern ambiance with rustic dose is credited of course, to this brick wall.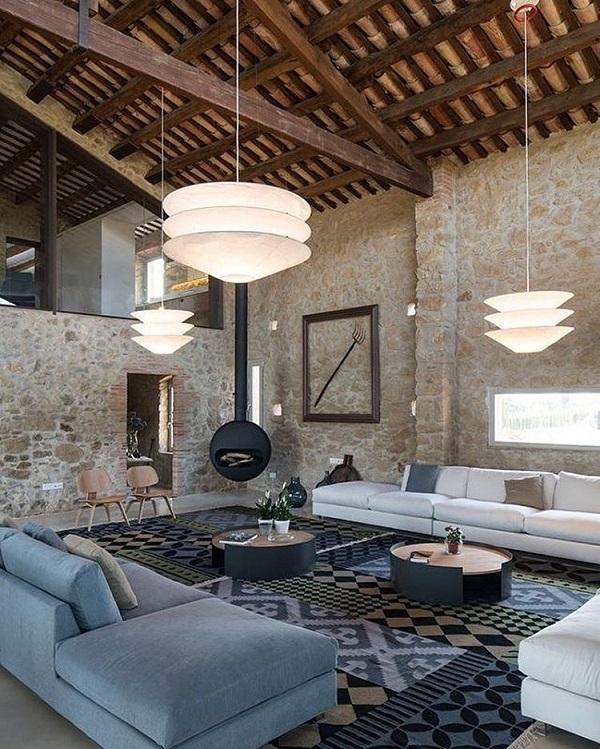 This interior design is excellent in two styles with rustic brick walls and modern minimalist home decor. The ceiling beams, fireplaces, picture frame on the wall, gives cozy feel in the living room. It definitely heat your soul in the cold winter months.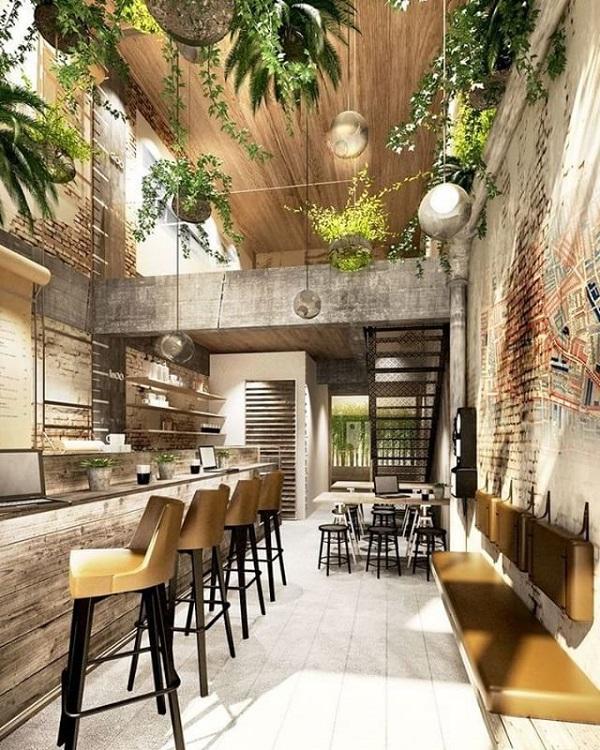 Another modern furnished rooms inspired with nature and natural materials.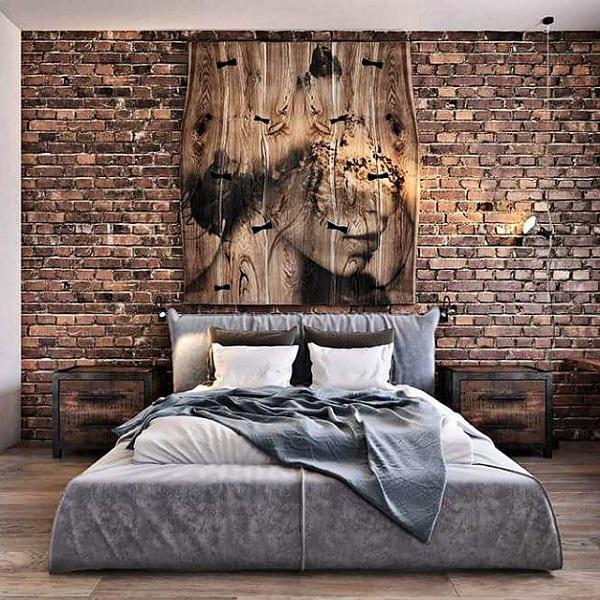 If there's big contrast between the brick wall and other walls, the brick wall comes to the fore for sure.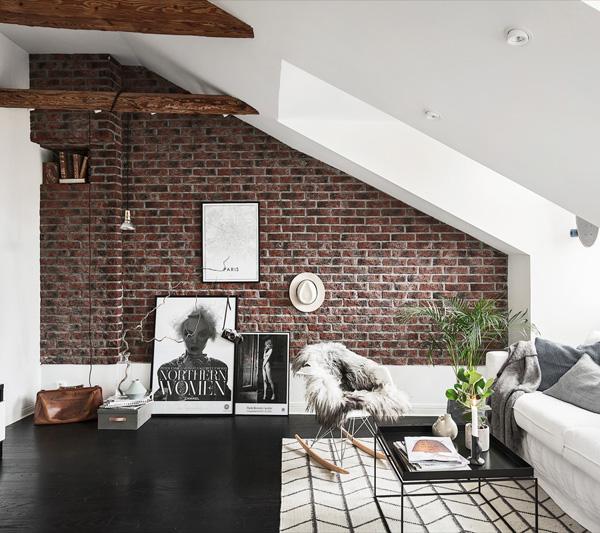 For a brick wall you don't need a lot of details, shelves, paintings, watches, to come to the fore. It attracts attention enough alone.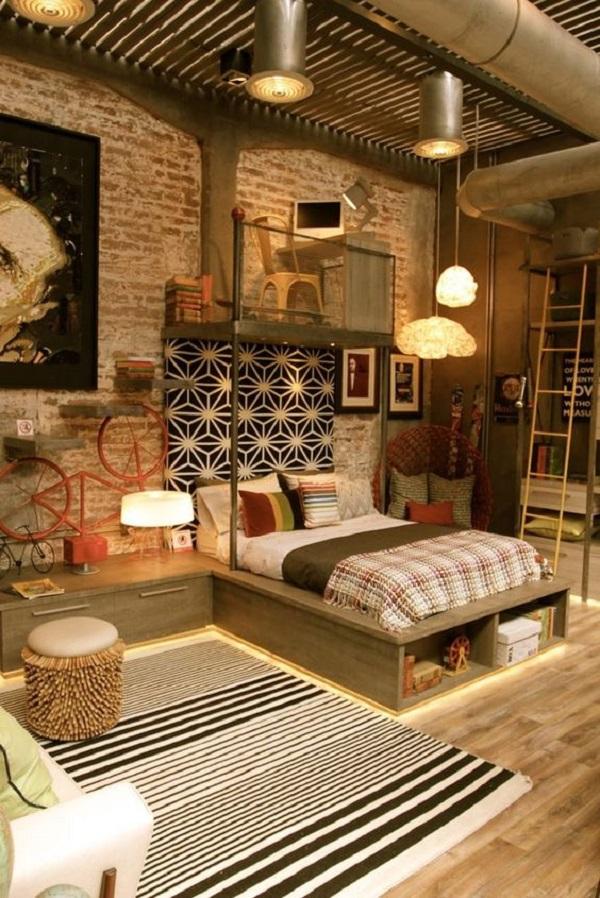 Very interesting design of space is extremely good for small living rooms. If you have a shortage of space available, here is where you can put a desk with a computer.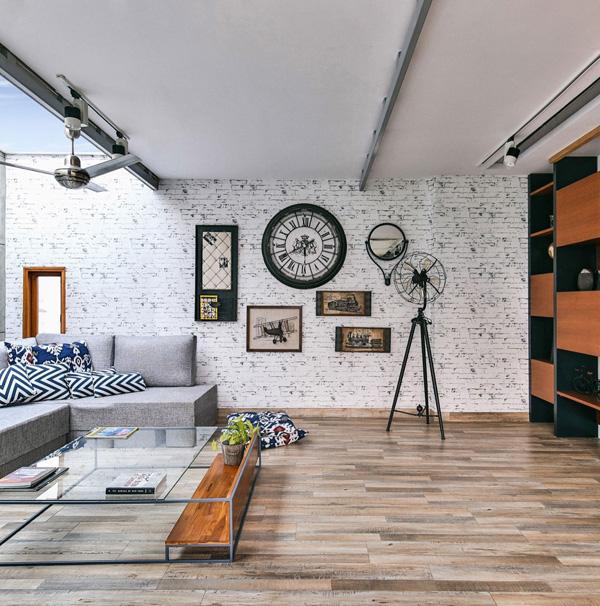 Brick wall, you can paint in a shade that will get along very well with your whole interior. In this case it is white!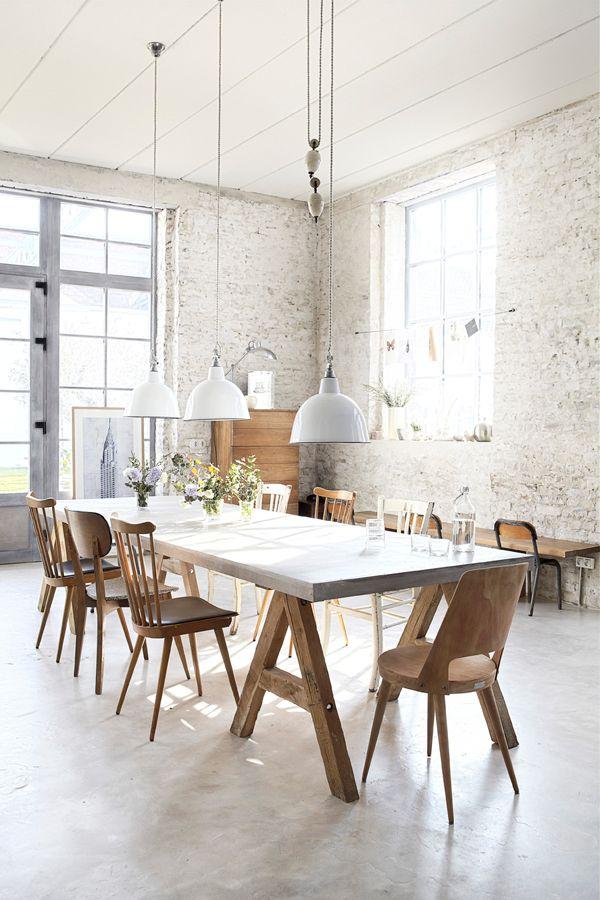 This space is fully in Nordic style – lots of light, natural materials, plants on the table, large windows and white color domination!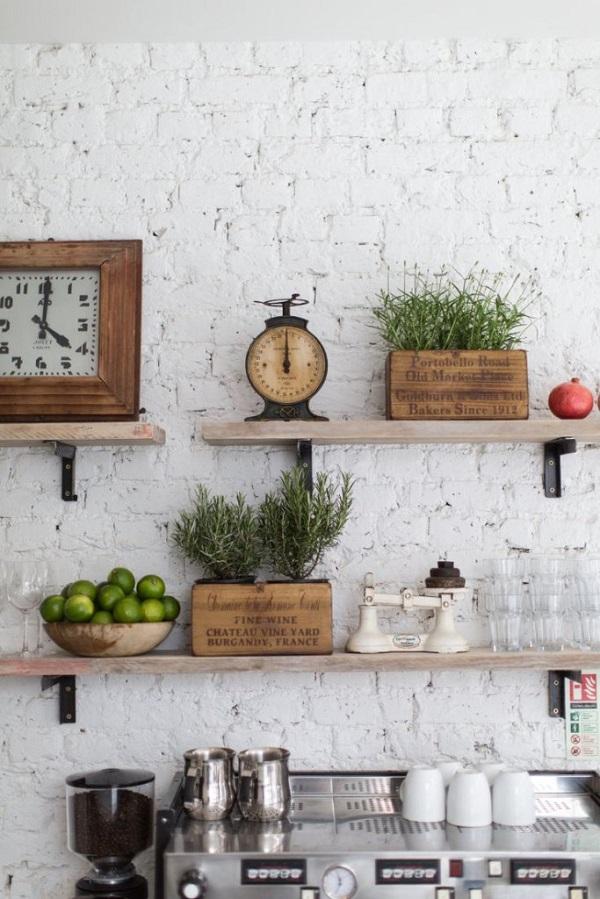 If you need shelves, choose open shelves on the wall which doesn't cover the wall a lot – it would be a shame to hide it behind a large closets and shelves.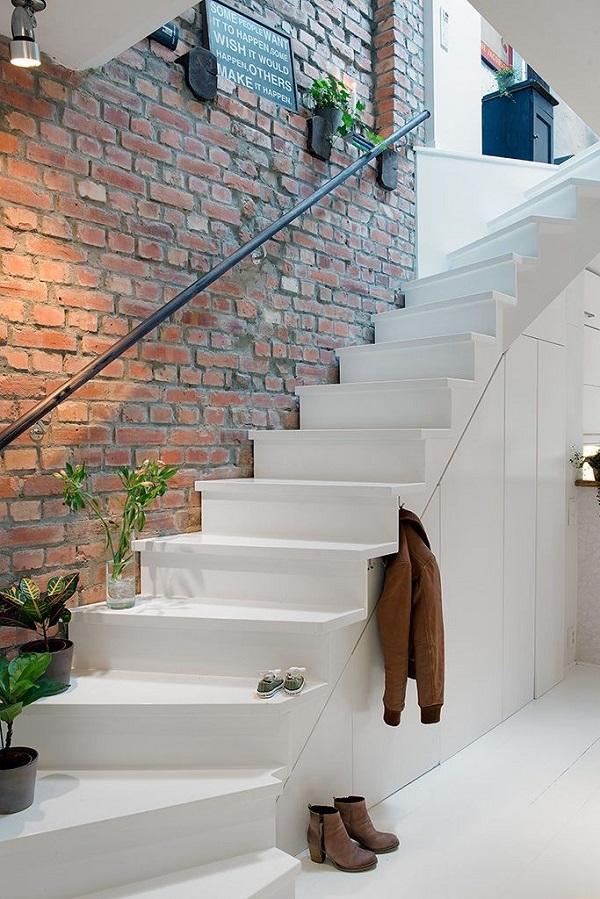 If you have a floor in the house here is idea for decoration of the wall where the stairs are. Nice lighting emphasizes the wall, which eventually can be decorated with hanging plants in some original pot.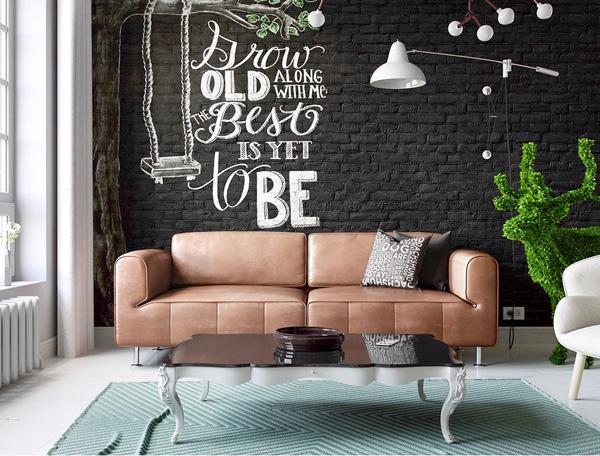 In this modern apartment dominate white tones, and their great refreshment is this wall of bricks that are painted in black!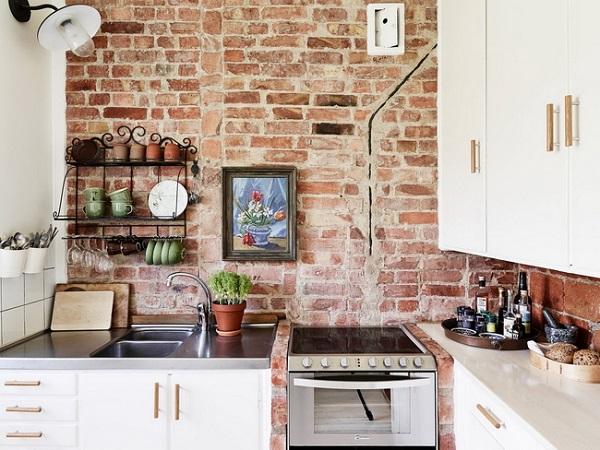 Rustic brick wall in the kitchen does not have to prevent you from choosing modern kitchen cabinets and white technique for your home.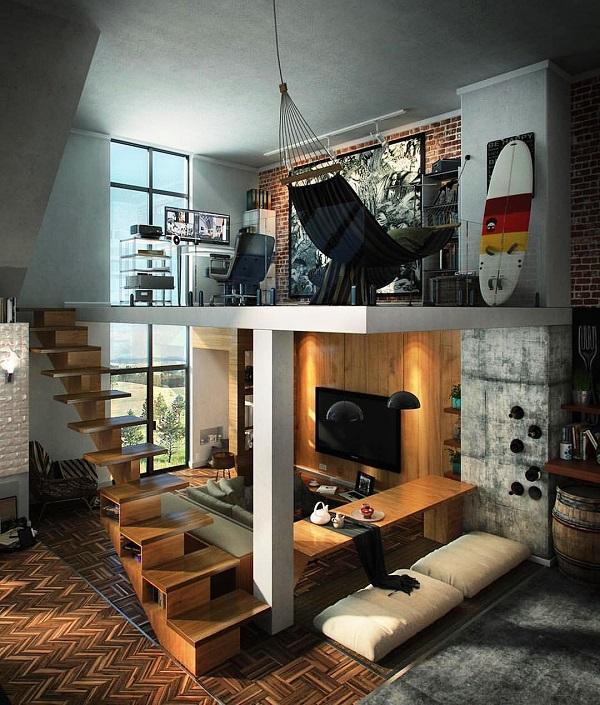 If you have a house of small surfaces with high walls, here's how to compensate lack of space. Make the floor. This is a great idea and on the internet you will find much more ideas!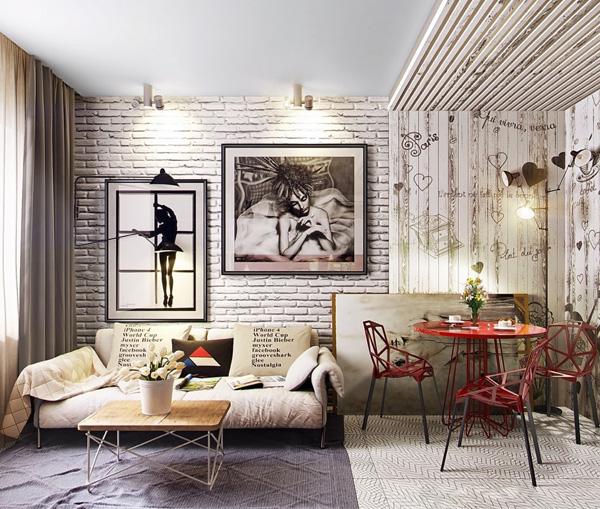 Dark rooms may appear depressed and bored, because of that, so you try to have always enough light in your house!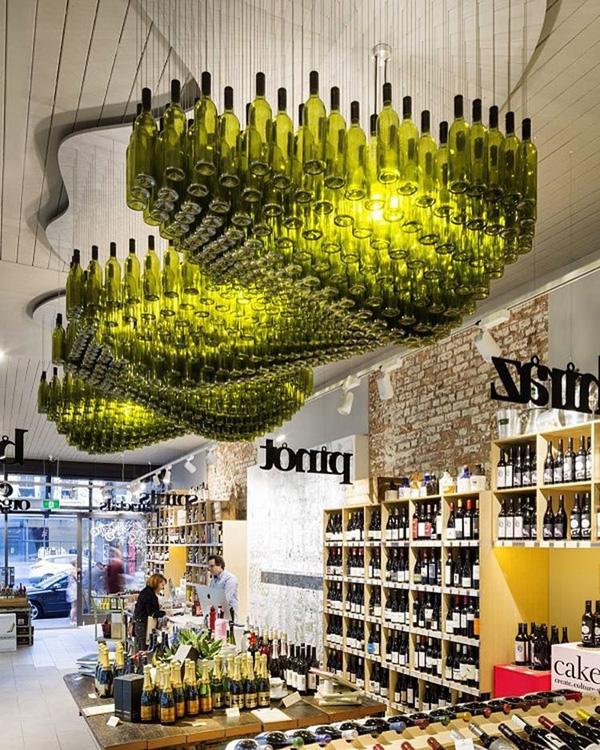 This brick wall certainly contribute to the overall impression of the interior design, but much more dominant are the bottles on ceiling between which are light bulbs – together look like huge chandeliers!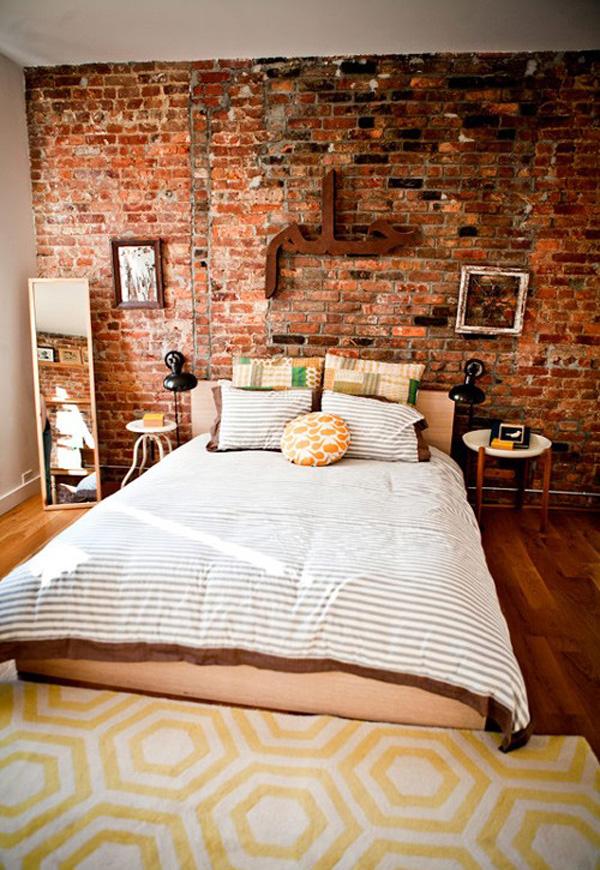 Brickwork will look very romantic in your room, especially as a wall on the side of the room where the head of the bed is.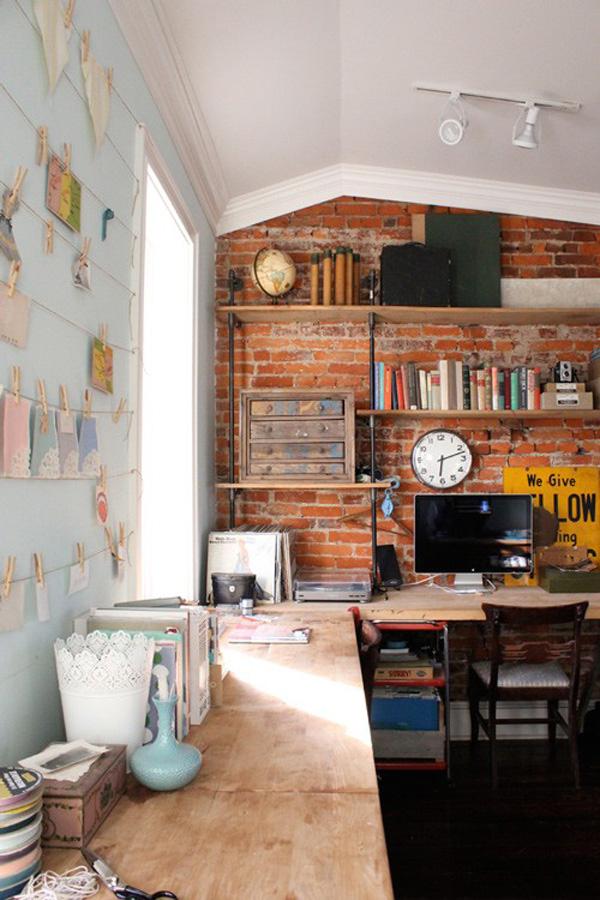 Right next to a brick wall is a large window. If you decide for this detail in your home be sure to pay attention to the lighting that will accentuate the wall.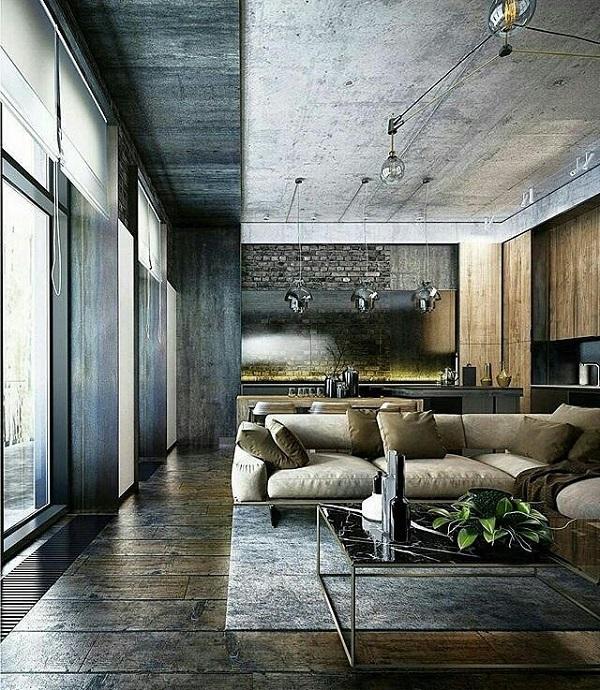 If you opt for darker shades in your home make sure to provide enough light that will make the space more pleasant for staying.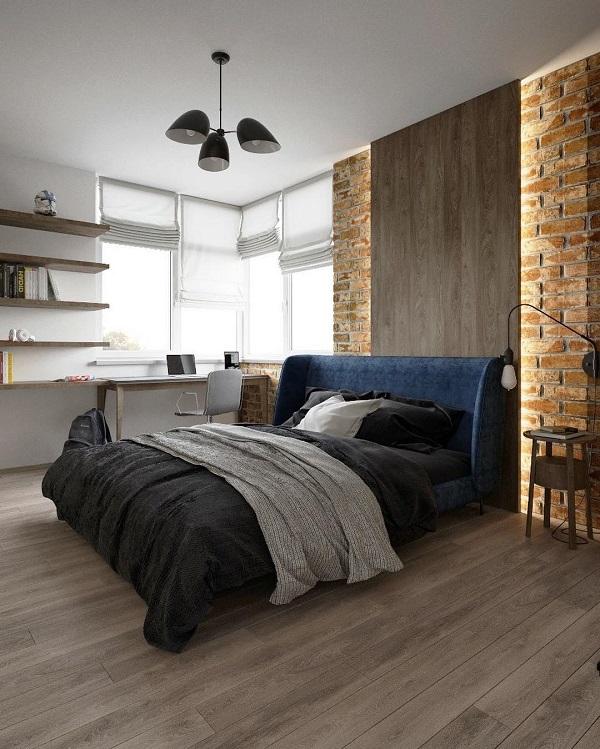 It is very important to nice combine materials when you want to decorate a room like this. Decide for dominance of natural materials and natural light, enriched with only some modern details.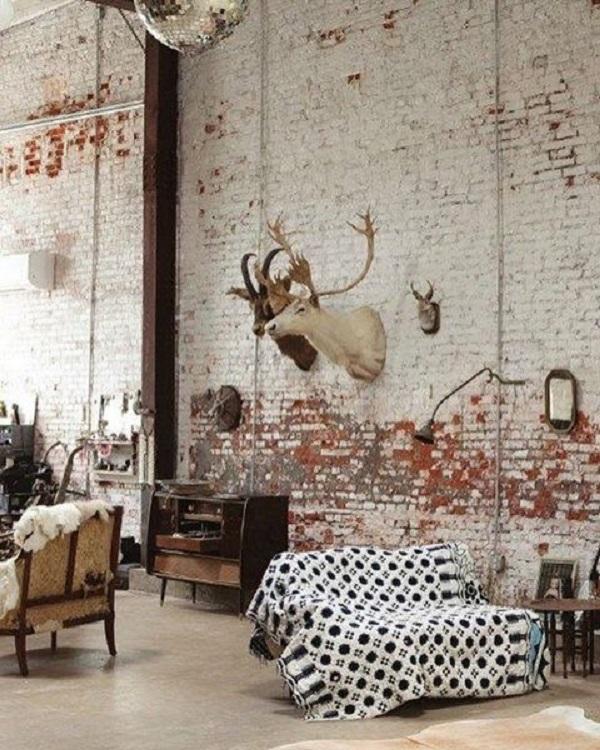 Young people, especially artists increasingly opt for rustic decoration and the space in which they live. Natural materials are the best for soul and body.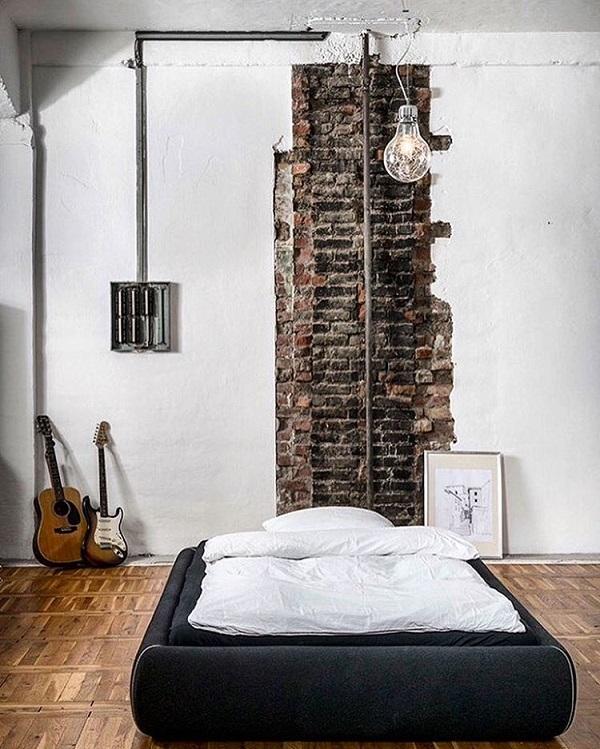 A typical home in Scandinavian style, wooden floor in natural wood color, white walls, natural light, minimalism. All items are functional and there is no more decorations.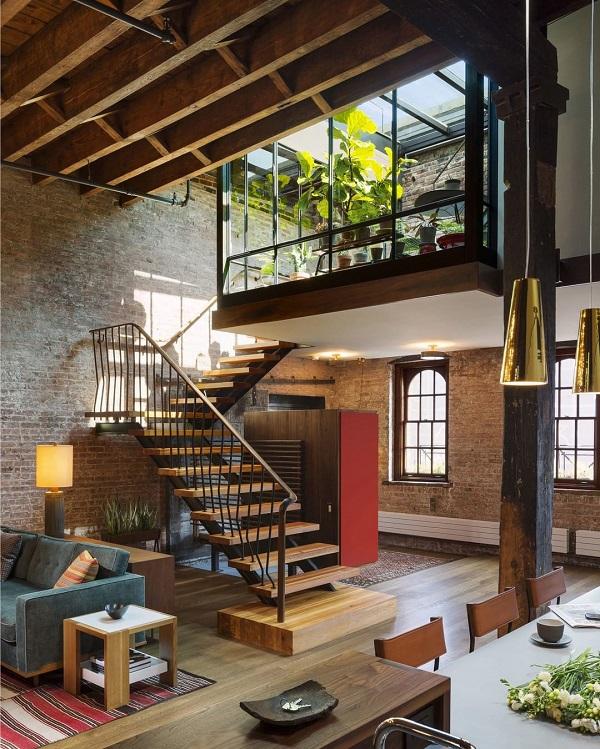 Unlike the previous two examples, we see the modern home on this photo. Preference is given to comfort. Home exudes with luxury and comfort, so I believe that everyone willingly would agree to live here.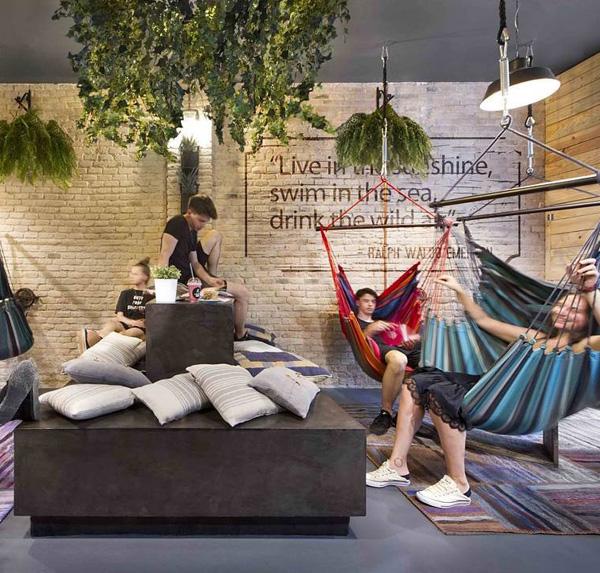 You can avoid the plants in the bedroom but in the living room cultivate at least two – three. They will give life to your space.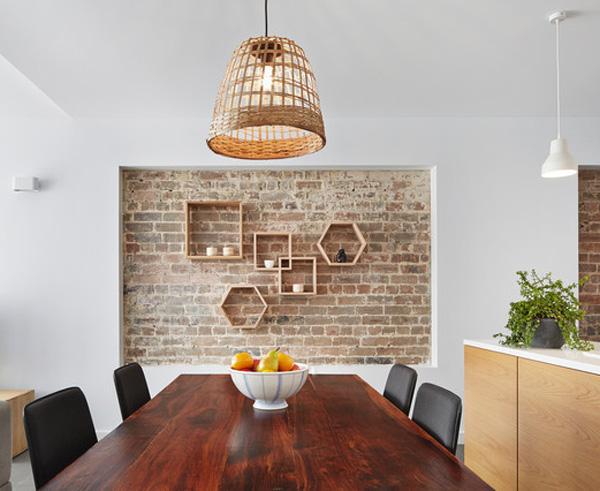 If you decide for stone or brick in your home it will only indicate that you have impeccable taste, that you love to follow the fashion trends in every aspect of life and to give priority to high-quality, durable and long-lasting materials.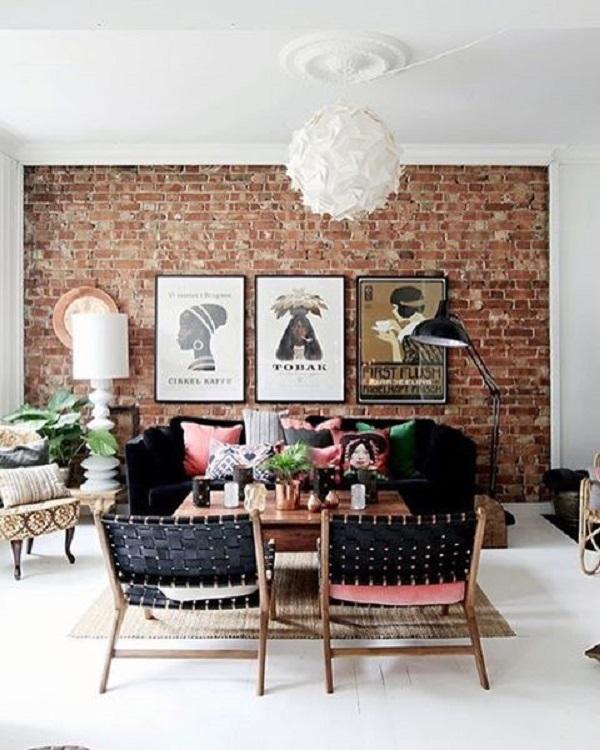 In home decoration are used very often and imitation or coverings for walls that mimic stone or brick very faithful. Different wraps are used for interior and the other for exterior, their use is widespread.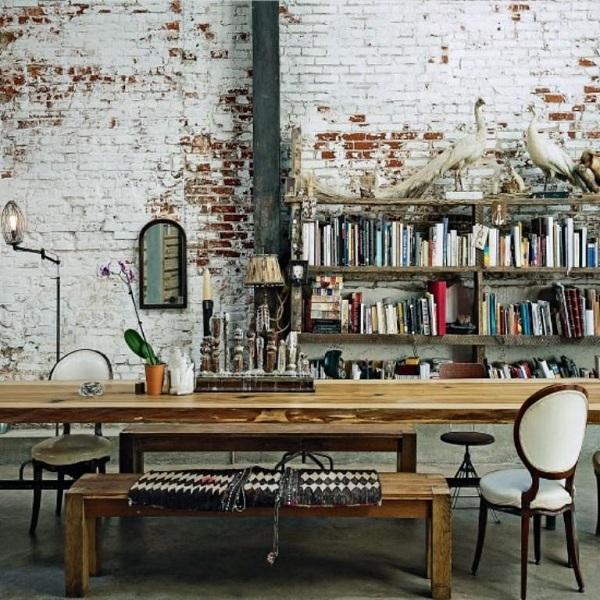 Rustic dining room with a massive wood table is a great place for enjoying with friends, family and relatives in delicious food and friendship.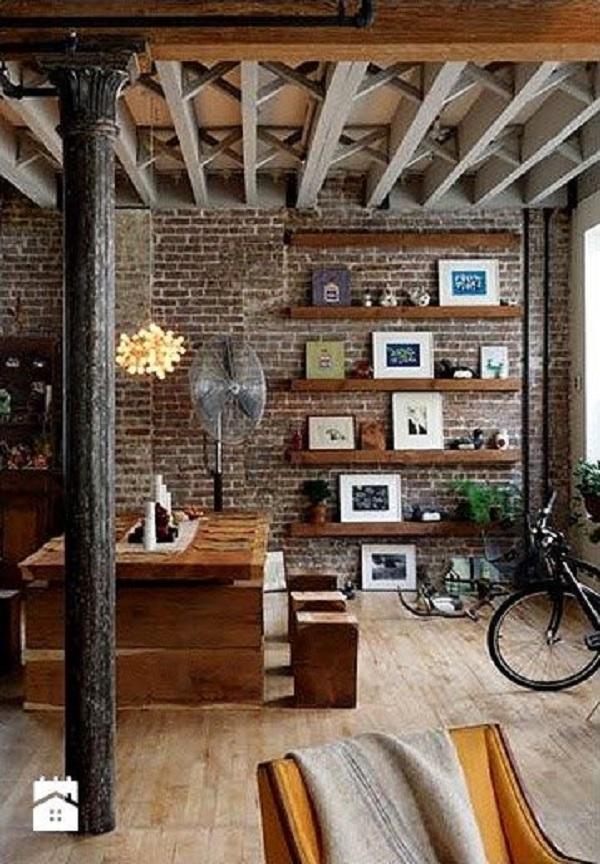 Earth tones are always in fashion, they are pleasant for the eye and rule the fashion scene and also in the architecture and decorating of space for a long time.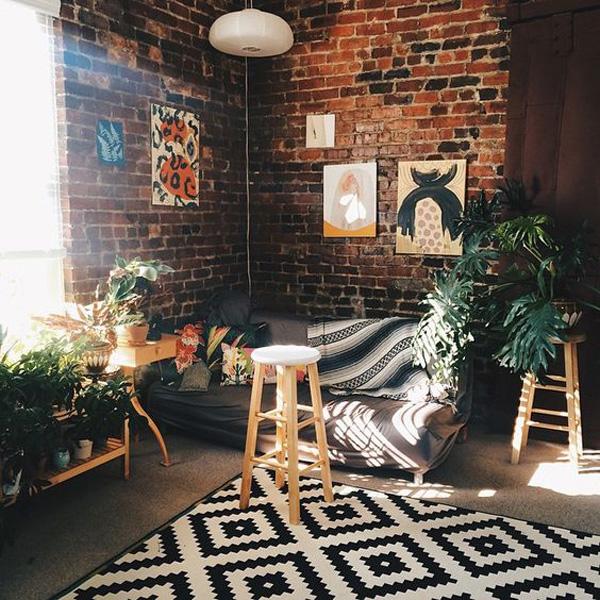 If you use imitation of brick for wall cladding, process itself will be much easier and cheaper.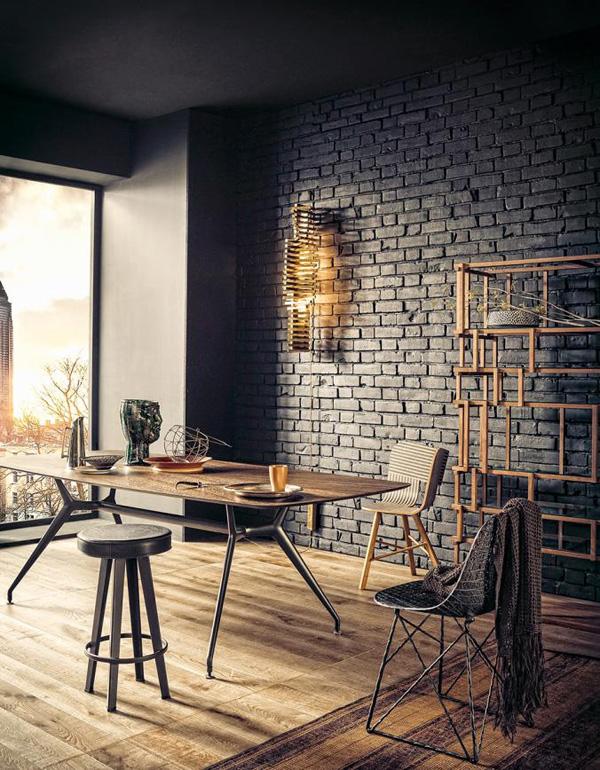 The combination of these materials – bricks or stone with modern materials as glass always look avant-garde.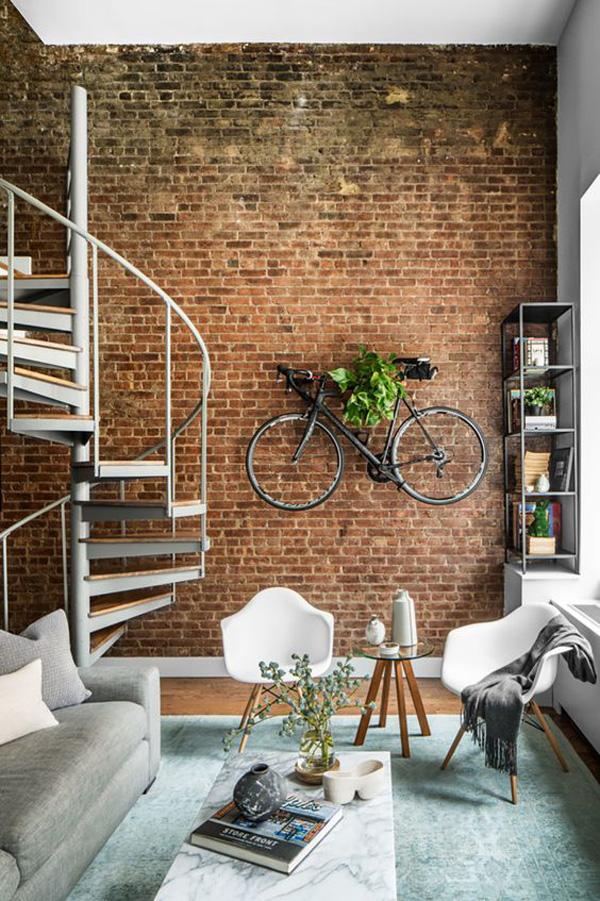 This home looks a bit usual but the uniqueness and originality gives it a bike on the wall as the base for the plant. Very interesting detail.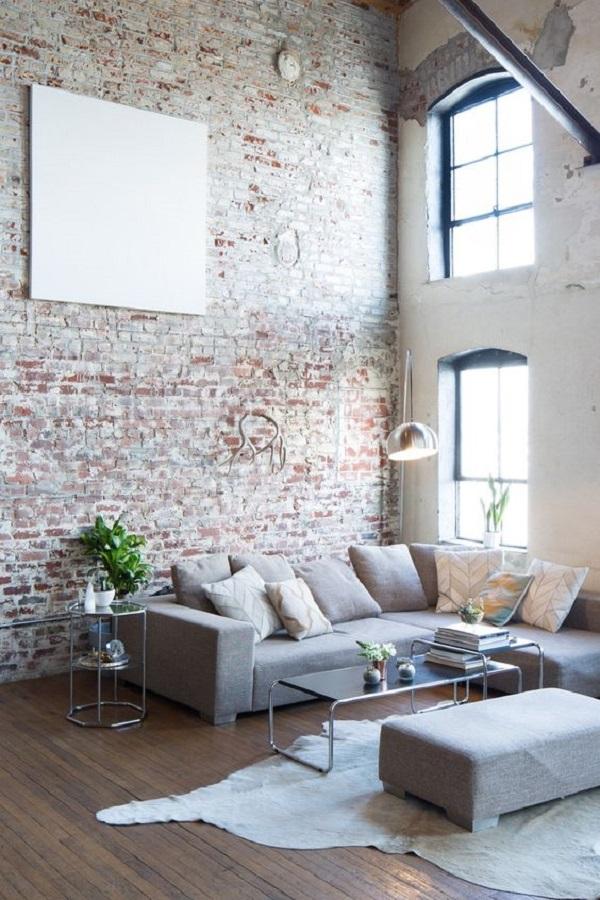 Perhaps many people like furnished room like this but for me here missing details that will put the seal on this space. The walls are very high and without pictures and shelves it seems to me too cold.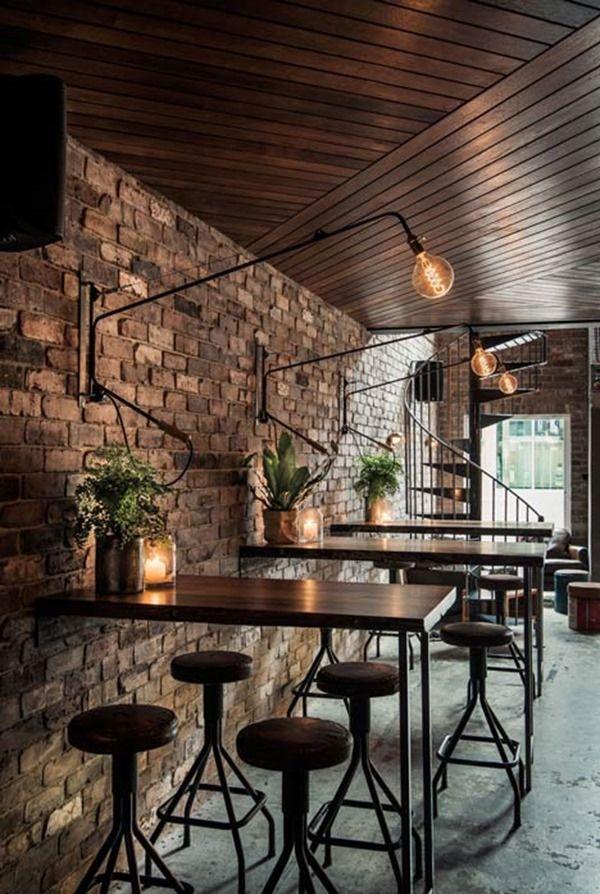 Nice, a bit rustic but in its own way a modern cafe, where you can have a coffee with a friend.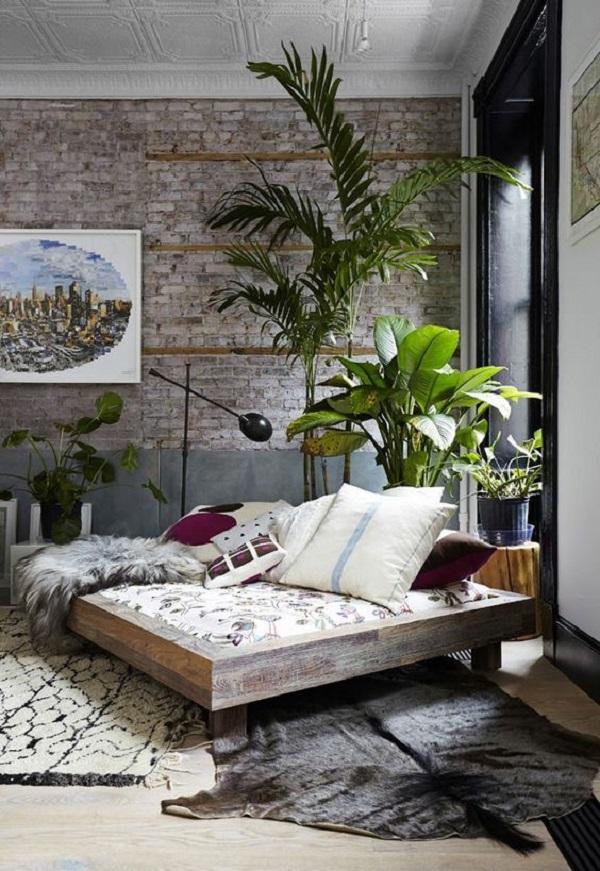 Cozy place for relaxation, reading books and enjoy with your loved one. I would only add some beautiful fireplace in the opposite part of the rooms.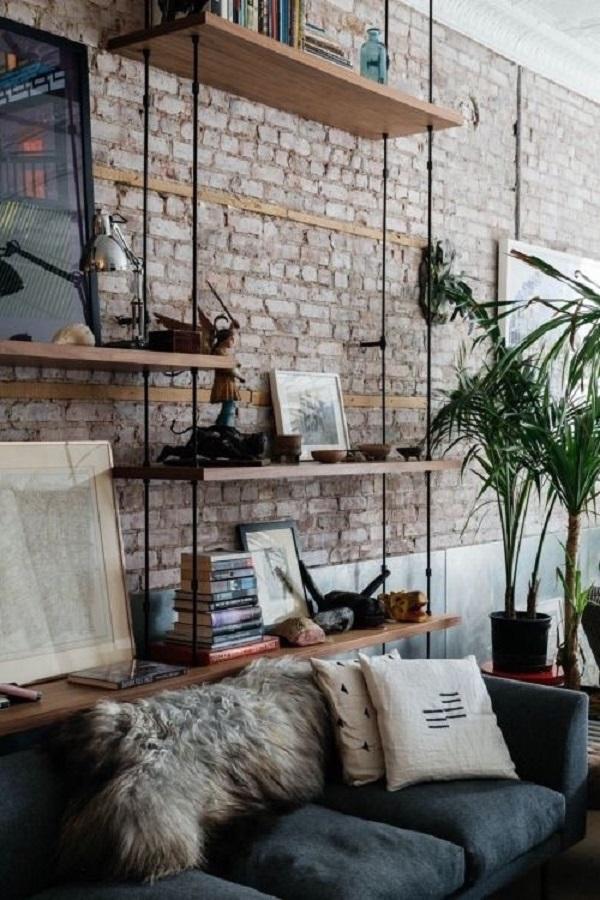 These open shelves with beautiful decorations on them will decorate your space and will not hide the wall which is meant to be the main line of space.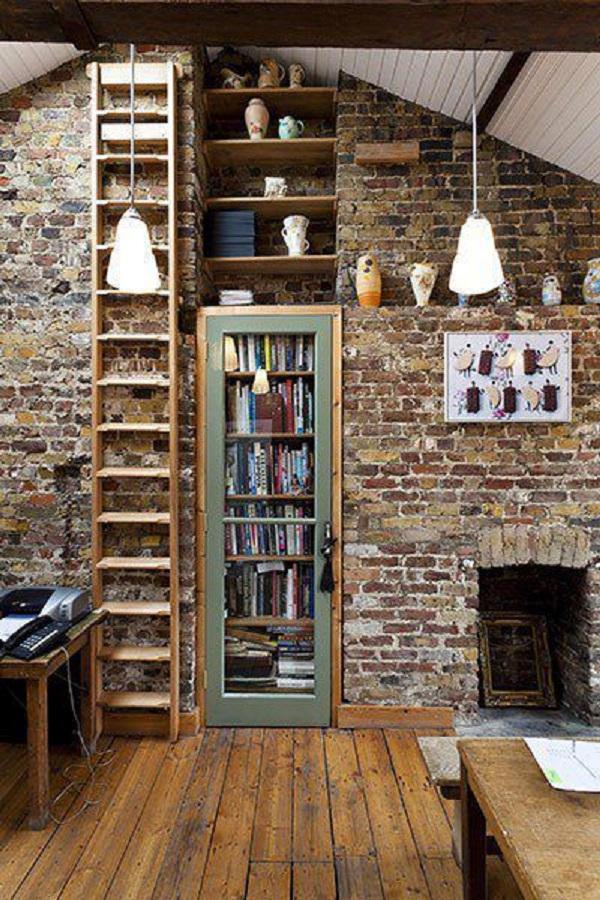 This wall of bricks is excellent, but the bookshelves behind a door in the wall is even better detail in this room.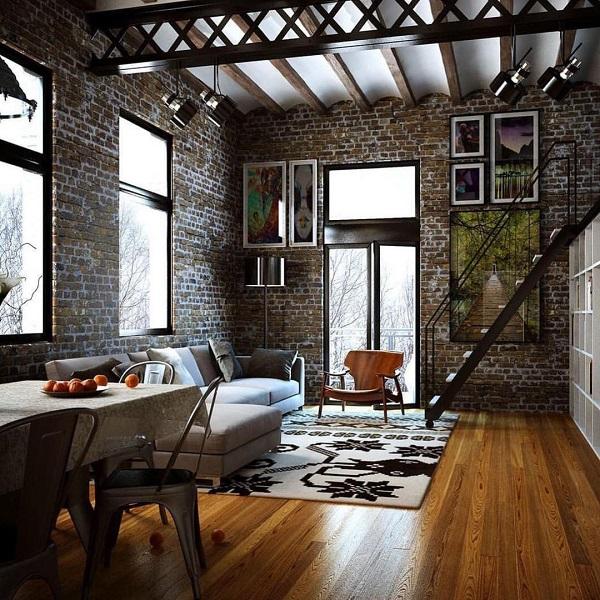 The modern and functional space. There's no too many decorations, but in exactly certain and metered dose.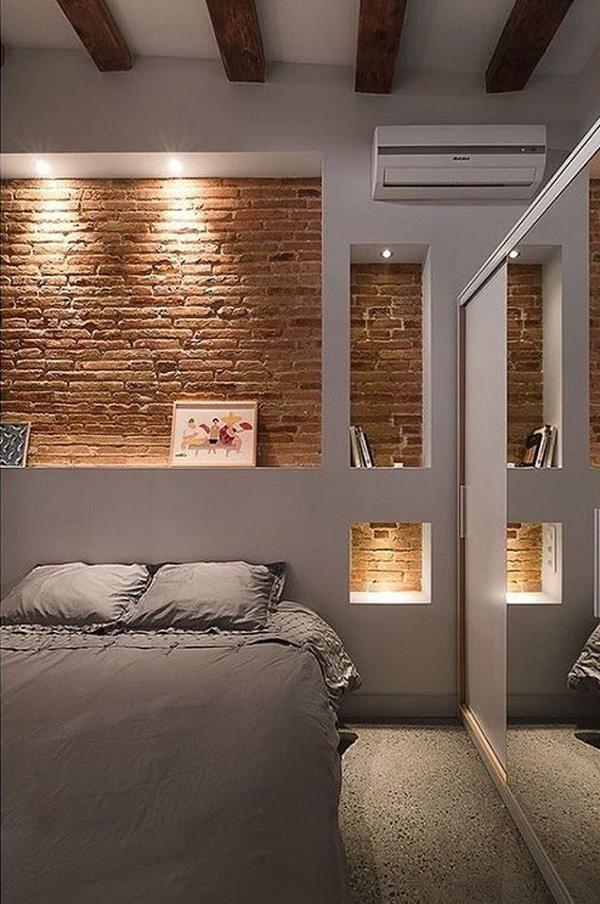 Lighting along the brick wall is always desirable because it throws the emphasis on the wall and brings it to the forefront.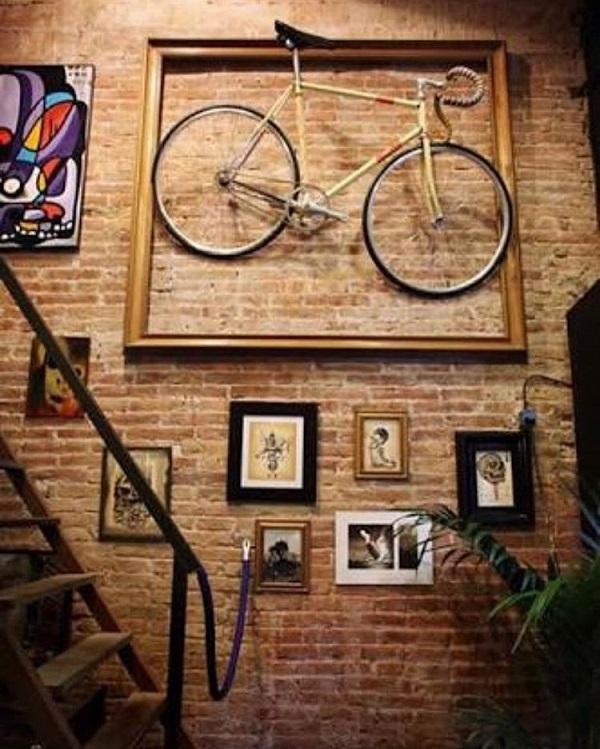 This picture frame in which there is a bicycle is a great decoration, which you can use in the living room, in the hallway, or if you have a restaurant or coffee shop, there.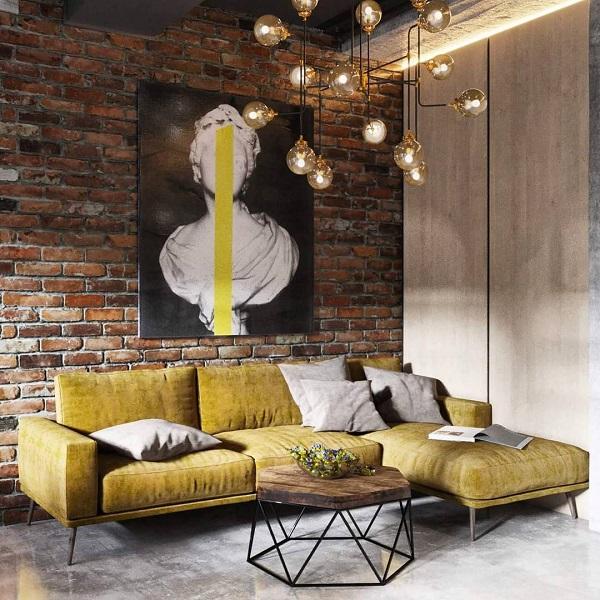 Chandelier is simple,it is like from the last century, rustic but fits perfectly into this space. Table is in a similar mood – combination of iron also, but now with wood.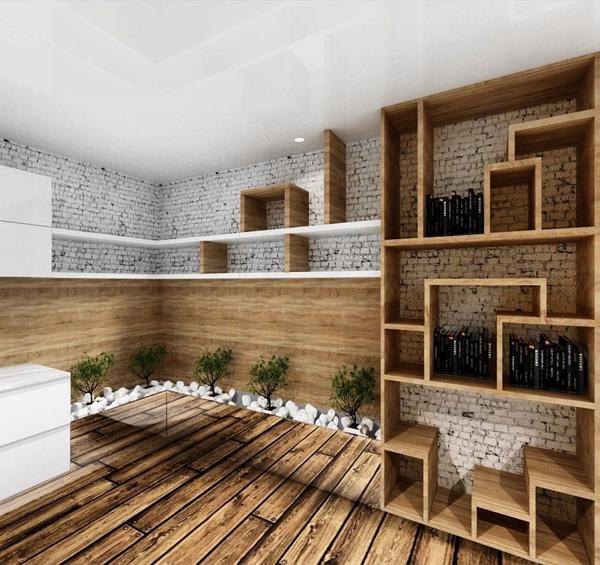 Very interestingly arranged corner in a room.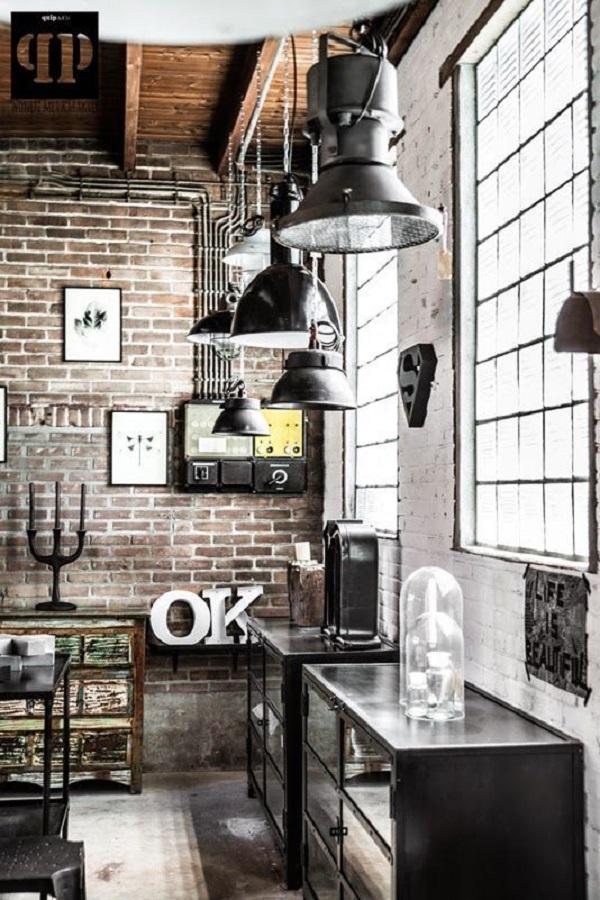 If you have two, three or all walls made of the brick, you can, for example, a wall of brick left in its natural color, or two walls, and two paint in white.It is on you to choose a combination that suits you best.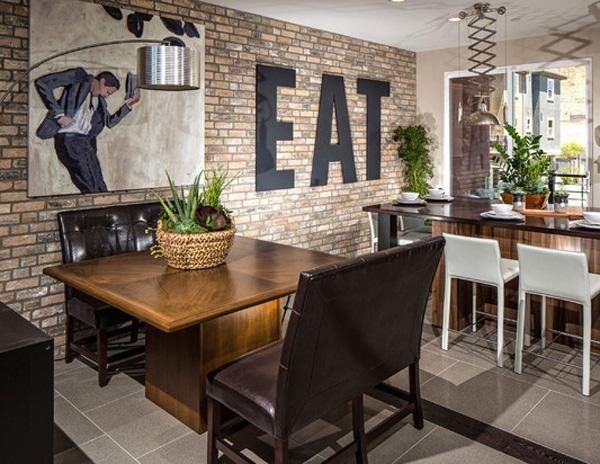 In this environment of a restaurant you will surely enjoy every bite.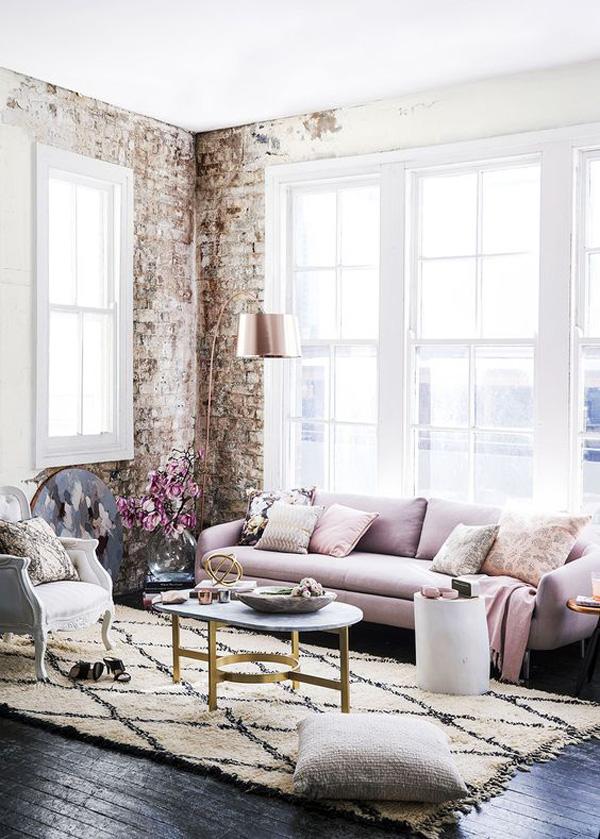 Black floors are not practical because each dust especially in bright light is easily seen on them, so it is necessary to clean them much more often. However, I must admit that this dark floor in this room is good contrast for pastel colors in the rest of the interior.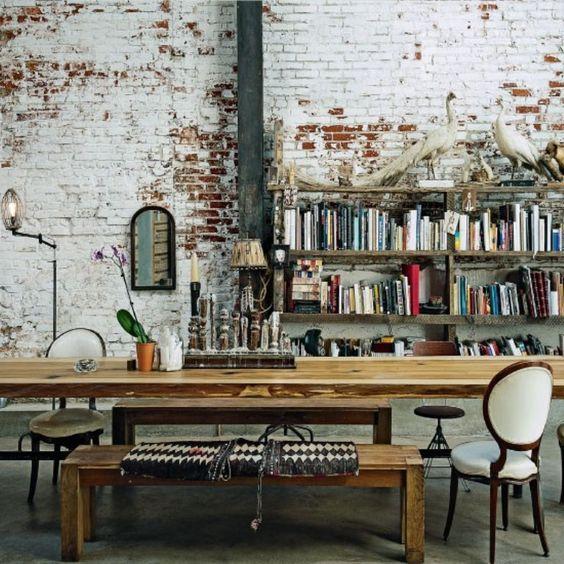 Rustic dining room with a massive wood table is a great place for enjoying with friends, family and relatives in delicious food and friendship.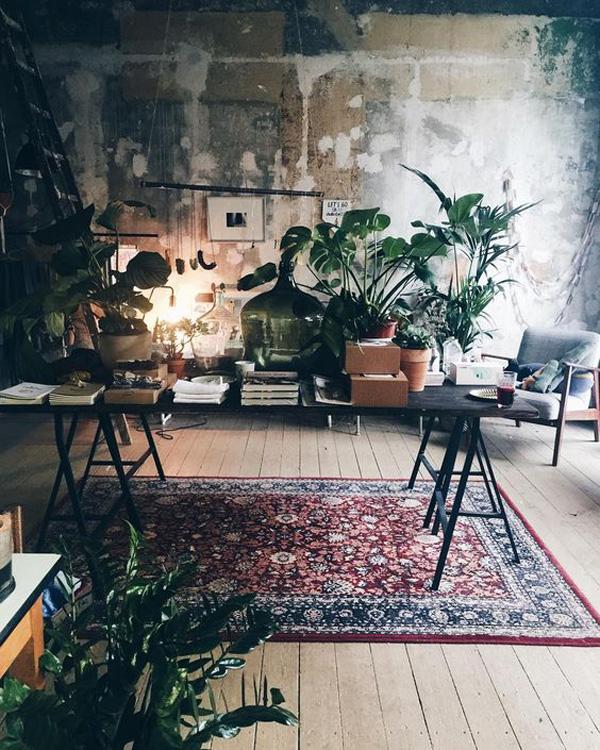 Beautiful room in which an artist will be able to find inspiration and create works of art.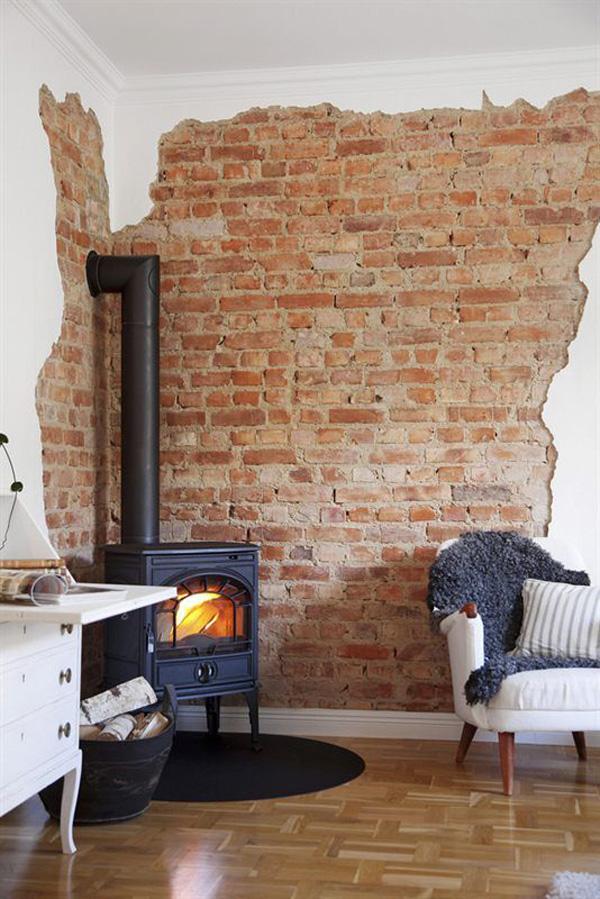 It will look nice in your home if only one-third or half of two walls that are connected strip down to the bricks as in this case here.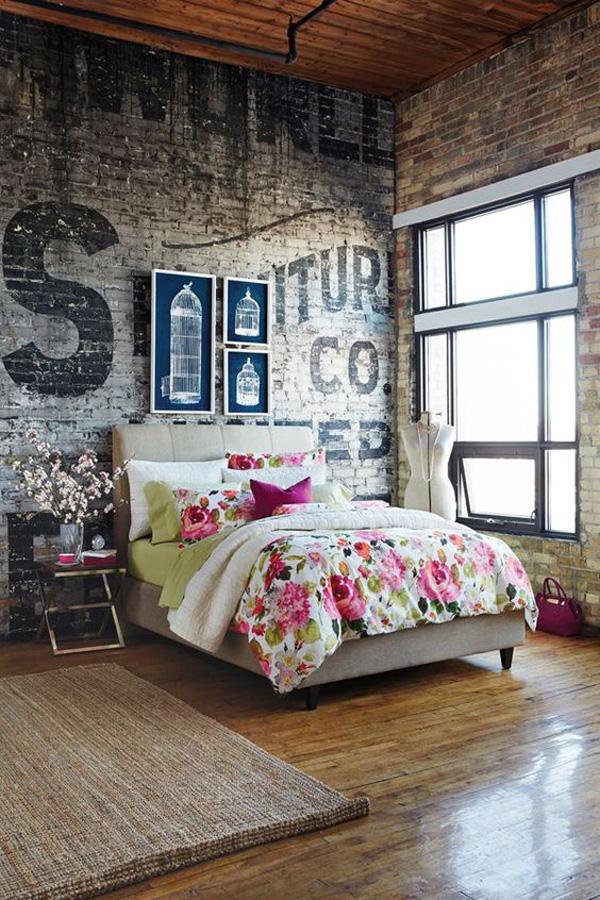 The avant-garde and romance are linked in this great interior. Floral details on bedding and vases with flowers enrich this space that looks significantly warmer.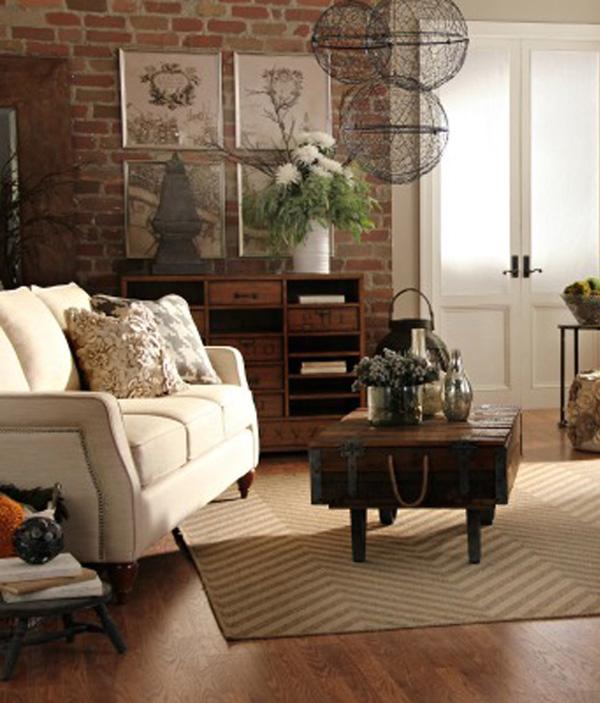 In this house we can see the domination of classic style in which the different materials are blended splendidly.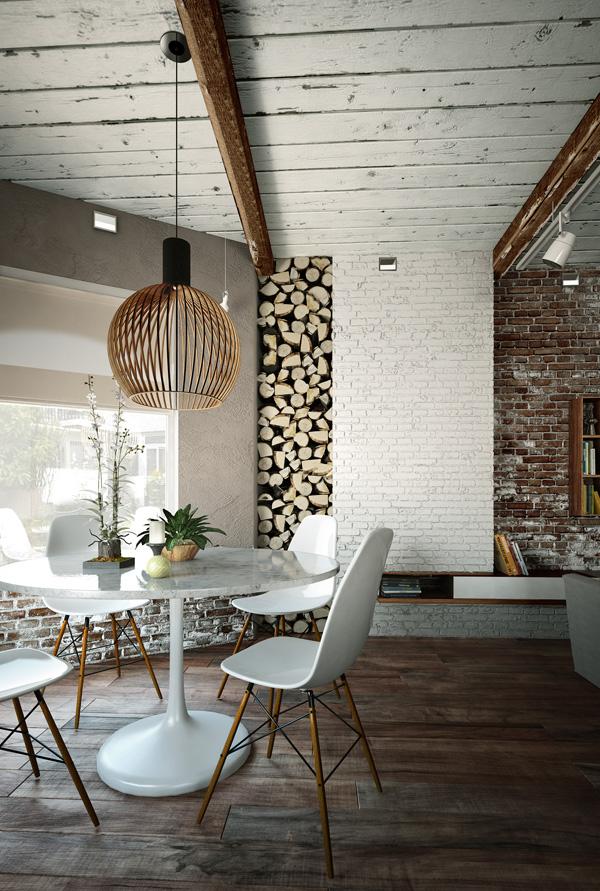 If you renovate a house where the walls were stripped to the brick, hold them so, possibly bricks paint in white. Those white walls will be the trademark of your home.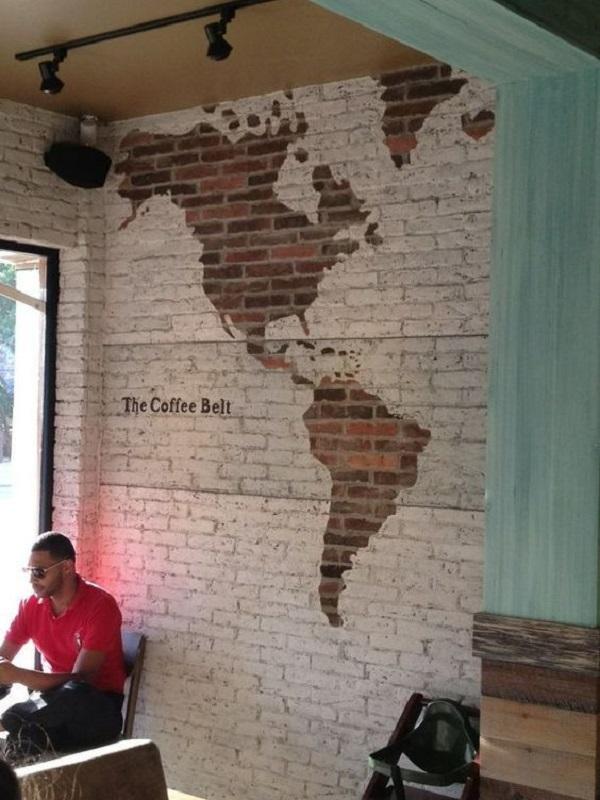 Very imaginative decorations in the coffee shop. The sophisticated look of this extension is achieved without a lot of effort and investment.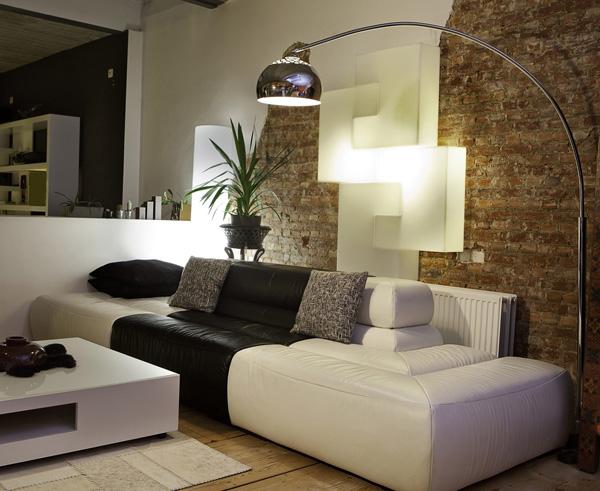 Naked brick wall will give the room a special charm and no matter because perhaps many irregularities will be seen on it.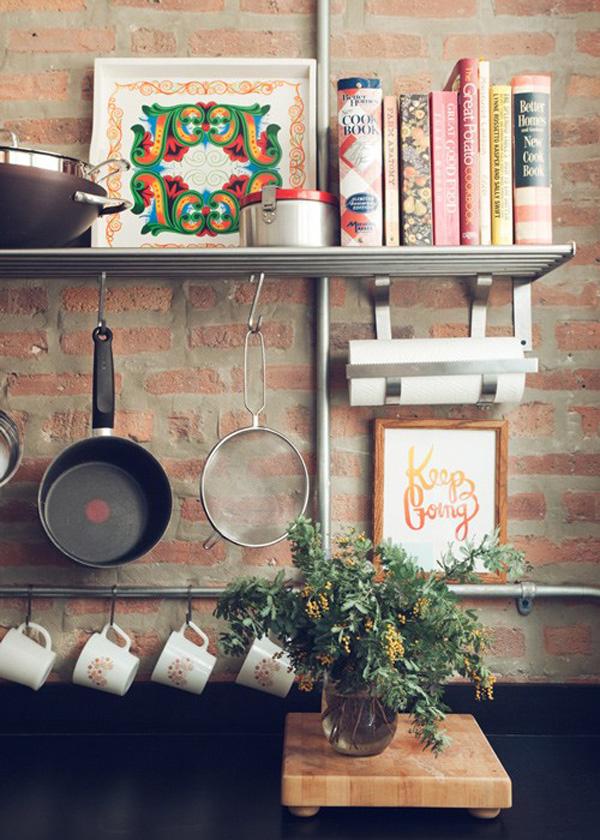 Red brick will definitely choose bolder persons. It will be an ideal contrast to the rest of the furniture that might is in brighter and white tones. Stylish details such as the brick wall here is combined with a kitchen that is somewhat traditionally furnished.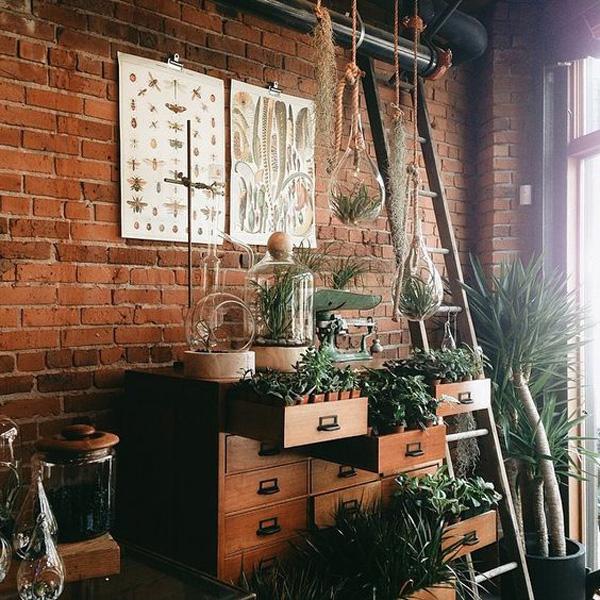 When you strip down to a brick wall, it is good that the bricks coat with transparent varnish or varnish in color.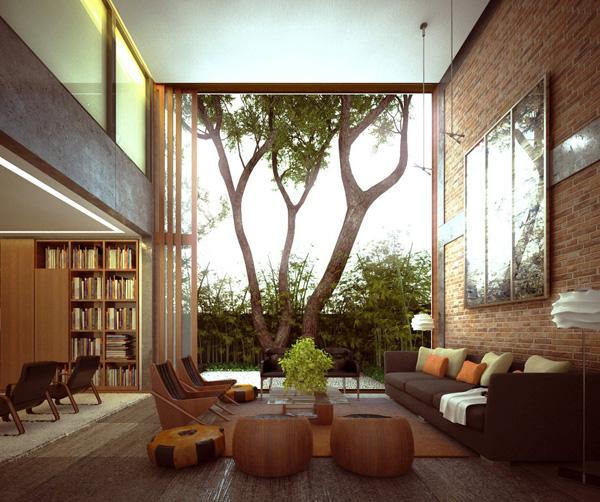 Very beautiful and sumptuous home in which only one wall is decorated with brick. On this kind of wall don't put too much decorations, because it is unique itself. Large images and striking frames will great stand on these walls.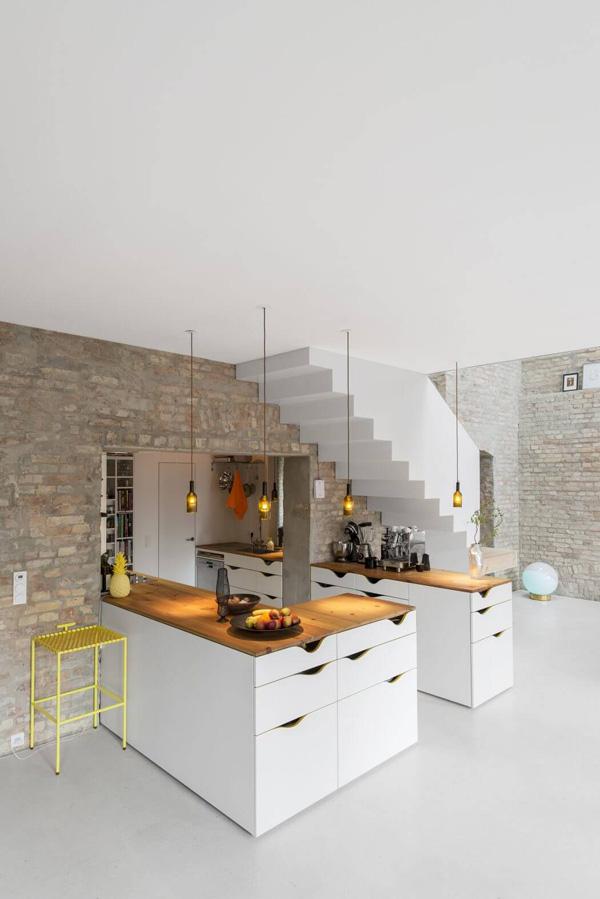 Colorful brick is a good contrast to the rest of the furniture in white color.