Spice up your living room with these brilliant ideas
Probably one of the most exciting things to do when you finally find a home is decorating it. Wouldn't it be lovely to put your heart and soul into making each and every room picture perfect? The living room would be the first priority since it is the first room anyone enters in the house. The living room is also the place where you accept guests and you would want to give them a good impression. When you have established a theme in the living room it usually has to match with the rest of the rooms which is why it is important to plan ahead beginning in this one room before you go on to the others.
Living room theme tips
Your living room should not be limited to just your fireplace and sofa. You can be more creative and add more space where you can even put in a dining set. How do you do this? Just keep your furniture light to avoid crowding. Sometimes you get bulky furniture that is not entirely needed for your living room. Keep them small, thin and practical. You can start by placing an open weave coffee table, a clear space instead of a wall and compact dining chairs where everyone can fit in.
Are you a fan of the classic red? If you are then don't hesitate to decorate your living room in a red and white combination. You can start with painting your walls in bright red while countering it with white accents such as your fireplace and wall hangings. You can also tone down the red with a white table, chair rails and so on. The key is balancing both colors so they complement each other.
White has always been a classy and elegant color. However you might be afraid of using an all white space because it would look boring and almost close to a hospital and you wouldn't want that. You can avoid this. All you need is careful planning and the right textures to go along with the theme. Partner your white space with crocheted mantles, rough-hewn linen and more to give weight to the space.
You can also play around with patterns. Start with choosing a specific color theme like blue, brown or red. You can then apply these themes with florals, trellis and ikats. To counter the pretty patterns, use huge solid colors for your furniture like sofas, chairs, carpets and such. Try using universal colors to counter the pattern themes like brown, green and red.
If you are a book lover a great addition to your living room would be a small and cozy reading nook. Select a window to place your nook and settle in with a comfy chair, a wall bookshelf and a small table for the lamp when you want to spend some late night reading. There are plenty of things that you can do to customize your reading nook, what's important is it fits you well comfortably.
Another thing you can do to spruce up your living room is to add a game table. Maybe you and your family love having friends over for a couple of games so a huge game table at the side is the perfect piece of furnishing you can have. Get an extra large coffee table that has a feminine shape for a more modern touch. You can also add a small table at the side where you can store food and drinks.
If you want to put a traditional touch to your living room you can also do that. Pick up your old bamboo chairs and furniture and cover them with super saturated colors such as blue for your mantles, rugs and centerpiece. You can also haul over your ancient wall mirrors or coffee tables to add to the overall theme. Your collection of old furniture will be reinvented and reborn depending on how you arrange and place an accent on them.
When you want to go for a living room that can always be updated throughout the years, or maybe you like renovating every month, it is safe to go for a neutral design. Simply add a few small accents of color here and there so that you will always have room for change. The less furnishings and wall hangings you have, the easier it will be for you to change the theme over time. You should also consider using neutral colors for the paint.
With whatever decoration or theme you might think of ideas for your living room make sure that you are able to afford it and that you are comfortable with the design. A living room is your comfort zone and you will want to feel at home when you enter that room. Don't be afraid to bring in a touch of your personality to the room, add the things that you like and the things that make you feel happy. Remember that this is your home and you not only design to impress others, but to impress yourself is the top priority.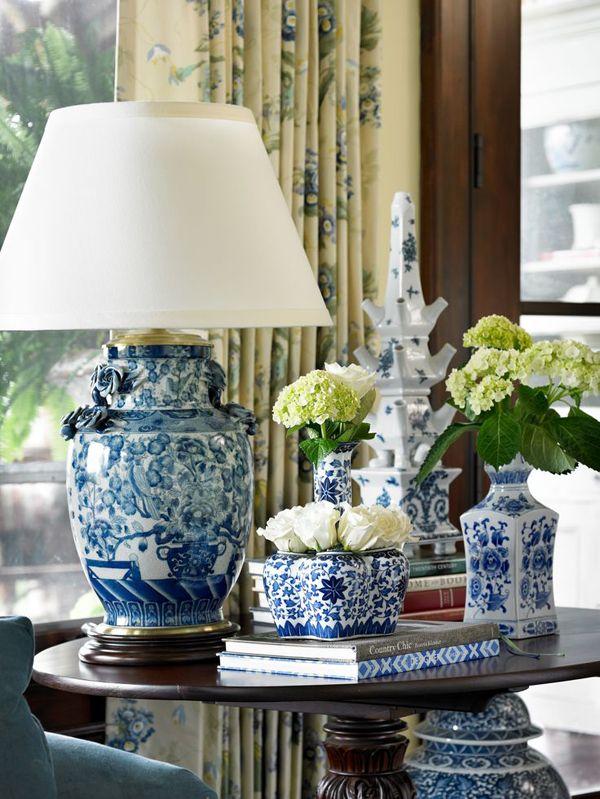 Decorate your favorite coffee table with china vases such as these. They look absolutely classy and can match just about any interior because of their pretty patterns.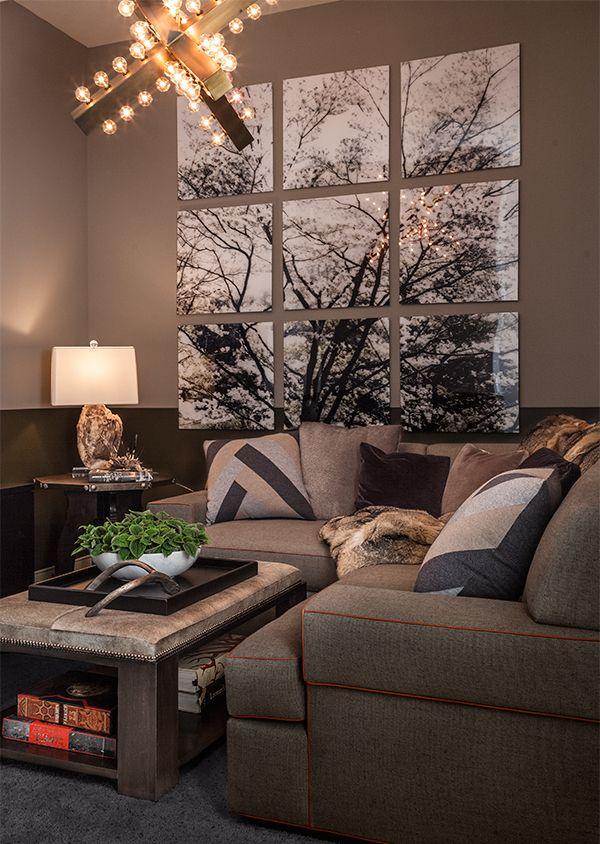 Check out this modern living room décor. Piece together pictures of your favorite landscape and out them together as the center of attention in your living room. This is a great way in setting the tone of your home.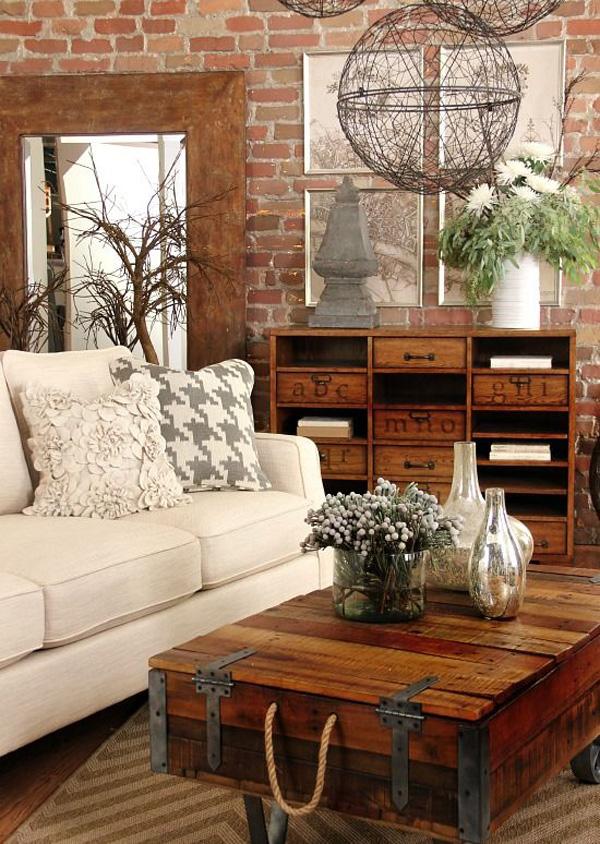 Give a warm and cozy look to your home by using neutral colors that can easily complement with each other. You can even use organic decorations to make your living room look more spacious and clean.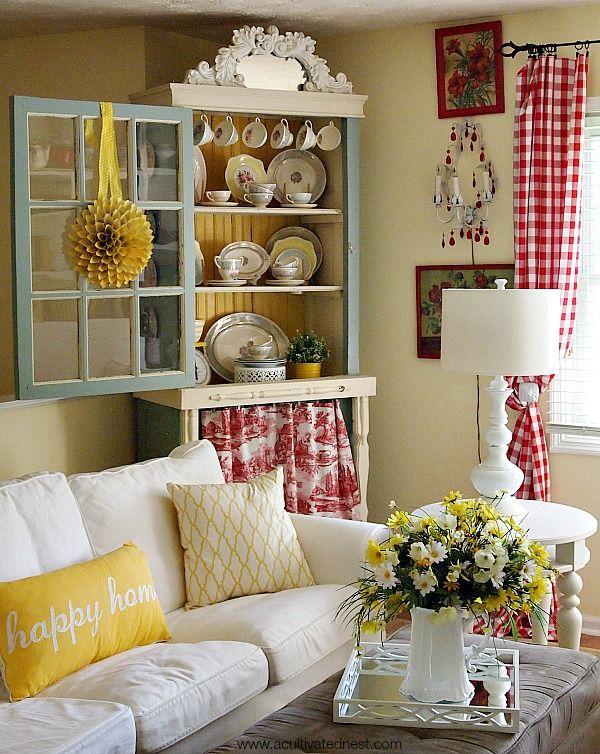 Cupboards are not only a thing of the kitchen; you can customize one for décor in your living room as well. Place a homey looking cupboard at the corner of your living room and design it with beautiful antique plates that you have been keeping for quite some time now.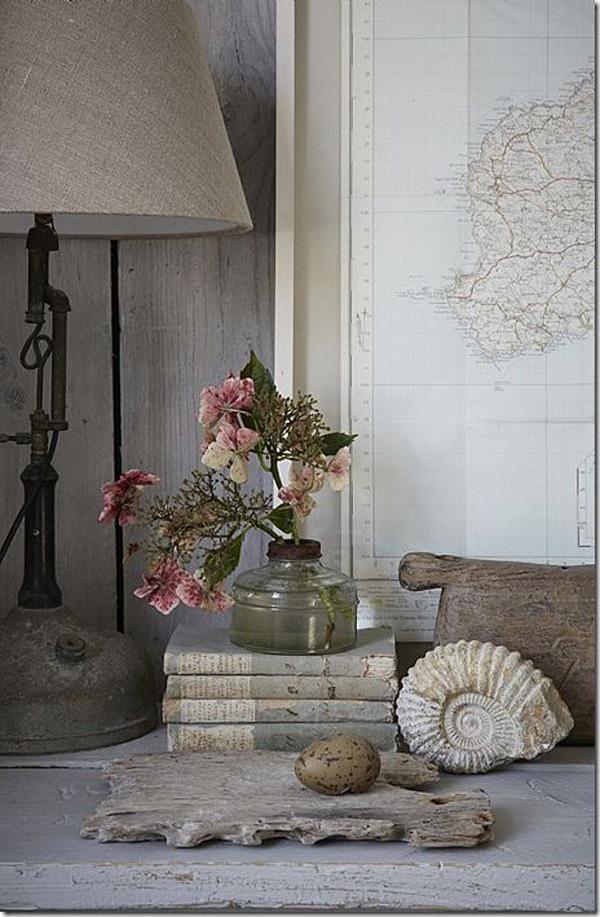 Make use of what you have in decorating your living room. Things like old books and seashells collected from the beach can also work as your coffee table designs.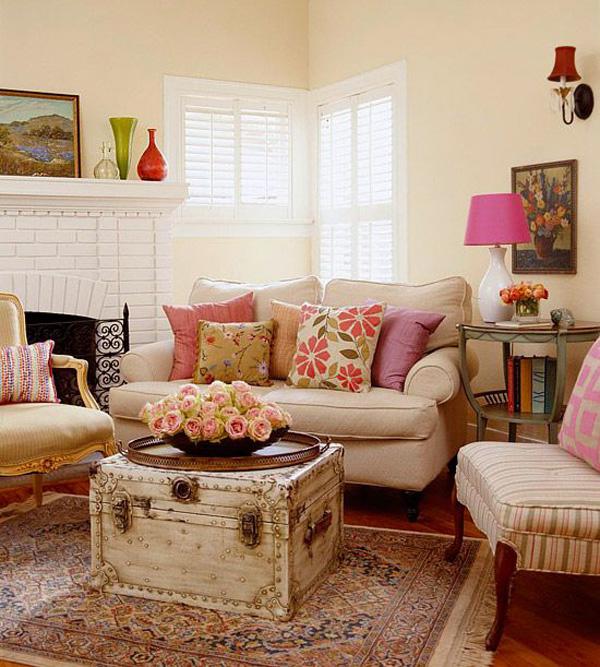 You can always be creative when it comes to designing your living room. Make use of old chests or interesting pieces from your attic. In this décor an old chest is used fitted with a flower vase on top with roses for effect.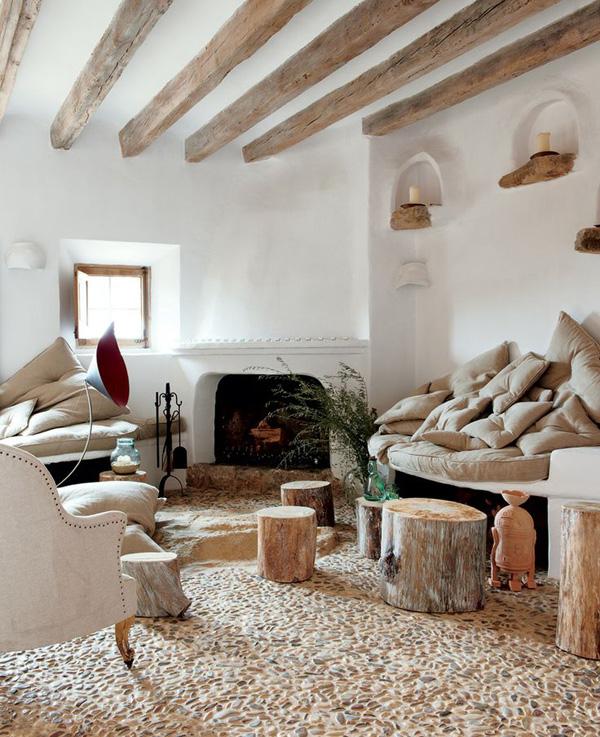 When you have a theme for your living room make sure that your furnishings also go with the theme. In this wood and stone themed living room they used wooden chairs and ceiling hangings, they also used stone for the floor.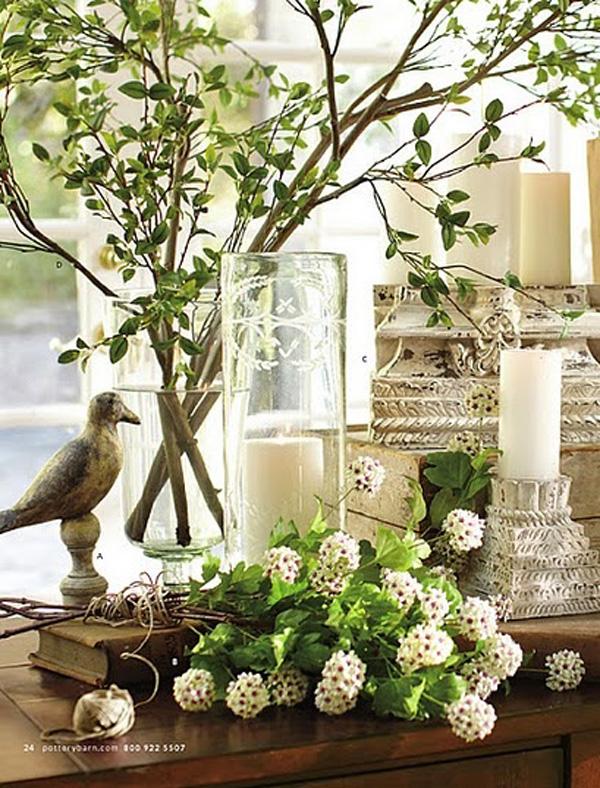 Give a natural feel to your living room with this décor idea. Add wooden furnishings to your coffee table as well as twigs and flowers for design, the use of organic embellishments and the like help make the décor look neat and clean.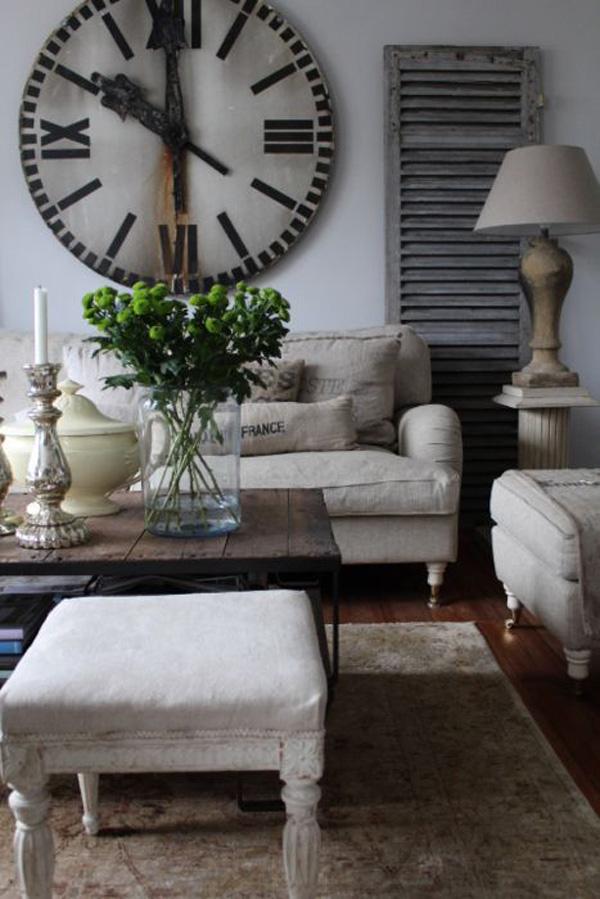 Running out of ideas for your wall hangings? Why not improvise and make your own life size wall clock. It will take up all those empty spaces you are having trouble on filling up and the design serves a purpose on top of that.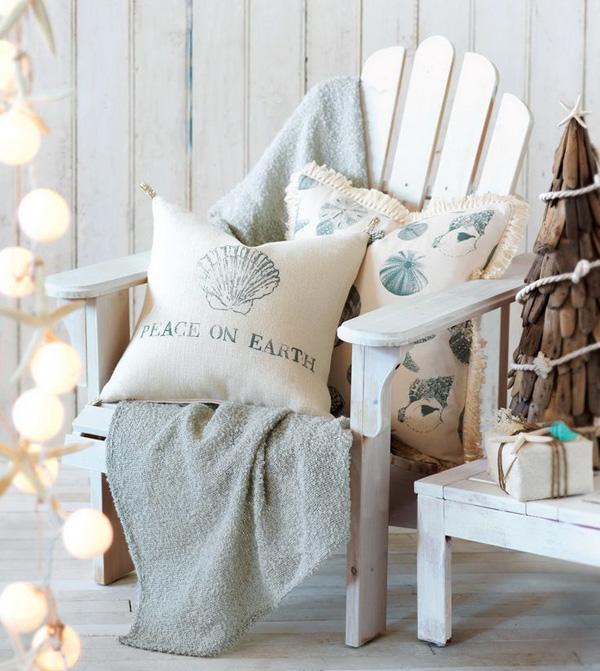 Wood is always the best option when you want to go for that comfy and homey look. They are very affordable and you can basically add any decoration on wood furnishings.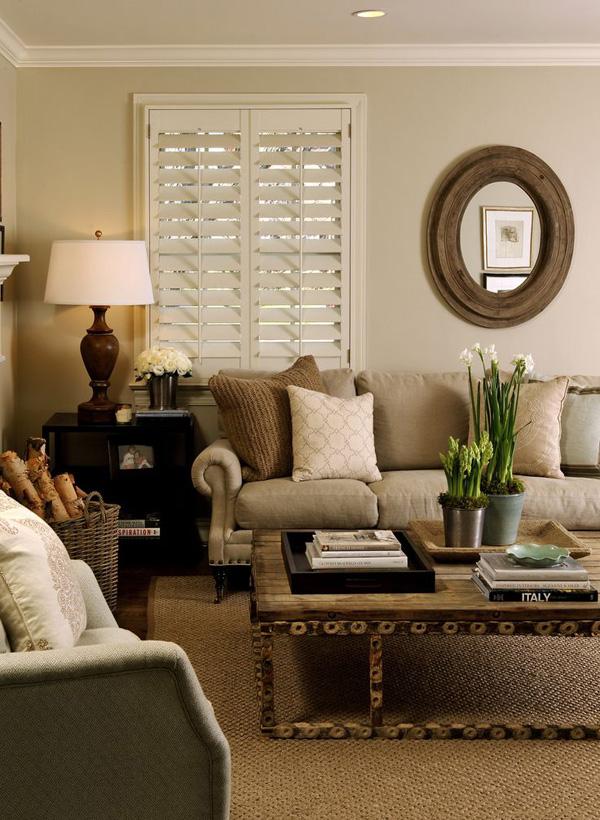 Color schemes that complement each other are important in your living room décor. If you are sticking with earth tones then make sure that your furnishings, cushions, rugs and mats are within the color range to avoid distraction.

Twigs and pine cones make perfect vase décor as well as any flower arrangement would. Be a trend setter and have something different on your table this year.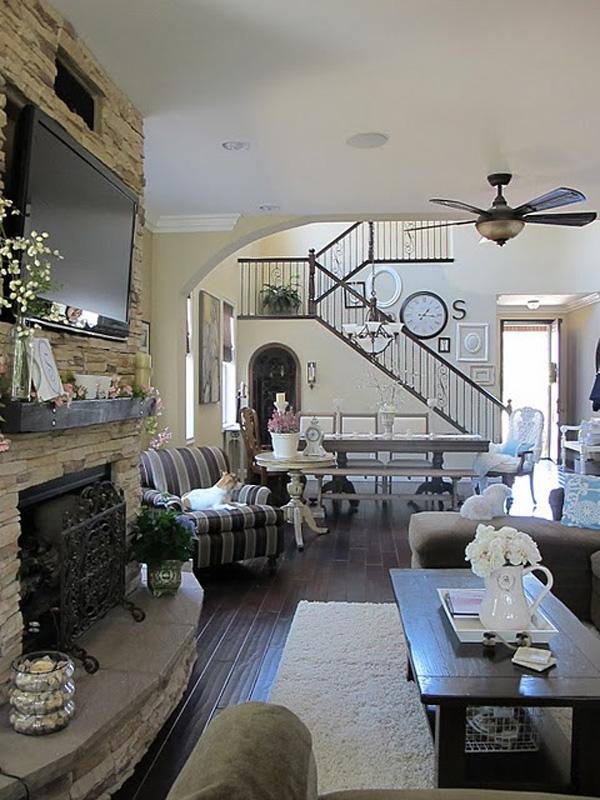 Space is one of the most important things in a living room. You would want to give more space to walk around but enough space to place all your furnishings. Plan well and take in furniture that is not too bulky or anything that can easily crowd a room.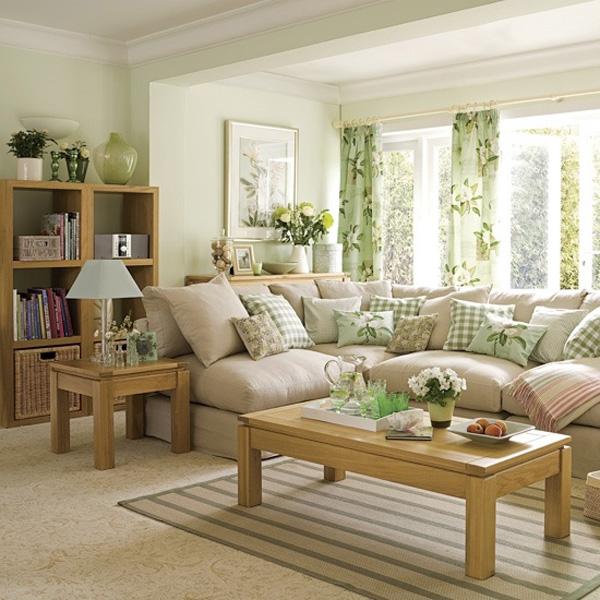 Look at this pastel green inspired living room. The color combination makes the room look airy and bright. It only has simple furnishings but it strikes you as a very pretty home all because of a well balanced color planning.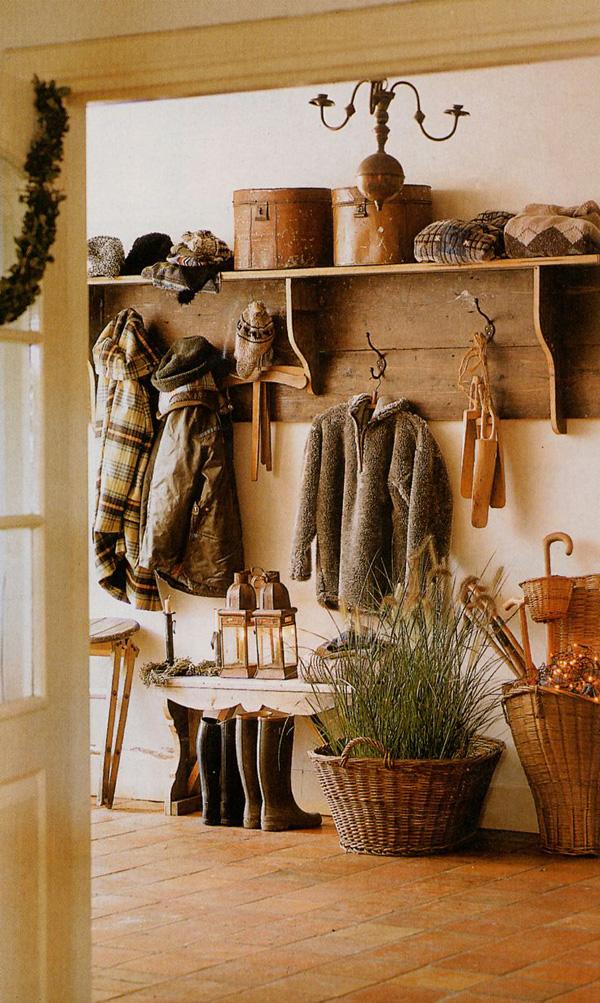 Make use of your old cupboards and transform them into something new. This very creative coat hanger is modified to fit the needs of an entrance coat hanger, perfect for any home.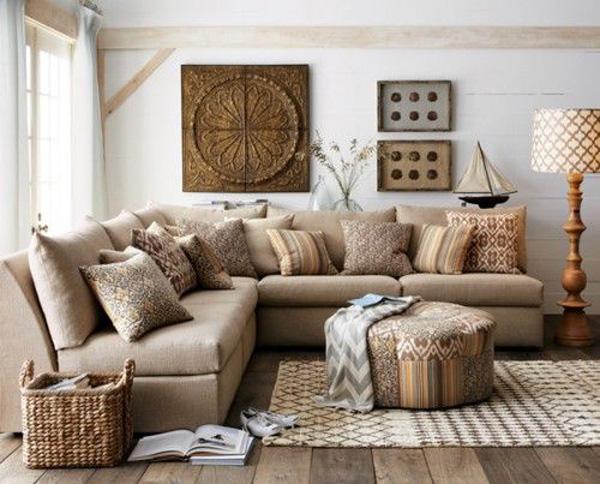 Say goodbye to paintings with these beautiful and ancient looking wall hangings. You can definitely hang souvenirs from other countries which you have bought or interesting looking furnishings that would go well with your interior design.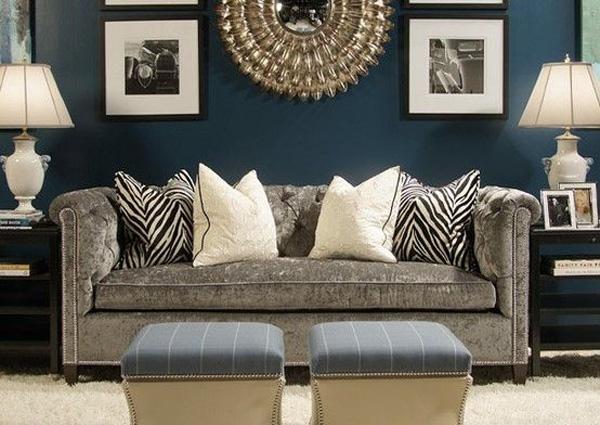 Symmetry can be well played depending on how you want them to look. This living room uses perfect symmetry in balancing the colors and the furniture on both sides of the living room.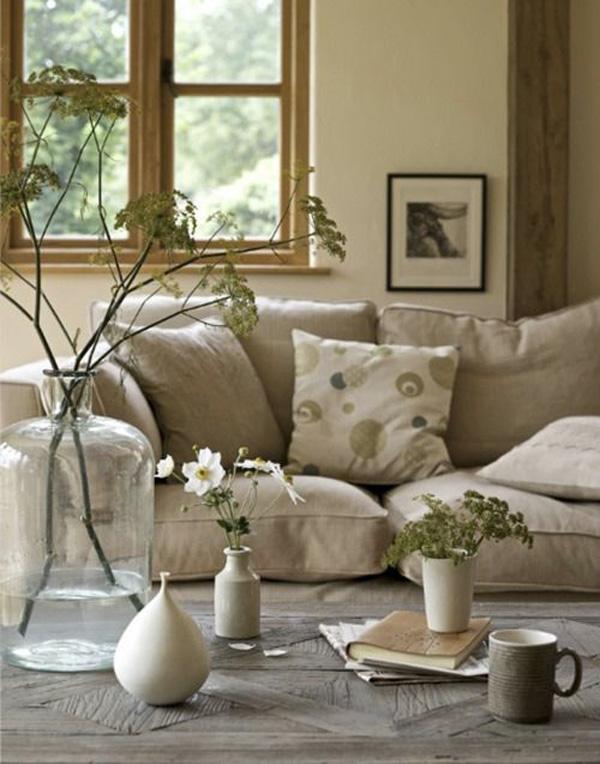 This is a wonderful looking wooden coffee table perfect for your living room. You do not need expensive furnishings on top, since you can use jars, cups and old furniture then fill it I with pretty flowers and twigs for effect.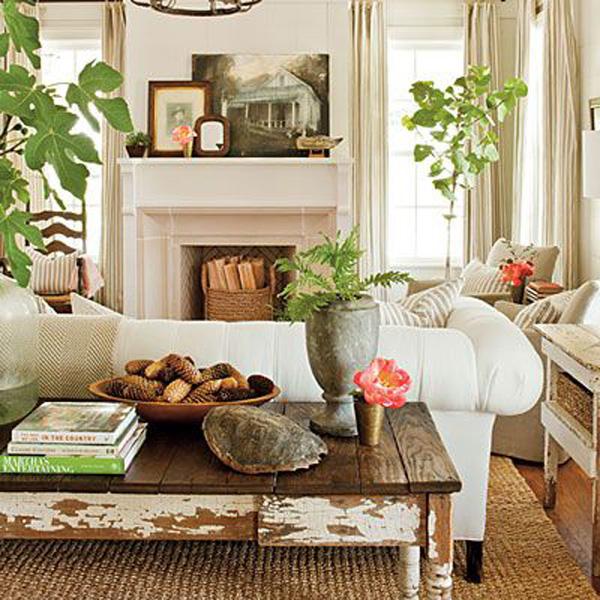 Plants are a good way of occupying unwanted space in a room. When you feel that there is too much furniture already don't hesitate to bring in a plant or two in a pot or in a jar which you can put in the corners of the room or on your small tables.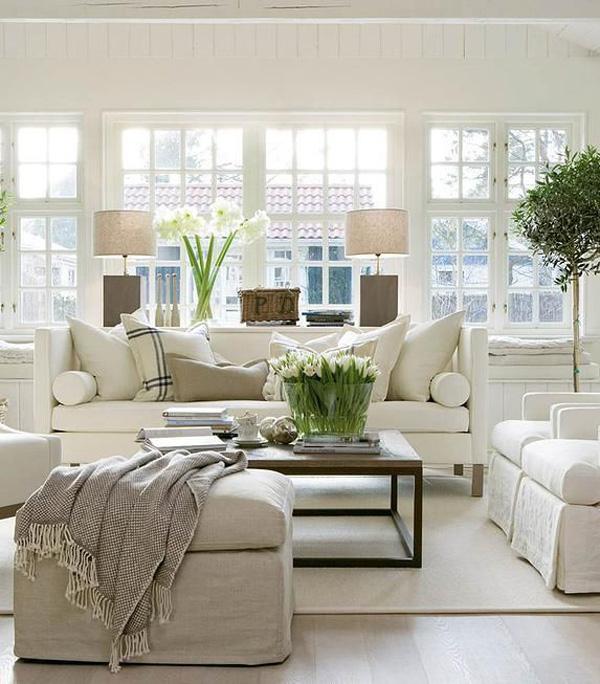 White in white is always a tricky color combination for a living room. However if you know how to play it right, you can counter the solid color with pretty patterns in black and gray hues to provide volume.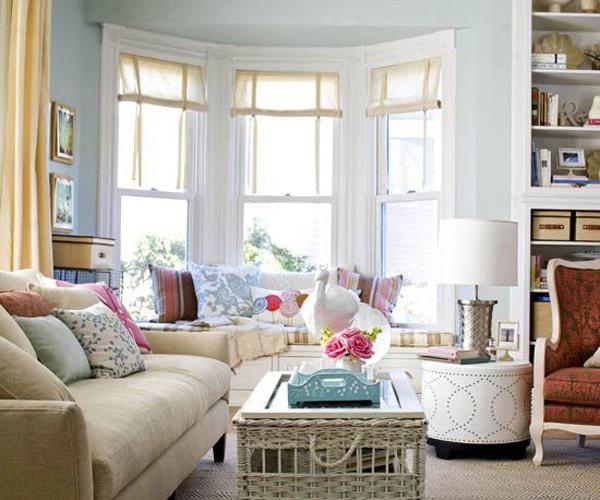 A lot of people think that too much windows can ruin the living room decoration. However you can actually make them work according to your design, if you know how to adjust. You can simply build your décor around the windows and make them part of the design to make things easier.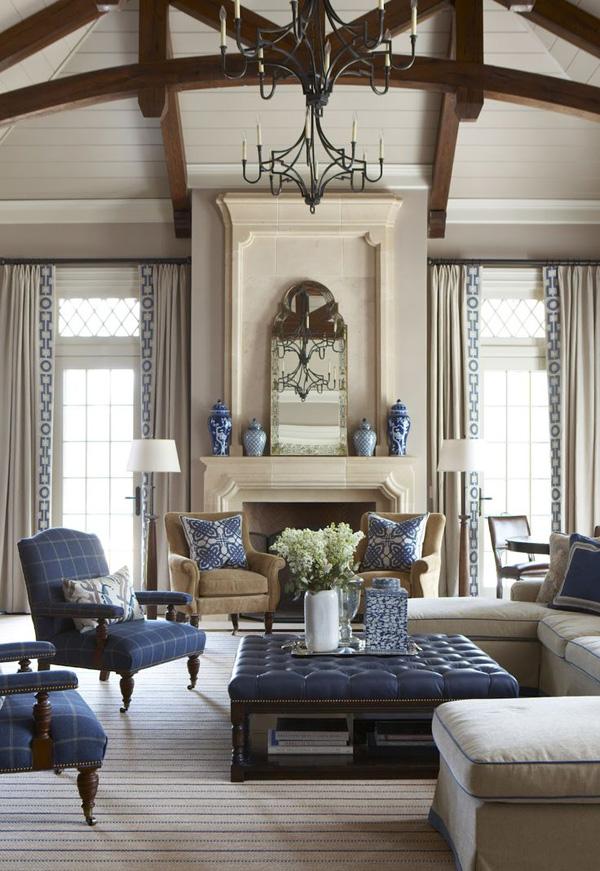 This is a wonderful piece of white and blue color combination décor. Balance the number of blue colors with the whites by adding blue cushions and furniture that complement with the white walls and curtains.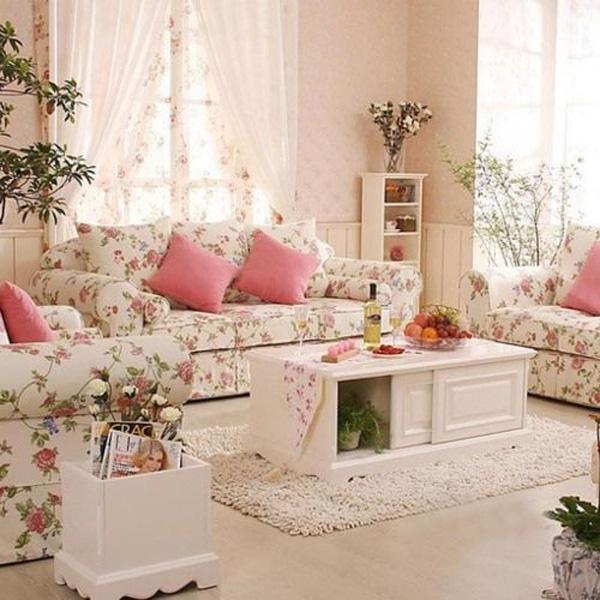 Get that flower inspiration into your living room décor. Pick up hues of cream and pink and add floral patterns unto your sofa. You can tone down the patterns with solid colored cushions and curtains against softly patterned walls.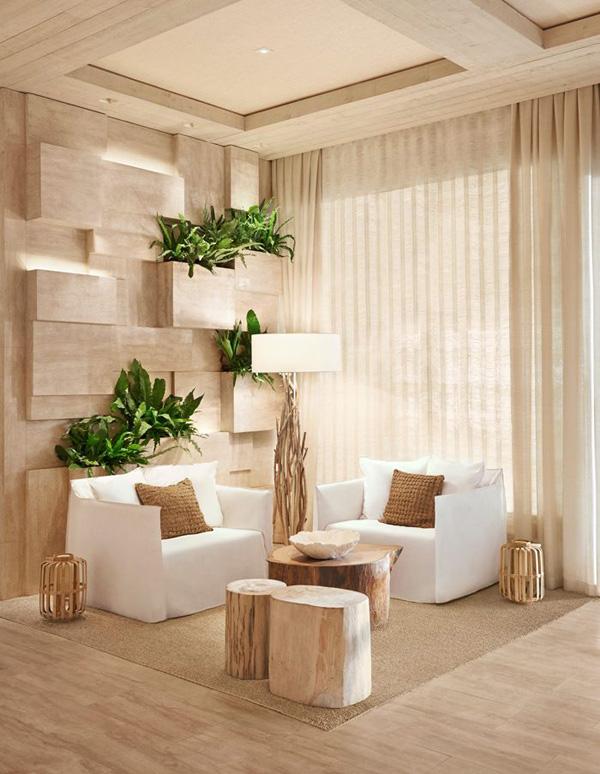 If you plan on focusing your living room décor into wood work then this would be the perfect inspiration for you. Make use of wood and plants as your wall decorations. Using wood for your furnishings can also help make the ambiance more natural and spacious.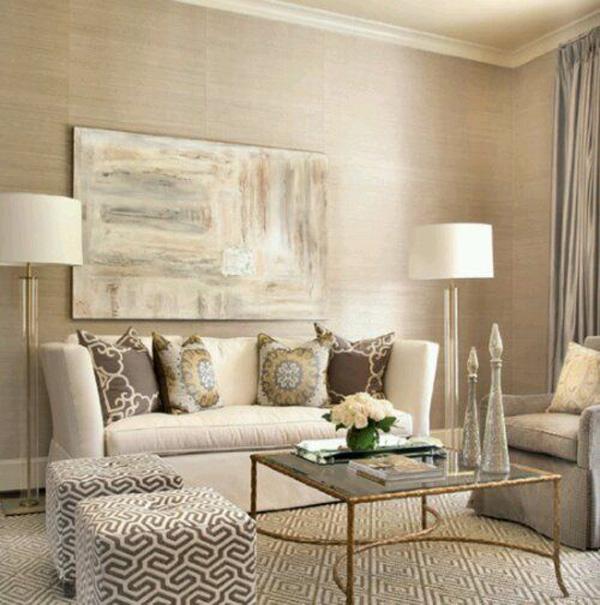 Pattern inspired living room décor. With bland walls, you can always decorate your furnishings in pattern styles and tribal designs. Make sure to use neutral colors that easily blend with each other.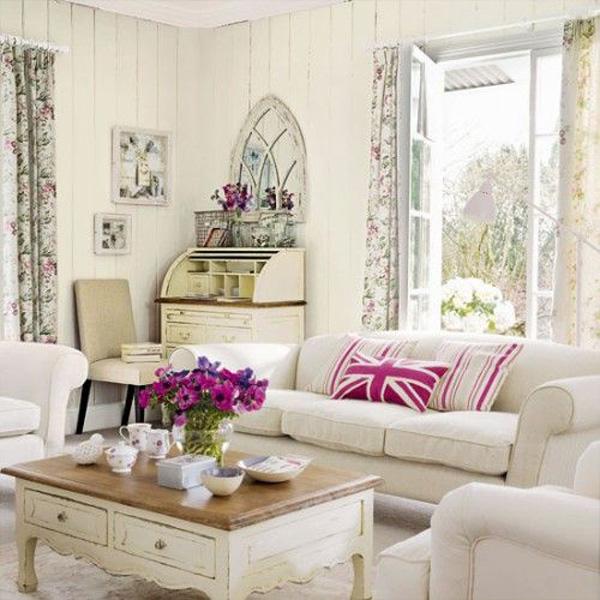 Wonderful looking white and red violet themed living room décor. Contrasting colors can also be a perfect way to make your living room look so much more interesting.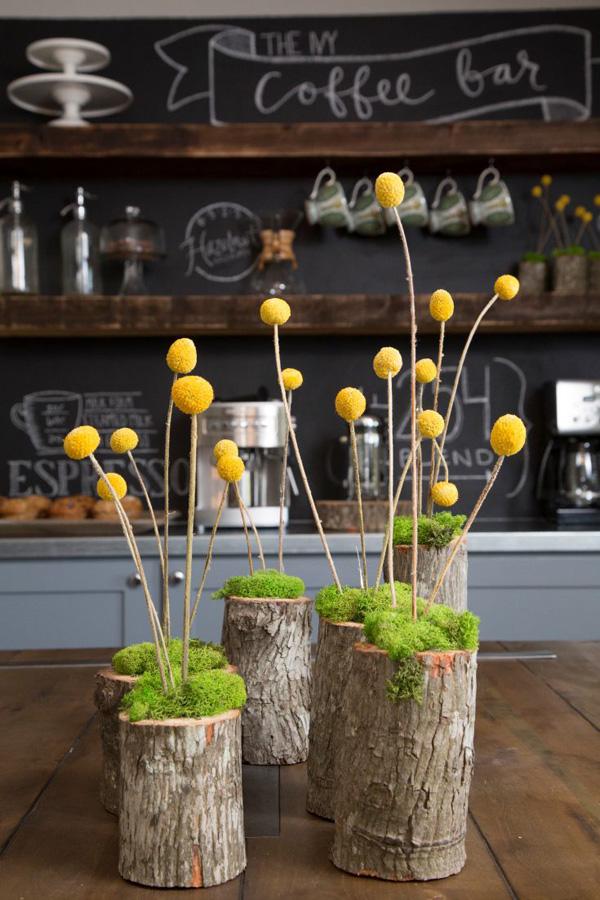 Give spice to your flower arrangement skills by going all natural. Stock up wood vases that you can customize yourself and add flowers and grass to make the arrangement seem like the flowers are sprouting from the wood itself.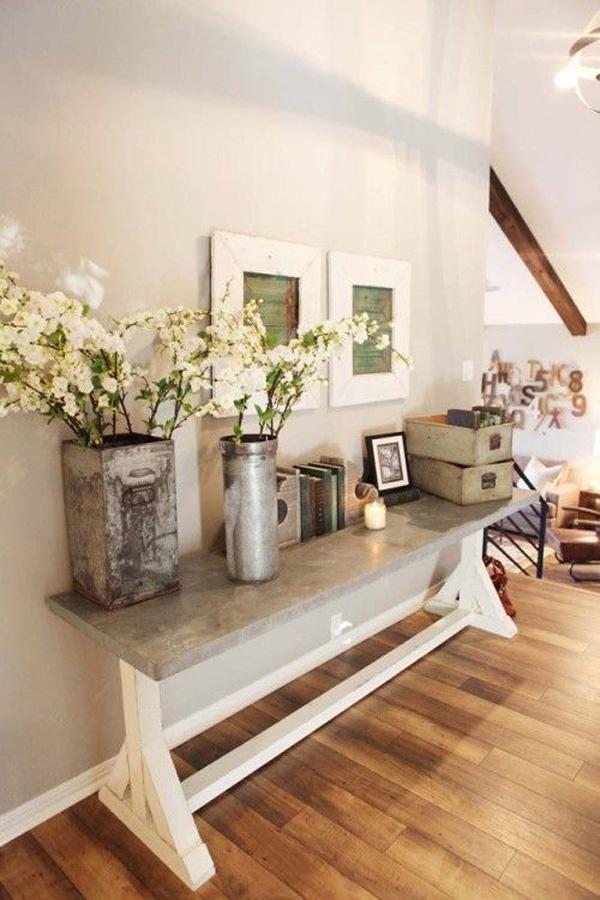 Anything can be made beautiful if you put the effort in crafting it. Make use of your old bins and jars and turn them into wonderful flower vases that you can display in your living room.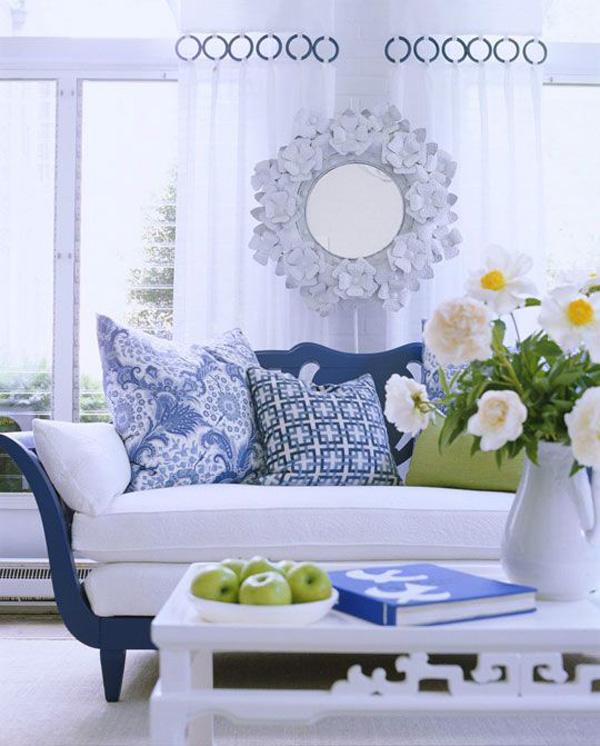 If you want the feeling of heaven when you step in your living room then you better check out this white and blue ensemble. Using solid colors and patterns, the blue and white colors dance around each other and fill up the bright space in the white walled and floored area.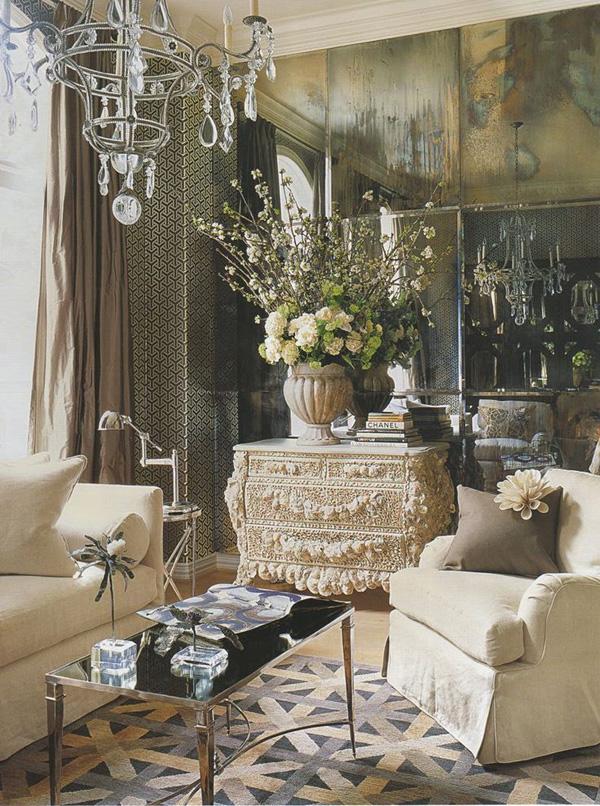 Not all your furniture should be boring. Counter the dullness with a dramatic shelf and add a touch of elegance using a large vase and out of the box floral arrangement.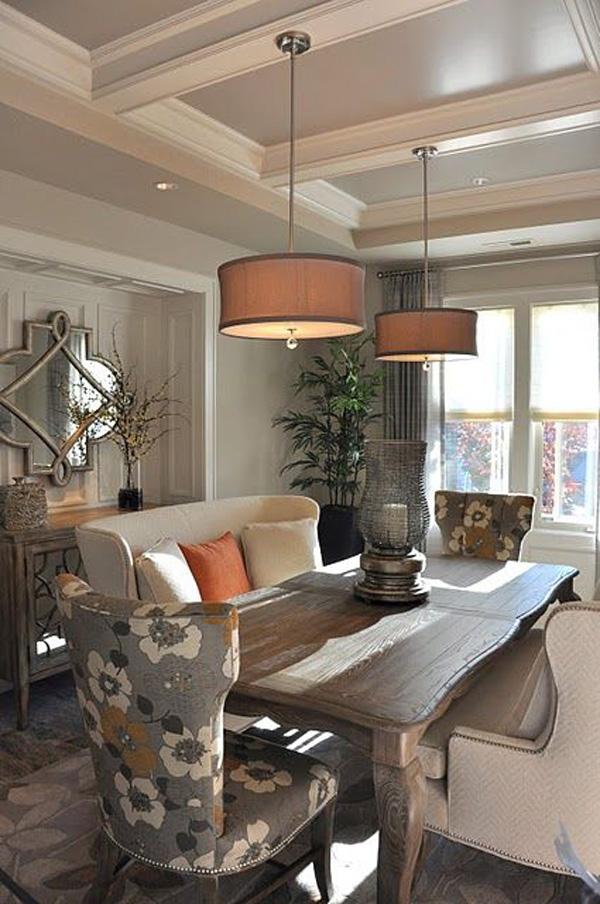 When you work with solid colors in your living room it doesn't mean you have to stick with solid colors alone. Give life to the environment by adding floral prints into your furnishings.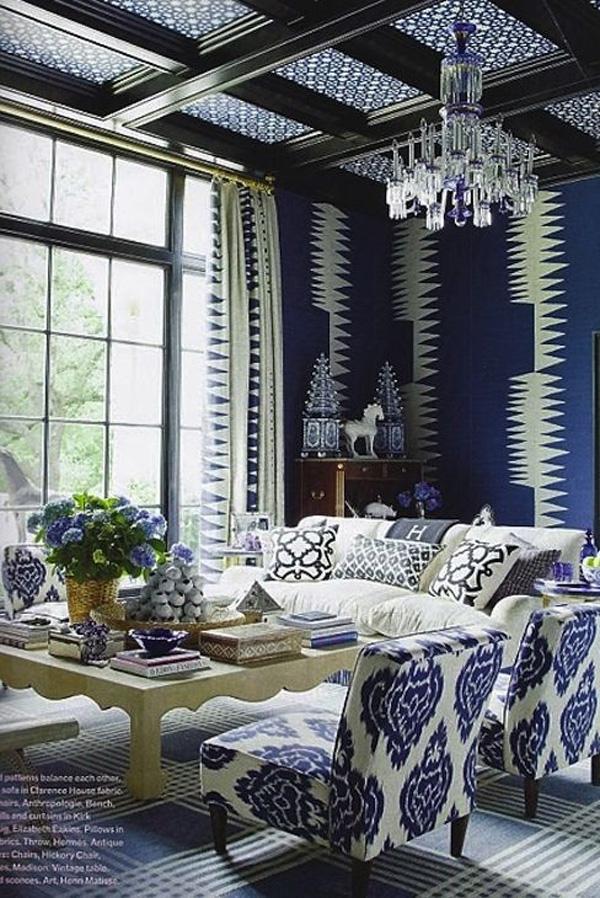 Shower your home in patterns of blue and white. This wonderful looking pattern ensemble work well together giving the room life and vibrancy.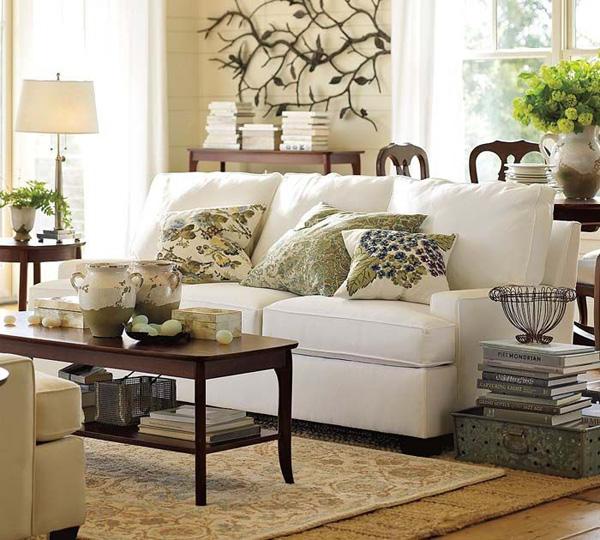 Sometimes simplicity brings the best out of a décor. You cans imply stack up books and group together vases to give a homey vibe to your living room. The simpler they look the more calm the room looks.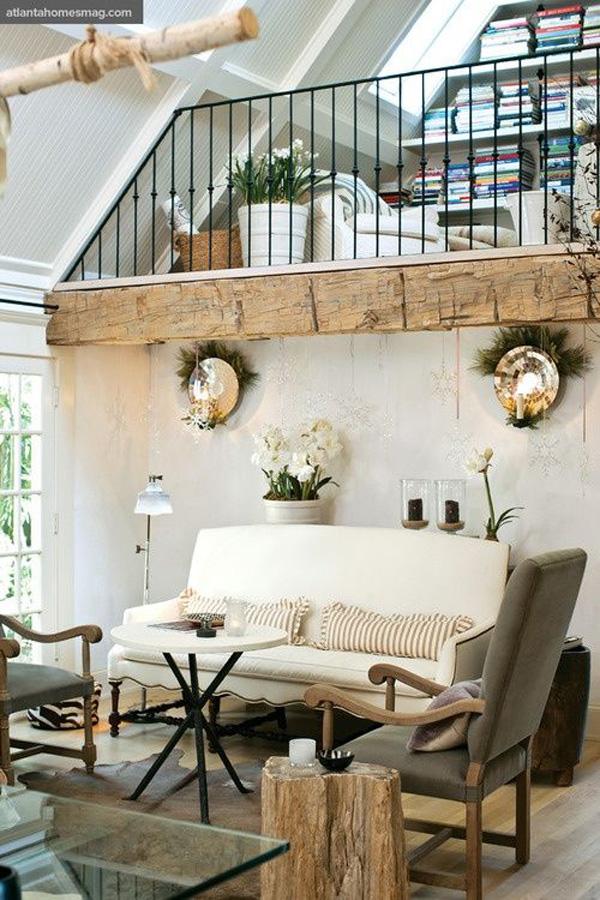 Your living room should be the place where you feel at home best. Add your favorite corners, such as a mini book loft above where you can easily sit back and relax.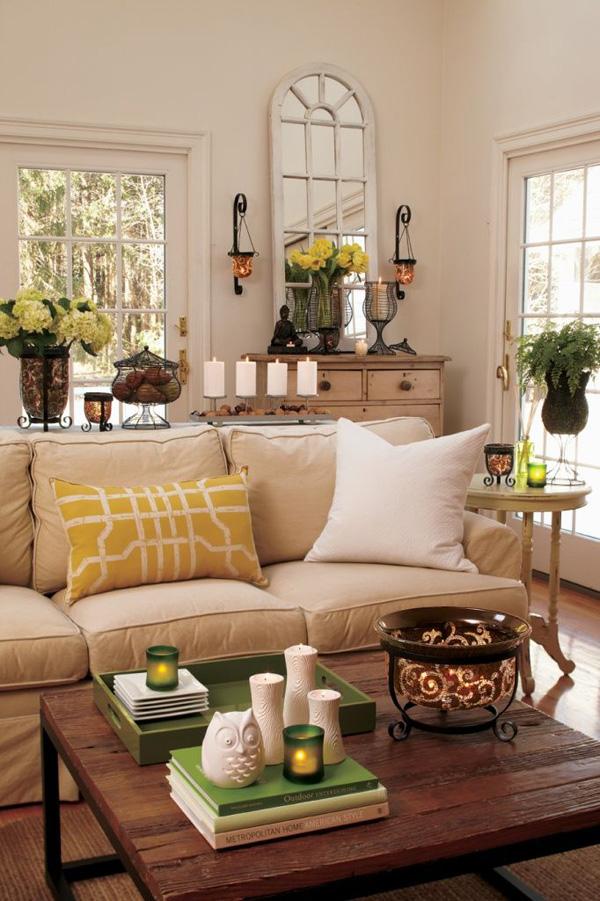 A wonderful combination for any room always goes with cream, yellow, green and brown. Earthy colors can give your home the space and coziness that it needs.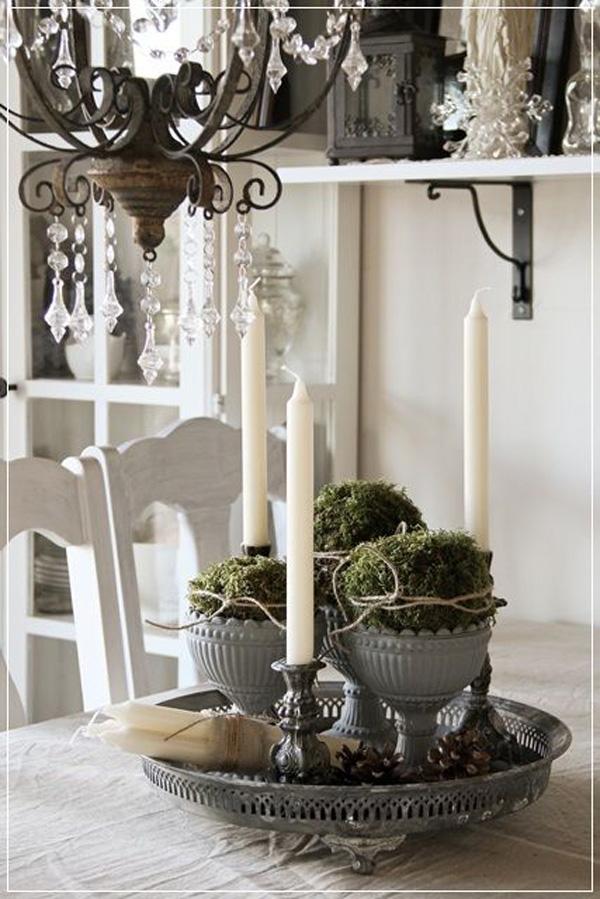 Give a more organic and natural look to your centerpiece by adding plants and pinecones into your vase arrangement. White candles also bring a sense of tranquility into the overall designs.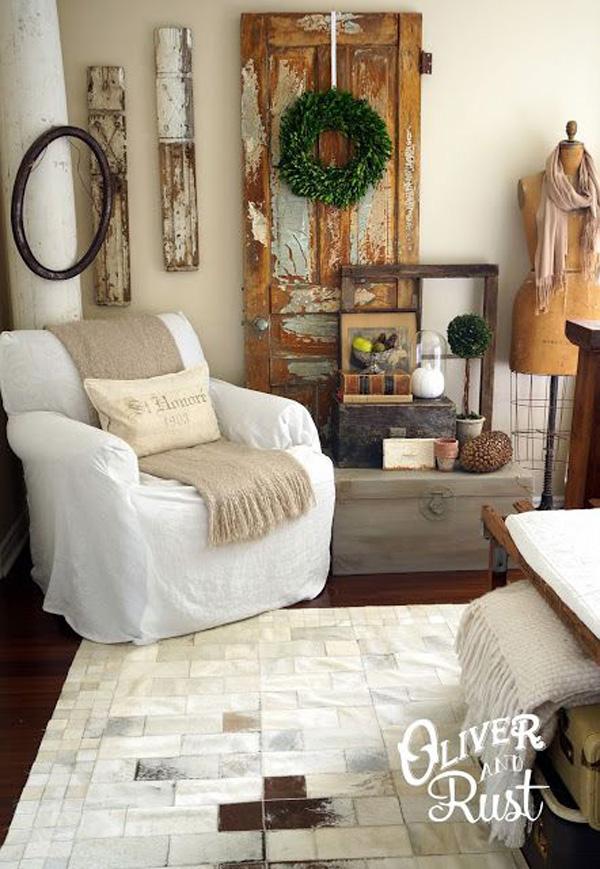 Give a new twist even to old furniture in your living room. Decorating your home does not always require buying new things; you can reuse old furniture such as wall hangings and closets.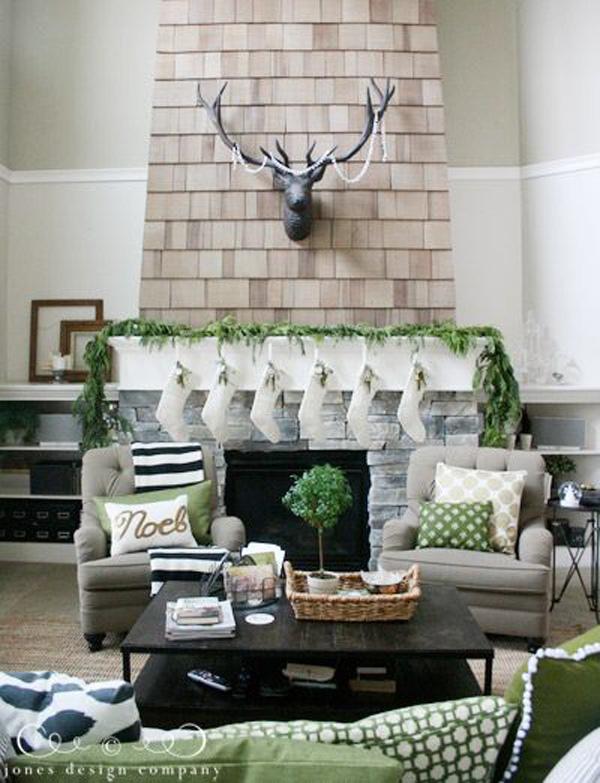 Throw in the Christmas spirit in this reindeer inspired living room décor. Combine green and white colors with a splash of gray to create this subtle yet homey ambiance.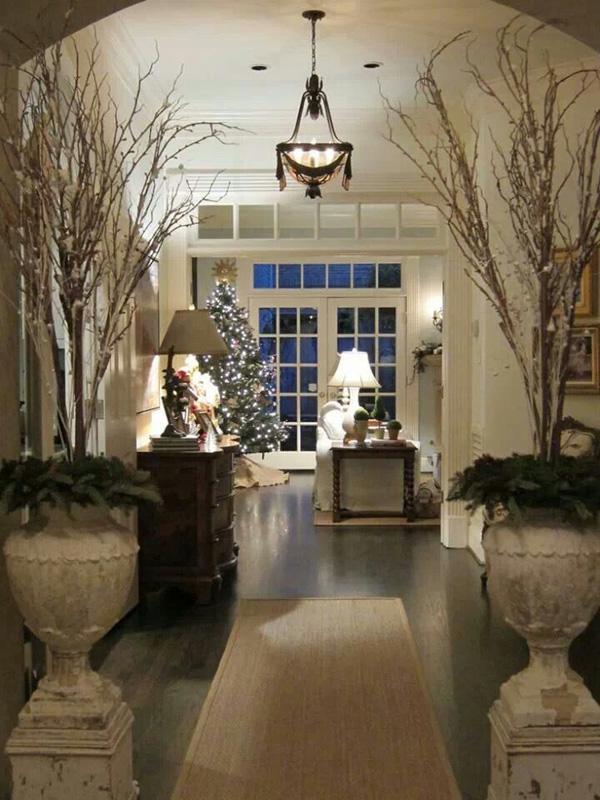 Twigs can be a very useful décor in Christmas time. One of the things that you can do with it is design your vases with random high twigs then place them in your doorway for a regal effect.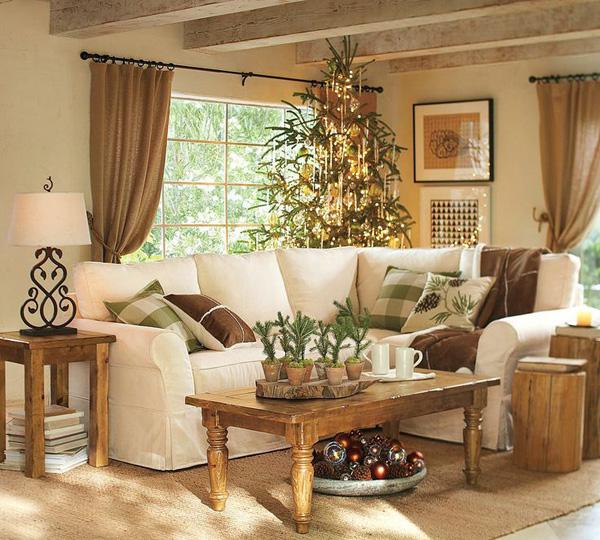 If you love wooden furnishings this is the perfect inspiration for you. These amazing wooden furniture work well with a cream or white sofa as well as any light solid color wall or floor paint.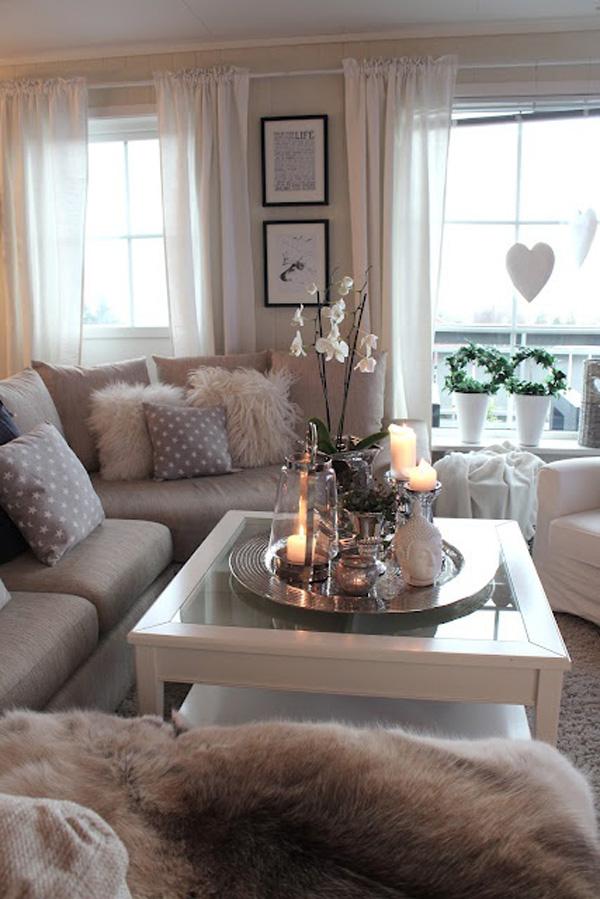 An all white furnishing isn't a bad idea at all. You might think your living room would look boring, but you can always counter the whiteness with patterned cushions and centerpiece.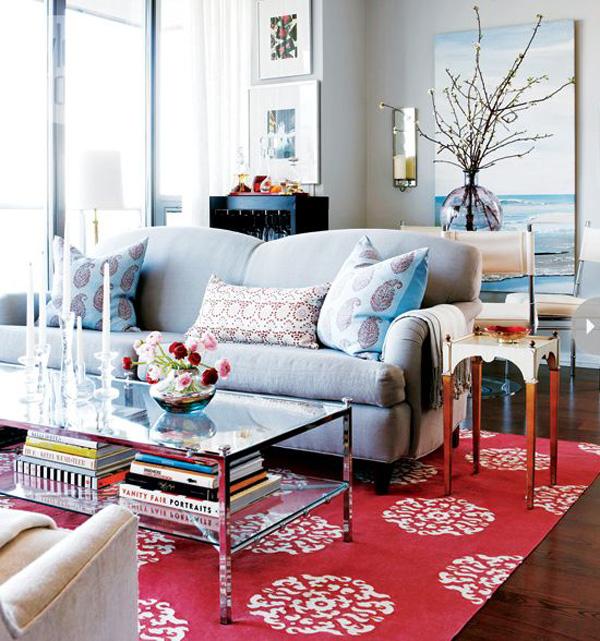 A white and red combination will always look great for your living room. Bring colorful patterns and solid colors for the couch and wall paint to bring out the beauty of the combination.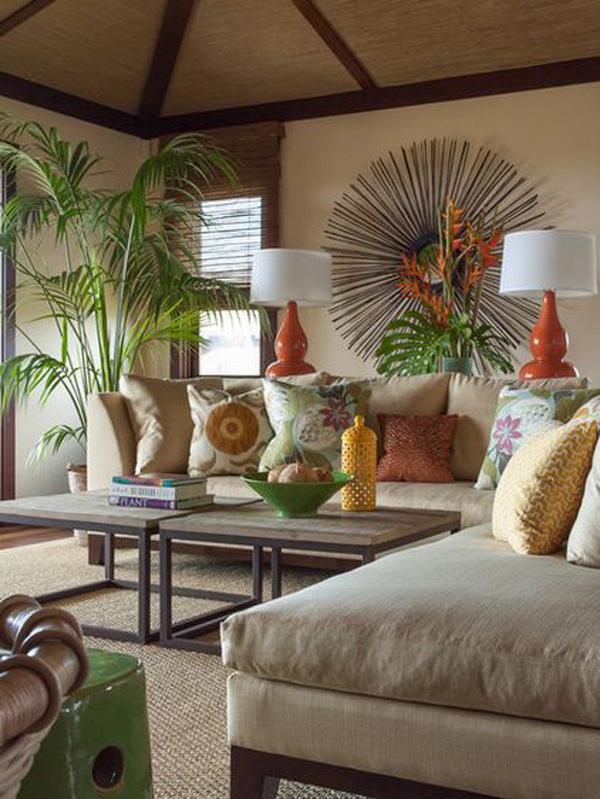 Love the tropics? Recreate your living room into this tropical paradise by using palm leaves and plants as part of your décor. You can also use organic furnishings to complete the effect.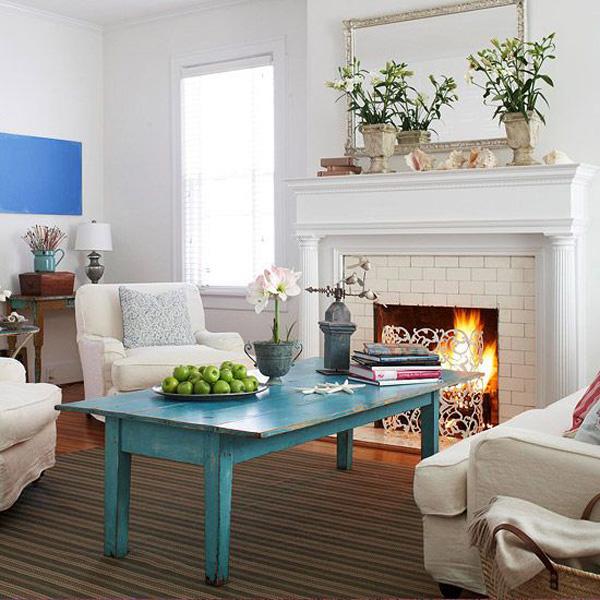 When it comes to decorating, it is always practical to reuse old furniture. You can find ways to make it blend with the surroundings by adding centerpieces and repainting it with brighter colors.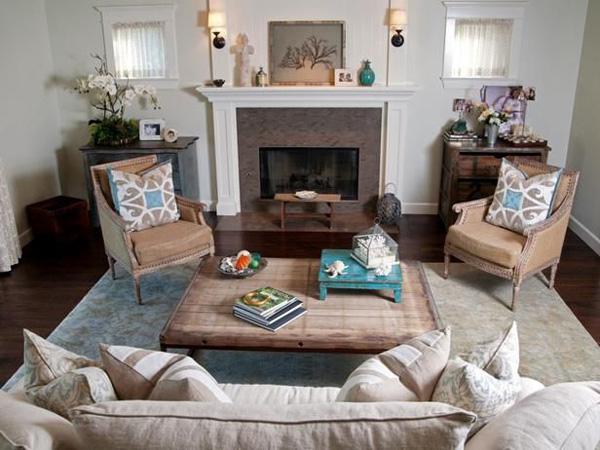 Classy and elegant looking living room with well balanced furniture. You can play around with the symmetry of the room making sure that each side has the adequate amount of furnishings.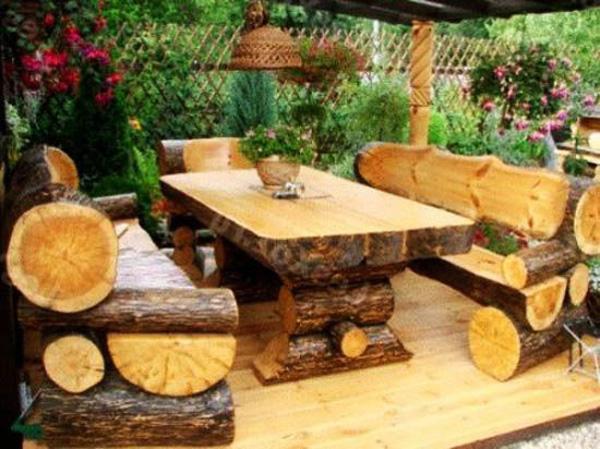 If you are a fan of wooden furniture this all wood table and chair combination is absolutely heaven for you. The good thing about these types of furniture is that they are very cool and airy when you sit on them and they can last long.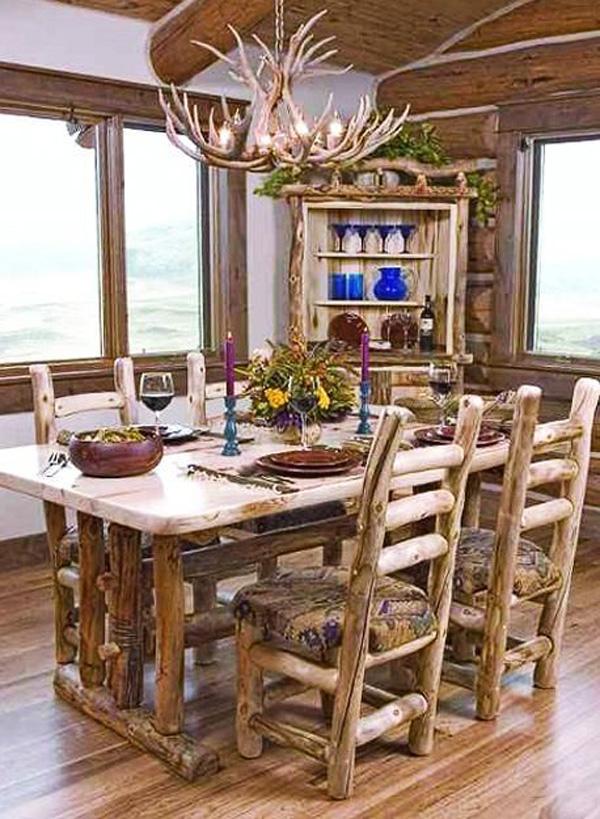 Look for more wooden furnishings that you can use in either your living room or dining areas. These furnishings are easier to clean and match around with what other furnishings that you have in the room.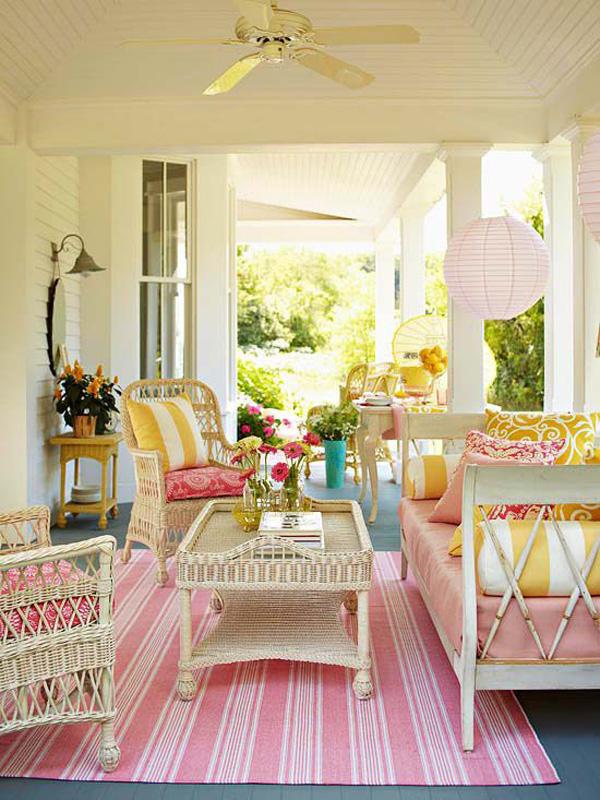 Pastel colors are also a great choice when color scheming your living room. Although some might find it hard to combine pastel colors, you can always work it out by using stripes and patterns in pastel and white colors.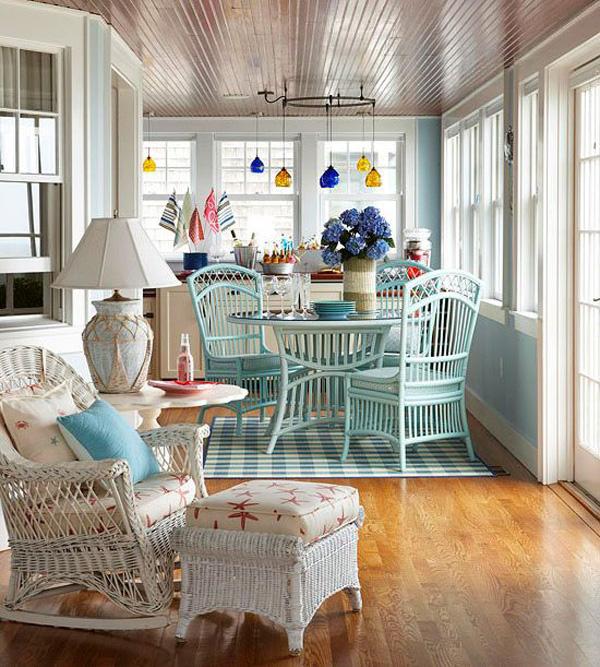 Sky blue and white inspired décor. Light colors can also be combined with darker colored embellishments. You can have light colored furnishings but dark colored wall and ceiling hangings to balance the ambiance.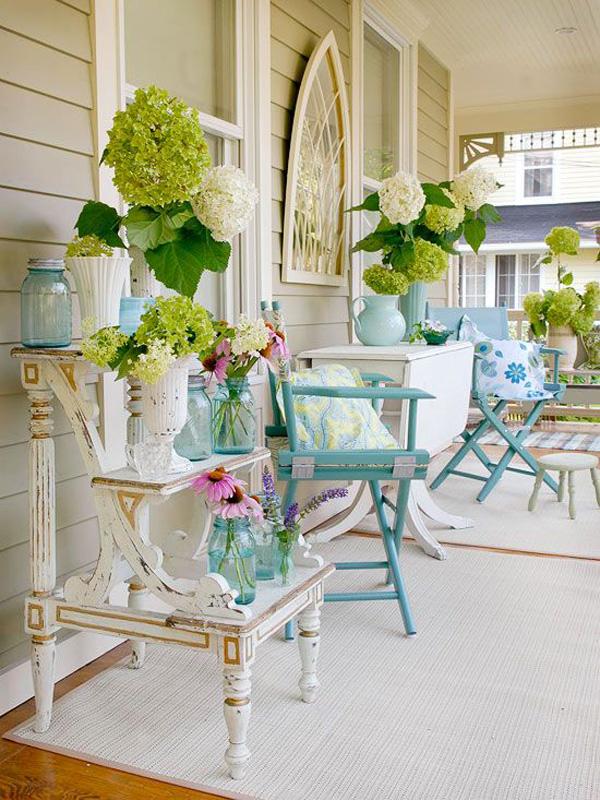 A perfect porch in entry to a perfect house. Make use of fresh flowers and white vases for your porch. Add light colored chairs and patterned cushions to complement the color scheme.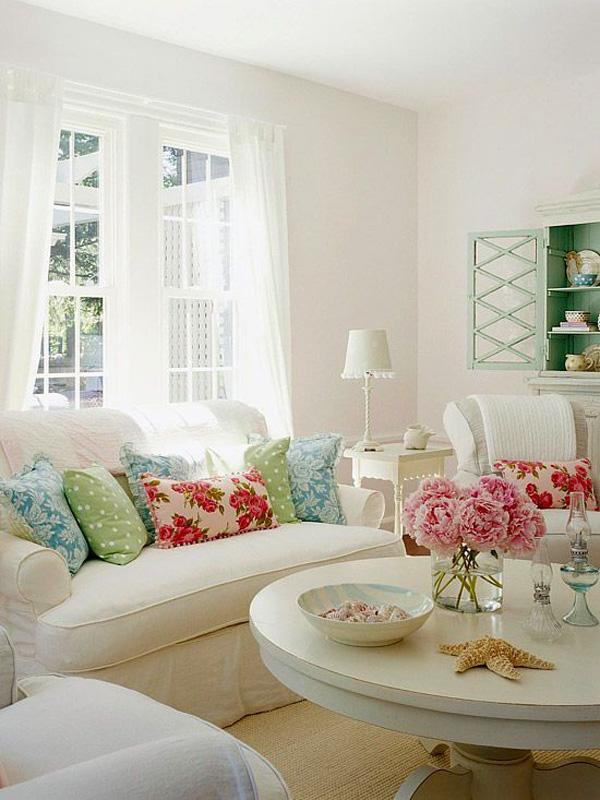 Floral and polka dot inspired living room décor. Fill up your cushions with colorful floral designs and polka dots to counter the solid colors of the couch, curtains, walls and furnishings. They will surely stand out and will make any room inviting.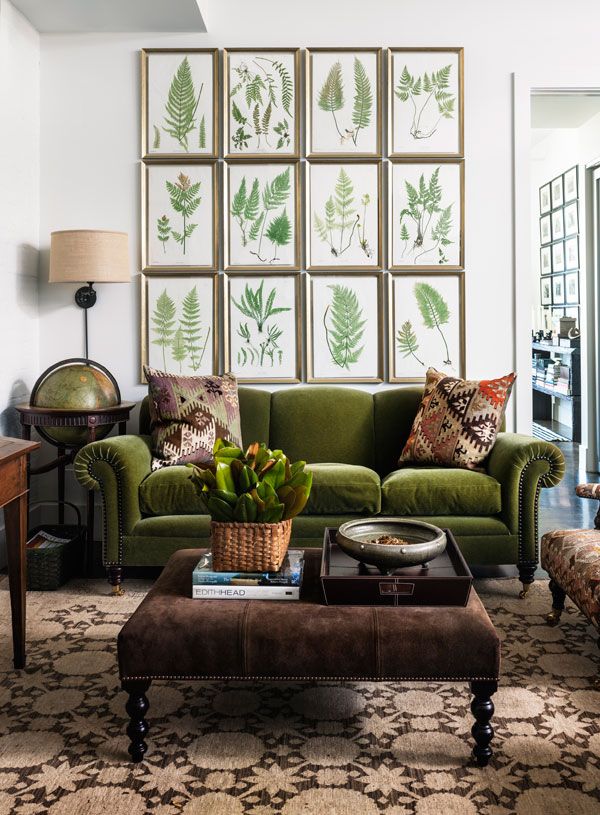 Leafy green inspired living room décor. Group together your favorite leaf paintings or pictures and use them as your living room design. Create your green and leafy themed furniture around it by using earthy and organic colors.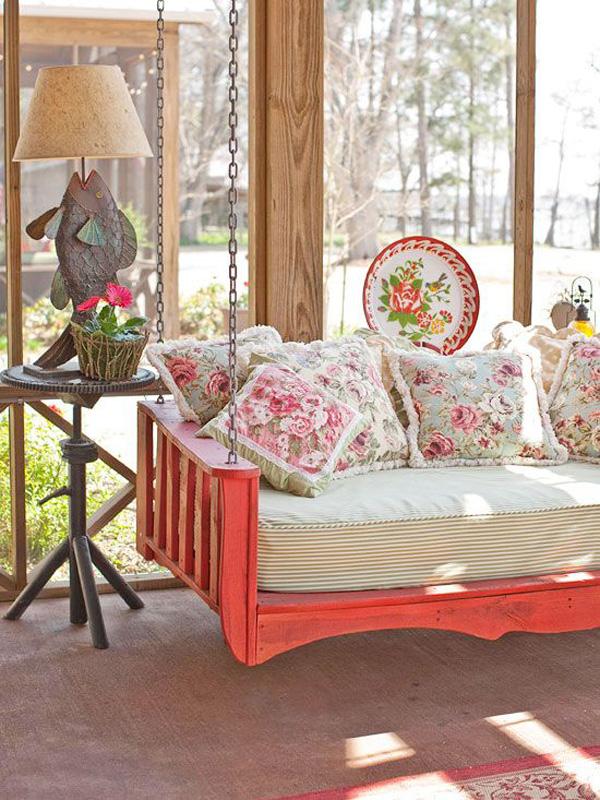 Be creative and use an outdoor swing as your main couch on the porch. Repaint if needed and replace with new foam and pretty floral cushions on top. Extend your creativity to the coffee table by adding interesting vases and small potted flowers.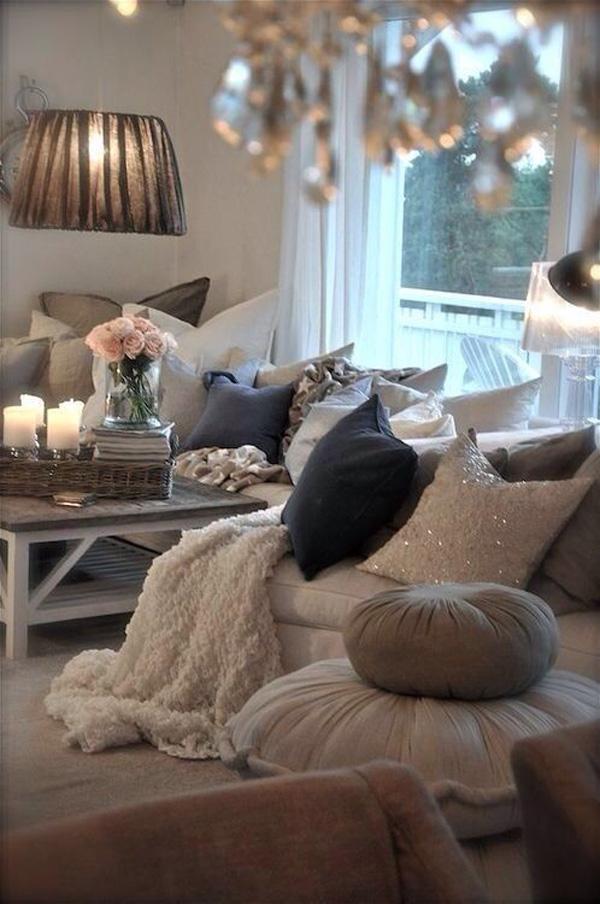 Very subtle and laid back color combination. Perfect for small and cozy apartments where you want to extend the space and at the same time make the room look comfortable to stay in.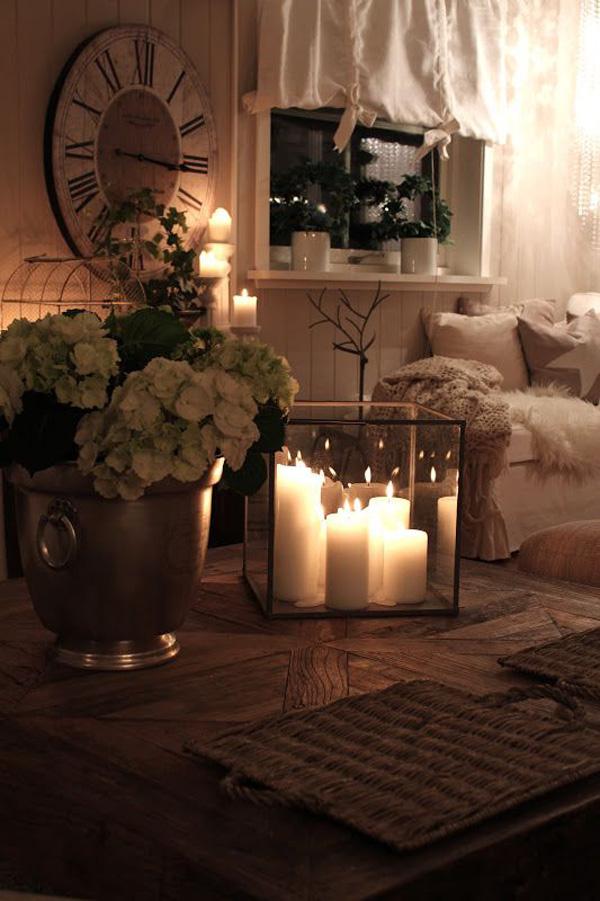 Gold and cream inspired living room décor. These are thick and bold colors and the trick is to use simple and minimal furnishings when you work with this color. The sampler the designs are the better they complement with each other.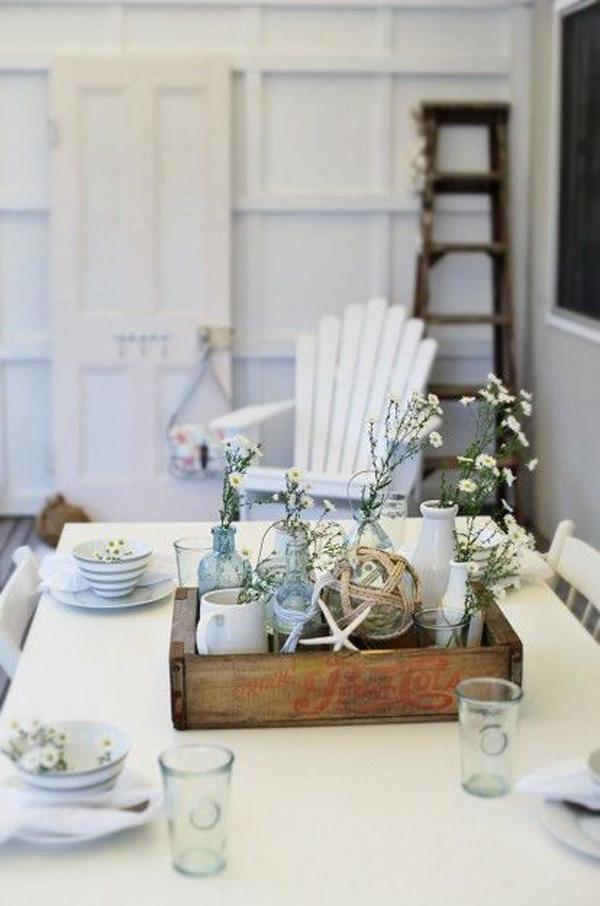 Wondering what centerpiece to get for your dining table? Why not use your creativity and recreate a small crate of cute flower vases? It's very easy to make and it looks fairly unique as well.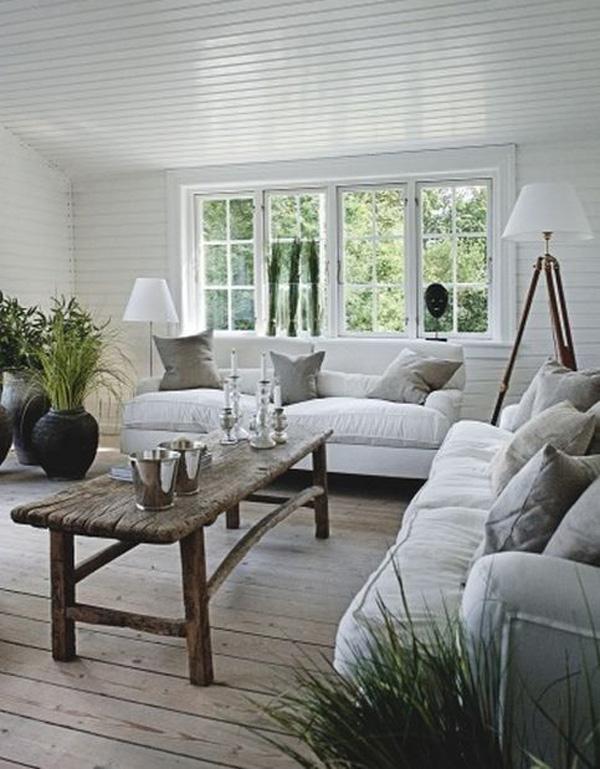 When you're staying in a wooden house, what better way to decorate it than with wooden furniture? Prop up your sofas and bring in your old wooden table to match the wall. You can even add silverware as your centerpiece.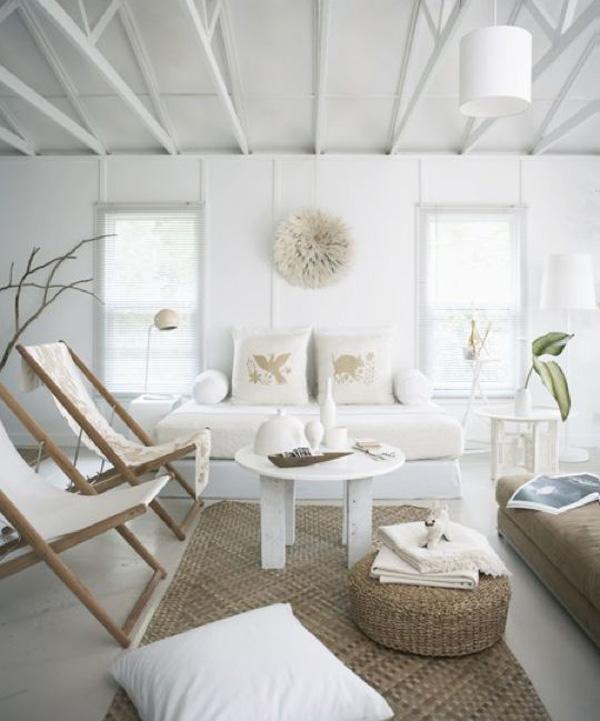 Love Rattan? If you do so then don't hesitate to fill up your mats and cushions in Rattan. Its natural color can blend well with white furniture as well as other neutral colors for the room.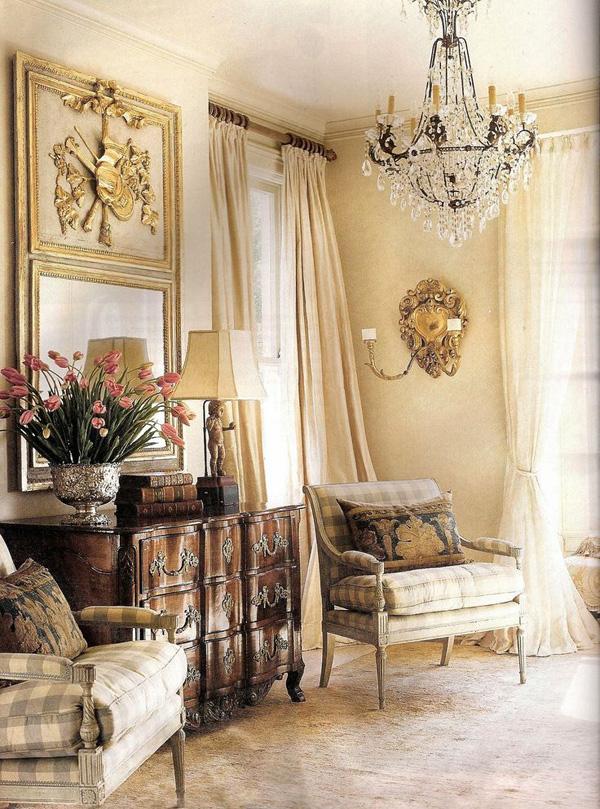 Golden brown inspired living room décor. If you want your room o look classic and antique this color combination is the best way to go. Reuse old furnishings and choose solid colored curtains to complete the effect.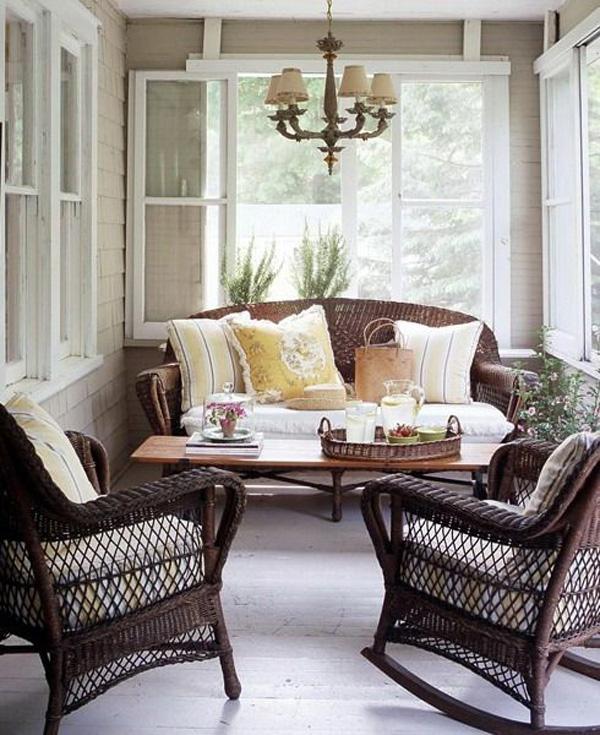 Rattan furniture has always been popular for many. They are unique and can fit well in any room. This is why you should take advantage of using Rattan furniture and combine them with patterns and stripe designs.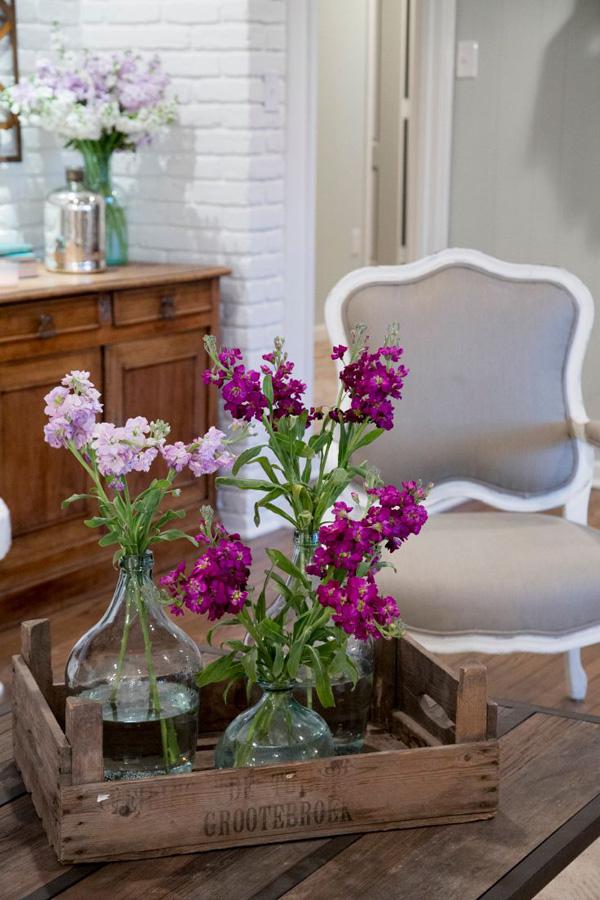 Creative crate of periwinkle flowers. Looking for an idea for your centerpiece? Look for old wood boxes or crates in your basement and craft them into this mini flower crate then use bottles as your flower vases.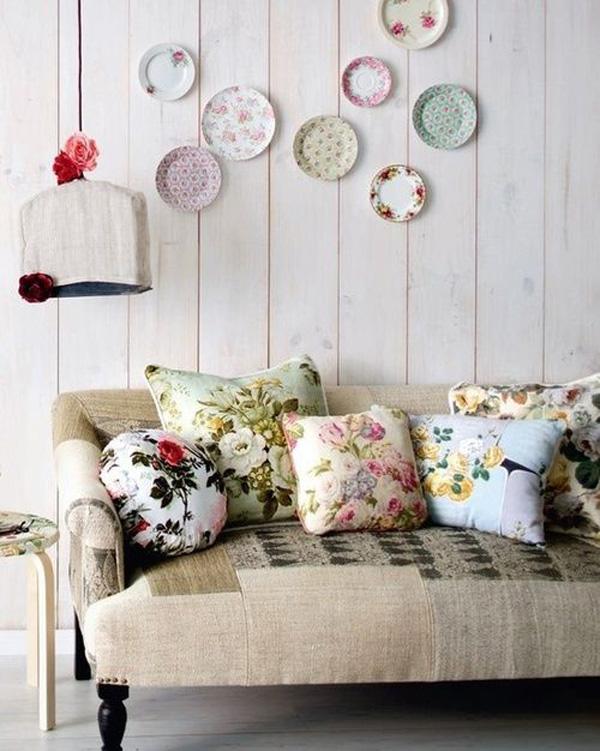 Floral prints and wood, what else can go wrong? A truly astounding combination of designs that go well with each other when you are aiming for that country home vibe.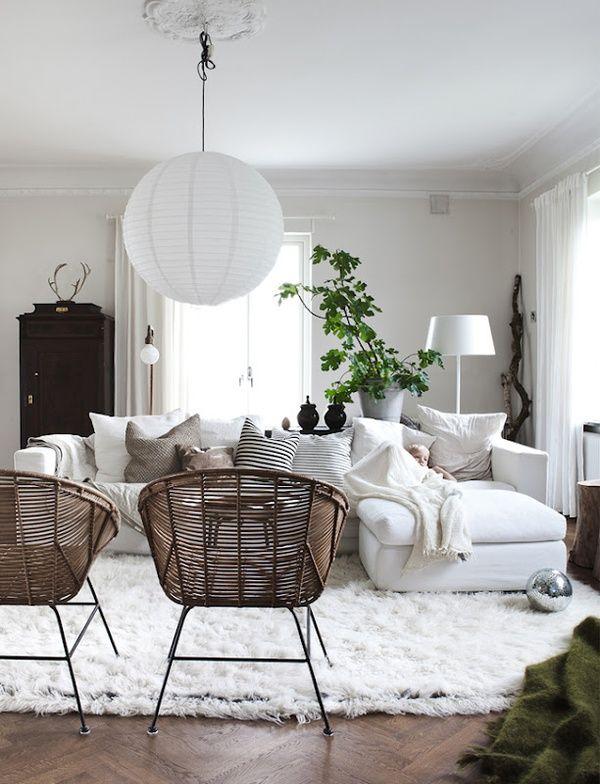 Modern furniture at its best. Combine organic and plastic furniture creatively by putting in neutral colors that complement well with each other.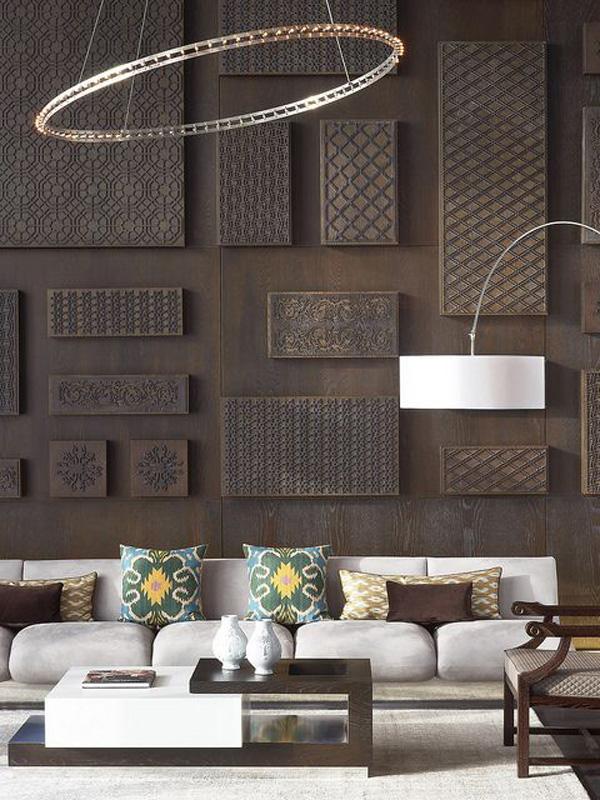 A set of modern furniture with a hug wall twist. Make use of a wide wall and instead of using hangings you can make the wall as the decoration itself. The various patterns found on the wall complement beautifully with the patterns on the cushions.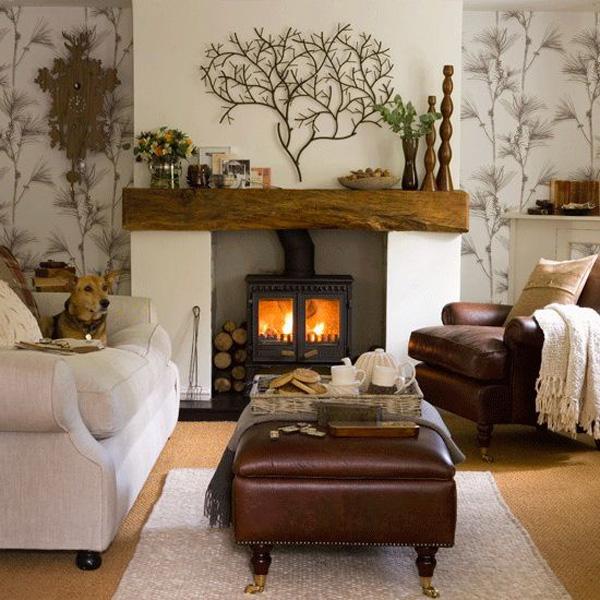 Make your living room stand out with beautiful tree wallpapers. You can even modify your own tree wall hanging and try to integrate your entire living room into the theme by using white and brown as earth related colors.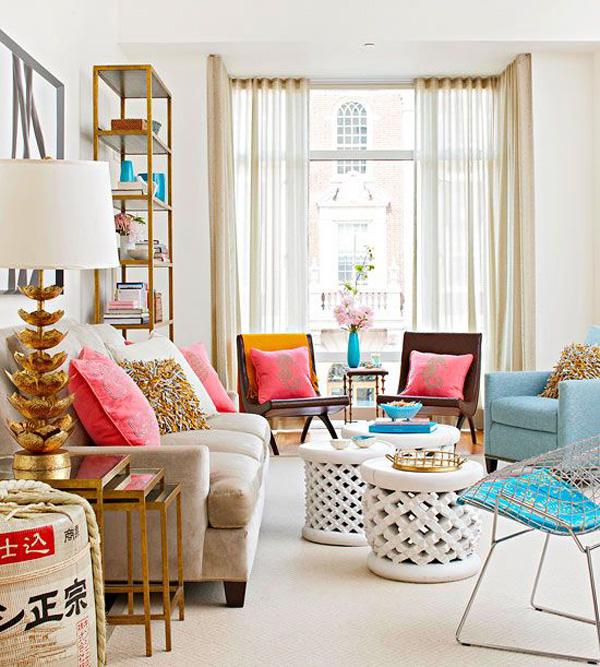 Brightly colored living room with white as the base color. Throw in neon colors that complement each other into your all white and gold furnishings. This design can easily highlight parts of the room because of the light and dark contrast.