One of the most anticipated seasons every year is Christmas. This is the time of the year when everyone gets to go home and be with their families and friends to celebrate the holiday. It is also one of the most celebrated occasions all over the globe. What is Christmas without classic Christmas home decor? Apart from the gifts and food, how you bring the holiday vibe into your home also matters.
What are the important things that you should consider when starting your Christmas decorations? There are a lot of things when you think about it, but it is important that you focus first on what is important and what should be done earlier than the others. Being prepared is going to help you in the long run. You would want to avoid the holiday rush and end up with disastrous decorations at home.
Starting your Christmas home decor
As with beginning everything you need to pick a theme. There is the traditional Christmas theme with red and green color combinations, or you could also go for the white Christmas look. If you have already done this theme you can always go for the gold theme, natural theme, vintage theme or even a beach Christmas theme. There are even cartoon character themes that you can work on. The possibilities are endless!
Start hanging DIY Christmas wreaths. This is possibly the most obvious decor that you will see people hanging in the first few weeks of December, or even maybe November. You can even hit two birds with one stone if you start early and hang wreaths that work for both Thanksgiving and Christmas occasions. You can simply hang them up until Christmas passes. However, if you want to go for the all natural wreath then it's about time to gather leaves, twigs, ribbons, nits, dried flowers and faux berries. If you want the wreath to last longer go for the synthetic berries and flowers.
When you are saving or have a tight budget for your Christmas home decor you can always opt to make your own candles. Pick an afternoon that you can start your craft, you can even invite several family members to help you out and turn it into a bonding session. Make your very own candles in various colors and designs that you like, you can even tie ribbons on them to make them look extra special.
The next thing you should work on is the Christmas stockings. This is a must in the Christmas holiday! You can find wonderful Christmas stockings in stores in different sizes, though you can also make your own stockings from home. Make it more personalized and create one for each family member by placing their names on the stockings.
When you're done with the stockings it's about time you also add Christmas elves, Santa's or even the nativity decor in your home. Christmas trains and collectibles will also serve as great decorations around this time. Top up your mantles, rugs, curtains, doorways and so on. Make sure the color is inviting, warm and of course festive. Make you home feel alive and welcoming to the Christmas spirit.
When you are done with the interior decoration, it is about time to focus on the exterior. Recreate your lawn, add reindeer figures that you can decorate; you can even dress up a snowman. A tip would be to avoid ladders and stick to open greenery or garlands on the front of the house. A big red bow will also work just fine.
Now it's time to hang the Christmas lights! Light up your home in wonderful and colorful Christmas lights. You can even design them in various shapes on the façade of your home. You can play around with how the lights blink and create an artistic way of positioning the timing of the lights on your home. In other cases, people spell out merry Christmas with the lights.
Last but not the least is your Christmas tree. There are plenty of Christmas trees on sale but their prices go so much higher when the season approaches. If you wish to save more, better get the artificial tree as early as you can. The other option is to get a live tree. This is the best time to look for a good tree to use. Check how many strands of light you are going to put up on the tree. You can go for the 5 or 6 foot trees depending on how much lights and decorations you intend to put on it.
Best of all, you should enjoy the preparations for Christmas with family and friends. You can do all these DIY projects together and form bonding moments which will give you good memories to last a lifetime.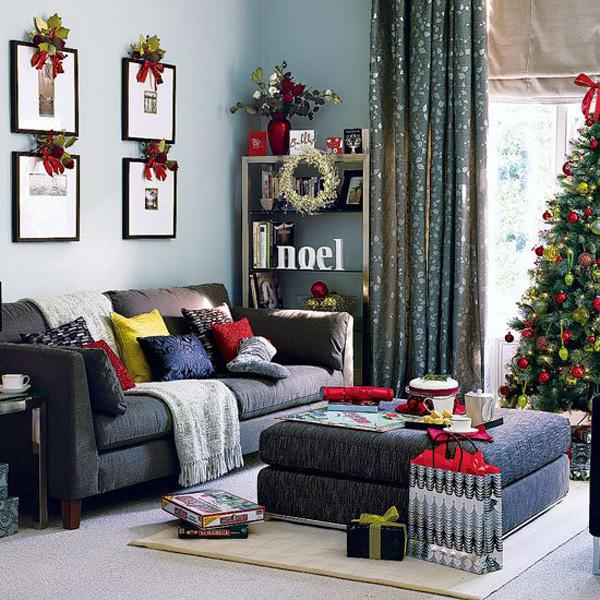 Set up your home in this simple but elegant looking Christmas decor. Cute little red bows on the frames with other red details all around the room make up for the white and gray hue of the environment. A small touch but does wonders.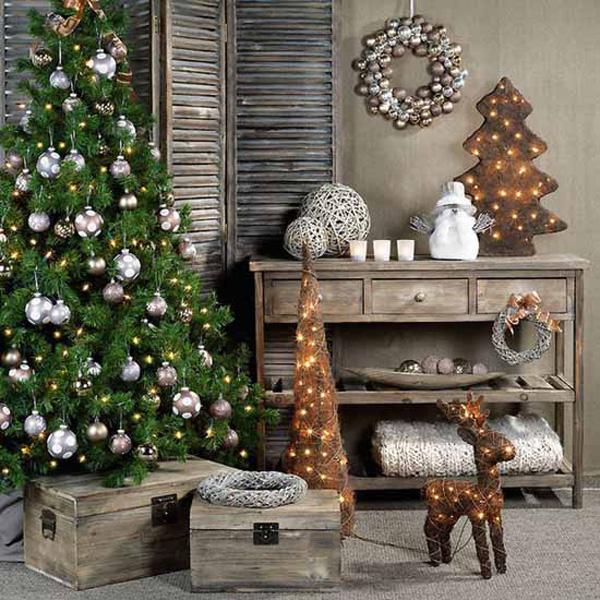 Add the feeling of home and comfort into your home using wood and twigs. Play along with the brown hue by decorating your Christmas tree with pure silver balls and silver wreaths.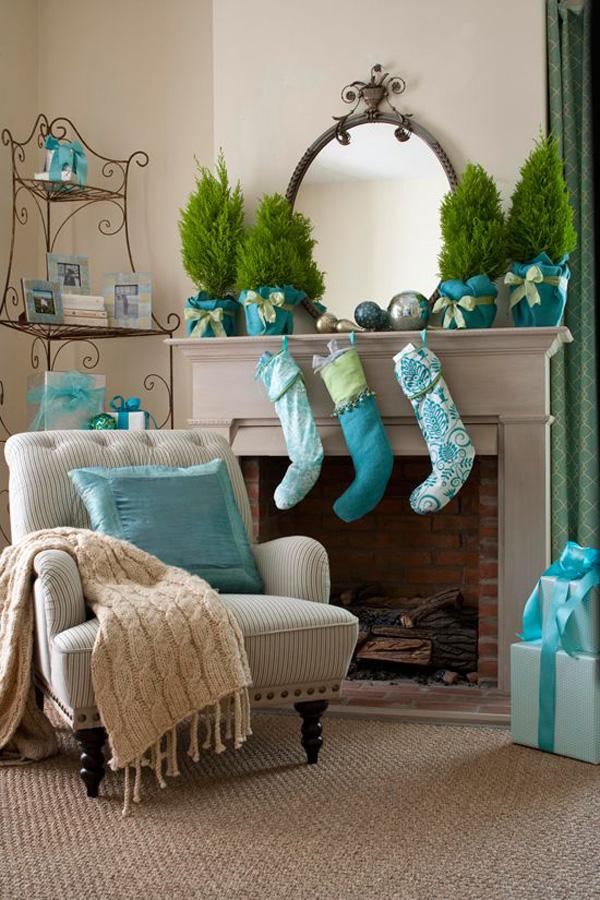 A blue and white themed Christmas decor. Give a relaxing and cool theme to your Christmas celebration. Add light and colorful ribbons to your potted plants with white cloth to give out that tidy and calming atmosphere.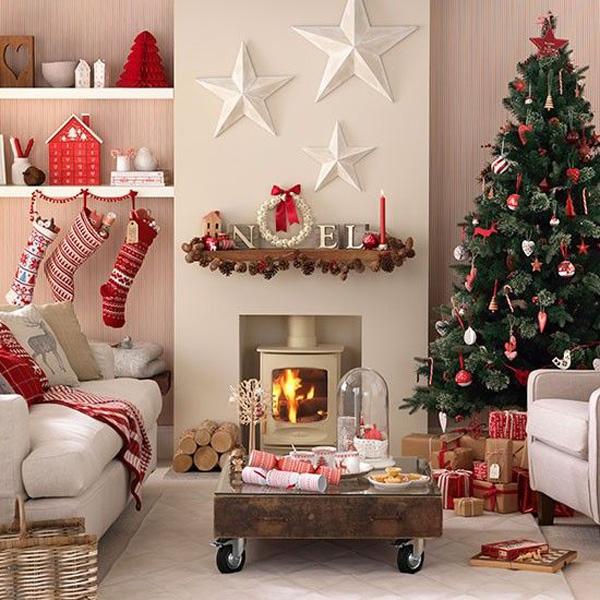 Bring life to your Christmas decor by using this red and white theme. Work with huge white stars to decorate your walls and add various combinations of white and red decorations all over the place.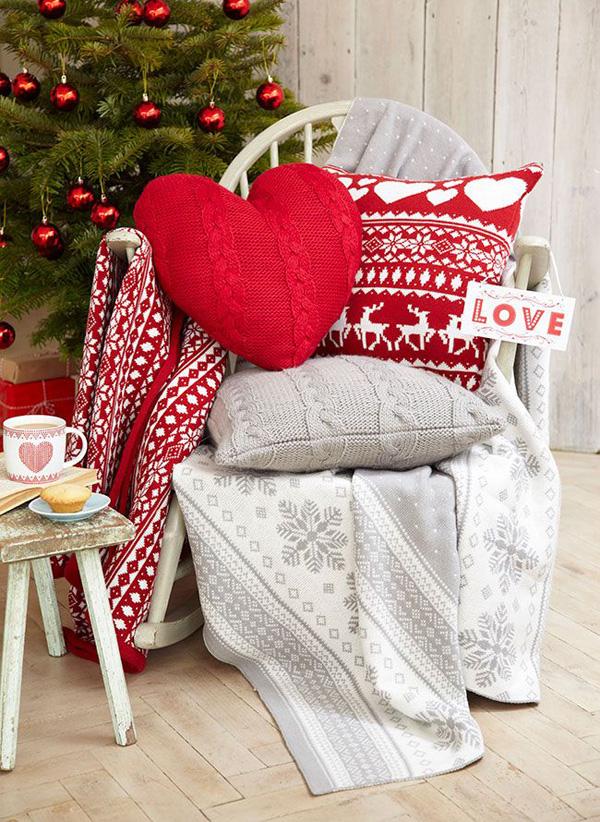 Christmas is the feeling of warmth and love, and what better color to project that feeling than red. Complete your Christmas decor with red Christmas balls and furnishings to give life to the home.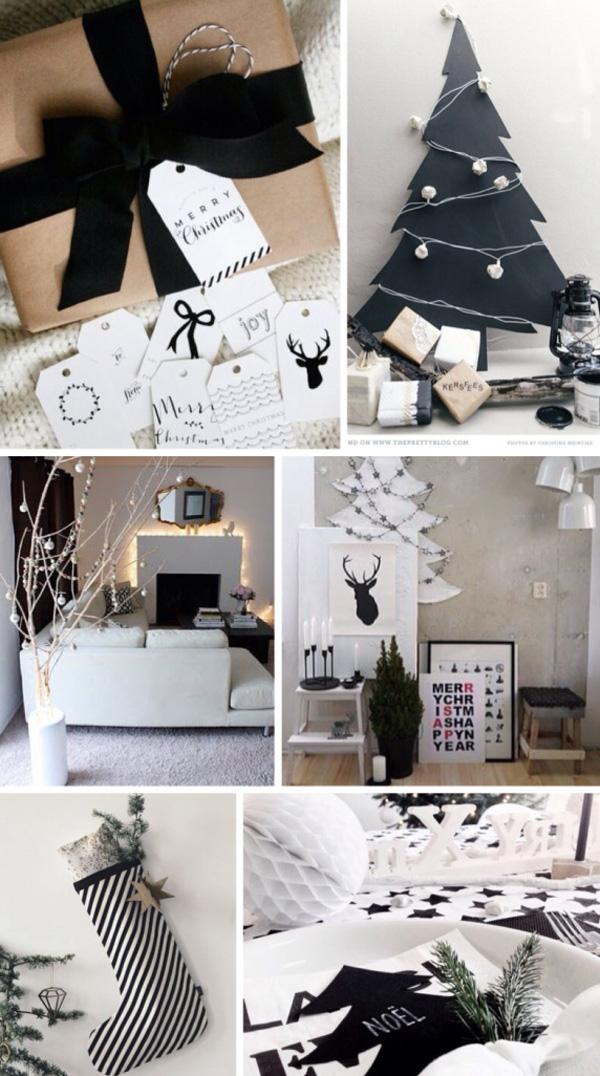 Experimenting on themes? Try out this black and white inspired Christmas decoration. Create custom Christmas trees and ornaments using black and white things that you can find and put together around the house.
Get creative with your Christmas candle bottles with this style of decoration. You can use leaves and berries for the red and green effect of the bottle. If you want the design to last longer you can always buy synthetic ones instead of live ones for display.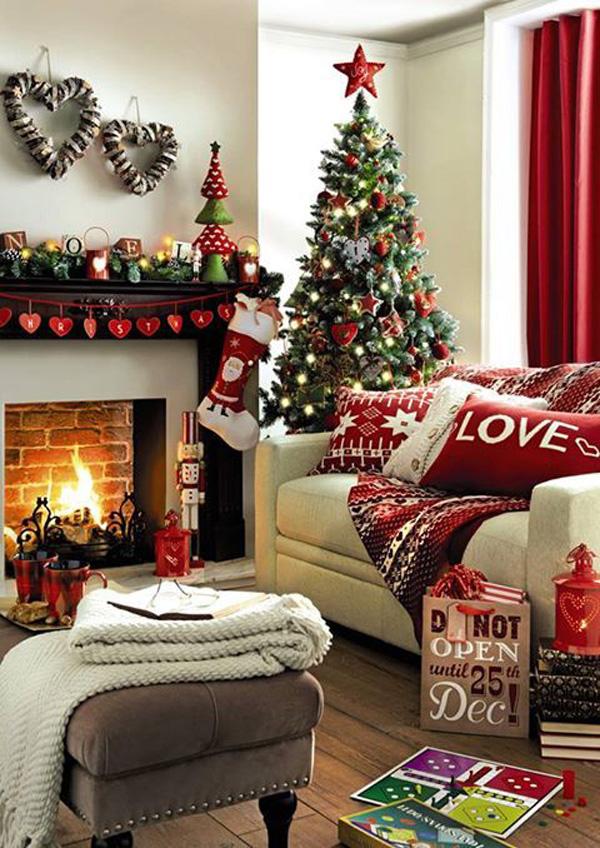 Check this really cute and modern Christmas decor. Fill up your home with white, red and green colors from the tree to the stockings, wreaths pillowcases and so much more.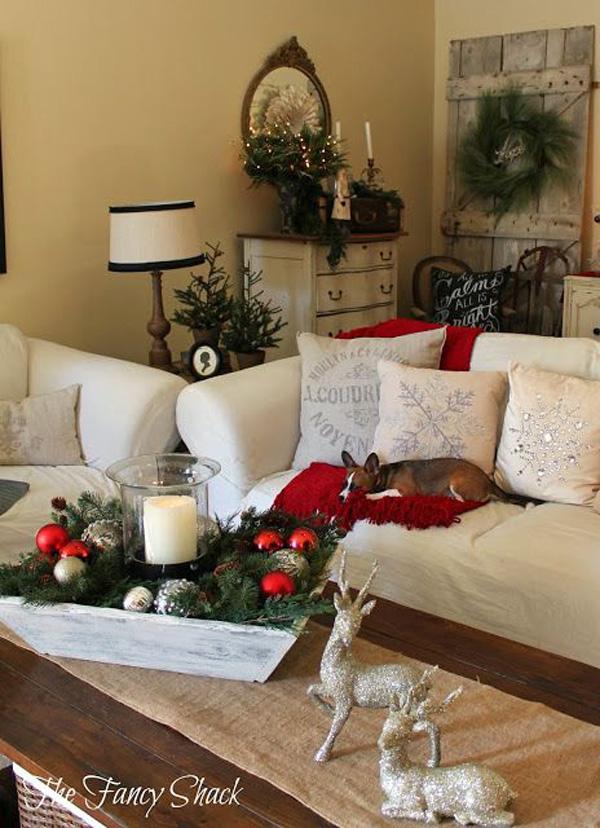 Let Christmas into your home by using greenery for Christmas design. Fill up your pots and vases at home with Christmas greenery. You can also add embellishments such as reindeers and Christmas balls for your center table.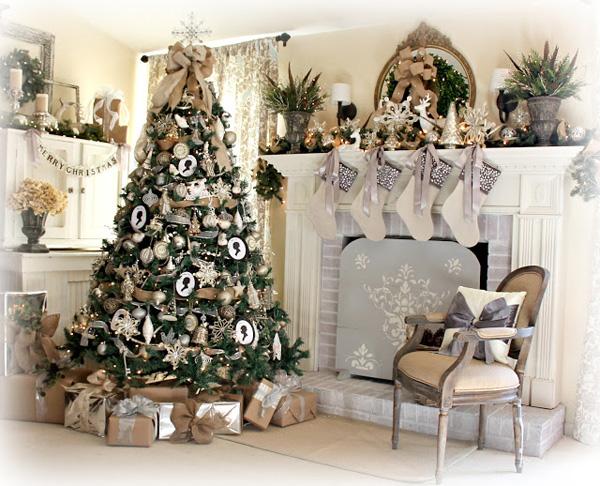 Have a white and gold filled Christmas with this classy Christmas decor. Fill your house with white and gold ornaments from your Christmas tree balls to the stockings, chairs and even gift wrappings.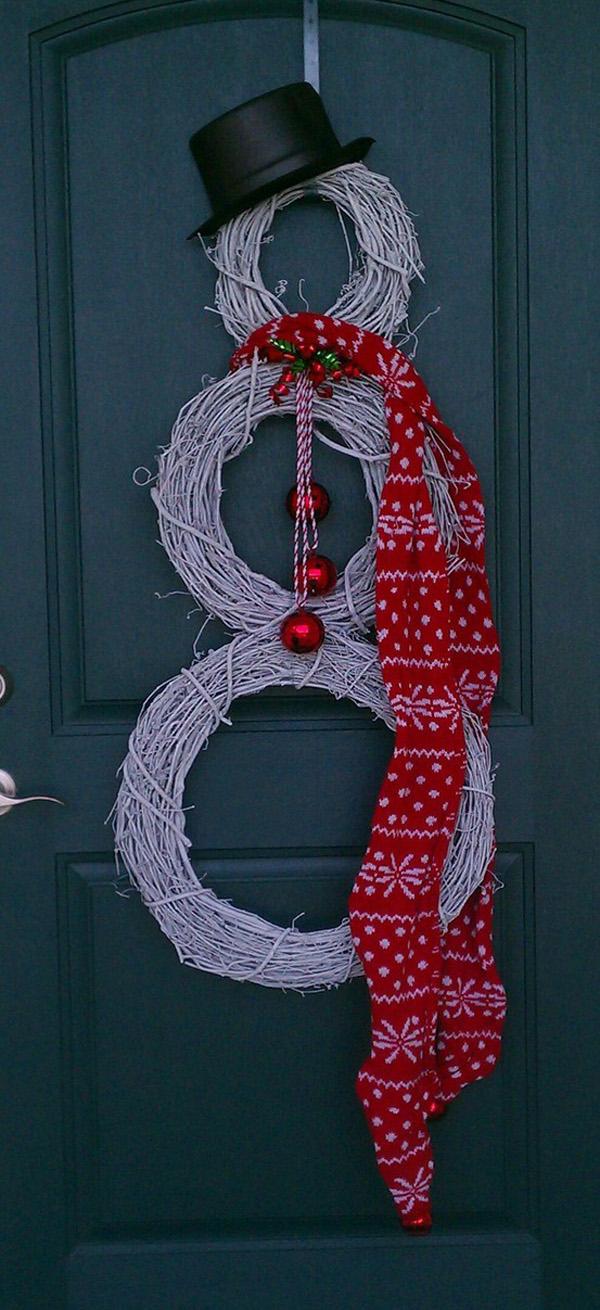 Very creative snowman wreath using twigs, ribbons and Christmas balls. Throw in a hat and scarf and you have yourself a merry snowman on your front door.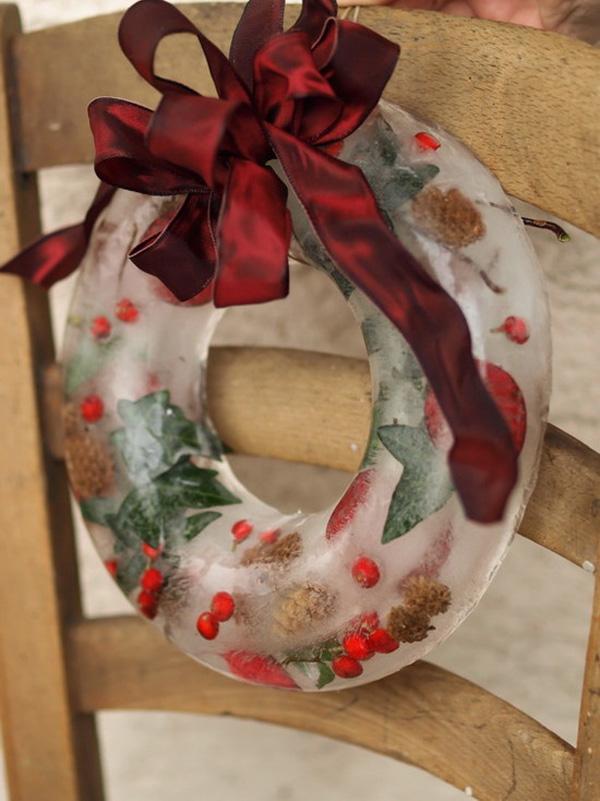 Adorable looking Christmas wreath. The various embellishments inside the wreath makes it even more special, top it off with a huge bow on top and your front door is good to go.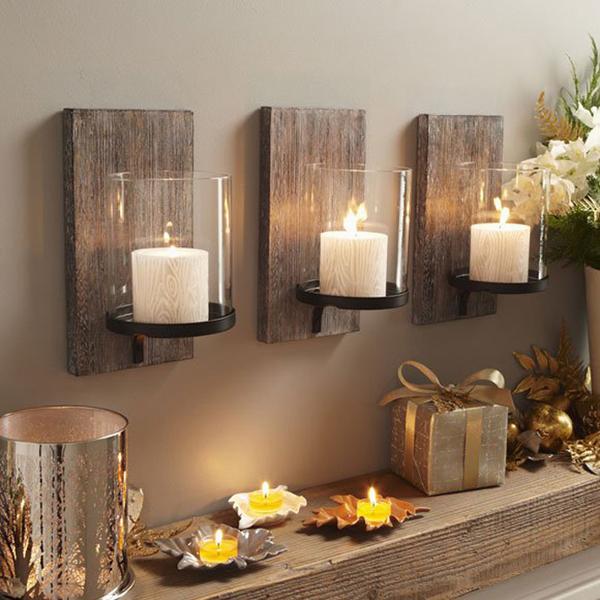 Neat and tidy looking Christmas candle holders. If you are saving space but still want your home to look flashy, you can make do with these wall candle holders. They provide a good place for lighting and can give you more space n the table too.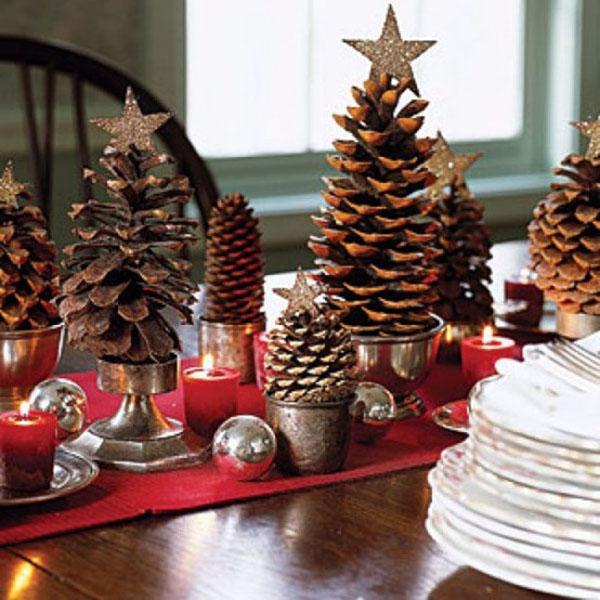 Pine cone Christmas trees. There's nothing cuter than mini versions of Christmas trees and you can do this by painting over newfound accord with varnish on them to keep them sturdy and preserved for a long time.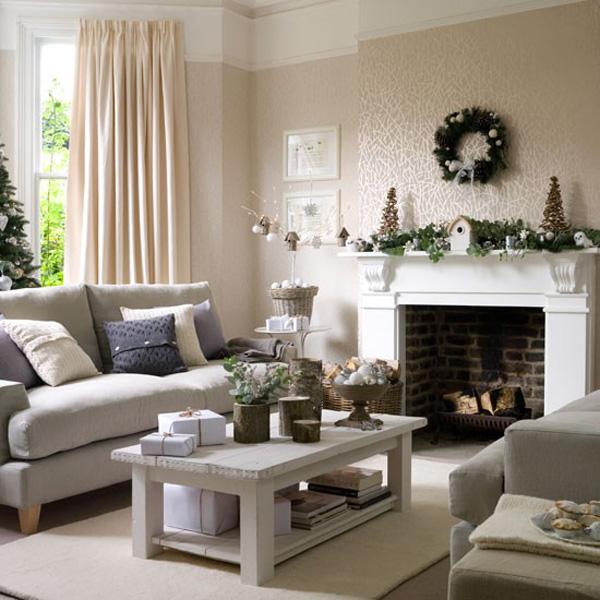 White and green Christmas theme. If you want to stick to that no red this Christmas notion then you could surely take pointers from the elegant color combination of this decor.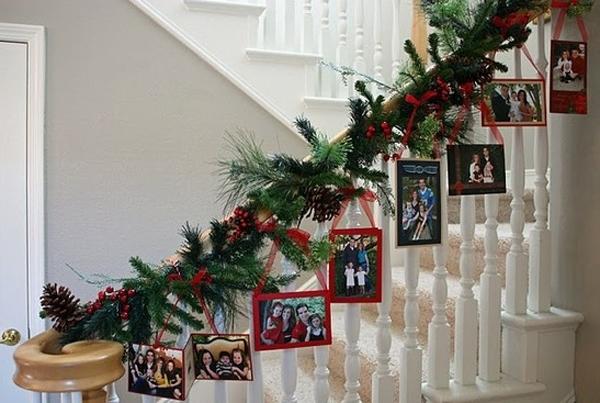 Make your stairway look interesting by filling it up with decorations. You can add mistletoes and other Christmas ornaments on the stair handles and you can even hang family photos in personalized ribbon hangers.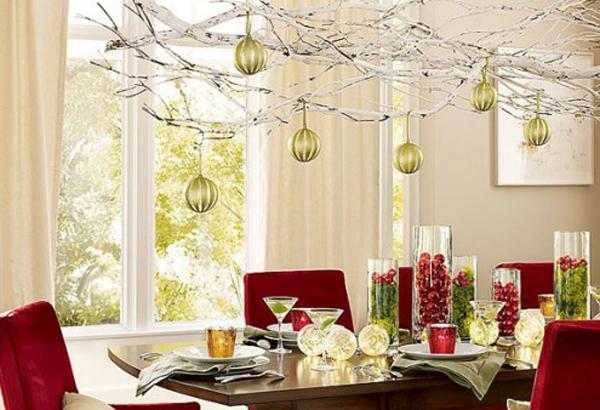 A beautiful chandelier of white twigs and golden Christmas balls. A perfect centerpiece for the dinner table. You can also easily do this craft on your own.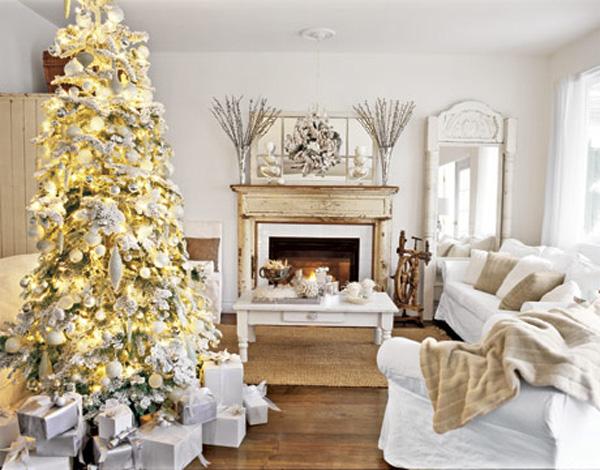 Freshen up your home for the holidays with this gold, white and cream themed Christmas decor. Wrap your gifts up in white to blend in with the surroundings and collect twigs for your vases to compliment the scenario.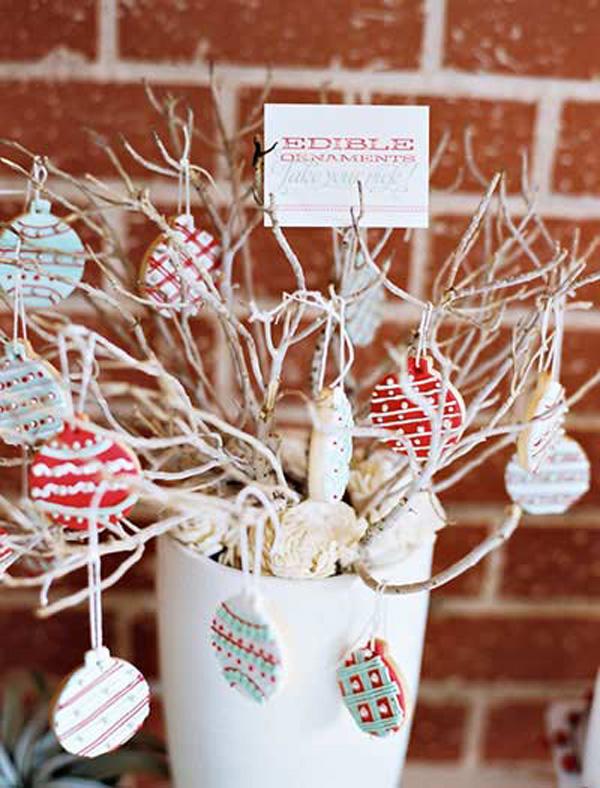 Looking for a place where you can hang your Christmas candies? This is your Christmas candy tree. Simply collect some twigs in your backyard, put them in a vase and secure the Christmas treats with a yarn to hang from the twigs.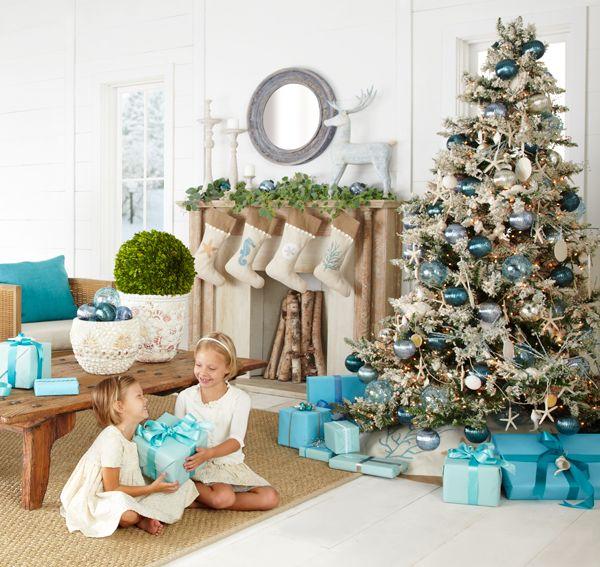 Deviate from the regular red Christmas with blue as your primary color. It's soothing to the eyes and relaxing to look at. Start wrapping your gifts in blue wrappers and design your Christmas tree with blue, gold and white embellishments, you should also do the same with the rest of the interior decor.
If you have found a huge collection of faux berries, what better way to deal with them than adding them to the decorations? Fill your centerpieces with the berries and add more drama by using candles, ribbons, leaves and bells.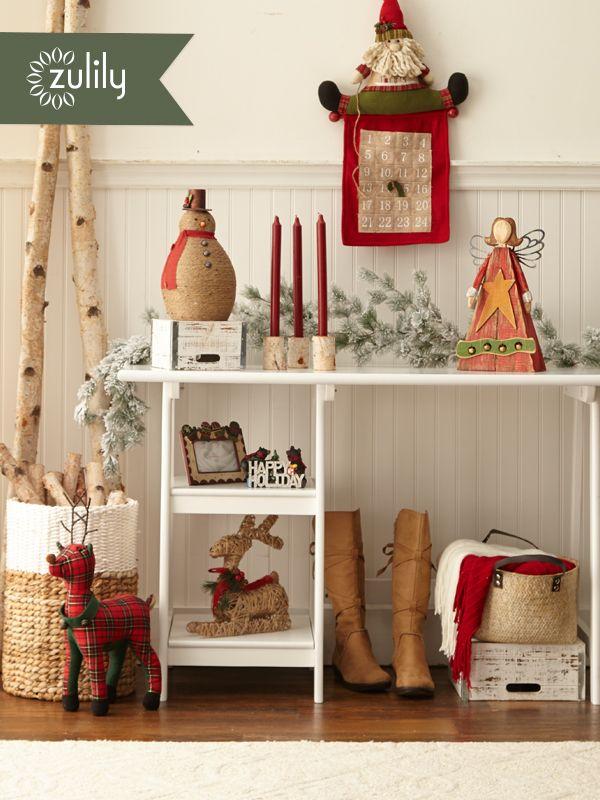 If you're going for the woody and homey look for Christmas this is probably a great reference. Decorate your home with an ensemble of wood furniture, you can even add a tree branch that you found in your yard to heighten the homey mood.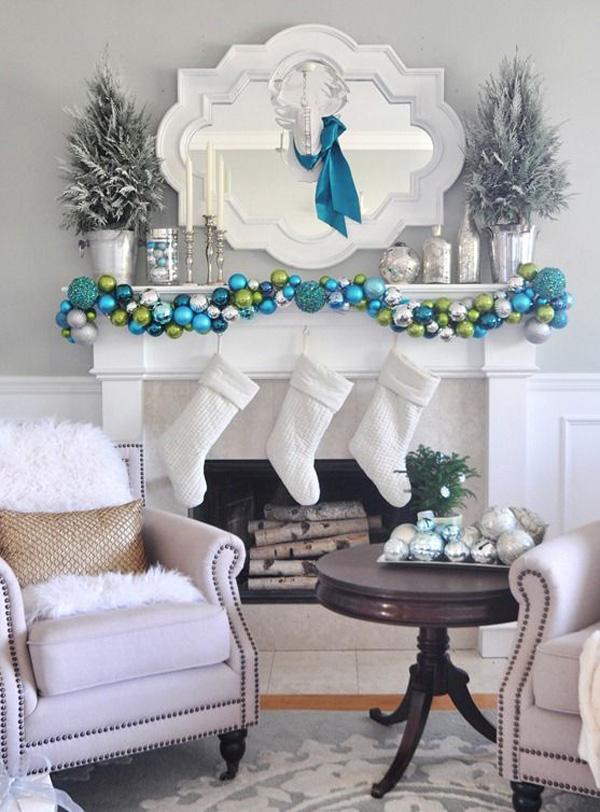 Looks very pleasing to the eye and the color combination is absolutely stunning. Gear up your home for Christmas with this amazing looking Christmas decor in blue and white theme.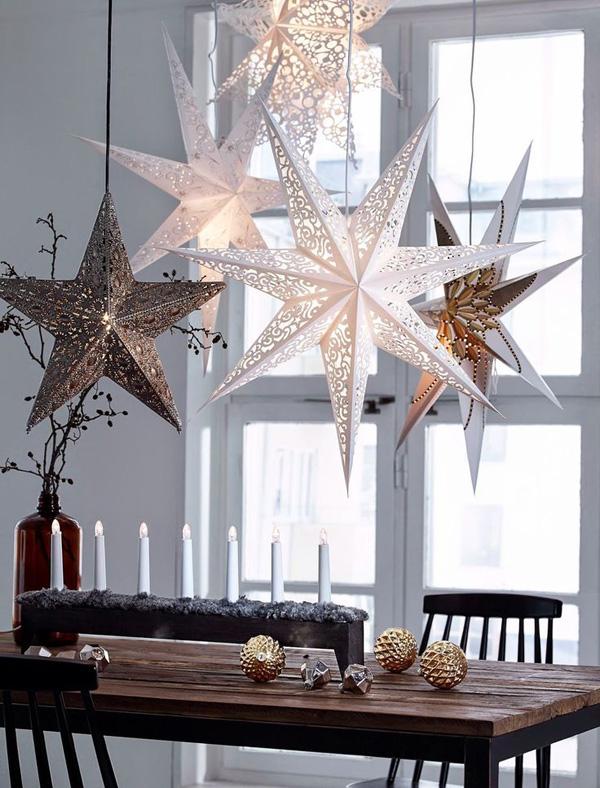 Start playing around with the Christmas star. You can get them in various sizes and decorate your dining hall with it along with a few creative pine cone centerpieces.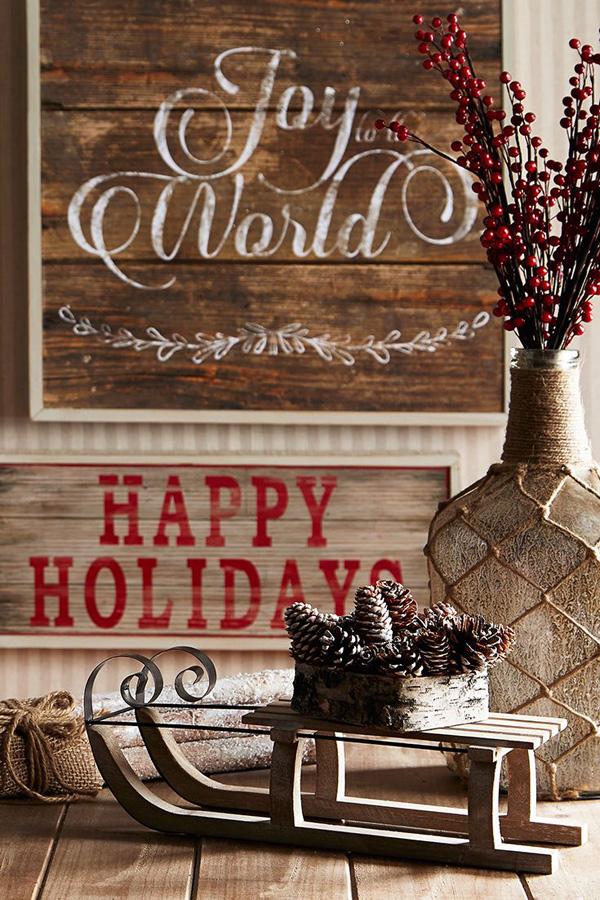 Have a pine cone Christmas. Gather pinecones and design them as you like for your personalized Christmas decor. Prop up a wooden sleigh and box to hole the pine cones and you can even add berries for decoration accent.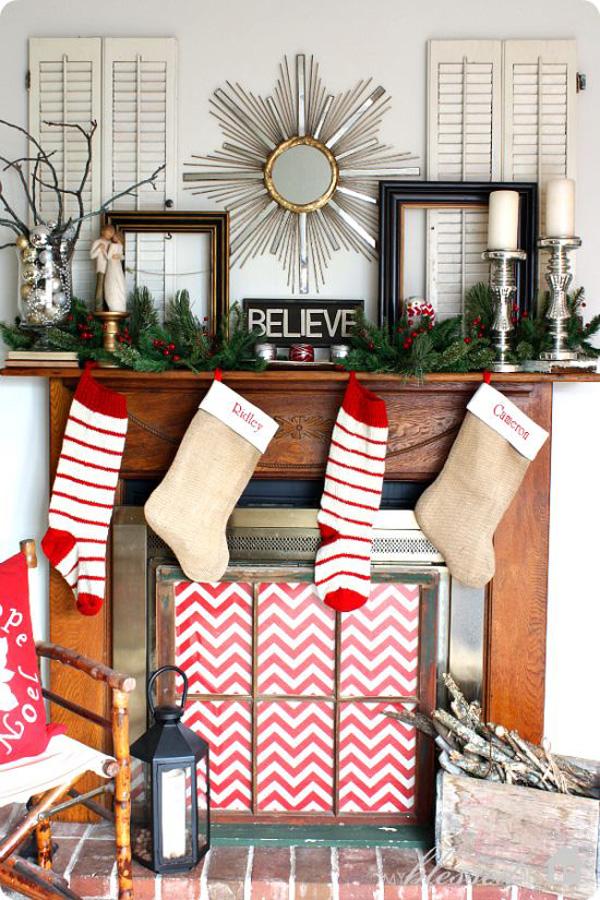 This is your go to design when you want to make your Christmas decor good but not rushed. Decorate the fireplace with mistletoes and hang stockings for the Christmas trees. You can even throw in an age old lamp in there for effect.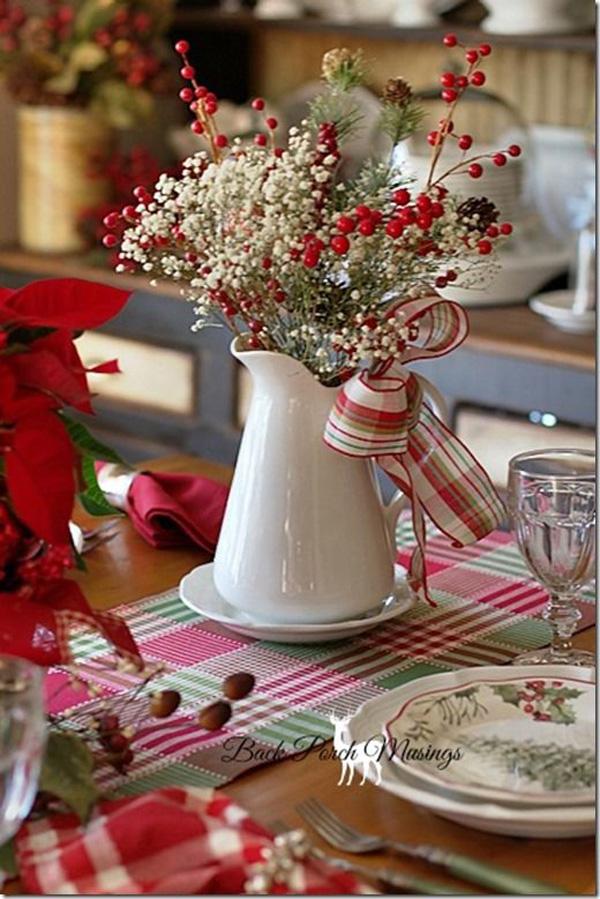 A berry inspired Christmas vase. Pick out Christmas colored berries and arrange them accordingly on your vase. Tie in a Christmas ribbon too to make it even more adorable.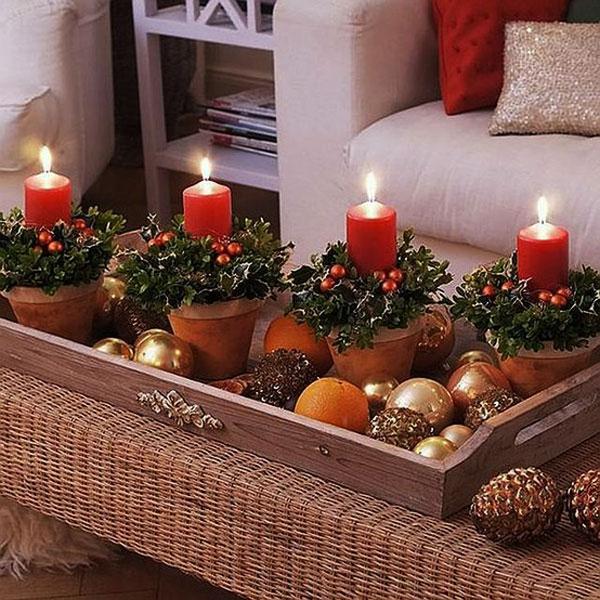 Be creative with your Christmas candles. Make use of old pots and add leaves and berries in them to encircle the Christmas candles. Very easy to do and looks absolutely stunning.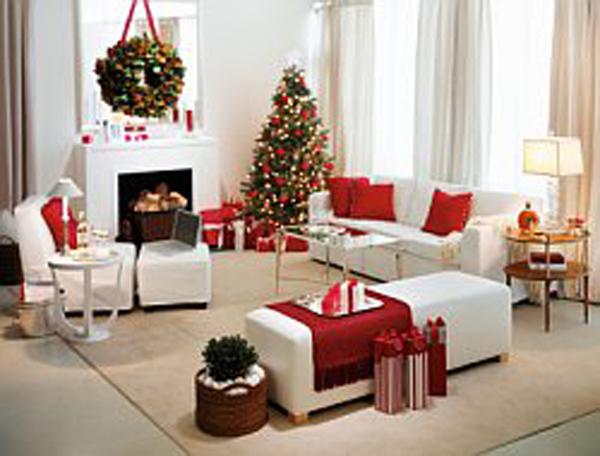 Your classic white and red Christmas decor. Go all out and fill your Christmas tree and wreaths with embellishments. Add red highlights to your decor with the cushions and rugs.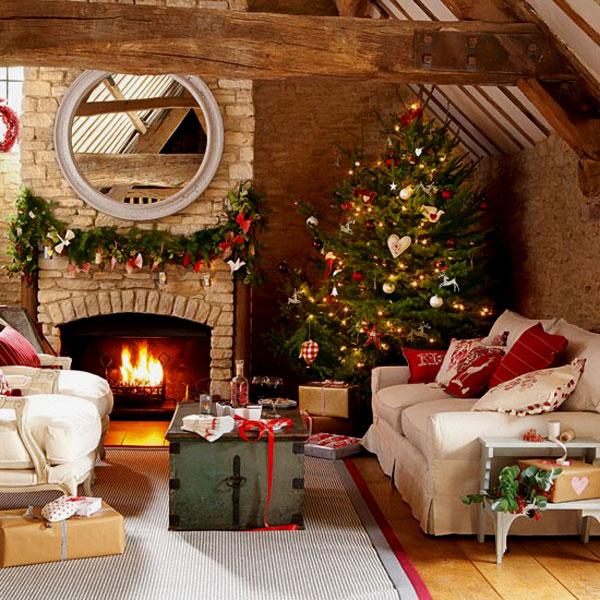 If you are going for a cozy Christmas decor, then this is probably what you are looking for. Go with the traditional Christmas ornaments and stand out by being creative where you hang the embellishments and how you hang them.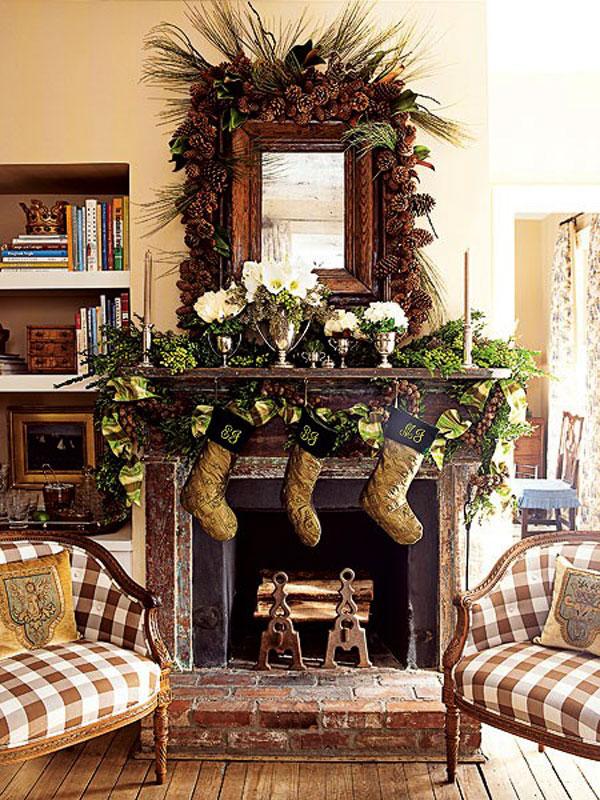 Go with earthy colors for your Christmas decor. Collect stockings in gold hues plus pinecones that have the natural earth color in them to design the furnishings of your house. You can also go the extra mile by adding white flowers to your vases.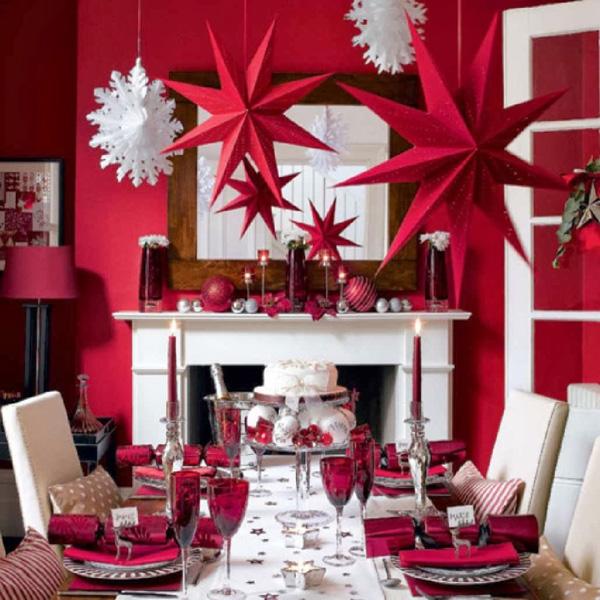 A truly festive looking red and white themed Christmas decor. You can remake your house into a Christmas party place by painting the walls in red and matching the rest of the furniture with the red and white ensemble. The touch of white and red stars and snowflakes are a great addition too.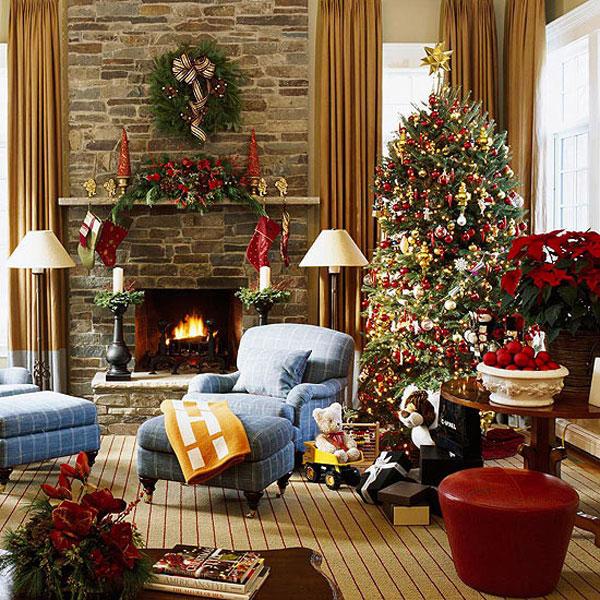 Make your home as cozy and as festive as it can be in this year's Christmas holidays. Decorate your house with wreaths, Christmas stockings, and your very own Christmas tree and Christmas candles. The red and green color combination is at its best.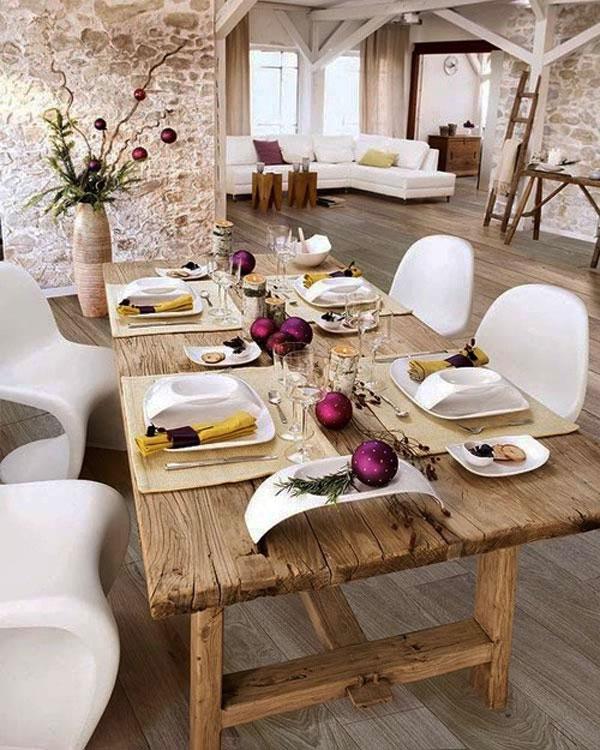 Try out something new with your Christmas decor by trying out the white and violet color combination. Fill up your home with white furniture and violet embellishments such as violet Christmas balls with leaves and twigs to complement the white color.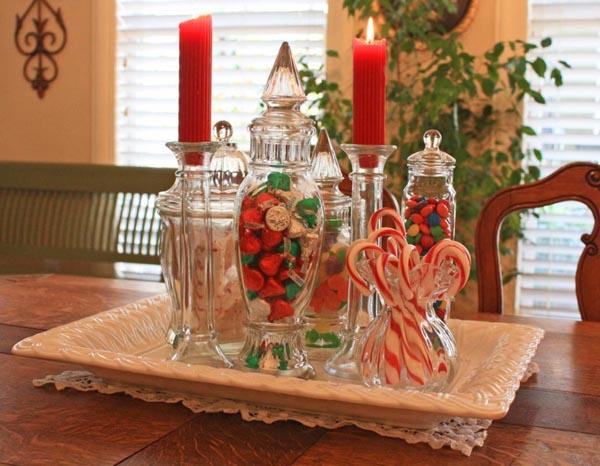 Give spice to your centerpiece by adding these lovely Christmas treats into the decor. Candy canes and chocolates not only give you a delicious Christmas but they can also double function as table decors.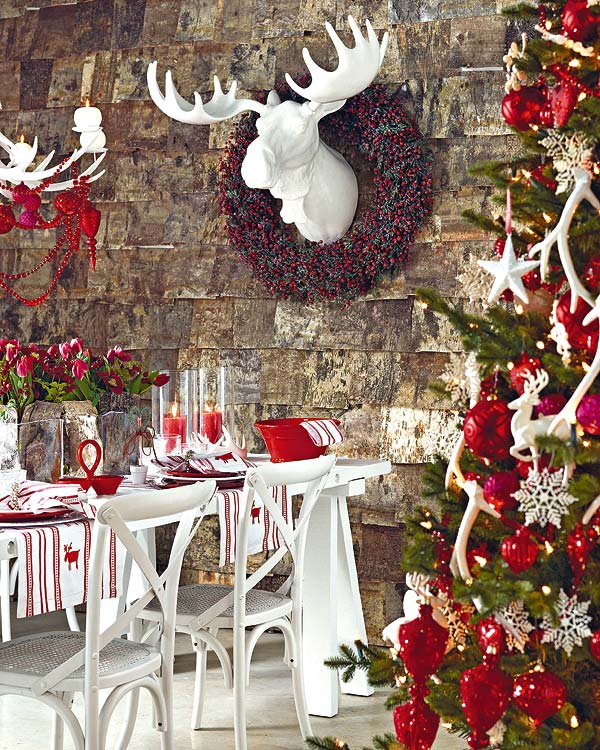 If you want to highlight wall furnishings you can always hang up a very pretty Christmas wreath. You can make wreaths with faux berries to make them stand out and highlight your wall furnishings.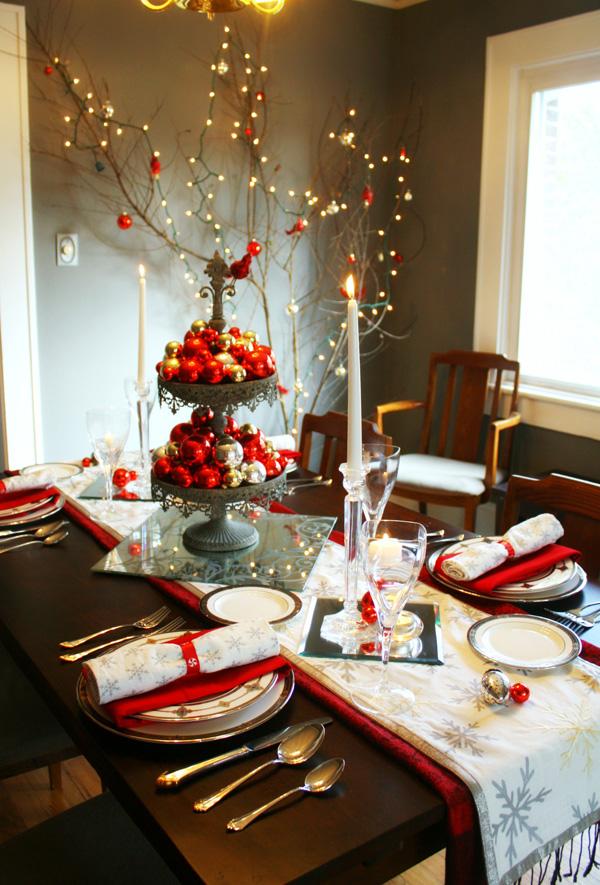 Be simple and classy this Christmas season with this decor. You can collect twigs to serve as your Christmas tree by designing it with pretty lights and Christmas balls. Add attitude to your centerpiece by grouping together your red, white and silver Christmas balls as their colors complement each other.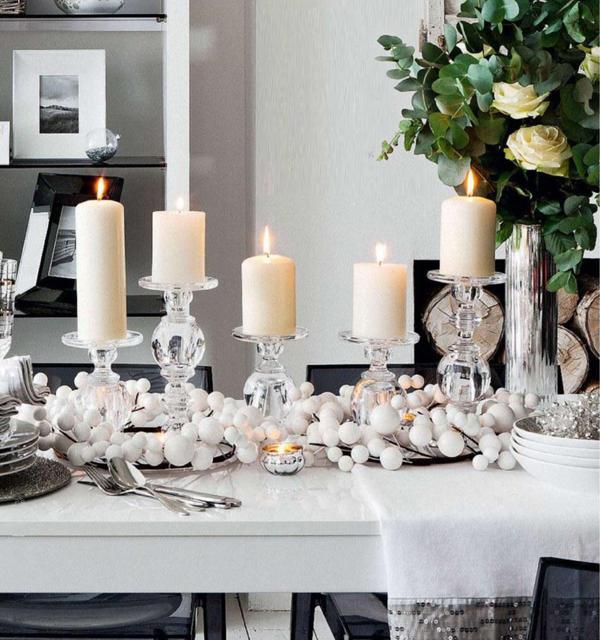 An elegant and pure white Christmas ensemble. You can design your centerpiece with white candles, white flowers and white cotton plants that you can recreate yourself with help of twigs and Styrofoam balls to make them last longer.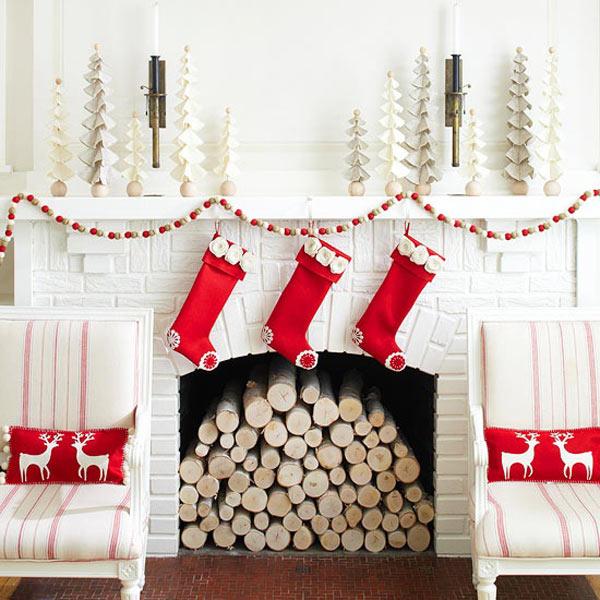 Make your fireplace the most interesting space within your home. You can recreate miniature white Christmas trees and pace it on top of your fireplace. Add Christmas stockings to make it stand out even more.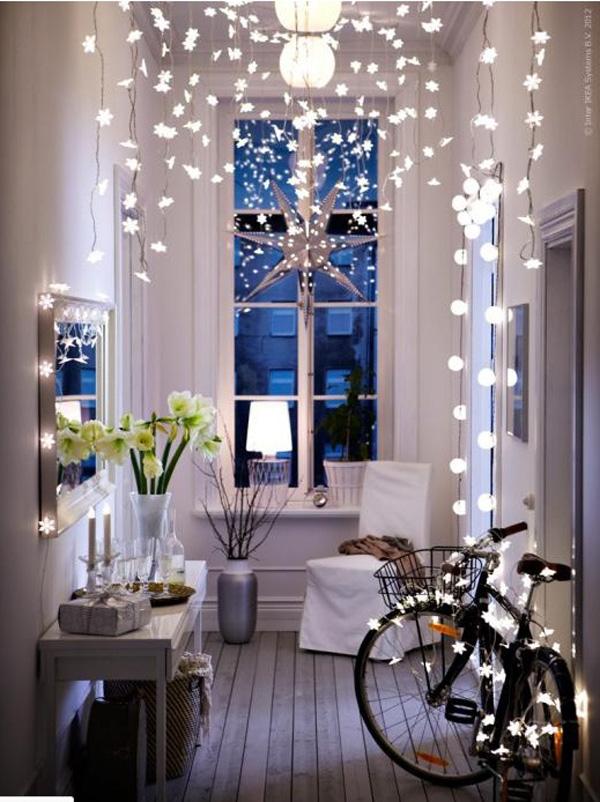 Brighten up your home with these beautiful Christmas lights. Customize your own lights into snowflakes depicting themselves falling from the ceiling unto your living room.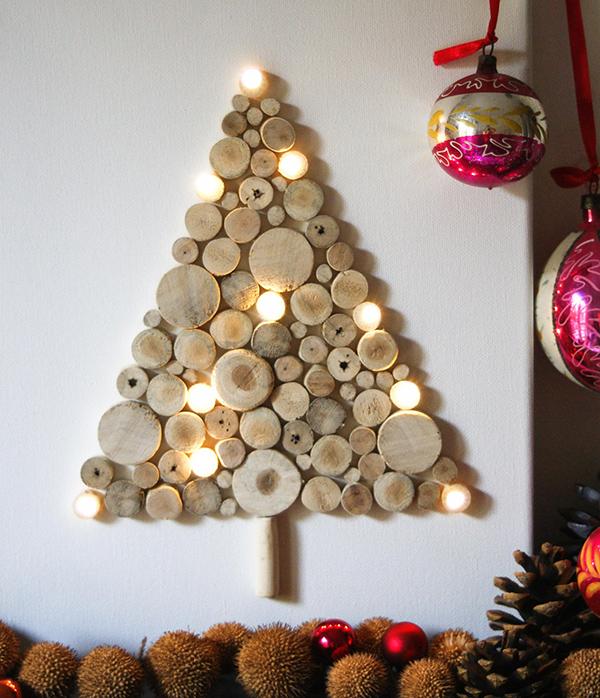 A rather quirky yet very creative Christmas tree made out of chopped wood. Shape various chopped wooden furnishings into a Christmas tree and add in light bulbs to highlight the embellishment.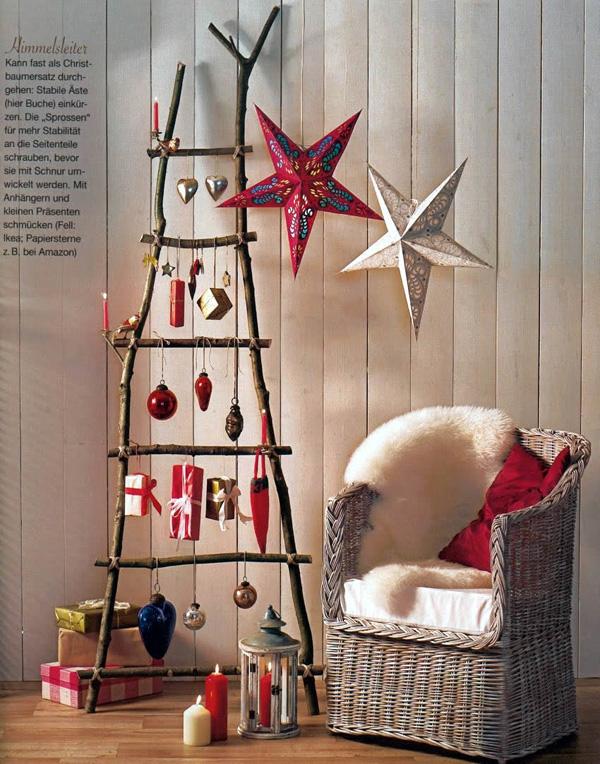 There are cases where less can be better. Deviate from the traditional Christmas tree with these wooden branches Christmas tree adorned with candles, miniature hanging gifts, Christmas balls and other accessories.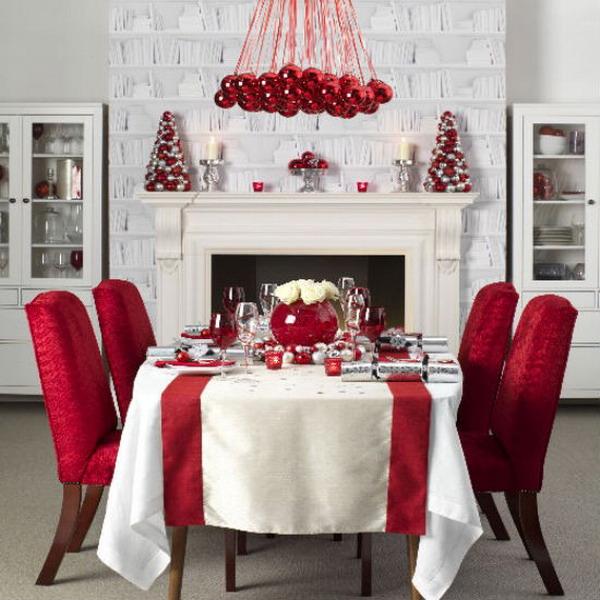 Make the best out of your Christmas chandelier using Christmas balls. Group together red Christmas balls and tie them upwards with a ribbon to create a charming chandelier effect.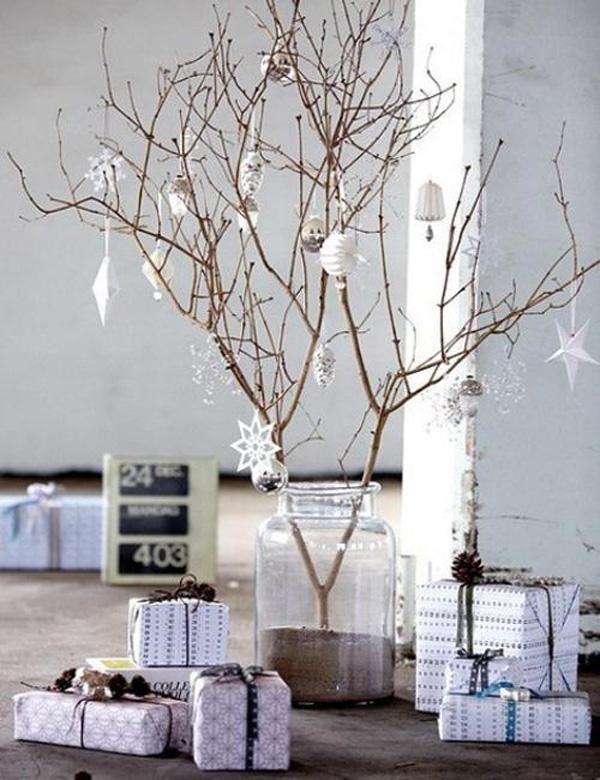 Be as creative as you can be this Christmas with a slim but elegant Christmas tree. Gather twigs across your yard and set them up in a glass jar filled with sand. Hang in white Christmas decor and create more drama with the white wrapped gifts beside it.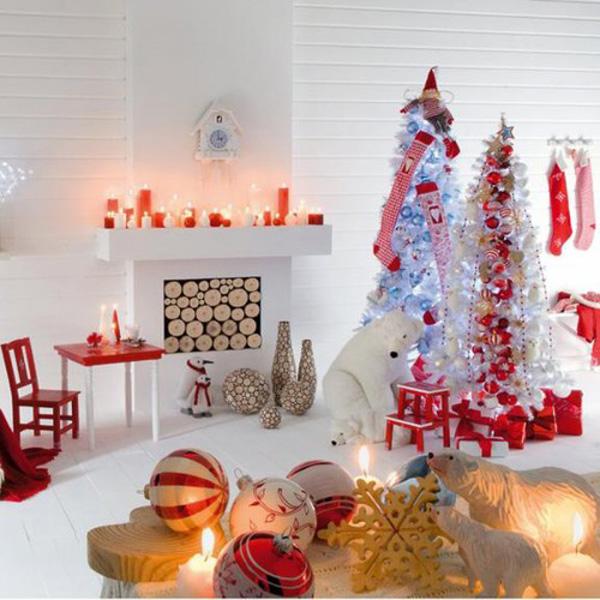 Recreate your home into a Christmas fun house. Play along with using gigantic Christmas balls, snowflakes and cute polar bears as furnishings.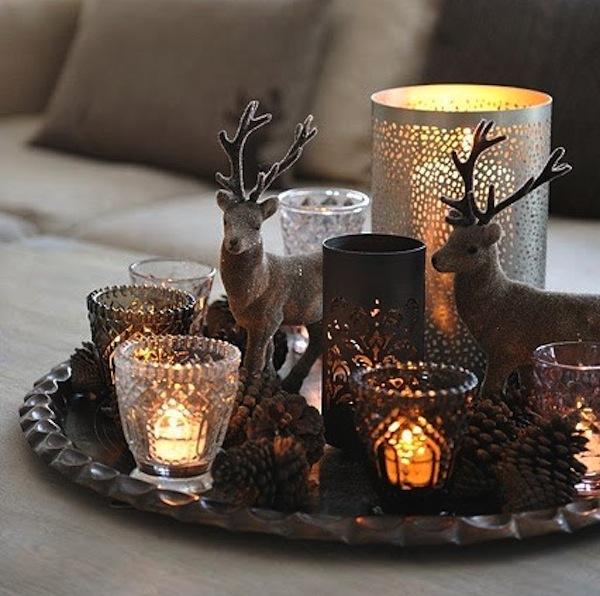 Collect various candle holders and small glass jars to serve as your Christmas candles' fortresses. Add miniature deer figures to complete the look for your centerpiece.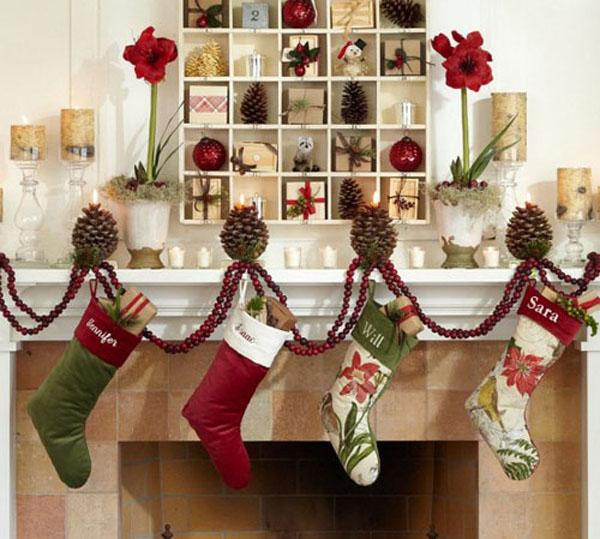 Be creative with your fireplace by placing pine cones on top and decorating them with faux berries. You can also display mini gifts and Christmas figurines on the shelf above.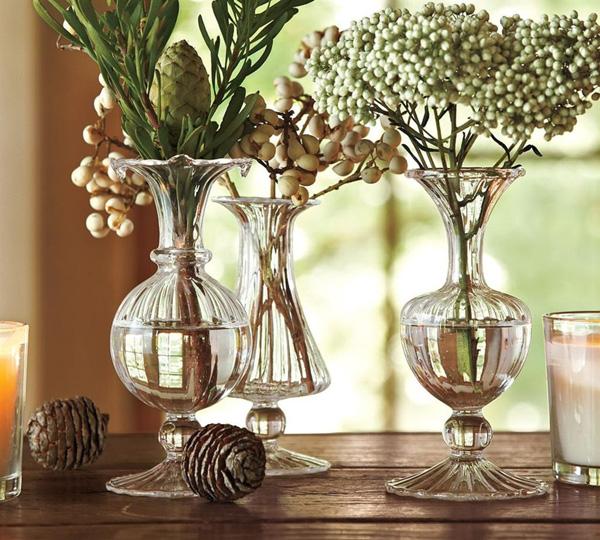 Have fun with decorating your vases with not only flowers but with berries as well. You can also add random pine cones on the table to give a wonderful effect.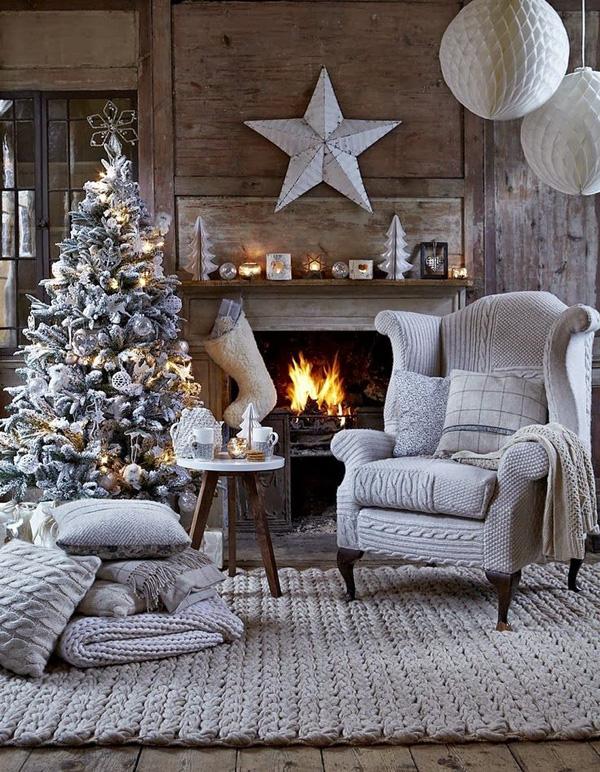 Turn your home into a white and snowy Christmas place. Add effect to your Christmas tree by adding gold embellishments that stand out and get out of your way to procure gigantic stars and Christmas balls to hang above your ceilings and dominate your walls.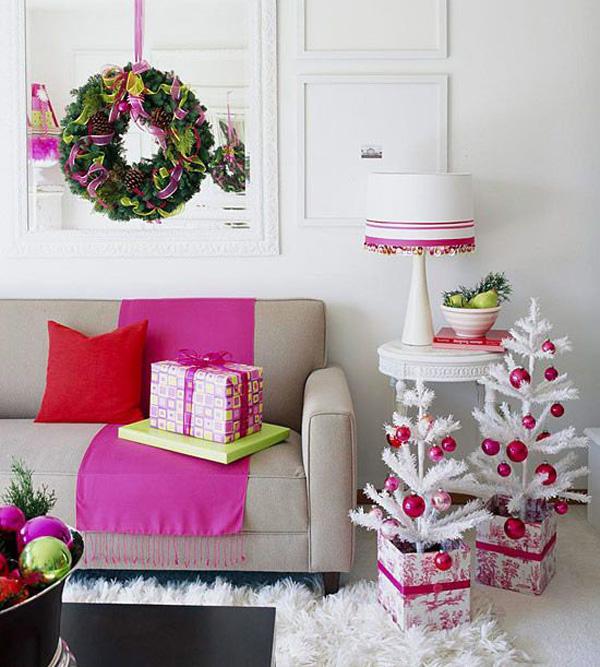 Start experimenting with colors this Christmas. Instead of the regular red, change it with red violet and see what it looks like. A rather refreshing take on Christmas decorations.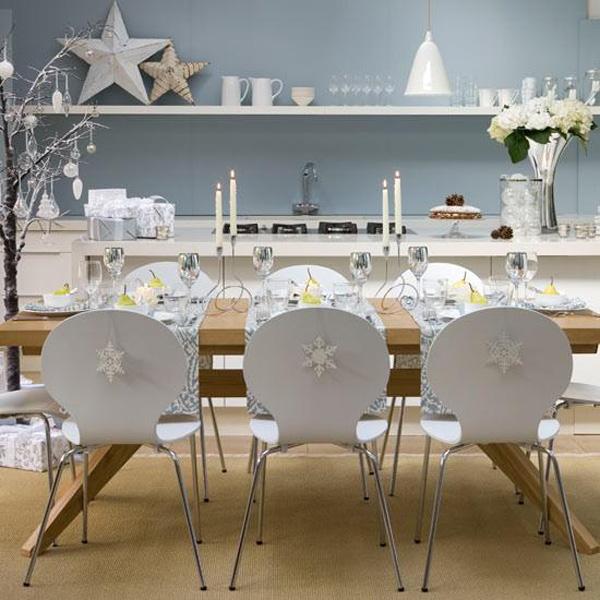 Simple yet elegant Christmas decor. Give your home a white theme this Christmas and opt for a slim twig tree to hang your Christmas adornments in. the white candles and flowers also compliment the decor beautifully.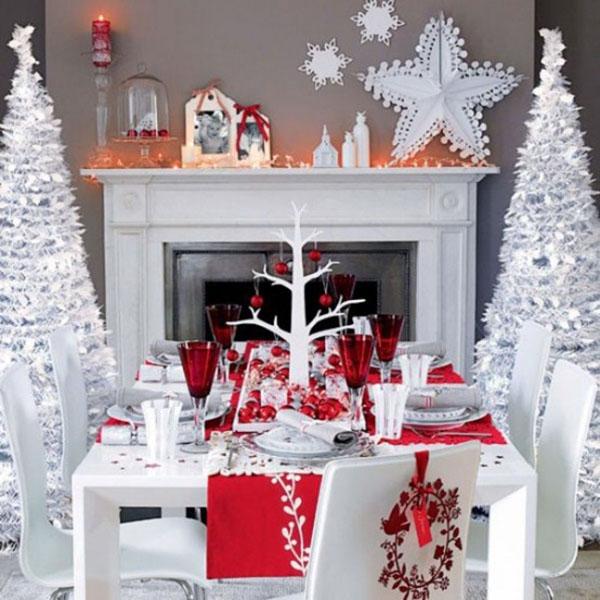 Give life to your centerpiece with this white silhouette of a Christmas tree with red colored adornments. The white embellishments give elegance to the room while the red gives it a more festive feel.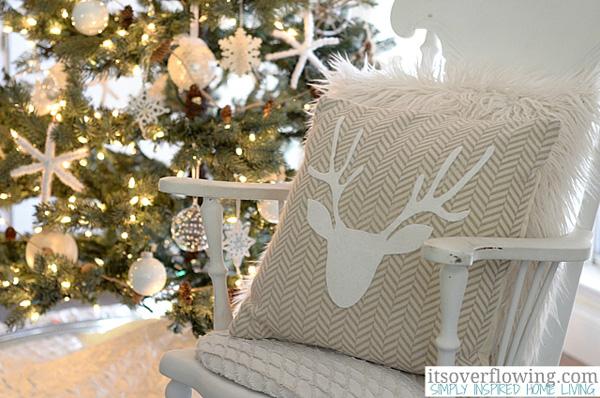 Personalize your Christmas cushions by getting Christmas themed designs. If you are up to it you can also take the time to actually knit them on before the Christmas season starts.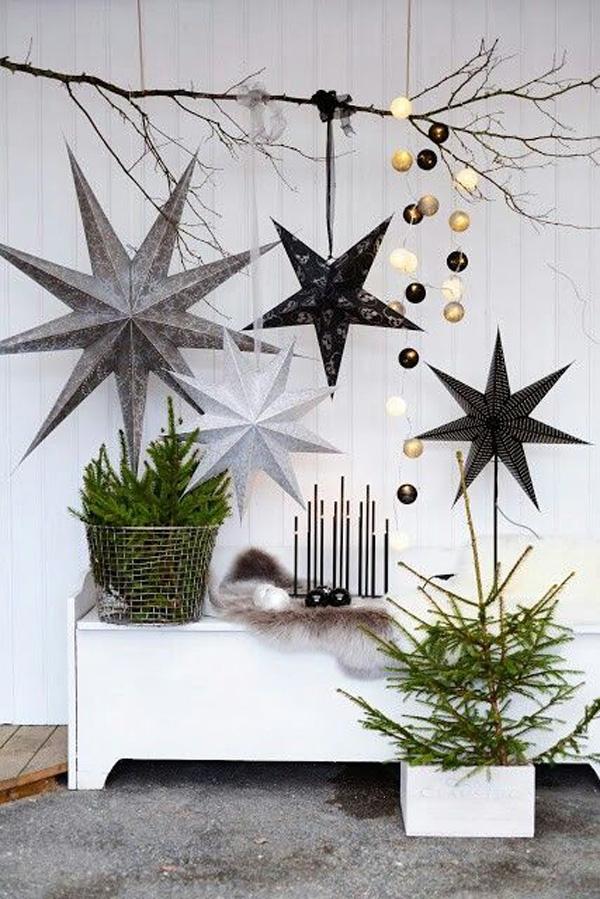 Black and gray inspired Christmas decorations. A little DIY of your own decorations is not that hard to do; with a bit of help from wires and gifts wrappers you can recreate your very own Christmas decor.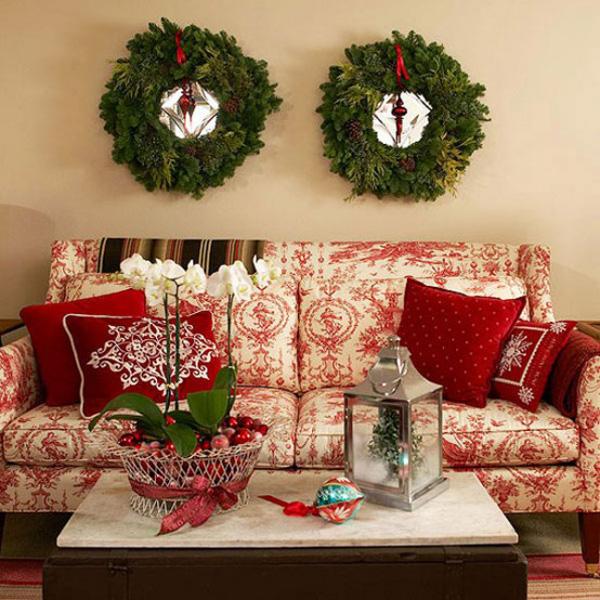 Look at this lovely indoor Christmas decor. The hanging wreaths give beautiful ambience to the living room whereas the flowers for the centerpiece give it a more delicate and homey feel.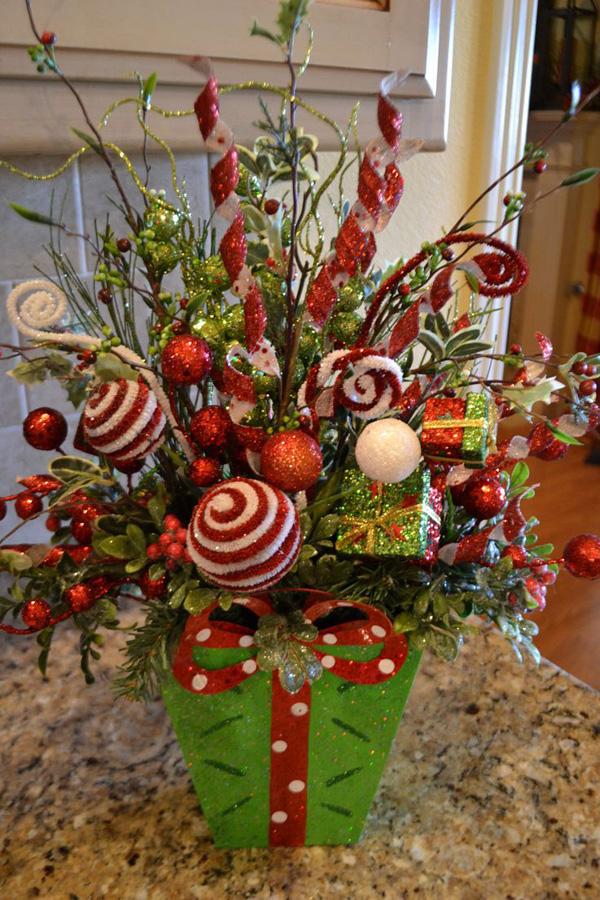 This Christmas forget about arranging a bouquet of flowers for your centerpiece, instead get creative. Design your bouquet with Christmas candy canes Christmas berries and adornments to make it look more fun and unique.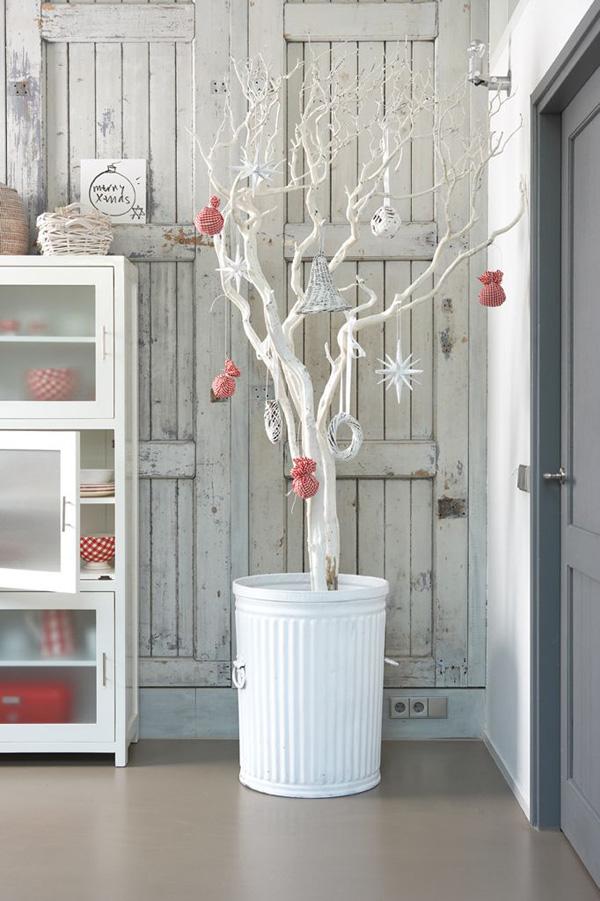 A rather immaculate looking white Christmas tree. Play it elegant and simple with this white Christmas tree adorned with small red and white embellishments.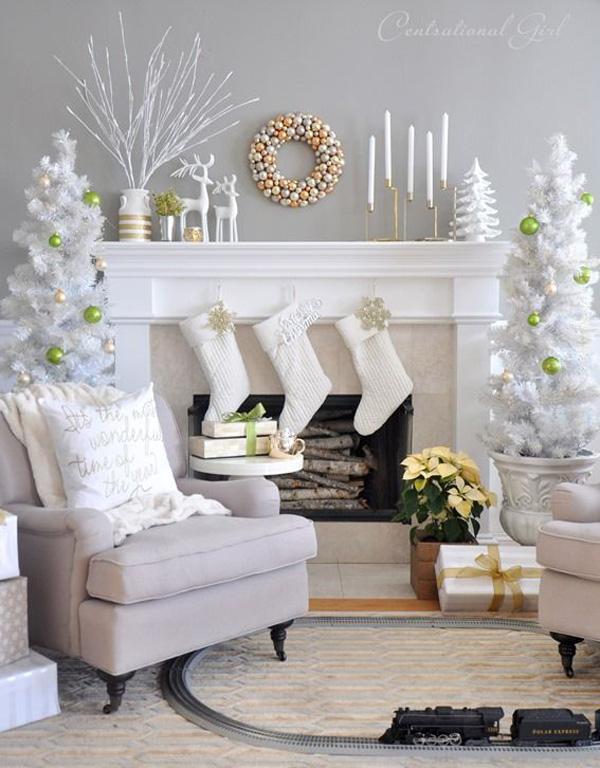 White and gold themed decor. If you like the serenity that white Christmas gives, this tidy and clean arrangement will work wonders for you.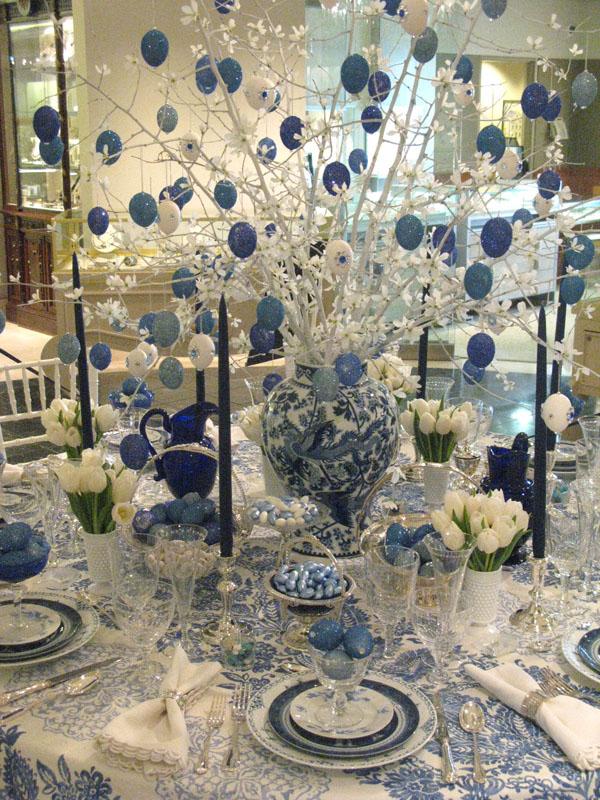 A white and blue inspired bouquet. Add glamour to your flower base by throwing twigs, white flowers and blue Christmas balls into the arrangement.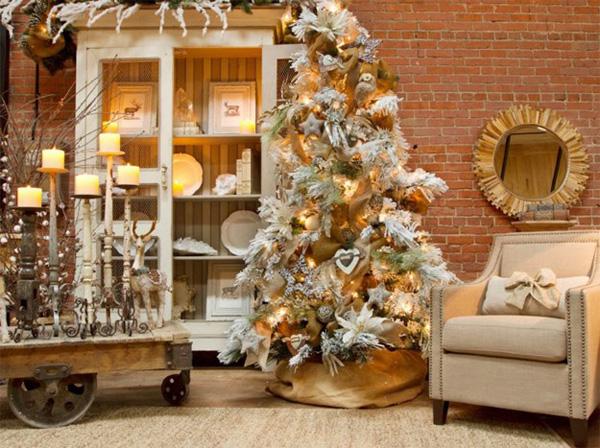 A really cozy and cute looking indoor Christmas decor. Adding the wheelbarrow table into the arrangement makes it look even more unique and touches on the homey side of celebrating Christmas.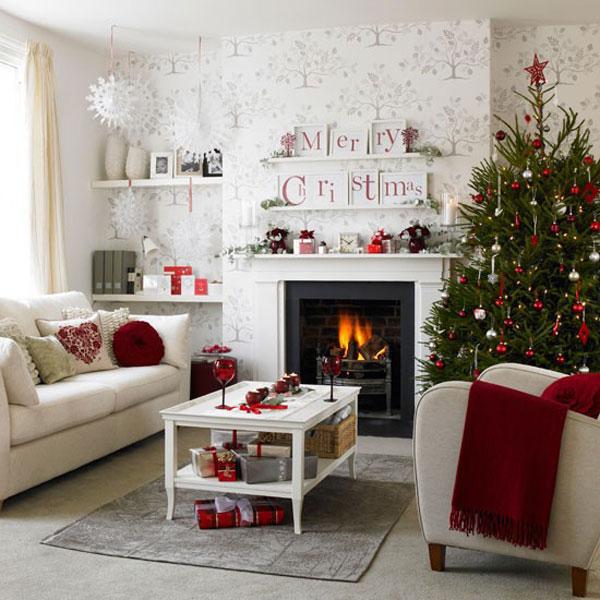 Classic white and red Christmas decoration. Very simple yet pleasing to the eye. You can add more interest to this design by cutting out words that form merry Christmas and hanging them above your fireplace.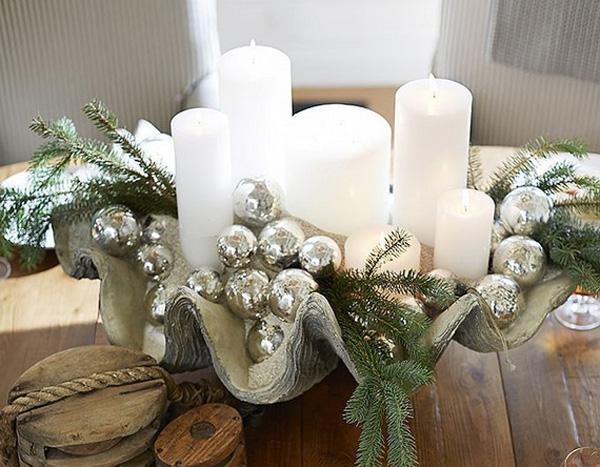 A beautifully arranged white and silver candle piece. Make your white candles stand out by adding sliver adornments and green leaves into the arrangement,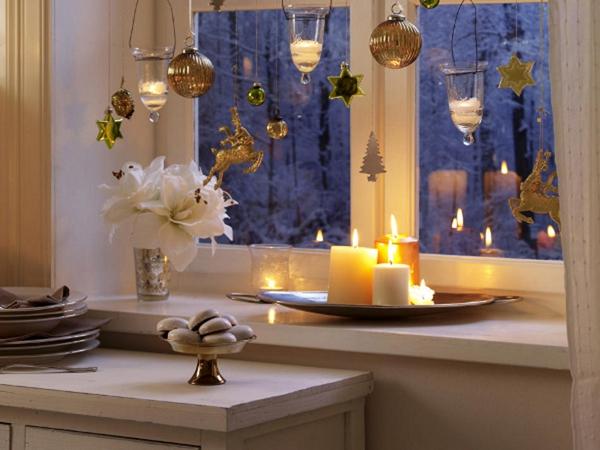 Give your home a starry starry night effect with these hanging adornments. You can hang golden Christmas balls, stars and figurines on your ceilings as they cascade down into your house creating a beautiful effect.