Since Christmas is nearing one of the most important decorations a home could have is DIY Christmas tree. There are many ways that you can decorate your Christmas tree and one of the most popular would be classic red and green theme. However there are also other themes such as the white as well as the gold and blue Christmas tree. It always depends on your style or on what theme you want to go with for your tree and home decoration. What you should remember is that Christmas Trees DIY always involves layers. Layers are what make the tree look grand, festive and lifelike.
You might have seen people's Christmas trees through their windows and have seen how grand and delicately layered they are. You can do this on your own too! A cool tip to know is that in the early times people used to decorate their Christmas trees with homemade ornaments. There were no presold and commercial Christmas décor back then and people had to make things out of scratch. That's why you shouldn't feel bad when you craft your own décor. With the combination of commercial décor and your own DIY crafts your Christmas tree will not only look amazing, save your budget, but it will also look unique and personalized.
How to make a grand Christmas tree
First off, in making the Christmas tree look amazing, you must add the lights. There are two typical versions of tree lights and they come in green or white color. What you should bear in mind is to pick the tree light color that is similar to the leaves of your Christmas tree. The idea is to make the Christmas tree wires look less visible as possible. When placing the lights on your tree start at the base and slowly work your way upwards. Cover the major branches of the tree so that the lights will illuminate better.
You can pick out from four types of lights which are incandescent which come in various sizes as well as colors and probably are the most widely used, LED lights that are newer and don't produce as much heat as the prior, they can be a bit expensive but they are proven to be safe, you also have globe lights that offers softer glowing lights and last but not the least bubble lights that are also called retro lights. Try to pick out from these lights which style goes into your Christmas tree. Pairing up the lights with your theme can do wonders to your décor and your Christmas tree as a whole. Don't forget as well to pick out the right colors or batch of colors for your lights.
When you're done with the lights, start working on the garlands. These are also an important part of the Christmas tree. A tree without a garland simply looks, naked. It would also depend on the design but if you're going for layers then garlands are definitely recommended. However the trick there is to make your garlands look amazing on your tree. In some cases draping them over the tree nonchalantly can make them look untidy or rugged; in some cases give you the sausage tree effect. In order to avoid this you must time your drapes. Even though there is no exact rule in draping your garlands over the Christmas tree it still pays off to give a little attention to detail. Try to place about two strands of the garland for every turn around the tree. You can even experiment with the garland styles, like using thin and thick ones simultaneously. When you are feeling artistic you can also go for beaded garlands, foil garlands, ribbon garlands or even paper garlands. This is also the stage where you can make your own cut out garlands or even write your families names on them for a more personal effect.
And now you're on the last but the most exciting part of the Christmas tree decoration; ornament hanging. Start with the ornaments that you wish to be noticed first. Hang them in focal paces where everyone can see them immediately. The ornaments are the best décor that you can make on your own. Unleash your creative mind and craft your personalized candy canes or picture frame ornaments where you can then place cute pictures of your family members. You can even design your own Christmas balls and whatnot to add more drama to the tree. Make sure that the spacing within the ornaments is at the right length. Some may be too close with one another while some may be too far. Have a spotter with you to make things easier.
Now you are done! Easy right? Simply start off with a theme in mind and you can surely work things along afterwards. Invite the whole family to help you with the decorations and form this into a bonding time with each other to enjoy the holidays.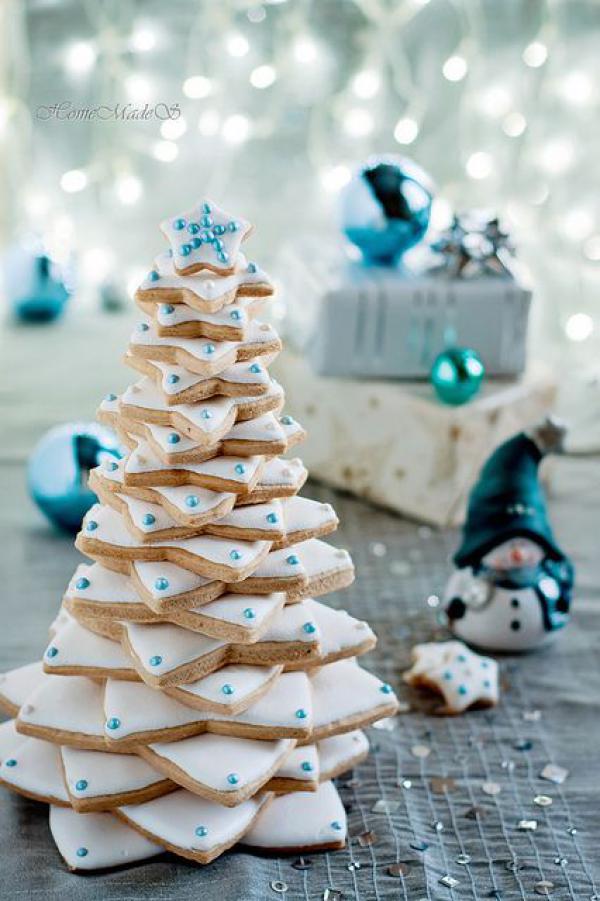 Cookie Christmas tree. Design your cookies as mini Christmas trees on a plate. Add edible beads on top to make them look even more endearing.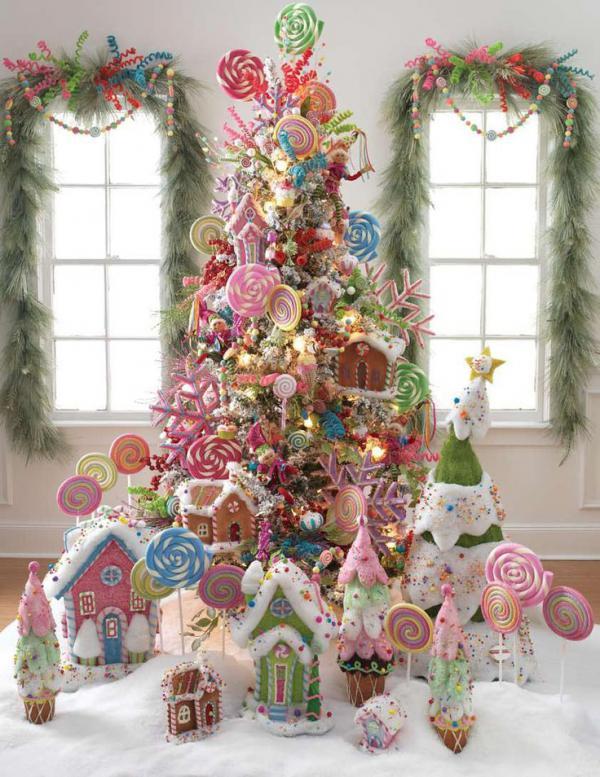 Candy themed Christmas tree. Why not make the Christmas tree, a Christmas treat? Stack up your treats and form them into this amazing and colorful looking mountain of sugar and sweets.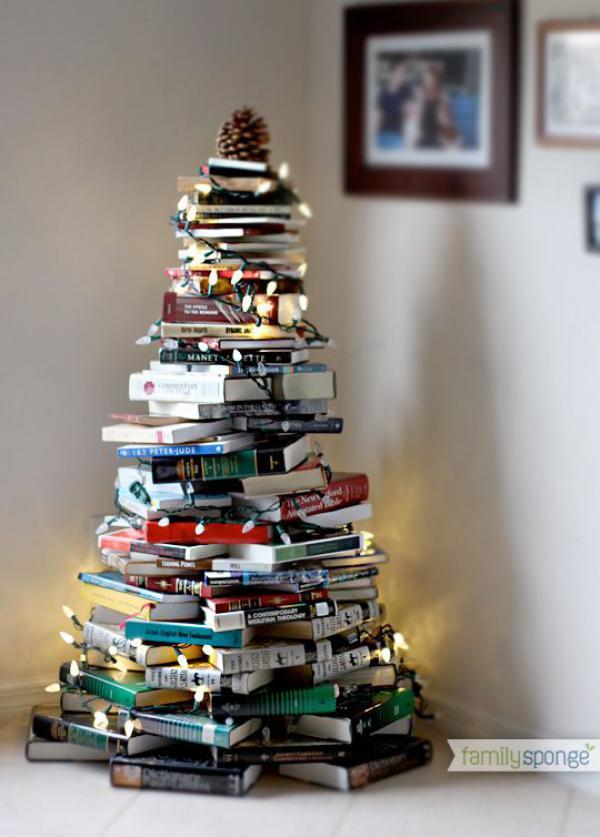 Book Christmas tree. Paper is made out of leaves and this ensemble has every right to be called a tree. A perfect tree for every book lover out there.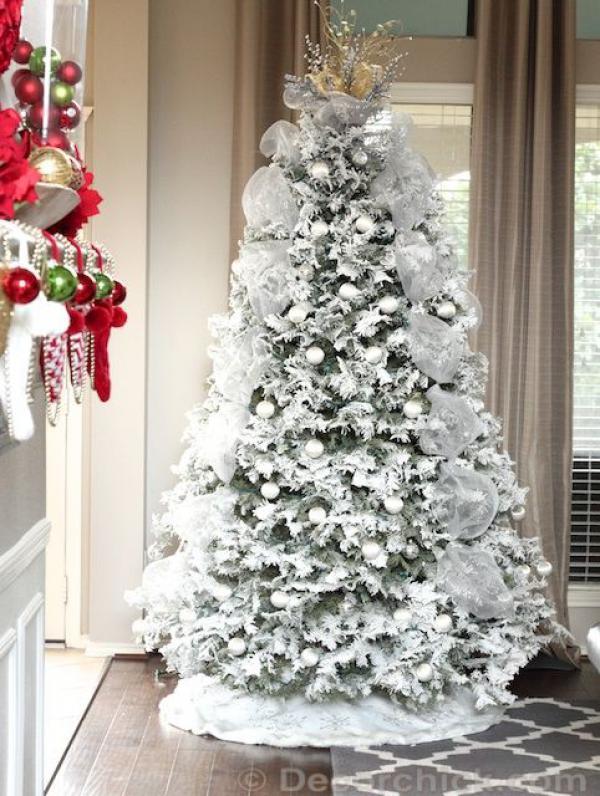 Snowy white Christmas tree. It's always a wonderful sight to see a white Christmas tree. The frosted effect and white themed ornaments make the tree look like it's a frozen beauty in time.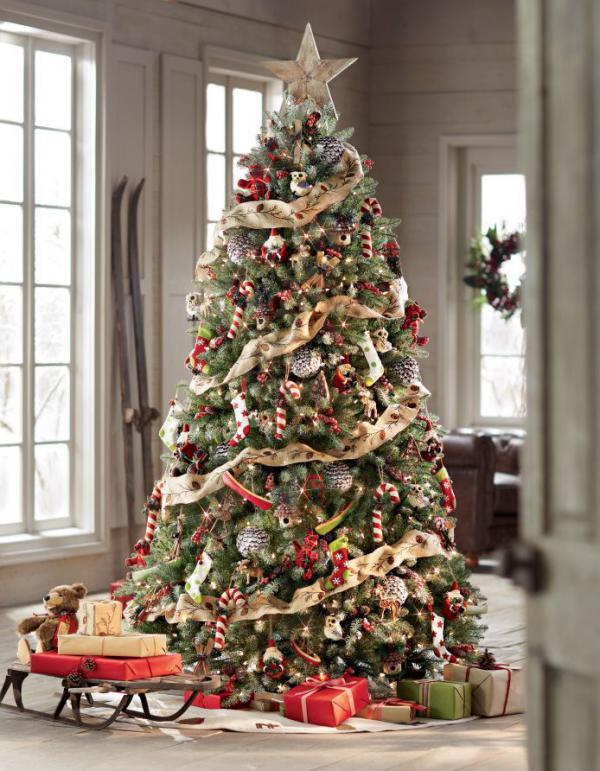 A classic gold inspired Christmas tree. This design is perfect when you are going for the rustic look with layers of ornaments hugging the tree. It definitely makes the tree look thick, well arranged and grand.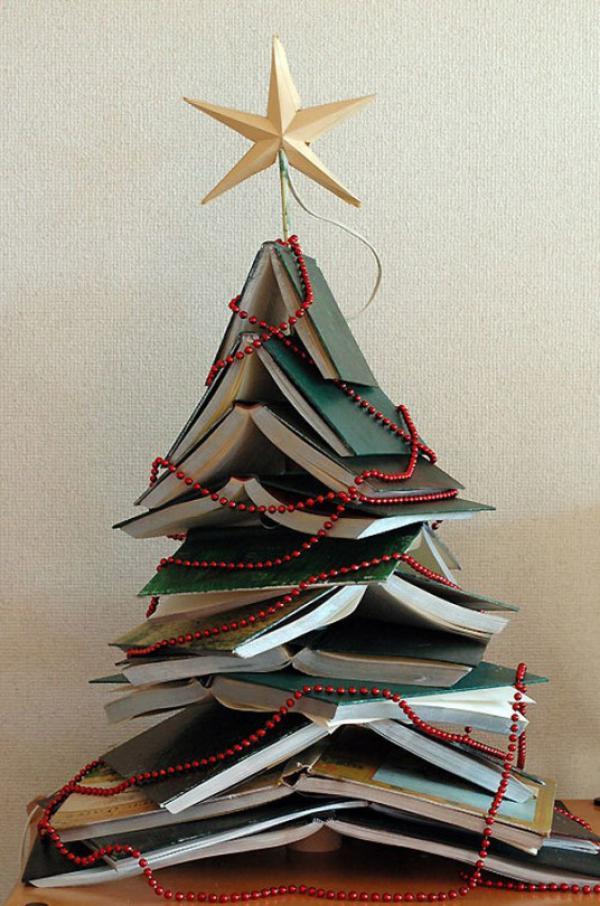 Book Christmas tree with beaded garlands. If you want a unique yet casual look for your book Christmas tree then this is the design you are looking for. A perfectly subtle way in arranging your books to celebrate the season.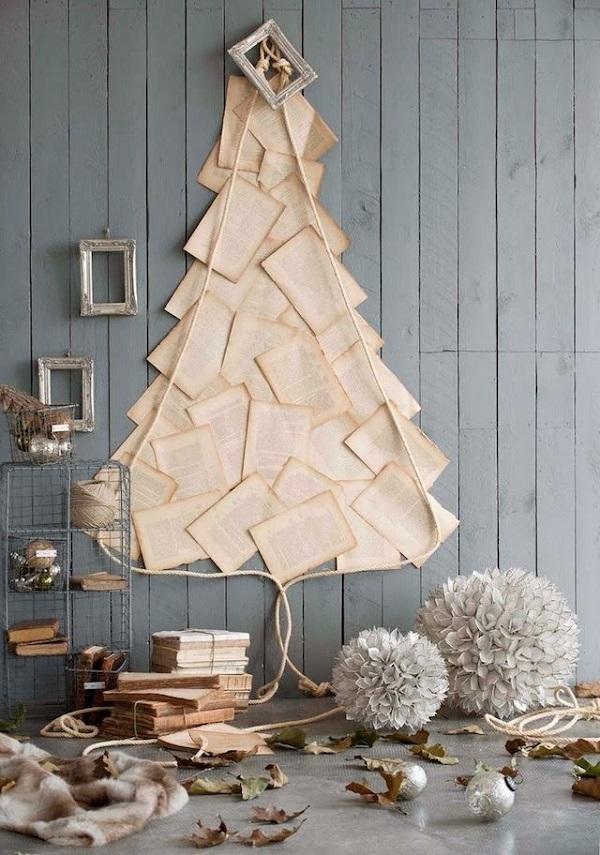 Parchment Christmas tree. There's no limit to when and where you can use imagination. This parchment Christmas tree makes use of the wall as its canvass and paints a perfect version of a Christmas tree using paper and rope.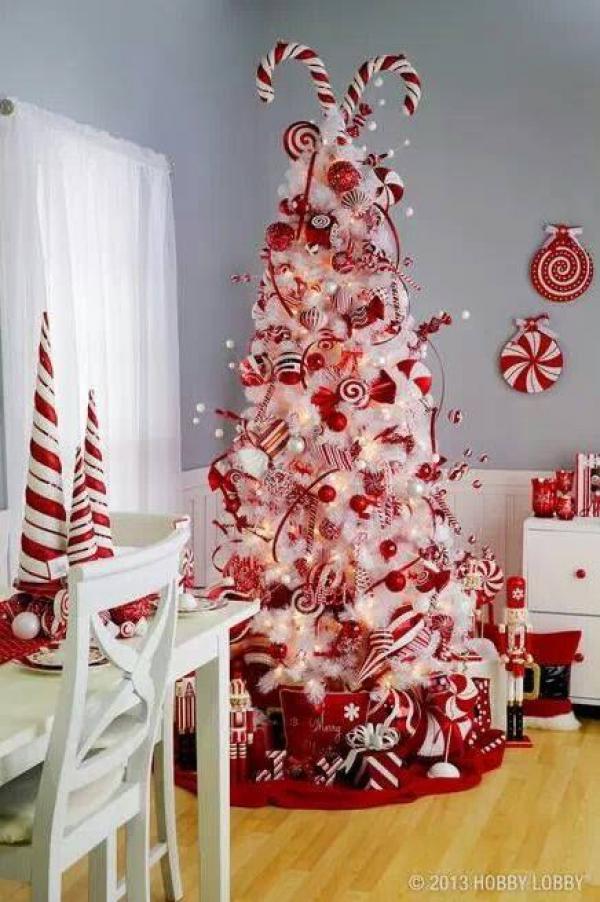 Festive red and white candy cane Christmas tree. Go all out this season with this wonderful set of candy cane treats as your Christmas tree. Add touches of silver and white with Christmas ornaments on the tree.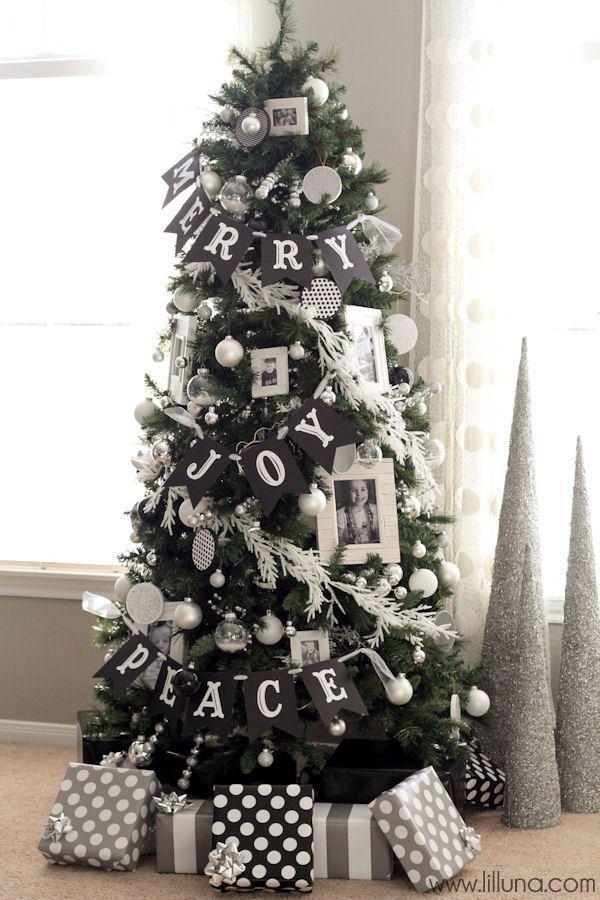 Photograph inspired Christmas tree. Instead of the usual ornaments why don't you add a twist of photographs on your Christmas tree? You can also color code your gift wrappers to match the overall tone of the tree.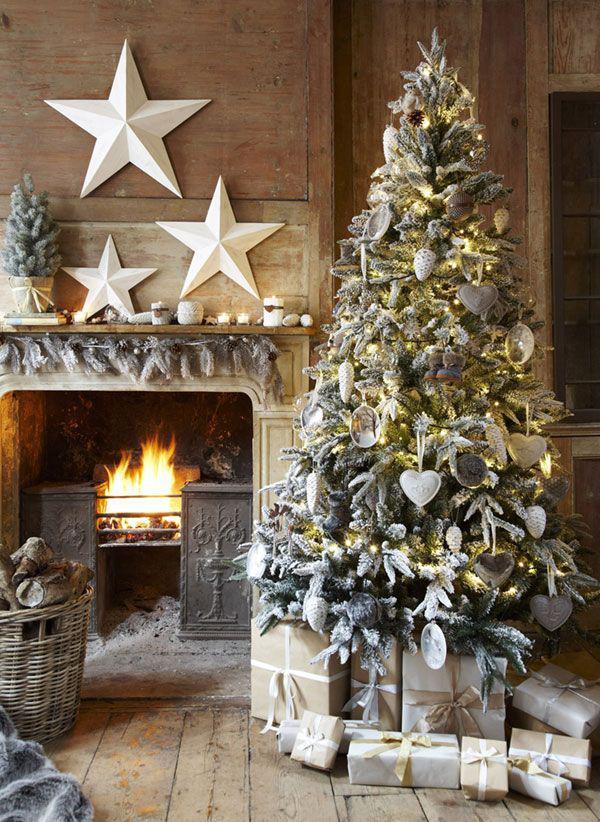 Sea themed Christmas tree. If you're near the beach what better way to decorate your tree than use seashells and starfish. Collect your very own ornaments at the beach and make your tree look unique from the rest.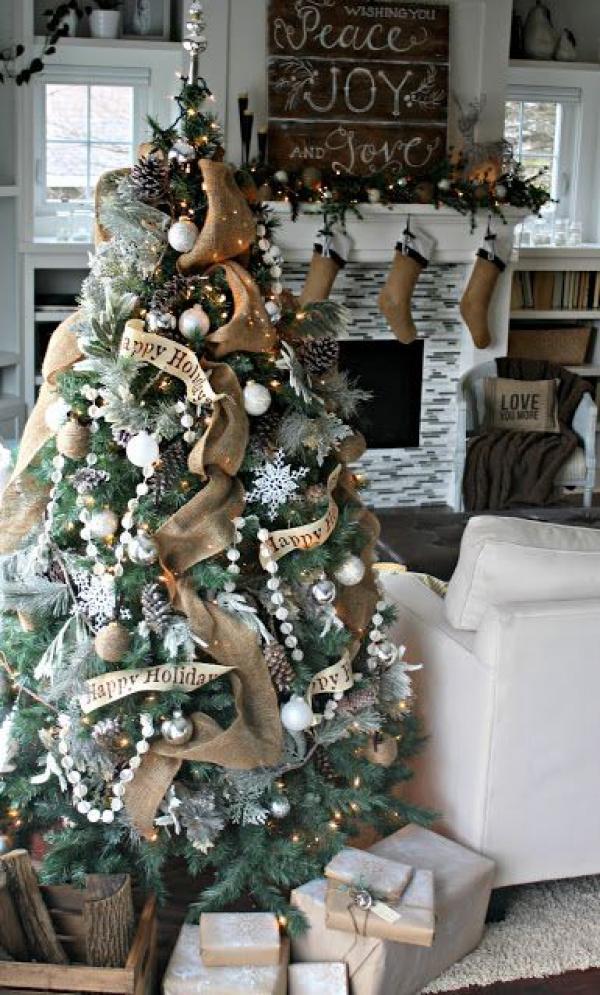 Wonderful happy holidays themed Christmas tree. Shower your Christmas tree with greetings by crafting special greeting garlands. You can also place additional garlands to complement the greeting garlands that you have on the tree.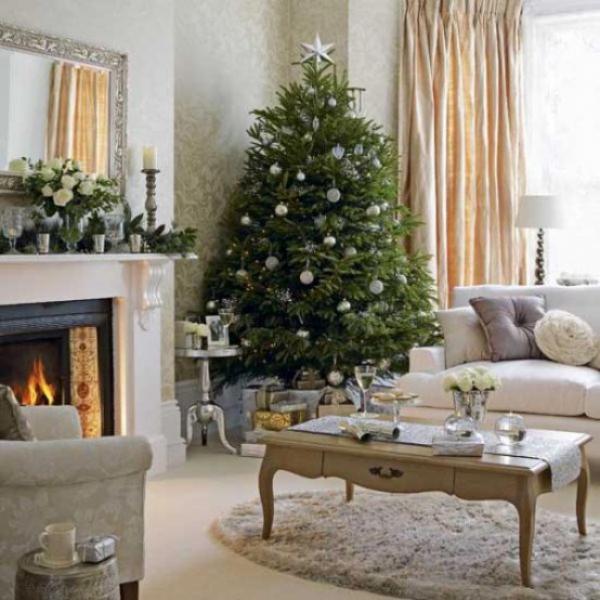 Garlandless Christmas tree. You can design your Christmas tree even though you won't use garlands. The trick is placing the ornaments evenly on the tree so they don't seem too scattered or crowded.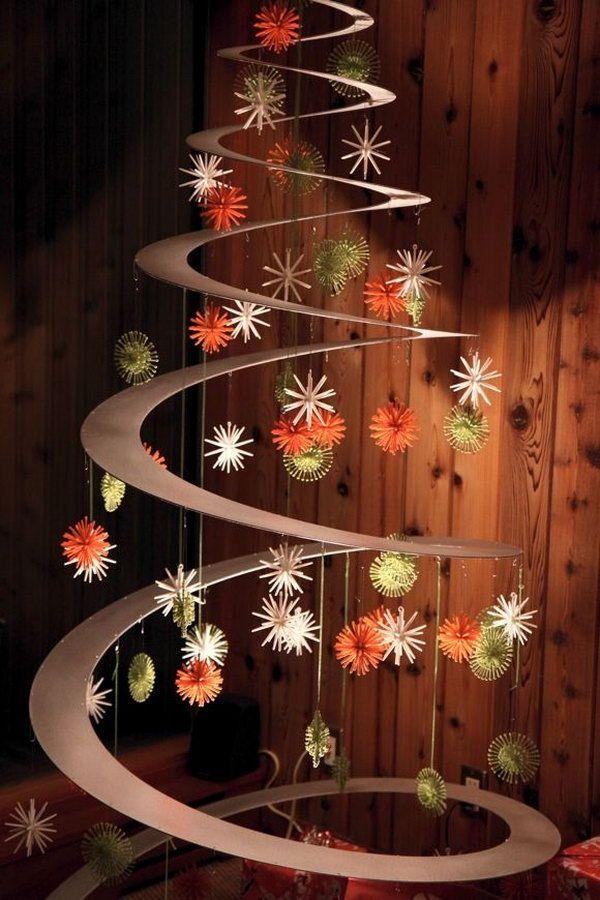 Modern type of Christmas tree using only Christmas ornaments. If you want a simple, thin and see through Christmas tree then this is the perfect design for you.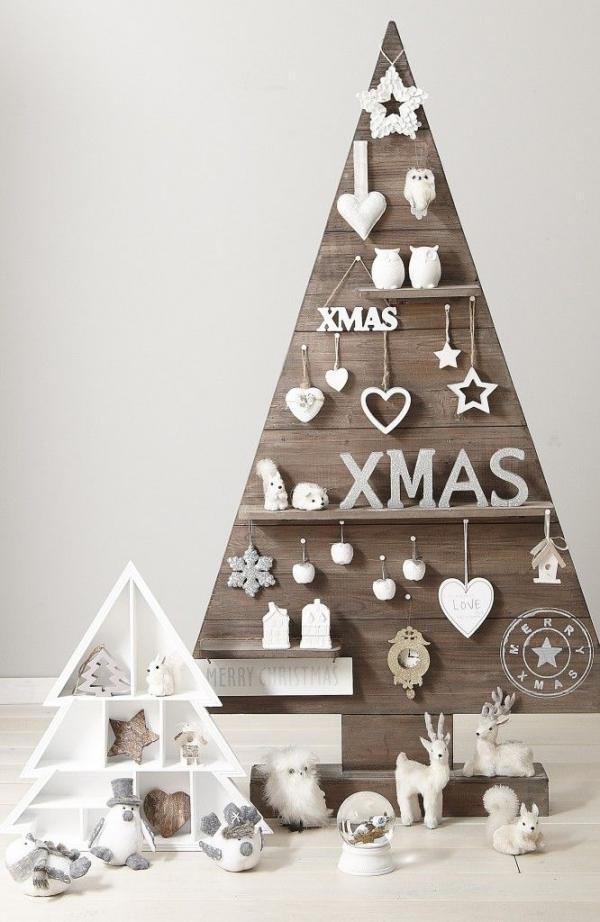 Wooden board Christmas tree adorned with ornaments. Be artistic and set up your own wooden board in a Christmas tree silhouette. Add cute and adorable ornaments to enhance the décor.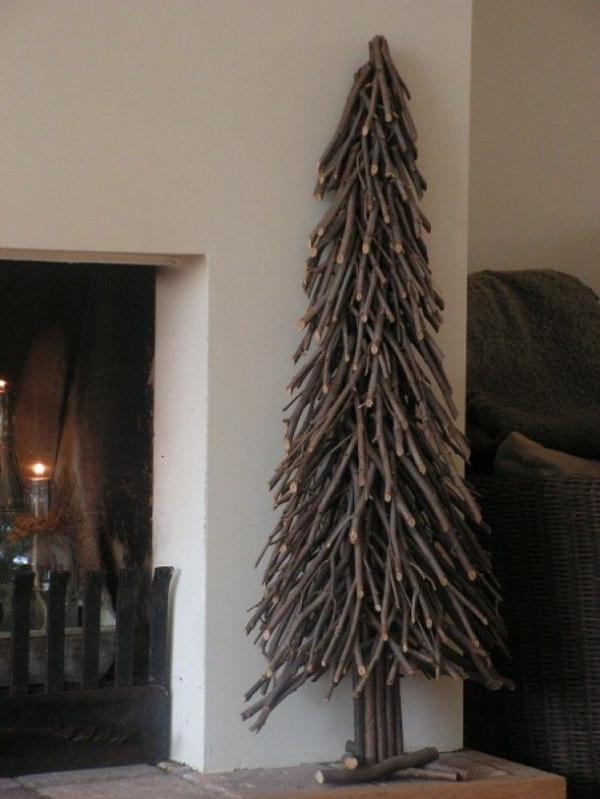 Branch inspired Christmas tree. You can even design you tree this way when you have a collection of branches and twigs to spare.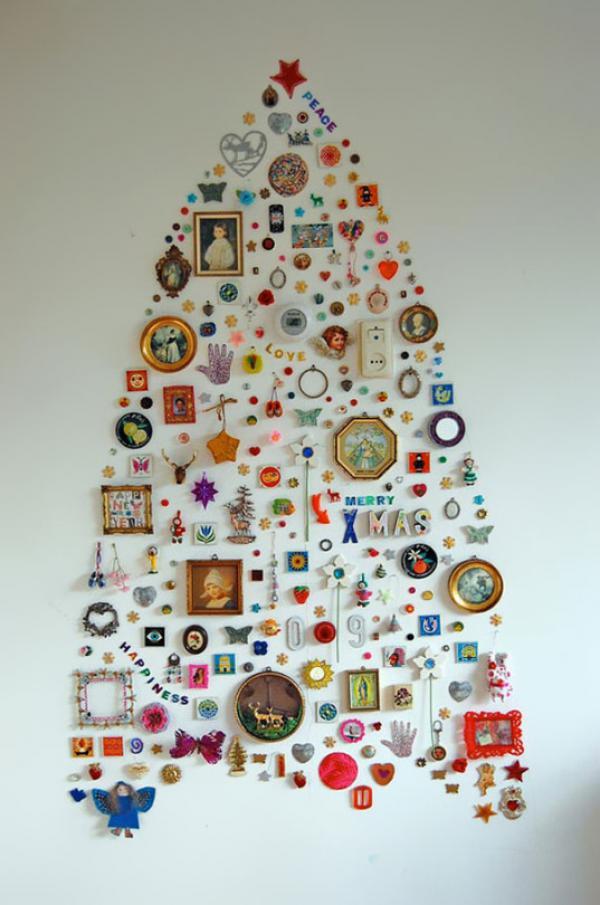 Wall hanging ornaments Christmas tree. No space for a tree? No problem, you can always make the wall as your Christmas tree. Shape up the colorful wall ornaments into a Christmas tree and you're all set.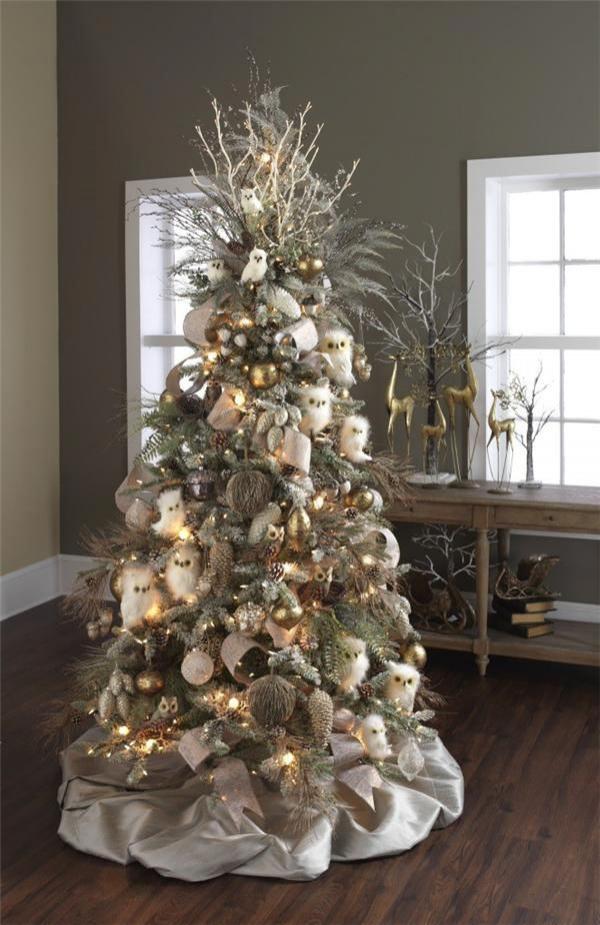 Amazing owl inspired Christmas tree. Tune in to your inner animal instinct with this pretty and homey Christmas tree design.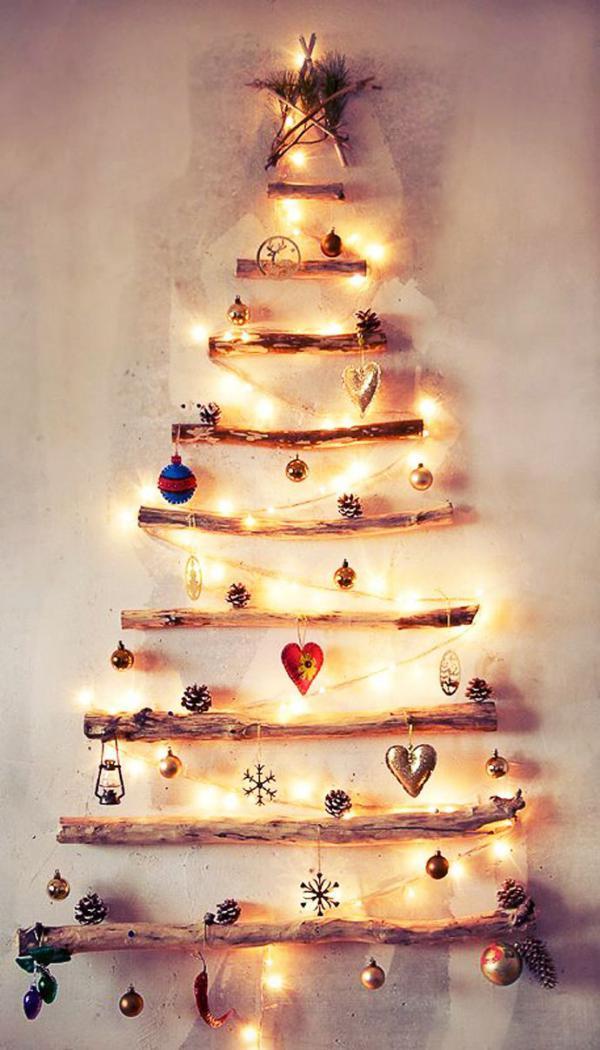 Simple yet gives you a statement. A really cute Christmas tree DIY using branches and simple Christmas ornaments up against the wall.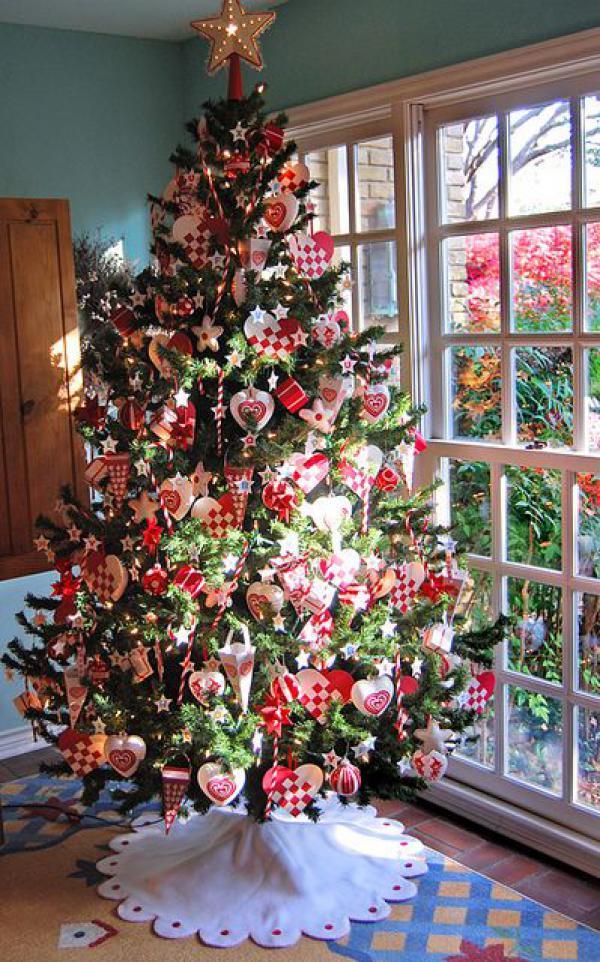 Hearts and ice cream themed Christmas tree. Fill up your tree with tons of hearts and ice cream cut outs for that tasty and sugary effect.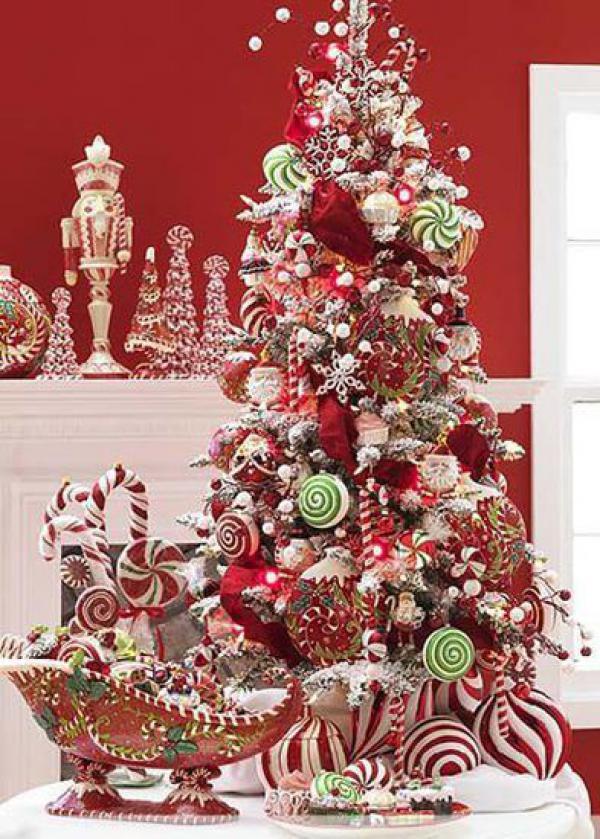 Christmas treat themed Christmas tree in red. Make your Christmas tree explode with treats and festivity with this combination of Christmas décor and Christmas treats to adorn the tree.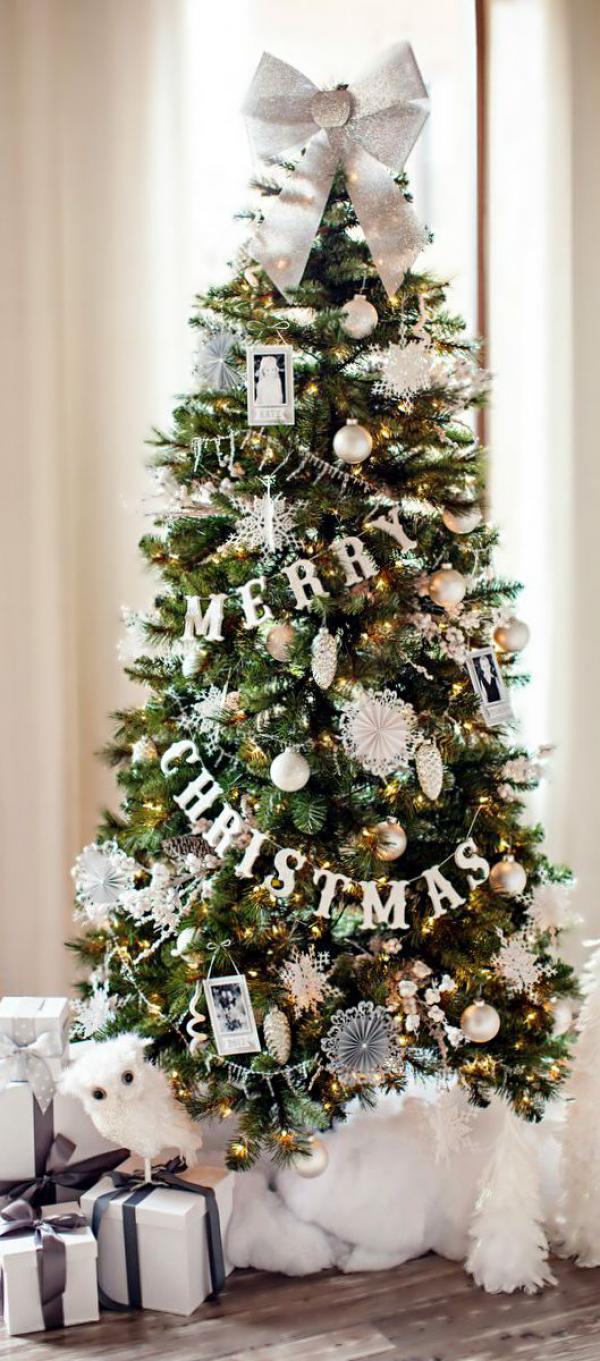 Snowflake inspired Christmas tree. Adorn your Christmas tree with falling snowflakes amidst greeting garlands and various other pretty silver and gold Christmas tree ornaments.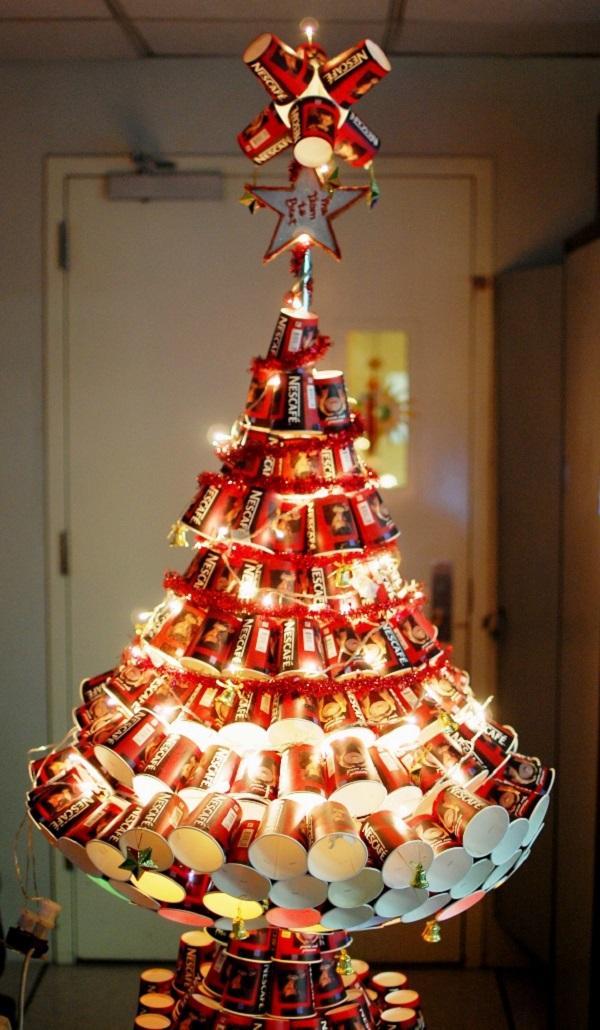 Really practical yet creative Nescafe Christmas tree. A coffee lover? What better way to recycle all those cups and show your love for coffee to the world than to arrange them to form into a Christmas tree.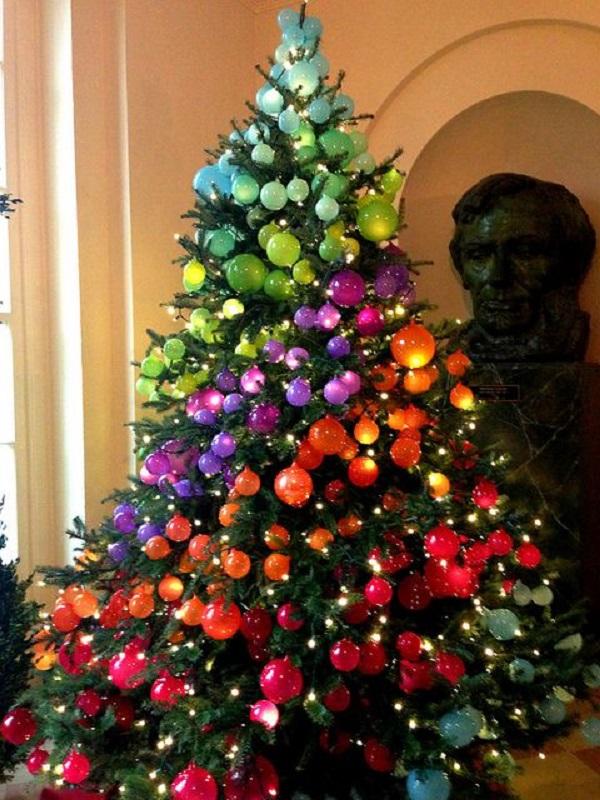 Rainbow ombre Christmas tree DIY by Kelly Lieberman on Flickr. Make your tree stand out with this rainbow inspired theme using Christmas balls and Christmas lights.
Sea themed Christmas tree. Collect your favorite sea ornaments and hang them up your Christmas tree this season.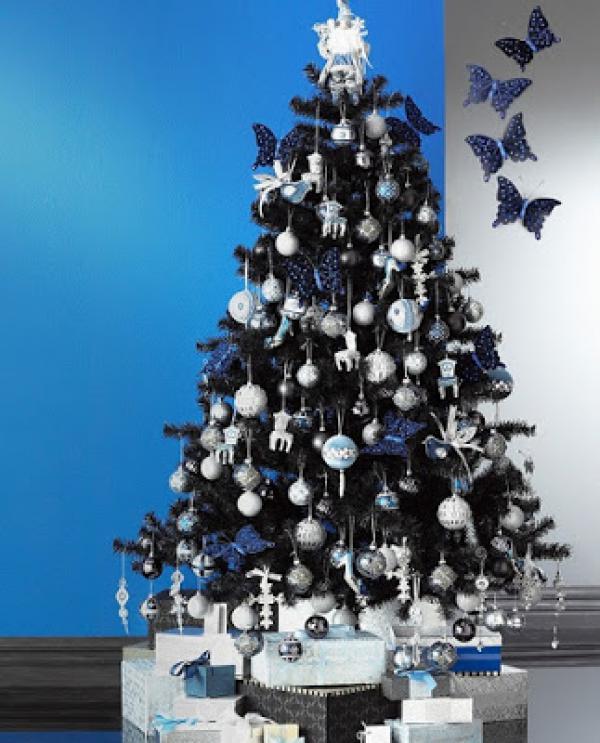 Dark and silver butterfly themed Christmas tree. Be mysterious and elegant with this Christmas tree design featuring butterflies and shiny, sophisticated ornaments.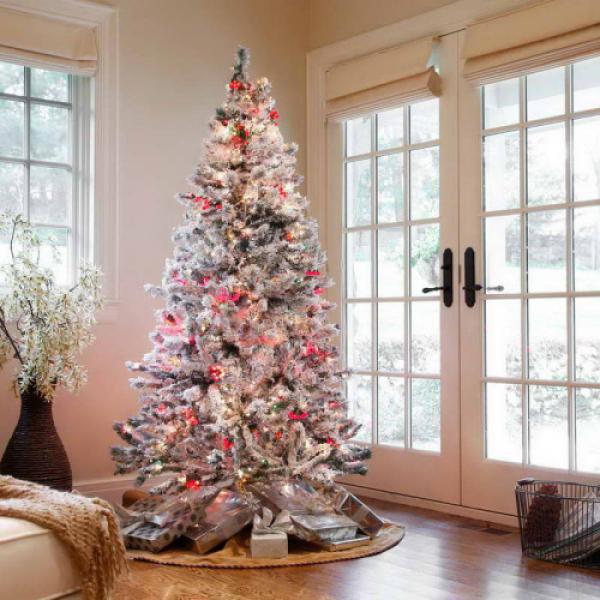 White Christmas tree. It's always a great idea to go with the classic white Christmas home decor this season.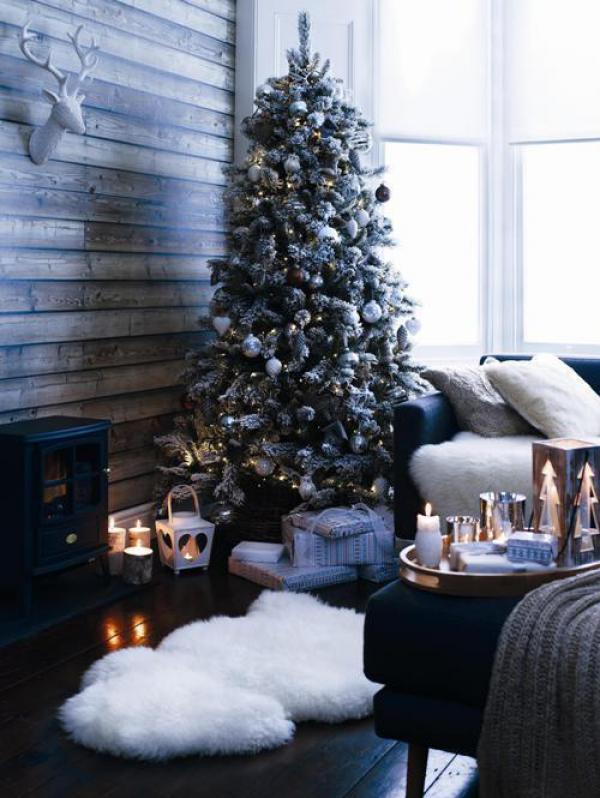 DIY Silver and frosted Christmas tree theme. Match your Christmas ornaments with the tree frosting and create a wonderful illusion of a still but homey Christmas tree inside the house.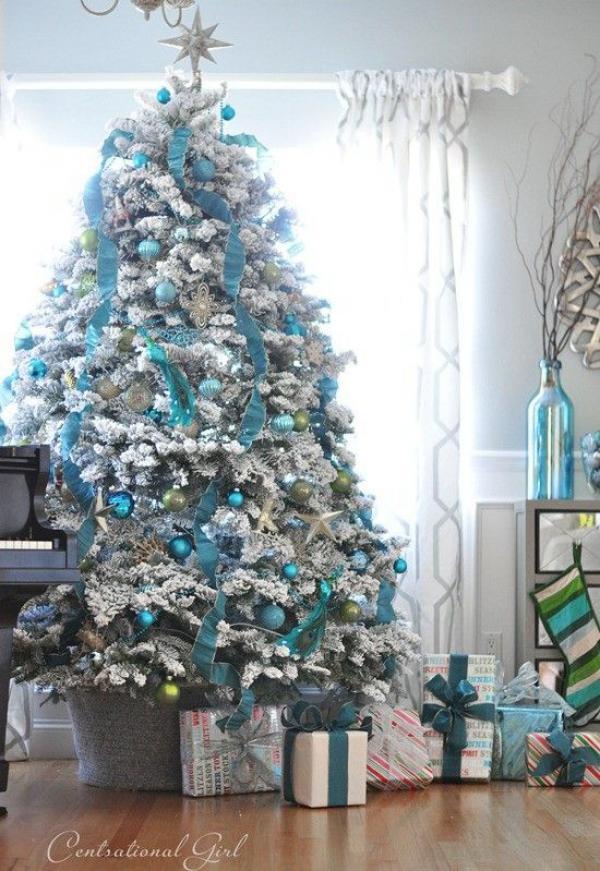 Really pretty white and blue themed Christmas tree. Decorate your tree in striking blue ornaments that stand out against the all white background of the tree.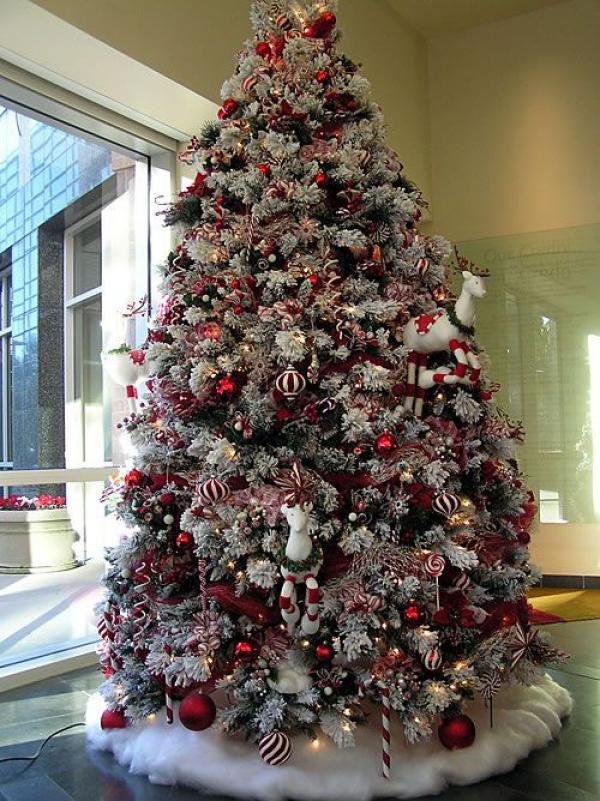 Red and white themed Christmas tree. Adorn your Christmas tree in red and white ornaments and make a statement with how wonderful it looks like.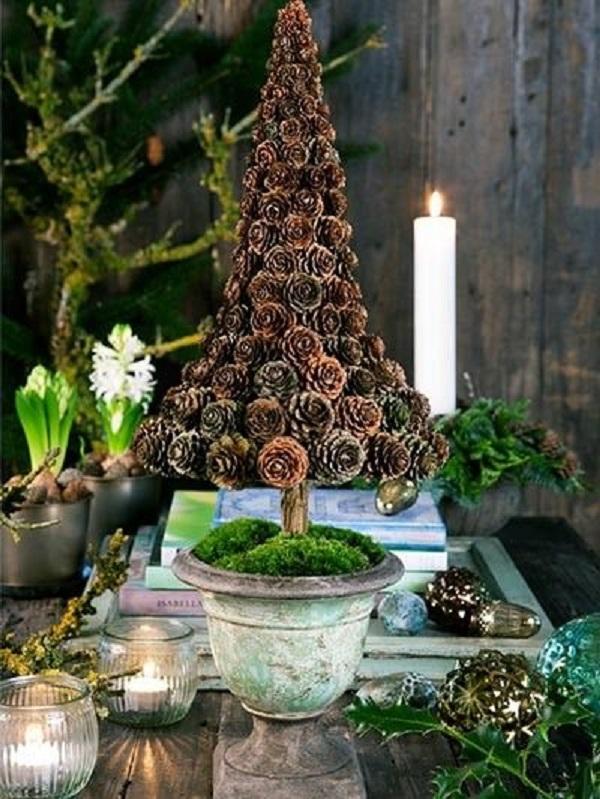 Pinecone inspired Christmas tree DIY. Go out of your way to be creative and collect pinecones to form your very own mini Christmas tree on a vase.