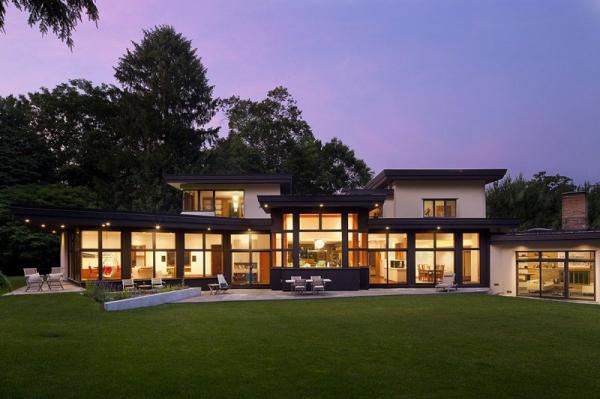 Located in Brookline, Massachusetts, American architectural firms OMA and A+SL Studios have designed the Chestnut Hill Residence, which was originally built in 1983.
The interior spaces have been opened up and ceilings heightened. A new master bedroom suite and family room additions provide needed spaces for the couple and their young children. A new passage along the south side connecting the living, dining, kitchen, and family rooms has been created with a wall of high performance windows to expose the pastoral site with the interior and to flood the rooms with natural light. NFC Certified veneers and hardwoods applied to cabinetry, floors, walls, and built-ins lend warmth and a sense of natural materials to the new home.
The resulting scheme leverages the original house's overhanging eaves to provide passive energy conservation: using a detailed digital model, the overhang dimensions at various locations were clculated to allow penetration of warming sunlight during the winter, when the sun angle is low, and to provide shade in the summer, when the angle is high. A geothermal well assists heating and air conditioning by pumping heat in and out of the ground as needed. Power saving systems oversee lighting, power, appliances, and networked media. A green roof tempers heating and cooling demands while keeping storm runoff on site.
While respecting the geometry and energy conserving intent of the original structure, a cool contemporary addition takes this family's home off the grid.