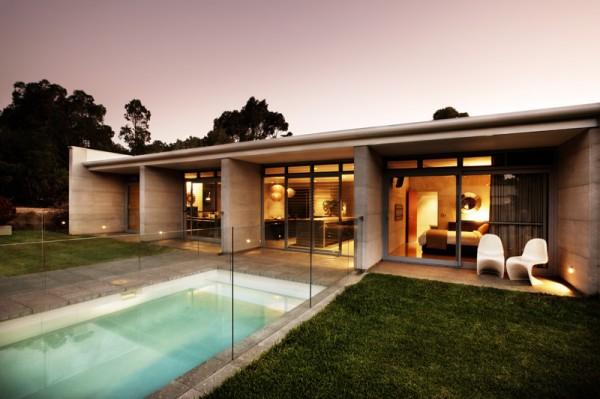 Esuoh House was designed by Hofman and Brown Architects. This sitewas located in the heart of the south-west wine region of Western Australia. The design intent was to create a simple dwelling that exudes a resort ambience with a contemporary feel and a blend of style and comfort. The owners wanted a private retreat to suit their family with two children, a place to share with friends, a house with a difference in the luxury holiday rental market.
The site is set within bushland and connects to public open space to the east. The aim was to enjoy the connection with the adjacent bush landscape while also creating a more private "internal" connection to the outdoors, with a protected north-east "outdoor room" incorporating the plunge pool and outdoor cinema, framed by the enclosing stone walls.
As an integral part of the planning strategy, the linear form allowed every room to have a northern outlook, with the living zone at the east end and bedrooms to the west end. Three of the bedrooms are queen rooms, with the end room a kids bunk and play room. The house successfully accommodates a large group of adults or two families with children, with a happy balance of privacy and community.