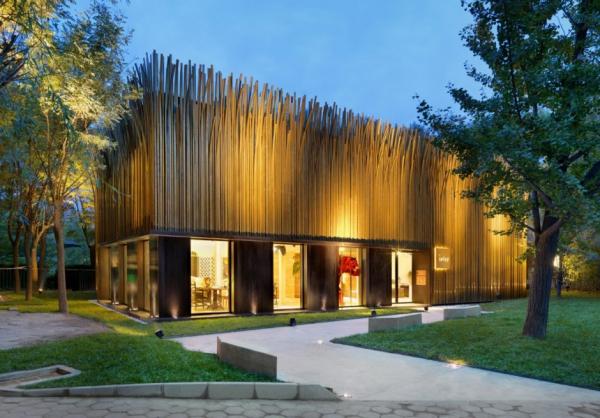 Italian designer Luca Nichetto has designed the Tales Pavilion that is located in Lido Garden, Beijing, China.
The Tales Pavilion came into being through a creative process inclusive of both design and enterprise. Nichetto developed the façade of the pavilion by converting 1,200 pieces of brass tubes into "grass leaves" that camouflage the entire structure. The "brass leaves" oxidize and change color naturally with the passing of the seasons, merging with the natural scenery of the Beijing Lido Garden and giving a sense of life to the pavilion. The architectural design is Nichetto's depiction of the young and avant-garde Tales, which, much like grass, is free, natural, and full of life.
For the interior design, Nichetto divided the pavilion into 6 impeccably delineated volumes, using different materials and colors to accentuate the outlines. At the heart and central volume of the pavilion, surrounded by the various showrooms, lie the reception and business area of Tales. This section is covered with elm wood recycled from old houses from Hebei Province, creating a feeling of warmth and candidness.