Zeus, the king of the gods in ancient Greek mythology, is a symbol of might, authority, and wisdom. His image, often depicted in classical art and literature, continues to inspire people today, stirring feelings of awe and reverence. One of the modern ways to express this fascination is through body art, particularly Zeus. But what does a Zeus tattoo mean, and what symbolism does it carry? Let's delve into this captivating topic.
Who is Zeus?
Before we explore the meaning behind Zeus tattoos, it's essential to understand who Zeus is in the context of Greek mythology.
Zeus is the sky and thunder god in ancient Greek religion, ruling as king of the gods on Mount Olympus. His mythologies and powers are diverse, making him a complex symbol within the ancient pantheon. Zeus is known for his authority over the natural and supernatural realms, his wisdom in decision-making, and his occasional human frailties.
The Symbolism of Zeus
Zeus tattoos are not just about the image of a god from olden tales but are filled with profound symbolism. Let's take a look at some of these important symbols.
Power and Authority
Zeus is often depicted as a strong, authoritative figure wielding a thunderbolt, his weapon of choice. This image is a potent symbol of power and authority, making the tattoos a popular choice among those who identify with these qualities or aspire to possess them.
Wisdom and Justice
In addition to power, Zeus is also a symbol of wisdom and justice. As the king of the gods, he was often called upon to mediate disputes among gods and humans alike. Zeus designs can therefore represent a person's love for wisdom, their desire for justice, or their role as a peacemaker.
Transformation and Adaptability
Zeus is renowned for his ability to shape-shift, taking on different forms — from animals to elements — to interact with the mortal world. This capacity for transformation makes Zeus a symbol of adaptability, change, and evolution.
Zeus Tattoo Ideas and Their Meanings
There are various ways to depict Zeus in a tattoo, each with its unique symbolism. Here are three of the most common designs and what they typically represent.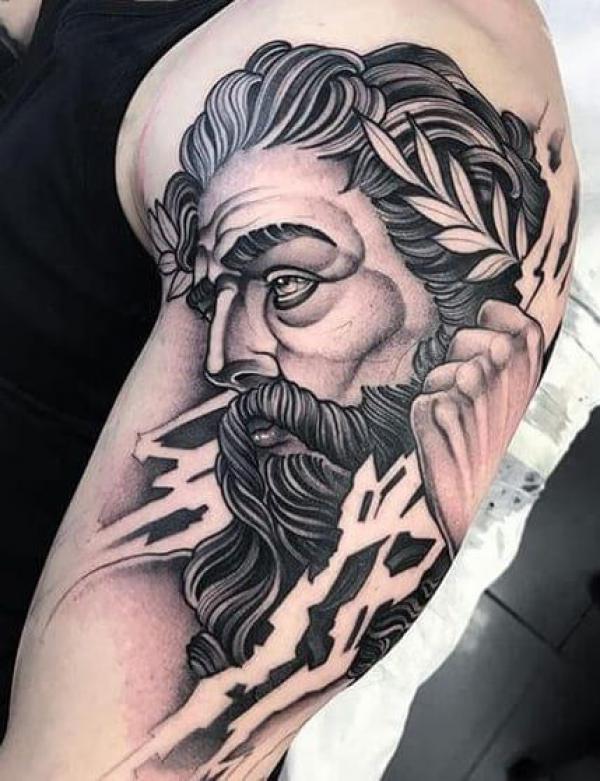 A black and white traditional tattoo is a classic and powerful design choice. The lightning bolt, Zeus's primary weapon, is a potent symbol of his supreme power and authority. This design, rendered in the stark contrast of black and white, can create a visually stunning piece of body art.
Zeus thunderbolt tattoo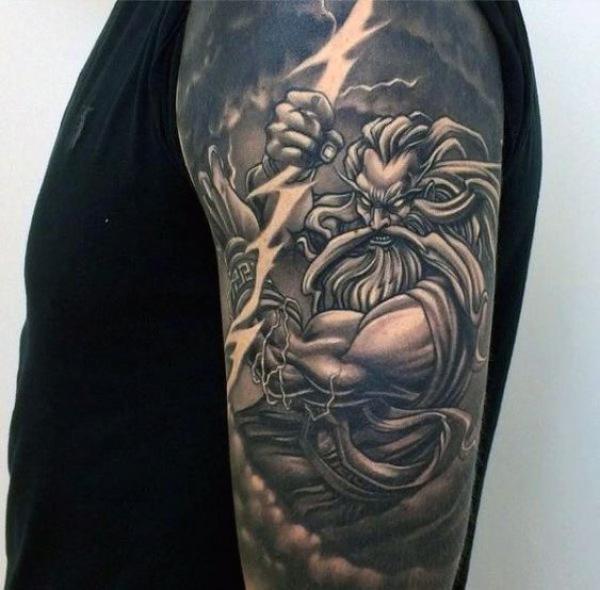 One way to portray the might of Zeus is through a half sleeve tattoo of the god brandishing his signature weapon, the thunderbolt. This design creates a dynamic image that represents power and authority. With the thunderbolt in his hand, Zeus is seen as the controller of natural elements and the enforcer of divine law.
Zeus thunderbolt upper arm tattoo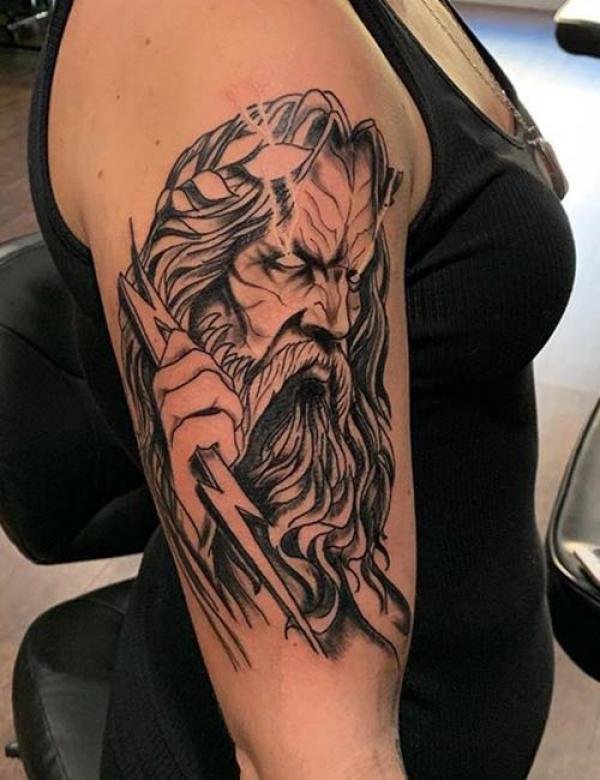 A portrait of Zeus with his hand holding a thunderbolt makes a strong statement when etched on the upper arm. This design is a symbol of strength and determination and is perfect for those who appreciate the raw power and commanding presence of Zeus.
Zeus with Greek key and lightning bolt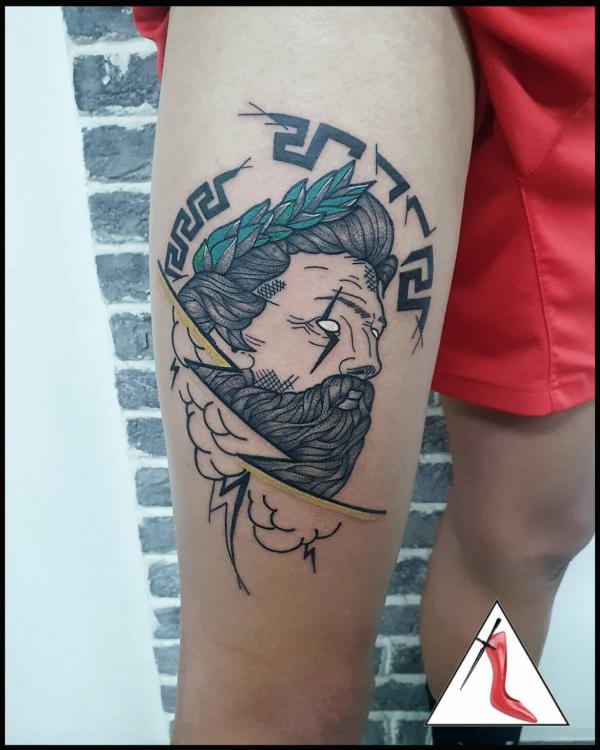 Incorporating the Greek key design and a lightning bolt around Zeus's head is a creative way to add additional layers of Greek mythology to your tattoo. The Greek key, or Meander, symbolizes infinity or the eternal flow of things. This design, combined with Zeus's lightning bolt, signifies eternal power and authority.
Zeus with lightning tattoo on hand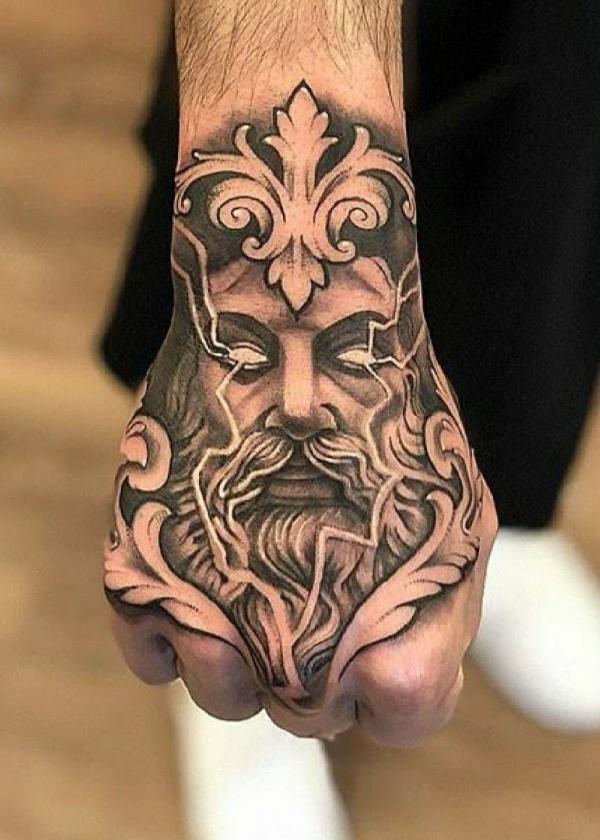 Having a tattoo of Zeus with a lightning bolt on your hand is a bold choice. This not only highlights the god's might but also situates Zeus's power at your fingertips, symbolizing that you have the strength to overcome any challenge that comes your way.
Colorful Zeus tattoo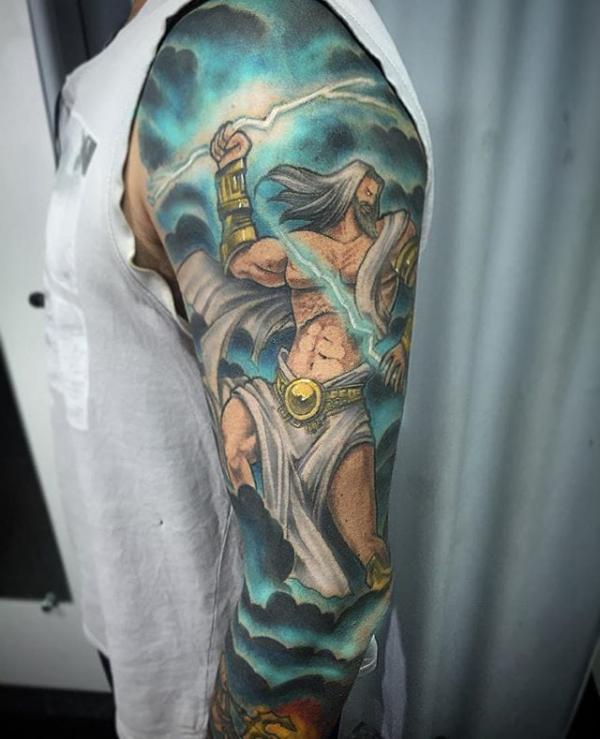 Zeus holding a lightning bolt with his hands can be a vibrant and artistic way to depict the king of gods. The use of color can add depth to the design and breathe life into the image of Zeus, creating a visually striking piece of body art.
Lion and Zeus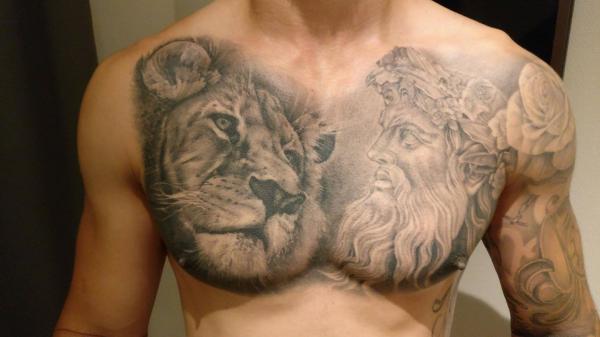 In the realistic chest tattoo, one half is a lion's head and the other half is a portrait of Zeus. The lion, renowned for its strength and courage, is often associated with Zeus. This tattoo idea symbolizes the amalgamation of divine might and the raw power of nature.
Traditional Zeus Lightning Tattoo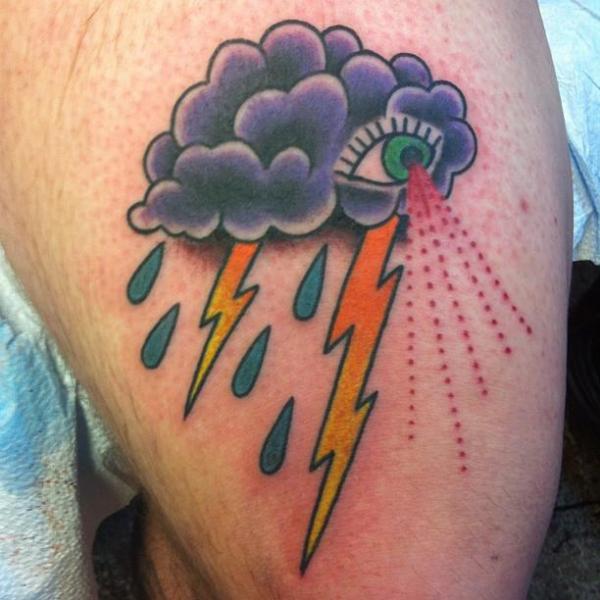 The traditional Zeus design features lightning bolts emitted from a cloud with an eye, which carries a vintage charm. The eye could represent the all-seeing nature of Zeus, while the lightning bolts stand for his power and authority. This design is an excellent choice for those who appreciate the traditional tattoo style.
Traditional Zeus tattoo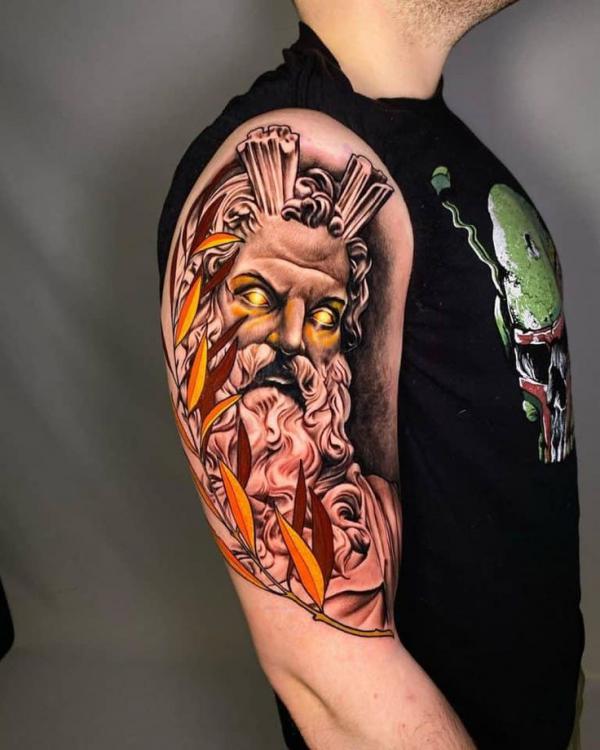 A unique take on the traditional Zeus design is a stylized Zeus with fern leaves on him. In floriography, the language of flowers, the fern means truthfulness and interest. This gives the tattoo an interesting new layer of meaning. This design combines the power of Zeus with the beauty of nature, making it a unique and artistic choice.
Zeus and Hera Arm Tattoo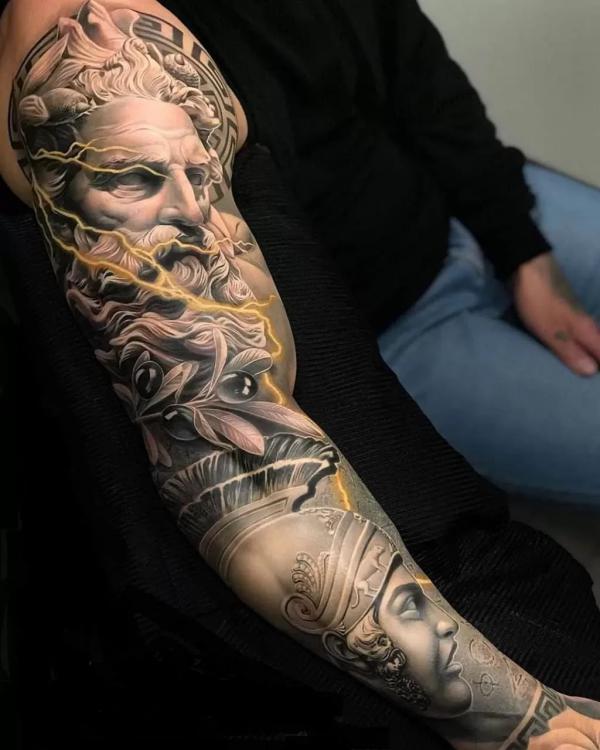 A black and grey realistic style tattoo depicting Zeus and his wife, Hera, is a dramatic way to pay tribute to the king and queen of the Greek gods. This design can symbolize the balance of power, love, and sometimes tumultuous relationship of the divine couple. It serves as a reminder of the complexities of relationships and the balance required in life.
Zeus and Hera constellation tattoo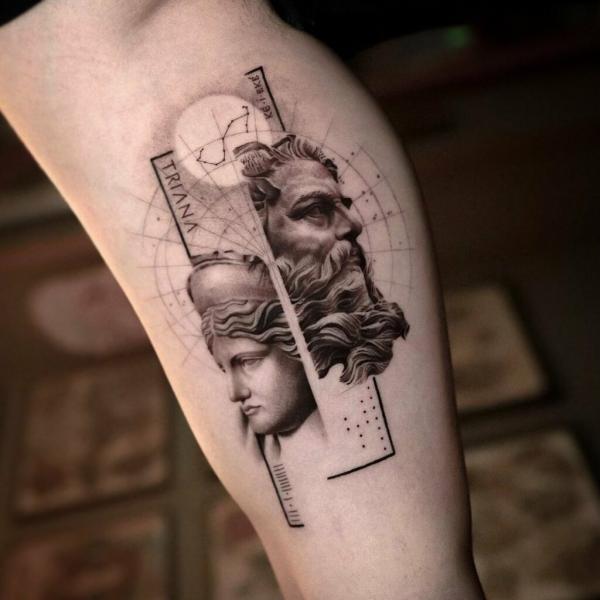 The constellation tattoo creates a celestial tribute to the divine couple, Zeus and Hera. This design, seemingly etched by the stars themselves, can symbolize the enduring love and complex relationship between Zeus and his wife, Hera. It's an elegant way to incorporate both mythology and astronomy into a single design.
Zeus and Poseidon tattoo sleeve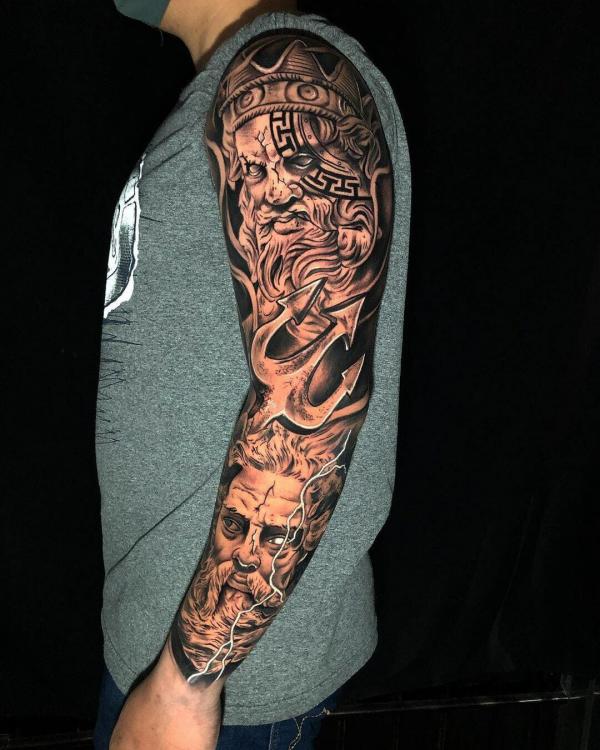 The full sleeve tattoo depicts Zeus and Poseidon incorporating elements of Greek mythology, like the meander, trident, and lightning. The juxtaposition of Zeus, the sky god, and Poseidon, the sea god, creates an intriguing dynamic. This design can symbolize the balance of power and the interconnectedness of different realms.
Zeus and Poseidon tattoo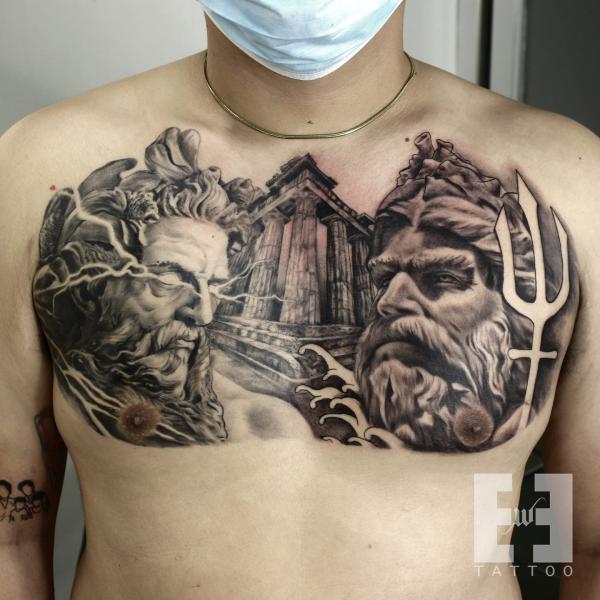 The Greek Gods Zeus and Poseidon can be identified by their respective symbols of lightning and trident in the tattoo. This design can serve as a constant reminder of the power of unity and the bond between brothers, even in the face of disputes and disagreements.
Zeus eagle tattoo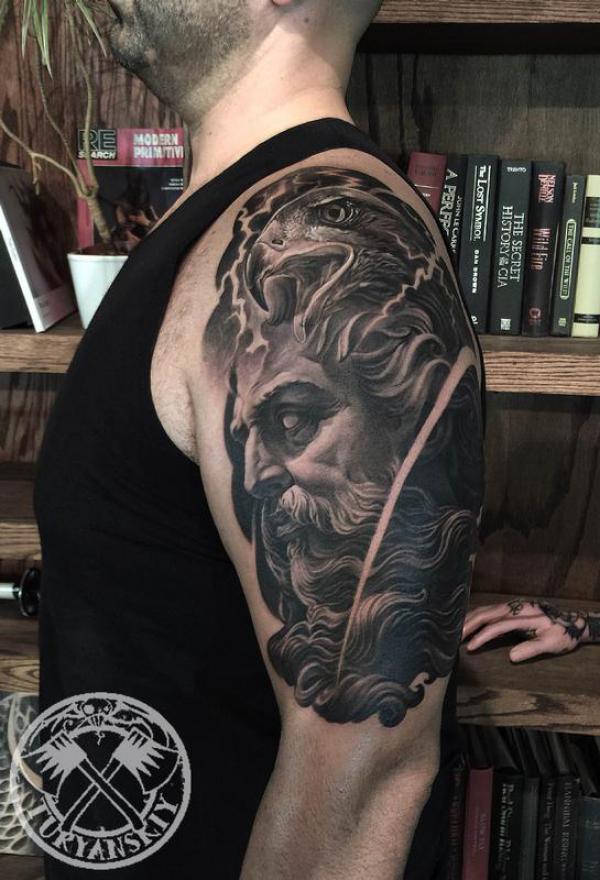 An eagle, being Zeus's sacred bird, makes for an interesting tattoo design. The eagle is a symbol of strength, courage, and wisdom, attributes often associated with Zeus. A Zeus eagle tattoo can therefore signify one's affinity with these qualities.
Zeus face tattoo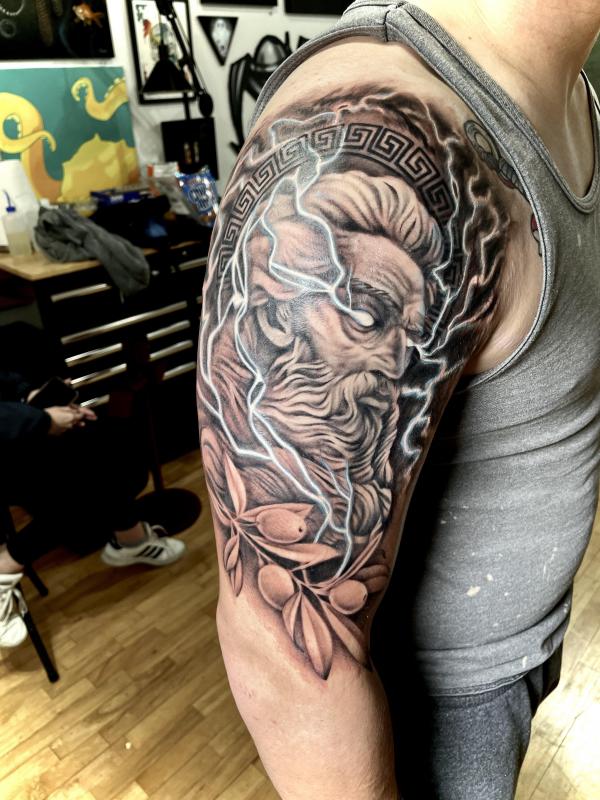 The half sleeve tattoo, featuring a backdrop of a Greek key circle and elements of lightning and fern, is an artistic way to pay homage to the king of gods. The Greek key circle adds a touch of vintage charm while the fern and lightning bolt reinforce the symbolism of power and nature inherent in Zeus.
Zeus Lightning Tattoo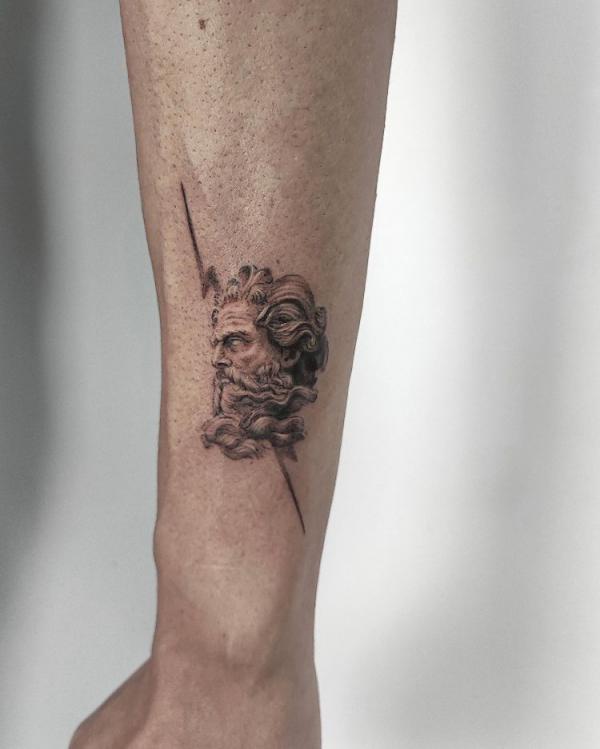 The small Zeus lightning design is a subtle yet potent way to carry the power of Zeus with you. Despite its size, this design packs a punch with its symbolism, serving as a constant reminder of the divine strength and authority Zeus represents.
Zeus Poseidon Hades tattoo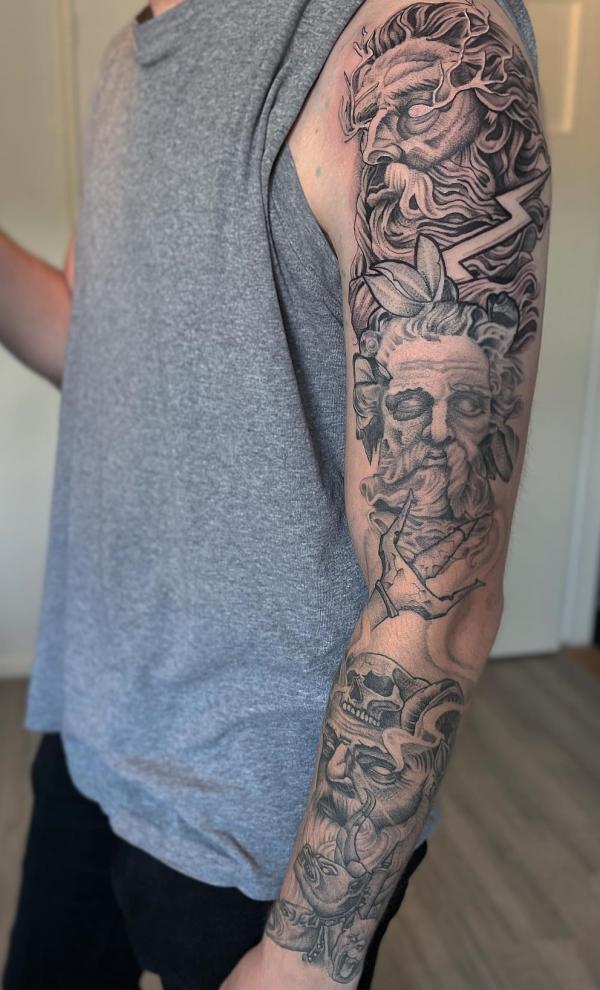 The full sleeve tattoo featuring Zeus, Poseidon, and Hades can be a grand tribute to the three mighty brothers of Greek mythology. This design can symbolize the balance of power in the universe, with Zeus ruling the sky, Poseidon the sea, and Hades the underworld. It's a remarkable design for those who appreciate the depth of Greek mythology.
Zeus statue tattoo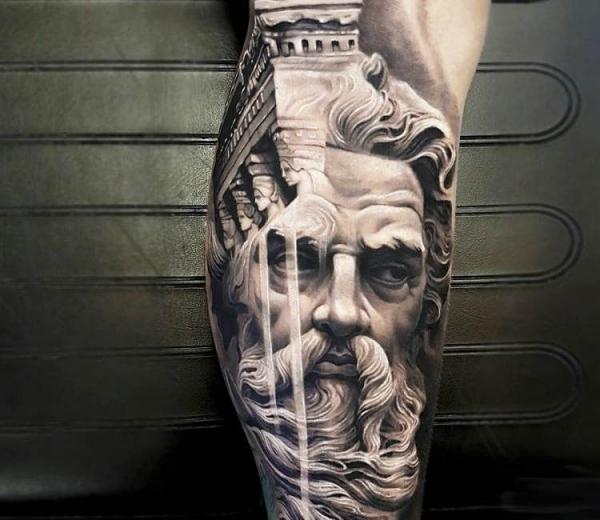 The Zeus statue design can capture the timeless grandeur and authority of Zeus. This design can serve as a constant reminder of the divine power and wisdom that Zeus represents. Whether designed with intricate details or in a more minimalist style, a Zeus statue tattoo stands as a majestic piece of body art.
Zeus Wielding a Thunderbolt
One of the most popular designs is Zeus brandishing a thunderbolt. This image is a classic representation of raw power, authority, and control. It's a statement tattoo that shouts out the wearer's inner strength and determination.
Zeus and the Eagle
Zeus is often associated with an eagle, a bird known for its power and freedom. The eagle was Zeus's sacred animal, and he is sometimes depicted with an eagle at his side or even as an eagle himself. A Zeus and eagle tattoo can represent freedom, strength, and the ability to rise above earthly concerns.
Zeus in Battle
Another common design is Zeus in the midst of battle, often against the Titans. This image portrays Zeus as a warrior, symbolizing the struggle against overwhelming odds and the fight for survival and supremacy. It can be a representation of personal battles, resilience, or an ongoing struggle.
Placement Ideas for Zeus Tattoos
The placement of a Zeus tattoo can significantly enhance its visual impact and symbolic meaning. The size, complexity, and personal preference often dictate the ideal placement. Here are some popular locations for a Zeus tattoo and the unique attributes they bring to the design.
Arm
An arm Zeus tattoo can be easily displayed or hidden, making it a versatile choice. The arm's length and curvature provide an excellent canvas for intricate designs and allow for a full depiction of Zeus in action.
Zeus and Hera full sleeve tattoo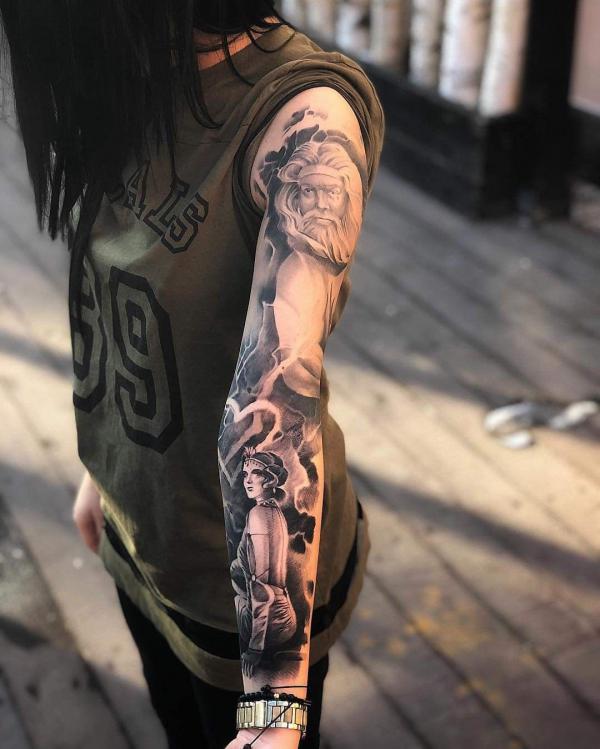 Back
The back offers a large, flat surface that's ideal for a grand, detailed representation of Zeus. This placement is perfect for dramatic scenes, such as Zeus in battle or on his throne.
Zeus and Poseidon with horse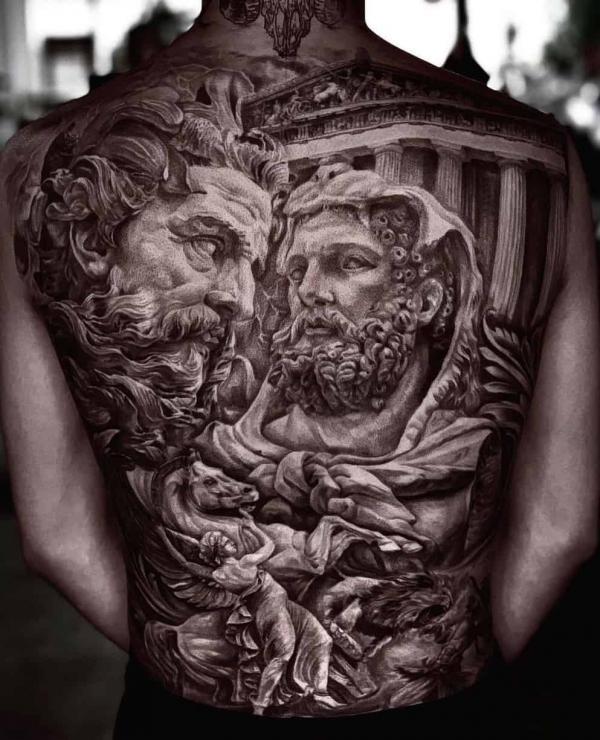 Hand
Zeus tattoos on the hand are a bold choice, offering high visibility and a constant reminder of the symbol's meaning. This placement is ideal for those who want their connection with Zeus's power, wisdom, and authority to be in the forefront of their daily interactions.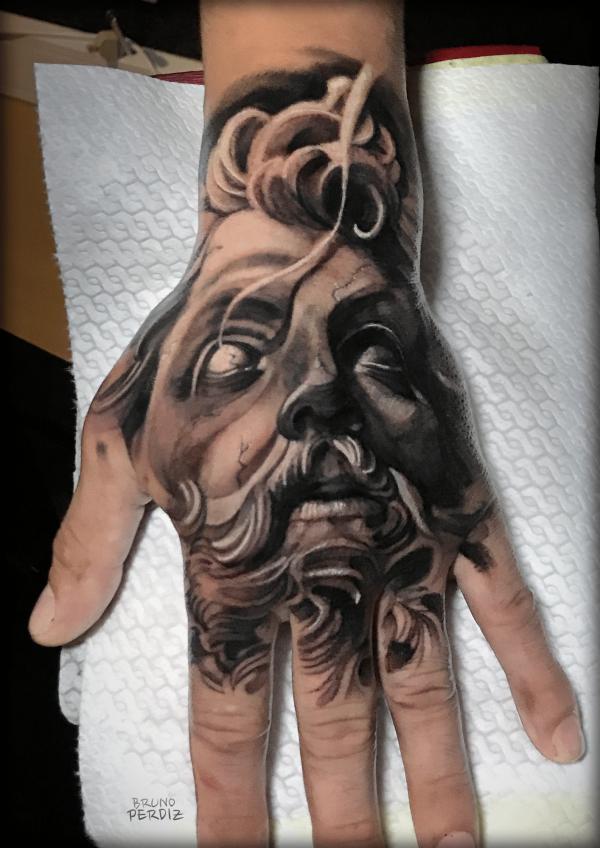 Chest
A Zeus tattoo on the chest can symbolize Zeus's power and authority close to the heart. It's a placement that indicates deep, personal resonance with the symbol.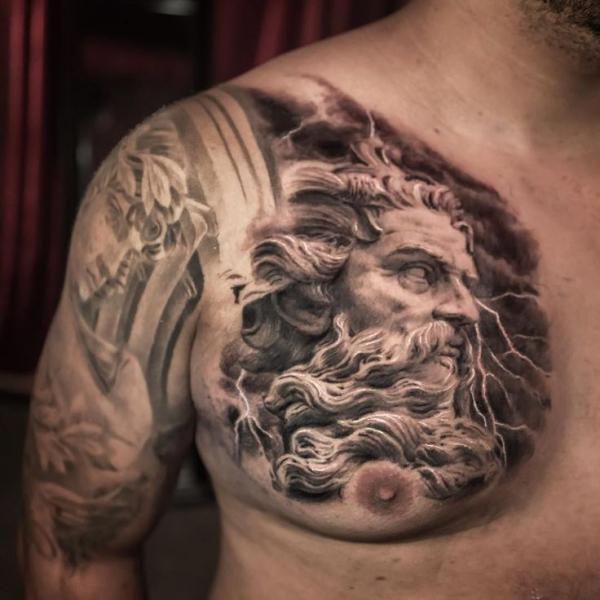 Leg
Leg tattoos offer a lot of space for creative designs. A Zeus tattoo here can showcase the god's power, as if propelling the wearer forward.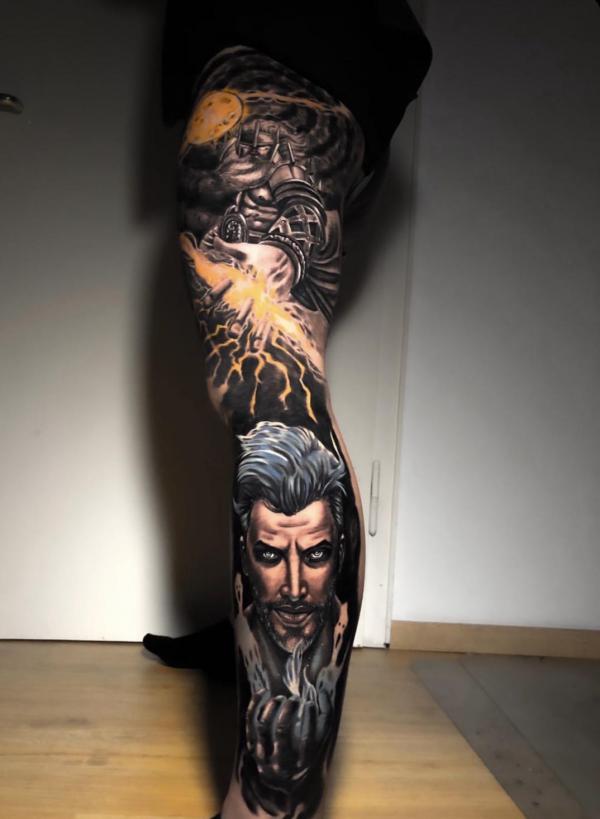 Forearm
The forearm is a popular location for Zeus tattoos thanks to its visibility. It's a constant reminder of the wearer's affinity with the values Zeus embodies.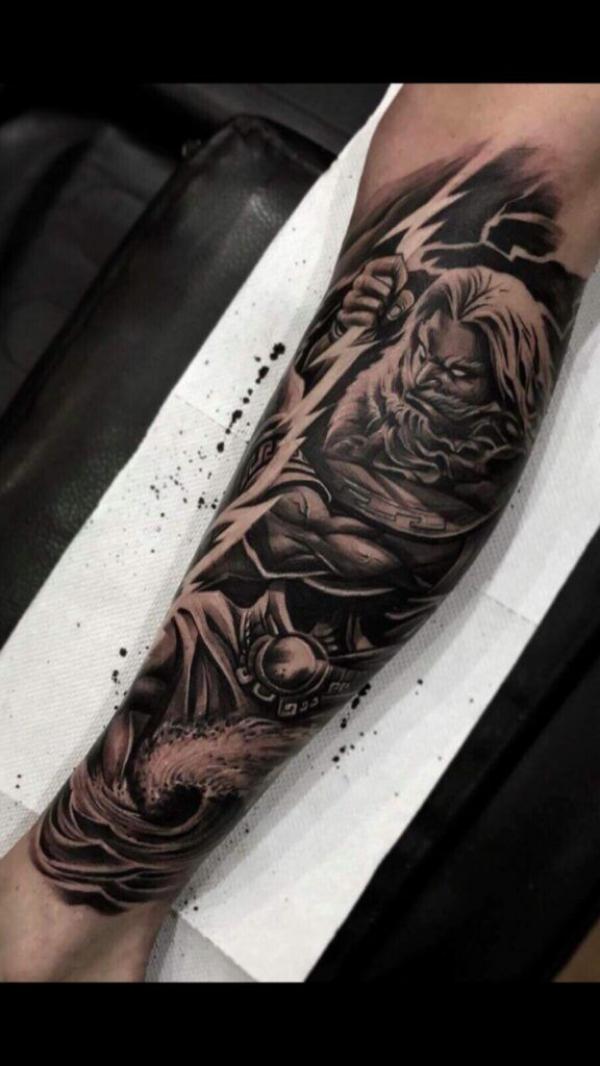 Half Sleeve
A half sleeve Zeus tattoo allows for an elaborate depiction of Zeus and associated elements. It's a bold and visually stunning choice for those who want to make a statement.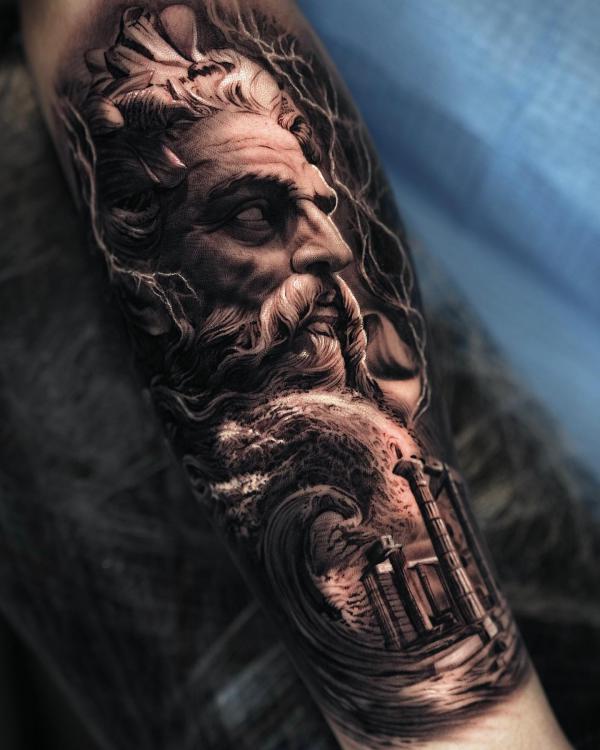 The Power of Zeus Tattoo Designs
Whether you find yourself drawn to the symbol of Zeus for its representation of authority, wisdom, or transformation, there's no denying the powerful statement a Zeus tattoo can make. Remember, the best tattoo is one that resonates with you on a personal level.
Zeus tattoos are more than just a tribute to ancient mythology. They are a testament to the enduring power of these ancient symbols, a nod to the timeless human fascination with the divine, and a personal emblem of strength, wisdom, and authority.
So, if you're considering getting a Zeus tattoo, take some time to reflect on what this powerful figure represents to you. Your individual interpretation of Zeus can add a deeper layer of meaning to your tattoo, making it a unique expression of your personality and beliefs.
In the world of body art, a Zeus tattoo is not just a design. It's a statement of power, a badge of wisdom, a symbol of change, and above all, a testament to the enduring impact of ancient mythology on contemporary culture.