In the vast cosmos of tattoo designs, few symbols are as electrifying as the lightning bolt. With its sharp angles and unmistakable shape, it's a favorite among tattoo enthusiasts worldwide. But what makes this symbol so captivating? The symbolism behind lightning bolts has been interpreted in various ways, and their unique designs have made them a favorite among tattoo artists and wearers alike. In this article, we will explore the historical context of lightning bolt tattoos, their symbolism, and popular designs. We will also delve into how to interpret a lightning bolt tattoo and what makes them a versatile choice for tattoo lovers.
Historical Context
The lightning bolt is an age-old symbol, etched into our collective consciousness through mythology, religion, and natural observation. Its first uses in body art trace back centuries, with indigenous tribes and ancient civilizations utilizing the symbol in their ritualistic and ceremonial body art.
In Greek mythology, the lightning bolt was the weapon of Zeus, the king of gods, signifying divine power and authority. Similarly, Norse mythology associated lightning with Thor, the god of thunder, representing protection and strength. In some African cultures, lightning bolts represent symbol of fertility and prosperity, Native American tribes viewed lightning as a symbol of truth, speed, and clarity of thought.
The cultural significance of lightning bolts in tattoo art seems to have stemmed from these ancient roots. From being a symbol of divine power to representing truth and clarity, the lightning bolt tattoo has carried various meanings across cultures and societies.
The Symbolism of Lightning Bolts
At its core, a lightning bolt is a natural spectacle of power and speed. It lights up the sky in a split second, leaving us in awe of its might and ephemeral beauty. These qualities translate seamlessly into the context of tattoos, making the lightning bolt a versatile symbol rich in meaning.
When inked on the skin, a lightning bolt tattoo can symbolize raw power and high energy, much like the natural phenomenon itself. It can represent a person's strength and determination, their ability to make quick decisions, or their electrifying personality.
The lightning bolt is also seen as a divine intervention symbol, representing a sudden, illuminating realization or a 'strike' of insight. It can symbolize a significant event or change that has affected the wearer deeply, altering their life path just as a lightning bolt alters the landscape it strikes.
In the context of spirituality and philosophy, the lightning bolt is often associated with enlightenment and the sudden, striking realization of truth. It is seen as a symbol of illumination, shedding light on the darkness of ignorance.
Meaning of Lightning Bolt Tattoos
Deciphering the meaning of a lightning bolt tattoo isn't just about the symbol itself. It's also about how the symbol is portrayed, the other elements that accompany it, and where it's placed on the body.
For instance, a solitary lightning bolt can represent personal strength or a significant, life-changing event. But when paired with a cloud, it might symbolize a stormy period in the wearer's life or their ability to overcome challenges. A lightning bolt striking a tree could symbolize destructive power or drastic change.
The location of the tattoo on the body can also influence its interpretation. For example, a lightning bolt tattoo on the wrist might signify the person's power and impact, while one on the back could symbolize a past life-changing event.
Popular Lightning Bolt Tattoo Designs
Lightning bolt tattoos come in a variety of designs, each with its unique flair and symbolism. Here's a rundown of some popular examples.
Rainbow lightning bolt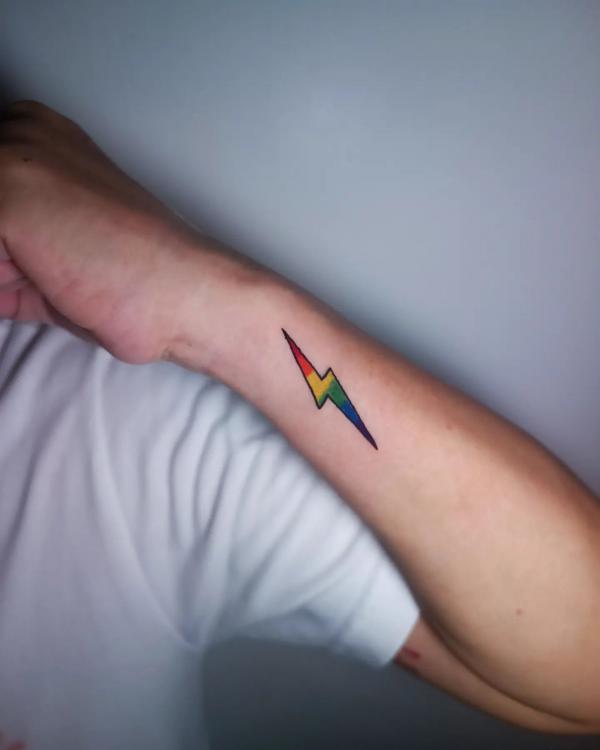 If you're a lover of color and energy, a rainbow-filled lightning bolt tattoo is a fantastic choice. This small but vibrant design encapsulates the power of the lightning bolt while adding a splash of every color in the spectrum. The result? A piece that's as eye-catching as a real bolt from the blue.
Ram head lightning bolt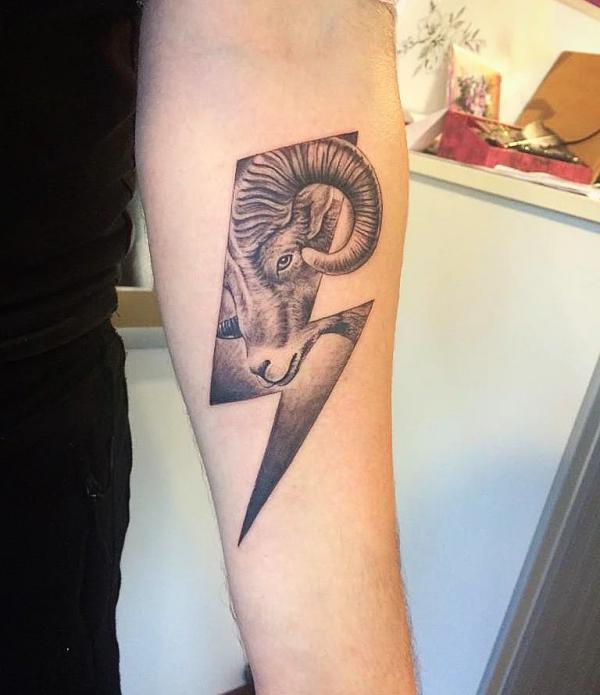 Blend the raw power of nature with deep symbolism in this unique design. A black and grey ram head within a lightning bolt creates a striking contrast that emphasizes strength and determination. It's a bold choice for those who identify with the ram's attributes of leadership and initiative.
Rose and rabbit lightning bolt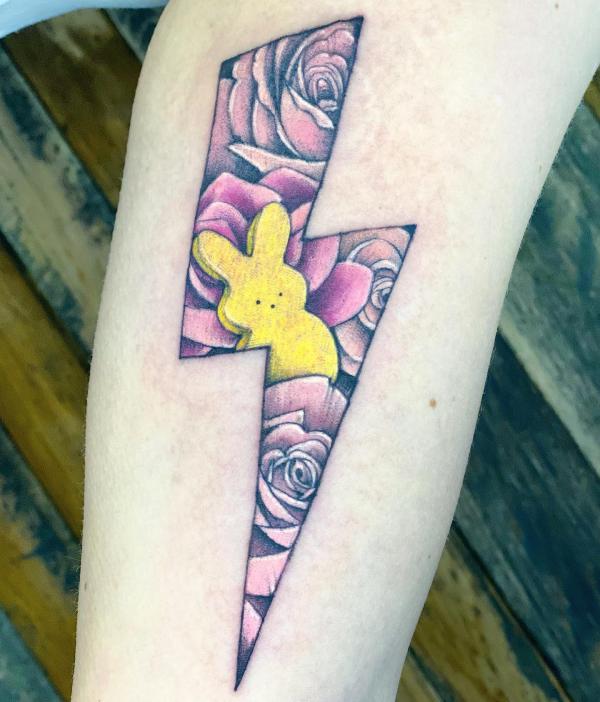 Combine classic botanical art with a whimsical twist in a rose and rabbit lightning bolt tattoo. The yellow rabbit nestled within the bolt adds a playful touch, while the surrounding roses give the design a traditional, timeless feel. This tattoo can serve as a charming reminder of the unexpected joys life can bring.
Lightning bolt with number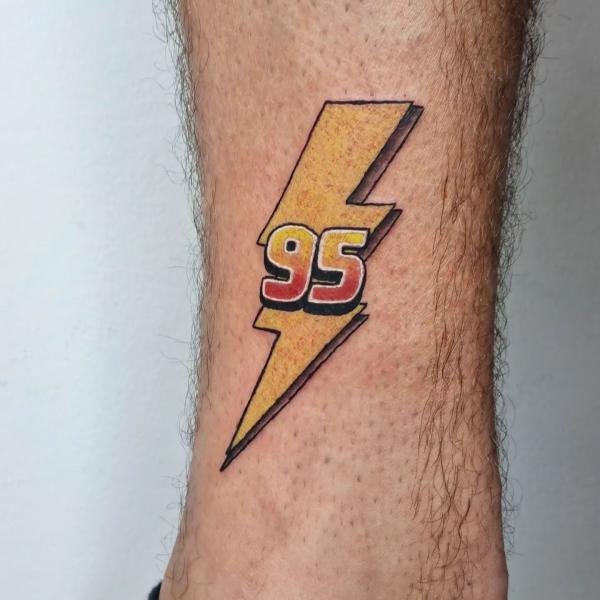 For a more personal touch, consider a 3D lightning bolt tattoo with a significant number. The strong lines of the bolt coupled with the 3D effect create a dramatic visual, and the number adds a unique and personalized twist. It's a great way to honor a special date, age, or lucky number.
Rose and skull lightning bolt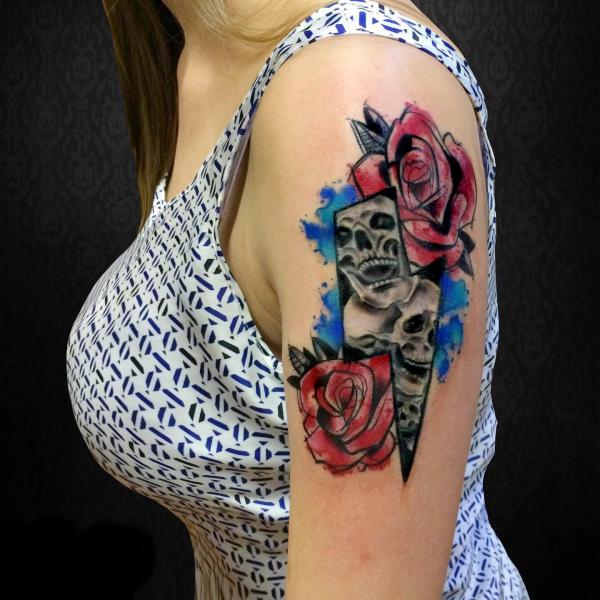 Mix the dark allure of a skull with the timeless beauty of roses in this design. With a skull lightning bolt set against a blue watercolor backdrop and red roses above and below, this tattoo is a captivating blend of the macabre and the beautiful. It's a bold choice that speaks of strength, resilience, and a touch of mystery.
Sketchy skull lightning bolt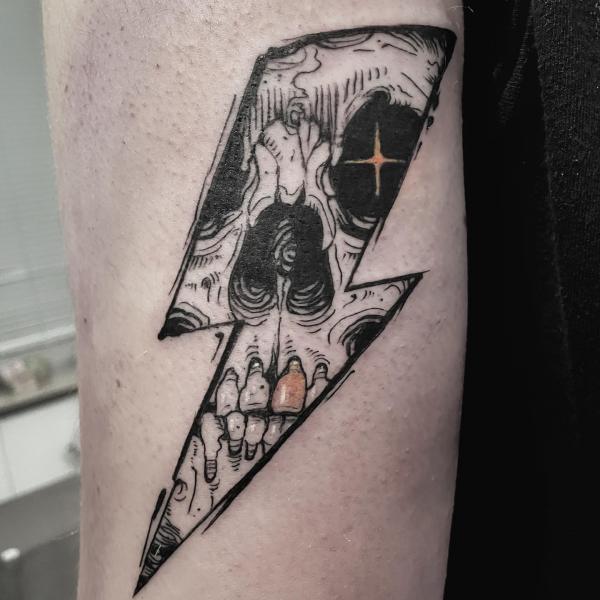 Elevate the classic skull tattoo with a sketchy style lightning bolt. The rough, sketch-like lines give the design a raw, artistic edge, while the skull within the bolt adds a hint of rebellion. This is a tattoo for those who dare to defy the norm and embrace their unique spirit.
Small clouds and lightning bolt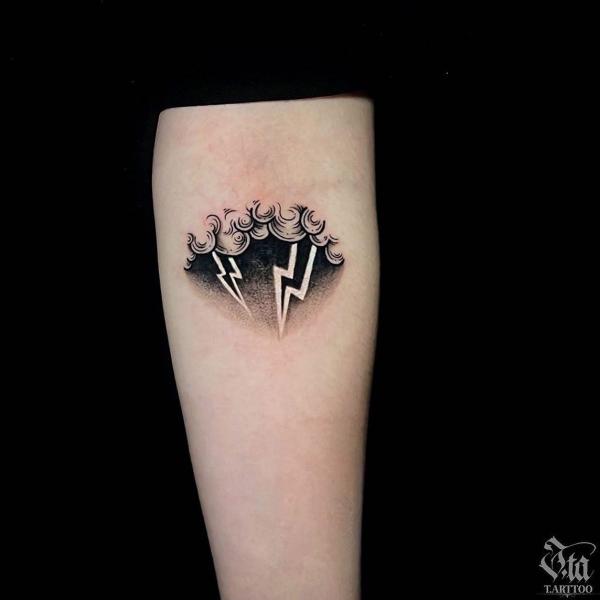 Sometimes, simplicity is the most striking choice. A black and white design featuring small clouds and a lightning bolt offers a minimalist yet powerful aesthetic. This design is perfect for those who appreciate the quiet strength in nature and the elegance in simplicity.
Stylized cloud with lightning bolt and rain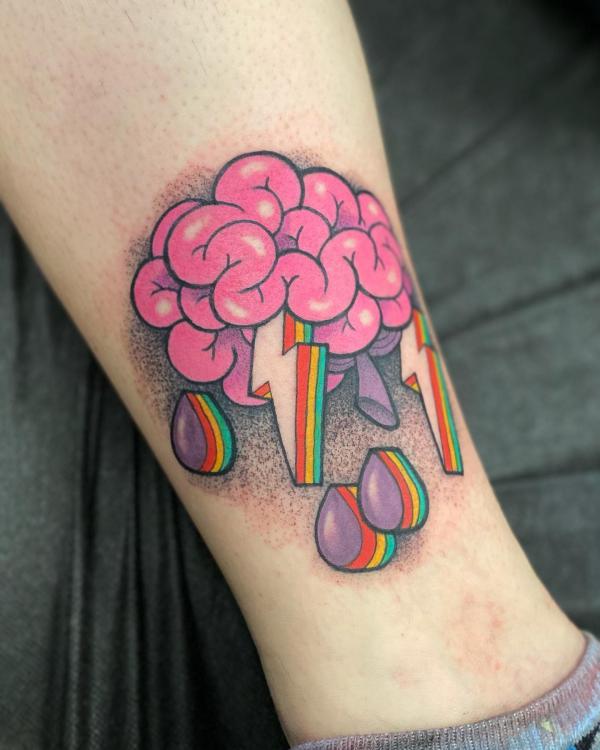 If you're a fan of a more stylized approach, consider a design featuring a cloud, lightning bolt, and rain. This tattoo can be an artistic representation of life's storms and the power within them. It's a visual reminder of the beauty in turbulence and the strength in resilience.
Sun and lightning bolt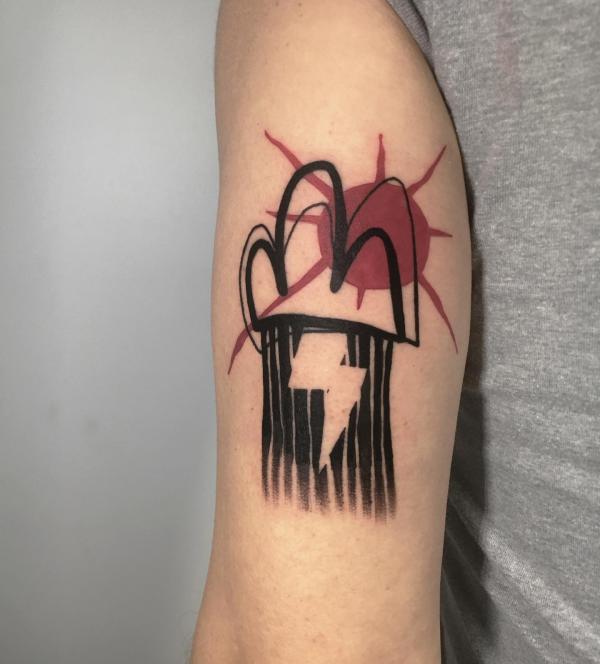 Capture the energy of two of nature's most powerful phenomena with a sun and lightning bolt tattoo. Incorporating a sketchy style adds a unique touch, making the design even more striking. This tattoo is a celebration of life's contrasts: the calm warmth of the sun and the electrifying thrill of the storm.
Sun shoulder tattoo floral lightning bolt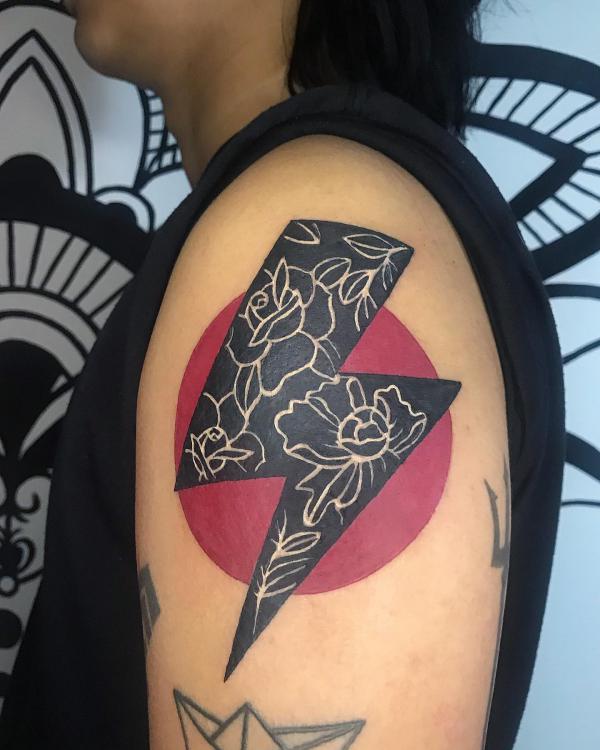 Combine natural elements with a touch of the dramatic in this stunning design. A red sun and a black lightning bolt, filled in line work of white roses, create a visually striking piece. The contrast of the fiery sun, the dark bolt, and the pure roses makes this a bold and memorable choice.
Sunflower lightning bolt tattoo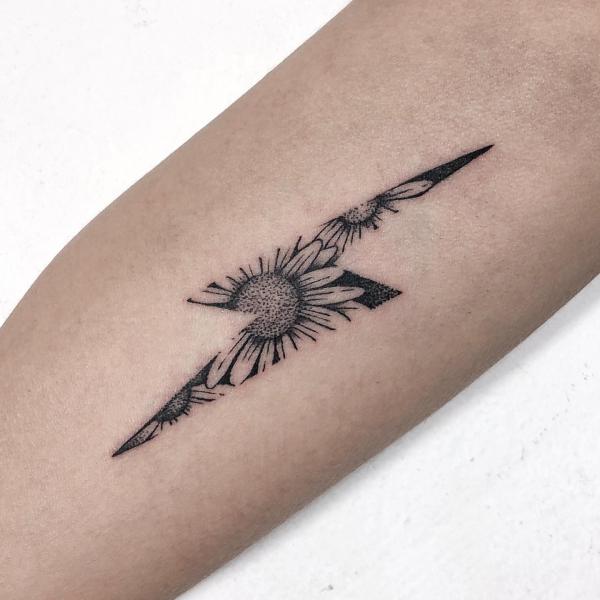 Bring a touch of summer to your skin with a sunflower-filled lightning bolt tattoo. This black and white design combines the cheerfulness of a sunflower with the raw energy of a lightning bolt, creating a unique contrast. It's a bright and sunny choice for those with a love for nature and a spark of the wild.
Lightning bolt symbol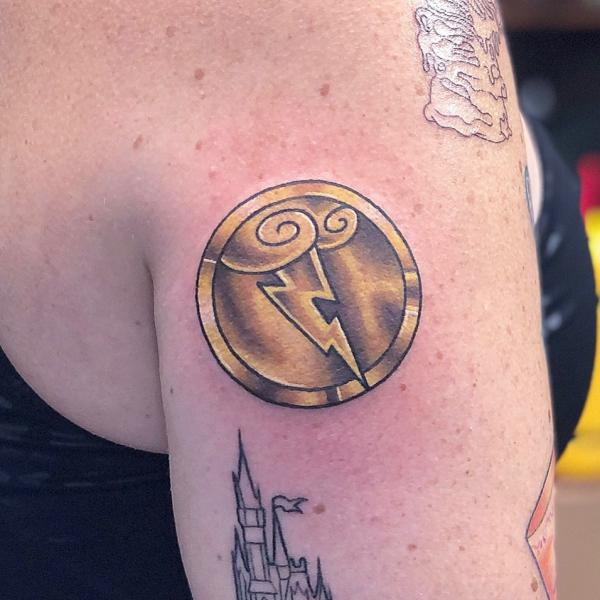 For a minimalist yet meaningful design, consider a simple lightning bolt symbol. Placed within a golden circle, this tattoo can serve as a reminder of personal power and the lightning-fast moments that change life in an instant.
Traditional female face lightning bolt tattoo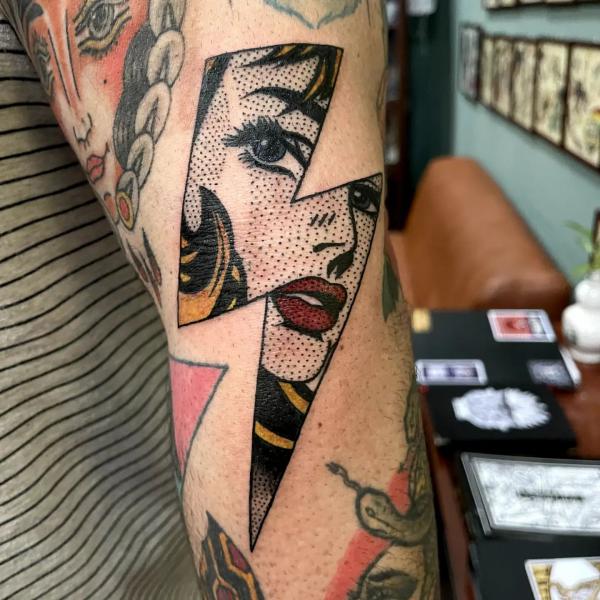 Add a touch of classic beauty to your ink with a traditional female face within a lightning bolt. This design combines the timeless elegance of traditional portraiture with the raw power of nature. It's a compelling way to show your appreciation for classic art and your inner strength
Traditional rose lightning bolt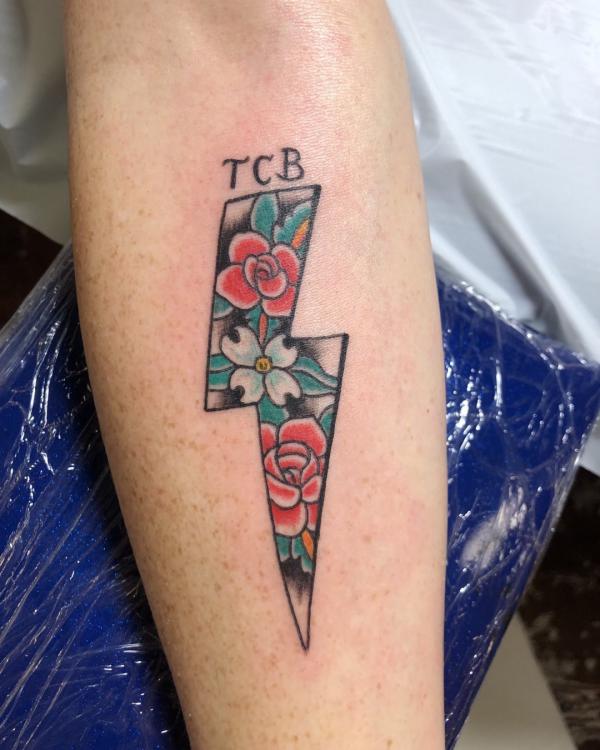 Imagine a vibrant burst of traditional roses engulfed by the energy of a lightning bolt. This design beautifully pairs the sleek, electrifying lines of a lightning bolt with the gentle curves of roses. It's a great pick for those who love the contrast between softness and power.
Umbrella above clouds and lightning bolt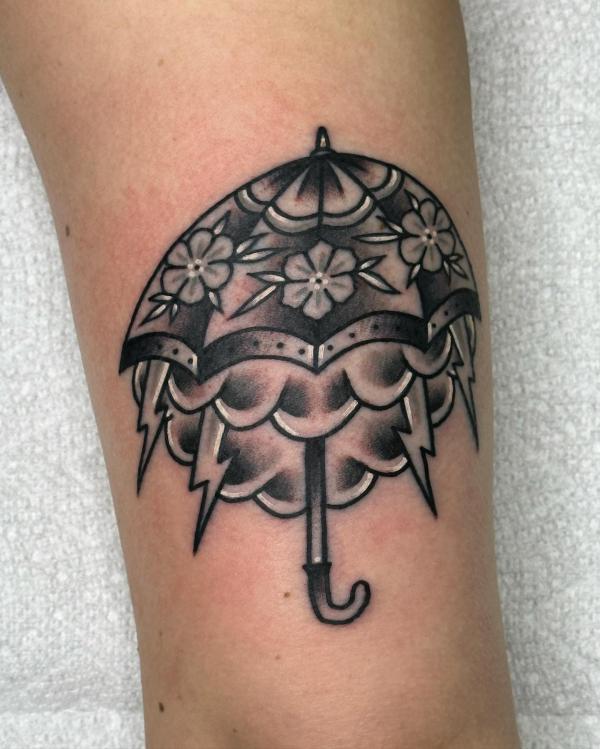 A black and white design of an umbrella above clouds and a lightning bolt can symbolize protection and resilience amid life's storms. It's a simple yet striking concept that can serve as a daily reminder of your ability to weather any turbulence life throws your way.
Lightning bolt patch tattoo with clouds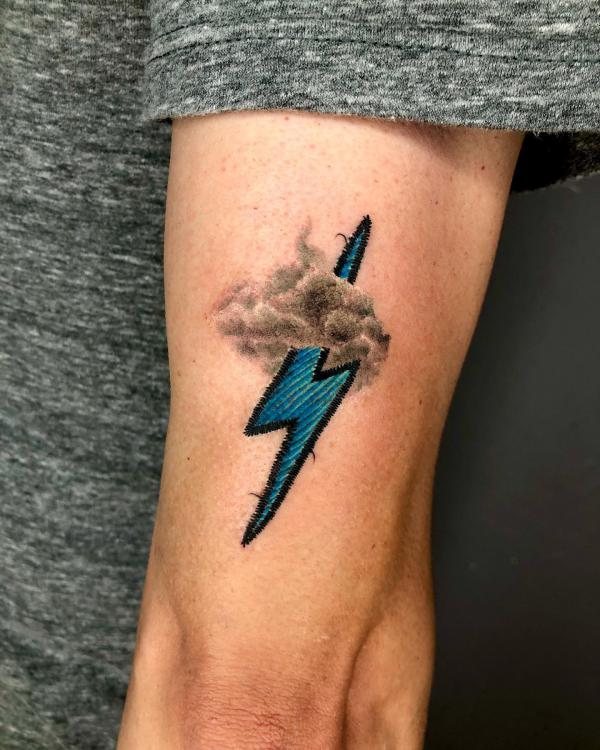 This design takes a different spin on the classic lightning bolt. A patch of lightning surrounded by black and grey clouds creates a dramatic and bold statement. This tattoo is a shout-out to the storm lovers who appreciate the beauty in nature's fury
Umbrella with cloud rain and lightning bolt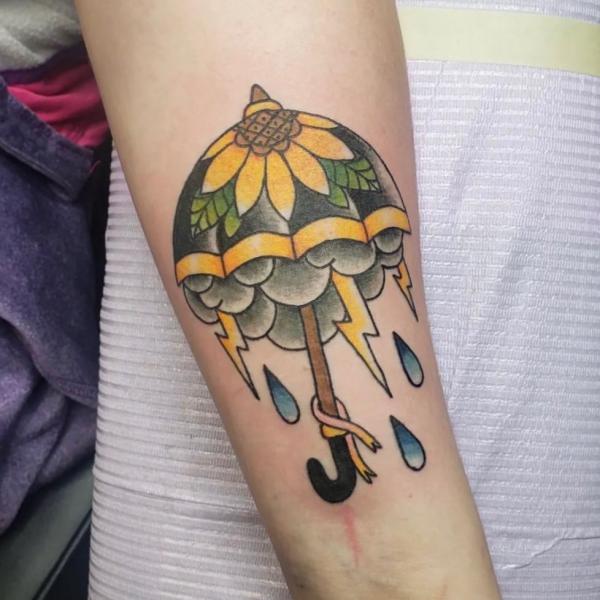 Add a splash of color to your body art with an umbrella, cloud, rain, and lightning bolt design. This vibrant piece of ink captures the drama of a storm, with the umbrella symbolizing protection and resilience. It's a colorful nod to life's rainy days and the beauty they bring.
Lightning bolt with eye line work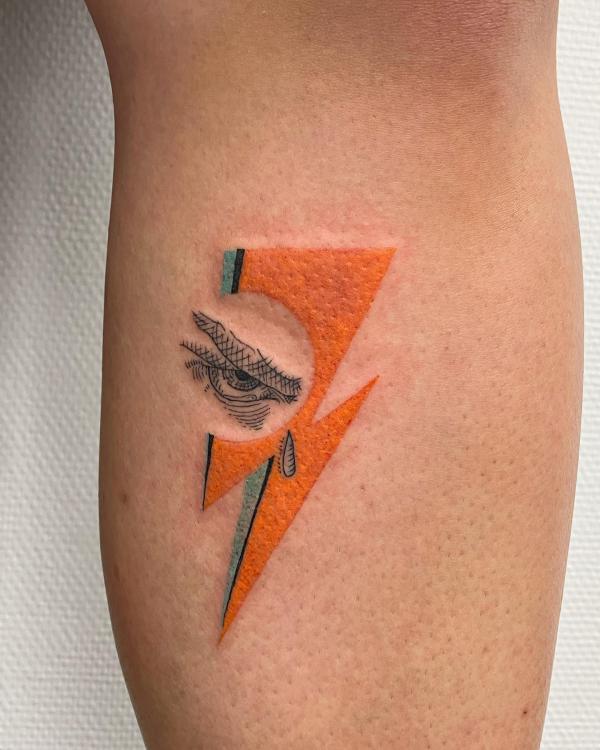 Go surreal with a lightning bolt and eye line work design. This style combines the simplicity of a lightning bolt with the intricacy of an eye, resulting in an otherworldly piece of art. It's an intriguing choice for those who love the mysterious and the extraordinary.
A hand holding lightning bolt
Show the world your power with a line work tattoo of a hand holding a lightning bolt. Placed on the upper arm, this design signifies control over life's energies and chaos. It's a powerful visual that represents your ability to harness and direct your personal power.
Lightning bolt outline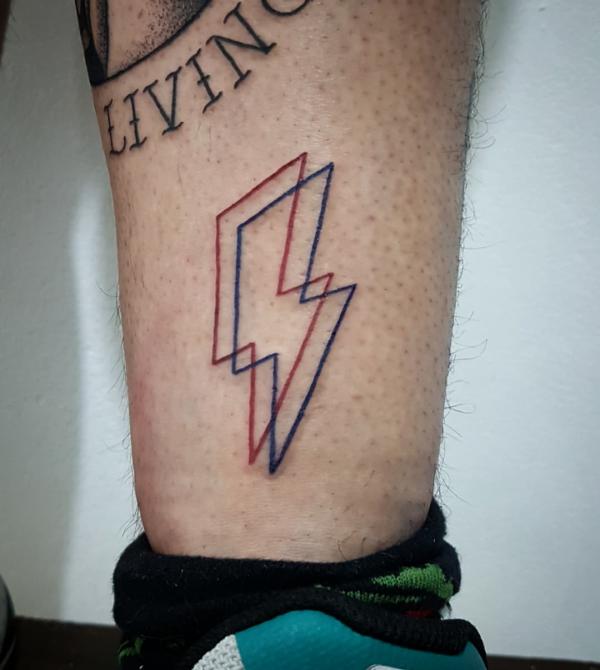 For a minimalist yet impactful design, consider a double lightning bolt outline tattoo. This simple design captures the essence of a lightning bolt without the need for intricate details or shading. It's a clean, modern choice that packs a punch.
Bird and flower lightning bolt tattoo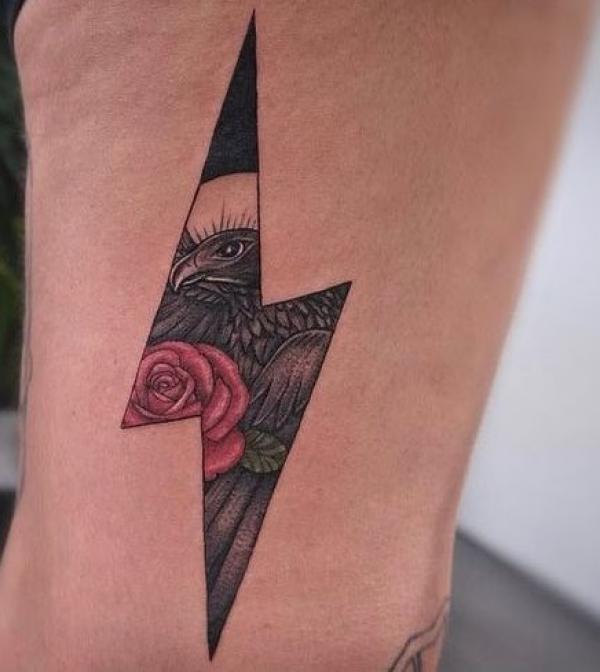 Travel back in time with a vintage-style bird and flower lightning bolt ink. This design combines the nostalgia of vintage art with the timeless power of a lightning bolt. It's a unique choice for those who appreciate history, nature, and the beauty of the past.
Lightning bolt with quote quote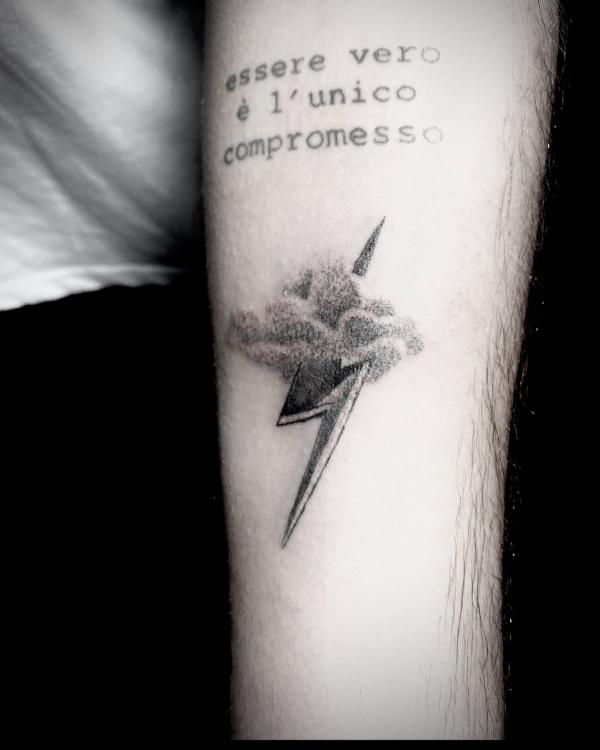 Personalize your lightning bolt design with a meaningful quote. "Essere vero è l'unico compromesso," which translates to "Being true is the only compromise," is a powerful statement to accompany your design. It's a reminder to stay true to yourself, no matter the storm you're facing.
Black and grey great wave lightning bolt tattoo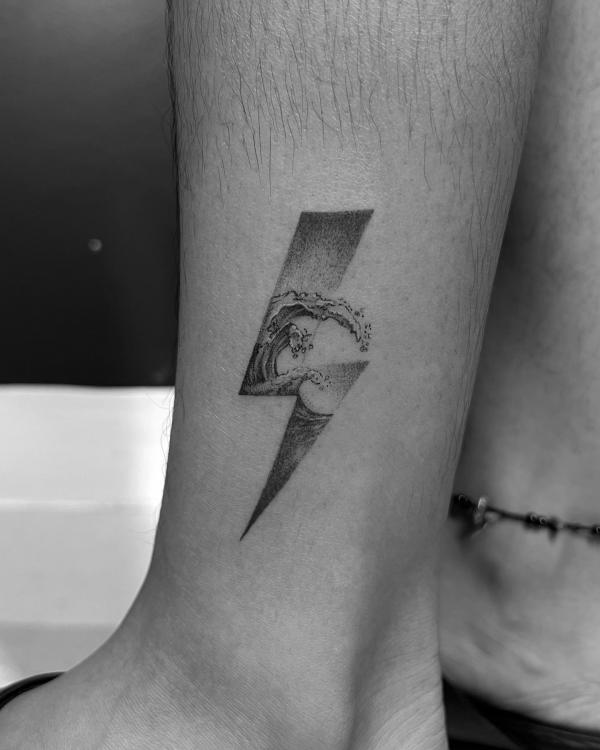 Create a visual spectacle with a black and grey ink of a great wave in the shape of a lightning bolt. This design captures the raw power and beauty of both the sea and the storm, making for a truly captivating piece of art.
Lightning bolt and Cloud with eye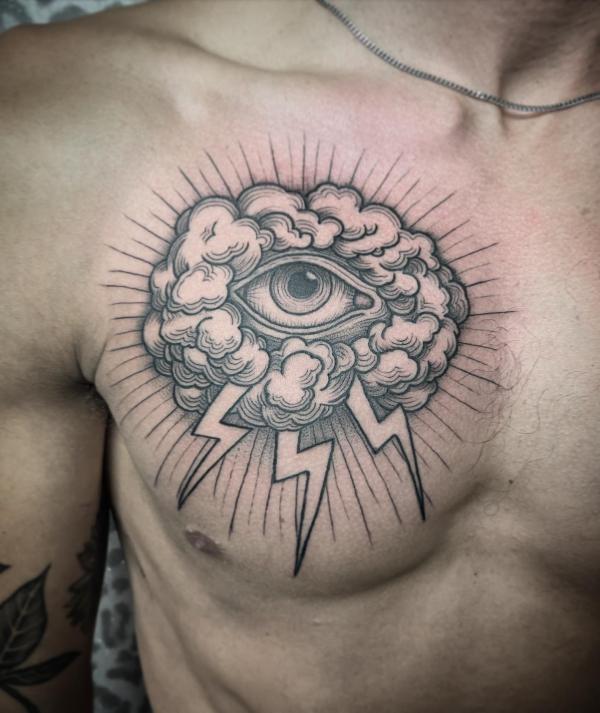 For a bold and eye-catching design, consider a chest tattoo featuring a lightning bolt, a cloud, and an eye. This design is a statement piece that combines natural elements with a touch of surrealism. It's a distinctive choice for those who aren't afraid to be seen.
Clouds lightning drawing tattoo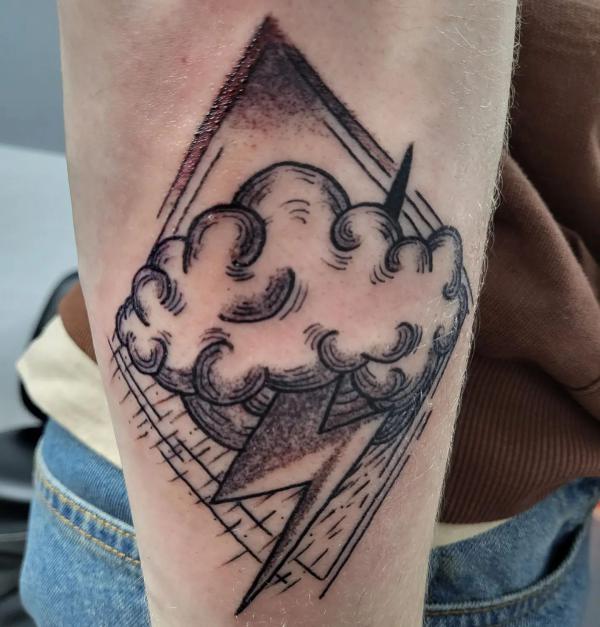 Unleash your love for artistic sketches with a clouds lightning drawing tattoo. This design features clouds, rain, and a lightning bolt, all brought to life in a unique drawing style. It's a captivating way to commemorate the raw beauty of nature's fury on your skin.
Lightning bolt eye tattoo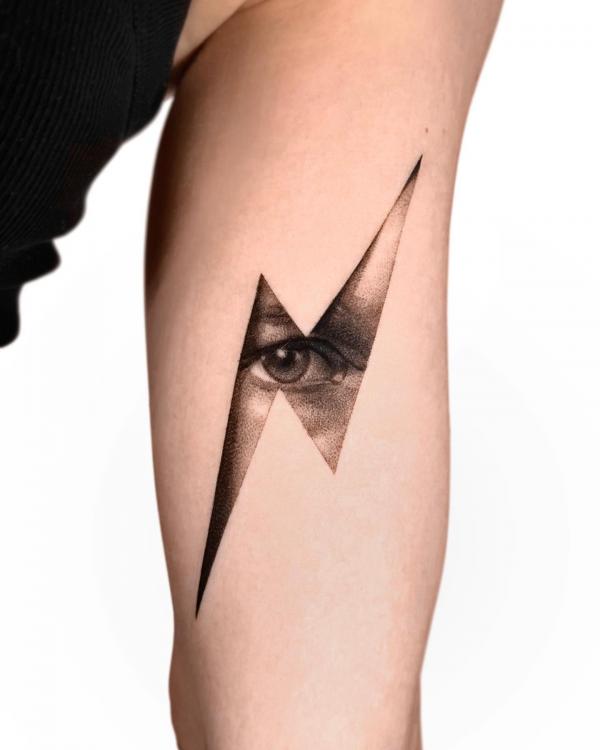 Blend reality and symbolism with a lightning bolt eye ink design. A realistically detailed eye sits at the center of the bolt, creating a striking visual that is bound to turn heads. This design pays tribute to the power of perception and the electric moments that catch our eyes.
Black and white cloud eye with lightning bolt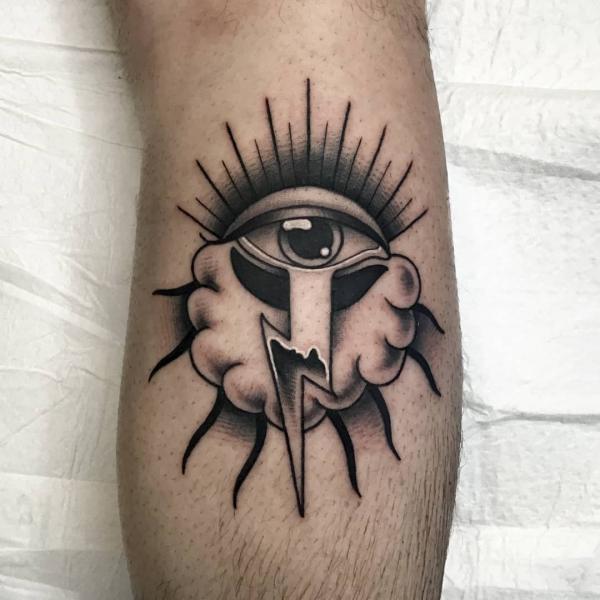 Take a walk on the surreal side with a black and white cloud eye tattoo, complete with a lightning bolt. This design features an eye atop the clouds and lightning bolt, creating a dreamlike vision that's as unique as you are.
Lightning bolt on watercolor backdrop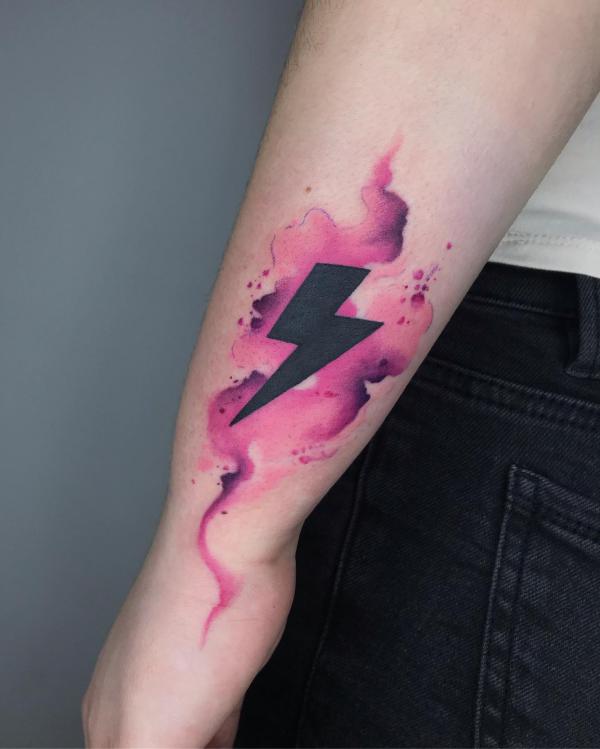 Combine the intensity of a black lightning bolt with the fluid beauty of a watercolor backdrop. The contrasting elements in this design create a visually stunning piece of art that is sure to make a statement on your skin.
Blue clouds and yellow lightning bolt
Capture the vibrancy of a stormy sky with a blue clouds and yellow lightning bolt tattoo. This colorful design encapsulates the drama of a storm, making it a perfect pick for those who find beauty in the tempest.
Broken heart with a lightning bolt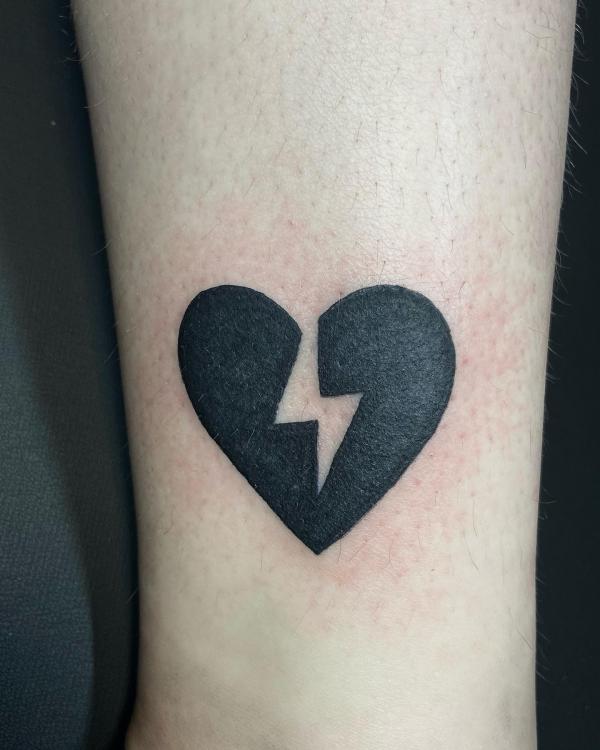 Explore the depths of emotion with a broken heart and lightning bolt tattoo. The heart is rendered in solid black, while the lightning bolt is created using negative space. It's a poignant representation of heartbreak, resilience, and the lightning-fast moments that can change our lives.
Lightning bolt in heart
For a simpler design, consider a black lightning bolt within a heart symbol. The heart symbol is created using dot line work, adding a minimalist touch to the powerful bolt. It's a subtle yet impactful way to wear your heart on your sleeve, or rather, your skin.
Cloud eye with lightning and thunderbolt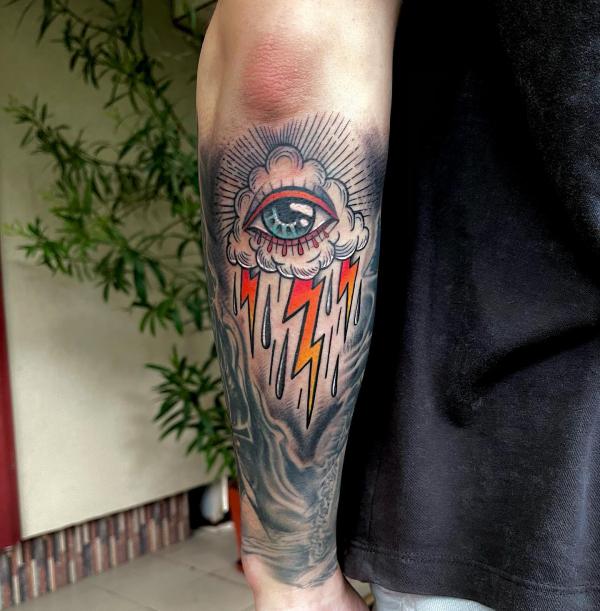 Embrace the storm with a cloud eye with lightning and thunderbolt tattoo. Designed for the forearm, this piece is a striking blend of natural and surreal elements. It's a reminder of the strength within every storm, and the beauty within every cloud.
Broken lightning bolt with eye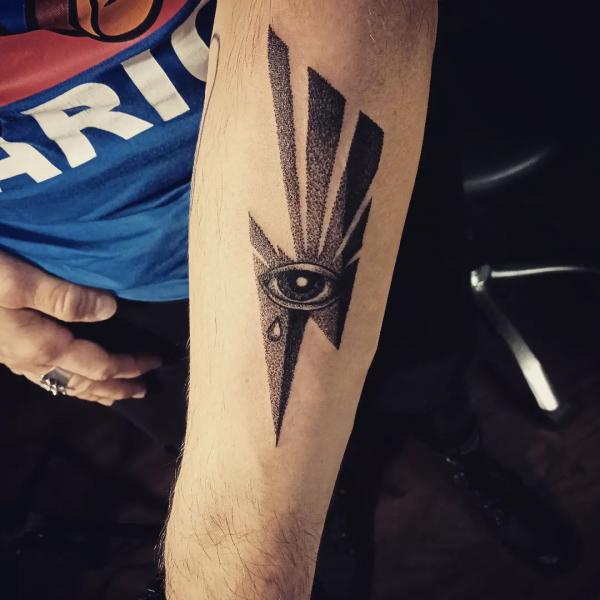 Add a twist to the classic lightning bolt design with a broken lightning bolt and an eye in the center. This design takes the symbolic power of the bolt and the eye, and melds them into a unique tattoo that is sure to stand out.
Cloud and lightning bolt line work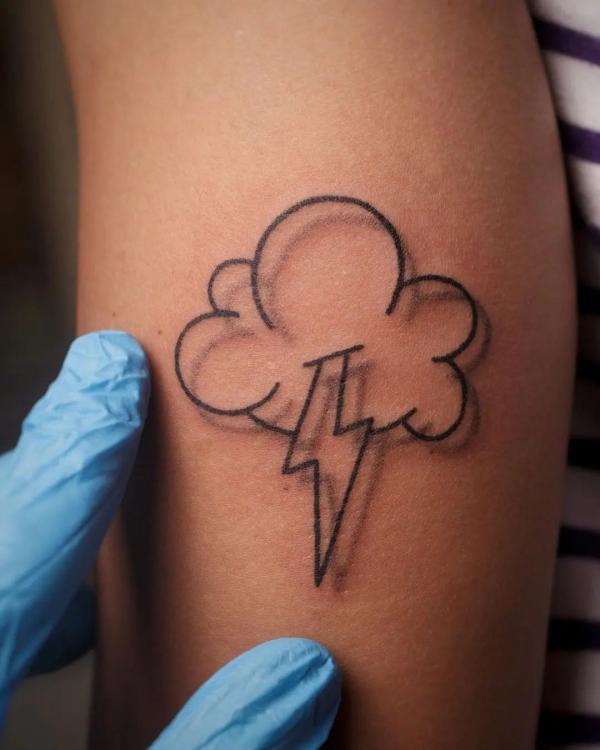 Celebrate the elegance of simplicity with a cloud and lightning bolt line work tattoo. This design uses clean lines to depict a lightning bolt and cloud, resulting in a minimalist yet powerful piece of body art.
Clouds with tearing eye and lightning bolts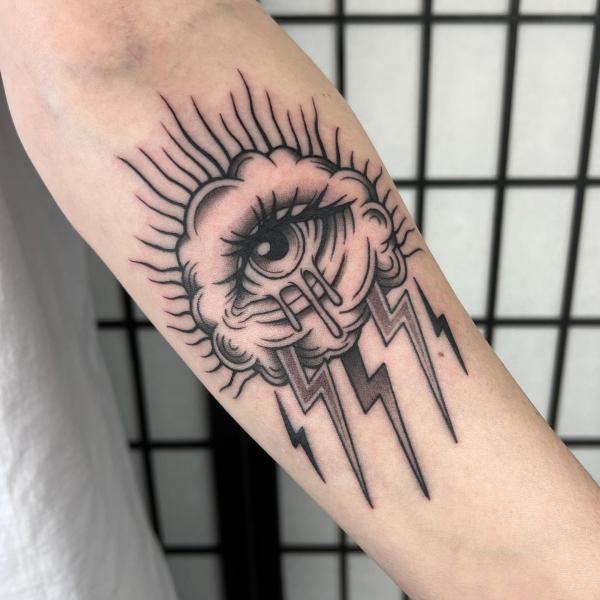 Dive into the realm of the extraordinary with a tattoo featuring clouds, a tearing eye, and lightning bolts. This design captures the emotion and power of a storm, creating a visually stunning reminder of life's tumultuous beauty.
Colorful lightning bolt and clouds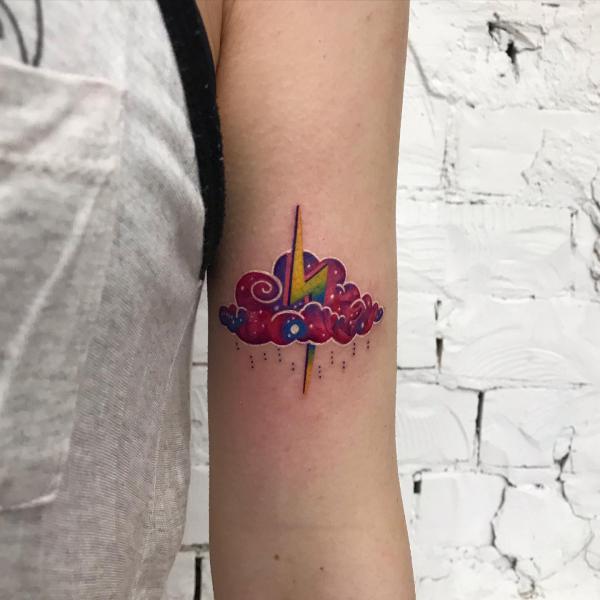 Embrace color and energy with a vibrant lightning bolt and clouds tattoo. This design uses a rich palette to bring the storm to life, creating a piece of body art that captures the eye and the imagination.
Daisy lightning bolt tattoo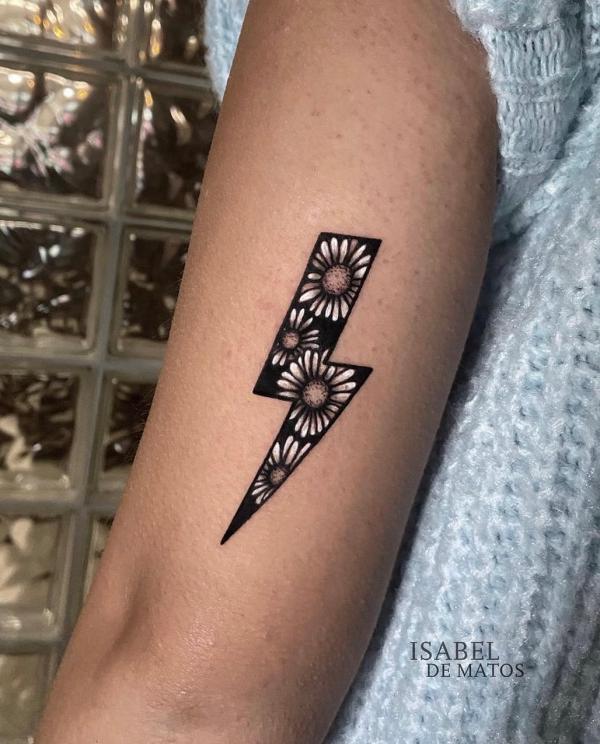 Celebrate the beauty of contrast with a daisy lightning bolt ink design. This design marvelously juxtaposes the delicate purity of white daisy petals against the fierce black lightning bolt. It's a striking representation of the harmony that exists between gentleness and power.
Floral lightning bolt tattoo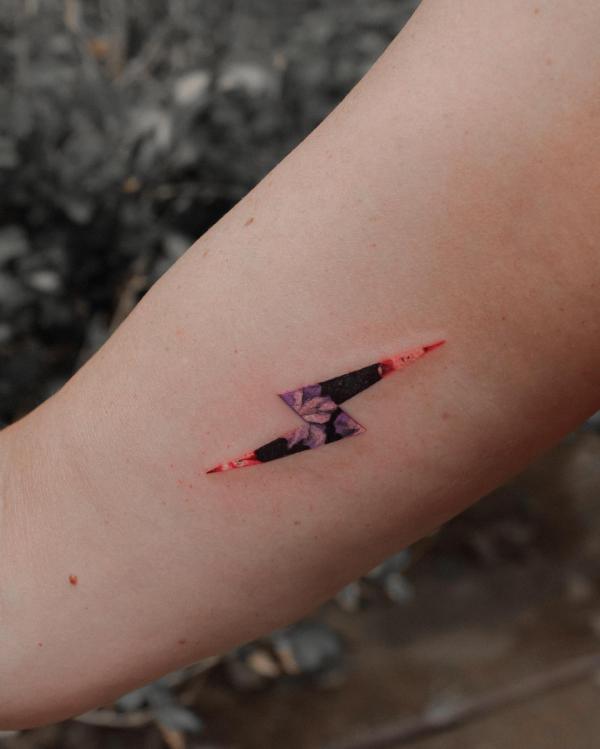 Embrace femininity with a floral lightning bolt design. This minimalist design incorporates delicate floral elements into the bold shape of the lightning bolt, creating a chic and subtly powerful piece of body art.
Folded lightning bolts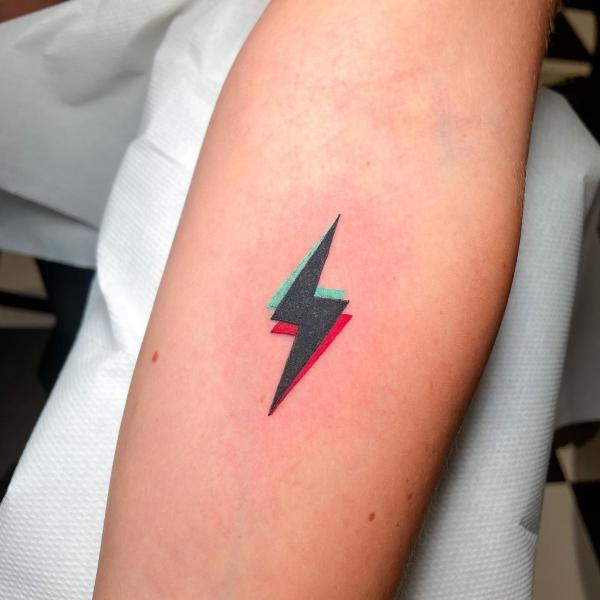 Show off your colorful personality with a tattoo design featuring three folded lightning bolts in green, black, and red. This unique design is a vibrant and dynamic take on the traditional lightning bolt, perfect for those who love to stand out.
Galaxy lightning bolt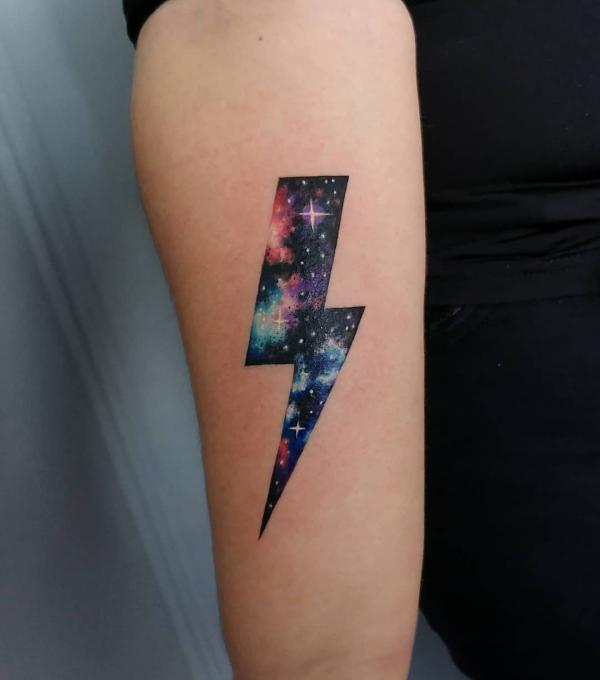 Take a cosmic journey with a galaxy lightning bolt tattoo. This design features a mesmerizing galaxy sky filled within the shape of the lightning bolt, creating a celestial spectacle right on your skin. It's a fantastic choice for stargazers and dreamers alike.
Harry Potter lightning bolt tattoo with Hogwarts castle inside.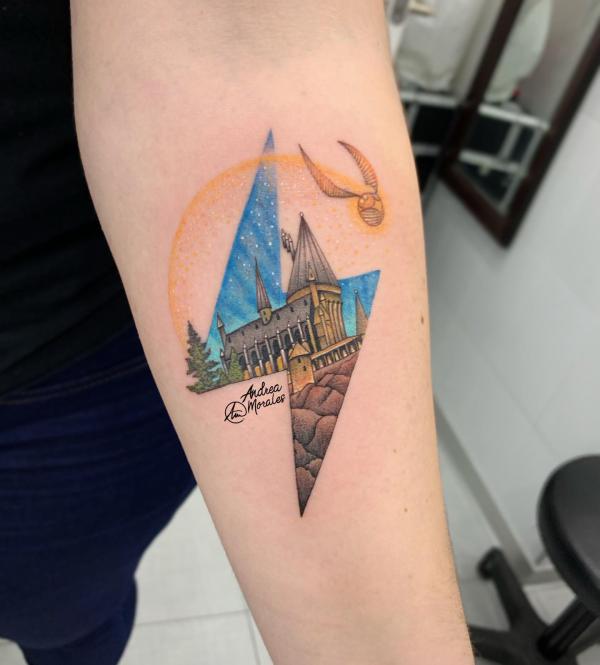 Combine fandom and artistry with a Harry Potter tattoo featuring the Hogwarts castle inside. This design is a magical homage to the beloved series, making it perfect for Potter heads who want to carry a piece of the wizarding world with them.
Lightning bolt between cloud and wave in a bottle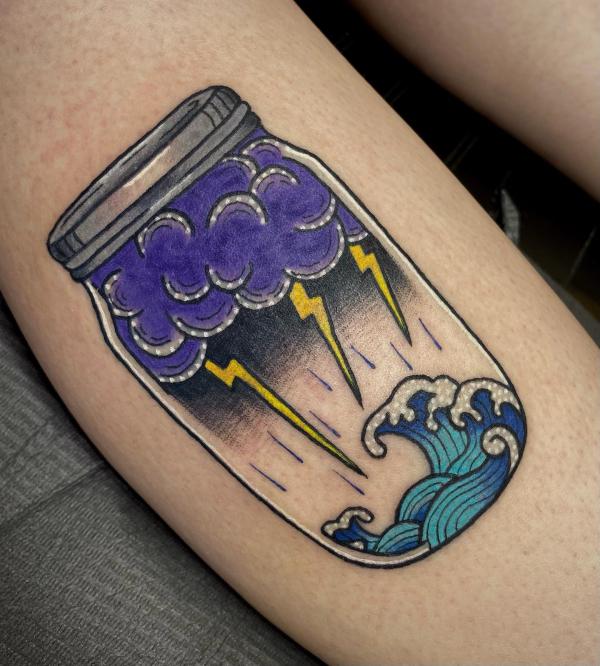 Delve into the mystical with a tattoo featuring a lightning bolt between a cloud and wave, all encapsulated in a bottle. This intriguing design captures the awe-inspiring power of nature in a whimsical way, making it a standout piece for those with a love for the fantastical.
Lion eye lightning bolt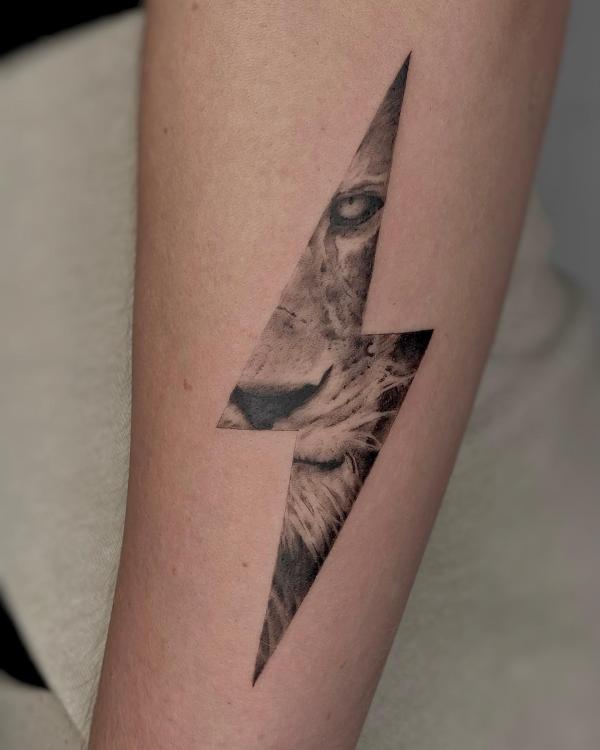 Roar with strength with a lion eye lightning bolt. This design merges the fierce gaze of a lion with the raw power of a lightning bolt, creating a symbol of courage and resilience that's bound to turn heads.
Love heart with lightning bolts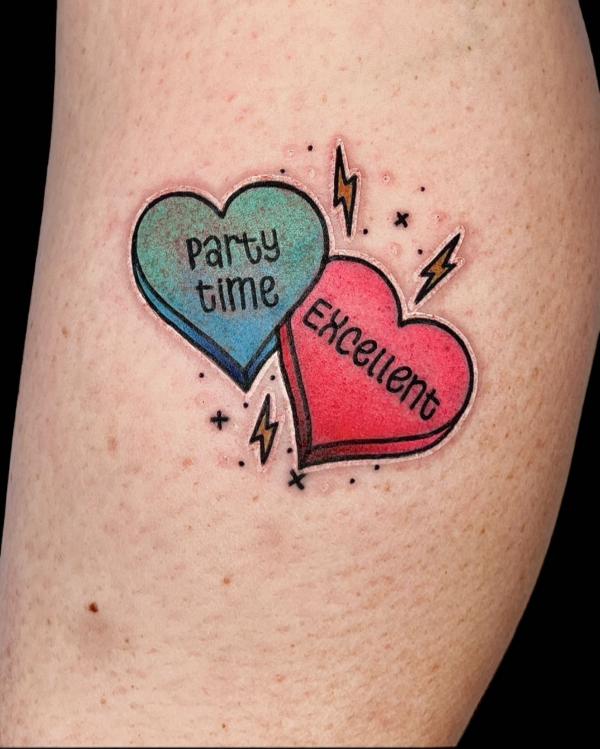 Mix love and electricity with a love heart with lightning bolts tattoo. This design adds a spark to the traditional heart symbol, making it a fun and vibrant expression of love and energy.
Lightning bolt with branches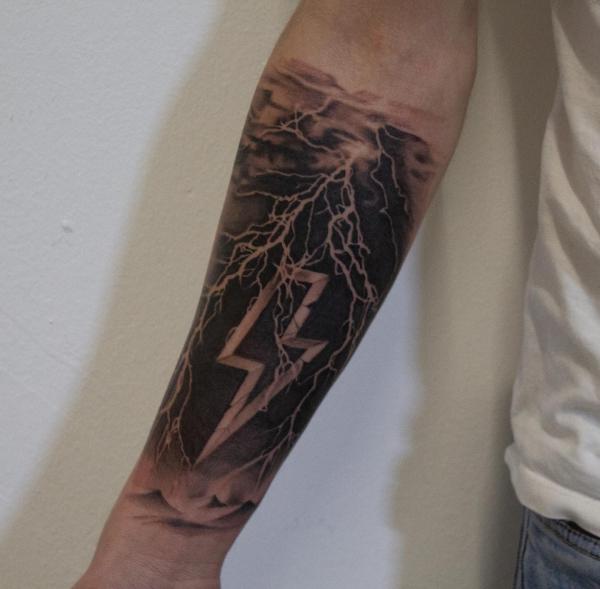 Blend the natural and the powerful with a Lightning Bolt with Branches tattoo. This design fuses the stark lines of a lightning bolt with the delicate intricacy of branches, resulting in a unique and compelling piece of body art.
Peony lightning bolt tattoo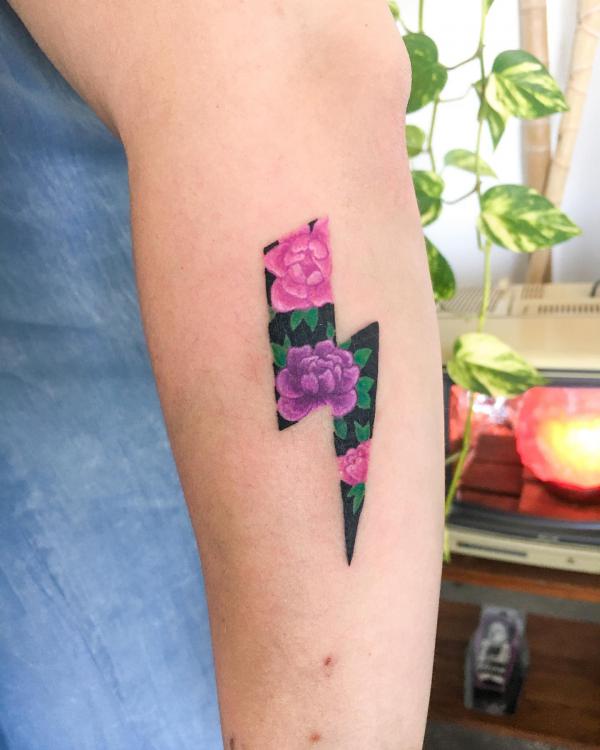 Transform the traditional bolt with a peony tattoo. This design infuses the lightning bolt with the lush beauty of peonies, creating a visually stunning piece that's both feminine and powerful.
Lightning bolt with swirls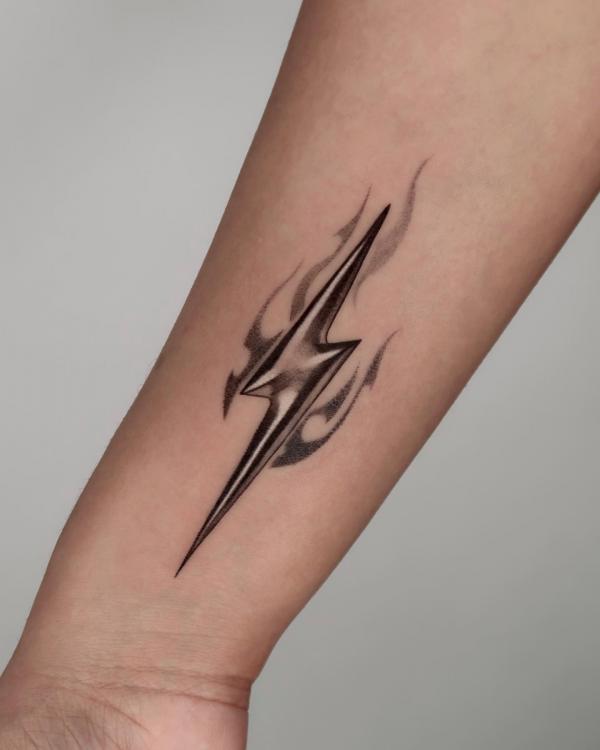 Add a whimsical touch to the classic bolt with a Lightning Bolt with Swirls tattoo. This design incorporates playful swirls into the bolt, giving it a sense of movement and energy that's sure to captivate.
Pink and blue roses lightning bolt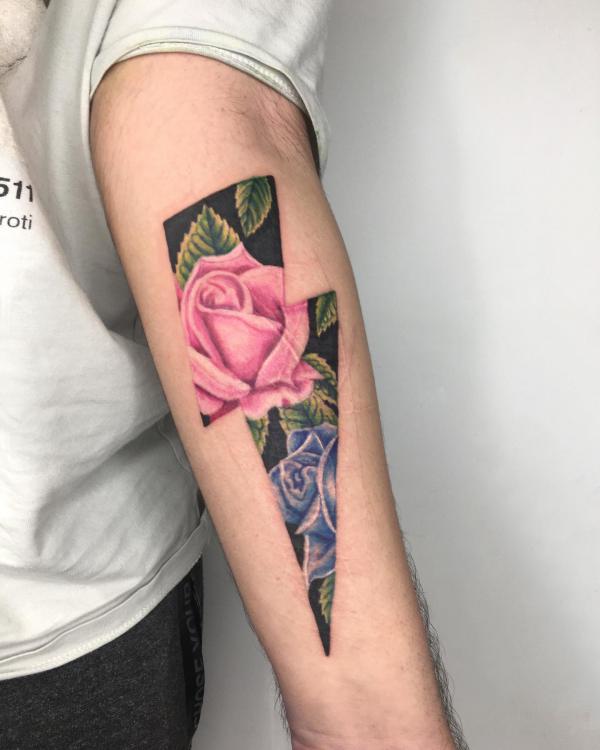 Capture the beauty of a storm in bloom with a Pink and Blue Roses Lightning Bolt tattoo. This design encapsulates a vibrant bolt within a burst of roses, creating a colorful spectacle that celebrates the beauty in nature's fury.
Placement Ideas for Lightning Bolt Tattoos
When it comes to placement, the lightning bolt tattoo offers plenty of flexibility. These placements range from highly visible areas to more concealed spots, depending on your personal preference and comfort. Consider factors such as pain tolerance, professional considerations, and your desire for visibility. Here are some popular spots.
Finger
Finger tattoos are small but impactful, perfect for discrete designs. They can be a challenge to maintain due to frequent hand use and washing.
Lightning bolt finger tattoo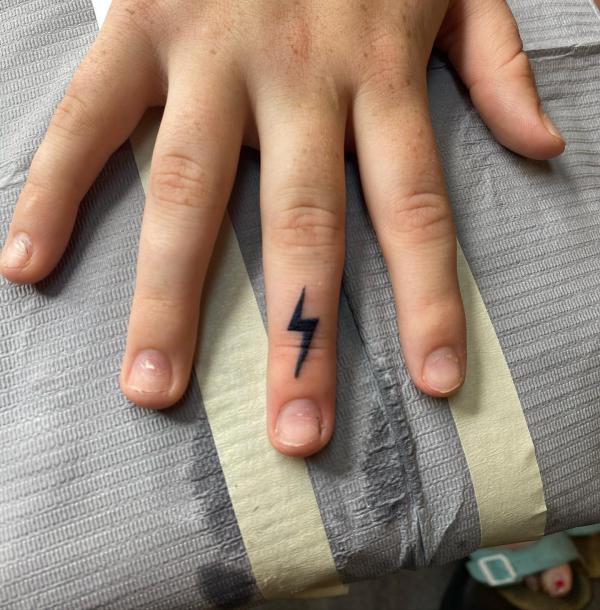 Lightning bolt Ink on the side of finger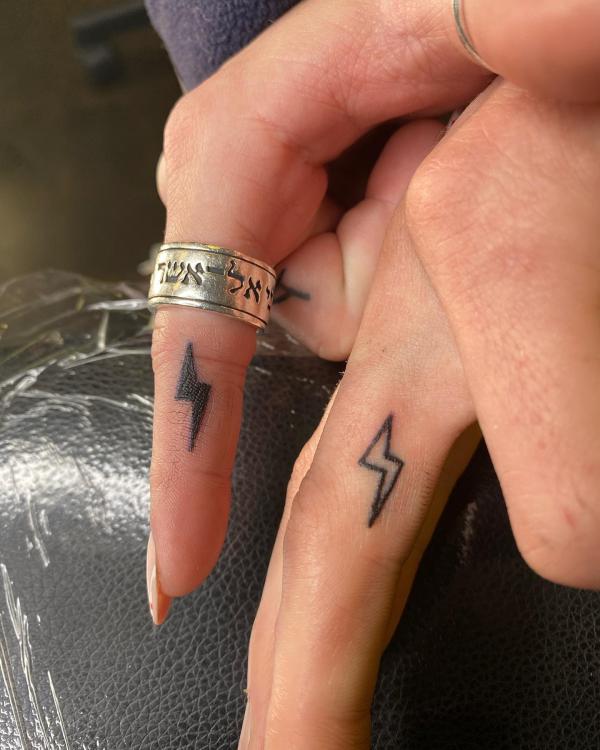 Neck
The neck, a highly visible area. Neck tattoos are highly visible and draw attention. They work best with intricate designs, but healing can be tricky due to neck movement.
lightning and thunderbolt neck tattoo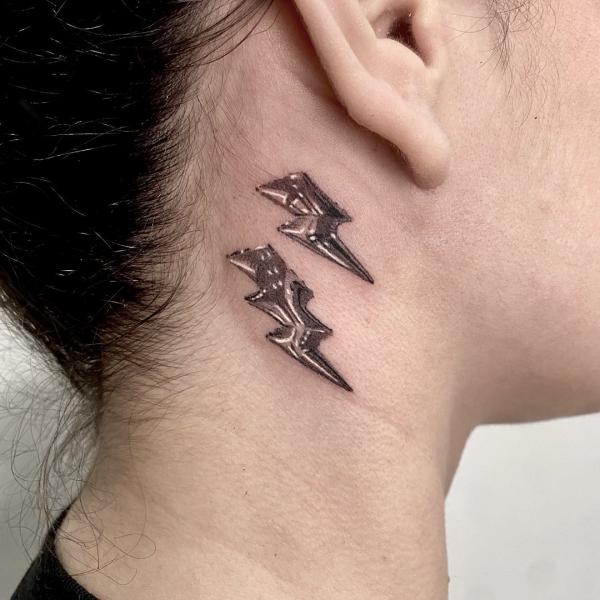 Lightning bolt tattoo on the side of neck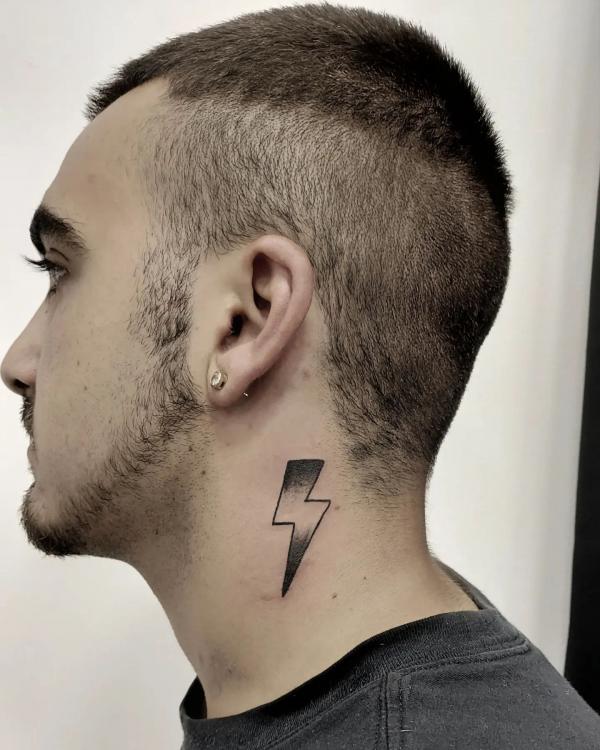 Ankle
Ankle tattoos are popular for their versatility, fitting both minimalistic and elaborate designs. They are easily concealed but can be painful due to bone proximity.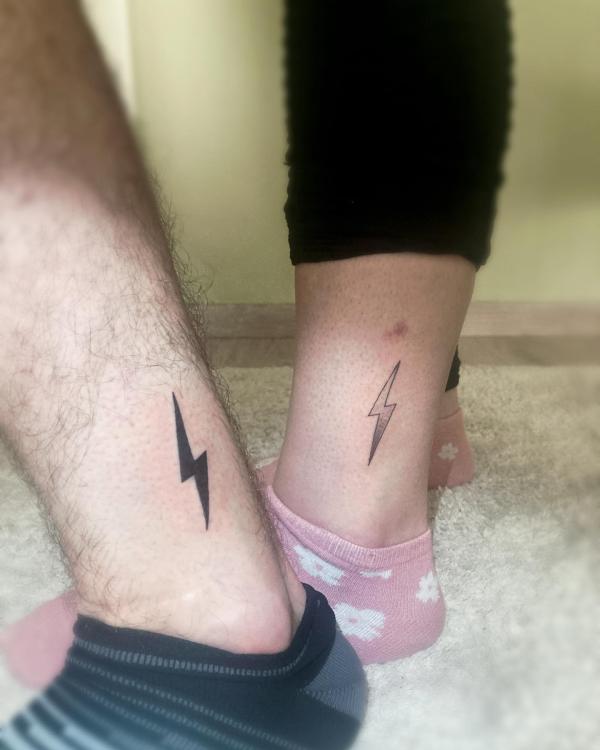 Heel
The heel provides a unique canvas for a small, personal tattoo. Heel tattoos are unique and secretive. They can be uncomfortable to get due to the bony area, but manage to surprise when revealed.
Small lightning heel tattoo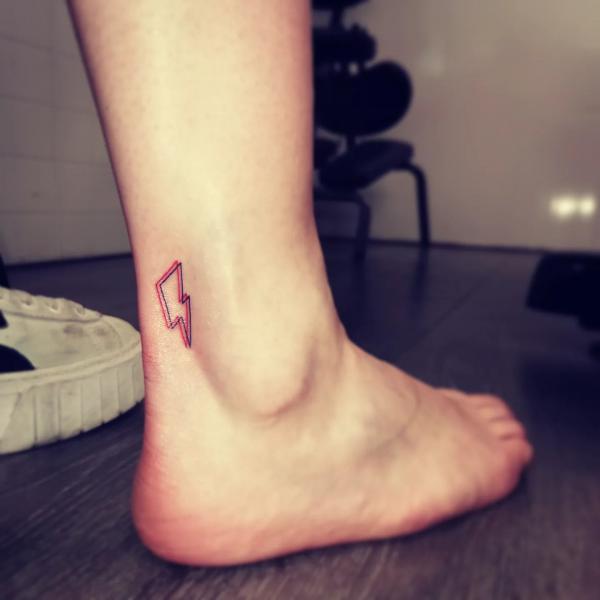 Wrist
Wrist placement is popular for their visibility. It is perfect for small, meaningful designs. You can easily show off and conceal, but healing may be slower due to wrist usage.
Bunny and lightning bolt wrist tattoo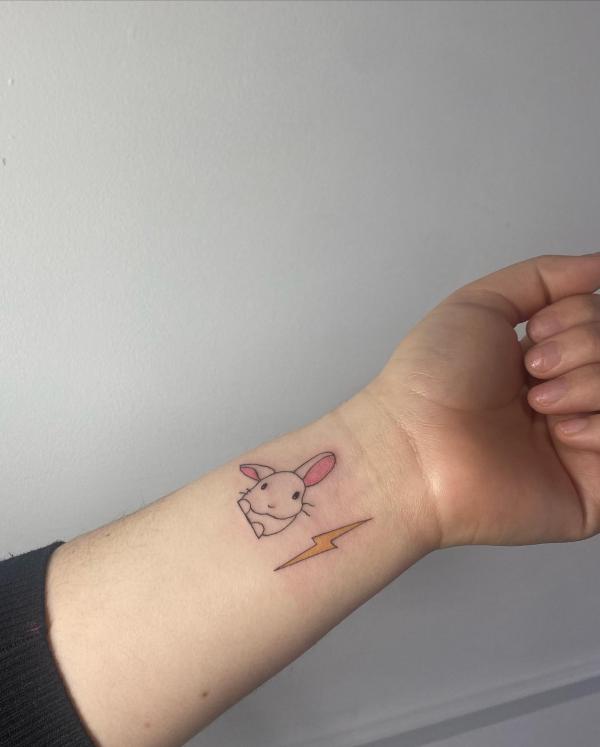 Elbow
Elbow tattoos are distinctive and bold. Inner elbow or outer one can be painful due to skin thinness and bone proximity, but offer a large design space. It is a conversation starter, especially if you often wear short-sleeved clothing.
Cloud and lightning bolt inner elbow tattoo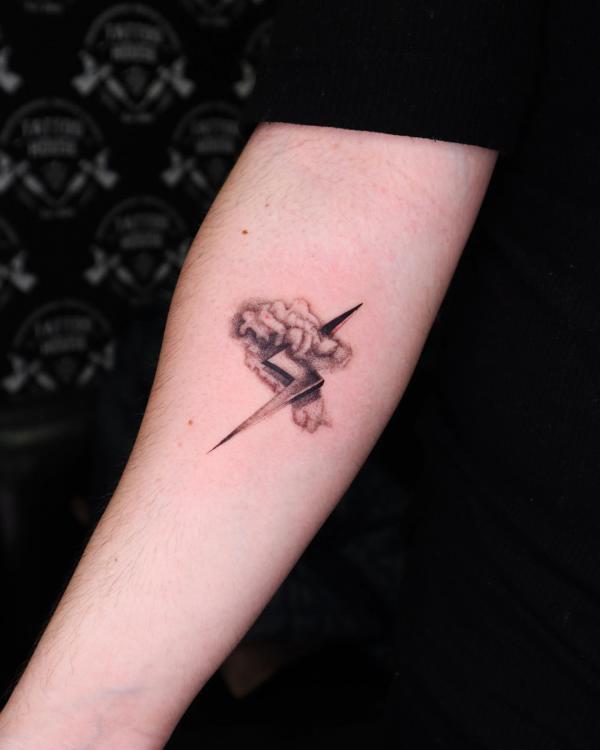 Arm
Arm tattoos are classic and versatile, suitable for a range of designs from sleeves to smaller pieces. They're typically easier to tolerate pain-wise. And it's also easy to cover up if needed.
Skull lightning bolt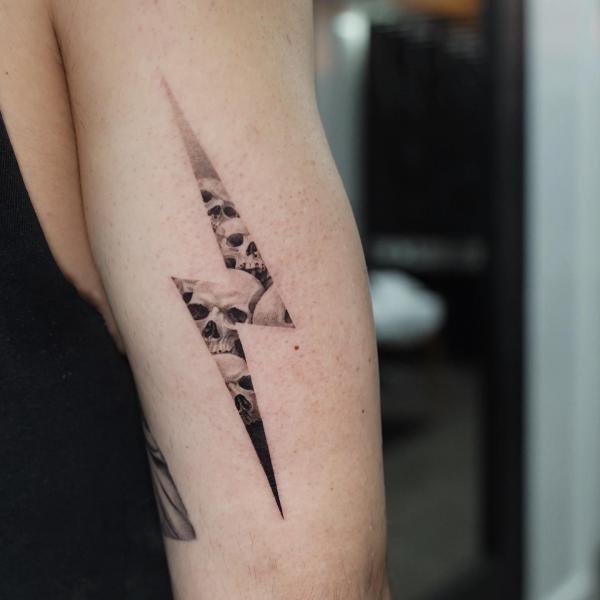 Lion face lightning bolt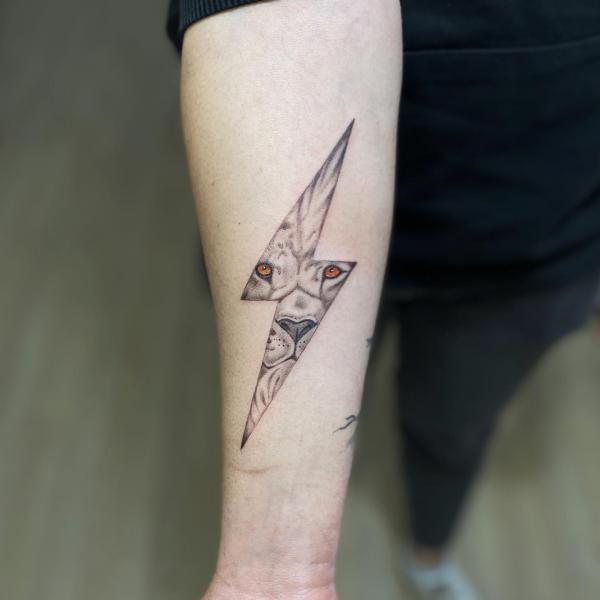 Black to red lightning bolt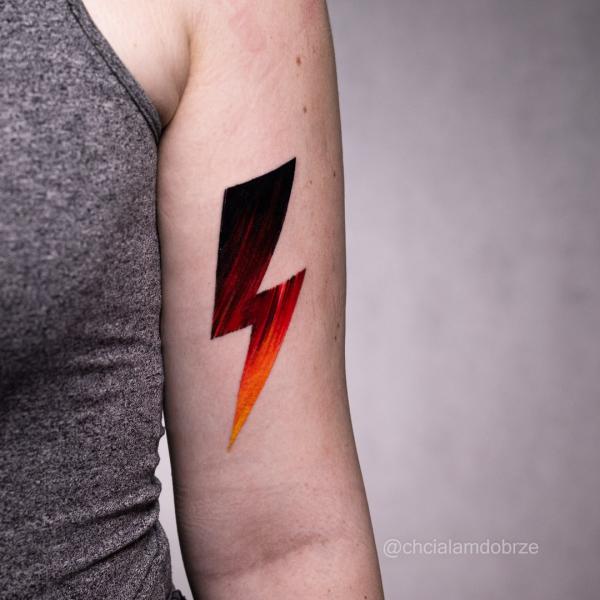 Head
For the bold and daring, a lightning bolt tattoo on the head can be a powerful expression of individuality. It requires a high pain tolerance and commitment due to their visibility.
Lightning bolt head tattoo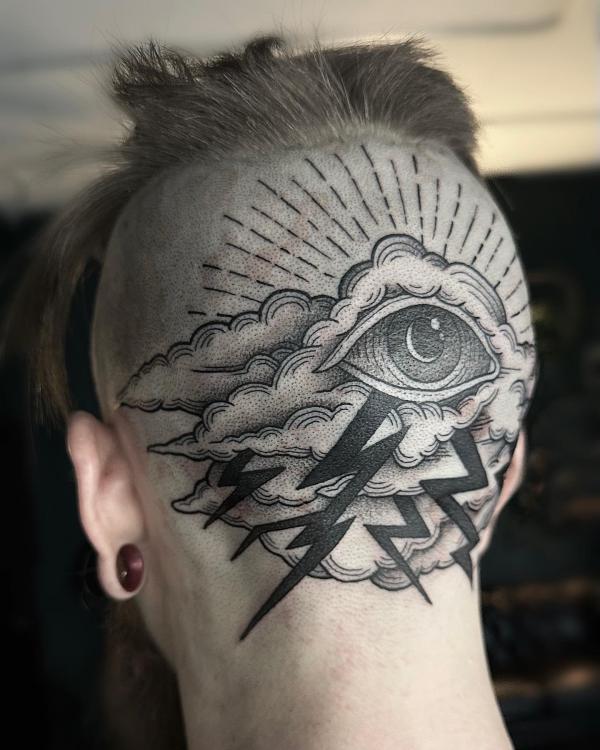 Back
The back provides a large canvas for tattoos, suitable for both small and large designs. It's ideal for detailed pieces and is relatively low in pain.
Bird and lightning bolt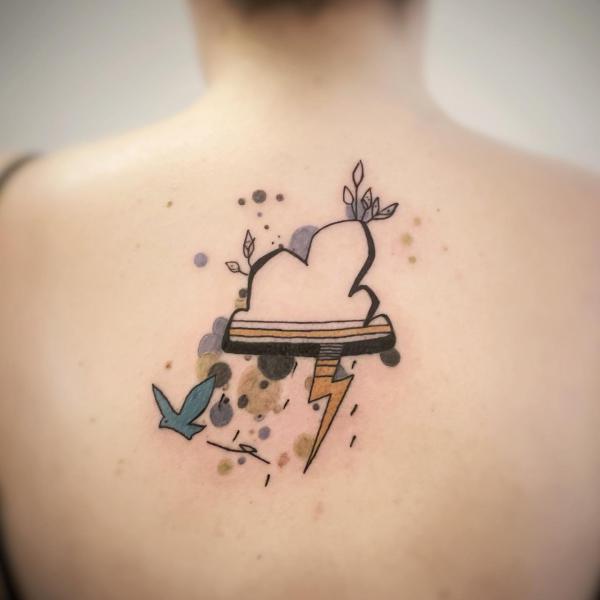 Shoulder Blade
Shoulder blade tattoos are popular for their concealability and small to medium design space. A lightning bolt design on the shoulder blade offers a balance of visibility and concealment, making it a versatile placement option.
Cloud and lightning bolt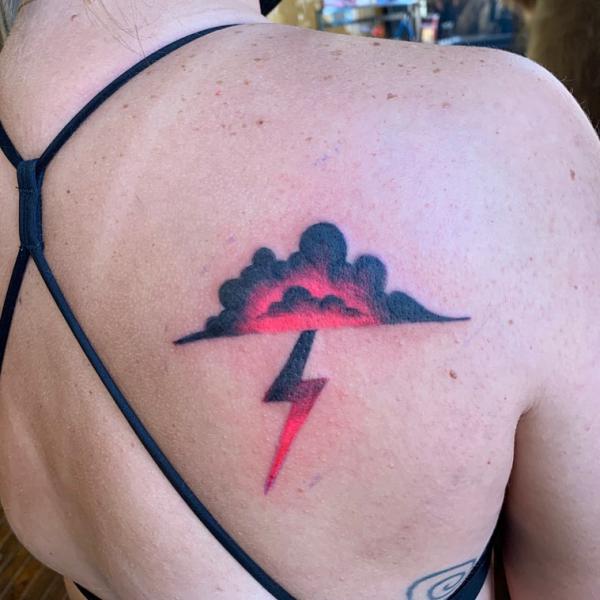 Choosing Your Lightning Tattoo Design
If you're considering a lightning bolt tattoo, reflect on what the symbol means to you. Is it about power, speed, sudden change, or divine intervention? Once you've defined your symbolism, work with your tattoo artist to create a design that embodies your unique interpretation. Remember, it's not just about aesthetics; it's about personal expression.
Conclusion
In the world of tattoos, the lightning bolt is a versatile symbol loaded with meaning. Whether it's about personal strength, overcoming challenges, or marking a significant life event, a lightning bolt tattoo makes a powerful statement. It's no wonder that this electrifying symbol continues to be a popular choice for many.