Alphonse Mucha was one of the crucial figures in the Art Nouveau movement, and he left a wonderful legacy in the form of highly aestheticized prints, drawings and paintings. He is celebrated as a virtuoso draughtsman, talented designer and a romantic painter inspirited with his Slavic roots and heritage. His works circulate the present market in the form of frequently reproduced posters, cards and other paperware because of their timeless vogue.
Alphonse Mucha was born in 1860 in Moravia, today's Czech Republic. He exhibited great drawing talent from an early age, but despite his undeniable gift, he did not get into the Prague Academy of Fine Arts. His first artistic job came when Mucha was 19, in the form of apprenticeship as a scene painter in Viennese theatre.
He spent little time in Vienna and was soon noticed by a Moravian Count Belasi. The Count commissioned Mucha to execute a series of murals for his palace, thus becoming the first patron of the artist. He was impressed and happy with Mucha's talent and he supported the creative during his studies in Munich and Paris.
The trip to Paris will mark Mucha's destiny. He arrived to the city of light in 1887 looking for an opportunity, living well on the support of a rich mecena. After the Count stopped sending the funds, Mucha was forced to live poorly, but he never gave up his work. He illustrated books and magazines and soon he reached his first recognitions and success.
The commission that brought him ture fame occurred in 1894. Mucha was asked by a friend to create a poster for theatrical production of Gismonda, played by the most famous Parisian actress of the time, Sarah Bernhardt.
His Gismonda marked a turning point in poster design, with innovations such as long and slim shape, subtle pastels and a halo-like circular shape around the main character, resembling a stained glass window. All of the traits exhibited sense of divine elegance and femininity, which will remain present in Mucha's art throughout his career. The poster became so popular, people were bribing the distributors for a copy or cutting out the glued copies with a razorblade from panels around the city. Sarah Bernhardt was thrilled with Mucha's solution and their collaboration continued, with the Czech artist designing not only posters, but costumes and stage as well.
Alphonse Mucha was made the prominent figure of the modern French Art Nouveau movement.
Throughout the following decade, Mucha's popularity grew and he designed all kinds of paperware, jewelry, cutlery, household and other items. He published a book with essential visual elements typical of his design in 1902 and he taught design as well.
The end of 19th century marked another twist in Mucha's career. After a commission to design the Bosnian pavillion at the International Expo of 1900, Mucha travelled to the Balkans to gather materials and inspiration. After a long work, he got obsessed with the Slavic idea deeply, the feeling that will stay with him all of his life.
In order to find the wherewithal to create a great artistic monument to Slav people, Mucha traveled to America seeking commercial success and sponsorship. He spent several years there and in the end he found a wealthy man, Charles Crane, who was willing to be the patron of his grand "Slav Epic" project.
In 1910, Alphonse Mucha returned to Bohemia, Czech Republic and started his life's work on the 20 large canvases depicting the Slavic history of more than a millenium. All of the paintings were completed in 1926, and Charles Crane and Alphonse Mucha presented them to the City of Prague in 1928. The canvases were shown throughout the country, but soon they were rolled up and put away for the next three decades. They were only found and restored in the 1960s, and are now on display in the Czech town of Moravsky Krumlov, still awaiting their permanent Prague dwelling.
As an advocate of the Slavic peoples, Alphonse Mucha was arrested by the Gestapo in 1939. He was released, but the experience was very traumatic. Mucha's pneumonia worsened after the capture, and he soon died at the age of almost 79. His resting place is now the most known historic cemetery of Vysehrad in Prague.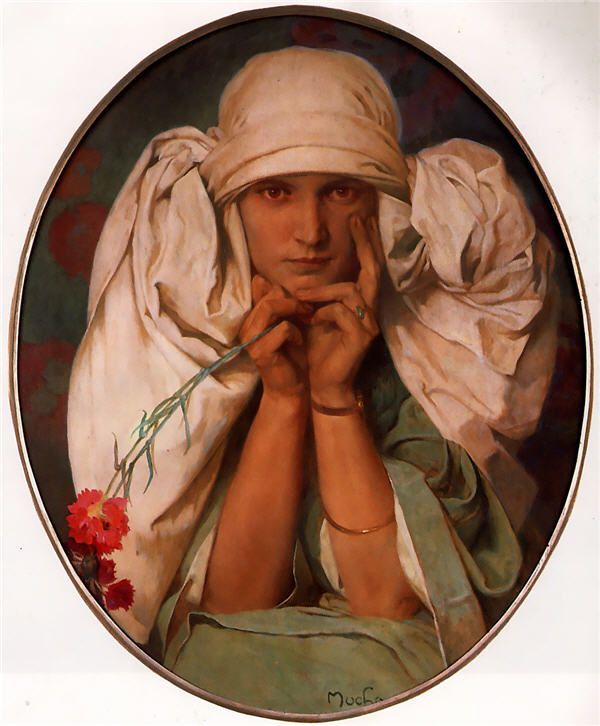 Portrait of Jaroslava, 1925
Portrait of Mucha's daughter, Jaroslava. He painted his children, particularly Jaroslava often, using her as the model for Slavic girl.
List of Paintings


Gismonda, 1894
The poster for Sarah Bernhardt's stage, which brought fame to Mucha.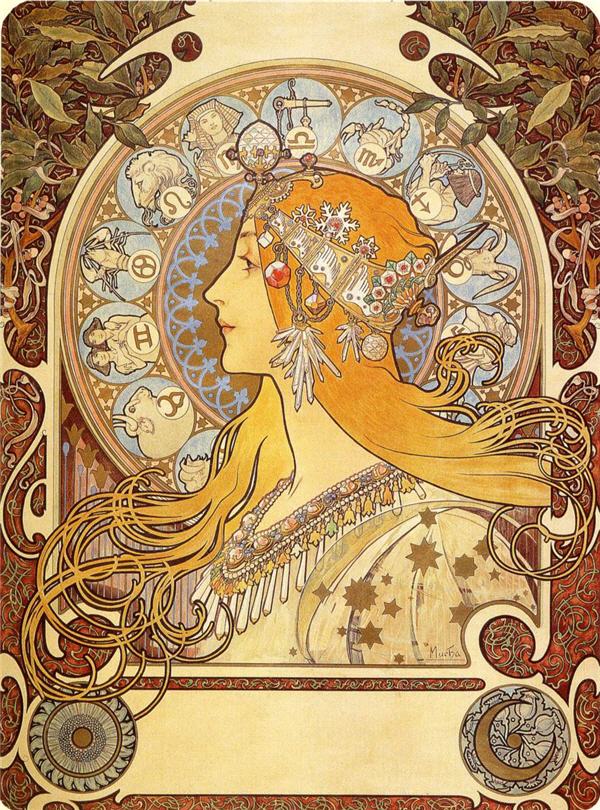 Zodiac, 1896
Mucha's allegory of signs of Zodiac. The epitome of Art Nouveau aesthetics and design.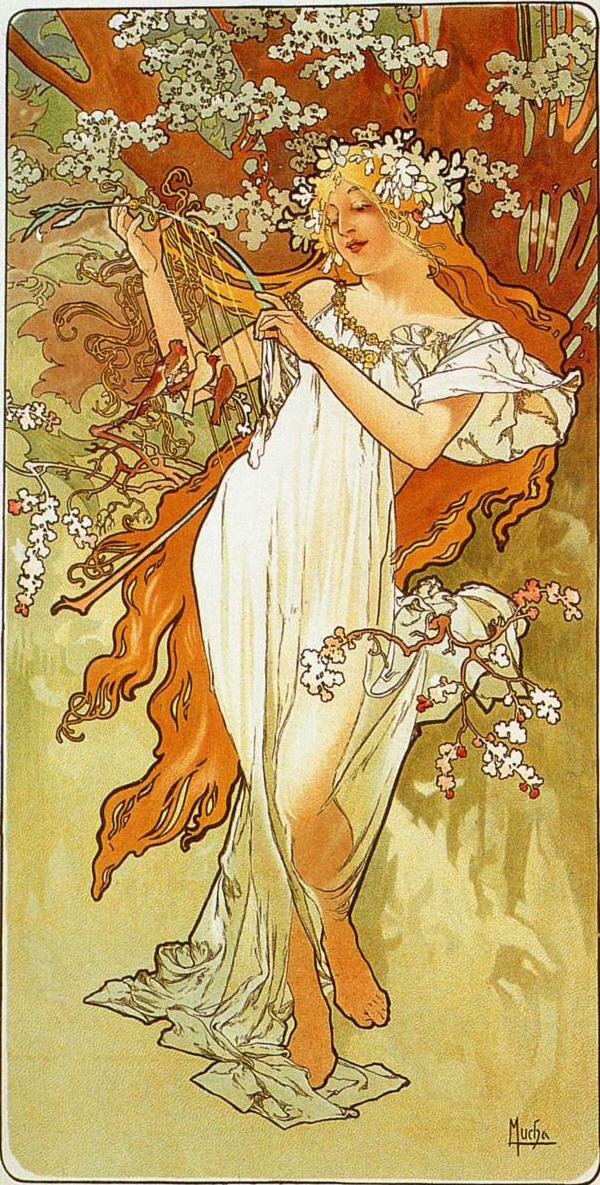 Spring, 1896
One of Mucha's depictions of seasons, this time it is the new, innocent and playful spring.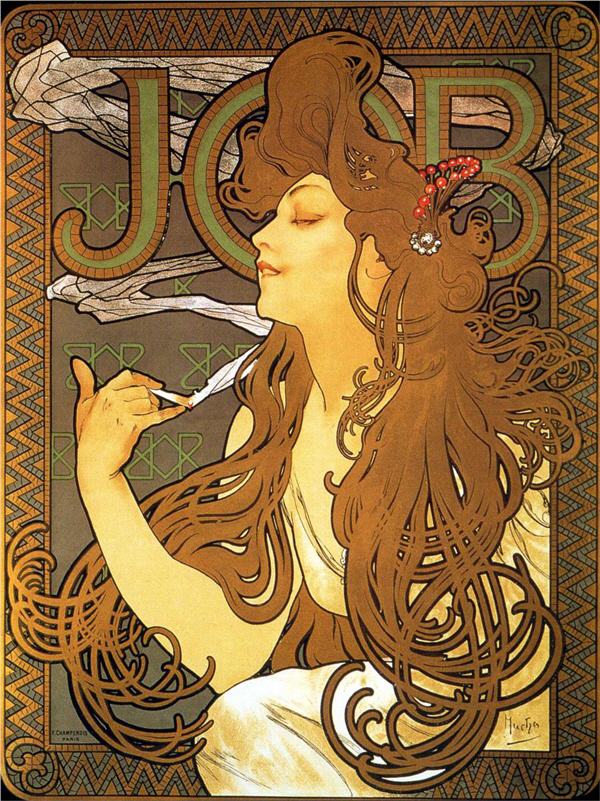 Job, 1896
Commercial for cigarettes. One of many posters made by Mucha in Paris at this time.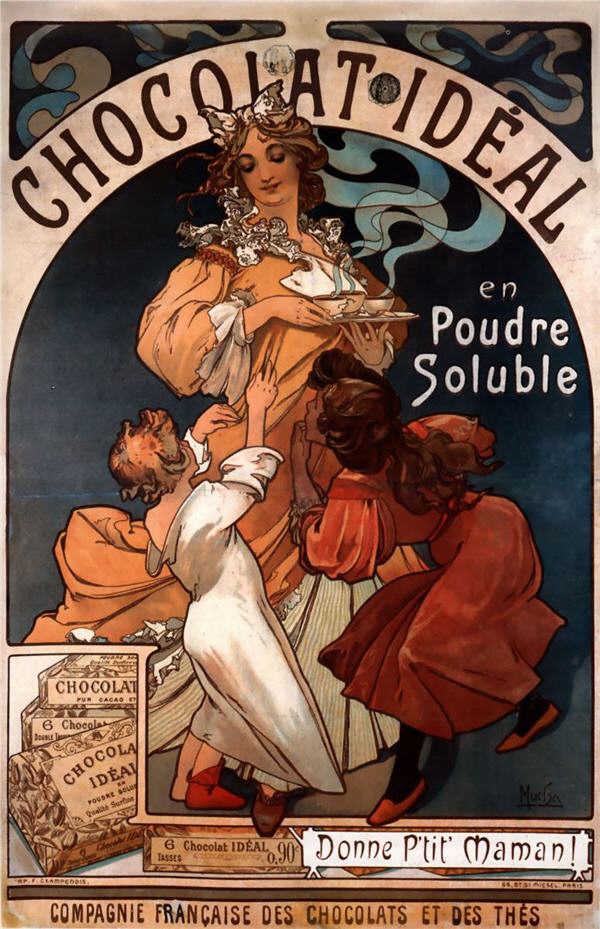 Chocolat Ideal, 1897
One of many commercial posters by Mucha. This one is for chocolate, and it is frequently reproduced even today.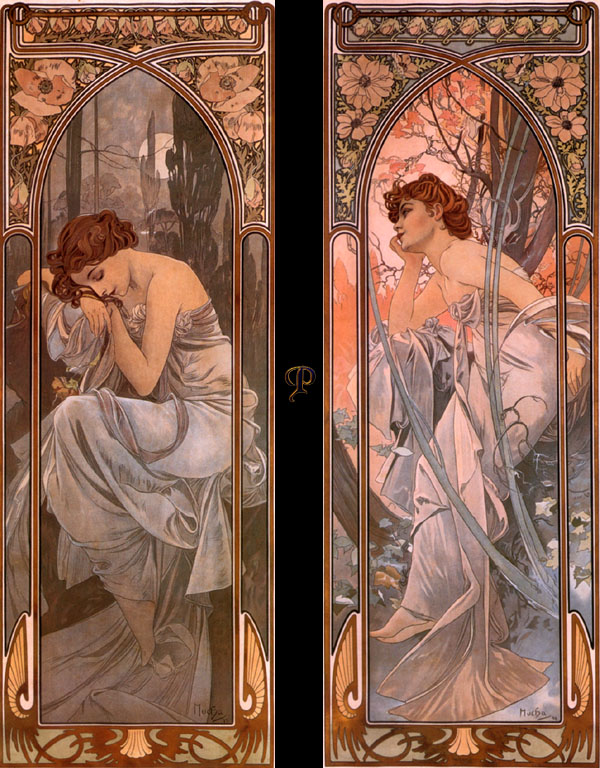 Evening reverie, 1898
Mucha often made allegorical compositions of seasons or emotional states. This is his beautiful representation of dreaming at sundown.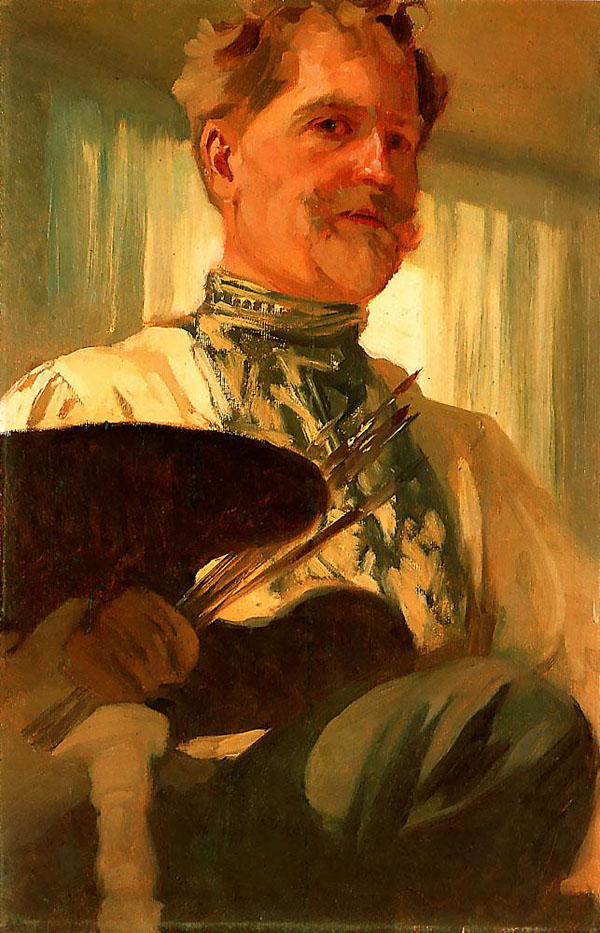 Self-portrait, 1907
Alphonse Mucha presents himself as a painter. At this time he is already overseas, seeking ways to realize the Slav Epic series.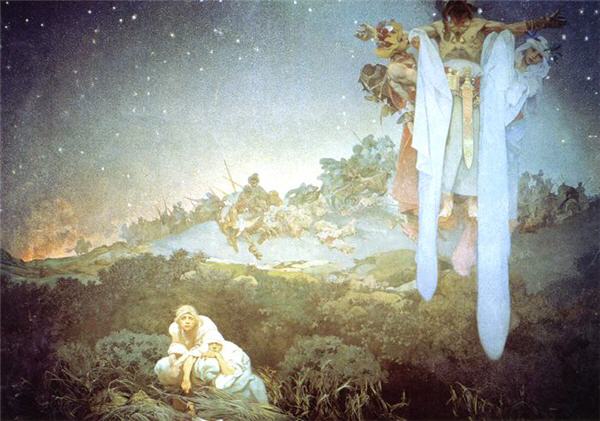 The Slavs in Their Original Homeland, 1912
Mucha began the Slav Epic from the origins, depicting people in their supposed original land in the imaginary north.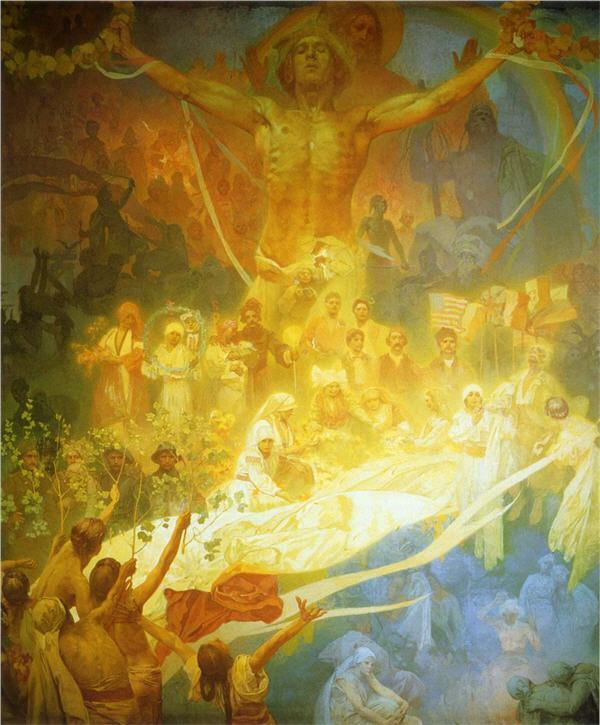 The Apotheosis of the Slavs, 1925
One of huge canvases of the Slav Epic. This composition legitimizes the Slavic people, placing them under wing of God and celebrating their heritage and ancestry. These canvases were several meters high and long.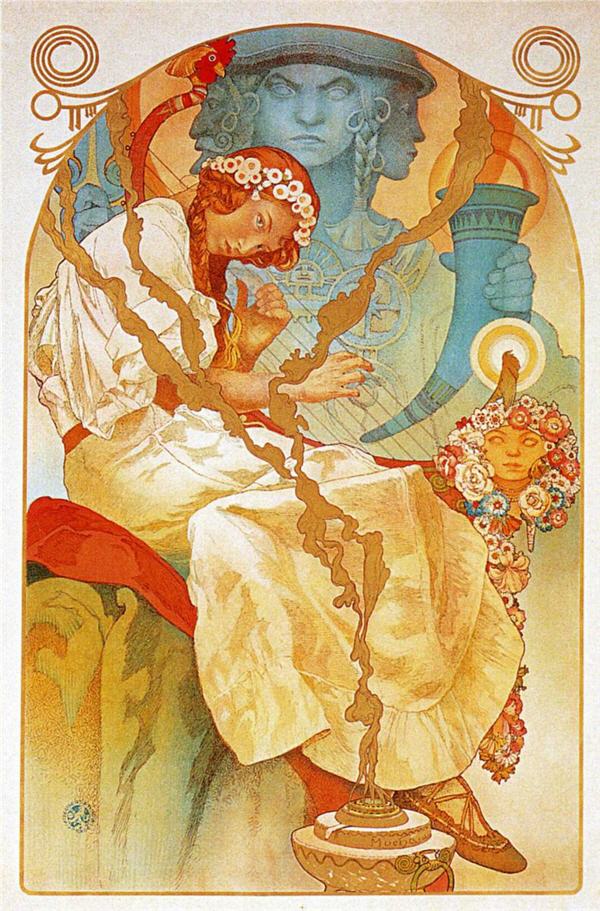 The Slav Epic, 1928
Poster announcing the exhibition of Slav Epic. It is filled with ancient, Slavic and traditional symbolism, with an iconic Slavic girl as the main character.