Salvador Dali – the most famous surrealist and one of the most influential artistic figures of the 20th century, has risen to fame due to his eccentric nature, unique talent and highly imaginative style of painting.
As he was forming artistically in the era of early modernity, when representational was largely being abandoned in the new artistic movements such as expressionism and cubism, young Dali recognized the powerful force exuded from the works of old renaissance masters, and after experimenting with modern expressions, joined the surrealist movement around 1929. This year has marked an important turn in Salvador Dali's life, because at that time he had met Gala, his later lover, wife, muse, model and the principal inspiration.
Some art historians claim that his surrealist era begun a little earlier, with paintings from 1927 and 1928, which depicted as array of subconscious sexual fixations whilst diverting from cubist approach. These paintings incorporated first glimpses of Dalinian landscape, which will prove to be one of the most characteristic features of his singular form of surrealism. Obsessed with the subliminal train of thought and the spontaneity of the unconscious, Dali delved into the movement with all of his being, collaborating with the most prominent filmmaker of the style, Luis Bunuel. Bunuel directed several iconic films, L'Age d'Or and Un Chien Andalou that display strange movement and unreal scenes, resembling enlivened Dali's painting.
Dali was cast out of the official surrealist circle in 1934, because of disagreements regarding the war, but he exhibited his predominantly surrealist works with international surrealists by 1940. Afterwards, his expression kept the recognizable traits of the style, but subject-wise it turned mostly to exploration of science and religion.
One of the emblematic Salvador Dali paintings of this period is The Persistence of Memory, a particular depiction of the inevitable passing of time. An anecdote behind it tells that Dali was inspired by a piece of cheese he found melted overnight, transformed due to the hours of standing out. The painting has proven to be both shocking and successful, being considered one of Salvador Dali emblems. He continued to explore the innermost fears and repressions of a man through a highly contemplative, but still exceptionally aesthetized style.
Since he was a brilliant draughtsman and colorist, Dali drew much inspiration from the old masters, but he transformed forms in extravagant and inventive ways, composing an entirely new, modern and innovative style of art. Salvador Dali paintings are distinguished by the use of double imagery, ironic scenes, optical illusion, oneiric landscape and deep symbolism.
Throughout his artistic life, Dali was in no case limited to one sole media. He worked with oil paint and watercolors, he created drawings, sculptures, films and photographs. Even a form of performance was not alien to the artist, nor was the creation of jewelry, objects and other applied arts works. Highly prolific and extraordinarily gifted, he left a vast legacy for the generations of artists and art enthusiasts to follow and enjoy.
Here are 15 examples of surrealistic Salvador Dali paintings, as an overview testifying to his fantastic talent, imagination and mastery.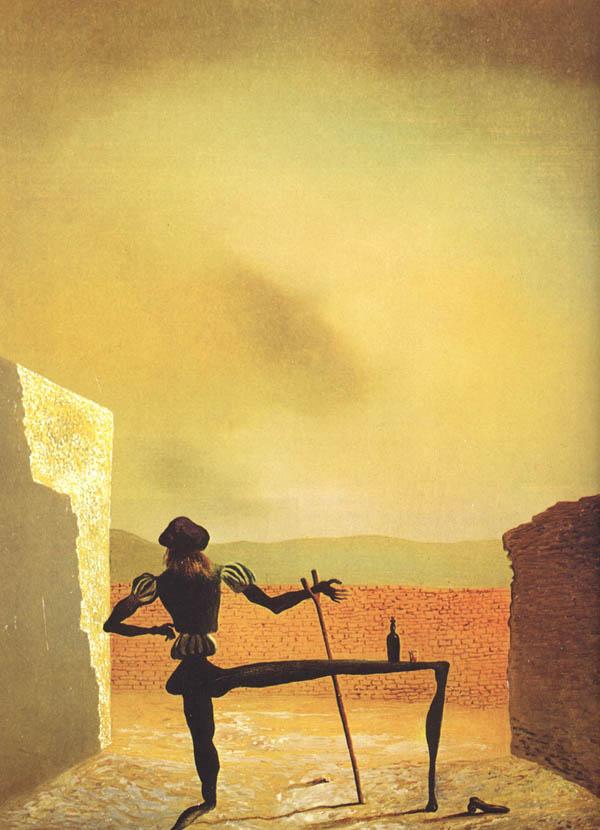 1. The Ghost of Vermeer of Delft Which Can Be Used As a Table, 1934
This small-scaled painting has a rather long original title, and it is the embodiment of Dali's admiration for the great Flemish 17th century master, Johannes Vermeer. It renders the subject of Vermeer's self-portrait in The Art of Painting, through the lense of Dali's surrealistic eye.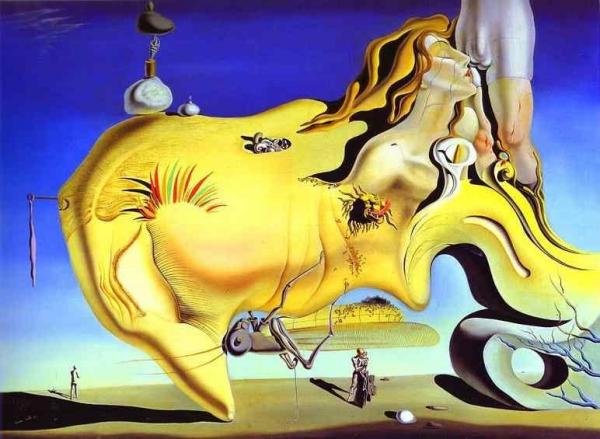 2. The great masturbator, 1929
The painting depicts the inner struggle of feelings arisen by the question of sexual intercourse, as perceived by the artist. It emerged as an awakened traumatic memory from childhood, when he saw a deliberately open book on venereal diseases left by his father.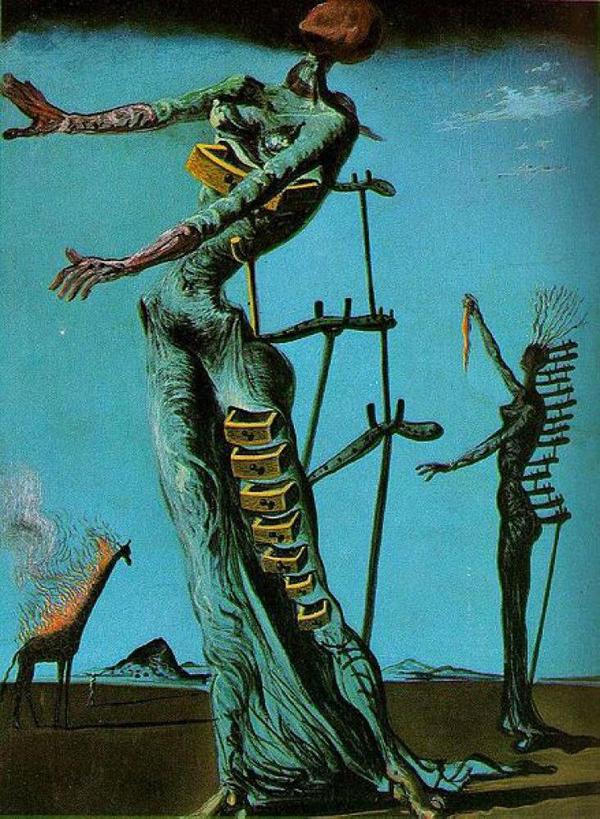 3. The Burning Giraffe, 1937
This painting was completed prior to the artist's exile to the United States in 1940. Although he claimed to be apolitical, this painting, and many others as well, display deep and unsettling emotions of anxiety and horror Dali must have felt in the tumultuous era between the wars. This particular piece is a reflection of his inner struggle regarding the Spanish Civil War, but it also contains references to Freudian psychoanalytical method.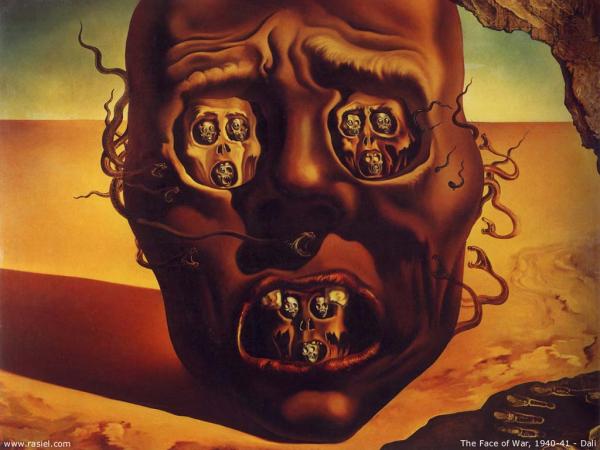 4. The face of war, 1940
The agony of war was a great inspiration to Dali. He believed his paintings to be premonitions of war, and this particular work was created in between the Spanish Civil War and Second World War.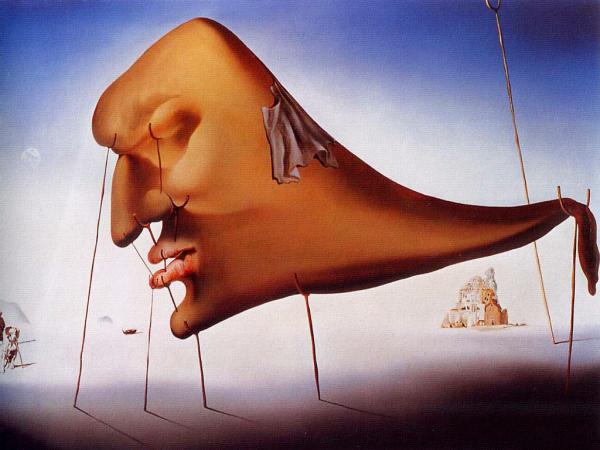 5. Sleep, 1937
Commissioned by Dalis patron of the time, Edward James, a British millionaire, this painting renders some of the common surrealist subjects – phenomenon of sleep, subconscious mind and freedom of the oneiric world.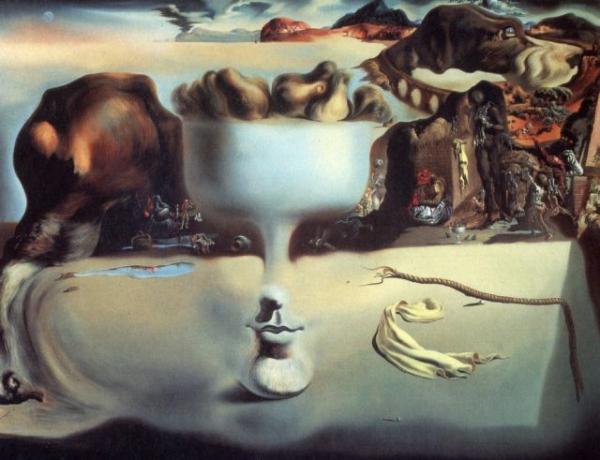 6. Apparition of face and a Fruit Dish on a Beach, 1938
This fantastic painting is particularly interesting, as it exploits double imagery, providing the depiction itself with layered meaning. Metamorphosis, surprising juxtapositions of objects and shifting appearances are some of the characteristics of Dali's surrealistic paintings.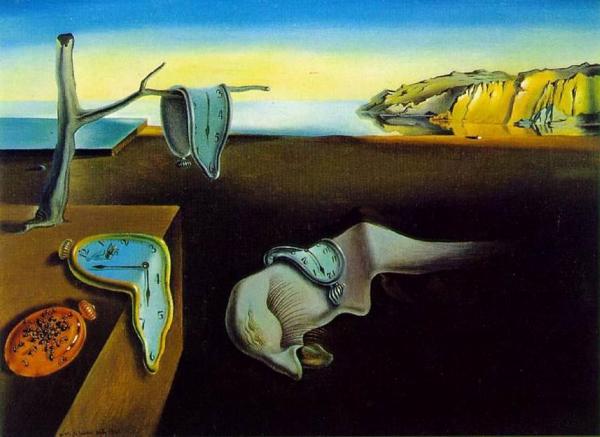 7. The Persistence of Memory, 1931
Perhaps the most iconic Salvador Dali surrealistic painting of all, it embodies the duality of softness and hardness, symbolizing the relativity of space and time, largely leaning onto Einstein's Theory of Relativity in essence, although Dali has revoked the Camembert cheese melting in the sun when talking about this piece.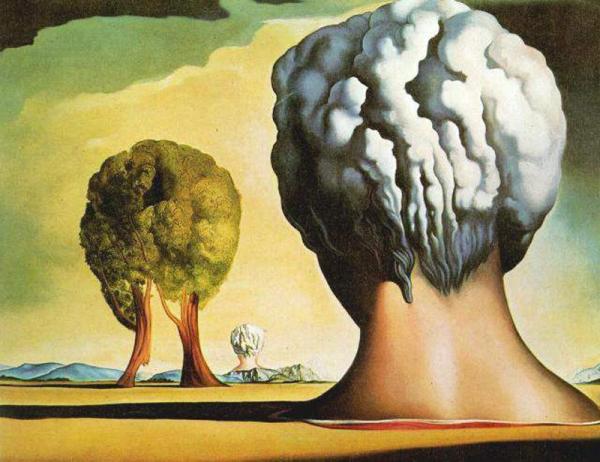 8. Three sphinxes of bikini, 1947
Evocations of war are present in this surrealistic depiction of the Bikini atoll. Three symbolic sphinxes occupy different plans, each standing for themselves – a head for humanity, tree for nature and nuclear explosion mushroom for war and horror. The painting investigates the relationships between the three subjects, from the very personal Dali's viewpoint.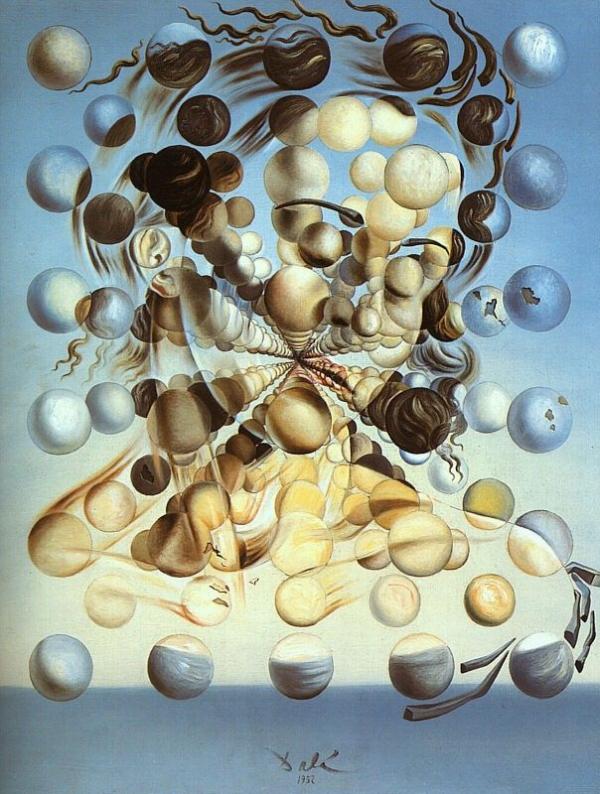 9. Galatea of the spheres, 1952
A portrait of Dali's wife Gala, depicted through an array of globular shapes, inspired by science, but resembling a portrait of a Madonna, it lifts Galathea above the world of tangible into an upper, ethereal sphere.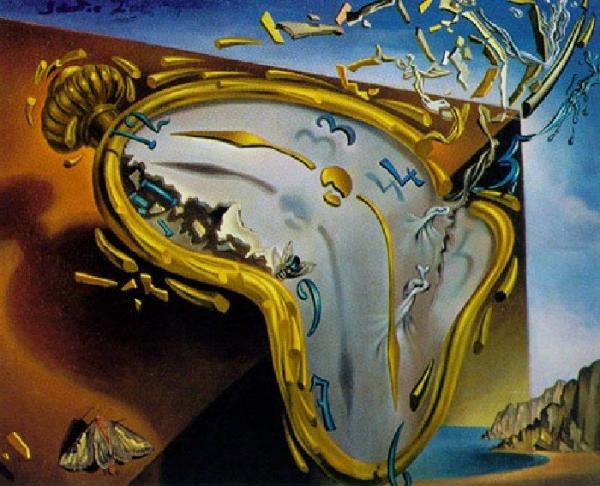 10. Melting watch, 1954
Another rendering of the subject of time, representing the ethereal softness of a typically hard-cased pocket watch.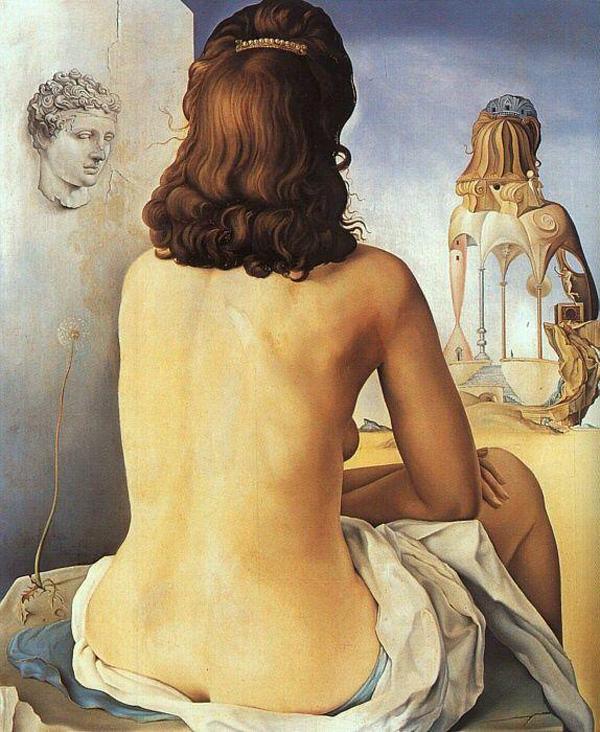 11. My Wife, Nude, Contemplating her own Flesh Becoming Stairs…, 1945
This wonderful depiction of Gala's back is one of the most eclectic works by Dali, as it marries the classic and the surreal, and the calm and the odd.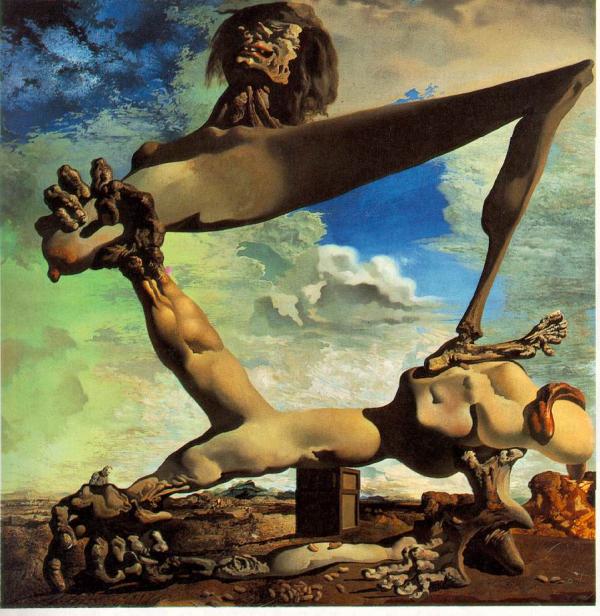 12. Soft construction with Boiled Beans, 1936
The painting title in the parenthesis is Premonition of Civil War, depicting the anticipated horrors of Spanish Civil War, as it was painted six months prior to the conflict. One of Dali's premonitions.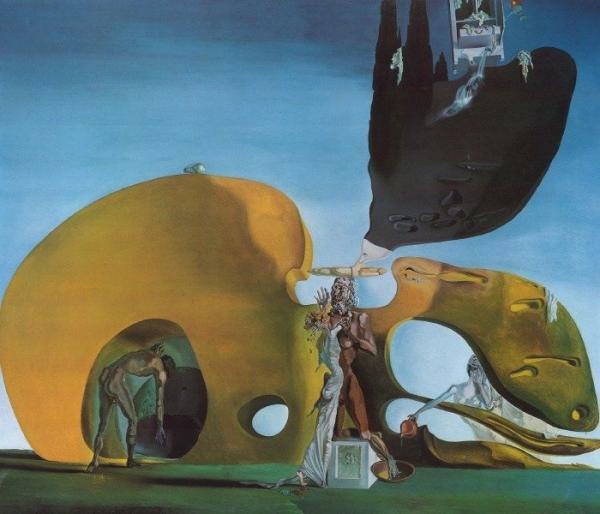 13. The birth of liquid desires, 1931-32
One of the examples of his paranoid-critical approaches to art, depicting father, maybe mother blended with a grotesque, unreal image of a hermaphrodite in the middle. Packed with references and symbolism.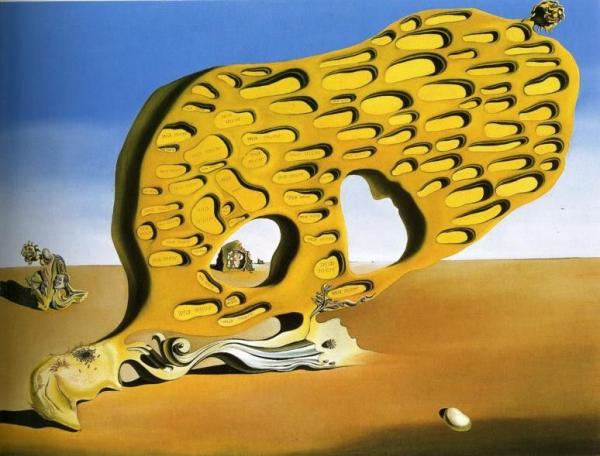 14. The Enigma of My Desire or My Mother, My Mother, My Mother, 1929
Constructed upon Freudian principles, this painting is an example of Dali's relationship with his mother, whose huge, distorted body is devouring and powerful, ruling the vast Dalinian desert.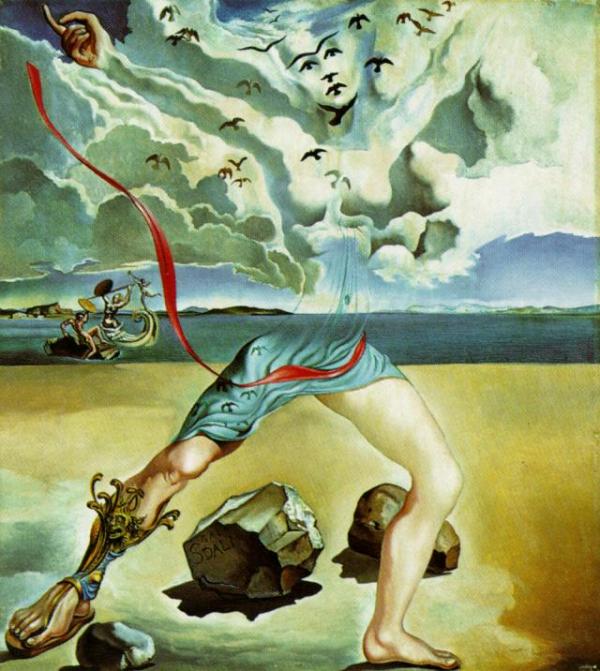 15. Untitled – Design for the Mural Painting for Helena Rubinstein (panel 1), 1942
The design was done to serve as template for the interior decoration of Helena Rubinstein place. Inspired by classic mythology, it is overtly surrealistic, tapping into the world of imagination and dreams.
More Salvador Dali Paintings
Young Virgin Auto-Sodomized by the Horns of Her Own Chastity, 1954
The painting joins large female figure and abstract background, while exploring the issue of repressed sexuality through explicit title and phallic forms, appearing often in Dali's oeuvre.
Geopoliticus Child Watching the Birth of the New Man, 1943
Painter during Dali's stay in the United stated in the 1940s, this painting evokes the shape of a globe which appears to be hatching a symbolic new man, a man of the new world.