A full sleeve tattoo is usually intricate from the shoulder to the wrist of the arm, which is an attractive canvas for both tattoo lovers and artists. It is inevitably a choice for tattoo addict as there are so many wonderful designs and subjects for reference. But there's something you need to know before having the full sleeve tattoo despite of the lure.
Depending on the complexity of the design, it normally takes longer time to get it done, whether you would like to fill in one for cover up, or to create a new design. Because of its large area, it's more difficult to remove. Bad one or poorly executed may be offensive, so it's important to have careful study on both the studio and the design.
Full Sleeve Tattoo Ideas Collection
Fortunately, there are a lot of great ones we can take reference. In this post, I carefully collected a list of 100+ awesome full sleeve tattoos for your reference. Hope you can find inspiration on your full sleeve tattoo ideas. Be sure check out the link to view more portfolio of the tattoo artists. Remember it's the same important to appoint an best tattoo artist for you tattoo execution.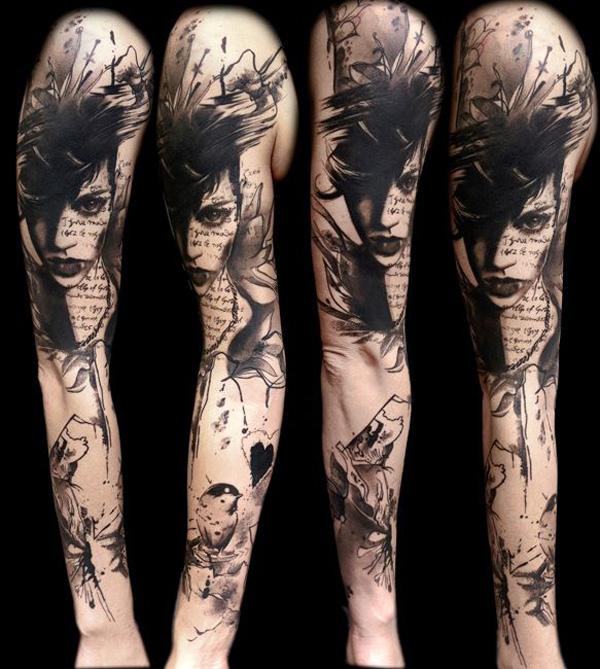 Whimsical illustration
This awesome tattoo is a whimsical illustration inked on the canvas of 360 degree of full sleeve with a fashionable female portrait, flying birds, heart symbol splashed with black ink and decorative cursive script.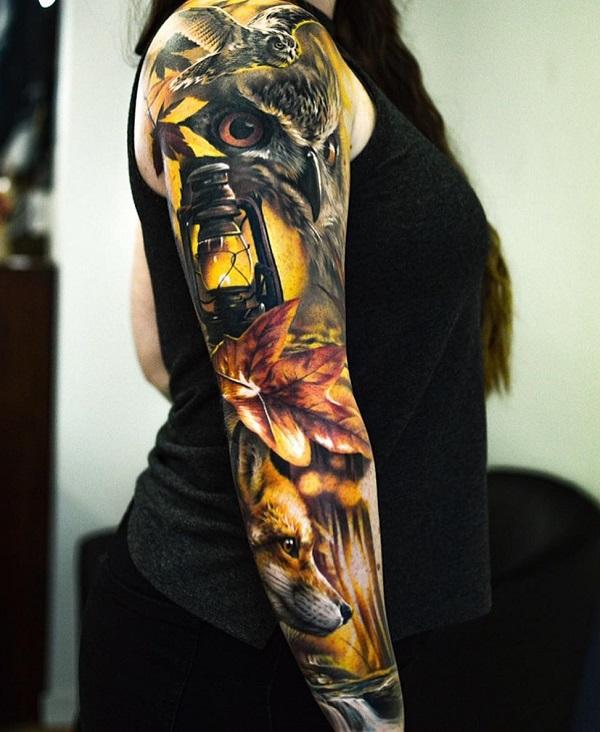 Owl, oil Lamp,fall leaf and wolf
An intricate brilliant design combines alerting elements of flying birds, a owl, an oil lamp, a fall leaf and a wolf, which transmits vigilance attitude toward life. On the other hand, the elements are rendered in realistic style and the theme is amazing.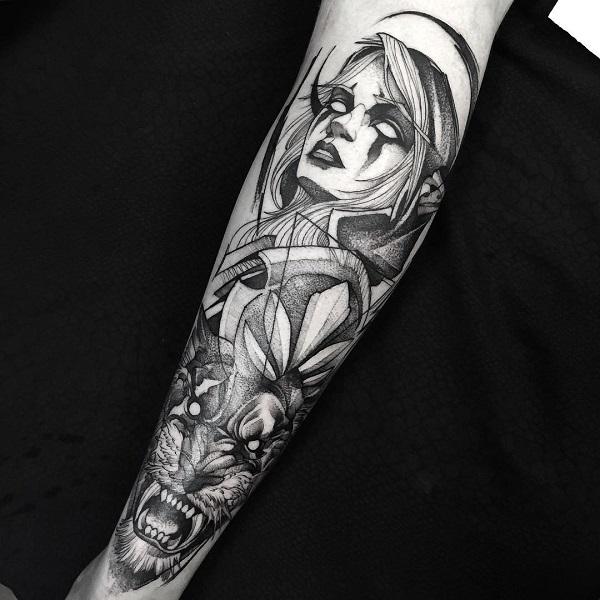 World of Warcraft character
Video game character has always been inspiration for tattoo ideas. For example, World of Warcraft has become popular and one of sources for sleeve tattoo idea. People love to play the online game because of heroes, joy and frustration brought by the game.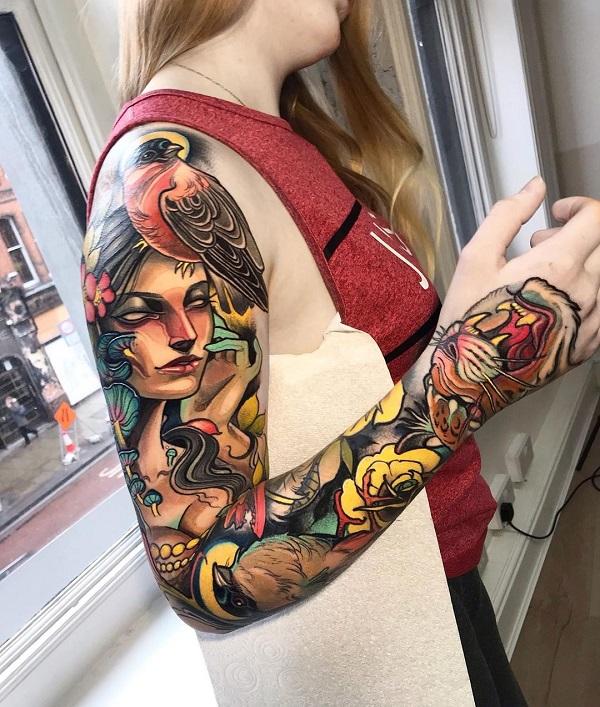 Stylish woman
I have never been so impressed by the traditional tattoo like this one. The beauty of the stylish woman is not only rendered by the elements like standing bird, flora and tiger face, but also enhanced accent of color and seamless combination of the elements.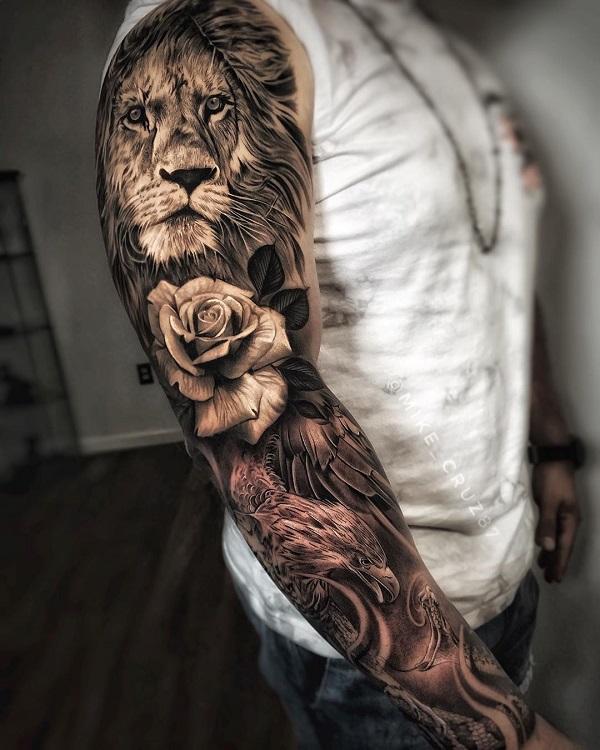 Lion, rose and bird
The lion is considered the king of the jungle that's why it' a quite masculine metaphor to express the meaning of power and strength. Rose, on the other hand, is the representation of love, which means even the strongest man conceals love in his deep heart.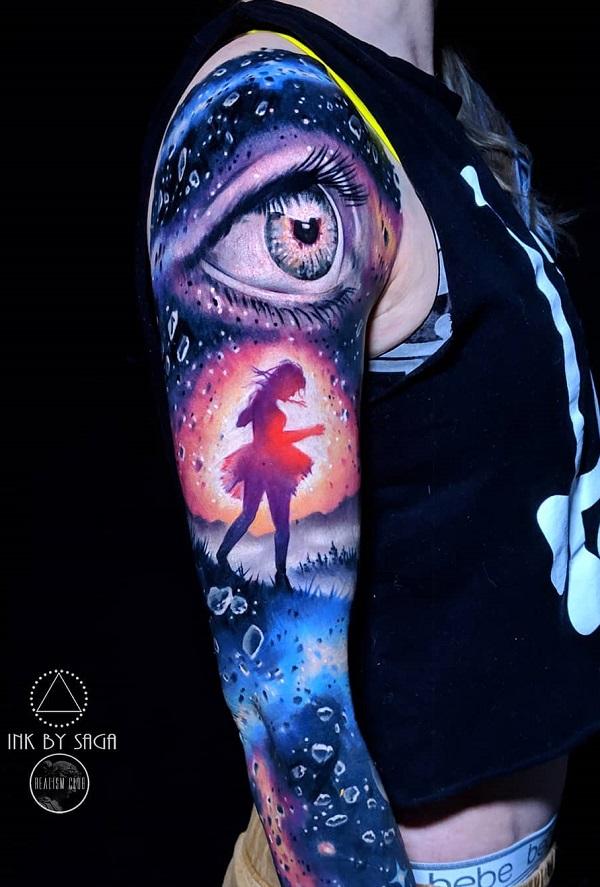 Free dance
Life is beautiful and colorful, which is especially true in amine and fantasy world. The tattoo turns the arm into a fantasy world full of UV light with focus on the dancing girl under the spotlight of a fire ball. On the top, a staring eye adds mystery to the look.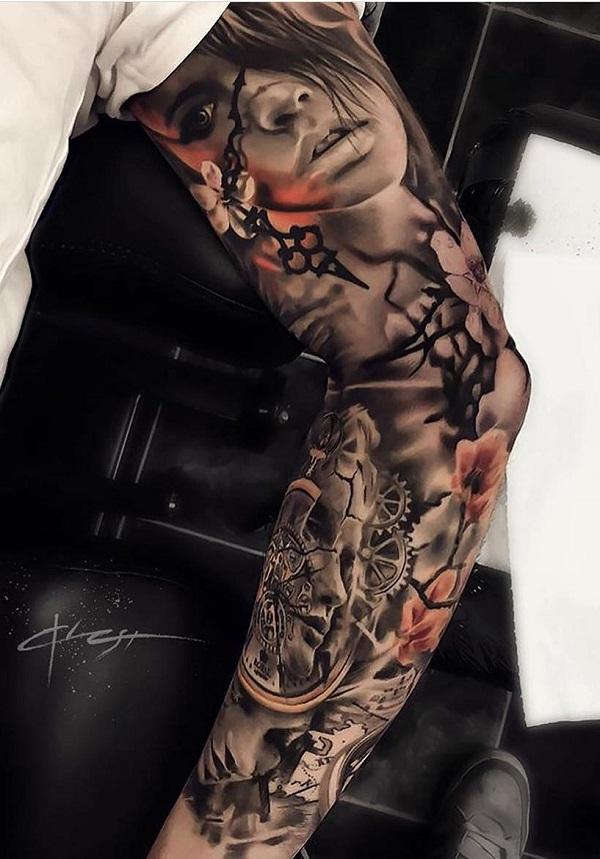 Wonder girl
The incredibly realistic tattoo highlights a pondering girl done in shades of black and white. Moreover, the clock hands in front of her face as well as the clock in retro steampunk style accent the mood of the picture.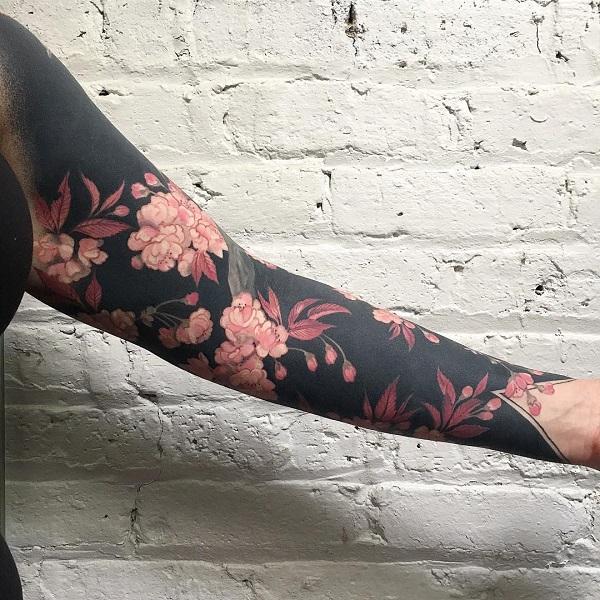 Tight shirt
The black themed tattoo turns the woman's arm to sleeve of tight shirt with flower decorating pattern, which is evident by the triangle cuff at the end of the tattoo.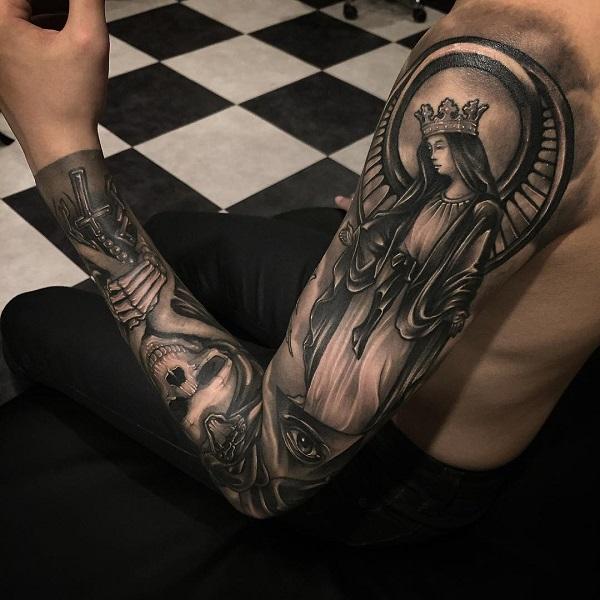 Queen of myth
Many of tattoos are based on legends or mysterious stories. For example, this tattoo features a woman with a crown and halo in abstract depiction. The great details of cross, shark mouth and triangle eye add eery feeling.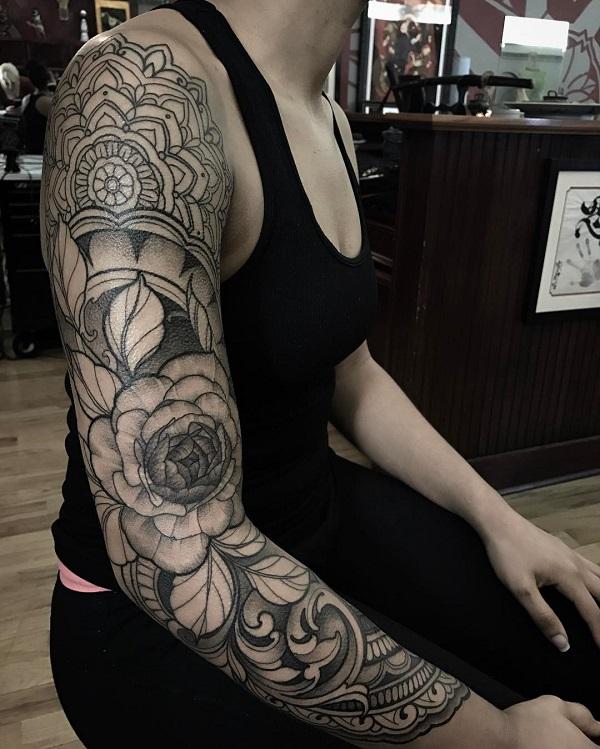 Mixed flowers full sleeve tattoo
The flower inspired sleeve tattoo features concentric mandala on both ends. In middle, a rose flower is centered at the place of elbow.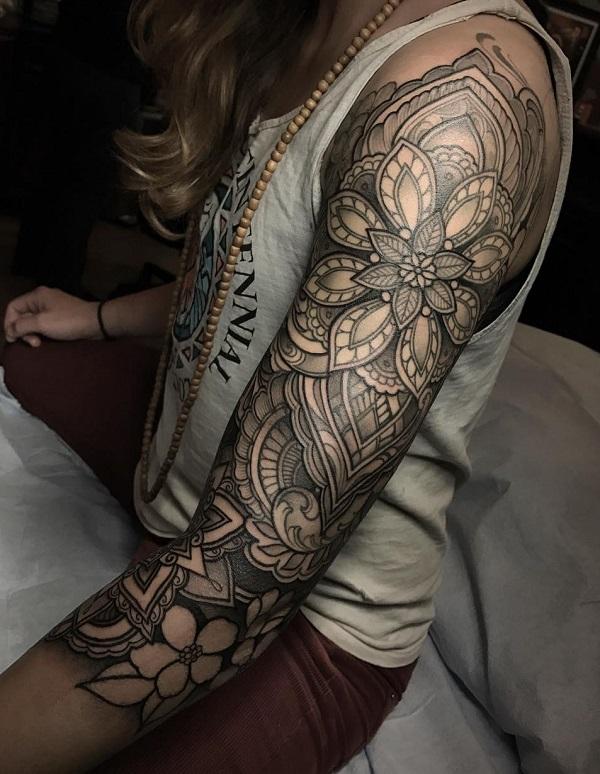 Mandala layers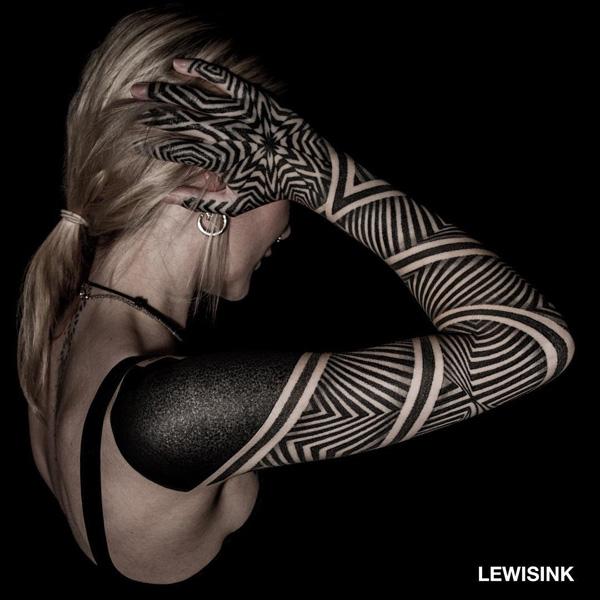 Geometric elements are often used by artist to create optical illusions in their abstract artwork. This tattoo employs pure geometric shapes and patterns across shoulder and full sleeve. It appears stunning and astonishing.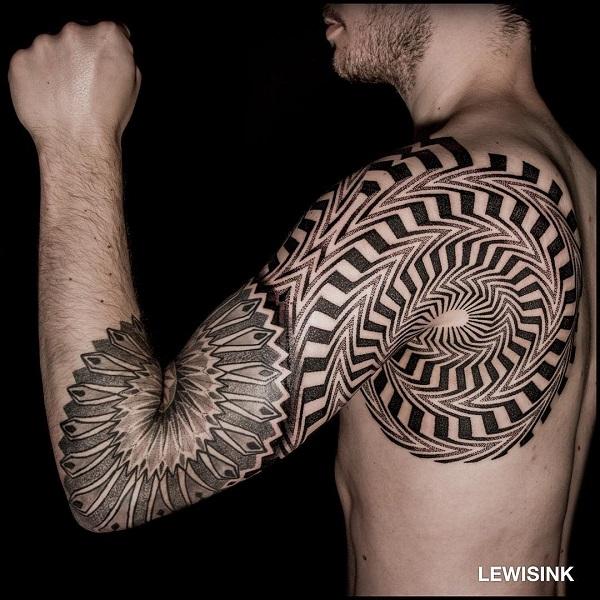 Tribal mandala – Geometric symmetry full sleeve tattoo for men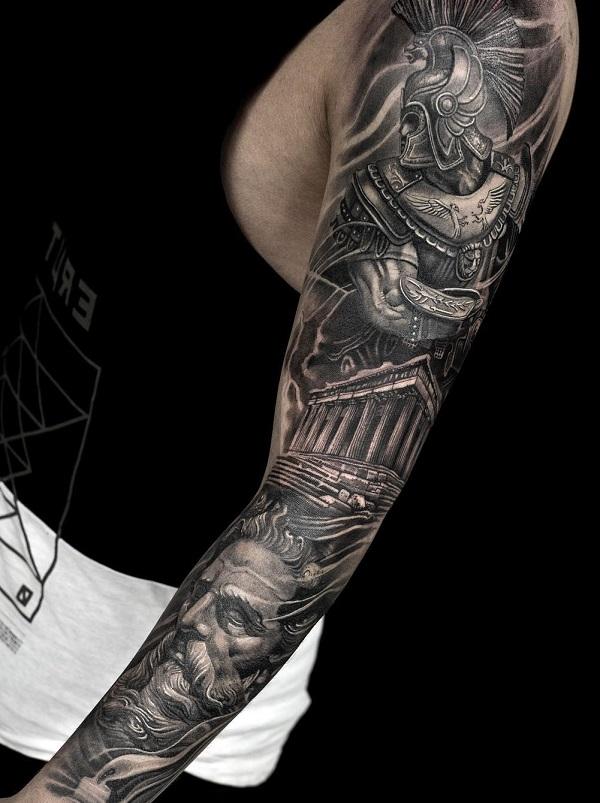 Warrior vs philosopher
The black and white themed tattoo takes you to distant Greek civilization. On the top is a fully armored soldier and on the bottom is a meditative wise man. There is always debate who is the best dominant to govern the country.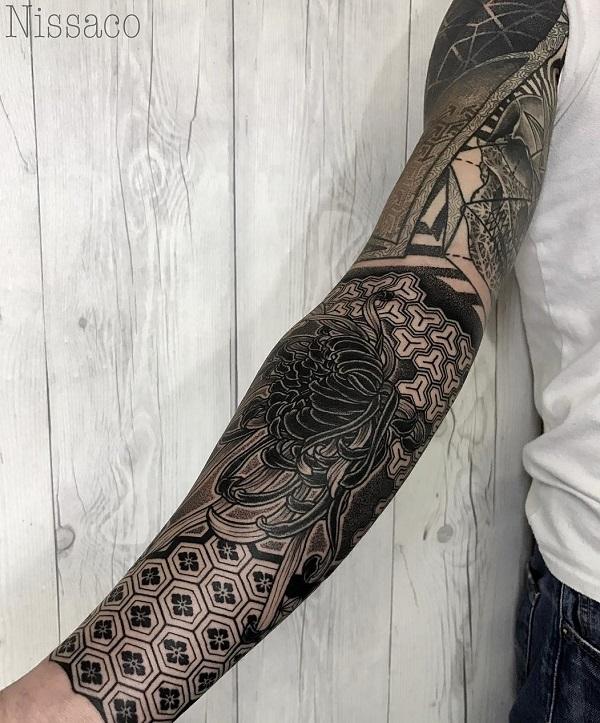 chrysanthemum themed full sleeve tattoo for men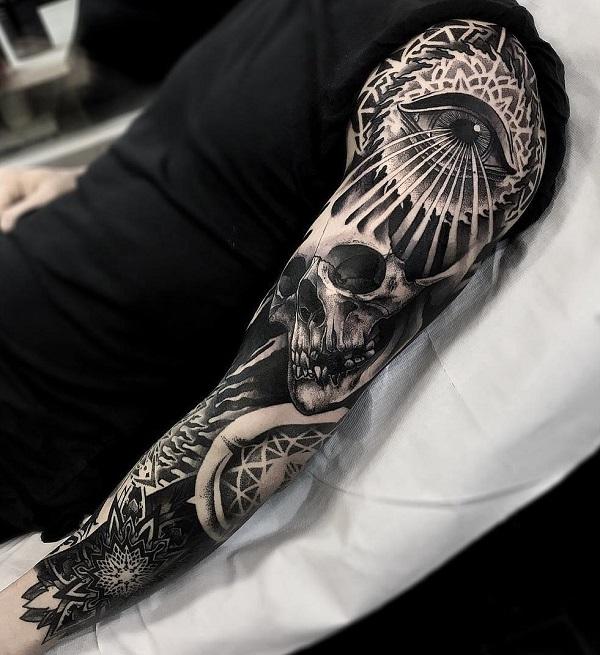 Skull with eye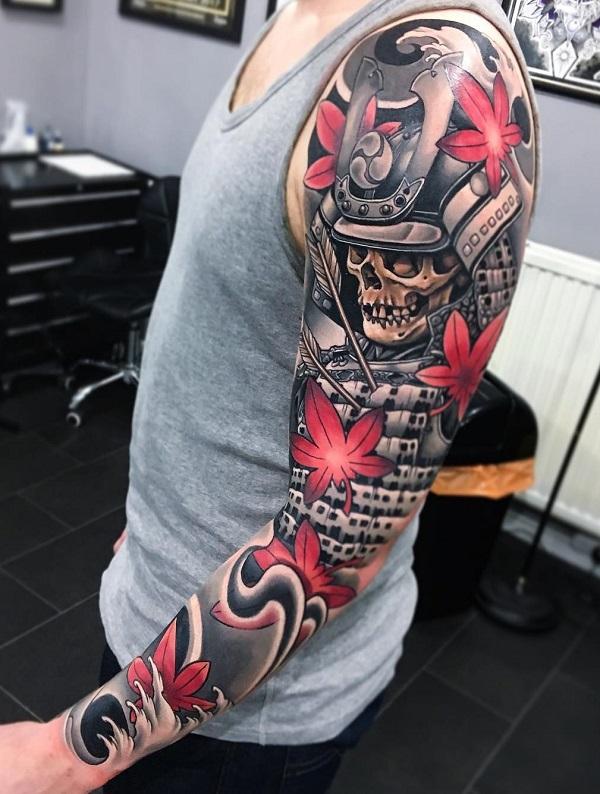 Sugar skull wearing a helmet tattoo on arm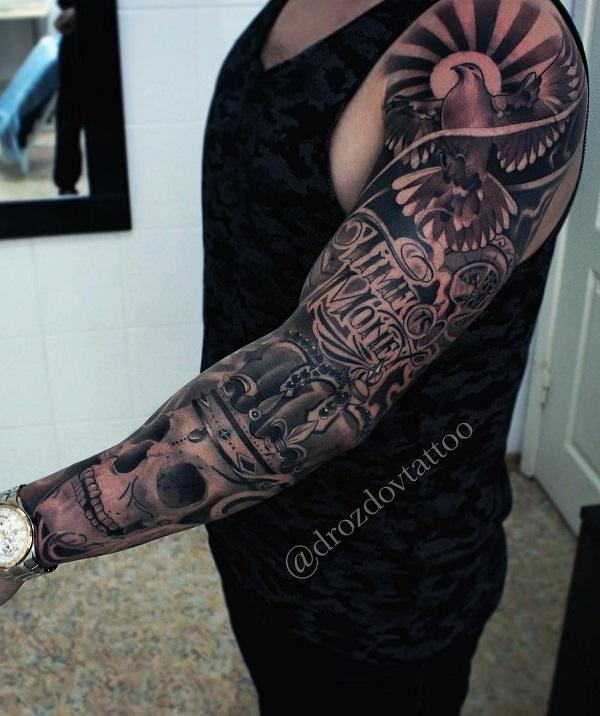 Dove and skull sleeve tattoo