Tattoos are an increasingly popular form of body art, and small tattoos have become especially trendy. Not only do they look cute, but they're also easy to hide if necessary. Whether you're looking for a subtle way to express yourself or just want something that won't take up too much space on your body, small tattoos might be the perfect choice for you!
Why to get a small tattoo?
Smaller tattoos are ideal because they don't require as much commitment as larger pieces. You can easily get creative with placement and design without having to worry about it becoming overwhelming or taking up too much real estate on your skin. Furthermore, since smaller designs often cost less than bigger ones due to the amount of time required in tattooing them out properly, you can save money while still getting a meaningful piece of artwork that speaks volumes about who you are!
From minimalist dots and lines all the way through intricate floral patterns – there is no shortage when it comes down to choosing what kind of design best suits your personality. In addition, smaller designs offer greater versatility when deciding where to place new ink, providing more freedom for creative and personal expression. Compared to larger pieces, which may be limited by size constraints alone, smaller designs can allow for more options and flexibility.
Versatility of Small tattoo designs
There is an endless variety of small tattoos that can be tailored to fit any individual's style. Whether you're looking for something subtle or want something more dramatic and eye-catching, the perfect small tattoo design awaits your inspiration!
Small Dreamcatcher Neck Tattoo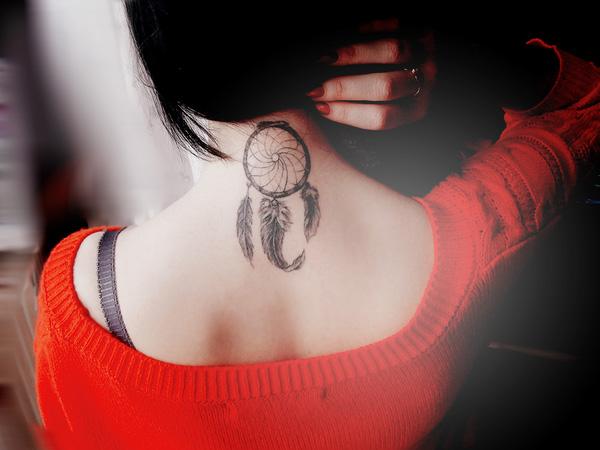 The small dreamcatcher tattoo is a beautiful and meaningful way to express your individuality. This type of tattoo symbolizes protection, good dreams, and hope for the future. It can be subtle enough that it won't interfere with professional dress yet still make a statement about who you are and what matters most to you in life. The intricate details of this design also help create an eye-catching piece that will last for years to come.
Silhouette birds tattoo on forearm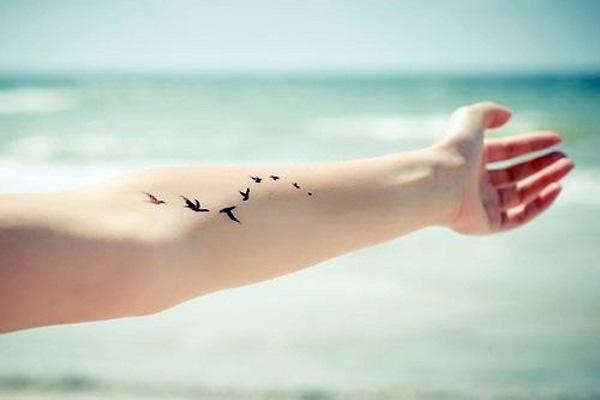 A flock of birds silhouette tattoo can represent freedom, hope, and new beginnings. The image of the birds taking flight together speaks to our desire to break free from our limitations and soar above life's challenges with courage and optimism. To some it may also signify unity or companionship in times of difficulty, reminding us that we are never alone in this journey called life.
Small cross tattoo on back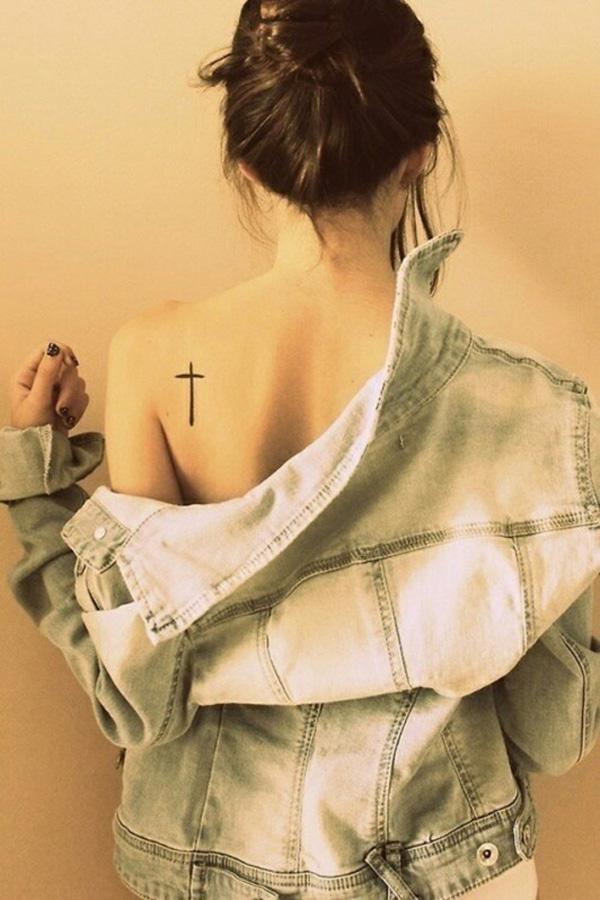 Dandelion and birds tattoo on back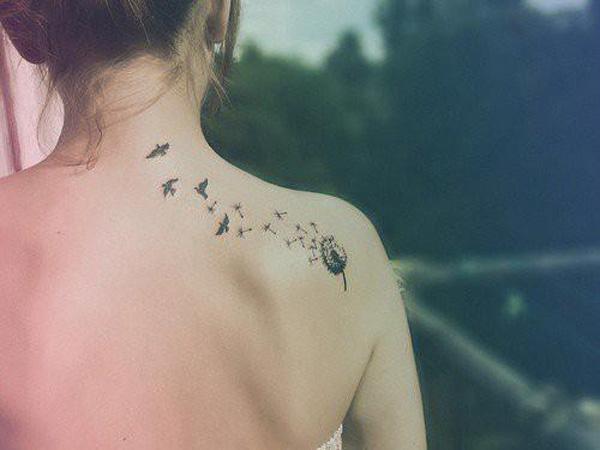 This small dandelion and birds tattoo is a meaningful symbol of freedom, hope, and resilience. The dandelion represents the ability to rise above any obstacle that life may bring while the birds signify an unbridled spirit of adventure. Together, they embody a reminder that no matter what comes our way in life we can always find strength within ourselves to overcome it.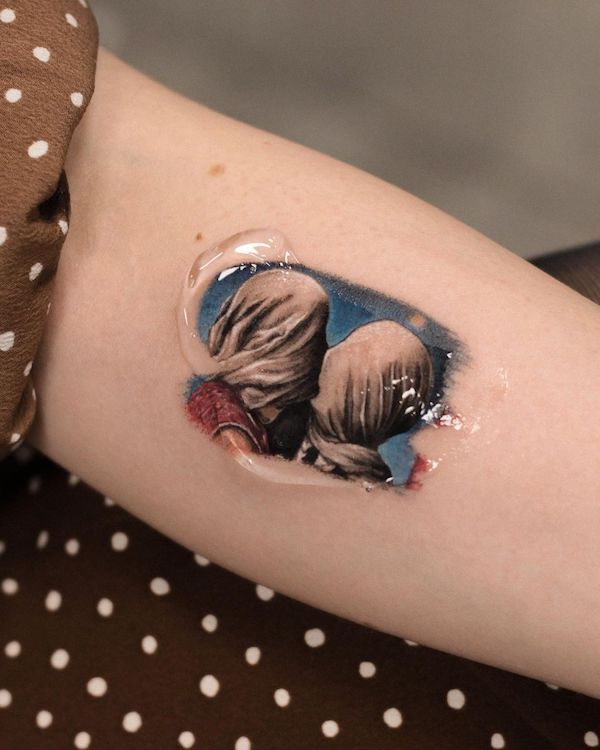 Small ribbon tattoo on wrist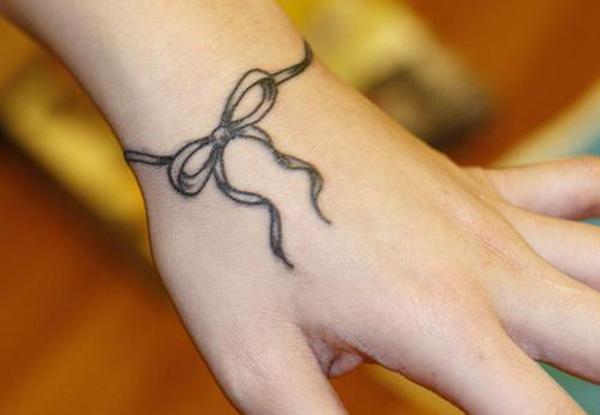 I climbed the tree to see the world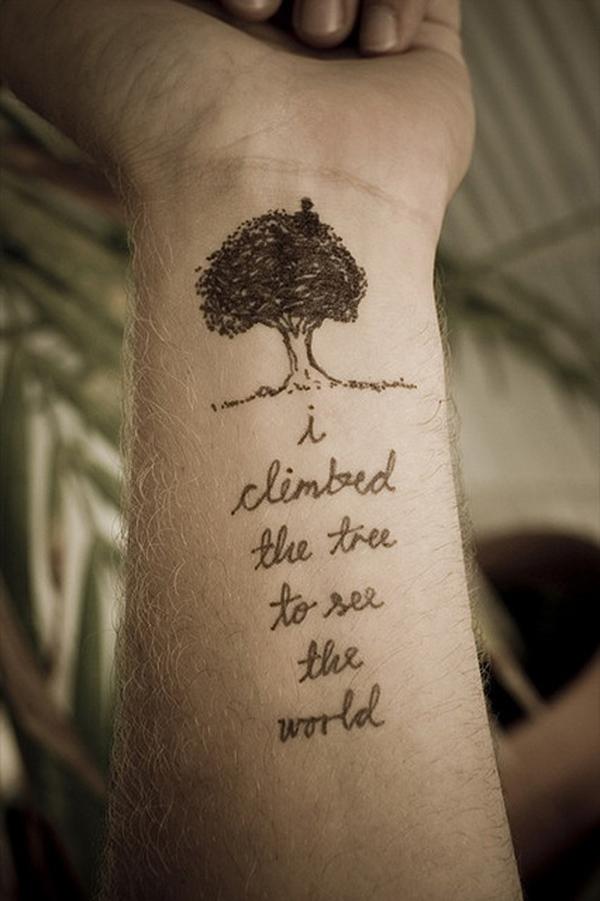 This small tree tattoo on the wrist with a quote is an inspiring reminder of how far we can go in life. The quote, "I climbed the tree to see the world," speaks to our inner strength and determination that allows us to take risks, explore new possibilities, and reach for our dreams. It's also a great way of expressing gratitude for all that we have achieved so far in life – no matter how big or small it may be.
 
Tiny sunglasses finger tattoo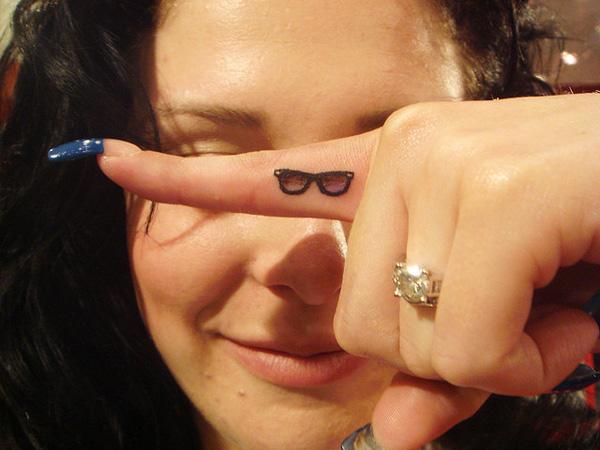 Letting tattoo of the word love on finger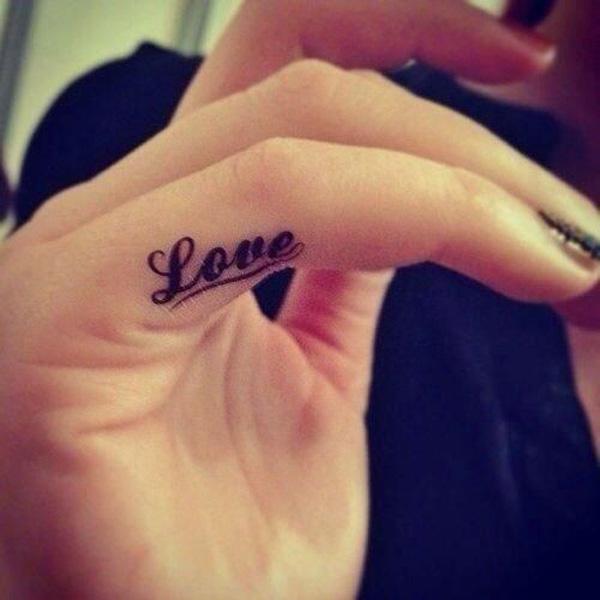 Colorful stars with swirls tattoo on neck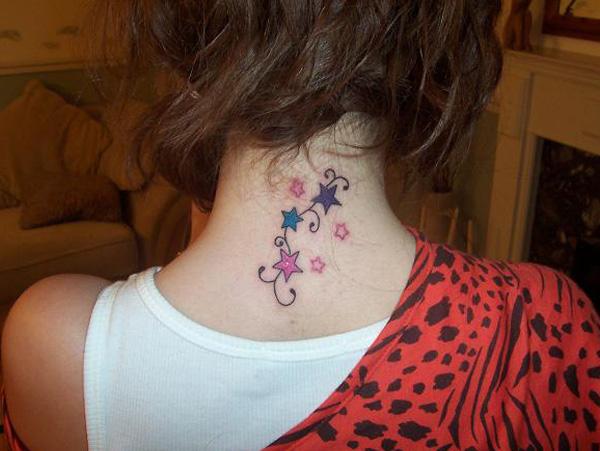 Back tattoo of an infinity symbol composed of scripts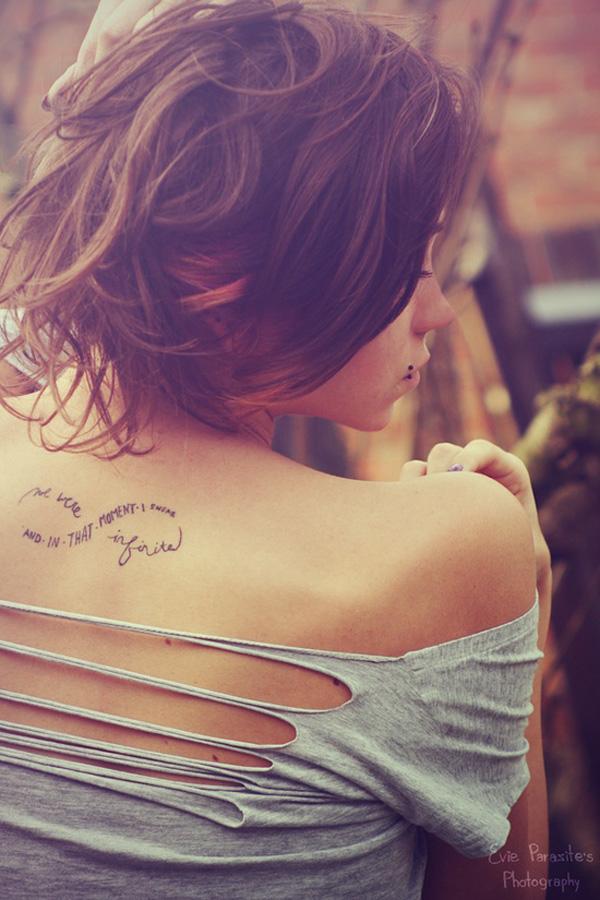 Dandelion blowing in the wind tattoo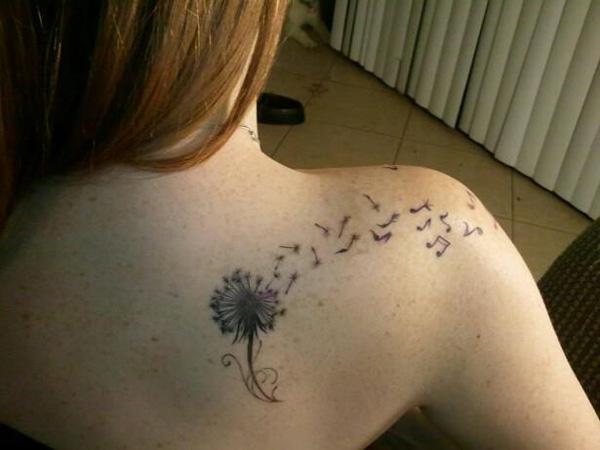 Dog Paw Print Matching Tattoos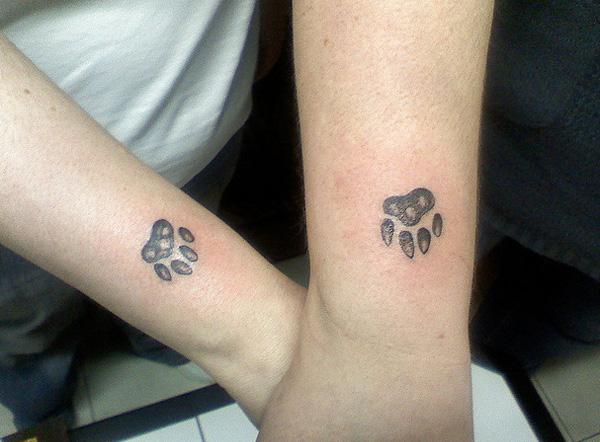 This couple has taken their bond to the next level with matching dog paw print tattoos on their arms. The intricate designs are a beautiful reminder of the unconditional love and loyalty that they share, just like that of man's best friend. These unique tattoos will be treasured by this couple forever as a symbol of their commitment to one another.
Small Anchor wrist tattoo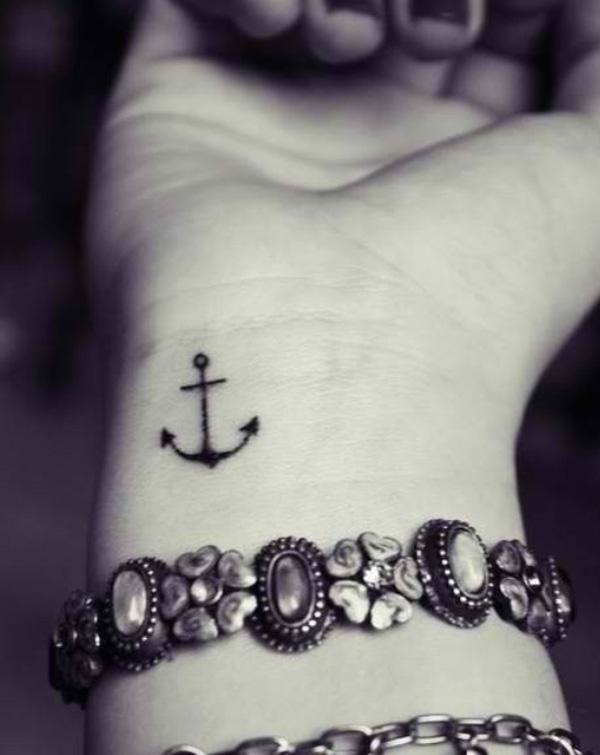 Small Feather Finger tattoo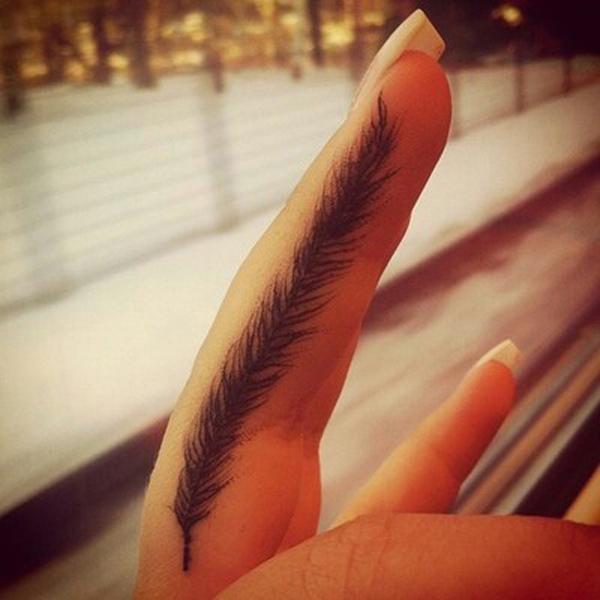 Golden Fish Ear Tattoo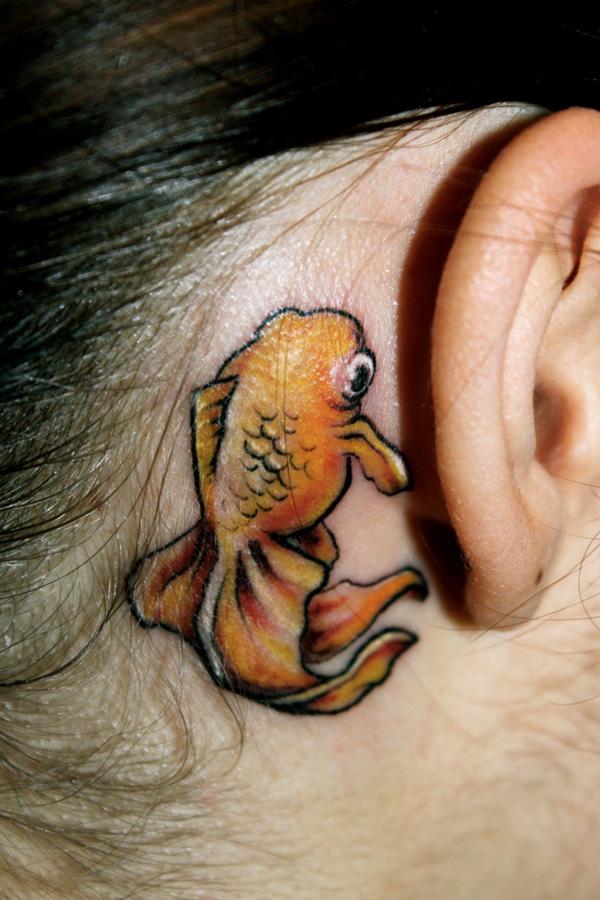 The bright, vibrant color of the goldfish symbolizes wealth and prosperity, making it an ideal design for anyone seeking success in life. Furthermore, its sleek shape gives it a modern and stylish look that can be both subtle yet eye-catching at the same time. Whether you opt for small or large designs of this tattoo style, it's sure to draw attention wherever you go!
Dandelion blowing in the wind shoulder tattoo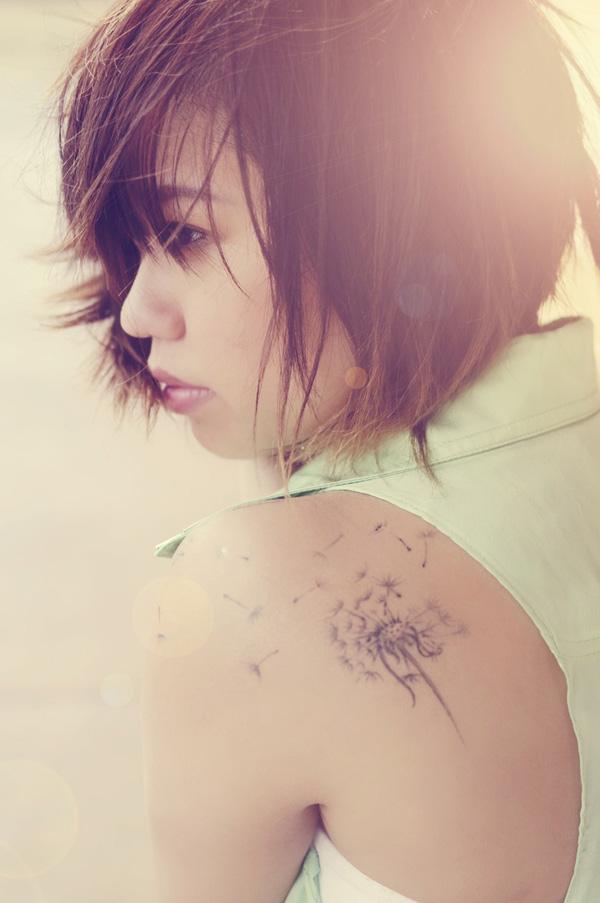 Small Heart Symbol on the finger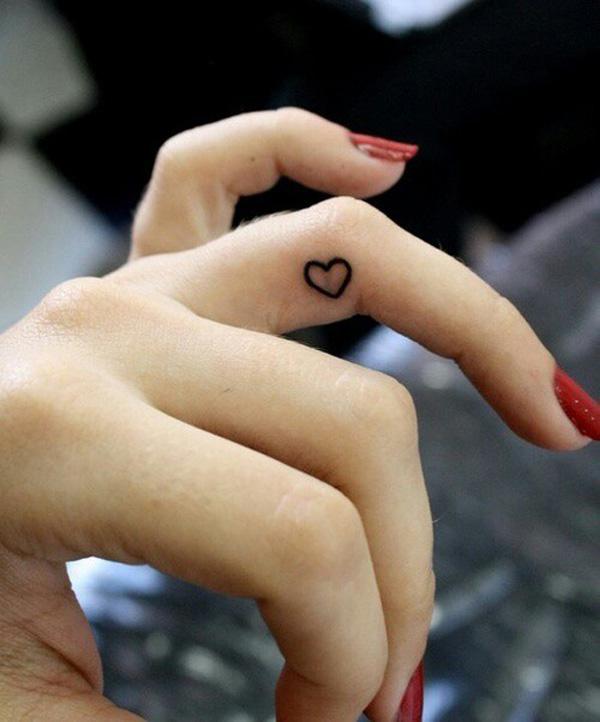 Lettering tattoo of cursive Love word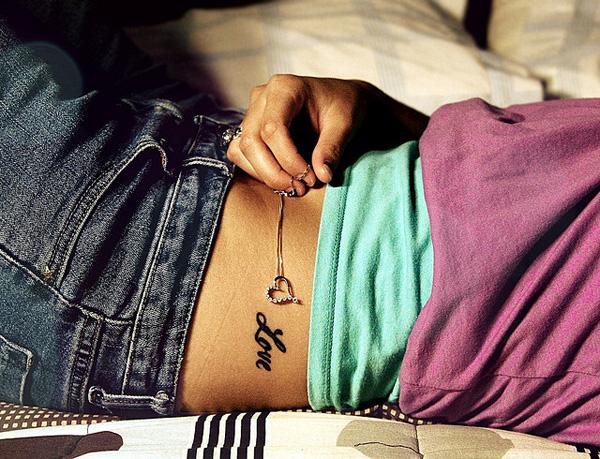 R Love H lettering tattoo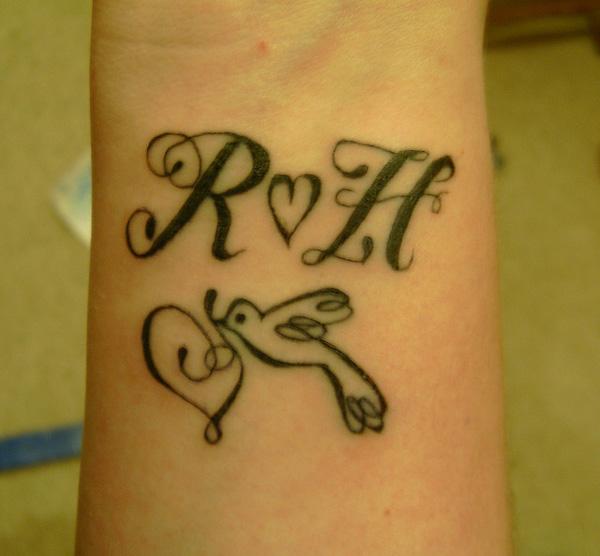 Simple cat neck tattoo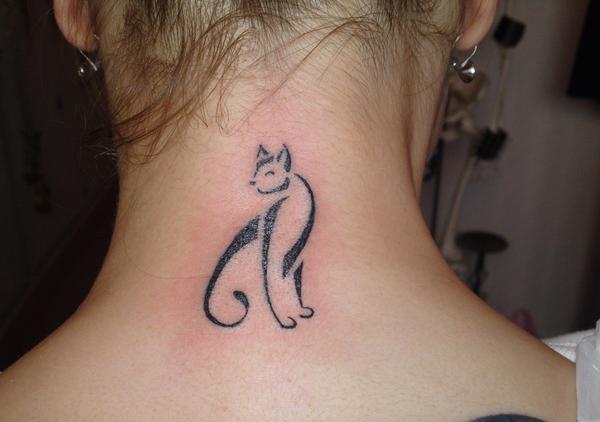 Small wings ankle tattoo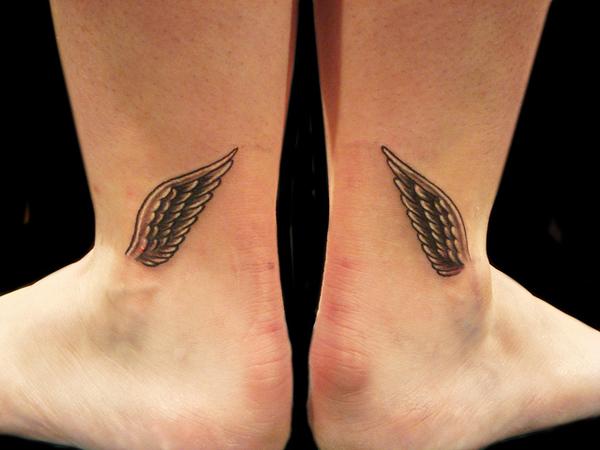 The delicate nature of the design can be used to express freedom and lightness, while also providing an opportunity for self-expression. These tattoos can be customized in terms of size, color, placement and style to create something truly unique that reflects one's personal values or interests. Whether done as part of a larger piece or as standalone art pieces, these small winged designs are sure to bring out the best in any wearer!
Heart symbol tattoo with music notes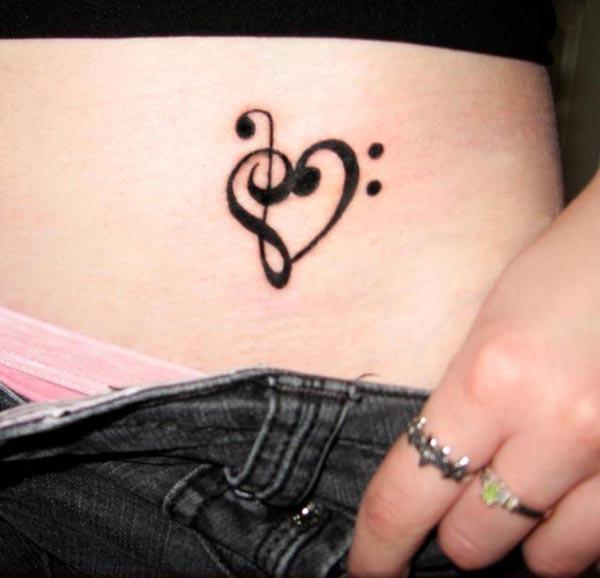 Small tattoo with a stem of rose on back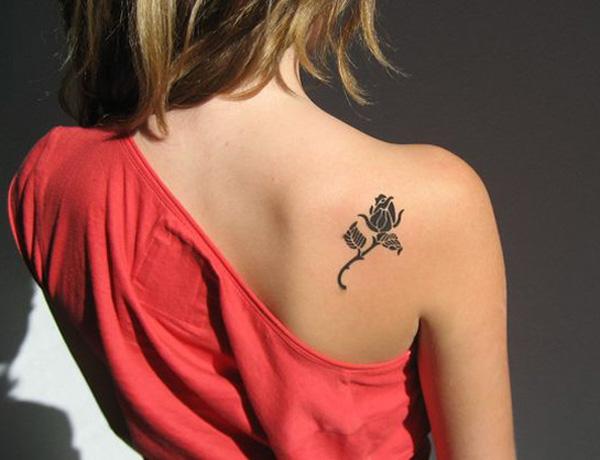 Butterfly knot tattoo on neck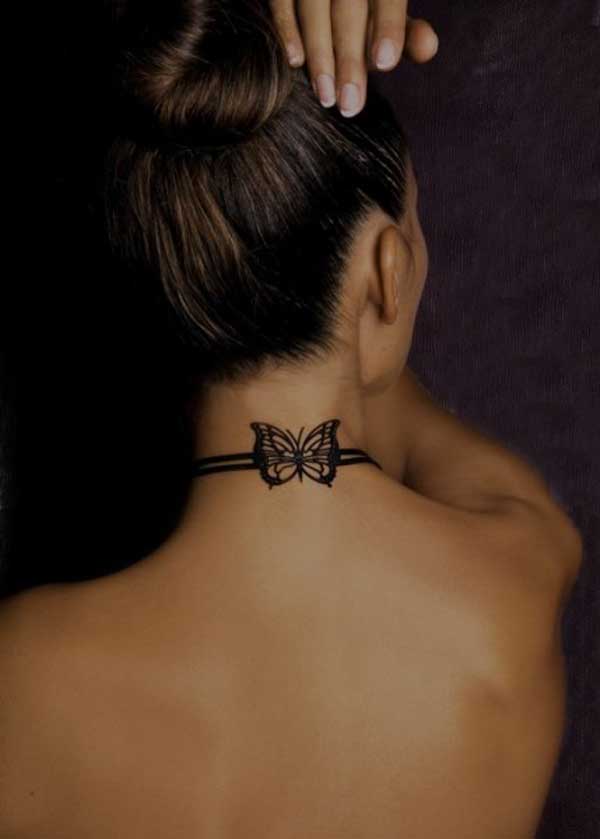 Small butterfly foot tattoo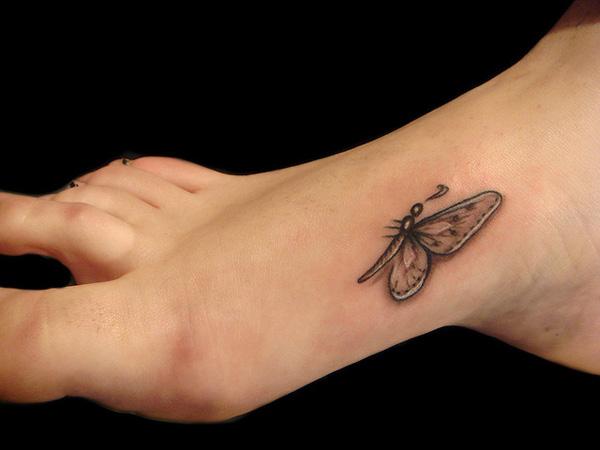 Ribbon tattoo with dark shade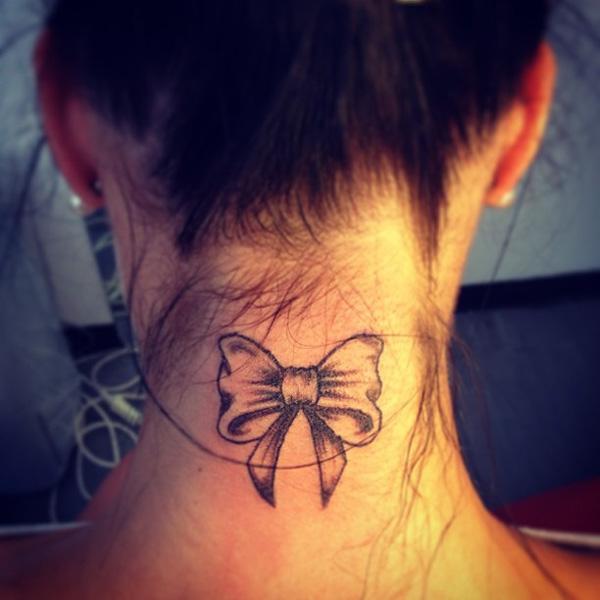 Cute elephant wrist tattoo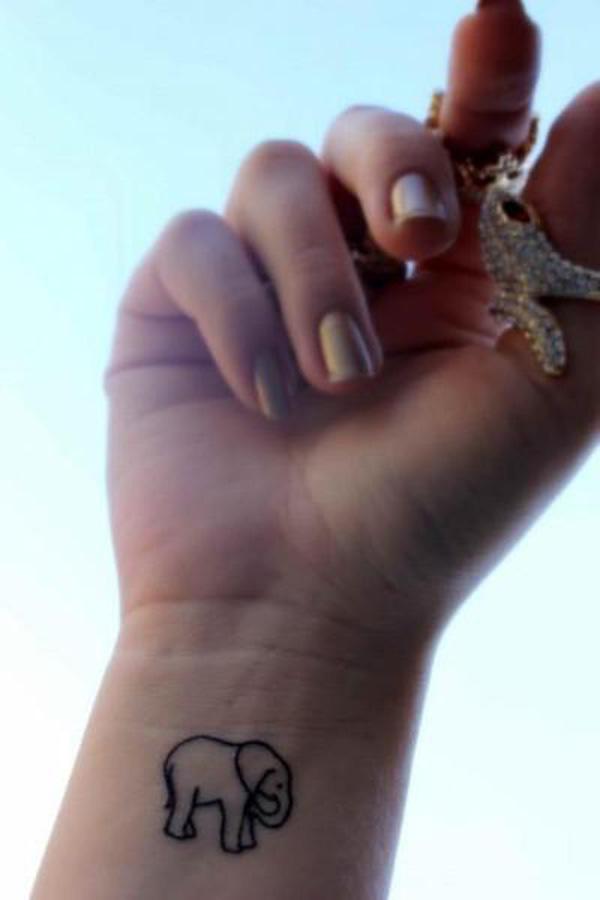 Minimalist tree neck tattoo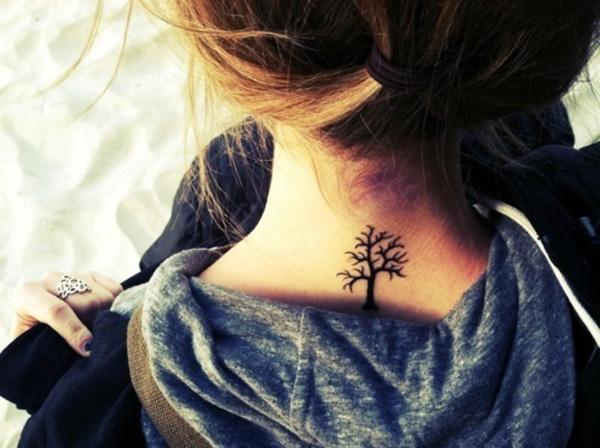 Silhouette birds wrist tattoo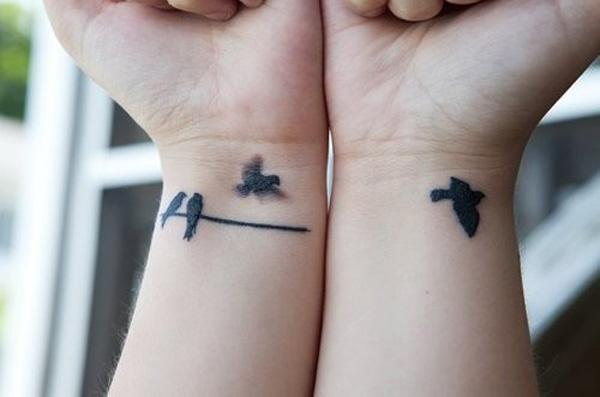 Tiny Seahorse Wrist Tattoo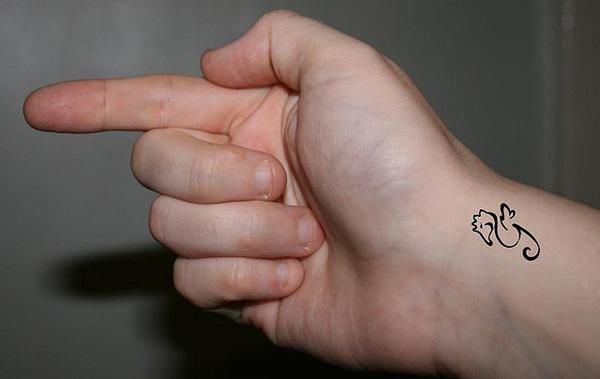 Monogram tattoo with Love word tattoo on wrist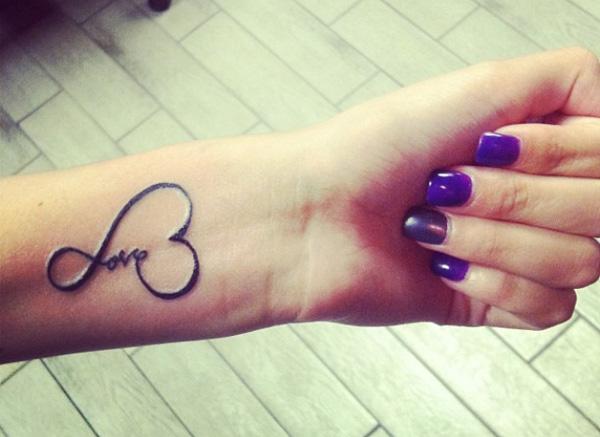 Small Flower Tattoo on Hand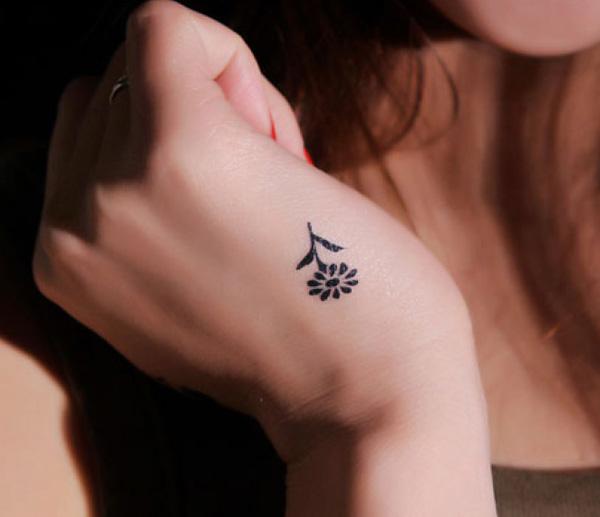 Minimalist constellation map tattoo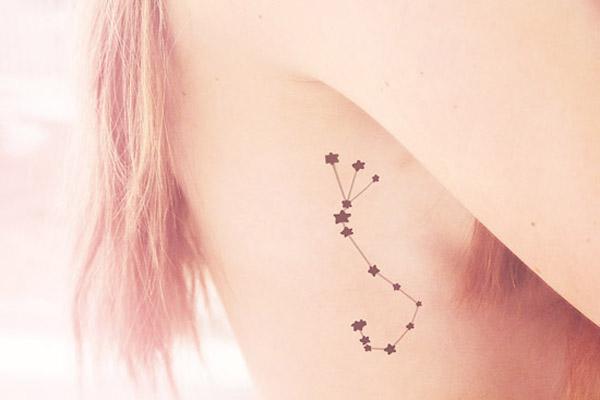 The minimalist tattoo is a great way to express your love of astronomy in a subtle yet meaningful way. The intricate details and star patterns can be customized to represent something special, like birthdays or zodiac signs, adding an extra layer of personalization.
Music notes ear tattoo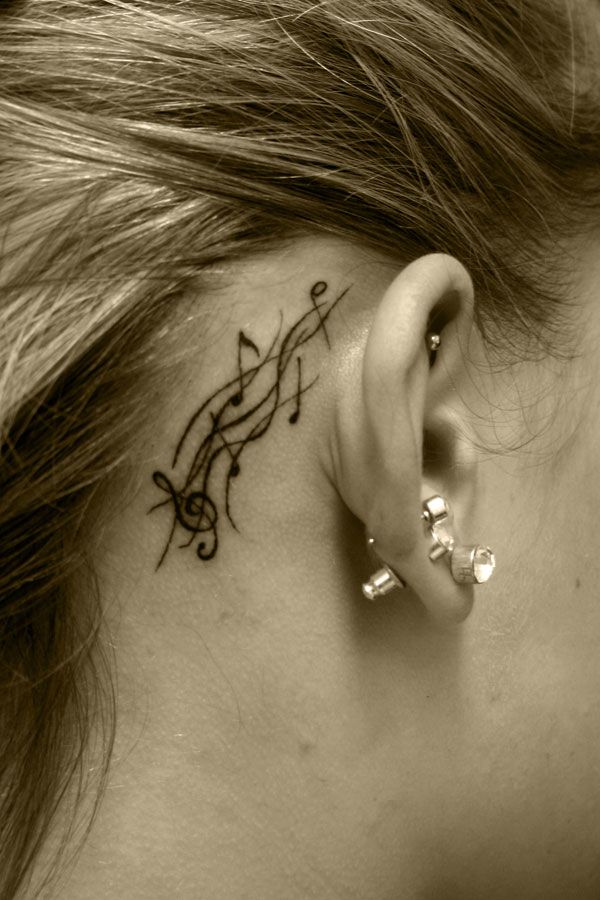 Pink ribbon wrist tattoo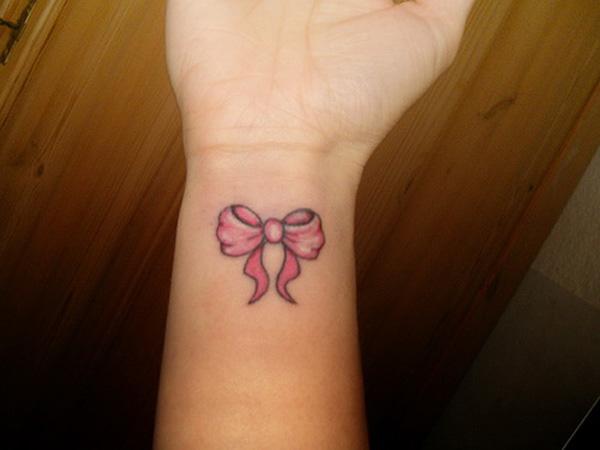 Dog wrist tattoo with swirls
Heartbeat collarbone tattoo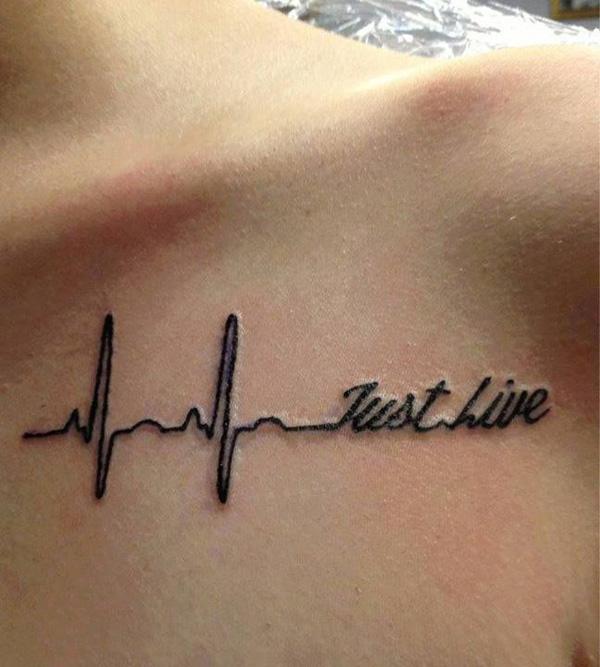 Infinite life with a realistic feather tattoo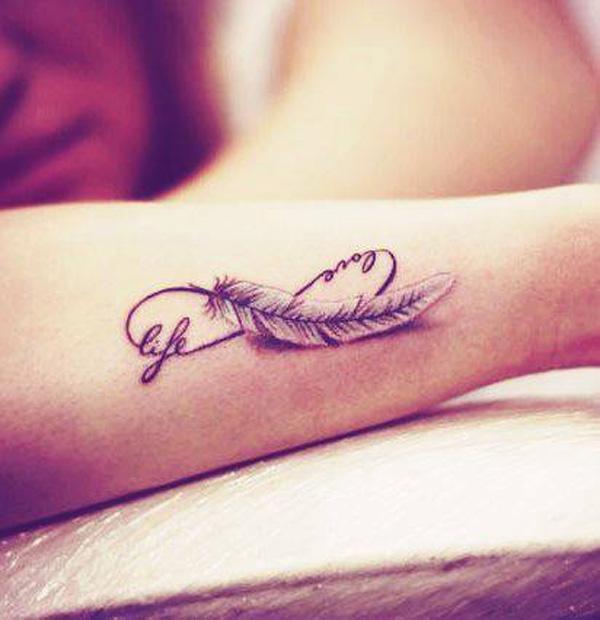 Simple abstract cat neck tattoo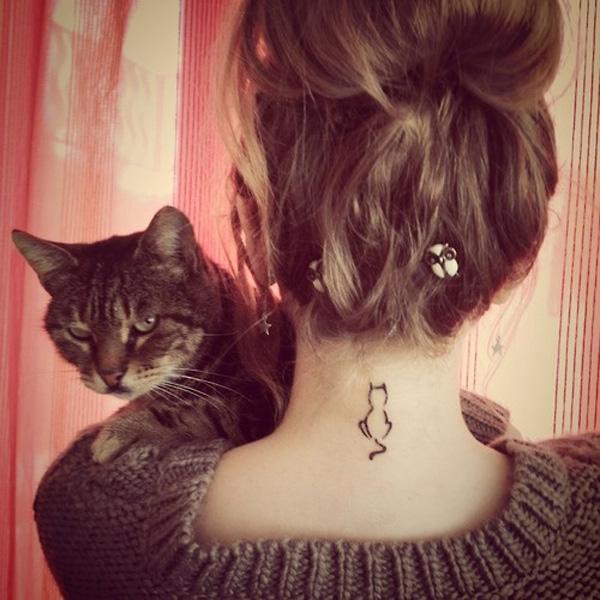 Script lettering tattoo – Que Sera Sera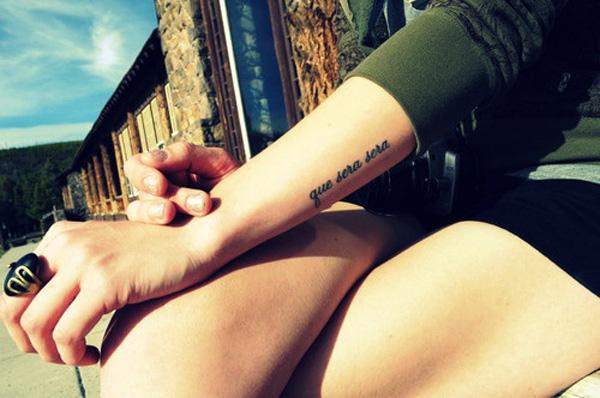 This phrase "Que Sera, Sera" (whatever will be, will be) is often associated with living life in the moment and trusting that whatever happens was meant to happen. It is also an expression of hope for better things ahead. With this tattoo you can have a reminder on your body that no matter what happens it's all part of life's journey so enjoy every moment as it comes! The script font gives this tattoo an elegant feel which makes it perfect for anyone looking for something special yet timeless.
This too shall pass tattoo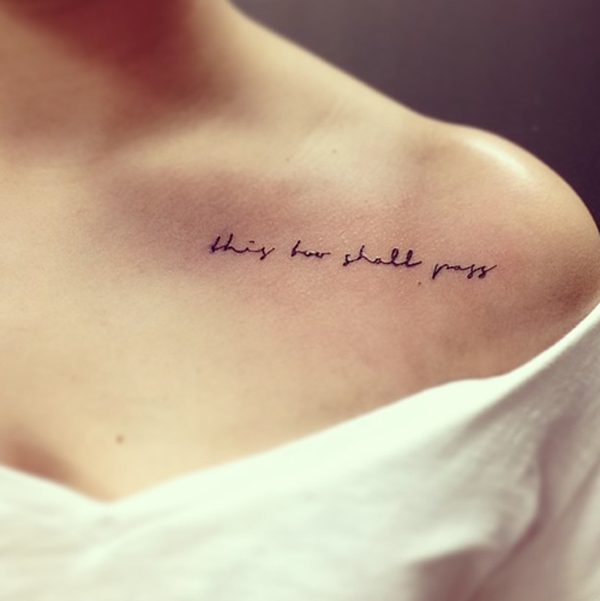 A clavicle tattoo featuring the cursive words "This too shall pass" is a meaningful and powerful statement of resilience. This phrase serves as a reminder that no matter how difficult life may seem, it is only temporary and will eventually come to an end. It reminds us to stay strong in times of adversity, knowing that whatever we are facing will not last forever. The placement on the clavicle also makes this message even more impactful. Being close to one's heart symbolizes its importance in our lives and encourages us to keep going forward despite any obstacles we may encounter along our journey.
Music notes with heart symbol wrist tattoo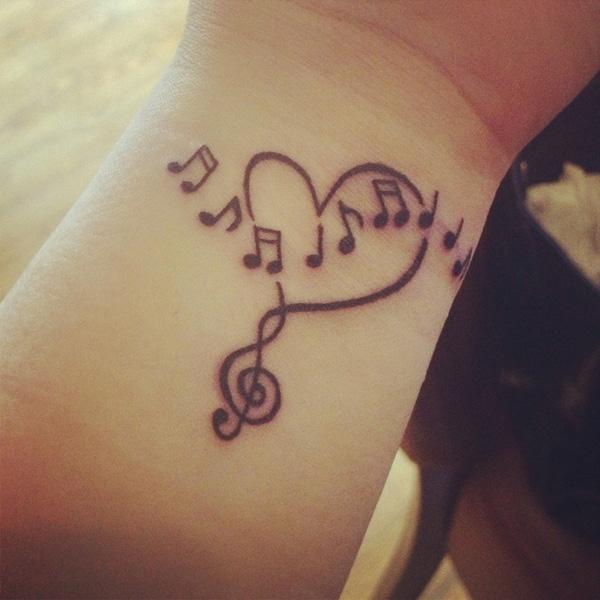 This beautiful wrist tattoo combines two classic symbols of love and music. The intricate design features a heart symbol intertwined with musical notes, creating an eye-catching piece that looks great on any skin tone. The combination of these two motifs makes this tattoo perfect for anyone who wants to express their love for music or someone special in their life. It's sure to be an attention grabber wherever you go!
Heartbeat with music note wrist tattoo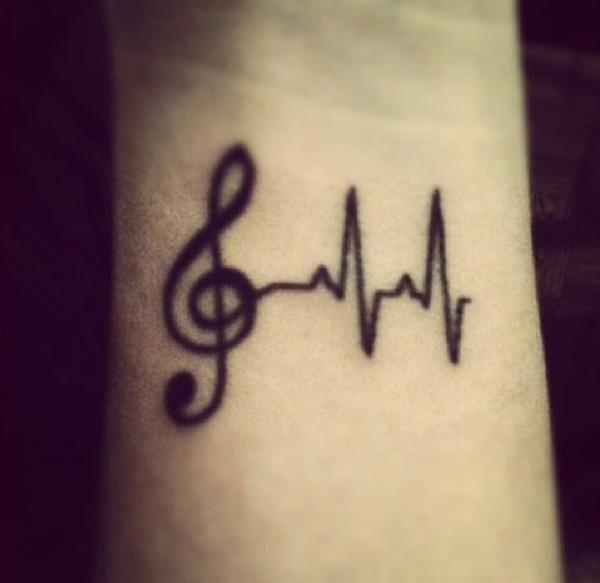 Small skull finger tattoo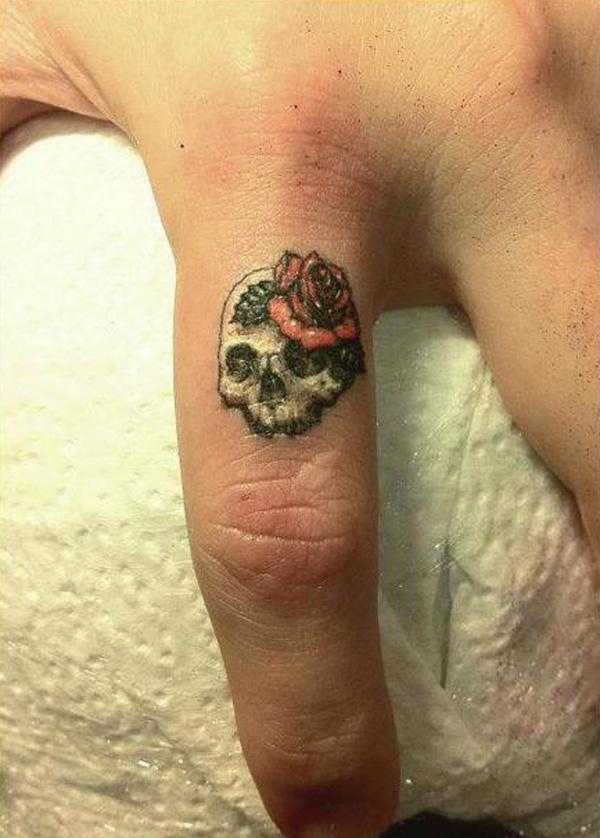 Music note wrist tattoo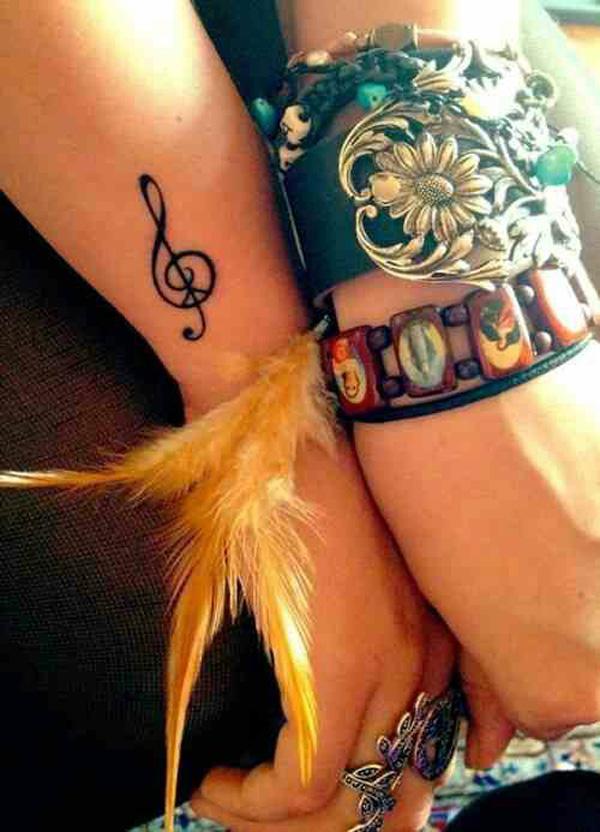 Flower crescent moon tattoo with a cat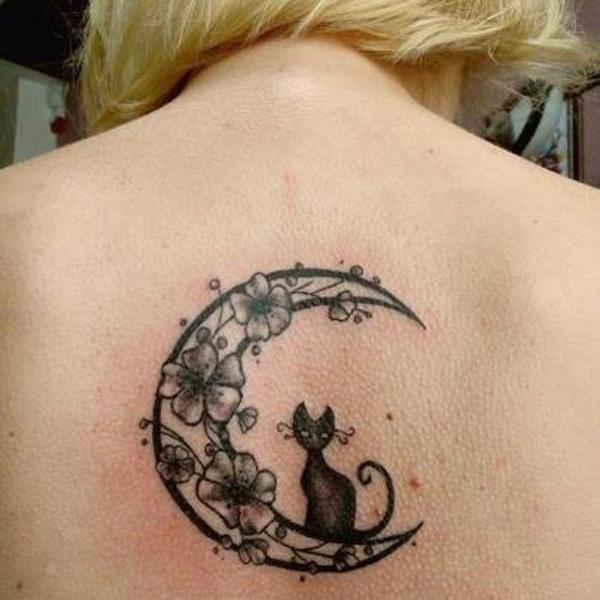 Double heart symbols tattoo on wrist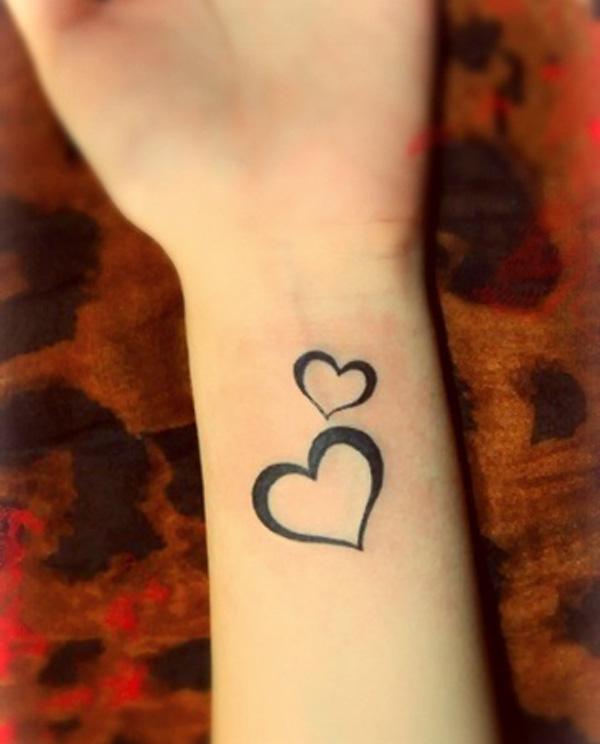 Getting a wrist tattoo with two heart symbols is an incredibly meaningful way to express your love for someone. This type of simple yet powerful design can be seen as a permanent reminder that you are in it together. It is also the perfect way to show off your commitment and dedication, no matter what life throws at you. Whether it's just between lovers or shared by friends, family members or siblings, this heartfelt gesture speaks volumes about the strength of your bond.
Single stem rose with thorn neck tattoo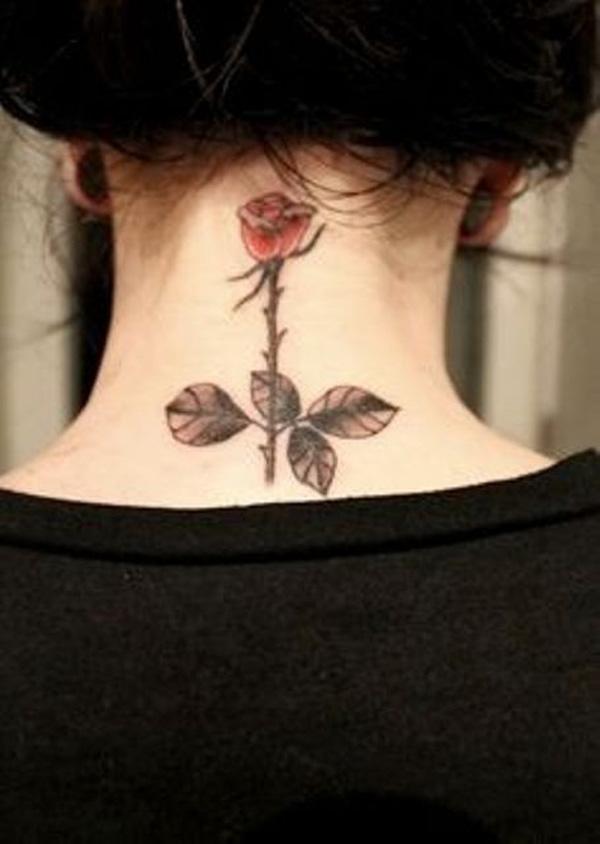 Small envelope with red love symbol neck tattoo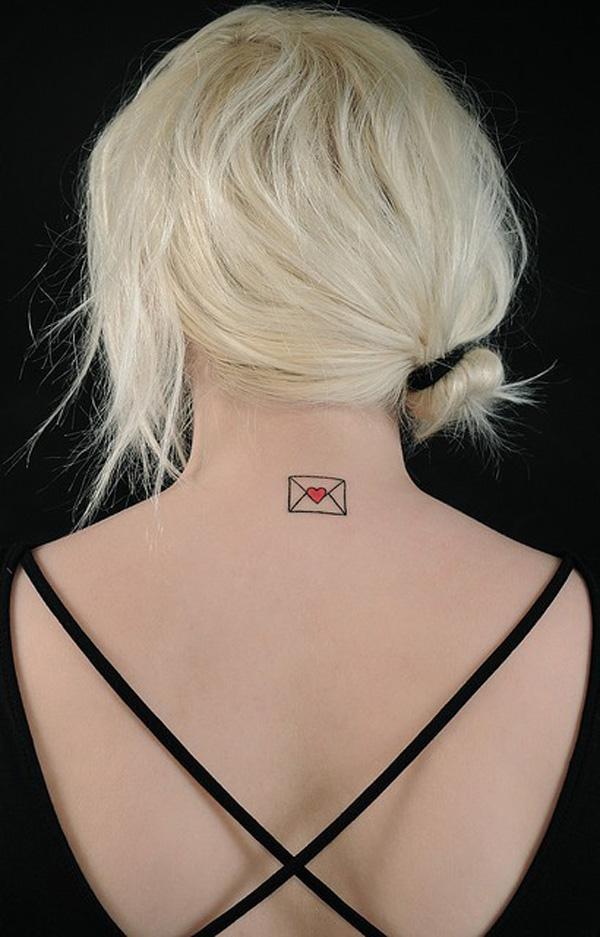 Black and grey origami crane wrist tattoo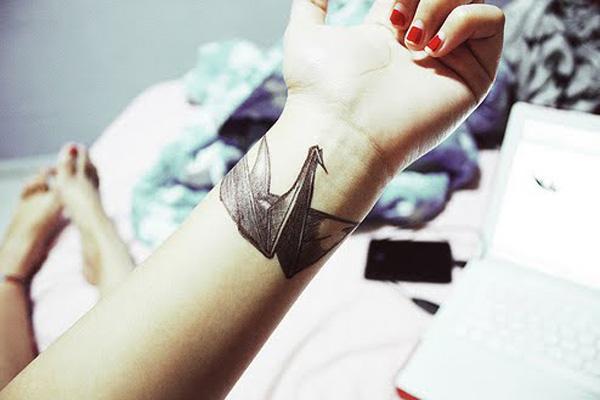 Crown and Letter L Tattoo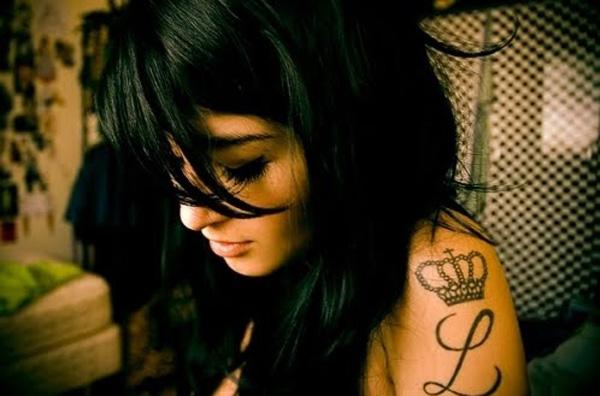 Stitch wrist tattoo with scripts and heart shape symbol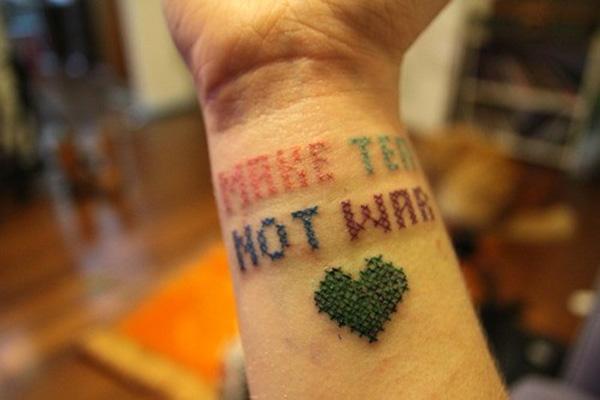 Small imperial crown wrist tattoo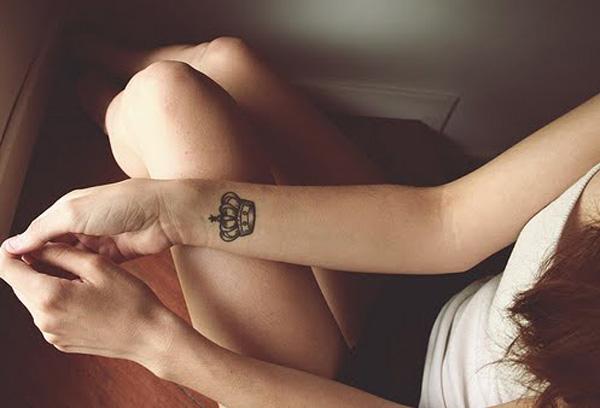 A flock of flying birds foot tattoo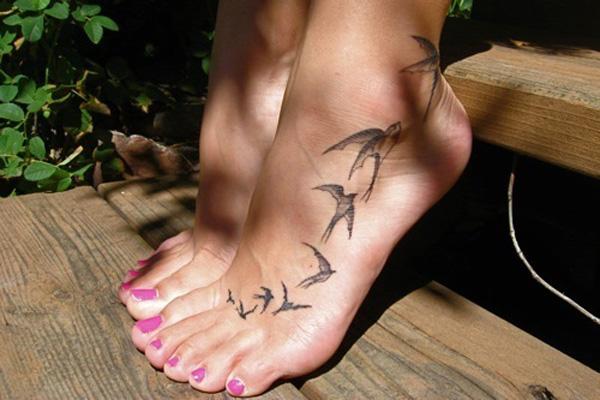 Small anchor neck tattoo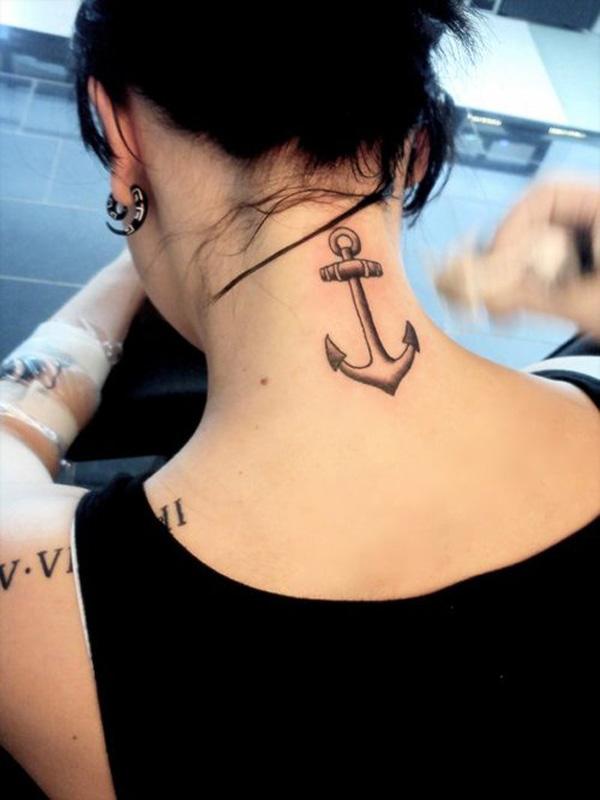 Small knots and tassel with a blue bead behind the ear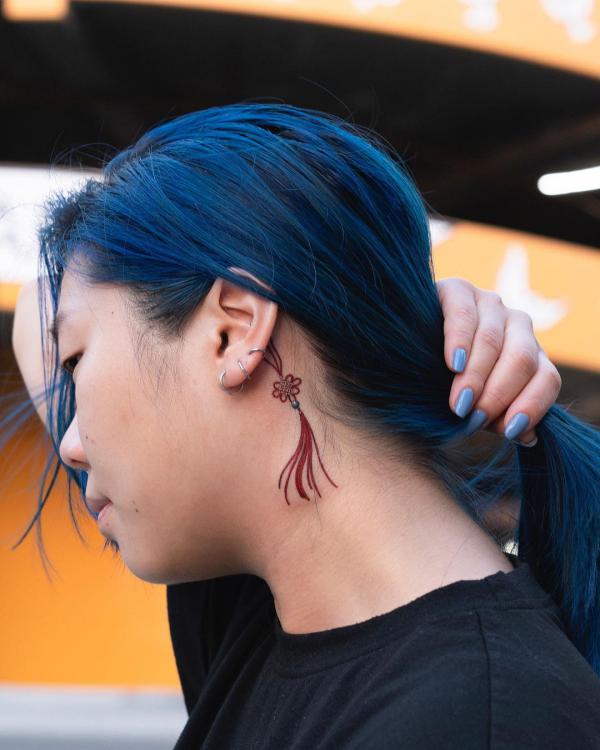 Minimalist Satrry night tattoo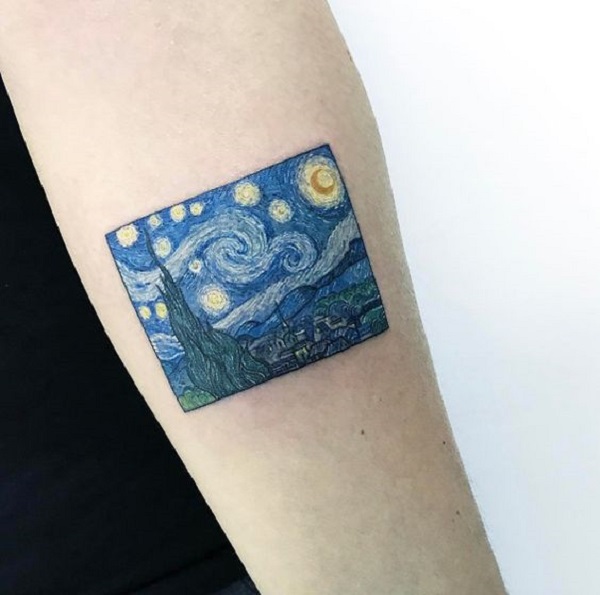 Starry Night Portrait on Inner Arm. Satrry night is considered to be the most popular painting of the Vincent Van Gogh and that is the reason, it is inked in a number of tattoos by several artists using their own creativity and colors.
Tiny Paw Print foot tattoo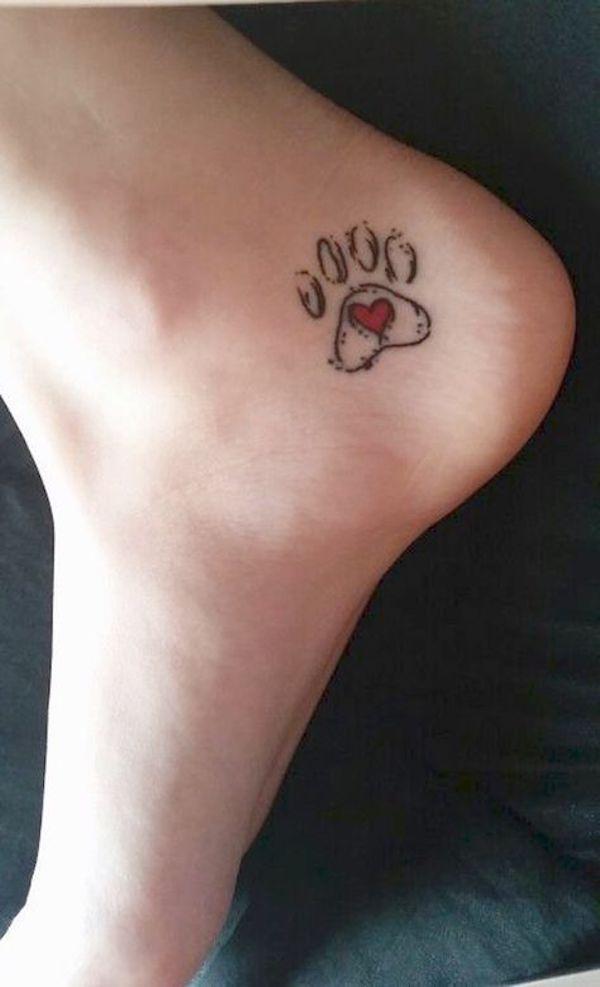 Cute small fox tattoo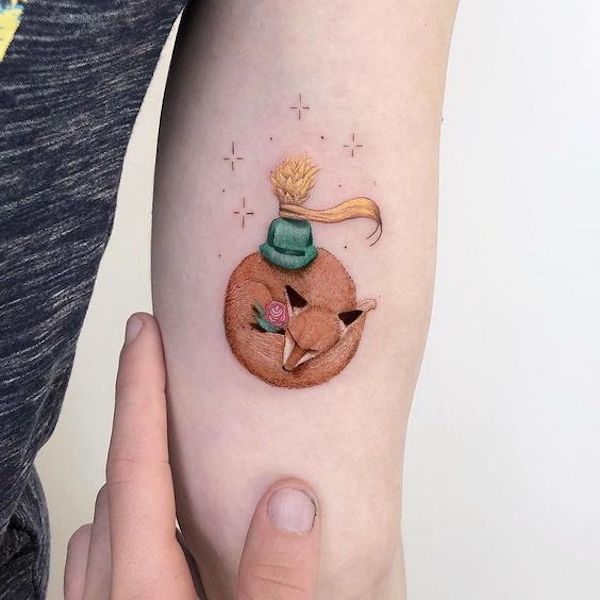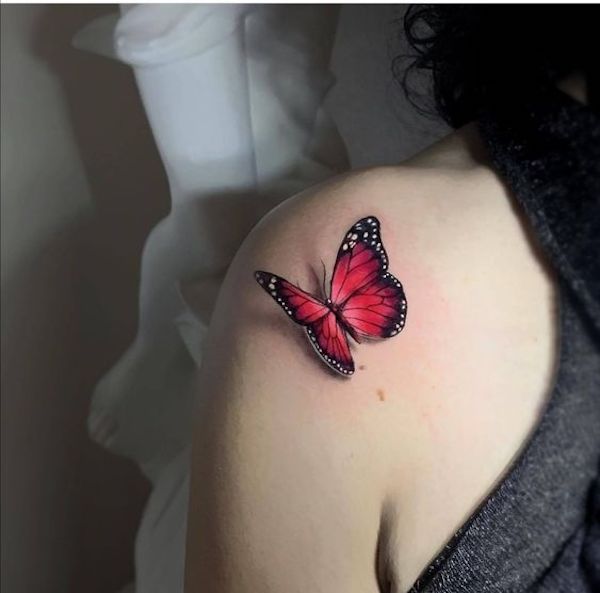 Semicolon and ampersand matching tattoos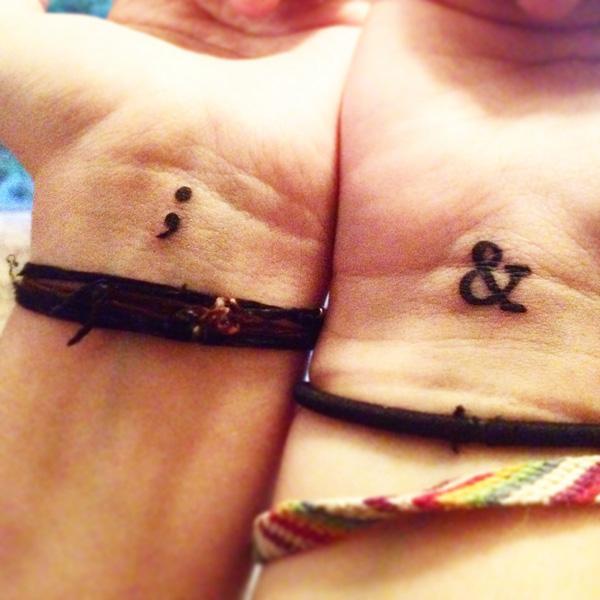 A simple semicolon tattoo definitely works. It's small but has a very powerful meaning so you can put it in your wrist. You can also place it there so you can remind yourself not to self-harm or to do the deed. An "and" (&) symbol could also be a great partner reminding you that you can add more to the sentence.
Quill pen tattoo with motivational words – Stay strong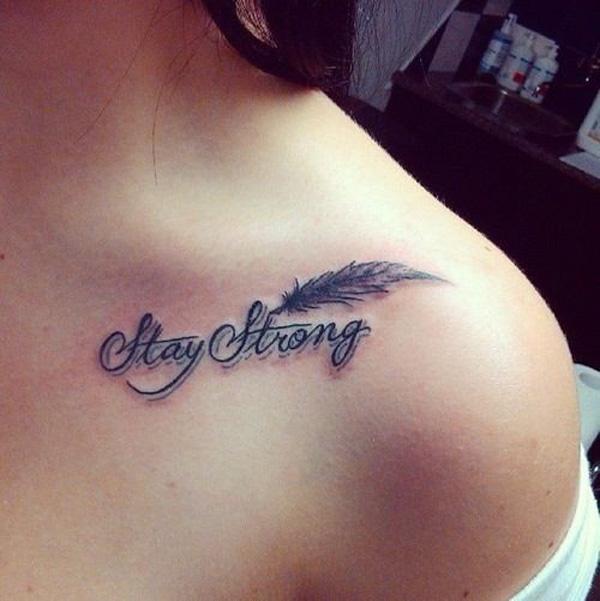 The tattoo with the script "Stay Strong" and feather is the best one to be inked in collarbone area. It's the testing and declaration to confront any difficulties in the life ahead.
Love myself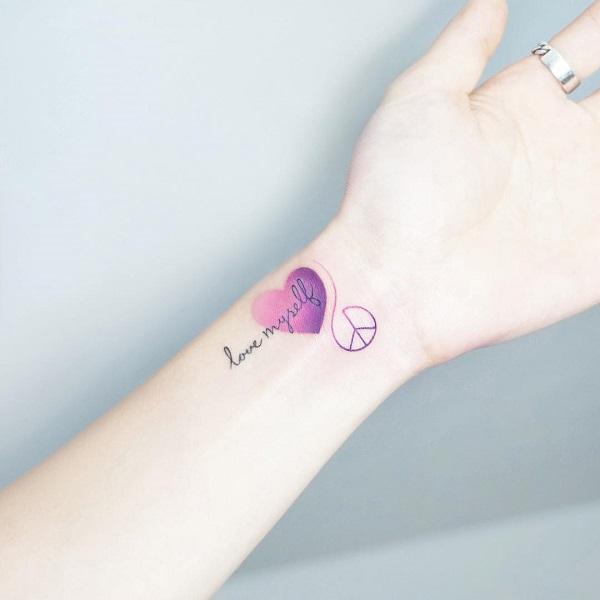 If you love others, start from love yourself. In other words, start from self-acceptance. For instance, this wrist tattoo is an example of self-appreciation with heart shape in the Ombre color of pink-to-gray and the script "love myself". The cute design appears nice for girls.
Cats' love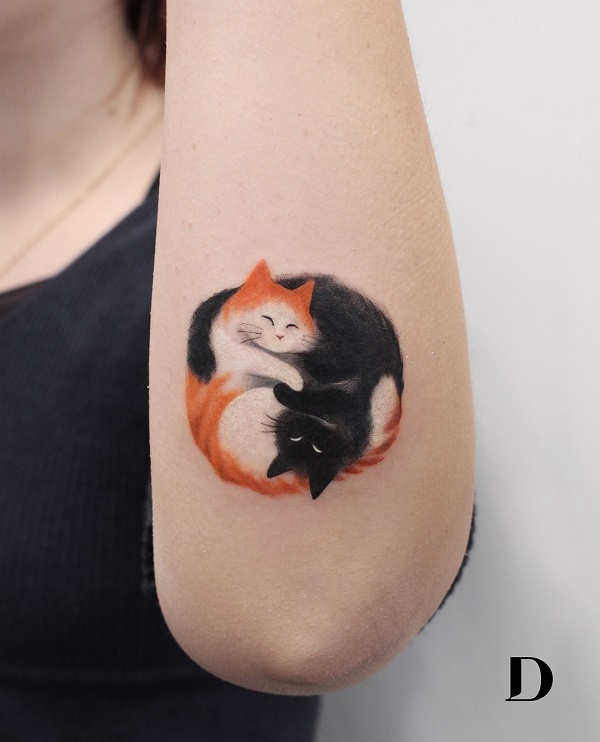 This tattoo is a beautiful representation of conjugal love, companionship, and harmony. The black and brown cats hugging together in sleep express the deep bond between two individuals in love. It serves as an inspiring reminder that true connection can last through any storm or challenge life may bring. This tattoo speaks to the power of commitment and devotion within relationships for all who see it.
Miniature for tribute to parents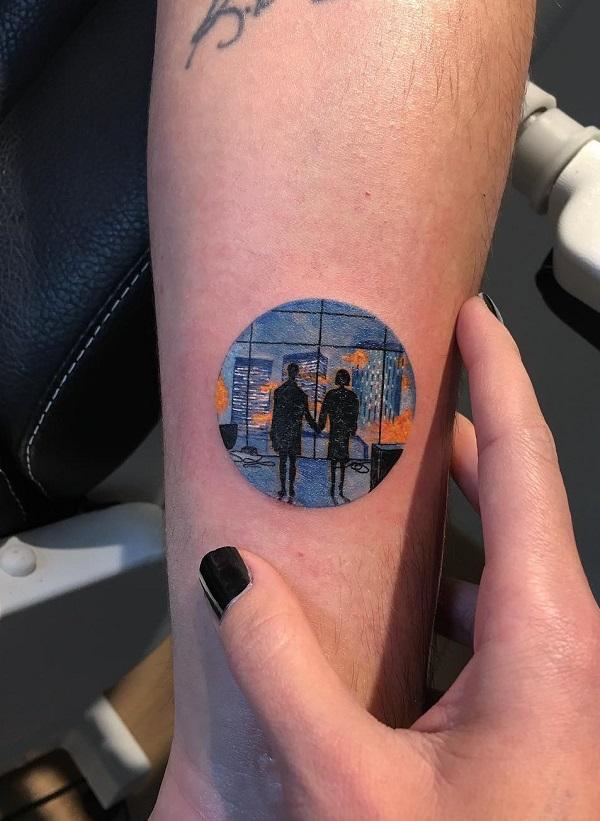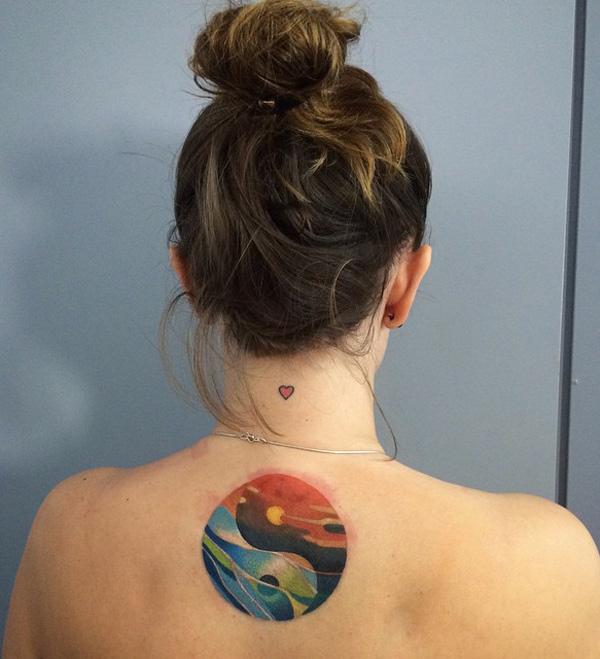 This beautiful circular miniature of the sea tattoo depicts two different states: yin and yang. Yin is represented by a blue wave, which symbolizes femininity, intuition and inner power; while Yang is depicted as an wave under shining sun, representing masculinity, strength and assertiveness. This tattoo perfectly captures the harmony between these two opposing forces that are essential to achieving balance in life.
Small crowns couple tattoos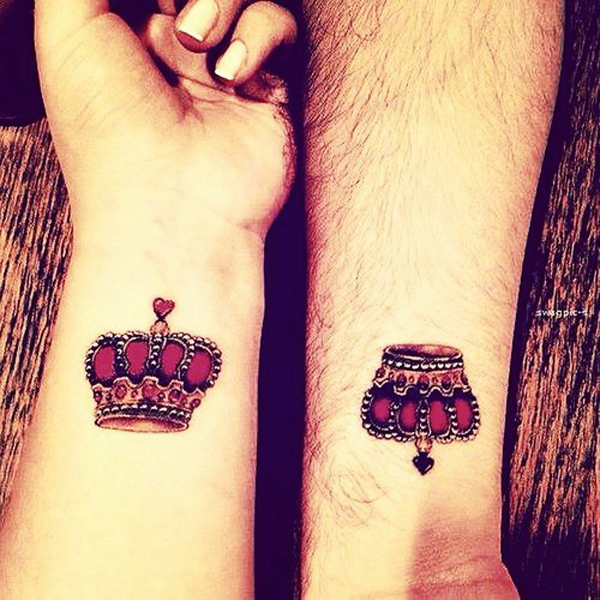 This small crowns couple tattoo is an elegant and beautiful design perfect for couples who feel like they are the rulers of their own world. The pink color of these crowns adds a unique touch to this special piece, making it an ideal choice for those wanting to express their love and commitment in a stylish way.
Minimalist Family at beach tattoo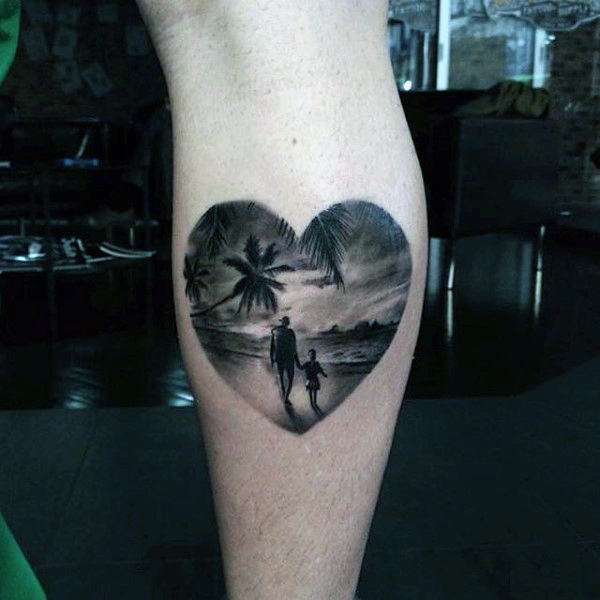 Family At Beach. Beach and family? Do you feel the spark? Get this one for yourself.
Cute Dandelions ear tattoo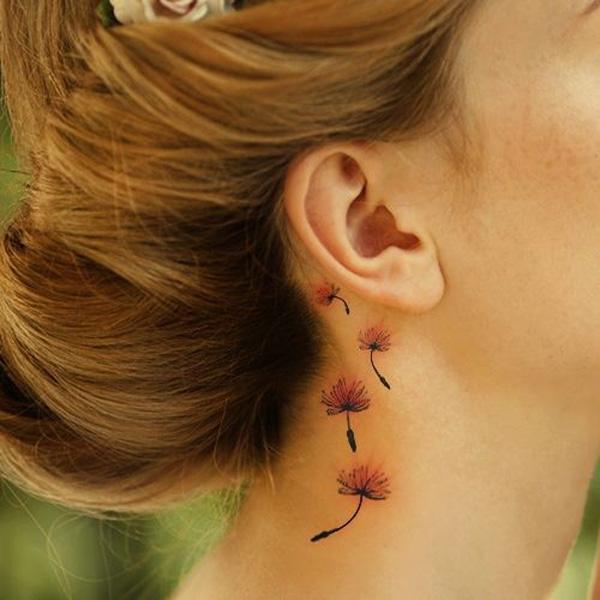 Triple swallows Small tattoo for girl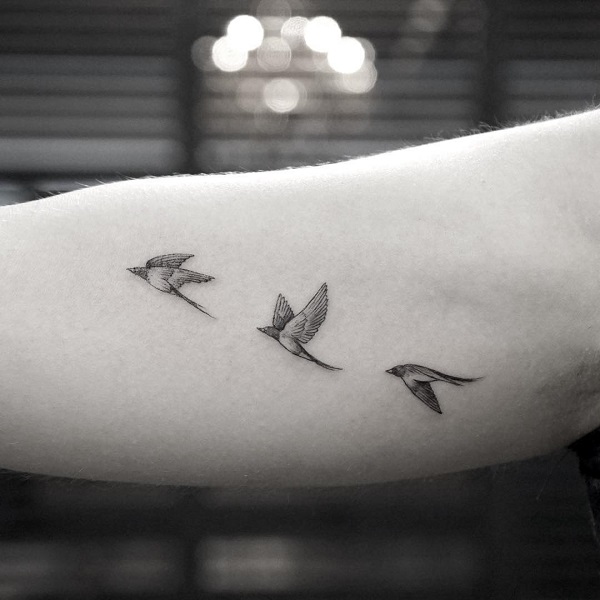 Small Angel wing tattoo