Well, first of all boat tattoo designs can be funny and beautiful. If you look at our collection, in fact, you will find a combination of complicated drawings and colourful shapes. These are real masterpieces conceived and created by real artists. And talking about artists, if you decide to get your own boat tattoo, choose a good tattoo artist, someone you really trust. You will also need to be patient and remember: you will have a piece of art living on your skin!
Plus, boat tattoo designs can be the mirror of some our most hidden wishes. Have you ever stopped in the middle of the road, lost in a picture of a far-away land? Maybe it was an exotic paradise, an island in the middle of the ocean? Those who dream about crossing the ocean on a boat hide within themselves the spirit of the greatest adventurers. And what is an adventure if not the will to learn and discover something new?
The fact is that boats are truly a unique symbol of human curiosity. They are the material expression of the desire human feel to move beyond the known and into the unknown. For centuries boats have been the only bridge between us and the ocean, a terrifying, magical place where humans don't belong. They are the key to enter a universe made of water and mystery.
Somehow, then, boat tattoo designs can be an original, artistic way to pay homage to human courage and curiosity, a way to connect with our subconscious will to explore, our desire to find new horizons beyond what we already know. Look at our pictures, find something you like, imagine yourself standing on your boat in the middle of the ocean: how does it feel? What do you smell? What do you see? Is there someone with you or you are alone with your courage?
It's quite a journey, don't you think?
Pirate boat with jolly roger flag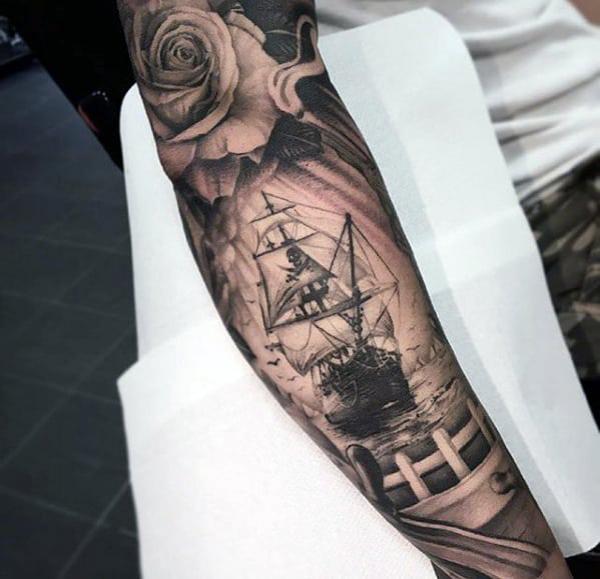 A black and grey sleeve tattoo showcasing a pirate ship, complete with the Jolly Roger flag, adorned with roses offers a unique blend of imagery. The pirate ship and Jolly Roger flag evoke a sense of adventure, rebellion, and danger, while the roses add an element of beauty and love. The black and grey palette lends a timeless, classic feel to this daring and visually striking design.
Jolly Roger symbol on the flag of the pirate boat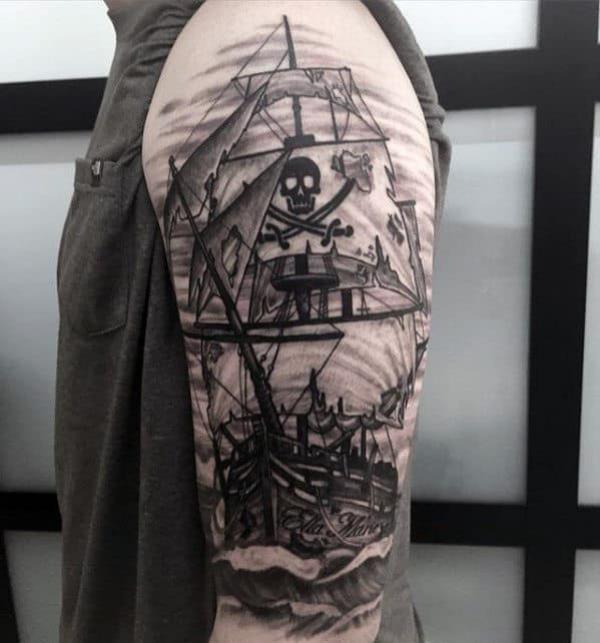 A tattoo design that showcases the Jolly Roger symbol on a pirate boat's flag is a visual embodiment of adventure and freedom. This iconic design also symbolizes a defiance against norms, resonating with those who value individuality and non-conformity. This emblem, featuring a skull and crossbones, has strong historical links to maritime piracy, embodying rebellion and daring sea adventures. Its rich symbolism makes it an attractive tattoo choice for individuals captivated by the spirit of adventure.
Black and white sailboat tattoo on back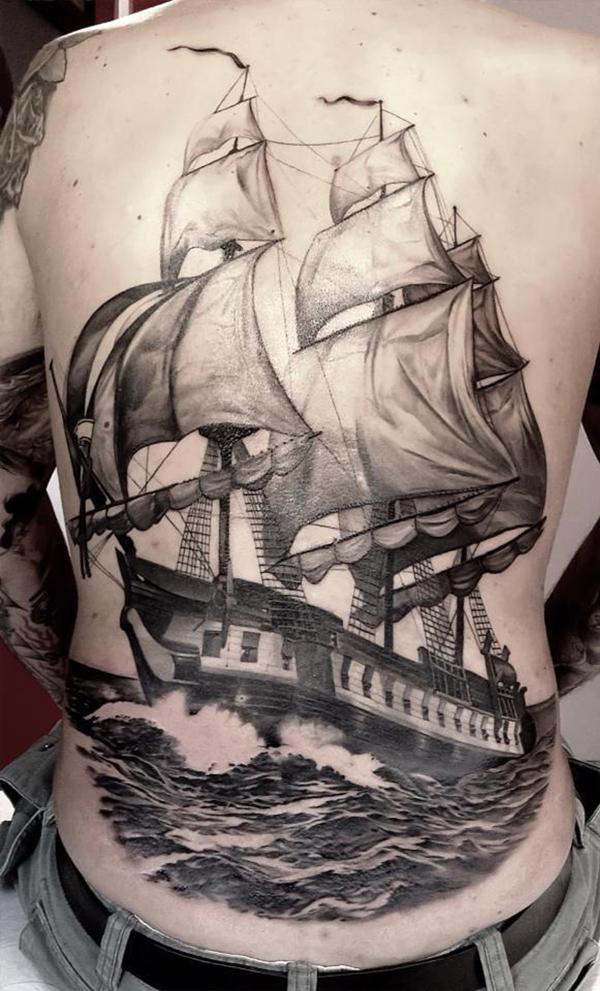 A black and white sailboat design is a captivating design idea on the back. This timeless piece of body art combines the simplicity of monochrome with the complex symbolism, evoking themes of journey, freedom, and resilience against life's waves. The back placement allows for a larger, more detailed depiction of the sailboat, creating a striking visual statement.
Sailor Jerry and his boat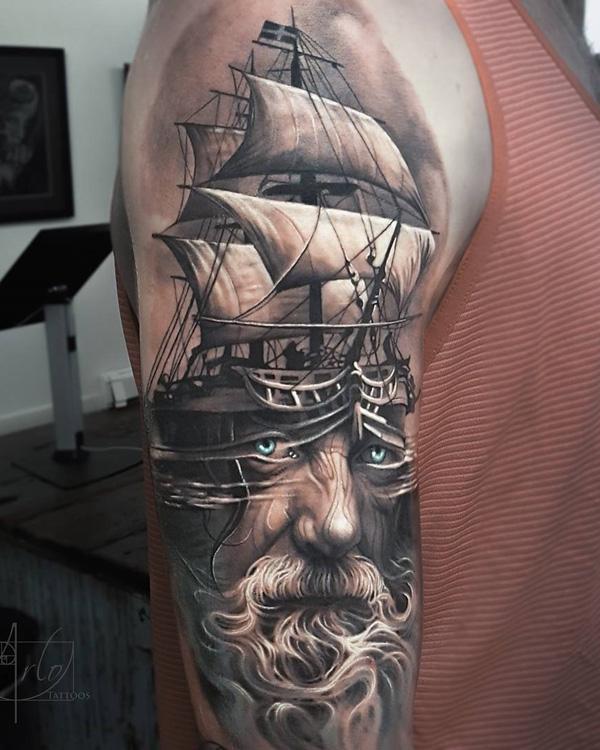 A Sailor Jerry ship tattoo, rendered in black and grey, delivers a realistic depiction rich in detail. This design harmoniously blends vintage charm with lifelike precision, creating a unique and captivating piece of body art. This design balances the bold, classic imagery of Sailor Jerry with the depth and dimension of realistic art. It's a compelling tribute to maritime adventure, bringing a slice of the sea to life on skin.
Origami boat and balloon tattoo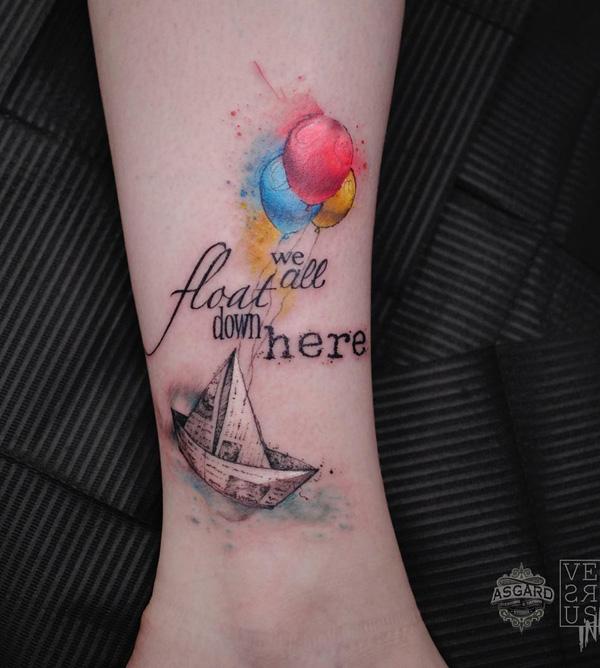 An origami boat adorned with balloon and the quote "We all float down here" is a whimsical and thought-provoking design. The delicate origami symbols paired with the quote can denote life's journey and the highs and lows we all experience. It's a unique way to express optimism and resilience in the face of life's currents.
Realistic Forearm Boat tattoo
Boat tattoo on leg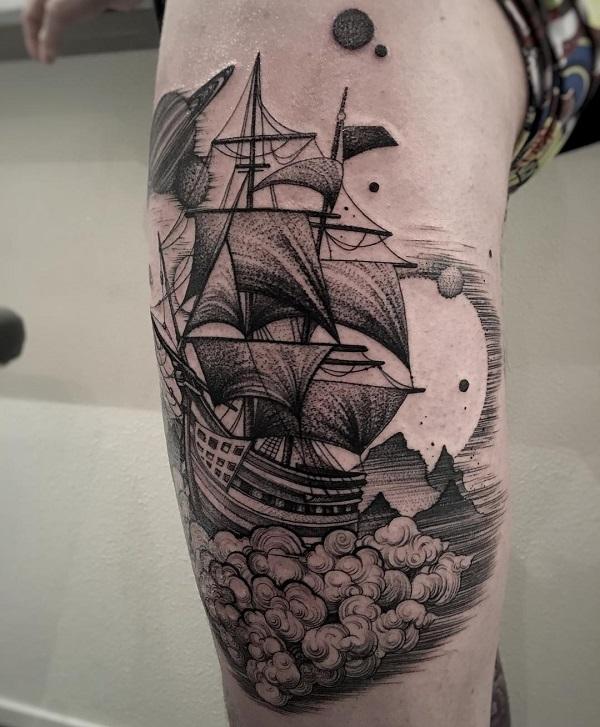 Sailboat sleeve tattoo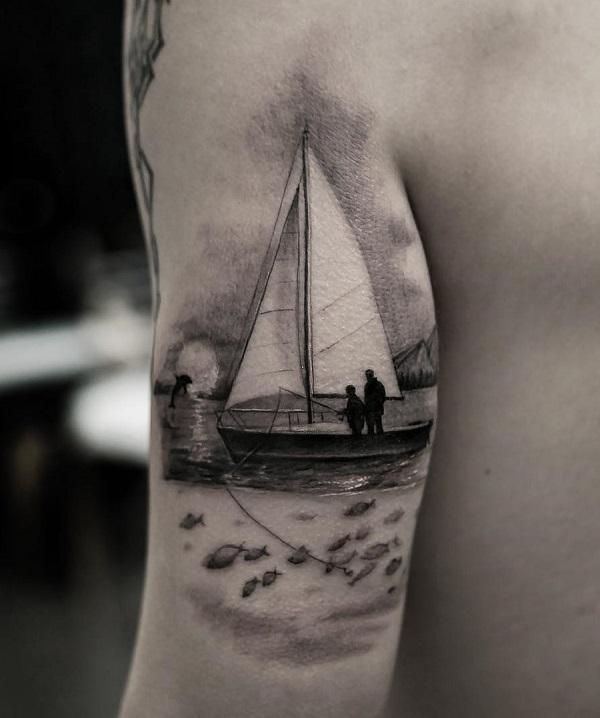 Painting style boat tattoo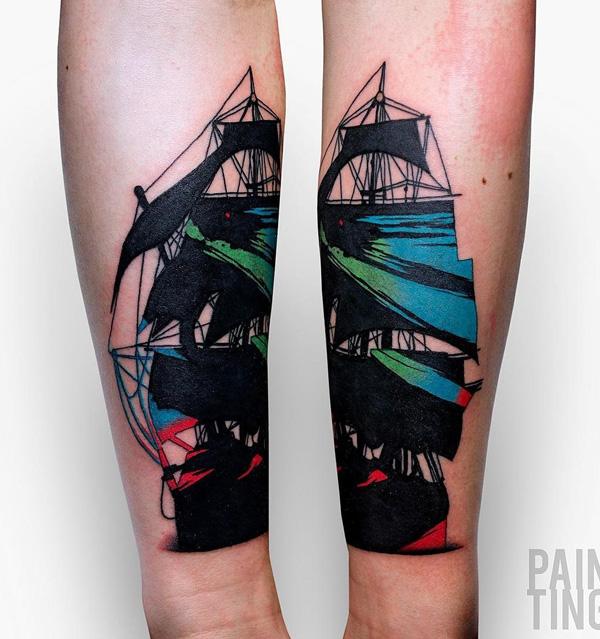 Black ink watercolor boat calf tattoo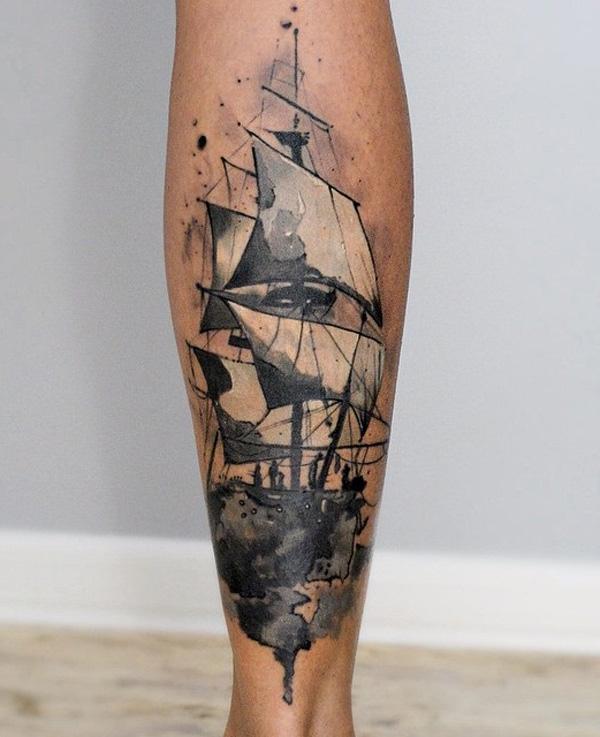 Watercolor sailing boat half sleeve tattoo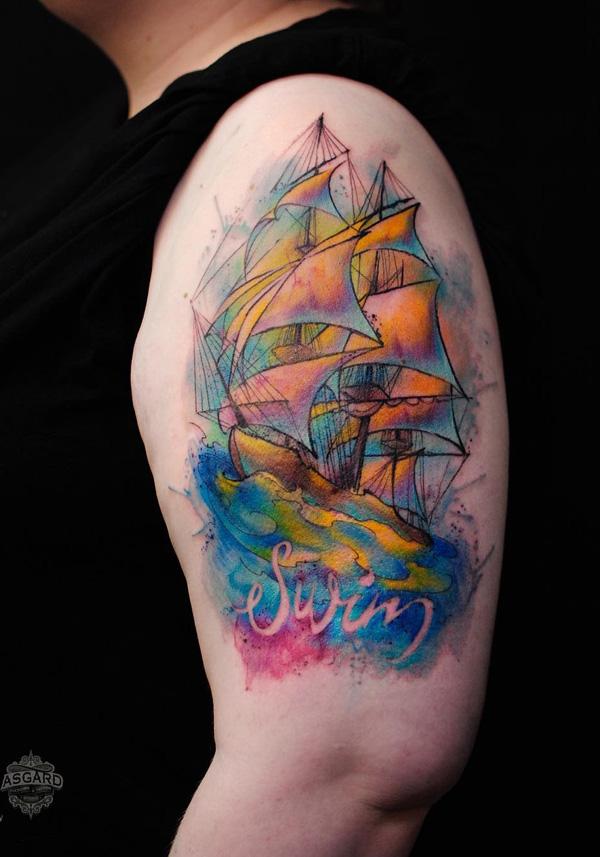 Watercolor paper boat tattoo on side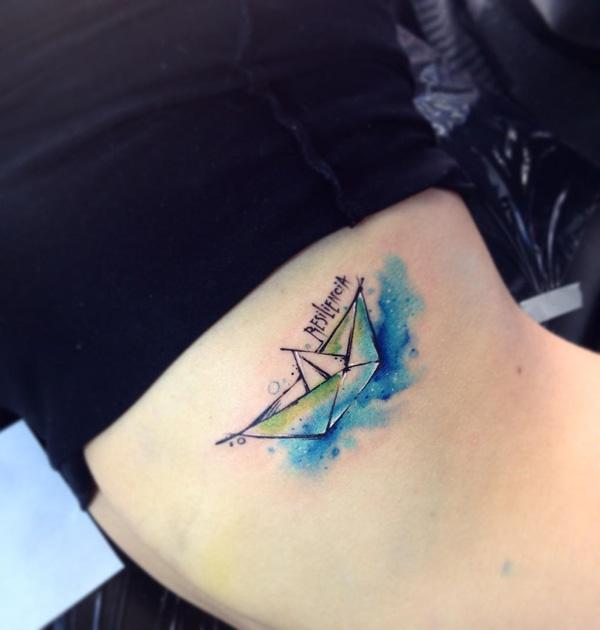 Sailboat under the sunset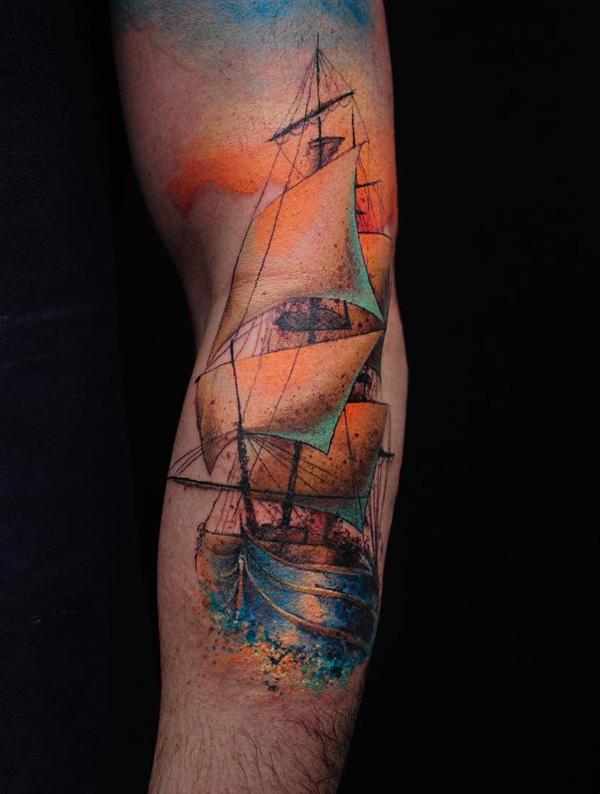 The watercolor sailboat under a sunset is a captivating seascape tattoo. The blend of vivid colors replicates the transient beauty of a sunset, while the sailboat symbolizes a serene journey. As a full sleeve design, this tattoo offers a large canvas for this picturesque scene, creating a wearable work of art that's like having a sunset at sea with you at all times.
Graffiti boat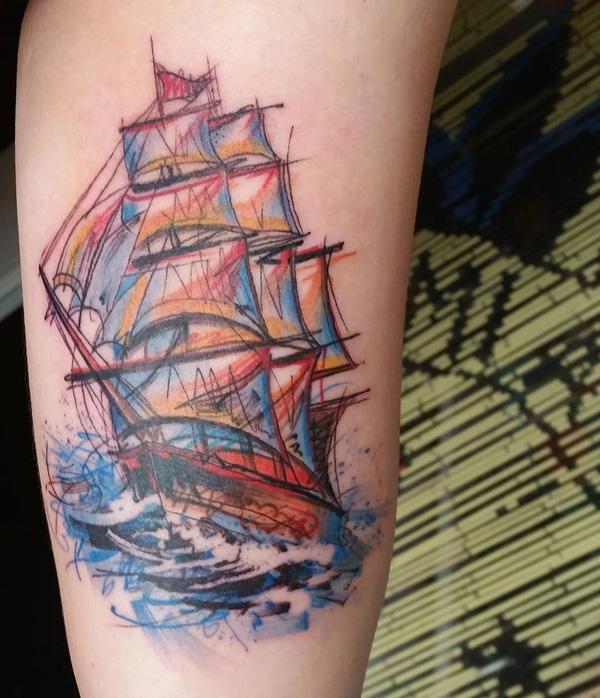 Watercolor boat arm tattoo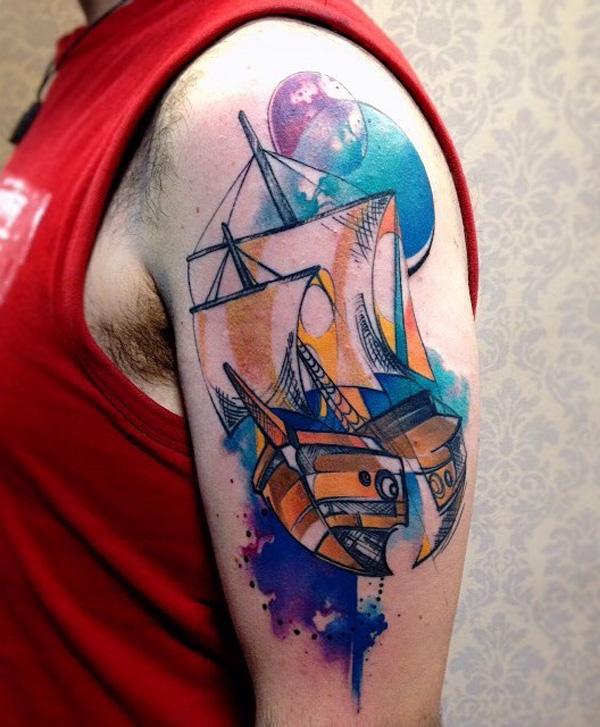 Watercolor boat with portrait tattoo for women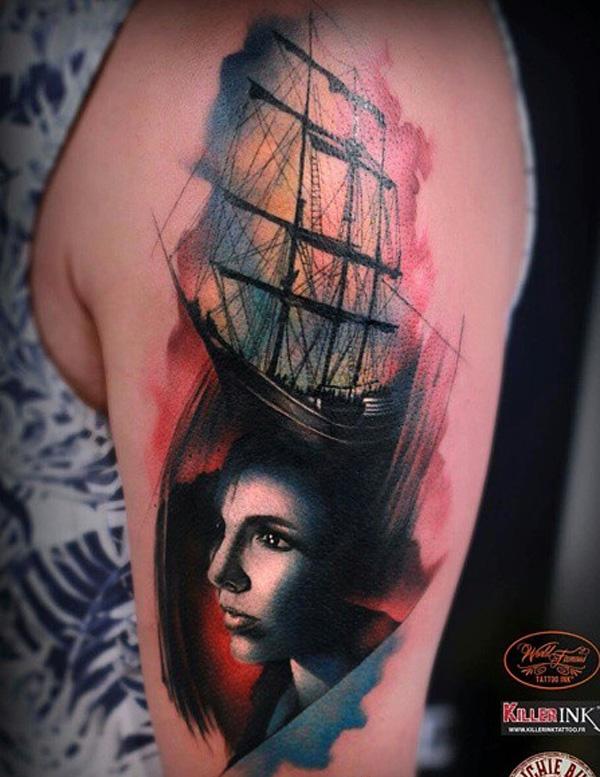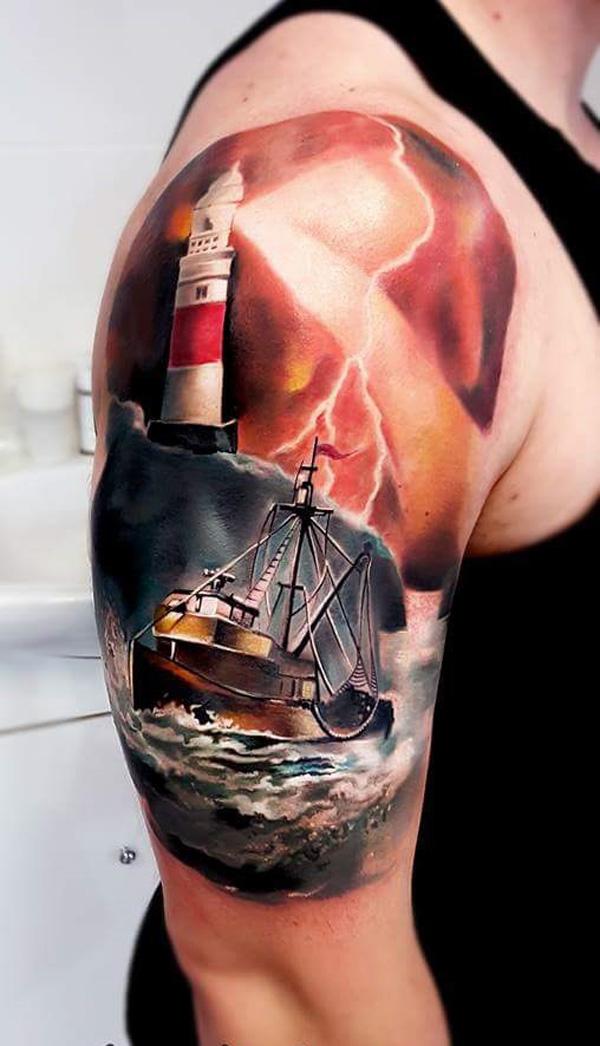 Tall ship side tattoo for men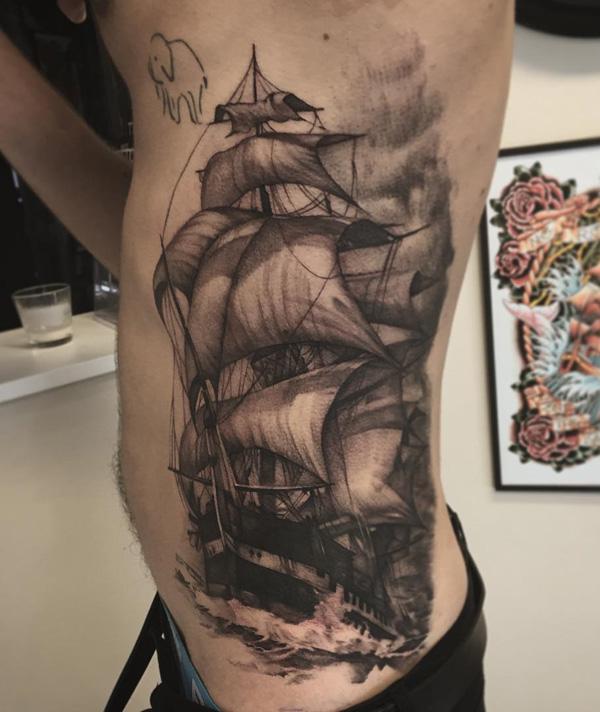 Ship, plane and lighthouse full sleeve tattoo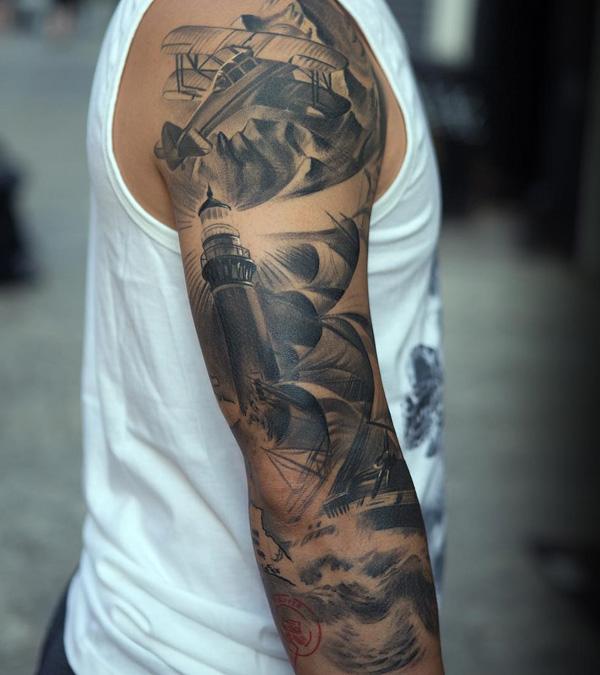 Boat and watch full sleeve tattoo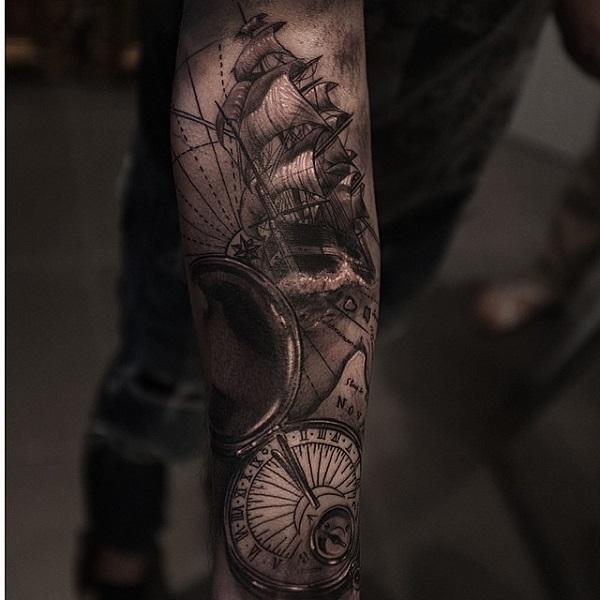 Small sailboat tattoo on shoulder blade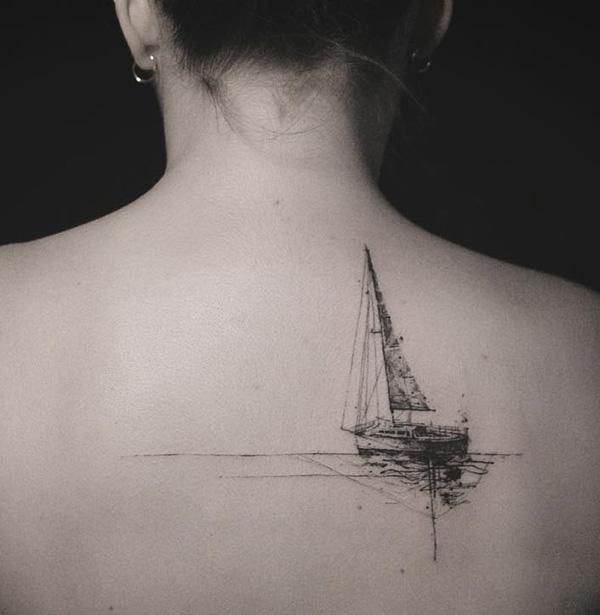 Realistic tall ship on watercolor backdrop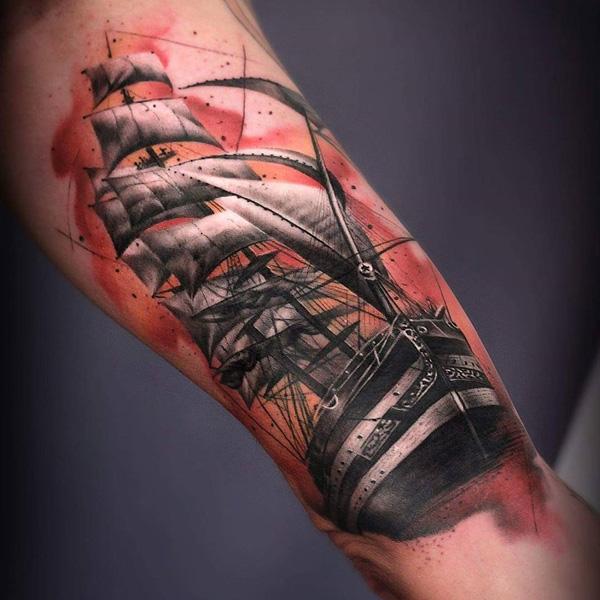 Sailboat calf tattoo for men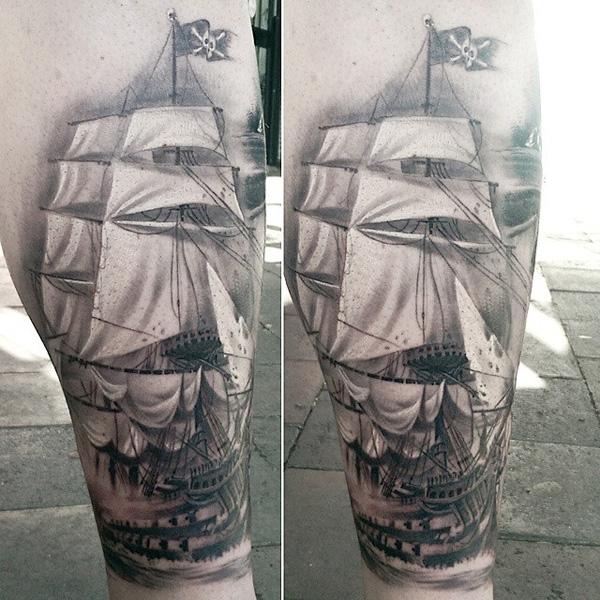 Paper boat finger tattoo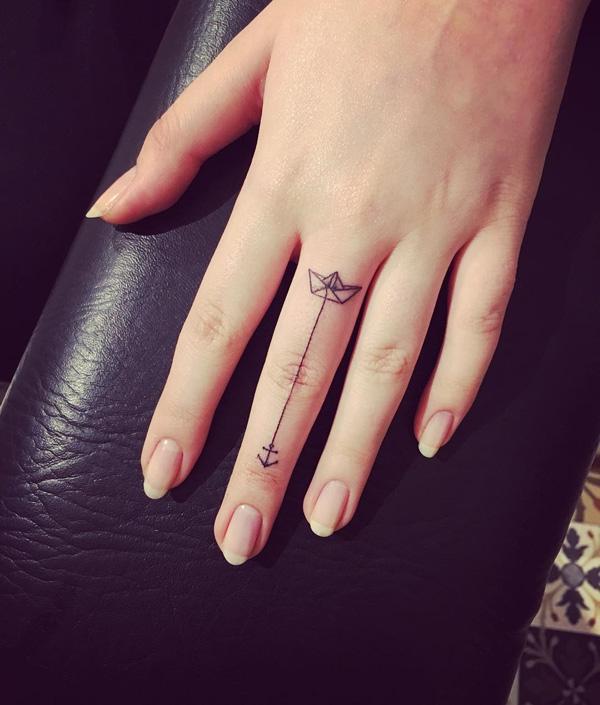 Black and grey sailboat forearm tattoo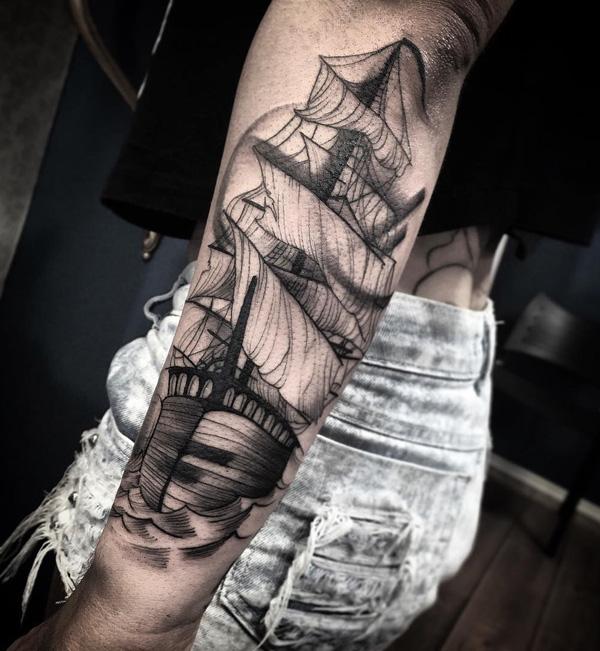 Forearm pirate ship tattoo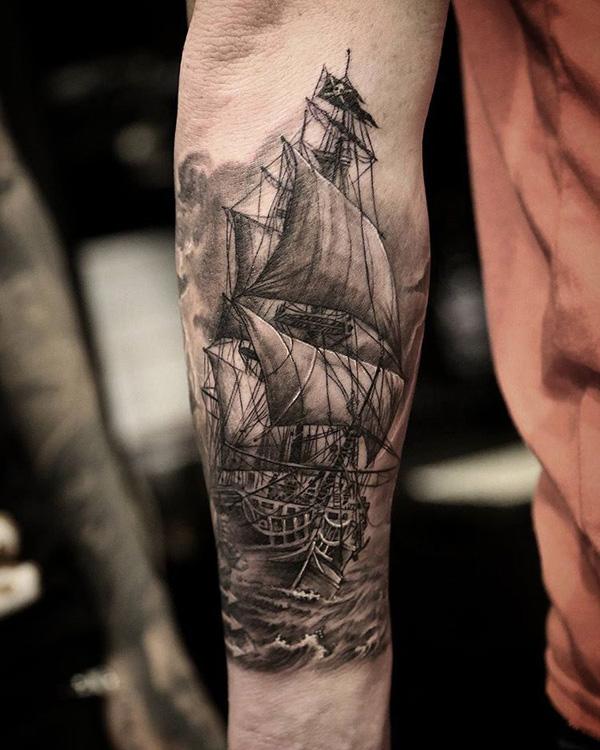 Sailboat forearm tattoo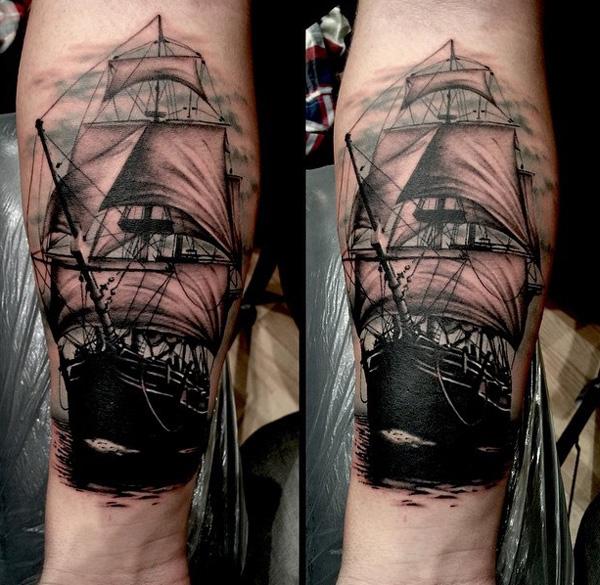 Poseidon and Boat full back tattoo
The full back tattoo is a magnificent portrayal of the sea god in action. The design captures Poseidon wielding his powerful trident, with a boat struggling amidst the mighty waves, symbolizing resilience in the face of adversity. It's a breathtaking narrative of power, strength, and human endurance against the elements, etched across your back.
Boat full sleeve tattoo for men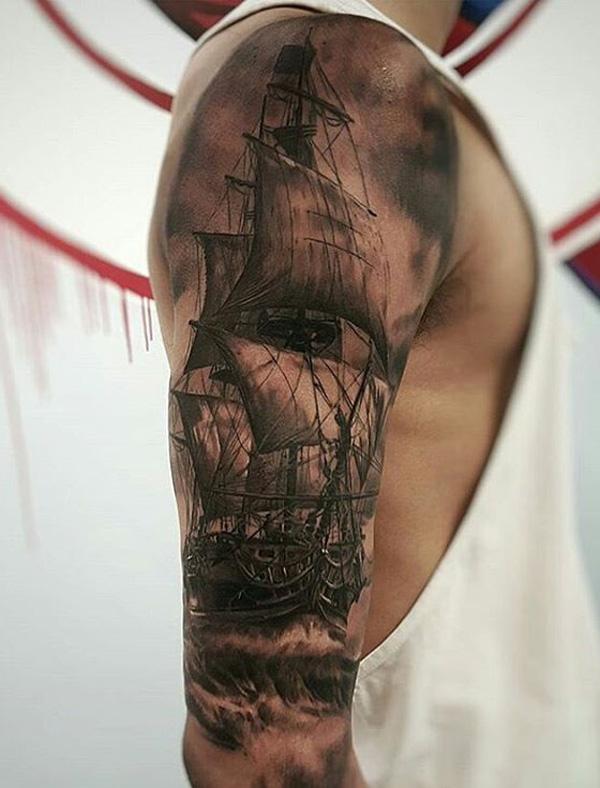 Boat leg tattoo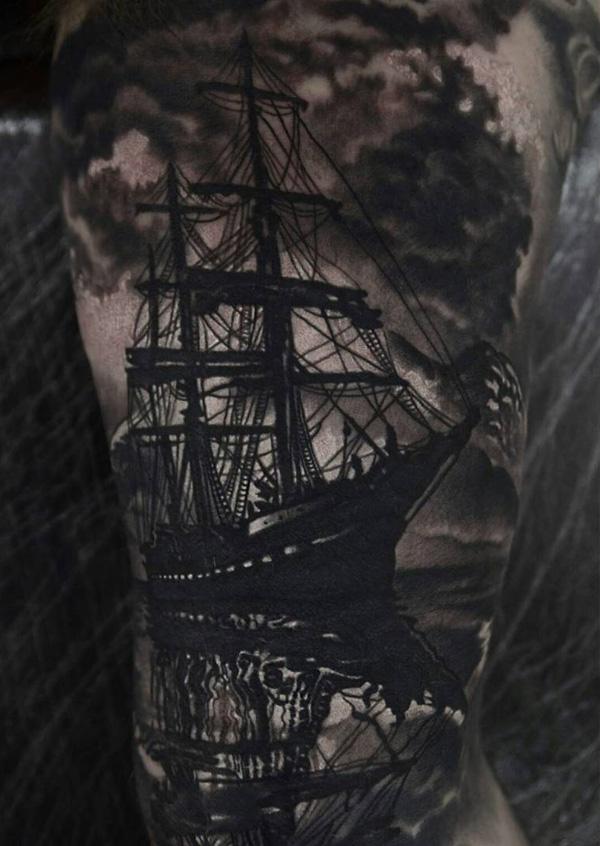 Ship helm tattoo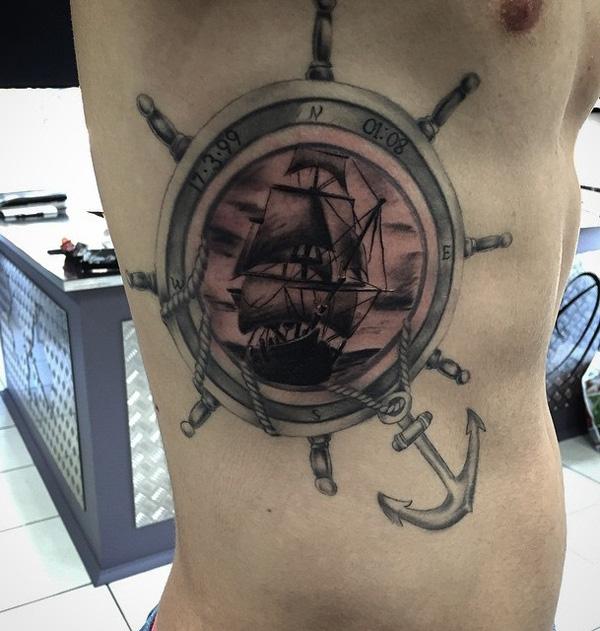 The ship helm and anchor tattoo is a vintage design that encapsulates the spirit of maritime tradition. At its center is a sailboat, beautifully portrayed within a ship's helm, symbolizing navigation and control. An anchor hanging on a rope adds a touch of balance, representing steadfastness and security. This intricate design is a visual narrative of maritime journeys, reminding the wearer of their own personal voyage in life.
Colorful boat side tattoo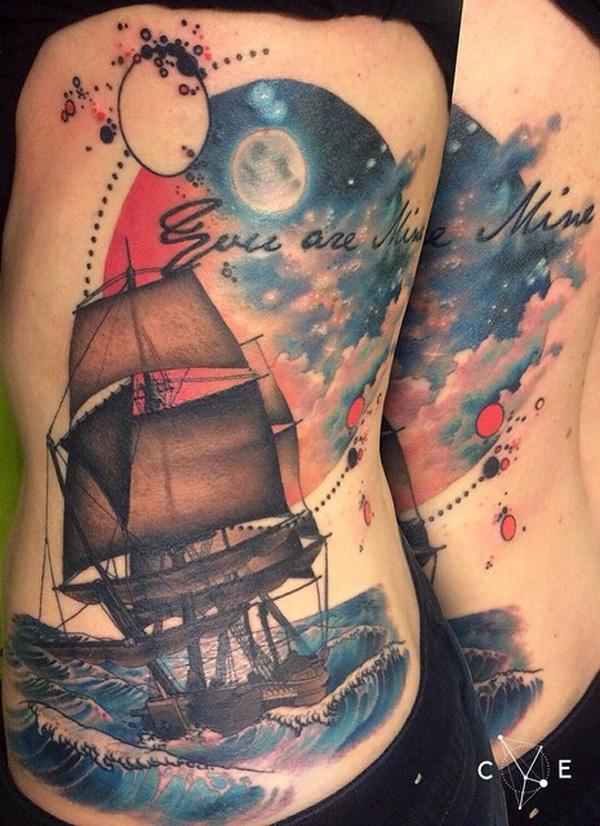 Black and grey boat sleeve tattoo for men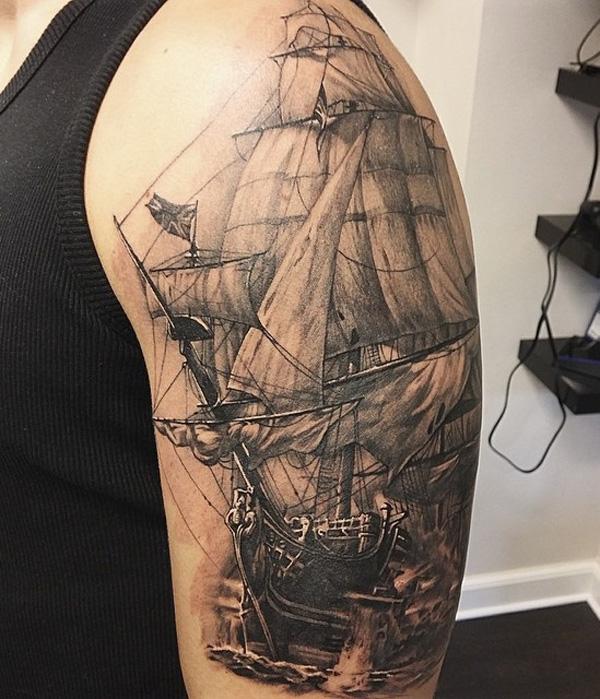 Pirate ship forearm tattoo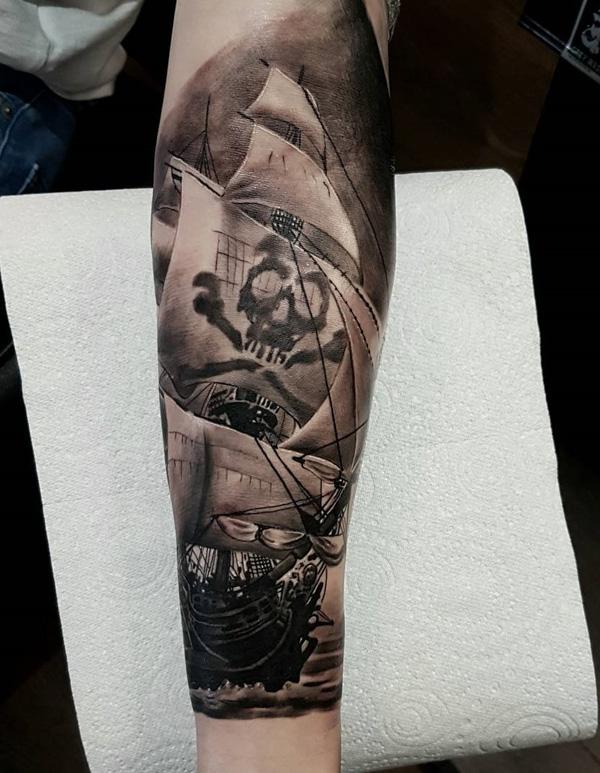 Boat sleeve tattoo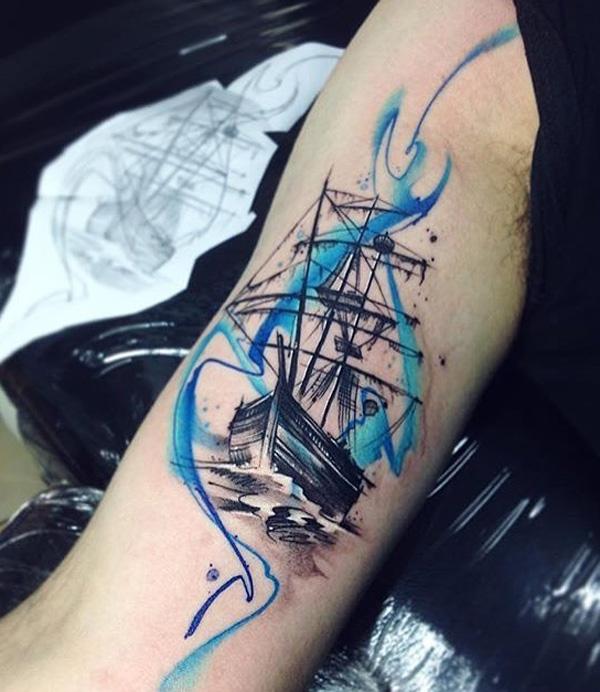 Black and white ship half sleeve tattoo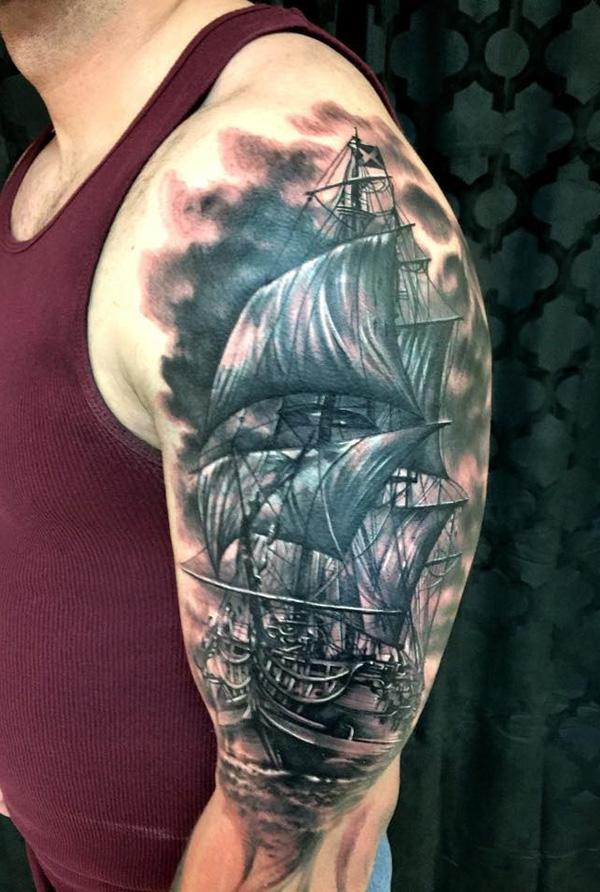 Traditional black and white sailboat tattoo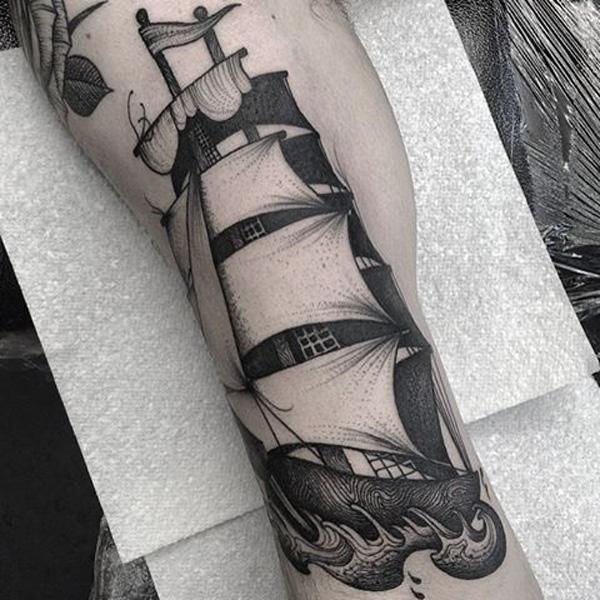 Forearm ship tattoo black and white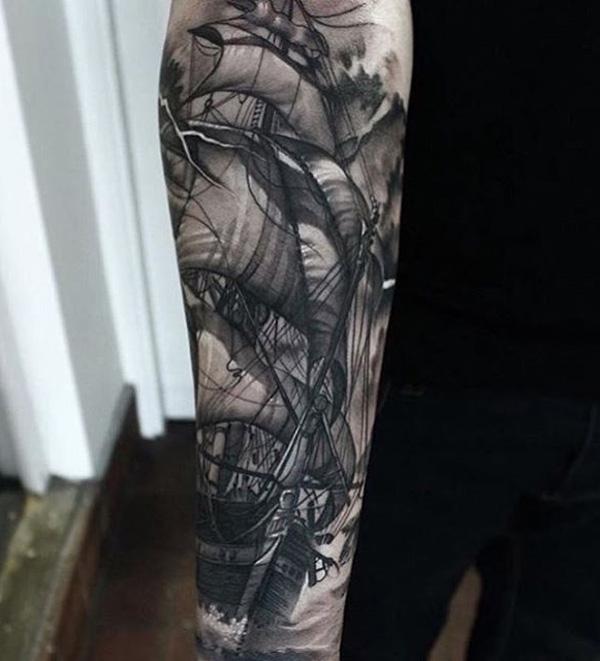 Ship forearm tattoo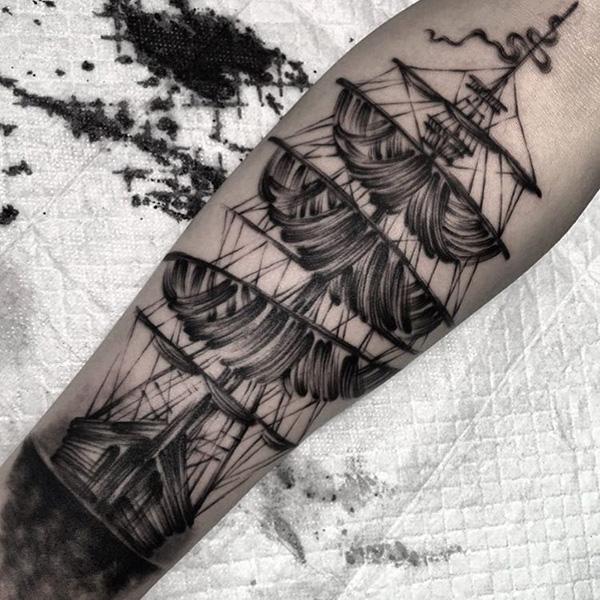 Traditional Boat tattoo black and white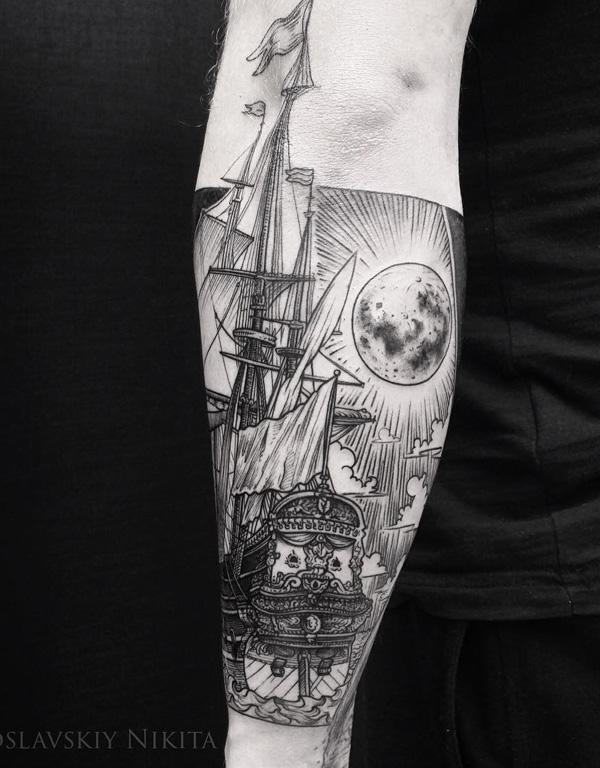 Sailor Jerry tall ship tattoo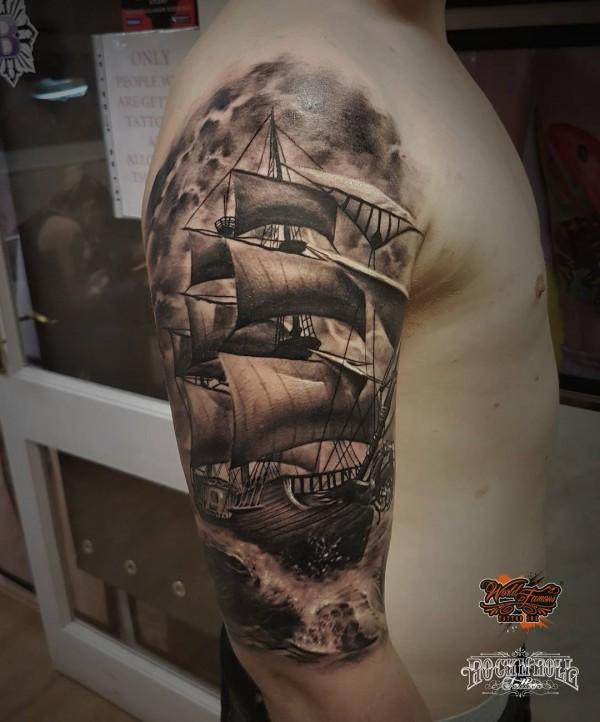 Feather boat tattoo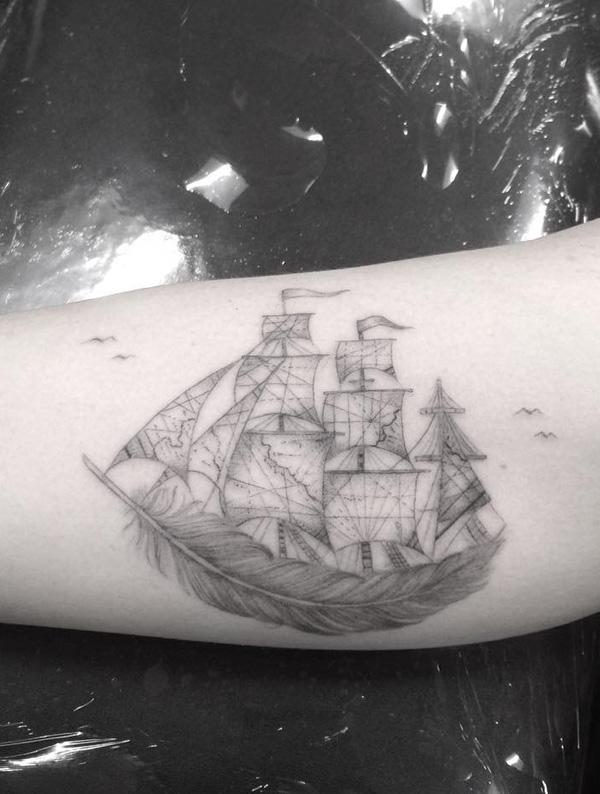 Pirate ship tattoo outline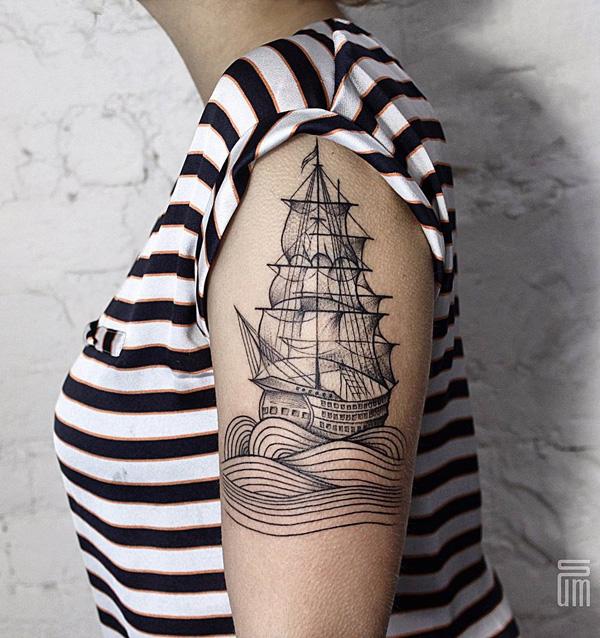 Tall ship sleeve tattoo black and grey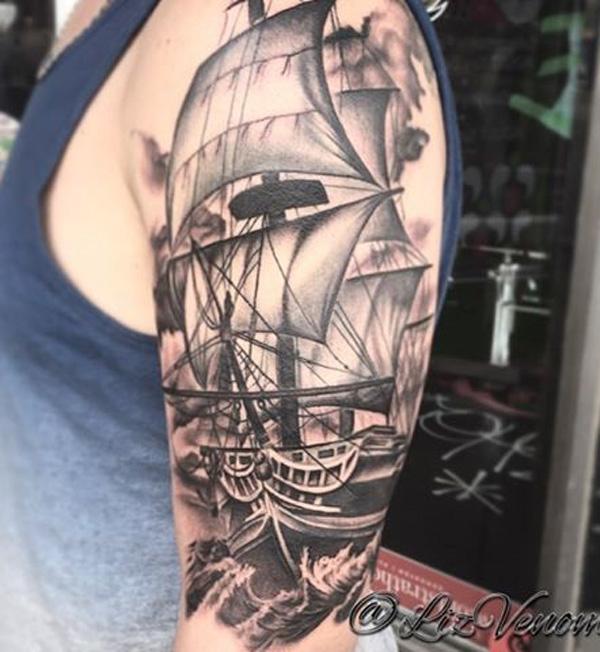 The tall ship tattoo is a majestic black and grey vintage design that canvases the arm with maritime history. It features an intricately drawn tall ship, capturing the essence of high seas adventure and exploration. The monochromatic palette enhances the detailing, making this tattoo a true work of art and a testament to the enduring allure of seafaring tales.
source
Sailboat silhouette half sleeve tattoo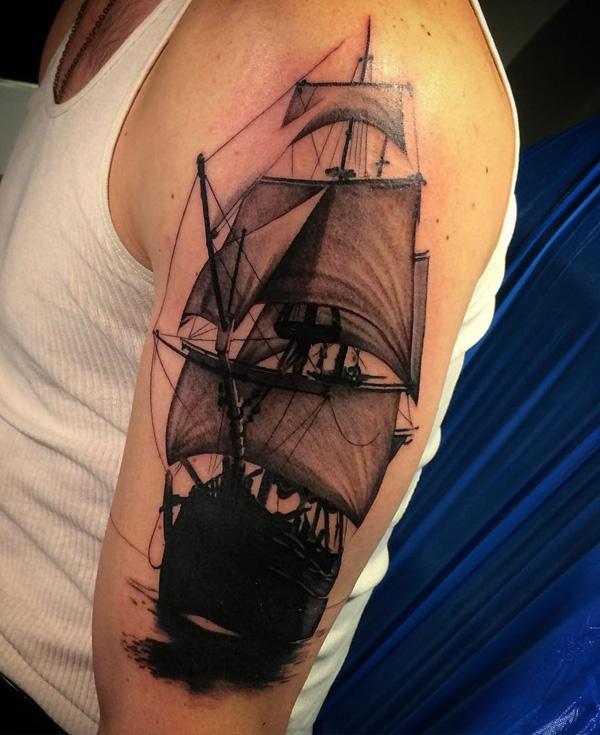 Ship in lightning storm tattoo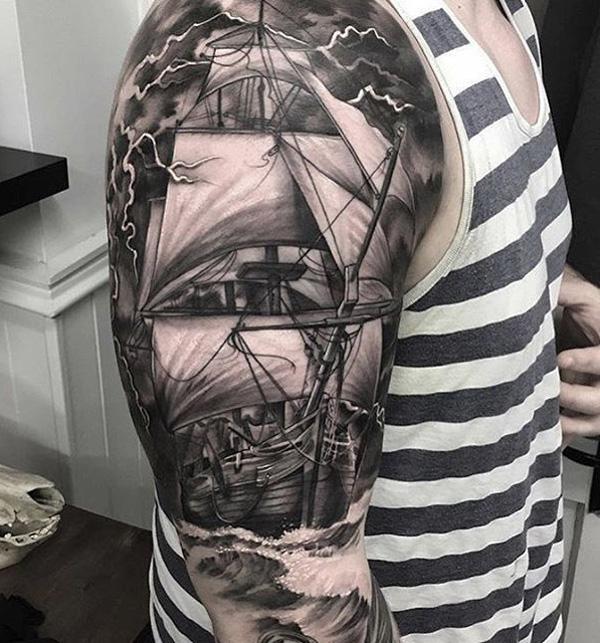 Sail boat sketch calf tattoo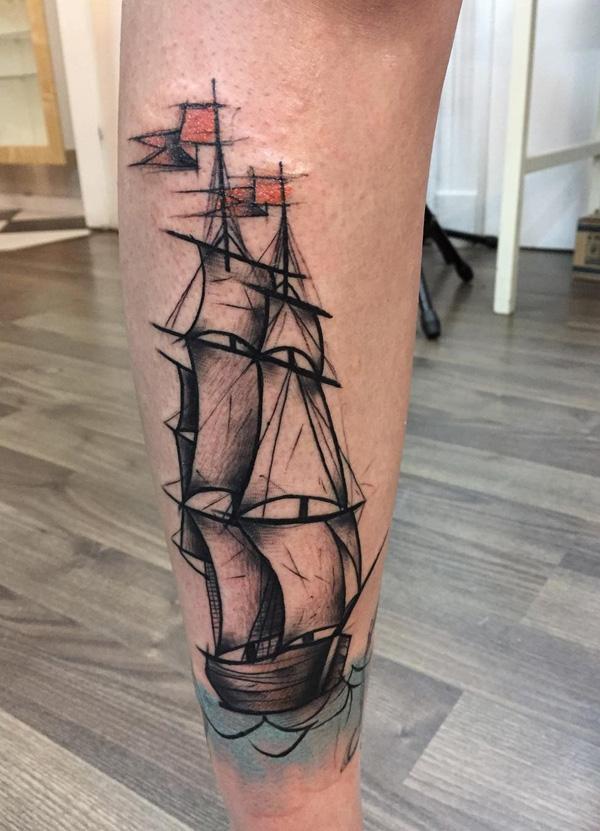 Map Sail Boat tattoo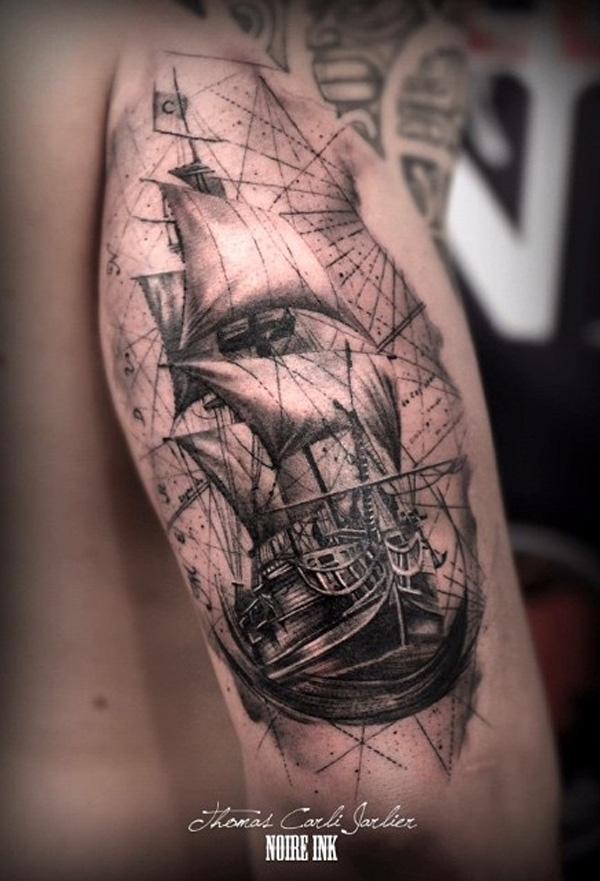 Traditional ship tattoo for men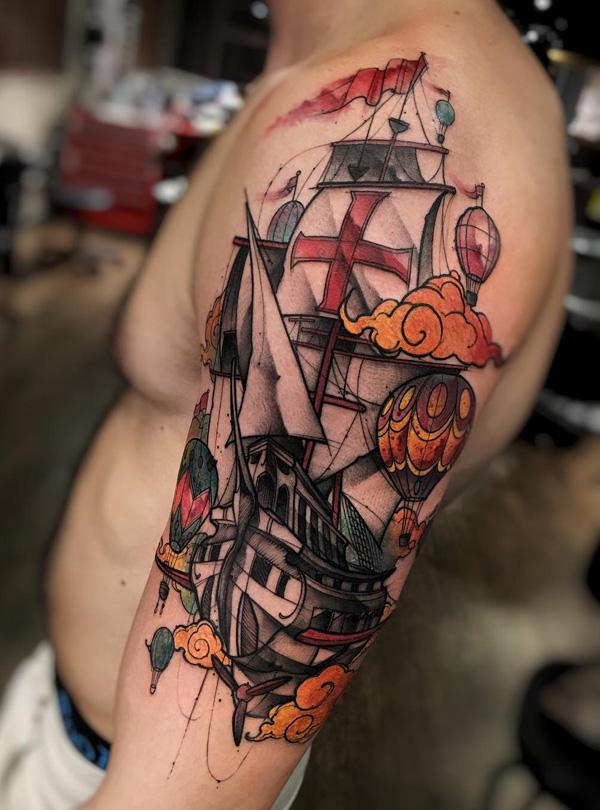 Sailor Jerry pirate ship arm tattoo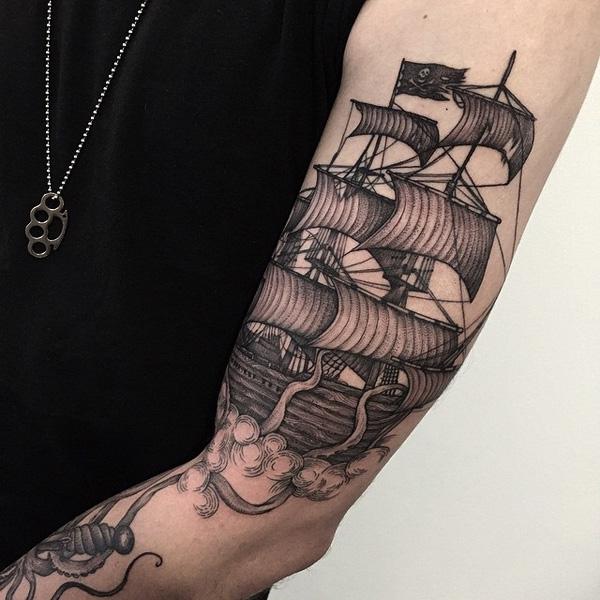 A sailboat in water forearm tattoo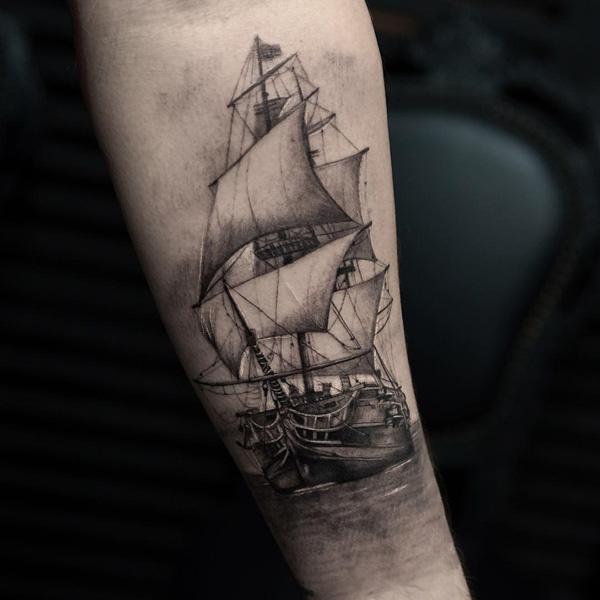 Ship in wave half sleeve tattoo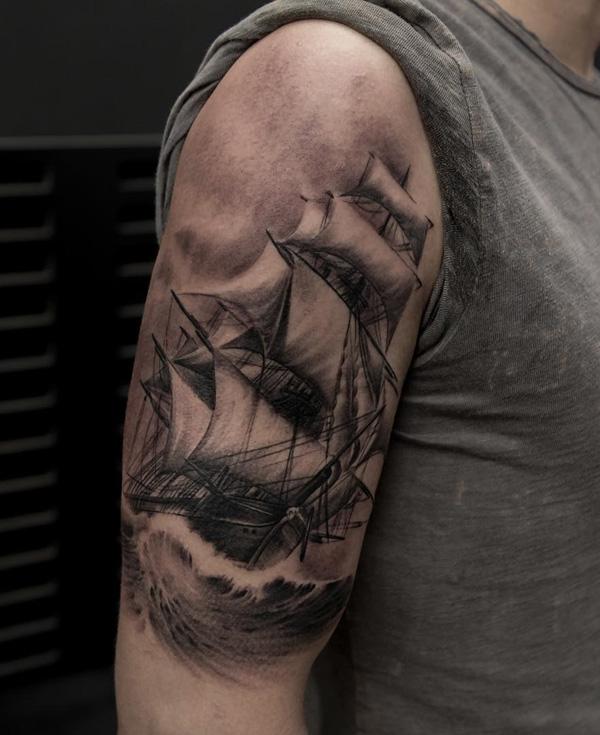 Negative space sailboat leg tattoo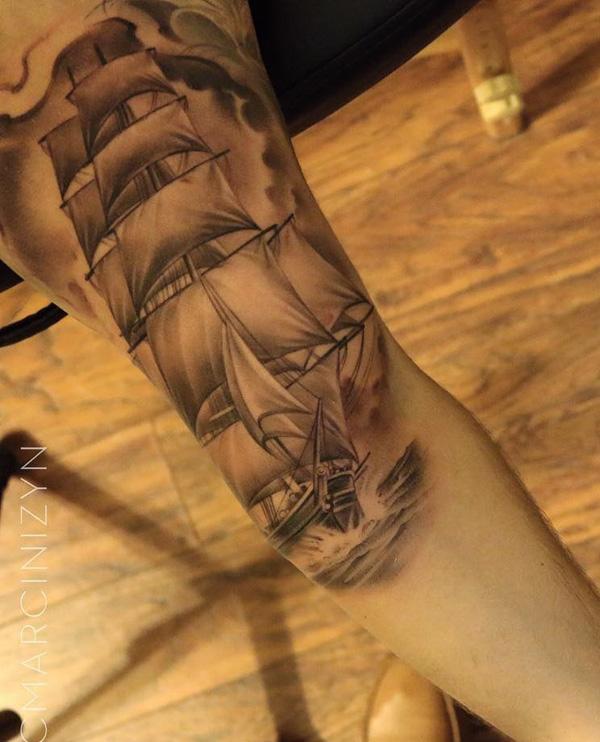 Tall ship thigh tattoo for men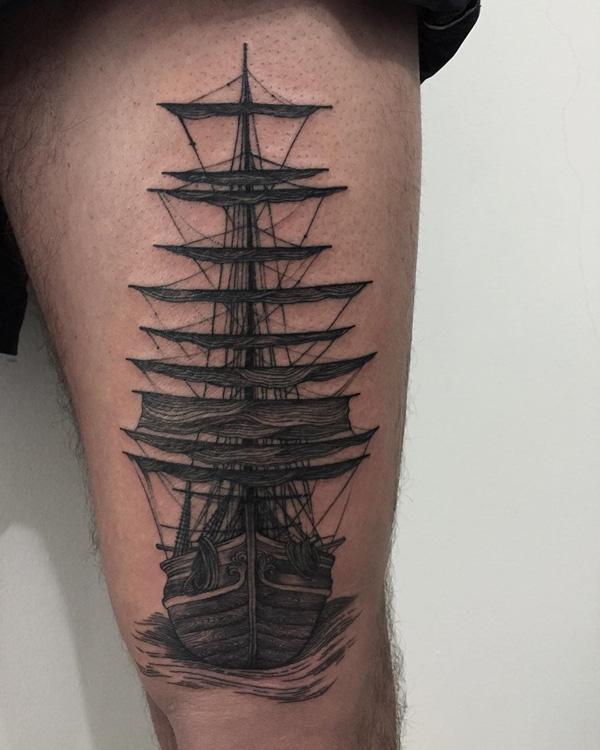 Boat and Mermaid blackwork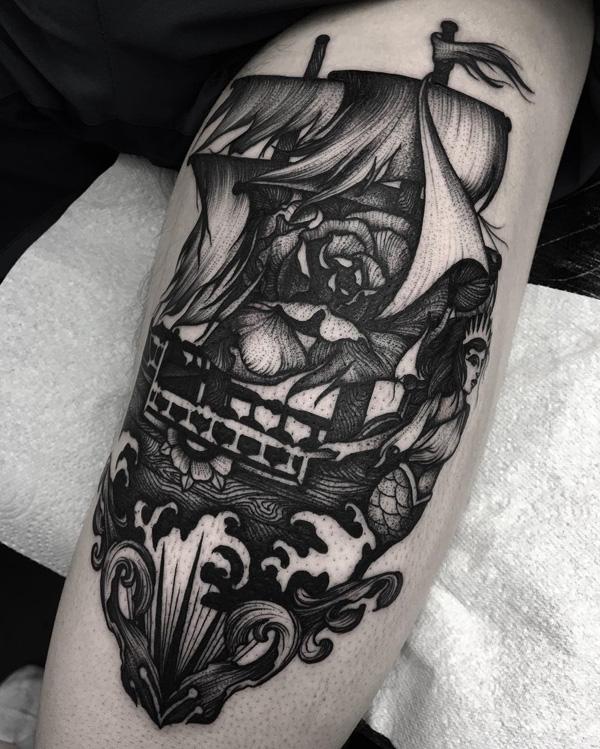 Galaxy boat tattoo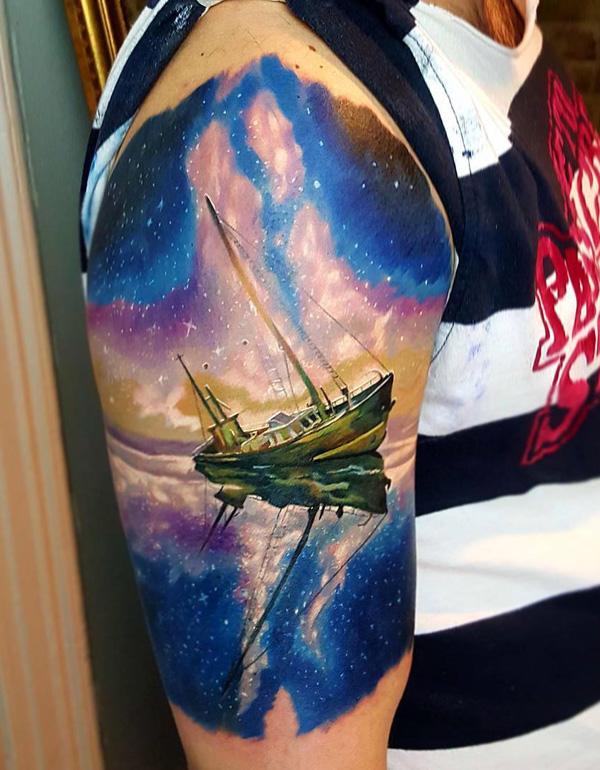 Sailboat with rose tattoo black and grey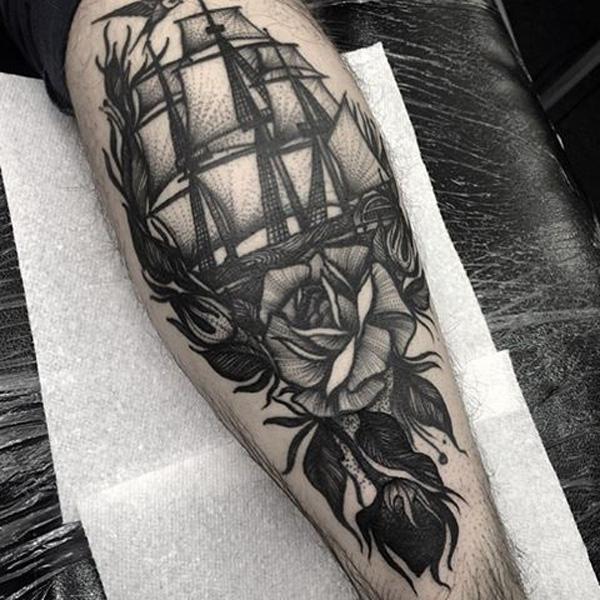 Minimalist boat wrist tattoo in watercolor style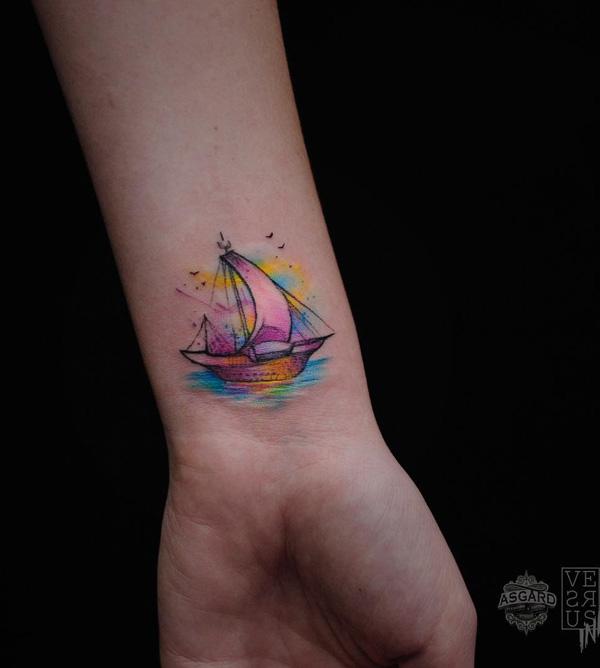 Colored boat full back tattoo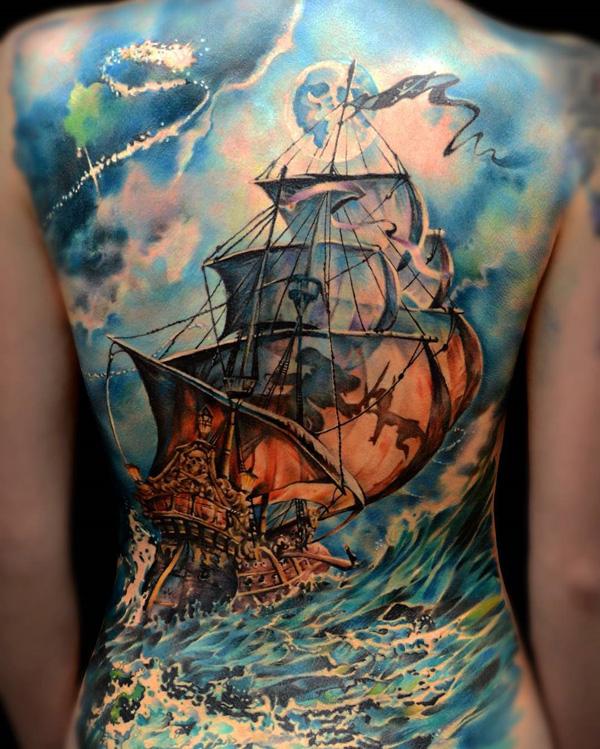 Abstract sailboat tattoo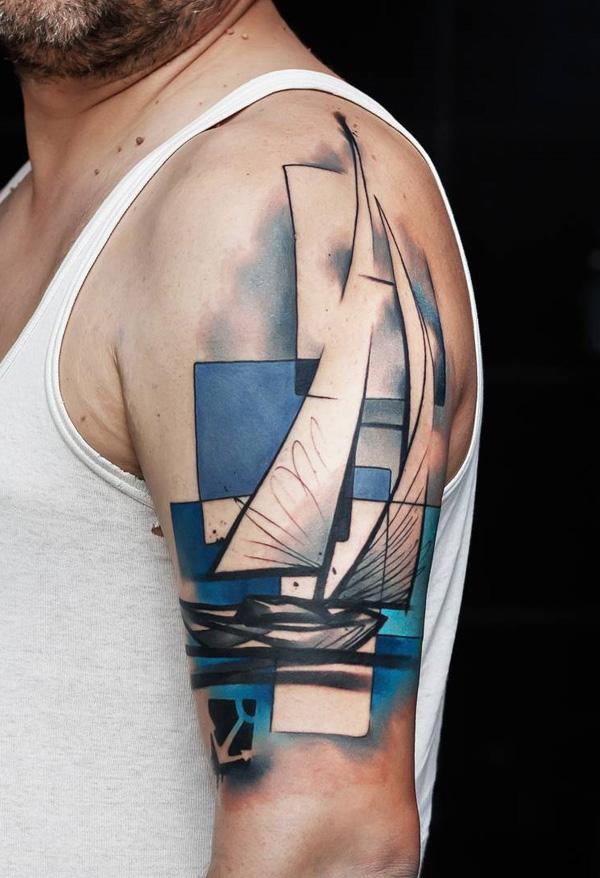 Colored Cool boat tattoo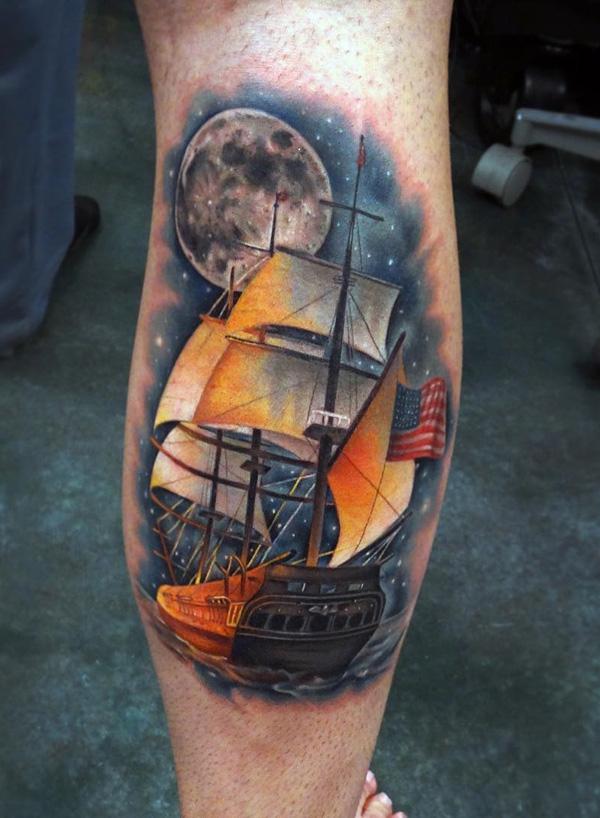 Sailboat with moon tattoo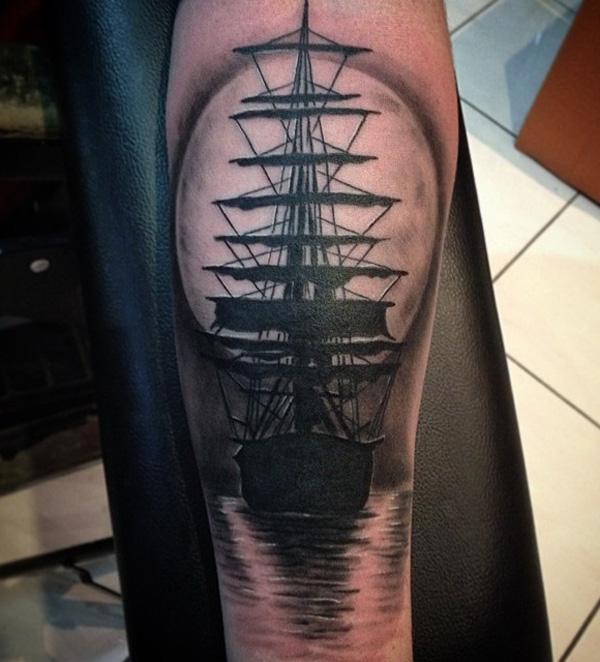 Overturned Boat Back Tattoo for Men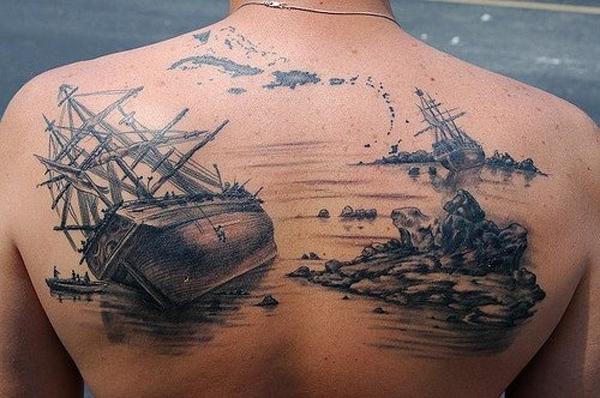 Sailboat and anchor thigh Tattoo with quotes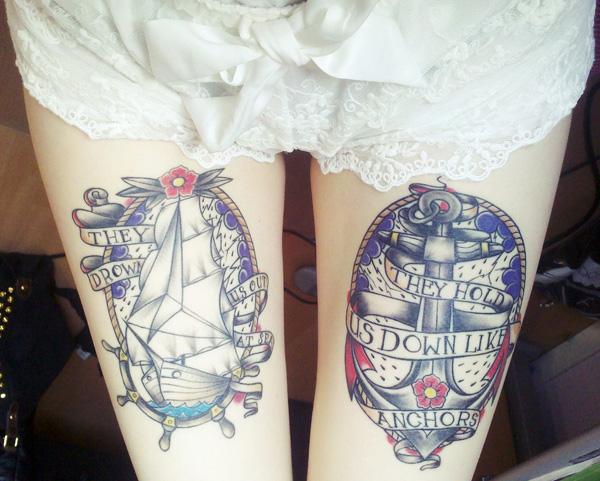 American traditional Ship tattoo on neck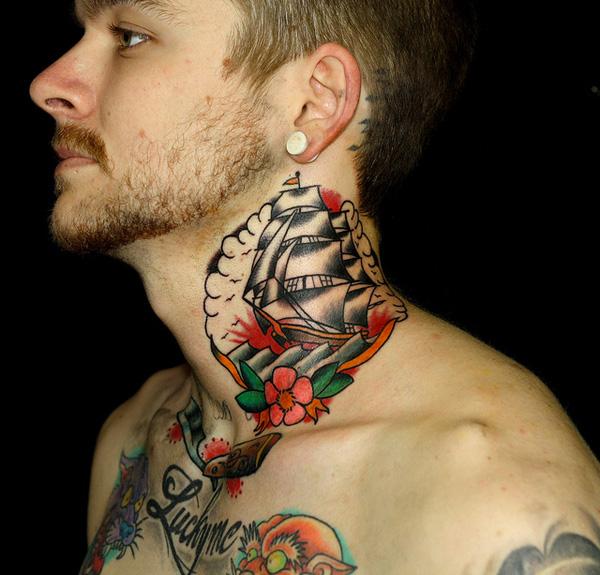 Gene Coffey sail Boat Tattoo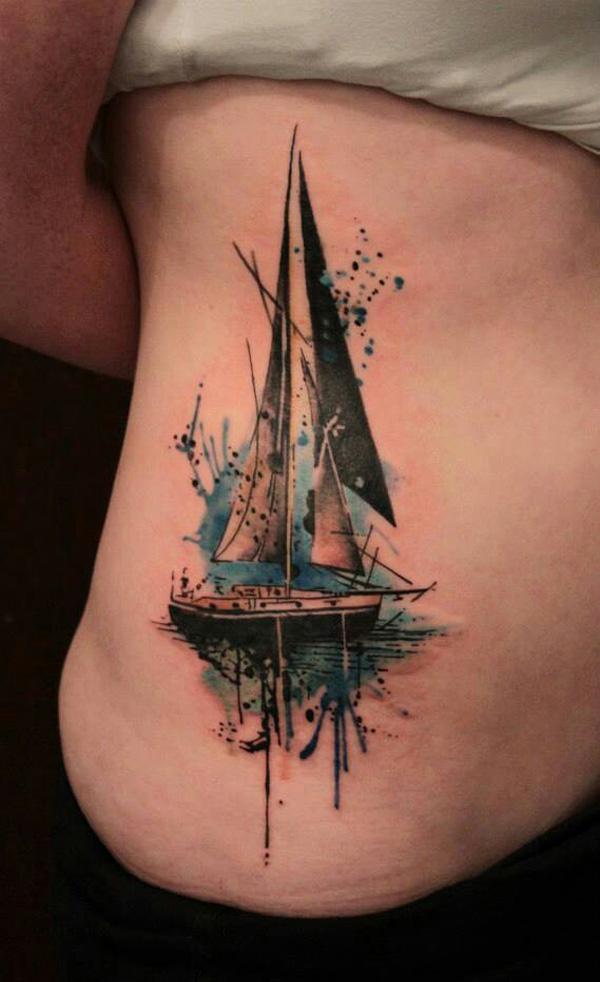 Boat chest Tattoo
Night sky tattoo and ship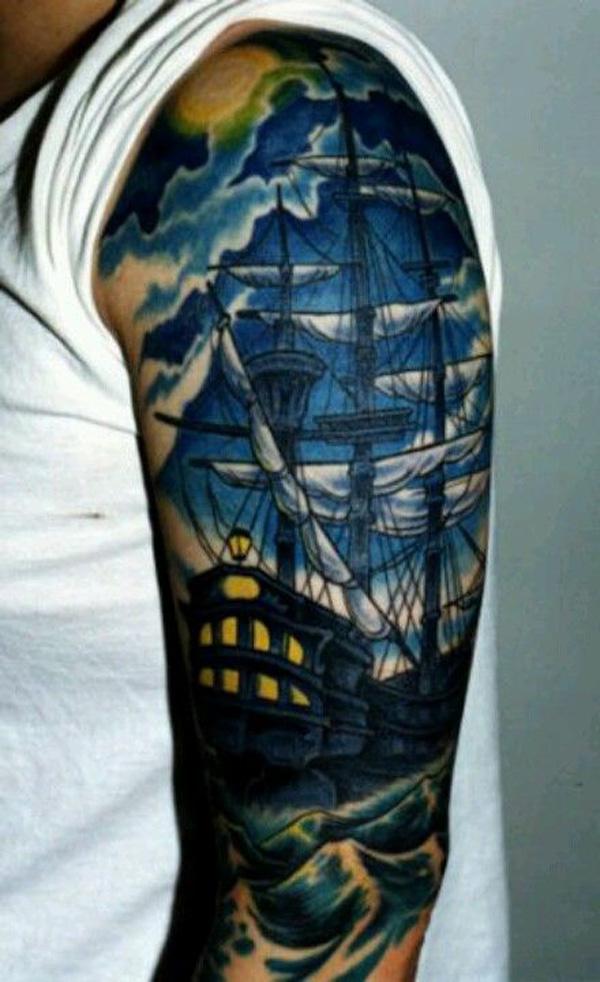 The Star of India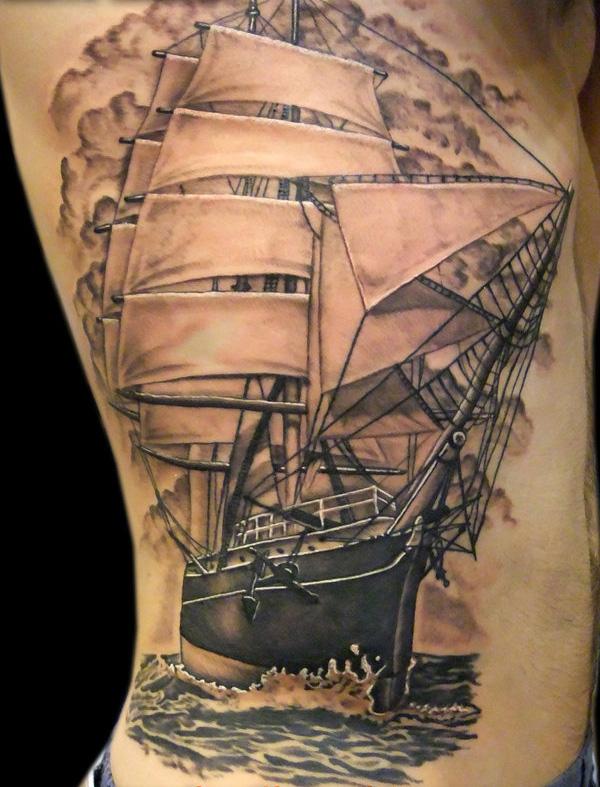 Pirate ship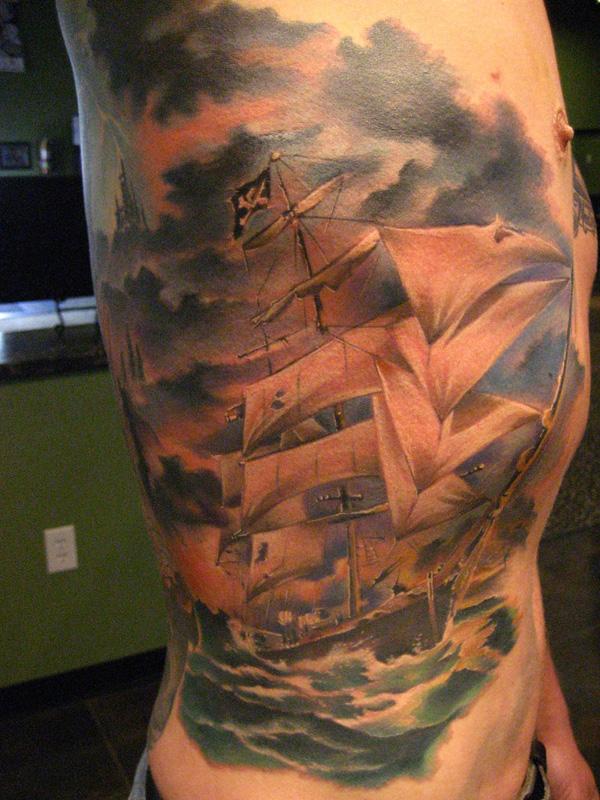 Tall Ships Skull Tattoo Black And Grey

Poseidon and boat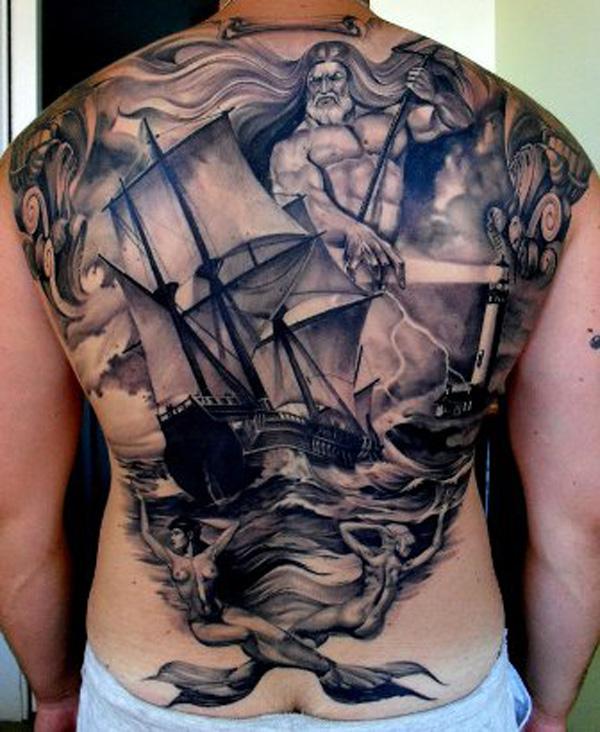 Sailing boat in wave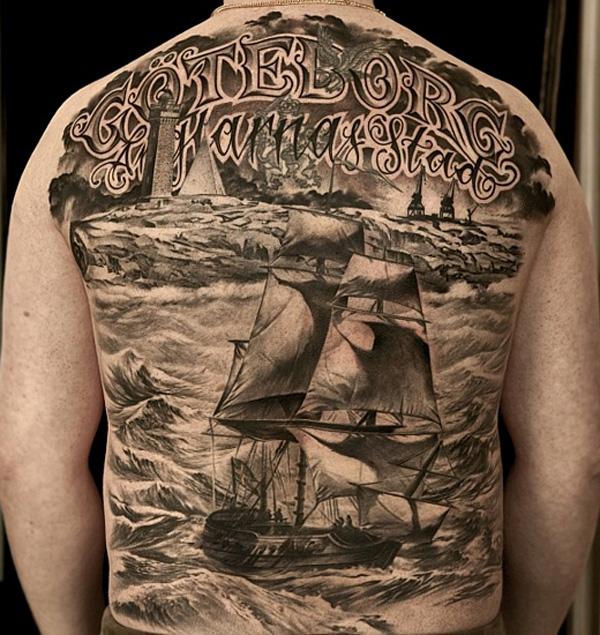 Fishing boat tattoo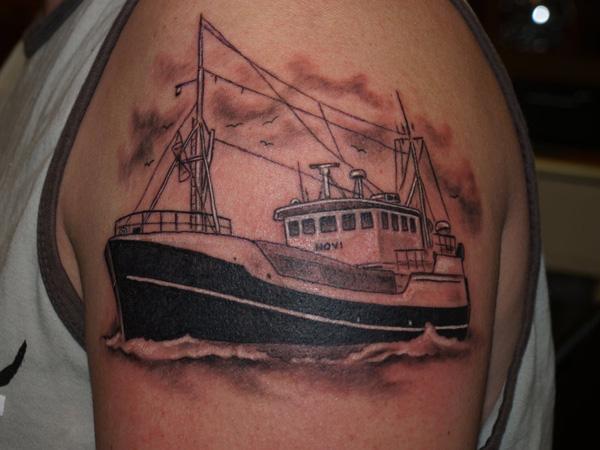 Sailor Ghost ship tattoo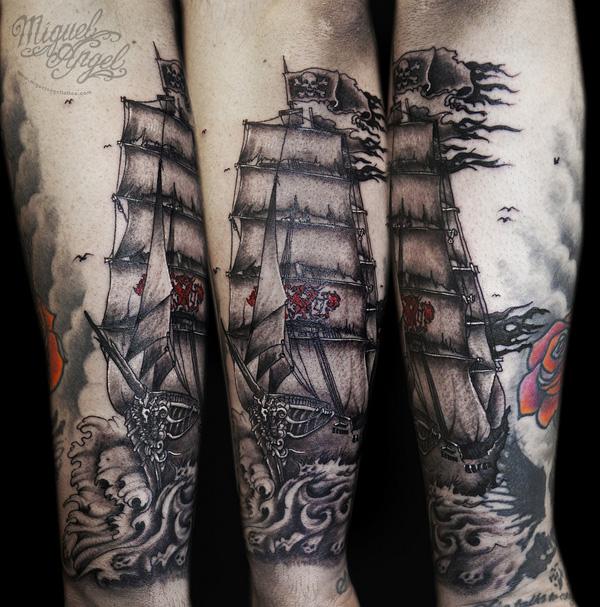 Boat and octopus tattoo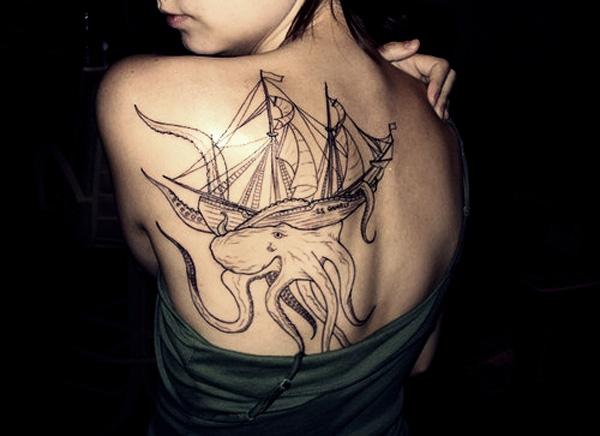 Colorful Ship quarter sleeve Tattoo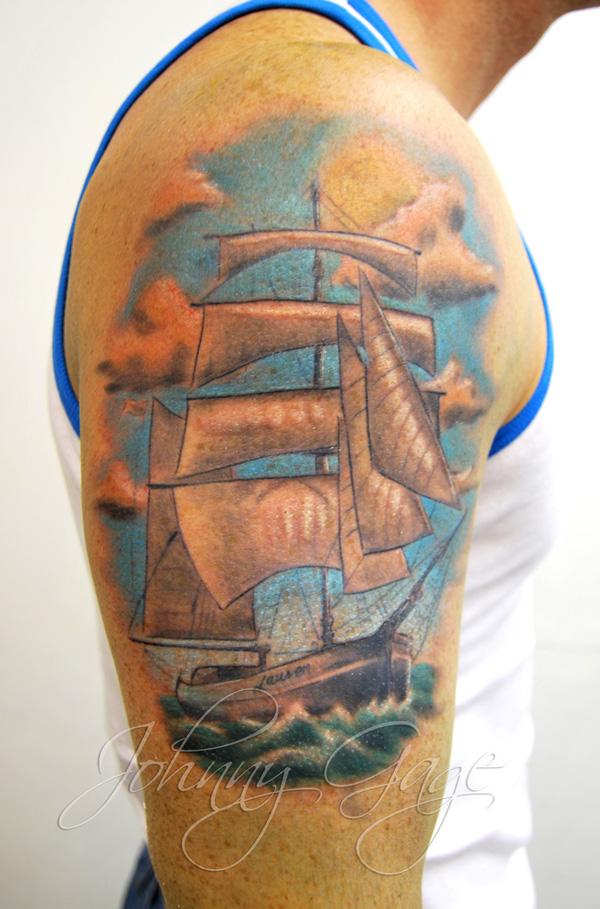 Realism sailboat bicep tattoo black and grey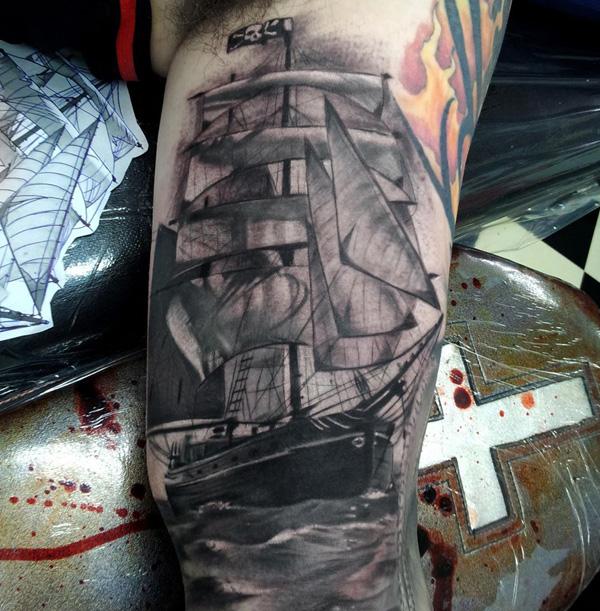 Tall ship back tattoo black and grey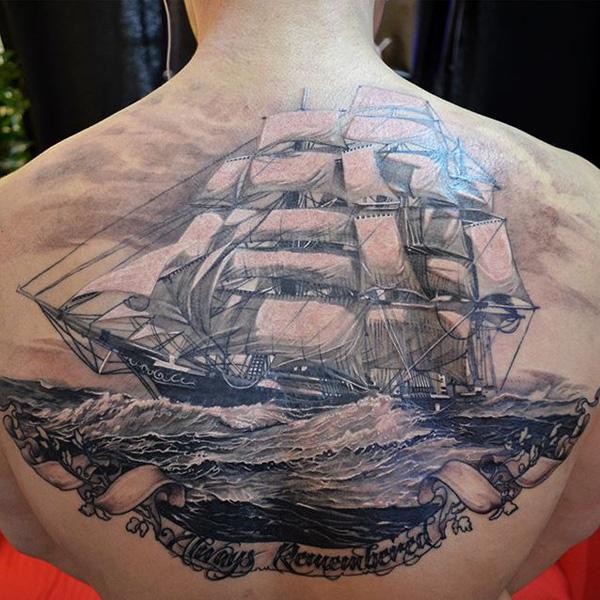 Poseidon and Boat Sleeve Tattoo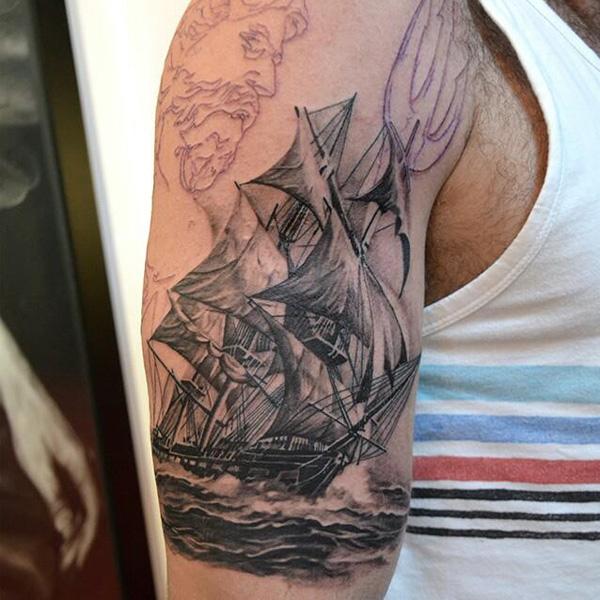 Sailboat and anchor tattoo black and grey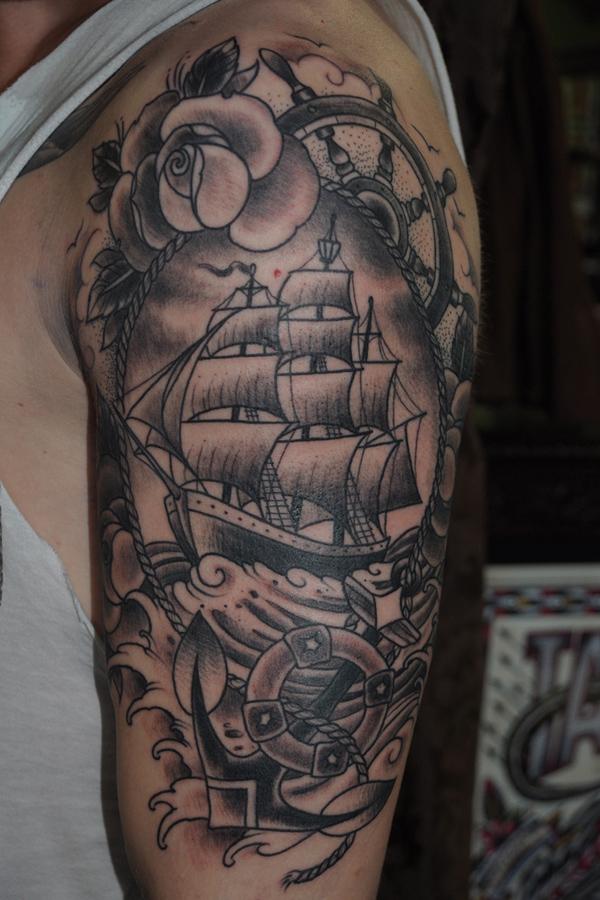 The sailboat and anchor design is a classic black and grey piece, steeped in the rich tradition of maritime body art. It features a finely detailed sailboat, signifying adventure and freedom, paired with a steadfast anchor, symbolizing stability and strength. This vintage design is a timeless tribute to the balance between exploration and groundedness in life's journey.
Sketchy boat and octopus tattoo on thigh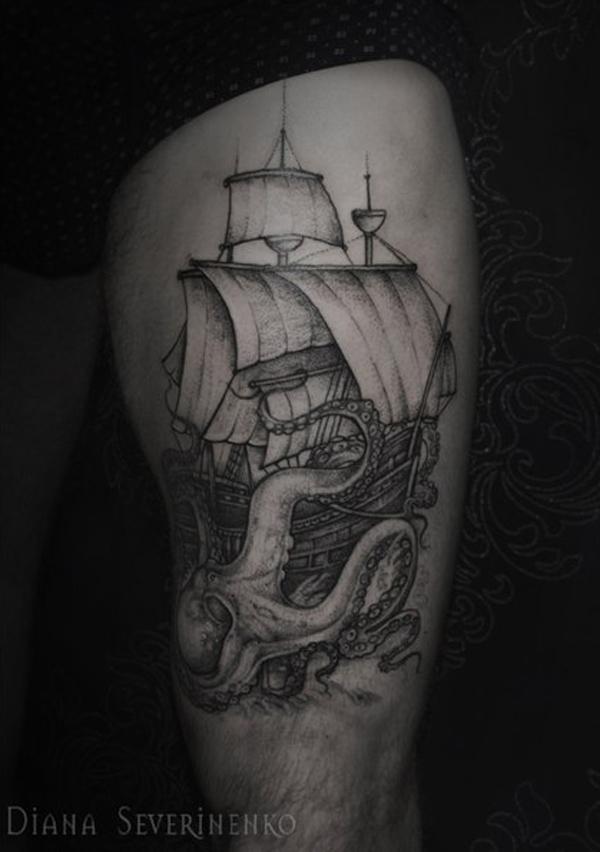 The Sketchy boat design transforms the thigh into a canvas of maritime adventure. With its rough, hand-drawn lines, it depicts a boat in a tense encounter with a sprawling octopus. This tattoo is an evocative nod to traditional sailor folklore, embodying the unpredictable nature of the sea and life itself.
Black boat thigh Tattoo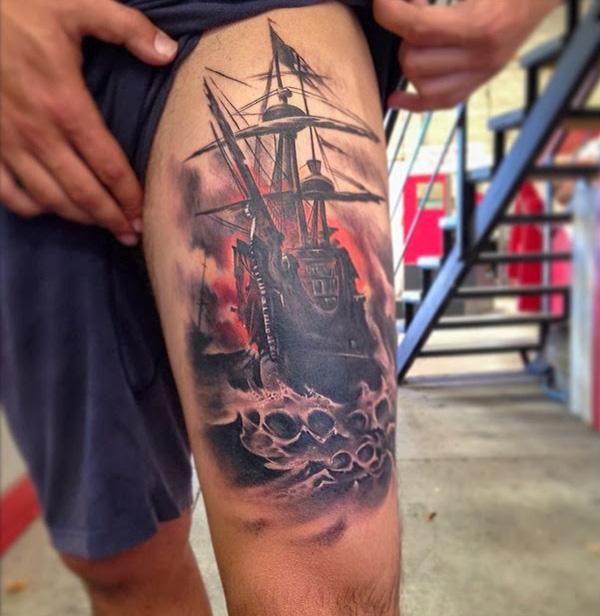 Black and white ship tattoo sleeve for men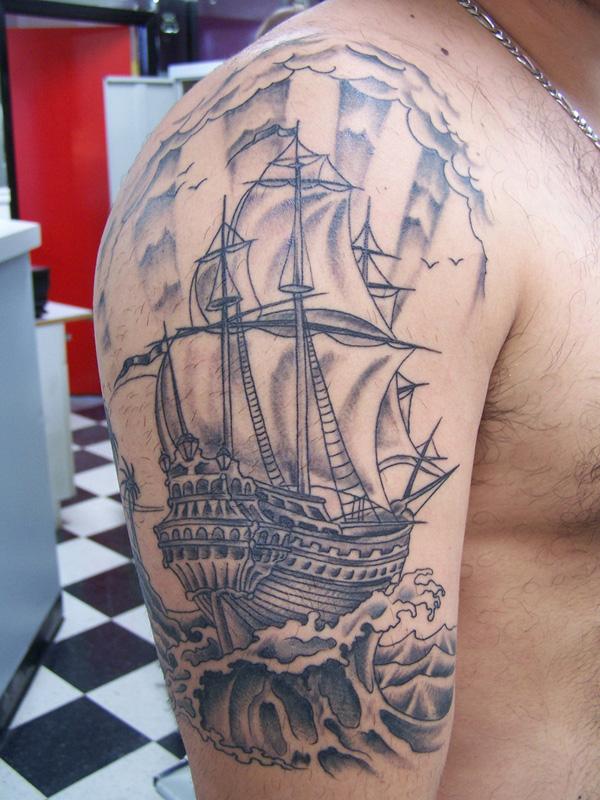 Stylized octopus and boat outline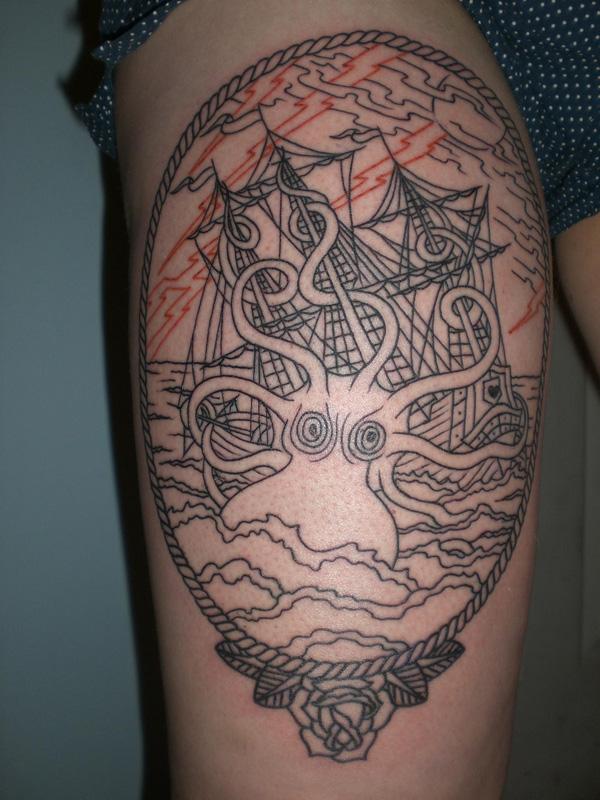 The thigh Tattoo is a captivating vintage piece, evoking the drama of seafaring tales. The design artfully merges the stylized outline of a ship with an octopus, all under the ominous presence of thunderbolts. It's a powerful symbol of resilience and adversity, embodying the courage to navigate life's stormiest seas.
Ship In A Bottle bicep tattoo black and grey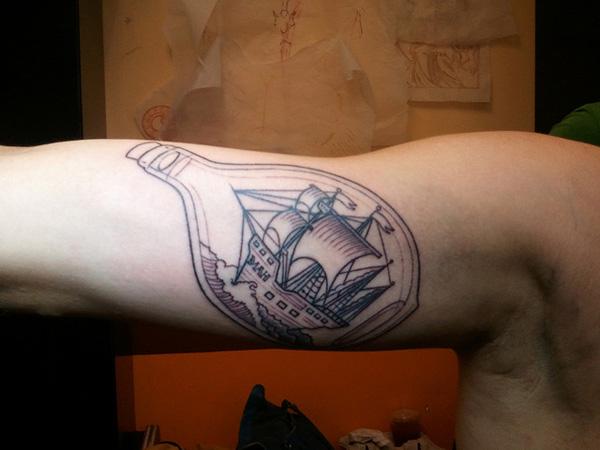 Simple sail boat neck tattoo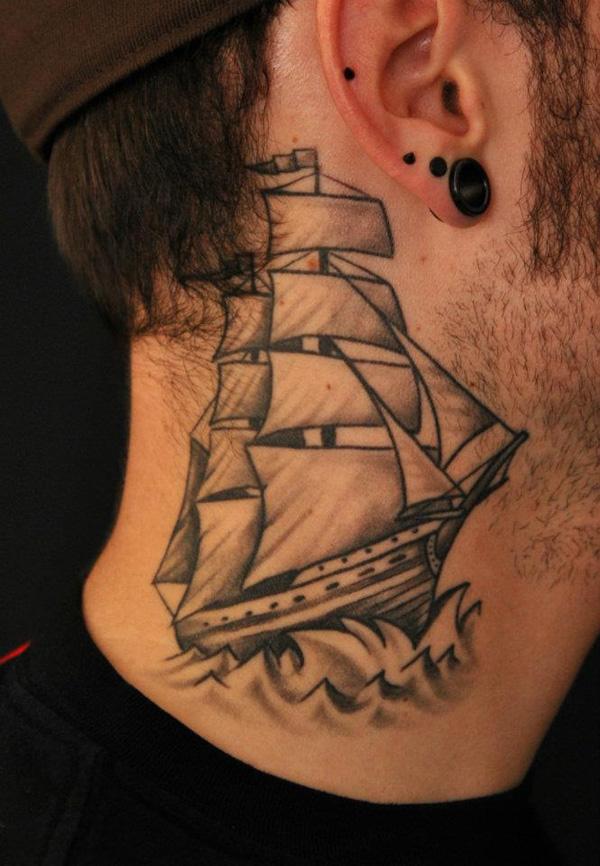 source
She adjusted her sails tattoo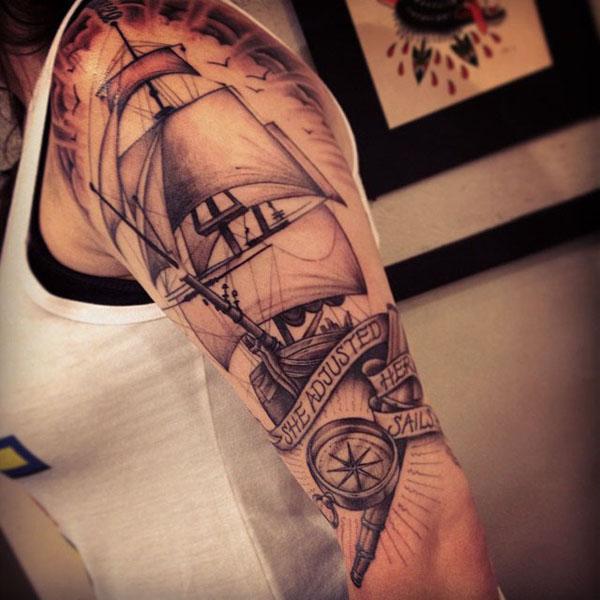 The sailboat arm tattoo is a striking vintage design, combining navigational symbolism with inspiring text. It features a meticulously detailed sailboat, a classic compass for direction, and the empowering quote, "She Adjusted Her Sails." It's a poignant reminder of resilience, self-reliance, and the courage to change course when necessary.
Trash polka ship tattoo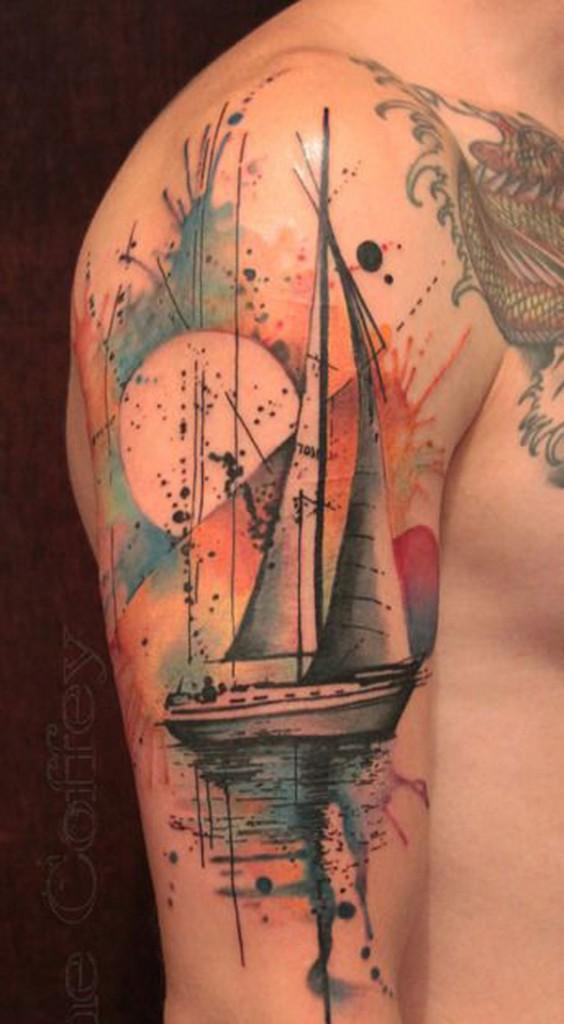 Black ink watercolor Boat forearm Tattoo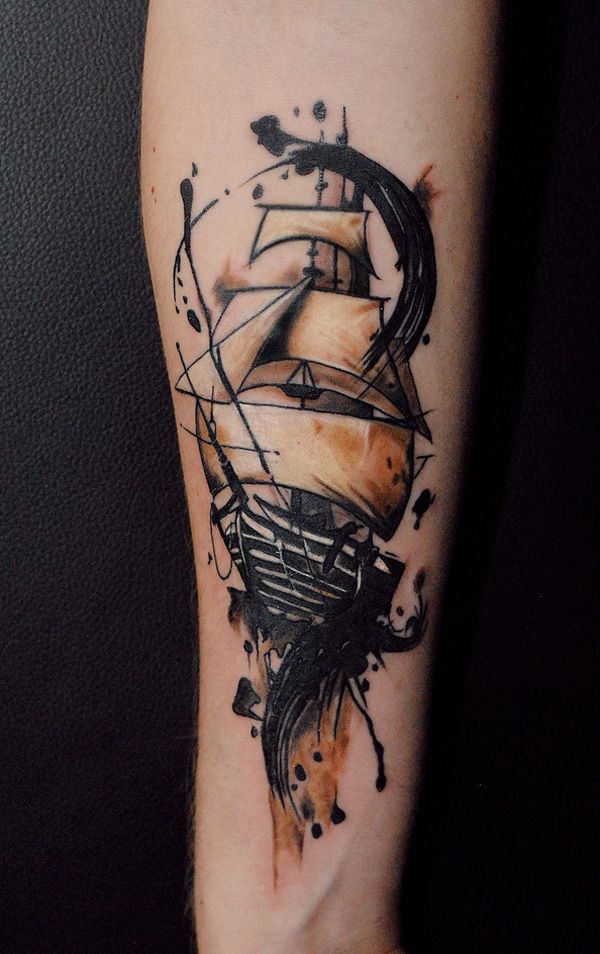 Small Boat Wrist Tattoo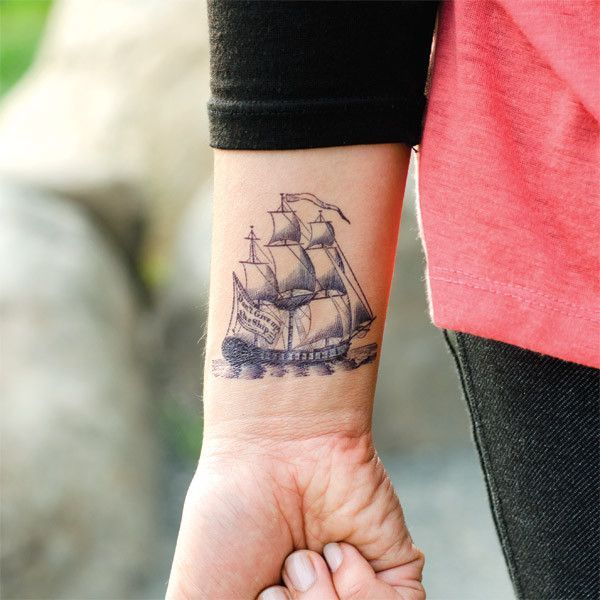 Traditional Boat and Bird Tattoo on upper arm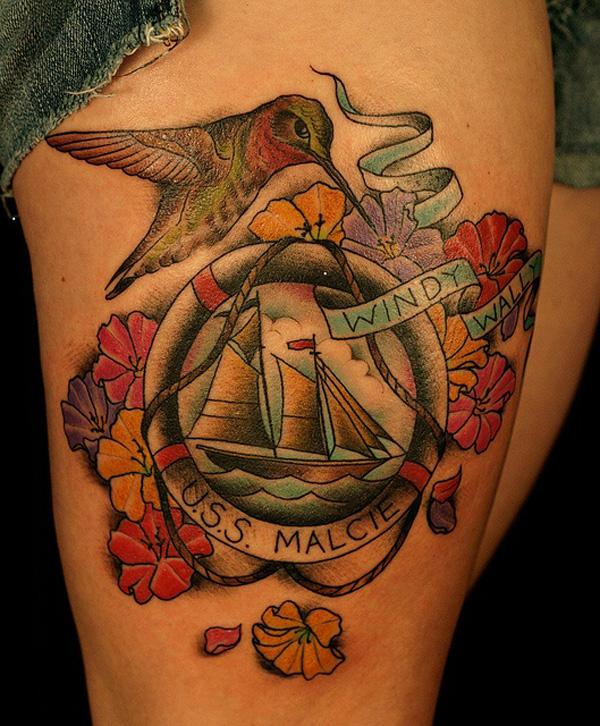 Pirate Boat Tattoo on upper arm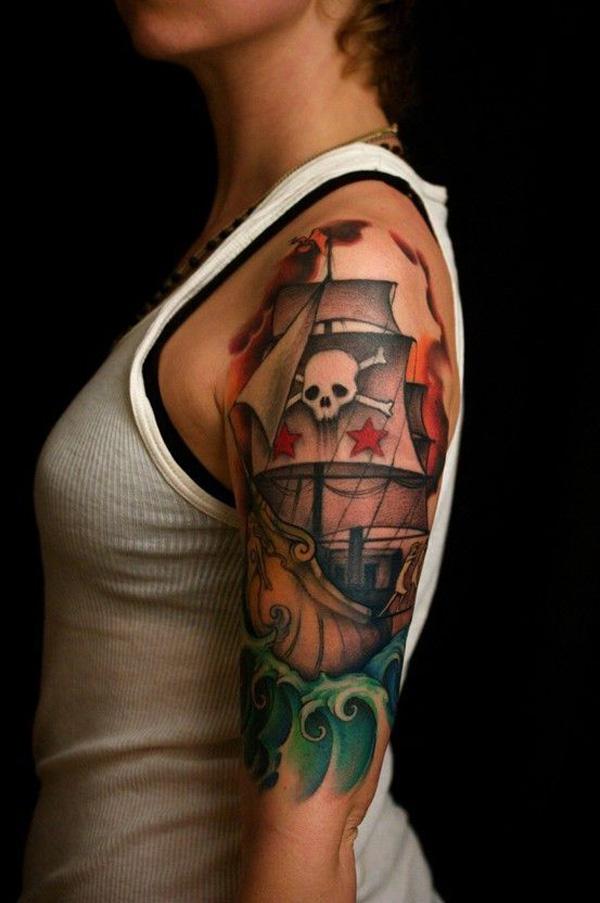 Homeward bound tattoo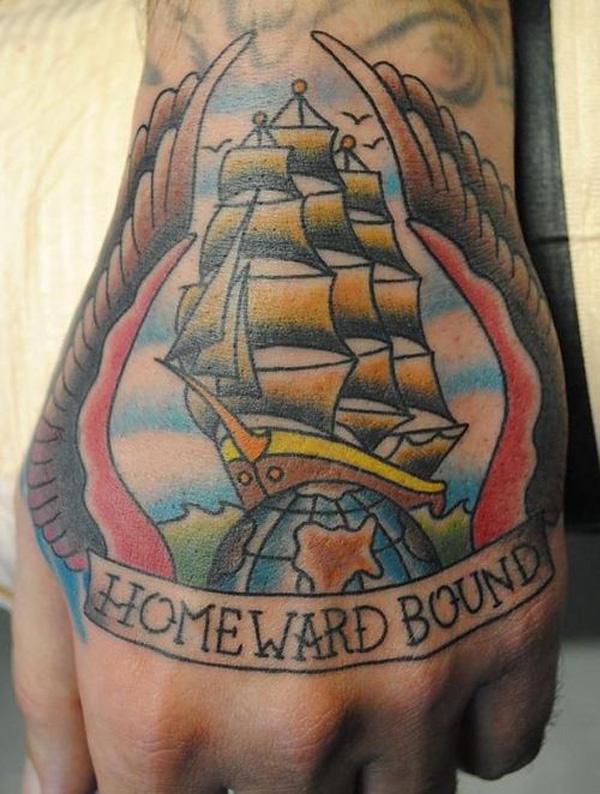 Small fine line sailboat Tattoo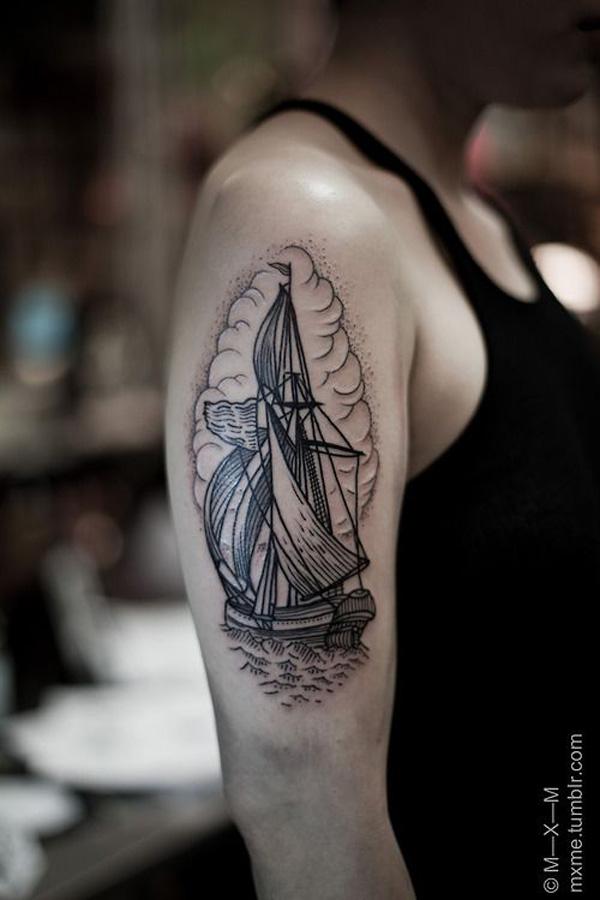 Sailboat Full Back Tattoo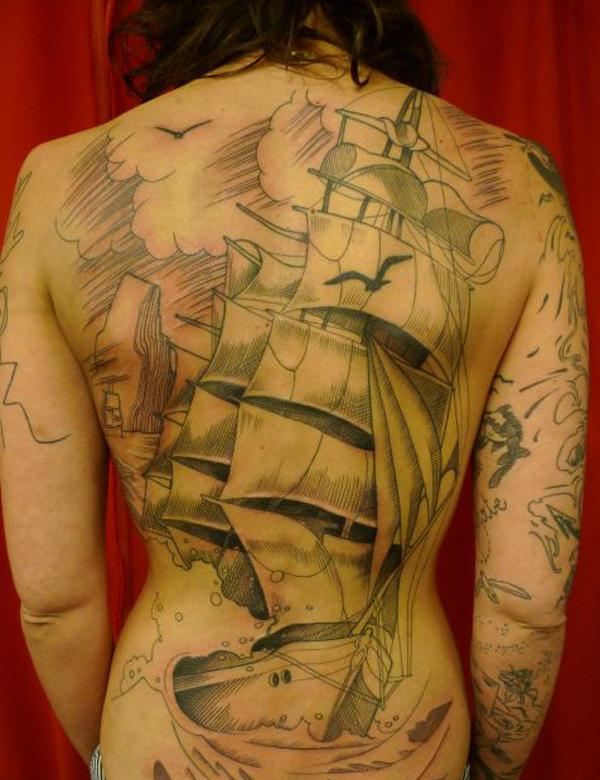 Paper boat watercolor tattoo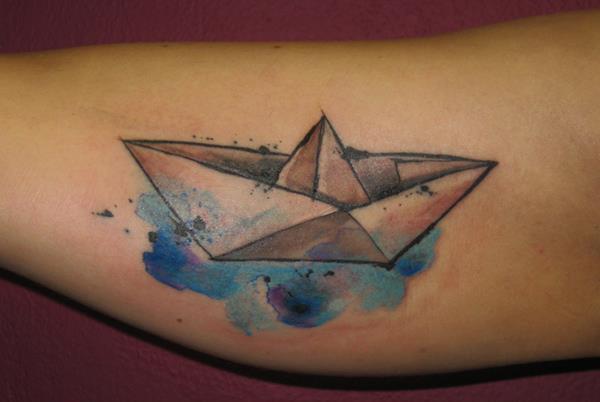 Life goes on days get brighter tattoo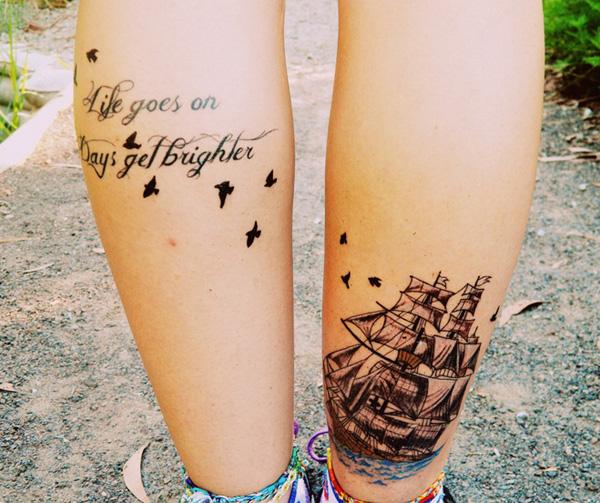 On one calf, the uplifting quote "Life goes on, days get brighter" serves as a constant reminder of hope and resilience. On the other calf, a cute boat tattoo symbolizes life's journey and the exploration of uncharted waters. This pair of tattoos offers a balance of thoughtful words and charming imagery, creating a unique narrative on the wearer's journey through life.
Cruise ship tattoo on forearm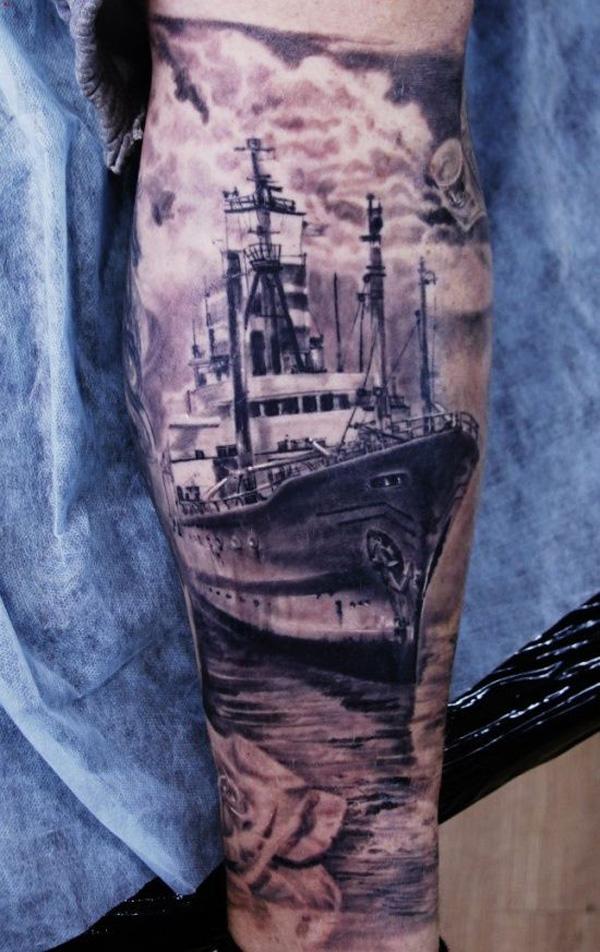 Geometric boat tattoo for Girl
Ship wheel tattoo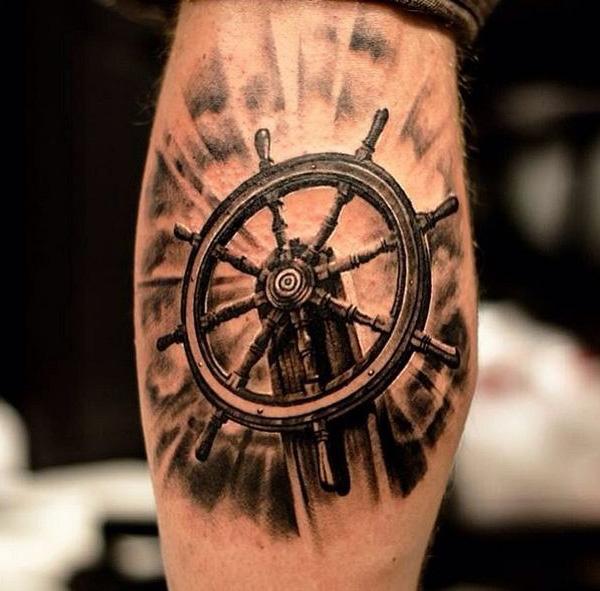 Burning pirate ship sleeve tattoo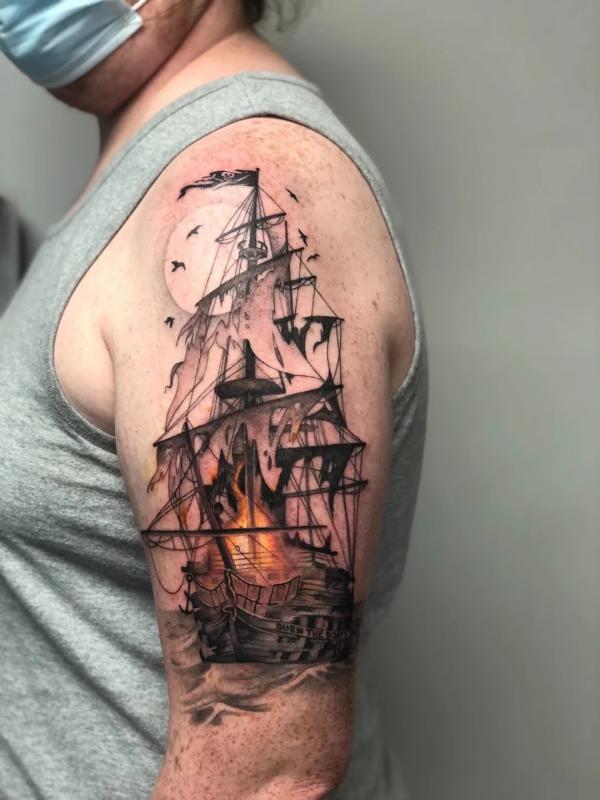 Let the ocean take me tattoo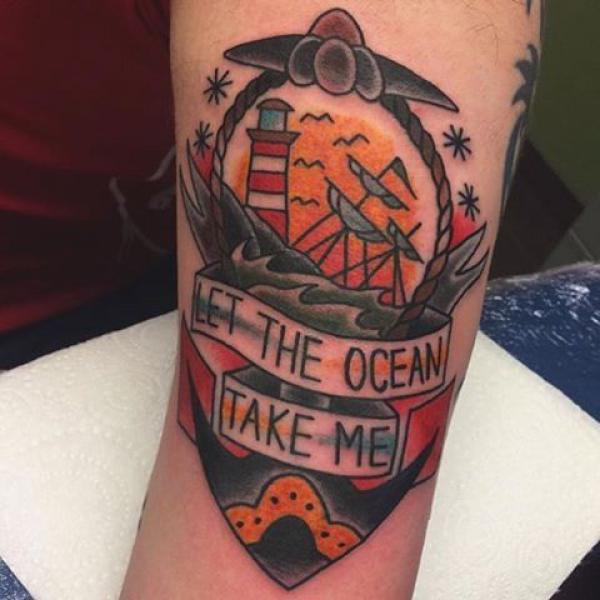 Lifelike burning ship half sleeve tattoo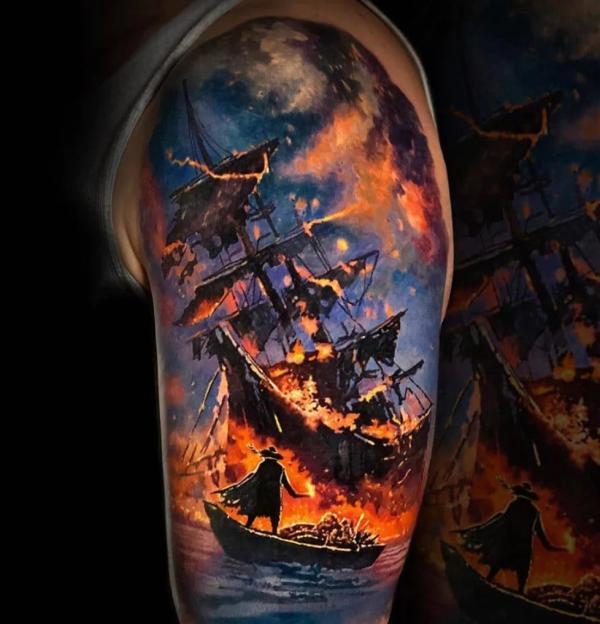 Neo traditional pirate ship tattoo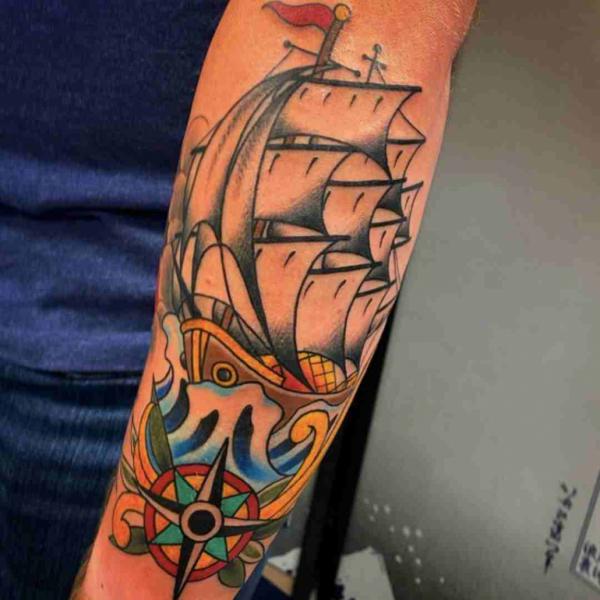 Odin viking ship tattoo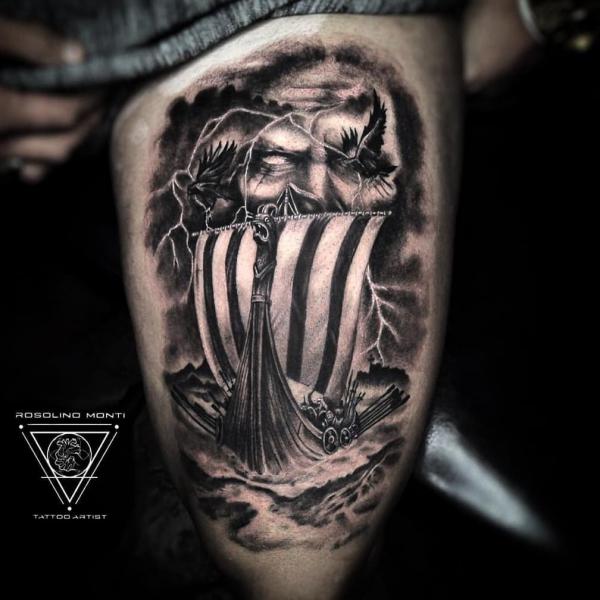 Realistic sinking ship tattoo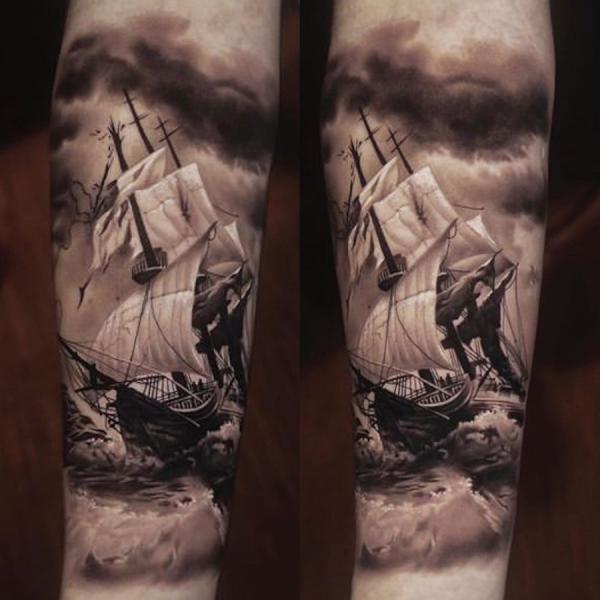 Shark and sunken ship tattoo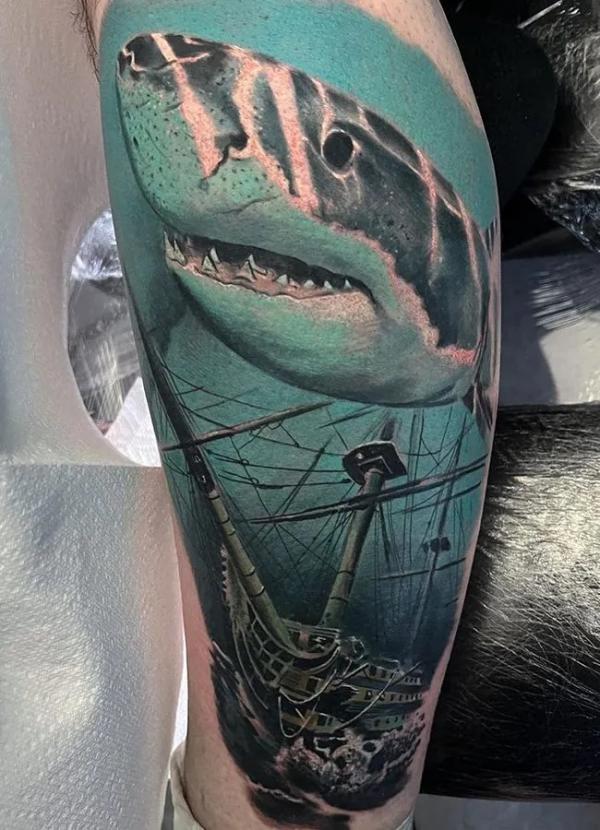 Sinking boat in bottle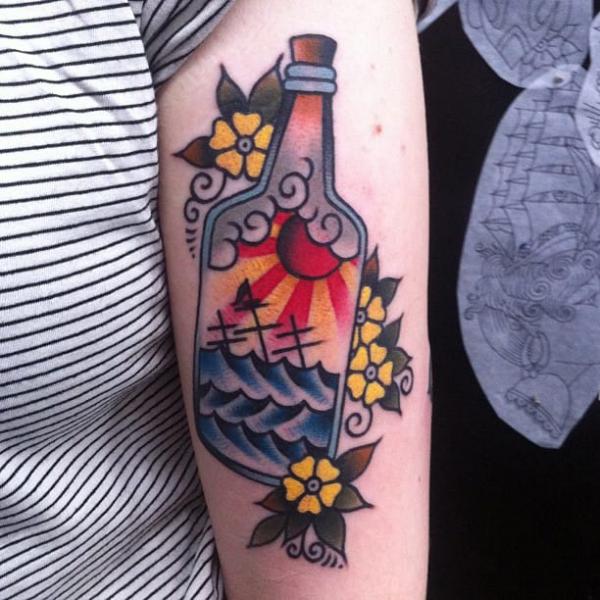 Black pearl ship tattoo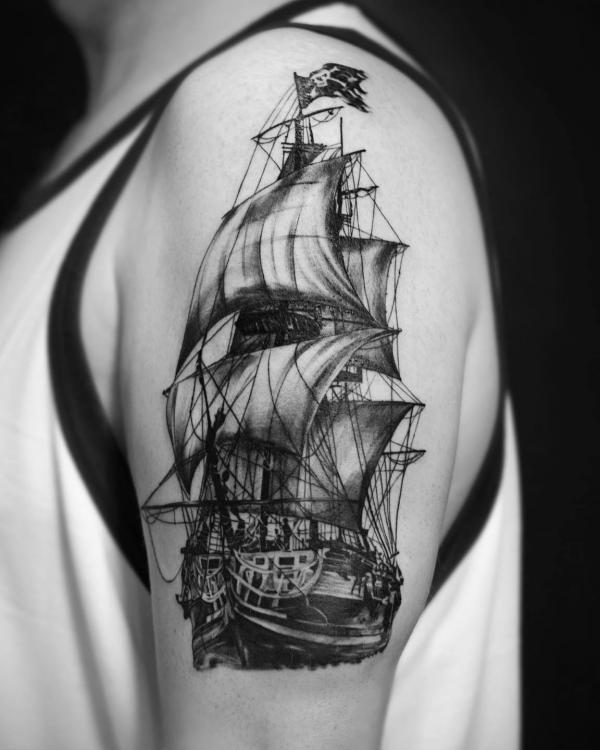 Traditional ship and squid tattoo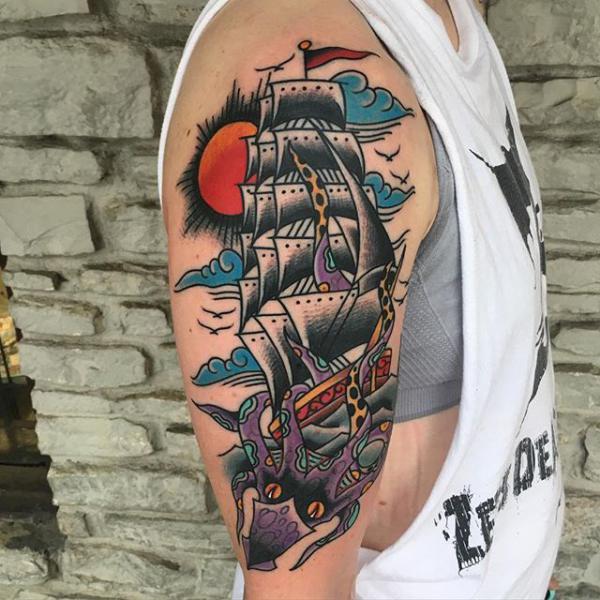 Viking ship tattoo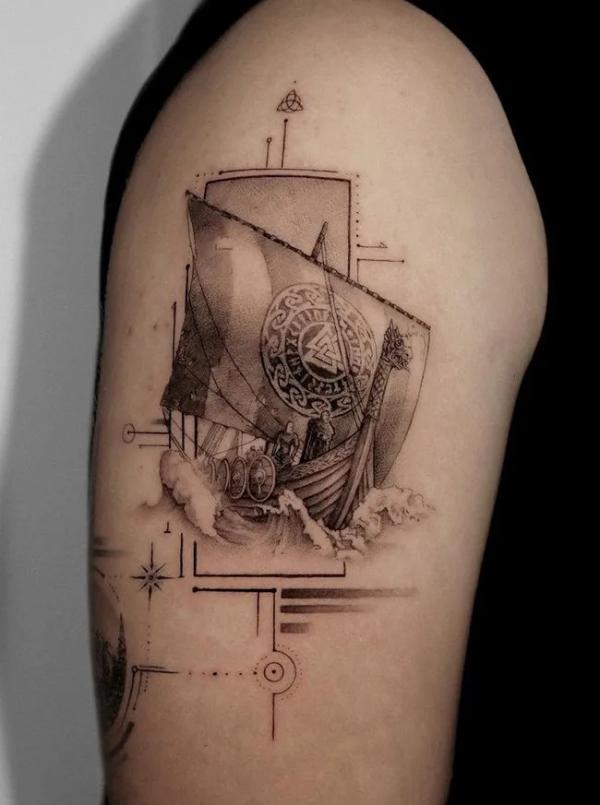 Black pearl ship and squid back tattoo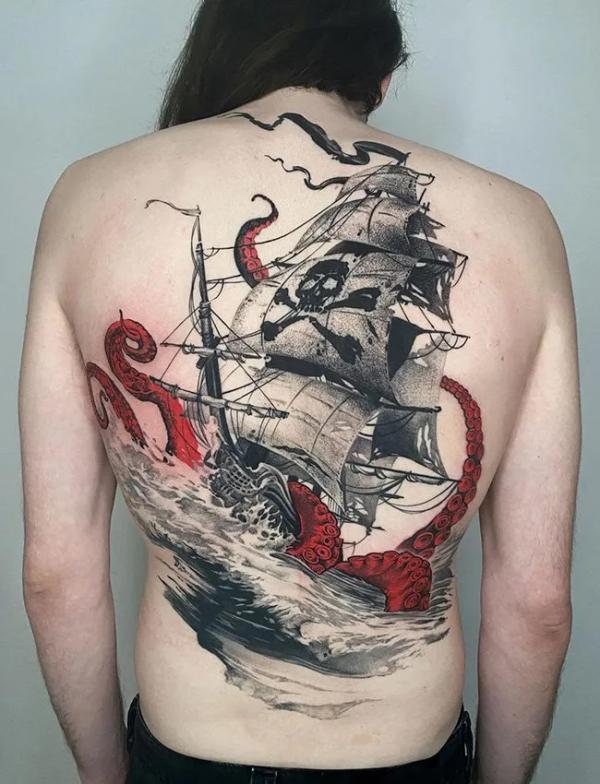 Warrior viking and viking ship tattoo
Black and grey sinking ship tattoo