Bird tattoo is getting popular for the large avian spectrum on earth. And it makes it possible for people to choose beloved birds for their tattoos. Among the many of bird tattoos, parrot tattoo is especially eye-catching and attractive. It appears on the limbs and bodies of both man and woman. If you are new to parrot bird, you may wonder the reason behind to take the tattoo.

Why do people get parrot tattoos?
Parrots of various species feature colorful plumage and long tailed feathers, which makes them cute and lovely. A sitting parrot, either black and white or colored, could become vivid tattoo design in the hands of tattoo artist. However, what makes parrot tattoo meaningful is something behind appearance. People take the tattoo to express their love, appreciation and identities. Some of parrots are native species. For example, the Sisserou parrot is regarded as the National Bird of Dominica. So a tattoo with this bird would be proud identity recognition for indigenous people.
Parrot tattoos are lovely is also because of the unique dispositions of some species. For example, the lovebird, a litter parrot endemic to the African continent, is very affectionate towards its monogamous partner. For this behavior, the term lovebird has been used to describe loving couples. Therefore, to take a lovebird tattoo would be something to take a permanent oath with one's lover.
Some of parrots become intimate friends of humans as avian pets for their ability to mimic human speech or sound. Amongst them, Budgerigars, Amazon Parrots, Eclectus parrot, Indian Ringneck Parakeet and the grey parrot are top 5 talkative parrots. Parrots normally have very long lifespans, which means a pet parrot could be with you for most of your life. To have the tattoo to honor your best friend in your life is very personal and unique.
Parrot tattoo design ideas
Parrot themed tattoos come out with variety of colors, species and designs. If the original reference is a male Eclectus parrot, the final tattoo could appear in green color. Two cute lovebird parrots companion each other signifies the love in the heart of the wearer. Of course, it's impossible to elaborate all the details of each design by words. Fortunately, this post presents with a collection of the best parrot tattoo designs. Hopefully you will find inspiration for your ideas.
The above parrot tattoo on the thigh is inspired by birds in Disney's Enchanted Tiki Room of which macaws and cockatoos fall in the family of parrots. The crown on the first bird indicates the two parrots are loving pair, standing on the branch with floral.
by @alexisethomson
A large parrot tattoo on arm by @alexisethomson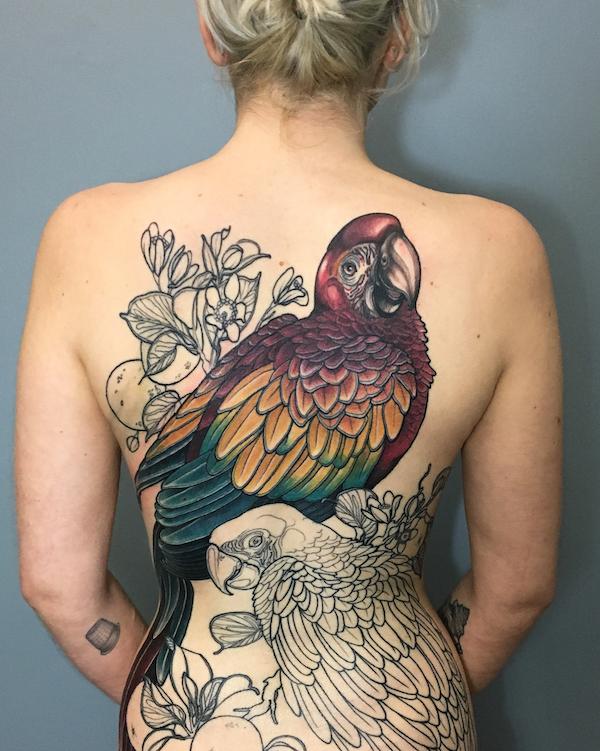 Beautiful Macaw tattoo on the back by @alexisethomson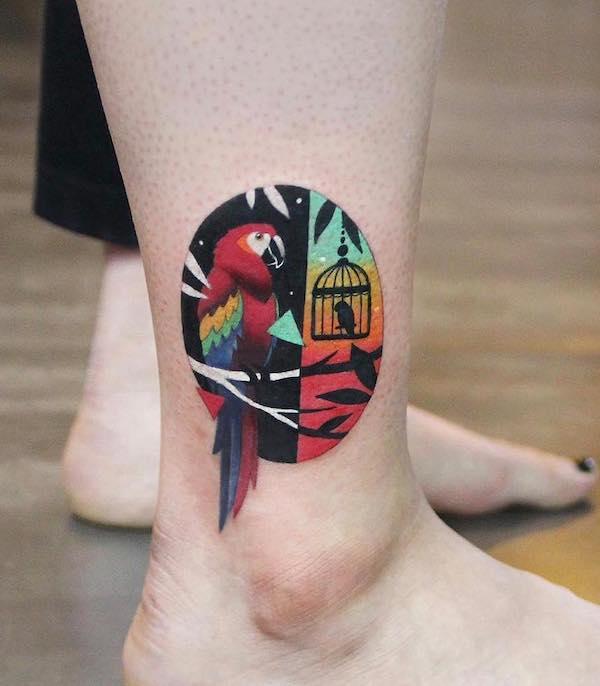 The illustrative tattoo above the ankle is a picture of two miniature worlds, in which one half is a free parrot sitting on a branch and one half is another parrot in captivity in a cage.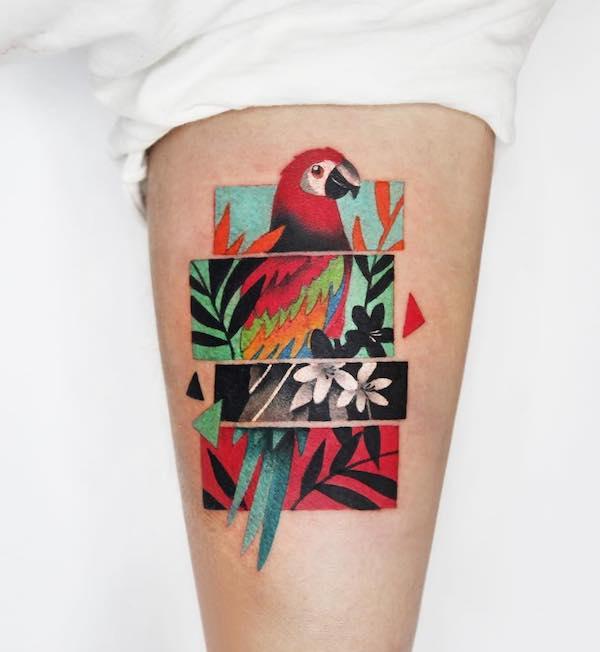 Shifted parrot in flowers by @polyc_sj
This amzing parrot themed tattoo is composed of 4 rectangular sections. It looks like its body shifted into 4 parts of which each is a picture of floral or leaves.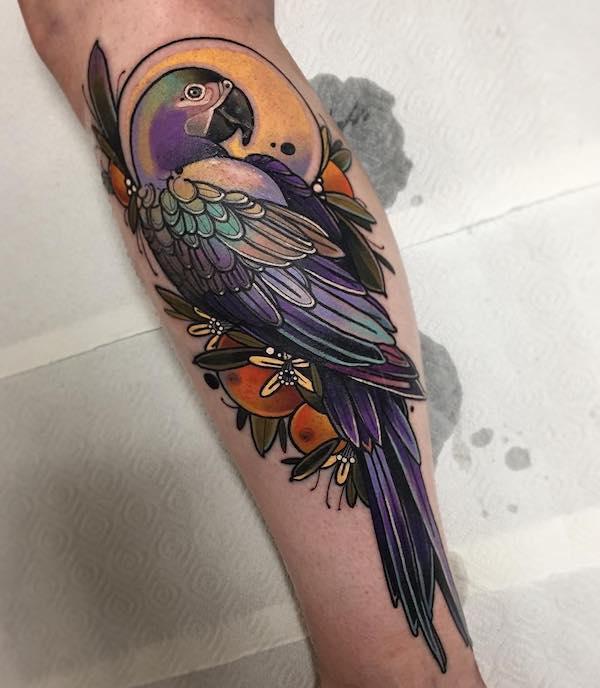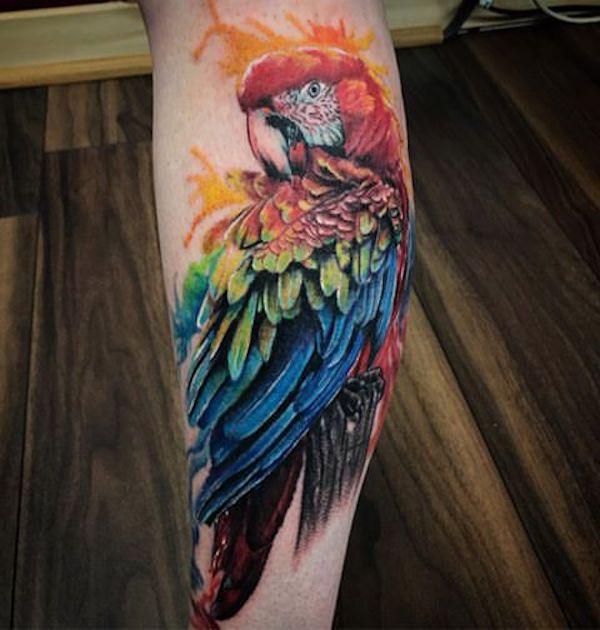 Colorful parrot tattoo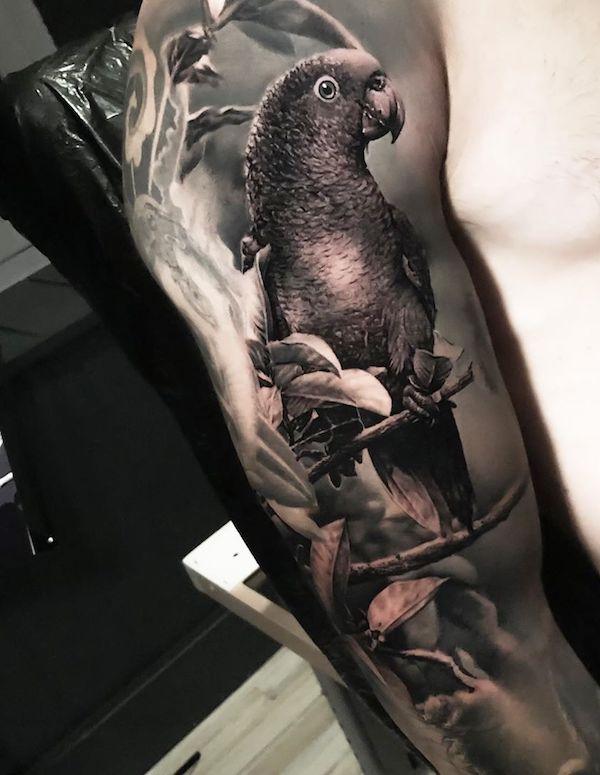 Gray parrot is popular for its intelligence and ability to repeat human words. But this one gains its popularity by its artistic design. The black and gray-billed parrot is standing on the branch with vigilant attention to the front. The incredible photo realistic effect was created by the means of blurring background. But here there's no focus to adjust but rely on the hands of tattoo artist.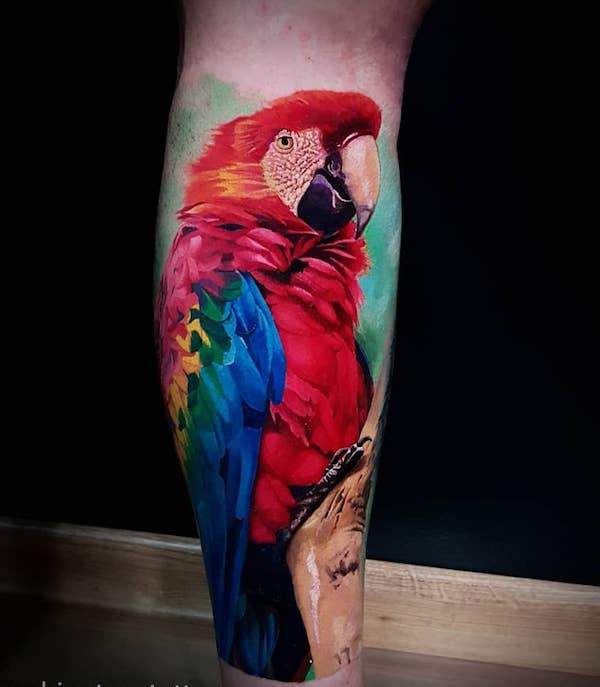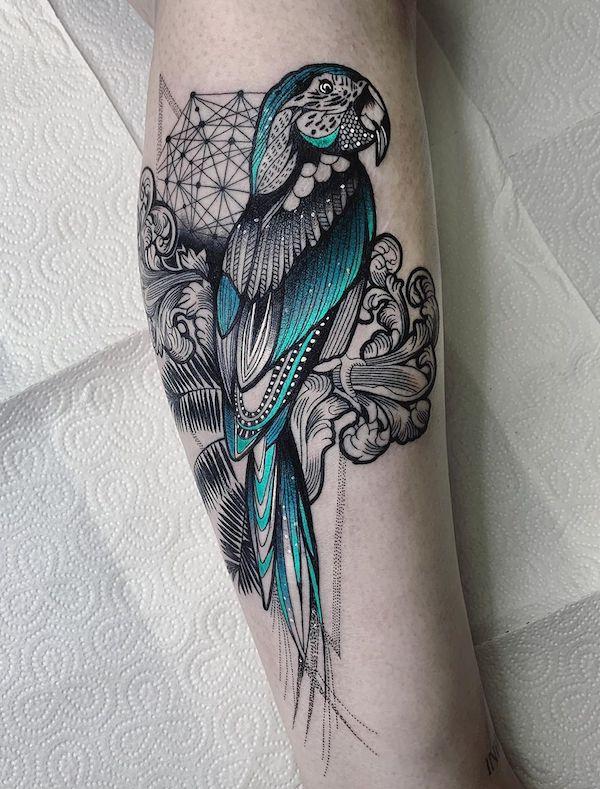 Black and white parrot tattoo with green feather by @jessicasvartvit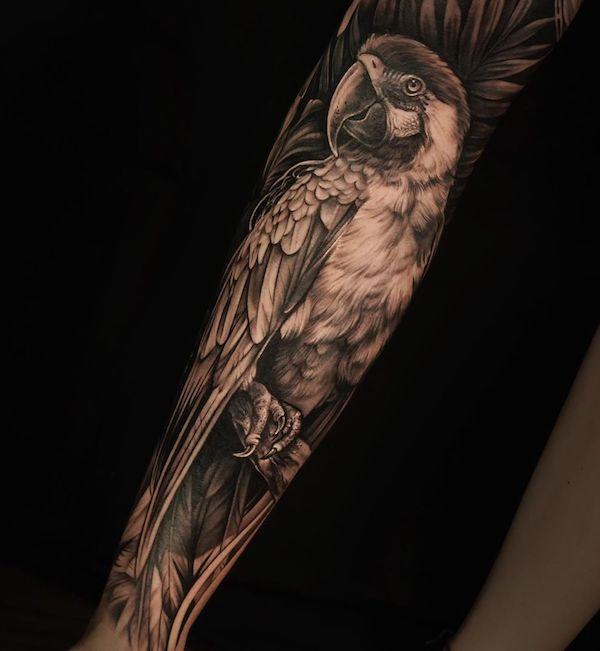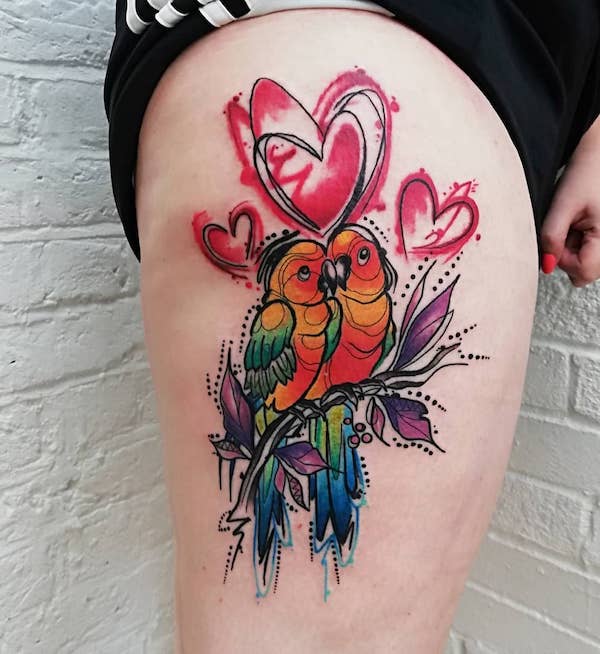 Watercolor lovebird tattoo by @costa_bond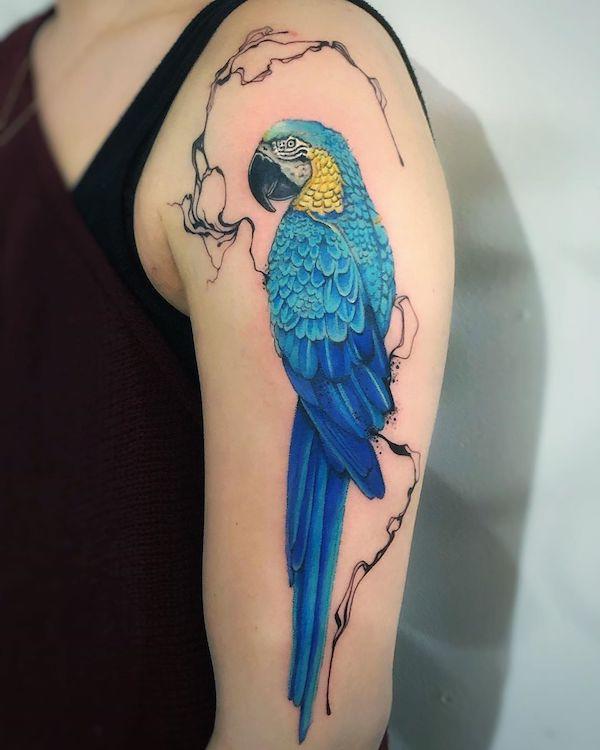 Watercolor parrot sleeve tattoo by @szymgo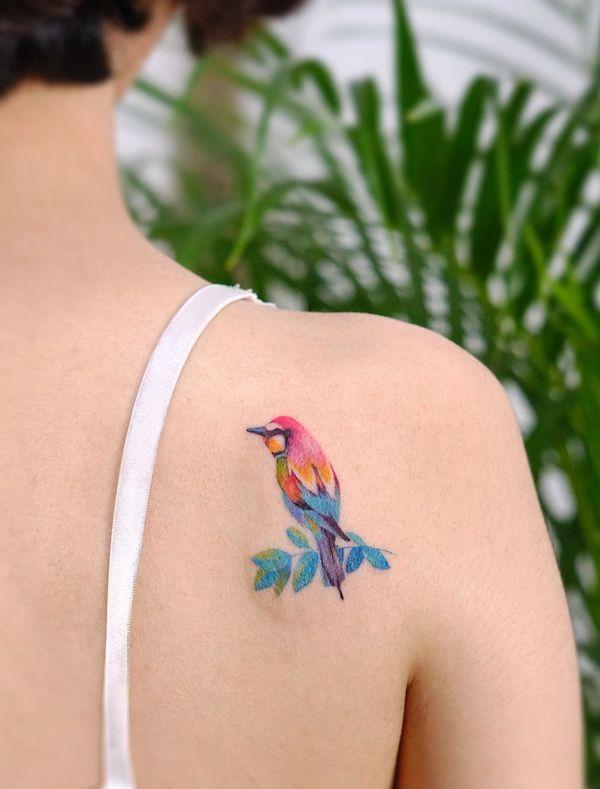 Cute parrot tattoo for women by @9room_tattoo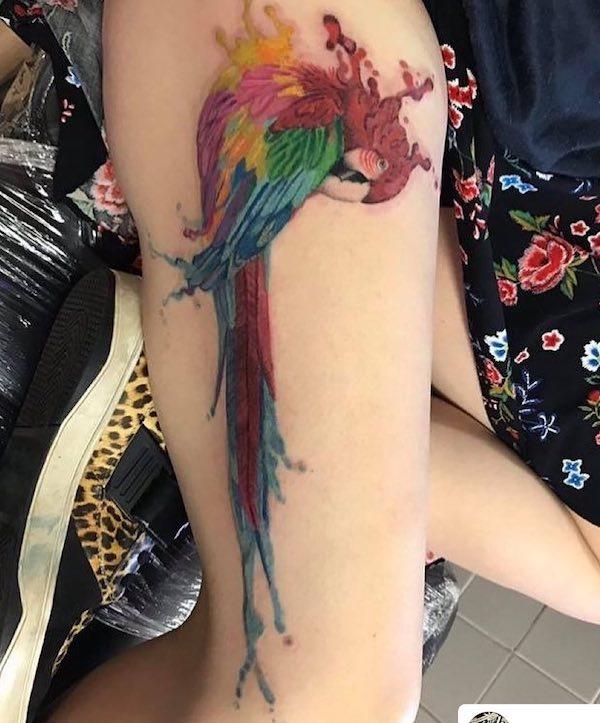 Adorable macaw tattoo for women by @queen__moody_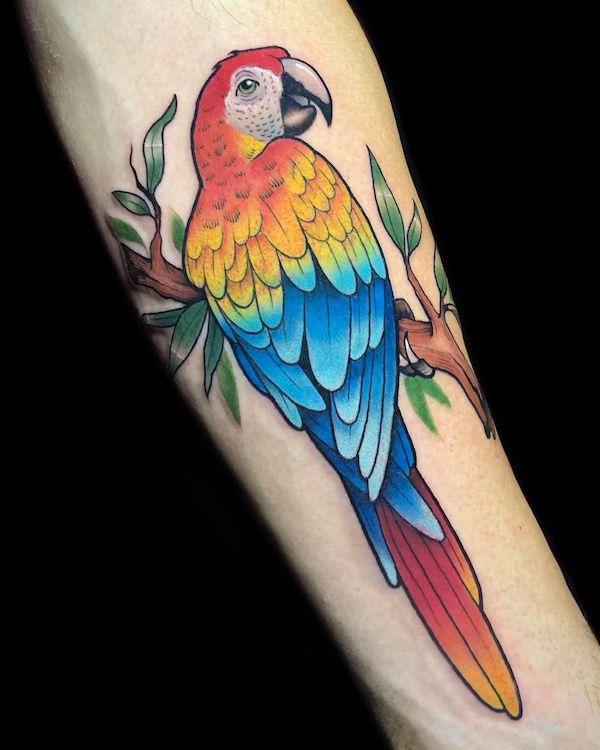 Brown to blue parrot on branch by @samuelamaggi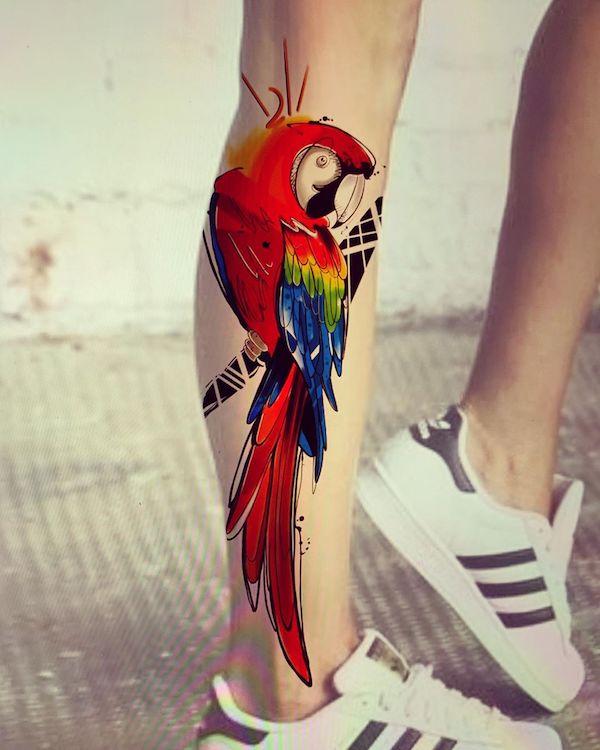 Colorful parrot leg tattoo by @luchino_ink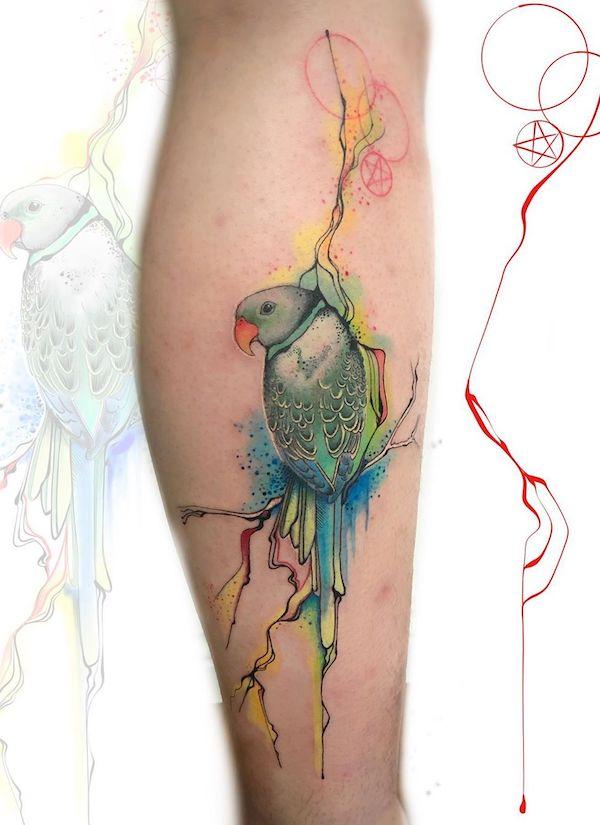 Lovebird in watercolor background by @amaltheatattoos
The cute lovebird is rendered in pure watercolor style with its plumage painted in light green. Instead of normal floral or leaves, watercolor splashes are used to form the beautiful background with random dots and lines.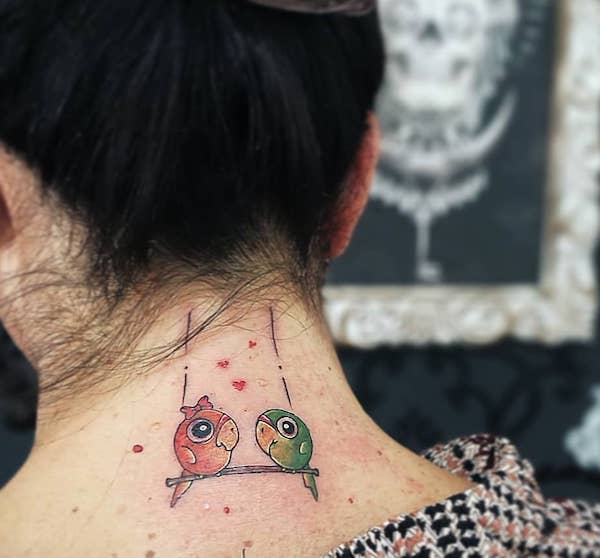 Two Lovebirds with love icons on the neck by @inkanto_tattoo
Lovebirds are often used to express the love to partners. And love icons serve the same purpose. So it is a nice combination to combine them in one design.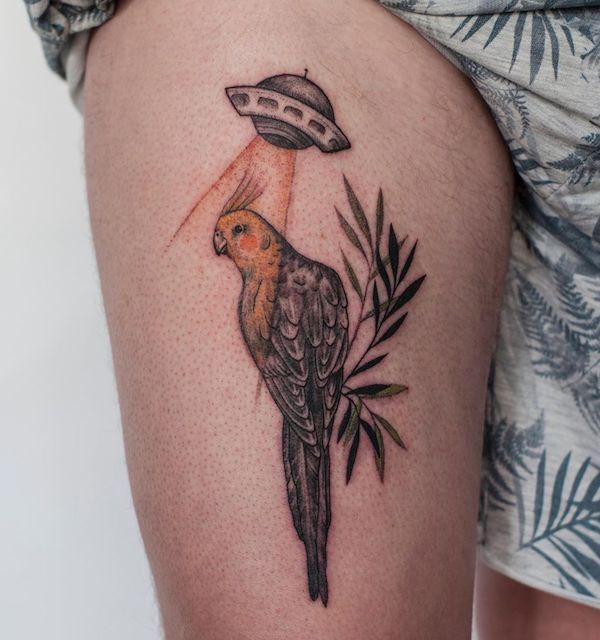 A parrot focused on by UFO by @itsbrocat_art
A parrot is focused on by UFO while resting on the branch – a creative thigh tattoo design for women.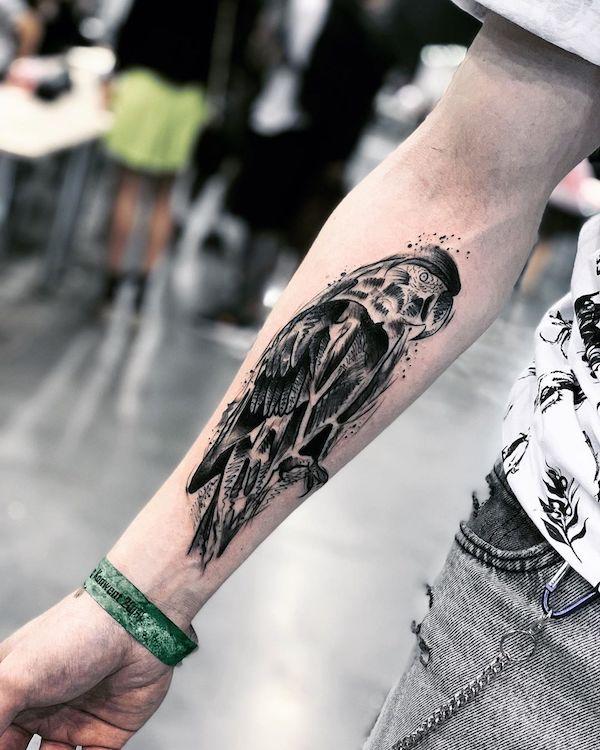 Black-billed parrot forearm tattoo by @cmietattoo
The forearm tattoo features a black parrot in the style of ink painting, which perfectly matches to that of T-shirt the wearer is taking.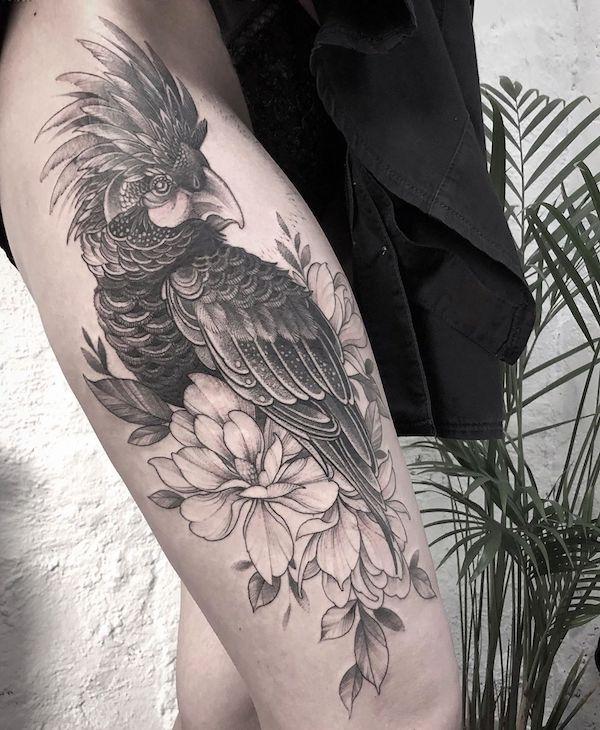 Parrot among magnolia flowers by @alex_tabuns
Thigh is one of favorite body parts for women to have their private tattoos. For example, this one features a male parrot resting among magnolia flowers. The color of black and white makes it vintage style.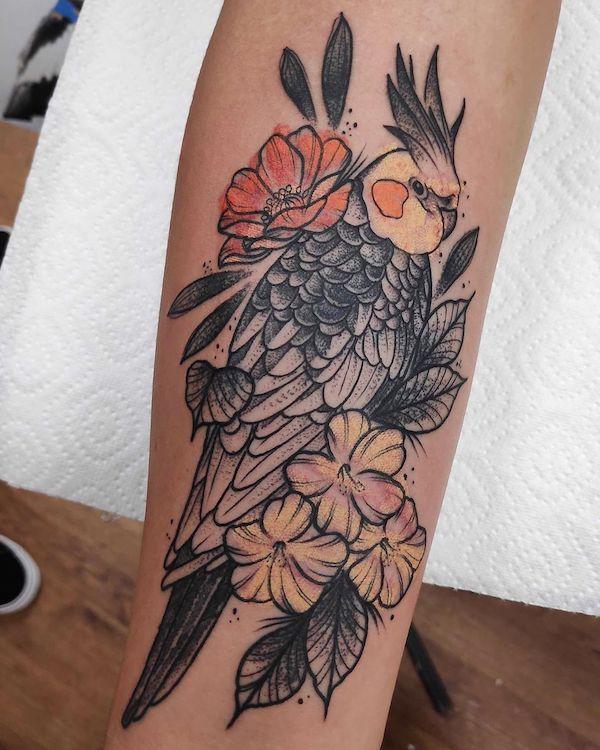 Cockatiel tattoo in flowers by @darryl_tattoo
A cute parrot tattoo design.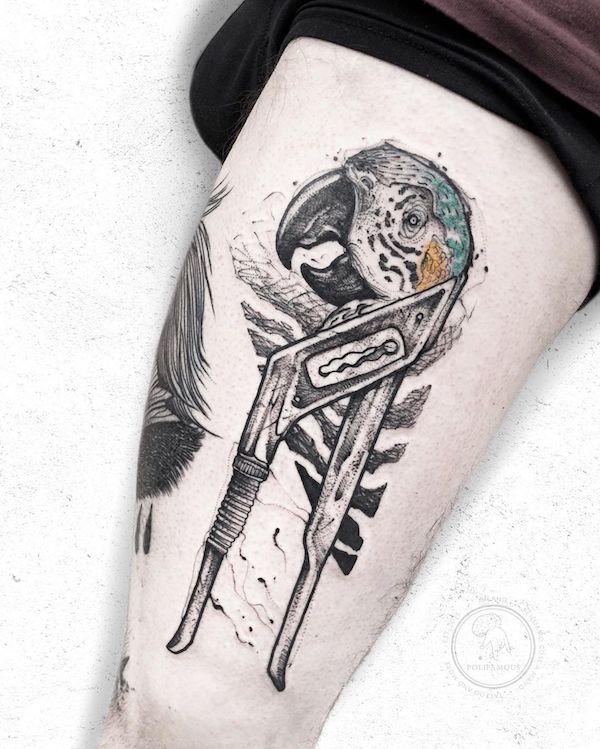 Pappagallo is the Italian word for parrot. This tattoo features a head of parrot head with skeleton-like signs, which gives imagination to different people. The distorted rendering technique often appears in surreal artwork.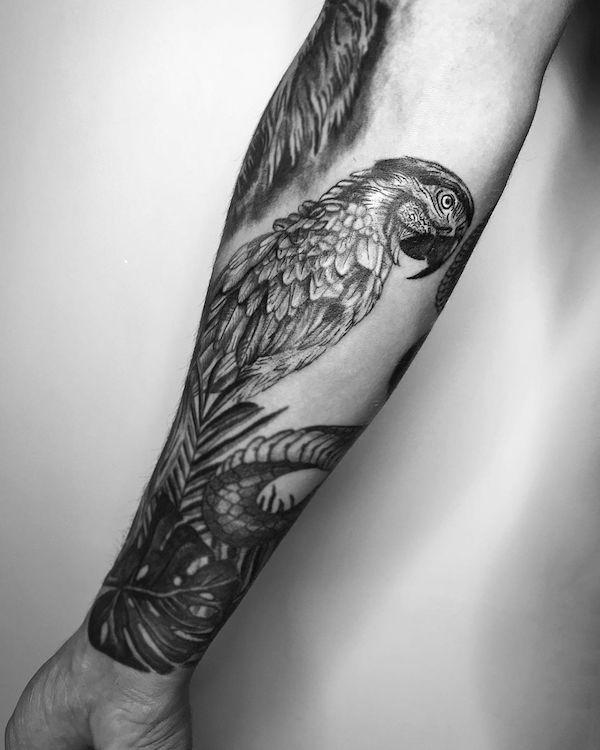 Black and white parrot design by @kejtattoo
Parrot, as many of other birds could be drawn as part of a sophisticate design. For instance, this forearm tattoo features a parrot standing on a snake.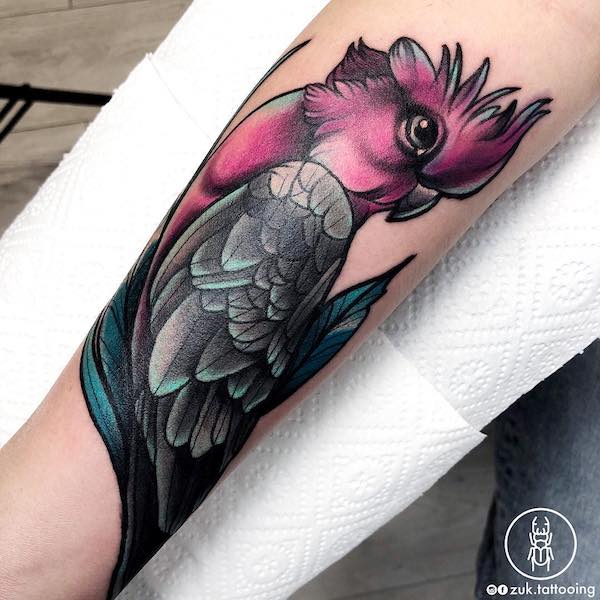 Parrot matching tattoos for couple by @zuk.tattooing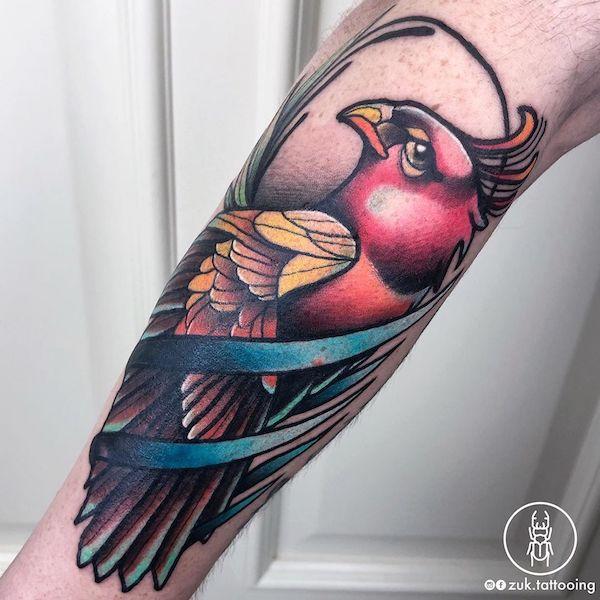 Matching tattoos for couple by @zuk.tattooing
Parrot tattoos could be inked on the bodies of both wife and husband as matching tattoos. For example, the above ones look identical and lovely. And they are joint statementY for their infinity love.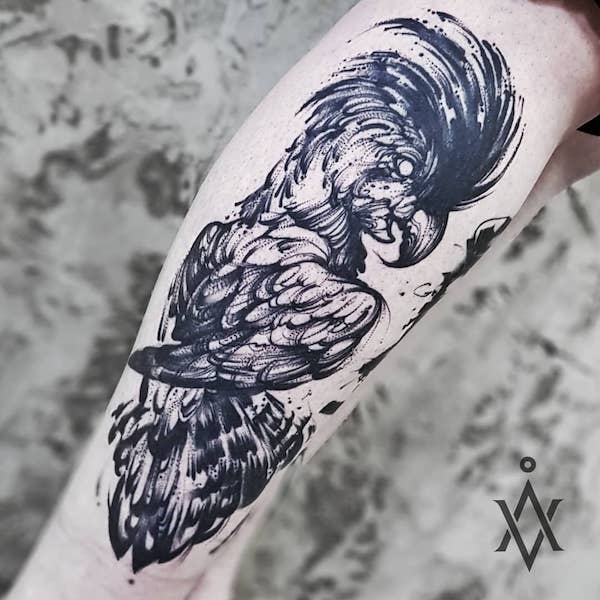 Black parrot in watercolor style by @anna.avi.arts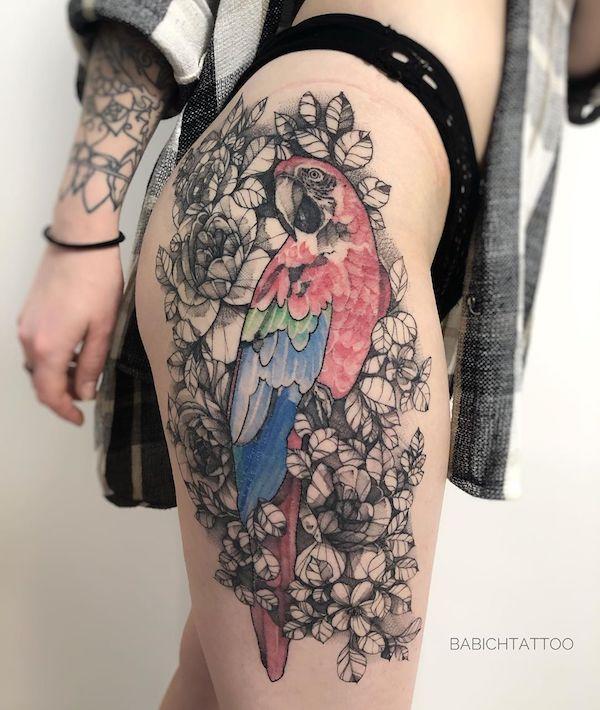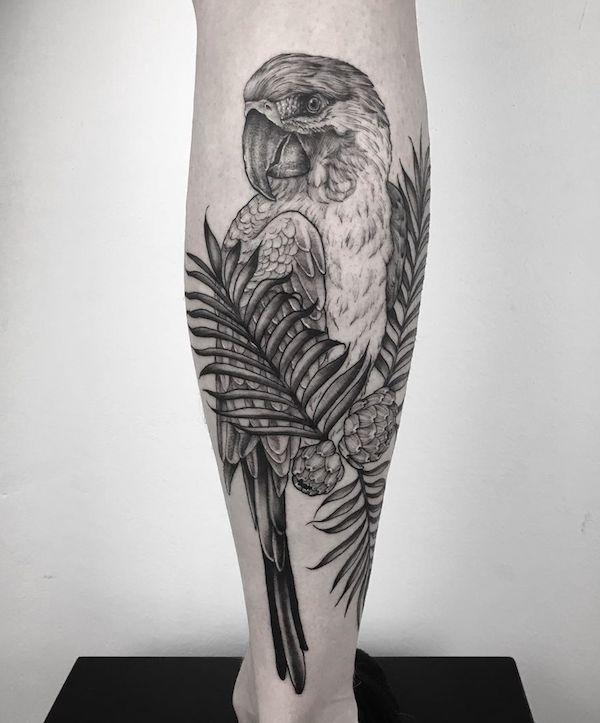 Parrot on coconut branch by @henjafin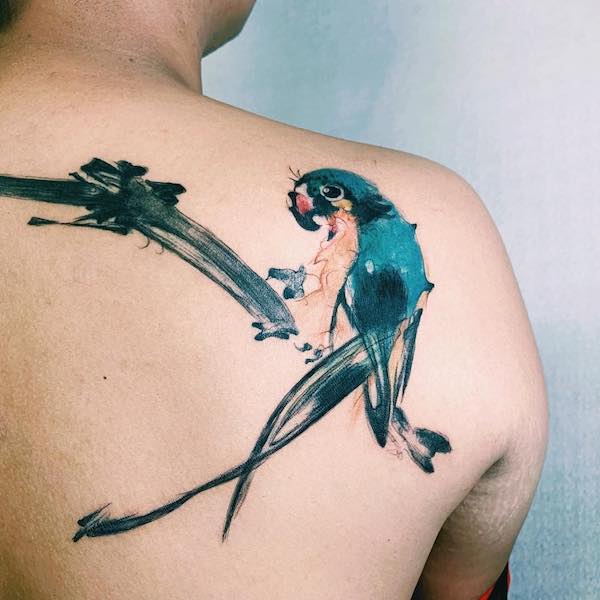 A parrot tattoo could be portrayed with different artistic style. For example, this one features a green parrot with brush strokes, which is typical in Chinese ink painting.